25 Best AI Writing Tools of 2023
We all write content online. Some of us only write social media posts, emails, or texts. Some of us write content for our websites, product descriptions, video content, ads, and even customer support.
Lately, ChatGPT has taken the world by storm by making AI writing more accessible via its friendly chatbot-like interface. It's an excellent resource to use for brainstorming.
AI writing software is a type of software that can generate content for you. An AI-powered writing assistant provides useful tools for writing articles, novels, blog posts, games, and more. Those are just some of the benefits of using ai writing tools.
AI writing is just another tool that you can add to your toolbelt.
You know they can be incredibly helpful if you've ever used an AI writing tool. But you also know that they're not going to replace actual human intelligence soon.
No, AI is not going to steal your job. It's a tool to optimize your work. Let AI technology make your life easier and more productive by including AI writing software in your content creation process. So if you're thinking "Why should I use AI writing tool?" you've come to the right place.
What are the best AI writing tools?
Here is a list of the best AI writing tools. I will give you an overview of each one and call out key features, pricing, and the bottom line. How to find the best AI copywriting tool is entirely up to you and your needs. I hope this AI writing tool buying guide helps you!
We've organized the tools into 5 different categories. To jump to a particular category, click the buttons below or explore the table of contents.
Disclosure: Some of the links in this article may be affiliate links, which provide $$$ to me at no cost to you if you decide to purchase the tool.
---
5 Best SEO Writing Tools
Want more options? Check out my other blog post for a complete, detailed analysis of the best AI SEO writing software.
---
5 Best AI Article Generators
Looking for more article generators? Check out my list with more of the best AI article generators.
Hypotenuse AI: Best AI Content Platform for e-Commerce
Overview
Hypotenuse AI is the premier AI writing tool for e-commerce. It's designed to make brands and businesses that sell products have an easier time doing so. Hypotenuse seeks to help e-commerce sites sell their products by creating compelling product descriptions.
Highlights
Pricing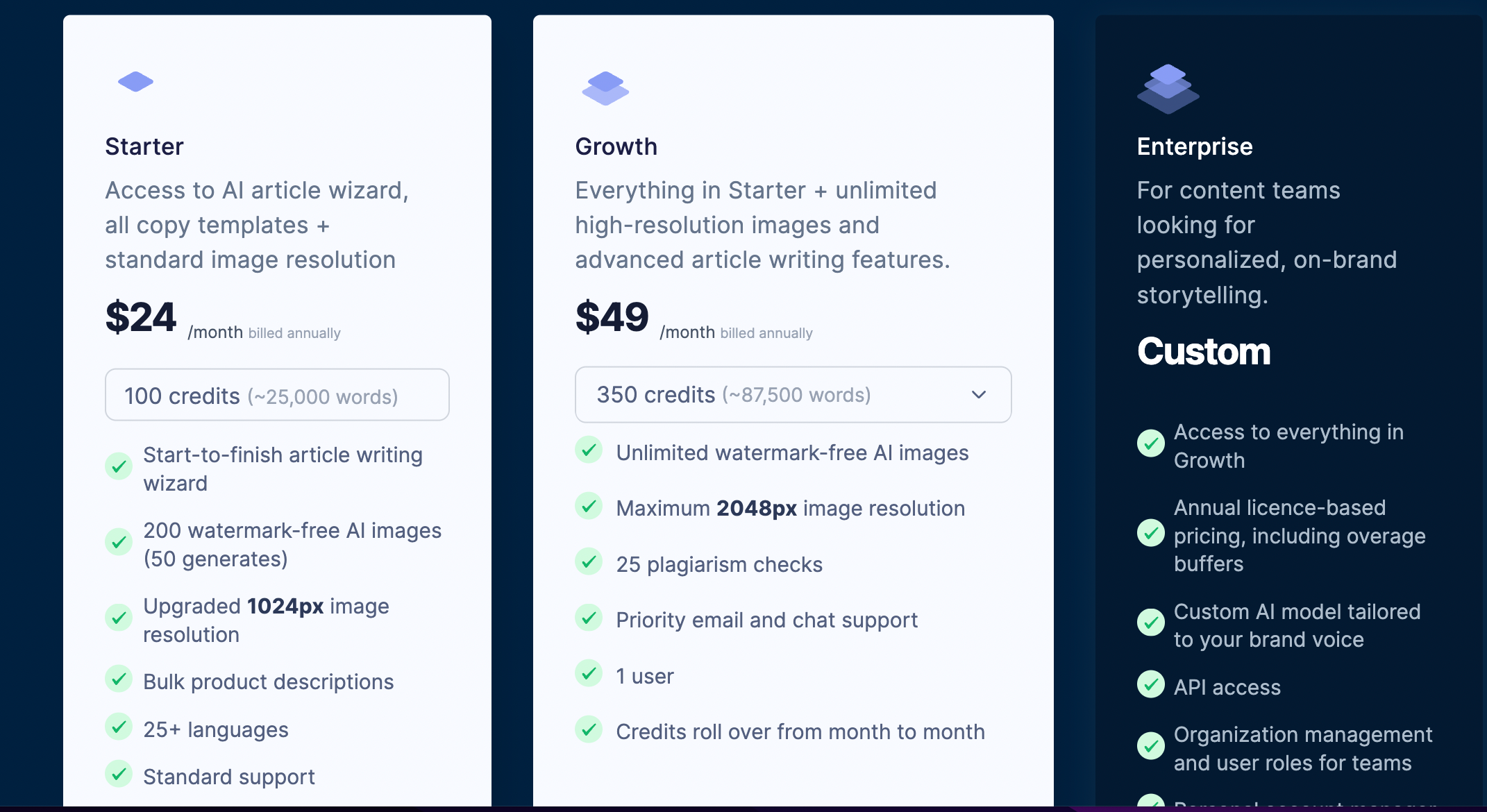 Hypotenuse offers a subscription based model. There are three tiers:
Starter: $24/mo
Growth: $49/mo
Enterprise: Custom pricing
Bottom Line
Hypotenuse optimizes itself around e-commerce. Unlike other AI writing software I've reviewed, Hypotenuse AI boasts specific features and workflows directly suited for e-commerce use cases. And it certainly delivers with its bulk import features and product catalogs. If you're an e-commerce site, then you should consider Hypotenuse.
---
5 Best AI Writing Apps and Browser Extensions
I think about AI virtual writing assistant tools as ones that primarily work as browser extensions that you use in other applications. However, it's a tough call to make because many of these tools have extensions. The ones I'm putting in here are only browser extensions.
For more apps and browser extensions, check out my article about the best AI writing apps and browser extensions.
---
What is an AI writing assistant?
In content production, AIwriting helps content writers in the content generation process. The process might involve brainstorming ideas to generate unique article drafts. AI-assisted content marketing efforts can also include landing pages, product descriptions, YouTube video titles, marketing copy, and Google ads.
AI writing assistants support content creators so they can focus on their craft and not worry about how to produce unique content, such as articles or e-books; however, AI writing assistants are not yet at the level where popular blogs rely on them for every post from scratch without any human intervention.
Utilizing AI writing enhances the writing skills of anyone and enables them to save time.
How do AI writers work?
Artificial intelligence involves combining artificial intelligence with machine learning algorithms to create literary neural networks. AI software training teaches these networks to read the text and then experiment with themselves. Once acquired knowledge through intensive repetition, the computer can begin mimicking actual writing with astonishing accuracy.
Is AI writing good for content creators?
I believe AI writing software can be a great complement to content writing, it can help in composing blog posts, advertisements, landing pages, etc. These best AI tools fulfill content marketers' dreams. Although there are many types of AI software, they all make learn from previous writing and can then generate bulk content to help content writers.
It allows you to upgrade from simple Google docs to advanced features that can only be found in AI writing software tools. "Content generation" the state of natural language generation in content marketing.
Why should I use an AI writing tool?
The benefits of AI writing tools are numerous.
Think of AI as a tool that helps you. Not something scary that will take away your job. It'll make your work go faster and streamline your workflow. You can create content and utilize your time more wisely. AI content writing tools are a valuable addition to your writing process.
Don't just ask yourself "Why should I use AI writing tool?" and maybe instead ask yourself, "Why shouldn't I use an AI writing tool?"
Final thoughts
Always do your own research before making a decision. While this AI writing software buying guide has a lot of information, you're going to have your own unique needs. The best program for AI writing will depend entirely on your needs.
The best AI writing assistants are a game-changer for content creators who want to experiment with new styles or topics without worrying about the quality of their articles. Content creation is a huge task and an AI writer can take some burden off your shoulders if you're struggling to meet deadlines. So far, no AI writer has received a Pulitzer prize but it's only a matter of time until they do.
With the right tools, AI can help you write content that is both creative and accurate. Look for an AI writing tool that offers a free trial so you can try it out before committing to a subscription.
If you want to write SEO-optimized content that ranks in search engines, definitely check out SurferSEO. It's extremely powerful and offers a lot of educational resources. It's also introducing its own AI writing assistant in the near future.
In my opinion, Jasper is the most powerful AI writing tool out there, but it's also on the pricier side and doesn't have unlimited words. For those looking for a document editor and SEO, try Scalenut out. It's free! For those just wanting to reduce writer's block, check out Copy AI. If you compare Copy.ai vs Jasper.ai, you get different experiences. Jasper.ai wins for me because of its recipes and customizable content.
If you want a free tool you can without having to log in, try out QuillBot. If you're a student or need to use citations a lot, this is your all-in-one tool. I like it better than Grammarly, actually!
Recommended reading