In the ever-evolving landscape of content marketing, staying ahead of the curve is paramount. AI writing tools and content marketing suites like INK for All and Writesonic aim to help marketers revolutionize the way they create, optimize, and deliver engaging content. With a robust array of features and tools and a free trial, INK for All may be the right SEO tool for your team.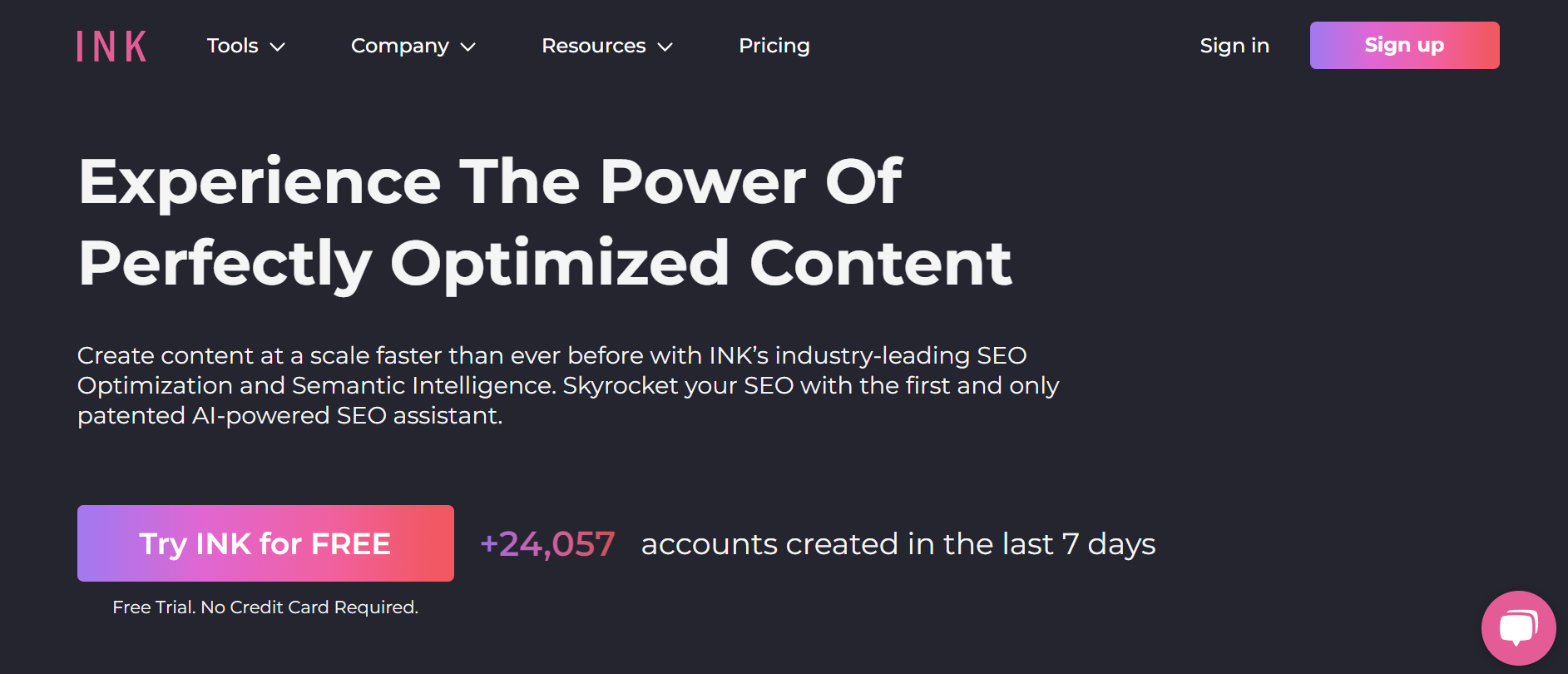 INK's toolkit includes an AI writer, an assistant copywriter that harnesses the power of artificial intelligence to write blog or social media posts. INK for All also offers AI image generation, SEO optimization, and the innovative Content Shield tool.
Whether planning email marketing templates or creating helpful content for your online business, INK for All helps you stay organized during the content planning process. The platform hopes to help marketing team in creating high quality content. In fact, INK for All claims to be "the only AI content marketing suite you'll ever need." In this product review, we will delve into the various facets of INK's powerful suite, exploring its features, benefits, and ability to create high quality content.
INK for All Overview
INK for All is an AI writing tool and content planner that leverages the power of artificial intelligence to help teams work efficiently to produce content. With its wide range of AI writer features and tools, INK for All enables users to streamline the content marketing strategy process, enhance search engine visibility on google searches, protect their content integrity, and write optimized content.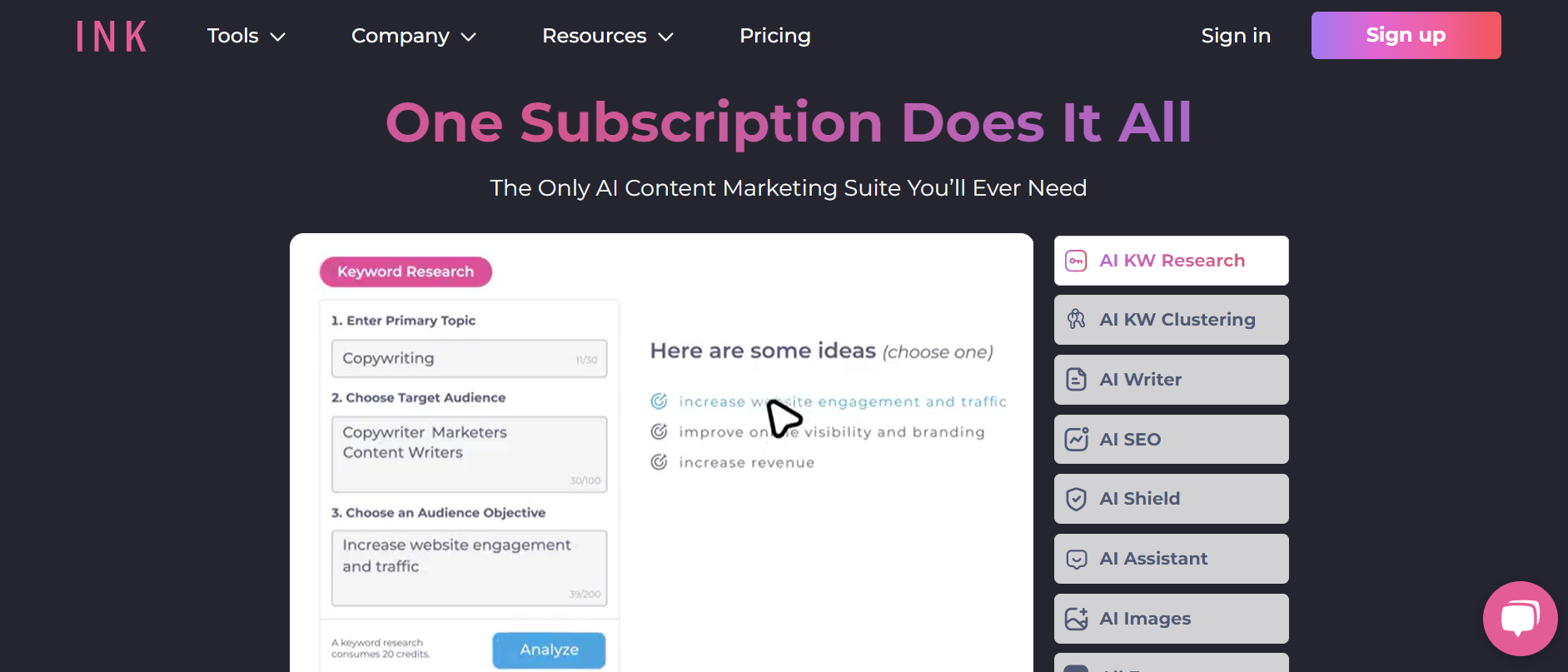 INK for All takes its place in the ranks among other AI marketing platforms like Writesonic and Jasper with its ability to copywrite. By harnessing the power of AI copywriters, writers and marketers can save valuable time – allowing them to focus on crafting meaningful messaging that resonates with their audience.
In addition to its AI writing prowess, INK for All offers a suite of tools to optimize content for search engines. By providing real-time SEO insights, INK for All empowers users to create content that not only engages readers but also ranks higher in search engine results.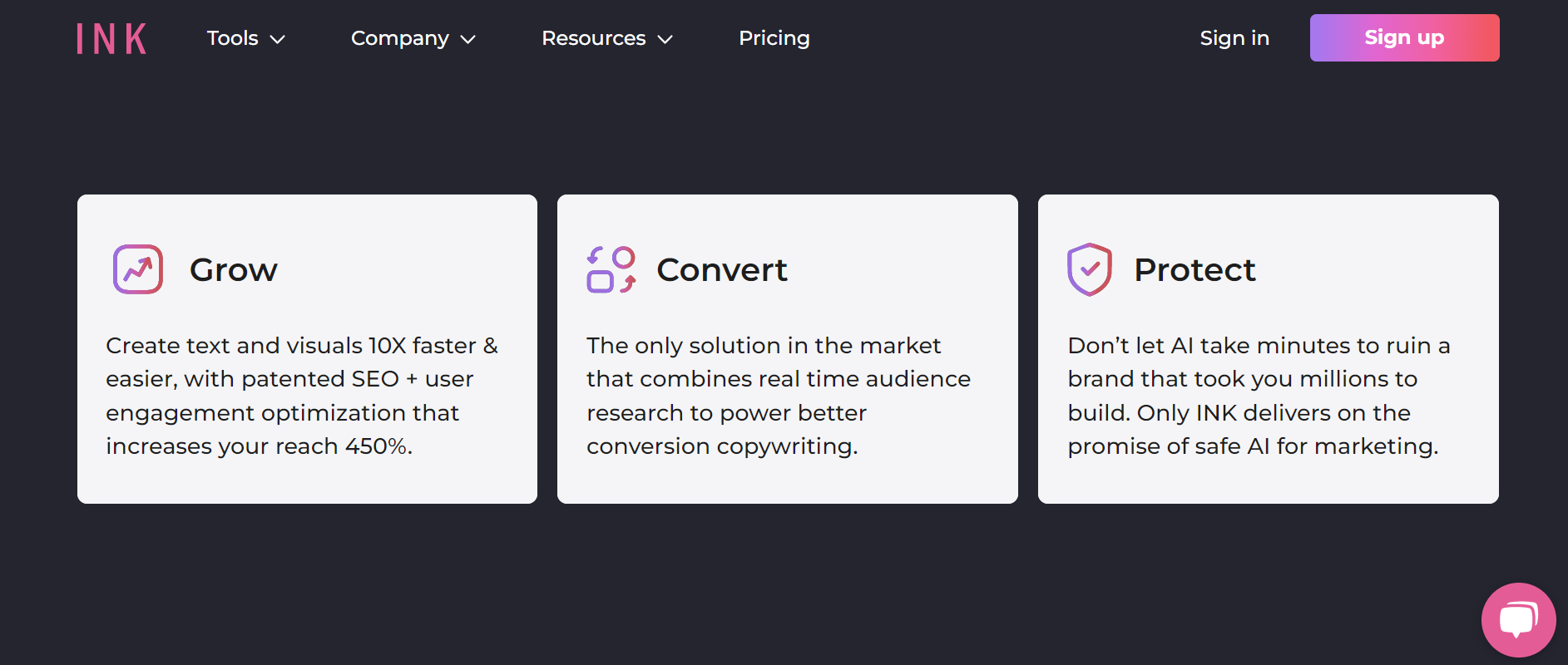 One feature that sets INK for All apart from its competition is Content Shield. Content Shield detects the use of AI in written content. Additionally, INK for All uses an in-house developed transformer-based artificial intelligence system – KUPE – while most of INK's competitors utilize GPT-3.
In addition to the platform's home-grown AI, INK for All offers a ChatGPT plugin called SEO.app. This plugin leverages advanced techniques like target content derived modeling and unsupervised language modeling to provide the latest and greatest in SEO to ChatGPT users. With SEO.app, ChatGPT users can experience the benefits of INK for All's SEO technology to drive better SERP results and enhance their online presence.
INK for All hopes to equip businesses and marketers with the tools they need to optimize the content creation process and to write content that will take their marketing game to the next level.
| | |
| --- | --- |
| Feature | Ink for All |
| AI Technology | KUPE |
| Languages Supported | 20+ |
| User Experience | Web Interface |
| Educational Material | Yes |
| Long Form Document Editor | Yes |
| Search Engine Optimization | Yes |
| Art Generation | Yes |
| Text Summarization | No |
| Plagiarism Detection | Yes |
| Chrome Extension | Yes |
| API/Webhooks | Yes |
| Free Trial | Yes |
| Pricing Model | Monthly Subscription  |
What INK for All Does Well
INK for All offers a full suite of AI writing tools for content creation and marketing stratgies. Below, we'll discuss how INK for All equips users with the copywriting tools and resources they need to create compelling, well-optimized, and visually appealing content.
Search Engine Optimization
INK for All offers various SEO tools like Keyword Research, Keyword Clustering, and SEO Optimize. Marketers focused on boosting brand visibility and ranking higher on search engines can utilize INK's SEO tools to accomplish their goals.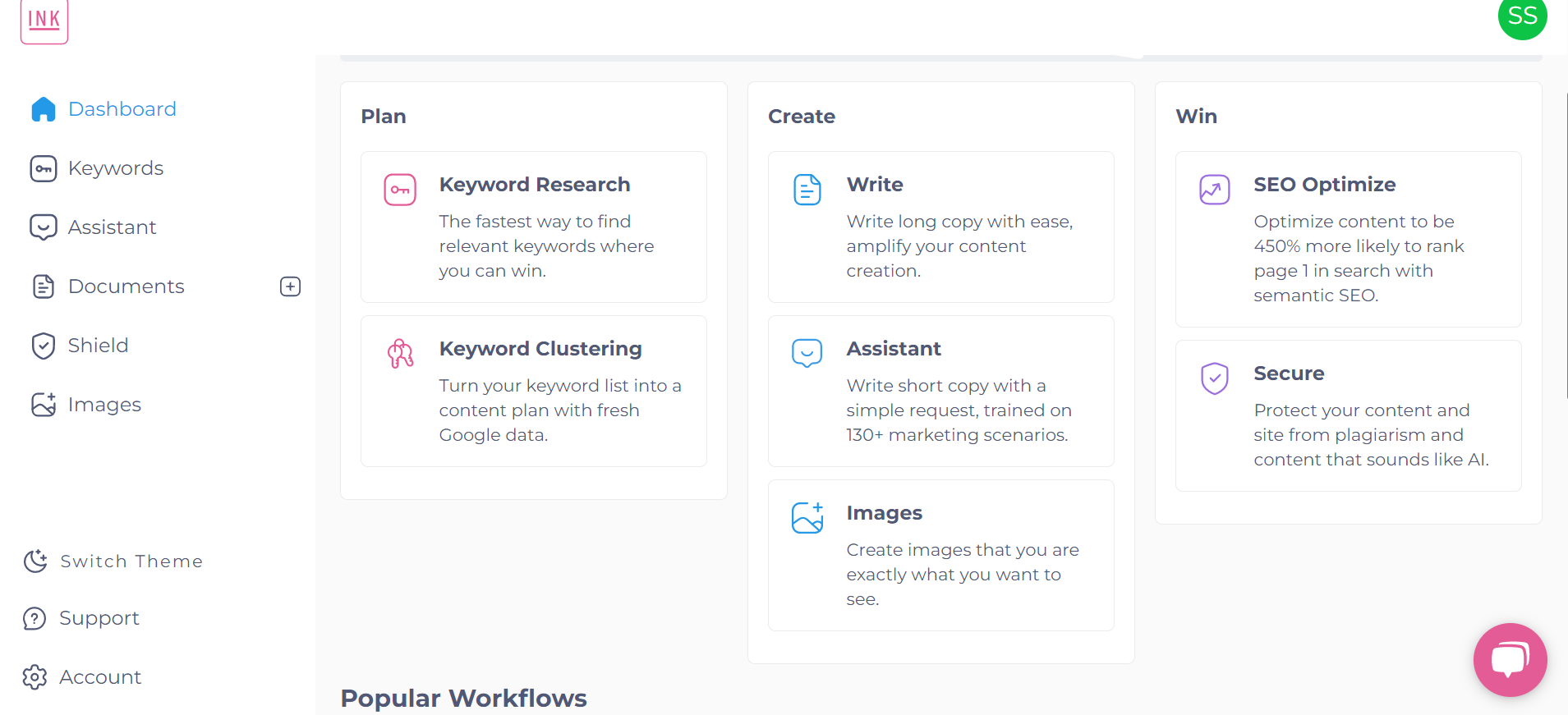 If you want to get an idea of how your content will perform, INK for All's SEO content score tool will help you do exactly that. This SEO tool can be found seamlessly integrated into the long-form document editor on the right-hand side or via SEO Optimize on the dashboard.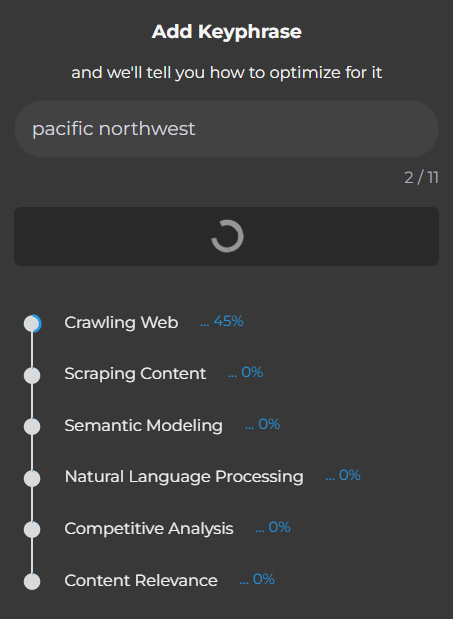 INK's SEO optimizer combs through a chosen document, crawls the web, and evaluates your work to provide insights like how and where to improve keyword usage. By identifying areas where your content could enhance its use of keywords, INK for All helps its users create relevant content.
After its analysis, the SEO content score feature presents users with various optional tasks to ensure that every aspect of the content is optimized for SEO. These tasks guide writers in incorporating relevant keywords more effectively within the text and optimize the overall structure and organization of the document for improved search engine rankings.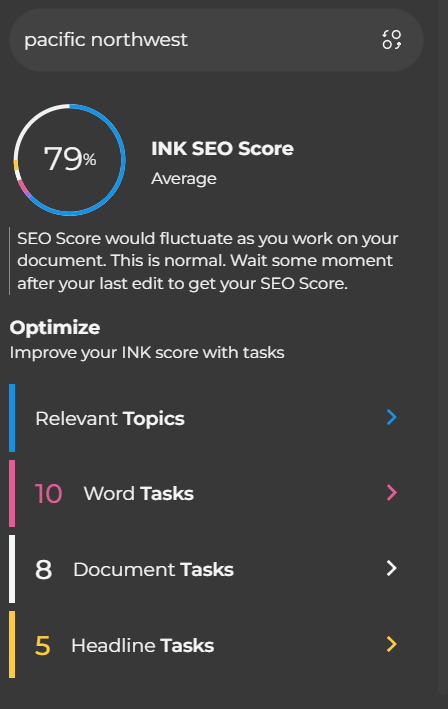 By leveraging the SEO content score and following the AI copywriter recommended tasks, marketers can create SEO optimized content that resonates with their target audience and performs well in search results.
Art Generation
INK for All is not just an AI writing tool – The platform offers an AI-powered image generator. This is a powerful tool that helps writers and content creators add copyright-free and visually captivating elements to their work. The art generation tool produces images based on user inputs. You may have to tweak a prompt until you get an image that represents exactly what you want.
I input the prompt, "lost lake in the jurassic era". INK for All's AI image generator did a fine job at creating relevant AI images.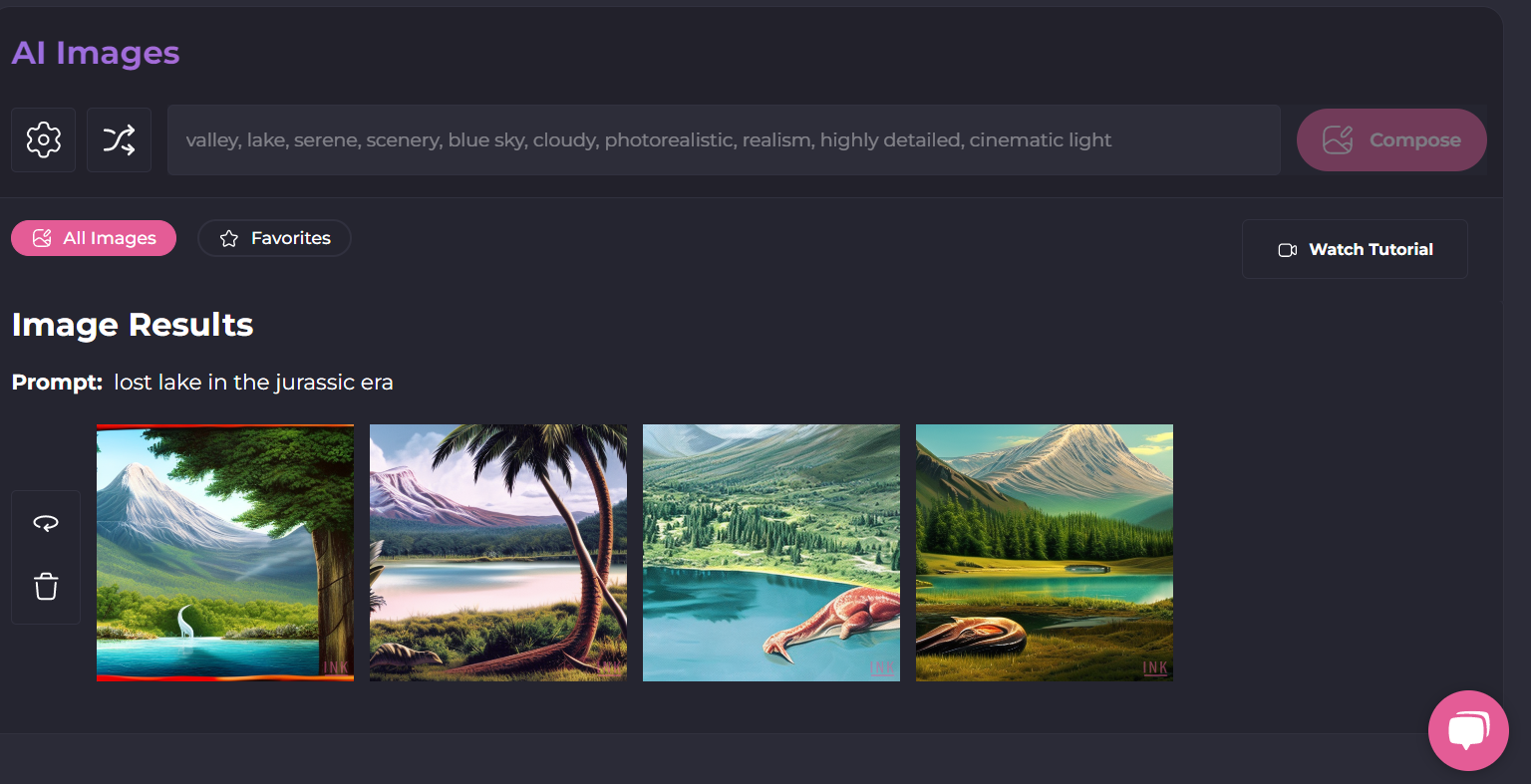 Instead of scouring through stock photo libraries or struggling with graphic design software, users can simply input their desired image description or keywords, and the AI image generator will create an image in return. This feature helps add depth and engagement to written content, making it a valuable asset in creating compelling content.
In addition to AI art generation, INK for All offers a convenient way to incorporate project-relevant stock images into your content with its built-in image search feature. With just a few clicks, users can search a wide variety of high-quality stock images directly within the platform, eliminating the need for external image sourcing and saving valuable time and effort.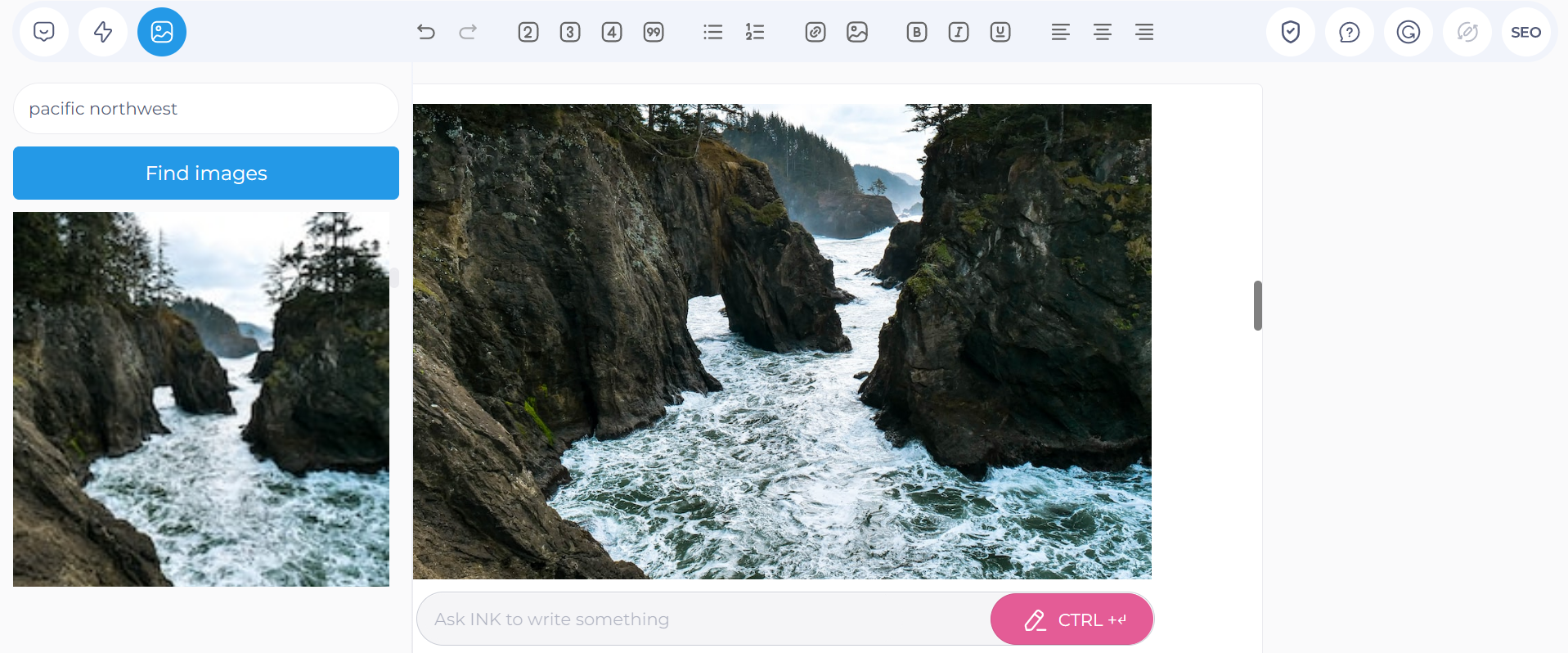 What INK for All Could Improve
While INK for All offers an array of impressive features and tools, there are areas where the platform could benefit from further improvements. We will discuss some of these items below.
Long-Form Document Editor
INK for All's long-form document editor provides users with a straightforward and visually pleasing interface. With its simple and bubbly design and clear and concise layout, navigating the platform is generally intuitive and user-friendly. However, there are a few areas where improvements could be made to enhance the overall user experience with long form content.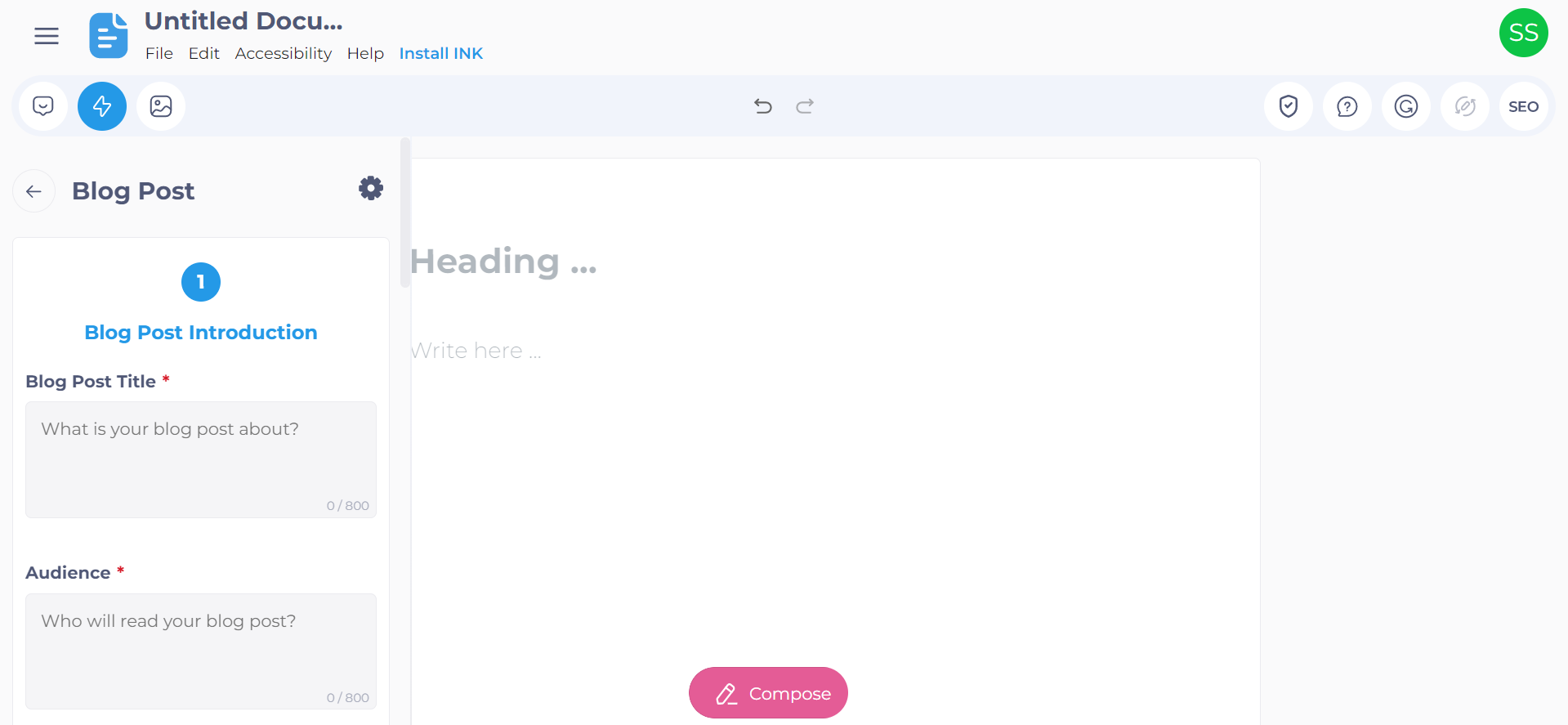 One thing I noted is that when certain features like the AI assistant, recipes, or image finder are open on the left side of the document editor, that side of the editor is cut off. When I zoom out, this issue seems to go away. INK for All may consider fixing this detail, which can be annoying to some users.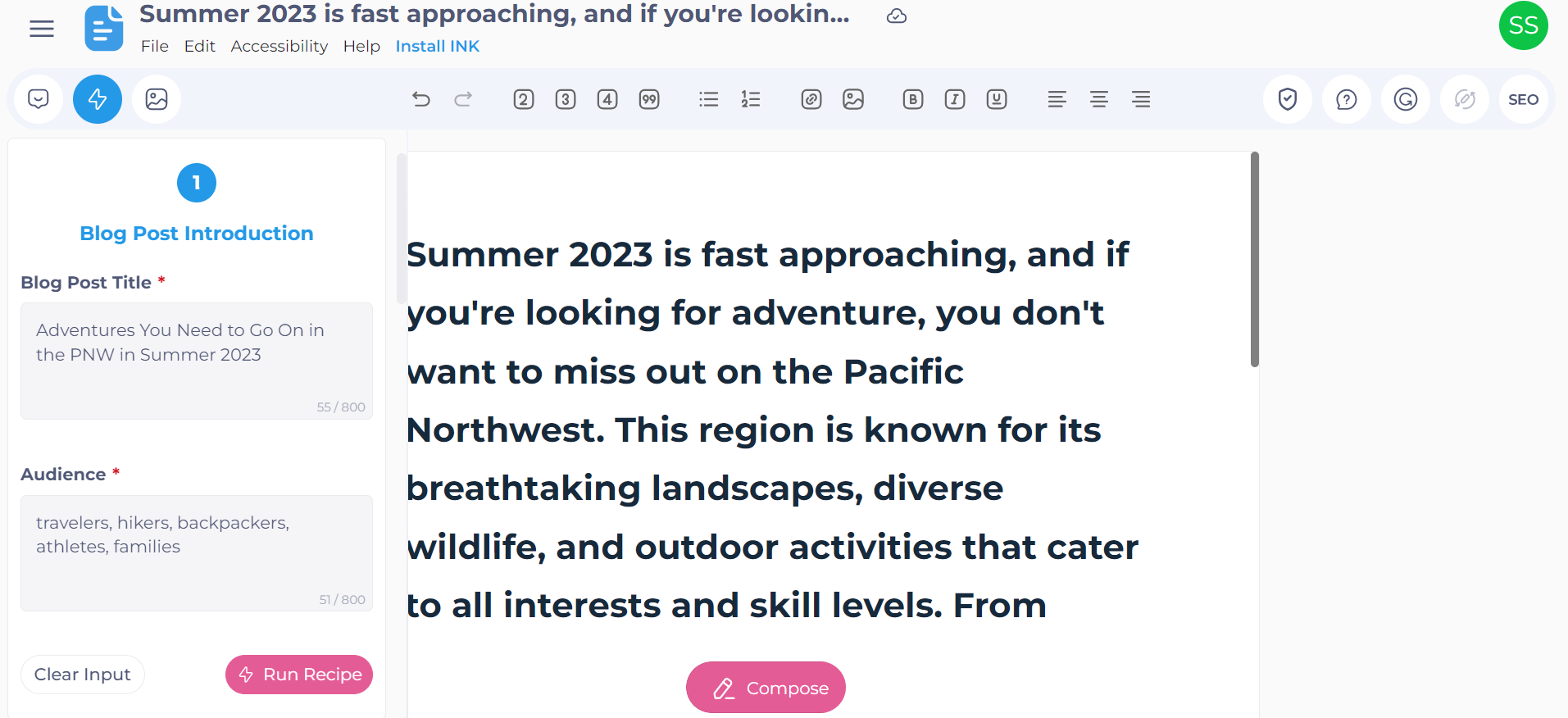 While INK for All does a decent job of writing about various topics, such as activities to do in the summer in the Pacific Northwest, the generated text can feel somewhat chaotic. I prompted the AI to write 2 separate paragraphs based on the AI-generated outline. Both of these paragraphs live under the "Introduction" heading. At the end of each paragraph, INK's AI writer added CTA's (Calls to Action).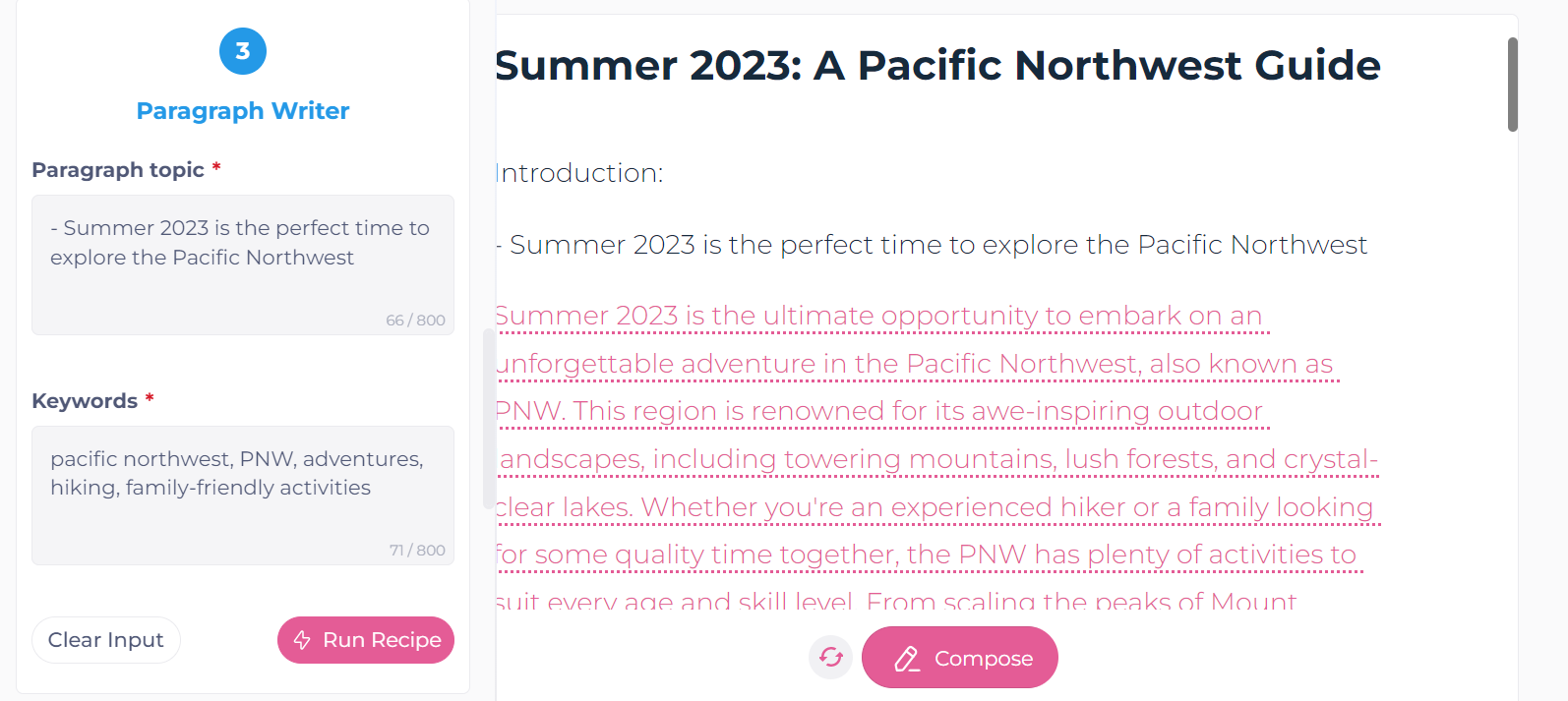 The first CTA at the end of the first paragraph was, "Don't miss out on the adventure of a lifetime – start planning your PNW trip today!"
The second CTA at the end of the second paragraph said, "So what are you waiting for? Start planning your summer 2023 adventure today and immerse yourself in the breathtaking landscapes and diverse wildlife that make up this amazing region!"
INK for All's AI writer seemed entirely too eager to add multiple CTA's. It is not something I would have done myself.
It is also worth noting that the AI writer tends to generate content based on the last place the cursor was positioned. Therefore, users must ensure that the cursor is in the desired area or clear any unwanted input from previous prompts to avoid any unintended content generation or mistakes. Other AI writers like Writesonic and Wordtune allow you to rewrite or expand on ideas by highlighting specific text and choosing from a menu that pops up.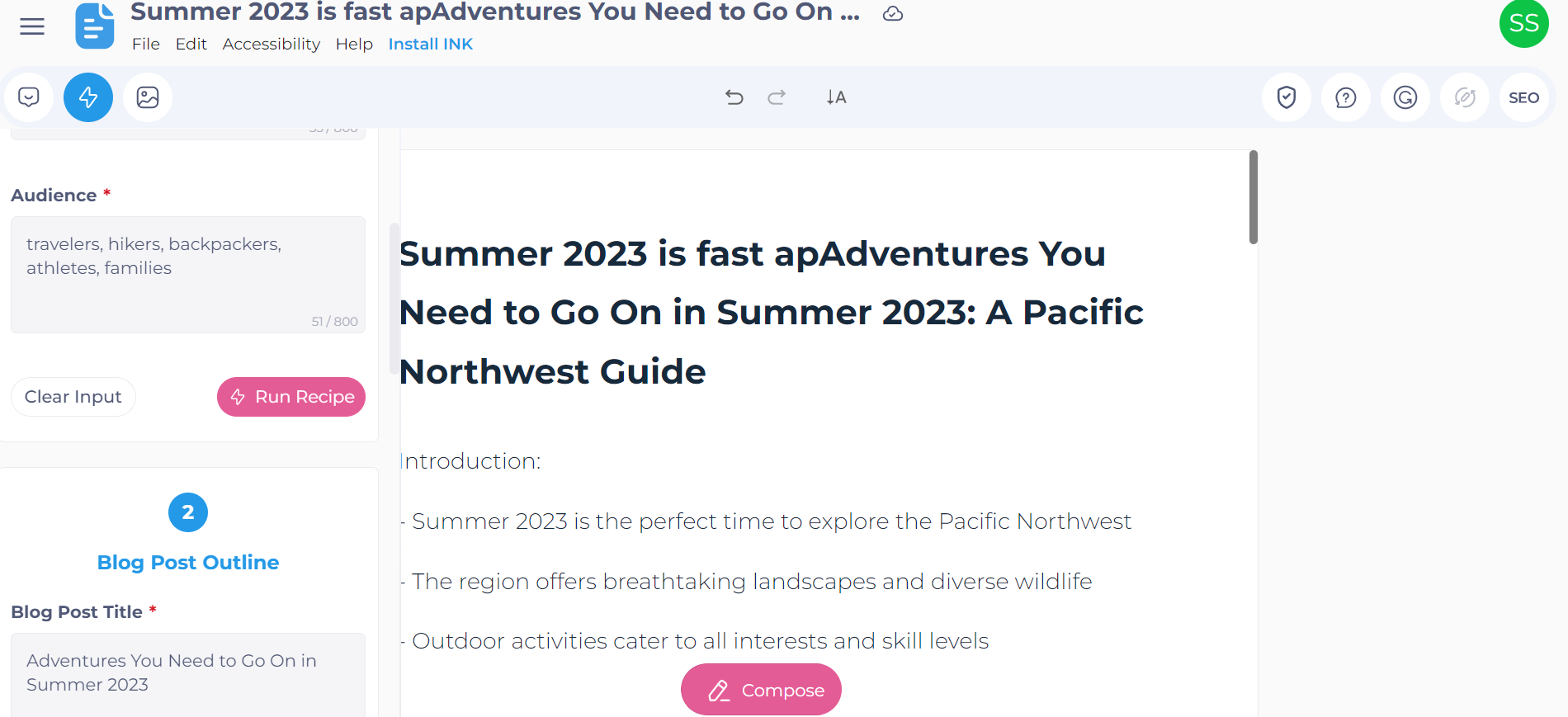 I didn't see an option to adjust the tone of the blog on the free trial – INK's default tone appears to be casual and conversational. As a general rule of thumb, users should always treat any AI generated content as a first and rough draft. Expect to make changes to the content to meet your project's specific needs.
As INK for All continues to evolve and refine its platform, addressing these issues could further enhance the usability of the long-form document editor and overall customer satisfaction.
Plagiarism Detection
INK for All offers a plagiarism detection tool bundled up in its Content Shield feature. In addition to providing insight into whether or not content is plagiarized, Content Shield offers users insights into the likelihood of the work being written by AI and detects potential areas that may require modification.
Content Shield
By analyzing the provided written work, Content Shield provides writers with a clear indication of sections that might benefit from revisions or adjustments to enhance authenticity and originality.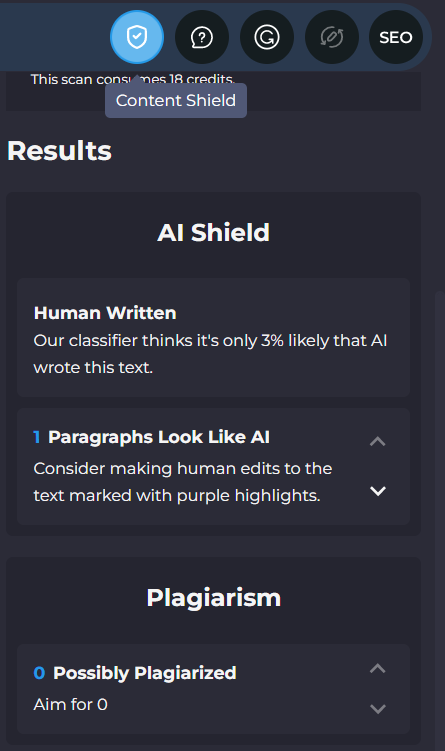 During my testing, Content Shield indicated 3% of the content was likely to be written by AI (all of the content tested was written by INK's AI). This score means the content is likely to be human-made and totally organic. I was unable to access specific data supporting the 3% claim, making it feel somewhat arbitrary to me. It would be beneficial for INK for All to provide more transparency and supporting evidence to validate such results. This would instill more confidence in Content Shield and its AI writing detection capabilities.
INK for All notes themselves on their support page that the Content Shield may not be entirely reliable and has its limitations, such as occasionally mistaking human-written text for AI-generated content. This is particularly noticeable when dealing with non-English text, as the classifier's optimization is primarily focused on English language content.
Another factor that appears to affect the reliability of the content shield tool is the subject matter of the text. If the subject was not part of the AI training data, there is a possibility of misclassification with high confidence. Additionally, text that is highly predictable and would yield the same output whether written by a human or AI is often flagged as AI-written.
While the content shield tool serves as a valuable aid in identifying potential AI-generated content, users should be aware of its limitations and exercise caution when interpreting the results.
I also noticed the wayfinding for language that need improvement seems to disappear after navigating to the section. To enhance the usability of the feature, INK for All could consider implementing a resolve or reject suggestion feature that allows users to acknowledge and address the identified issues in a more organized manner. If you are multitasking and skimming through potential changes, losing indication of what changes need to be made can be cumbersome in the writing process.
Despite its shortcomings, INK's Content Shield is a valuable tool for maintaining content integrity and originality. With some improvements in the user experience, it has the potential to become an even more effective tool for content creators in their quest for creating unique and engaging content.
Final Thoughts
INK for All is a comprehensive and innovative content marketing suite, offering a wide range of AI-powered tools and features to enhance the content creation process. From AI writing assistance to SEO optimization, plagiarism detection, image generation, templates, and more, INK for All equips users with the resources they need to create compelling and visually appealing content.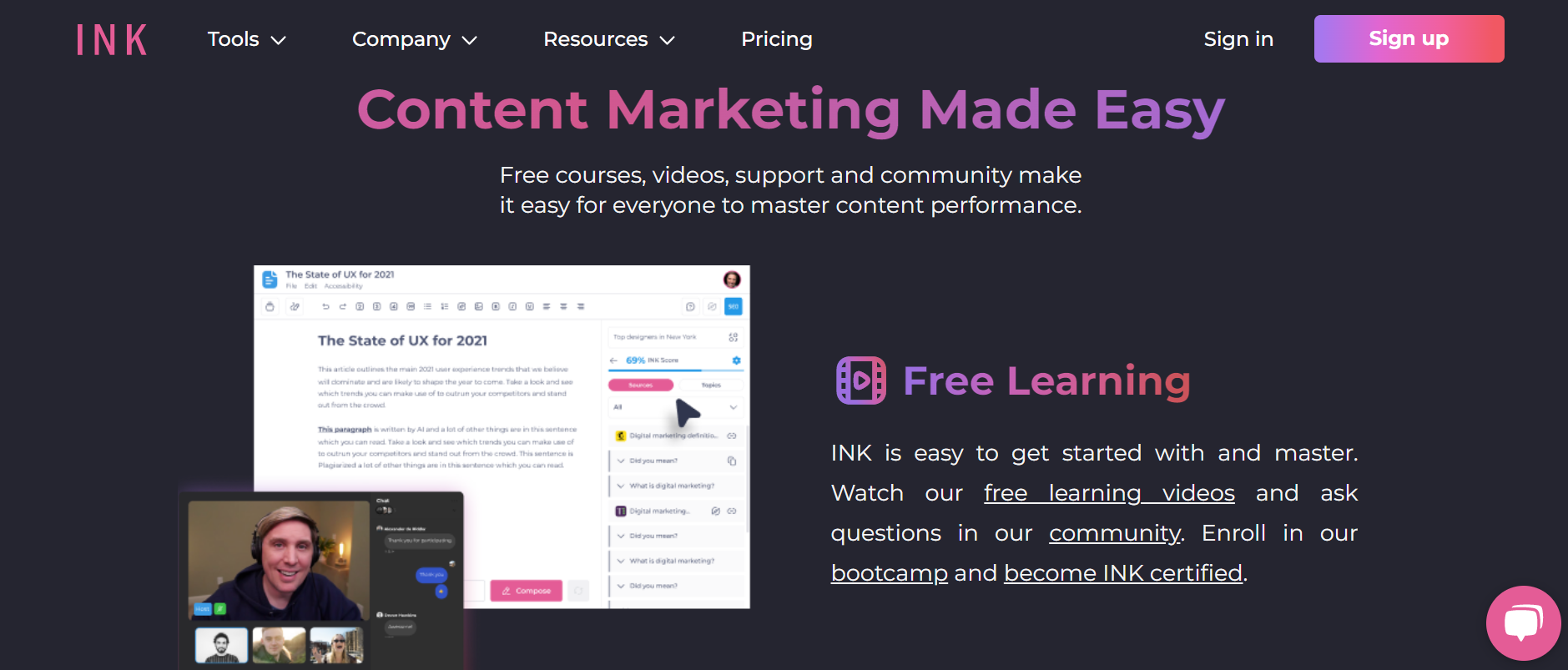 Overall, INK's interface is user-friendly and intuitive. Navigating the platform is easy enough and users can quickly access and leverage various tools and features. The ability to use an AI writing assistant provides valuable support during the content creation process. The SEO tools enable users to optimize their content for search engine visibility, ultimately boosting their online presence.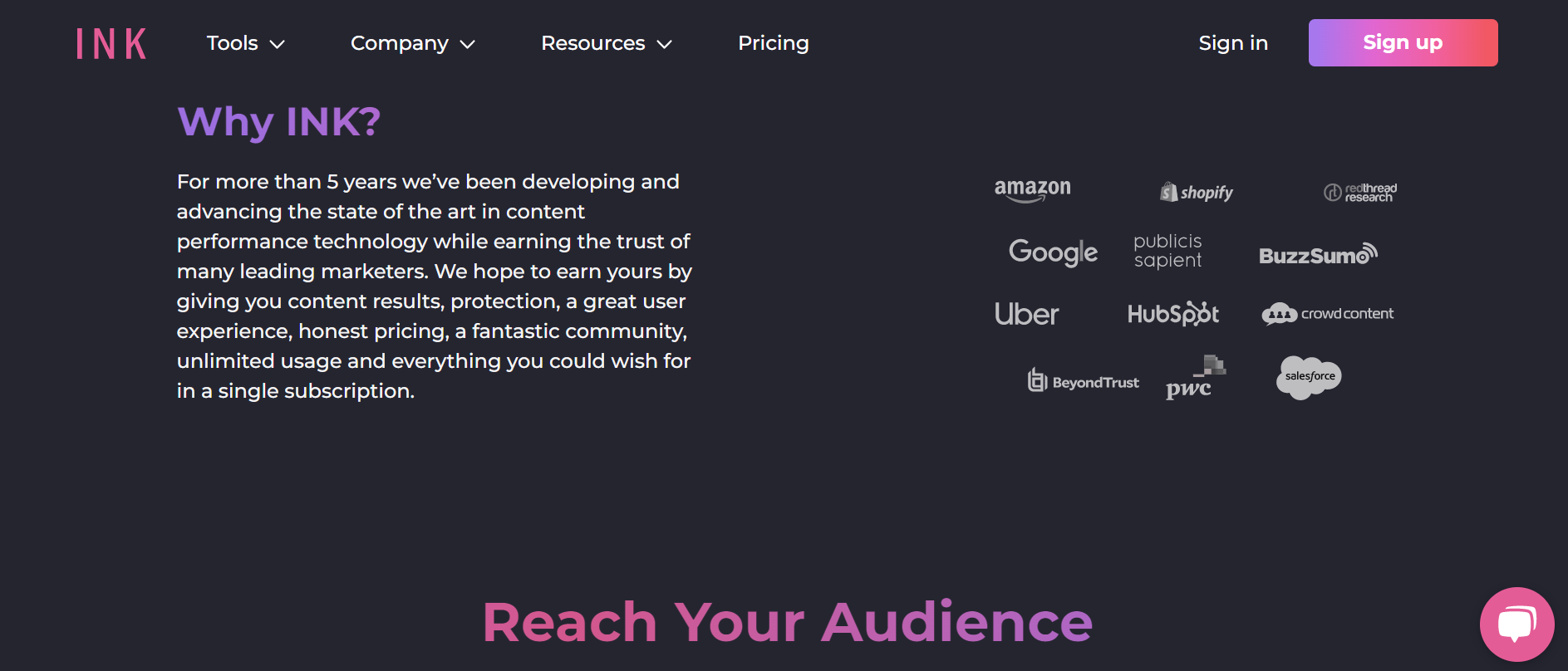 INK for All may consider enhancing the content shield feature to include the ability to resolve or reject suggestions, which would streamline the process of addressing identified areas for improvement.
INK is a valuable platform suited for a diverse range of users. For bloggers and content marketers to writers and freelancers seeking an AI writer and content planner, INK for All is a platform worth considering. Whether you are among content professionals or a beginner in the realm of SEO optimized marketing strategies, INK for All can empower you to create high-quality and engaging content that resonates with your audience.
While INK for All showcases impressive home-grown AI capabilities and delivers a user friendly interface with a solid set of content marketing tools, there is room for growth. With continued improvements in user experience, INK for All has the potential to grow their community exponentially for years to come.