10 Best Market Research Software of 2023
Say goodbye to playing guessing games with your target audience, because these tools will do the marketing research for you. Keep reading to find out how you can get accurate analysis and relevant data for your brand, and even how you can do it for free!
What is market research?
Market research is a crucial step in developing a product or service because it helps businesses make informed decisions based on consumer insights and market data.
Businesses that lack funds tend to skip this step, but it has time and time again proved crucial to launching a successful product and retaining customers.
The process involves gathering information (market research data) about the product or service to determine its viability in the marketplace (will consumers like it enough to spend money). This information is obtained by analyzing customer behavior, preferences, and needs.
What is the best market research software?
When it comes to choosing the software to fit your needs, you should focus on a few key things. The best market research software should provide in-depth insights into your customer behavior and preferences, as well as the competitive landscape. It should be user-friendly, offer a wide range of other features suitable for your needs, and be customizable enough to fit the unique requests of your business. Additionally, the best software should be affordable and provide excellent customer support.
By understanding the target audience, and collecting customer feedback, businesses can design their products and services to meet their needs and improve customer satisfaction. Additionally, using market research software can provide insight into the competitive landscape, helping businesses identify their strengths and weaknesses relative to their competitors.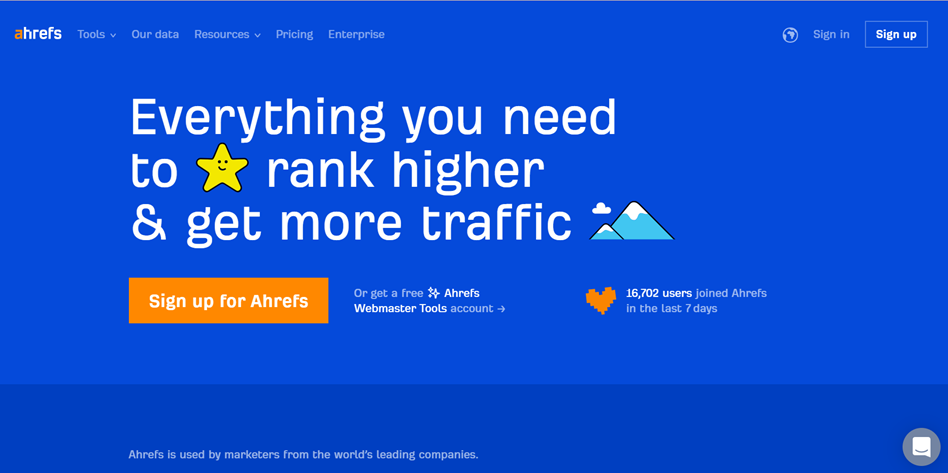 Overview
Ahrefs is a market research software that provides an all-in-one SEO toolset to help users rank higher and get more traffic. Ahrefs' SEO data is considered best in class and has been trusted by over 64% of SEO professionals, who prefer Ahrefs' link data over its competitors. AhrefsBot is the most active web crawler among all SEO tools. What makes Ahrefs unique is that it runs its own search engine, which provides a high-end infrastructure to power its services, improves web crawling speed and breadth, and gives Ahrefs deeper expertise in how search works and how to rank #1.
Highlights
Ahrefs allows users to analyze their competitors through Site Explorer, providing them with valuable information on their competition's top-performing pages, organic search traffic, and backlinks.
The market research software allows users to audit and optimize their website through Site Audit, giving them a comprehensive view of their website's SEO health and providing them with suggestions to fix any issues found.
Ahrefs enables users to find keywords that their customers are searching for through Keywords Explorer, allowing them to target specific keywords to improve their website's search engine ranking.
Content Explorer helps users discover content ideas and link opportunities to help them create high-quality content that can attract backlinks.
Rank Tracker allows users to track their ranking progress and monitor their website's search engine ranking for specific keywords.
Ahrefs offers educational materials, including free courses in its Academy, video tutorials on its YouTube channel, and "How to use" guides within its interface.
Ahrefs has a supportive community and customer service team that users can rely on for help and advice. It provides access to Ahrefs Insider, a private community, where users can bounce ideas and questions off SEO-obsessed marketers who have seen it all. Users can also ask questions and receive support via live chat 24/5 or on Twitter.
Pricing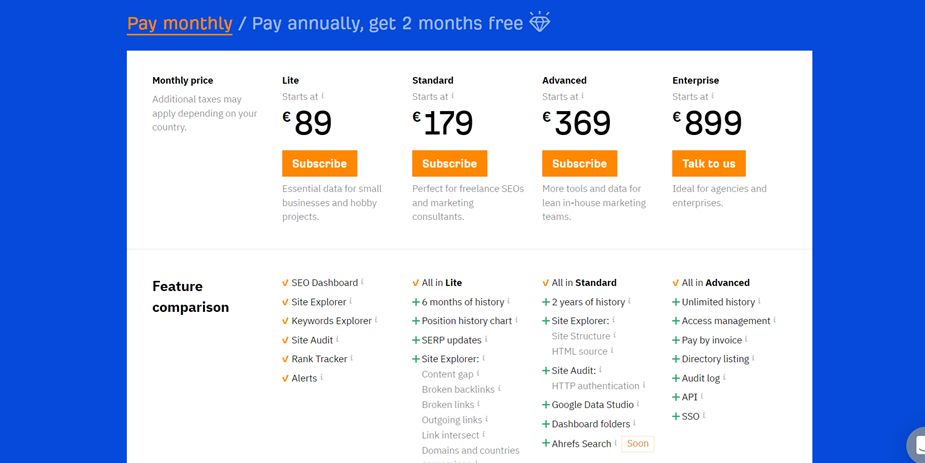 Lite Plan for $89 per month
Standard Plan for $179 per month includes 6 months of history and position history chart
Advanced Plan for $369 per month includes 2 years of history
Enterprise Plan for $899 per month includes unlimited history, API, and SSO
Bottom line
This software is intended for content marketers conducting market research, pro SEOs, agencies, eCommerce businesses, and enterprise companies, as well as anyone who wants to improve their website's SEO. The supportive community and 24/7 support make it the best market research platform of choice for most SEO professionals.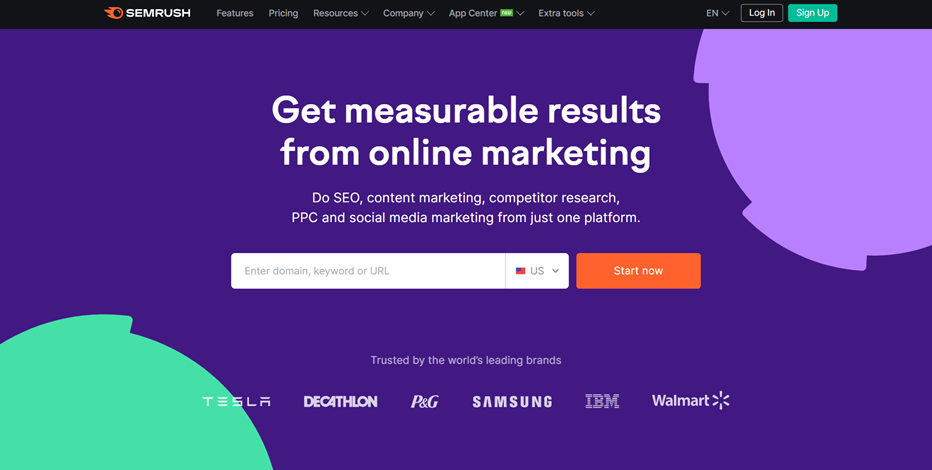 Overview
SEMRush is a market research software that provides a complete solution for businesses looking to increase their online visibility. The research software offers a range of features including SEO, content marketing, advertising, social media, and agency solutions.
Highlights
One key feature that makes SEMRush stand out is its ability to provide measurable results for online marketing campaigns. The software's complete and easy-to-use SEO tools and workflow can help businesses grow their organic traffic by uncovering millions of national and local keywords, analyzing any domain's backlink profile, running technical SEO audits, and tracking SERP positions daily.
The market research software has the ability to unveil competitors' marketing strategies and tactics.
With SEMRush, businesses can analyze the traffic of any website, unveil competitor promotion strategies, and discover keyword and backlink gaps.
The market research software also provides insights on how to reach more prospects while spending less, by finding the best keywords for every PPC campaign, monitoring competitors' ad copies and landing pages, optimizing advertising spend, and analyzing Google Shopping ad campaigns.
Pricing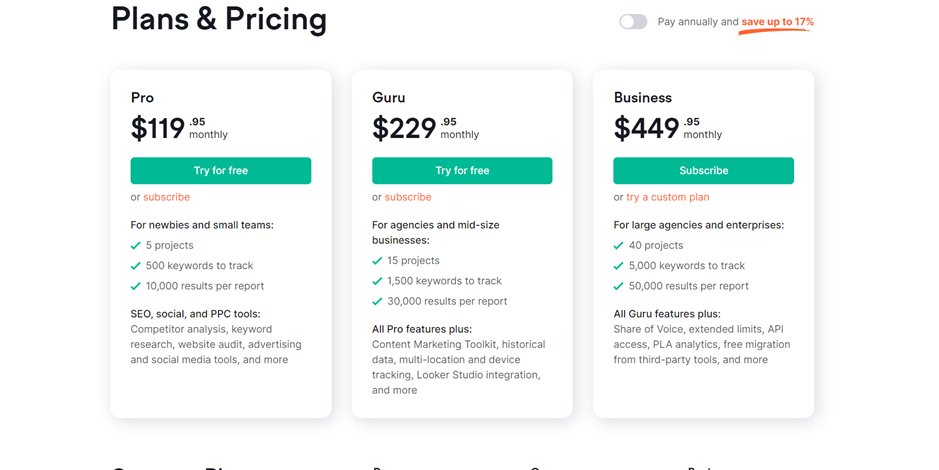 Pro Plan for $119.95 per month includes 5 projects
Guru Plan for $229.95 per month includes 15 projects
Business Plan for $449.85 per month includes 40 projects
Bottom line
With SEMRush, marketers can manage all their marketing campaigns from a single platform. SEMRush is trusted by the world's leading brands such as Tesla, Amazon, and IBM, among others. The market research software is intended for marketing professionals and agencies looking for a powerful marketing tool to streamline their processes and improve their market data analysis and marketing strategies. And when they want to do it more efficiently and effectively, they'll use some of the best AI marketing tools.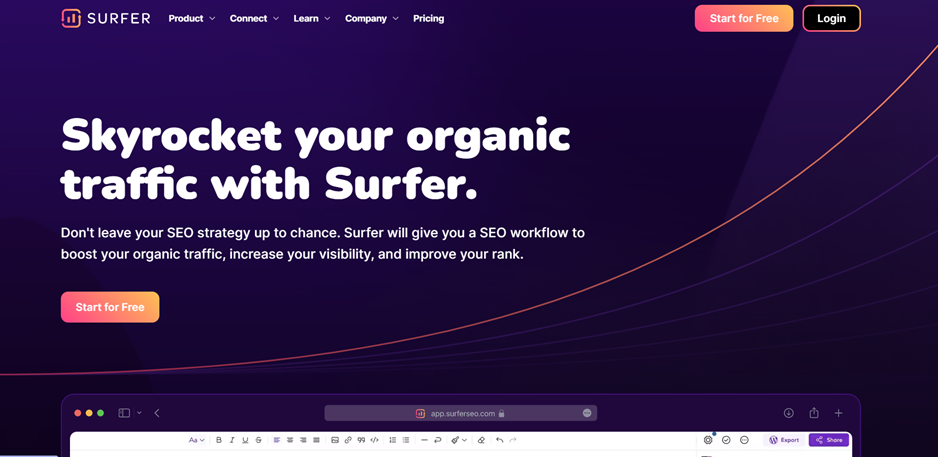 Overview
SurferSEO is a market research software designed to help businesses enhance their SEO strategies, increase organic traffic and visibility, and improve search engine rankings. The software boasts several features that make it stand out in the market research software industry.
Highlights
Surfer offers real-time feedback on on-page optimization with its Content Score feature. This feature helps users to structure articles, generate a list of relevant keywords, and write content that is both engaging and optimized for search engines.
Surfer's Content Editor feature provides writers with relevant keywords while they write, helping them to produce content with precision and confidence that will rank high in search engines, and ensure it reaches the target audience.
Surfer enables users to generate briefs with catchy headlines using the built-in Outline Builder, thus improving the overall quality of content and catching the eye of the target audience (which is a great way to use AI for SEO).
The market research software also offers a Keyword Research Tool that enables users to discover dozens of relevant topic clusters in a matter of minutes, thus simplifying the research process. Users can check search intent for their target audience and evaluate monthly search volume and keyword difficulty at a glance.
Surfer's integration with various platforms, such as Google Docs and WordPress, also makes it a versatile tool suitable for anyone in need of market data.
Pricing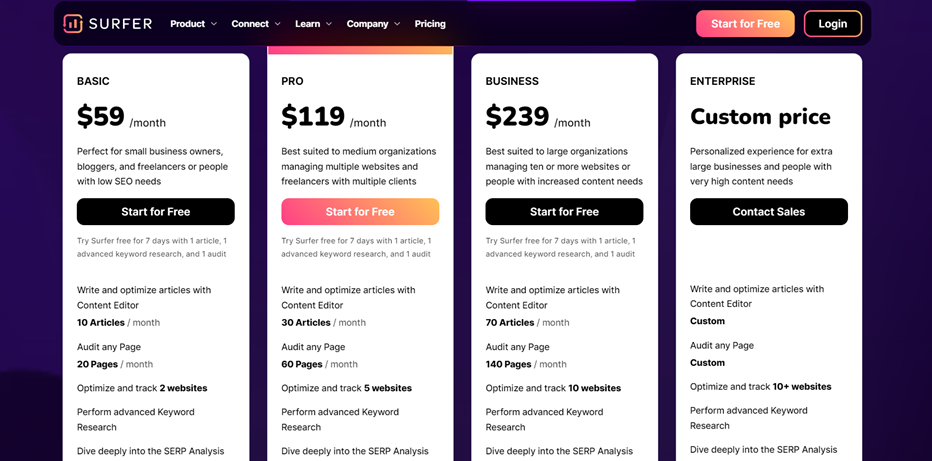 Basic Plan for $59 per month includes 10 articles
Pro Plan for $119 per month includes 30 articles
Business Plan for $239 per month includes 70 articles
Enterprise Plan is custom-tailored
Bottom line
Surfer is the best market research tool for businesses and individuals who are passionate about increasing their organic traffic and want to save time on manual keyword research. With Surfer, writers can establish their expertise, streamline their strategies, and climb the SERPs quickly, ensuring they get more traffic and attract more clients.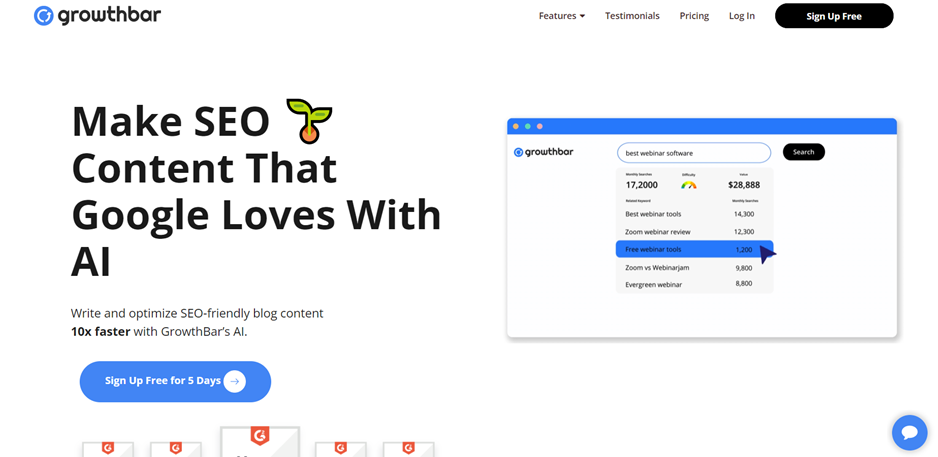 Overview
GrowthBar is a market research software that uses artificial intelligence (AI) to analyze data and help businesses create optimized content for SEO purposes and reach their target market. It is a complete end-to-end tool for researching, writing, and optimizing SEO content, making it one of the best market research tools for content creators, editors, ad sales professionals, and marketers who want to improve their organic traffic.
Highlights
One of the key features that set GrowthBar apart is its AI content generation tool. By scanning hundreds of results in the Google SERP, GrowthBar generates an SEO-optimized outline for a blog or website. The research software provides optimal headings, keywords, word counts, internal links, and other suggestions.
With one click, GrowthBar's AI writing assistant can write the entire blog post or audit an existing one.
The 2-Minute Blog Builder allows users to go from an outline to a 1,500-word blog post in just two minutes. The market research tool also provides keyword suggestions complete with difficulty scores and estimated revenue metrics to help businesses plan their content roadmap.
Moreover, GrowthBar has a suite of AI writing tools, including Chat, product descriptions, press releases, and more to enable all marketing channels.
The tool's Chrome extension integrates with Google Chrome to give keyword ideas while searching and provides SEO insights when using WordPress.
Pricing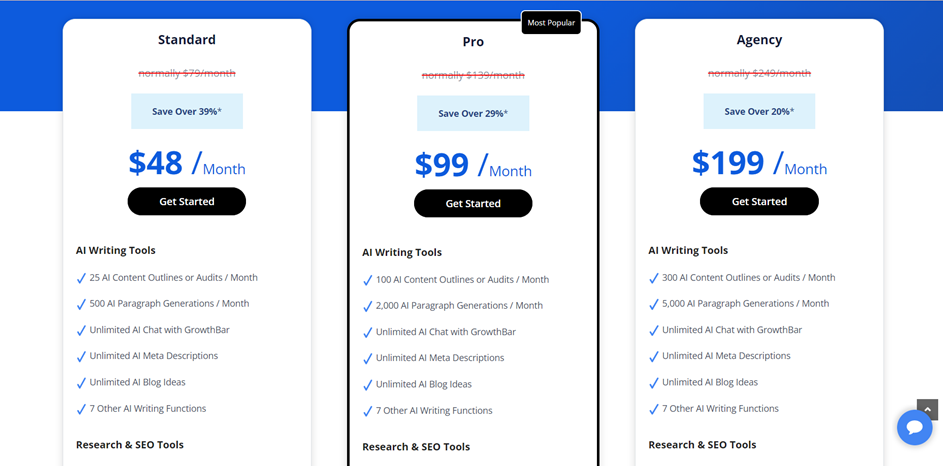 Standard Plan is $48 per month and includes 25 AI Content outlines
Pro Plan is $99 per month and includes 100 outlines
Agency Plan is $199 per month and includes 300 outlines
Bottom line
Thousands of marketers, bloggers, and agencies love GrowthBar and rate it highly. It is an ideal tool for those who want to optimize their content to rank high in cost-effective ways, whether they write in English or any other language as it works in about 20 languages and 25 countries. GrowthBar is a game-changing tool that helps businesses create SEO-friendly content faster and easier than ever before.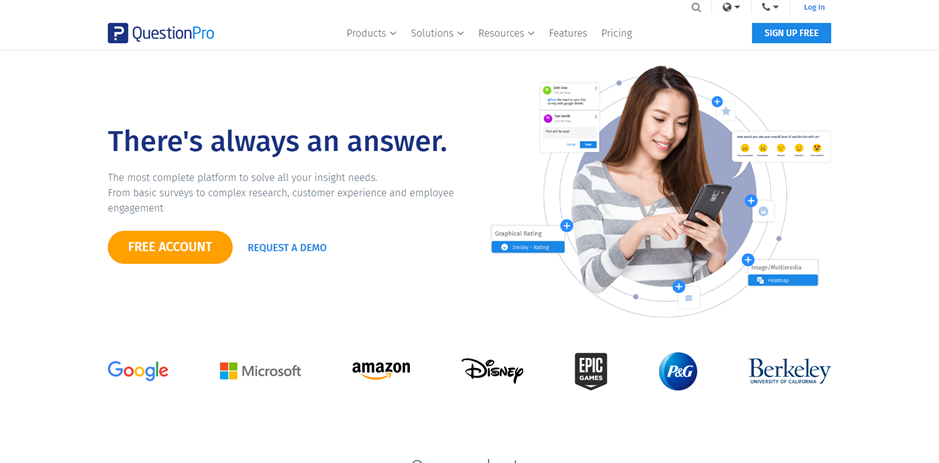 Overview
QuestionPro is a market research software that provides a platform for all types of insights needs, from basic surveys to complex research, customer experience, and employee engagement. What makes QuestionPro stand out are its features, including survey software for beginners to enterprises, market research tools for professionals, customer experience software, and employee satisfaction software. QuestionPro is an industry leader in insights, experiences, and software recognized by Forrester, Gartner, Quadrant Spark Matrix, G2 Crowd, and more.
Highlights
The market research software has over five million users worldwide, with more than 10 billion questions answered since it was founded in Seattle in 2005.
Security is a top priority for QuestionPro, and the company ensures data privacy, protection, anonymity, and compliance in every layer.
This market research software is designed to go beyond the expected and offers customers 24/7 support.
It is fully compliant, holding certifications such as General Data Protection Regulation (GDPR), ISO 27001:2013, CCPA, PCI-DSS, Section 508, PHI, and HIPAA.
QuestionPro is built for enterprise and can integrate with the full range of enterprise systems through APIs or FTP sync, offering robust user roles and permissions, SSO, advanced reporting, and dashboards that can be distributed via a link for real-time updates or downloaded in various formats, including SPSS, Excel, and PDF.
With multiple global data centers, customers can be assured that their insights will be fully compliant wherever they are.
Pricing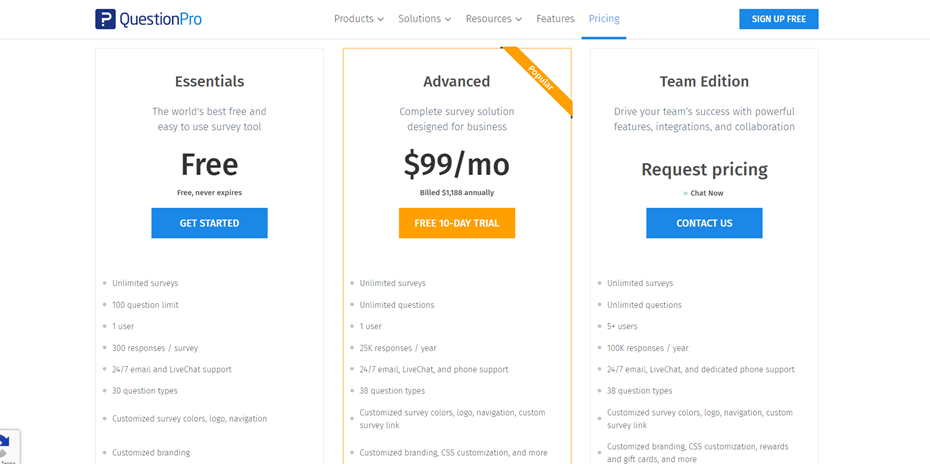 Essentials Plan is free
Advanced Plan is $99 per month with unlimited questions and surveys
Team Edition Plan is custom-priced
Bottom line
The market research surveys suite is ideal for leveraging the powerful research platform to solve the hardest research problems, while the customer experience suite helps turn customers into advocates. The workforce suite allows users to reimagine the future of work, with the employee experience, 360 feedback, and positive people science.
QuestionPro is an excellent solution for academia, offering a community management platform, 22+ million respondents, research services, and powerful features such as Conjoint, MaxDiff, and A/B testing.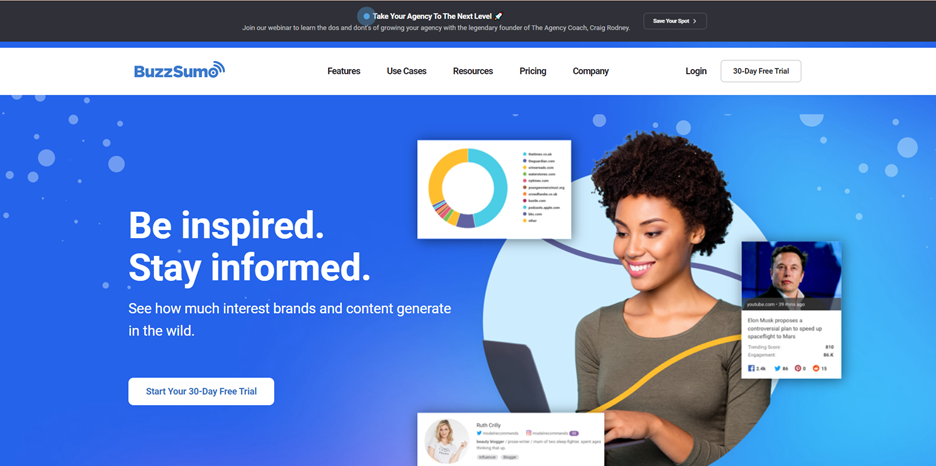 Overview
With BuzzSumo as their market research software of choice, users can generate quality data, know first, operate efficiently, create original, brilliant, and creative content, and experience dedicated customer support, early access to new features, and RSS feed. The market research platform has a wide range of features that make it stand out from the competition.
Highlights
BuzzSumo's Content Ideas Generator provides thousands of content ideas in one search, ranging from viral trends to timeless classics. Its SEO insights feature enables users to explore high-demand keywords and analyze the subheadings, structure, and content of top-ranking headlines.
One of the key features of BuzzSumo is Content Discovery. It allows users to browse through topics, trends, and forums to spark content ideas. With access to data ranging from 24 hours to five years, users can tap into viral trends or timeless classics.
The market research software provides SEO insights by exploring high-demand keywords and analyzing the subheadings, structure, and content of top-ranking headlines. Users can get distribution tips and know where to share their content ideas for big engagement.
The Keyword Tool generates thousands of relevant keywords, enabling users to discover the words and phrases their audience is searching for. Users can understand the popularity of keywords to identify topics with high demand, inform their PPC strategy with cost-based data, and see search volume over time to discover if their keywords are affected by seasonality or trends.
BuzzSumo's Trends provides users with real-time views of viral trends for any topic, domain, or location. Users can sort stories by trending score to spot emerging viral hits and see instant performance data for just-released content. Users can filter the trends by geography to obtain location-specific results.
BuzzSumo offers a variety of other tools, such as Influencers, API, and Tab discovery, to help users conduct research, monitor their brand, and generate content ideas.
Pricing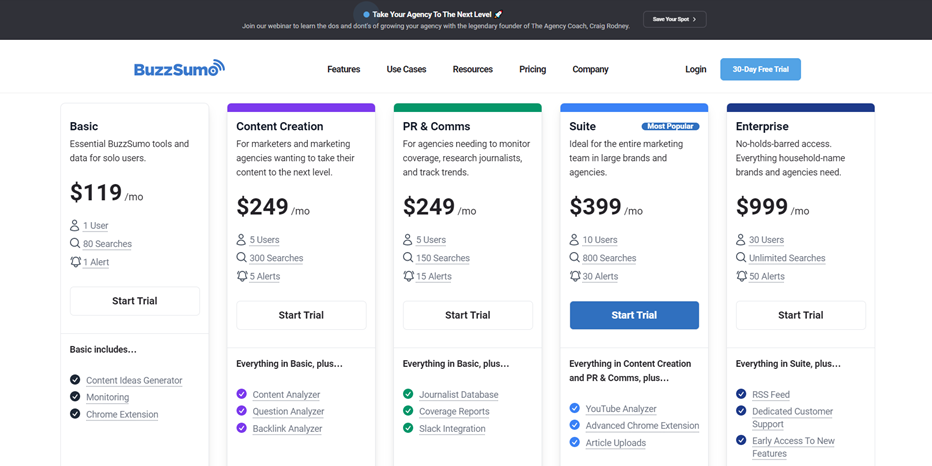 30-day free trial
Basic Plan is $119 per month for 1 user
Content Creation Plan is $249 per month for 5 users
PR&Comms Plan is $249 per month for 5 users
Suite Plan is $399 per month for 10 users
Enterprise Plan is $999 per month for 30 users
Bottom line
BuzzSumo is a market research software that is ideal for content creators, digital marketers, and marketing agencies who want to be inspired, stay informed, and generate great content ideas at the click of a button. BuzzSumo's cost-effectiveness is one of its greatest strengths, with payment options for all budgets and a 20% cost saving on annual plans.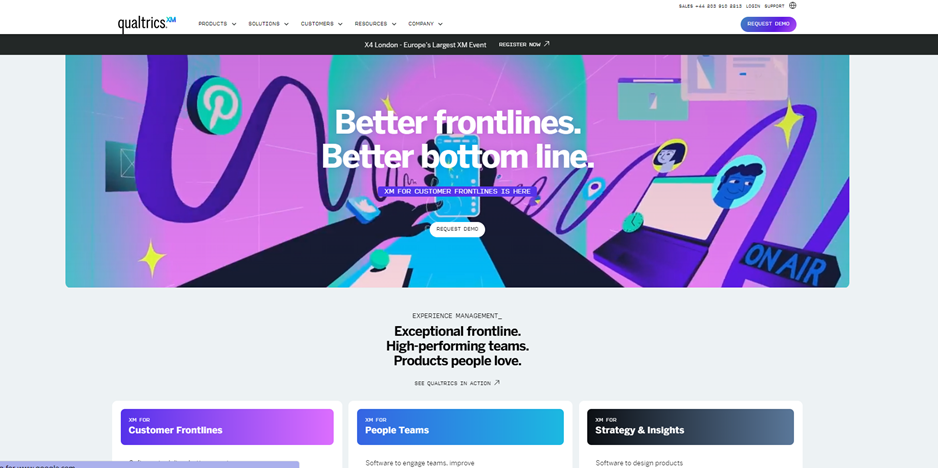 Overview
Qualtrics is a market research software that provides advanced solutions to businesses to enhance customer satisfaction and optimize employee engagement. The software is uniquely designed to deliver an exceptional frontline, high-performing teams, and products that people love. Qualtrics' XM for customer frontlines is one of its key features that allow businesses to deliver better experiences in contact centers and across every digital and physical touchpoint. The software offers digital care, location services, and exceptional frontline artwork features that make it stand out in the market research industry.
Highlights
The XM software has unique features such as engaging, lifecycle, analytics, and people teams artwork that make it stand out from the competition.
Qualtrics XM for strategy and insights is another software that allows businesses to design products people love, increase market share, and accelerate growth. The software offers features such as research, UX, brand, and strategy & insight artwork that make it stand out.
XM for Customer Frontlines provides software to improve customer experiences across digital and physical touchpoints, including contact centers. The software allows for real-time feedback and data analysis to ensure that frontline staff can create heroic moments for customers. It also includes features for digital care and location-based services.
XM for People Teams offers software for improving team engagement, manager effectiveness, and informed people and business decisions. This includes lifecycle management, analytics, and engagement tools to ensure that businesses can improve employee experiences and performance.
XM for Strategy & Insights provides software to help businesses design products that people love, increase market share, and accelerate growth. This includes features such as research, UX design, and brand management tools to ensure that businesses can create products that meet the needs of their customers and stand out from the competition.Other notable features of Qualtrics include its audience and panel management tools, video-first research, and usability testing.
Pricing
Bottom line
It is evident that Qualtrics is an all-in-one platform that provides businesses with powerful research tools to drive their company's strategy, improve customer satisfaction, and optimize employee engagement, making it the go-to market research software for businesses of all sizes.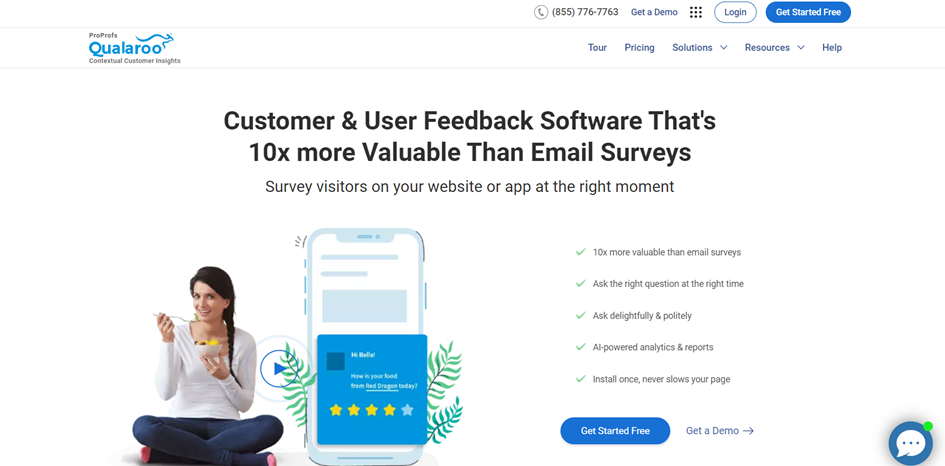 Overview
Qualaroo is a market research software that allows businesses to gain valuable insights into their website visitors and users. It provides users with actionable feedback, advanced targeting options, AI-powered analytics and reports, and templates that enhance the user experience (just like some of the best AI UX tools).
Highlights
With Qualaroo, users can also target customers based on specific actions, behavioral patterns, events, locations, browser cookies, or data streamed from applications. Qualaroo responses are ten times more valuable than email surveys because they catch visitors in real-time, with context.
Qualaroo also allows businesses to ask the right questions at the right time, with its advanced targeting for actionable user insights.
Qualaroo also provides a Nudge that asks just the right questions at the right time without being intrusive. It is based on years of research, key findings, and optimizations, and even learns a site to improve response rates over time. The branching logic ensures that visitors' time is not wasted, and the right question is asked to the right user.
Qualaroo's AI-powered analytics and reports provide instant feedback insights and advanced reporting, powered by IBM WATSON. The sentiment analysis feature helps users turn free-form text into organized data, and track mood metrics and keywords across all customer responses.
With Qualaroo, users can analyze data fast and comprehensively, and the Word Cloud feature instantly displays key ideas from free-form answers. Qualaroo provides advanced reporting that helps users identify quick answers and take deep dives into their data for unparalleled user feedback insights (and catch issues that you can resolve so fast with some of the best issue-tracking software).
Pricing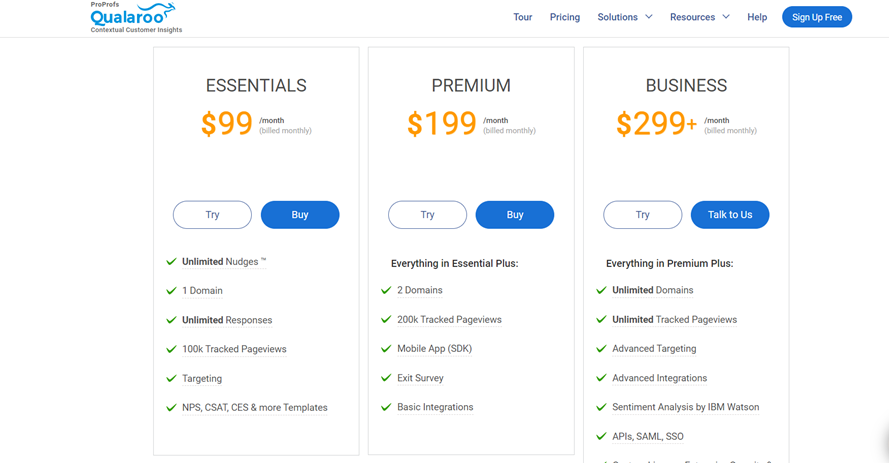 A free demo for 15 days
Essentials Plan for $99 per month for 1 domain
Premium Plan for $199 per month for 2 domains
Business Plan for $299+ per month covers unlimited domains
Bottom line
Qualaroo is a user-friendly and efficient market research software that provides users with valuable insights into their website visitors and users, making it a valuable tool for businesses of all sizes.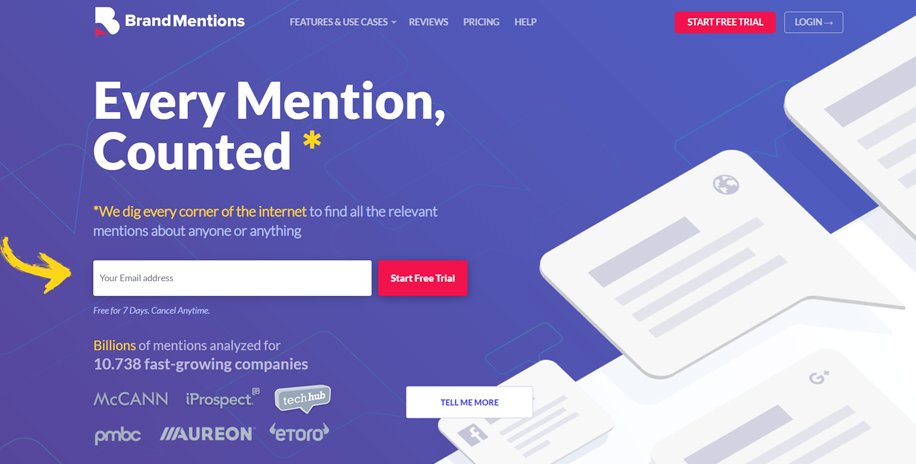 Overview
BrandMentions is a market research software that helps businesses to monitor their brand's performance on the web and social media. The software provides users with fresh mentions of their brand and market directly to their inbox, allowing them to know who is talking about them and what they are saying. The platform enables efficient web and social listening, as it monitors everything that is being said about a company or product on all the channels that matter. With BrandMentions, businesses can track every conversation about their industry, company, or product to maximize their marketing strategy results.
Highlights
The market research software provides users with efficient web and social listening tools, enabling them to monitor everything that is being said about their company or product on all the channels that matter.
With BrandMentions, businesses can monitor their brand's performance, find out where and when their brand is mentioned, and gain insights about their industry trends.
The platform also offers instant alerts on brand mentions' sentiments, likes, and dislikes, enabling businesses to react quickly and efficiently.
Additionally, this market research software allows businesses to attract, acquire, and retain customers by identifying their core interests and creating products that fit their exact needs and desires.
Pricing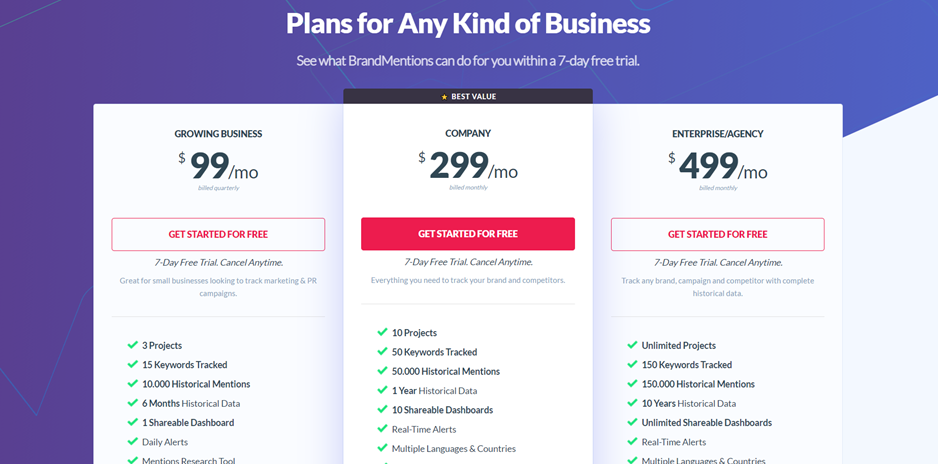 Free 7-day trial
Growing Business Plan for $99 per month includes 3 projects
Company Plan for $299 per month includes 10 projects
Enterprise/Agency Plan for $499 per month includes unlimited projects
Bottom line
BrandMentions is the best market research choice for digital marketers, public relations professionals, and business owners who are looking to monitor their brand's performance and stay in control of their company's public image. Over 10,000 big and small companies use the market research software, as it provides users with real-time email notifications every time they get mentioned.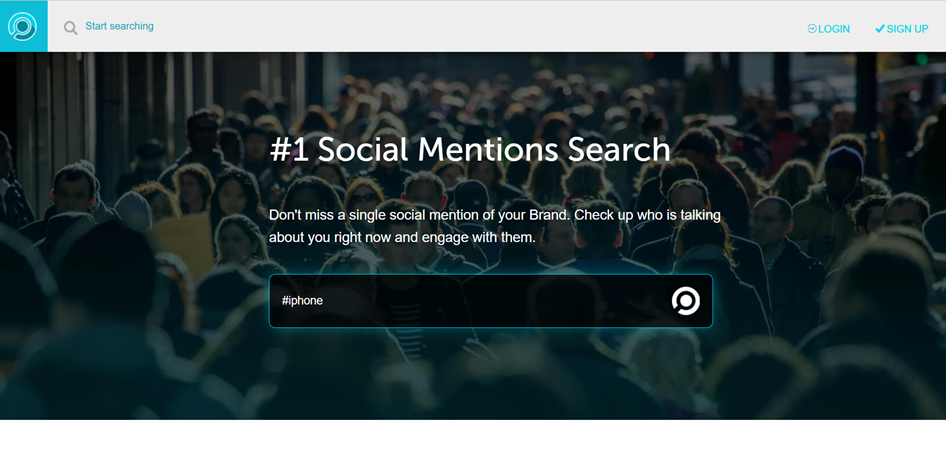 Overview
Social Mention is a market research software designed to help businesses monitor and track social mentions of their brand on social media platforms and the web. The platform offers premium monitoring features that allow users to search for content in real-time and obtain deep analytics data.
Highlights
Users can search for publicly posted information on various social media platforms, including Twitter, Google+, Facebook, Youtube, Instagram, Tumblr, Reddit, Flickr, Dailymotion, and Vimeo.
Users can save their searches and set up email alerts, while premium users can enjoy advanced features such as saving social mentions history, exporting data, API integration, and immediate email notifications.
One of the key features of Social Mention is its ability to provide users with key social metrics, such as strength, sentiment, passion, and reach. Strength measures how actively people are discussing keywords or keyword phrases in the form of likes, comments, and shares. Sentiment gives users an idea of the overall tonality or attitude of the posts where people mention their keywords. Passion measures the level of engagement, and Reach measures the number of people who are exposed to the search keyword or brand.
The software is easy to use, and users can search for specific keywords or brands they want to track and receive a list of filtered results with analytics. Compared to its competitors, Social Mention provides a more comprehensive and in-depth analysis of social mentions and offers premium monitoring features that are not available in other software.
Pricing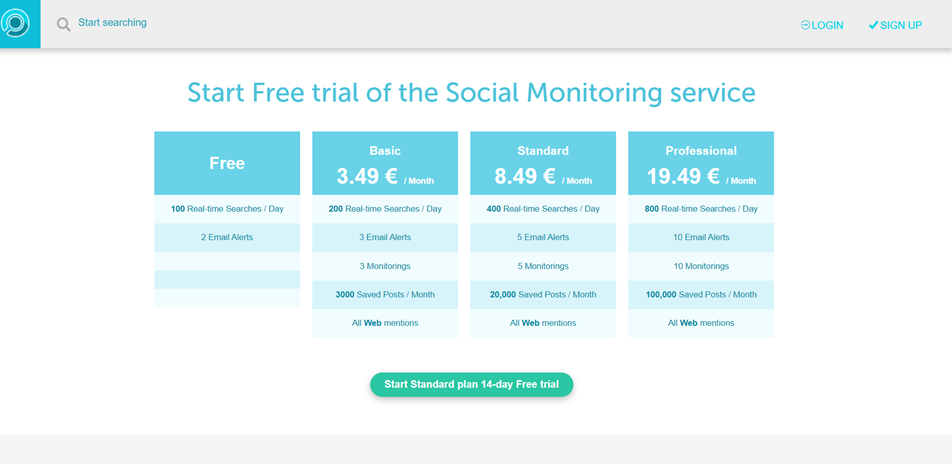 Free Plan with 100 real-time searches per day
Basic Plan for $3.49 per month includes 200 searches
Standard Plan for $8.49 per month includes 400 searches
Professional Plan for $19.49 per month includes 800 searches
Bottom line
Social Mention is best suited for businesses that want to keep track of their social media presence, understand their audience better, and gain valuable insights into their customers' behavior. It is an excellent tool for businesses that want to monitor their online reputation, identify potential threats, and engage with their customers effectively.
With its premium monitoring features and key social metrics, Socialmentions is a must-have market research software for any business looking to succeed in today's digital age.
What are free market research tools?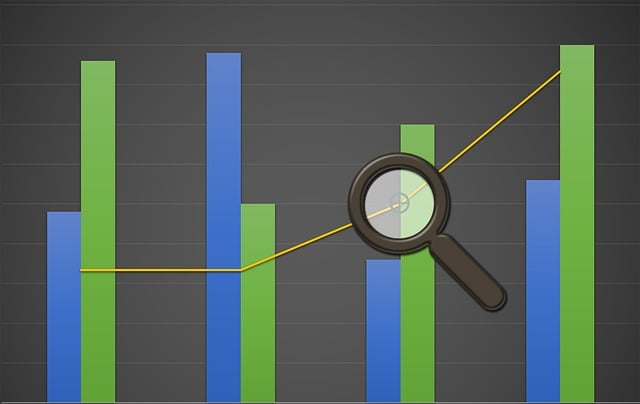 Here are some free market research and data visualization tools that businesses can use in order to gain valuable insights into consumer behavior and market trends, and collect data without breaking the budget:
Where can I read analyst reports?
Gartner and Forrester are two of the most respected analyst firms, providing in-depth research and analysis on various industries and technologies. They offer market research surveys that track consumer behavior and provide robust reporting systems to uncover valuable insights.
To conduct an effective market research project, it is essential to utilize the top market research tools, such as survey creation tools, data visualization tools, and analytical tools that can identify trends and sentiment analysis. And use one of the best AI project management tools, of course. Additionally, data analysis is crucial in ensuring data collection and feedback collection are reliable, accurate, and of high quality.
What review sites should I look at?
Capterra, TrustRadius, and G2 are popular review sites for various software products. They provide customer reviews and ratings that can be used as market research survey data by businesses to track consumer behavior, identify trends, and gain actionable insights.
Final thoughts
Market research is a vital tool for businesses looking to make informed decisions based on reliable data and reach their target market.
The best market research software options include Ahrefs, SEMRush, and SurferSEO. Free market research tools such as Google Trends and Facebook Page Insights are also available for those with a tight budget.
By using these market research tools, market researchers can access accurate data and real-time insights and gain a better understanding of their customers, improving their marketing efforts and achieving success in their respective industries.