11 Best User Testing Tools of 2023
In an increasingly remote and digital world, having the best user testing tools available will make all the difference in your user research. Instead of a usability lab software tools will do the job for you. The usability testing tools market has exploded, and there are now so many options to conduct remote usability testing.
The right usability testing tools enable products to differentiate themselves from their competitors. Eliminating barriers from your users will keep them loyal and happily using your product.
User testing should be continuous from early on in the design cycle to post-launch. Usability testing experts and user researchers need a user testing tool to use throughout each phase of usability development, including usability testing during both the concept and prototyping phases. This enables a robust testing process for the best insights.
Most usability testing tools are designed to address usability issues in the later stages of design and development, but usability testing experts recommend usability testing throughout the entire usability life cycle.
Join Renaissance Rachel's holiday giveaway!
1st Prize: $300, 2nd Prize: $75, 3rd Prize: $25
In this article, I cover the usability testing tools that will enable you to conduct your user research at various stages. For tools at the other stages of research, check out my top user research tools article for a bigger picture of user experience testing tools.
What are the best user testing tools?
Here is a list of the best user testing tools. Colloquially, as you might see on social media, user testing has increasingly become synonymous with usability testing. While that's not entirely accurate, this article focuses on tools that provide usability testing features while also calling out different aspects of user testing that these tools offer.
Let's take a deeper look at the remote usability testing software market. In this article, I ranked the software user testing platforms that provide moderated AND unmoderated testing higher than those that only offer unmoderated. If you only need unmoderated, definitely consider some of the ones lower on the list.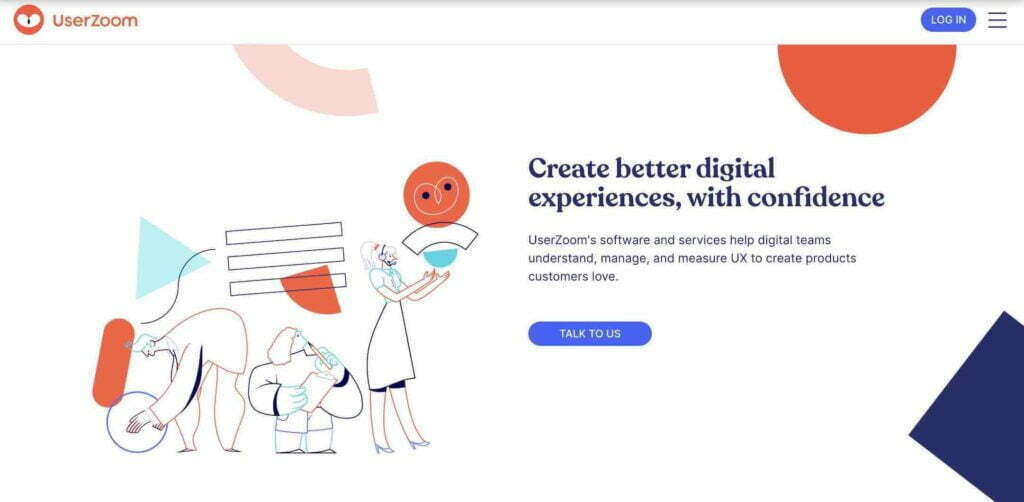 UserZoom is quickly growing to be the most comprehensive usability testing tool out there. They've acquired popular user testing tools such as Validately and EnjoyHQ, which now allows you to have more participant options and the ability to manage your research data in one tool.
Focused on remote usability testing, you can recruit participants, get rapid insights, conduct unmoderated and moderated testing, analyze session recordings, and collect actionable insights. Having usability testing capabilities integrated with a research repository and qualitative data analysis tool through EnjoyHQ makes this user testing tool very desirable.
It's one of the best usability testing tools out there because it has so many features and capabilities. For that same reason, it also might not be the right usability testing tool for you.
Types of Research You Can Do
Capabilities
Transcription
Usability testing
Built-in visualizations and analysis to aid synthesis
Highlight reels
Qualitative data analysis
Recording feature
Tree testing software tool
User testing survey
Website usability testing
Pricing
UserZoom does not list their prices for their complete platform.
They offer a "lite" plan called UserZoom GO that provides moderated and unmoderated testing along with recruiting. It does not include the other testing options listed above.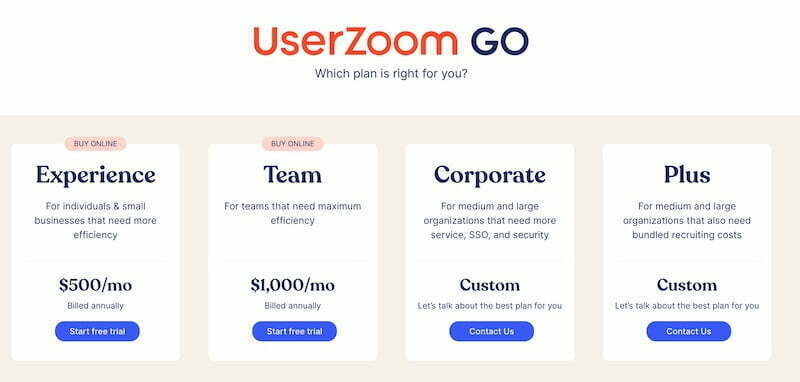 UserZoom GO's pricing starts at $500/mo for 2 researcher seats. This lite plan does not offer the full capabilities of the UserZoom platform I listed above, so be careful when making your choice.
If UserZoom GO's pricing is any indication, the complete UserZoom platform is not cheap.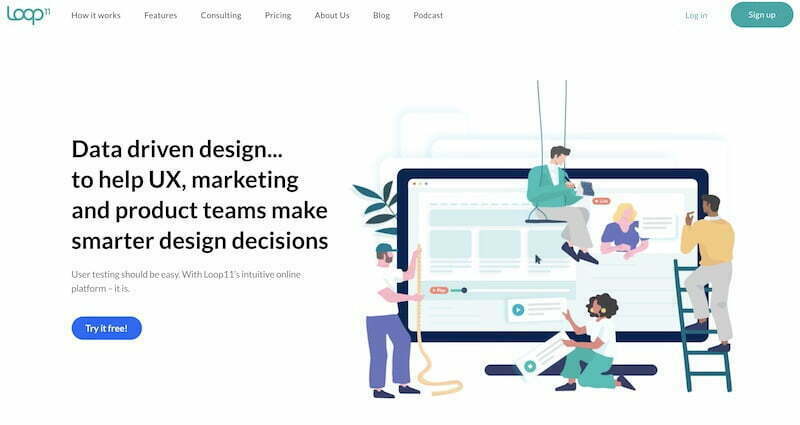 Loop11 is an Australian-based company offering a very robust user testing platform. You can offer unmoderated and moderated tests within the platform with structured frameworks on different methods.
Loop11 offers a virtual observation room for moderated testing, which enables you to invite your team to watch your sessions without overwhelming your participant.
Online Usability Testing (Moderated and Unmoderated)
Benchmarking
Prototype Testing
A/B Usability Testing
Mobile & Tablet Testing
Information Architecture Testing
Capabilities
Free trial
Virtual observation room
Highlight clips
Timestamped notes
Heatmaps, clickstreams, and path analysis
Qualitative data analysis
Participant pool
Usability testing

Bring your own participants

User testing questionnaire
Pricing
Offers flexible pricing for either monthly or annual subscriptions. You are free to cancel at any time.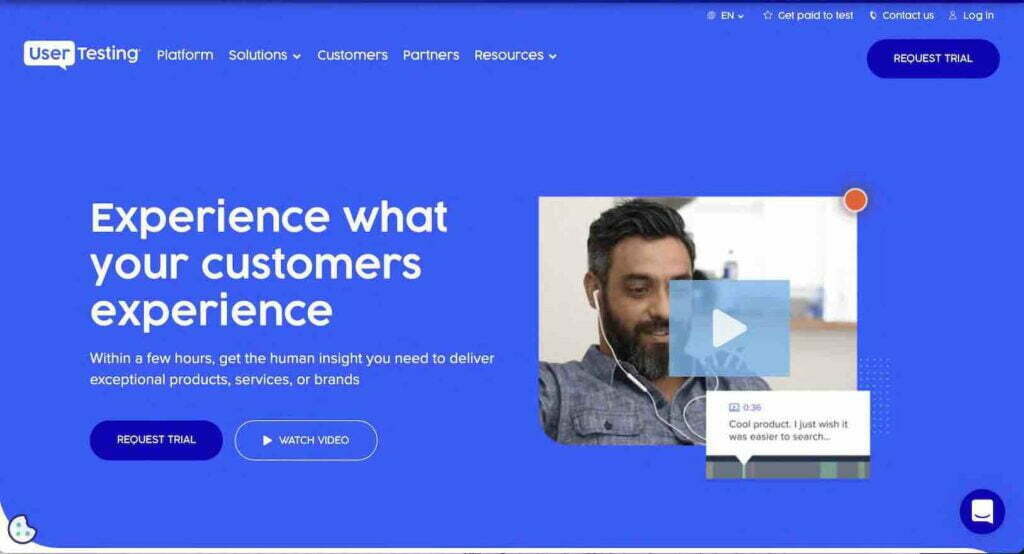 UserTesting promises a "vivid, first-hand view of what your customers are thinking and experiencing." If you need results fast, UserTesting can deliver on that.
I've launched a study on a Friday and came back on Monday to find that all of my tests had been completed and I could get right into synthesis.
With plenty of templates, documentation, and self-paced online training, there's a lot you can do to pick this up on your own.
Types of Research You Can Do
Unmoderated usability tests. Includes mobile, web, and prototype tests.
Moderated usability tests
Capabilities
In-depth recruiting capabilities
Transcription
Usability testing
Built-in visualizations and analysis to aid synthesis
Highlight reels
Invision user testing by sending your participant a prototype link to go through
User testing recruitment
Pricing
How much does User Testing cost? That's a great question. Unfortunately, User Testing does not disclose their pricing on their website. You have to contact them.
dscout is a comprehensive usability testing tool that allows you to collect user feedback in various ways.
dscout originally started off as a diary study (a specific usability testing method) tool, so that's where they're powerful. Now, one of many website usability testing companies, dscout offers diary studies on both mobile and desktop so that you can get feedback over a period of time on your app and/or your desktop website. Users could be at home barefoot and take your test.
dscout's Live feature enables you to directly interview participants through their platform — in other words, not through Zoom or another online conferencing tool. It comes with several features specifically meant to help researchers, such as a one-way glass feature where you can hide your observers in your sessions and notetaking capabilities within the tool.
dscout's Express offers unmoderated usability testing capabilities to collect research data. You set up your test, launch it, and get results.
Types of Research You Can Do
Capabilities
Transcription
Recruiting and Compensation
Participant Management
Backroom and chat features for interviews
Video editing and clipping
Usability testing
Customer feedback
Pricing
dscout does not offer pricing online. However, they do have two options for you. You can do a one-off test to see if you like their platform. Alternatively, you can just go all-in with a subscription.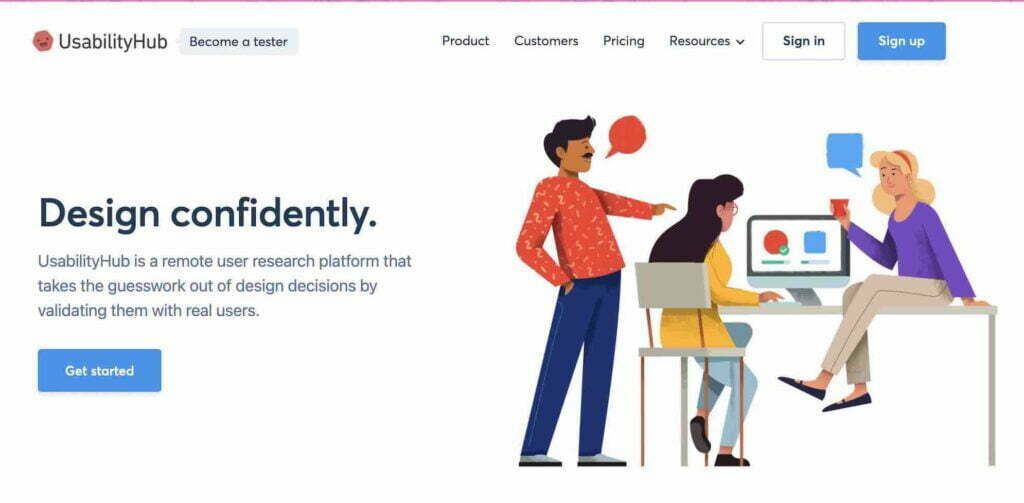 Usability Hub is a usability testing tool that focuses on a few specific methodologies within the usability testing arena. All of the tests you can do on their platform are unmoderated tests. They do not offer moderated within their platform.
Types of Research You Can Do:
Capabilities
Free version
Transcription
Recruiting and Compensation
Participant Management
Usability testing
Backroom and chat features for interviews
Video editing and clipping
Multiple tests
Integration with a prototyping tool, Figma
Pricing
Usability Hub has free basic tests that you can run to see if you like the platform. Aside from that, they have different pricing models depending on your needs.
Note: you are charged per test completed to utilize their participant panel. You can purchase recruiting credits and store them on your account. However, you can always use your own participants for no additional charge.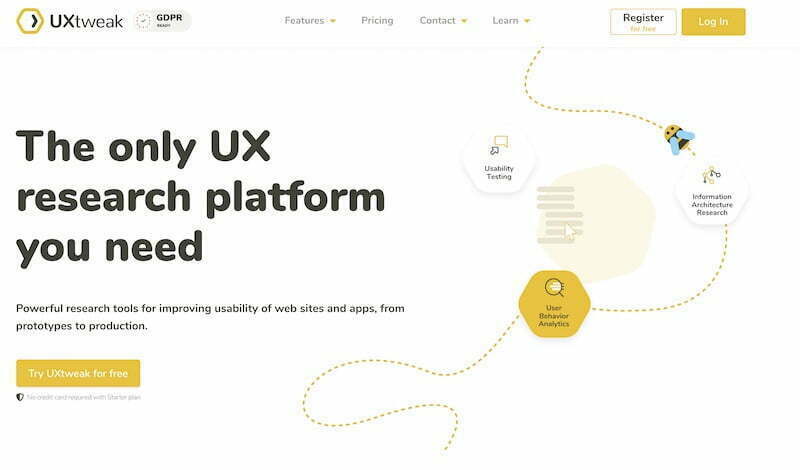 UX Tweak is a great user testing tool for freelancers, small businesses, and large businesses alike. They'll either provide you with test participants, or you can bring your own participants for your usability testing.
Types of Research You Can Do:
Capabilities
Free version
Recruiting widget for your website
Quantitative data collection
Usability testing
Quick insights
Participants don't need to install a separate tool
Export PDF
UX Consulting Services
Test websites
Offering an unlimited free starter plan, you can conduct as many small-scale tests as you want as long as you don't exceed their participant limit.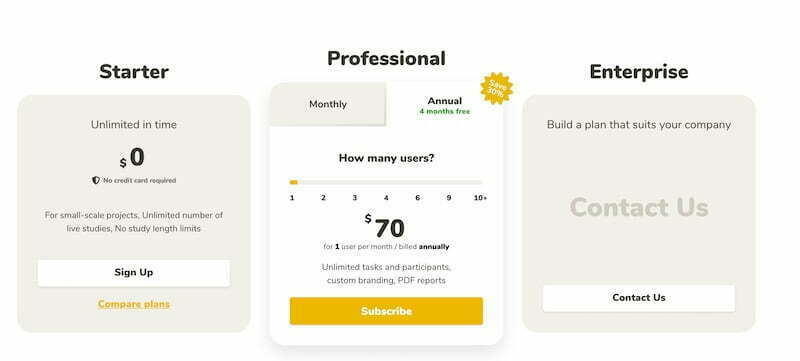 Granted, you cannot use their participant panel in the free version. You pay per participant.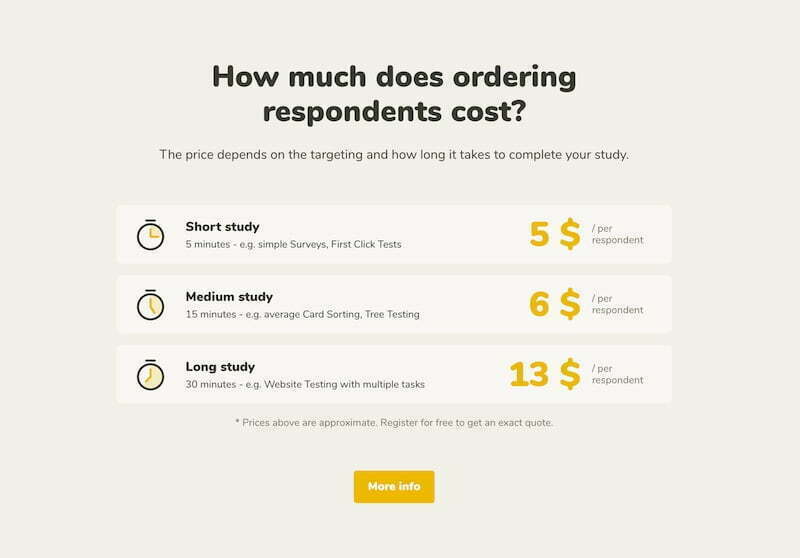 Non-profits and students can get an extra discount on subscriptions.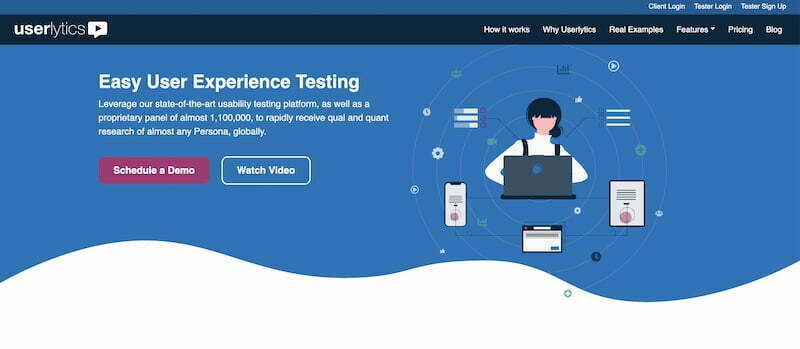 Userlytics has been providing its usability testing services since 2009. They're a user testing platform that allows you to conduct both moderated and unmoderated tests directly through their platform to collect user feedback.
Types of Research You Can Do:
Unmoderated user tests
A/B optimization studies
Surveys and questionnaires
Tree testing
Virtual focus groups
Capabilities
Ability to test prototypes, websites, and mobile apps
Advanced metrics
Test annotations
Unlimited storage of results
Bring your own users
Picture-in-picture recording within the platform
Usability testing
Pricing
Userlytics offers both pay-as-you-go plans and subscription plans.
The pricing is structured by the number of participants you use in pay-as-you-go.
With a subscription, you're billed a flat rate annually. You may be able to negotiate that with them, so that's worth checking out.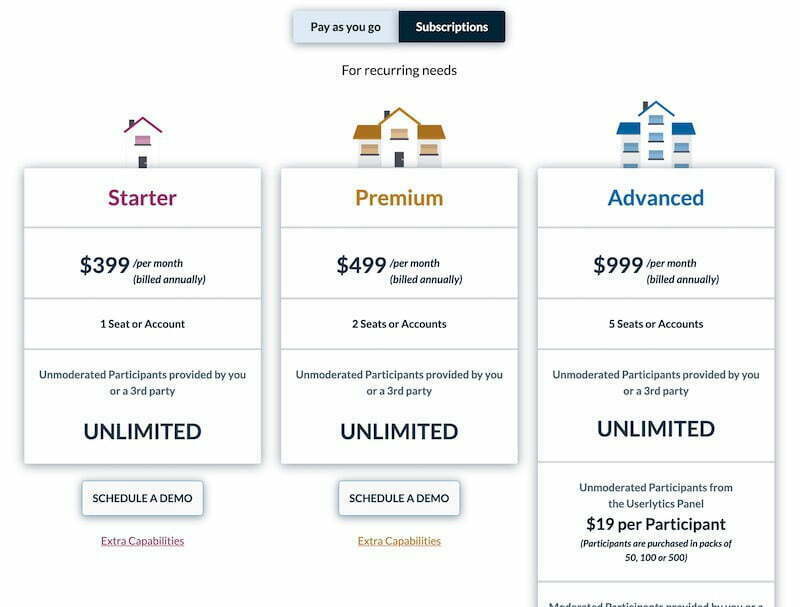 Maze is a usability testing tool that focuses on prototype testing, offering integrations with major design tools such as Figma, Adobe XD, and more. They focus on enabling you to get quantitative insights fast. Research studies are not recorded, but Maze collects analytics on user behavior and packages it into a report for you.
Concept testing
Prototype testing
Tree test
5-second test
Content testing
User surveys
Capabilities
Free version
Instant test results from quantitative dates: bounce rates, misclicks, heatmaps, etc.
Usability testing and automated usability testing
Advanced filtering
Cross browser testing
Pricing
Maze offers a free plan, a more advanced professional plan, and an enterprise plan.
They also offer 50% off any paid plans for students and universities.
Useberry is a usability testing tool that focuses on multi-method unmoderated user research. If you're looking for a quick way to test your designs and get user feedback, Useberry is a good contender because it provides you with many quick templates to start up with to run your tests and integrates with all the major design tools right off the bat. It's one of the best website testing sites.
Unlike Maze, you also get recordings of your test participants going through their tasks.
Types of Research You Can Do:
Capabilities
Free version
Bring your own participants
Session recordings
Usability testing
Heatmaps
User flows and conversion funnels
Metrics
UI usability testing
Pricing
Offers a free plan along with basic, pro, and team options. Participants are billed separately and can be used with or without a subscription.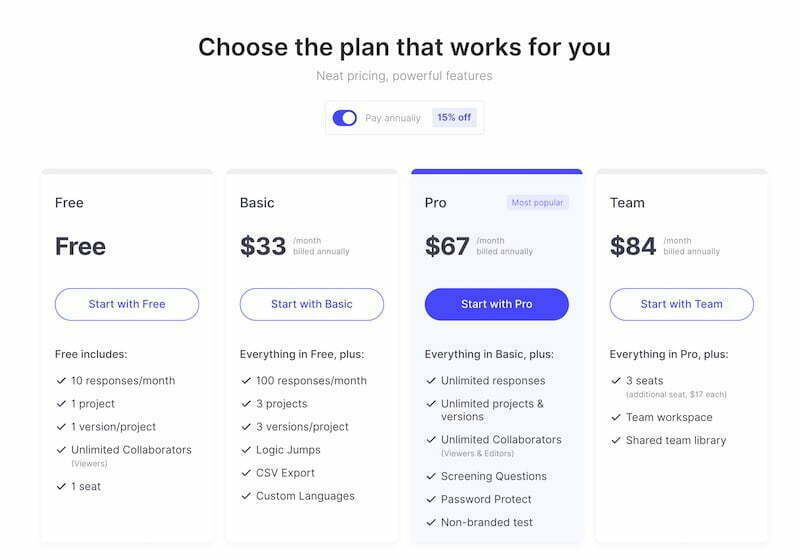 Bottom Line
Useberry is a great option if you want to get started quickly and for free. For Useberry alternatives, see the rest of this article.

UXArmy is a usability testing tool that enables you to conduct unmoderated and moderated user research in addition to utilizing their platform to get feedback on their design. It appears to work similarly to InVision, where you can upload your design, share a link, and get feedback on specific areas of a design.
A notable feature of UXArmy is their participant panel in the Asia-Pacific (APAC) region.
They also offer UX consulting services.
Types of Research You Can Do:
Capabilities
Free version or 7-day trial (depending on feature)
Test iOS and Android apps
UX Consultancy
Path analysis
Usability metrics
Task analysis
Destination matrix
Integrated translation tooling
Usability testing
Timestamped notetaking
Usability testing service
Pricing
The pricing is a little confusing. It seems like each feature is charged separately with its own individual, more detailed plans that you can get. I imagine that you can negotiate a combination of their different plans.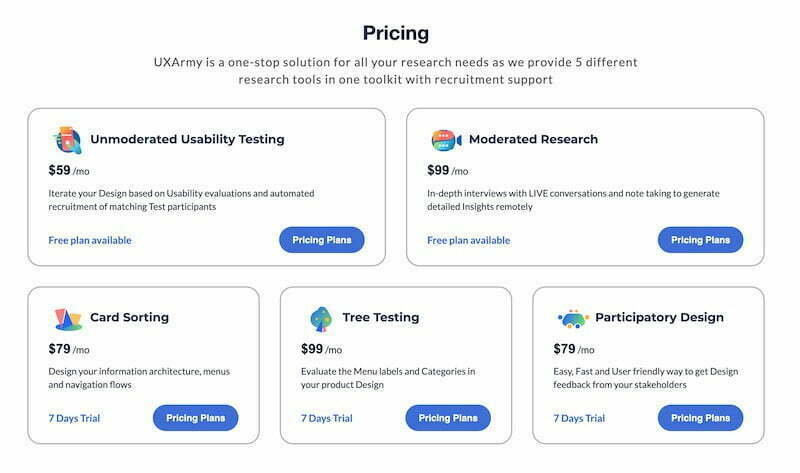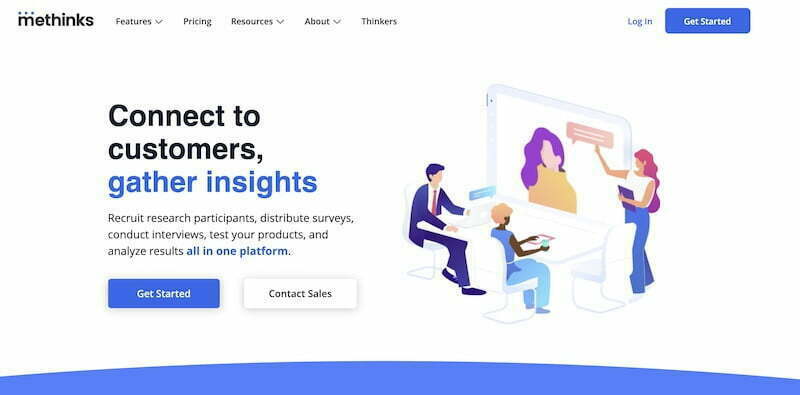 methinks is a usability testing tool that allows you to conduct your own tests, and they also offer research services in the form of a remote user testing agency if you need them.
User researchers can conduct moderated interviews, surveys, or different types of mobile testing. If your primary area of research is mobile, this is something to look into. You can do both longitudinal studies over time and quick one-off usability tests. With their lightweight package, you can track and record user journeys in-app to better understand user behavior. You can use Live Intercepts to collect information at targeted moments in the user journey for automated testing.
Types of Research You Can Do
Capabilities
Recruiting and Compensation
Participant Management
Usability testing
Backroom and chat features for interviews
Video editing and clipping
Pricing
Unfortunately, methinks does not list their pricing online.
What is a usability test?
A usability test is a process of identifying usability problems in the user interface design and getting feedback from users.
The usability testing is conducted with the help of usability testers, which involve end-users or representative users from a participant pool that provide their perspective on how easy or difficult it might be for them to use the website under test. The testers need to perform tasks that enable you to identify usability issues with the product and get user feedback.
Some people wonder about usability testing vs user testing. In my opinion, the difference is that a usability test is a method specific to measuring the usability of a tool whereas user testing can include a variety of other methods, including usability testing. Thus, I believe in the case of user testing vs usability testing, user testing is the umbrella category that usability testing falls into.
Final Thoughts
Conducting usability testing should not be a hardship. While UserZoom is a comprehensive user testing tool, it only makes sense if you're a large enterprise corporation. Loop11 is the best alternative to an enterprise-only platform because it offers moderated and unmoderated usability testing. If you're a smaller business, looking to get insights fast, consider usability testing tools such as UXTweak or Usability Hub to get some quick insights.
Consideration before choosing a tool: Make sure to ask each company about their participant panels and recruiting capabilities. Especially if you need a particular demographic. For instance, the last I checked, dscout's recruiting capabilities focus on the general population rather than specific industries.
Recommended reading