13 Best Affiliate Program Management Software of 2023
Marketing campaigns are one of many ways to generate sales from your online store.
The idea behind affiliate marketing is to work with bloggers, publishers, or influencers who will promote your products to their audiences. Performance marketing only pays marketing fees when you generate sales through their links.
As of 2023, the affiliate marketing industry is estimated to be worth $12 billion, an enormous increase from previous years.
Successful affiliate marketing requires a tool that allows you to create custom links, track commissions, and pay affiliates. By automating this process, you can spend your time on tasks that'll give you a higher impact. 
Join Renaissance Rachel's holiday giveaway!
1st Prize: $300, 2nd Prize: $75, 3rd Prize: $25
To help you get started, we've included a guide on what to look for when choosing an affiliate software program, along with software recommendations.
What Is the Best Affiliate Management Software?
The best affiliate management software should have features such as lead capture, automated email campaigns, link tracking and analytics, payment processing, and more.
It should also provide detailed reporting on clicks, impressions, sales, conversion rates, referred traffic sources, payouts, and more.
Additionally, it's important to consider the overall user experience when selecting a platform – you want something easy to set up and use so you can quickly get started with your affiliate campaigns.
Finding the best affiliate marketing software can be a daunting task. When selecting the right software for your business, make sure to compare pricing and features so you find the solution that best meets your needs.
The FirstPromoter affiliate management software platform makes it easy for SaaS companies to launch and manage referral, affiliate, and partner programs. The first referral tracking tool built exclusively for SaaS companies was FirstPromoter. Despite today's tools, most subscription-based companies need help correctly tracking and managing referral programs. With many features and a very intuitive interface, it is an excellent choice for small and established businesses.
Top Features
Authentication: Using FirstPromoter, API requests are authorized with an API key. Click the "Settings" button from the top bar of FirstPromoter to find your API key.
Tracking API: Tracking API allows you to keep track of any sale, registration, cancellation, or refund. Every call for security service requires passing the Custom Tracking Integration ID as a constraint.
Tracking Sales And Commissions: Using This Feature, you can track sales and generate commissions. Leads are added to our system by calling the Signup API endpoint. By identifying the lead from the email parameter, we can determine who owns the reward, i.e., The Promoter.
Built For Subscriptions: Does your team handle upgrades, recurring and one-time charges, cancellations, expired credit cards, or refunds? With FirstPromoter, commissions can be adjusted automatically.
One-Click Automated Paypal Payouts: It's Easy To Make Hundreds Of Affiliates Fast With FirstPromoter. And that too with zero commission deductions. Just upload Your CSV Files And Manually Mark Payouts As Done.
Automatically Activate And Engage Your Promoters: Create and send pre-made drip emails to onboard and trigger your new affiliates. FirstPromoter Also Keeps Your Users Engaged By Keeping them notified.
Customizable Affiliate Dashboard: You Can Check Your Promoters' Views, Stats, Share Referral Links, And Rewards Through Beautiful "Portals." You Can make modifications, such as for Logo, Border, Background, Text Colours, and much more.
Pricing
It has three price packages based on various perks:
Starter: $49/Month
Business: $199/Month
Enterprise:$149/Month
Bottom Line
If you or your business is in high competition and handle bulk forms of data of your customers, then this software will do wonders for you. SaaS-based companies can get most of their benefits using the first promoter, especially from the referral tracking system.
Rewardful is affiliate marketing software that helps build your affiliate, referral, or partnerships program using Stripe. It's great for small SaaS companies that want to grow. Users can spread the word about their business by engaging customers, affiliates, and fans. In addition, it's a great tool for organization and management.
Top Features
Offers direct links to your website that are SEO friendly and human-readable.
See the performance of your partners and campaigns from a whole new angle.
Analyze specific campaign activities, such as signups or social shares, to determine the effectiveness of each.
Customizable campaigns with unique tracking URLs.
Using existing customer bases as marketing advocates can save users money on marketing teams.
Provide affiliates with rewards based on the quality of customers they refer.
A quick and easy setup makes setting up Rewardful a breeze. Users can quickly and easily segment customers, affiliates, strategic partners, etc.
lt also provides flexible SEO links to any page on any domain without redirects or third-party sub-domains.
Adjust referral commissions based on personal contribution to the referral program.
A reporting and analytics tool allows users to see the number of clicks and visitors, conversions, commissions, revenue, and net revenue – both in aggregate and for each affiliate.
Rewardful gives you complete control over your data. It's easy to import and export if you decide it's not right for you.
Pricing
It has four packages based on features:
Performance: $29/Month.
Starter: $49/Month.
Growth: $99/Month.
Enterprise: $299/Month.
Bottom Line
Rewardful is explicitly designed for businesses that use Stripe Invoices to process payments (Subscription Invoices and One-Time Invoices).
Rewardful works with any business, including SaaS with recurring billing, websites with subscription fees, service-based companies that charge a regular payment based on usage, or agencies with a fixed retainer fee.
The pricing structure of the Rewardful affiliate management software makes it a good fit for both new and established companies, whether they are bootstrapped or funded.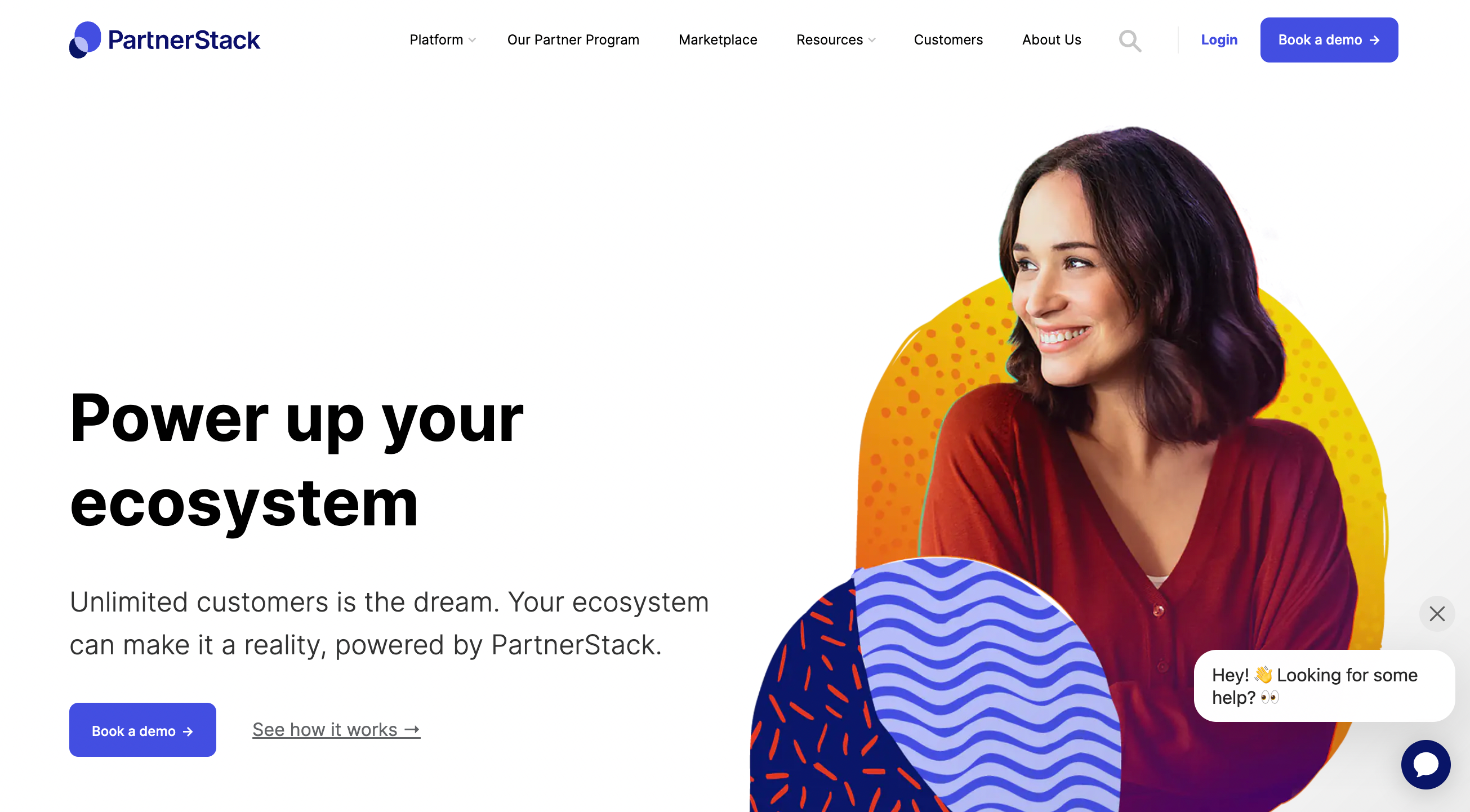 PartnerStack is a great affiliate management software tool with an over-the-top B2B SaaS specialization. Integrated marketplaces and automated payment systems allow software companies and partners to increase revenue continuously and grow quickly.
The automated process simplifies your operations and lets you focus on more important things rather than repetitive manual work.
Many big companies use PartnerStack to manage their various partnership programs, such as Stripe, Webflow, and Monday.com.
Top Features
Automate Your Partner Recruitment: PartnerStack helps businesses manage partner recruitment, an essential part of any successful partner program.
Custom Onboarding For Every Partner: Using PartnerStack, you can organize custom onboarding for each partner to help them succeed.
Timely Payouts: You don't have to remember dates or times. Automatically generate and pay your partner's shares using PartnerStack.
Straightforward-to-use interface: Its user interface is smooth, simple, and easily manageable.
Seamless integration process: It takes no time to integrate, thus allowing you to put your affiliate marketing in pilot mode.
A marketplace that provides program exposure: It has its marketplace, which can help you to grow and flourish.
Pricing
It has two standard packages. You can also create your custom package beside these:
Lite: $500 per month.
Pro: $800 per month.
Enterprise: Custom pricing.
Bottom Line
The PartnerStack affiliate marketing platform helps businesses increase sales, leads, and conversions by maximizing the advantages of partnerships and collaborations with other affiliate marketers. It is thus easy to find and recruit top-notch affiliates from the online community.

Post Affiliate Pro is affiliate management software that runs a business's entire affiliate program from the bottom to the top. This affiliate management software will automate all aspects of your affiliate and referral programs. It has many advantages, including intuitiveness, speed, effectiveness, infinite scalability, and expansion. In addition, it will give you access to the Merchant panel and your affiliates access to the Affiliate marketing panel, where they can manage their campaign materials and see their stats.
This program is best for small and medium businesses that want to start and manage their affiliate marketing or referral programs.
Top Features
Easy Tracking: Post Affiliate Pro makes tracking conversion rates and engagements a breeze.
Automatic Affiliate Rewarding: Post affiliate takes care of delivery outs for you. It offers affiliate partners rewards through an automated payout system.
Multiple Merchant Administrators: Having as many affiliate marketing links or users as you want is possible with this feature.
Excellent and prompt customer service.
It is very responsive to affiliate tracking requests.
User-friendly interface.
Pricing
It can range from $129 to $599 per month.
Bottom Line
Post Affiliate Pro can be an excellent addition to your business if you need something that can track and manage your affiliate marketing campaigns effectively. Typically, Post Affiliate Pro is used by companies with more than 1 million dollars in revenue and 10-50 employees.
CJ Affiliate affiliate management software is amongst the world's largest and most reliable affiliate marketing networks, founded in Santa Barbara, California, over 20 years ago. The company specializes in pay-for-performance programs and is owned by Alliance Data Systems, a Fortune 500 company.
Top Features
Excellent real-time reporting: Its analytics are always up-to-date, one of the most recognized features of Commission Junction Affiliate marketing.
Selectivity galore: It provides you with great independence about product placements separately.
Special treatment for top publishers: Get a chance to be affiliated with 600-plus brands if your blog content is exceptional.
Deep Link Generator: This feature allows you to create deep links for any advertisers you work with.
Access to trusted fraud detection software.
Pricing
You should request a demo from the CJ Affiliate sales team to learn more about pricing options.
Bottom Line
The CJ affiliate network is well-renowned and one of the largest affiliate networks in the world of affiliate marketing software. There is no limit to what you can achieve with it. This site has a low advertising budget, but in exchange for that, it provides you with high-quality traffic and can generate sales.
LeadDyno is an excellent affiliate platform management tool that helps create and manage affiliate marketing campaigns much easier and faster. LeadDyno affiliate management is primarily used by online businesses and eCommerce stores to track and manage affiliate programs. The system's easy integration provides a seamless workflow with third-party platforms and websites. As well as affiliate-specific features, the software offers a wide range of tools. These include payout management, email automation, conversion tracking, and thorough reporting.
Top Features
Get exclusive access to the company's affiliate management program page after you create an account on LeadDyno.
It also integrates with the most popular eCommerce websites, including Shopify, Stripe, PayPal, Chargify, Recurly, BigCommerce, and many more.
The LeadDyno affiliate marketing service provides its clients a wide range of choices. Thus it simplifies affiliate program management, makes it faster, and increases success rates.
Users can also use pre-designed email templates to send highly personalized emails. In addition, they can get benefit from its automated email system.
It also has an impressive product promotional campaign setup for affiliate program management.
Pricing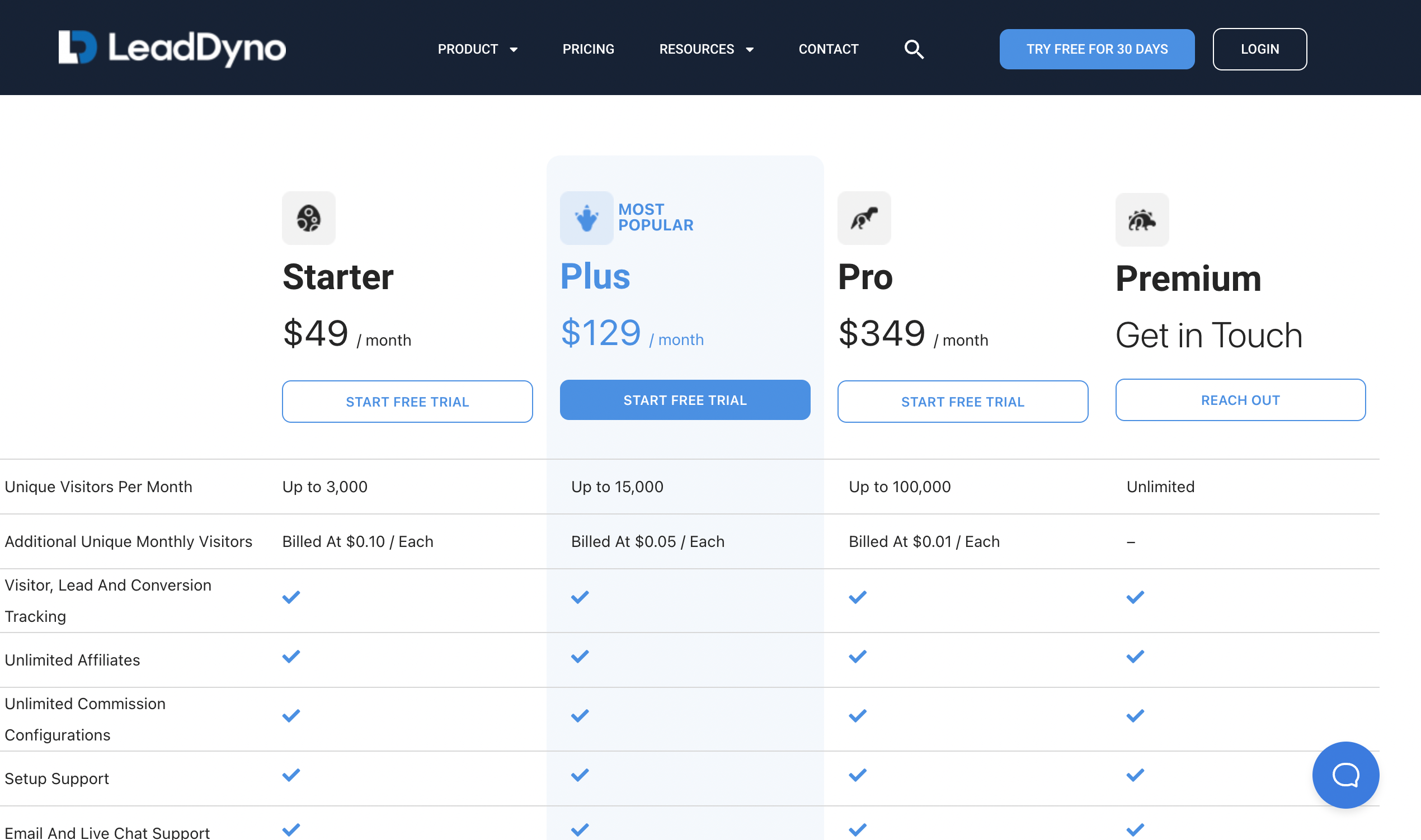 It offers four packages:
Starter: $49/ Month
Plus: $129/ Month
Pro: $349/ Month
Premium: $749/ Month
Bottom Line
The best part about the LeadDyno affiliate management software is that all primary functions can be handled with a single click. Much effort has been put into making the software easy to use and customer service. This software is definitely worth using!
The Tapflilate affiliate marketing software allows advertisers to create, track, and optimize their affiliate marketing campaigns. The Tapfiliate affiliate management software automates many affiliate marketing tasks, including tracking, commission management, and multilevel marketing.
A significant advantage of Tapfiliate is its ease of setup and the fact that it integrates with more than 30 e-commerce and digital marketing platforms. It only takes a few minutes to incorporate the affiliate marketing program with your website, and you can start inviting affiliates.
Top Features
Customize the software's interface to suit your preferences.
The commission structure can be redesigned, or you can continue as before.
Payouts for recurring commissions are automatic for affiliates.
A referral program can also be set up to reward affiliates for bringing in new affiliate partners.
There is no learning curve when setting up and using Tapfiliate. Installing it manually or integrating it through one of the modules offered by the company is an option.
Pricing
It offerers four pricing plans:
Starter: $49/Month
Essential: $99/Month
Pro: $149/Month
Enterprise: Contact for pricing
Bottom Line
You can head start recruiting affiliates through an invite URL, SSO, or manually. Afterward, you can have affiliates share banners, text links, images, and social media posts. A smooth, fast workflow makes it a highly recommended affiliate management software.
The LinkMink affiliate management software enables you to establish an affiliate marketing program of world-class quality. It strongly focuses on customizing affiliate programs, tracking referrals, calculating commissions, and paying affiliates.
LinkMink helps SaaS companies skyrocket their revenue by sharing it with the affiliate program partners who help promote them. In addition, it helps your business grow by helping you invest recurring revenue in affiliate program partners. It allows you to offer a percentage of their sales to high-paying, long-term customers. With Stripe, you can track commissions to actual revenue in as little as 15 minutes.
Top Features
With Link Mink, you can easily monitor how your affiliate program partners' promotions result in leads, referrals, and commissions.
Effectively control the lifecycle of commissions using custom approval rules built-in.
It is super fast to pay affiliate program partners using LinkMink's Auto-Payout feature to make monthly payments.
Track converted "leads" with "referrals." Referrals add to the information captured for a lead, keeping track of services, status, and value.
Keep track of unique visitors with "leads" and sessions with clicks.
Pricing
It offers three pricing plans:
Starter: $39/Month
Growth: $65/Month
Business:$125/Month
Bottom Line
Suppose you have developed a digital product and are looking to get it out there through affiliate marketing. In that case, the LinkMink affiliate program software will do wonders for you!
The Paddle platform is a great way to sell SaaS products online: You can subscribe, renew, license, expand, and more. In addition, with OSI Affiliate Software, you can set up a Paddle affiliate program for your Paddle revenue delivery program quickly and easily.
You can sell software online with Paddle: It handles checkout, subscriptions, licenses, promotions, and analytics. Starting an affiliate program for your Paddle shop is straightforward.
Top Features
Enables a promotional tool for Facebook, Twitter, and LinkedIn. Thus your brand or product's social promotion can quickly happen using messaging and graphics that you create.
Easily track promo codes so your affiliates can promote them on social media.
By sending them a one-question survey, you can recruit your most loyal customers to be your brand ambassadors.
Templates for referral landing pages: Select from a vast library of professionally designed landing page templates you can use for your referral program to drive traffic and sales.
Get perks like auto signup, affiliate partnerships automation, and many more.
Pricing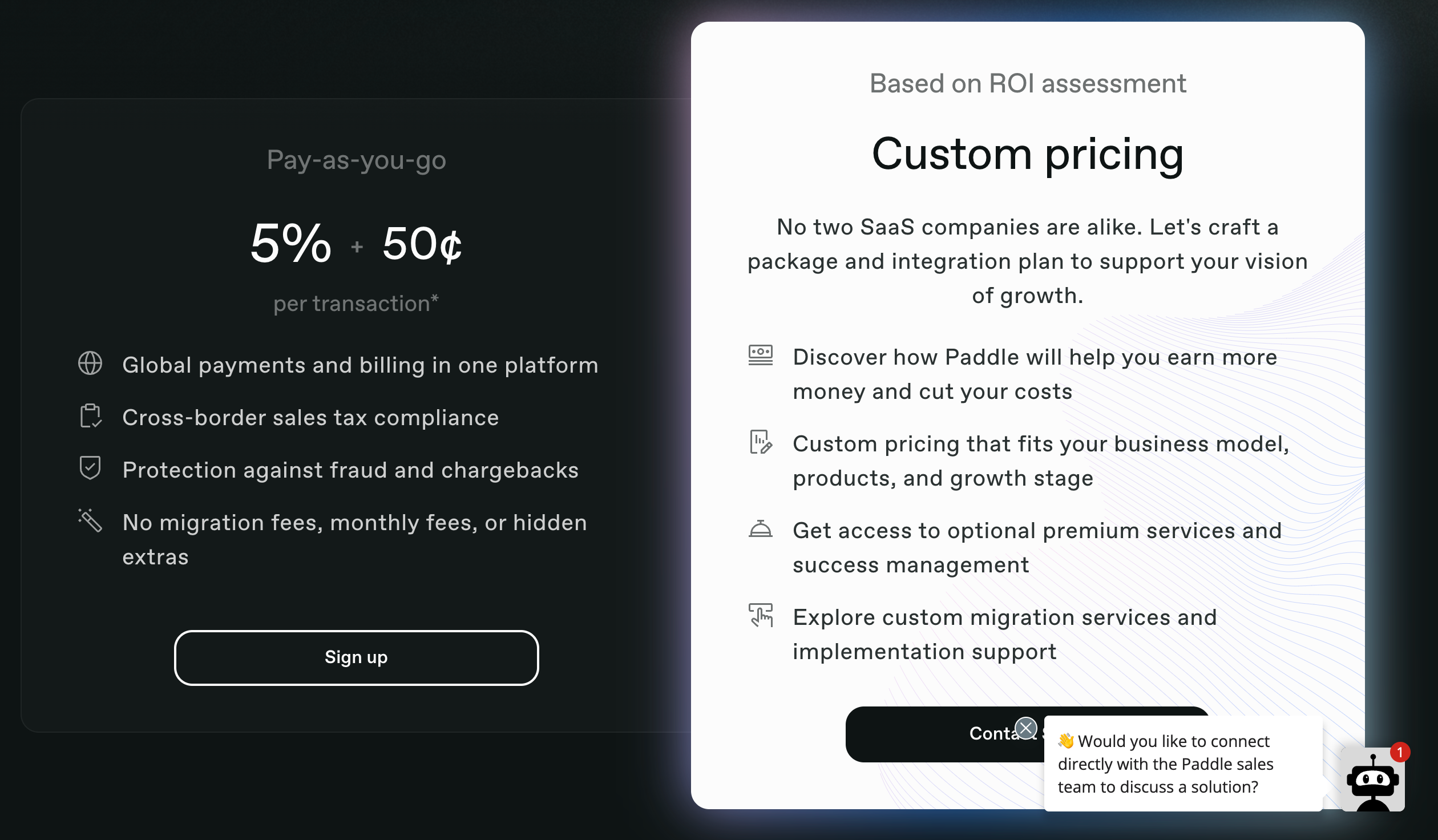 Pay -as-you-go: For every transaction, it cuts 5% and 50 cents.
Bottom Line
With Paddle, you will find that they are proactive in recommending areas where one may need help and are generous in offering and following up on the same. It offers a flexibile pricing model for its affiliate software and affiliate tracking than the other affiliate program management options.
Founded in Chicago, ShareASale is a network of online affiliate marketers. As affiliates make money, ShareASale pays them royalties. To earn these commissions, affiliate marketers can choose from various courses.
Besides its affiliate network, ShareASale also operates a merchant network.
Top Features
You can use your website to earn referral income by adding HTML links and banners from Share a sale.
It is entirely free to join ShareASale's affiliate network.
Real-time monitoring and greater power for merchants and affiliates.
A timely payment schedule is also followed to gain commissions.
Earn commissions when you recommend products using Depp linking.
Pricing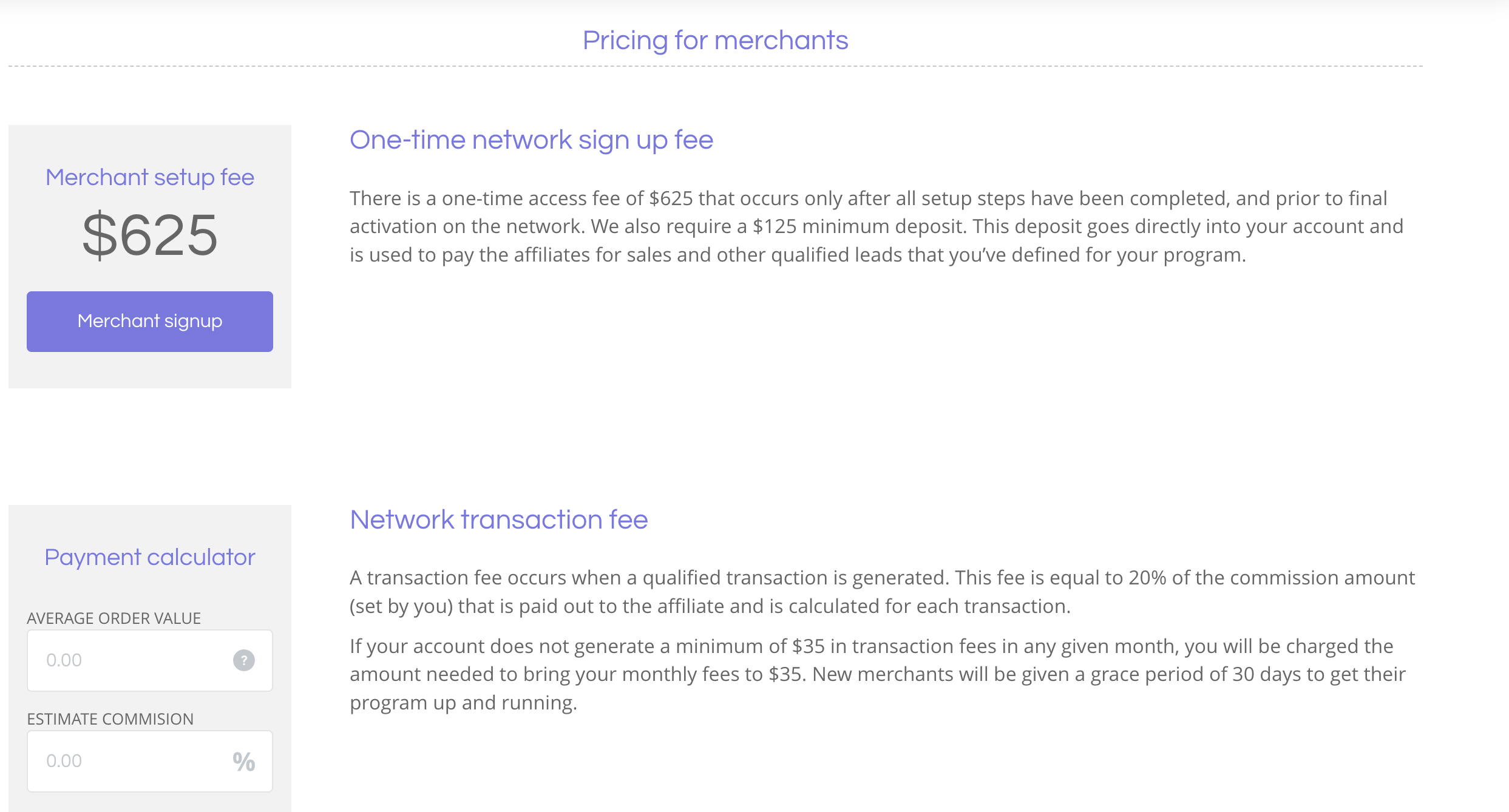 Share-a-Sale charges a one-time network sign-up fee of $625 and then charges transaction fees for affiliate payouts.
Bottom Line
In particular, ShareASale is an affiliate management software network that would enable companies to benefit from being connected to other businesses within that network .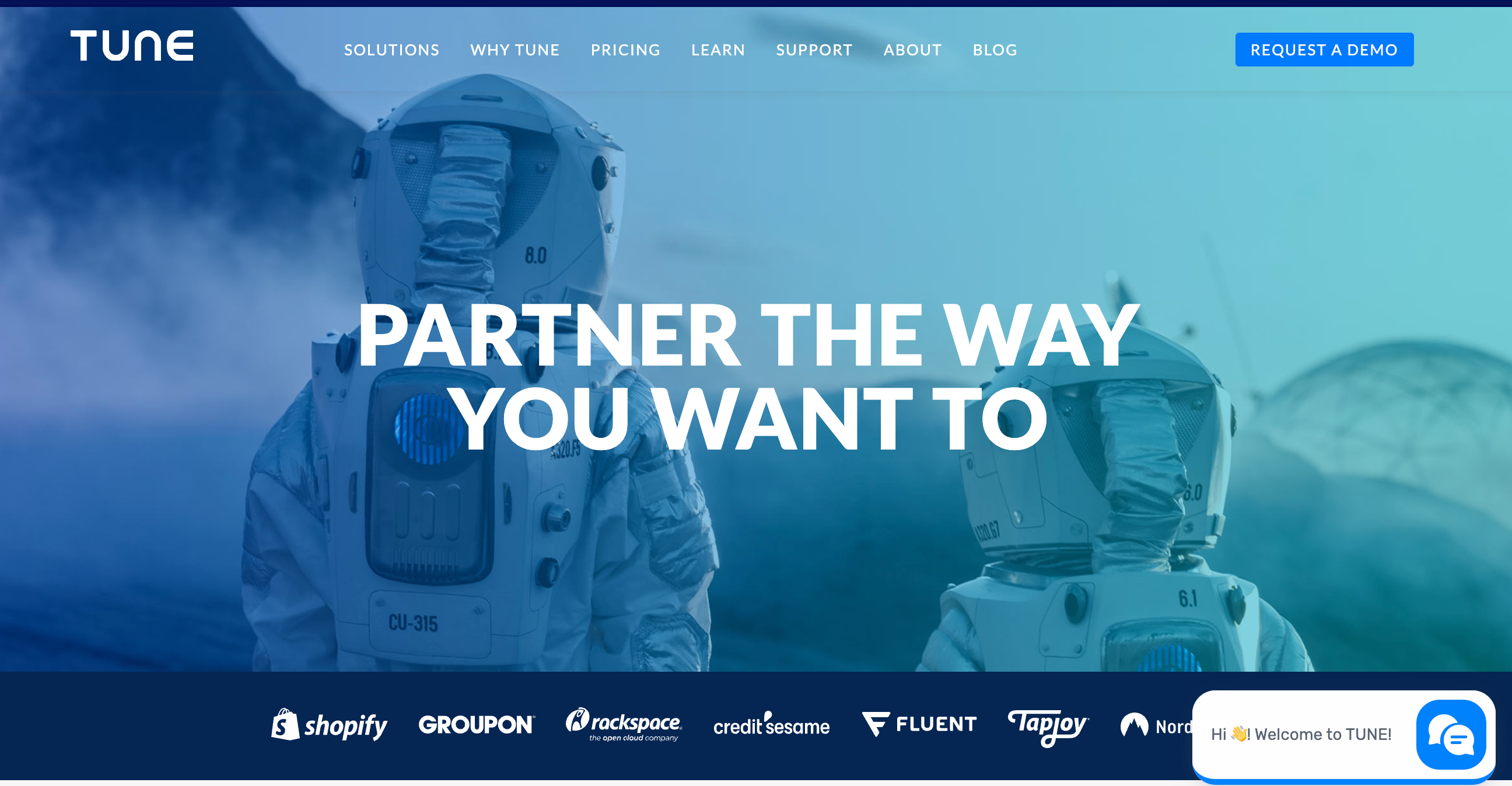 Affiliate marketers use Tune (formerly HasOffers) to create ad networks on their desktops or mobile devices. A highly customizable product for managing direct publisher relationships, it provides agencies, networks, and advertisers with a centralized platform for managing their relationships with publishers.
Top Features
Automate calculating payouts, generating invoices, and managing campaigns.
Comprehensive integration support for various third-party applications, including shopping carts, project management software, and customer relationship management software.
The system offers three enterprise pricing options, making it an ideal solution for businesses of all sizes.
Large enterprises can request a quote directly from the vendor to fit their specific needs.
Rich performance marketing solution: HasOffers provides you with a variety of tools that can assist you in building stronger relationships with publishers.
Pricing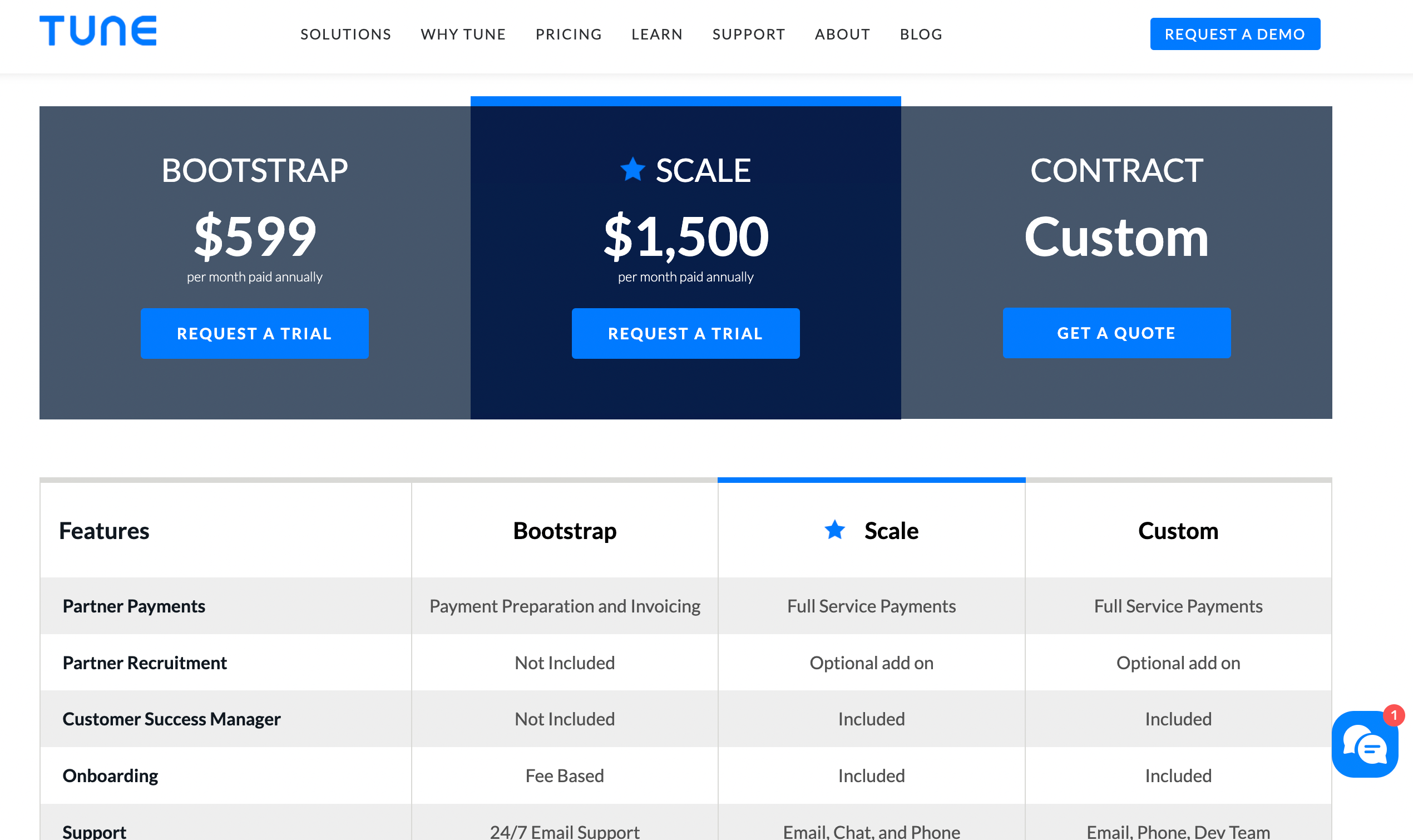 The following plans are available with Tune:
Bootstrap: $599/mo
Scale: $1,500/month
Contract: Custom pricing
Bottom Line
It has an intuitive user interface and excellent technical support. Tune offers a high degree of customization and scalability. This software includes several features, such as fraud prevention, smart links, smart targeting, click tracking in real-time, and many others. It is highly helpful in measuring lead generation and distributing it. Multichannel tracking is also available for affiliates.
It is an affiliate marketing software suite, tracking system, and tag management system developed by the Santa Barbara-based company of the same name. This feature-stuffed affiliate management software platform touts tag management without technical assistance for marketers and tracking of all media channels. In addition, impact provides Partnership Automation, helping brands scale every type of partnership, including affiliates, influencers, strategic business partners, mobile apps, and publishers.
Top Features
The platform-independent design makes Impact compatible with all networks.
Tracking and optimizing marketing metrics is one of the key functions of Impact. With it, you can streamline the ad-making process and access superior data and support.
Easily integrate affiliate networks and analytics tools.
Working with partners becomes more manageable thanks to the reduced duplication of data, increased efficiency, and improved communication.
Provides affiliates with easy-to-use materials, contracts, and deals.
Using Impact's Partner Cloud will allow you to automate every step of your partnership lifecycle, from finding partners to having them onboard, engaging them, and optimizing them.
Pricing
Impact's pricing is not available on their website. Or at least it's not easy to find.
Bottom Line
In terms of size, this is one of the most extensive networks in the world right now. With it, you can conveniently recommend a wide range of advertisers to your blog or website audience. In addition, small businesses typically use the impact (1-50 employees).
What is the Best Affiliate Management Software?
The best affiliate management software solutions will depend on your specific business needs.
You might want to leverage First Promoter if you want to have custom landing pages for your affiliates to use to login to your affiliate program management dashboard.
ShareASale might be the best affiliate management software for you because it offers you an affiliate network to be part of along with easy to use and offers an impressive range of features that allow affiliates to gain maximum benefit from the platform. For example, it includes features like free trial, automated commission payouts, affiliate tracking and reporting tools, sales tracking tools and more.
Final Thoughts
As you can see, choosing the best affiliate management software all comes down to your business' exact needs and wants. Make sure to choose the affiliate program that best serves your needs, and you'll be well on your way to maximizing your existing strategies and growing your business.