10 Best AI Chatbot Software of 2023
AI chatbots are programs that can be used in various circumstances, such as customer experience and customer satisfaction, managing messaging channels, and creating automated responses without the need for human intervention as frequently.
You may already be familiar with chatbots and may have even used one when you asked for support while online shopping at your favorite store. We will look more in-depth at the best AI chatbot software and what makes them stand out.
What are the best AI chatbots?
The best AI chatbots will vary based on the needs and purpose of your business, the industry you're in, and the type of machine learning the chatbot provides. Overall, the best AI chatbots will serve as excellent customer service software that helps your customers get their questions and requests answered with little need for human intervention and conversation.
They will also be able to integrate into your existing business systems and be simple to apply and start using. The best ones will be able to upsell and answer more complex questions, as opposed to just simple keyword searches.
Join Renaissance Rachel's holiday giveaway!
1st Prize: $300, 2nd Prize: $75, 3rd Prize: $25
We went over a few, such as Laiyla, ZenDesk, and DeepConverse that have these features and more – but it truly depends on what you're looking for in your business and how having an AI chatbot will improve your customer service and help ticket response.
ZenDesk

Overview
Suppose you're in the field of customer service. In that case, you know that, more often than not, there are more customer inquiries than you or a human agent can handle at a given moment – with AI-powered chatbots through ZenDesk, you can take some weight off your shoulders and utilize their AI chatbot to engage in customer conversations.
ZenDesk has automation services and chatbot technology to help human agents provide accurate answers to customer queries and instant support. A customer question may take longer to answer without this AI chatbot assistant.
With the flow builder, you can curate the chatbot's AI workflow and how it answers customer questions and responds to customer frustration – which is one thing that human agents already have down. Still, virtual agents and AI chatbots need some help.
Highlights
Conversational chatbots are always available and ready to provide support
Easy and simple setup for every answer bot setup
Allow AI bots to reduce repetitive tasks and collect customer data
Pricing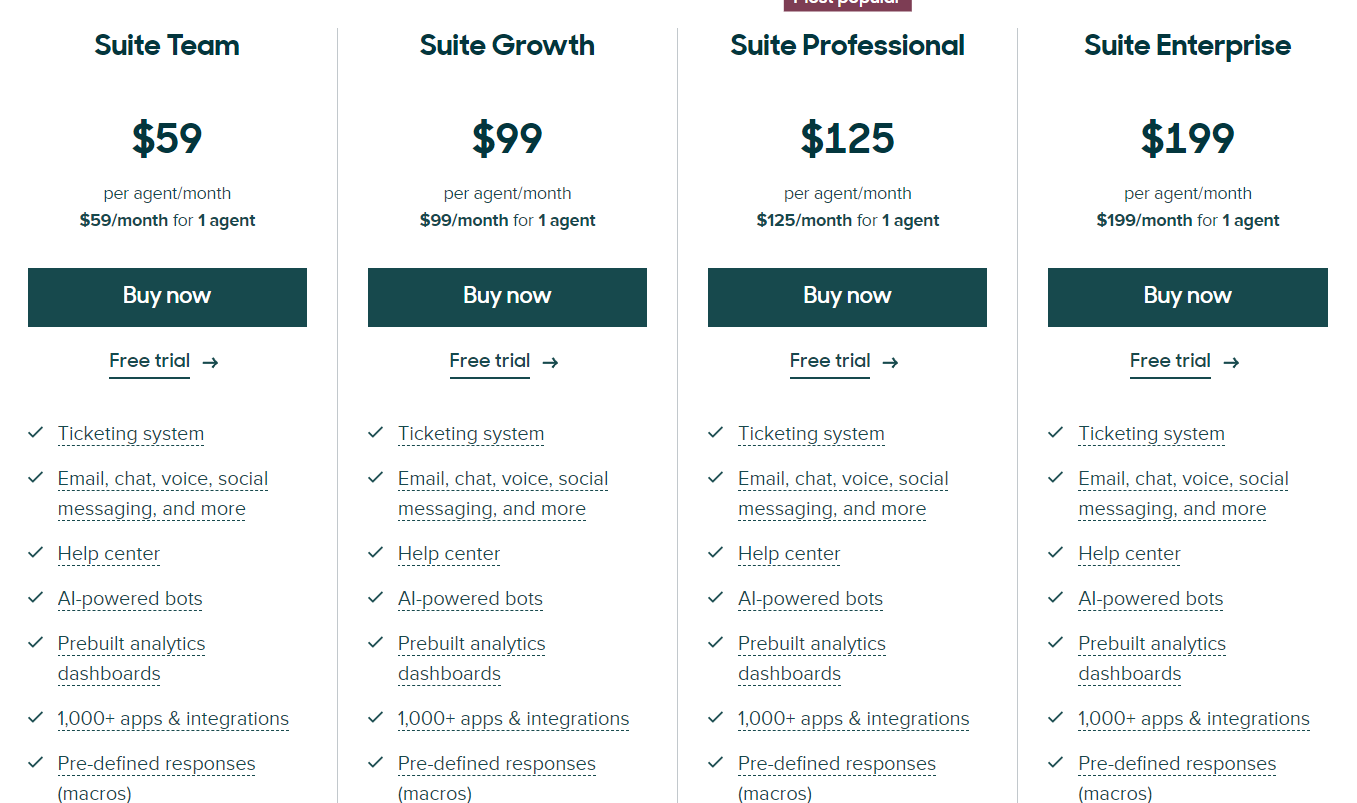 ZenDesk has four paid plans:
Suite Team plan: $59/agent/month for AI-powered bots and 1,000 apps and integrations
Suite Growth plan: $99/agent/month for a prebuilt analytics dashboard and pre-defined responses
Suite Professional plan: $125/agent/month for everything in Suite Growth plus more
Suite Enterprise $199/agent/month for everything in Suite Professional and more
Bottom Line
ZenDesk is a common and powerful AI chatbot tool that utilizes machine learning to aid customer service software and helps deliver instant support on messaging apps to answer user questions. This way, customers are still getting a personalized experience without a large IT team handling all conversational interfaces.
It is relatively affordable for medium to large businesses, but as far as the per-agent price goes, it's a bit steep. ZenDesk is also an excellent resource for CRM tools and integrations for the backend management.
Ada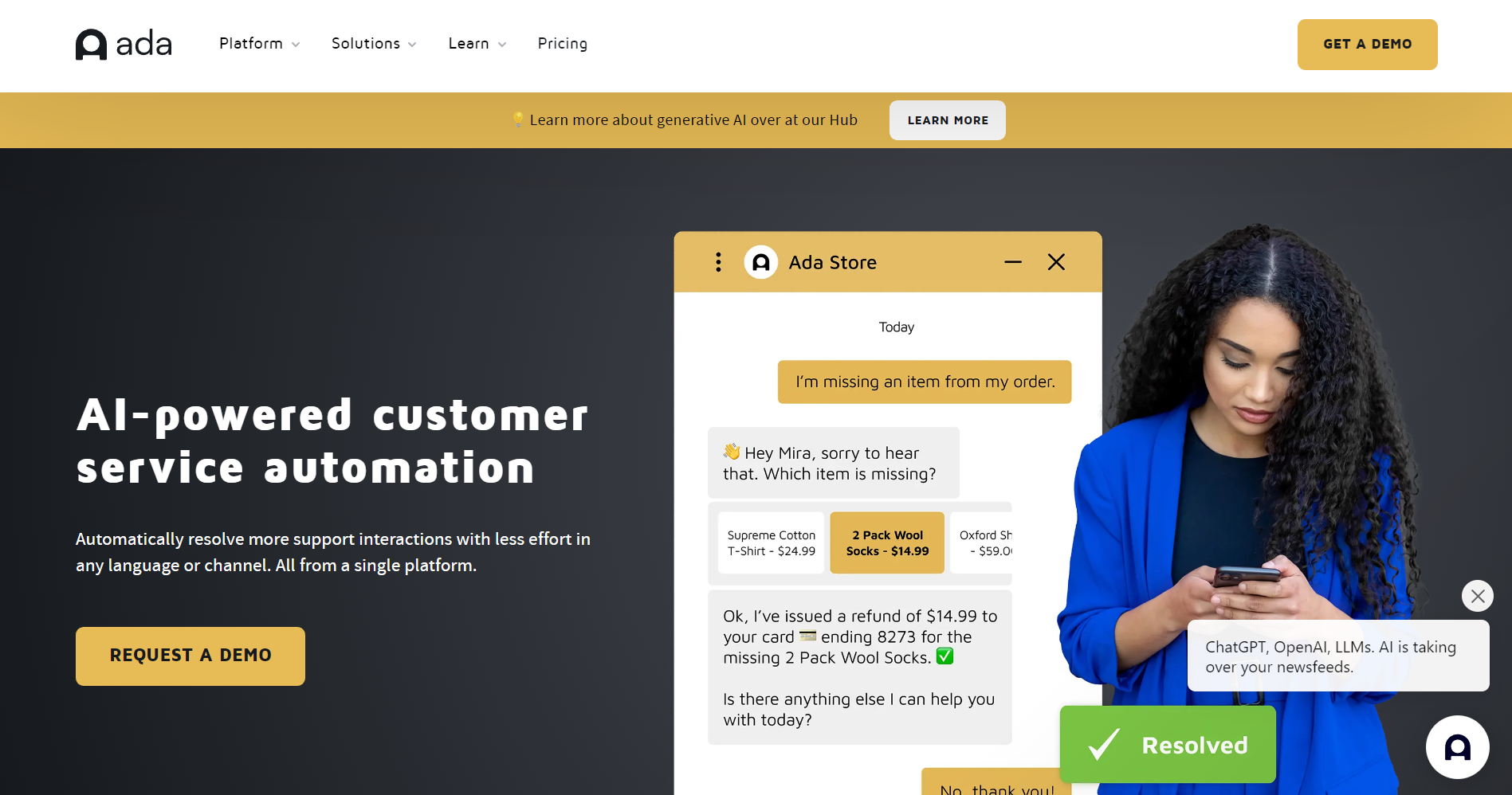 Overview
ADA thrives on service supporting customers, agents, and businesses in one neatly-wrapped package. Customer service issues can be taken care of without increasing the number of employees – not only can these AI Chatbots help customer service agents field questions, but they can help them assist customers when there are not enough people and too many incoming requests.
The best thing about ADA is that you can create customized and unique 24/7 support for customers regardless of your field or business. ADA chatbot platform uses natural language processing to answer customer inquiries naturally, similar to how human conversation sounds.
Despite using AI chatbots to help with customer service and automated conversations, ADA takes security very seriously – meaning they have outstanding security compliance, so you don't have to worry about breaching your customer's security and privacy.
Highlights
Build chatbots and create automated conversations with no code
Analytics and insights to inform the optimization of your business
Intelligent voice automation
Pricing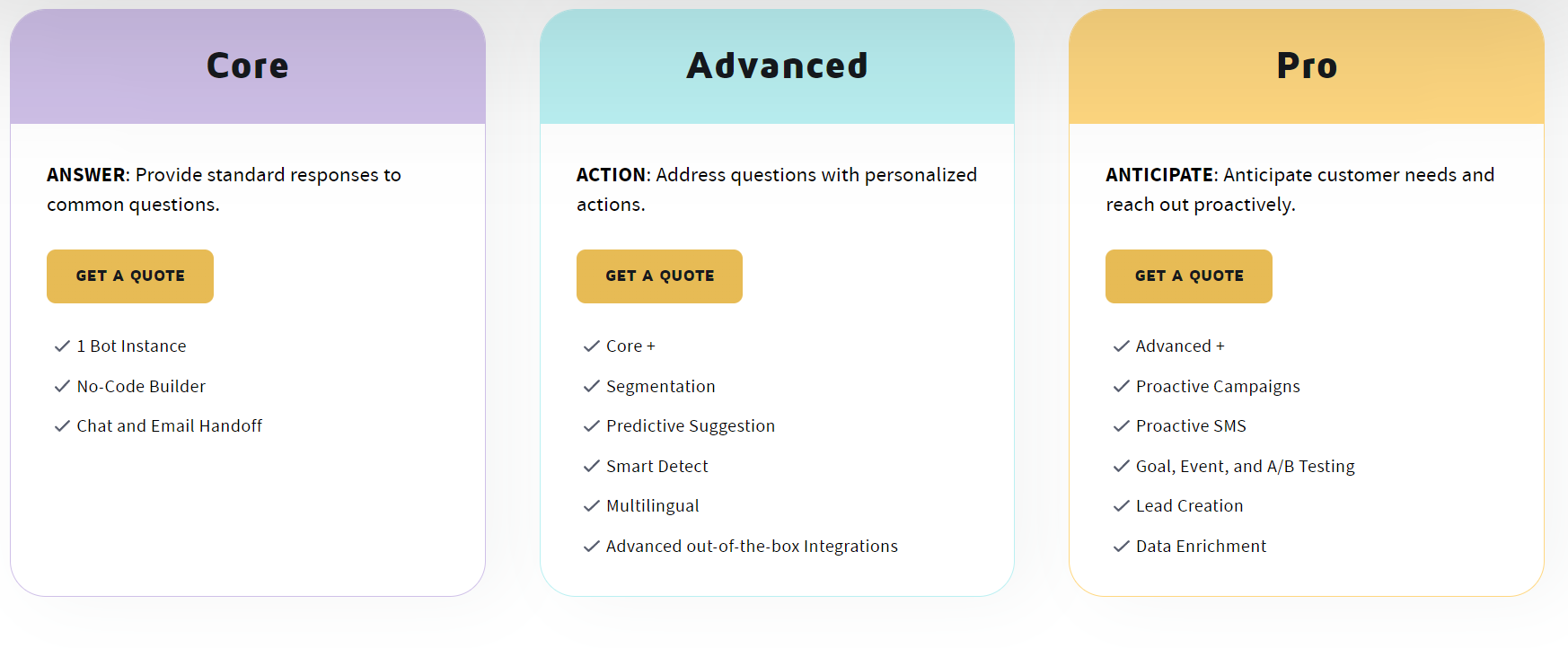 ADA has three pricing plans:
Core plan: 1 bot instance and no-code builder
Advanced plan: core + and predictive suggestions
Pro plan: advanced + proactive campaigns and lead creation
Bottom Line
ADA is a powerful tool for a few different industries and can efficiently automate the process of answering customer inquiries and assisting throughout every aspect of the customer journey. From item or service questions, shipping and return questions, and follow-up with the customer about their purchase.
They are not super transparent with their pricing system as you have to talk to the ADA bot in order to get more details on the pricing for each tier, but you get a few different automated messages features and virtual agents that can decrease the number of help tickets you have to handle at a time and in a month.
Business conversations and customer requests can be handled by a support agent but also by your own chatbot, which you create using ADA – reducing the workload of your IT teams and acting as a form of self-service for customers.
Netomi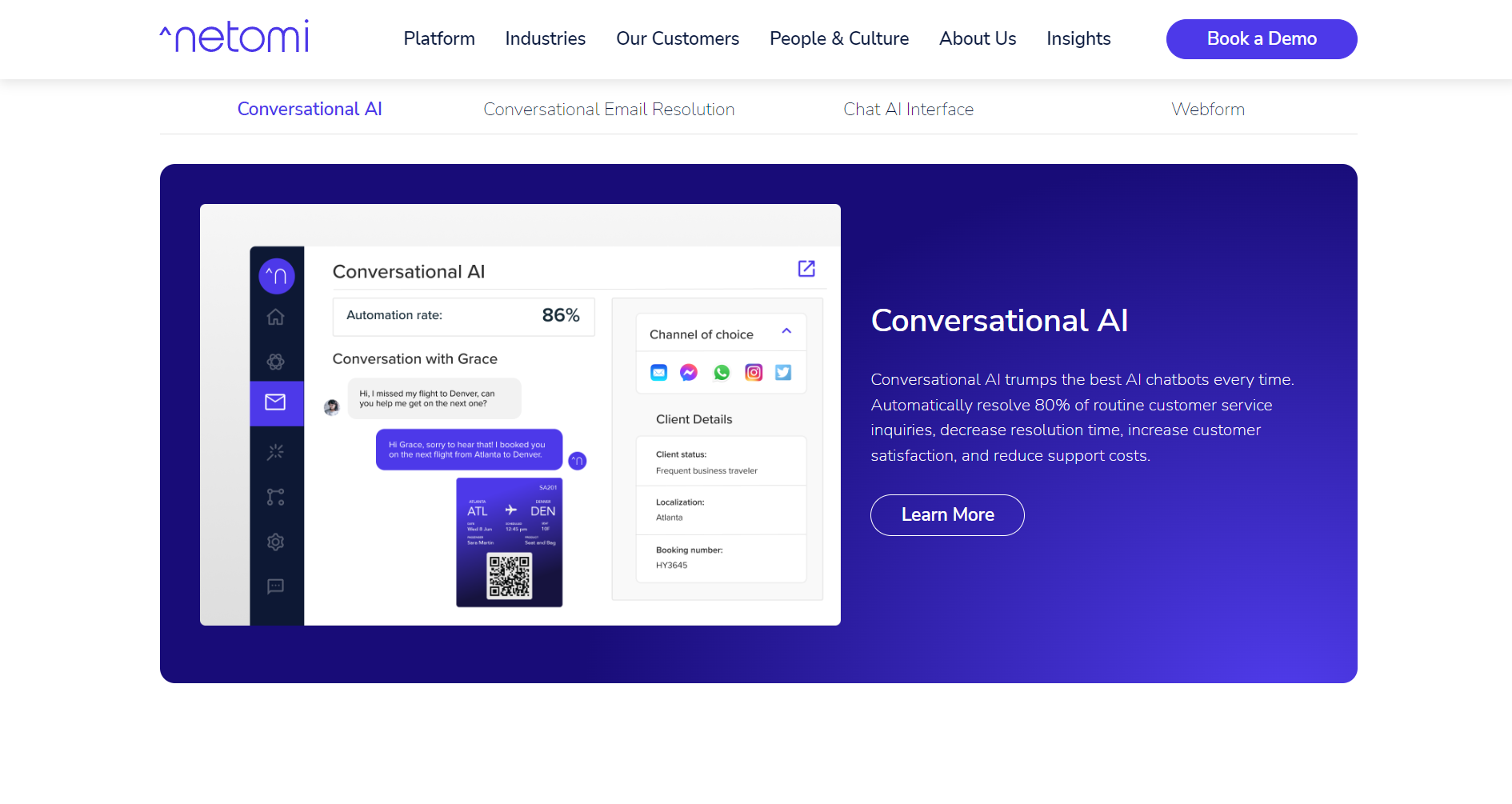 Overview
Netomi strives to understand your customer's requests and their customer experience – they have AI-powered chatbots that are able to detect the intent of the request and utilize natural language processing to help serve the customer.
They understand the power of artificial intelligence as it relates to customer satisfaction and how it can improve the customer experience. Their AI chatbots have unique responses for each customer based on their customer data – things such as loyalty and history – that may affect the way an agent responds to a customer question.
Netomi's messaging channels are designed to provide proactive care and reach out before the customer knows they need something – which is unique to a virtual agent as they are available 24/7.
Highlights
Auto-pilot and co-pilot modes for customer service support
Deep learning AI for natural language understanding
Predictive intelligence with emotional sentiment analysis
Pricing
Pricing was not provided in an overview, as it is per feature. You can schedule a demo of Netomi and get set up through an agent.
Bottom Line
Netomi is a fantastic platform that can help you increase customer satisfaction through AI-powered messaging channels and various virtual agent assistants. With a tool like Netomi, you won't have to worry about falling behind on tickets and customer requests.
It is unclear the exact pricing of the program because they don't come out and state it – it is based on the specific features you want to add to your service, how many of customer requests you handle a month, and conversational workflows.
Certainly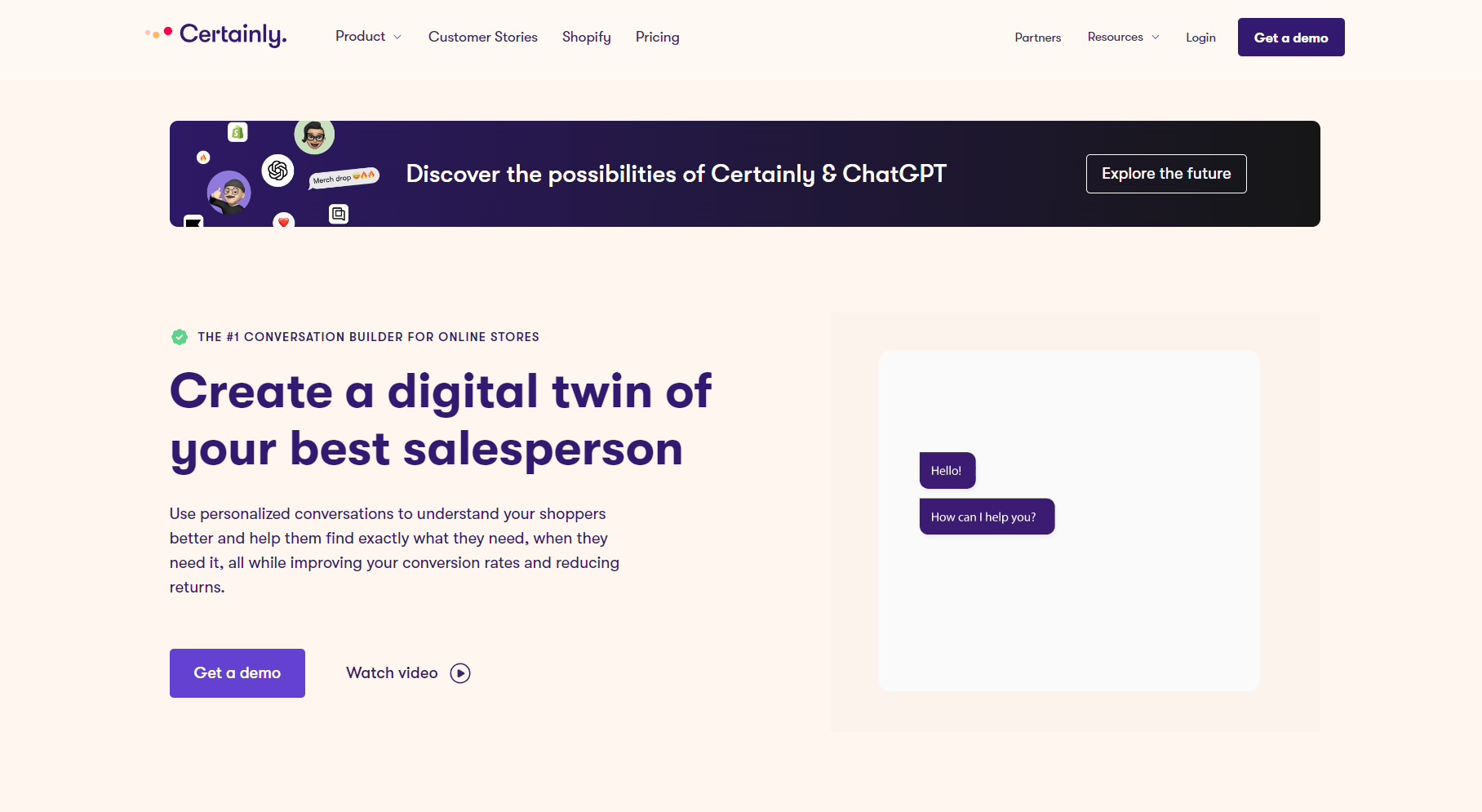 Overview
Certainly strives to be the digital twin of your best salesperson – meaning the AI chatbots prioritize customer service, customer experience, and customer engagement. A large part of eCommerce and service-based businesses are answering frequently asked questions and offering support to customers when they need it – and this could be at any stage of the buying process.
Certainly strives to be the AI chatbot that helps customers throughout that entire journey without sacrificing the genuine customer experience that they get when they talk to a human agent.
The platform has a natural language understanding and can point customers to the right products, offer additional products, and upsell like a human customer service agent, but instead with conversational AI.
Highlights
Pre-purchase, purchase, and post-purchase support
Integrations without coding for your business systems
Omnichannel support via SMS, email, website, Facebook Messenger, and more
Pricing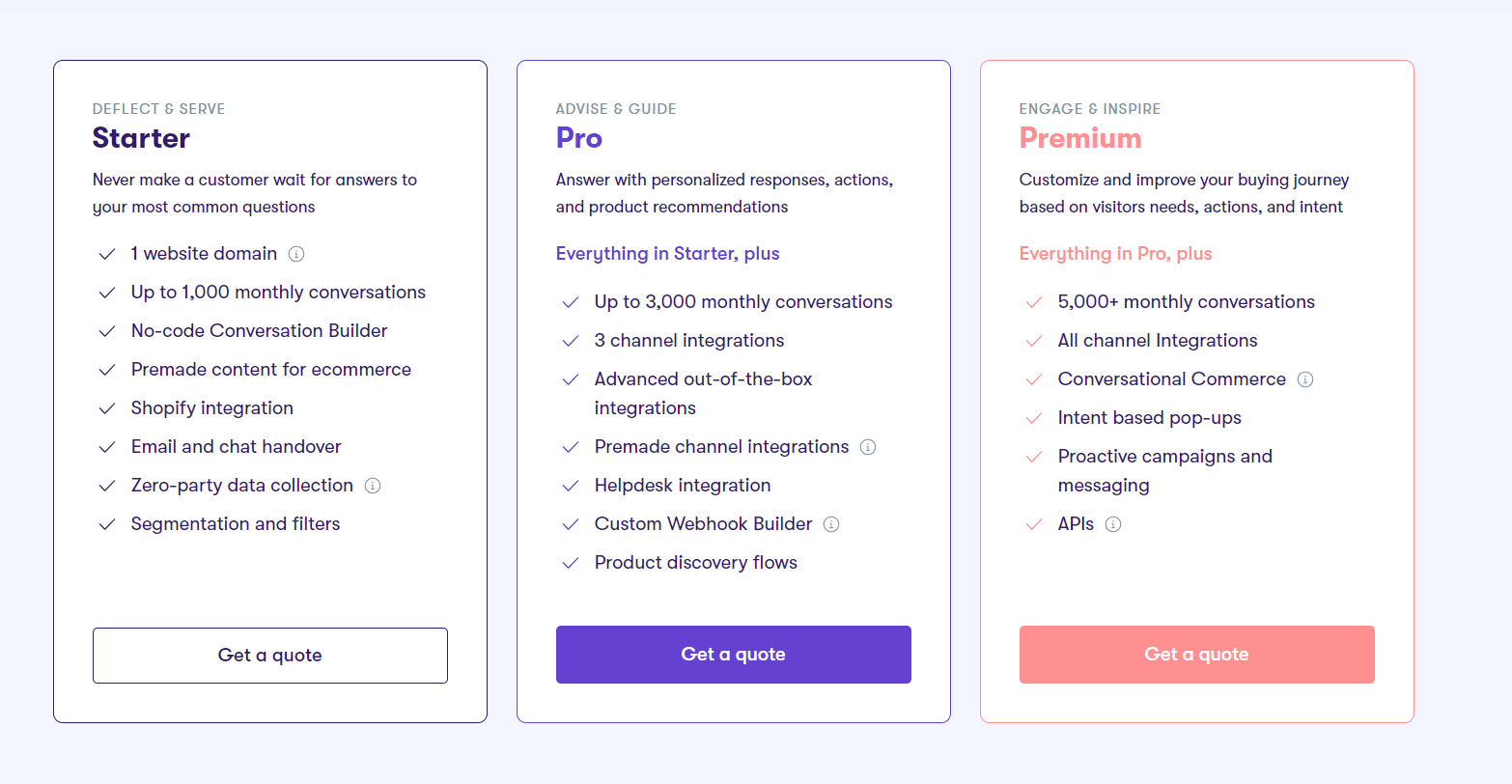 Certainly has three pricing plans:
Starter plan: included 1 website domain and up to 1,000 monthly conversations
Pro plan: up to 3,000 monthly conversations and 3 channel integrations
Premium plan: 5,000+ monthly conversations and all channel integrations
Bottom Line
No matter what type of eCommerce business you have, Certainly would be a great addition to ensure your customers are getting support throughout the entire journey from pre-purchase to post-purchase and through various outlets such as Facebook Messenger, mobile apps, and other messaging apps such as WhatsApp.
Simple and easy one-click integrations with platforms and business systems such as ZenDesk and Shopify, Freshdesk, and UPS.
Handle all of your customer-asks in a conversational way that gives you satisfied customers every time and frees up your phone lines.
DeepConverse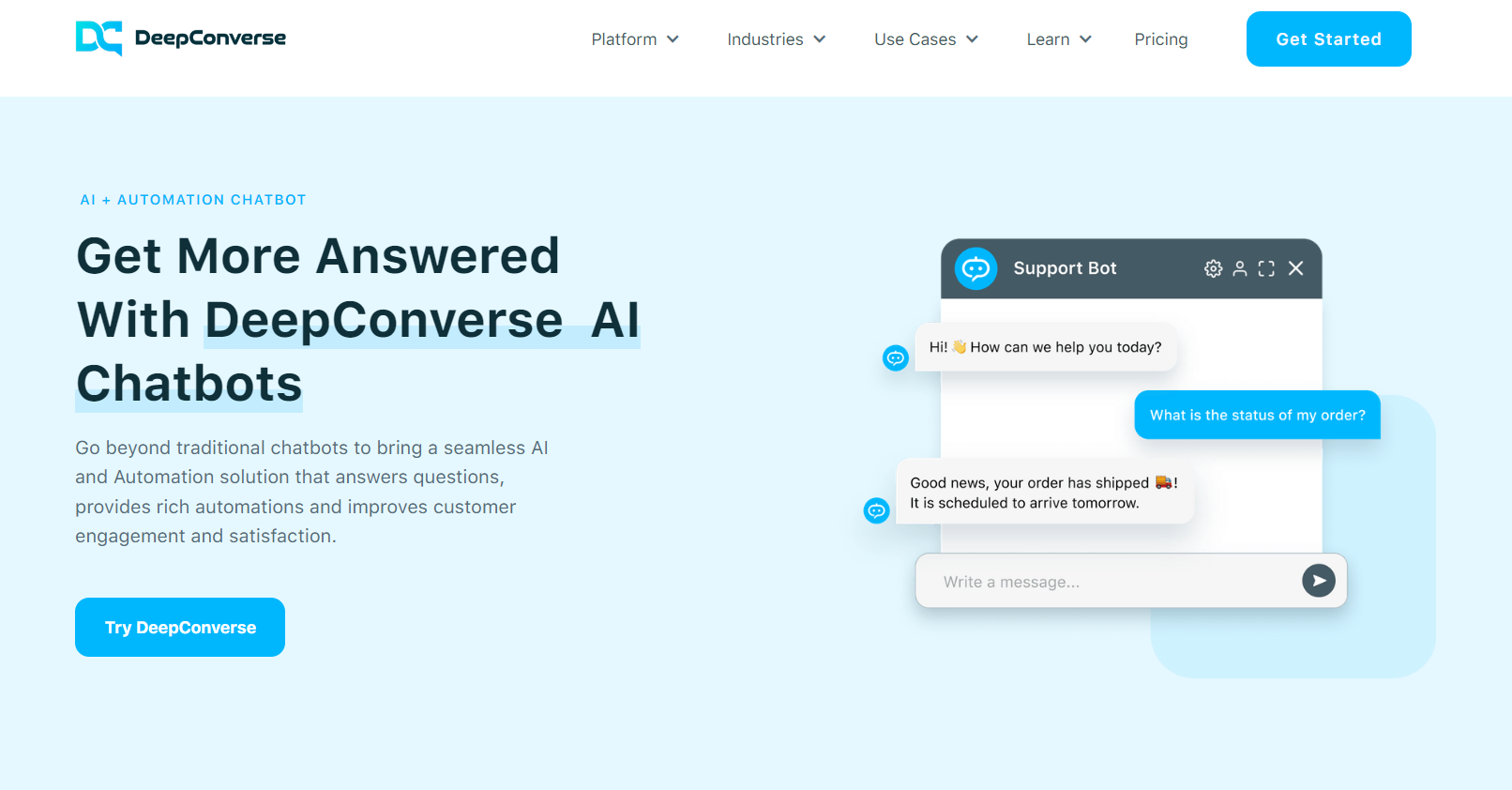 Overview
DeepConverse is a computer program that uses technical skills and chat transcripts to assist customers in a conversational way that replicates human conversation. It is able to handle and reduce support costs yet still meet customer expectations.
Integrating DeepConverse allows your customer's requests to get answered faster and provide a level of self-service so that they don't have to sit on hold when call volumes are high, but it also gives confidence to new agents by helping them through support and using predictive intelligence to help.
Highlights
Interactive guides to aid self-service
Handover to human agents smoothly
Deep learning that goes beyond simple keywords
Pricing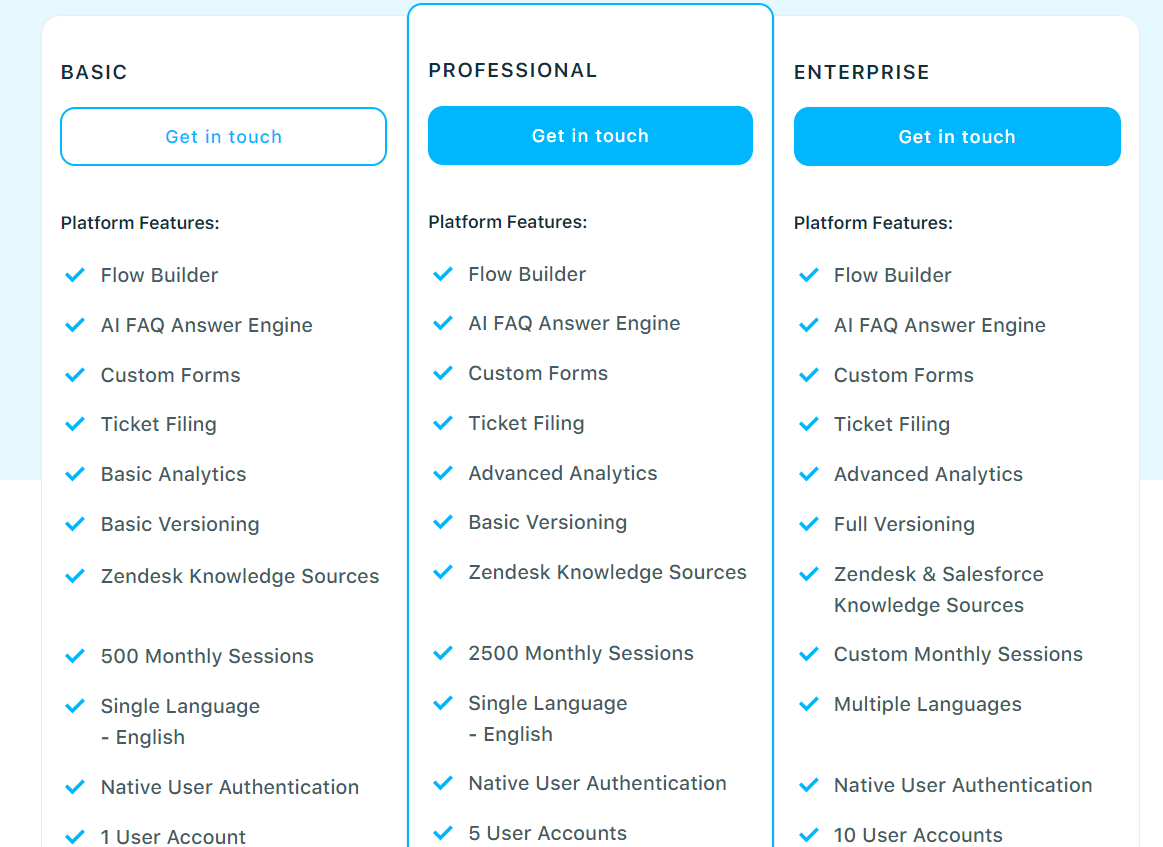 DeepConverse has three paid plans:
Basic plan: flow builder and custom forms
Professional plan: Ticket filling and parameters
Enterprise plan: Consulting and technical guidance and training and coaching sessions
Bottom Line
DeepConverse is here for when you want to build chatbots that go beyond simple keyword searching and can carry on a human conversation with your customers and answer their requests and questions promptly and without hesitation – but when needed are able to smoothly transition them to an agent to further help with their concerns.
The chatbot's AI can be integrated into your customer's favorite channels, including your own website, and understands natural language to answer a customer's question without sounding robotic and non-personalized.
It works for a variety of industries and isn't just exclusive to eCommerce brands and businesses – it can help you in the education, media, gaming, travel, and insurance industries as well.
Laiye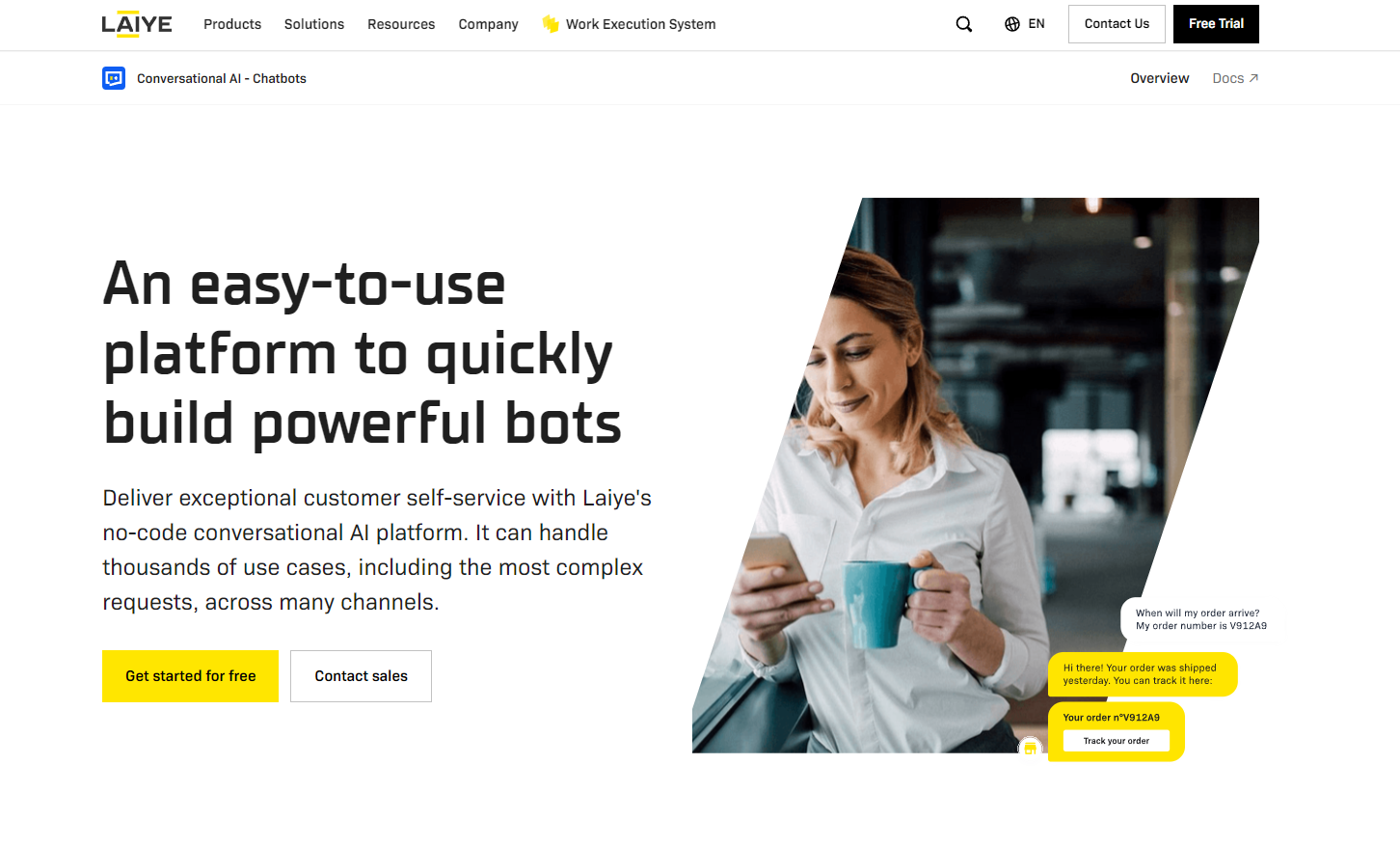 Overview
Laiye offers 24/7 communication with your customers on their favorite platforms and takes personalization to another level by prioritizing customer engagement and conversational chatbots. With Laiye you don't have to worry about customers' requests getting lost in the shuffle or unhappy customer service agents due to the number of requests and questions that are coming in.
Laiye comes with advanced natural language processing to ensure your customers understand your business and in turn, they are understood by the AI chatbots. Building an answer bot is simple with Laiye and you're able to integrate it into Facebook Messenger, Apple Business Chat, and other mobile apps so your customers can interact with you anywhere.
Building customer loyalty and engagement often comes from great customer service, and when you can't hire help or you want to add a level of self-sufficiency to your help tickets before transferring them to an agent, Laiye is a fantastic integration for virtual agents.
Highlights
Flow builder and document research
Present customer service and knowledge mining
Issue management and user feedback
Pricing
Pricing was not provided by Laiye as it is based on the needs of your business – in order to schedule a demo or inquire about pricing you need to get in touch with a Laiye agent.
Bottom Line
Laiye is the conversational AI that is going to transform your customer service experience with the help of machine learning and natural language processing – improving your customer's experience when they need help and improving your agent's confidence when answering questions.
The AI chatbot can be integrated into a variety of platforms to reach your customers no matter what platform they like to use. So, with the help of artificial intelligence, you can ensure your customers are always being helped, no matter what timezone or place in the world they may be – something that is impossible to do with human customer service agents.
Laiye's chatbot platform is easy to use and simple to integrate into your existing business systems, making a seamless transition.
Dixa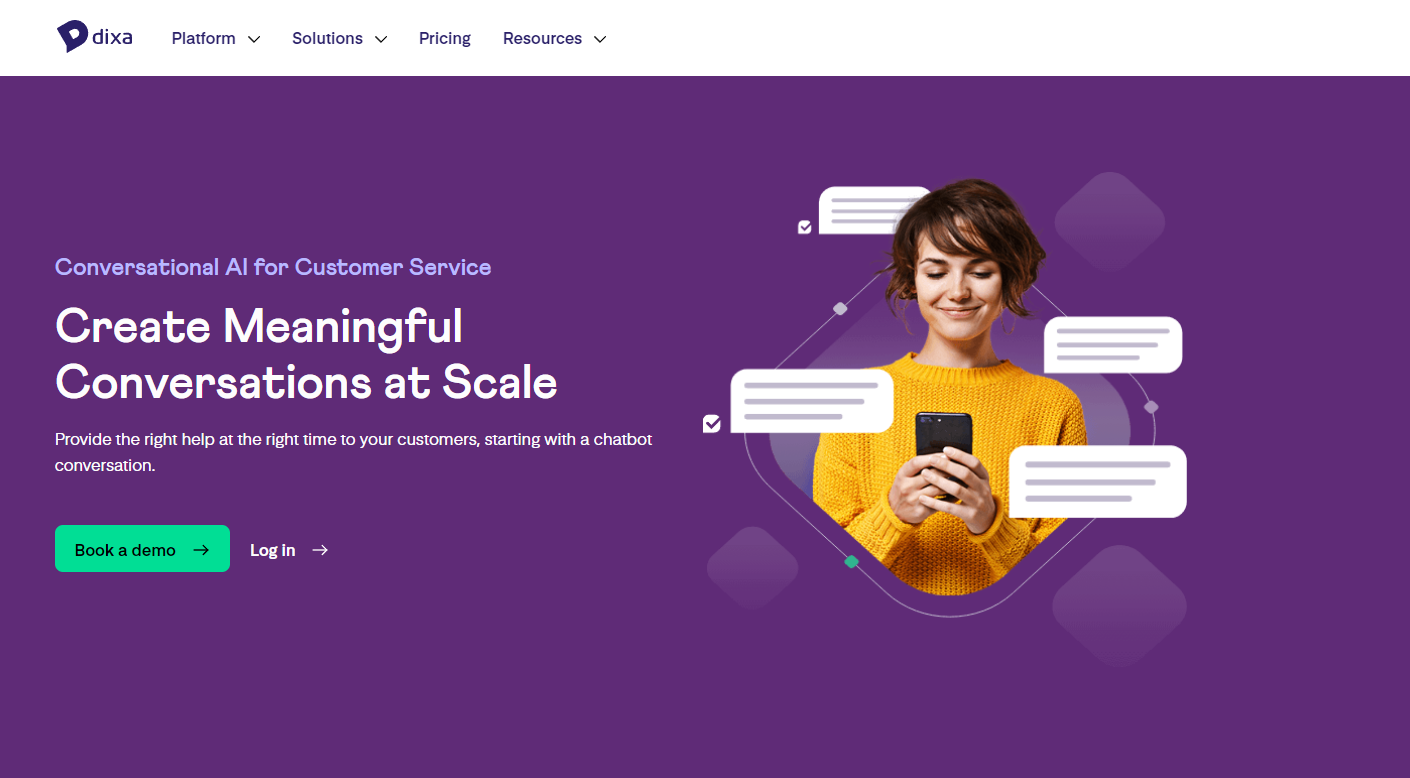 Overview
Solvemate Dixa has every platform built into its integrations, meaning whether your customers want to get ahold of your business via Instagram, Facebook, WhatsApp, SMS, phone, Email, or your own website – Dixa's got it covered.
They also have everything you need to analyze and assess as an agent and business owner in one dashboard – their Dixa Agent Hub, which helps your traditional agents help customers more efficiently and accurately with customer context, dynamic knowledge, and conversation timelines.
With Dixa's conversation engine, you can take a look at a conversation overview, intelligent routing for when chatbots can no longer assist a customer, and conversation automation to provide a seamless experience for your customers, every time.
Highlights
Multi-industry support
Small to large business help and integrations
Analytics and powerful insights into Dixa and how it helps your teams and customers
Pricing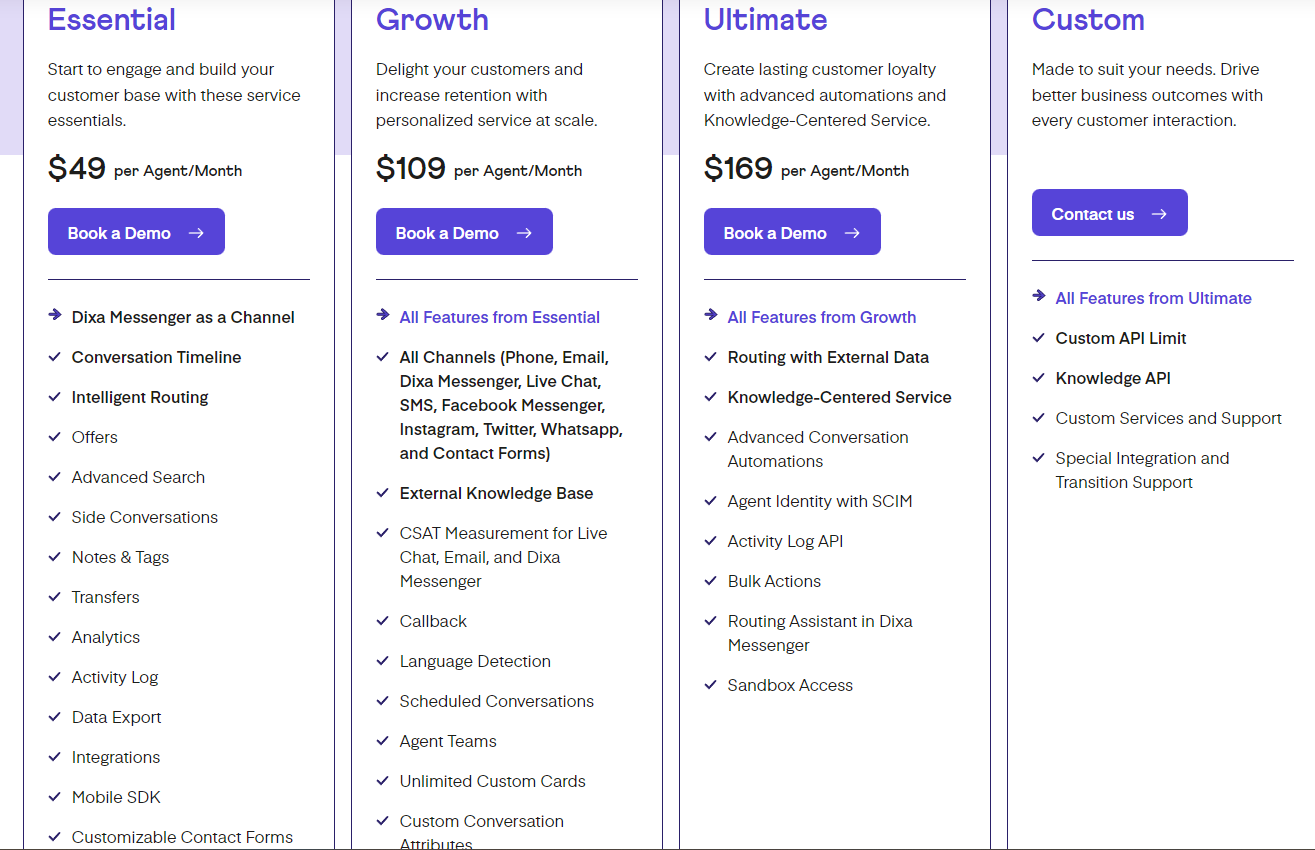 Dixa has four pricing plans:
Essential plan: $49/agent/month for conversation timelines and intelligent routing
Growth plan: $109/agent/month for callback and language detection
Ultimate plan: $169/agent/month for advanced conversation automation and bulk actions
Custom plan: custom pricing for customized service and support
Bottom Line
Dixa is a one-stop-shop for your AI chatbot needs, including natural language processing, integration with Facebook Messenger and other platforms, virtual agents that are trained to provide outstanding customer support, and marketing tools to help you view analytics and ways you can improve the experience of your customers when they require support.
They have a range of affordable plans for small to large businesses that either cannot afford to hire customer service help or need to provide an additional level of knowledge and expertise to their existing team.
Dixa is a fantastic platform to apply to your business systems and will help you breeze through ticket requests and help your customers through their entire experience no matter what industry you are in.
Zowie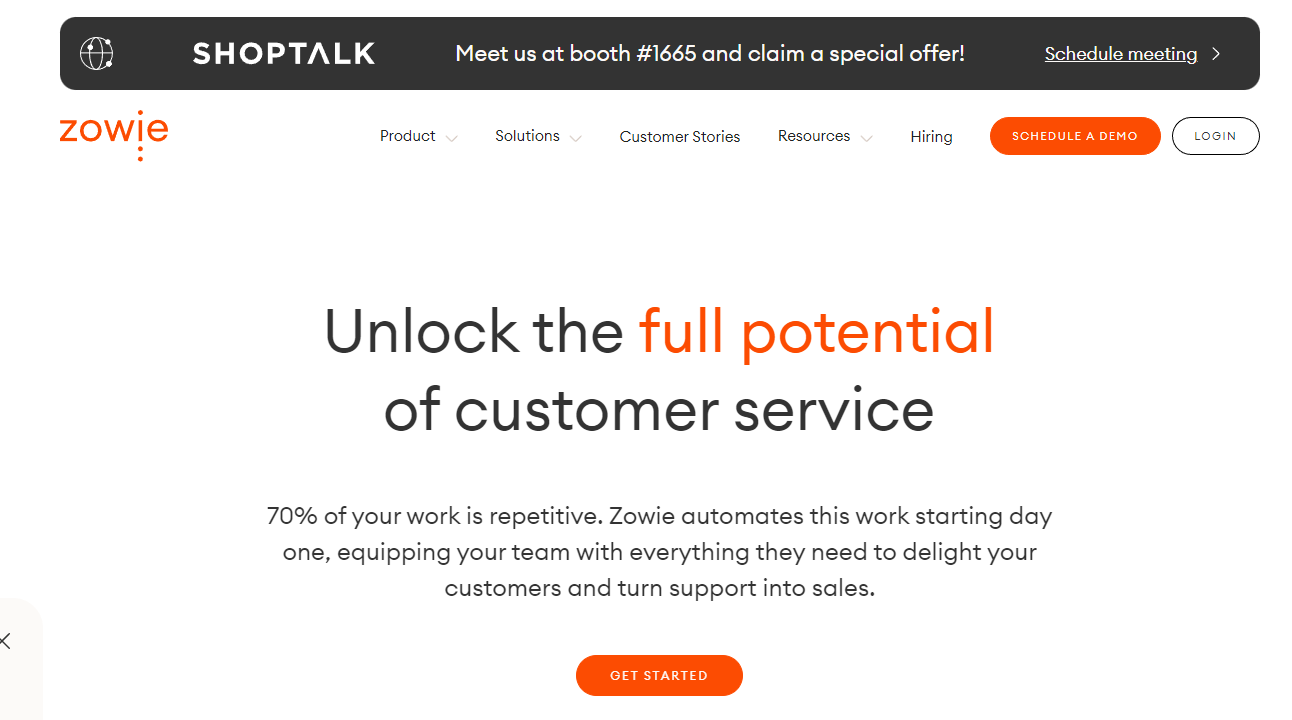 Overview
Zowie strives to provide automated support to customers and help agents respond faster to customer questions. Instead of being stuck with a backlog of customer inquiries to catch up on, Zowie helps automate repetitive work to give you more freedom and allow your agents to follow up on more complex responses.
AI chatbots make resolving customer issues simple and less stressful by providing an automated solution to the most common questions – most people don't read an FAQ, so Zowie is able to answer these questions immediately so agents spend less time answering questions about the shipping information, and more time answering concerns the bot cannot answer.
Another aspect of Zowie is that it's trained and programmed to help your business sell more and increase revenue by upselling during customer interactions. Instead of one simple question, Zowie is able to help customers make important buying decisions.
Highlights
Cut back on the backlog
Personalized customer care
Customer intelligence and CS-driven revenue
Pricing
Zowie pricing is based on the specific needs of your business – you can schedule a demo and chat with an agent to get a quote on how Zowie can help unlock the potential of your customer service.
Bottom Line
Zowie is another AI chatbot that puts the experience of the customer first, while also helping you cut down on your request tickets and questions that agents handle – allowing them to focus on more complex questions.
Pricing varies depending on what you want Zowie to do and what integrations you want, which means it is highly scalable depending on your needs and budget.
They support a variety of industries so no matter what type of business you are, you can take advantage of customer service automation and simple responses to common questions.
Ultimate.ai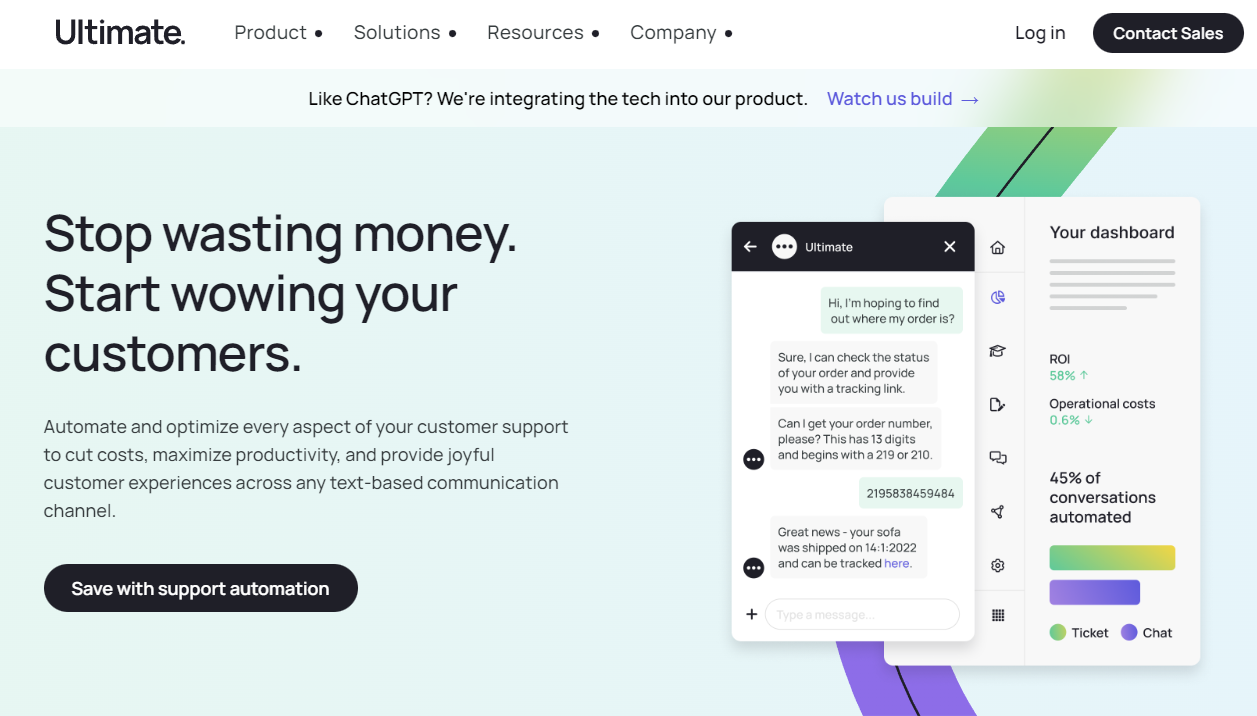 Overview
Ultimate.ai allows you to provide outstanding customer service 24/7 and in various languages, so you are able to help more of your customer base while also limiting the number of traditional agents that speak various languages on your team. Ultimate.ai can be integrated into your existing business systems such as ZenDesk, SalesForce, and LiveChat.
Onboarding and set-up of Ultimate.ai are customizable to your business needs and the type of company you run, so you're not stuck using a system that doesn't work for you.
The AI chatbots have been programmed to be self-learning to maximize what you get out of their integration, but also to improve the experience of your customers with time and integrate with your existing tech stack so there is no need to start from scratch.
Highlights
Deep integration capabilities
No coding is needed in set-up or everyday operation
Multilingual agents to serve all customers
Pricing
Ultimate.ai does not disclose the pricing of its features due to the fact that they are customizable to the needs of your business and
Bottom Line
Ultimate.ai is an AI chatbot that still aims to help you reduce the number of requests and inquiries that your team has to assess, but it also understands that your customer base may be from around the world – so it has multilingual support to assist customers no matter where they're from, something that's difficult to find in a human customer agent.
You don't need to start from scratch as there is no coding required, so you can get set up and start helping customers and saving money as soon as possible.
Their AI chatbots are highly intelligent and are able to learn more with time, providing an even better experience for your customers the longer you use it.
Meya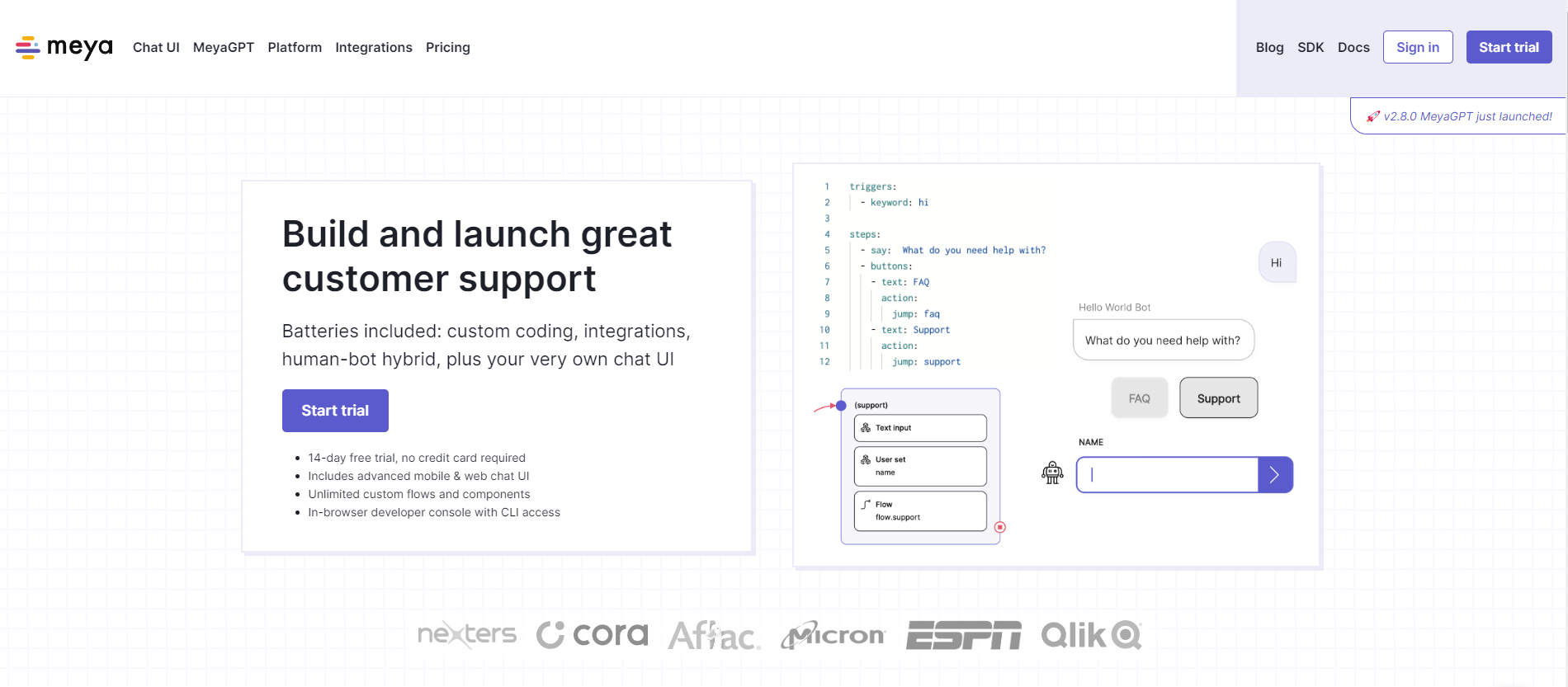 Overview
Meya is a unique AI chatbot in that it allows you to customize the coding that goes into the program, making it a bit more advanced and customizable than that of the other programs we've covered. With the use of Meya, you also get your own chat user interface and a human-bot hybrid to make the most of your customer experience services.
Meya provides customers with an intelligent experience with widgets, modes, and customizations that you can apply that are supported across Android, iOS, and the web.
It can be integrated into various stages such as design and development and the final launch of services. You can connect any platform to Meya and custom-code any aspect of the program.
Highlights
Intelligent operating system
Fully programmable and customizable to your business needs
Connect to anything in your current business system
Pricing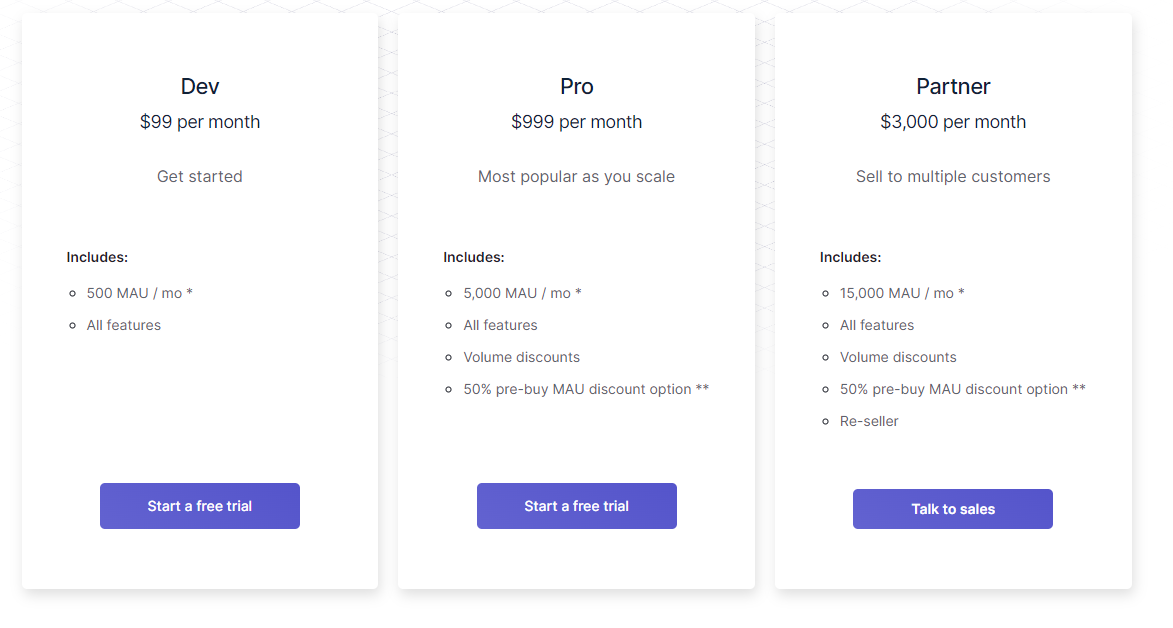 Meya has three paid plans:
Dev plan: $99/month with all features and 500 MAU/month
Pro plan: $999/month for all features, volume discounts, and 50% pre-buy MAU discounts
Partner plan: $3,000/month for all features and re-seller
Bottom Line
Meya is a fantastic option for businesses that want more control and coding options for their AI chatbots and systems. This program allows full customization and coding for those that want to specify and create a completely unique customer service experience from start to finish.
You can integrate the program into your customers' favorite channels and communicate with them on a deeper level, much like a traditional agent. You can also utilize the tools to create a better experience and system for your traditional agents in the form of support.
Meya is a great option for ultimate customization, and medium to larger businesses have a bit of a budget to work with as Meya is pricey compared to the other programs that have disclosed their price points.
What kind of AI is used in chatbots?
Most chatbots AI are a form of ChatGPT, Claude, or another form of artificial intelligence platform that will take the input from customers and reply with a response based on machine learning, natural language processing, and a dialog manager that you set up to guide responses.
The AI chatbots will perform similarly to how a traditional agent would, because of the use of natural language and machine learning.
All of these artificial intelligence platforms can be taught how to respond and some can even take CRM integrations and customer information to personalize the experience the customer has.
How does an AI chatbot work?
AI chatbots work when users type a query or have questions that require answers. This data is collected if it is used in a mobile app or website.
The chatbots can then answer these questions based on the parameters and training they received on the backend of the system.
Each parameter and training can vary based on the business and the type of questions these bots are being trained to answer.
Final Thoughts
There are many AI chatbots on the market today, and the more that virtual agents evolve and the ability that natural language processing has to help these Google assistant bots and other chatbots AI perform, the easier it will become for businesses to integrate and use them.
Each platform and program has a unique feature that may benefit businesses more than others – each industry is different and eCommerce businesses may want more of a natural language aspect to their chatbot responses than another industry because they get a higher volume of requests.
All of these can be customized to your preferences, which is why most of them don't advertise a price outright because depending on what you want to include in your chatbot's AI and what you want it to perform, will affect the price.
For businesses and brands that have a large volume of ticket requests or cannot hire customer service personnel, AI chatbots may be a great investment.