91 Best User Research Tools of 2023
As the field of user experience (UX) research evolves, the market for user research tools has exploded! More and more tools come out each year, and many existing user research tools have evolved.
Many of these UX research tools started out focusing on a particular research method, but now many have evolved into a platform and support multiple aspects of research. Crafting your perfect UX research system depends on your use cases and needs.
If you'd rather get expert advice on what tools you need, don't hesitate to reach out!
What are the best user research tools?
Here is a list of the best user research tools to try out today. Most of these are free or offer a free version, but I have also included some premium tools. I tried to include the whole gamut of UX Research needs, from recruiting participants to moderating screen sharing video tests to creating wireframes.
This list is not meant to be exhaustive or definitive, but it should give you a solid overview. Many UX tools are geared toward UX designers & researchers, while others are designed for public use that can be repurposed for UX work.
I've ordered the best UX research tools categories roughly by relevance to a researcher's day-to-day work.
Usability Testing
Read my best user testing tools article for a more in-depth analysis of these tools, including their methods. capabilities, and pricing.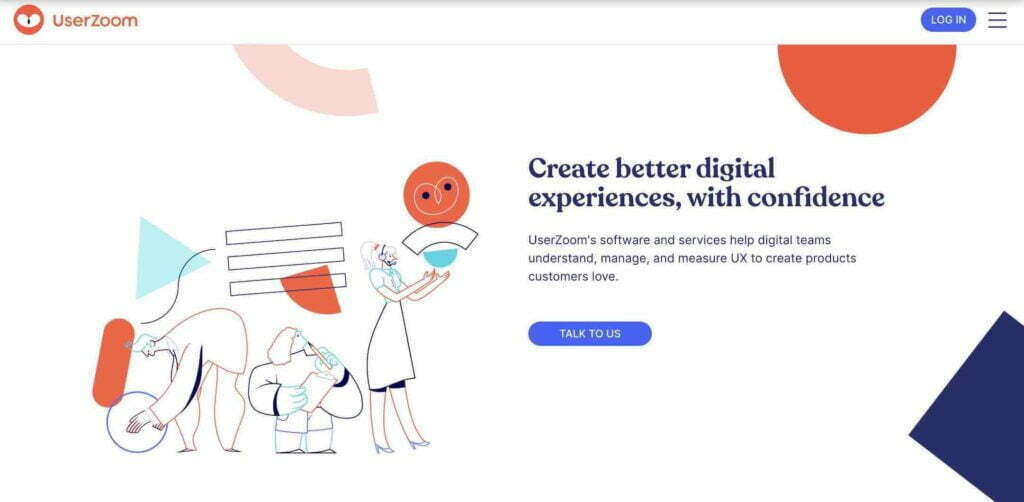 UserZoom offers both moderated and unmoderated usability testing through its platform.
The moderator directly interacts with the research participant in real-time using screen-sharing in the moderated tool. The moderator observes the user interact with the product and can ask follow-up questions.
With the unmoderated testing tool, the researcher (or other person running the study) would set up tasks and questions for the participant to go through on their own time.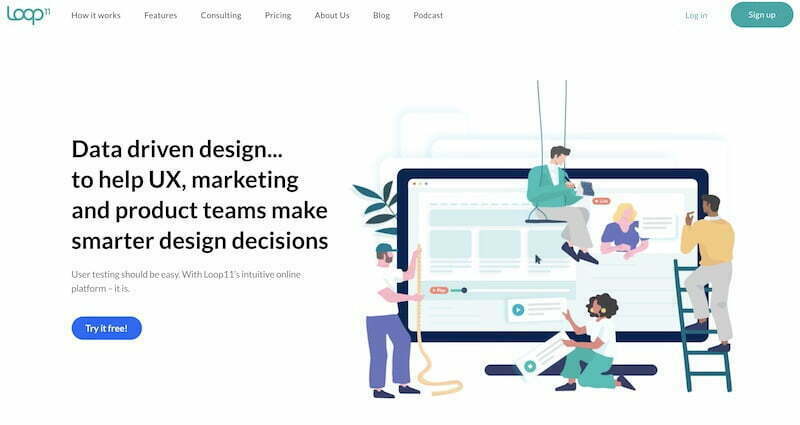 Loop11 is an Australian-based company offering a very robust user testing platform. You can offer unmoderated and moderated tests within the platform with structured frameworks on different methods.
Loop11 offers a virtual observation room for moderated testing, which enables you to invite your team to watch your sessions without overwhelming your participant.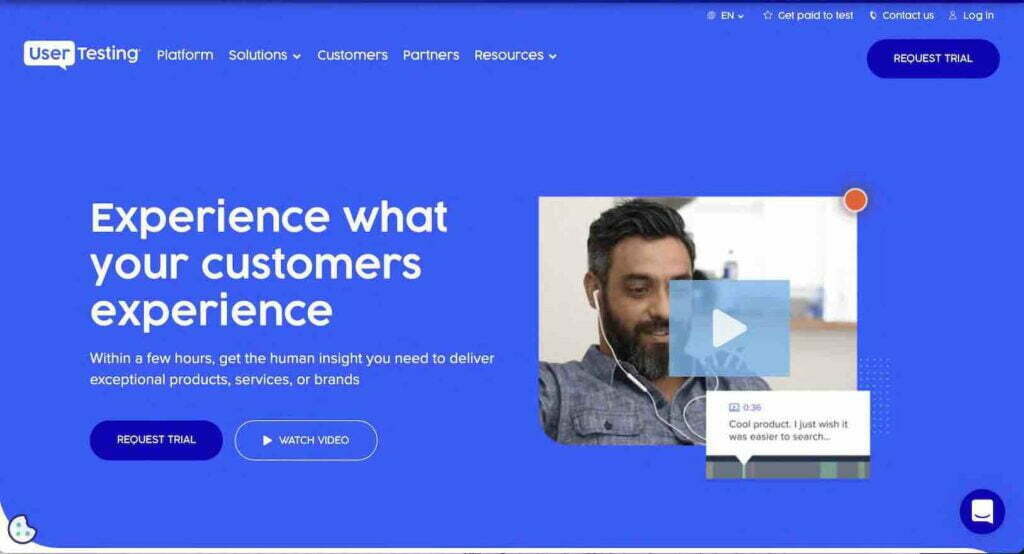 UserTesting.com initially started off as a platform for unmoderated usability testing. It now offers more features including moderated interviews and card sorting.
dscout
dscout originally started as a diary study tool but has since evolved into a comprehensive platform.
dscout's Live feature enables you to directly interview participants through their platform — in other words, not through Zoom or another online conferencing tool. It comes with several features specifically meant to help researchers, such as a one-way glass feature where you can hide your observers in your sessions and notetaking capabilities within the tool.
dscout's Express offers unmoderated usability testing capabilities to collect research data. You set up your test, launch it, and get results.
Consideration before choosing a tool: Make sure to ask each company about their participant panels and recruiting capabilities. For instance, the last I checked, dscout's recruiting capabilities focus on the general population rather than specific industries.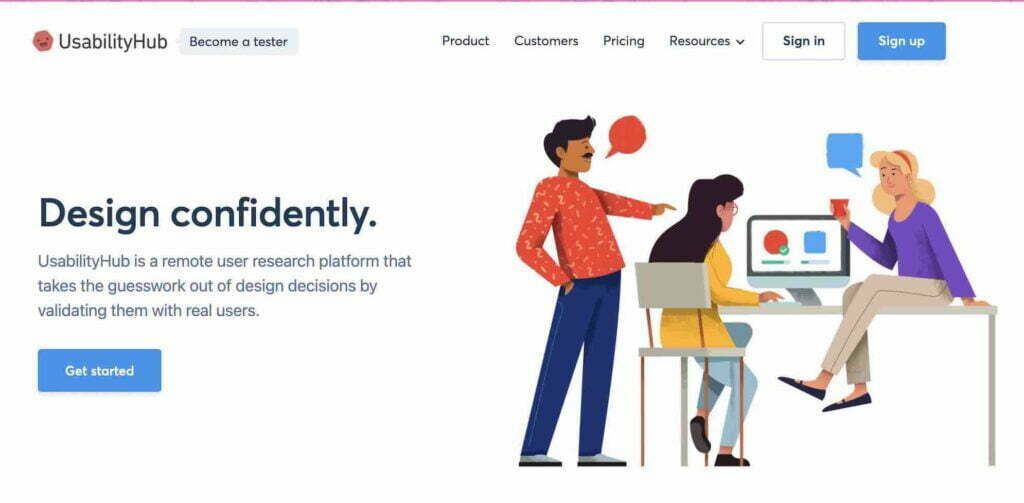 UsabilityHub focuses on a few specific methodologies within the usability testing arena: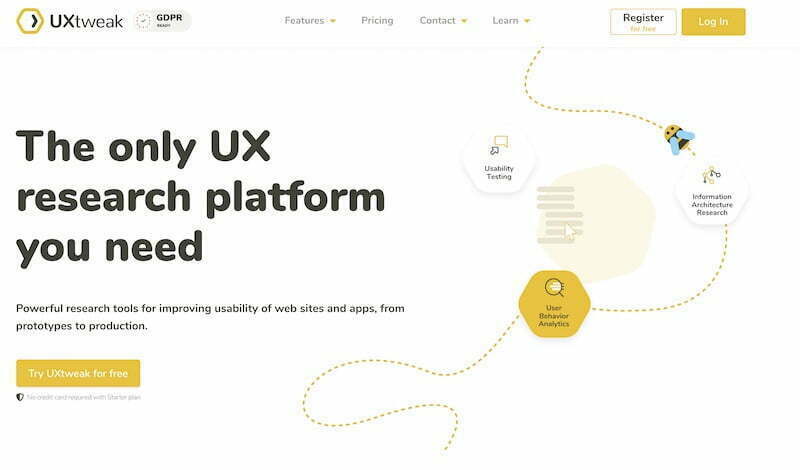 UX Tweak is a great user testing tool for freelancers, small businesses, and large businesses alike. They'll either provide you with test participants, or you can bring your own participants for your usability testing.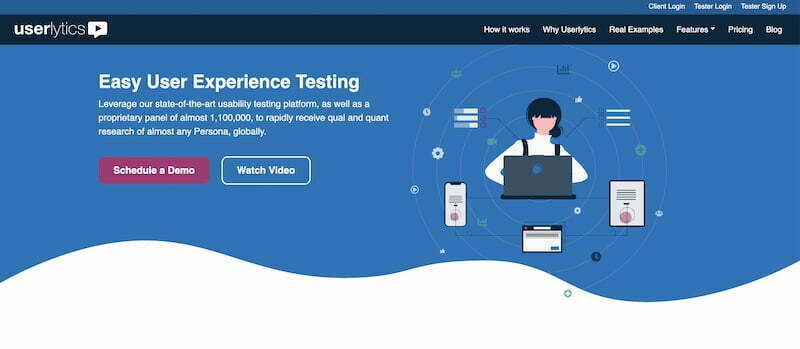 Userlytics has been providing its usability testing services since 2009. They're a user testing platform that allows you to conduct both moderated and unmoderated tests directly through their platform to collect user feedback.
Maze is a usability testing tool that focuses on prototype testing, offering integrations with major design tools such as Figma, Adobe XD, and more. They focus on enabling you to get quantitative insights fast. Research studies are not recorded, but Maze collects analytics on user behavior and packages it into a report for you.
Useberry is a usability testing tool that focuses on multi-method unmoderated user research. If you're looking for a quick way to test your designs and get user feedback, Useberry is a good contender because it provides you with many quick templates to start up with to run your tests and integrates with all the major design tools right off the bat.

UXArmy is a usability testing tool that enables you to conduct unmoderated and moderated user research in addition to utilizing their platform to get feedback on their design. It appears to work similarly to InVision, where you can upload your design, share a link, and get feedback on specific areas of a design.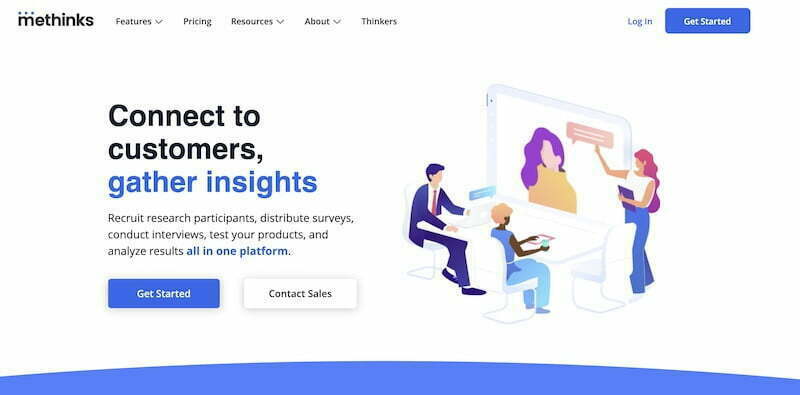 methinks is a usability testing tool that allows you to conduct your own tests, and they also offer research services if you need them.
Read my best user testing tools article for a more in-depth analysis of these tools, including their methods. capabilities, and pricing.
---
Card Sorting
Card sorting helps you understand how customers think about, arrange, and label items so that you may make confident, knowledgeable information architecture decisions.
Optimal Workshop's flagship product is OptimalSort, their card sorting feature. It has multiple visualization tools that enable you to view the results of your data in a quantitative and structured way.
OptimalSort allows you to do open, closed, and hybrid card sorts. In addition to card sorting, Optimal Workshop offers tree testing, first-click testing, online surveys, and notetaking.
UserTesting
UserTesting does have a card sorting capability.
It's a bit newer, and I haven't had the chance to use it yet. I'm excited about it because I've used an Optimal Workshop OptimalSort link in the past on UserTesting.com so that I could see the participants do the groupings and hear their thoughts.
UserTesting.com offers open, closed, and hybrid card sorting.
UserZoom
UserZoom also has card sorting capabilities.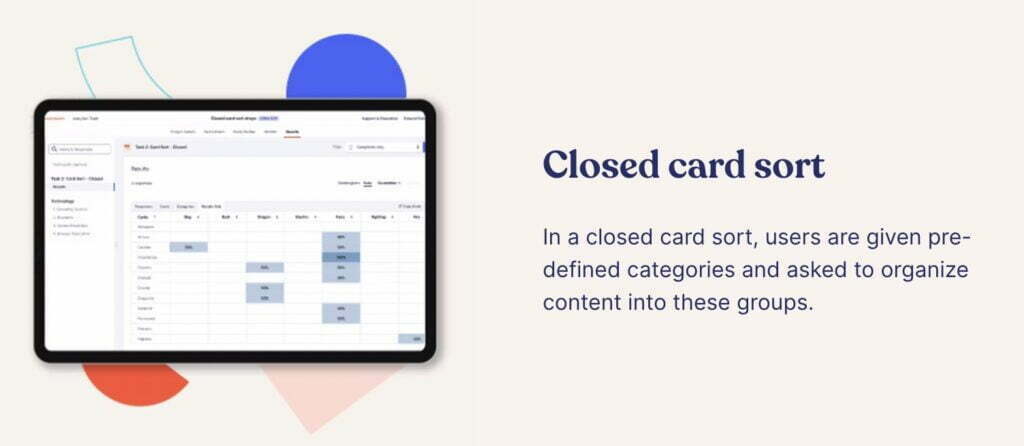 Unfortunately, UserZoom only allows closed and open card sorts, not hybrid card sorts. I like the option of hybrid card sorts because it enables the user to make a category you might not have thought of.
---
Diary Studies
A form of longitudinal research, diary studies allow the researcher to collect insights over some time while their participants go through their specific tasks.
dscout
dscout's Diary feature allows you to collect in-app and desktop research insights. You give your participants a variety of prompts, and they record their responses in the manner you prefer: text, video, or audio.
Diary has beautiful synthesis capabilities within the tool and is designed for researchers to make their findings actionable.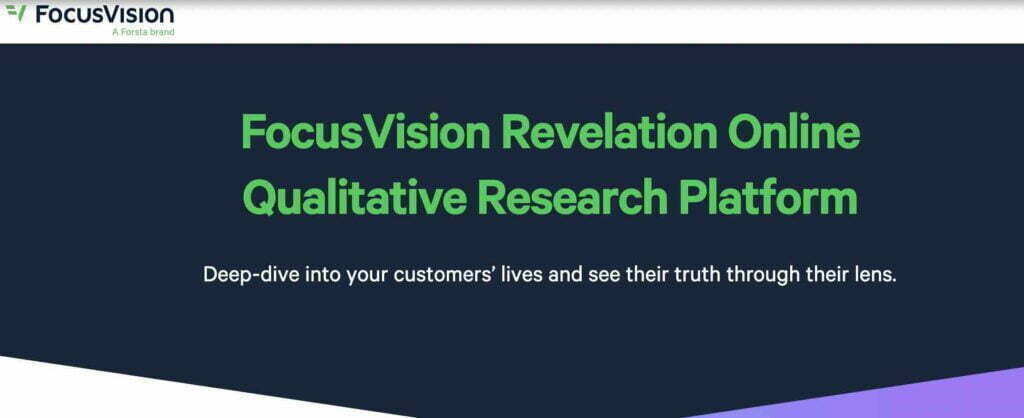 FocusVision Revelation is a diary study tool that's built around the desktop experience. It has a lot of templates you can use to get started quickly. However, its user experience is clunky and harder to pick up initially.
---
A/B Testing
Adobe Target
Google Optimize
Optimizely
---
Surveys
Qualtrics
Alchemer
Typeform
Google Forms
Microsoft Forms
Survey Legend
Survicate
Get Feedback
User Brain
Survey Monkey
---
Recruiting
For a more in-depth guide, check out my best recruiting tools article.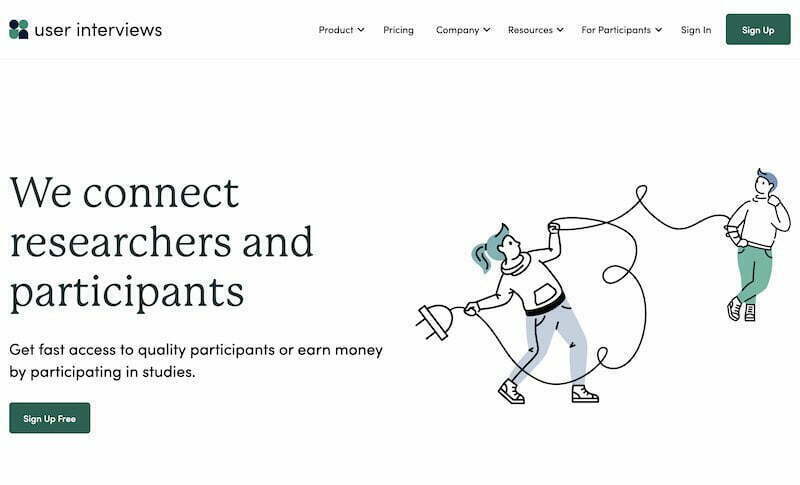 User Interviews connects product teams with real users to gather user feedback on their products. Using their Recruit feature, their service allows you to set clear criteria to ensure that you're working with the right users. User Interviews claims an audience of over 700,000 quality participants.
In the Research Hub feature, you have a centralized place to manage your participant panel. You could recruit from various sources like social media and then they'll go directly into your participant panel.
Respondent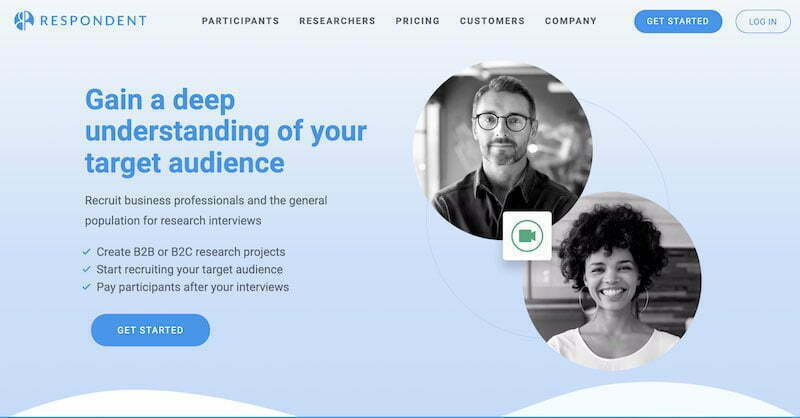 Respondent targets business professionals and the general public in their participant panel. It's a product created specifically to gather insights from business professionals, rather than that being a secondary priority as it is with some other UX research tools.
Fable focuses on finding participants with diverse abilities to measure the accessibility of your product. The Fable team finds test participants who utilize certain assistive technologies to deliver actionable insights to user researchers on how to make products accessible. Fable allows for usability tests and prototype tests focused on measuring accessibility using specific accessibility metrics.
As mentioned earlier, UserTesting recruits participants for unmoderated usability testing. However, they also offer recruiting for remote usability testing and live sessions.
UserZoom
In addition to unmoderated usability tests, UserZoom also recruits participants for moderated remote user research interviews.
---
Participant Management
A separate category from recruitment, participant management tools allow you to bring in your own participants and manage their metadata in a structured way. Having a dedicated research participant management software is great if you already have your own participant pool, but have a hard time managing it.
Ethnio focuses on the participant management side of the house rather than having their own participants that you utilize. Within Ethnio, you can create a participant database, screen participants, pay incentives, schedule research sessions, and launch targeted intercepts.
If you already have a participant database to recruit from, this platform enables you to streamline your participant management. If you have difficulty finding actual users, you might want to consider a different option.
Panelfox is a participant panel management tool that enables you to scale your user research initiatives within your company. It provides you with the ability to filter your participants, create reminders, schedule sessions, and streamline communication.
---
Scheduling
Eliminate that back and forth hassle of trying to find a time with your participant.
All of the above recruiting tools DO offer scheduling, but sometimes you might need a scheduling tool if you're looking for participants outside of a recruiting tool.
Calendly is a great tool for UX research. It makes scheduling extremely easy. It syncs with Google Calendar, Outlook, and Apple Calendar. You can do a lot with the free version of the tool. Calendly allows you to send available time slots directly in your email.
With Calendly, you send people a sign-up page where they can select from times that work for you to meet.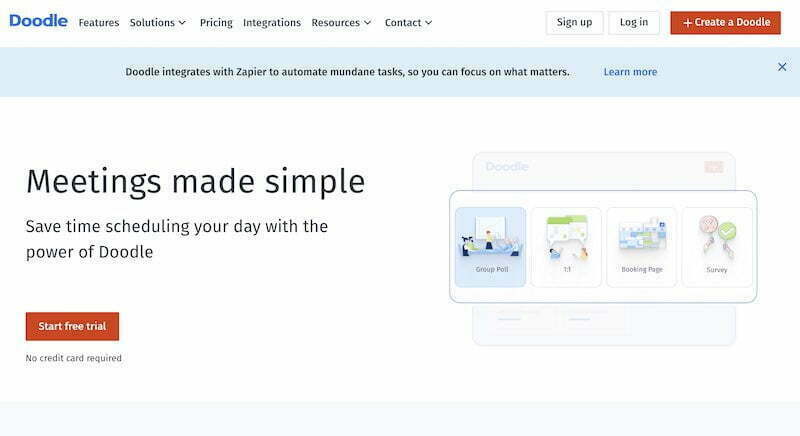 Doodle is a product created specifically to schedule meetings without hassle. It facilitates team collaboration by allowing people to select from multiple options for proposed meeting times. It's great for setting up 1:1 meetings or group meetings. In user research, you could use it to coordinate focus groups.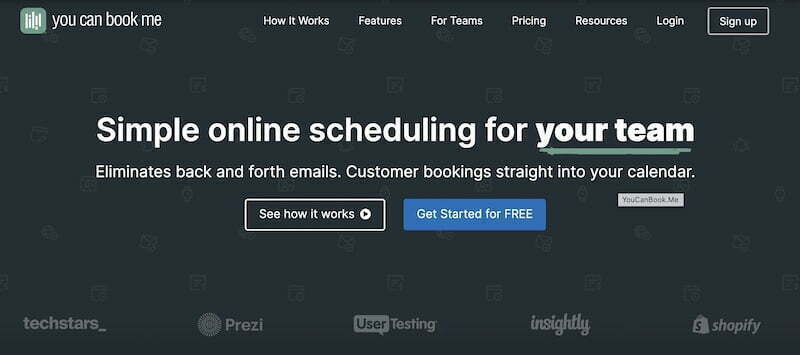 You Can Book Me is another scheduling option for user research. It integrates with Google Calendar and Outlook along with other powerful services like Zapier.
---
Incentives
If you're working outside of a recruitment tool, you likely need a good way to incentivize your participants!
Tremendous allows a research team to provide test participants with an incentive after the completion of a user testing session. After providing user feedback, a participant makes their choice of a gift card or direct deposit into their bank account, depending on where they live.
Tango Card provides test participants with their choice of a gift card after completing a user testing session.
For the incentive tools, the user researcher must remember to send participants their gift cards promptly. I've been guilty of forgetting to do it or wanting to do a bunch all at once. It's essential to think about the user experience of our actual users!
---
Research Repositories
Without a research repository, how will people be able to find all the data that you collected? How will they benefit from your user research?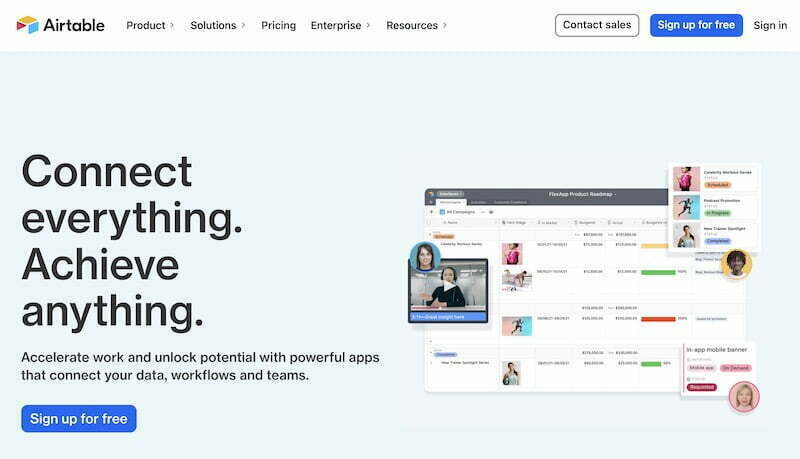 Airtable is like a spreadsheet. On steroids. It's actually a relational database, with a very friendly user interface. It's one of the best tools out there and you can do most of what you need in the free version. It's not one of the UX research tools designed specifically for the research process, but its unique killer features enable you to do almost anything you need.
For more info, I've written about how I created a portfolio-level user research repository using Airtable. Psst – If you're interested in trying out Airtable, consider using my referral code!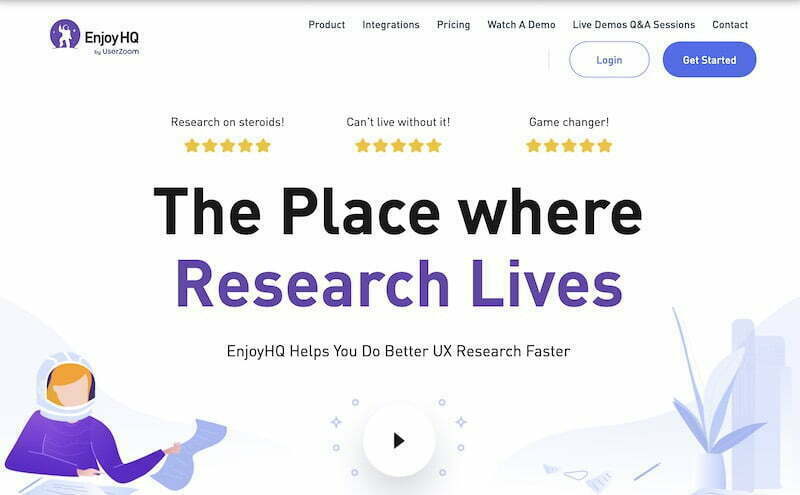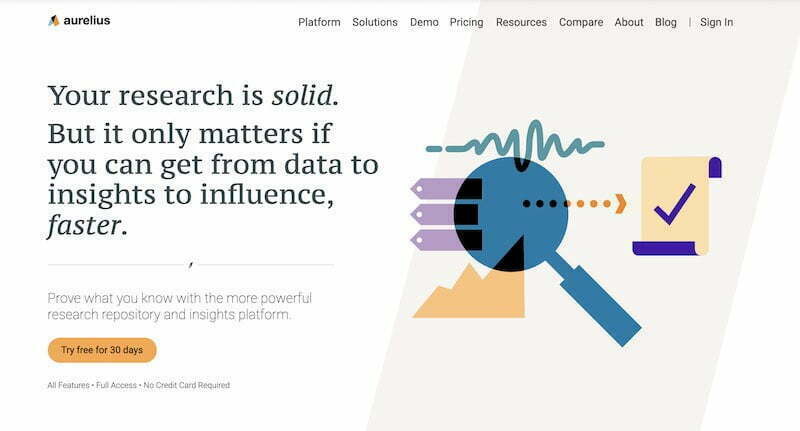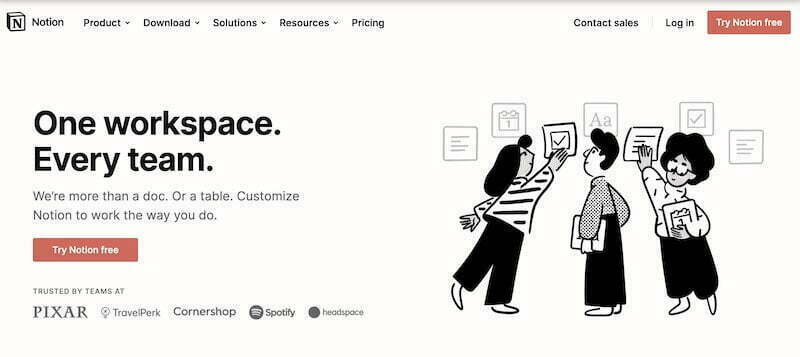 ---
Qualitative Data Analysis
Dovetail
Aurelius
Coda
Atlas.ti
Delve
Google Sheets
Microsoft Excel
Optimal Workshop
Airtable – I wrote an article about notetaking in Airtable.
EnjoyHQ
Notion
Confluence
Condens
---
Transcription
For an in-depth analysis, check out my guide on best transcription tools.
Otter
Aurelius
Reduct
Descript
Rev
---
Prototyping
For now, I'm not going to go into detail on ALL the different prototyping tools, but prototyping is integral to the UX research process. Prototypes enable you to test your UX design early and often.
---
Whiteboarding
A huge part of research is collaboration and whiteboarding. Many researchers use whiteboarding tools to synthesize their research data.
Overflow
Mural
Miro
Lucid Chart
---
Analytics for Passive Insights
Usabilla
Amplitude
Google Analytics
Heap
Mix Panel
Medallia
---
Eye Tracking
---
Heatmapping
---
Issue Tracking
Jira
Github
Product Board
Feedback Loop
Aha
---
Market Research
---
Final Thoughts
Thanks to User Interviews for your tools map! It was super helpful in giving me points to branch off from.
This post is continually updating, so bookmark it for later! If I've missed something, feel free to reach out.
P.S. – I offer user research services through consultancy, Grounded Insights, so don't hesitate to reach out for your research needs!