15 Best Transcription Tools
Transcribing audio or video by hand? That's a thing of the past. Like black and white movies past. With so many advanced audio transcription services and tools on the market, finding the perfect one for your needs can be overwhelming. Been there, and struggled with that.
But don't worry, we've got you covered. In this article, we'll be reviewing the top options, from AI-based software to human-based services. By the end, you'll have a clear understanding of which tool is best for you and your files. Features- and budget-wise. So, sit back, relax, and let us do the research for you. Welcome to the ultimate guide to the best transcription software on the market.
What Are the Best Transcription Tools?
The best transcription tools have a few key features in common, whether you're looking for an AI-based tool or a human-based option. They are accurate, fast, and user-friendly. Each of these options offers unique features and pricing plans, so be sure to read our research and comparison below to find the best fit for your specific needs.
Disclosure: Some of the links in this article may be affiliate links, which provide $$$ to me at no cost to you if you decide to purchase the tool.
Join Renaissance Rachel's holiday giveaway!
1st Prize: $300, 2nd Prize: $75, 3rd Prize: $25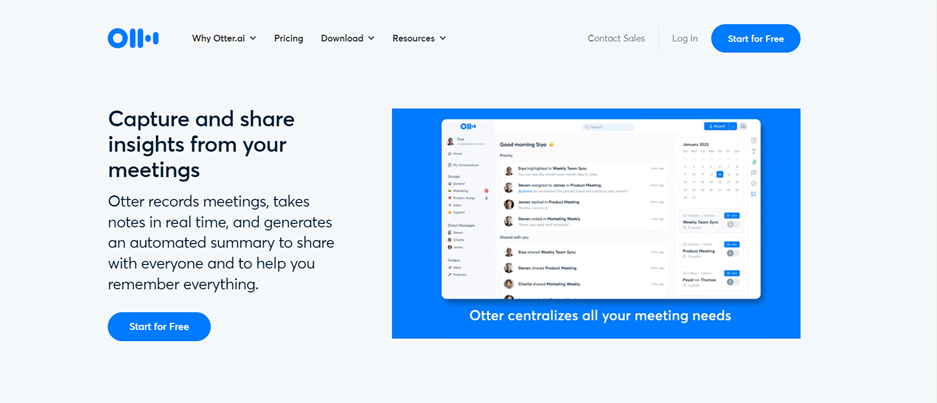 Overview
Otter is an AI tool that, in their own words, records meetings, takes notes in real-time, and generates an automated summary to share with everyone and to help you remember everything.
Highlights
Otter records your meetings and stores these real-time notes in a central, secure, and searchable database- making it more accessible for your team to reflect.
Otter Assistant integrates with Google Meet, Microsoft Teams, and Zoom.
Their AI transcription technology works with you over time to achieve speaker identification, custom vocabulary, and advanced summary.
Otter offers different pricing and packages for businesses, students, professors, and individuals.
Pricing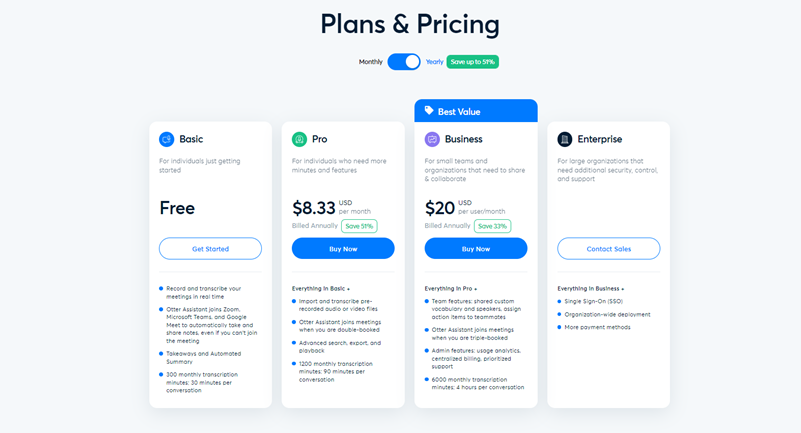 Bottom line
Otter is one of the best transcription software options if you are just starting with transcribing text and would like to test out free software, without any commitment. They target businesses that hold recurrent meetings and academics who would like to record lessons, and that is where Otter is great, working as a kind of virtual assistant.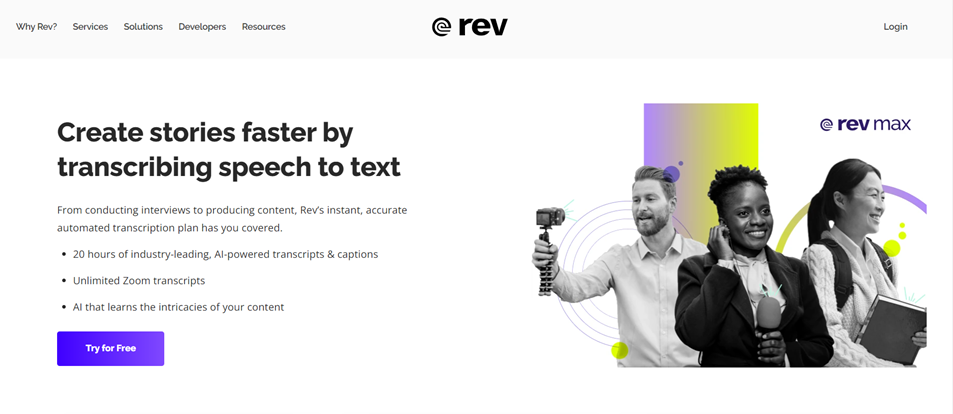 Overview
Rev is anautomatic transcription software trusted by over 750,000 users. The platform prides itself on unmatched accuracy, with its AI capturing the intricacies of accents and dialects.
Highlights
Fast and flexible speech-to-text solution for freelancers, small businesses, and Fortune 500 companies.
Maximizes the value of your content, making your brand more accessible and helping you grow your audience.
Rev offers not only fast and accurate but also a scalable audio-to-text solution.
Their client testimonies claim cutting subtitles cost by 90% with Rev's solution.
Rev offers payment by the minute rather than a subscription.
Pricing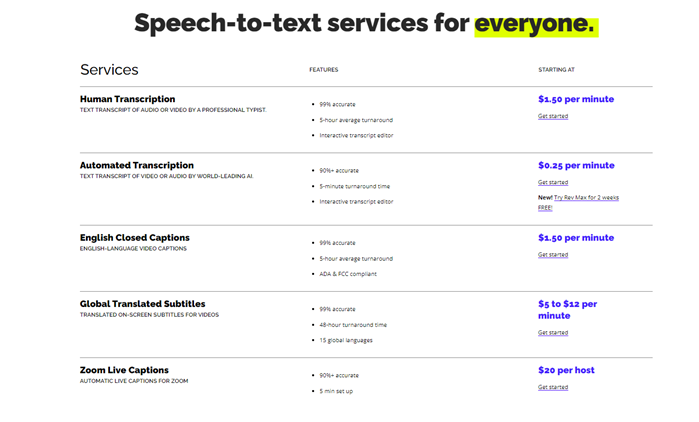 The free plan, with 20 hours of AI-powered transcriptions and captions, unlimited Zoom transcripts, and an AI that learns the intricacies of the user's content.
Human transcription plan starting with $1.5 per minute for audio and video transcription.
English on-screen subtitles (with 99% accuracy) for the same price of $1.5 per minute.
Translated on-screen subtitles for videos (with 99% accuracy) are priced from $5 to 12 per minute of screen time.
The artificial intelligence transcription starts at $0.25 per minute.
Bottom line
Paid by the minute of content transcribes, Rev differs from its competitors, making the platform non-comitial and letting the quality of service draw the users back. Rev is therefore great for small-budget companies and individuals who don't want to commit right away.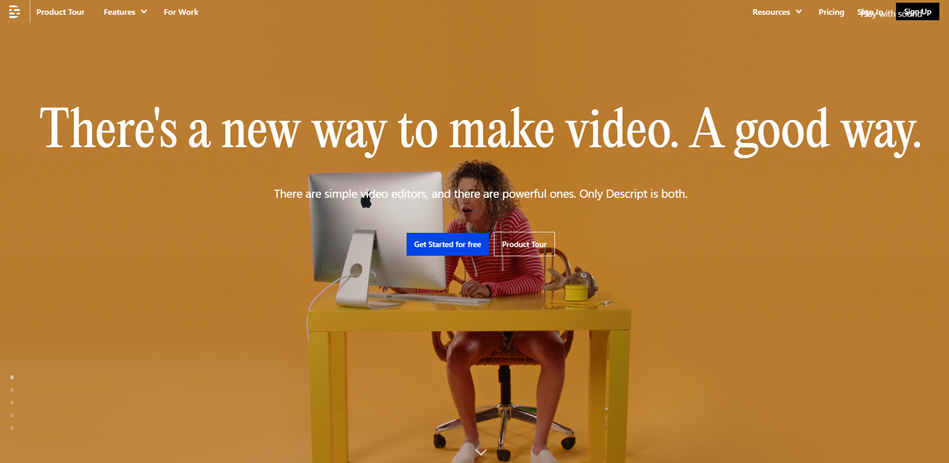 Overview
Descript is a single tool of infinite uses and contains everything you need to make everything: from social media posts and podcasts to sales presentations. Descript is much more than an audio and video transcribing tool, doing a great job of helping you create. Even a clone of your own voice!
Highlights
Turns lousy recordings into studio quality with a single click.
Instantly removes filler words such as "um" and "uh".
Can create a realistic clone of your voice and record new words with their text-to-speech technology.
Descript includes a gallery of templates and premium stock media, making video creation easy.
Includes an AI-powered green screen, removing your background with a click.
Includes other video editing and enhancing tools.
Pricing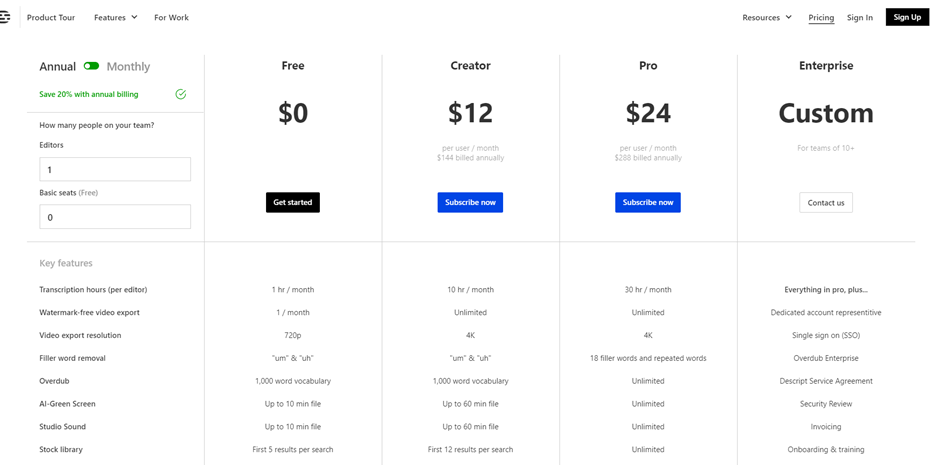 The pricing section will cover the costs regarding the transcription of audio only, as this article focuses on the best transcription services, but if interested in content and video creation you can check out our articles for AI video editing software as well as best AI content creation tools.
Descript's Free plan covers 1hr transcription per month in 23 languages and with the detection of over 8 speakers.
The Creator Plan for $12 per user per month offers 10h transcription per month.
The Pro Plan for $24 per user per month offers 30h transcription per month as well as 300 GB of cloud storage.
Bottom line
If you are interested in an AI tool that not only helps you with transcribing your audio files or videos but content creation, Descript is one of the best transcription tools for you. This is a great and budget-friendly tool for video creators who want a one-stop shop visit for the entire process.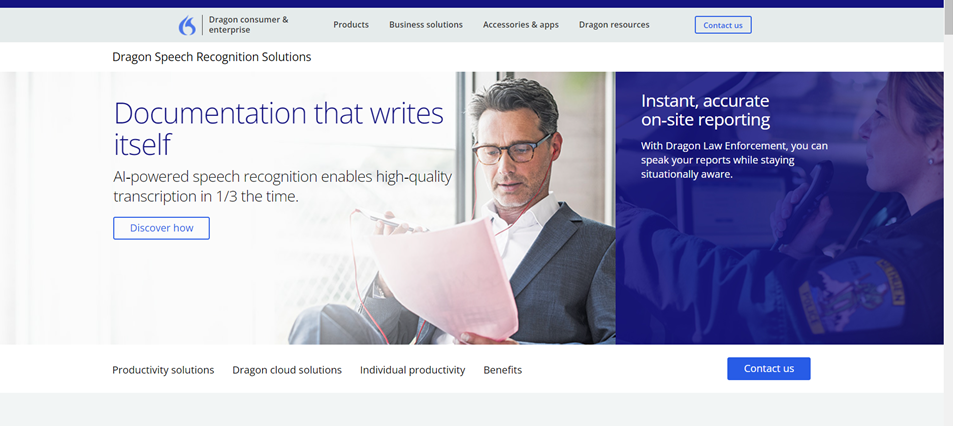 Overview
Dragon is an AI-powered solution created more than 20 years ago and has since become an expert in the fields of healthcare, financial services, telecommunications, retail, and government.
Highlights
The world's leading organizations rely on Nuance for the industry's most advanced conversational AI and ambient clinical intelligence.
Their technology is engineered to meet industry-specific needs and requirements.
From one of the first voice recognition systems to the most advanced ambient clinical intelligence ever introduced, Dragon has played a foundational role in the emergence of conversational AI.
77% of US hospitals rely on Dragon's technology.
Dragon Anywhere is the mobile app that the company rolled out, available on Android and iOS in US and Canada. It offers continuous dictation and no word limits, 99% accuracy, voice editing, and formatting as well as easy spelling correction.
Pricing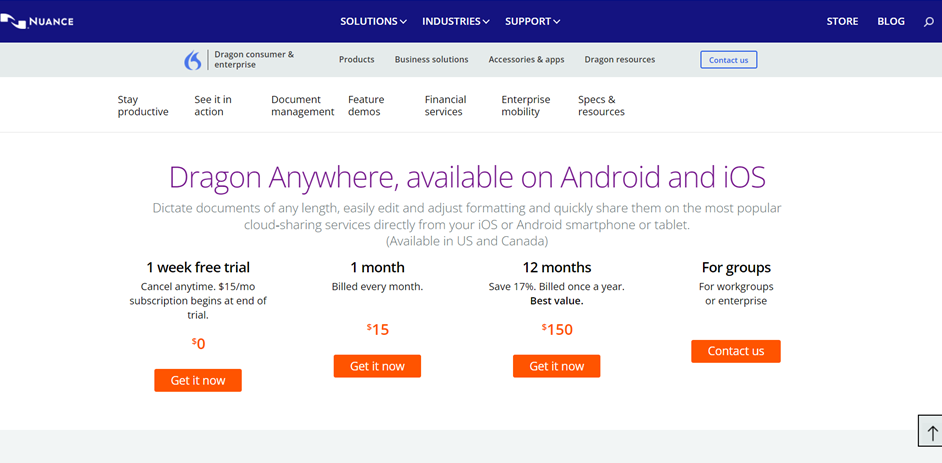 A one-week free trial.
1-month trial billed every month for $15.
Annual billing for $150.
Bottom line
Dragon is statistically the choice of healthcare organizations worldwide and Fortune 100 companies. Rolled out as a mobile application, it makes voice-to-text impute more accessible on the go for professionals lacking in time. The documentation really does write itself!
For some more AI writing tools, check out our article on best AI writing tools.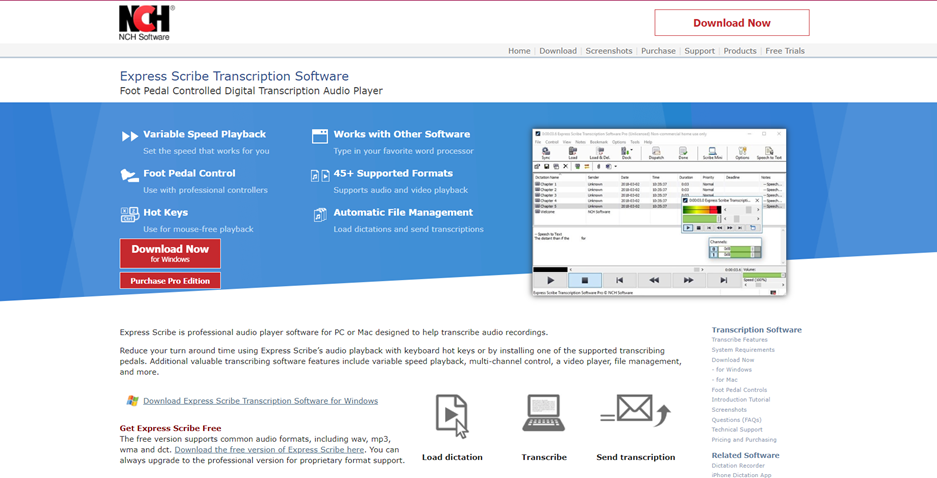 Overview
Express Scribe is professional audio player software for PC or Mac designed to help transcribe audio recordings. The software works with other software and supports over 45 formats of video and audio files.
Highlights
Express Scribe is a desktop software compatible with Word and other text editors as well as other software and hardware, such as professional USB foot pedals for controlled playback.
Works with speech recognition software to automatically convert your audio or video file to text.
Supports hand-held recorders to transfer audio quickly and easily.
Automatically receives and loads files by internet (FTP), email, or over a local computer network.
Pricing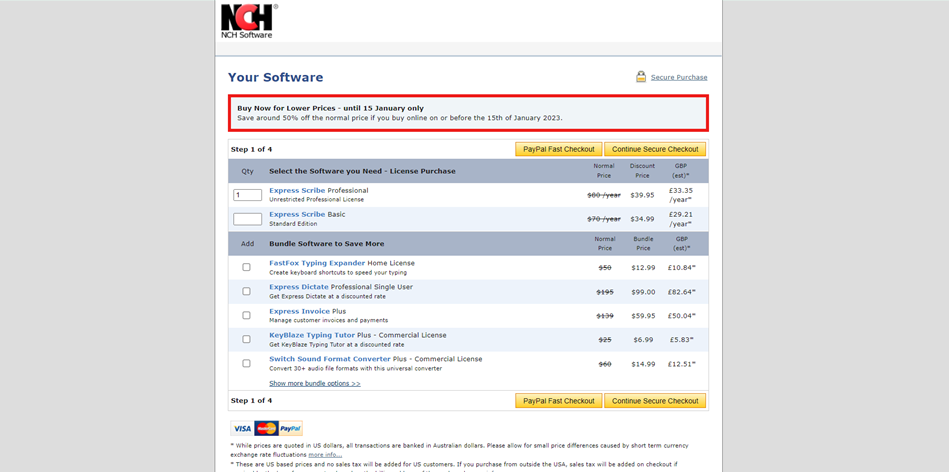 The free version.
Professional license for $39.99
Basic licence for $34.99.
Bottom line
Express Scribe is great if you are working with a desktop-only and need software that can work without the internet. They are one of the best transcription tools if you are offline. They also offer services for dictation and managing customer invoices.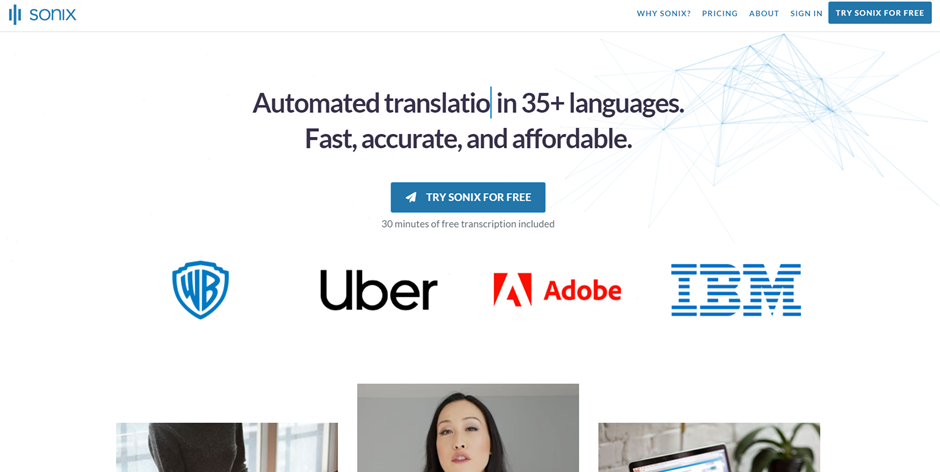 Overview
Sonix has automatic transcription, translation, and subtitles and is packaged for your easy use, to share and publish, organize and collaborate with your team. And the transcription service added a world-class security and privacy layer to it.
Highlights
Sonix offers its services in over 40 languages, dialects, and accents and they have millions of users around the globe.
They offer an advanced in-browser word processor to polish a transcript that's synchronized to your uploaded media file, as well as making it easy to navigate with word-by-word timestamps.
Sonix will automatically identify multiple speakers and separate exchanges into different paragraphs in your audio files.
You can export your texts and subtitles in various formats (DOCX, TXT, PDF for text, and SRT and VTT for subtitles).
You can set up multiple dictionaries for different content or clients. Then, choose them during upload.
Pricing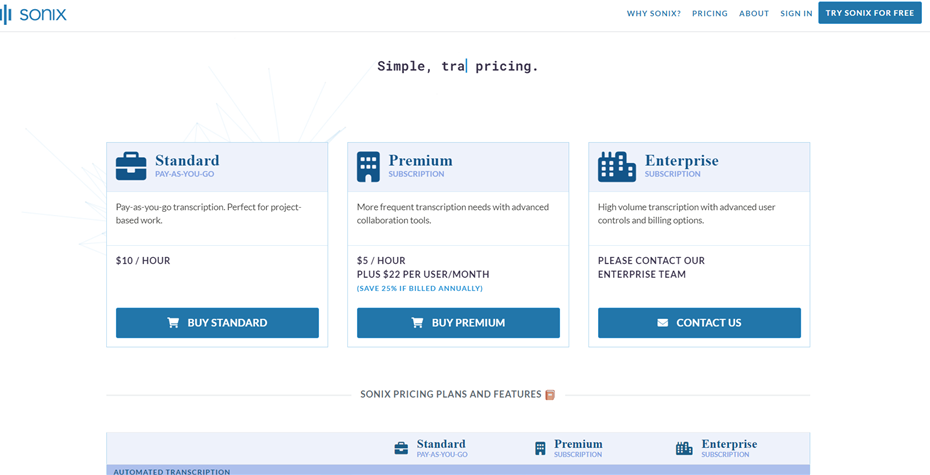 Sonix offers a pay-as-you-go system and rewards its loyal customers with discounts.
For first-time and standard users the price for project-based work is $10 per hour.
The Premium plan is intended for more frequent users and costs $22 per user per month plus $5 per hour of transcription.
The Enterprise plan is intended for high-volume transcription with advanced user controls.
Bottom line
Sonix offers voice-to-text transcription services in a number of languages and dialects and is great for non-English users who would like to try out automated transcription software without committing to a yearlong subscription plan.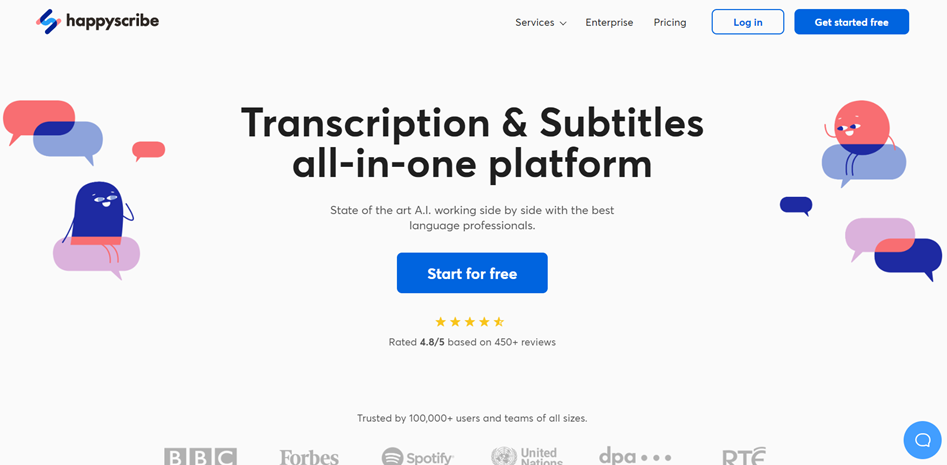 Overview
AI-based all-in-one transcription and subtitle platform Happy Scribe also offers 100% human-made transcriptions and numerous generator software (caption, SRT, and VTT) as well as converters (audio-to-text, video-to-text, and voice-to-text).
Highlights
Trusted by BBC, Forbes, Spotify, and United Nations. They have a 4.8/5 rating from 450+ reviews.
There are no limits on uploads of audio files, the software supports any size and length.
You can import from other platforms, import any public links, and synchronize Happy Scribe to your current workflow or integrate with your favorite applications: Zapier, YouTube, and more.
All files are protected and remain private.
Automatic transcriptions have up to 85% accuracy and with a turnaround time of ½ the audio length.
Human-made transcriptions have up to 99% accuracy guaranteed and a turnaround time of 24h and availability 24/7.
Pricing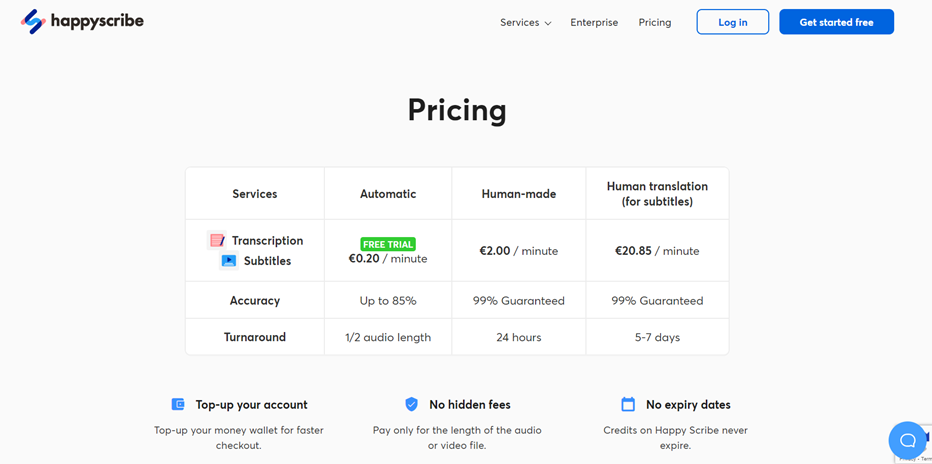 Automatic transcriptions are priced €0.20/minute.
Human-made transcriptions are priced with €2.00/minute.
Bottom line
Happy Scribe is the go-to spot for 100% human-made transcriptions, especially if you need them fast or at an unusual time and are wary of AIs and automated transcription.
Their AI is lacking in accuracy as of the time of writing this text, so keep that in mind while choosing your option.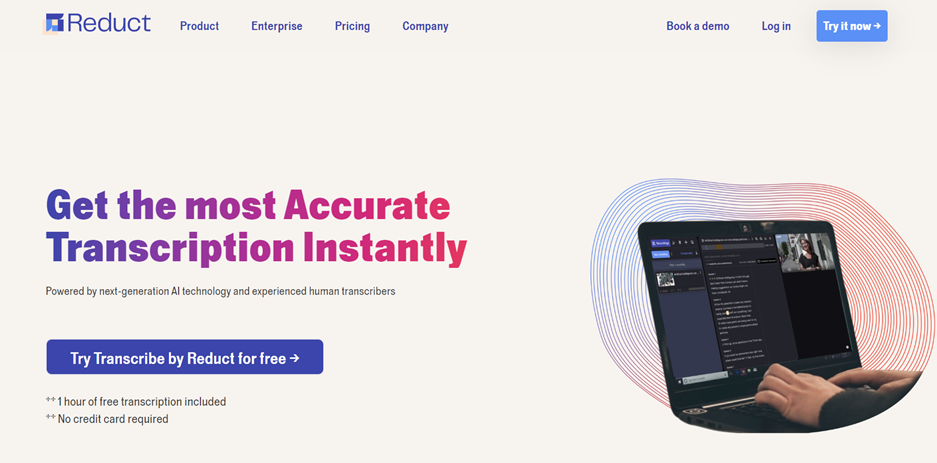 Overview
A collaborative video transcript platform intended for teams where everyone can review, search, highlight and edit both video and text. The video is transcribed automatically, by an AI in moments and saves hours of work but can be also transcribed by humans if desired.
Highlights
Get accurate transcripts right away with AI, and, when perfection matters, human transcripts overnight.
Locate moments within one recording, or across thousands of hours of content. Reduct's powerful fuzzy search algorithm finds relevant phrases even when the words don't match exactly.
Highlight key moments, and tag them to categorize them in the text editor. Use tag groups when you need hierarchy, and powerful filters to reveal patterns. Highlight and tag recordings as a team, in real time.
Share a clip with just a keypress—then paste it into Slack, Teams, or anywhere else your audience spends time.
Pricing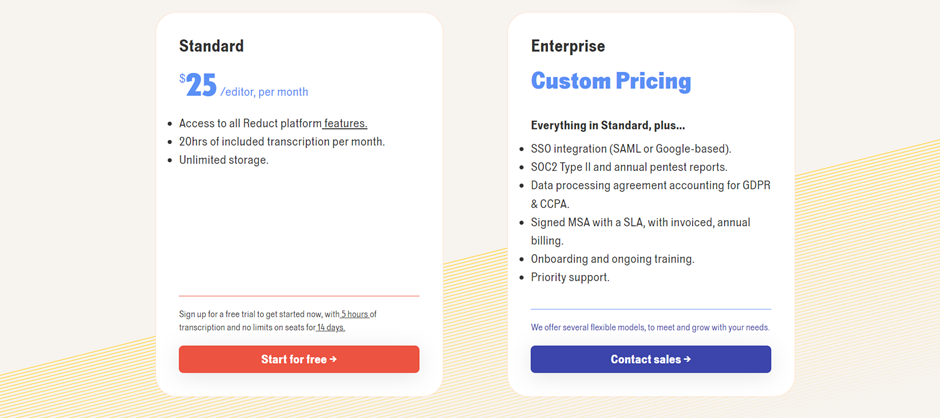 Reduct is priced per editor and includes a generous quota of transcription hours every month.
The Standard Plan costs $25/month per editor and has 20h of included transcription per month and unlimited storage.
Custom Pricing you will get everything in standard and so much more
Bottom line
Reduct offers a great video transcription software, both AI and human-based, for collaboration between editors and teams. It is great for both short- and long-term projects that require teamwork.
This is one of the best transcription tools and speech to text software for teamwork.

Overview
Tetra is a transcribing tool that automatically takes notes from your phone calls as well as transcribes them for your convenience.
Highlights
Simply invite their bot to an upcoming call on your calendar and they'll dial you just before it starts. Or, create a call whenever in the web app. They will dial you and it's up to you to just accept and merge Tetra's call as soon as your meeting starts. Tetra will start transcribing right away.
Tetra let you read. listen and search them in the web app. You can share the notes just as easily in Evernote, Dropbox Paper, Slack, Email, or Google Docs.
Trained human editors can correct any errors whilst keeping them confidential.
Pricing

The Plus Plan for $100 / month covers 3 hours of transcription and delivers you full transcriptions.
The Pro Plan for $300 / month covers 10 hours of transcription and delivers you full transcriptions as well as summarized notes.
The Custom plan that can be tailored to your needs.
Bottom line
Tetra is great if you just need a tool for transcribing your phone calls. They also offer an additional layer of accuracy with the human editor team, so your transcriptions, although pricey, will be precise.
Therefore, if you are looking for a transcription software for accurate transcription of your phone calls and meetings, Tetra is one of the best transcription tools for you.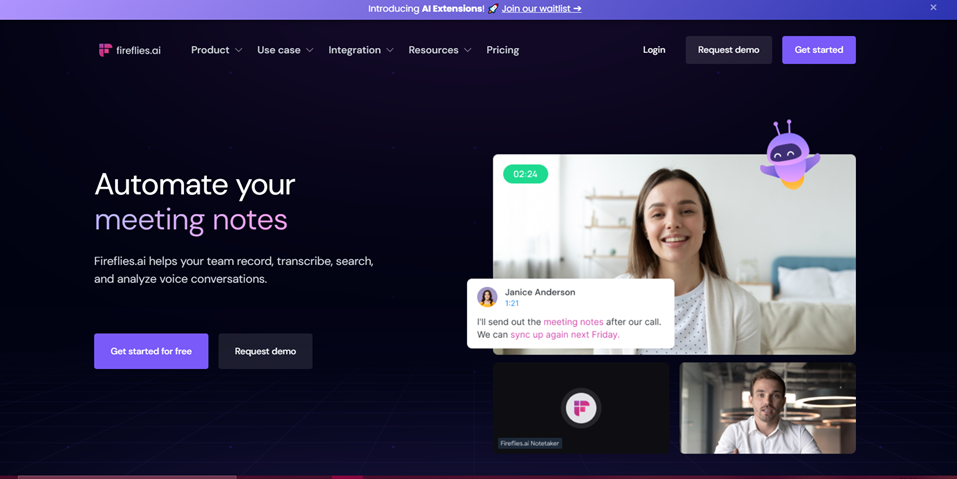 Overview
Fireflies is an AI tool that easily integrates with video-conferencing apps where you host your meetings and transcribe them for you. The AI will capture video and audio for you and generate the transcription in minutes.
Highlights
Integrates with apps like Google Meet, Zoom, Teams Webex, Ringcentral, Aircall, and other platforms.
Easily invite Fireflies.ai Notetaker to meetings on your calendar.
Makes collaboration easy with comments, pins, reactions, and soundbites and makes sharing to Slack, Notion, and Asana easy.
Helps you analyze meetings using conversation intelligence by tracking speaker time, sentiment, monologues, and other key metrics.
Helps you measure performance and improves your sales, recruiting, and internal processes (be sure to check out our article about best user testing tools as well).
Pricing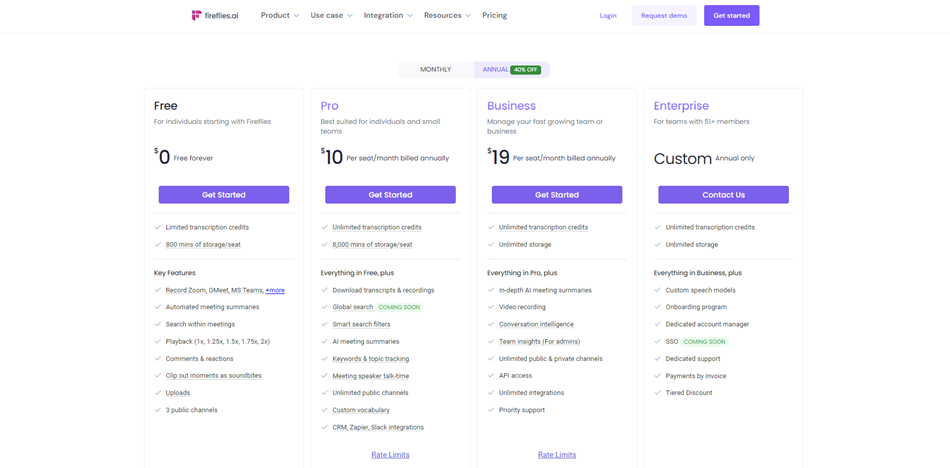 The free version has limited transcription credits and 800 minutes of storage per seat.
The Pro Plan for $10 per month offers unlimited transcription credits as well as 8000 minutes of storage/seat.
The Business Plan for $19 per month offers unlimited transcription credits and unlimited storage .
There is also an Enterprise custom plan, tailored to specific needs.
Bottom line
Fireflies is made to keep track of your meetings, both in transcribing them and in using conversation intelligence to help professionals analyze meetings. This can be a great tool for researchers, recruiting, and sales teams.
For other productivity tools, you can check out our list of best AI productivity tools.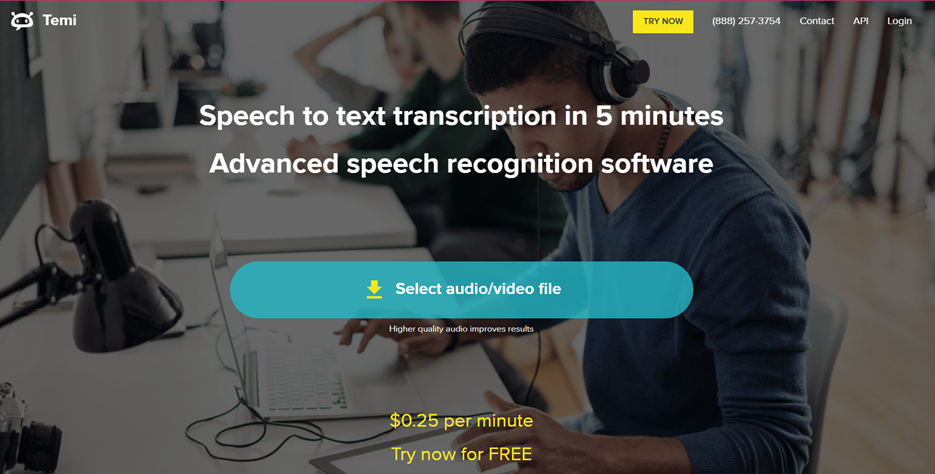 Overview
Temi is an advanced speech recognition transcription software available in a mobile app form, both on Android and iOS that lets you record memos, lectures, meetings, and more. You can organize, edit and share recordings as well as order transcripts that will be delivered to your email within minutes.
Highlights
Trusted by 10.000+ customers as well as PBS, ESPN, and The San Diego Union-Tribune.
All file types of audio or video are accepted. Temi also lets you Save & export your transcript as MS Word, PDF, SRT, VTT, and more.
With every purchase, Temi provides a propriety algorithm, a simple editing tool, an review and edit option, custom timestamps, speaker identification, and an option to export the transcript.
Temi's free transcription editor lets you edit your transcripts online in minutes.
TLS 1.2 Data Encryption and Secure Servers protect your data.
Pricing

The Free Trial covers 45 minutes of transcription, as well as access to all features.
The Payment Plan doesn't require a subscription or a minimum and costs $0.25 per audio minute.
Bottom line
Temi is a transcription software intended for journalists and reporters as well as creatives such as podcasters, bloggers, and authors. It provides easy and fast transcription on the go.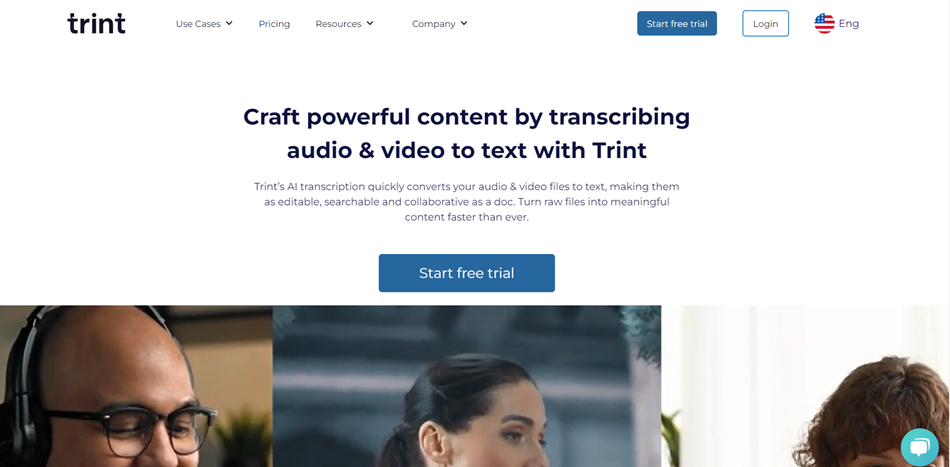 Overview
Trint is the world's first speech-to-text productivity platform as well as transcription software. Trint uses AI to convert speech to text in seconds, then gives users the tools they need to quickly find the best parts of their audio & video content.
Highlights
Teams of all sizes use Trint every day to search and leverage the valuable content hidden within thousands of audio and video files, interviews, archives, and phone calls.
Trint's AI uses automated speech recognition (ASR) and natural language processing (NLP) to decipher the sounds that make up human speech.
With good audio and clear speech, Trint gives a first-draft, time-coded transcript that can be 99% accurate.
You can follow, edit, check timecodes and verify your transcript by listening to your audio as the words appear on the screen in English (US and UK spelling) and more than 30 other global languages.
Live transcripts appear in as fast as 3 seconds and are available in more than 30 languages. Live transcription is compatible with common streaming formats, including both push (RTMP) and pulls (RTMP, RTSP, HLS, Icecast, FFMPEG).
Trint's custom dictionary lets users create a list of words and phrases like people's names, brand names, non-standard spellings, or technical/professional words.
Pricing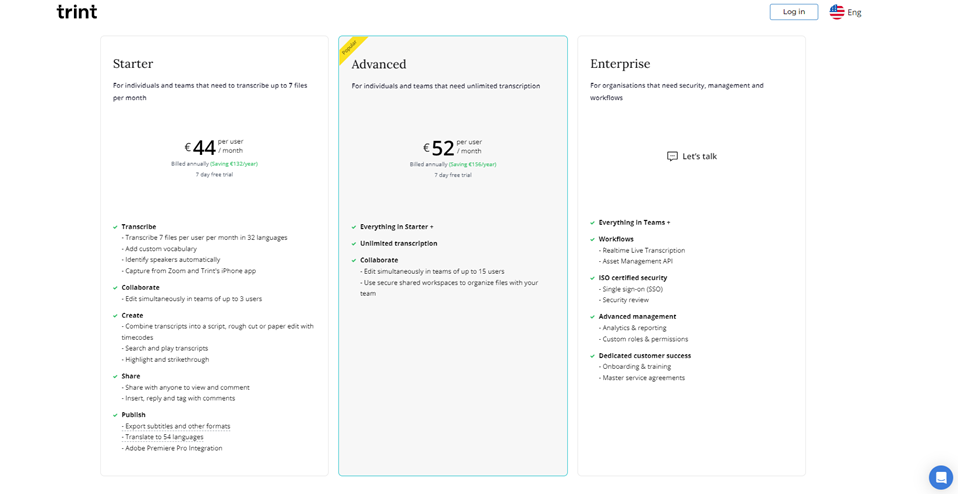 The Starter plan, per €44 per user per month covers the transcription of 7 files and lets teams of up to 3 people edit.
The Advanced Plan for €52 per user per month covers transcription of unlimited files and lets teams of up to 15 people edit.
The Enterprise Plan is customized to each client.
Bottom line
Transcription software Trint has a large library of languages and is increasing its reach with instant translation of more than 50 languages. Trint is designed for teamwork and has ISO-certified security.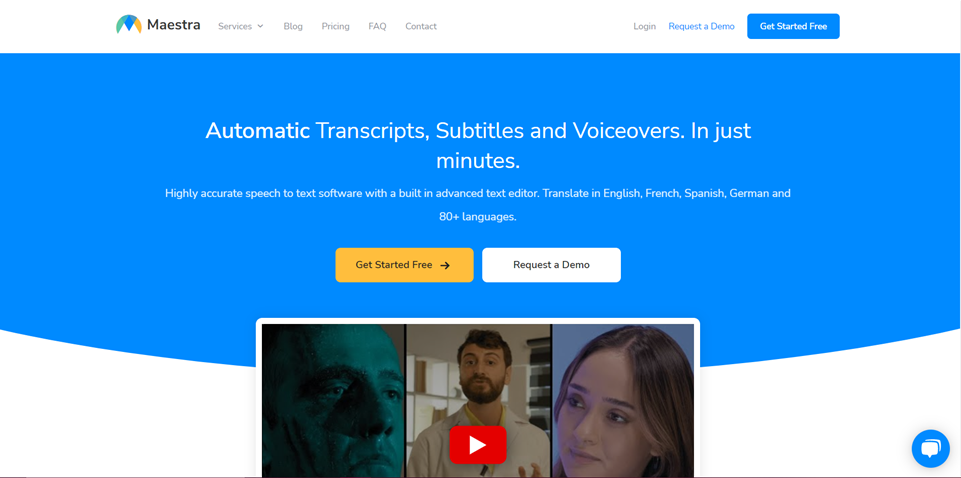 Overview
Maestra is a transcription software that offers automatic transcripts, subtitles, and voiceovers in over 80 languages, making it one of the most language versatile tools we reviewed.
Highlights
Super-fast automatic video and audio-to-text converter in 50+ languages.
Automatically generates subtitles and captions for your videos, and translates 50+ languages.
Offers automatic voiceover and edits of your videos into foreign languages.
Lets you create Team-based channels with view and edit level permissions for your entire team & company. Collaborate and edit shared files with your colleagues in real time.
Access and share your account on multiple devices and with multiple people.
The process is completely automated and secure.
Pricing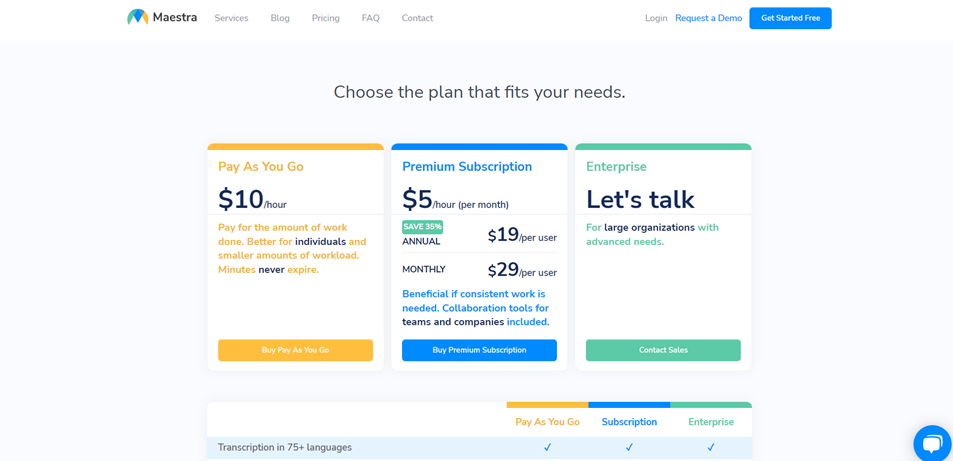 The Pay As You Go plan lets you pay for the amount of work done. Minutes never expire with this $ 10-per-hour plan.
The Premium Plan is priced at $5 per hour as well as $29 per month per user (or $19 per year per user).
The Enterprise Plan tailored to specific needs.
Bottom line
Maestra offers transcription software in most languages of any of the best transcription tools reviewed in this article. The tool would be the most beneficial to individuals who occasionally transcribe and don't know in advance how much material they will have, as well as transcribers who need content in diverse foreign languages.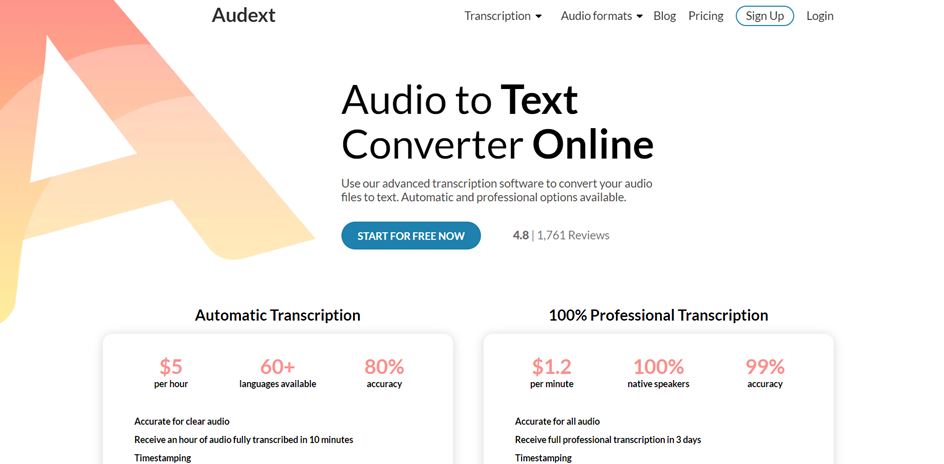 Overview
Audext is a smart service for transcribing your speech to text online. The transcription software is an economical solution for different life situations. No need to install any soft on the computer – just open the browser and transcribe speech to text, edit the result online and save it in DOCX or TXT format. Audext offers AI-based transcription services as well as human-based transcription services.
Highlights
Fast transcription. Transcription is done automatically with the use of AI. Convert speech to text online in minutes.
In-build editor. Make use of the highlight of the active word, find & replace feature, playback speed to edit the track at your pace, and many more.
Cost effective. 200X times faster than average manual transcription services, and cheaper as well.
Speaker identification. Whether it is a podcast or interview Audext converter does half of the work for you and identifies who is speaking easily.
Support of various audio file formats. For your convenience, we support the most common audio and video formats: MP3, M4A, WAV, and others.
Pricing
Audext offers different rates for AI and manual transcription.
The Classic Plan, which is a $60 one-time purchase, will transcribe 30 minutes of audio for free with each next hour costing $12.
The Subscription Plan, costing $30 per month, will transcribe you 30 minutes plus 2 hours of audio for free with each next hour costing $5.
The Enterprise Plan is custom for each business.
Manual transcription is priced $1.20/minute
Bottom line
Audext is intended for the media, journalists in need of fast and reliable interview transcripts, businesses who need meetings transcribed and stored securely, and students and researchers who need speeches in a written form ASAP.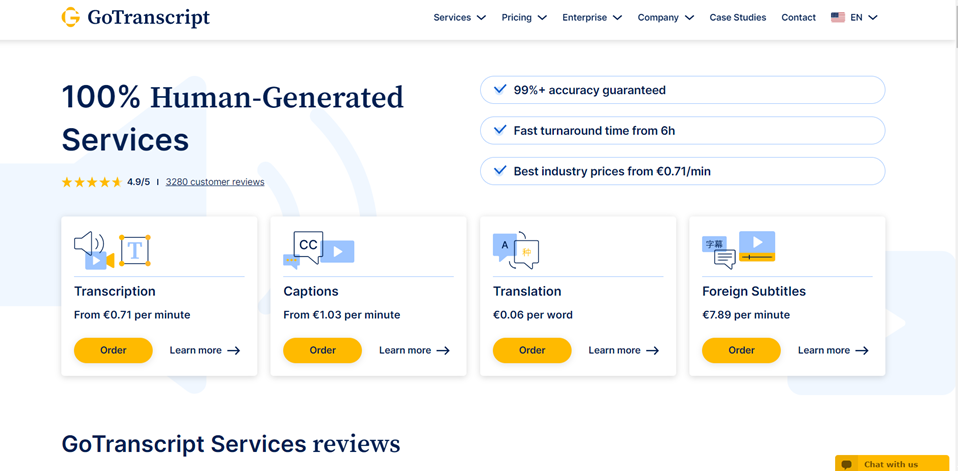 Overview
GoTranscript is the only reviewed tool in this article that offers solely human-generated services. They have the fastest turnaround and guarantee the best industry prices.
Highlights
99% accuracy guaranteed with 100% human-generated services.
Turnaround time is fast, starting with 6h.
They guarantee the best industry prices.
GoTranscript is recommended by TechRadar, The New York Times, and Forbes.
Pricing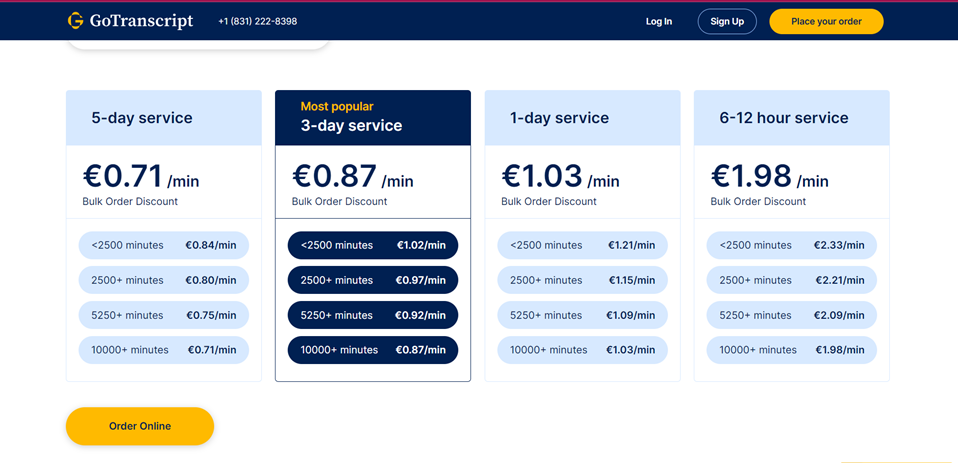 GoTranscript is the only tool reviewed to offer daily prices, and the prices start at:
€1.98/minute for 6-12h service,
€1.03/minute for 1-day service,
€0.87/minute for 3-day service,
and €0.71/minute for 5-day service.
Bottom line
The 100% manual, human-based transcription tool is the most trusted and lowest priced on the market and guarantees 99% accuracy. GoTranscript is one of the best transcription software that is entirely human-based.
What are transcription tools?
Transcription tools are transcription software or platforms designed to convert audio and video recordings into written text.
Transcription software ranges from simple dictation software to advanced AI-based programs or even transcription services that are human-based.
Transcription software is used in a variety of industries, including journalism, business, and research.
What is the best software for transcribing?
When it comes to transcribing audio recordings, video meetings, or live speech the options can be overwhelming. But fear not, we've done the research for you and have determined the best transcription tools on the market.
The best transcription software offers accurate and fast transcription, with user-friendly interfaces. The lowest-priced and fastest software for human-based transcript is GoTranscript, while many providers offer AI technologies with the fast and accurate turnaround.
Some of the top options include Otter, Rev, and Descript.
What is the fastest way to transcribe?
The fastest way to transcribe audio is by using transcription software that utilizes advanced speech recognition technology. Some of the top options include Reduct, Temi, and Sonix.
These tools have high accuracy and offer a wide range of time-saving features to speed up the transcription process.
What is the best way to transcribe audio?
The best way to transcribe audio is by using a combination of technology and human expertise for maximum accuracy. AI-based software is great for transcribing speech quickly and accurately, but human transcribers are still needed for certain types of audio.
What tools do transcribers use?
Transcribers use a variety of tools (transcription software and service) to convert audio or video recordings into written text.
Some popular tools among transcribers include Rev, Happy Scribe, and Otter. Transcription tool come in various forms and technologies, it's important to use the one that suits you best, based on your project and specific needs.
Final Thoughts
In conclusion, finding the right transcription tool or transcription software can be overwhelming, but with the right information, it doesn't have to be. We've reviewed the best transcription tools on the market, from AI-based software to human-based services.
By now, you should have a clear understanding of which tool is best for you, whether you're a researcher, journalist, or business professional.
Remember, the best transcription tool is the one that fits your specific needs, budget, and experience level. And always, do research before making the final decision.