9 Best AI Summarization Tools of 2023
Summarizing the content you've spent forever writing can be difficult when you're not sure what the most critical aspects of your writing are. Summarizing your content is essential; it tells readers what to expect and why they want to keep reading. Not everyone that comes across your content will have the time to read the entire article or blog post – summarizing does a great job of telling the reader what you covered and if reading the whole piece of content is worth it to them.
This article has compiled a list of AI summarization tools that you can use to turn your entire article or piece of writing into a neat and easy-to-read paragraph.
What Are the Best AI Summarization Tools?
The best AI tools that can summarize a piece of writing are ones that focus on machine learning to extract the important points of an article and give them to you in easily digestable and understandable contexts.
We'll go over each of the best tools in detail and give you an overview, the pricing, and the best features.
Disclosure: Some of the links in this article may be affiliate links, which provide $$$ to me at no cost to you if you decide to purchase the tool.
Quillbot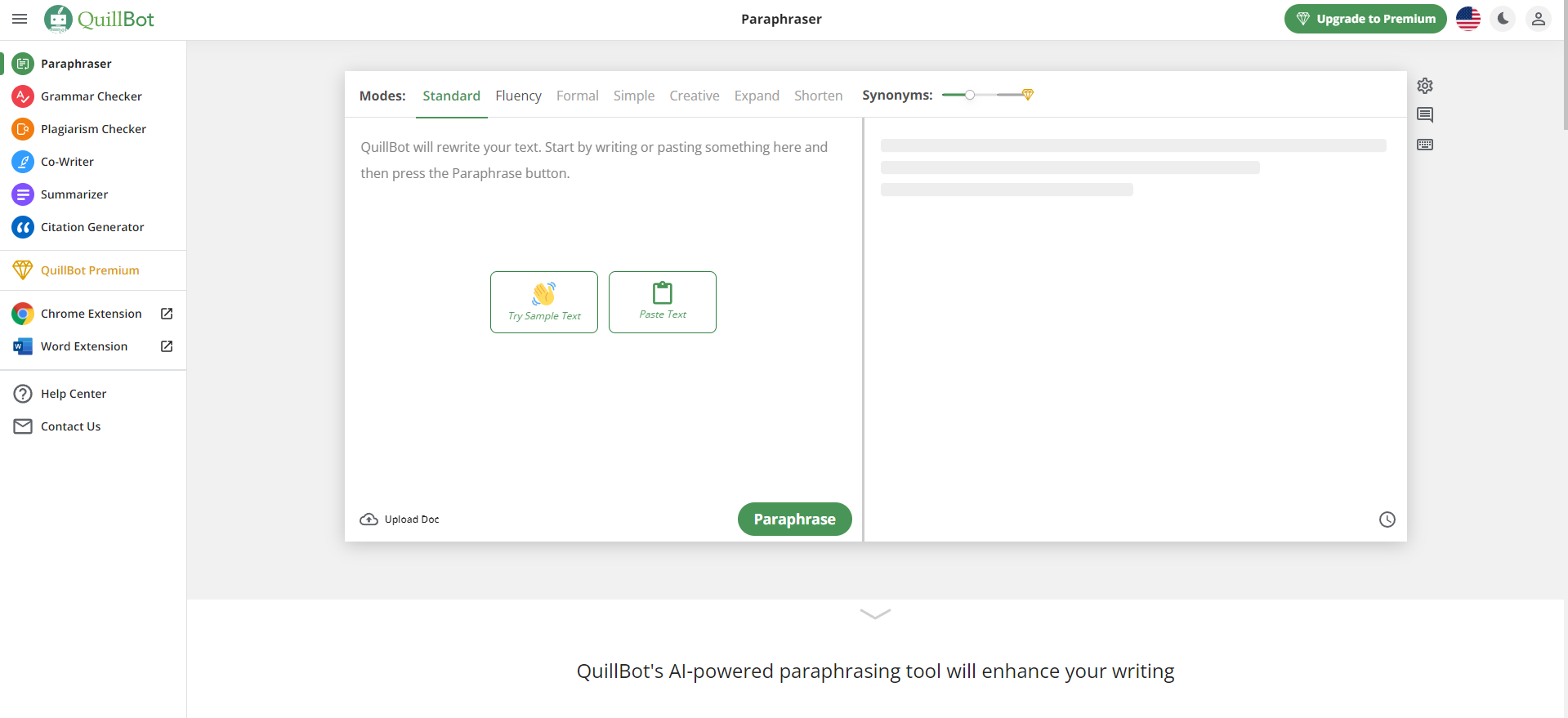 Overview
Quilllbot is a summarizing tool that gives you creative freedom with how much or little of your writing you need to summarize or paraphrase. You can use it within the Quillbot platform or integrate it into Word or Google Docs.
It uses machine learning to scan your text and suggests synonyms, can summarize your text, and you can check it for plagiarism. This is helpful when you're writing content for a client or if you're writing college-level essays.
Highlights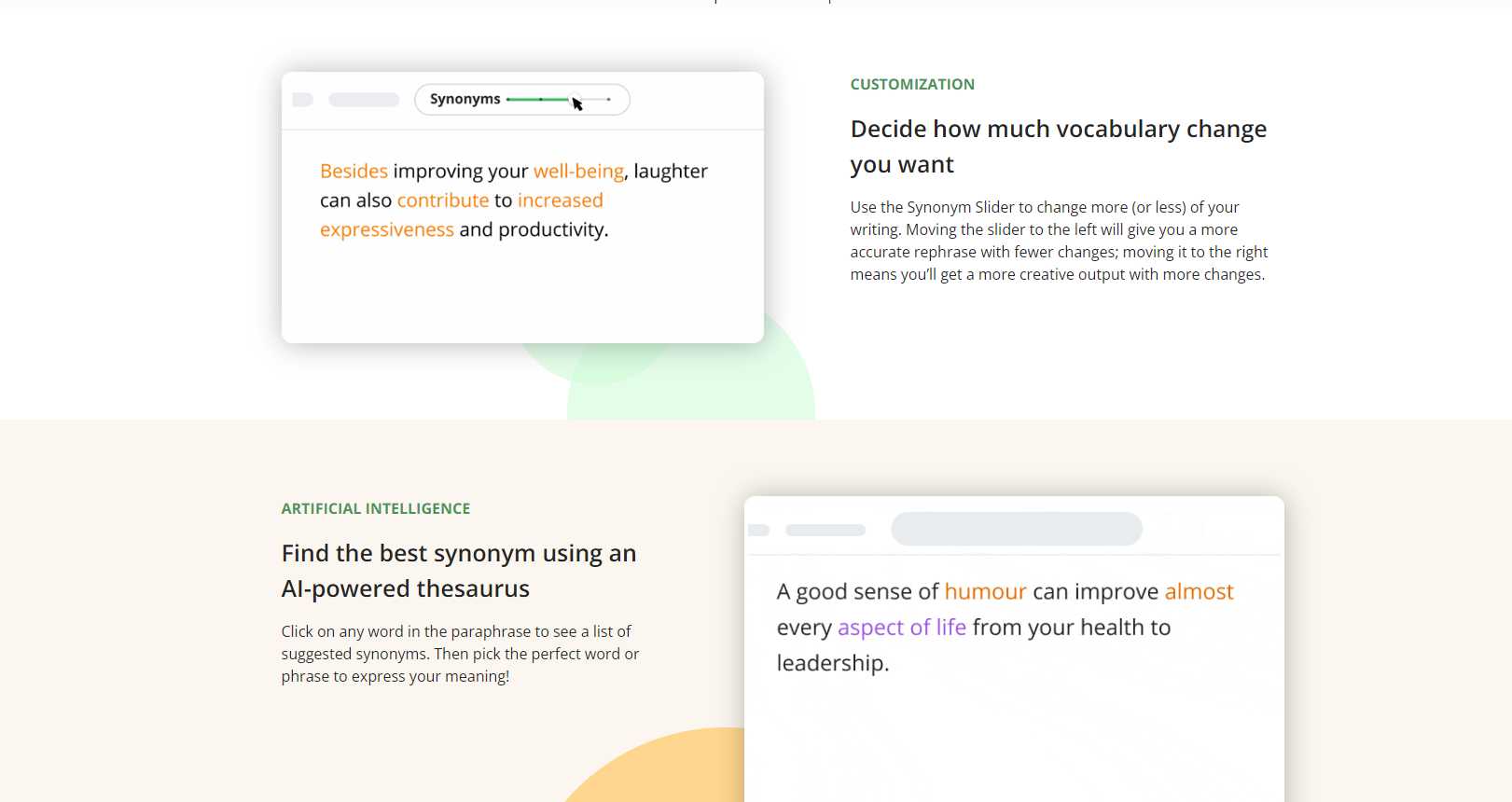 Paraphrase your content
Check for common grammar mistakes
Summarize your content
Generate citations for your references
Check your content for plagiarism
Pricing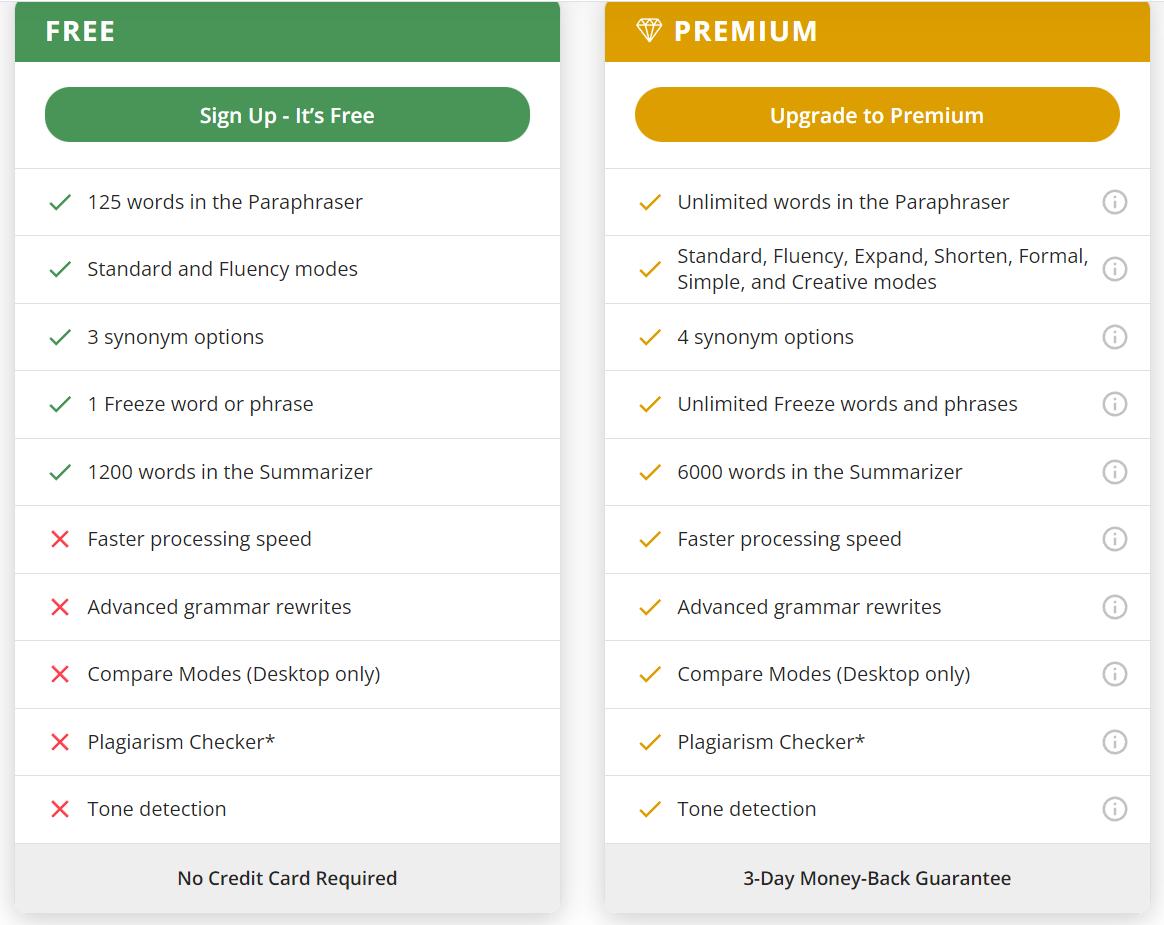 With Quillbot's free plan, you can access 1,200 words under the summarization tool, 125 words using the paraphrasing tool, and all standard fluency modes. If you're someone who doesn't do too much writing, or your writing is more short-form content – the free plan might work just fine for you.
The premium plan includes five different "modes." Each mode of the premium gets you unlimited words using the paraphrasing tool and 6,000 words using the summarization tool.
You only have access to the plagiarism checker and the grammar rewrites under a premium plan, so if you create more long-form content requiring grammar and plagiarism checks, the premium plan might be well worth it.
Bottom Line

Quillbot is a beautiful tool for paraphrasing versus summarization. It does have both capabilities, but the tool for paraphrasing is significantly more helpful than the summarization capabilities.
You can choose from a free or paid plan – whichever aligns better with how much content you need, a summary or paraphrase.
Quillbot is a great application to start with. However, if you want a free version with a plagiarism and grammar checker – Quillbot only offers those features with their paid premium plan.
Genei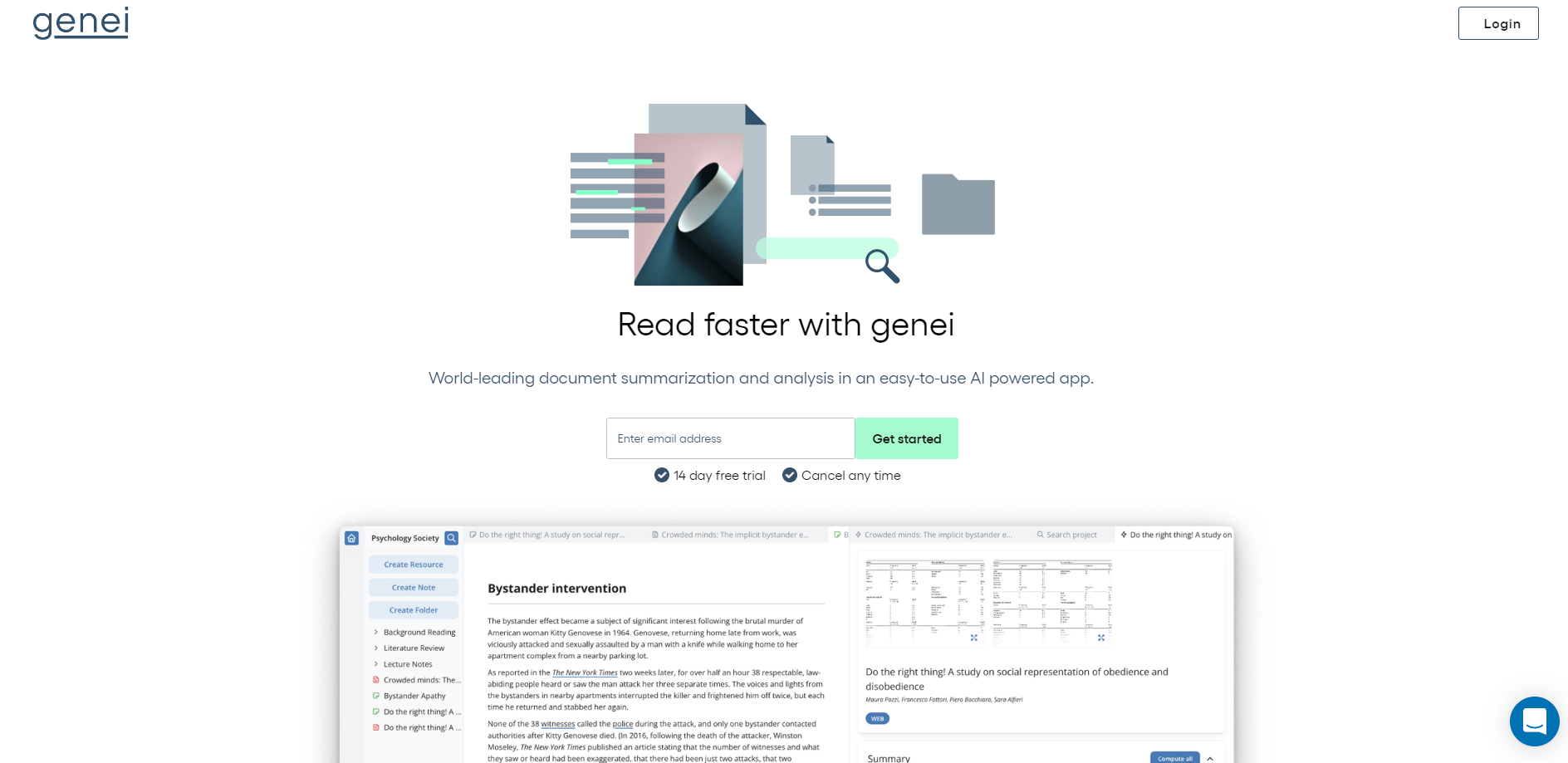 Overview
Genei is a "world-leading" summary tool that takes key sentences and key points and can extract keywords from any long article or research paper. Not only is this type of AI summary tool helpful for college students when conducting research – but it's also helpful for those that write research papers or longer content and aren't quite sure what to emphasize with bullet points in a summary.
Genei prides itself on being trusted by thought leaders and AI experts such as Berkeley university, Harvard, Oxford, Stanford, and more. It is an AI-based tool specifically created to take the main ideas from a piece of content and summarize text into easily digestible content to save time.
Highlights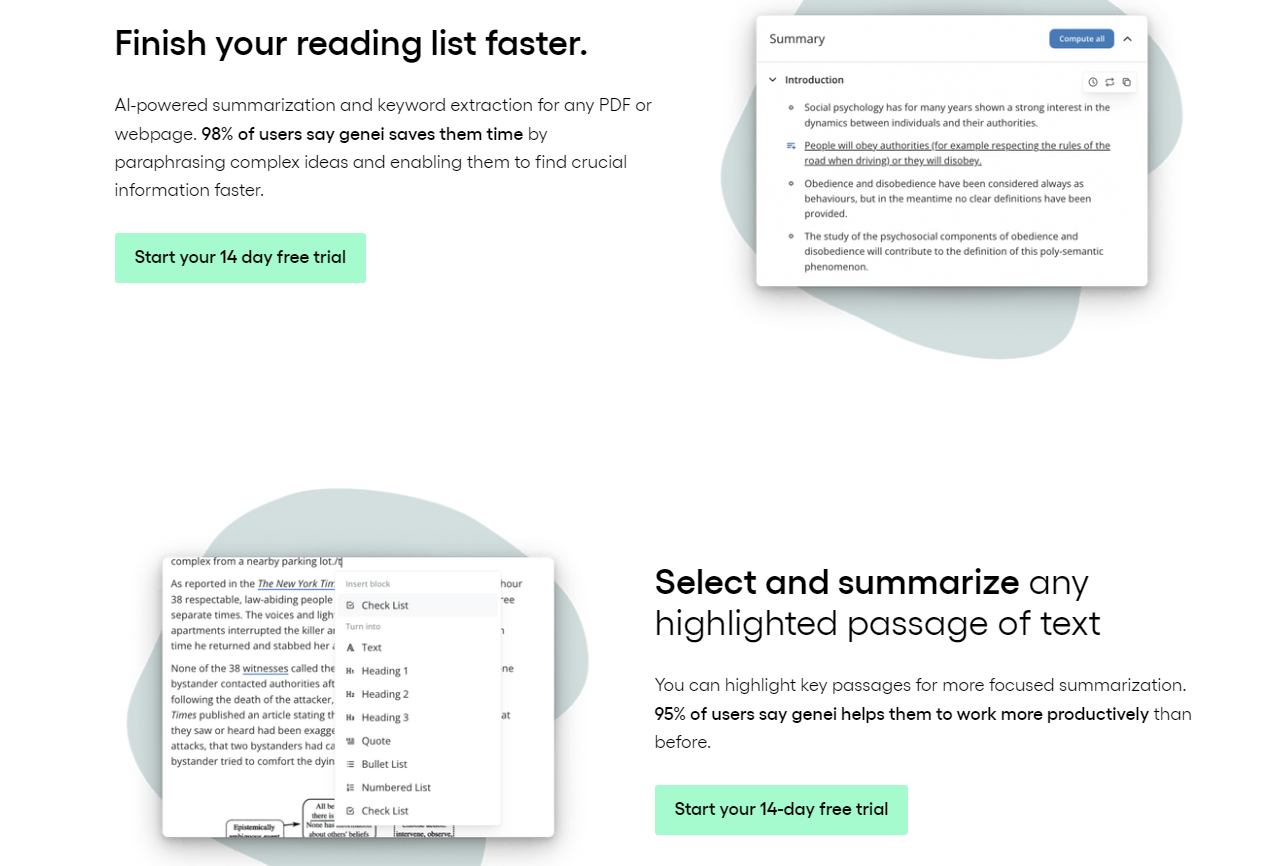 Summarize any passage of text
Free 14-day trial
Pro and basic plans to fit your needs.
Export your summaries and paraphrases
Pricing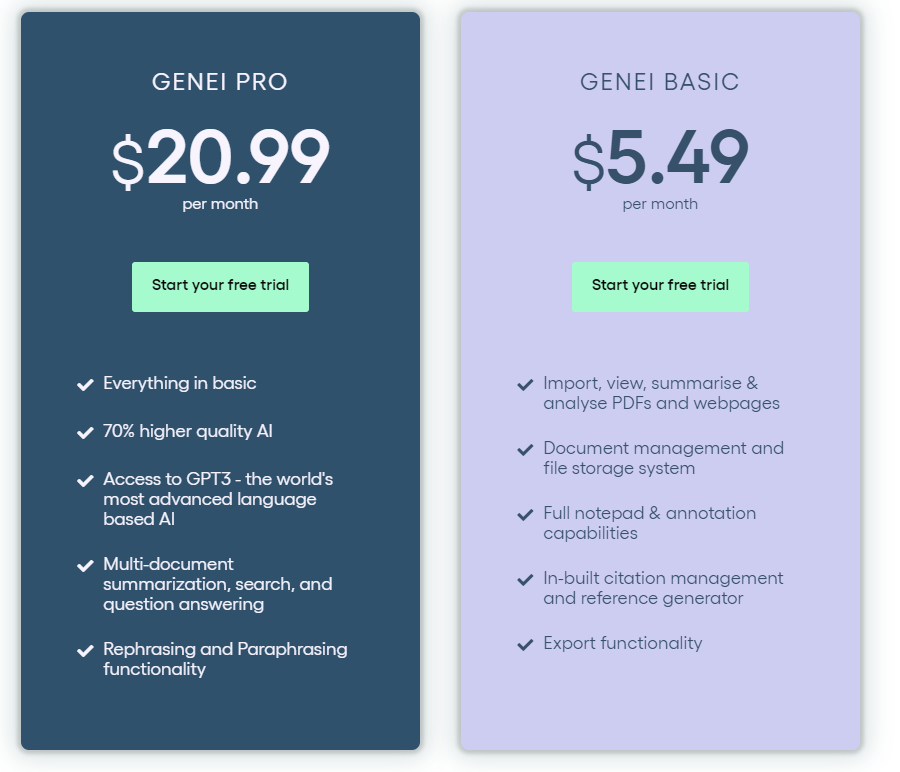 Genei Basic is $5.49/month and allows you to import, view, summarize, and analyze PDFs and webpages. This is great if you're a college student or professional researching and want to access a webpage's main points quickly. The basic plan also includes a built-in citation and reference generator.
Genei Pro is $20.99/month and includes everything in the basic plan, with the added features of multi-document summarization, search, and answers to questions. With pro, you can also rephrase and paraphrase.
It depends on what purpose you're using a summarization tool for – Genei would be great for students and professionals that do a lot of reading or research and want to get the main points right away.
Bottom Line

Genei gives you access to their summarizing and paraphrasing tools to isolate meaningful sentences and the main idea of a piece of writing.
It does have a basic and pro plan to fit a range of budgets, and the AI technology is aimed at saving you time when reading through a research paper or longer texts. You can enable Genei into your browser extensions to quickly access their text summarizer on any webpage.
Study Crumb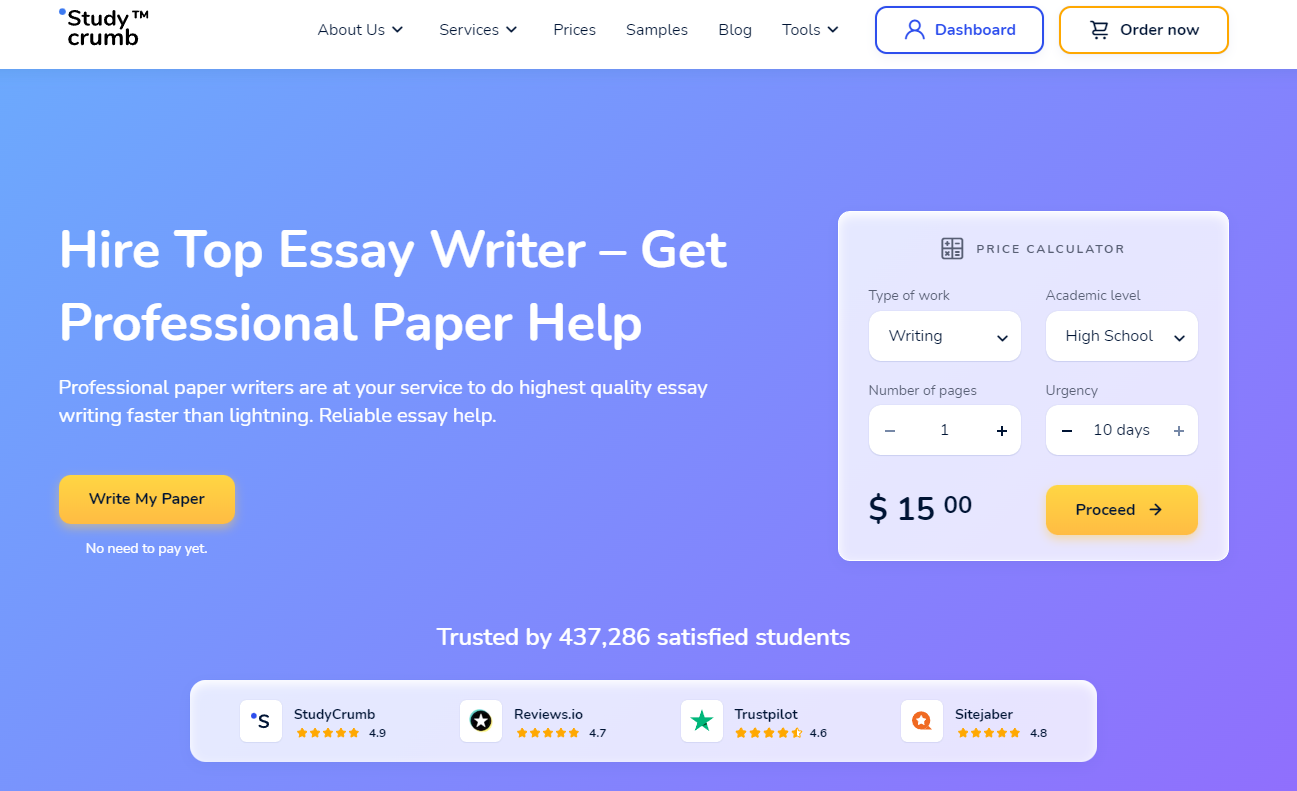 Overview
Study Crumb is an AI tool specifically designed for students that need help writing academic works. From book reports to term papers, Study Crumb lets you order essays and different reports based on what you need. The AI program matches you with a writer who's an expert at the writing you need to be completed.
Study Crumb is not so much a summarizing tool as it is a platform that provides you with an original article or academic writing. That being said, you could utilize the tool for summarizing by requesting that type of writing.
Highlights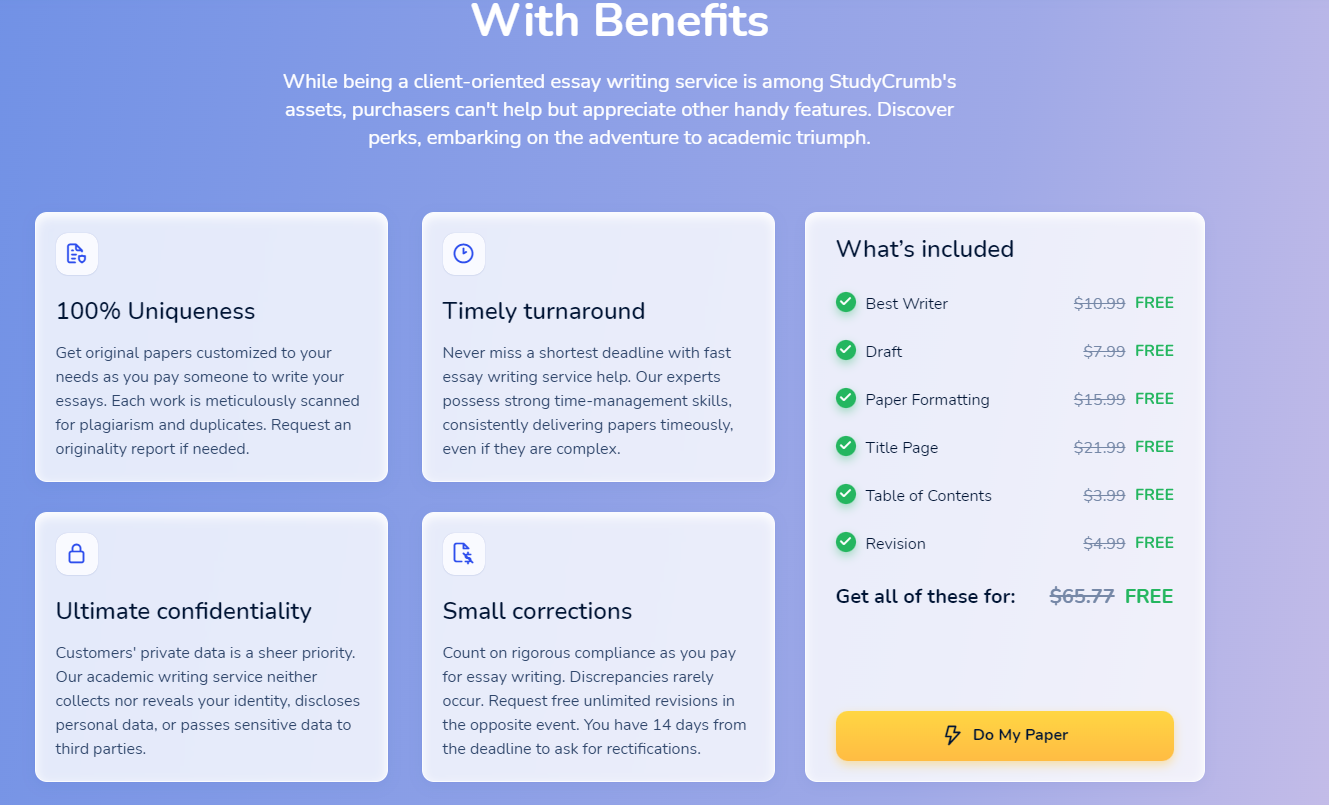 100% unique writing
Small revisions and corrections
Flexible pricing
Pricing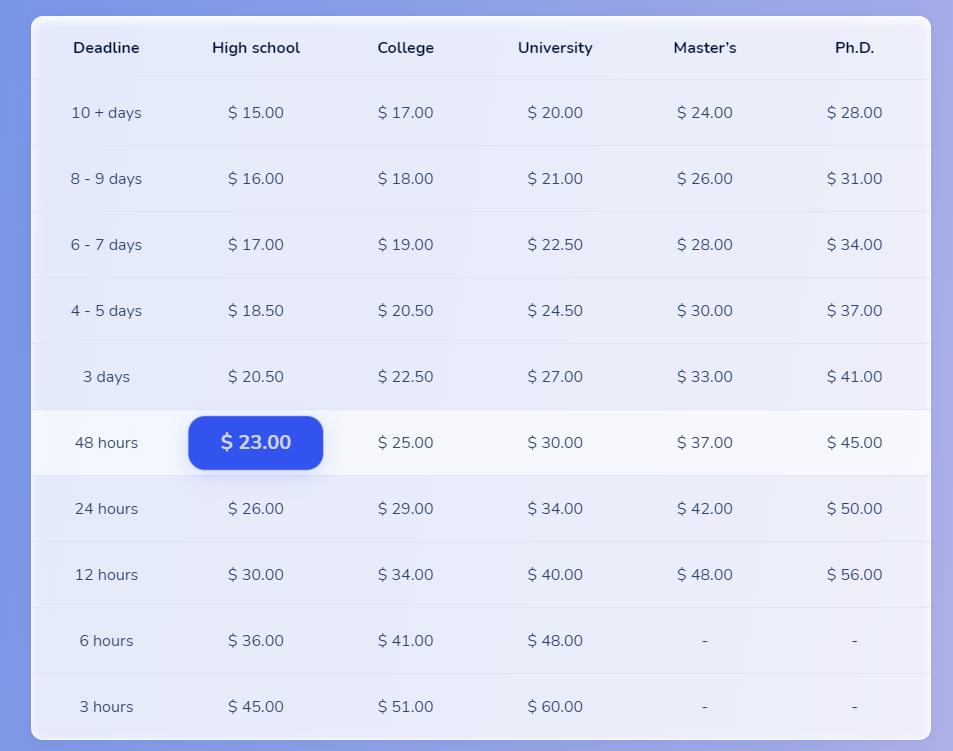 The price you pay per piece of writing depends on the type of work, writing, editing, or presentation; the academic level needed starting with high school and going on to a Ph.D. degree; the number of pages you need for the project and how soon you need it completed.
It works like a sliding scale where the number of pages and the turnaround time significantly affect the price you pay for one piece of writing.
The table in the photo above shows their base pricing based on the deadline and education level.
Bottom Line
It's an interesting concept and can be helpful for students and professionals who need academic writing done – but you can also utilize it to have academic summaries created by these writers.
If you're looking for a program that focuses explicitly on summarizing content, other options may align more with your goals than Study Crumb.
It is fairly priced, but after doing some digging on the website, I a one-page summary is a premium feature that must be added to the essay order.
Jasper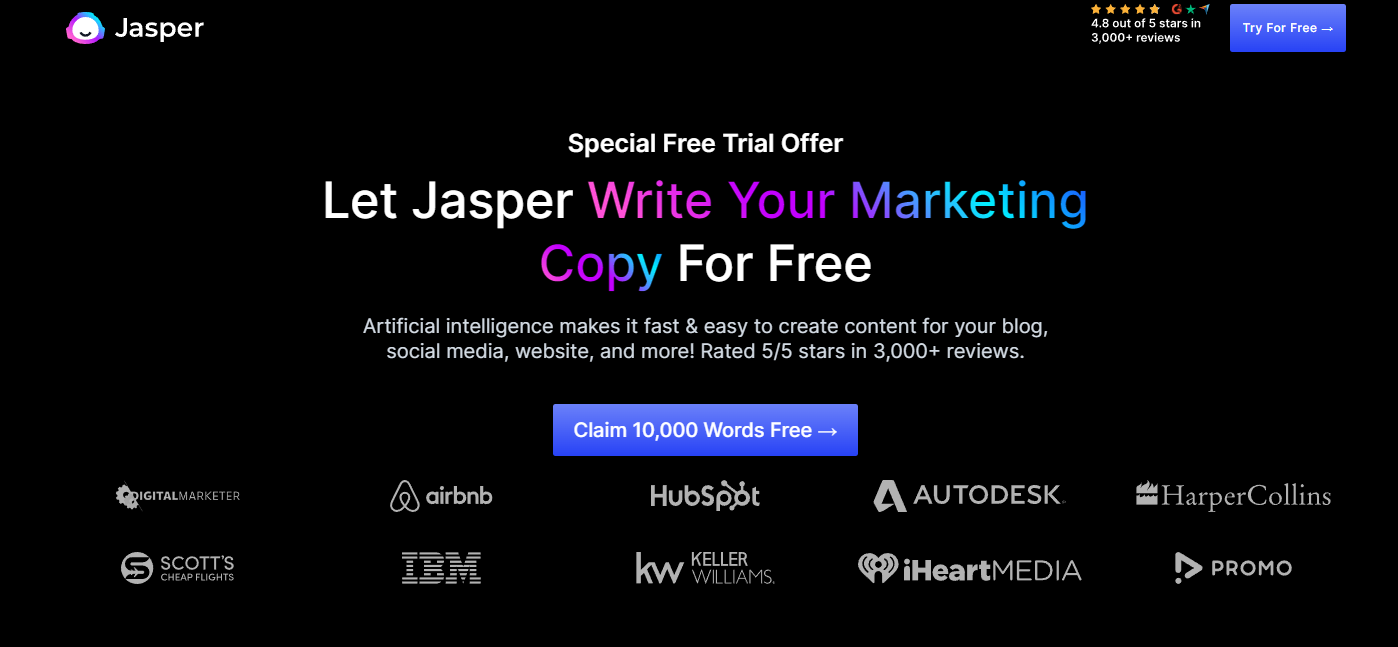 Overview
Jasper is an incredible writing tool that provides a ton of features – as far as writing is concerned. Not only does Jasper specialize in blog content, but it also has a text summarizer that allows you to pick out the most important lines of text.
Highlights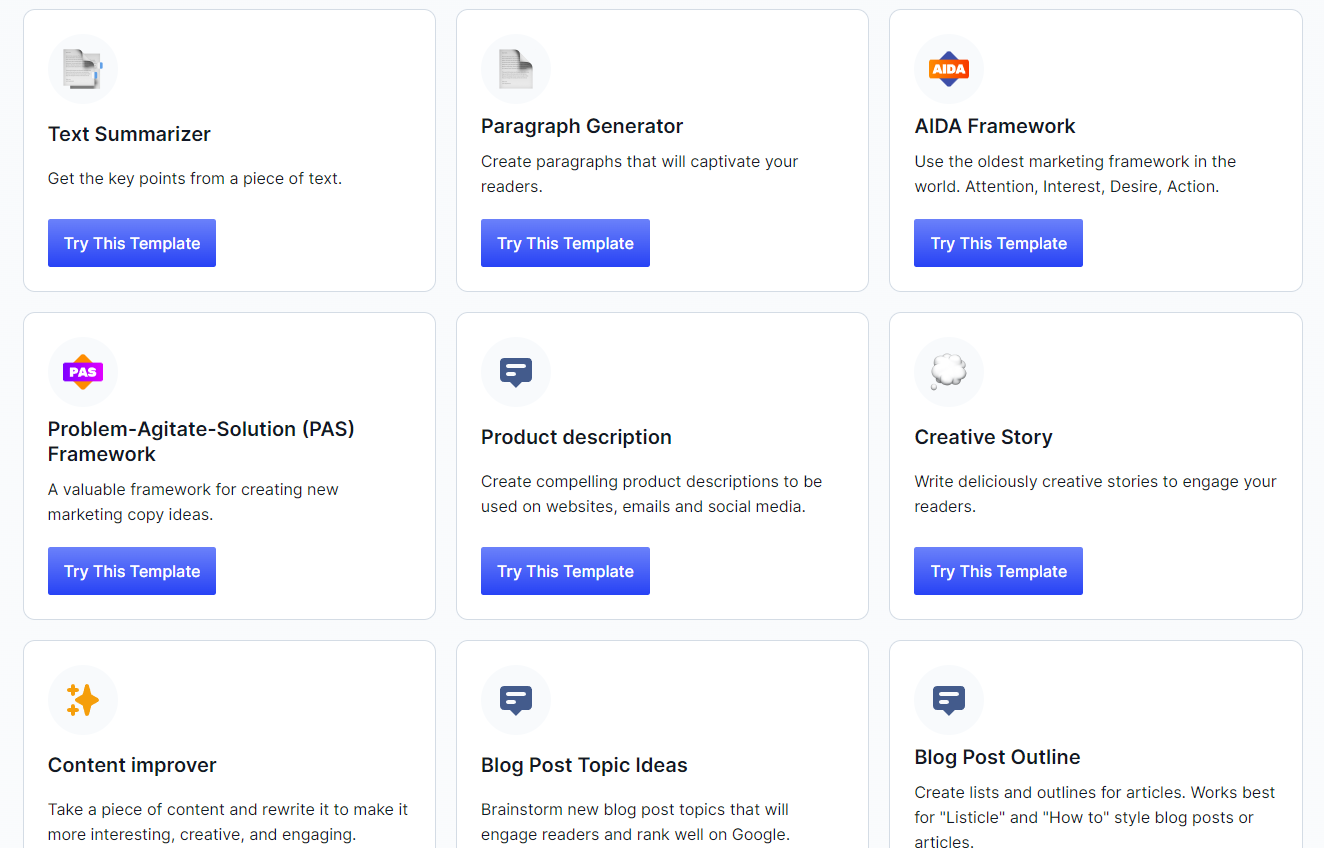 Text summarizer and paragraph generator
Sentence expander – to turn short sentences into ones that make an impact
Flexible pricing plans
Pricing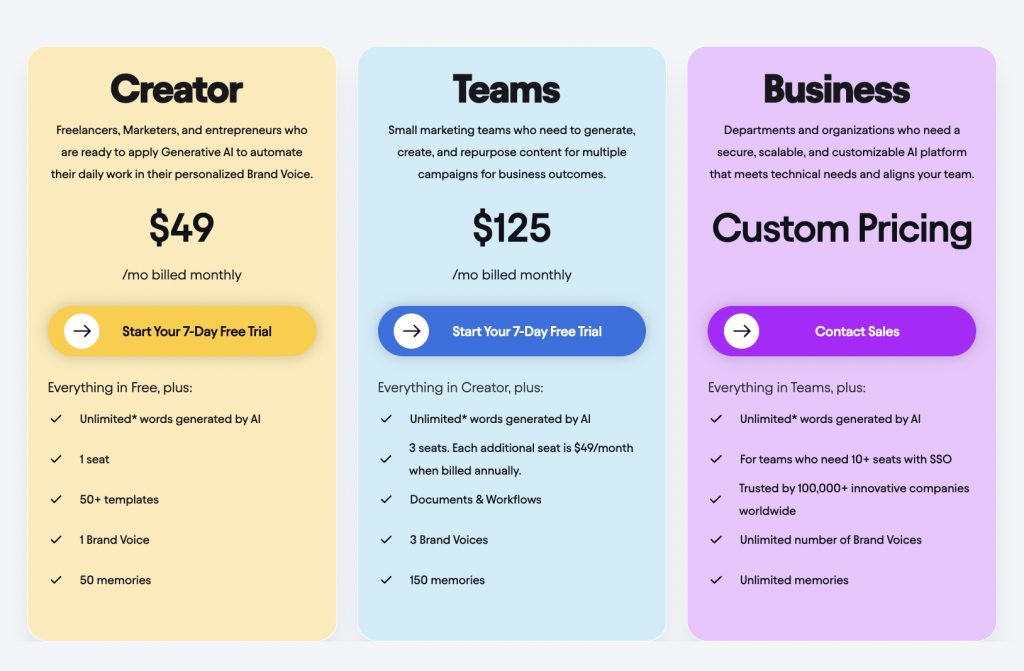 Jasper has three paid plans:
Creator Mode: $49/month for unlimited words
Teams: $125/month with unlimited words, 3 seats, and 3 brand voices
Business: Custom pricing
Bottom Line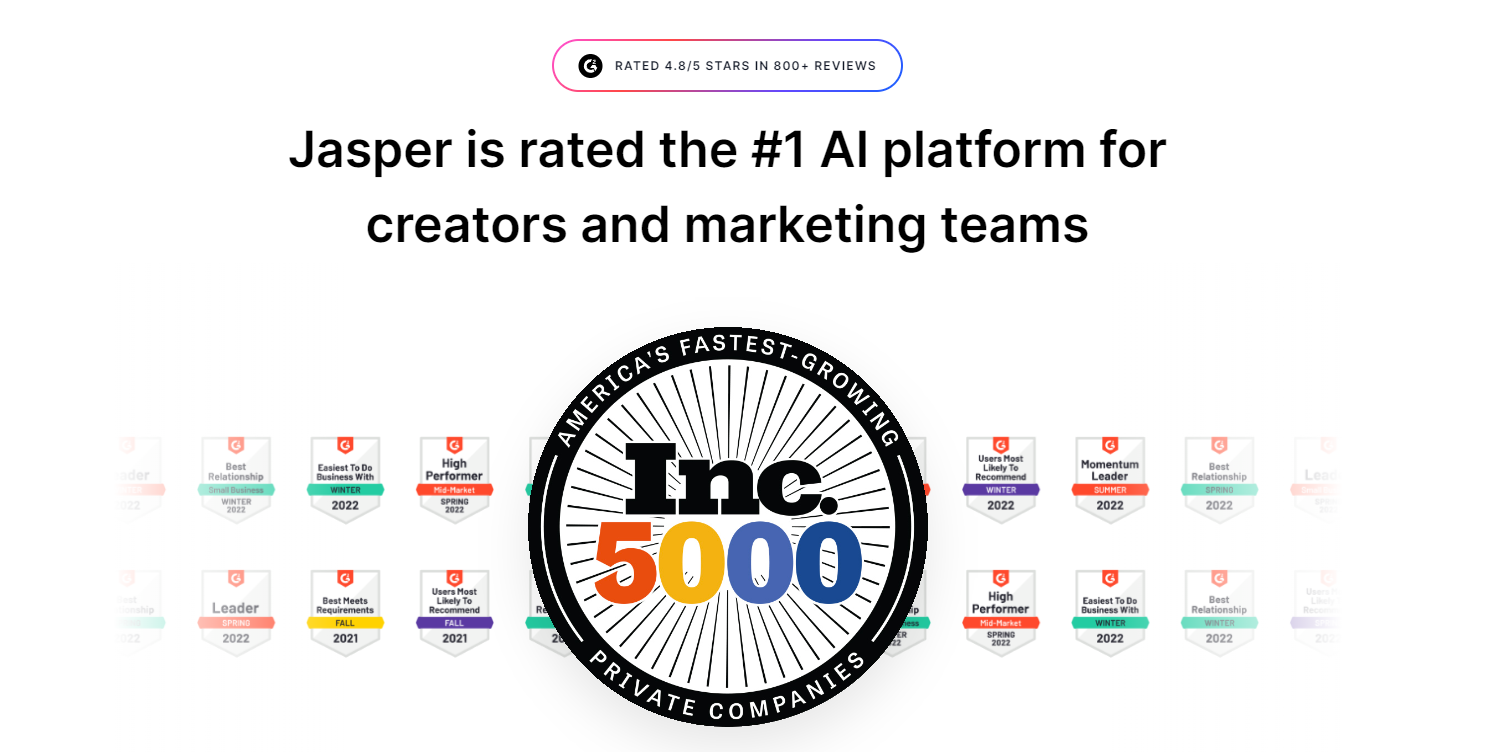 Jasper is one of the most popular AI tools for writing – even if you're not someone who writes blogs or longer content, their summarizing tool allows you to still utilize its AI technology.
Jasper's text summarizer can take the whole content and isolate the most important points using advanced AI.
Jasper has customizable paid plans based on the amount of content you plan on generating, which makes it easy to adjust as you go.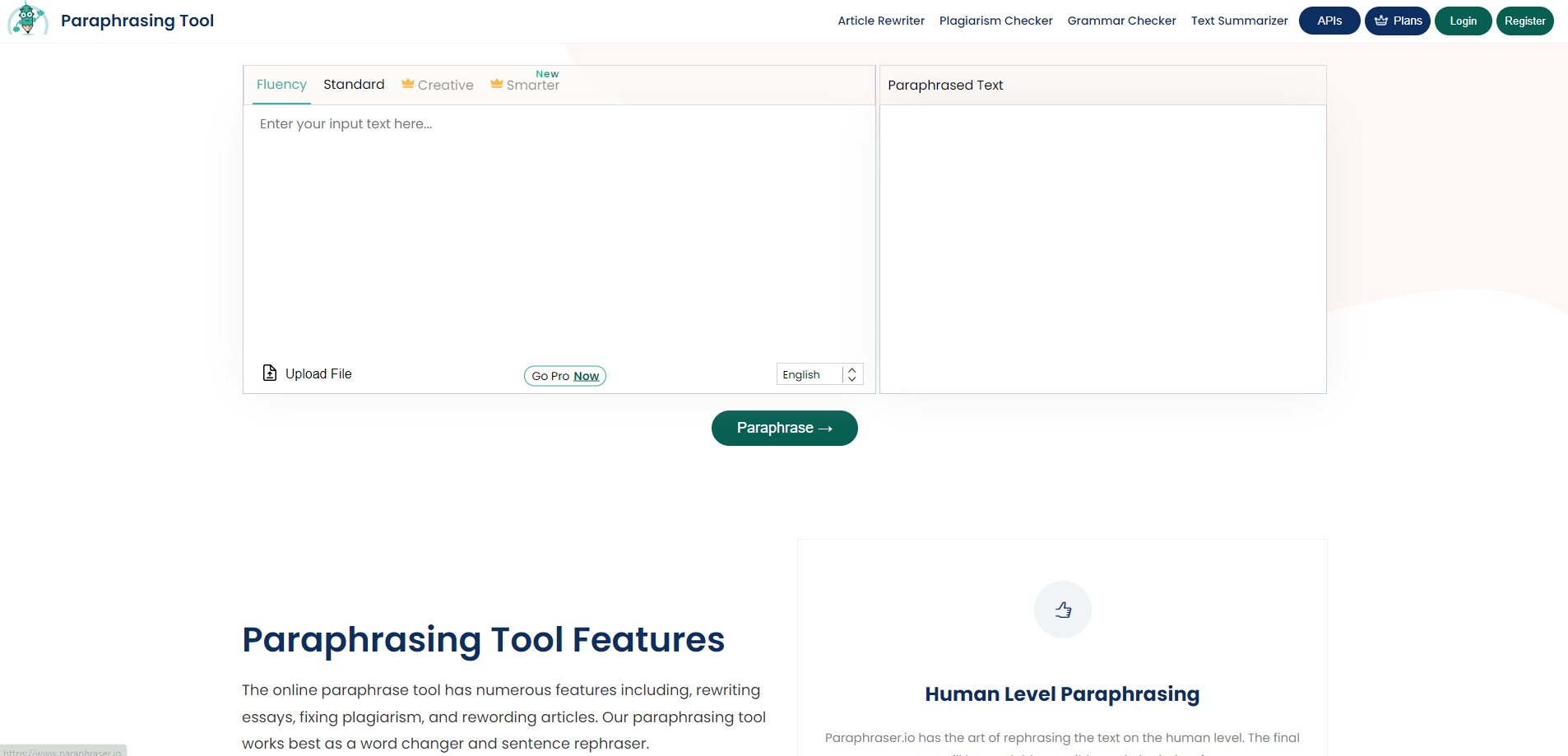 Overview
Paraphraser.io strives to bring high-quality paraphrasing, with a human feel, despite being an AI tool. Paraphraser.io boasts that its program runs faster than other AI-based summary generators because of the grammatically correct and more readable content it provides.
Highlights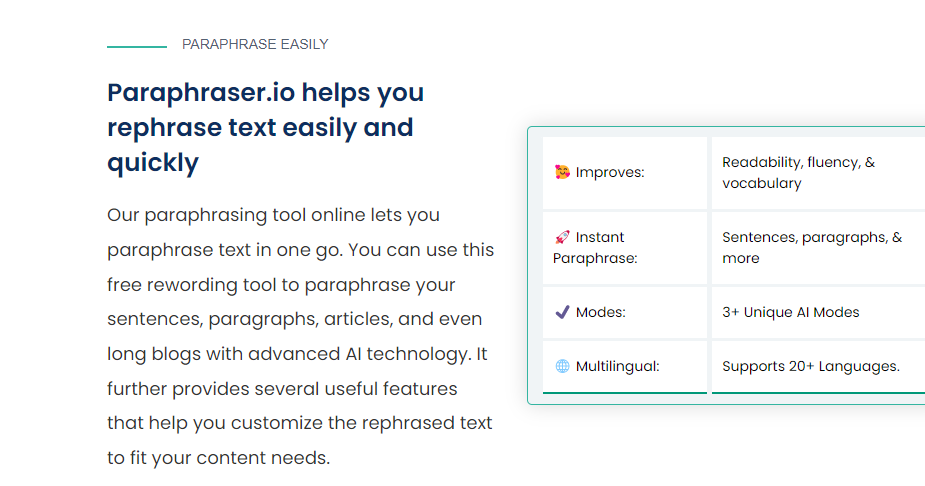 User friendly
Fast results
Plagiarism free and quality results
Pricing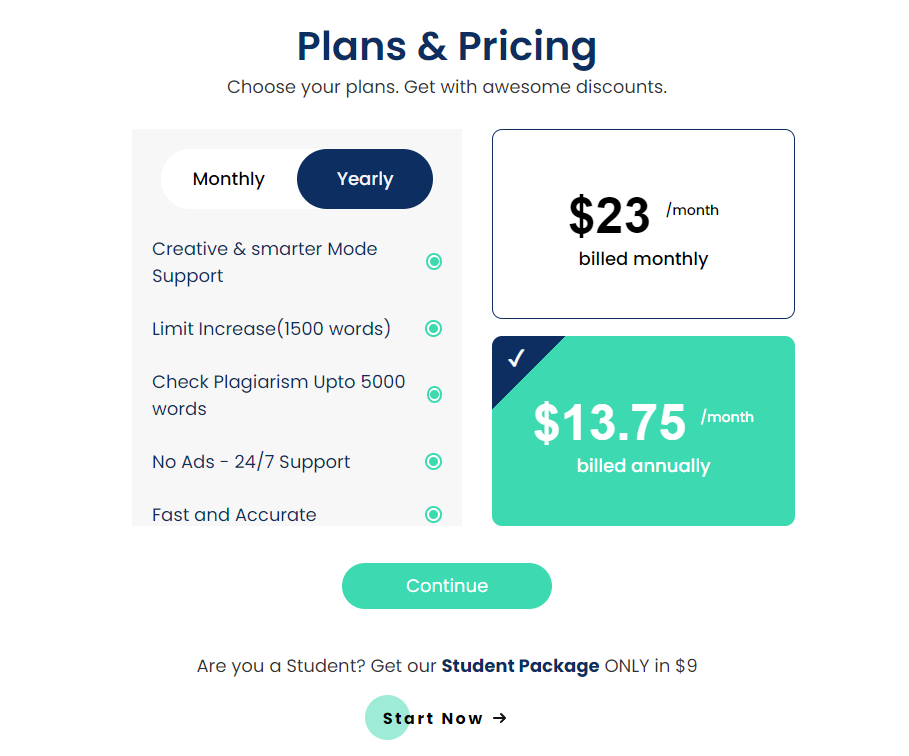 The platform offers two payment options which give you access to all of the AI summarizing tools. You can choose to pay annually for $13.75/month or pay monthly for $23/month.
The difference between Paraphrasing.io and the other programs we've looked at is they give you access to all their AI tools under one package – and if you're a student, you can get this package for only $9/month.
Bottom Line
If you're looking for an affordable platform that gives you access to all the AI tools for one package – instead of having a bunch to choose from – Paraphrasing.io may be an excellent fit for you.
The impressive thing about Pharaphrase.io is that it can be used across all devices, including iOS and Android – so you can use it on the go.
The input field lets you input your original text, and the AI summarizer will provide great summaries. You won't have to look for the most important sentences throughout your document.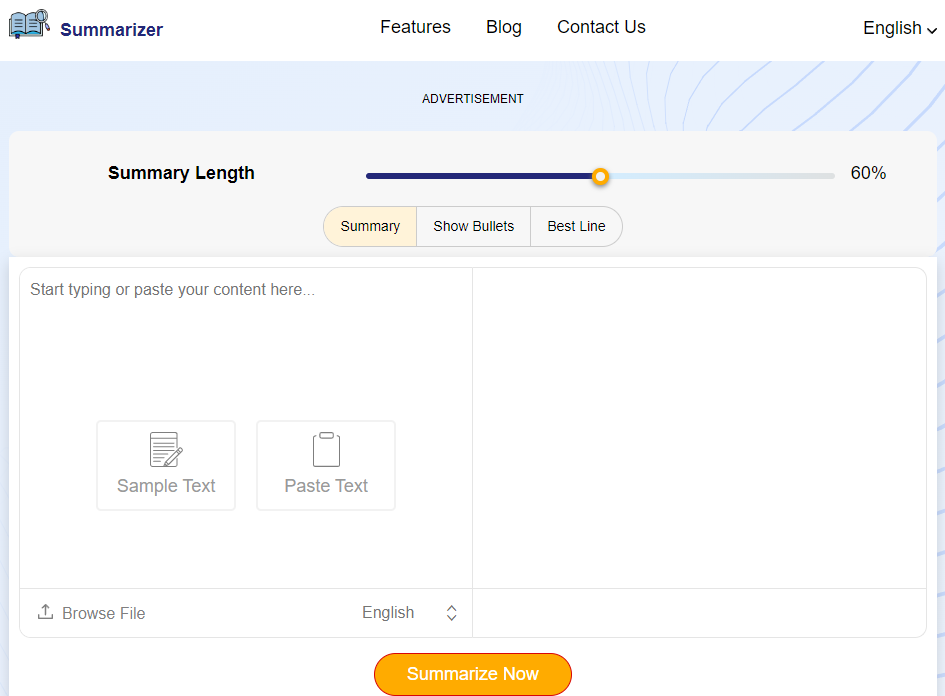 Overview
Summarizer.org is a completely free advanced AI that starts summarizing your text as soon as you start typing. There are two boxes on the screen, one where you input your original text, and the other where the summary generator puts your results.
Highlights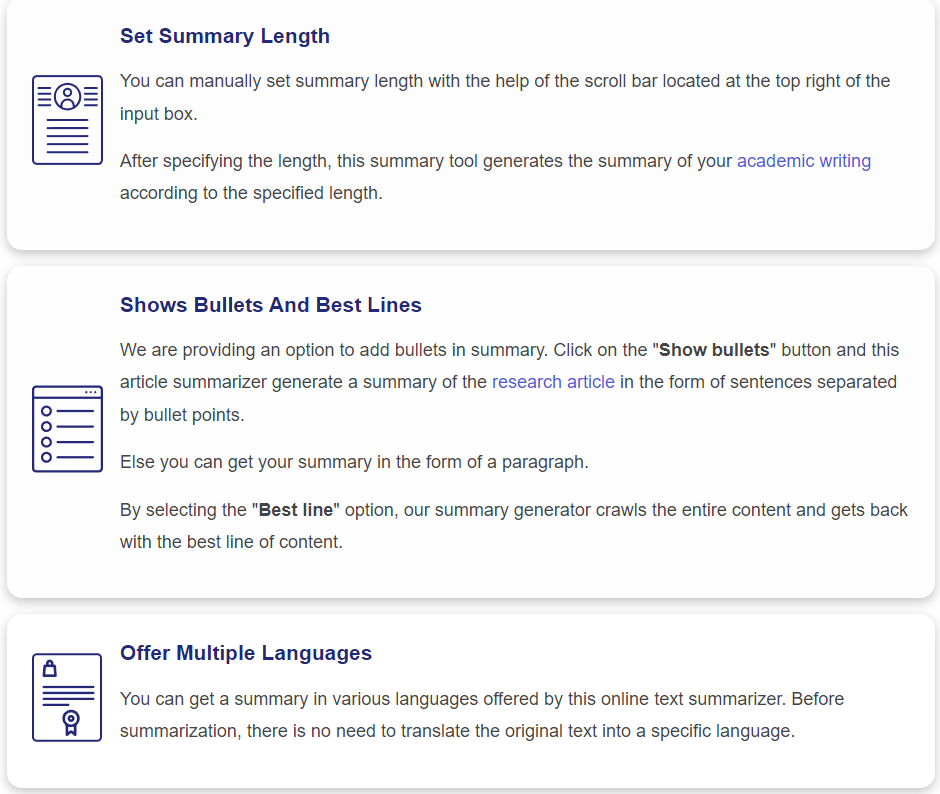 Summary length slider
Bullet points, best line, and additional features
Text summarizer understands multiple languages
Pricing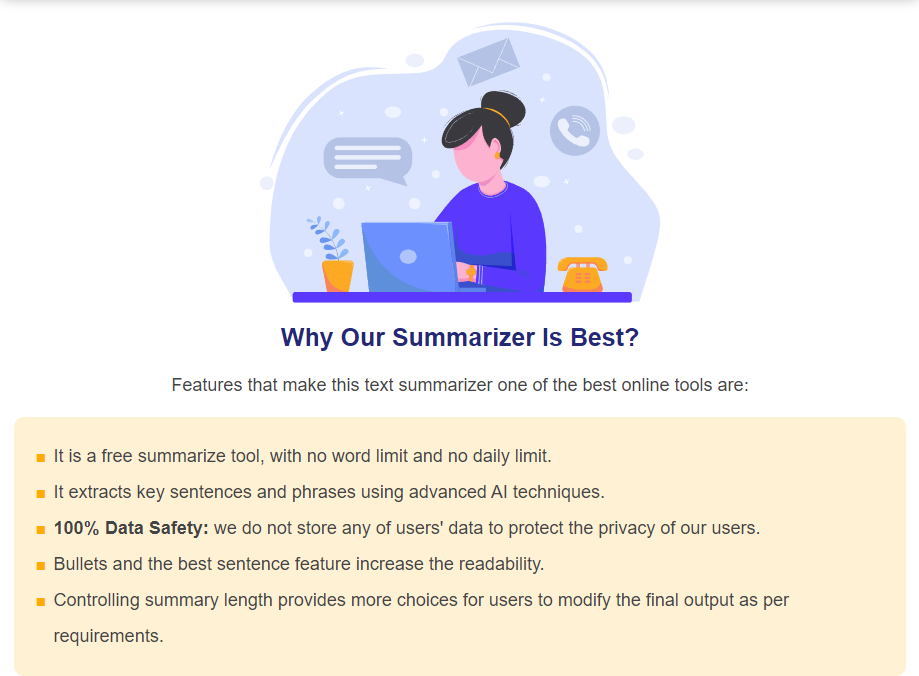 Summarizer.org is a completely free tool to use. There are also no limits on the summary length or how many summaries you request.
Bottom Line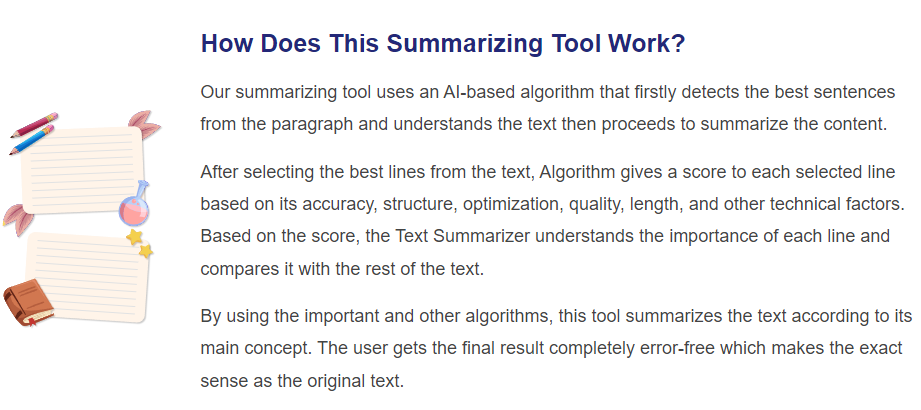 If you're looking for a program that provides a quick turnaround for summaries and keeps both the original context and you want to message to stay meaningful, Summarizer.io is a great tool.
It's one of the easiest tool to use to generate your summary or best line, and you can easily paste your text into the first box, and the summarizing tool will do the rest, giving you your desired results.
The most attractive thing about Summarizer.org is that you get unlimited text summarization without having to pay for a plan.
Scholarcy

Overview
Scholarcy is one of the best summarizing tools for academic or online article reading. It identifies the key facts and main points and isolates the references for you, so you don't have to go digging for them.
It also saves you summaries if you have a subscription so that you can go back and search through your summarized text on any device. This makes it super easy to go back and reference your summary again if you need to.
Highlights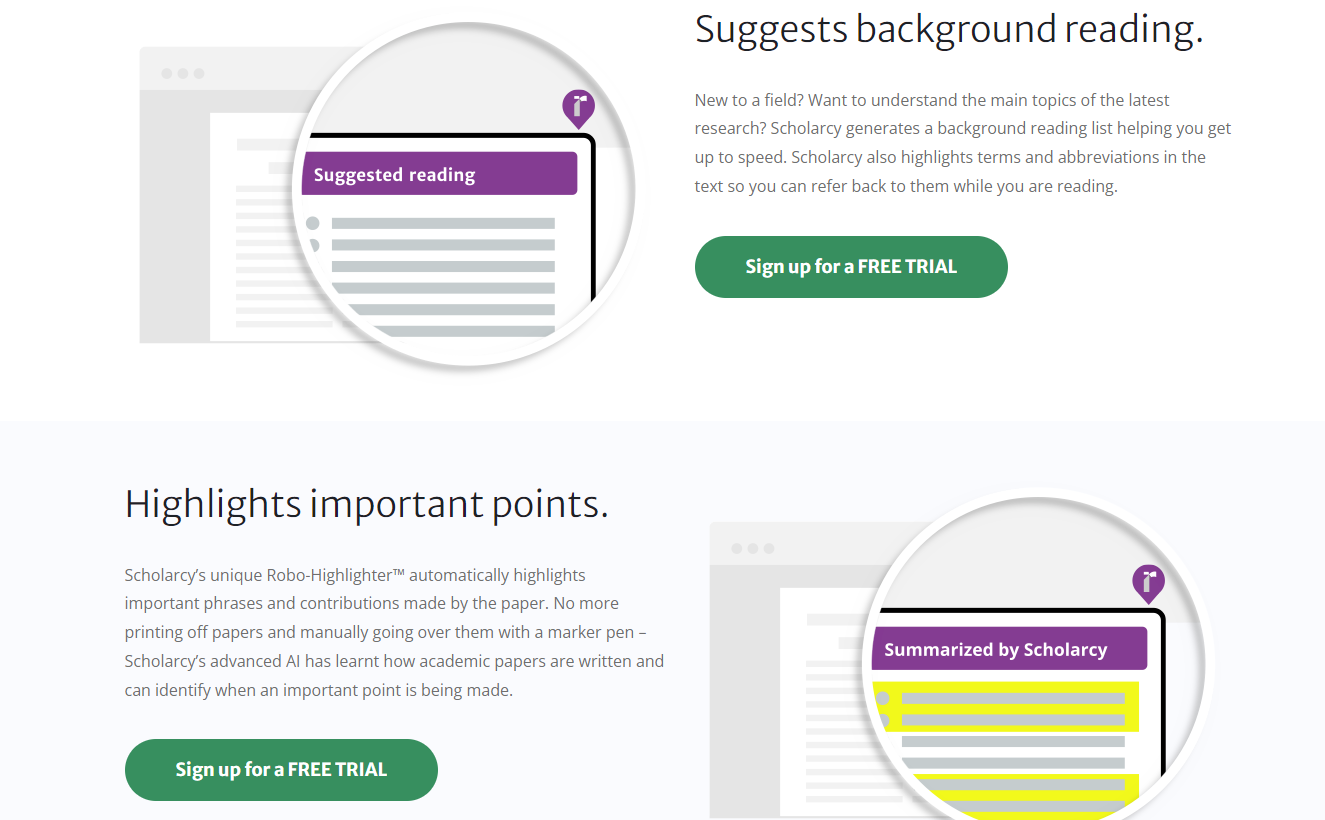 It breaks down research articles, reports, and book chapters with a lot of text density into easily digestible pieces.
Extracts key sentences, main points, and references
It provides you with a summary generator library so you can go back and access your summary at any time.
Pricing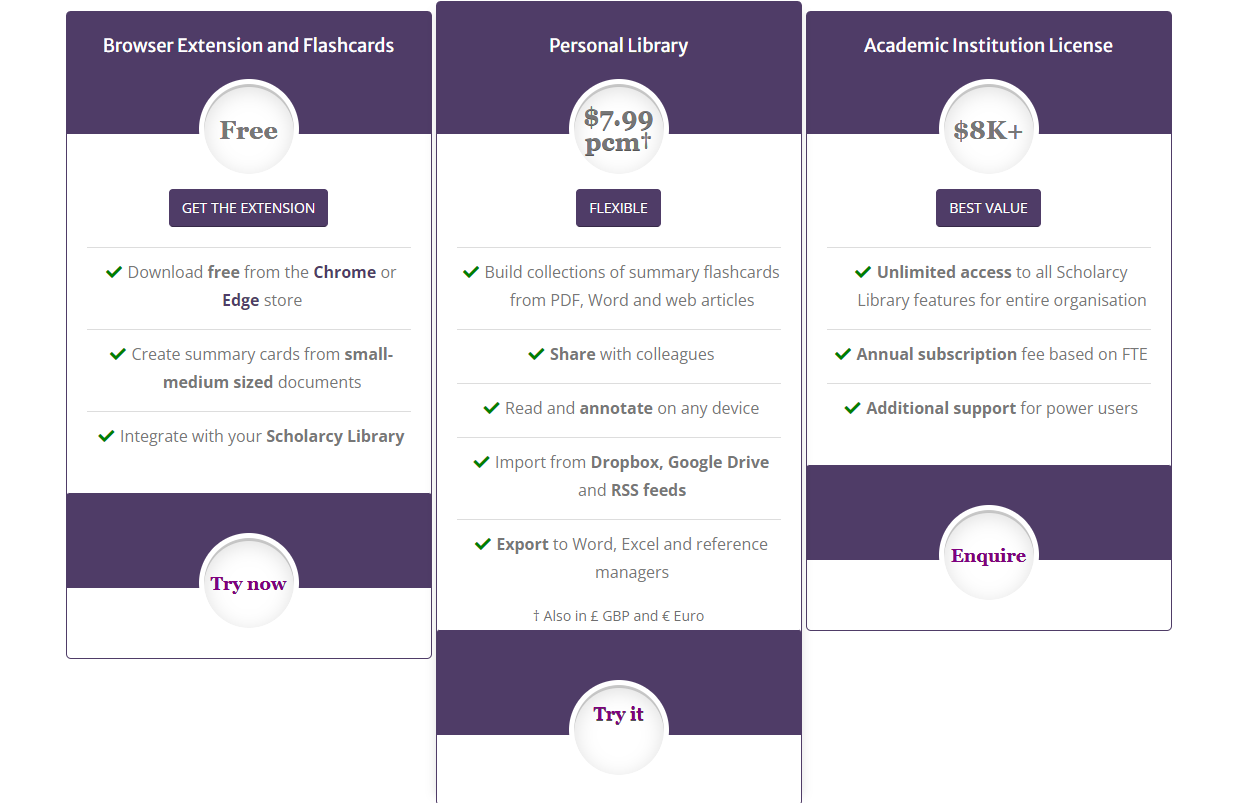 You can opt for the free browser extension version to add to your Chrome or Edge browser and create summaries for smaller articles.
They have a personal library subscription for $7.99/per user per month that includes your summary library, and you can import and export documents and read and annotate on any device
They also have institutional pricing if you're an academic university or college that wants to utilize this program for students attending your school.
Bottom Line

There are many unauthentic tools to use for academic purposes. Still, Scholarcy caters to students and academic professionals that want to save time reading research papers and reports into summarized text that is easy to expand on and put into your own words.
When it comes to a summarizer tool for academic work, Scholarcy is one of the best in giving you the best line and a scholarly summary.
Resoomer

Overview
Resoomer is another one of the free text summarizers that you can use to take your text from lengthy to neat summary length. As an AI-based summary generator, its goal is to use natural language processing and replicate it into a summary of the text you input, like the other ones we've looked at – Resoomer is geared towards academic writing.
Highlights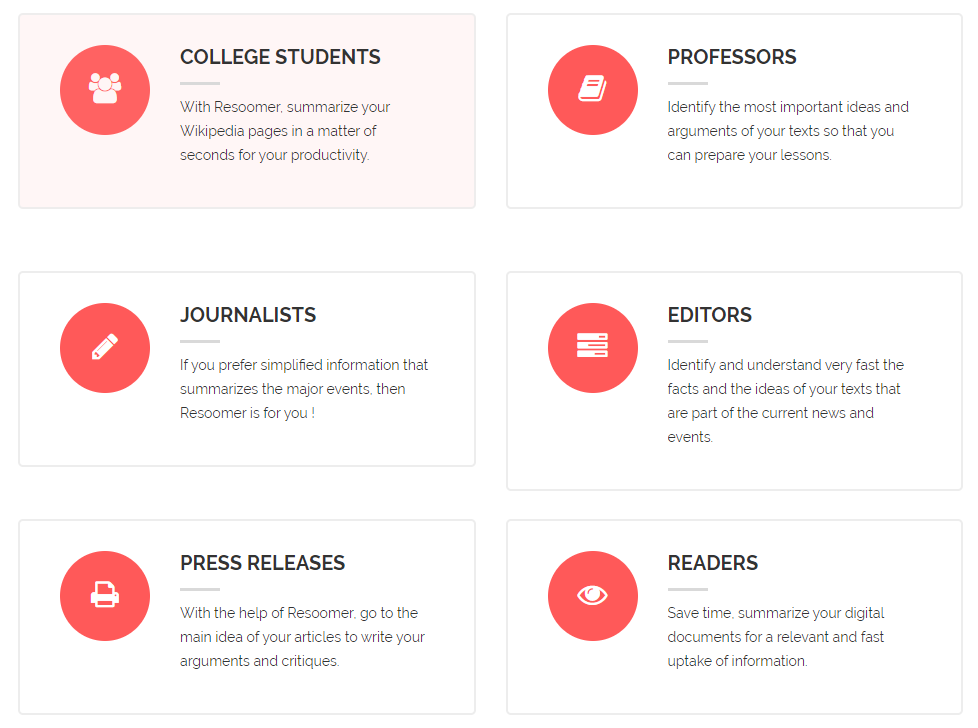 Geared toward those who do academic work that wants to lessen their time reading long papers and reports.
Completely free – there are no monthly subscriptions or payment plans.
Quick summary via copy and paste feature.
Pricing

Resoomer has no payment plan or subscription tier – you can use their text summarizer completely free.
They have a one click paragraph mode included that gives you your document summary in 1-click.
Bottom Line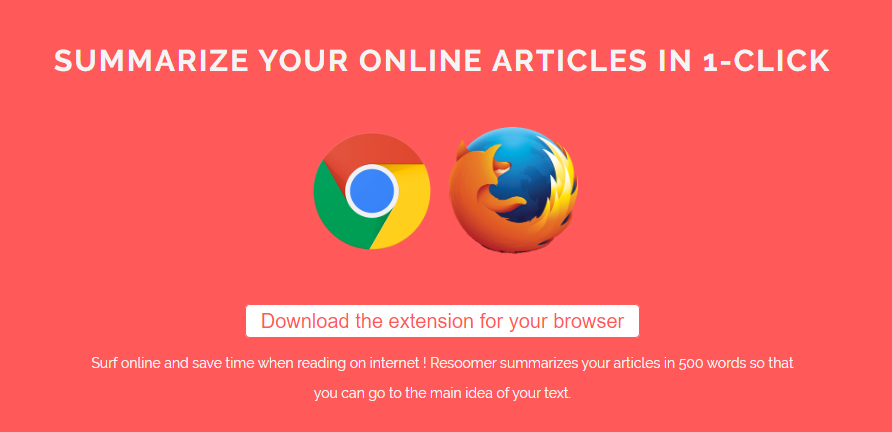 Overall Resoomer is a great resource among the several AI-based summary generators covered. Plus it's free so no need to add these to your list of expenses every month.
It's capable of summarizing your text so that only the most important content remains – making it easier for you to get your reading done and research completed.
TLDR This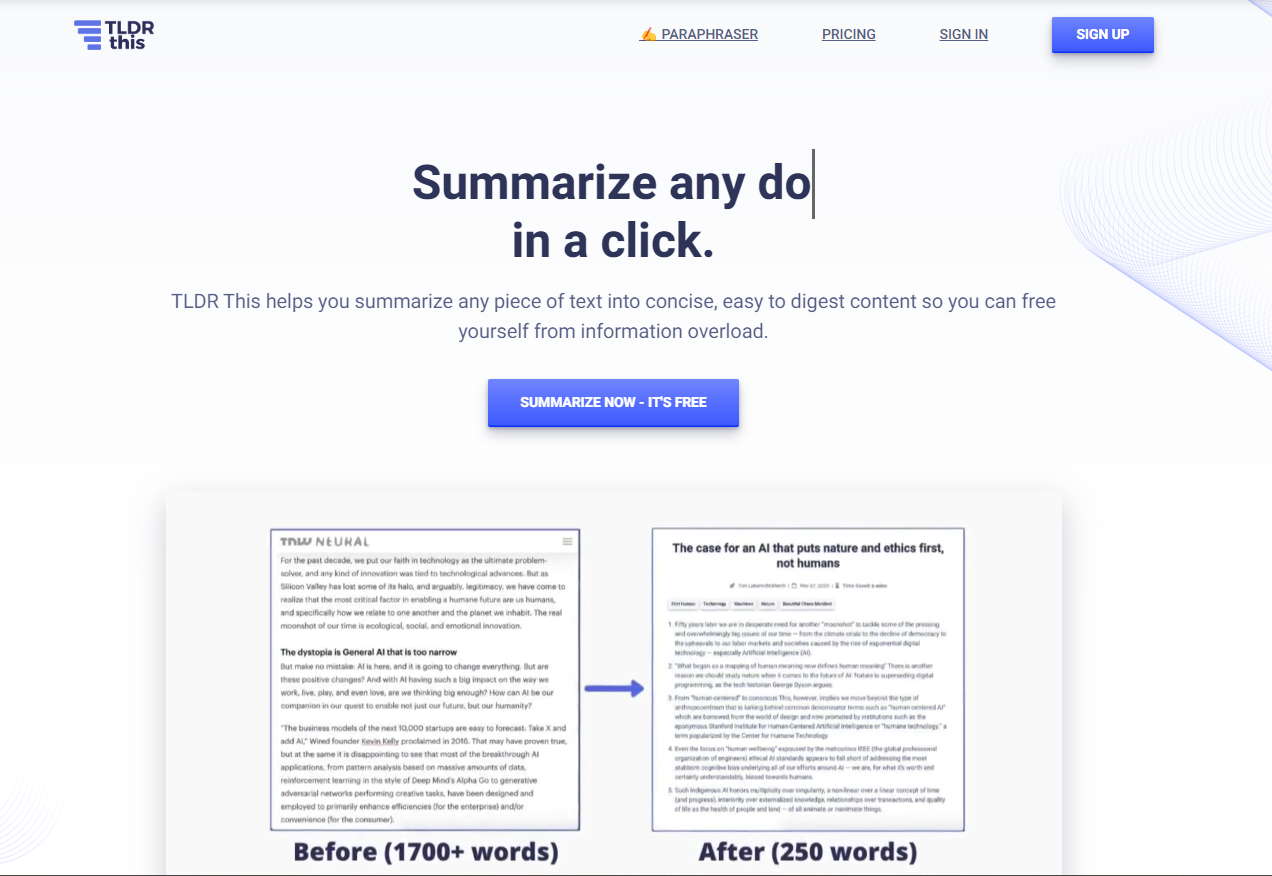 Overview
TLDR This is a text summarizer that understands the real reason you need to quickly summarize an piece of writing – often times the document is way too long and you need your answer quickly.
Using the latest AI technology TLDR This is able to quickly and effective transform long text into easily readable information.
Highlights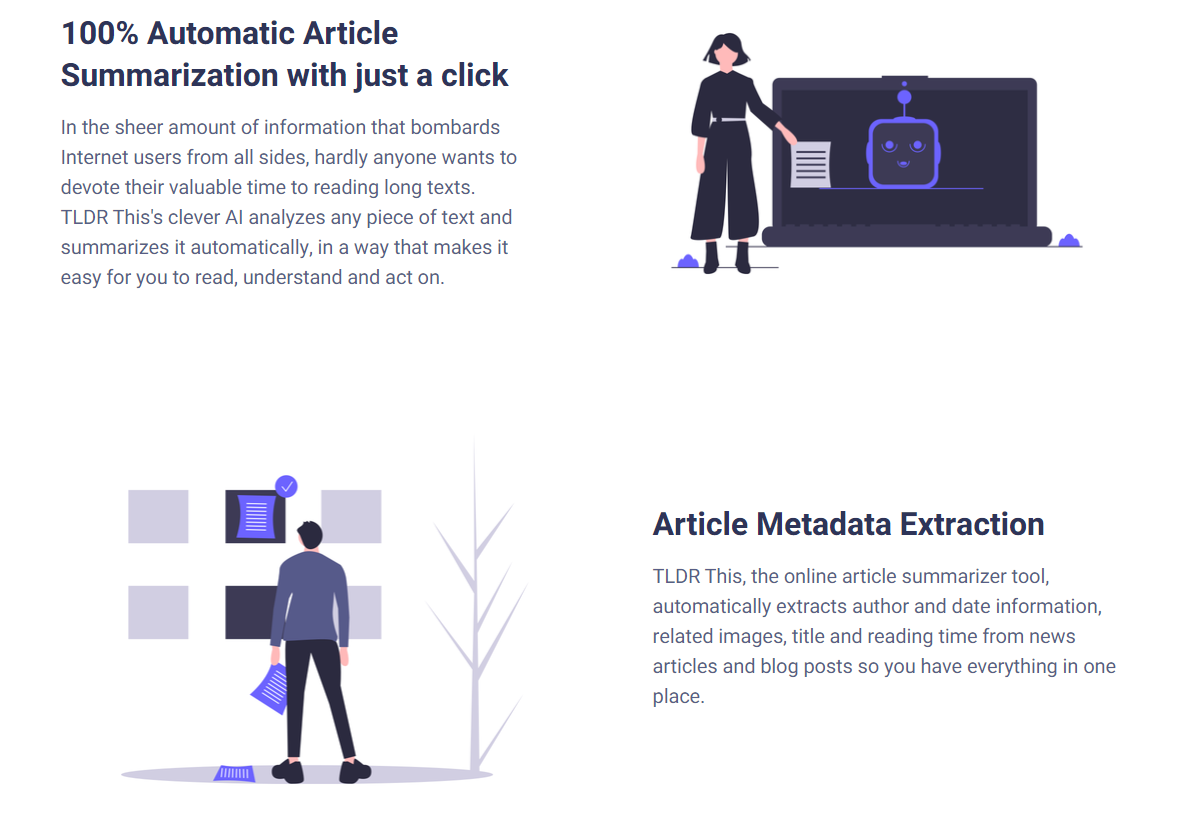 Distration and ad free reading
Article metadata extraction
Capble of filtering out weak arguments when it comes to what's most important in the document
Pricing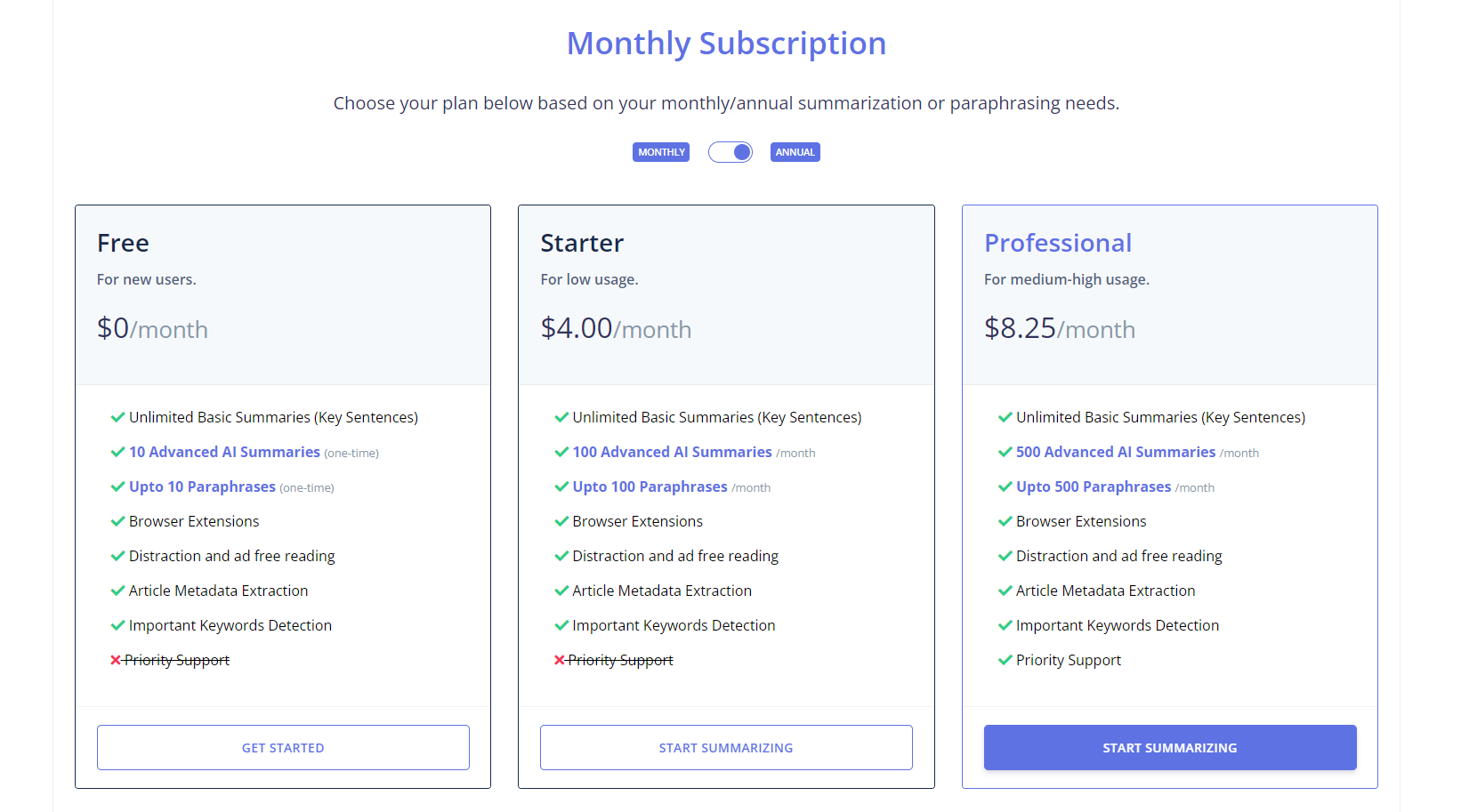 This text summarizer offers a free version that gives you access to most of the tools you'll need to get a perfect summary. Such as, unlimited key sentence summaries, 10 advanced AI summaries, a browser extension and keyword detection.
Their starter package is $4/month and offers everything in the free plan plus extra advanced summaries and paraphrases.
The professional package offers everything previously mentioned but with the additional features of up to 500 advanced summaries and 500 paraphrases.
Bottom Line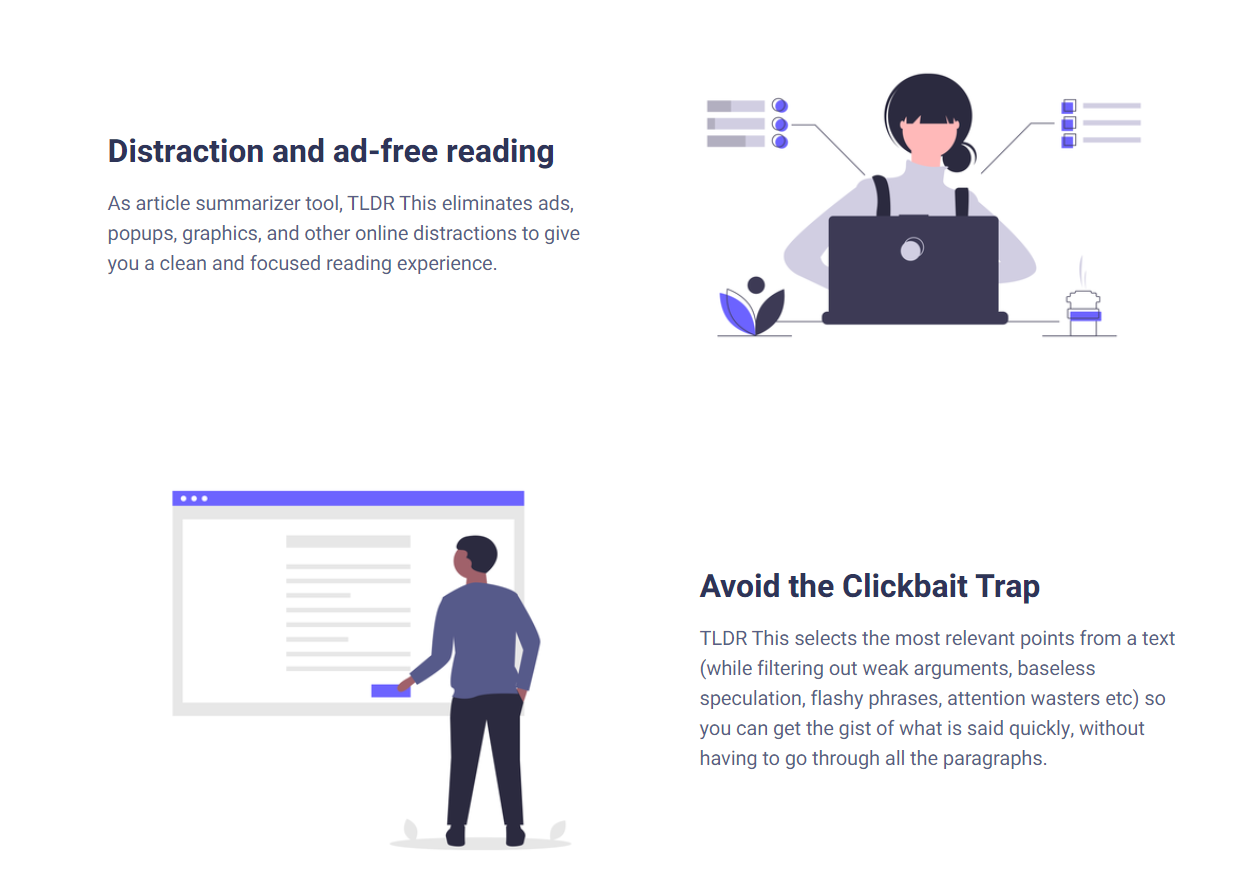 TLDR This is a great tool for abstractive summarization when you need it and making sure that you're only getting what's most important out of every piece of text.
It offers flexible payment plans to fit your needs and has advanced summaries that remove the distraction when reading.
What are summarization tools?
Summarization tools are AI programs that are able to analyze text in order to isolate the most important information – to allow you to read your documents distraction free.
Most of these programs can take out the keywords, key sentences, and condense them into bullet points for easy reading and retaining information.
Can AI summarize a text?
Yes, AI is capable of summarizing text by analyzing the most important information contained within a piece of writing – so that you don't have to go digging and reading hours of documents to find nothing that was relevant.
Due to the advancements in AI, there are tons of resources for AI summarization programs that can make reading long-form text easier.
How do you summarize an article with AI?
AI uses machine learning to analyze a piece of text and extract the main points of the writing to make sure you're getting the most relevant information.
Is there software that can summarize articles?
Yes – all of the above software is capable of summarizing piece of writing both on the internet and through copy and paste.
Final Thoughts
There are a lot of options for online AI software that can take long-form text and create neat bullet-pointed information that's easy to retain and gives you your information quickly.
We went over the best AI tools for summarizing writing. There are ones that are better for academic purposes than other. You may want to test them out for yourself to see what works best!