10 Best AI Novel Writing Software Tools of 2023
For many writers, the process of writing a novel can be a daunting task. From developing engaging characters to crafting a compelling plot, there are numerous challenges that authors face along the way. However, recent advances in artificial intelligence (AI) have made it easier than ever before to write a novel.
With the help of AI novel writing software, authors can streamline the writing process and overcome common hurdles. This article will explore some of the top AI novel writing software options available today and examine how they can help writers bring their stories to life.
What is the best AI novel writing software?
Here is a list of the best AI novel writing software tools to help you optimize your writing process. For a more in-depth list of AI novels and ai powered writing software tools used for other purposes, check out my best AI writing tools article.
We live in a world where artificial intelligence (AI) takes over jobs once reserved for humans. Whether an AI can write a novel has been asked many times. And the answer is yes, AI can write a book.
The question of whether or not artificial intelligence can write a novel is a difficult one to answer. It's not just about the machine learning ability to generate text but also the ability to create compelling and engaging plots.
Disclosure: Some of the links in this article may be affiliate links, which provide $$$ to me at no cost if you decide to purchase the tool.
Overview
Sudowrite is an AI novel writing assistant built by writers for writers. This ai writing assistant tool has the best user experience of any AI-writing app I've ever used. If you're a writer, it has a beautiful, focused user interface with an assistant for you when needed.
If you need to write a novel, it has the best algorithms for helping you write a book. If you need to get a story written by next week, it has the best algorithms for helping you write a novel in that timeframe.
Sudowrite does this with simple tools explicitly designed for novel writing. By comparison, most other story generator systems have a broad focus that makes them suitable for all kinds of creative writing but doesn't help you write a novel.
I enjoyed the onboarding experience. I never want those guided walkthroughs, but this throws you immediately into the tool and shows you how to use it.
The features in the app are beneficial. I like the brainstorming feature, which gives you some templates, but you can also create your brainstorming.
Features
Generate up to 1,000 words with a simple prompt
Whole plot, character, and outline planning.
Pricing
Free trial
Hobby & Study: $10/month
Professional: $20/month
Max: $100/month
Bottom Line
Sudowrite is a tool you should consider if you're planning to write novels. It has a great user experience and a free trial! No credit card is required, so you might as well try it out.
Suppose you're looking for AI writing software that does it all for you, but you still have creative freedom and customize your story. In that case, Sudowrite gives you the freedom of customization without worrying about the organizing, plot, or character development.
When it comes to writing with ease and ensuring that you're writing is detailed and consistent without having to write it all yourself – this AI writing software gives you the tools to get it done without stressing over the content.
Overview
Jasper is a leading AI writing tool. To make the AI software tools more powerful, Jasper acquired AI writing software tools such as Headlime and Shortly AI. Both apps are standalone at the writing of this article, but both plan to integrate fully with Jasper.
Jasper has a solid user experience. The templates are easy to use. There's even a writing workflow that helps you take an idea into a fleshed-out piece.
I often have ideas, but coming up with a title and description slows me down. I can type in my concept and pick from high-quality AI-generated content with the blog writing workflow, which can help me outline a novel.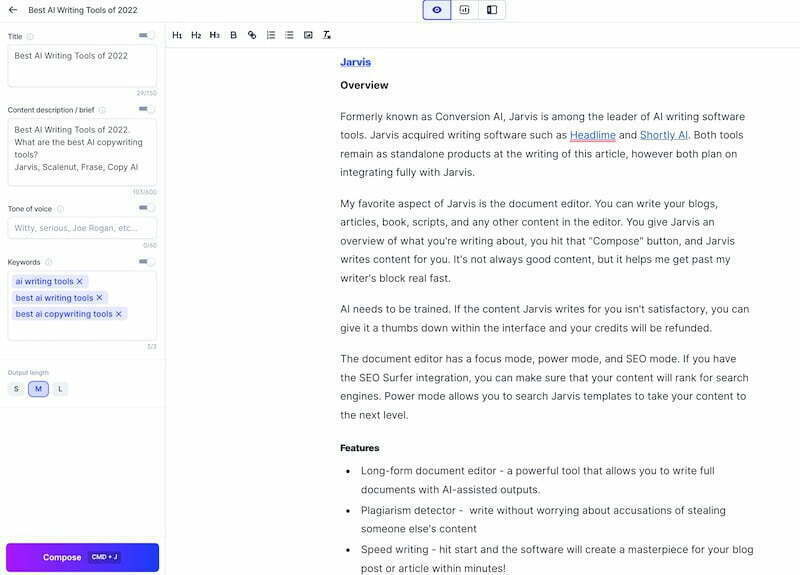 My favorite aspect of the Jasper AI writing software is the document editor. You can write your blogs, articles, books, scripts, and other content in the editor.
You give Jasper an overview of your writing; you hit that "Compose" button and Jasper writes content for you. It's not always good content, but it helps me quickly get past my writer's block.
Remember, AI needs to be trained. If the content Jasper writes for you isn't satisfactory, you can give it a thumbs down within the interface, and your credits will be refunded.
Jasper's pricing is based on the number of credits you use, which is how many AI words the tool generates for you.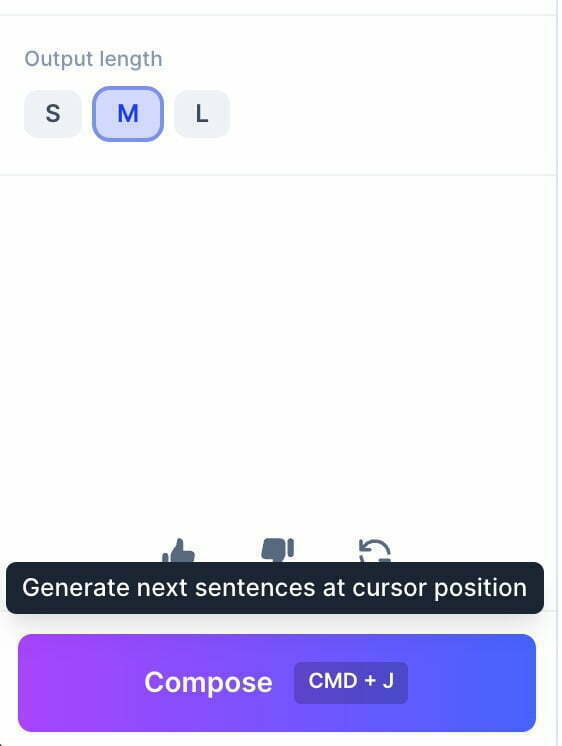 The document editor has focus, power, and SEO modes. If you have the SEO Surfer integration, you can ensure that you create high-quality content that will rank for search engines, which is always essential for authors to remember. Power mode allows you to search Jasper AI templates to take your content to the next level.
SEO Surfer integration to rank your content and Power Mode with long-form content templates, such as website clothing product descriptions. Also included is Focus Mode, with simple content options
The AI writing software has two modes: the "assistant" and the "writer." The assistant mode will generate ideas for you to choose from based on your preferences or what you want the AI writing assistant to write about.
In the writer mode, it will take over your keyboard and start writing automatically based on what you have already written in the past.
Features
You can write full-length documents with AI-aided outputs using a long-form document editor.
With the plagiarism detector, you can write without being accused of plagiarism
Speed writing can create a great post or article within minutes!
Integrates with SEO Surfer, a tool for optimizing your content to rank in search engines and analyzing keywords
With enough parameters, this AI writer can almost write your articles for you
Ability to join a Facebook community that offers support, job opportunities, and more
Provides support for multiple languages
Pricing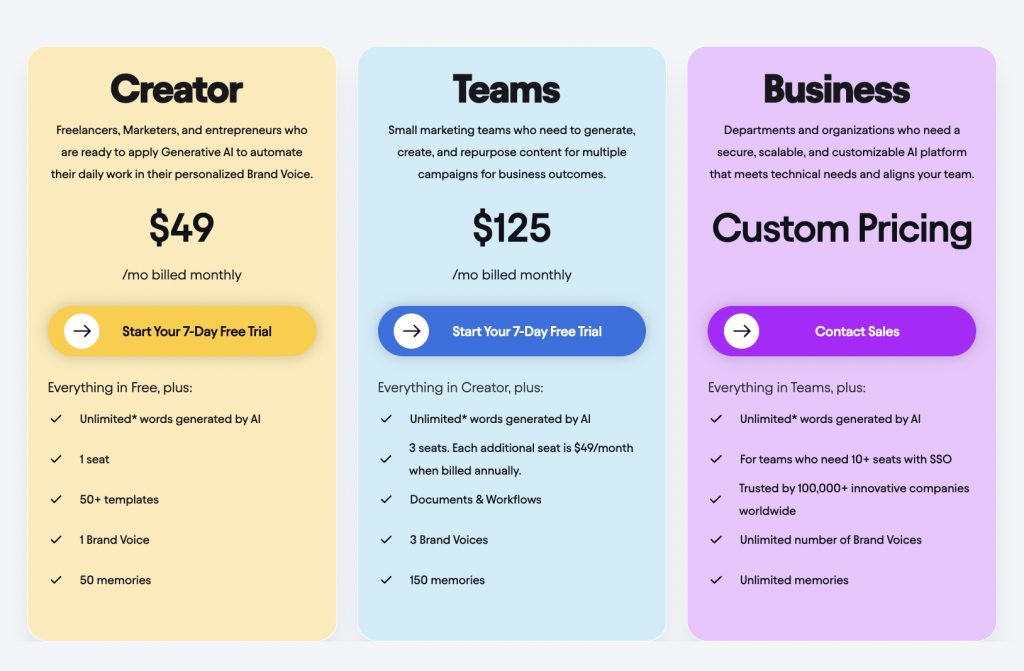 Jasper has three paid plans:
Creator Mode: $49/month for unlimited words
Teams: $125/month with unlimited words, 3 seats, and 3 brand voices
Business: Custom pricing
While there's no "official" free trial, you can get a 10,000-word credit using my Jasper AI free credit link!
Bottom line
Jasper is the best AI novel writing software because of all the different things it can do. If you are writing novels and considering utilizing the web to promote your work (which you should), Jasper offers the ability to write specific SEO content.
Note: Jasper no longer offers an unlimited mode, so while it's excellent, you must limit yourself to a specific word limit per month.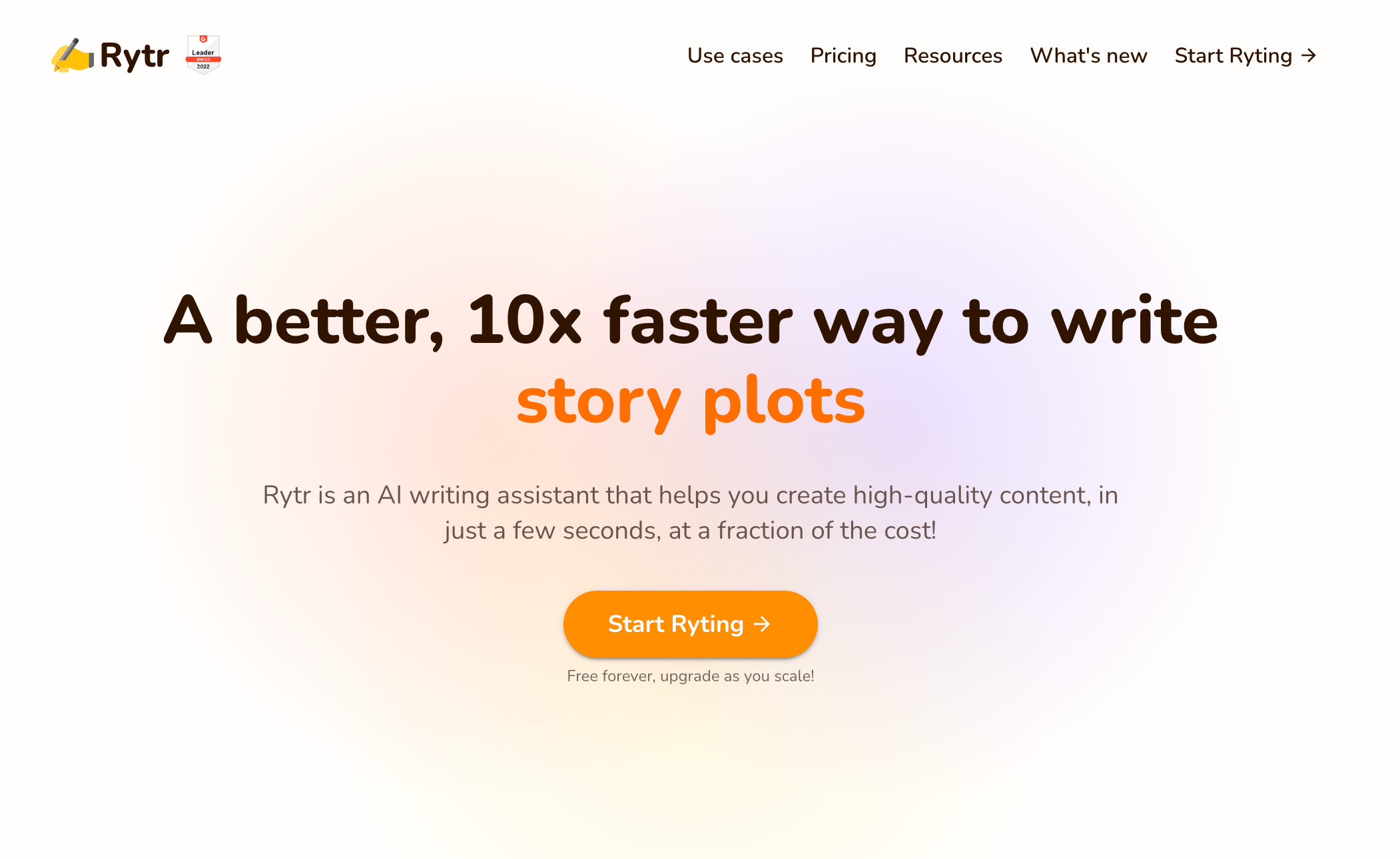 Overview
Rytr.ai is an AI writing software that helps you write novels and beyond. Even though I find the spelling cringeworthy, the tool is friendly! It has a free version, AI tools I like, and a fully-built document editor to work inside.
It has many of Jasper's templates, but I like its explicit features to help you generate story ideas. This makes it especially well-suited as an AI novel writing software to help with writing.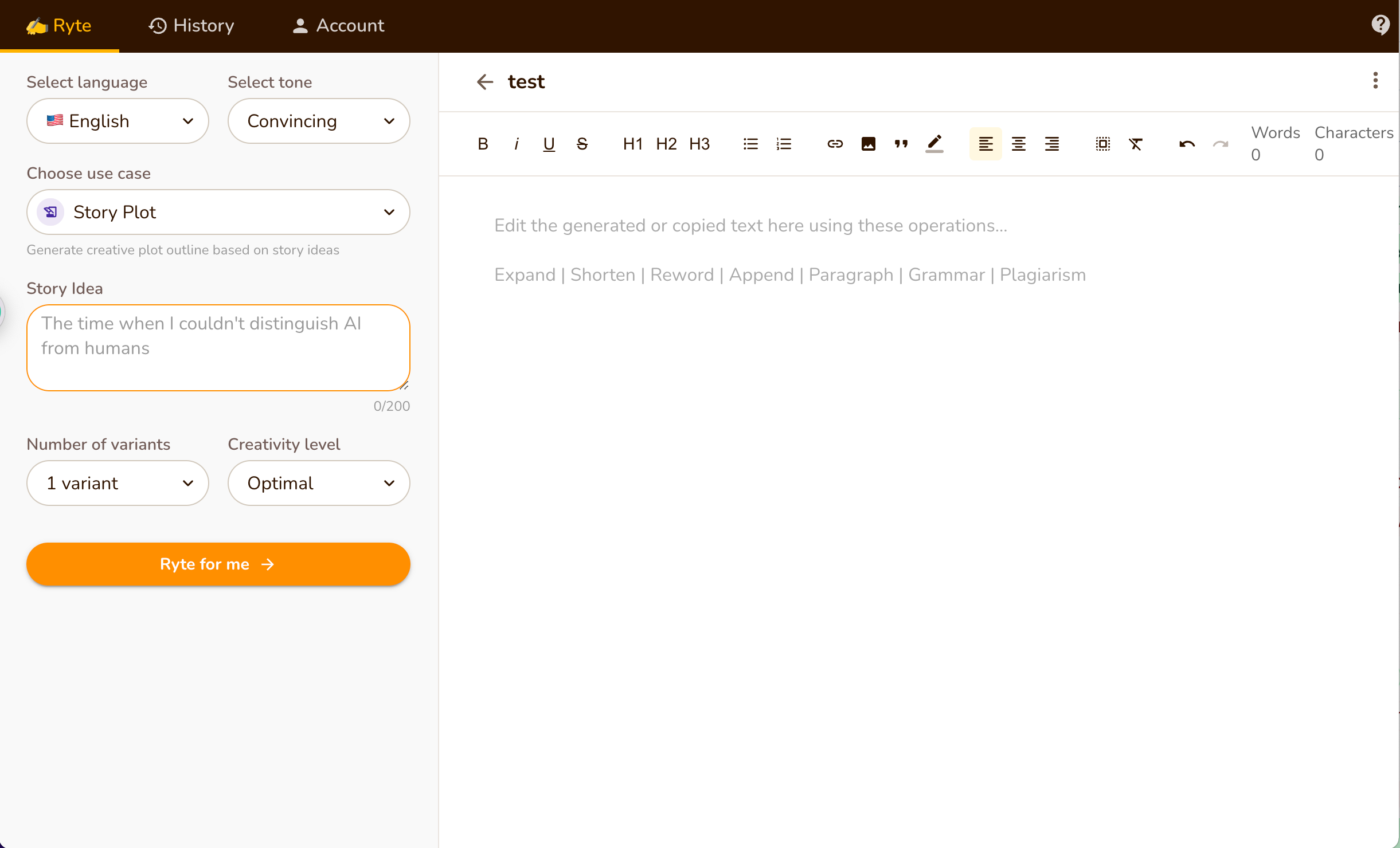 Features
AI tool quality content generation with tone checker, character count, and word count
Plagiarism checks ensure your work is original
Grammar check for your writing to make it professional-level.
Discover what works best for your idea by generating content from our vast library of over 2,000 ideas.
Personalize your content with a professional touch using Form Generator
Pricing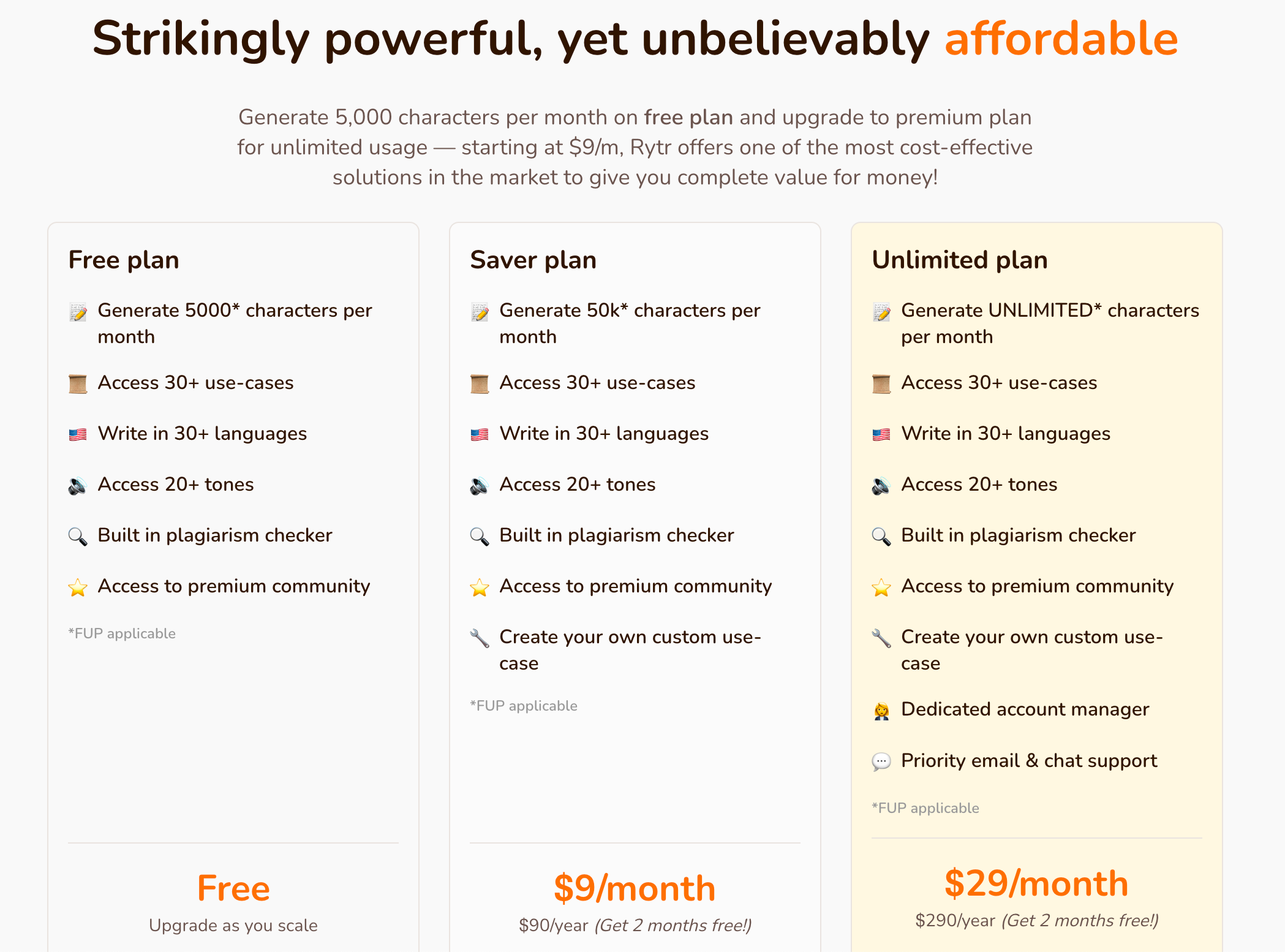 Free forever plan
Saver plan: $9/month
Unlimited Plan: $29/month
Bottom line
If you want a much more affordable AI writing software option than Jasper, try Rytr.ai! Its simple user interface allows you to focus on your creative writing skills rather than trying to figure out a complex tool.
Unlike Jasper, Rytr offers an unlimited plan to generate unlimited words.
Your brainstorming partner: ChatGPT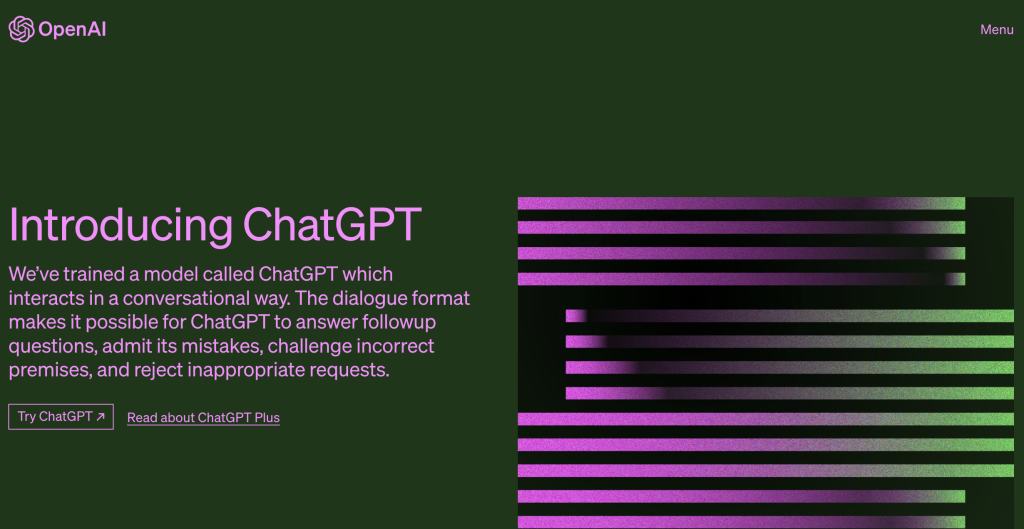 Overview
ChatGPT is incredibly popular. And for a good reason! It has made interacting with an AI large language model user-friendly and fun.
ChatGPT can help you write a novel in a few different ways. For fun, I asked ChatGPT how it could help someone write a book, and it gave me some ideas.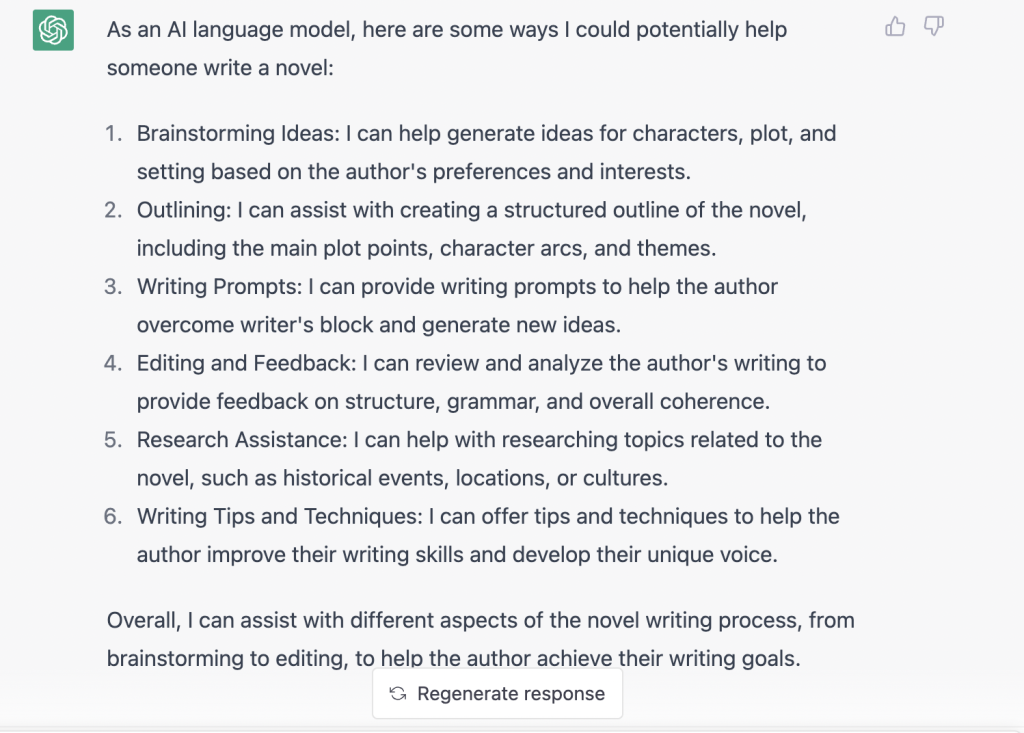 I can't entirely agree with all of the ways ChatGPT says it can help you. ChatGPT can be a great outlining, brainstorming, and idea generator for AI writing programs.
However, I'm not so sure about ChatGPT being able to provide you with editing and feedback and research assistance.
The editing and feedback might be a good starting point for some pointers, but it would never replace a skilled editor.
You have to be careful with using ChatGPT for research assistance. ChatGPT is not a search engine. It's a program that has scanned the Internet at a particular time but does not know current events or whether the information it's pulled from the Internet is correct.
Features
Type in a question or a prompt to get a response back from Chat GPT after searching the Internet for the answer
Intelligent human-like feedback and conversational feel to the answers provided
Use Chat GPT to generate ideas or determine a popular topic to discuss.
Pricing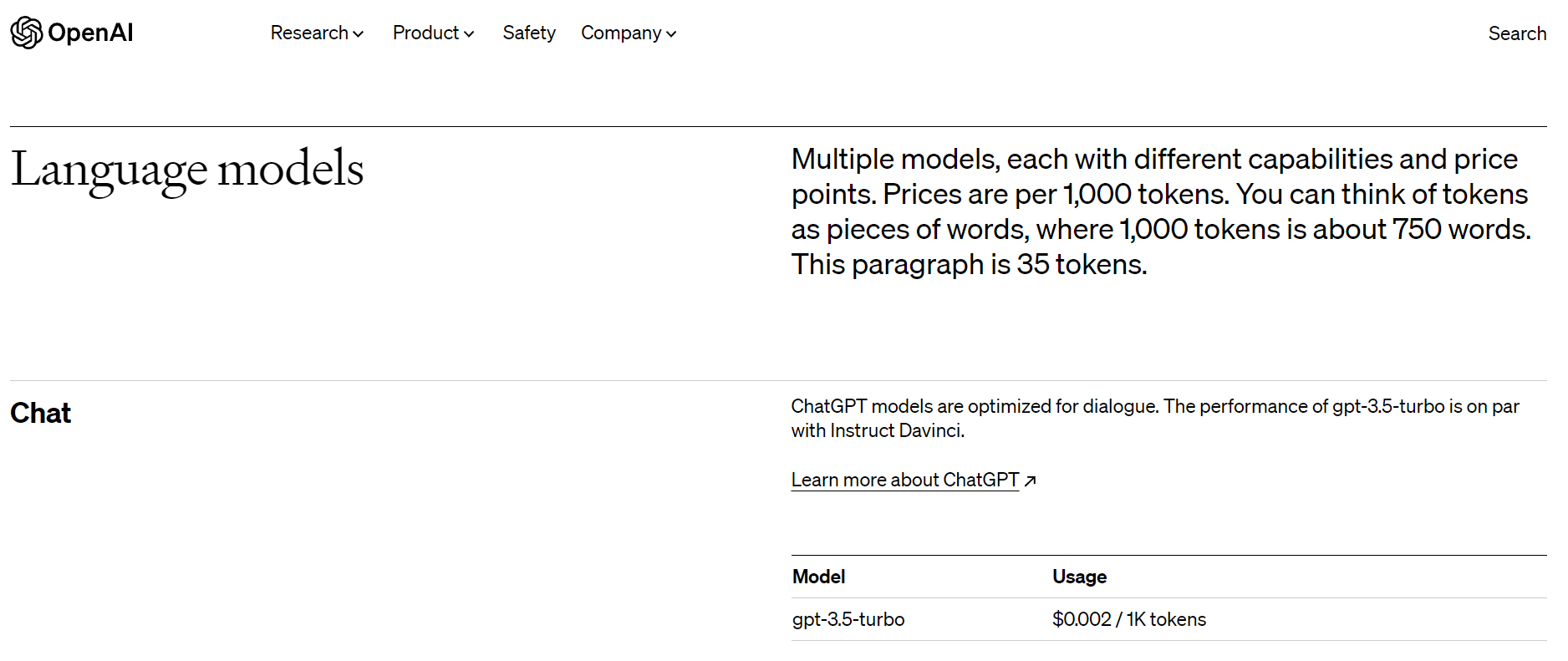 Free (for now)
ChatGPT Plus: $20/month subscription plan
Bottom line
ChatGPT is a lot of fun and could be what you need to get unstuck.
You should use caution when using it for any research-related purposes; even if you use it to generate ideas and develop topics, you should always fact-check the answers generated by Chat GPT.
It is a beneficial AI writing software tool that helps you avoid writer's block, develop ideas you didn't think of, and start the creativity flowing.
Rework your content with Quillbot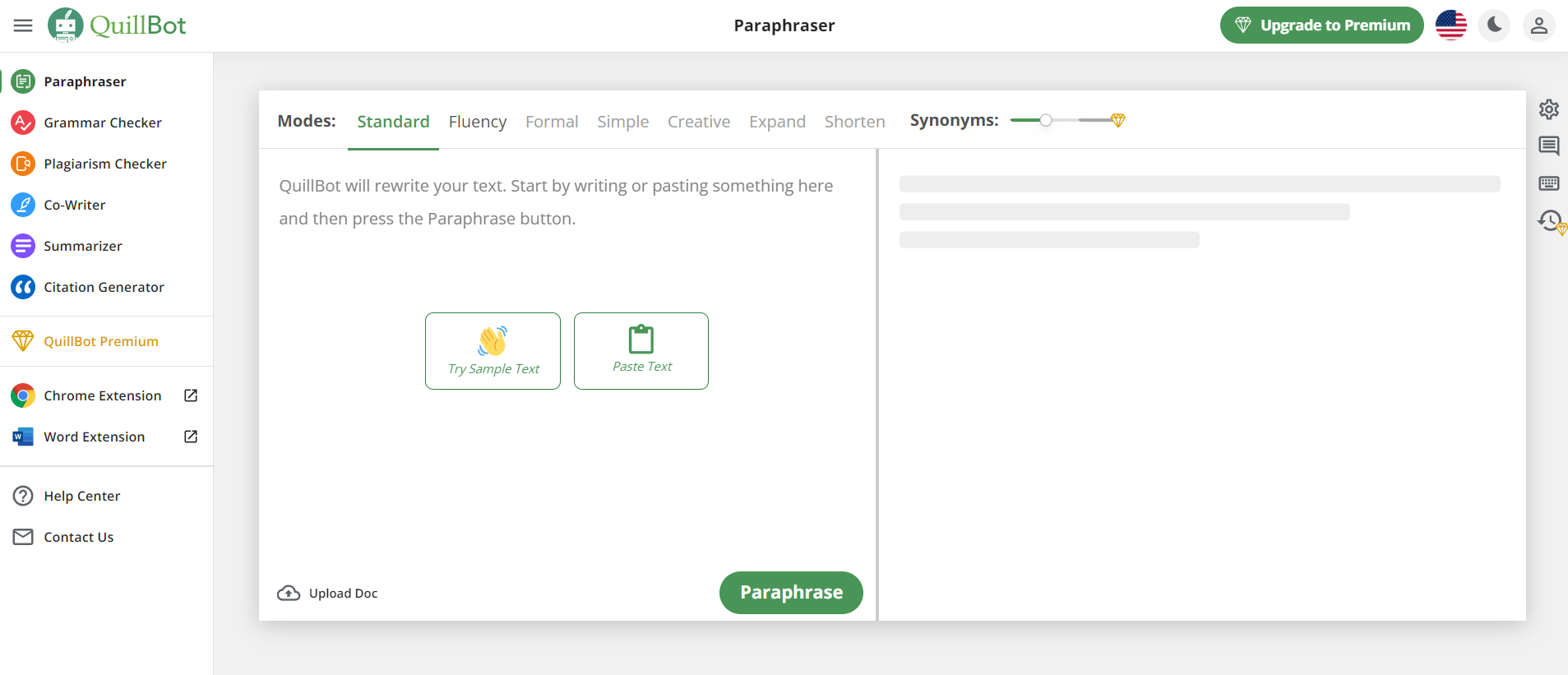 Overview
Quillbot allows you to conduct your creative writing without worrying about grammar – so you can focus on your writing style and less on the over-consuming writing process.
It is easily one of the best AI novel writing software you can get without paying for a premium service or subscription. It can dramatically correct sentences, understands and utilizes natural language processing, and uses machine learning to save time throughout your writing.
Quillbot is one of the AI writing tools that lets you write content with a built-in plagiarism checker and gives access to novel writing tools.
Features
Grammar checker to make sure you're writing grammatically correct sentences every time with an AI novel writing tool that makes it easy to use.
Plagiarism checker to ensure your content is 100% yours using a helpful and easy-to-use AI writing tool.
They also have a Chrome Extension that you can incorporate into your writing process to help when you don't want to write inside the platform but still want to prioritize the quality of your novel writing software.
Pricing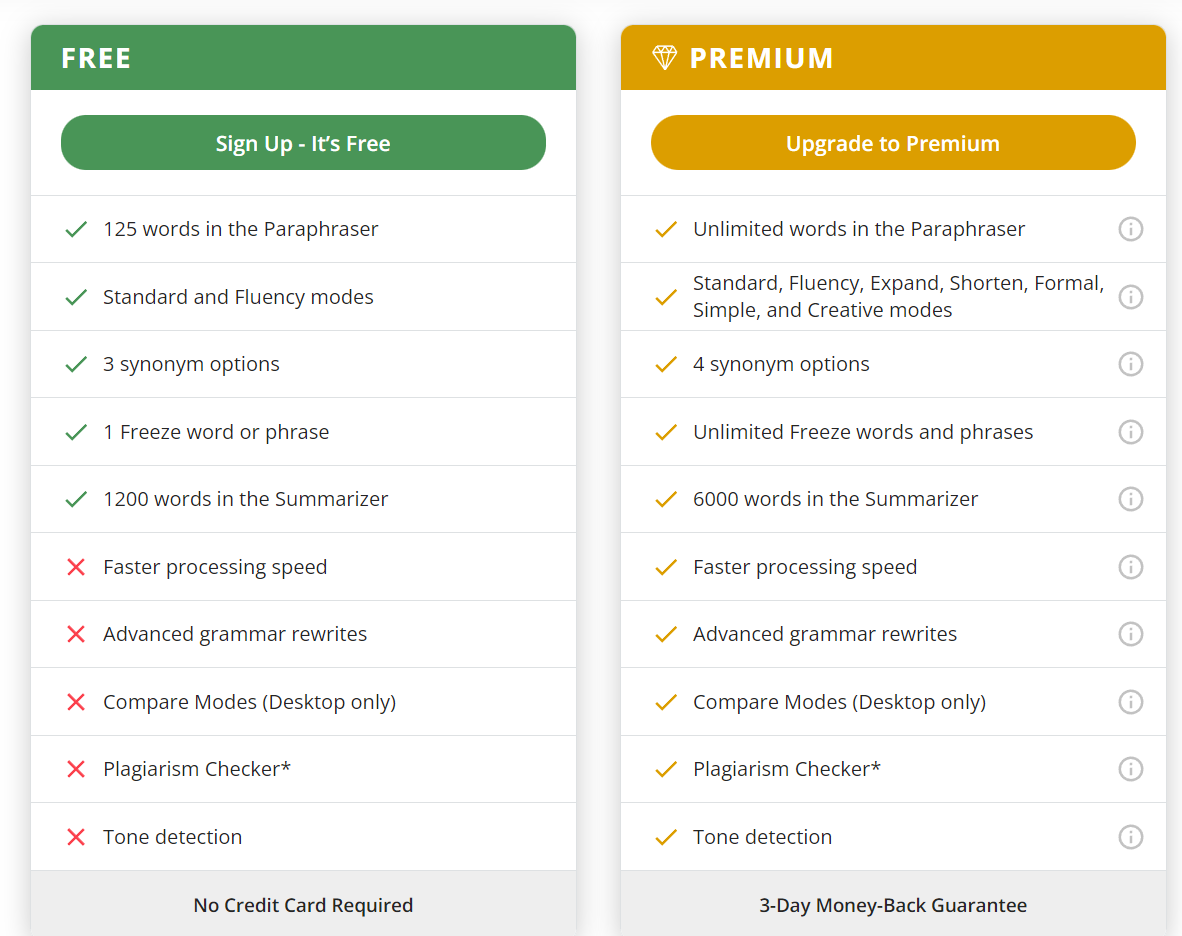 Quillbot has a free and premium plans:
Free Plan: 125 words in the paraphrase and standard and fluency modes with 1200 words in the summarizer
Premium: $19.95/month
Bottom line
Quillbot is a fantastic AI writing tool that gets you to focus on the writing and less on the editing part. It helps you throughout that writing process by giving you prompts and helping you write.
Novel writing doesn't have to be difficult, and long-form content can be overwhelming when you don't have the right tools.
Make fiction writing easier with long-form content AI software that takes the guesswork out of writing.
Beat writer's block with Sassbook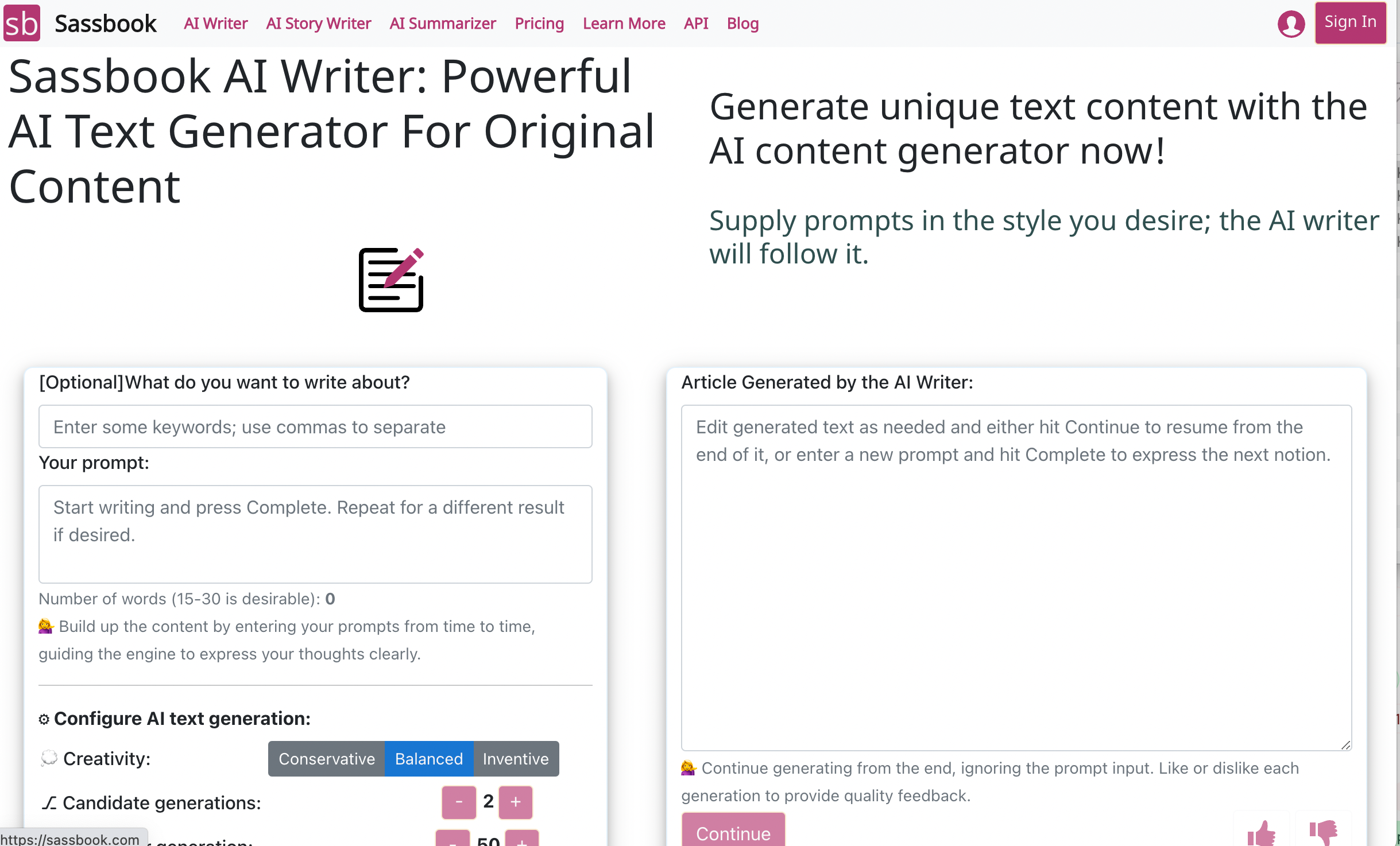 Overview
Sassbook is a powerful AI text generator. If you want something free and simple with no frills, check out Sassbook!
You can put in some keywords and your prompt, and then Sassbook will generate content for you. To train the AI, you rate it with a thumbs up or down.
Features
AI writing software to help you generate paragraphs and short-form content.
AI fiction writing software to write long-form content and stories
AI headline-writing software
Pricing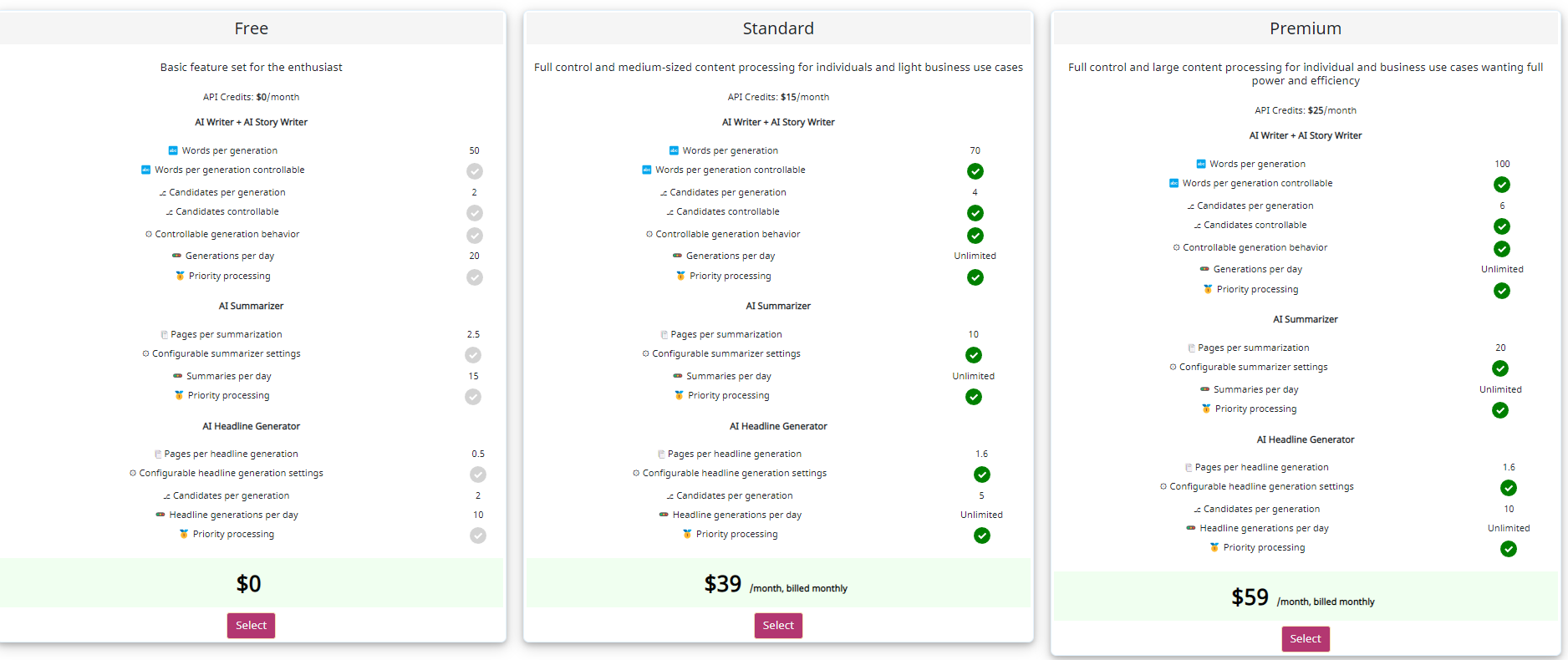 Free Plan
Standard Plan: $39/month
Premium Plan: $59/month
Bottom Line
Sassbook is one of the more helpful AI writing tools, but it does not replace some of the more advanced AI features that Sudowrite, Jasper AI, and Rytr AI offer in their AI writing software options.
However, if you want to dip your toe in the waters of AI, try Sassbook out! I don't think you'll get the whole user experience that Sudowrite, Jasper, and Rytr offer, though.
I recommend doing Jasper's free trial or Rytr's free version to see how you like them.
Proofread your content with Grammarly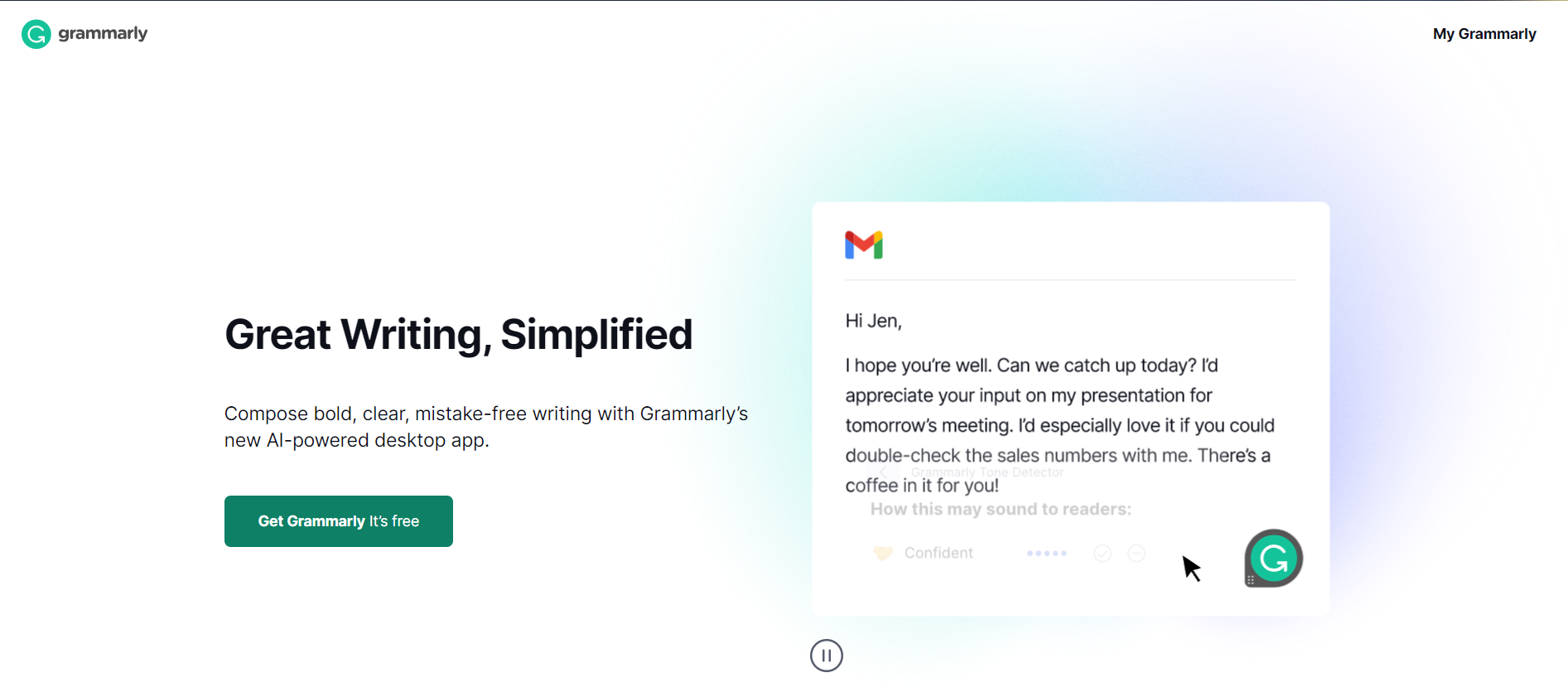 Overview
Grammarly is an AI tool that helps you craft high-quality content by ensuring you write grammatically correct sentences that come across clearly to your readers.
Grammarly can be used as a browser extension, an app you download, and directly on the website. As a browser extension or computer app, Grammarly appears on top of whatever you're currently working on as a small button that you can click on when you want to check your work. You can copy and paste your work on the website or use Grammarly as your workspace for writing.
I recommend using Grammarly before you get anyone else to look at your work. It does not replace an experienced editor, but it does speed up the editing process and allows the editor to focus on helping you write a bestseller.
Features
Grammar checker both in the platform and integrated into your browser through the browser extension.
Integration within Google docs
Monthly overviews of your statistics with Grammarly and how your writing has improved using this AI writing tool.
Pricing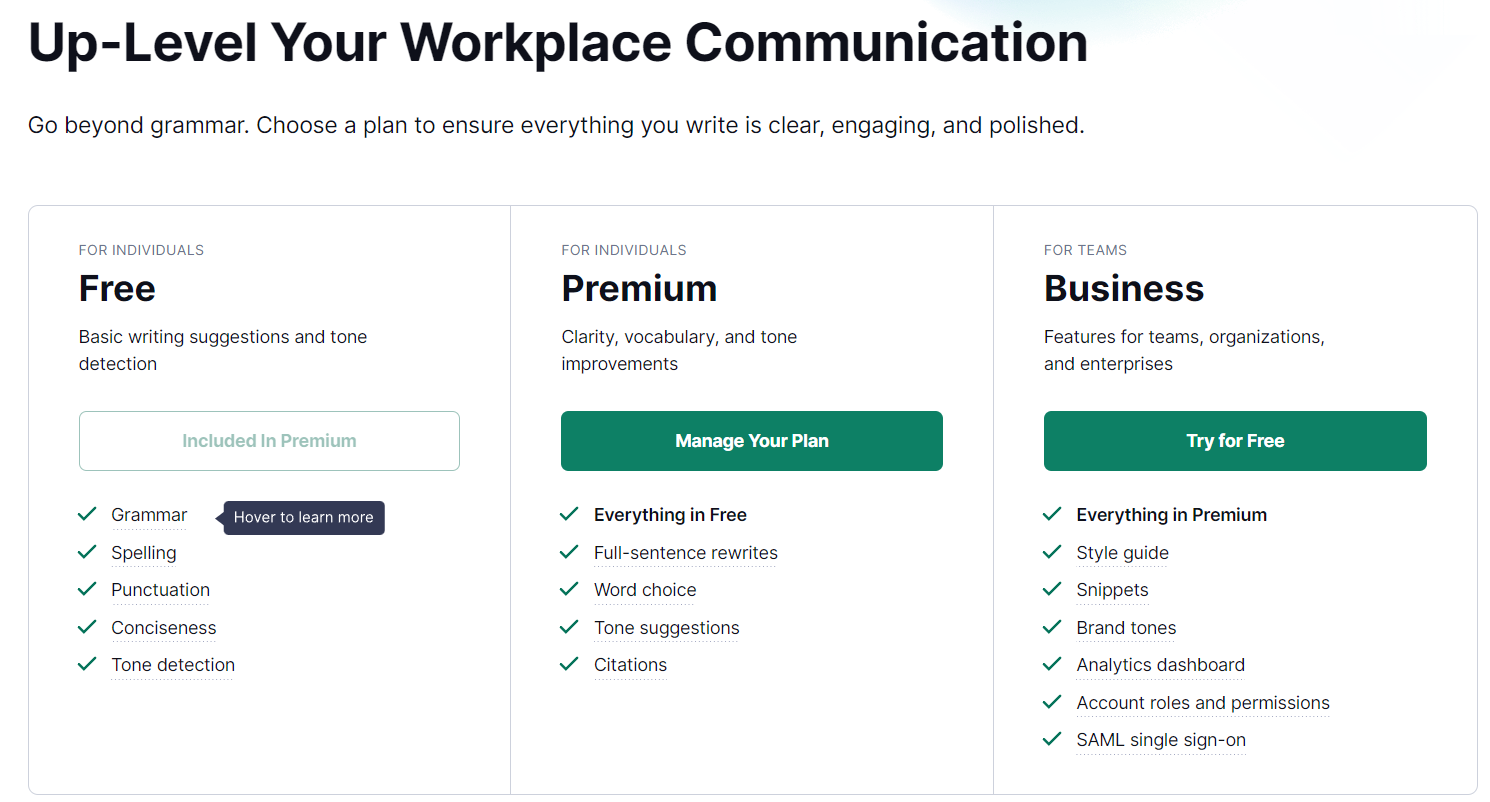 Grammarly has two paid plans and one free Plan:
Free: grammar, spelling, and punctuation
Premium plan: $12/month with full-sentence rewrites and tone suggestions
Business plan: $15/month per member for a style guide, snippets, and brand tones
Bottom Line
There's no excuse not to use something like Grammarly if you plan to generate content. You'll save time and be able to focus on your writing skills and content creation process.
Hone your content with Wordtune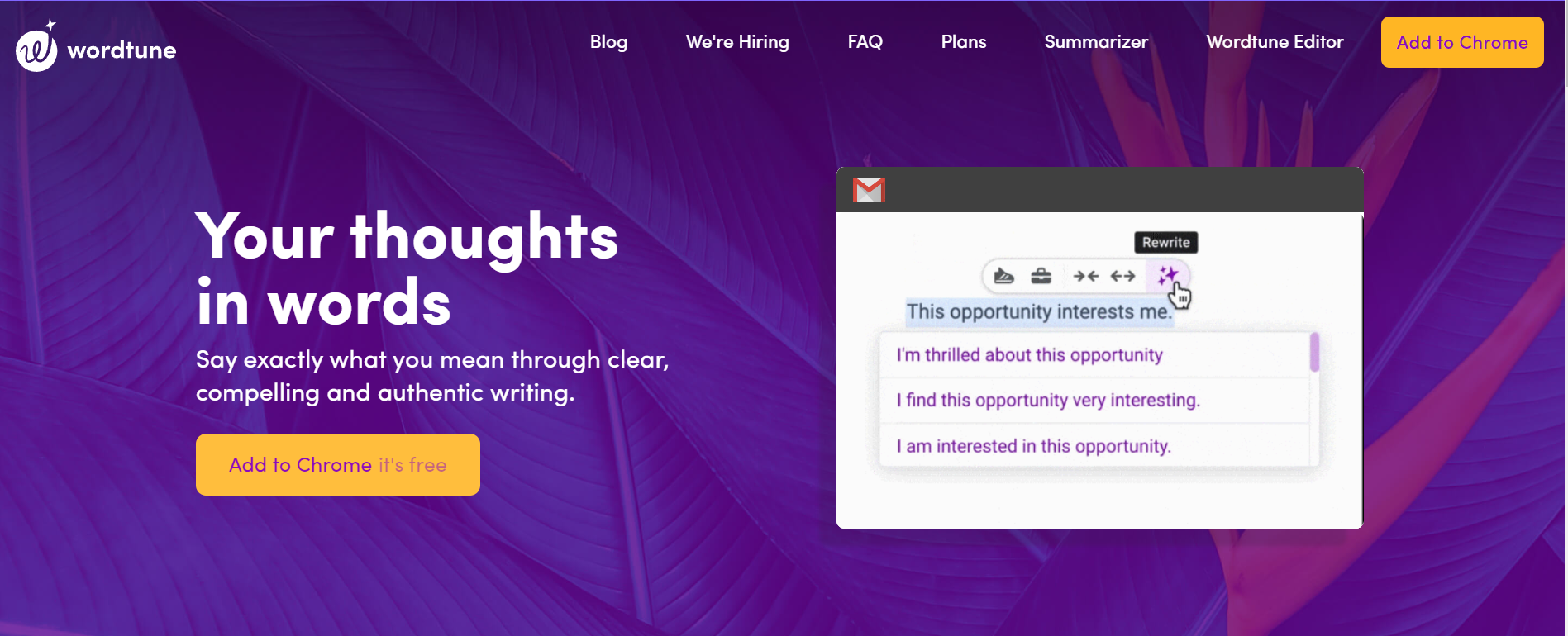 Overview
Wordtune is an ai writing style tool that allows you to rewrite and hone your wording for better clarity. It integrates with Microsoft word as an add-in.
Features
Rewrite your text
Alter the tone of your content
Expand or shorten your content writing
Spelling and grammar checks
Microsoft Word integration
Pricing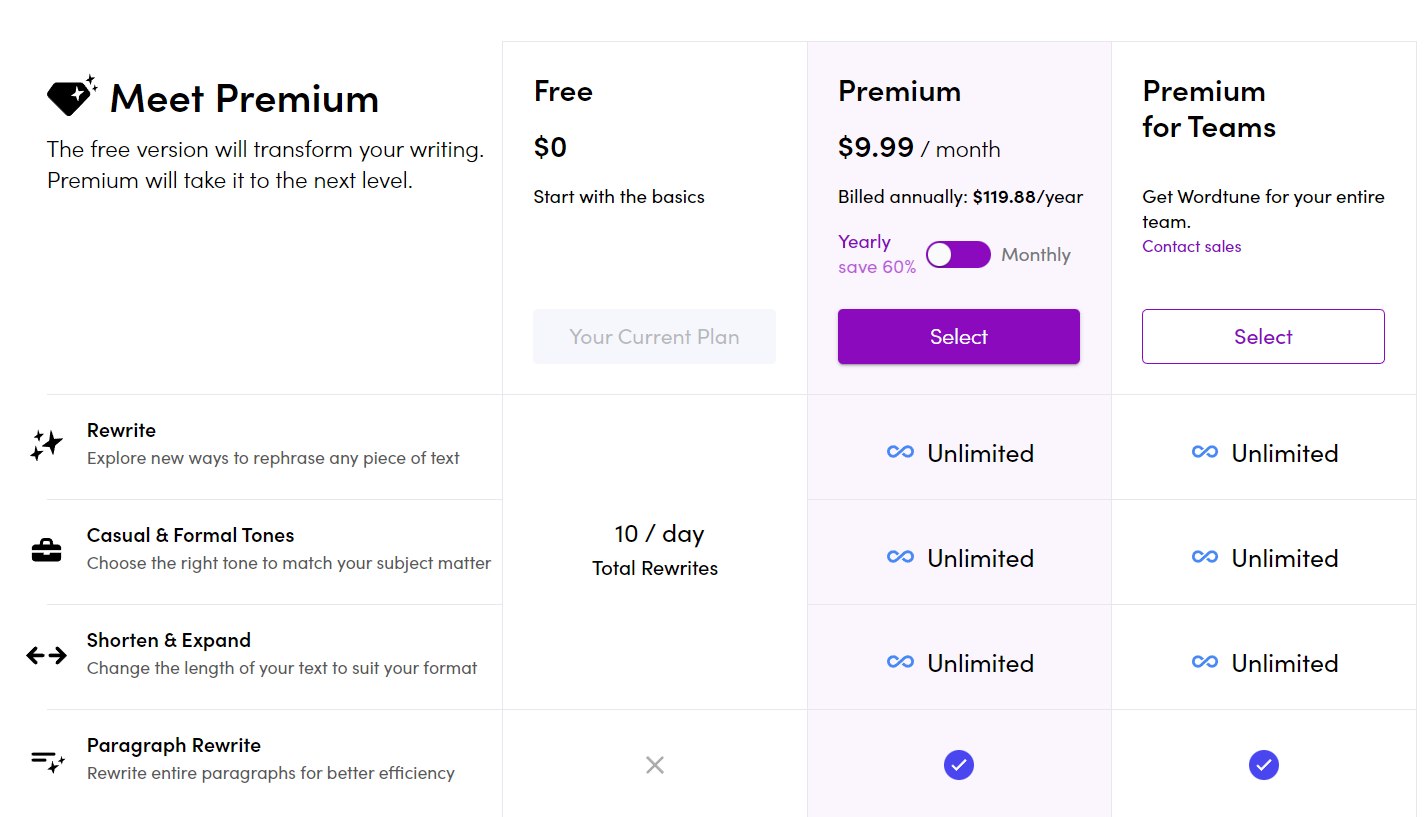 Free forever plan
Premium: $9.99/mo
The premium for teams: Contact them
Bottom Line
Similar to Grammarly, it does help fix grammar mistakes and works as a browser extension. For me, Wordtune excels in the content rewriting space. Grammarly is much more rigorous in fixing grammar. I use them both together.
Analyze your manuscript with Authors.ai
Overview
Authors.ai is a free AI novel writing software program that allows you to upload your manuscript and get a detailed book analysis.
Authors.ai will tell you how much your book is dialogue vs. narrative, analyze your sentence structure, and compare your writing style and overall formatting with bestsellers.
Features
Subject and pacing analysis to ensure your subject matter is accurate and the novel's pacing makes sense.
Readability score, because your novel won't sell if it's unreadable
Cliche finder is great if you want to express sentiments without sounding cliche.
Pricing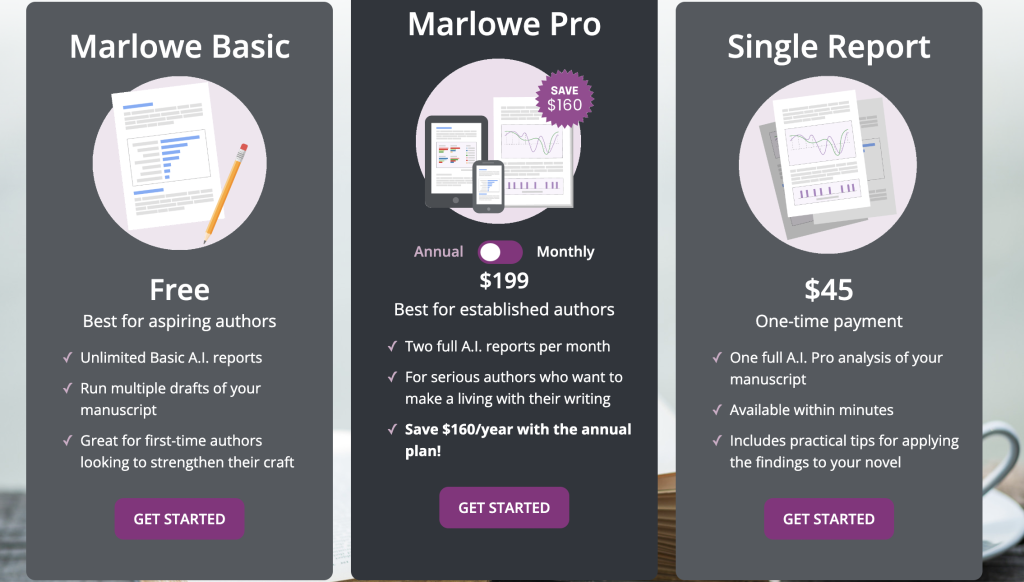 Marlowe Basic: Free
Marlow Pro: $199/annually
Single Report: $45 one-time payment
Bottom Line
This is a helpful tool for looking at your book overall. In fiction writing, it's important not to have too much description vs. your dialogue.
Come up with ideas with AI Dungeon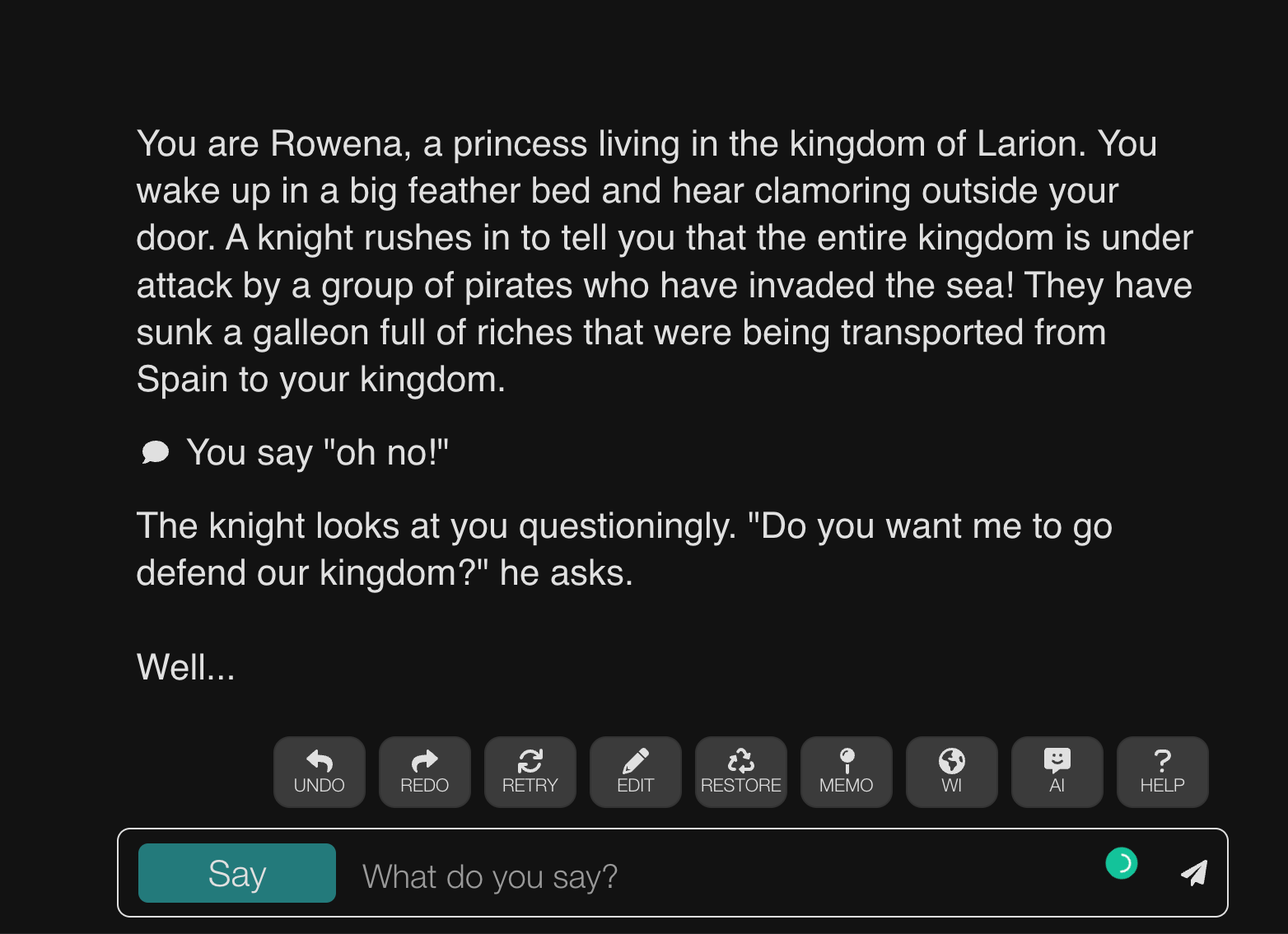 I included AI Dungeon as a fun honorable mention to help write creative text. Essentially, it allows you to play Dungeons and Dragons with an AI. It pulls from the traditional text choose-your-own-adventure games.
Pricing

Free to play, with additional levels and games you can purchase.
Bottom Line
Take a break sometimes and allow yourself to play a bit!
What is AI novel writing software?
This software simplifies the process of writing a novel – making it easier for you to use your creativity for the content rather than the structure, grammar, and subject matter accuracy.
Writing a novel can become overwhelming, but the best AI novel writing software is designed to make the entire process seem effortless as you create the plot, characters, world-building, and the other creative aspects that go into writing an outstanding novel.
Let the AI writer generate a baseline of content for you so that you can focus on the creativity and the details!
Is AI-generated text plagiarism?
AI-generated content-writing software tools ingest a lot of examples of data that train their algorithms to produce content.
Artificial intelligence is designed to take that example data and create something new, not rehash what's already out there. Most AI writing software options have checks in place to prevent plagiarism.
Can an AI write a novel?
AI-novel writing software is still in its infancy, and it is hard for them to create engaging plots, making writing novels challenging. However, there are some use cases where AI writing software has been used successfully, such as generating content for an online course.
Some people might think that the quality of the novel would be lower than if a human wrote it, but this isn't always true. Many examples of books written by AI have received praise from readers. One example is "The Day A Computer Writes A Novel" by Patrick Malone and David Levy, published in 1973.
Now that might sound a bit scary at first. It's easy to think that AI will steal your jobs. Think about it, though, because AI is doing the tasks you used to do, does that mean you can't do anything anymore? Did you even like those tasks?
I believe artificial intelligence can be used effectively as a tool to be a creative brainstorming partner, overcome writer's block, produce professionally written content, and publish faster.
How does AI novel writing software work?
Artificial intelligence's learning process occurs through exploration and various machine learning techniques. Once an AI system is in place, it works in the background without understanding the process.
The AI does not know that you are creating a novel. Using an extensive vocabulary, this program identifies patterns in word meanings. In turn, AI can be used to develop AI writing styles based on these patterns.
As a result of natural language processing, AI software learns to use the most critical word in a sentence while avoiding repetition.
How do I pick the AI novel writing software for me?
The best novel writing software tools depend on your personal preferences and needs. Sudowrite is the best ai writing software and tool, the most user-friendly and oriented toward fiction writers.
Jasper is the most robust AI novel writing software tool, but if you want a more affordable option, check out Rytr.
For some helpful AI writing tools to assist you, consider Grammarly and Wordtune. For a sanity check when you have your first draft, try out Authors.ai.
AI novel writing software will be invaluable for writing novels, blog posts, science fiction, non-fiction, or fantasy.
Check out my list of AI productivity tools to learn how AI can help you in other ways!
Final thoughts
When writing a novel, AI tools can help ensure that your novel is readable, conveying accurate information when needed, and free of grammatical and spelling errors.
You can create an outstanding novel with help from the best AI writing software available – making novel writing straightforward.
All of the AI writing tools we covered in this article are designed for writing long-form novels and with you in mind -the writer – who wants to ease the process and make the editing a breeze.