7 Best AI Time Management Tools of 2023
We've already talked about how AI can help you with video editing, content creation, and general-purpose writing – but it can also help you with time management and better track time spent on particular projects and tasks.
This article will review the best time management apps for individual use and collaboration with team members.
What Are the Best AI Time Management Tools?
The best time management apps are the ones that prioritize time tracking, and project management, allowing you to utilize them on both Mac, Windows, iOS, Android, and have easy-to-use software.
These tools make it easy to increase productivity, collaborate with a team, and ensure you never miss a project deadline.
Most task management tools have a free version or a free trial, so you can test the program and app to see if it fits your needs. Trevor has a simple drag-and-drop interface that makes it super easy to use.
Trevor
Overview
Trevor is designed to boost productivity by allowing you to create time blocks for your most important tasks – and to encourage you to only focus on that task during its assigned block.
Your time spent determining what to do when is now planned and prioritized with the help of Trevor. You can collaborate with team members and see everyone's time blocks in your team.
Keep track of your biggest projects and stay focused with the help of this time management app.
Highlights
Integrate your task management from Trevor to other apps and tools, such as, To Do List, Native Tasks and Calendar, Google Calendar, and Outlook.
Deep work features allow you to create an intense focus and work mode within your original time blocks.
You can tag specific tasks and projects as life-related or work-related – this is what they call the CEO method. Tracking your time management for both your life and work can help you prioritize and give you the task manager you need to complete tasks.
Pricing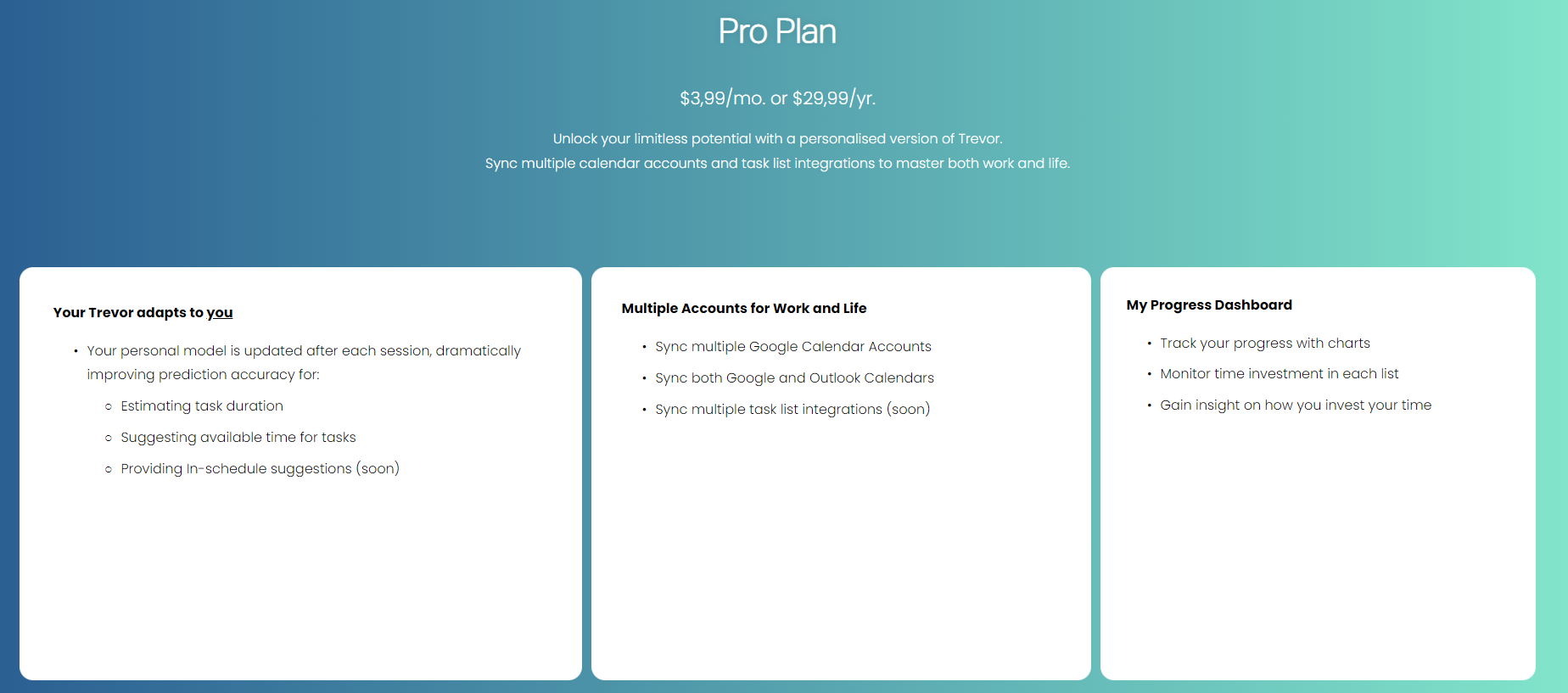 Trevor has a free plan and a pro plan
Free version: unlimited time blocking and syncing for one calendar app
Pro plan: $3.99 per month to sync multiple calendar apps and tools and a progress dashboard
Bottom Line
If you're looking for an intuitive project and time management app, Trevor has an easy-to-use interface, a time tracking software for both personal and work life, and gives you the freedom to manage your time how you see fit.
Limit the time you spend figuring out which project or task to start with and instead focus on meeting due dates and keeping track of your day.
With Trevor, tracking your time is as simple as drag and drop – leaving more time for your projects and tasks and less time spent organizing your calendar.
Timely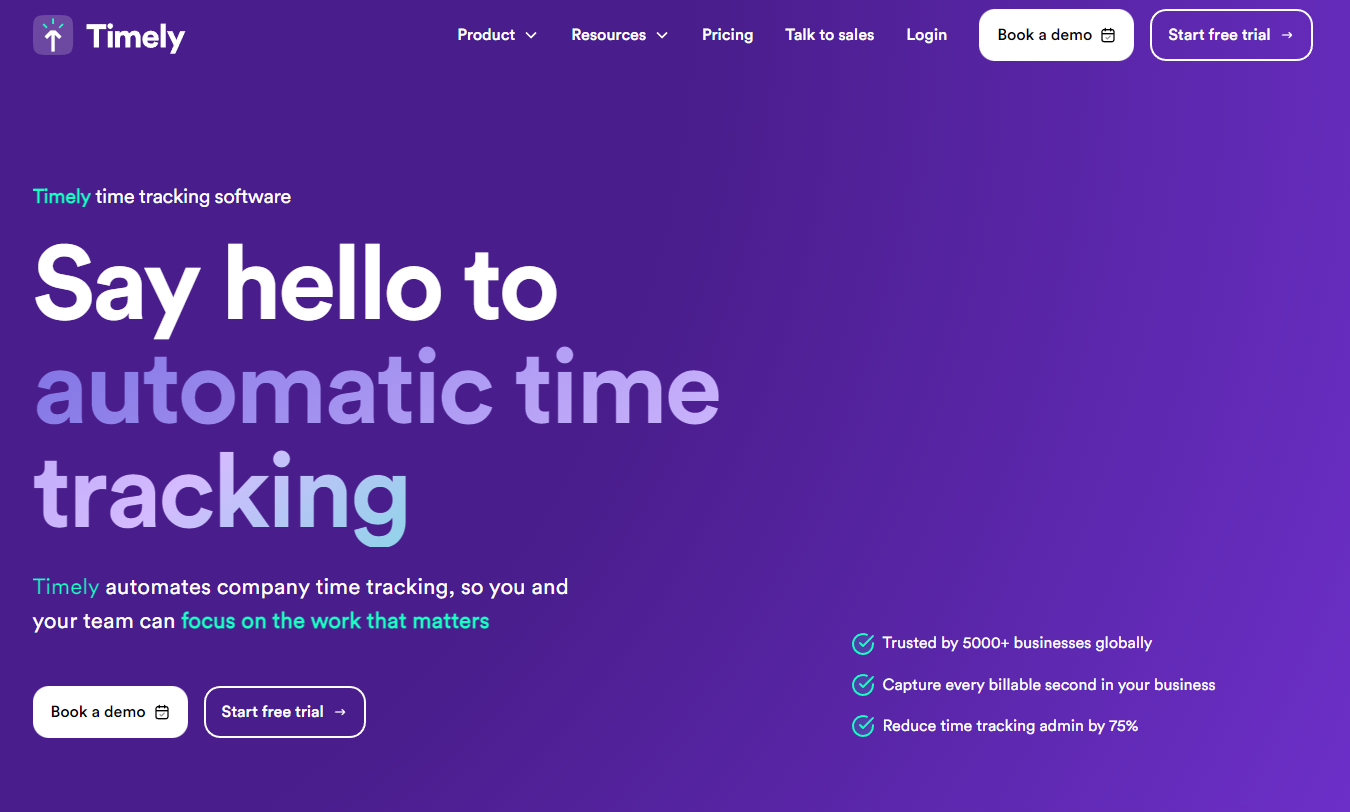 Overview
Timely is one of the best time management apps for businesses and companies that want to manage their team without sacrificing work time.
You can track your time, projects, and team members and get feedback on the plan you've created and how they performed in real time.
If you're looking for even more productivity tools to add to your arsenal – Timely should be one of them. It has an easy-to-use interface and allows you to integrate the tools into popular apps through browser extensions
Highlights
Integration for Google Calendar, Gmail, Outlook, Quickbooks, Microsoft Teams, and more. A tracking app that goes where you go can quickly create an entire network of practical management tools.
You can get a free trial to see if the app works for you, and they have a mobile application for Android and iOS so that you can boost productivity even on the go.
It's also a great tool for entrepreneurs and service-based businesses who need to keep track of their billable hours for working on a particular project.
Pricing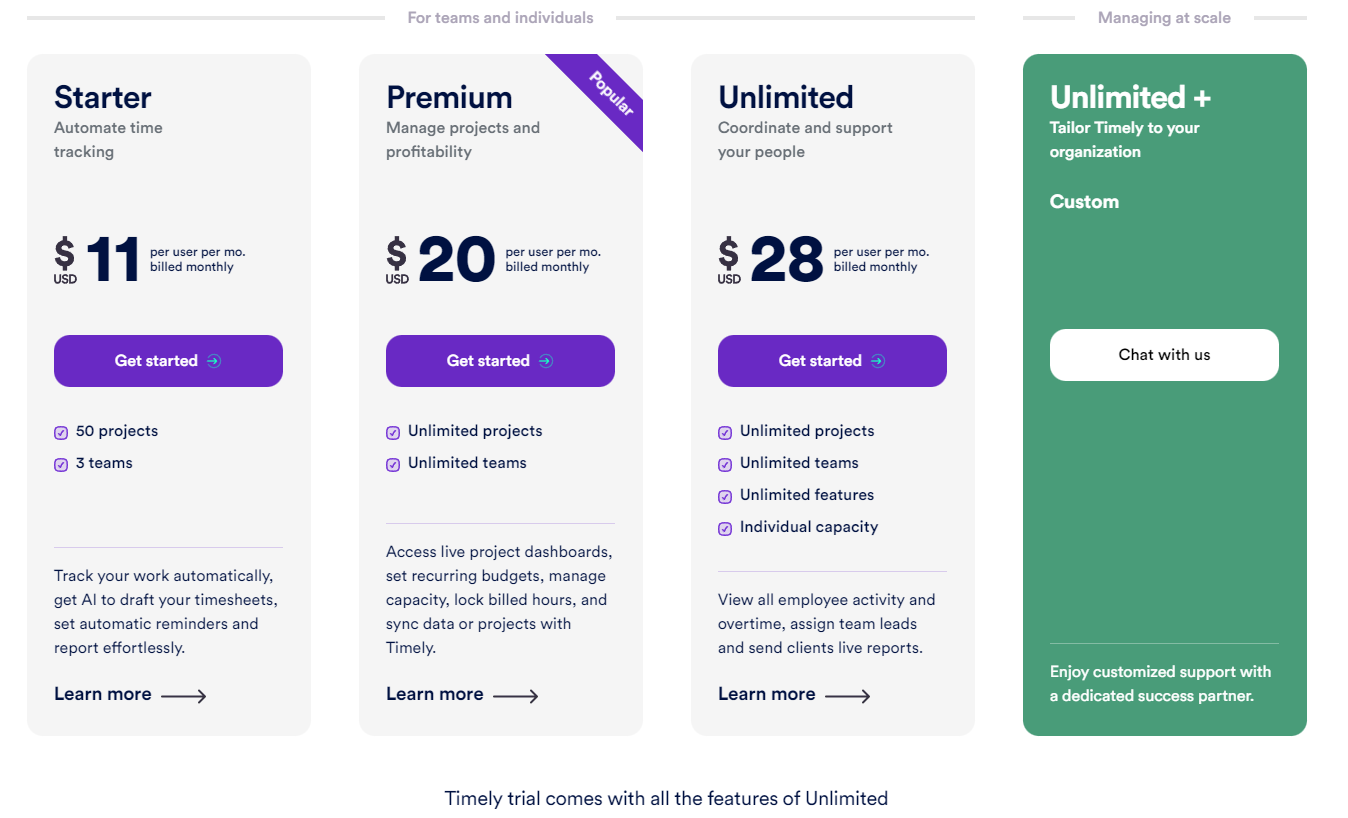 Timely has three paid plans and a custom plan for big businesses:
Starter: $11 per month for 50 projects and 3 teams
Premium: $20 per month for unlimited projects and teams
Unlimited: $28 per month for unlimited projects, teams, features, and individuals
Bottom Line
Timely is a user-friendly tool that helps you spend your time wisely when it comes to due dates and tracking time effectively. Time and money are two of the most important aspects of a functioning business – Timely allows you to save time and boost productivity.
Timely offers a free trial for one user to test their task management software through the browser extension or the app.
The price for each tier is incredibly reasonable, and since they offer a free trial, you get to try it out before you enter a credit card.
Time Doctor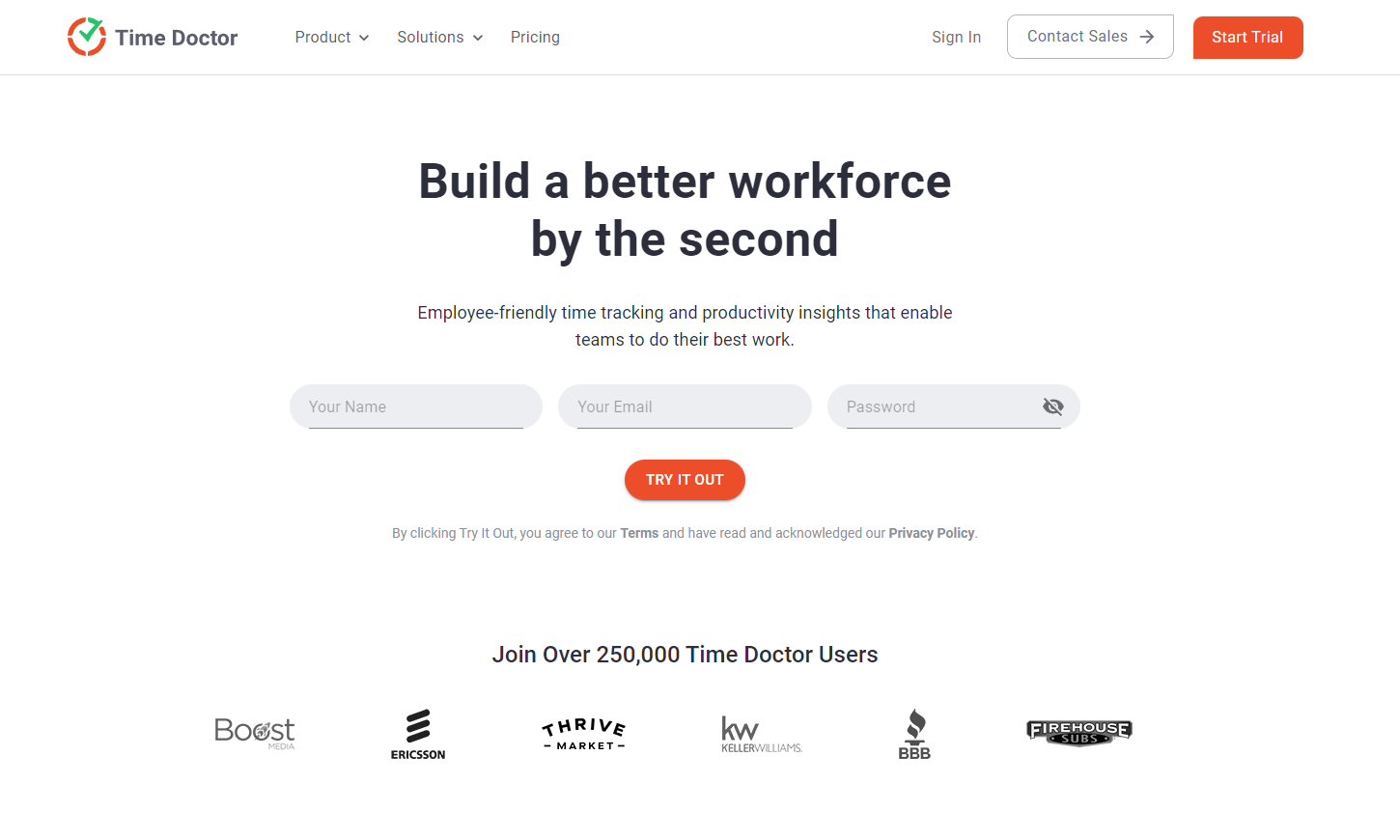 Overview
Time Doctor is designed primarily for businesses that want to actively manage their team members and effectively keep track of time per user.
Not only does it have a helpful time-tracking tool, but it also helps block distracting websites and helps employees stay focused on their tasks. It can be used on Android and iOS as well as Mac/Windows.
You can also utilize their notification feature to set reminders about distractions to help with productivity.
Highlights
Productivity measuring and summary reports per user as well as project management and budgeting tools to keep your business on track.
Email notifications to stay focused and up to date while on the go – the software will notify you of employees' time management and their reports.
It allows you to create a flexible work environment to help employees avoid burnout.
Pricing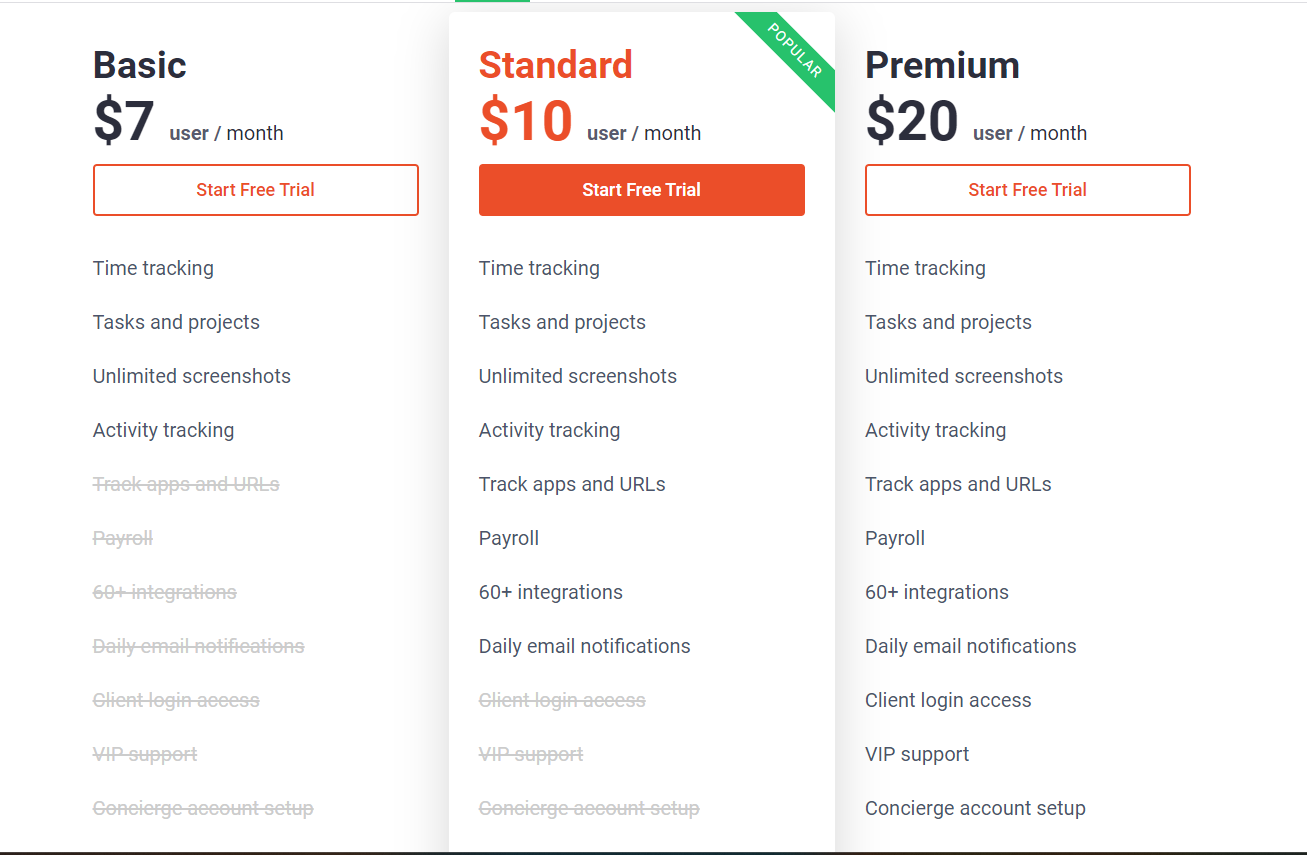 Time Doctor has three paid plans:
Basic: $7 per month for time tracking, tasks and projects, and activity tracking.
Standard: $10 per month for time tracking, tasks, and projects, payroll, and over 60 integrations
Premium: $20 per month for time tracking, tasks and projects, payroll, and daily email notifications
Bottom Line
If you're a more significant business that wants to manage your time more effectively and keep employees on task – Time Doctor is a great tool. It is user-friendly and allows extreme team management access on a cloud-based system.
Time Doctor is a software designed specifically for increasing your team's productivity by having them set reminders, utilize the Pomodoro technique, and keep track of their less productive time management.
The program has browser extensions and an app for iOS and Android – to help you track your progress on the go.
Motion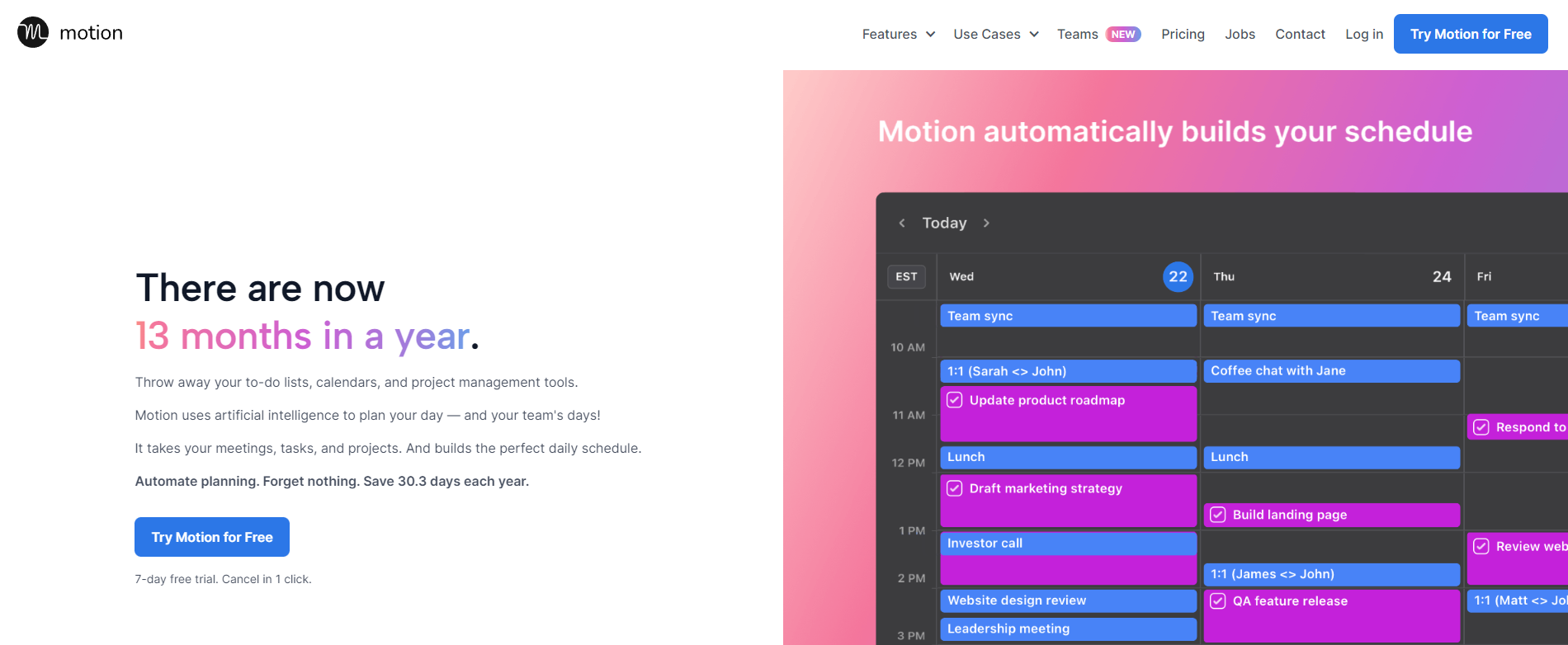 Overview
Motion is a new AI time management app that uses the intuitiveness of AI to put together your daily schedule without causing burnout. You are still in control of your schedule by entering your projects and tasks with their due dates. From there, Motion organizes and plans your week based on the deadlines you entered and any meetings scheduled.
This scheduling and AI time management type allows you to create a schedule that works for your specific tasks and the due dates that align with each.
You can use Motion to spend time getting things done instead of worrying about when to do them or what to prioritize. If you're part of a marketing agency, this is a great tool to add to your social media tools list!
Highlights
Free up time and get an entire extra month added to your year due to the less time you'll spend figuring out the best way to manage your time.
Collaborate with teams and use the software to better organize and assigns projects and tasks to your team.
Increase your productivity without missing important deadlines.
Pricing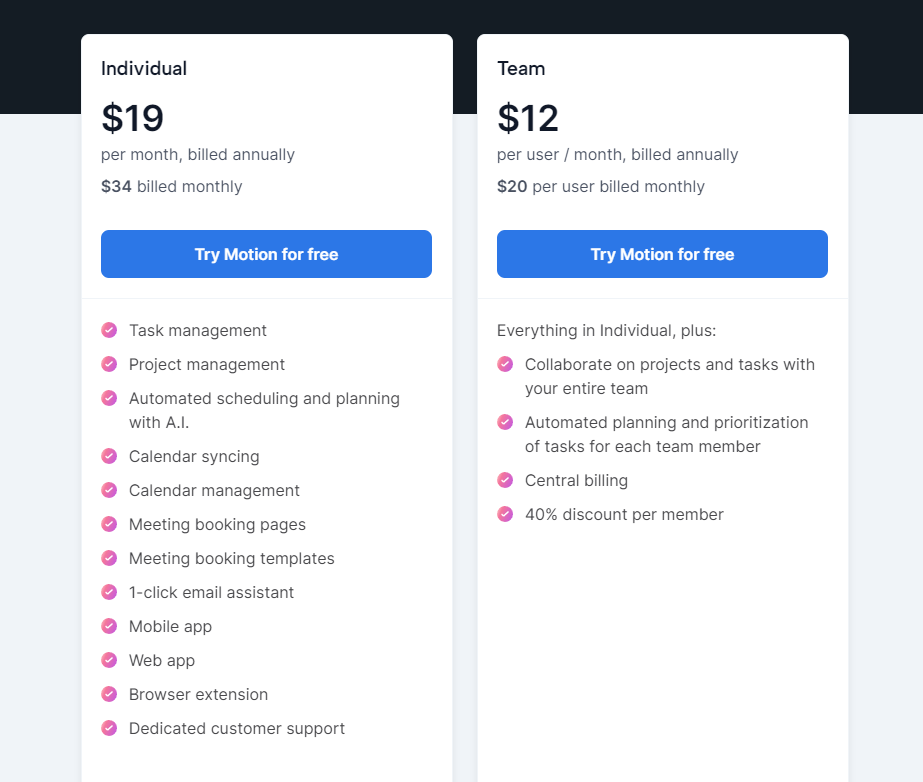 Motion has two paid plans:
Individual: $19 per month for project management and automated scheduling and planning with AI
Team plan: $12 per user per month for collaborating on projects and tasks with team members and automated planning and prioritization of tasks for each team member.
Bottom line
If you're looking for a user-friendly, done-for-you tool that aligns your tasks with their respective deadlines – unlike Google Calendar – for an affordable price, Motion is your go-to tool.
This software is fantastic when you know exactly what your tasks and projects are but don't know when and what to prioritize – Motion does it all for you.
Learn to increase your productivity by having Motion's AI organize your tasks and give you the best time management.
Calendar AI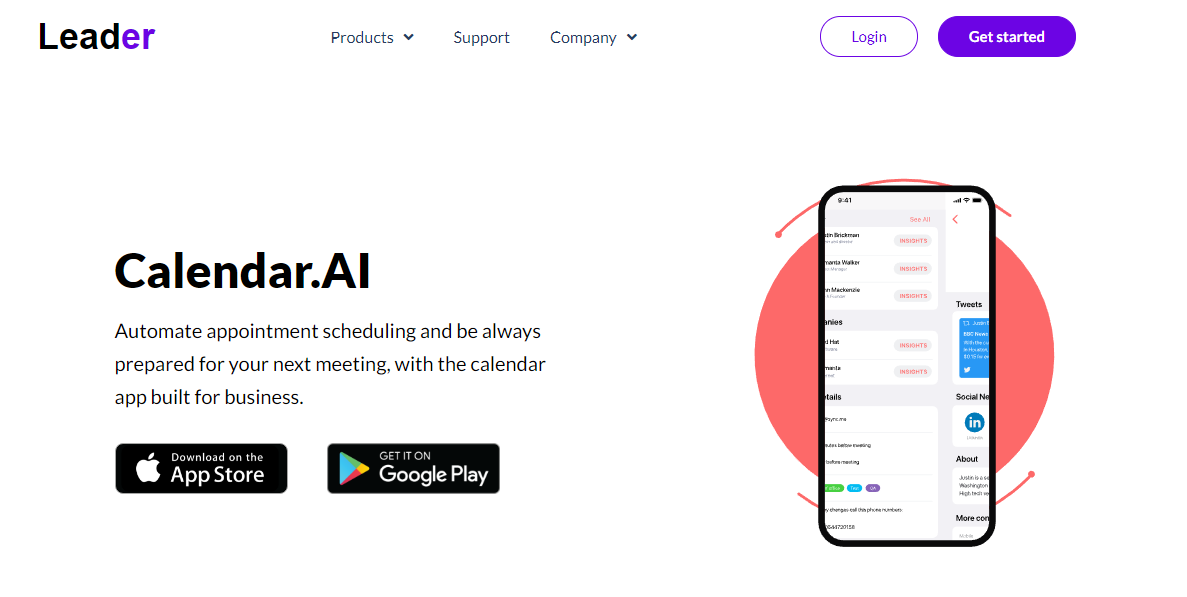 Overview
Calendar AI is an automated scheduler and calendar app that makes fitting meetings into your schedule simple and effective. This app understands you would rather spend your time on the bigger picture than worry about when you have more time for the next meeting.
This app also has a built-in insights feature that can track information about the person you're meeting with – including company insights and social media.
An intuitive tool to manage and track time with additional features to prepare you for your next big meeting.
Highlights
Automated scheduling that allows leads and customers to schedule with you when you are free automatically.
People insights that give you information on the company or person you're meeting – better to organize your tasks and agenda for the meeting ahead.
Pricing

The Calendar AI app is free to download on iOS and Android but contains in-app purchases. The app does not disclose the price before downloading the app for these additional features.
Bottom Line
If you're looking for an app that exclusively helps you with your time management regarding the free time you have for meetings – this is a great tool to add to your arsenal.
It does the automation for you and lets you focus on the other tasks at hand – it is less a time-tracking app and more a mobile app that can track when you're available to schedule meetings.
Each user is different; this may be one productivity hack you need to manage and track your tasks.
Notion AI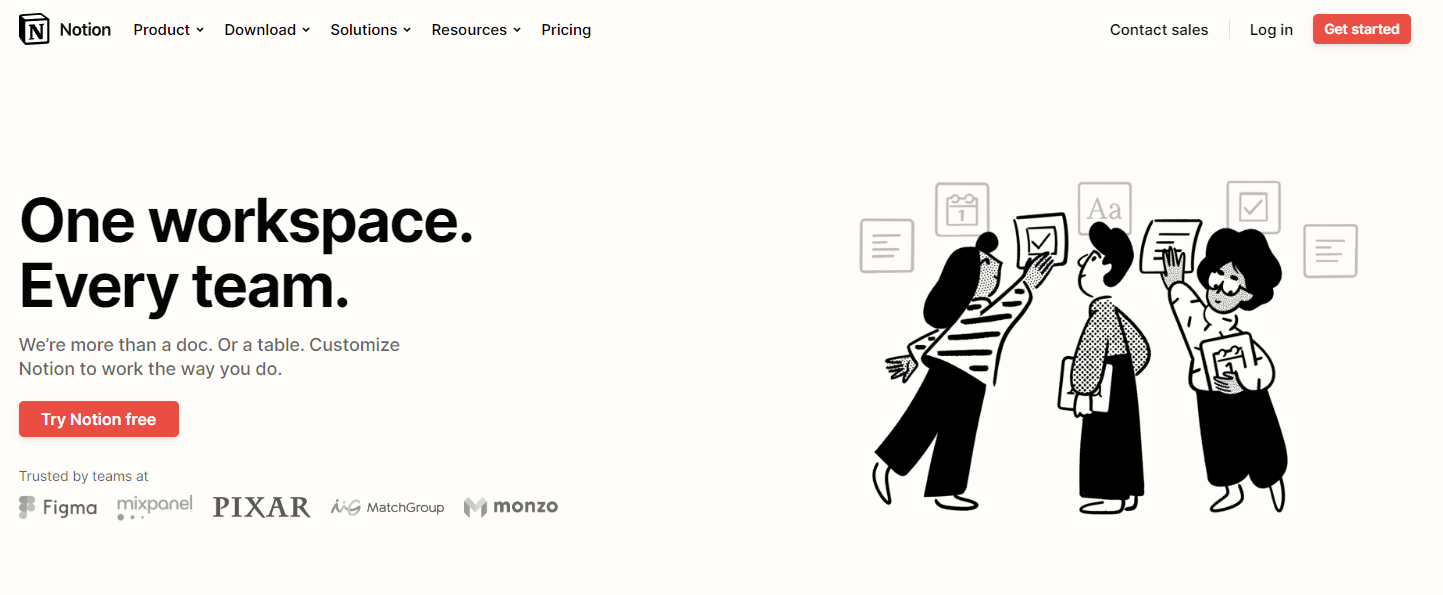 Overview
Notion is a time management and productivity app that allows you to create highly detailed task outlines, work with a team, set up to-do lists per user, and has an app for iOS and Android.
This management tool is widely prevalent among entrepreneurs, business owners, and brands because of its ability to create effective task management and manage projects efficiently.
Notion is used more as a productivity app and project management to outline specific training documents, policies, and procedures – but it's also a highly useful note-taking app.
Highlights
This app gives you the most team management as far as both software and productivity are concerned. The tool allows you to create detailed lists, informational documents, and simple note-taking to minimize the time and money your team spends on tasks.
It is fully customizable to work the way you do – and has an app for Android and iOS, allowing you to continue your tasks on the go.
Notion has a free version that gives you access to the basic features of its management software to increase your task management.
Pricing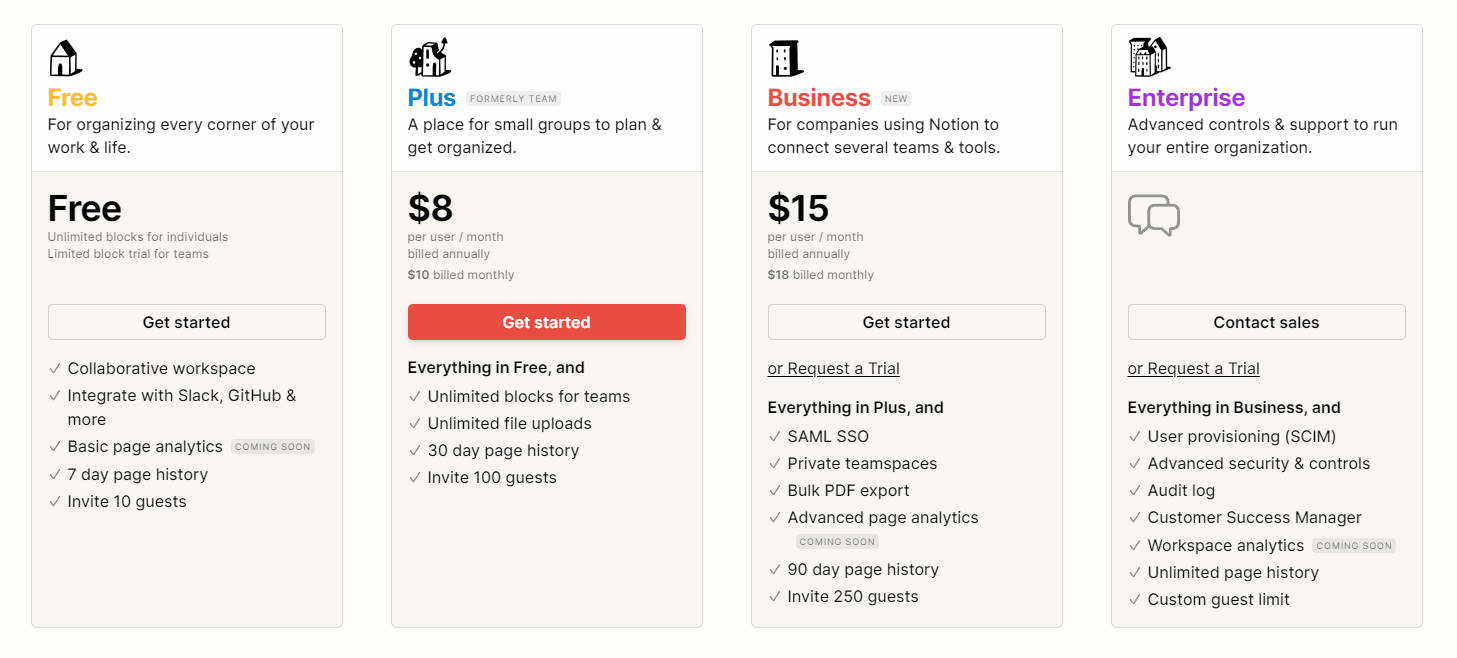 Notion has one free version and three paid plans:
Free: collaborative workspace and basic page analytics
Plus plan: $8 per month for unlimited blocks for teams and unlimited file uploads
Business plan: $15/month for private team spaces, bulk PDF export, and advanced page analytics
Enterprise plan: custom pricing for advanced security and control and audit logs
Bottom Line
Notion is popular among individuals and teams because of its intuitive ability to help you manage your time wisely and keep track of each user and their progress on tasks.
It's a more complex note-taking app that you can take to the next level by taking advantage of the platform's management features.
They have a completely free version that makes it simple to integrate as part of your management routine.
My Hours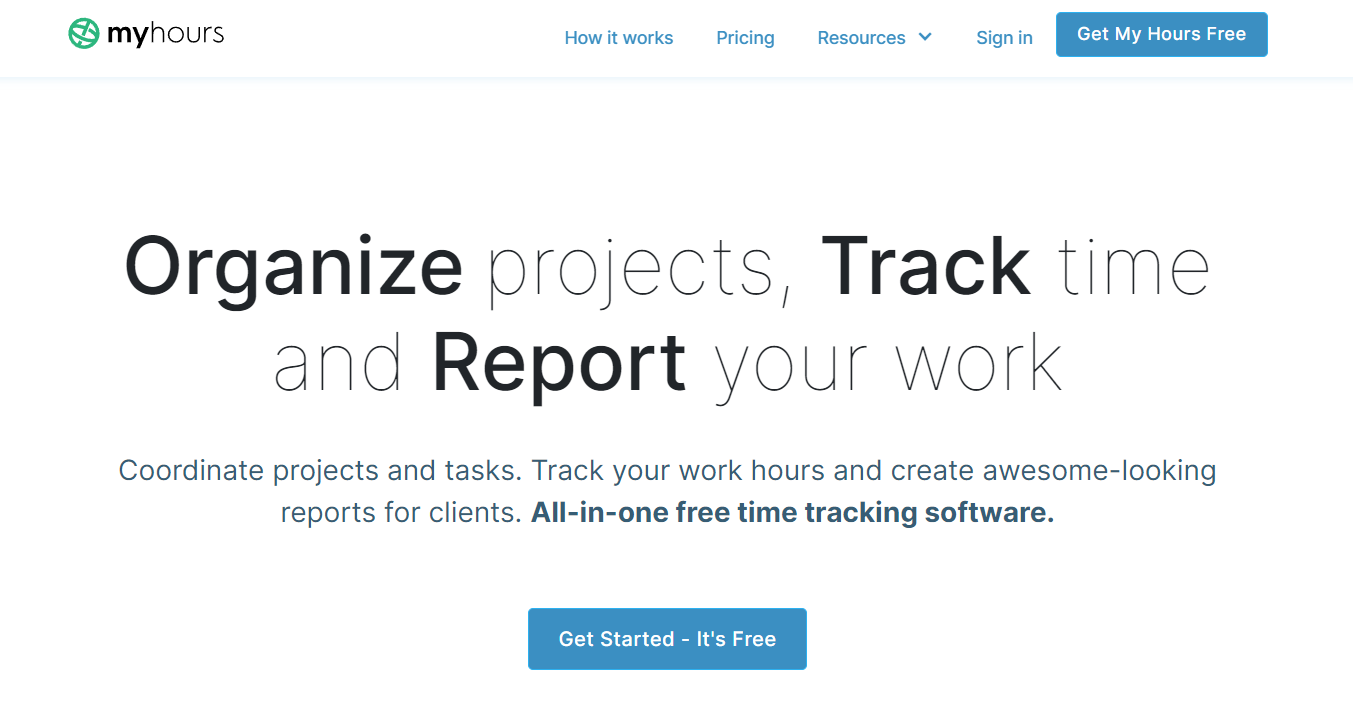 Overview
My Hours allows you to organize projects, effectively track time and make overall management easier.
You can create to-do lists based on priority and deadlines, which lets the tracking app know the importance of each list you create and how to assign it efficiently.
You can also work with other business members to increase project management across the entire business.
Highlights
Create reports based on productivity and tasks per user – which is great for when you need to bill for worked hours
My Hours also has a mobile app so that you can still track and manage tasks on the go – which is ideal for business owners and entrepreneurs constantly traveling.
You can get even more out of the program by getting the browser extension to use the tools outside the native platform.
Pricing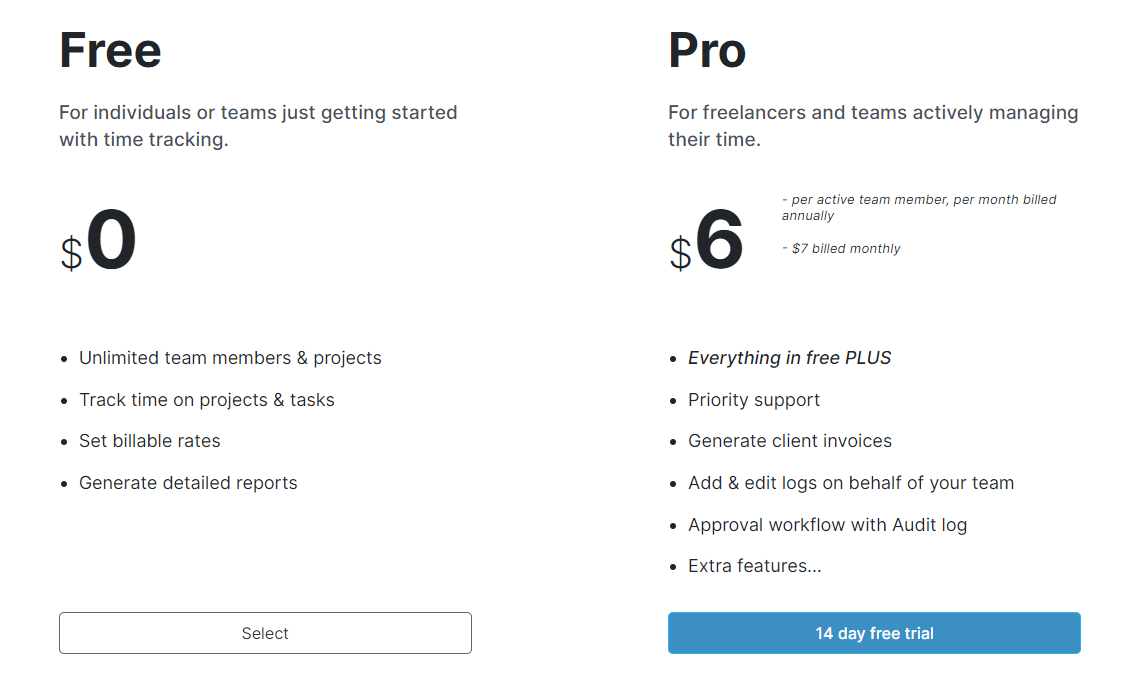 My Hours has a free and Pro plan:
Free: unlimited team members and projects
Pro plan: $6 per user/month with priority support and the ability to generate client invoices
Bottom Line
If you're a busy business owner or need to track time to send client invoices and manage billable hours effectively, My Hours is a helpful and affordable tool.
It has a mobile app and a browser extension to use the tools in whichever way works best for you and your tasks.
If you're interested in the pro plan, you get a 14-day free trial to test it out.
What are time management tools?
Time management tools can be apps or browser extensions that help you with time tracking, project management, tasks, tracking team member performance, and collaborating with your team on specific projects.
Most of them are cloud-based software with a free plan or free browser extension to use the tools outside of a native platform. Each tool is designed for a different productivity purpose. Some allow you to set reminders when you or your team is off task; each user can customize their tasks and calendar – others have the ability for your to track your progress on specific tasks or projects.
How is AI used in time management?
AI is used for time management in a few ways. For something like Motion, which is used to help organize and prioritize the tasks or projects based on their deadline and other obligations you may have in between. If you're using a time management app such as Notion, it is used to make it easier to organize notes and essential tasks.
AI can also be used with these apps to help track time for payroll purposes or service-based businesses. Allowing you to accurately bill for time worked on a project or pay employees for their work.
Each app manages and tracks tasks differently and may be used for another purpose. They all have one feature in common – they use AI to help increase productivity.
What is the most popular time management tool?
Notion is incredibly popular for the variety of features it offers and the intelligence of the software. It is excellent for an individual user and a business or enterprise whose goal is tracking and managing tasks effectively. Each project is different, and Notion allows you to cater your lists and management tools to each one.
Motion is increasing in popularity due to its ability to tailor each user's needs and availability. It effectively takes inspiration from the Pomodoro technique to efficiently schedule your tasks or project to optimize more of your time.
Will AI help us manage our time better?
AI acts like a third party that can look at management tools that can effectively track the time you want to spend on a specific task or the time you need to spend on it based on its deadline.
AI can also help with task management by helping to manage team member projects on an individual level and utilizing browser extensions to set reminders of when someone goes off task and how long they spent on something other than their assigned project.
There are a ton of ways that AI has been able to help us with time management in a way that does minimize the effort required to sort out our schedules.
Final Thoughts
Each user is different and may find some of these time management tools incredibly helpful while others can do without them – but because each user is unique, these apps can cater to the uniqueness and use the way you work to an advantage.
These management tools have either a free version or an affordable price for their program, making it easy to implement into your current management routine.
So – take advantage of one of these tools and stop overthinking your daily tasks and stressing over trying to remember the milk – let AI help you with task management.