9 Best AI HR Tools of 2023
At the meeting point of uniquely human expertise and artificial intelligence, new artificial intelligence human resources tools have emerged. Below we explore the fascinating world of AI HR tools that are revolutionizing the way organizations and HR professionals manage their human resources.
From attracting top talent from unique sources to enhancing employee experiences, these tools are reshaping the HR landscape, and paving the way for a new era of efficiency and effectiveness.
How can AI help you with human resources?
In our article about artificial intelligence in human resources, we talked in depth about how generative AI for HR offers improved efficiency, reduced costs, and betters decision-making capabilities for HR departments and HR professionals using machine learning and natural language processing (for a more detailed explanation of how AI works, check out our articles on foundation models and large language models). AI in HR has the possibility to reduce the time spent on routine tasks, administrative tasks, and all other time-consuming tasks, requiring the HR team masters prompting.
In talent acquisition and recruitment, artificial intelligence can automate writing job descriptions (just like the best AI writing tools), resume screening, and candidate engagement. Adopting AI in these practices can help the HR department in the recruitment process, like accessing the hiring needs in an AI system and picking out qualified candidates from the ones with a skills gap.
In employee onboarding and training, AI-powered chatbots can provide personalized guidance, answer questions, and deliver information to new employees, ensuring a smoother onboarding and employee training experience and less stressed HR departments and HR leaders.
For performance management and employee engagement, artificial intelligence can monitor employee data and behavior through employee profiles to detect signs of burnout, disengagement, or misconduct, enabling HR managers to address issues proactively, without wasting time on administrative tasks.
Below, we discuss AI technology and some of the best AI tools for HR professionals that exist today.
What are the best AI HR tools?
To choose the best AI HR tool, HR professionals should evaluate their organizational needs, integration capabilities, ease of use, scalability, customization, data security, vendor reputation, user reviews, and conduct demos. This ensures alignment with requirements and maximizes efficiency.
Below, we divided the tools into three categories: talent acquisition and recruiting, employee onboarding and training, and performance management and employee engagement tools.
Talent acquisition and recruitment
AI is revolutionizing acquisition and recruitment by streamlining processes like resume screening, candidate sourcing, job posting, and applicant tracking. It eliminates biases, promotes diversity, and enhances the candidate experience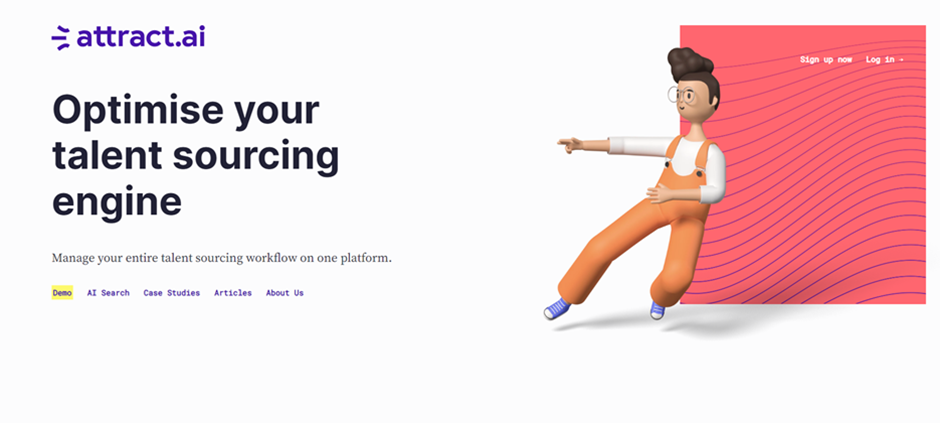 Overview
This platform utilizes an AI-powered search engine that enables HR professionals to uncover hidden candidate profiles from over 40 social platforms, providing access to an extensive talent pool. Its personalized search models cater to individual user requirements, ensuring accurate and relevant search results every time.
Highlights
One of its standout features is its global search capability, which grants access to a database of over 700 million data-rich candidate profiles worldwide.
Through iterative searches, the AI algorithm adapts to user preferences, eliminating the need for complex boolean strings.
The tool also offers talent mapping and insights, empowering data-driven decision-making and supporting diversity, equity, and inclusion (DE&I) efforts.
Furthermore, attract.ai seamlessly integrates with popular recruitment tech stacks, making it a scalable solution for organizations of all sizes.
Pricing
Undisclosed, but you can request a demo here.
Bottom line
With its user-friendly interface and robust features, attract.ai optimizes the talent sourcing engine, enhances candidate engagement, strengthens employer branding, and delivers a memorable candidate experience.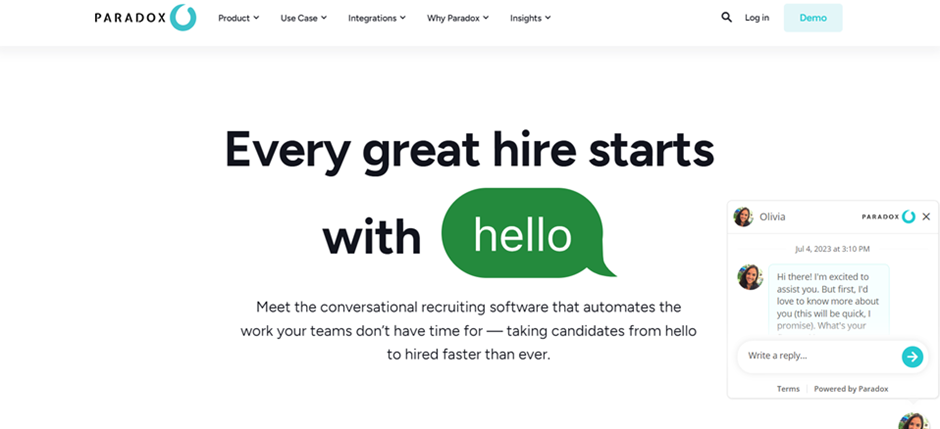 Overview
Paradox is an AI HR tool that aims to automate and streamline the recruiting process, from attracting candidates to hiring them. It offers several features, including a Conversational ATS (Applicant Tracking System), Conversational Career Sites, Conversational CX (Candidate Experience), and more.
Highlights
Their flagship product, the Conversational ATS (Applicant Tracking System), stands out as an applicant management solution that caters specifically to high-volume hiring managers and candidates in frontline positions.
The Conversational ATS also emphasizes candidate engagement and personalization.
Through 2-way texting, text-to-apply functionality, and chat-driven applications, candidates can easily interact with the system, ensuring a seamless and engaging experience.
The system adapts to candidates' preferred communication channels, such as SMS, WhatsApp, or Facebook Messenger, and allows them to conveniently answer questions, complete screenings, and schedule interviews.
Pricing
Not disclosed, but you can book a demo here
Bottom line
With its focus on high-volume hiring and frontline positions, Paradox is well-positioned to cater to the specific needs of organizations and HR managers in industries such as retail, restaurant, healthcare, logistics/trucking, and hospitality.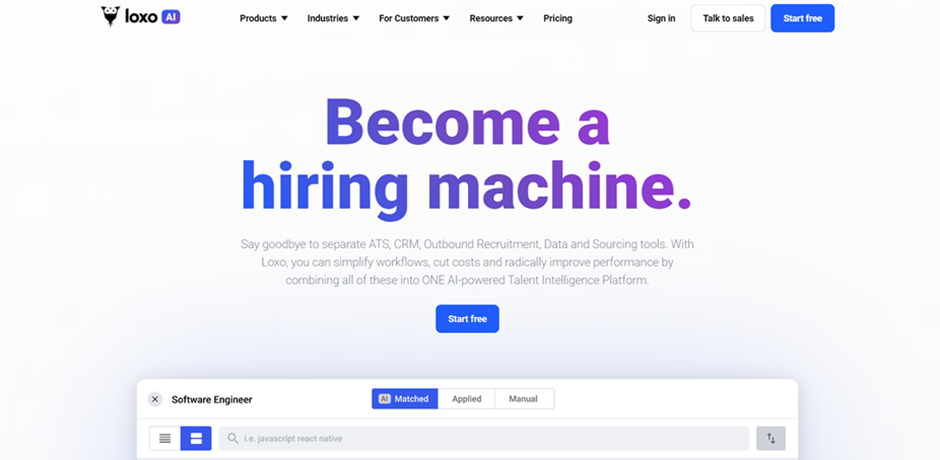 Overview
Loxo is an AI-powered talent intelligence platform that aims to revolutionize the recruiting process by combining multiple tools into one comprehensive system. It claims to simplify workflows, cut costs, and improve performance by integrating ATS, CRM, Outbound Recruitment, Data, and Sourcing tools into a single platform.
Highlights
Key features include proactive candidate sourcing from a pool of 1.2 billion profiles in Loxo Source™. It offers a comprehensive Contact Info Database with verified contact information.
The platform also automates outbound recruiting, allowing users to create custom sequences and engage candidates efficiently.
Loxo's Applicant Tracking System provides a consolidated view of the talent pool, and the Recruiting CRM serves as a user-friendly foundation for managing pipelines and workflows. AI-powered sourcing capabilities automate tasks and suggest potential candidates.
Pricing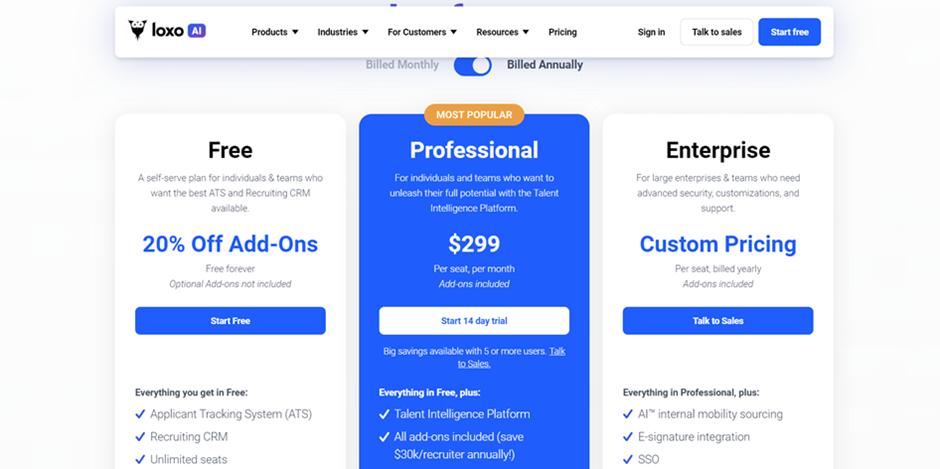 Free Plan
Professional Plan is $299 per seat per month
Enterprise Plan is custom-tailored
Bottom line
According to Loxo, their platform has shown significant results, with reductions in costs, improved time-to-hire, and high customer satisfaction rates. They claim to have a large user base, with over 13,200 recruiting organizations trusting their product.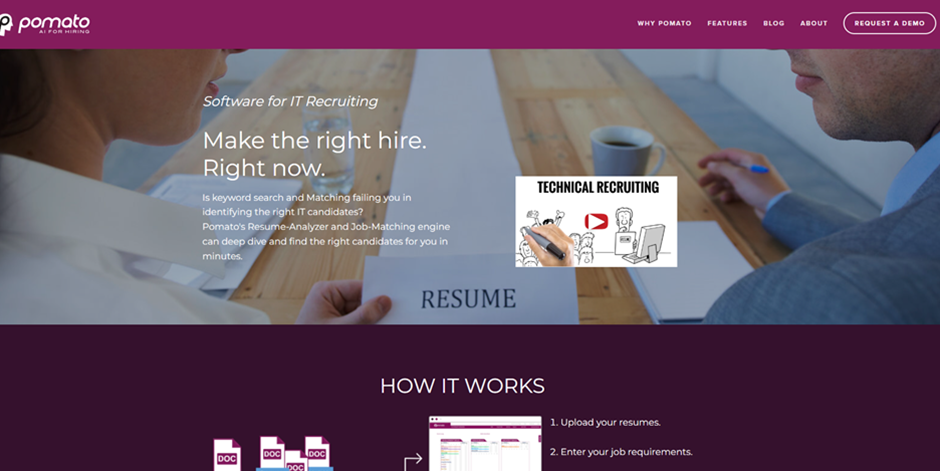 Overview
Pomato is a software solution for recruiting that offers various features to help find and evaluate the right candidates. Its Resume-Analyzer and Job-Matching engine deep dive into resumes to identify suitable candidates quickly.
Highlights
Pomato provides a ranking report and generates visual profiles to assess skills and overall fit. It also offers skills tests, customized reporting, and progress tracking.
With Pomato, IT recruiters can save time, make informed hiring decisions, and gain a competitive edge.
The software uses assistive intelligence and machine learning for evaluation and is available through a subscription plan.
Pomato's features include a matching engine, skills profiler, visual profile, skills test, and reporting capabilities.
Pricing
Undisclosed, but you can book a demo here.
Bottom line
Pomato should be used by HR departments and staffing agencies in the IT industry who want to efficiently evaluate technical skills and find the best IT talent. It saves time, eliminates guesswork, and provides objective assessments, making it an ideal tool for streamlining the hiring process and ensuring the right candidates are selected.
Employee onboarding and training
AI transforms employee onboarding and training by delivering personalized learning experiences and leveraging immersive technologies like VR and AR.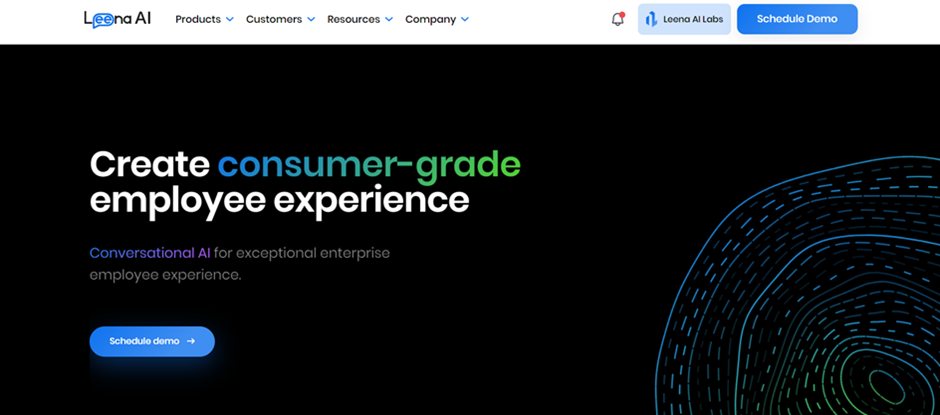 Overview
Leena AI is an AI HR tool designed to enhance the employee experience within an enterprise. The platform offers a range of features and capabilities aimed at creating a consumer-grade experience for employees.
Leena AI has been recognized by Gartner as a major vendor in several categories, including Virtual Assistant, Employee Experience Tech Orchestrators, Integrated HR Service Management, Onboarding Software, and Voice of the Employee.
Highlights
The Enterprise Help Desk module allows for the resolution of employee requests using a single virtual assistant, automating routine queries and providing a centralized help desk for managing and resolving cases.
The Workflow Builder module enables the creation of powerful employee journeys by connecting systems, processes, and tools using easy drag-and-drop workflows.
The Employee Onboarding module automates the entire employee journey, from preboarding to offboarding, ensuring complete interdepartmental collaboration and personalization.
The Employee Engagement and Employee Relationship Management modules provide AI-powered solutions to collect feedback, gain actionable insights, and unify employee touchpoints, interactions, and information.
Pricing
Undisclosed, but you can schedule a demo here.
Bottom line
One of the key benefits of using Leena AI is its ability to empower employee-facing teams with advanced technology. The virtual assistant provided by Leena AI helps in resolving employee issues more efficiently, reducing turnaround time by 50%. The platform also decreases the time it takes for employees to access important information by 90%, leveraging generative AI to transform the experience across all touchpoints (to help you be super productive with all this time you'll save, you can use some of the best AI time management and AI project management tools).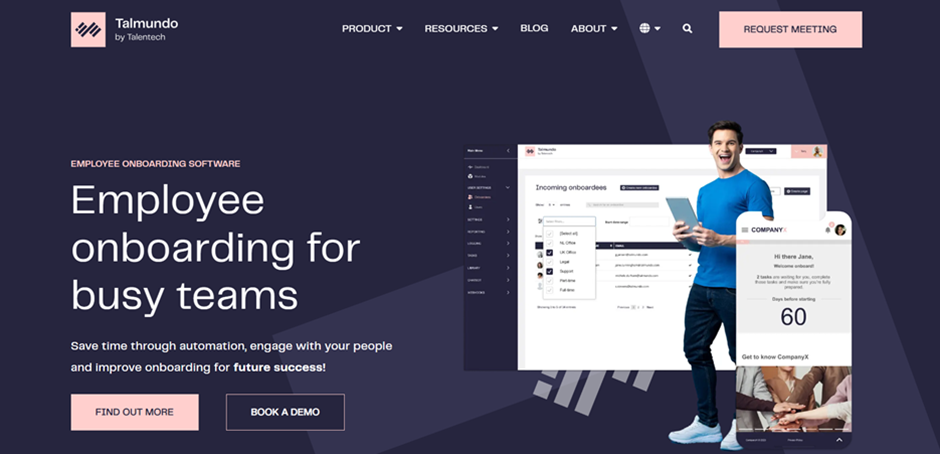 Overview
Talmundo offers employee onboarding software designed to revolutionize the onboarding experience and drive measurable results. With a focus on automation, engagement, and improvement, Talmundo's software simplifies the onboarding process for HR teams, saves time through smart automation, and ensures high engagement levels among new hires.
Highlights
The platform offers customizable content, timed delivery, feedback checks, a multi-tab page builder, a buddy system, a fact carousel, onboard introductions, a quiz builder, a key contact framework, task notifications, and centralized hubs.
It also provides process automation like segmentation, reporting, chatbot, brand customization, task management, form templates, email prompts, reboarding templates, remote-friendly features, tailored terminology, multi-language support, data uploads, benchmarking, and email templates.
It ensures GDPR compliance, API integrations, and permissions, and uses Microsoft Azure.
Services include an Onboarding Academy, success manager, implementation, team training, support, consultations, 'Sharing Stories' program, and Voice of the Customer program.
Pricing
Undisclosed, but you can book a meeting here.
Bottom line
By leveraging Talmundo's powerful features and services, organizations can achieve significant benefits such as increased engagement (up to 33%), productivity (up to 70%), and retention (up to 82%).
Performance management and employee engagement
In these practices, AI-driven tools provide real-time data analysis, objective performance insights, and continuous feedback, all while helping improve employee productivity and employee performance.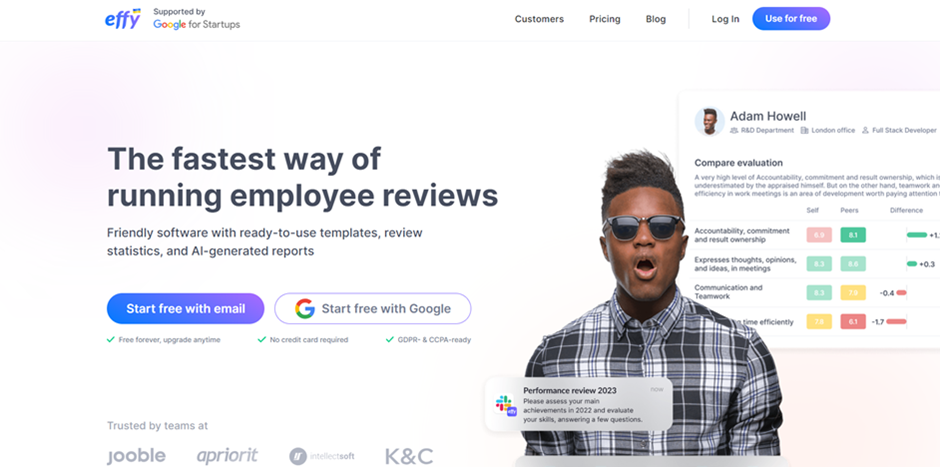 Overview
Effy.ai is a performance review tool that simplifies and accelerates the review process. With its AI-generated reports, science-based templates, heat map analysis for data-driven insights, and comprehensive analytics, it provides valuable insights for performance evaluation and productivity improvements.
Highlights
Effy.ai offers customization options, seamless integration with Slack and MS Teams, and personalized support.
Trusted by millions of users, it fosters employee development.
Its intuitive interface and customizable features make it an excellent choice for organizations seeking an efficient and adaptable performance review solution.
Pricing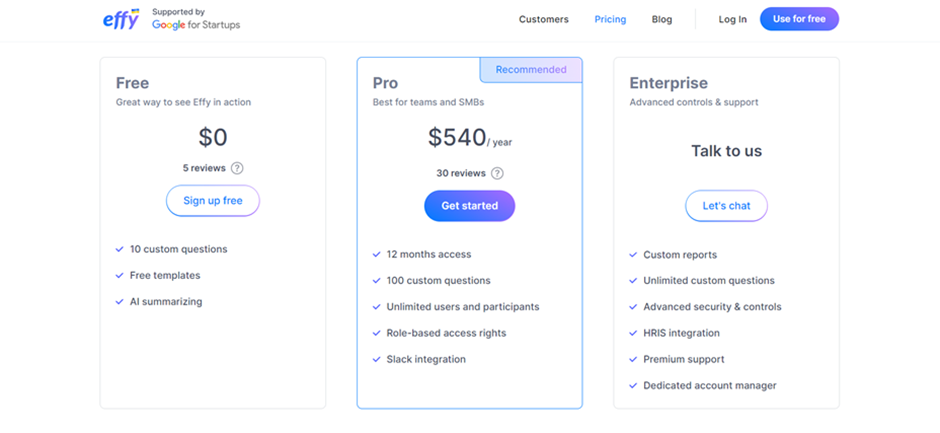 Free for up to 5 reviews
Pro Plan is $540 per year for up to 30 reviews
Enterprise Plan is custom-tailored
Bottom line
Effy.ai surpasses other tools by providing a hassle-free solution that saves time and effort while promoting employee growth and development. You can see how it works here.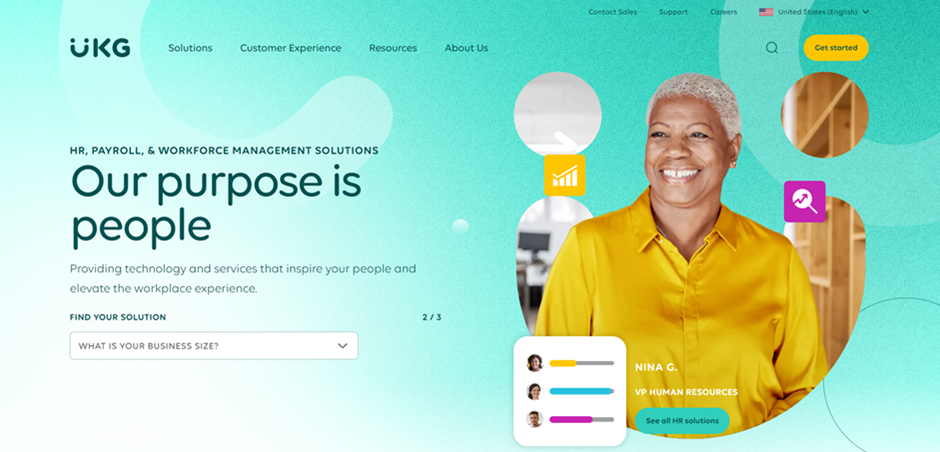 Overview
UKG is a provider of HR, payroll, and workforce management solutions that aim to inspire people and elevate the workplace experience. They offer technology and services designed to simplify HR processes and improve employee engagement.
Highlights
They prioritize the life-work journey by providing leadership tools for personalized support and high performance.
Automation and strategic partnerships reduce administrative overhead, allowing HR teams to focus on strategic initiatives.
Their solutions also offer AI-powered guidance and best practices for crafting powerful people experiences and fostering employee engagement and satisfaction.
During times of crisis, UKG provides comprehensive HR technology experiences, supporting organizations with playbooks and resources for informed decision-making and adaptability.
Pricing
Bottom line
UKG offers a package of HR solutions that prioritize the holistic well-being of employees and drive people-centered business strategies. Their technology, partnerships, and culture strategies aim to positively impact both employees and business goals.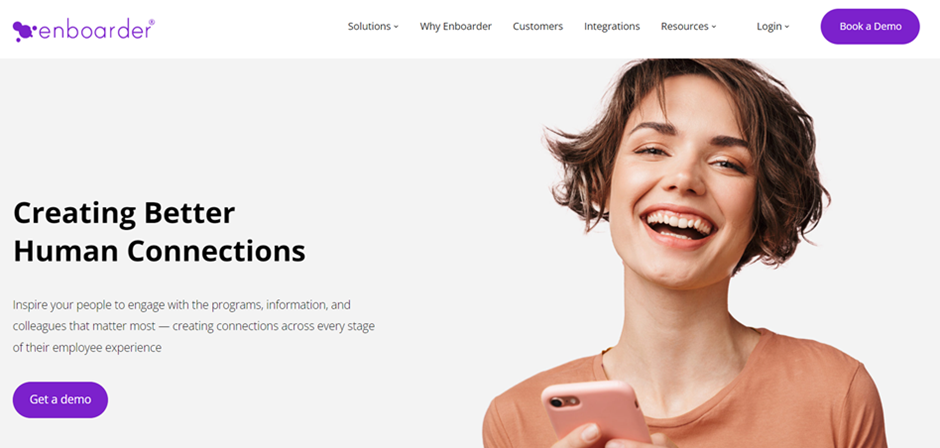 Overview
Enboarder is an HR software solution designed to create better human connections and enhance the employee experience throughout their journey. It focuses on transforming people programs into personalized journeys that spark connections and drive action. With Enboarder, organizations can deliver highly-personalized, timely, and bite-sized content to engage employees on their preferred communication channels.
Highlights
The platform enables the orchestration of all stakeholders, ensuring everyone plays their part at the right time without confusion.
Enboarder stands out with its unique features, including the ability to create rich content quickly, provide data-driven manager coaching, offer a frictionless mobile-first experience, conduct intelligent pulse surveys, facilitate effective stakeholder communications, and offer superior reporting capabilities.
Enboarder is known for its zero-coding requirement, intuitive user interface, and unrivaled customer success.
Pricing
Undisclosed, but you can book a demo here.
Bottom line
The platform is a trusted solution used by top organizations worldwide, enabling them to revolutionize their HR operations and programs and create exceptional employee experiences.
What is the best AI HR tool?
For talent acquisition and recruitment, attract.ai shines as the best tool. It automates manual and repetitive tasks, like resume screening and candidate engagement, significantly reducing time spent on these processes.
In the realm of employee onboarding and training, Leena.ai stands out. Its AI-powered chatbots provide personalized guidance and deliver information to new employees, ensuring a seamless onboarding experience.
When it comes to performance management and employee engagement, Effy.ai takes the lead. It simplifies the review process with AI-generated reports, data-driven insights, and comprehensive analytics.
By leveraging these specialized artificial intelligence HR tools and AI systems, organizations can optimize their qualified candidate acquisition, streamline onboarding and training, and enhance business success and employee engagement.
Final thoughts
By embracing the power of artificial intelligence, companies can unlock unparalleled efficiency, productivity, and engagement.
The future of HR departments, HR practices, and HR team leaders lies in the seamless integration of human and artificial intelligence capabilities, ushering in a new era of strategic HR management.