7 Best AI Copywriting Tools of 2023
AI is taking over the internet with more ways that artificial intelligence can help us generate content from SEO-optimized blog posts, landing pages, product descriptions, and digital ads – there seems to be no limit to what AI can do.
We will focus on the best AI copywriting tools in this article, but AI can also create video edits, increase your productivity, and even write entire books for you. The power of artificial intelligence and machine learning doesn't stop with copywriting tools.
What Are the Best AI Copywriting Tools?
AI copywriting tools are best for short-form content but can generate high-quality long-form content. The best AI copywriting tools will have various ways to generate content and have a deep learning aspect that can help you create engaging content similar to human writers.
Content marketers can use these AI copywriting tools by using platforms like Hoppy Copy to generate email content and other platforms mentioned in this article to up their content marketing.
Join Renaissance Rachel's holiday giveaway!
1st Prize: $300, 2nd Prize: $75, 3rd Prize: $25
This article covers the best AI copywriting tools for blog ideas, Google ads, website copy, and SEO-optimized content.
Disclosure: Some of the links in this article may be affiliate links, which provide $$$ to me at no cost to you if you decide to purchase the tool.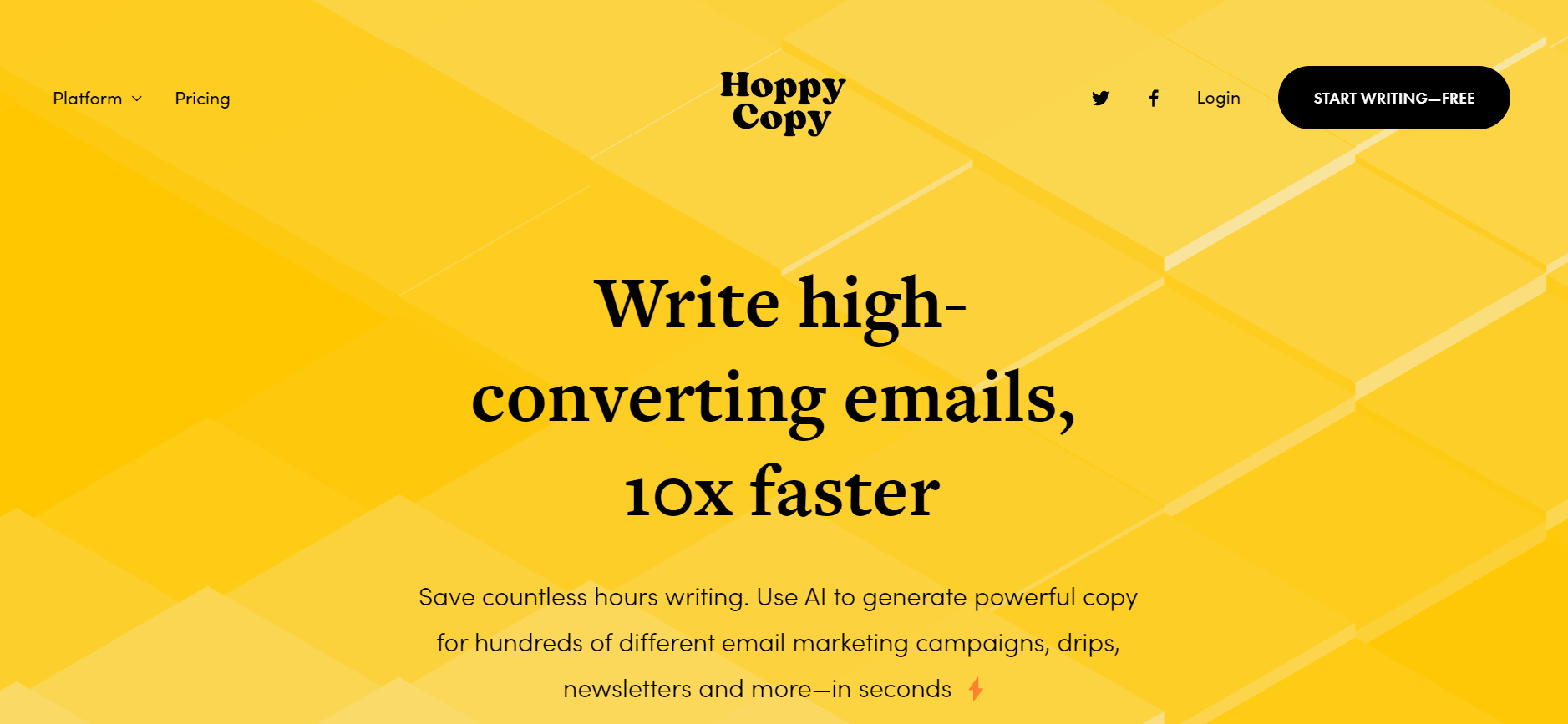 Overview
Hoppy Copy specializes in high-converting emails, which is fantastic for all marketing agencies looking to create high-quality email copy.
They have over 50 email templates, so you can target the marketing ideally. They have everything from reminder and follow-up emails to promotional emails for a contest or giveaway.
Hoppy Copy differs from other content generation tools we've reviewed as it deals with email copy.
Highlights
With Hoppy Copy, you can use their competitor's email monitoring tool that allows you to track their email marketing strategy – which will give you a leg up on other marketing agencies.
You can edit previously created emails or emails outside the platform – making it a flexible copywriting software where you don't have to write the content inside Hoppy Copy to get the benefits.
It's unique in that it's designed to assist you with writing email copy instead of being a copywriting tool.
Pricing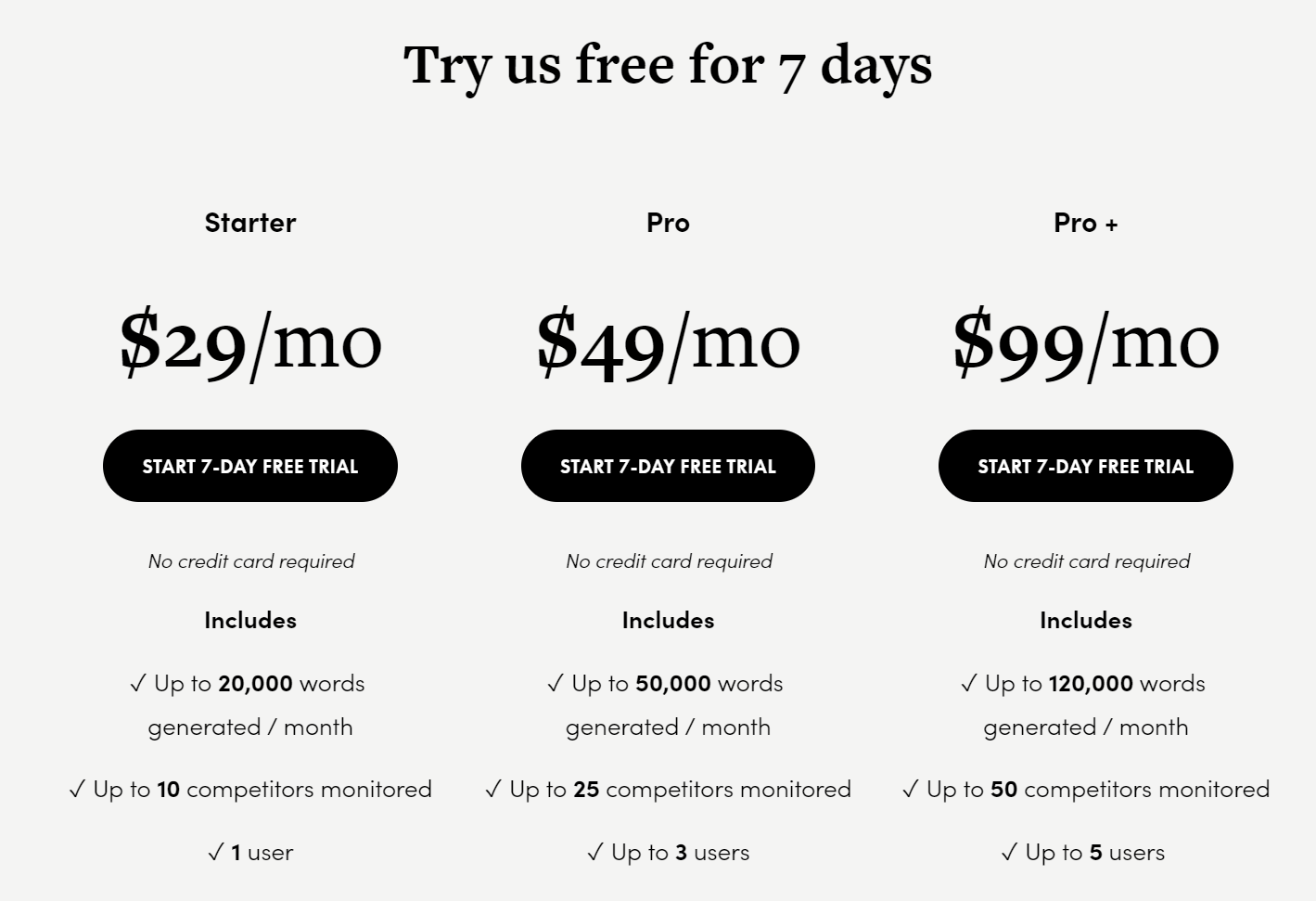 Hoppy Copy has three paid plans:
Starter Plan: $29/month for 20,000 words
Pro Plan: $49/month for 50,000 words
Pro + Plan: $99/month for 120,000 words
Bottom Line
Hoppy AI is an excellent tool if you're specifically looking for AI copywriting help with emails – especially if you're a marketing agency and need to generate content that has a high conversion rate.
Hoppy's AI writing software lets you generate your email copy quickly and efficiently with price plans that vary to fit your budget and your word requirements.
They have over 50 templates for email copy, so you can achieve the type of email copy you're looking for.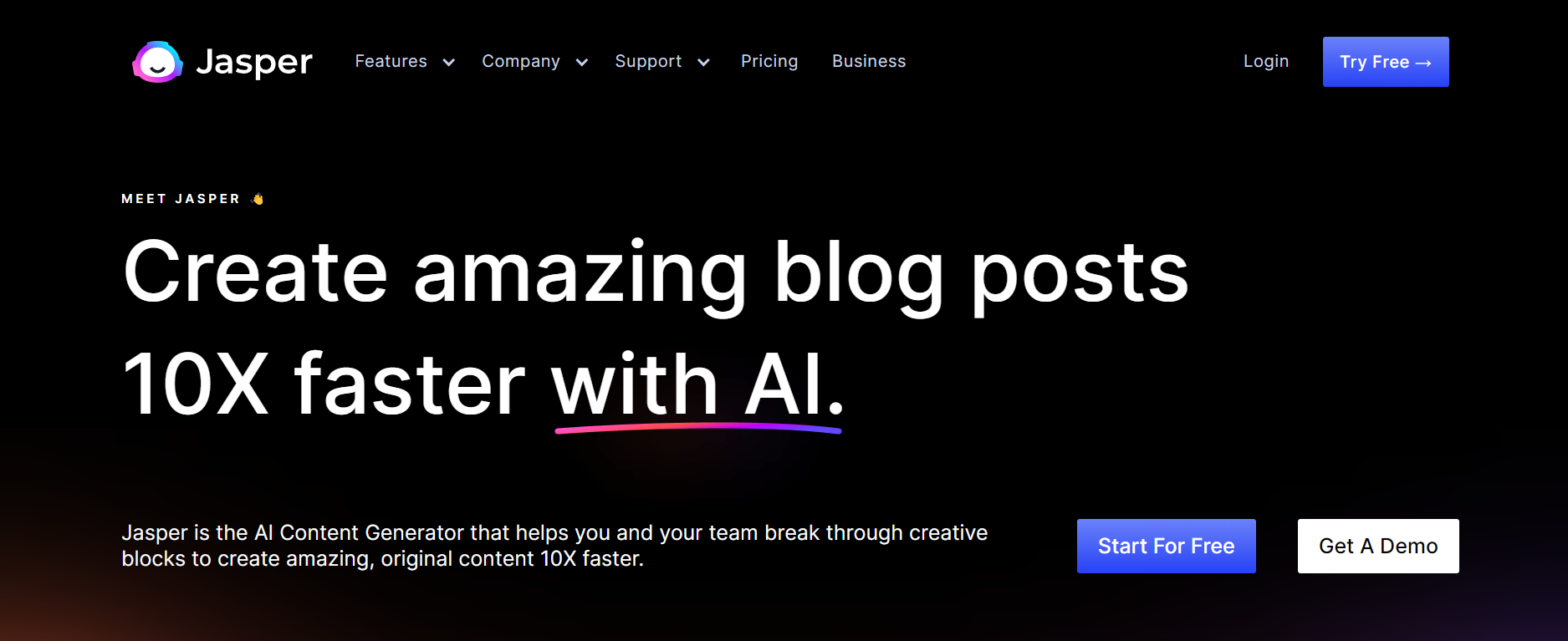 Overview
Jasper is an incredibly popular tool for AI copywriting. It has many universal applications, and one's we've touched on in previous blogs. Whether you're aiming to create long-form content or a simple email, Jasper has the copywriting tools to help you – and it requires little to no input from you.
Jasper is well-known for its ability to replicate the human voice, especially when it comes to punny humor!
We've talked about Jasper before, and It has been a hit across the board with writing and creating copy quickly and with little need for human edits.
Highlights
Use Jasper to brainstorm new ideas and create content in 26 languages
Collaborate with your team
Write copy & content that converts
Pricing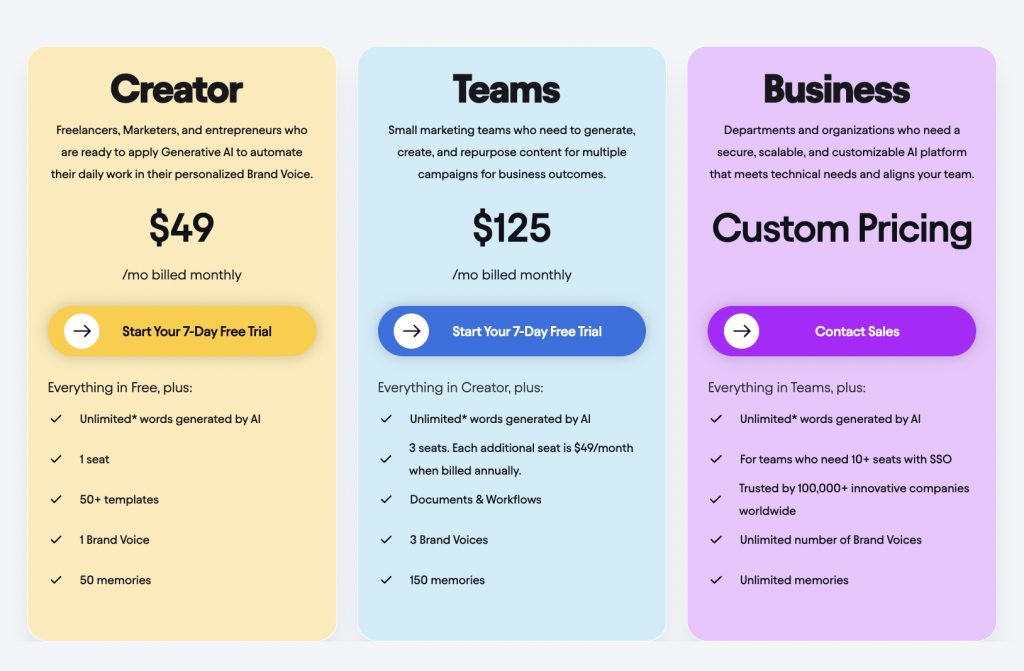 Jasper has three paid plans:
Creator Mode: $49/month for unlimited words
Teams: $125/month with unlimited words, 3 seats, and 3 brand voices
Business: Custom pricing
Bottom Line
Jasper has been a popular copywriting tool with business owners and entrepreneurs for a while – it allows you to collaborate with a team and write high-converting copy quickly at an affordable price.
The platform comes with a ton of helpful support to learn the ins and outs of Jasper and what it can do for you. So there is no need to be overwhelmed by the copywriting software Jasper uses to help you create content.
Whether you're trying to create marketing copy, meta descriptions, or blog articles and blog outlines – Jasper has the tools that get you quality content.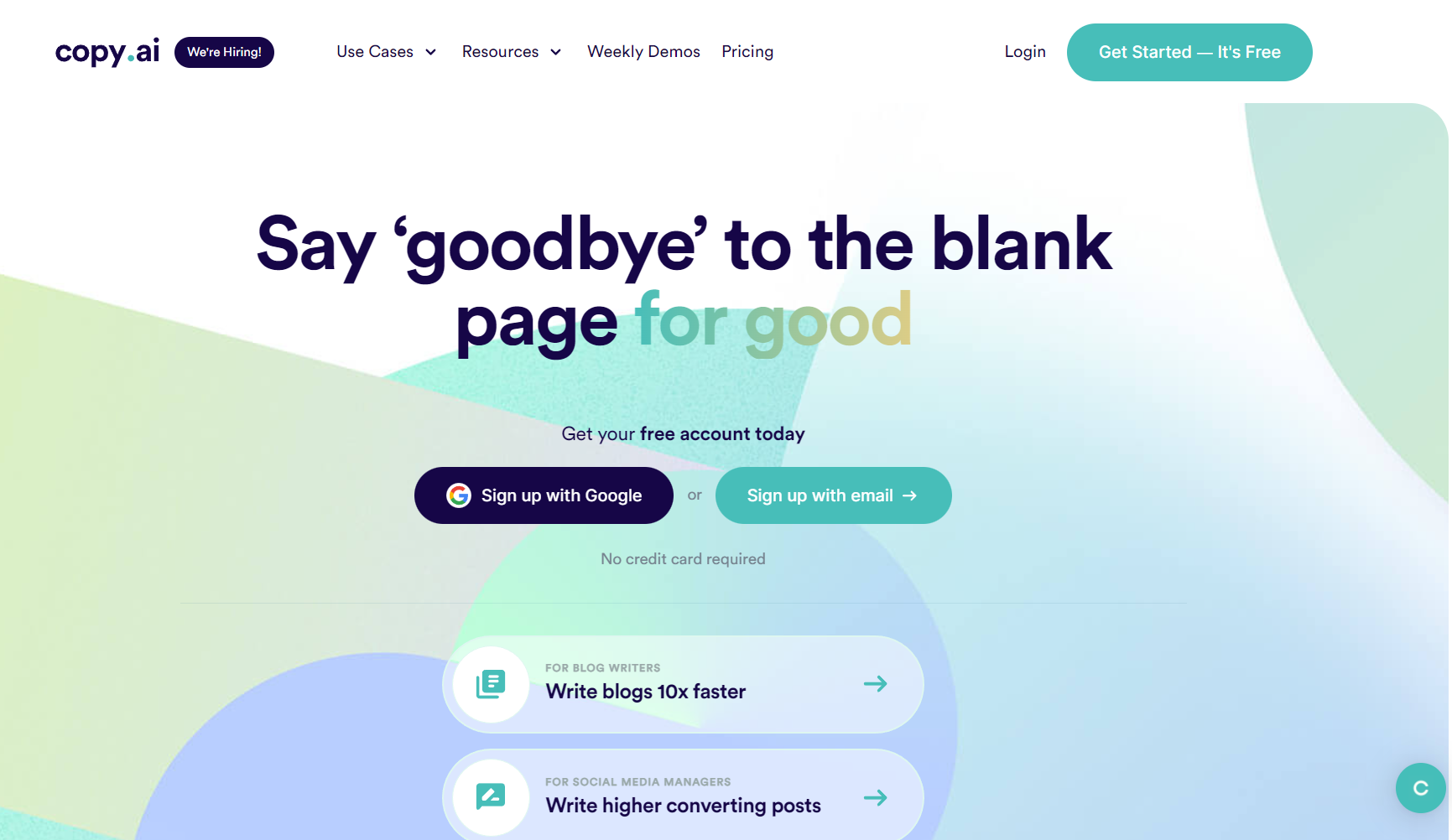 Overview
Known to most as the AI platform that helps to eliminate writer's block – you can create anything from social media posts, emails, and blog posts with Copy AI.
Copy AI is often used for social media copy, but it's also a great AI article writer. That being said, there is a need for human editing after the content is generated; there are often many errors and aspects of the text that don't make sense. Copy AI is often an AI tool used for entrepreneurs in their social media management as it's easy to generate copy for posts.
We've talked about Copy AI before. It's a great tool for blog posts and makes the content creation process much simpler; however, it is limited in the types of content you can create with AI tools.
Highlights
Email copywriting tools that allow you to generate email copy quickly and effectively with their AI copywriting software.
Social media posts can be drafted in seconds by entering what you want your caption topic to be.
Blog posts can be generated in a few steps by providing information about the blog you want Copy AI to write.
Pricing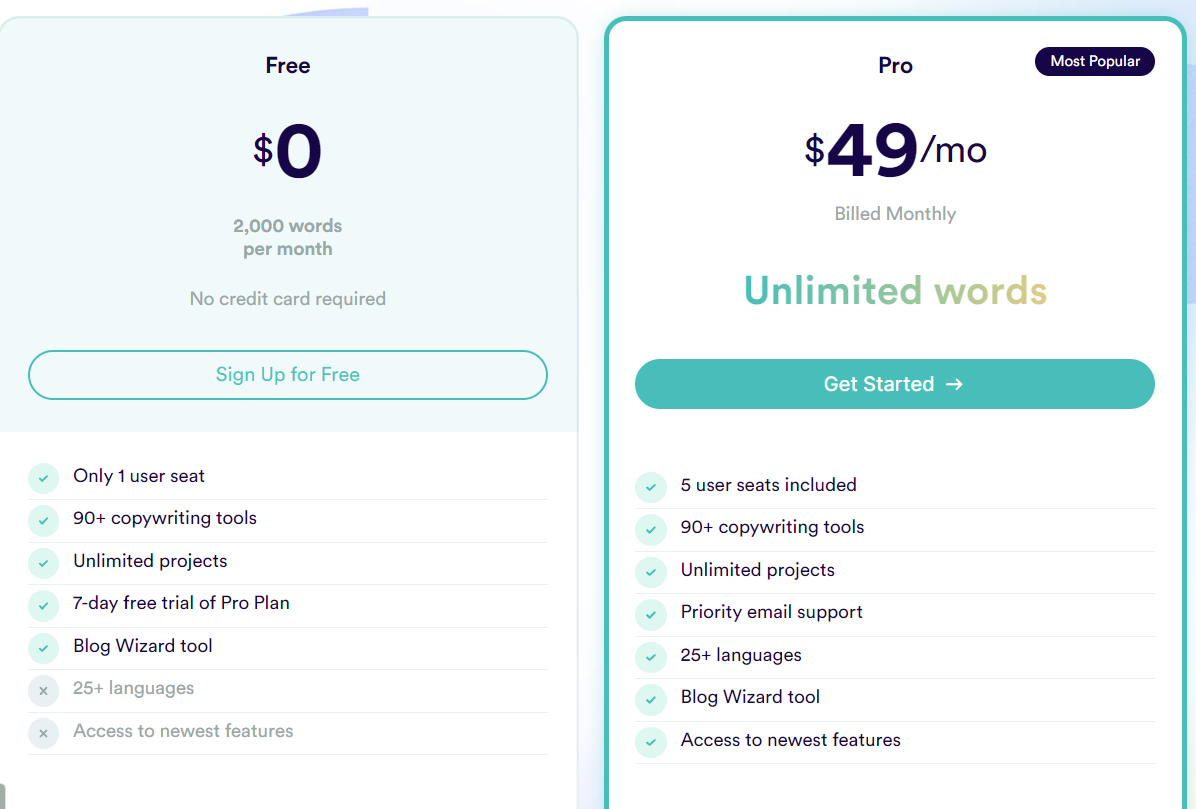 Copy AI has a free plan and a paid version:
Free plan: includes one user and 90+ copywriting tools
Pro plan: $49/month with up to five users and unlimited projects
Bottom Line
Copy AI is a great AI copywriting tool if you want to get quickly generated content and you struggle with the first step of writing – getting started.
It does require edits to be looked over a few times, but the key features of Copy AI are its efficiency in generating content.
They have a free plan with unlimited projects, so you can use it without feeling like you're wasting money – it's a great copywriting tool to get you started.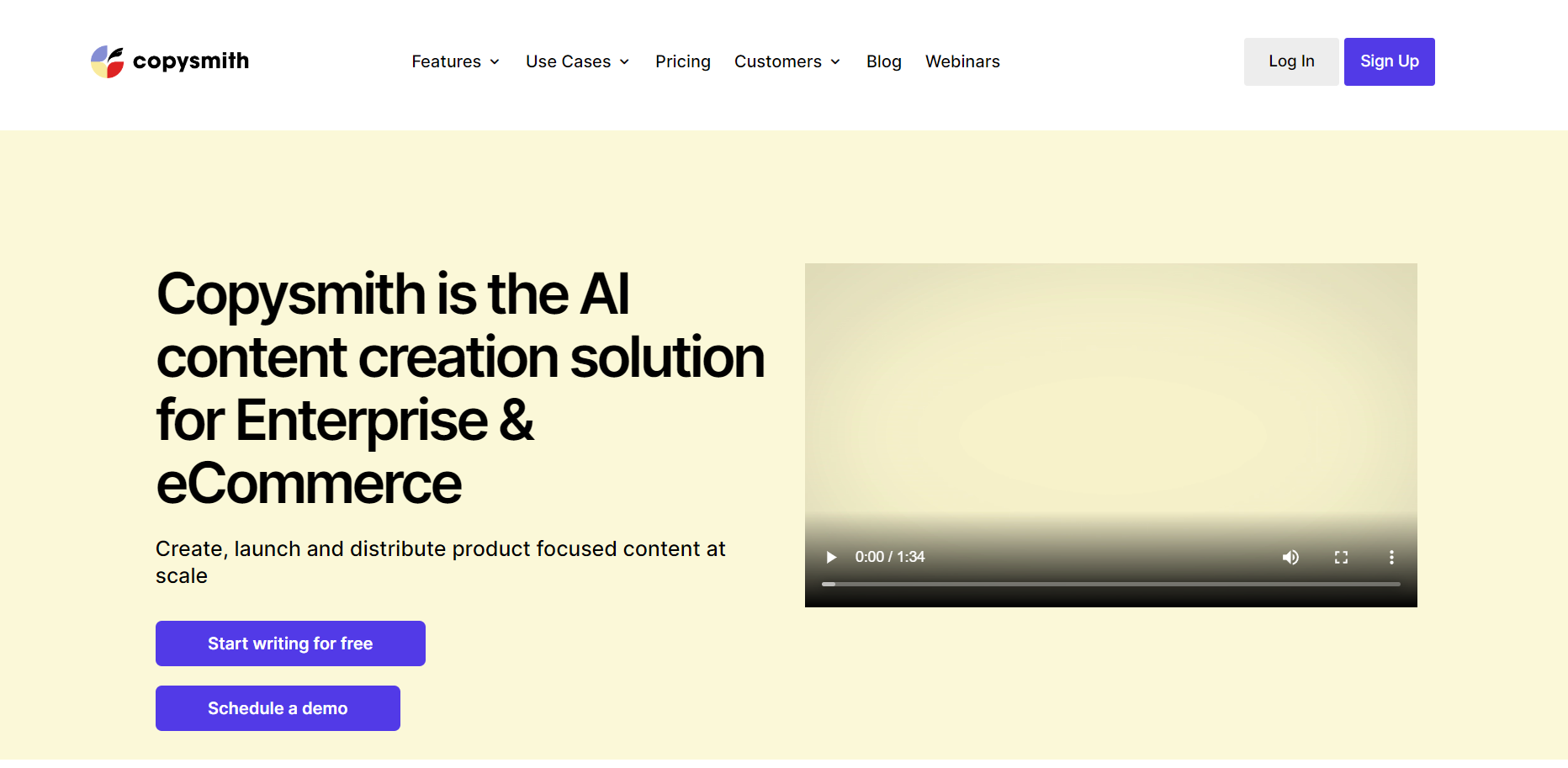 Overview
Copysmith is an AI-powered copywriting tool that helps you create content for your blog posts and beat writer's block.
You can also utilize Copysmith for product descriptions, and their machine learning can help you generate content ideas.
You don't have to be limited to the platform to write quality content – they offer integration with Google Docs so that you can still get all the benefits of Copysmith without being inside their platform.
Highlights
Invite your team and work on documents together – collaborate even further with Google Docs integration and take advantage of Google's features.
SEO meta descriptions for products and Shopify stores – easily integrate Copysmith into your Shopify platform.
Content marketing for eCommerce businesses – Google ads, marketing copy, and short-form content.
Pricing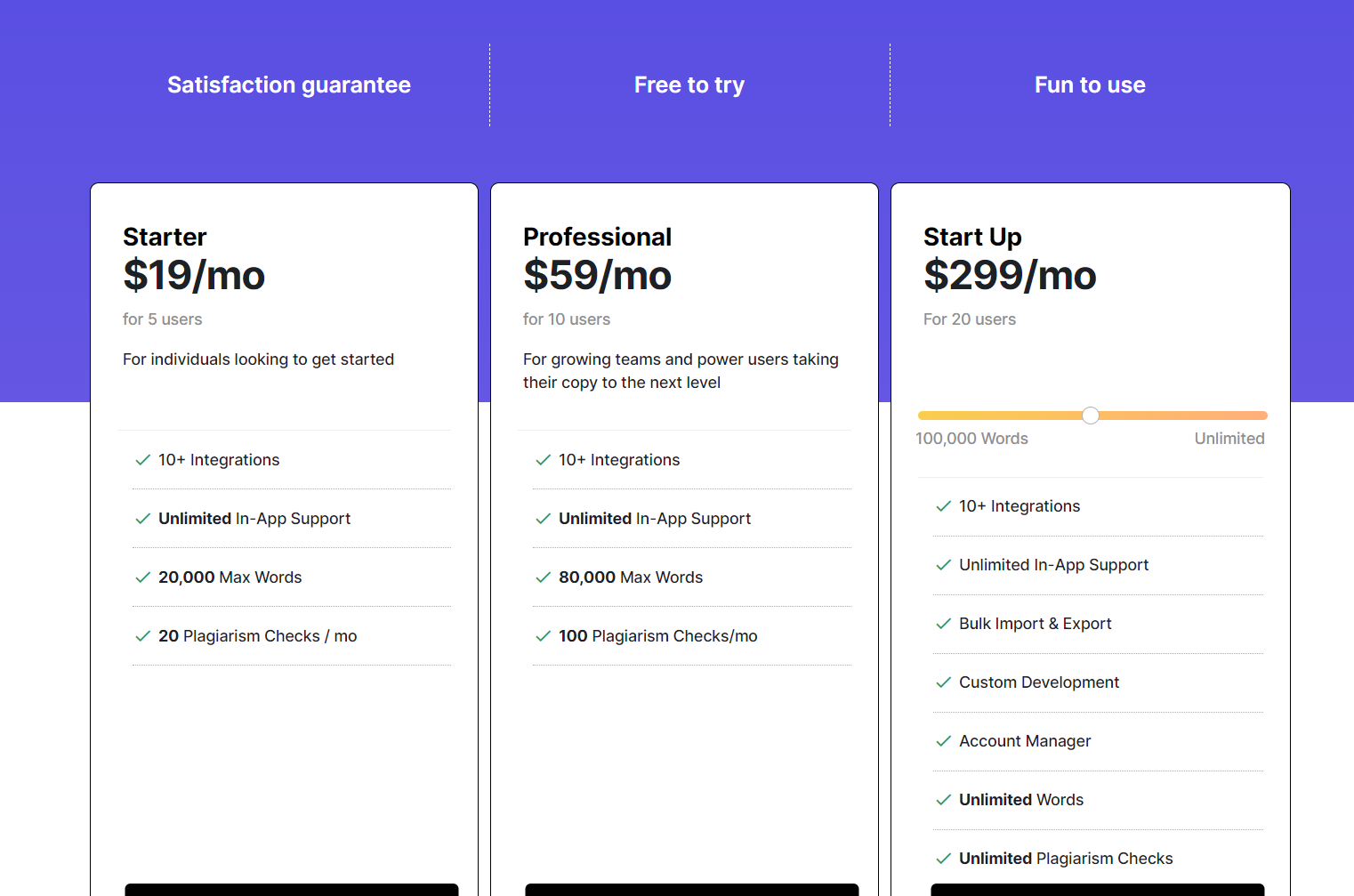 Copysmith has three paid plans:
Starter Plan: $19/month for 20,000 words
Professional Plan: $59/month for 80,000 words
Start-Up Plan: starting at $299/month for 100,000 words
Bottom Line
Regarding marketing copy, Copysmith can help you generate your product descriptions and SEO meta descriptions effortlessly with their copywriting software tools.
They have three paid plans that can get you quality content for your marketing needs without having to deal with writer's block.
Integrate Copysmith with Google Docs to write off the platform and further collaborate with your teammates.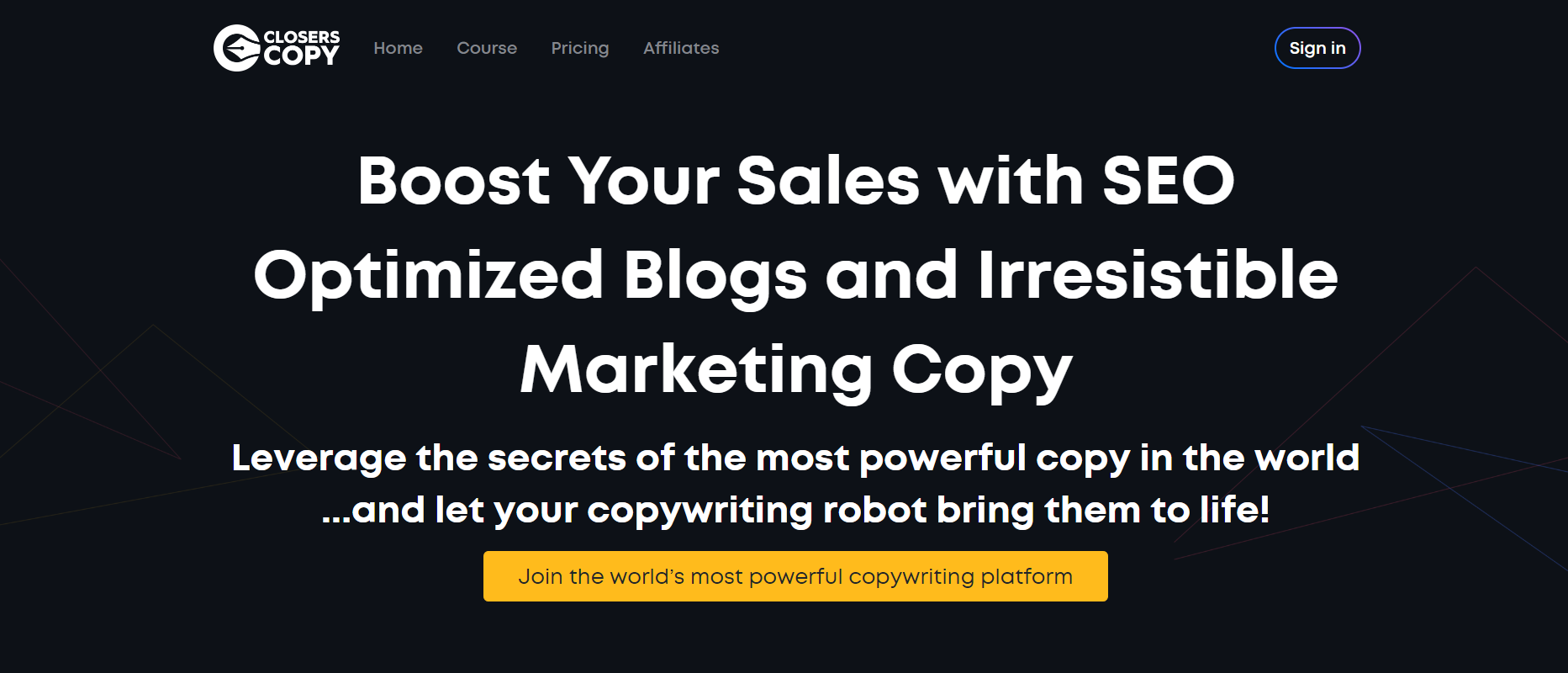 Overview
ClosersCopy will be your go-to AI software for SEO blogs and marketing copy. Using machine learning and artificial intelligence, it is your writing assistant for both digital ad copy and
Your personal AI content generator for all things SEO content has various features that you get with a paid plan, and most of these other tools are super helpful in stepping up your marketing and blog copy.
Various content generators on the internet specialize in or are great at different things. CloserCopy is excellent for marketing copy.
Highlights
SEO audits to gain insight into how your marketing efforts are performing and what you can do to improve your copy.
This AI copywriting tool gives you email support and an SEO planner to get your content creation process in order – which we haven't seen with the other copywriting tools we've reviewed.
It offers multiple languages and compares to other tools regarding deep learning and AI-generated content.
Pricing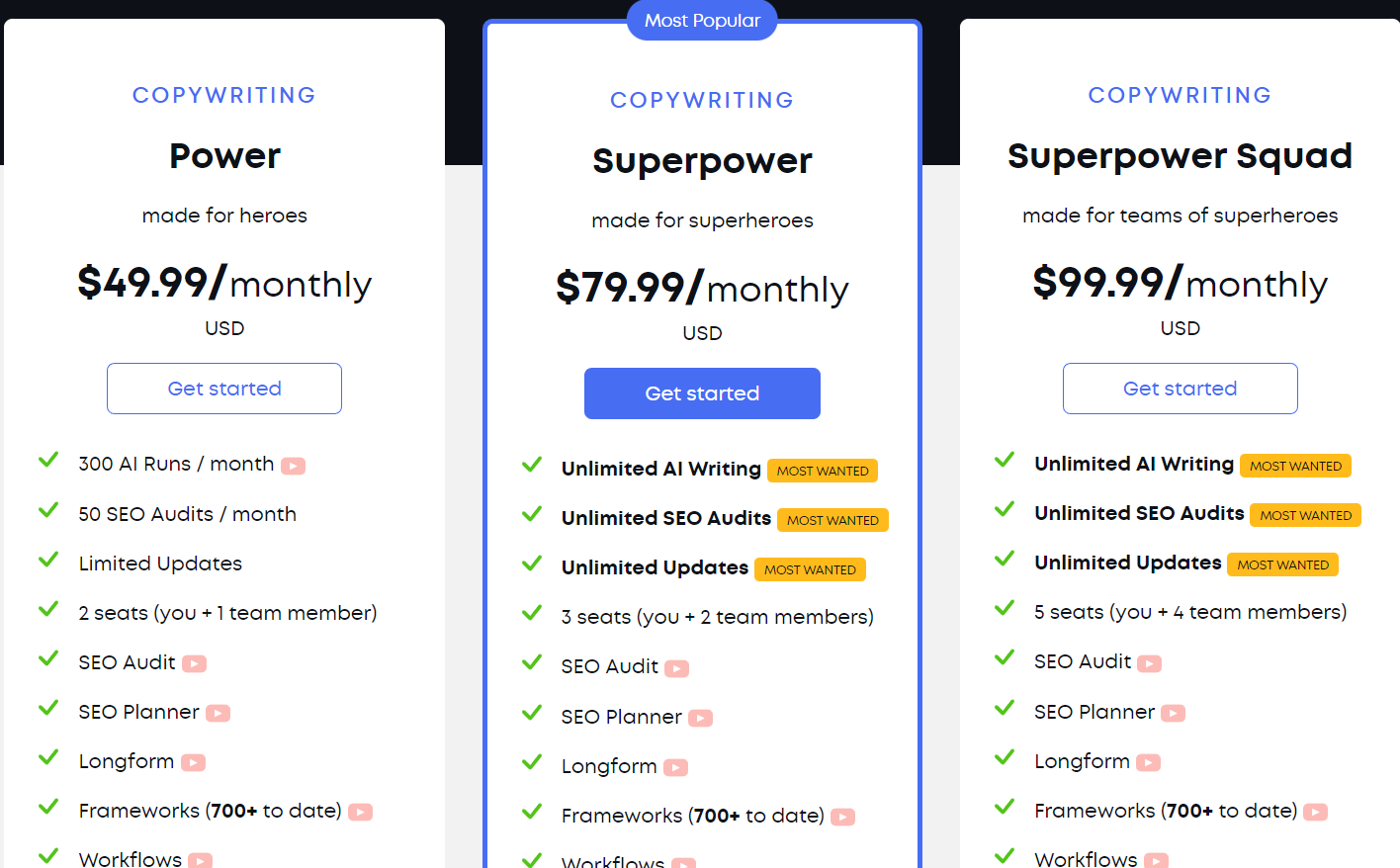 Closers Copy has three paid plans:
Power plan at $49.99/month and includes a ton of features, including 50 SEO audits a month
Superpower plan at $79.99/month with the same features as the power plan but with 3 seats
The Superpower Squad plan comes with five seats and all the same features as the Superpower plan.
Bottom Line
It's a beautiful platform for those who love content creation and want to make the best out of their copywriting tool. Whether you write product descriptions or longer content, ClosersCopy has advanced artificial intelligence to help you create the content you need to excel.
Regarding AI copywriting software tools, Closers Copy is perfect for marketing content writers who want to produce high-quality content.
With the power plan, you can access their long-form content creation to maximize your ranking in search engines. It's a great AI writer for various content types.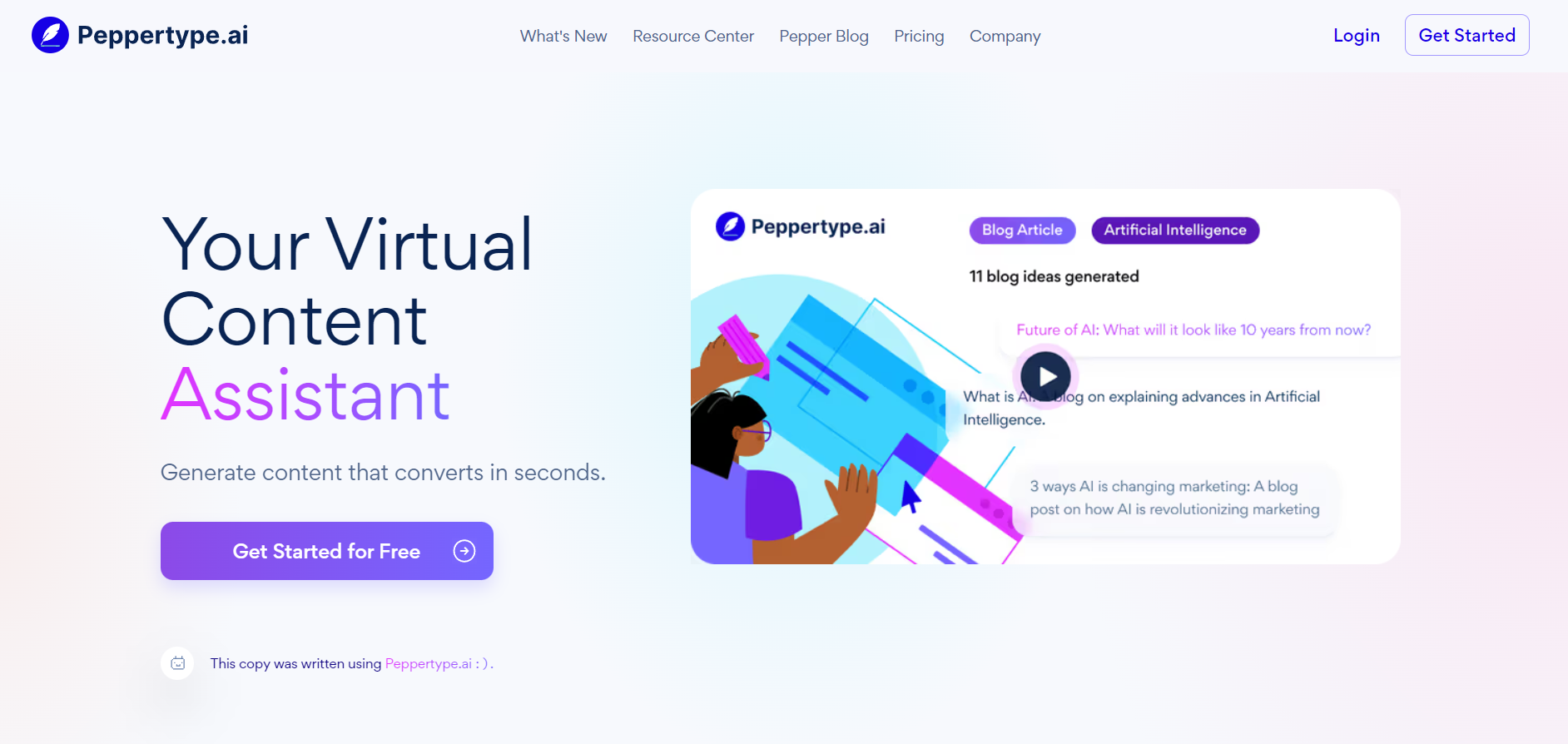 Overview
Peppertype AI can transform old content into new content that converts, which improves your Google ranking. As an AI copywriting software, it can turn out high-quality content for various use cases – such as social media posts, landing pages, long-form content, and blog posts.
Their AI copywriting software uses natural language processing to create content readers will enjoy and make writing blog posts and other content easier. Say goodbye to writer's block and stressing over the wording of landing pages – Peppertype Ai uses their AI writing software to do this all for you (stress-free).
Peppertype AI's writing tools are extensive and have many use cases at your disposal to create content.
Highlights
A vast variety of AI tools for content ranging from landing pages, long-form content, social media posts, blog posts, emails, product descriptions, paragraphs, website headlines, and more!
Free trial of their paid plans to give you access to their Ai tools and test their key features.
Natural language processing models provide you with writing tools that generate blog posts and other content that's authentic and similar to human writers.
Pricing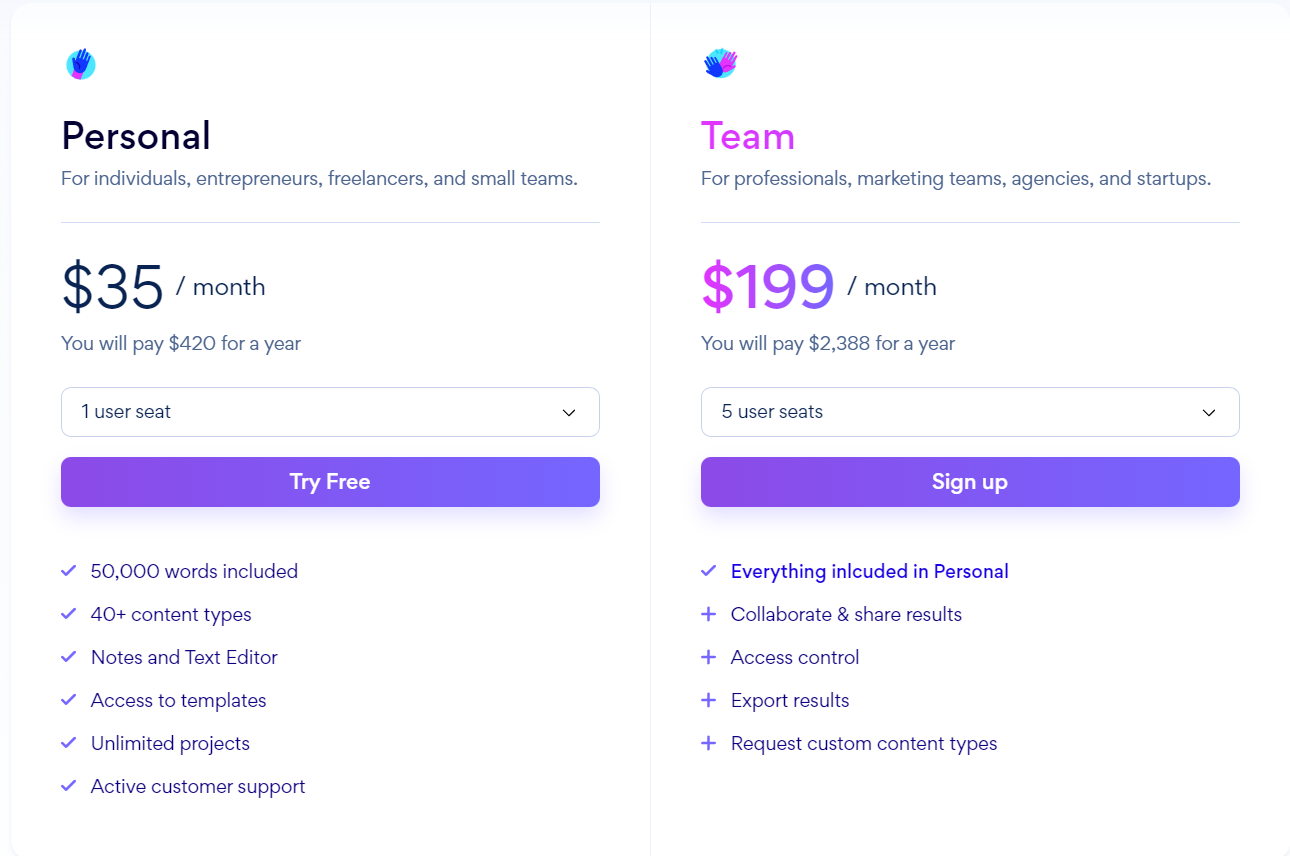 Peppertype AI has two paid plans:
Personal plan: $35/month for one user and 50,000 words
Team plan: $199/month for five users and 50,000 words.
You can get a custom plan under Enterprise if you need more services than the Team plan offers.
Bottom Line
Peppertype AI is among the lesser-known AI writing tools but is still a fantastic resource for you to create content using natural language processing, avoiding writer's block, writing blog posts and product descriptions quickly, and taking advantage of their key features.
They have two paid plans that are relatively affordable and work for those looking to collaborate as a team or use the AI tools independently.
If you create content in any capacity, you'll want to take advantage of this AI writing tool to craft your next blog post – they have a ton of other tools as well that can help you with writing content.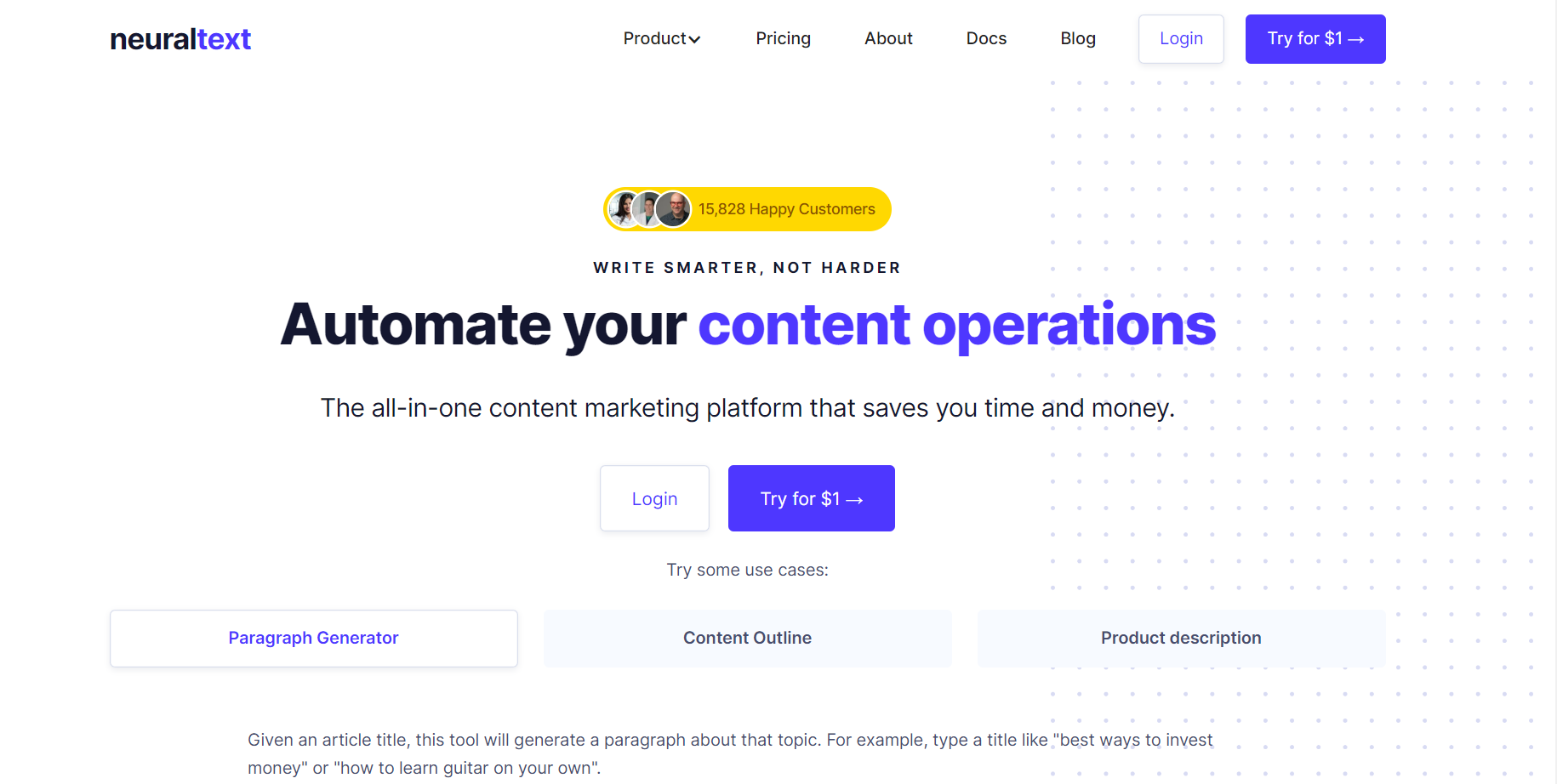 Overview
NeuralText offers various use cases, such as outlines for blog articles, paragraphs, and product descriptions. You can enter a prompt for the topic of the content, and the AI writer will do the rest.
For the product descriptions, it asks you to enter the product name and the keywords you want to be included in the content writing itself. This helps NuralText understand what you want to rank for.
The website boasts that it will help you cut your research time by 90% by using its AI writing software to do all the heavy lifting. NeuralText doesn't offer landing pages or website copy but specializes in blog posts and product descriptions.
Highlights
Keyword discovery and clustering so you can combine similar keywords faster.
SEO analysis of your content. The platform also gives you SERP insights on your topic for better content writing.
NeuralText has over 50 AI formulas, so you always get high-quality written content.
Pricing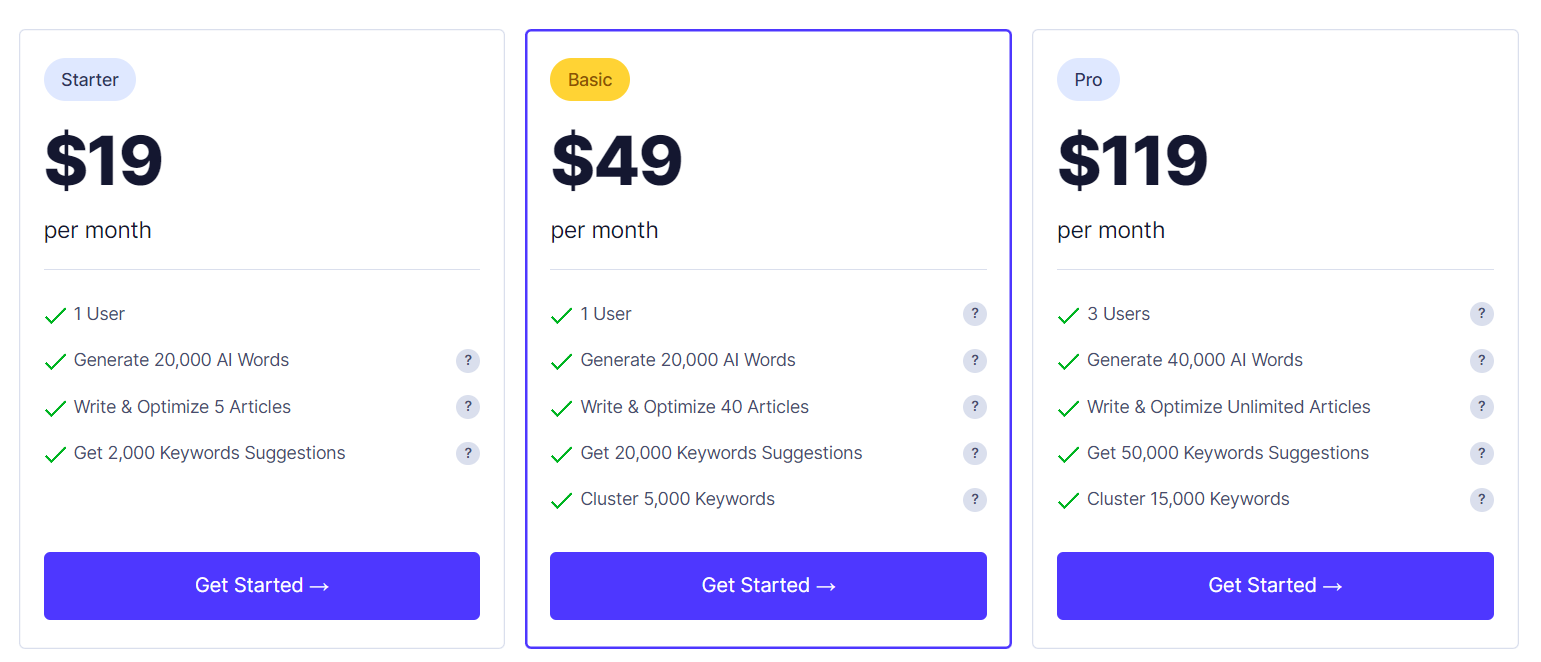 NeuralText has three paid plans:
Starter plan: $19/month for 20,000 words
Basic plan: $49/month for 20,000 words and keyword suggestions
Pro plan: $119/month for 40,000 words and 50,000 keyword suggestions
Bottom Line
If you're looking for an AI article writer that makes long-form content simple, has keyword generators and suggestions, and can analyze SERP results to better your blog posts – NeuralText is a fantastic option.
They have affordable pricing plans and key features we haven't seen on any other platforms.
You can create content that will rank on Google with their AI copywriting software.
What are AI Copywriting Tools?
AI copywriting tools are machine learning software that can mimic human writers to generate content for various uses.
They often have natural language processing models that help the software to write as if a human is writing the content – which helps you get over the writer's block and ease the content creation process.
AI writing tools are designed to help you in your content creation. By utilizing this copywriting software, you can create social media posts, website copy, long-form blog articles, blog ideas, landing pages, and more using AI-generated content.
Which is the best AI copywriting tool?
The best ai copywriting tools provide high-quality content, typically offer multiple languages, and can use machine learning to adapt to your writing style and provide copywriting templates.
We went over a few writing tools that help you create better content and generate blog outlines faster – making the content marketing aspect of your life simple.
If you're a content marketer looking to generate email copy specifically, Hoppy Copy is a great AI writing assistant for all kinds of email copy.
How to use AI for copywriting?
Most AI software will be able to provide you with copywriting templates so that you don't have to start from scratch. You can use these to adapt them to your writing style and, with the help of the AI writing assistant, generate quality content for various needs.
They can help you generate content ideas, create digital ads, and often include other tools to help expand your benefits from using them. AI software can use the prompts you give it to help you write blog posts, product descriptions, and more that will show up in search engines for the right keywords.
By using AI for copywriting, creating an entire post has never been easier – and most platforms have key features that will further the optimization of your content.
Are copywriters using AI?
AI software will not eliminate human writers; most copywriters use a type of AI copywriting tool to help them with their blog ideas, blog content, and getting over writer's block.
Most platforms use artificial intelligence to help identify keywords and better ways to rank on search engines, which copywriters are taking advantage of. Using AI copywriting in addition to human writers leads to high-quality content that most content writers wouldn't be able to create on their own.
SEO-optimized content is in huge demand right now, and copywriters use AI copywriting software to elevate their written content.
Final Thoughts
If you're in the content writing space or part of the world of content marketers – you will want to take advantage of these writing tools to help you with your content writing. Each copywriting tool we went over provides at least some benefit to an aspect of creating content – whether it's meta descriptions, Google ads, blog content, or even product descriptions – there is something you can take advantage of with these tools.
We covered a lot of them that are considered advanced AI writing tool with artificial intelligence that can help you write content faster. Most of these have a free plan you can take advantage of to start creating content.
There are so many ways that artificial intelligence has advanced, and with the emergence of GPT3 writing, there will be more AI tools in the future.