25 Best AI Writing Tools of 2023
We all write content online. Some of us only write social media posts, emails, or texts. Some of us write content for our websites, product descriptions, video content, ads, and even customer support.
Lately, ChatGPT has taken the world by storm by making AI writing more accessible via its friendly chatbot-like interface. It's an excellent resource to use for brainstorming.
AI writing software is a type of software that can generate content for you. An AI-powered writing assistant provides useful tools for writing articles, novels, blog posts, games, and more. Those are just some of the benefits of using ai writing tools.
AI writing is just another tool that you can add to your toolbelt.
You know they can be incredibly helpful if you've ever used an AI writing tool. But you also know that they're not going to replace actual human intelligence soon.
No, AI is not going to steal your job. It's a tool to optimize your work. Let AI technology make your life easier and more productive by including AI writing software in your content creation process. So if you're thinking "Why should I use AI writing tool?" you've come to the right place.
What are the best AI writing tools?
Here is a list of the best AI writing tools. I will give you an overview of each one and call out key features, pricing, and the bottom line. How to find the best AI copywriting tool is entirely up to you and your needs. I hope this AI writing tool buying guide helps you!
We've organized the tools into 5 different categories. To jump to a particular category, click the buttons below or explore the table of contents.
Disclosure: Some of the links in this article may be affiliate links, which provide $$$ to me at no cost to you if you decide to purchase the tool.
---
General AI Writing Tools
To see more AI general writing tool options, check out my post about the best general AI writing tools.
Sudowrite: Most User Friendly Writing Tool
Overview
Sudowrite is an AI writing tool that helps you generate content, rewrite existing content into something new, elaborate on something when you need more words, and brainstorm ideas. It's one of the best ai content generator softwares and is user-friendly.
Features
Write: your AI assistant suggests your next content
Describe: Want to go into more detail on a specific area? Use describe!
Rewrite: If you didn't like how something turned out, you can rewrite it
Brainstorm: For when you don't have ideas
Twist: Mixing things up
Characters: Come up with new character ideas
Poem: Generates a contemporary free verse poem
Pricing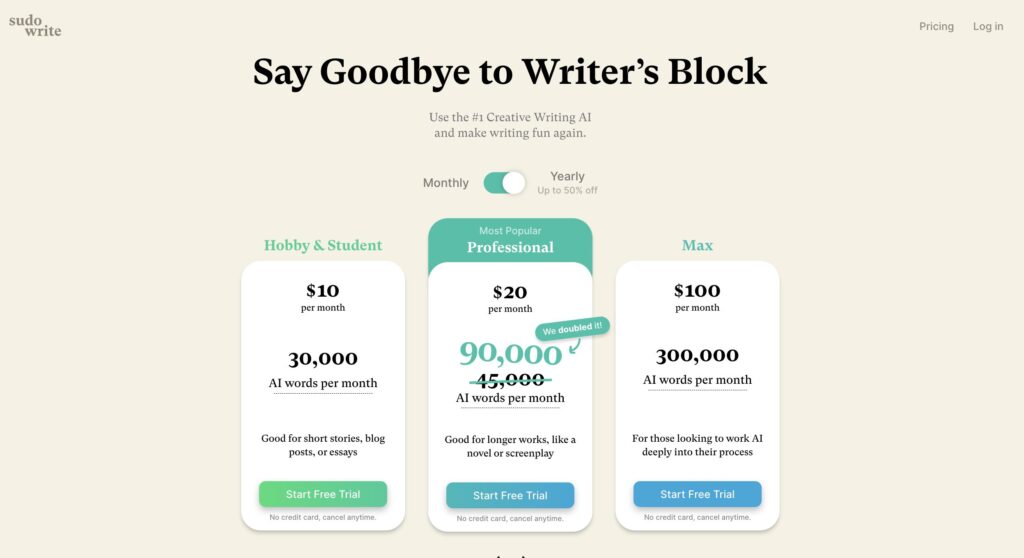 The pricing options are broken down by how many words you can generate.
Hobby & Student: $10/mo
Professional: $20/mo
Max: $100/mo
Bottom Line
Sudowrite is one of the best-designed AI writing tools out there. I'd highly recommend it for anyone wanting to do novel writing.
Jasper: Best for Power Users
Formerly known as Jarvis, Jasper is among the AI writing software tools leaders. Jasper acquired tools such as Headlime and Shortly AI writing software. Both tools remain standalone products at the writing of this article; however, both plan to integrate fully with it.
Create your blogs, articles, book, scripts, and any other content. Choose a subject area and form, fill in the details, and Jasper will write the content for you. It's not always good content, but it helps me get past my writer's block. Now that "content generation" the state of natural language generation in content marketing, Jasper.AI is an invaluable tool.
Features
Long-form document editor – a powerful tool that allows you to write full documents with AI-assisted outputs.
Plagiarism detector – write without worrying about accusations of stealing someone else's content
Speed writing – hit start, and the software will create a masterpiece for your blog post or article within minutes!
Integration with SEO Surfer – a tool that helps you analyze keywords and optimize your content to rank in search engines
Automated article writing software – if you give it enough parameters, content creator AI can almost write your articles for you
Facebook community that offers support, job opportunities, and more
Multiple languages
Write novels, blog/articles, video scripts, and more with Jasper!
AI wizard can produce over one million sentences
Pricing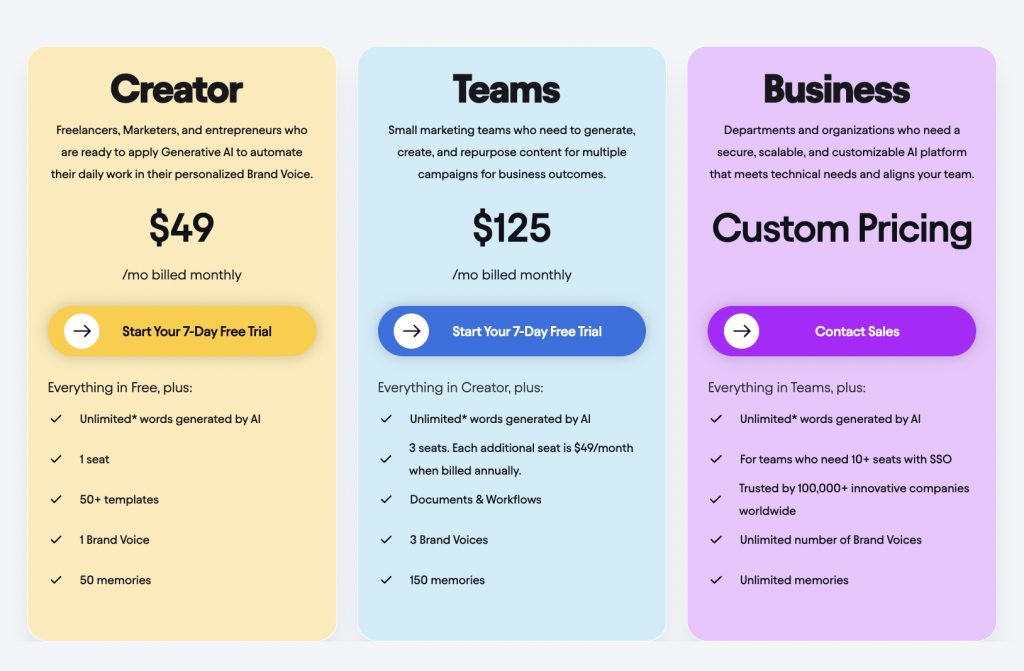 Jasper has three paid plans:
Creator Mode: $49/month for unlimited words
Teams: $125/month with unlimited words, 3 seats, and 3 brand voices
Business: Custom pricing
Bottom Line
I compared the quality of the output with Rytr, for instance, and it wasn't any better for me. You can pay $49/month for unlimited content generation in Jasper, but you could also pay $29/month for the same thing in Ryter.
HOWEVER. I keep using Jasper because of the recipes and commands that you can use. It makes for a very powerful workflow and I can do a lot with the Jasper ai writing tool. Jasper can do a lot of creative things, including movie script writing, so if you want an AI script writer free from customization limitations, definitely check Jasper out. With the recipes and commands, Jasper is an AI writing software for better writing results.
Rytr: Best for Beginners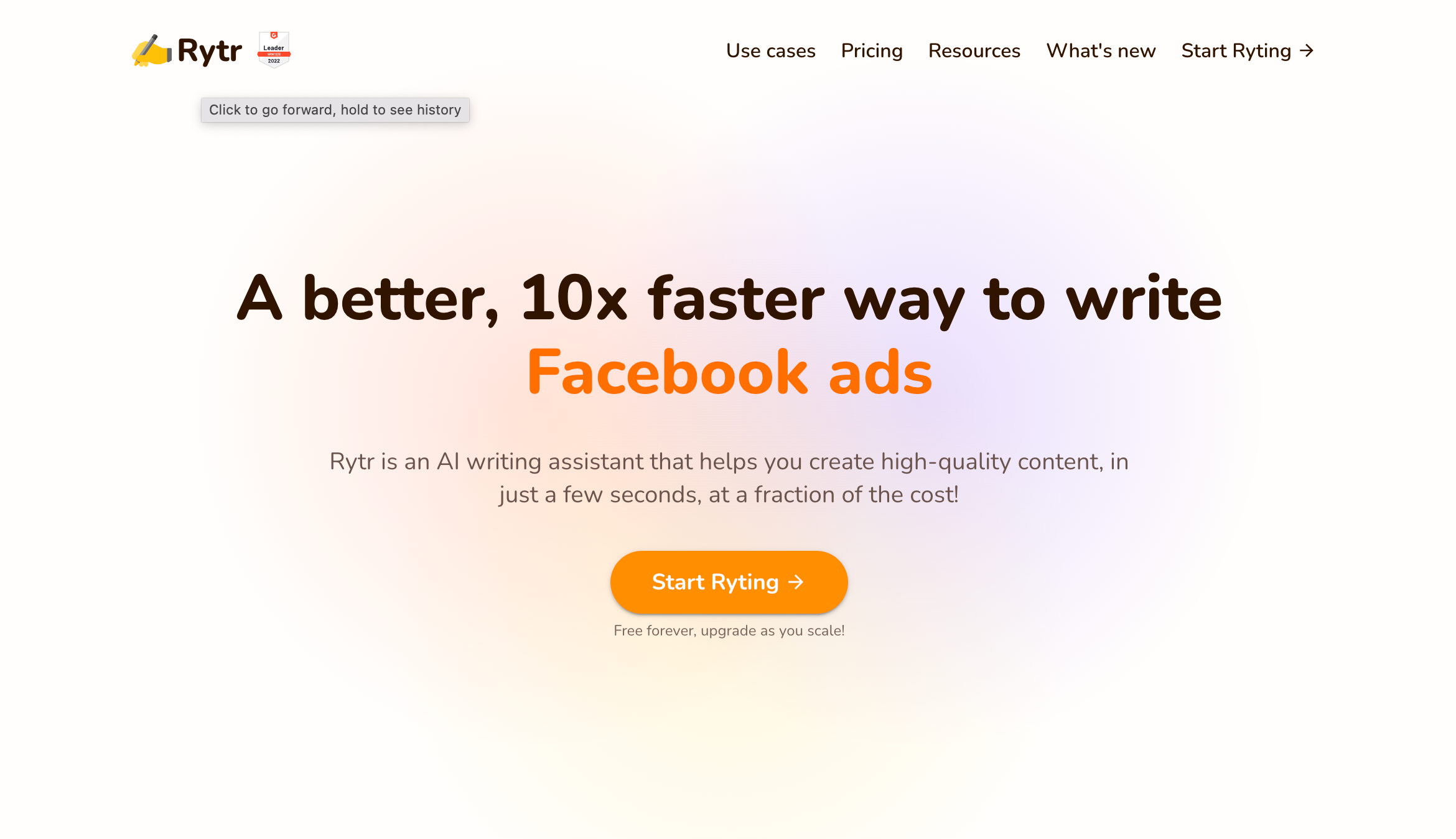 Rytr is a content writing platform that uses AI to write content for you. Rytr's algorithms are trained on historical data, so they can produce unique and compelling articles with the right tone and style, while also being grammatically correct.
Rytr's AI writing assistant will have your article ready in less than an hour, without any need for human intervention.
In its current state, Rytr can produce text for a variety of topics and niches, including sports articles, business articles, reviews, blog posts, articles on technology, etc.
Features
Content generation is made easy and quick with character count, word count, and tone checker.
Plagiarism check ensures you have the highest quality of content.
Grammar check for your writing to make it professional-level.
Discover what works best for your idea by generating content from our vast library of over 2,000 ideas.
Personalize your content with a professional touch using Form Generator.
Rytr.me login to save your work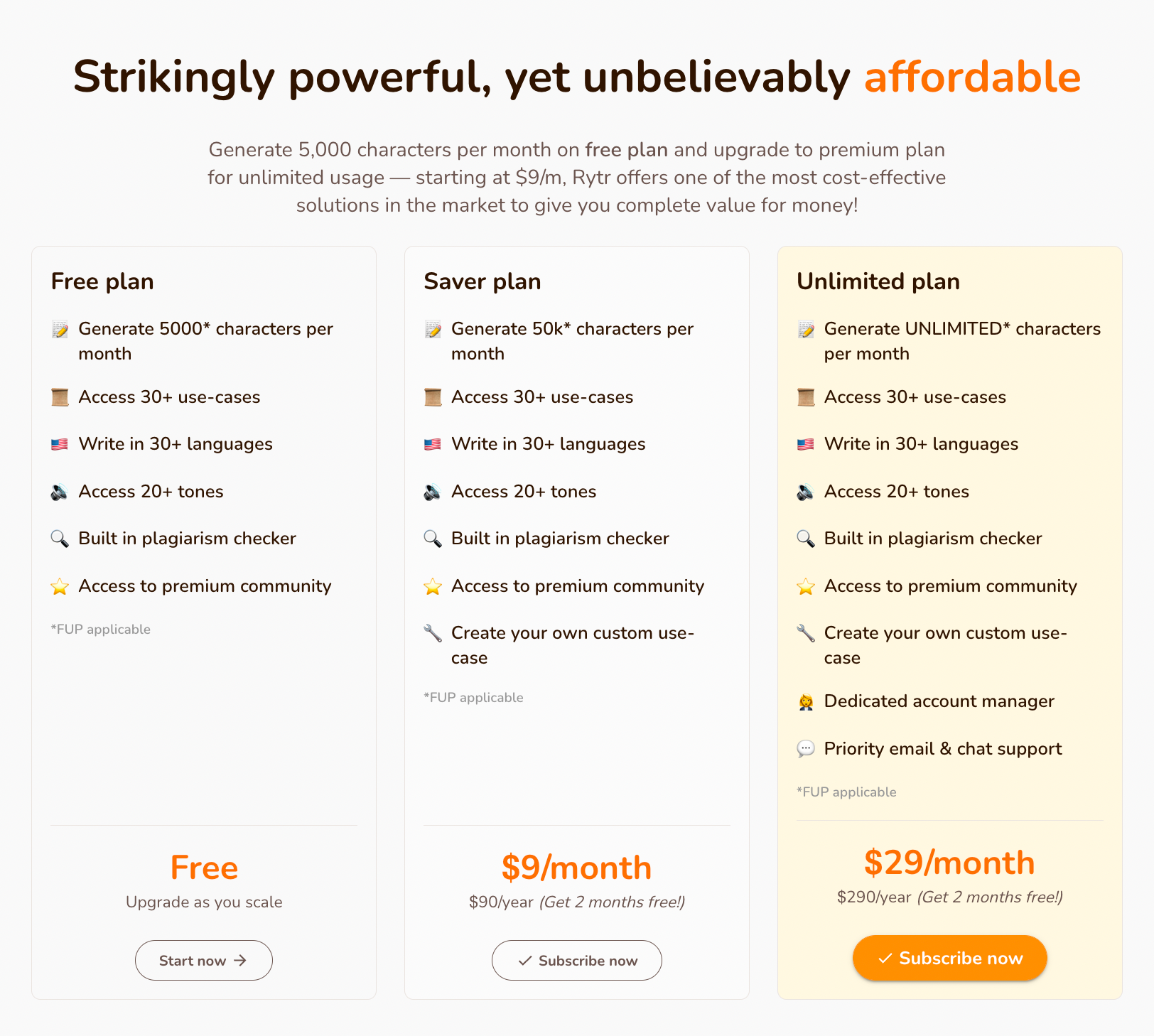 Pricing
Free Plan
Saver Plan: $9/month; $90/year (Get 2 months free!)
Unlimited Plan: $29/month; $290/year (Get 2 months free!)
Bottom Line
Rytr is an app that helps people write faster. It's a great AI writer tool for bloggers and content writers who need to produce a lot of articles. It could be used for a variety of purposes, including health coaching. Rytr also allows users to search for ideas for their articles or even write them in real-time.
The weak point is that Rytr doesn't have "recipes" like Jasper has. Jasper allows to you have more custom control over the AI output. If you're looking for a story-writing AI, Rytr is great, but if you want more power, try Jasper.
---
Best SEO Writing Tools
Want more options? Check out my other blog post for a complete, detailed analysis of the best AI SEO writing software.
---
Best Copywriting Tools
To see more copywriting tools, check out my best copywriting tools article.
HoppyCopy: Best for Email Marketing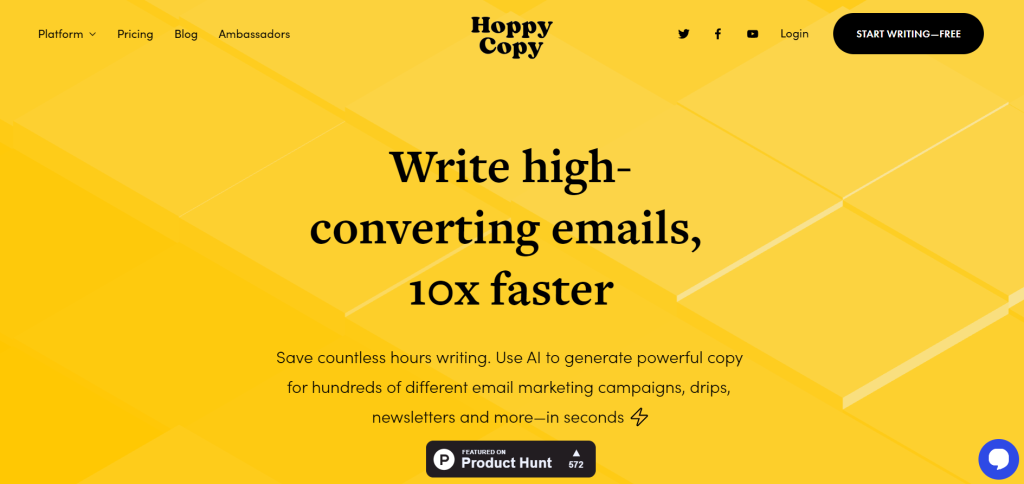 Overview
Hoppy Copy is the go-to expert for crafting email content that generates exceptional results, making it an invaluable resource for marketing agencies seeking top-notch email copy.
Their AI assistant generates compelling copy for numerous email marketing campaigns, drip campaigns, newsletters, and more.
HoppyCopy prides themselves on not being Jasper.ai or Copy.ai clones. While there are plenty of tools available for long-form content creation, their primary focus lies in delivering exceptional email marketing and sales copy. Additionally, they offer a range of advanced editing features to further enhance your content creation experience.
When compared to similar services, HoppyCopy's offerings stand out for their originality and innovation. For example, they have an advanced editor tool to help with writing. They also let you track the email strategies of your competitors and check automatically for spam words. In addition, they assist with website copy, Facebook ads, and more.
Features
40+ AI email templates, to start generating everything from drips, lead nurtures, welcome flows, and more (+ new templates coming every month)
10+ Additional AI templates to generate the rest of your marketing copy (ads, social media posts, youtube scripts, and more)
Advanced Notion-style Editor where you can make edits to copy on the fly (add CTAs, Emojis, Tone, etc.)
Email Sequence Planner
Spam check to ensure your emails land in the inbox
Multiple Docs & Project Folders
35+ Languages
Grammarly Integration
Collaborate with colleagues & clients with Workspaces
Simple UI
Access to 10,000+ emails
Request tracking new brands
Weekly, biweekly, or monthly alerts
Pricing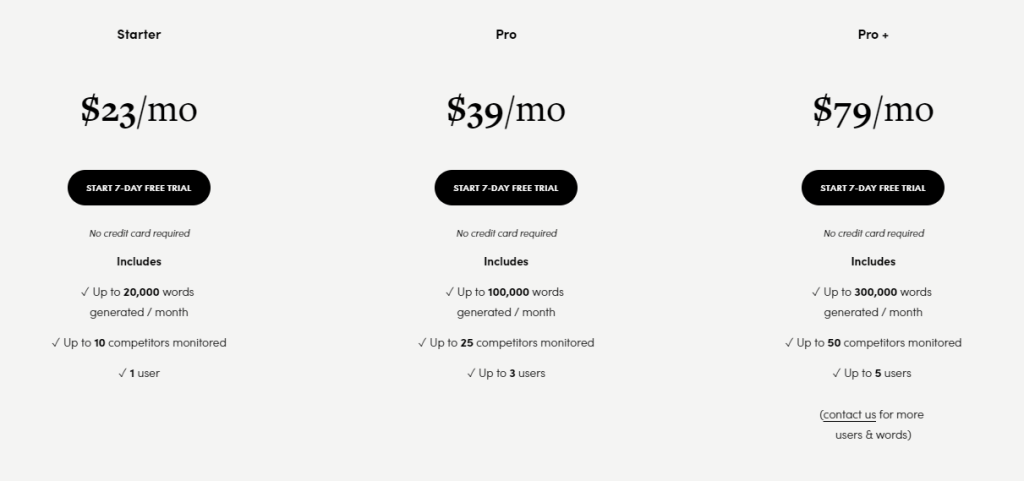 Starter Package: $23/mo
Pro Package: $39/mo
Pro+ Package: $79/mo
Bottom Line
HoppyCopy is an AI-powered copywriting assistant specifically designed for email marketing.
HoppyCopy stands out from its competitors by focusing exclusively on email marketing and sales copy, providing originality, innovation, and continuous updates with new templates and features.
It's a go-to resource for both experienced copywriters seeking inspiration and marketers in need of high-quality email content. With various pricing plans and over 50 templates, HoppyCopy caters to different budgets and copy requirements.
---
Best AI Writers for eCommerce
Check out my guide to eCommerce AI tools for more eCommerce recommendations.
Hypotenuse AI: Best AI Content Platform for e-Commerce
Overview
Hypotenuse AI is the premier AI writing tool for e-commerce. It's designed to make brands and businesses that sell products have an easier time doing so. Hypotenuse seeks to help e-commerce sites sell their products by creating compelling product descriptions.
Highlights
Pricing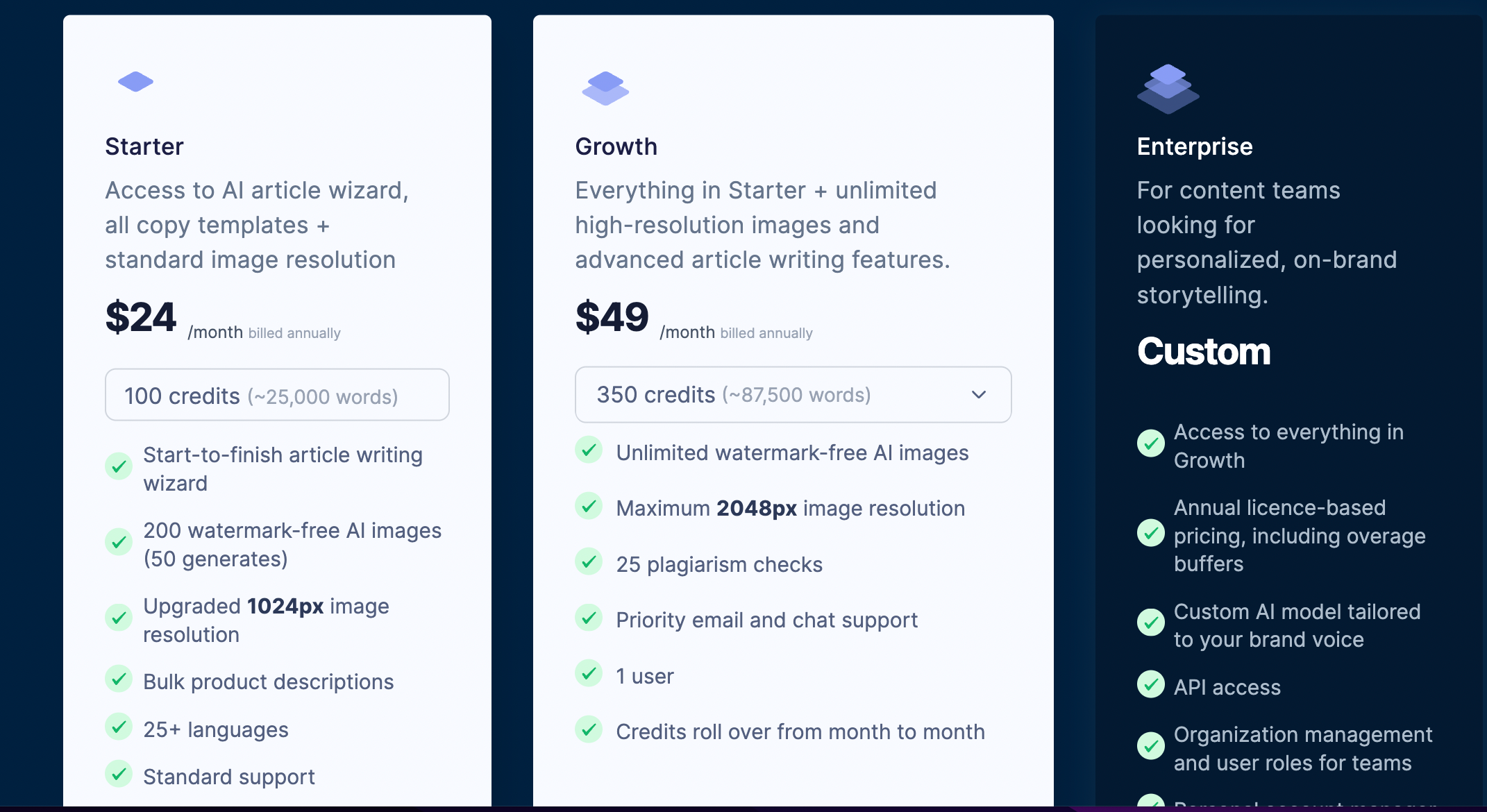 Hypotenuse offers a subscription based model. There are three tiers:
Starter: $24/mo
Growth: $49/mo
Enterprise: Custom pricing
Bottom Line
Hypotenuse optimizes itself around e-commerce. Unlike other AI writing software I've reviewed, Hypotenuse AI boasts specific features and workflows directly suited for e-commerce use cases. And it certainly delivers with its bulk import features and product catalogs. If you're an e-commerce site, then you should consider Hypotenuse.
---
Best AI Article Generators
Looking for more article generators? Check out my list with more of the best AI article generators.
---
Best AI Writing Apps and Browser Extensions
I think about AI virtual writing assistant tools as ones that primarily work as browser extensions that you use in other applications. However, it's a tough call to make because many of these tools have extensions. The ones I'm putting in here are only browser extensions.
For more apps and browser extensions, check out my article about the best AI writing apps and browser extensions.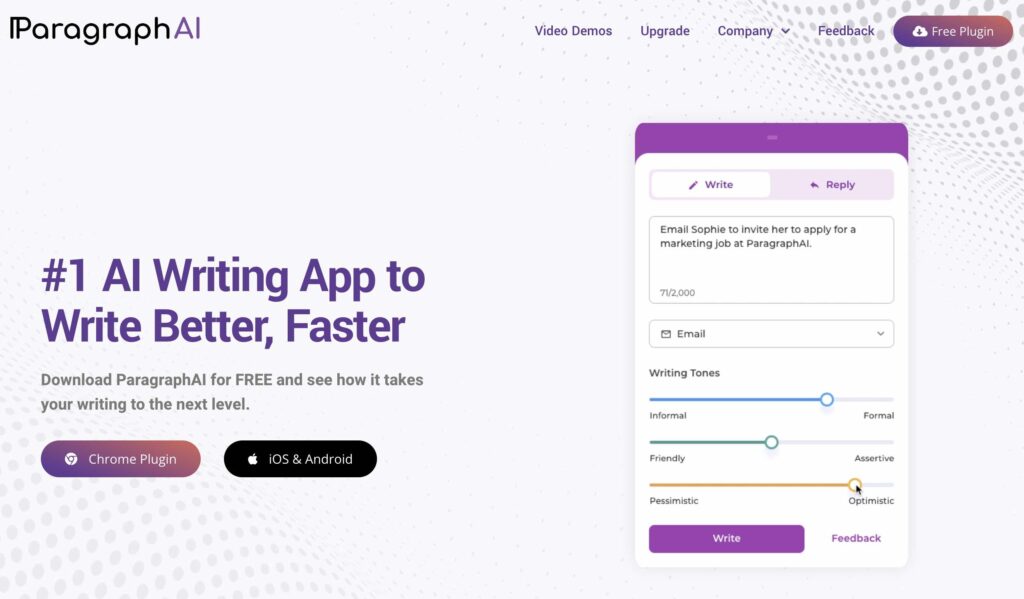 Overview
Paragraph AI works predominantly as an app you can get in the Apple Store or Google Play Store. It also is a Chrome Plugin. This is the first AI writing app that I've come across, so I decided to try it out.
I have an iPhone, so I'm only speaking to that experience. On iOS, it works as a new keyboard that you add. Note: it does have to have full access to everything you type, so if you're uncomfortable with that, this might not be for you.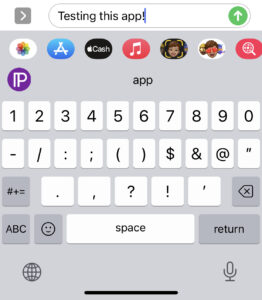 The keyboard itself looks just like your regular keyboard; however, it has the Paragraph AI logo on the left side. If you tap on the Paragraph AI logo, it pulls over the content you've typed and takes you into the app where you can finesse your content. If you're texting someone important, this is a huge help!
Features
Tone selection to write content
Grammar checker
Plagiarism checker
Instant replies
Powered by GPT3
Pricing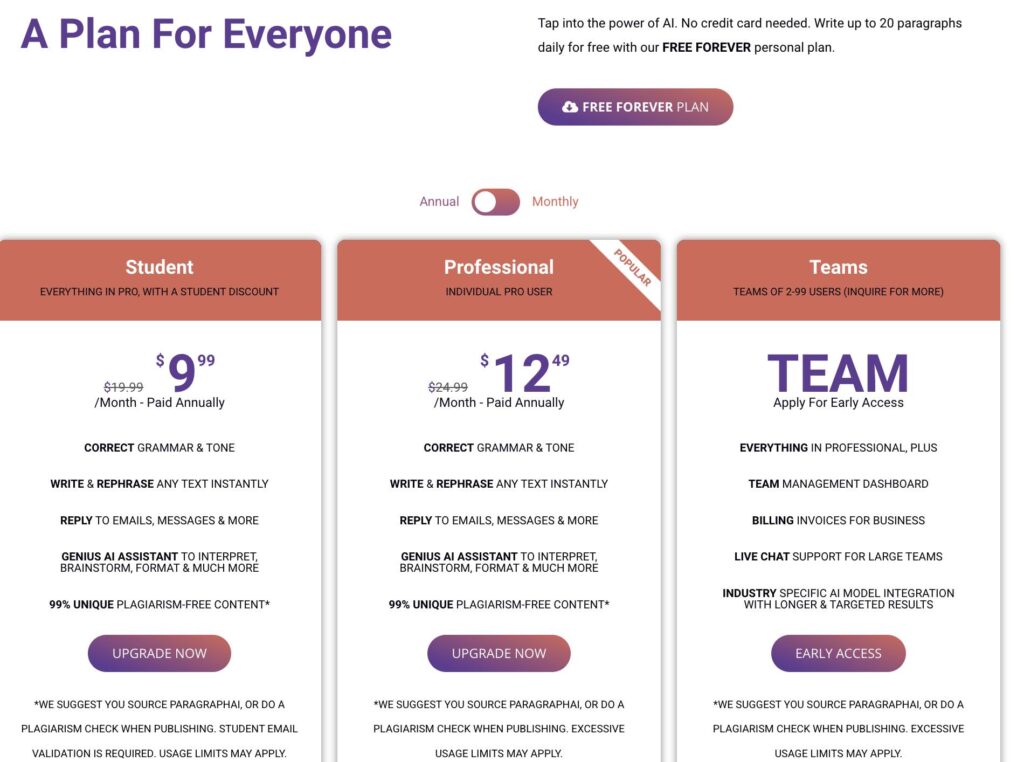 Paragraph AI offers a free forever plan. However, if you'd like to get more advanced features, you have a few options.
Student: $9.99/mo if paid annually
Professional: $12.49/mo if paid annually
Teams: Inquire for more details
Bottom Line
If you want to harness the power of AI writing on more than just your computer, definitely check out Paragraph AI. Take advantage of all the benefits of AI on your mobile device!
QuillBot: Excellent for Proofreading, Plagiarism Checking, and Citations
QuillBot is one of the most comprehensive writing tools out there. If you're a student looking for an AI essay writer or need to research and write citations you don't want to miss this tool.
It's free to use and you don't even need to sign up to try it out, which is really nice. No marketing copy to mess with, you just get in and start using the tool.

Features
Paraphraser – Takes content you paste in and paraphrase it so that it meets your needs
Grammar Checker – Makes sure you sound professional and grammatically correct
Plagiarism Checker – You can paste in text you want to check or upload your file
Co-Writer – This is your AI writing assistant to help you generate new ideas based off what you've written
Summarizer – I've been looking for an AI tool that can summarize content for you! QuillBot's summarizer does a solid job
Citation Generator – Helps you track and properly cite your citations
Browser extension for Chrome
Microsoft Word extension
Pricing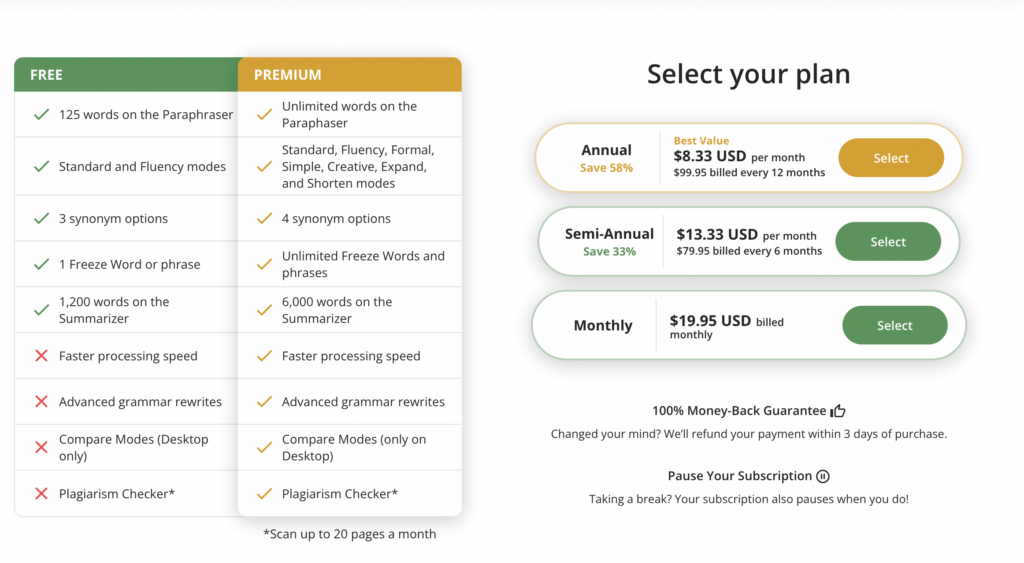 As with many products, you save with an annual subscription. I don't often see a semi-annual subscription, which I find interesting.
Annual: $8.33/mo
Semi-Annual: $13.33/mo
Monthly: $19.95/mo
Bottom Line
QuillBot is one of the more versatile tools and gives you a lot of options for a very reasonable price. If you want to try an AI copywriter free, try out Quillbot with no worries about having to provide your email. If you're looking for an AI writing tool to help you with writing academic papers, definitely check this one out. It's extremely useful for academic writing and creating an outstanding scientific paper. Human researcher's publication records form the basis of its AI algorithm. If you want an excellent grammar checker, Quillbot is just as good, if not better than Grammarly.
Grammarly: Best Grammar Assistant
Grammarly is a game-changer! It's the AI writing tool you didn't think you needed, but you actually need. It's a great AI writing tool because it doesn't just focus on grammar. It also looks at the overall tone and style, ensuring that your content fits the audience you're going for.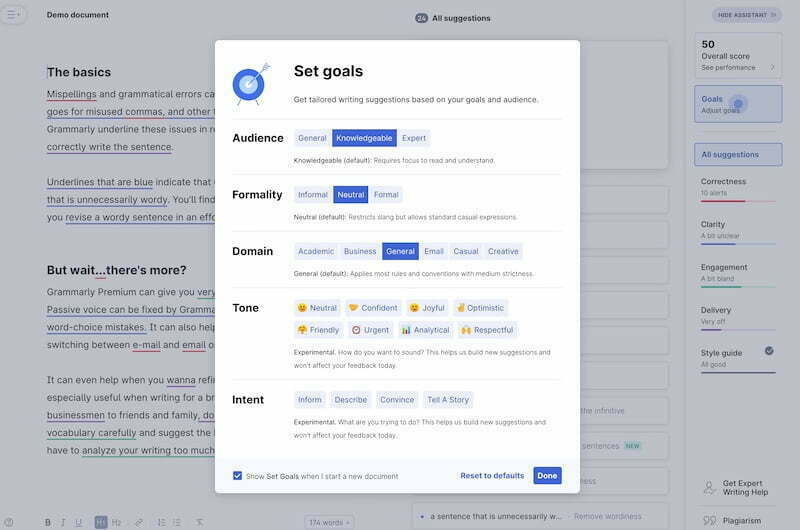 I enabled the Grammarly app, an overlay feature that follows you around and reads everything you write. It's like spell check, but for everything you type. It's also more advanced than spell check as it looks at grammar, tone, and style, as mentioned previously.
If that's a little creepy for you, you can always copy and paste your content directly into the Grammarly online application, and it will proofread your content for you.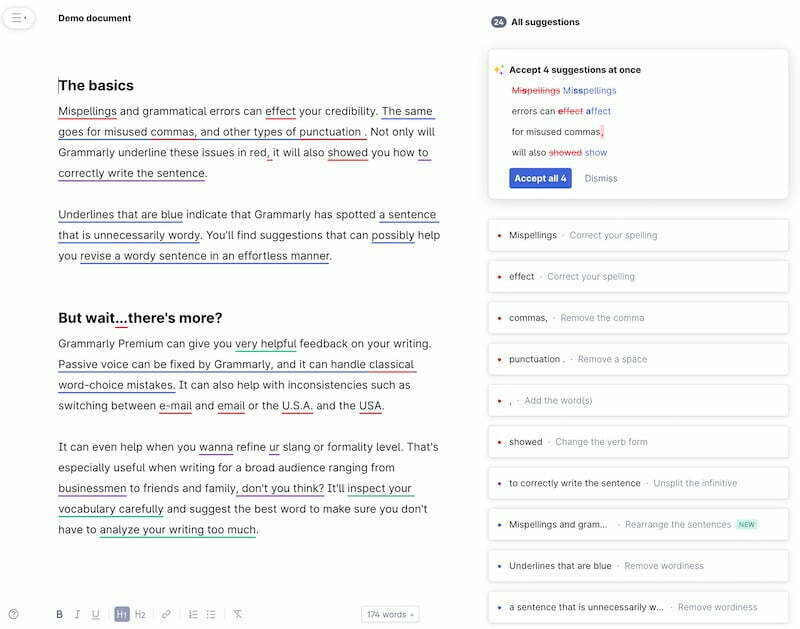 That said, it IS an AI application, so you need to use your judgment on its suggestions. Most of the time, the suggestions are great. Sometimes though, the suggestions are a bit nonsensical.
Features
Grammar checker – eliminate grammar mistakes
Contextual spelling checker – spell check your words in the right context
Punctuation correction – get help with all of your punctuation needs
Style suggestions – improve the overall tone and style of your writing
Integrated with a variety of platforms such as Google Docs
Error-free proofreading
Long-form content editor
Pricing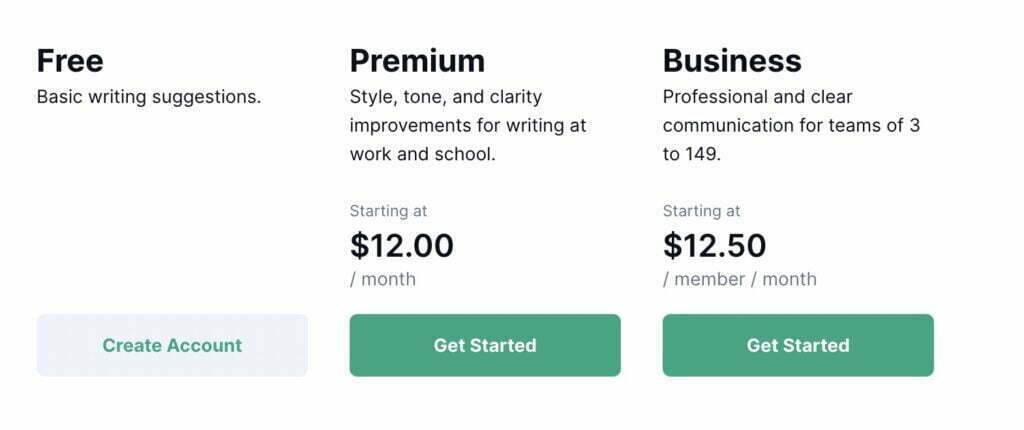 Free
Premium (for individuals): $12.00/mo
Business (for teams): $12.50/mo
Bottom Line
Grammarly differs from the other AI writing tools on here in that it serves as your personal proofreader. It follows behind and fixes your grammar mistakes. It's an amazing content quality checker for content writers. But I think it's a must-have for everyone looking to write in a professional setting. Guess what? That's probably everyone looking at this article.
---
What is an AI writing assistant?
In content production, AI writing helps content writers in the content generation process. The process might involve brainstorming ideas to generate unique article drafts. AI-assisted content marketing efforts can also include landing pages, product descriptions, YouTube video titles, marketing copy, and Google ads.
AI writing assistants support content creators so they can focus on their craft and not worry about how to produce unique content, such as articles or e-books; however, AI writing assistants are not yet at the level where popular blogs rely on them for every post from scratch without any human intervention.
Utilizing AI writing enhances the writing skills of anyone and enables them to save time.
How do AI writers work?
Artificial intelligence involves combining artificial intelligence with machine learning algorithms to create literary neural networks. AI software training teaches these networks to read the text and then experiment with themselves. Once acquired knowledge through intensive repetition, the computer can begin mimicking actual writing with astonishing accuracy.
Is AI writing good for content creators?
I believe AI writing software can be a great complement to content writing, it can help in composing blog posts, advertisements, landing pages, etc. These best AI tools fulfill content marketers' dreams. Although there are many types of AI software, they all make learn from previous writing and can then generate bulk content to help content writers.
It allows you to upgrade from simple Google docs to advanced features that can only be found in AI writing software tools. "Content generation" the state of natural language generation in content marketing.
Why should I use an AI writing tool?
The benefits of AI writing tools are numerous.
Think of AI as a tool that helps you. Not something scary that will take away your job. It'll make your work go faster and streamline your workflow. You can create content and utilize your time more wisely. AI content writing tools are a valuable addition to your writing process.
Don't just ask yourself "Why should I use AI writing tool?" and maybe instead ask yourself, "Why shouldn't I use an AI writing tool?"
Final thoughts
Always do your own research before making a decision. While this AI writing software buying guide has a lot of information, you're going to have your own unique needs. The best program for AI writing will depend entirely on your needs.
The best AI writing assistants are a game-changer for content creators who want to experiment with new styles or topics without worrying about the quality of their articles. Content creation is a huge task and an AI writer can take some burden off your shoulders if you're struggling to meet deadlines. So far, no AI writer has received a Pulitzer prize but it's only a matter of time until they do.
With the right tools, AI can help you write content that is both creative and accurate. Look for an AI writing tool that offers a free trial so you can try it out before committing to a subscription.
If you want to write SEO-optimized content that ranks in search engines, definitely check out SurferSEO. It's extremely powerful and offers a lot of educational resources. It's also introducing its own AI writing assistant in the near future.
In my opinion, Jasper is the most powerful AI writing tool out there, but it's also on the pricier side and doesn't have unlimited words. For those looking for a document editor and SEO, try Scalenut out. It's free! For those just wanting to reduce writer's block, check out Copy AI. If you compare Copy.ai vs Jasper.ai, you get different experiences. Jasper.ai wins for me because of its recipes and customizable content.
If you want a free tool you can without having to log in, try out QuillBot. If you're a student or need to use citations a lot, this is your all-in-one tool. I like it better than Grammarly, actually!
Recommended reading