In the AI writing tools category, Jasper has been leading the pack. And for good reason. Jasper AI's robust user interface makes it simpler for people looking to create content with AI.
In this Jasper AI review, we're going to take a look at Jasper along with what Jasper does well and what Jasper could improve.
Jasper Overview
Formerly known as Jarvis AI (and before that Conversion AI), Jasper AI is a powerful writing tool. It allows users to start with a blank canvas, or they can choose from an extensive library of templates and content models. These templates can be used for basic SEO optimization or more advanced functions like creating review sites or sales letters.
As you might have noticed, Jasper has gone through a number of name changes, but I imagine the name Jasper will be here to stay. Jarvis AI overlapped too much with Tony Stark's AI assistant, so they had to change the name.
Note: this post contains affiliate links which means that if you click one of my links (please do!) and purchase the tool, I get a small commission at no additional cost to you.
AI Technology
Jasper AI's writing technology comes from Open AI's GPT-3 machine learning model. For the Jasper Art feature, they take advantage of Open AI's DALLE-2 AI art generation model.
Both Open AI's GPT-3 machine learning model and DALLE-2 AI art generation model come with a lot of power. These models are capable of utilizing context, understanding grammar, and generating highly relevant pieces based on user input.However, in my experience neither can truly replace the need for real people. AI-written content often doesn't get into enough specifics to satisfy readers. It might create a solid first draft, but you usually still need to go through that draft and fix it up.
Jasper AI Pricing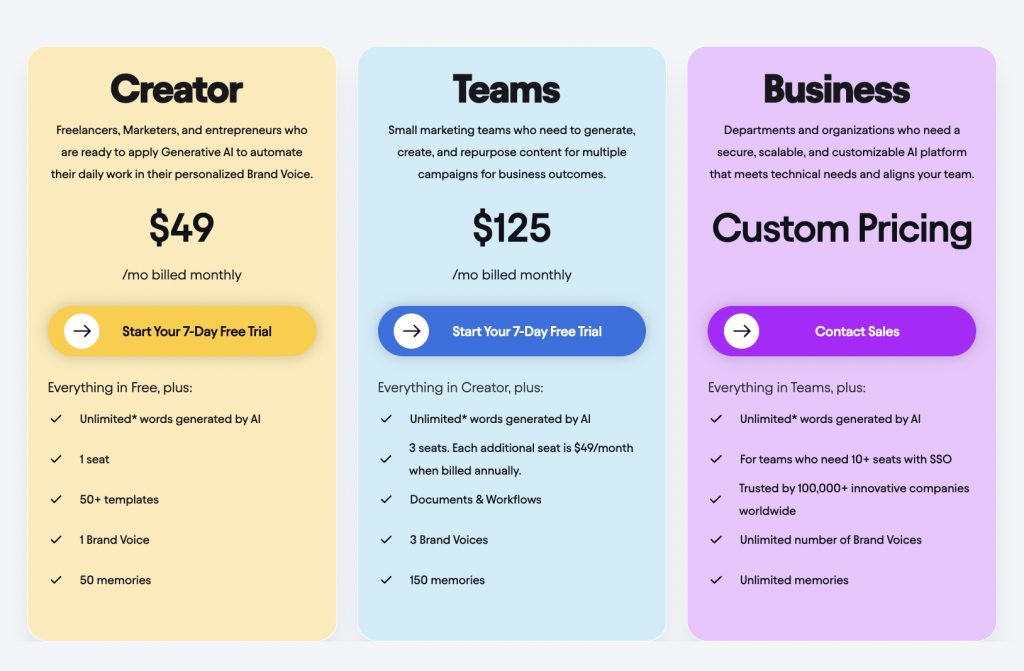 Jasper has three paid plans:
Creator Mode: $49/month for unlimited words
Teams: $125/month with unlimited words, 3 seats, and 3 brand voices
Business: Custom pricing
All plans give you access to the documenter editor, art, Jasper Chat, live support, Grammarly integration, Jasper recipes, and the ability to use commands.
Creator mode is designed for one person, while Teams has more capabilities for more people (it's for teams as the name implies).
Free Trial
Jasper AI offers a 7-day free trial of any Jasper plan.
Jasper Specific Features
Before I get into my usual AI writing tool criteria in this Jasper AI review, I'll first talk about Jasper's core features.
Documents
Jasper AI's long-form document editor provides Jasper users with four different options to write content.
The first option, Focus Mode, provides some basic input options to help Jasper produce better content for you. The "Content description/brief" can be toggled on or off. The content description helps Jasper know what you want to write about. The more detailed you can be, the happier you'll be with what Jasper AI writes for you. You can customize the tone of voice, but that can also be turned off if you don't want to mess with it. For basic SEO optimization, you can request up to 3 keywords be included.

Jasper incorporated Jasper Chat into the document editor experience. If you're someone who prefers an interactive brainstorming partner, this might be a feature you take advantage of. Jasper Chat is included in boss mode plans. If you enjoy ChatGPT and want to make sure you continue to have access to it when Open AI inevitably starts charging for it, you might want to make sure you get Jasper AI boss mode.
Jasper Chat starts off with some basic prompts, but you can ask Jasper Chat pretty much anything and it'll give you…some kind of response. Whether or not it's accurate is on you to find out.
Some ways you can use Jasper Chat:
describe a character's personality
write more about X topic
rephrase this paragraph
write a meta description
Jasper Chat enables you to take advantage of the templates you'll see later on when we discuss power mode but in a text-based chat format.
Jasper Chat makes it a little easier to make Jasper give you the response you want while writing because you can work in a separate area until you get the content you want to see and tweak it.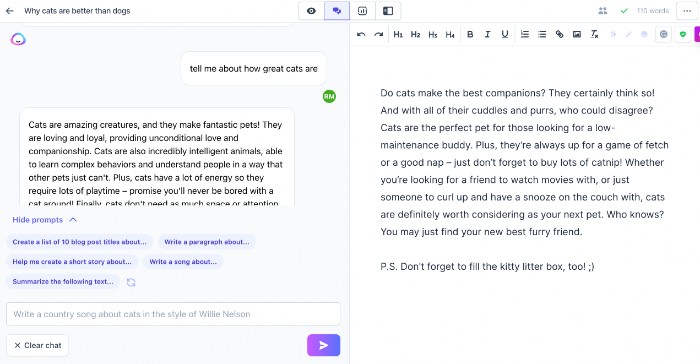 Natively, Jasper AI does not provide you with SEO optimization. As I mentioned with Focus Mode, you can tell Jasper to include 1-3 certain keywords. However, Jasper AI has seamless integration with Surfer SEO. If you turn on the Jasper AI Surfer SEO integration, then you have a dedicated mode in Jasper where you can take advantage of Surfer SEO's advanced content optimization abilities.
Surfer SEO gives you a huge list of keywords to target along with information about how to structure your content as well as how many words and images to try to include. As you write, you watch your content score go up and down. You want your content score to be as high as you can get it.
The drawback is that Surfer SEO is a separate tool that you need to pay for separately.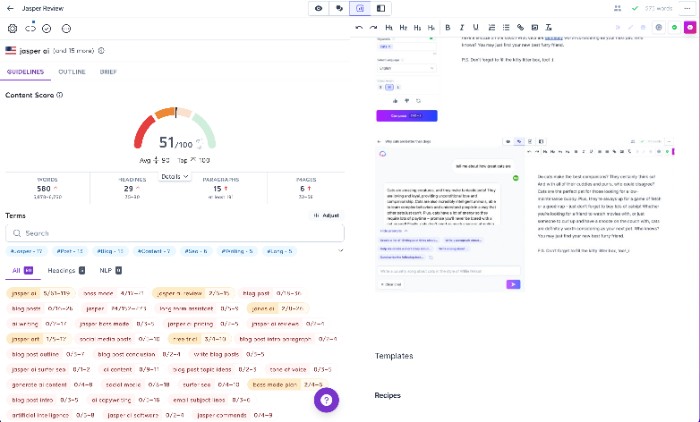 The last of Jasper's document editor functions is power mode, which includes workflows and templates. The workflows enable you to follow a step-by-step process to generate content. The templates all help you create content based on the use case you're looking for. I really like the AIDA and PAS frameworks to help me write more eye-catching content. AIDA stands for Attention-Interest-Desire-Action, while PAS stands for Problem-Agitate-Solution.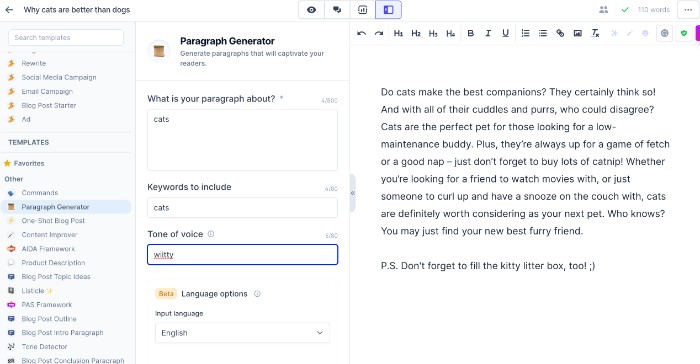 All in all, the document editor is my favorite Jasper AI feature and where I spend most of my time when I use the tool. It's a valuable long-form assistant.
Templates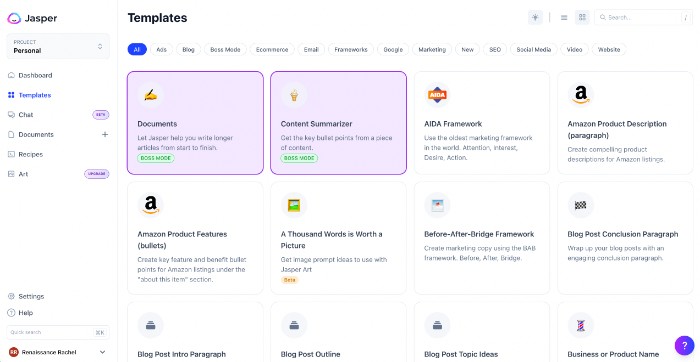 Jasper Templates are a powerful way to quickly create content. The Templates cover a range of different uses.
Ads templates include the AIDA and PAS frameworks I mentioned before. However, they also include specific ad types like Facebook Ads and Google Ads.
Blog templates include helping you write different components of a blog post such as intro, conclusion, outline, and ideas. Other templates include a listicle writer, one-shot blog post, paragraph generator, along with a title and meta description generator.
Ecommerce templates include things like product descriptions and features for Amazon, feature to benefit, and general product descriptions.
Email templates include email subject lines, personalized cold emails, and persuasive bullet points.
Social Media templates include writing a creative story to engage readers, engaging questions to ask audience, personal bio, Instagram post captions, Pinterest pin title and description, Quora answers, tweet machine, and TikTok video captions.
Video templates include writing a script, description, outline, titles, and topic ideas for Youtube.
Website templates include a company bio, FAQ generator, perfect headline, website sub-headline, and unique value propositions.
Almost every category includes the commands template and content improver template, which can be used for every category.
Templates are available in both the Jasper AI Starter plan and Boss Mode plans.
Chat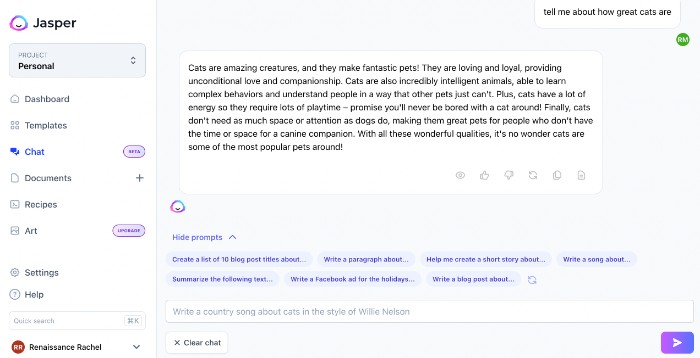 Jasper Chat comes on the heels of the popular ChatGPT. If you've used both ChatGPT and Jasper Chat and wonder why they're similar, that's because they're both powered by the same machine learning models.
You can access Jasper Chat from the main navigation menu in the app or within the document editor.
Jasper Chat gives you some prompt ideas to start with, but you can type anything in there and it'll respond with something interesting.
Just like with ChatGPT, Jasper Chat can do things like help you write code for your website and figure out coding problems.
Be careful and always fact-check it though! ChatGPT has been notorious for coming up with way off-the-base answers sometimes.
Art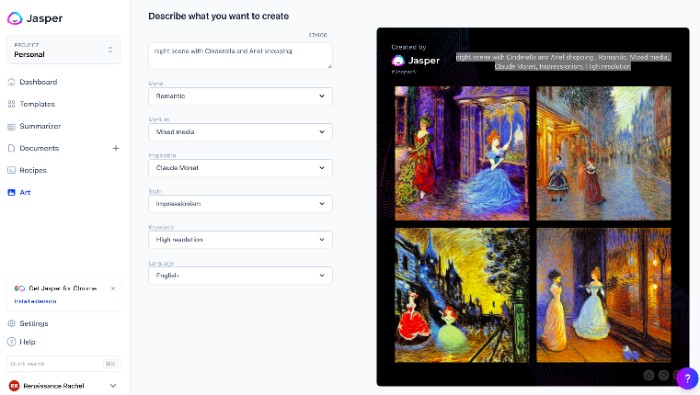 If you're looking for an AI content creation tool that allows you to create art AND write at the same time, then Jasper Art might be what you're looking for. If you don't mind being able to generate art in a separate tool, you could always consider other options. Check out my best AI art generators article for a more in-depth look at AI art generator options.
Jasper Art is a pretty straightforward feature. It asks you to describe what kind of content you're looking to see and then you get a few different drop-down options to further customize it. The drop-down menus include: mood, medium, inspiration (e.g. which artist), style, keywords, and language.
Jasper Art is a separate, add-on feature not included in any Jasper plan. It's an additional $20/mo per user.
Recipes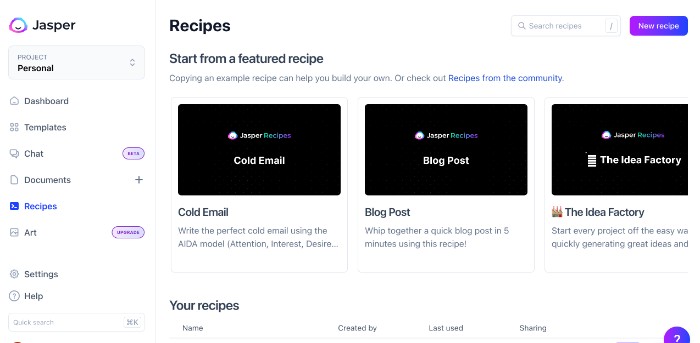 Recipes are available in the Jasper AI boss mode plan. They're ways that can help you take advantage of Jasper commands to the specific type of content you're looking to create.
You can use Jasper recipes to help you rewrite content, write emails, write a book outline, and video scripts. A popular recipe is the Hero's Journey Outline for those who want to take a stab at writing an epic story following that popular framework.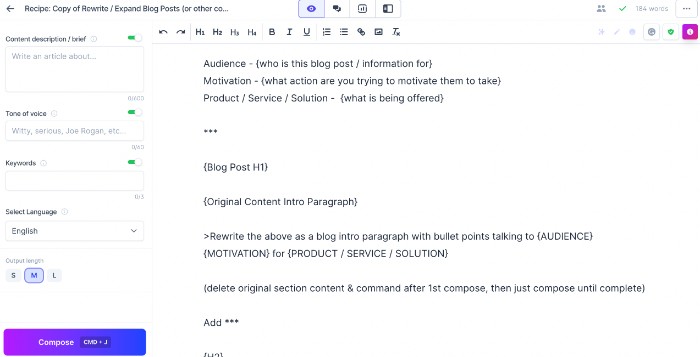 I got really interested in different narrative structures aside from the Hero's Journey and created a recipe for Freytag's Pyramid, which is a formula for writing tragedies.
Recipes can be a bit tricky to get started with. Most of the recipes have an explainer video telling you how to use the recipe. If you're new to using Jasper recipes, I'd recommend watching the explainer video first.
In my opinion, recipes are for advanced users who are comfortable with Jasper commands and Jasper's syntax. I wouldn't start off trying to use a recipe if I were new to the tool.
What Jasper Does Well
Jasper has a number of things that it does really well and in this Jasper AI review, we'll get into them in detail.
User Experience
Since I review a lot of AI writing tools, I've thought a lot about why Jasper AI does so well in the market compared with the others. Jasper's underlying technology is the same as many of them since it's powered by GPT-3.
I think Jasper, from the beginning, has done a good job at understanding how their users want to interact with an AI writing tool. In other words, they've built an excellent user experience.
I think part of that has to do with the Jasper community. The Jasper team is active in that group and pays attention to what Jasper users say.
Jasper understands that Jasper users want to write long-form content, whether it's a blog post, article, paper, or book.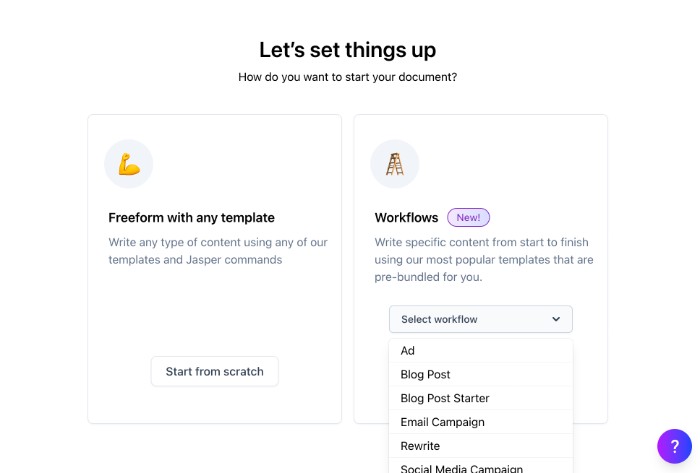 Jasper recently introduced a feature called Workflows, which guides people through a number of different projects that they might want to use Jasper for. Initially, Jasper only had the option of the "Blog Post Starter" which walked you through brainstorming a title and introduction to a blog post. Now, Workflows includes writing ads, blog posts, email campaigns, rewriting content, and social media campaigns.
All in all, I think Jasper has done a good job of thinking about how people want to use the tool and making it straightforward to do so.
Languages Supported
Jasper offers over 29 languages.
There are a few different ways to change the language in Jasper. When you're using one of the Jasper Templates, you'll see an option to set your input and output languages. You can sometimes change the formality as well.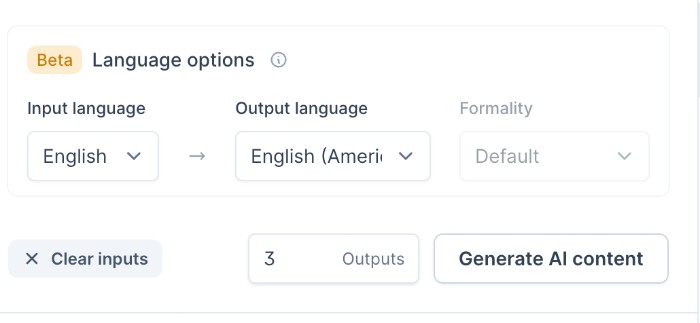 Inside the document editor, which is the prime feature of boss mode, if you go to "Focus Mode" you have the option to "Select Language." You can change the language midway through writing an article if you feel like it. I'm not sure why you would do that, but you never know.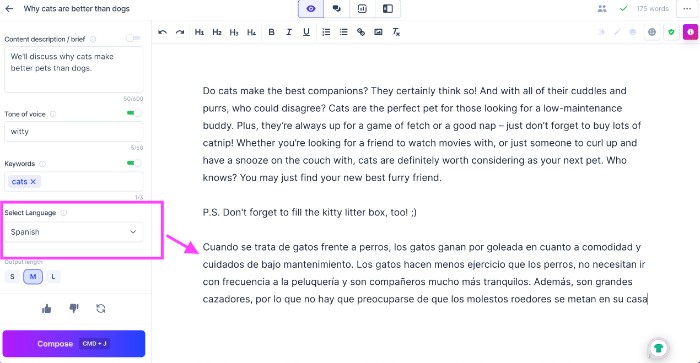 If you plan to consistently write in another language, you would go to Workplace Settings > Integrations and change the input and/or output languages. For example, I could see situations where copywriters who may not be native English speakers but still speak English might want to put their input language in their native language and have the output be in English since they produce a lot of content in English.

Educational Material

Out of all AI writing tools, Jasper AI has one of the most robust educational content out there. It's a primary main menu item, showing how much Jasper AI wants to ensure the success of their users.
Jasper AI offers Live 101 Training, blogs, support, live Q&A, a Facebook group, and detailed documentation.
The blog features content to help you make the most of Jasper, while the Help Docs provide you with material to help you use Jasper AI.
Jasper AI also has hundreds of video walkthroughs for those who prefer a more visual approach.
Long Form Document Editor
Jasper AI has a well-developed long-form document editor. In addition to the different modes I mentioned earlier, Jasper's long-form assistant provides you with the ability to create fully formatted content that pastes into your website's content management system. Back in the old days of Jasper, this formatting didn't work and I'd have to go into WordPress and reformat it myself. Now, I can copy and paste from Jasper into WordPress directly. Huzzah!

The different long-form assistant features work in all of the different document editor modes.
The rephrase feature is helpful if you don't like what you or Jasper wrote. You highlight the offending text and select the little twinkle stars in the top right corner that represent the rephrase feature.
The other two next to rephrase are fix grammar and explain it to a fifth grader. They work in much the same way, where you highlight the text and go through the different suggestions until you get what you want.
The long-form assistant makes Jasper one of the best writing experiences out of other AI writing tools.
Chrome Extension
With Jasper's Chrome extension, you can access Jasper templates to craft compelling headlines, blogs, rewrite and revise copy for improved readability, or simply brainstorm ideas wherever you go.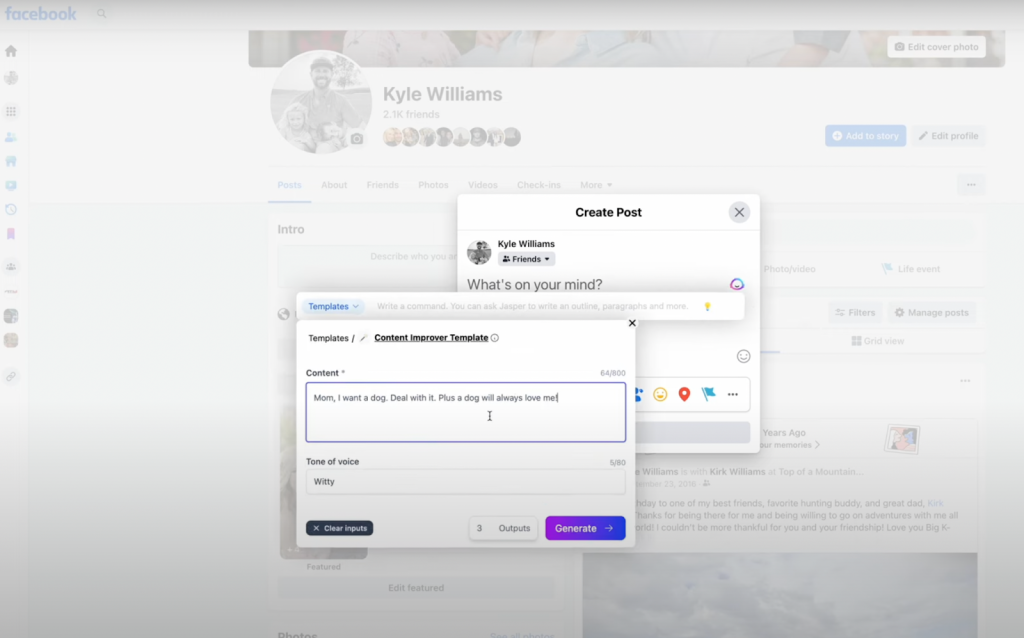 By adding the Jasper extension to your browser, you can dramatically improve your productivity and even get assistance from a mini AI content assistant for all of your writing needs – ranging from quick announcements for Facebook groups to other tasks at hand. With just one extension installation, anything is possible!
Once you enable the Jasper extension, keep an eye out for its icon in all your writing spaces and take advantage of your helpful virtual assistant.
I think it can be helpful when you get stuck trying to come up with an idea or think your content could sound better. It's particularly helpful for social media posts.
Text Summarization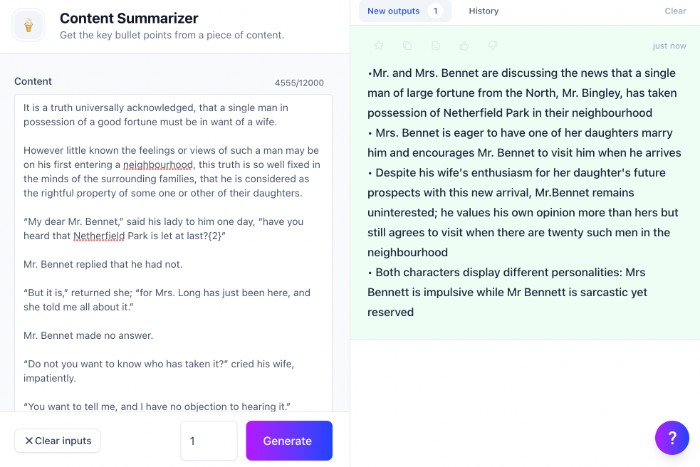 Jasper offers a text summarization feature that can be found as a template. It's only available if you have boss mode, however.
I took the first page or so from Pride and Prejudice (thanks, Project Gutenberg!) and asked Jasper to summarize it. Overall, it did a pretty good job, I think.
Jasper has incorporated text summarization into the Rewrite workflow. You enter the text you want to rewrite, Jasper summarizes it into bullets, and then uses the bullets to create an outline for a new article.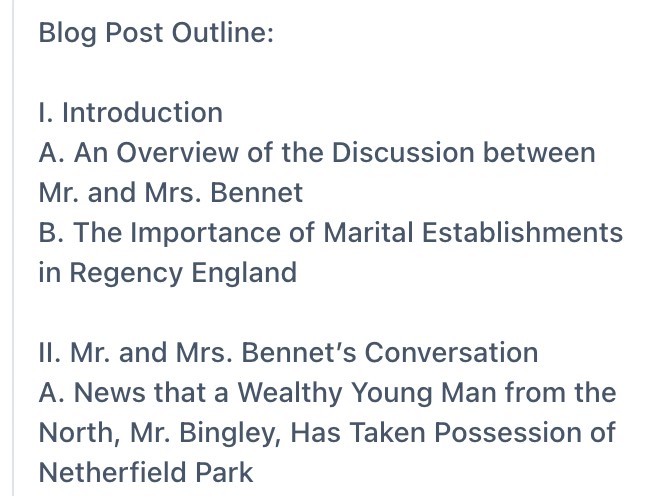 When I tried using the workflow for my Pride and Prejudice prompt, it looks like the start of an interesting English paper.
Search Engine Optimization
I seriously debated putting SEO in the "What Jasper Could Improve" section, but decided to leave it here because I LOVE Surfer SEO so much. Plus, I also recognize that Jasper isn't trying to catch the SEO market only. Unlike other tools more focused on marketing, Jasper truly is a general-purpose AI writing tool. You can write books with Jasper, video scripts, along with your traditional marketing use cases.

But anyway. Anyone can try the Jasper AI Surfer SEO integration at the price of $1 for your first month. After that, you can decide to purchase Surfer SEO. The Surfer SEO integration only shows one aspect that this powerful tool provides, so if you do decide to try Surfer, make sure you go to their application and see what other features you might want to take advantage of.
To start using Surfer, you enter in the keyword or keywords you're hoping to rank for in search engines.

Surfer does competitive research to find out your competition in search engines based on the keywords you tell Surfer that you're targeting.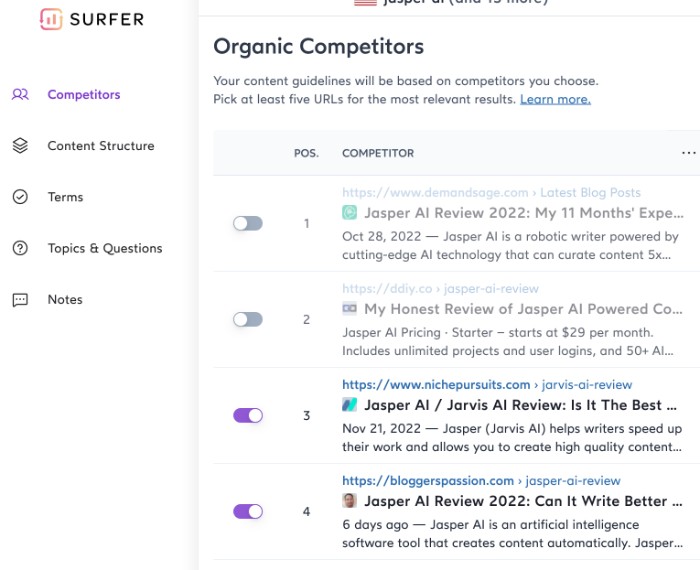 You only see the competitor information if you go to Setting and look. Otherwise, Surfer immediately takes you to where you see the content score feature and terms you want to make sure to include.
The terms feature helps you make sure that you're including content that Surfer deems relevant based on the competitive research that it does.

If you're curious about what topics to include in your article, go to the settings area in Surfer and go to "Topics and Questions." You'll see content ideas based on what people search for and what other blogs write about.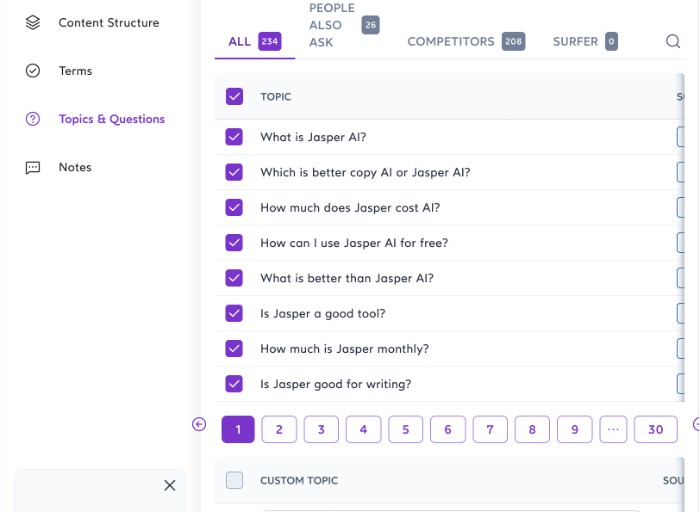 If JasperAI did not integrate with Surfer, I would not say that Jasper does SEO well. However, the integration works seamlessly and Surfer is an amazing tool.
Unfortunately, Surfer comes at an extra cost and is an entirely different tool. If you'd rather have an all-in-one AI writing tool that uses GPT-3 AND optimizes for search using similar capabilities as Surfer, you might want to check out GrowthBar.
What Jasper Could Improve
Art Generation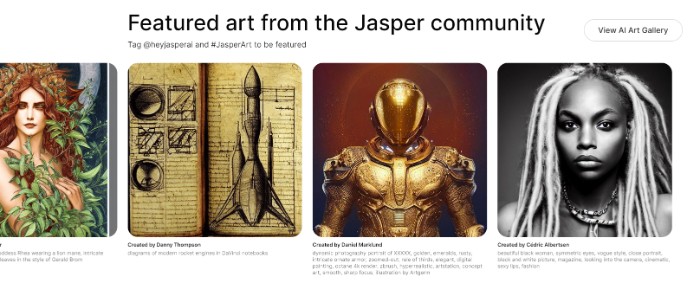 Jasper Art is a very cool feature to have within a content creation tool. However, it's not at all integrated into the document editor experience. Therefore, when you're trying to write and you want to create an image, you have to get out of the document editor and use Jasper Art.
Moreover, it's $20 extra per month for a feature you can find more cheaply elsewhere with other AI art generators, and have more power to customize as well. Since it's so poorly integrated into the main experience, you might as well use a different tool to find or create images for your content.
A Jasper competitor, Rytr, has the ability to generate art within its document editor. And it's included in your plan. Rytr offers a free forever plan and you can generate art with that free plan.
Plagiarism Detection
With AI content, a lot of people wonder if it's been plagiarized somewhere from the internet. The great thing is that both of these tools offer ways to detect plagiarism.
Copyscape powers plagiarism detection in Jasper.
Jasper treats plagiarism detection as a separate feature, called the Plagiarism Checker. These checks are an optional add-on to any Jasper plan. It's not included in the base price.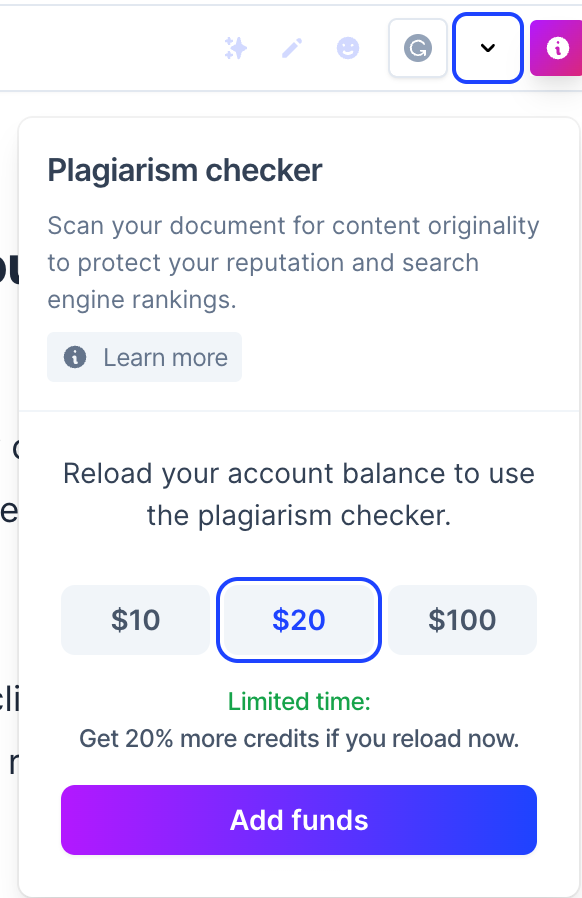 Personally, I don't like that Jasper charges extra for plagiarism detection. If you end up getting Surfer, plagiarism detection is included for free in that tool. Rytr also offers plagiarism detection for free.
API/Webhooks
At this time, Jasper does not offer an API, unlike some of its competitors. For instance, Rytr does offer the ability to connect its tool directly to another application via the API. Check out my Jasper vs. Rytr review for a more detailed comparison between the two tools.
An API or webhooks would allow other tools to use the power of Jasper within their software. I suppose most tools right now would rather go directly to the source, Open AI's GPT-3.
Final Thoughts
Jasper AI is one of the most advanced, well-known, and powerful AI writing tools out there. Powered by GPT-3, Jasper has a great user experience, advanced capabilities, and integrations with other tools that help make it stronger. However, Jasper keeps tacking on add-on features to an already costly tool that makes it feel like a budget airline that charges you for the air you breathe.
I recommend Jasper to anyone looking for a straightforward and easy-to-use tool that can work for beginners and advanced users. Jasper is adaptable and can be used for different types of writing purposes.