11 Best AI Art Generators [By Category] of 2023
AI art generators are the newest development regarding what AI is capable of. Built off a technology called diffusion models, AI image generators are much more powerful than they used to be. There are now so many AI art generators flooding social media and the internet that are often free to use and house various art styles.
We'll go over the best AI art generators, and if you haven't given AI art a try – these are some of the best.
What Are the Best AI Art Generators?
The best AI art generators for you will depend on your individual needs. You could work straight with AI images generator models such as DALL-E, Midjourney, or Stable Diffusion. Instead, you could use a tool or app that generates art. Perhaps you're also a writer and would like a tool incorporating AI art generators into that experience.
We've categorized these AI Art generators by:
Pure art generators: focus entirely on creating art
Art generators with AI writing tools: art generation is a supplement to the writing features
AI image generation models: for those who want to dive into the original technology powering these other art generation tools
Browse the table of contents or read through the article to see which one best suits your needs!
Disclosure: Some of the links in this article may be affiliate links, which provide $$$ to me at no cost to you if you decide to purchase the tool.
Pure Art Generators
The following tools focus entirely on creating AI art and making it user-friendly. If you're looking for a tool that has AI art generation as an additional feature, rather than being the main focus, then check one of our other categories such as AI art generators within AI writing tools.
Nightcafé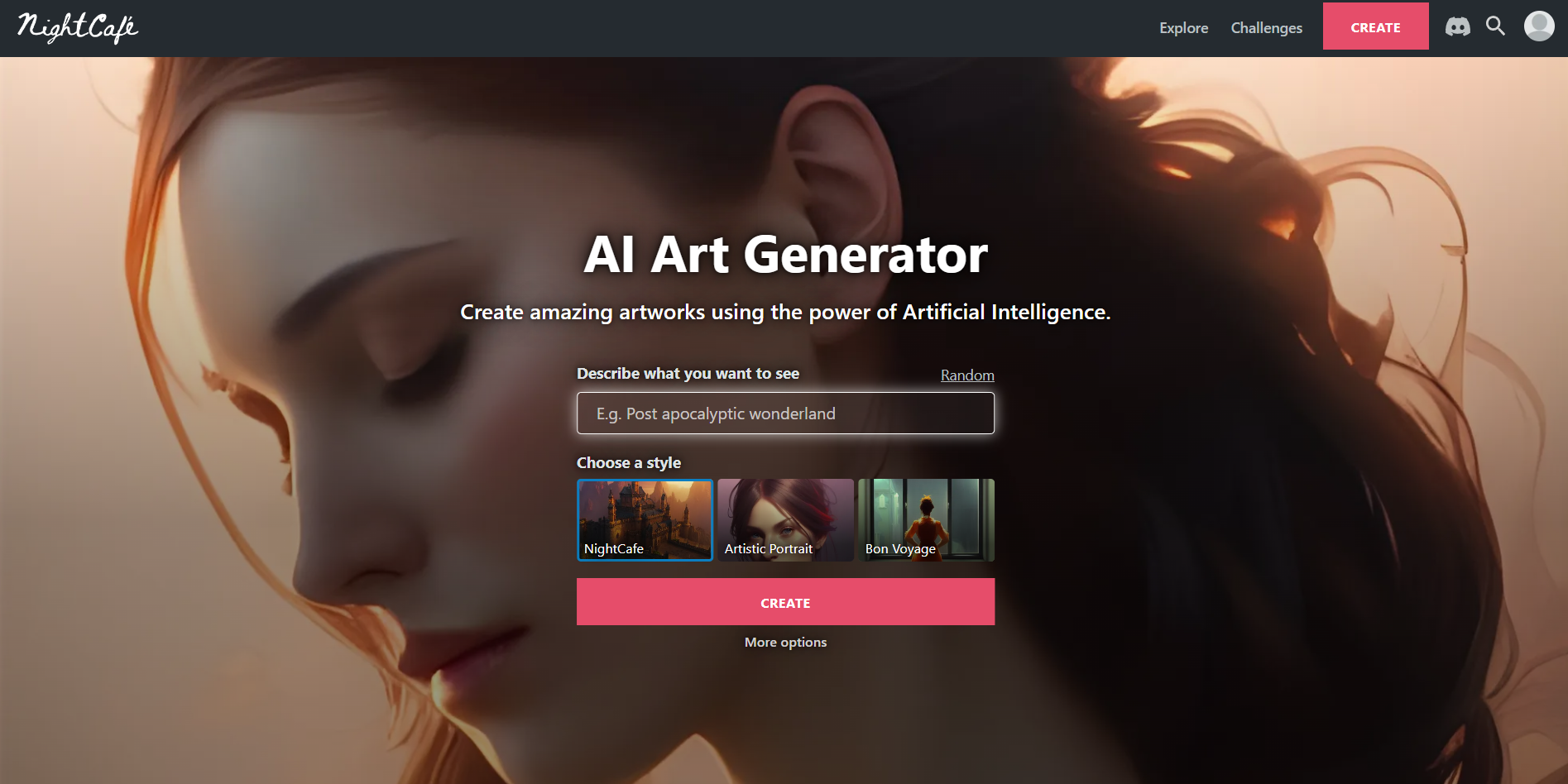 Nightcafe AI boasts itself as a platform to "create amazing artworks using the power of artificial intelligence." Night cafe AI is another text-to-image generator that allows you to enter text prompts to get uniquely generated AI art. You can enter prompts such as "post-apocalyptic wonderland," – and Nightcafe will get you image generation using the same advanced AI features that other AI generators use.
Artificial intelligence is the new way to create everything from video to text to entire systems. Nightcafe is one of the many AI art generators available, and you can choose what model you want to use to create your images.
They give you access to Stable Diffusion, DALL-E 2, Coherent, Artistic, and Style Transfer. These models are all popular ai art generators similar to the ones we've already covered and the DALL-E mini.
Overview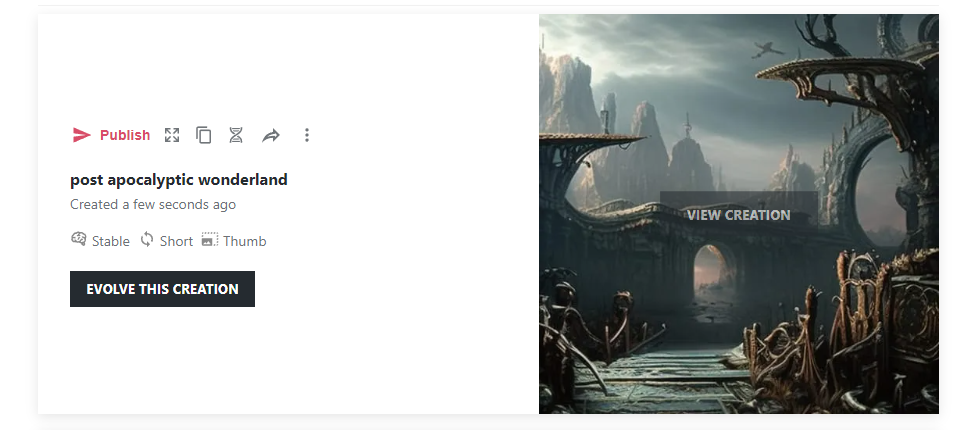 Nightcafe AI combines different models to create image AI and is free to use. You get up to 28 credits per day, which is 28 images per day. There is never any fee, so you don't have to buy new credits, or use a credit card.
AI image generation is still a bit new, and machine learning is still being improved – so there are many ways to utilize the platform to get unique and artistic images in any art style.
If you can't find any text prompts to add to the AI generator, you can also upload images to transfer them to different styles.
Nightcafe AI lets you choose which AI art generator model you want to use within one interface.
Features
Free to use – you can pay for a pro version if you use it frequently or regularly. However, you get 28 credits a day to create AI art.
Different models to choose from – you can use DALL-E 2 and stable Diffusion, depending on what art style you are looking to achieve.
Nightcafe allows you to upload unique images to be transferred into various art styles, and it's still free to use. Instead of an AI text-to-image generator, you're using an image-to-AI art generator.
Pricing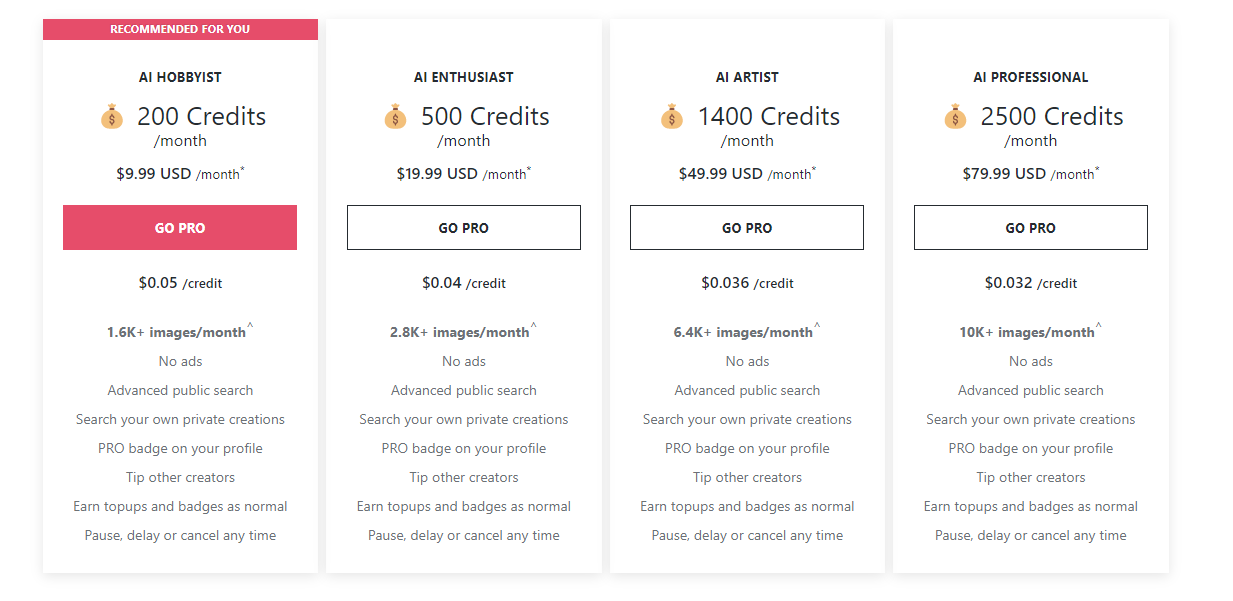 Nightcafe does not have any fees for using the program – you can generate 28 images a day for free. However, if you want to get more use out of the creator feature, you can choose to pay or to have your AI art that's generated printed.
You can purchase a subscription if you want to get more out of Nightcafe. They have 200 credits per month tier, 500 credits per month tier, 1400 credits per month tier, and a 2500 credits per month tier. Each tier provides more than enough credits to take advantage of Nightcafe's AI art generator capabilities fully.
Bottom Line
So Nightcafe isn't the first or the last AI art generator out there, and it's pretty similar to the other ones we've looked at. It has a text-to-image feature that creates AI-generated images, and the license that Nightcafe has does permit you to use your AI-generated images as NFT art as long as you have permission from the creator if you use an image from someone else.
Artificial intelligence has the potential to create unique pieces of art from normal photos in various art styles, and you can use these as prints or NFTs or sell them online. Nightcafe gives you access to multiple models to best fit what you are looking for and gives you 28 images per day for free! You don't have to pay for the program if you don't want or need to get more credits.
It's user-friendly and gives you unique art pieces that you can utilize outside of simply creating them.
StarryAI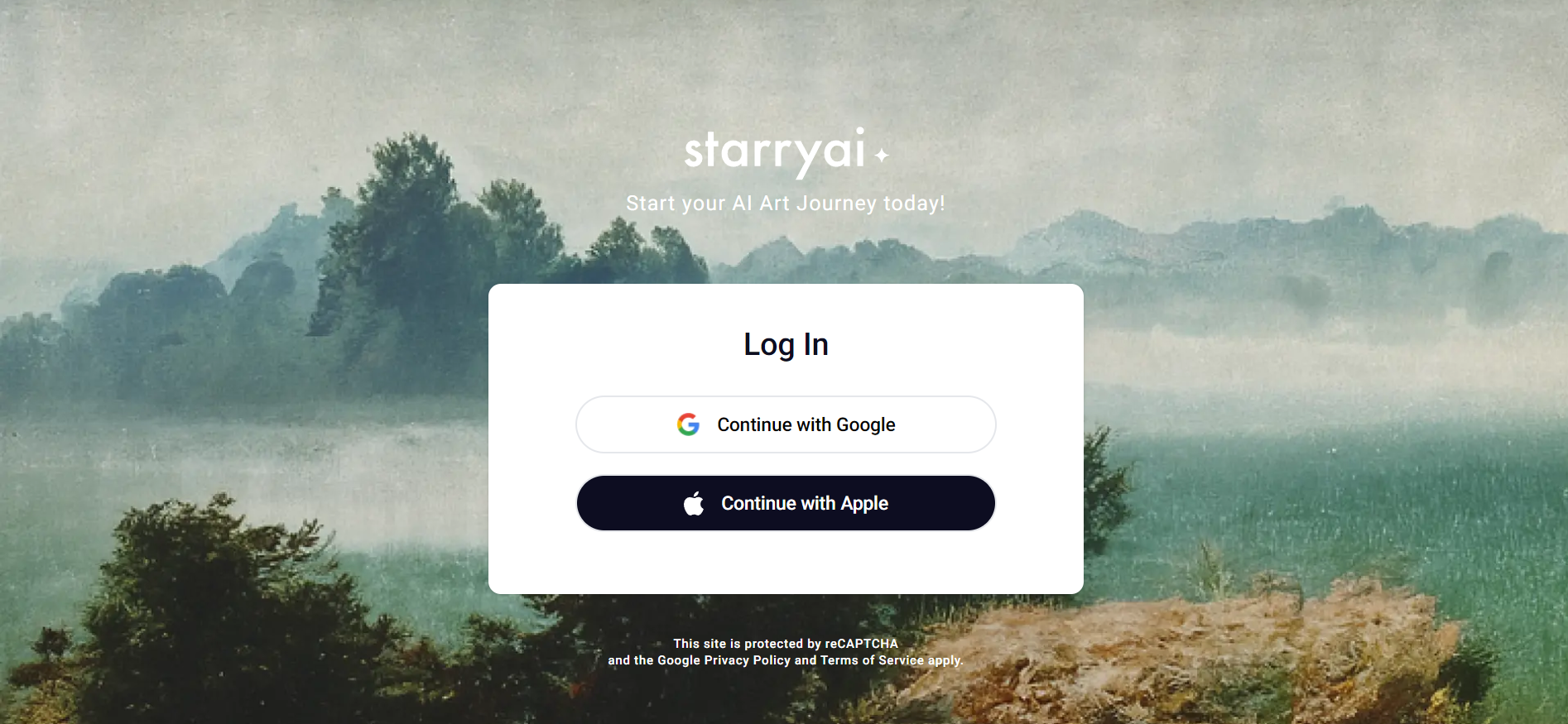 Starry AI has three machine-learning programs, Argo, Argo 2, and Altair. Argo is great for looking for natural product renders, whereas Altair provides more abstract and dream-like images – according to their website.
Each program targets a different purpose. While most people think of using AI art generators as abstract art images, Starry AI allows you to use it to create realistic product renders too – which can be helpful for various jobs and niches, not just creative projects.
When you use the Altair program, you can enter a text prompt and let the generators do the rest. Altair does take up to two minutes to render your deep-style AI art, but the images you get back are so interesting and customizable to different art styles.
Overview
Starry AI lets you choose a medium if you want the image generated to match a specific artist's style or art period. This gives you close to total customization and provides the AI with image generators, something more to go off of when creating your unique art image.
With Argo, you can generate more realistic or lifelike product renditions. For example, I used "luxury jeweler in downtown new york" as the prompt, and the image below is what the AI-generated.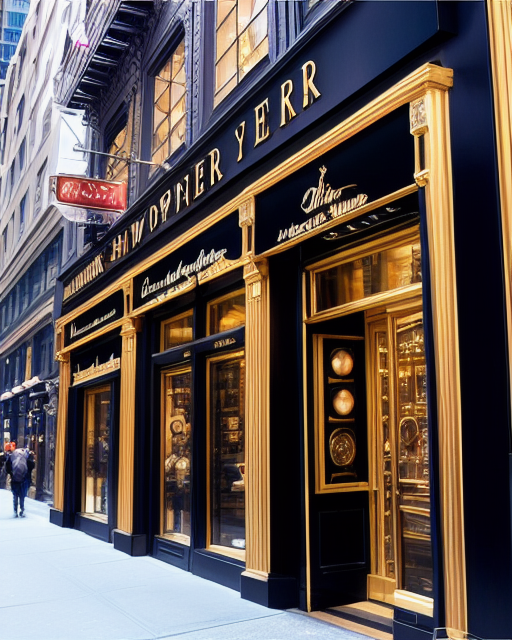 You get a few free credits right when you sign up, and when I generated my first image, it gave me an extra five free credits. If you know specifically what you're looking to have AI generate, it can be a great tool to get all your AI image generator tasks done in one platform.
Features
Three different learning machines to use as AI image generators
Free and paid pro unlimited plan to match your uses of the platform and familiarity with AI test to image generators.
After entering your prompt, you can add an image to get Starry AI started to ensure you're getting exactly the image you hoped for.
Pricing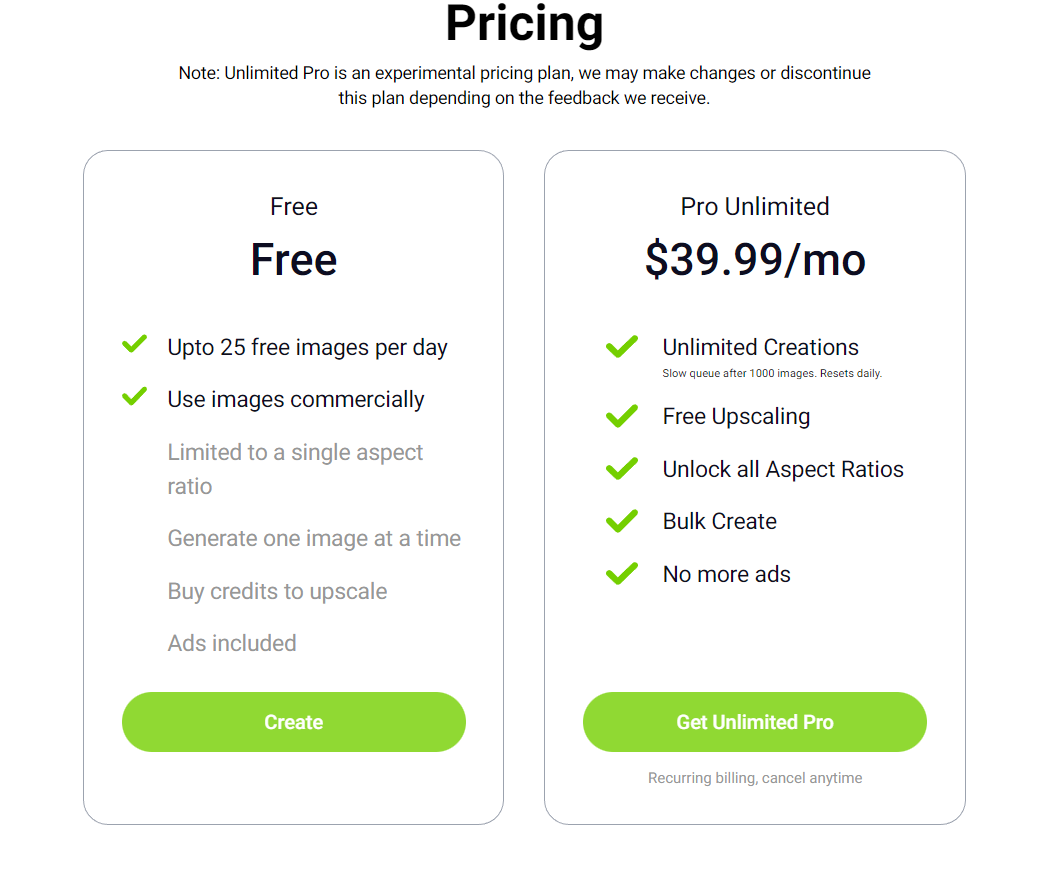 Starry AI does have a free plan that gives you up to 25 free images a day, and you can use the photos for commercial purposes. Suppose you're an avid user of AI image generation. In that case, you might consider the pro unlimited plan for $40/month, which includes infinite AI art generations and free upscaling to better images.
The pro plan is great if you use AI art often and need to generate a lot of images. For $40/month, you can use them commercially and bulk-create images in any art style.
Bottom Line
Overall, Starry AI is an excellent program for AI-generated art; whether you're a newbie to the concept or a professional who uses it daily – you have both a free AI version and paid so that it can fit with your knowledge and proficiency.
The interface itself is user-friendly and very self-explanatory. After I generated my first image, it gave me five free credits toward the ones I already had. Plus, each image you create is allowed for commercial use, and you can download the images after they are completely rendered.
Fotor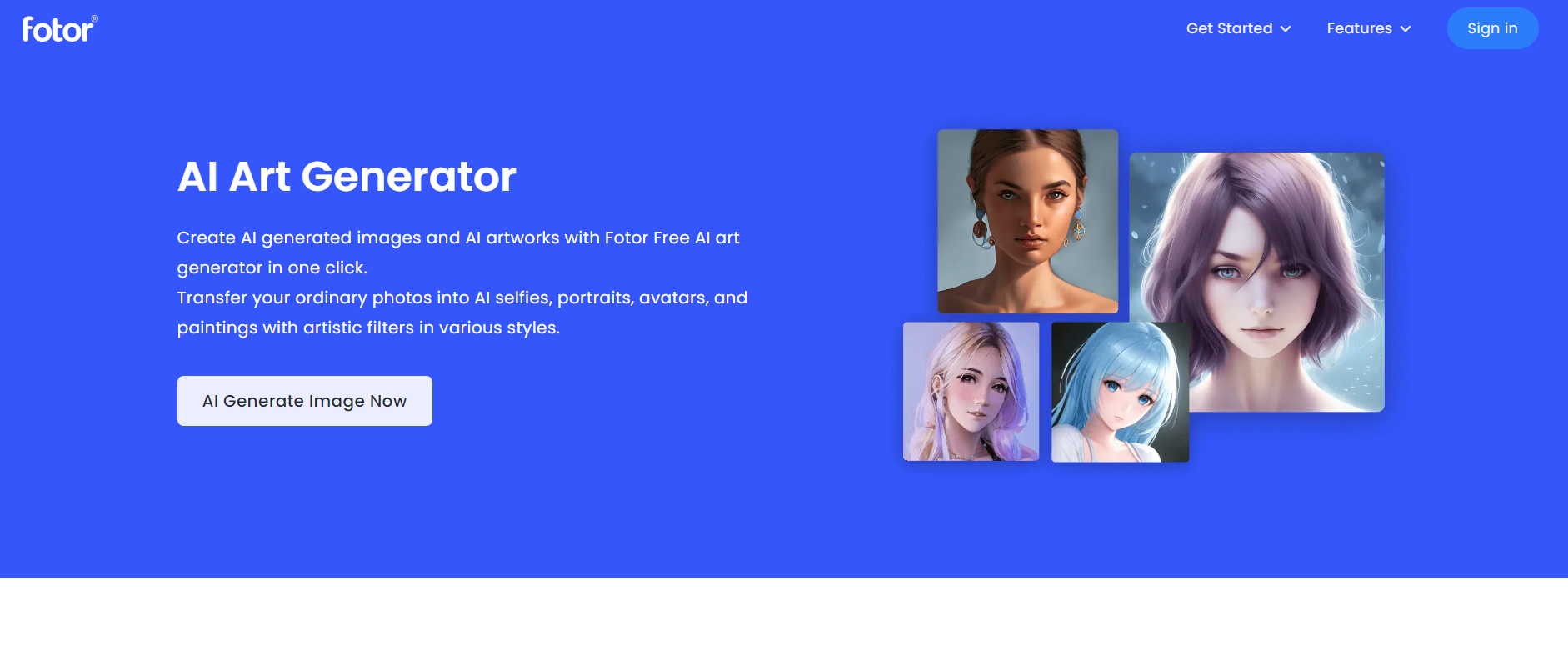 Fotor works a little differently than the previous AI image generators we've looked at. You can still generate AI images from text, but you can also change the art styles of custom images you upload.
It doesn't have to be a portrait photo, either. You can take your favorite photo of your pet or a recent vacation image and transform it into various art styles as creative AI.
The program lets you create NFT art, anime avatars, and creative photos using AI tools we've seen in other programs. However, it also has additional features that may help you with editing your images
Overview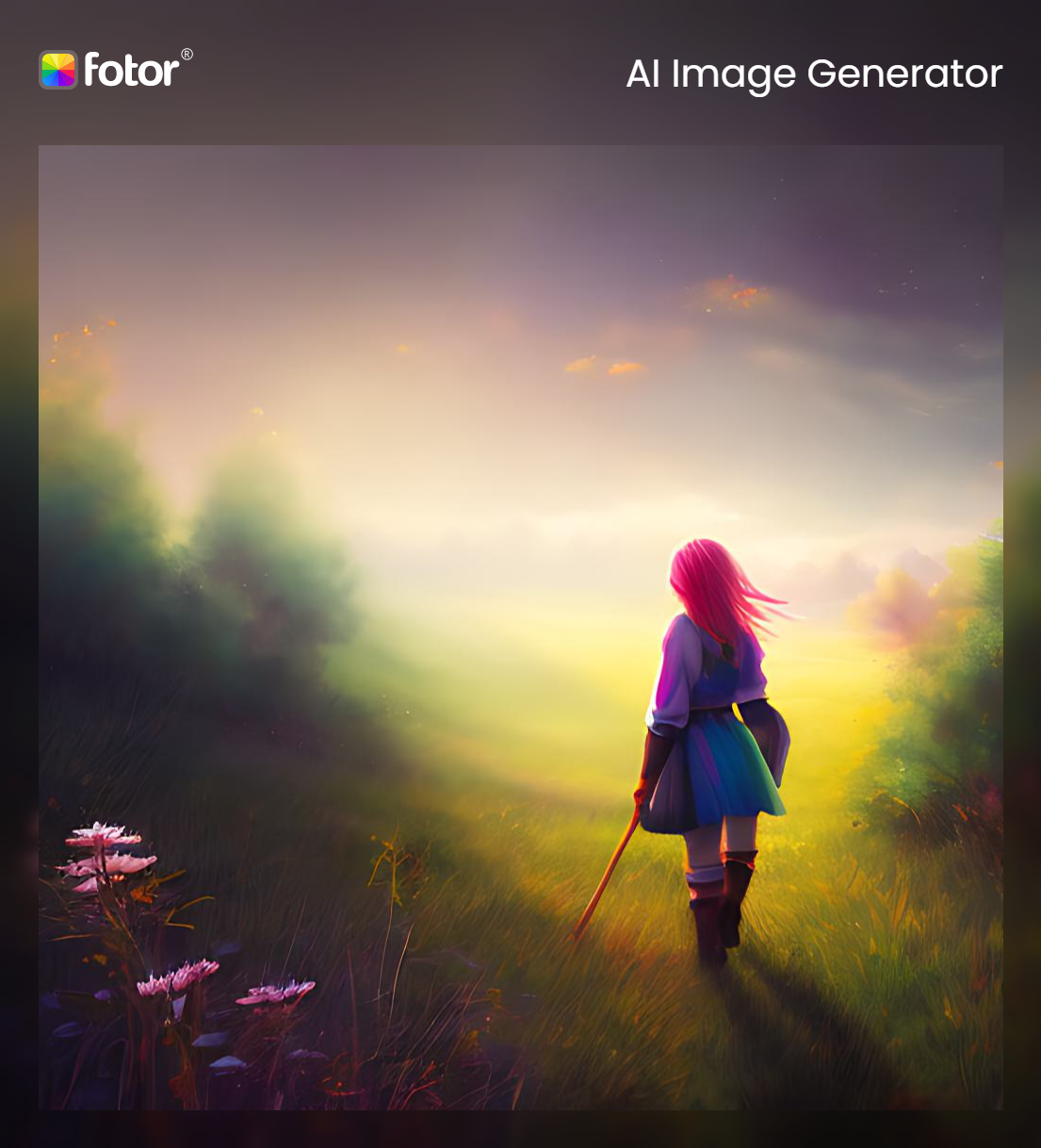 The art generators we've covered typically use the same few AI models. Fotor took advantage of that technology and created an all-in-one photo editor application that combines typical styles to edit photos, an AI art generator, graphics, and a graphics template library, similar to Canva.
What they did with this was give you a chance to create art in all facets of digital creativity – from NFTs to stylized images.
They have free and paid plans – if you use AI art generators daily, you can get more use out of the pro version. If you're starting, you can use the free version to create various images for free.
Features
All-in-one photo editing and AI art image generator, so you can either create brand new images from text prompts or edit photos within their program.
Free and paid plans, so you only use what you need to – if you're experimenting with AI, you can use the platform for free with a few AI art generations a month.
With stability AI and combining a few different models, it allows for seamless creation based on your text prompts.
Pricing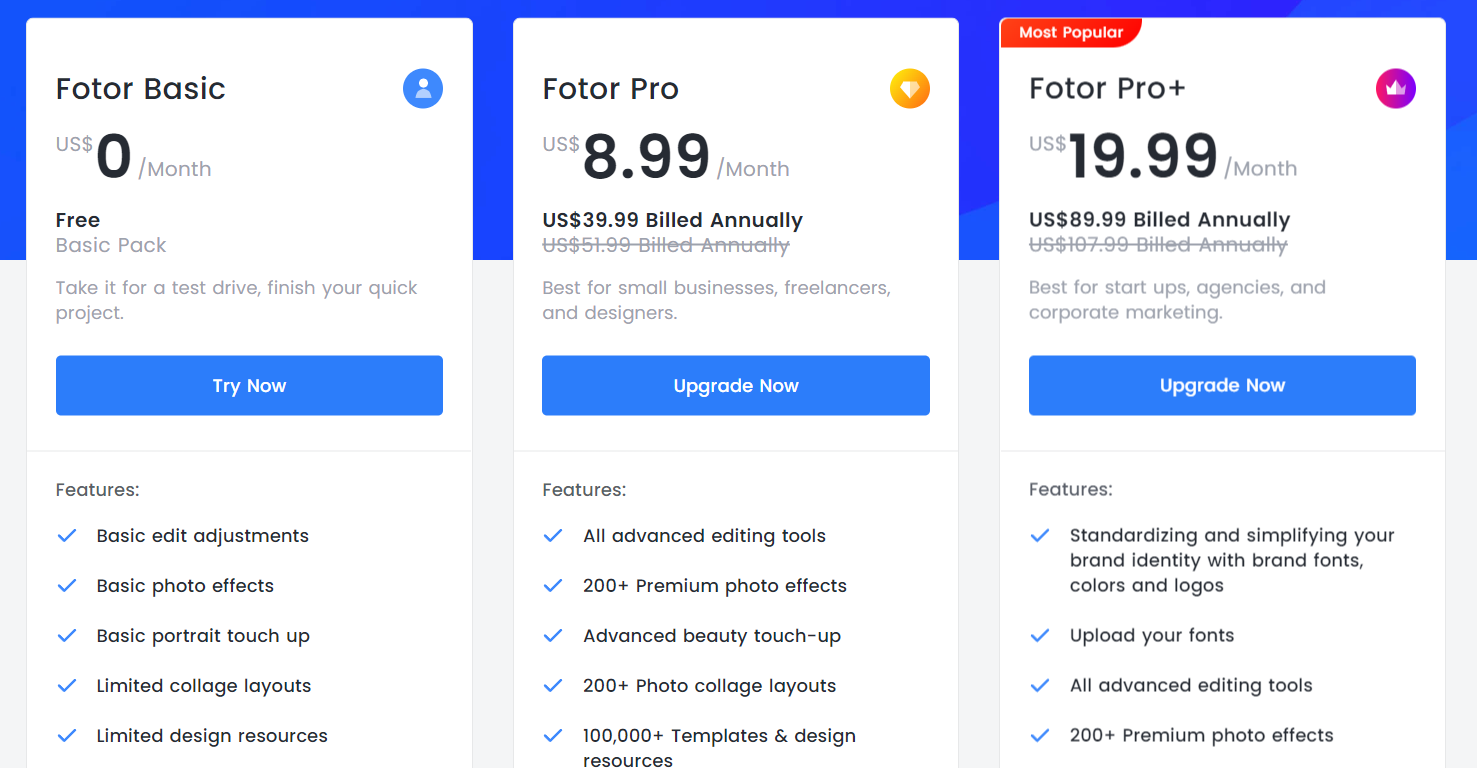 If you're looking for a few photo effects and to create an AI-generated art image every once n a while, the free plan may work best for you. There isn't a lot to it, but there is enough to get you started in the AI space.
If you're familiar with AI art and create it frequently or like how the platform edits photos, you can get access to advanced editing tools with the Fotor pro.
With Fotor Pro+, you get access to even more features and tools that "simplify your brand identity," in addition to editing tools and photo effects. What you plan to use AI art generators for will help you determine which plan is best for your art generation.
Bottom Line
Fotor is an excellent tool if you're looking for an all-in-one photo editor with advanced options and an AI art generation tool. It combines the simplicity of adding photo effects to a pre-existing image with advanced editing tools.
Other programs like DALL-E, Stable Diffusion, stability AI and other models allow us to create unique and creative images.
Deep Dream Generator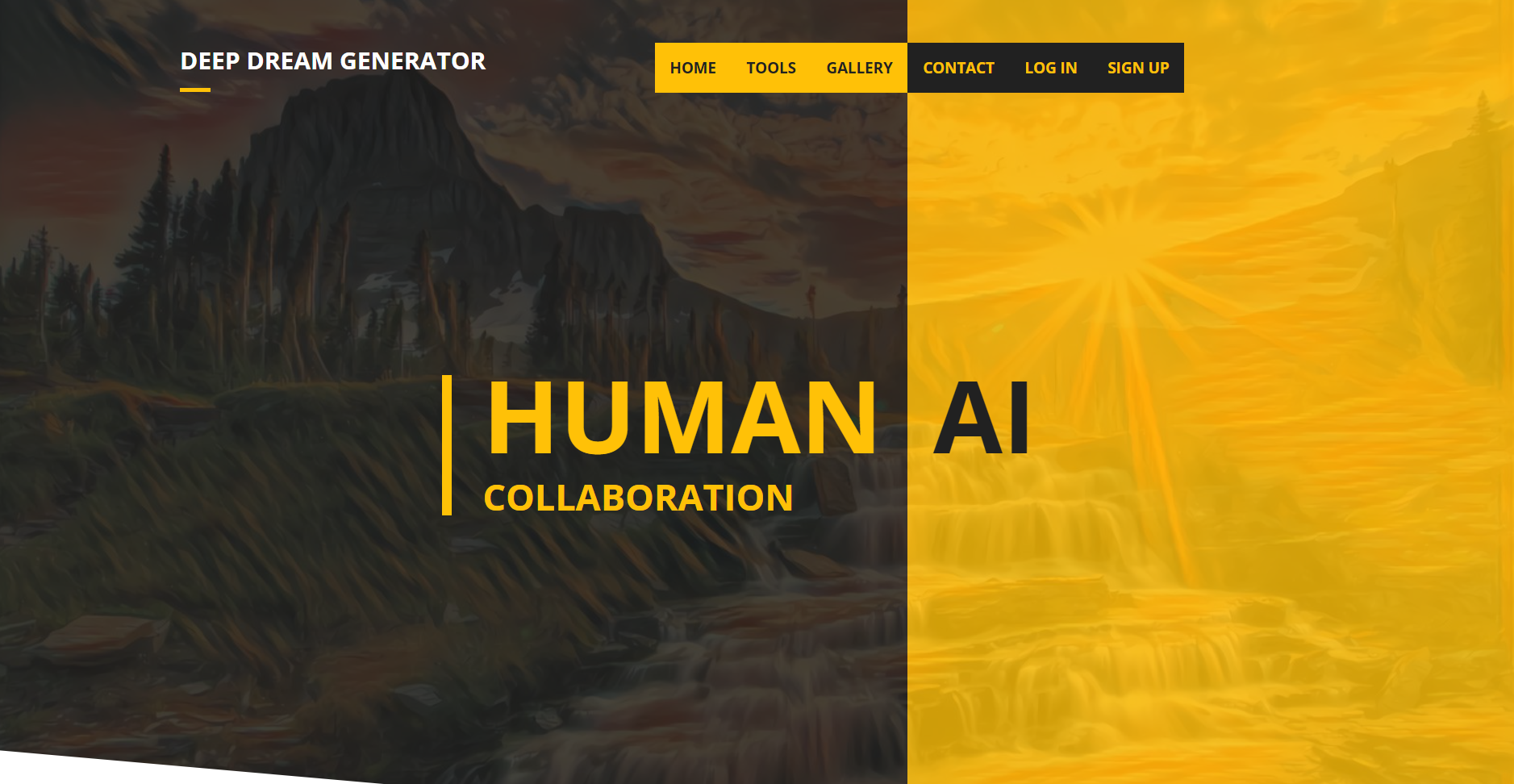 Deep dream generator can expand an image with an art style to transfer it to the uploaded image – a more unique technique than other AI art generators available.
The concept of Deep Dream generator was originally so scientists and engineers could truly see what looking at an image means to a deep neural network.
Overview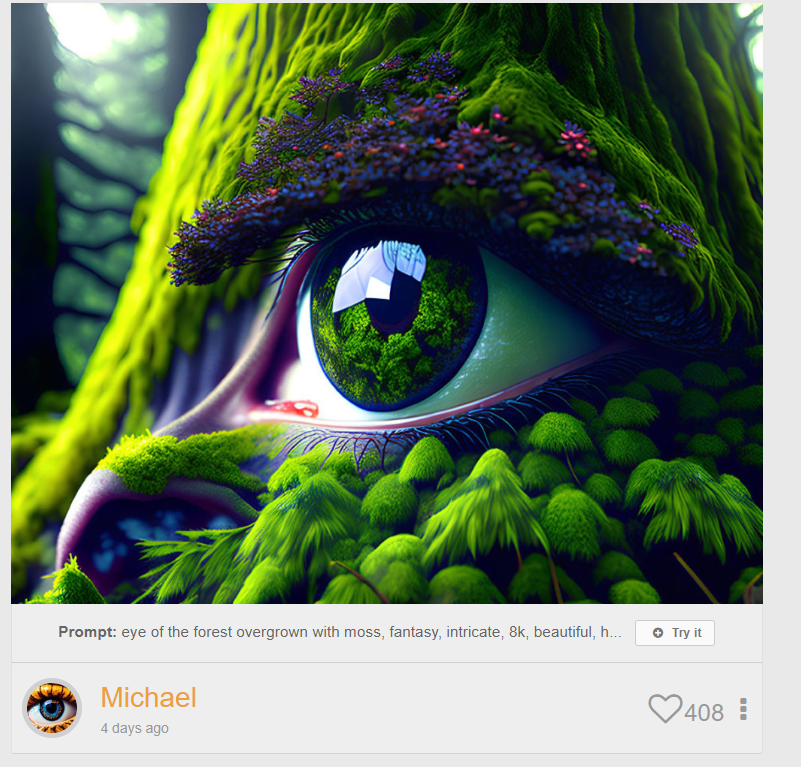 The deep style generator uses a model based on Stable Diffusion to generate its text-to-image AI art.
Your work is saved under your account, and the program operates like a social media platform for AI art content – you can follow other creators and like their art. Your creations are called "dreams."
You have some customization freedom when it comes to your AI art generated through Deep dream – you can select the aspect ratio, AI model, face enhancement, upscale, and enhance. If You can ensure your image is high-resolution by becoming a member.
Completely free to sign up for and use; you don't need to purchase a plan to use the deep dream generator.
Three styles to choose from to create unique and almost psychedelic AI art images.
Pricing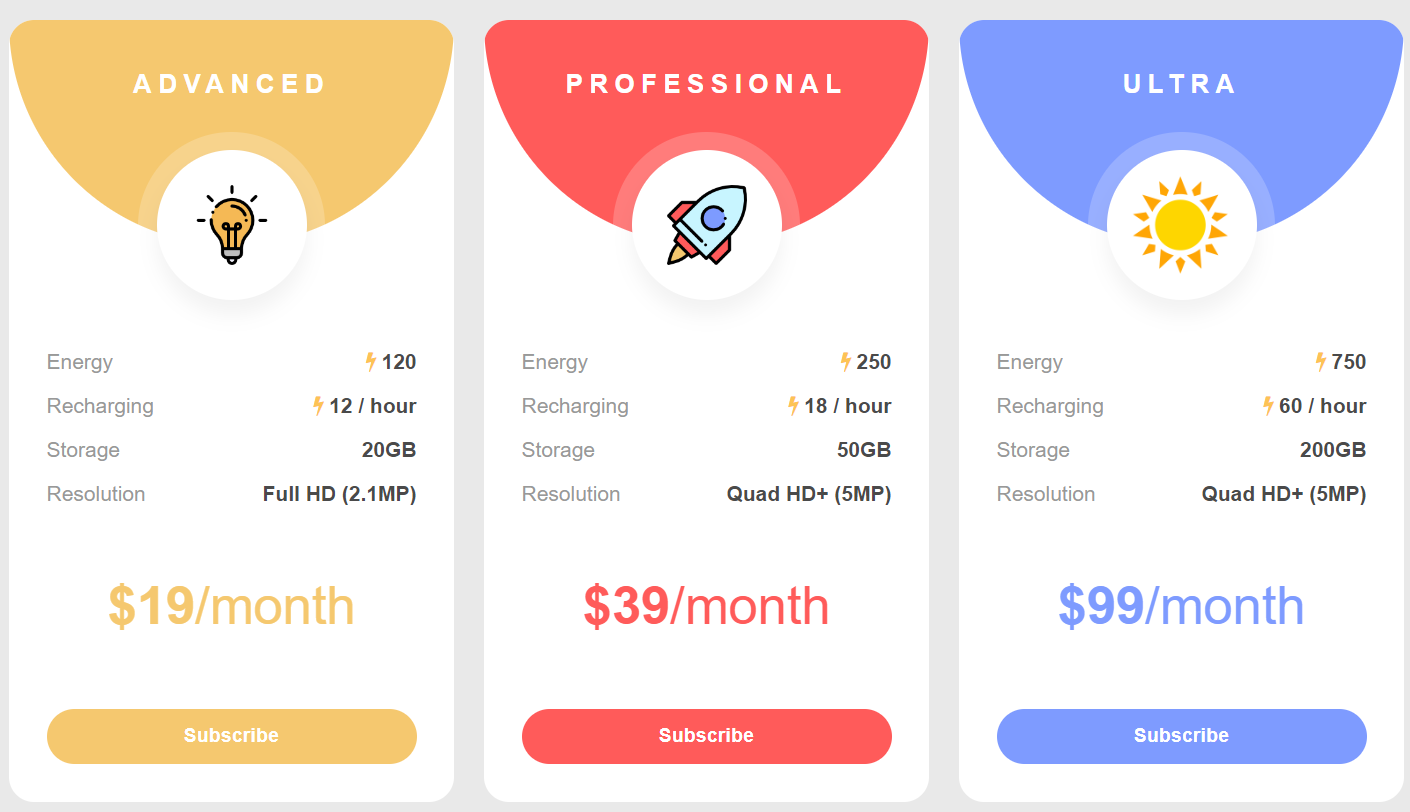 There is a free option. The main difference between a free or paid plan is the number of credits you get, which also equals the number of images you can generate through Deep dream. When you first open your account, you get 60 "energy, " which means you can generate ten unique images using the default resolution in the deep dream style.

With the paid plan, you can get more energy and turn out more content quickly. If you use AI to routinely generate images for content – the paid plans might benefit you more than a free plan.
Bottom Line
Deep dream is an incredibly intuitive and unique AI art generator that offers a free plan and allows you to create images in three different art styles. You can utilize these on the free program, though your resolution will be limited.
The images are incredibly unique and astounding as far as resolution goes; it seems like the lowest-tier plan is worth it simply for the upscaled resolution you get access to.
Art Generators within AI Writing Tools
The following AI art generators are supplemental features that sit within a particular AI writing tool. It's a powerful two-in-one AI generator experience: you can generate text and art.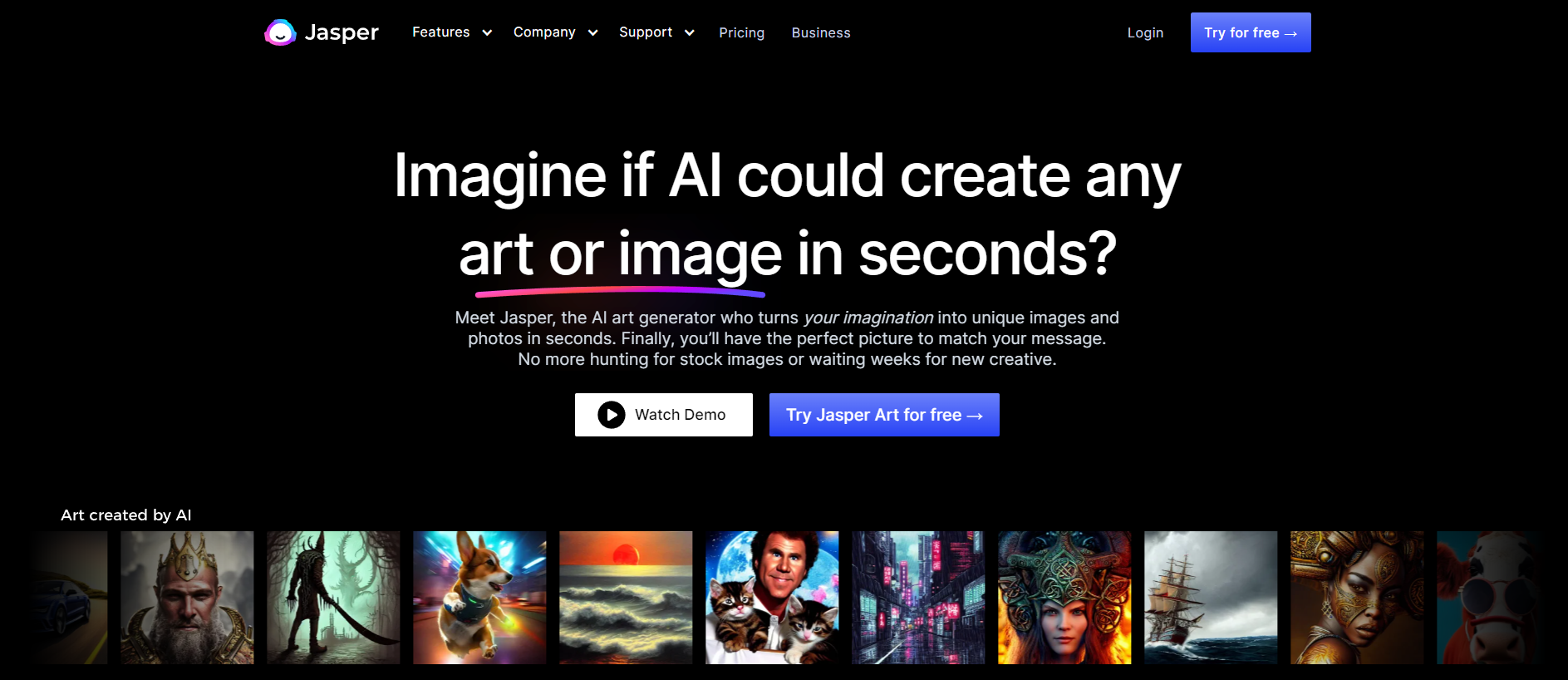 Jasper is already well-known as an AI writing tool that allows you to generate copy quickly and with little intervention. Jasper can now integrate AI-generated art into your copy (or without using Jasper for copywriting).
You write a prompt and enter what style, medium, artist or style, mood, and any specific keywords you want to include – Jasper does the rest.
Their art generator is in beta, so all images can be used how you please – but they warn that others can use your images as well. You can create NFTs from the art that Jasper generates or use it in other creative ways to inspire others or go along with your blog posts.
Overview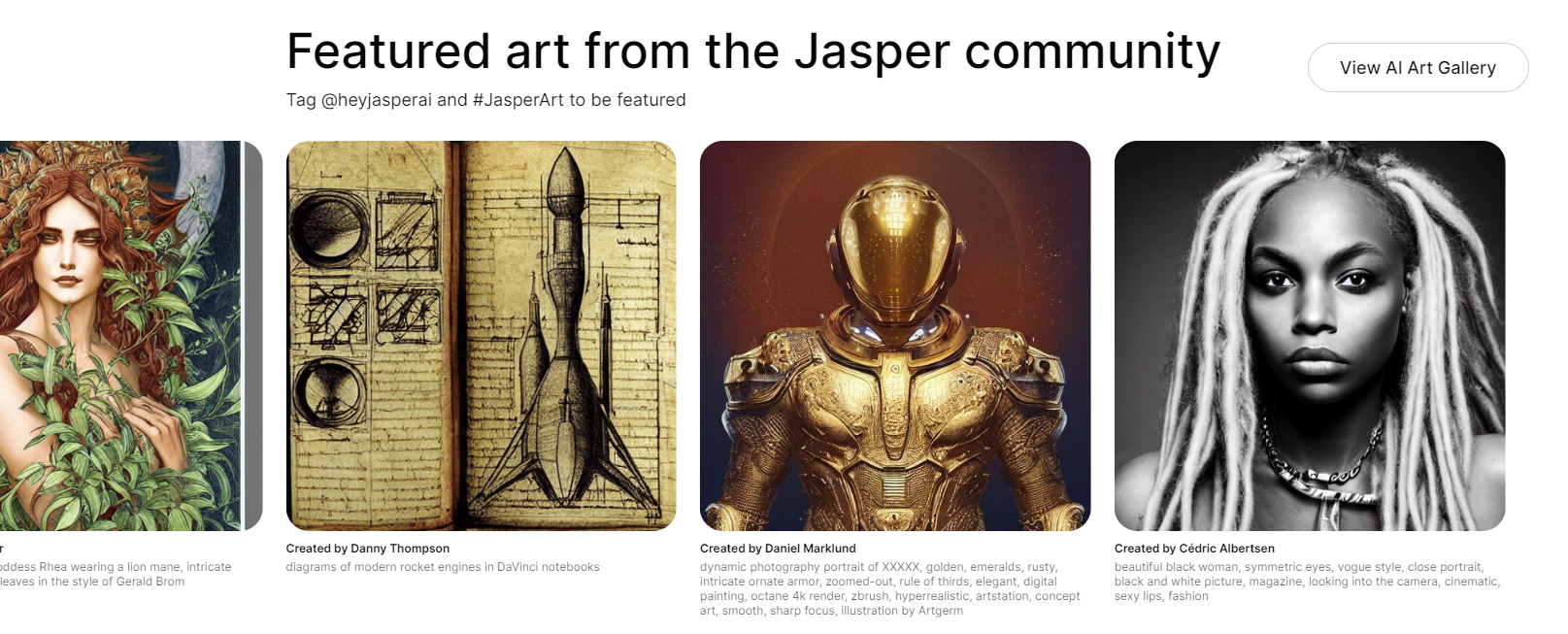 Jasper allows you to pair copywriting and art using AI technology. You can write a blog or email and then use the art generator to create stunning graphics that seamlessly accompany the copy.
You get a free 7-day trial to test out Jasper's art generator to see if it fits your needs and see what you can create with their text-to-image program.
Jasper Art uses the DALL-E 2 art generator model to power its technology.
Jasper Art provides you with a lot of different options to customize your generated images.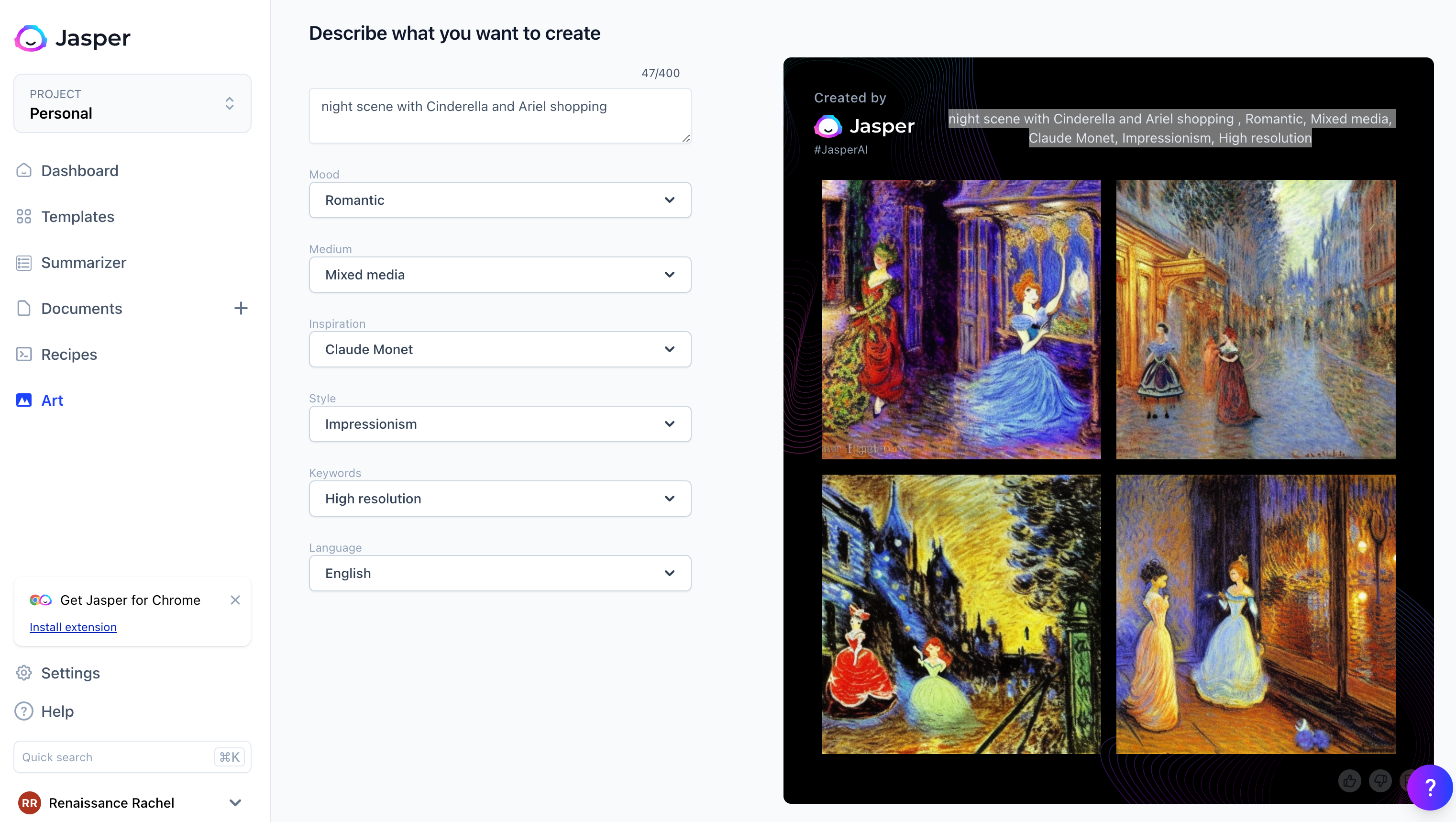 Features
Tons of customization. You can select the style, medium, artist, keywords, and language and add your prompt to steer Jasper in the right direction for your desired image.
5-day free trial to test out Jasper's ability to create stunning images.
Copywriting and art generator tool using AI text-to-image technology.
Pricing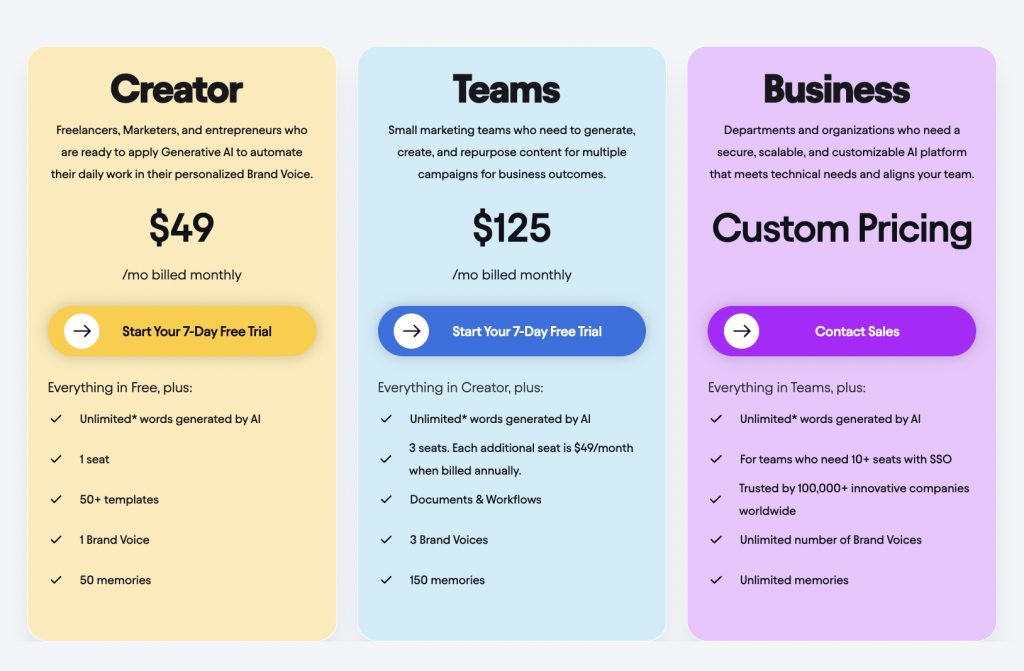 Jasper has three paid plans and art is included in all of them:
Creator Mode: $49/month for unlimited words
Teams: $125/month with unlimited words, 3 seats, and 3 brand voices
Business: Custom pricing
Bottom Line
Jasper Art a great tool to take advantage of if you want to test how Jasper does art generation – primarily if you already use Jasper for writing. It might be interesting to see how it goes along with their AI copy.
None of the paid plans under Jasper copywriting include any aspect of the AI art generation services. It will be a separate purchase if you're already paying for the copywriting side of Jasper.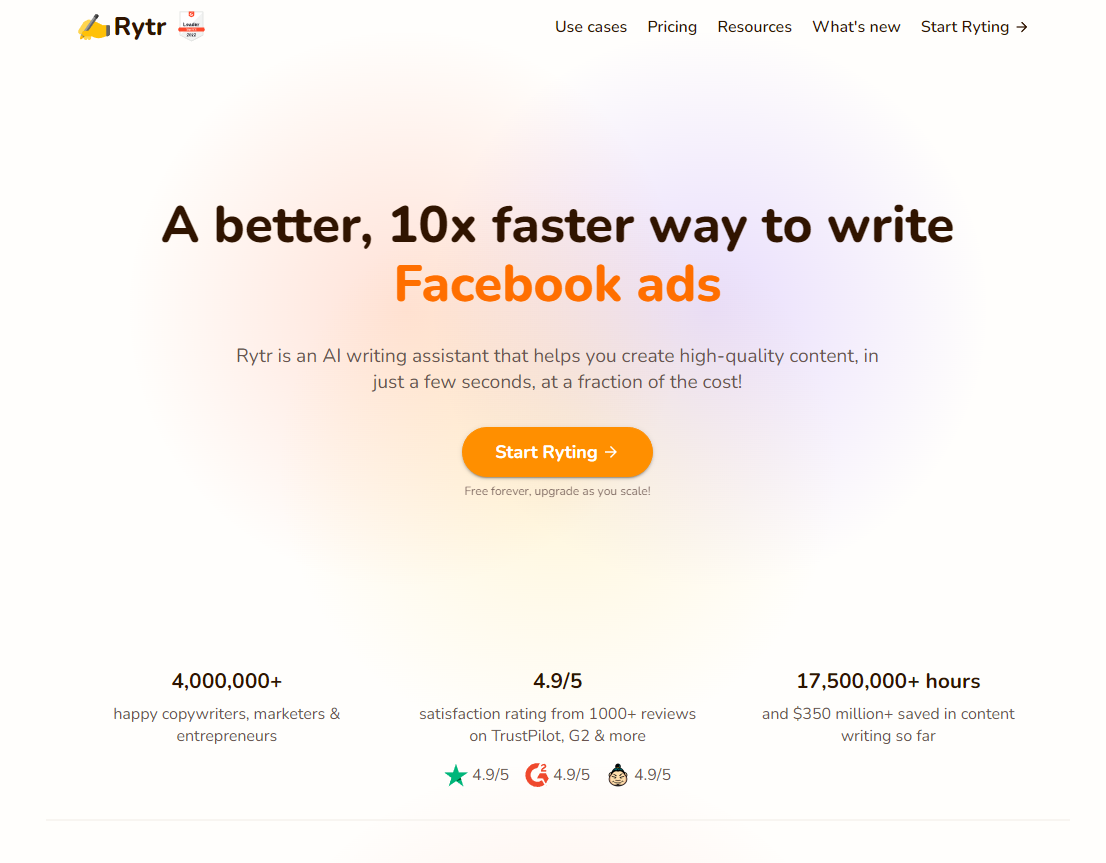 Rytr is an AI copywriting tool that you can use for various use cases to create copy quickly and efficiently. Within the document editor, it also can generate AI images based on the prompt you provide.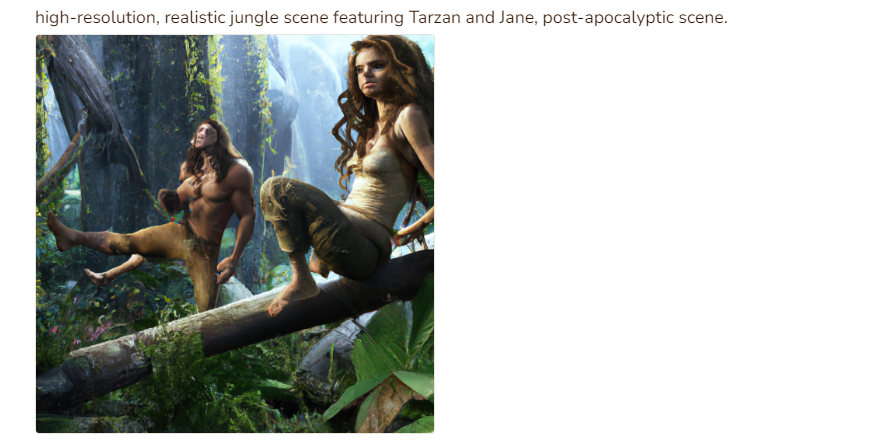 The great thing about how Rytr integrates this into their program is that you can generate your own AI images as you write instead of having to insert them after you're done writing. You can change the prompt, and a new image will populate on top of the previous one.
With the free plan, you only get five images per month – which may not be ideal for a long blog post but may be helpful for a short social post where you only need one or two images.
Overview
Rytr also uses the DALL-E 2 art generator model to power its technology.
I entered the same prompt into Rytr that I entered into Jasper and got a similar image, although I only got one image instead of four different ones.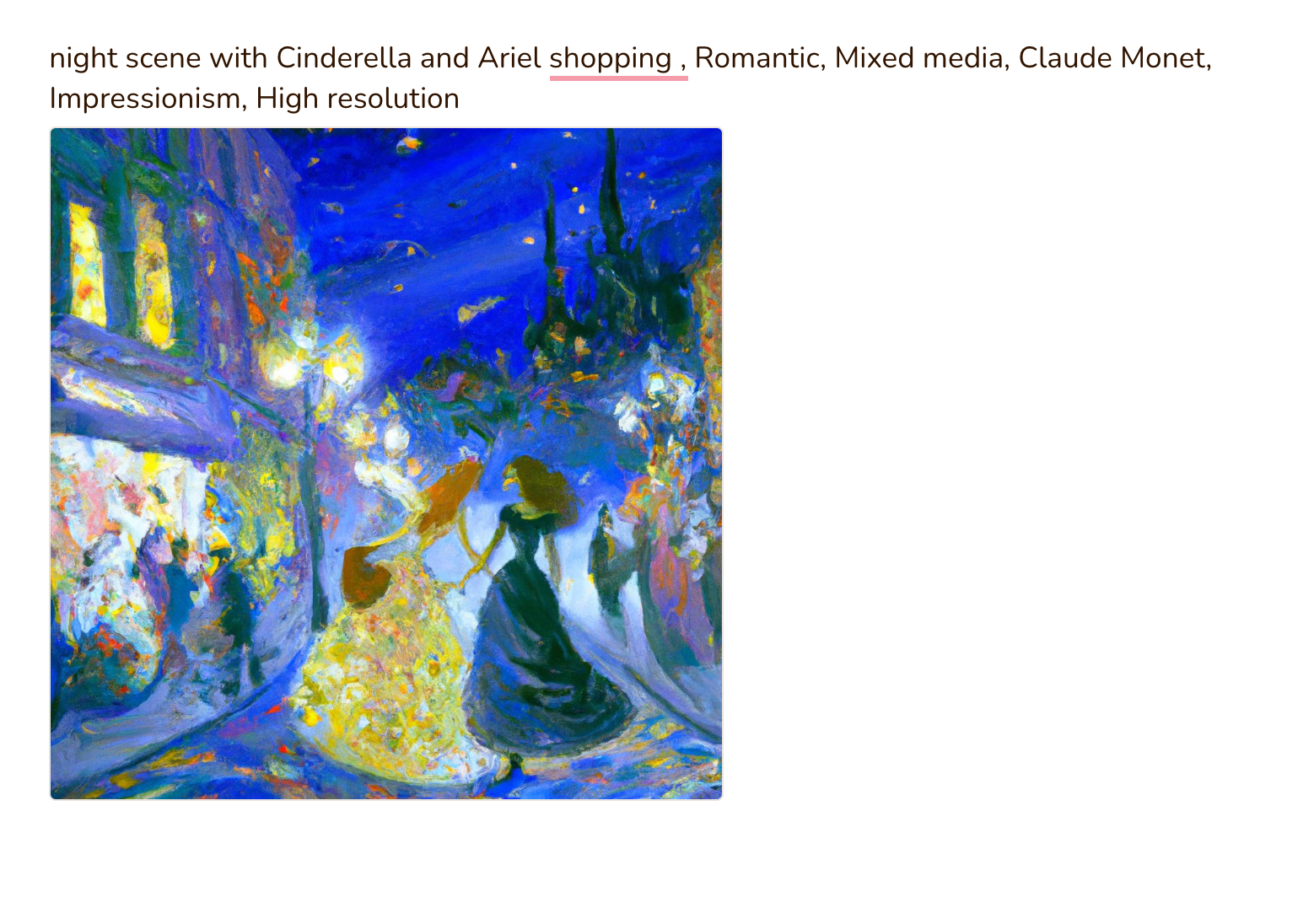 Features
Free or paid plans to cater to your writing and image needs. The difference between Rytr and Jasper is that writing and AI image generation comes together in a project. It's not a separate purchase.
You can use Rytr for multiple use cases, so it can be helpful when you need imagery for various platforms or types of content, and you don't want to use a secondary platform or program.
Pricing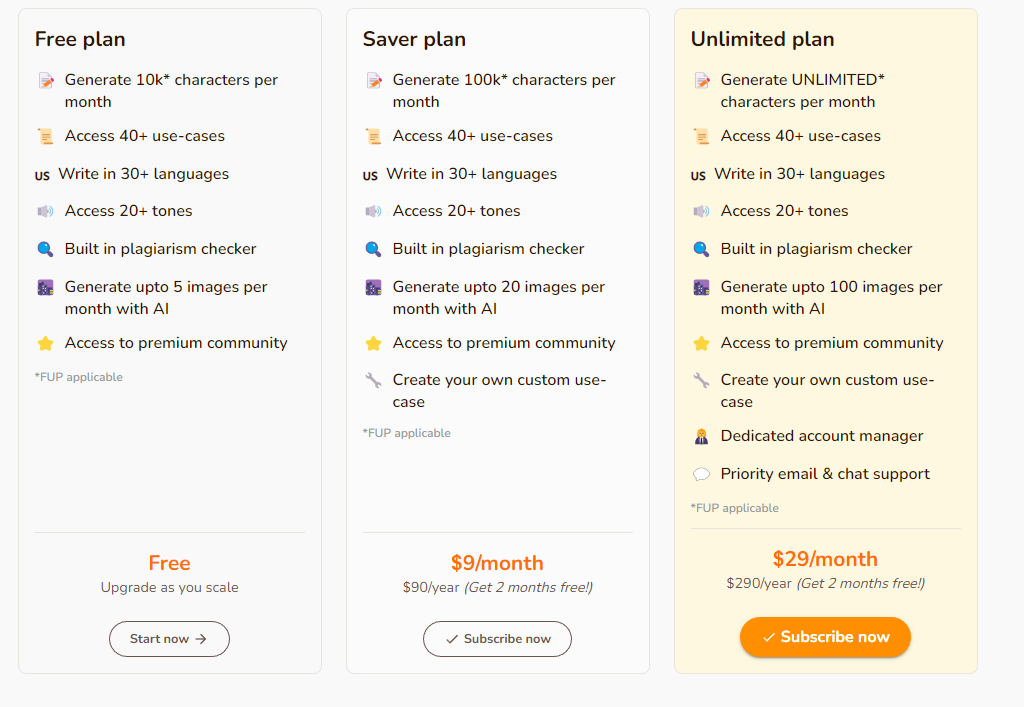 A free plan includes five AI images a month with over 10,000 characters per month to combine your writing and image generation.
The saver plan includes 20 images per month and over 100,000 characters per month.
The unlimited plan includes up to 100 images per month and no limit on characters per month. This plan would be ideal for content creators that write long-form content or blog posts and want to include AI-generated images.
Bottom Line
It's a beneficial tool to use for images and copywriting. It differs from Jasper in that the writing and image generation is included in the same paid plan, so you don't have to pay extra to generate AI images.
It uses DALL-E 2, so you get fantastic image results based on your prompts.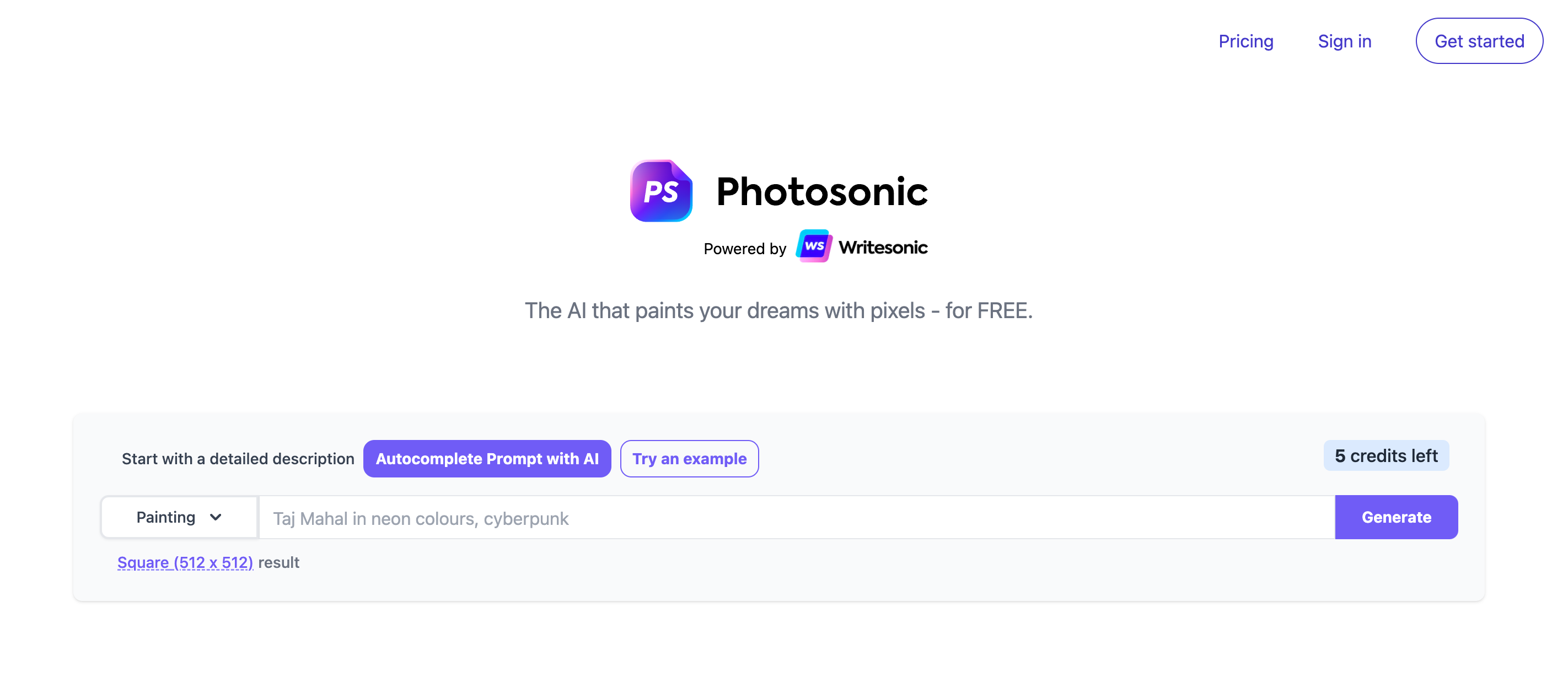 Overview
Photosonic is the creation of Writesonic, a copywriting tool. It allows you to enter a detailed prompt that will give you various images.
The model is based on latent Diffusion, a process that gradually transforms a random noise image into an image that matches your prompt
You can sign up for a free account and start generating images immediately. The program also allows you to save them to your phone, post them on various social platforms, or share them any other way you'd like.
Photosonic does let you use the images commercially. Still, others can also use the same image commercially, which is the case for all of the above-listed AI generators we've discussed.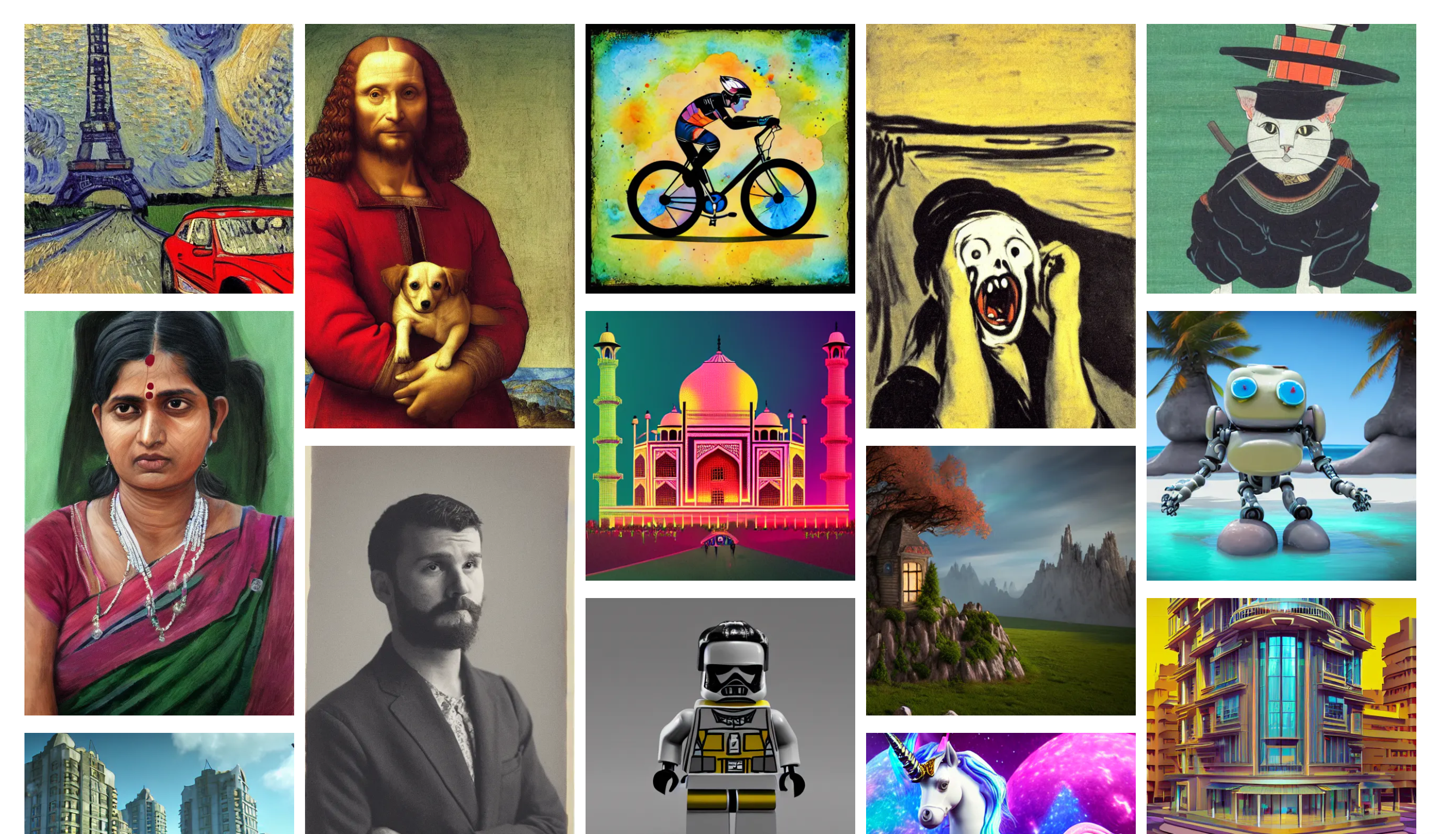 Generated image examples from Photosonic's website
Features
In addition to the text-to-image prompt, you can select the style and size of your results. The dimensions they offer are 512 x 512, 768 x 512, and 512 x 768.
You get five credits when you first set up your account – they do give you the option to try an example so you can test it out before you create an account.
You can save the results to your phone or computer and post them on social platforms to share your creations and inspire others.
Pricing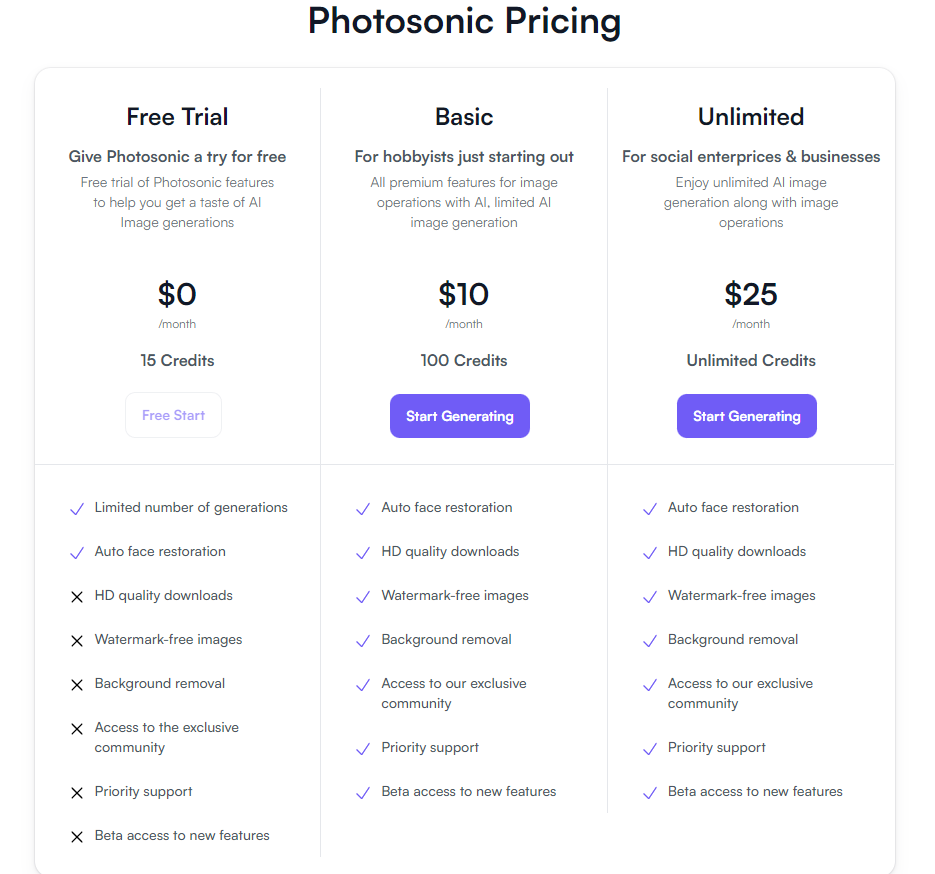 Photosonic's free plan offers 15 credits per month and face restoration. You can't get HD images or ones without a watermark – so if you plan to use these anywhere, a paid plan would be beneficial.
The basic plan is $10/month and gives you 100 credits. You get HD quality, watermark-free images, and beta access to new features. This plan gives you access to most of the program.
The unlimited plan is $25/month and gives you total credits. You get everything with the basic strategy with the added benefit of no limit on your creations.
Depending on what you plan to use your images for, it seems like even the basic plan would be worth it. You won't be able to post your creations anywhere with a watermark, and for $10/month, you can remove that!
Bottom Line
Photosonic is an intuitive tool created by a program that utilizes AI for copywriting purposes but has ventured out to the art generation market.
They offer three-tiered plans, and if you plan to use any of your images outside the program, the $10/month plan might be worth it to remove the watermarks.
You can try examples of prompts to get used to how the program works before you create an account or sign up, which is a great way to get a feel for the tool and how it works.
Photosonic is an entirely different platform from Writesonic, so you cannot add-on the AI image generator to your subscription to Writesonic if you have one. So the downside is you can't integrate them. It will be two separate payments and platforms.
AI Image Generation Models
All the tools mentioned in this article utilize one of these AI art generator models as the basis of the tool's technology.
DALL-E 2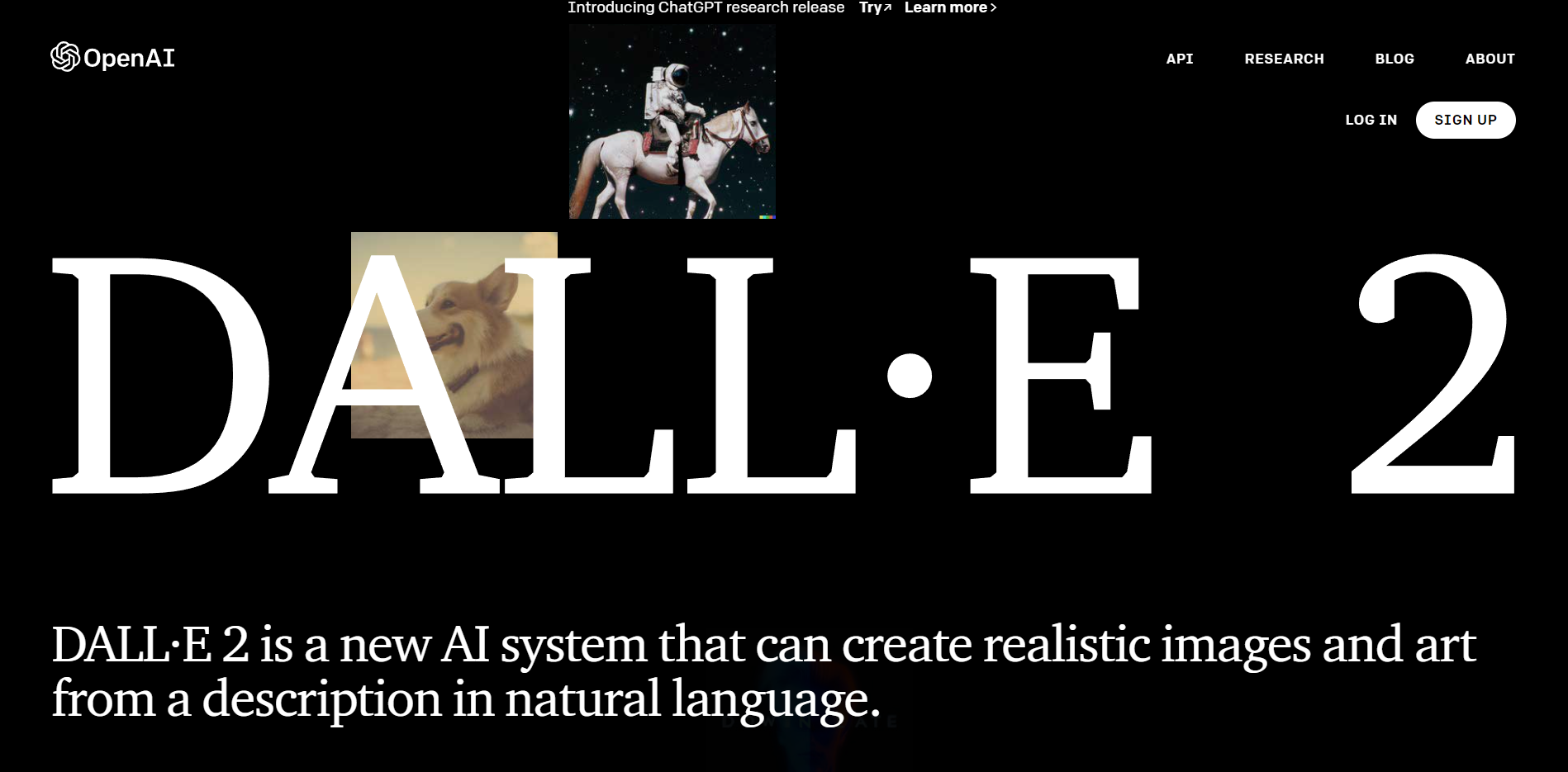 DALL-E 2 is a program that allows you to create realistic images based on a text prompt that you provide. The prompts are a bit interesting to get right – they require extremely detailed and direct descriptions to come up with your thinking, or it doesn't typically generate the image you want. It also allows you to upload an image that DALL-E 2 will use to create unique AI art variations.
It is fun to play around with and see what you can get as far as unique AI art goes. You can add various art styles to each description, like Van Gogh or Matisse, to get the desired effect in each AI-generated piece.
Overview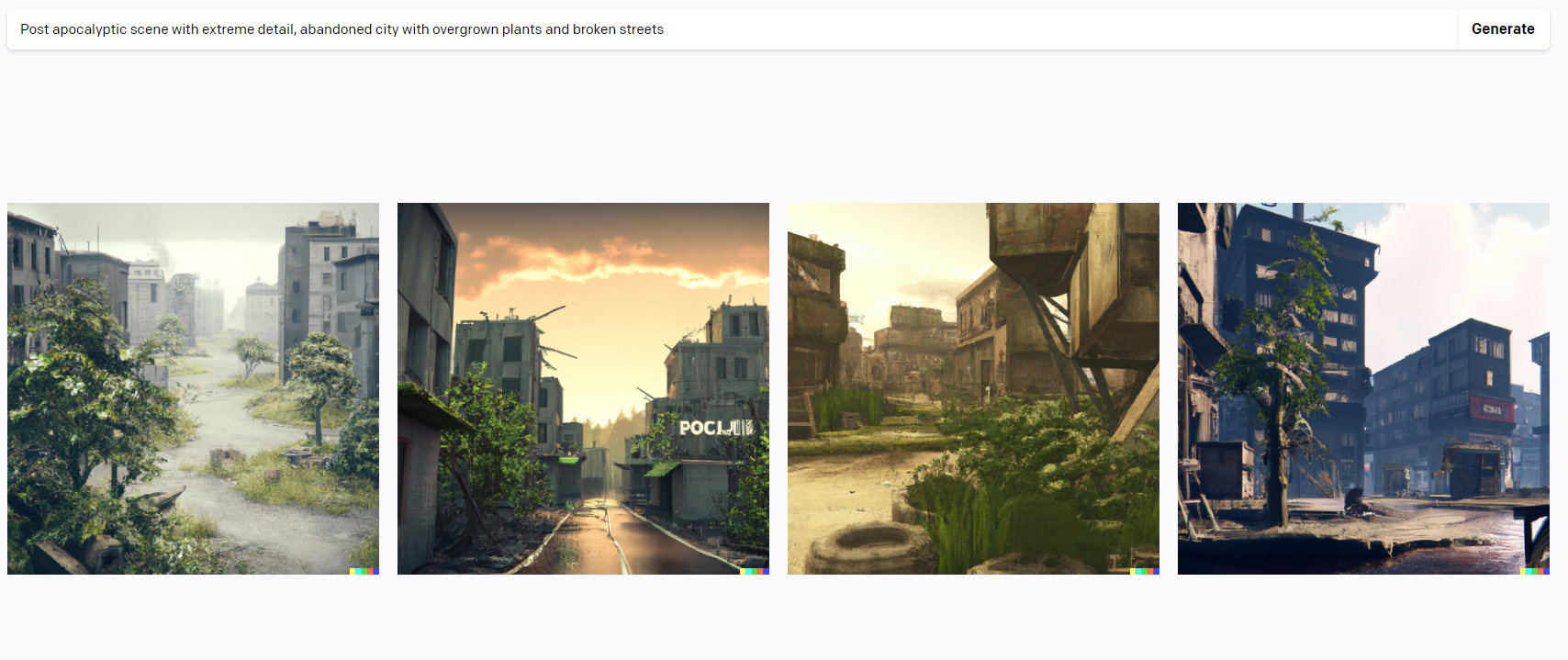 It was developed by OpenAI, who created the popular language learning model GPT-3.
It's an innovative AI art generator that allows you to test text-to-image art without spending money on a subscription. It's integrated with NLP to increase the results you get from your text prompts.
Features
Text prompts that you provide the AI with to get them to generate the desired AI art you are looking for. They also have a feature that allows you to upload an image for the AI to create variations.
DALL-E 2 can also create more significant variations of an image than what was included in the original image – creating a more expansive image.
Using Natural Language Processing, DALL-E can also create more realistic versions of previous ai art-generated images – by providing specific prompts. The program can add or remove shadows and object to create a more realistic image.
Pricing

When you start using DALL-E 2, you get 50 free 'credits,' which ultimately amount to images – you can purchase an additional 115 credits at a time (which equals about 460 images) for $15 to add to your free 50 credits a month.
The pricing breakdown can seem confusing, and depending on how much you want to use DALL-E 2 to generate AI art, you may not even need more than 50 credits. As OpenAI learns more about Dall-E 2 and what users are looking for, they plan to reevaluate the pricing model.
Bottom Line
DALL-E 2 is a fantastic AI art generator to test your creativity and get into the space of AI art generators. You can start simply by uploading your image to get different variations or get right into it by giving DALL-E 2 a text prompt or two to get creative images.
Midjourney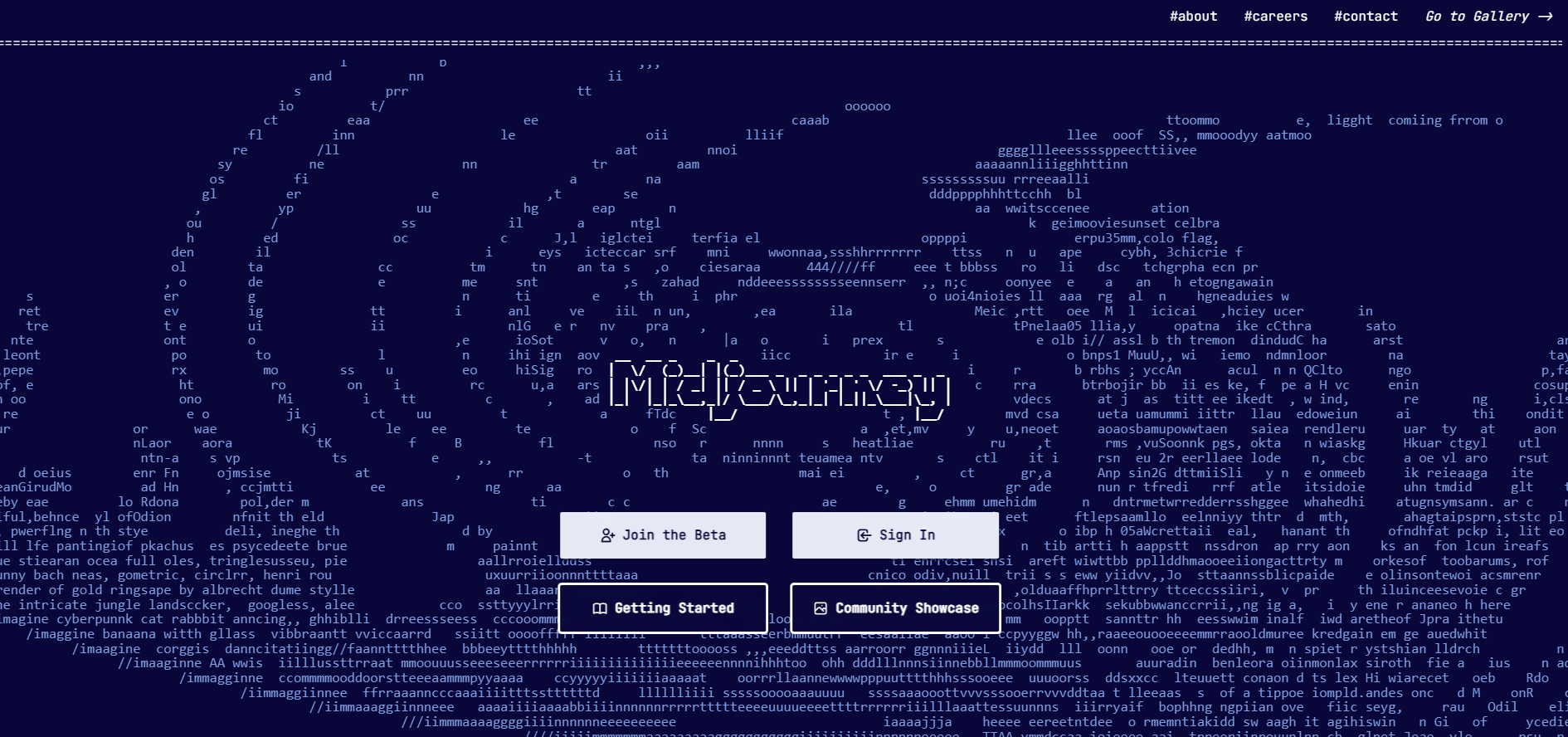 Midjourney is "an independent research lab exploring new mediums of thought and expanding the imaginative powers of the human species." It does that – but in a vastly different space than other AI art generators.
They host their AI image generator via a discord server where you can create your art and share it with the community.
Overview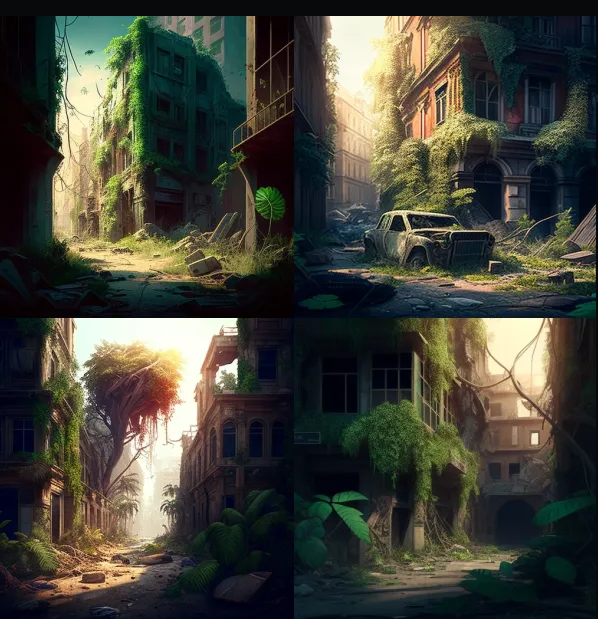 Midjourney is an independent research group focused on expanding the powers of the human imagination through AI art generation. The entire program is hosted through a discord server that allows a community to share and generate your content.
Through the server, you can use the "/imagine" prompt within the chat #newbies to put in your text prompt – Midjourney does the rest and comes up with variations of your text prompt. After they are generated, you can upscale your variations or create an additional interpretation of the ones initially developed. Midjourney doesn't believe in limiting your creativity – so you get a trial period where you can test out the process; if you're hooked, you can subscribe to their discord server to generate unlimited images.
Features
Unlike most AI art generators, Midjourney uses a Discord server to let you generate images instead of a website-based platform.
A community through Discord that allows you to share your creations with other creatives in the AI art space and get inspired by the work that others have created.
Midjourney offers a trial of their program before you'd have to subscribe to get unlimited content generation. You can play around with different art styles and variations in your text prompt to get various digital art images.
Midjourney combines artificial intelligence, machine learning, and text prompts uniquely to create beautiful and inspiring AI art.
Pricing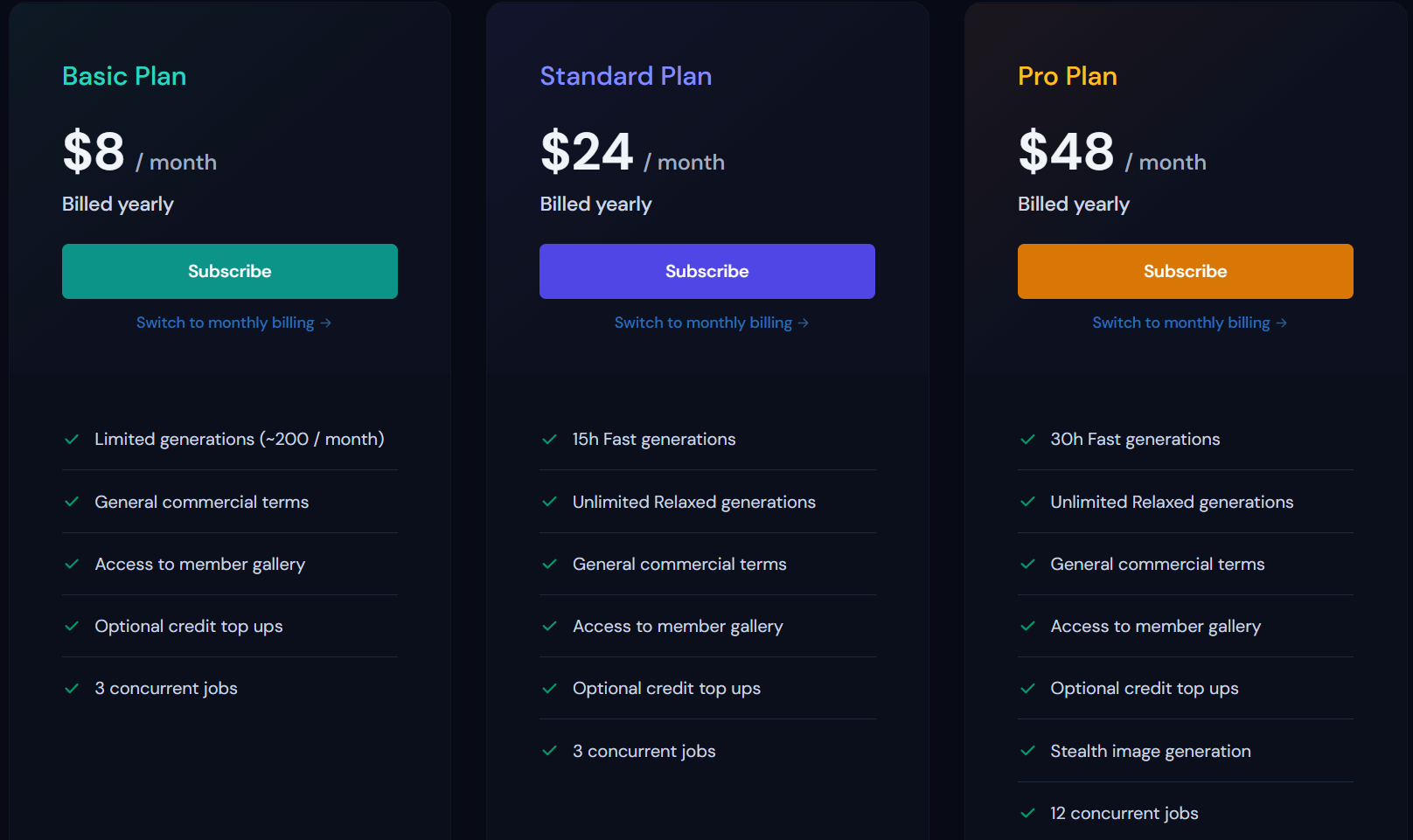 After your free trial with Midjourney's Discord ends – after you generate 25 images – you can subscribe to various plans depending on how frequently you are planning on using the program.
If your main goal with using Midjourney is to create fun AI art, the "basic" or "standard" plan might work best. The "basic" program is only $8/month and gives you roughly 200 generations.
If you plan to heavily utilize Midjourney for business or generate tons of AI images, the Standard and Pro plan offers unlimited generations to those that want more features. The Pro might be your best choice.
Bottom Line
Whether you are highly familiar with AI art generators, or brand new, Midjourney can be a jumping-off point to get used to how to create stunning AI images. Midjourney offers various features, including editing and revising existing images and generating complete new images across multiple art styles with artificial intelligence.
If you're starting, they have free and paid plans so you can test the waters before diving feet-first into AI art generation. Midjourney allows you to combine a specific art style to get a unique image.
Stable Diffusion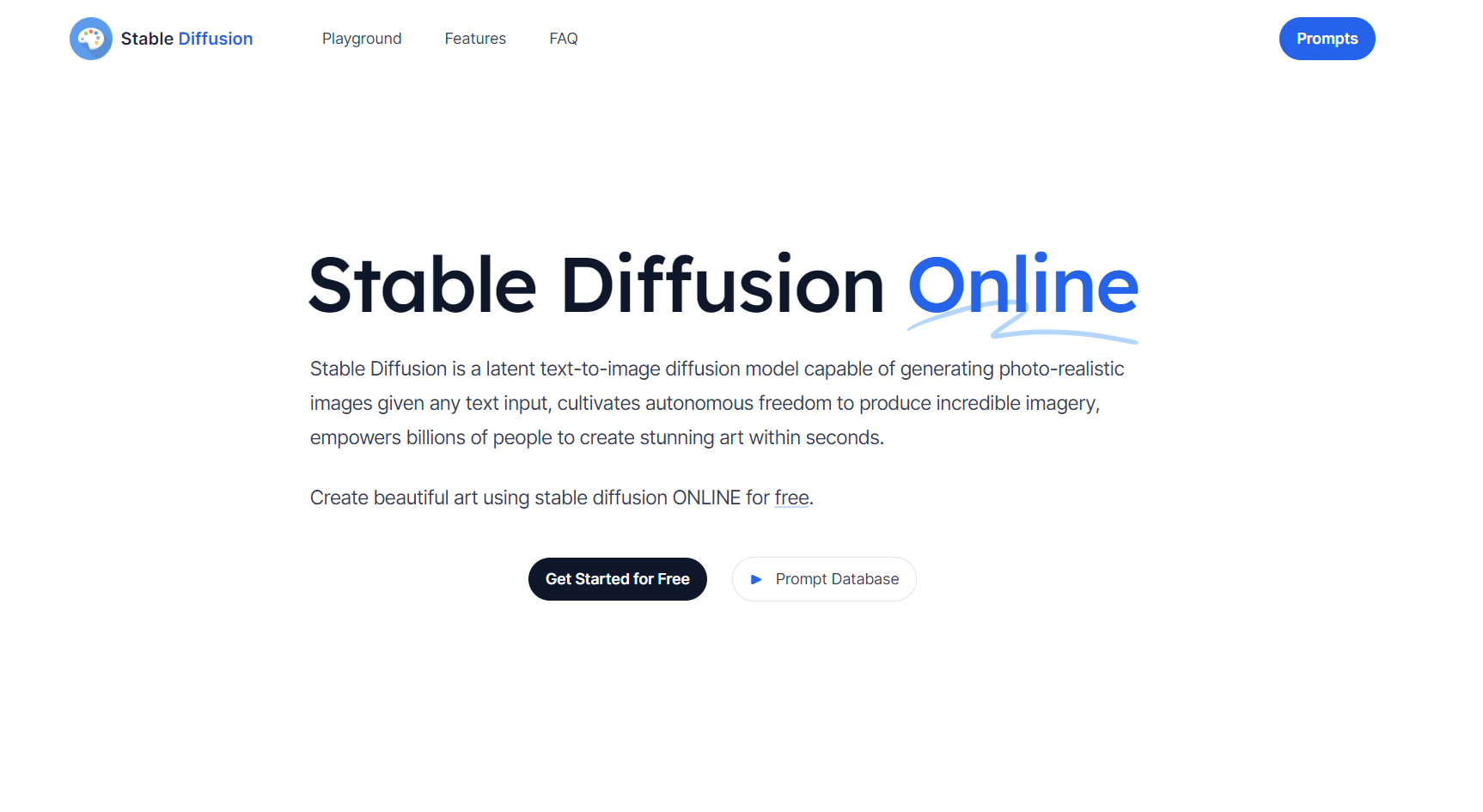 Overview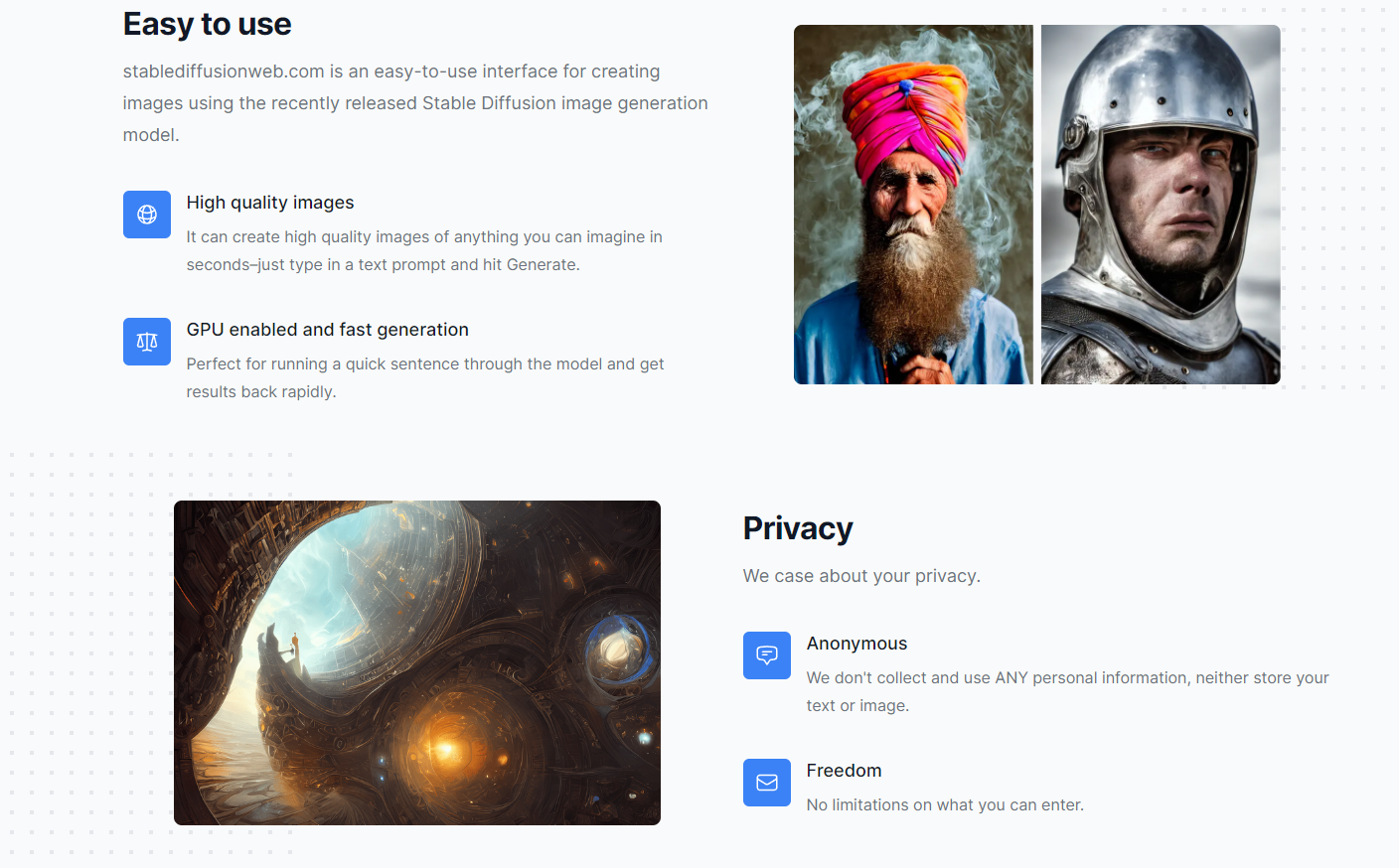 Developed by Stability AI, it gives users complete freedom to enter whatever text prompt they want to generate their custom image. Their website boasts no limitations on what you can enter for text prompts – and it's completely free.
Features
100% free plan, you will not have to pay or enter any personal information to get free-range and creative freedom with Stable Diffusion.
Stable Diffusion also has Different Dimension Me, a similar platform and one that is also an AI generator but uses portraits instead of text prompts. This is an exciting feature and one you may consider using if you're looking for an artistic variation of a photo you already have. Once your image is generated, you can choose from a few styles by increasing or decreasing the stylization.
If you're new to the art generation, coming up with unique prompts to give Stable Diffusion can be quite overwhelming – but they have a feature that lets you search for things and brings up artwork created by over 9 million artists. This can serve as inspiration for your newfound AI art generator hobby.
Pricing

Stable Diffusion doesn't have any payment plan – it's always free and lets you create art with zero limitations.
In addition to the AI image creation aspect of Stable Diffusion, they also have a platform called Different Dimension Me, which essentially creates AI art images with photos of people. This feature is still 100% free to use and play around with. Instead of a prompt, you use existing images to generate different variations.
Bottom Line
There are a ton of AI generators out there that help cut down on time and provide you with AI generated content, writing, or help with productivity. Stable Diffusion lets you create AI images with either text prompts or existing images that can be re-made into digital art images.
If you're looking for a free AI art generator that is free and gives you free rein of the painting styles, features, and styles to choose from. With each prompt, you can either generate an entirely new image or create art from images you upload using the tool. It's great for a place to start with artificial intelligence tools.
What are AI art generators?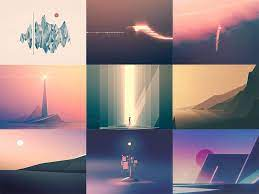 AI art generators are trained based on vast sets of data that are used to turn your prompt into an image. They are computer programs that use deep learning to analyze existing pieces of artwork and use that information to create new digital works of art with similar aspects and characteristics.
With AI art generators, you can create images with various art styles, including 2D and 3D, or a combination of the two.
How do you generate AI art?
Most AI art programs use text prompts to give the deep learning algorithms something to go off of. Other programs can take an image you upload and create a variation of this image that combines various styles. Each method used to create your results relies on computer programs that have gathered vast data sets from analyzing prior artwork.
Are there any free AI art generators?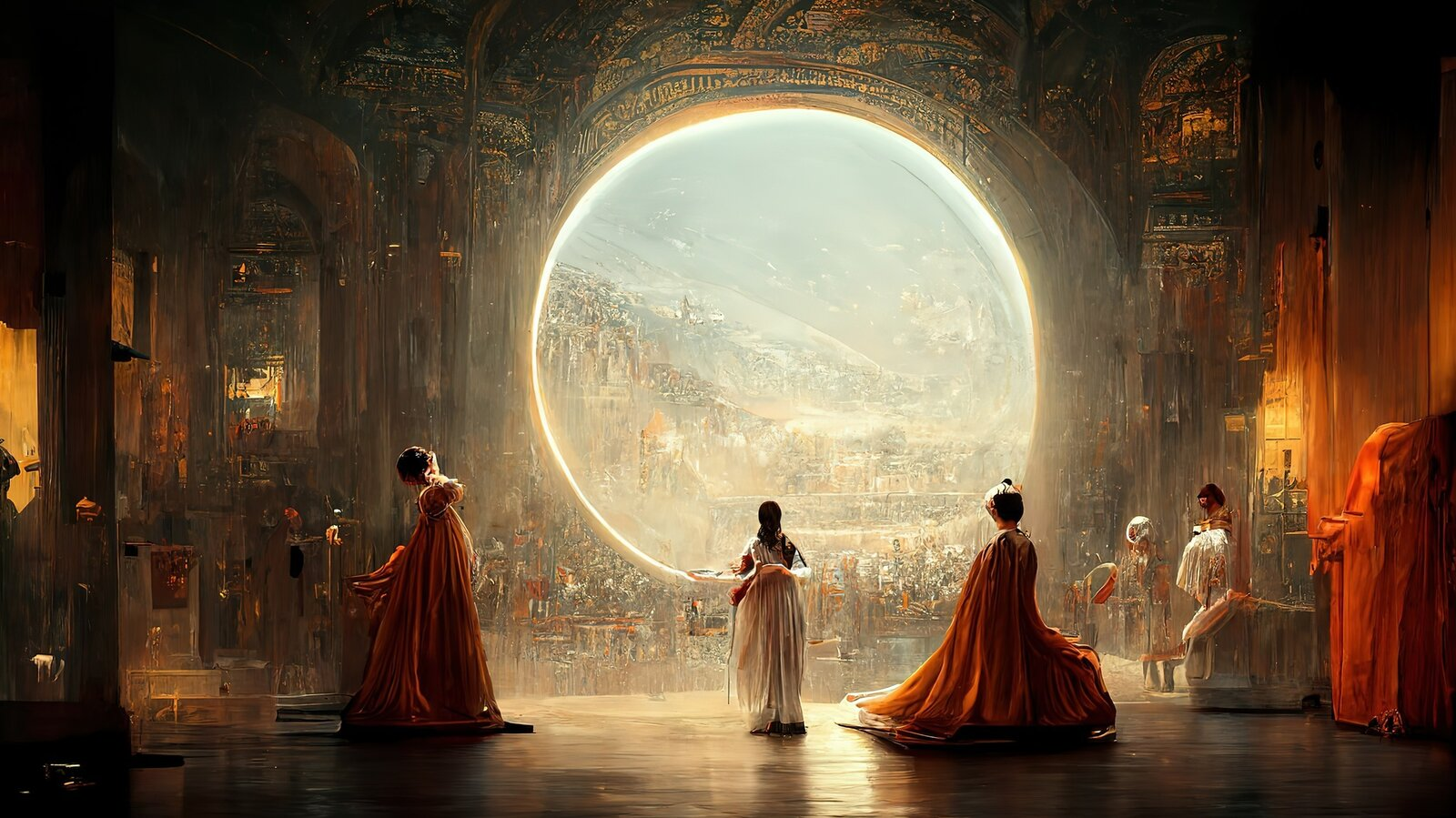 Most AI art generators offer a free plan. You can choose to upgrade to a paid plan if you'd like, but if you don't plan on using it too often or you want to play around and get a feel for AI art, every one of these programs we mentioned in this article offer free plans to get you started.
What's the difference between AI art and NFT art?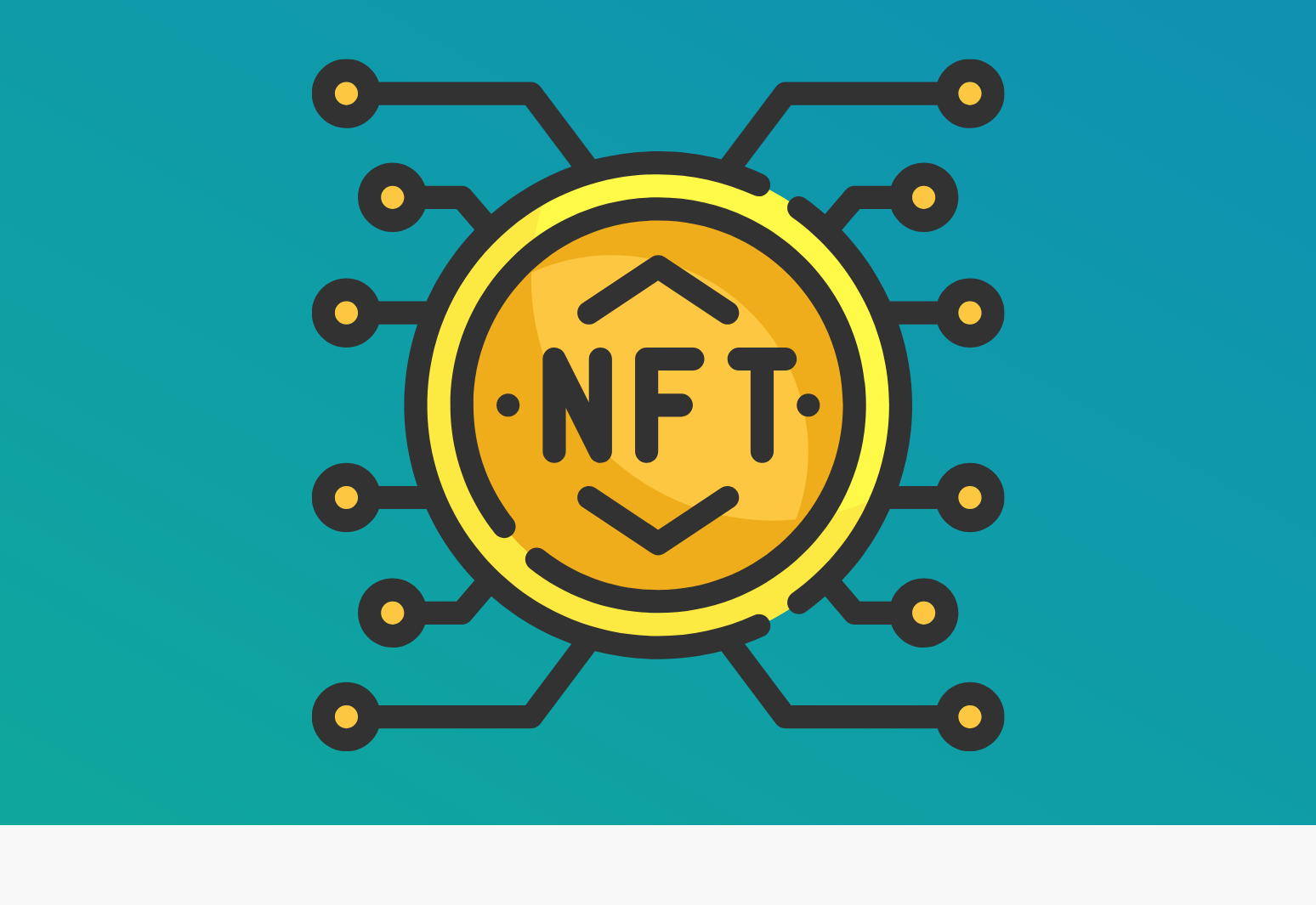 An NFT or Non-Fungible Token can be created using AI art generators. Some programs will restrict the usage of generated images. The difference between an AI art piece and NFT art is that an NFT is a certificate of ownership of a unique digital item.
Final thoughts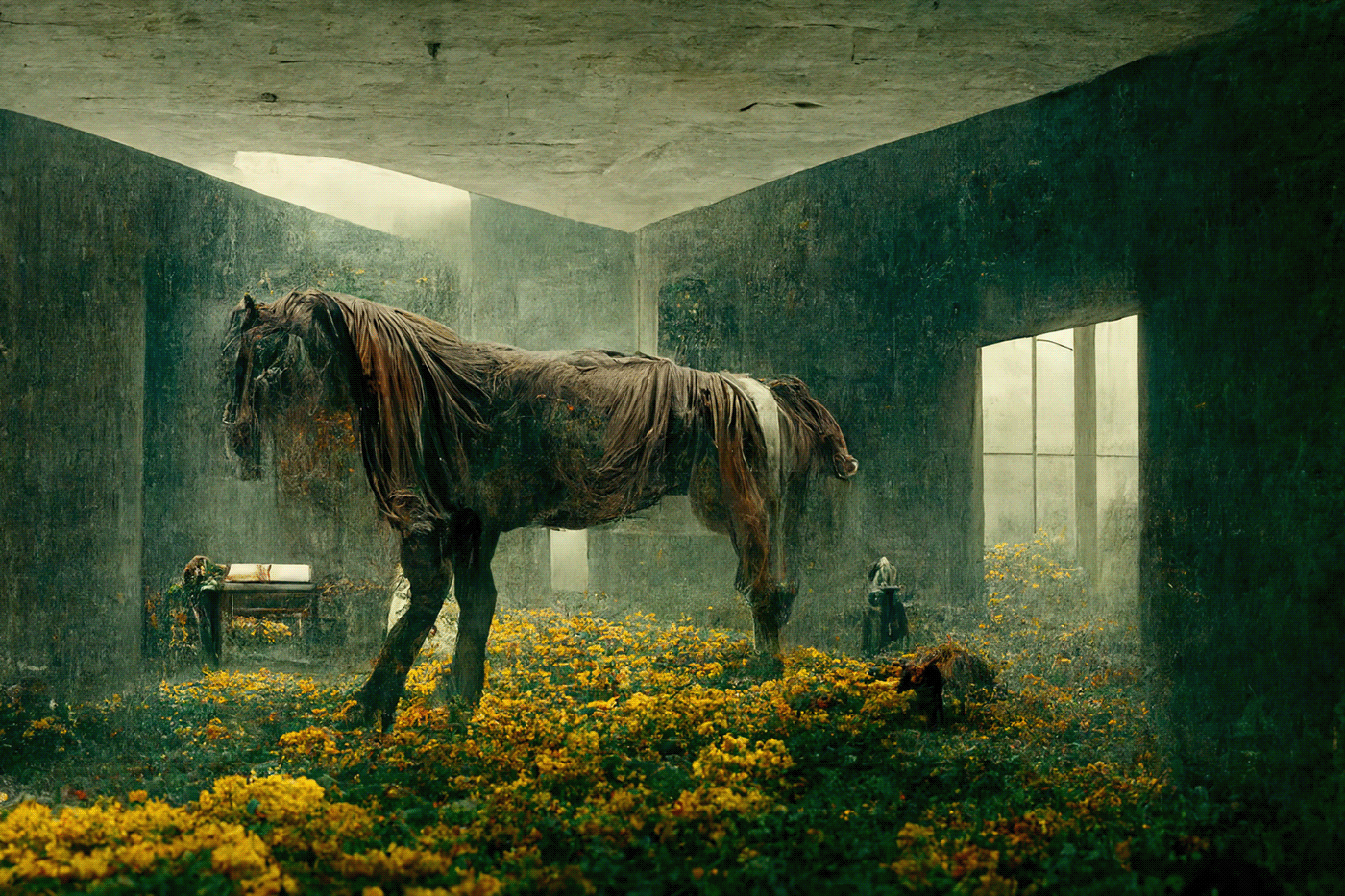 There are currently so many AI art generators available today that you are sure to find a program that best fits your needs and what you want to use it for. This article provided some great starting points; all offer a free version to test them out, play around with creating AI art, and get used to the tool.
We went over the best AI art generators that focus mainly on text-to-image art generation, with some offering the ability to upload custom images to get different variations. Dall-E 2, Stable Diffusion, Deep dream generator, and Midjourney are "traditional" AI art generators that can take your text prompt and turn it into a unique piece of digital art.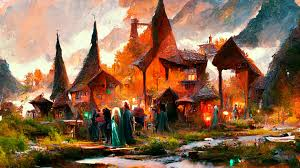 Fotor, Jasper, Photosonic, and Rytr feature AI for writing purposes but have also incorporated the ability to generate AI art images.
AI art generators are just the start of what AI is capable of – there are already so many ways that AI has been introduced into our lives, such as video editing software that uses AI to perfect your editing process.