16 Best AI Content Creation Tools of 2023
If you're looking for an AI-powered writing assistant to help you with content creation AND content marketing, you've got a lot of options out there! AI content marketing tools are flooding the market with their various offerings. These AI-powered marketing tools help you optimize your content for SEO, save time, generate better content ideas based on your audience's needs, and help you produce highly engaging content.
In this article, we'll specifically look at AI content marketing tools built for content creation. We'll cover which AI content creator tools are currently leading the field and what their strengths and weaknesses are.
Content creation is an essential aspect of your marketing strategy, and you can't expect to do everything yourself (even if you have the time). Whether you write your content yourself or outsource it to someone else, AI tools will help you be more efficient and get better results. Let's dive right in!
What are the best AI content creation tools?
The best AI marketing tools help you fulfill your marketing strategy by helping you turn your content (like blog posts) into top performers in search results.
If you look at the table of contents, you might notice that I have not included tools like Jasper in this article. While Jasper is a powerful AI writing tool, if you want to use Jasper for SEO writing and marketing, you need the Surfer integration, which requires a separate subscription. You may decide you want both, though! If you do, feel free to use my Jasper referral link for a free trial.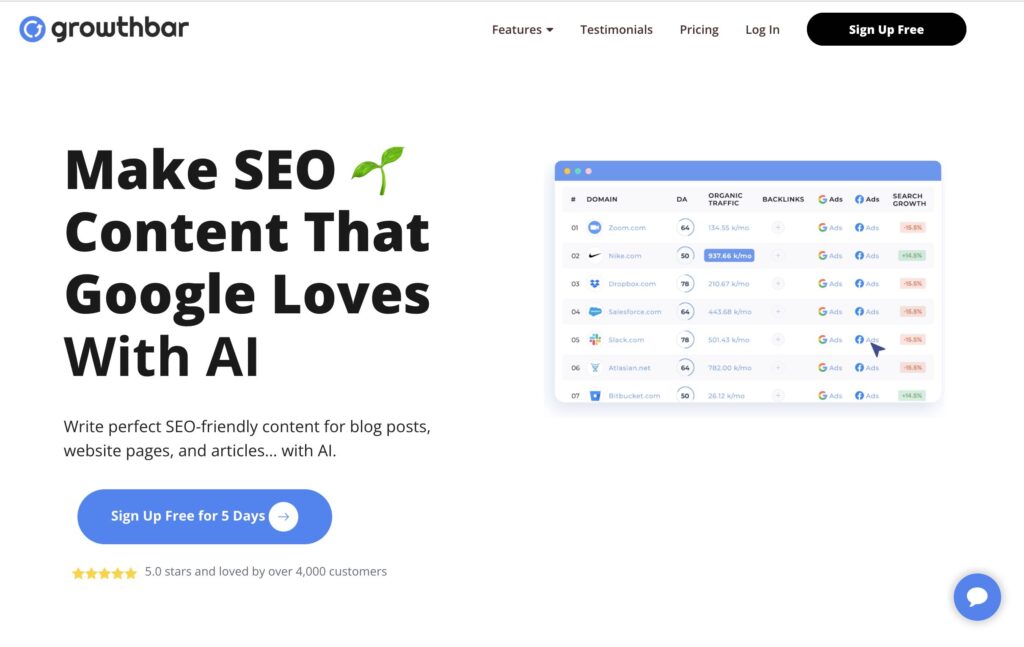 GrowthBar is an AI-powered marketing tool that allows you to conduct keyword research and write your content and optimize it within the program itself. This means you don't have to utilize two separate programs to conduct research and then create your content. GrowthBar has it all in one platform!
You can do everything from product descriptions, or generate simple paragraphs or entire articles, sales emails, and more.
Features
Content Generator: this is the main page that allows you to create your content. Whether you are looking for sales emails or an entire blog post, all is done inside the Content Generator.
Internal Link Suggestions: internal links are a marketing strategy essential in long-form content; GrowthBar suggests internal links for you while you're writing.
Long-form writing AI functions: GrowthBar specializes in long-form content such as blog posts, articles, press releases, sales emails, and more.
Paragraph Generator: if you're not in the market for long-form content, GrowthBar has a simple paragraph generator that gives you a simple paragraph at a time.
Meta Generator: GrowthBar has an AI content detection tool that helps you create meta descriptions for your content.
Blog Ideas: Coming up with blog ideas is easy with the help of AI to generate topic ideas
Site Inspector: GorwthBar has a feature that lets you find the keywords that rank for a particular website. This could be your website as it is currently or a competitor's website.
Keyword Research: Within the platform, you can discover keyword difficulty, related keywords, top SERP competitors, and how often a keyword is searched. You have your keyword research and your content writing all in one.
Rank Tracker: You don't have to guess how your website ranks for certain keywords – the Rank Tracker monitors how well your site performs for certain keywords.
Chrome Extension: If you prefer researching through Google you can get keywords and other competitive insights directly in Google search results.
Pricing
Free trial of any plan for 5 days
$29/month for a yearly plan, $48/month for a monthly plan
$79/month for a yearly plan; $99/month for a monthly plan
$127/month for a yearly plan; $199/month for a monthly plan
Bottom Line
GrowthBar is an all-in-one AI-powered tool for content creation that lets you conduct keyword research and write both long-form and short-form content and has a chrome extension that can help you do this all in your browser. It is among the excellent content creator tools for those who want a simple-to-use platform with many features.
WriteSonic: Budget-Friendly SEO Writer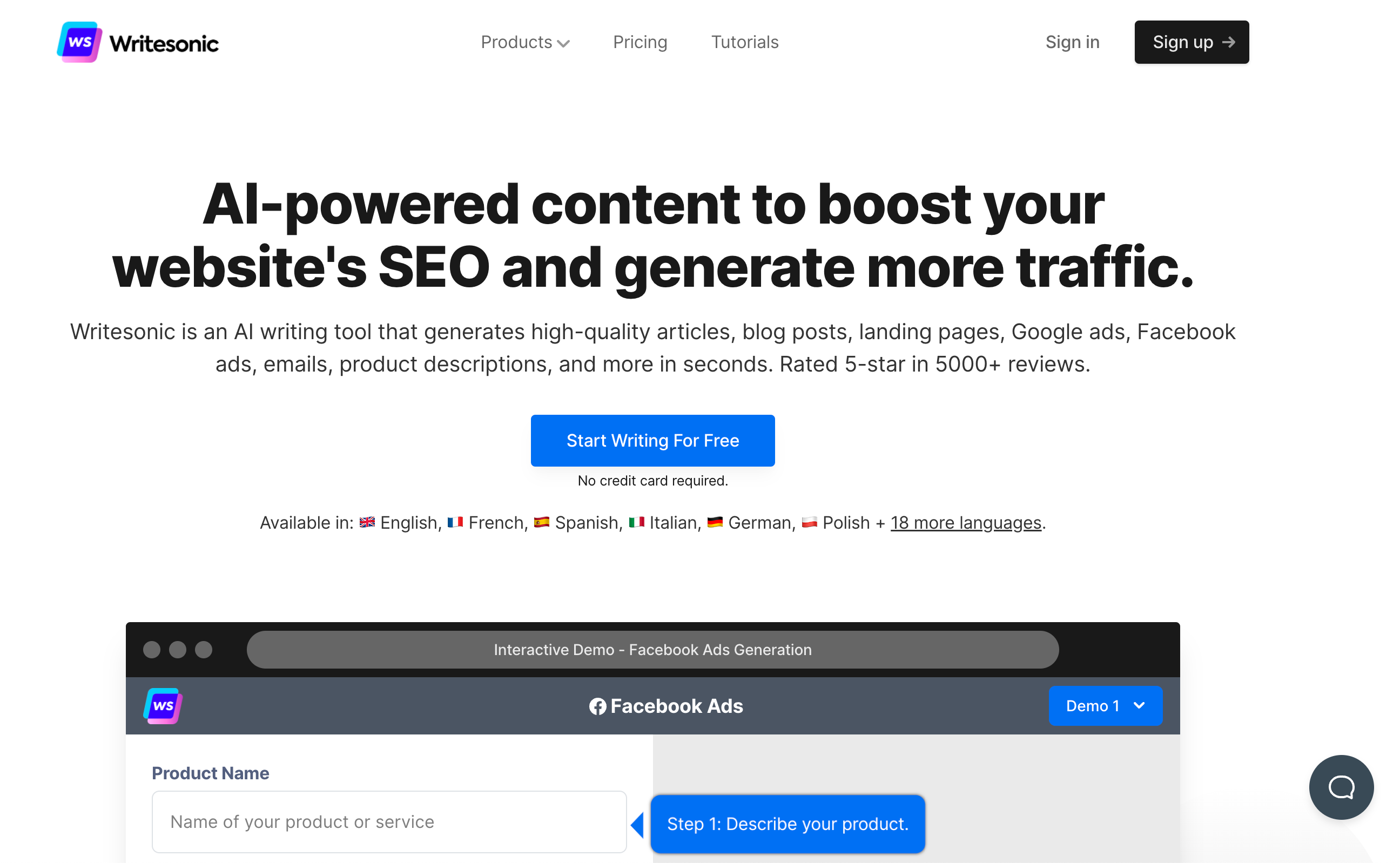 WriteSonic allows you to create unique content based on your needs. WriteSonic allows you to utilize templates to create an outline for your writing.
It will help you reach your target audience and push back writer's block, allowing you to creatively generate content. WriteSonic is the ultimate solution for writers struggling to develop fresh content ideas.
You can create highly-engaging, unique, and compelling content that can be shared across various platforms
It is available for PC and Mac users, with a free trial.
Features
Generates top-notch marketing material for your brand in minutes without the headache of coming up with fresh content
Auto-generated blog post and optimized article in just seconds.
It generates high-quality content.
AI-powered article and blog writer to give your writing the perfect tone, flow, structure, and voice.
It generates formidable marketing copy with a few simple clicks.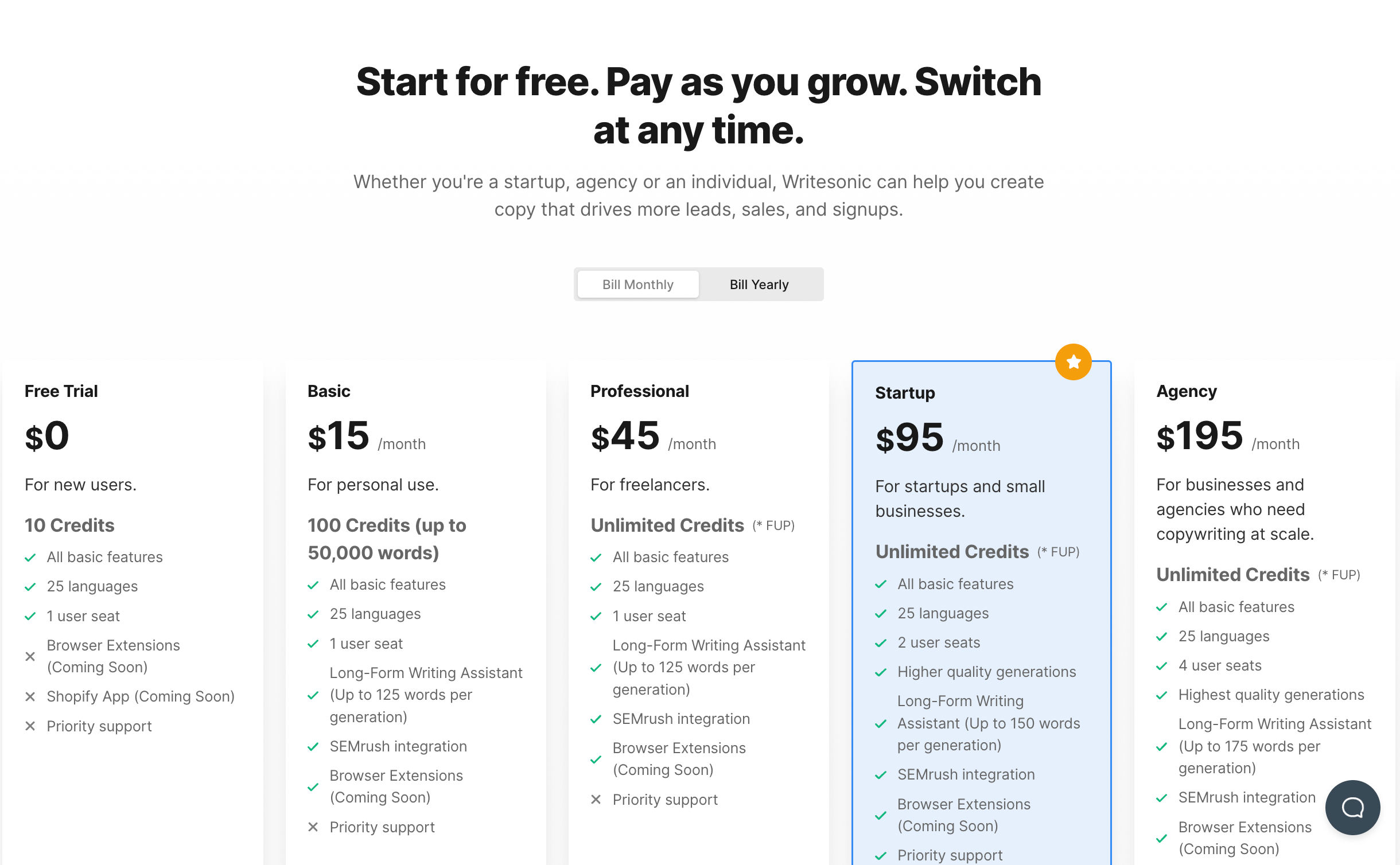 Pricing
Free Trial: $0
Basic: $15/month
Professional: $45/month
Startup: $95/month
Agency: $195/month
Bottom Line
WriteSonic allows you to write content without having to hyper-fixate on every word. Within the platform, it has an email feature that sends you an email once your content is written. It saves a lot of time, and you can focus on other things in your day-to-day job.
It is straightforward to use and get started with. That being said, if you are looking for a free platform that offers features, WriteSonic doesn't give you too many features or the ability to write a ton of content before upgrading.
CopyAI: Best for Copywriting
CopyAI has many automated copy-generating tools that can help you get out of writer's block. If you're stuck on what to write for Instagram captions, those nurturing email subject lines, or you're looking to start a new business and aren't quite sure what to call it, CopyAI's got you covered.
CopyAI can now create long-form documents instead of just social media captions and short-form content.
Features
Free version that's free forever, and no credit card is required
Free ai content generators that don't need you to sign in, such as email subject line generator, Instagram caption generator, and business name generator
100+ templates that you can use to generate copy
Easy to use, so you don't have to be super familiar with the platform to take advantage of its features.
Ability to create: digital ad copy, social media content, website copy, eCommerce copy, blog content, and sales copy
Multiple languages
Focus on your target audience
Product descriptions
Long-form document editor
Pricing
Free Plan
Pro: $49/month
Team: Custom Pricing
Bottom Line
The nice thing about Copy AI is that the AI tool has a free version that allows you to utilize its features without payment. If you're stuck with writer's block, Copy AI can help. You're able to write content efficiently and quickly with Copy AI. It's an excellent content marketing tool.
Scalenut: Best for Powerful AI Commands and SEO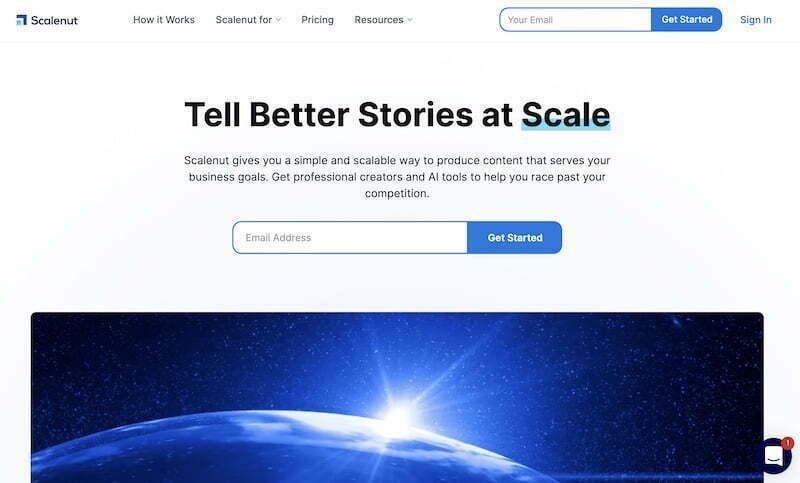 Scalenut is a content marketing tool that combines keyword research and optimization tools to help you write content. Scalenut's SEO Assistant and allows you to write content optimized for search engines using techniques and features that automate the whole process. Jasper has a Surfer SEO integration, but Scalenut gives you the best of both worlds without purchasing two separate tools. You write in your keyword, and it gives you a document editor centered around your keyword. I like that it has a panel on the left showing your competition.
The commands that Scalenut provides are a bit more challenging to navigate and use than other tools. Instead of a simple button, there are specific commands you provide to generate content.
Scalenut allows you to hire professionals to help you write, design, or video content within the platform. This feature is excellent if you want exceptional content but don't want to use the artificial intelligence features of Scalenut.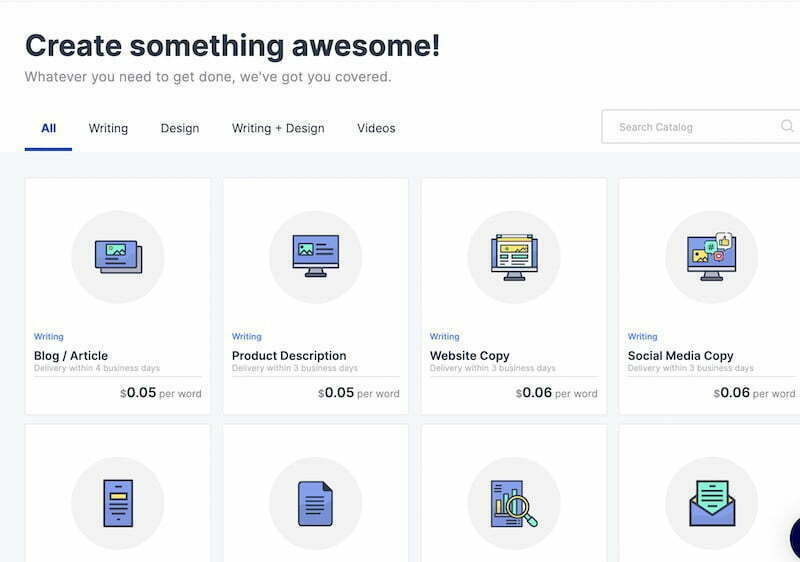 Additionally, Scalenut has templates that can simplify your writing and help you avoid writer's block.
Features
Free version – no credit card required, and it's free forever
SEO Research – not relying on an integration, SEO is within the platform to make content creation easier
Long-form AI writing tools to focus on those blog posts
AI article writer
Short-form artificial intelligence writing for captions, social media posts, and more!
Collaboration
No word length restrictions
Pricing
Individual: $29/mo
Growth: $79/mo
Pro: $149/mo
Bottom Line
Scalenut is an excellent AI writing tool that gives you complete control over your content creation. Whether you are newer to AI content generation or a content marketing professional, it scales well for each circumstance. It provides the tools and features you need to write great content.
The platform allows you to access unlimited words without having to pay extra. You're not limited to a paid plan with this tool.
Outranking: Best Content Strategy Platform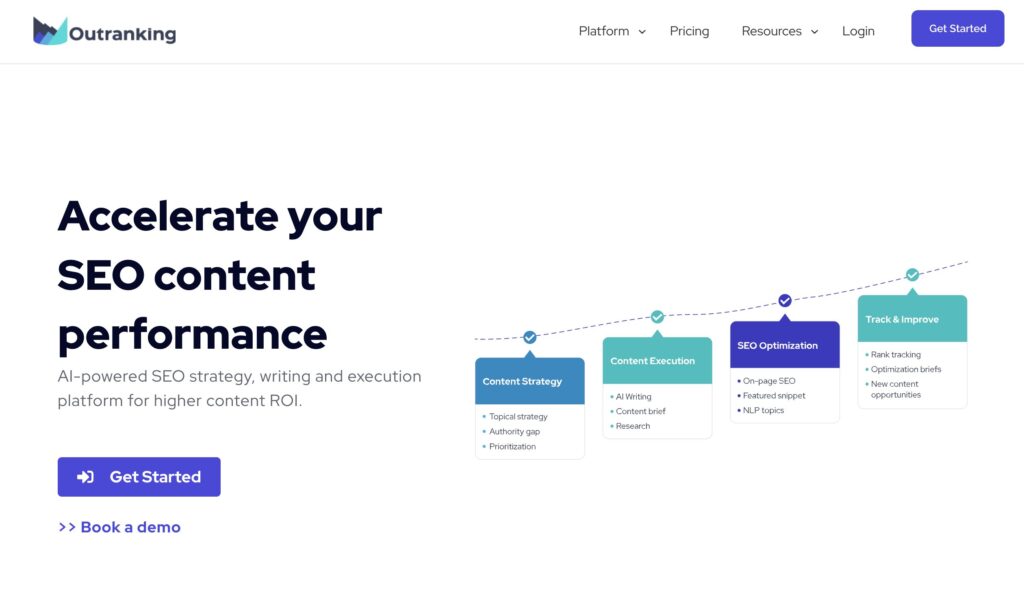 Overview
Outranking is an AI content strategy platform that doesn't stop at content creation. It tracks previous content performance and helps you with content planning and strategy – making a seamless experience from start to finish.
Features
AI Writing
Content Strategy
Content Marketing
Content Optimization
Pricing
No free plan or trial
Solo: $79/mo
Pro: $149/mo
Company: $219/mo
Bottom Line
Outranking can help with your content strategy on top of the content writing. Not only does it help you write the content but it provides helpful tools for everything that comes after the content is posted.
Surfer: Best for SEO Writing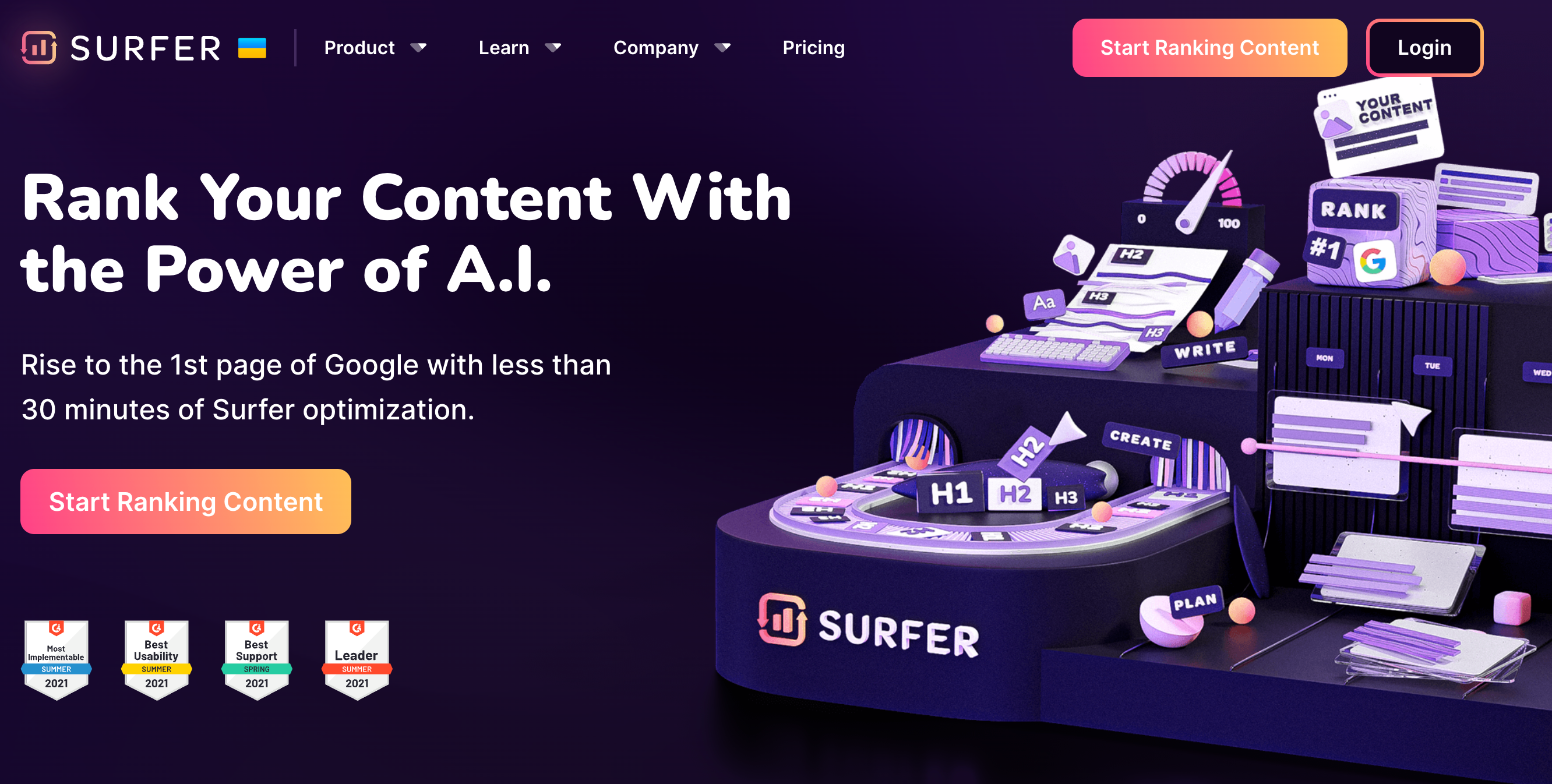 Surfer is an AI-powered content creation tool that combines keyword research, content editing, domain analysis, and SERP analysis with content planning to ensure you're always writing relevant content. There are a lot of features that this tool has when it comes to all things content writing.
Surfer's document editor lets you copy and paste directly into your platform of choice and is already formatted for HTML, so that takes one more thing off your plate.
With Surfer's AI writing tool, Surfy, it has become a well-rounded solution.
Features
Content planner – plan your content and tools for writing it. You can do your keyword research and analyze the SERPs of Google to plan your content effectively and efficiently.
Brief – helps you create an AI outline with unique headings and paragraphs. It will suggest headings, titles, and subheadings based on your keyword research.
Content editor – get content suggestions and guidelines for writing along with a rich, HTML-enabled document editor.
Audit – check your existing pages for missing keywords and compare them to your competitors. This is a great tool to re-evaluate older content to ensure you're still ranking among your competitors.
Grow flow – improve your website's content with weekly updates to an easy-to-use task flow
Keyword surfer – instantly check keywords in Google with this browser extension
Surfer Academy – training on-demand and live. You also can get a certificate for completing the academy to show your knowledge.
SEO Writers Directory – leverage this directory (or join it!) if you want to find writers who know how to create SEO-optimized content
Writing Masterclass – free to subscribers to help them learn the ropes for SEO writing. In the end, you get a certificate!
Pricing
Basic: $59/mo; $49/mo annually
Pro: $119/mo; $99/mo annually
Business: $239/mo; $199 annually
Final Thoughts
Surfer is an excellent AI-powered content creation tool that allows business owners of all types to create content that works for them. It's one of the most powerful content creation tools because it allows you to use a wealth of features to optimize your content. It's one of the best content creation websites.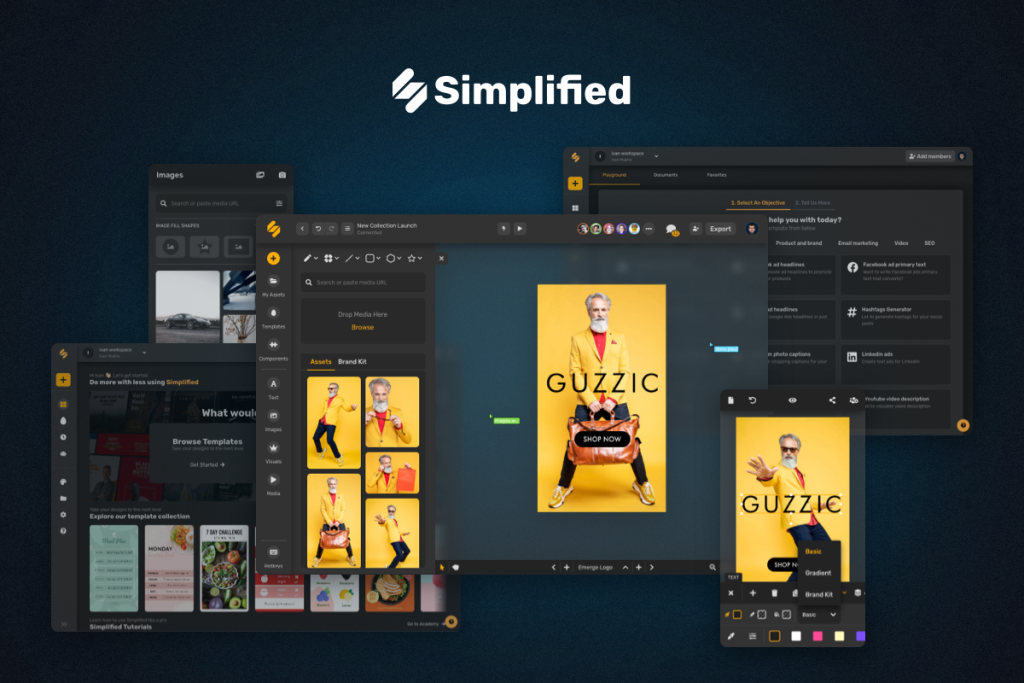 Overview
Simplified is one of the solutions that make the implementation of generative AI technology more accessible to businesses. Its all-in-one content platform allows businesses to quickly integrate its platform into their writing process without needing to have deep technical expertise, allowing businesses to create content faster, more efficiently, and at a lower cost than traditional methods.
It's also helping businesses create more personalized content for their audiences. By analyzing data such as search queries, social media interactions, and customer behavior, its platform can create content that speaks directly to the needs and interests of specific audiences. This leads to higher engagement and greater customer satisfaction, which in turn can drive business growth.
Highlights
AI-powered content creation: Generates high-quality content in various formats such as blog posts, social media posts, and product descriptions.
Personalization: Analyzes data such as search queries, social media interactions, and customer behavior to create personalized content that speaks directly to the needs and interests of specific audiences.
Efficiency: The platform streamlines the content creation process, allowing businesses to create content faster, more efficiently, and at a lower cost than traditional methods.
Collaboration: Simplified AI's writing tool allows teams to collaborate on content creation, providing a streamlined workflow for multiple contributors to work together.
Customization: The platform allows users to customize the tone, style, and voice of the generated content to match their brand voice and guidelines.
Optimization: The platform provides optimization suggestions for headlines, meta descriptions, and other elements to improve search engine visibility and engagement.
Multiple languages: Simplified AI's writing tool supports over 50 languages, allowing businesses to create content in different languages to reach a global audience.
Pricing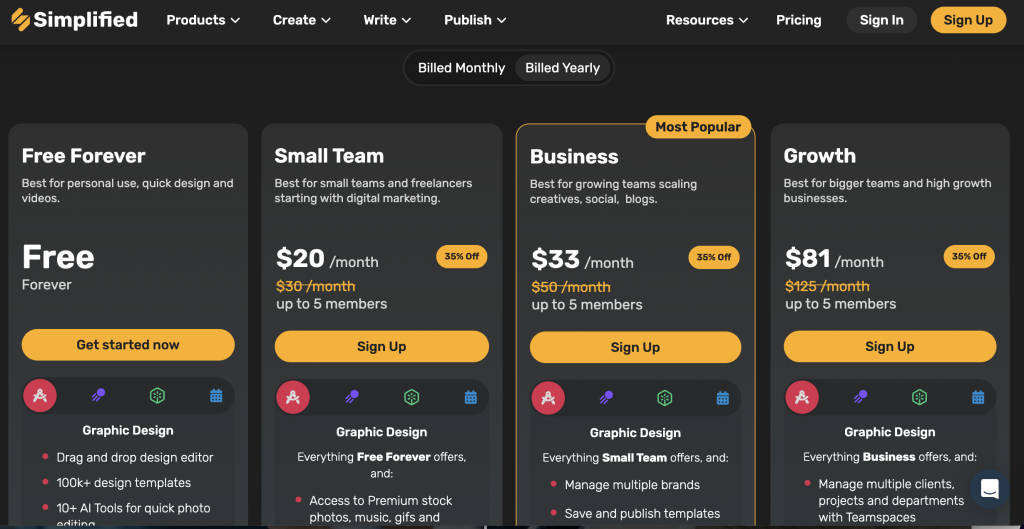 Basic Plan: $29/month
Pro Plan: $99/month
Enterprise Plan: Custom pricing
Bottom Line
Simplified AI's content creation platform is an AI-powered tool allowing users to quickly and easily create high-quality content. The platform uses advanced algorithms to generate content for various types of marketing and promotional materials such as blogs, articles, social media posts, and more.
Users can input their requirements such as the topic, keywords, tone of voice, and word count. Based on this input, Simplified AI's platform uses machine learning algorithms to generate high-quality content that is optimized for SEO, readability, and engagement.
The content creation platform also provides a variety of templates that users can choose from and customize to suit their needs. Users can edit and modify the content to ensure that it aligns with their brand and message. The platform also offers a range of editing tools, including grammar and spell-check, to ensure that the content is error-free.
Overall, Simplified AI's content creation platform is a powerful tool that can help businesses and individuals create high-quality content quickly and easily. With its user-friendly interface and advanced AI algorithms, it can save users time and effort while delivering engaging and effective content.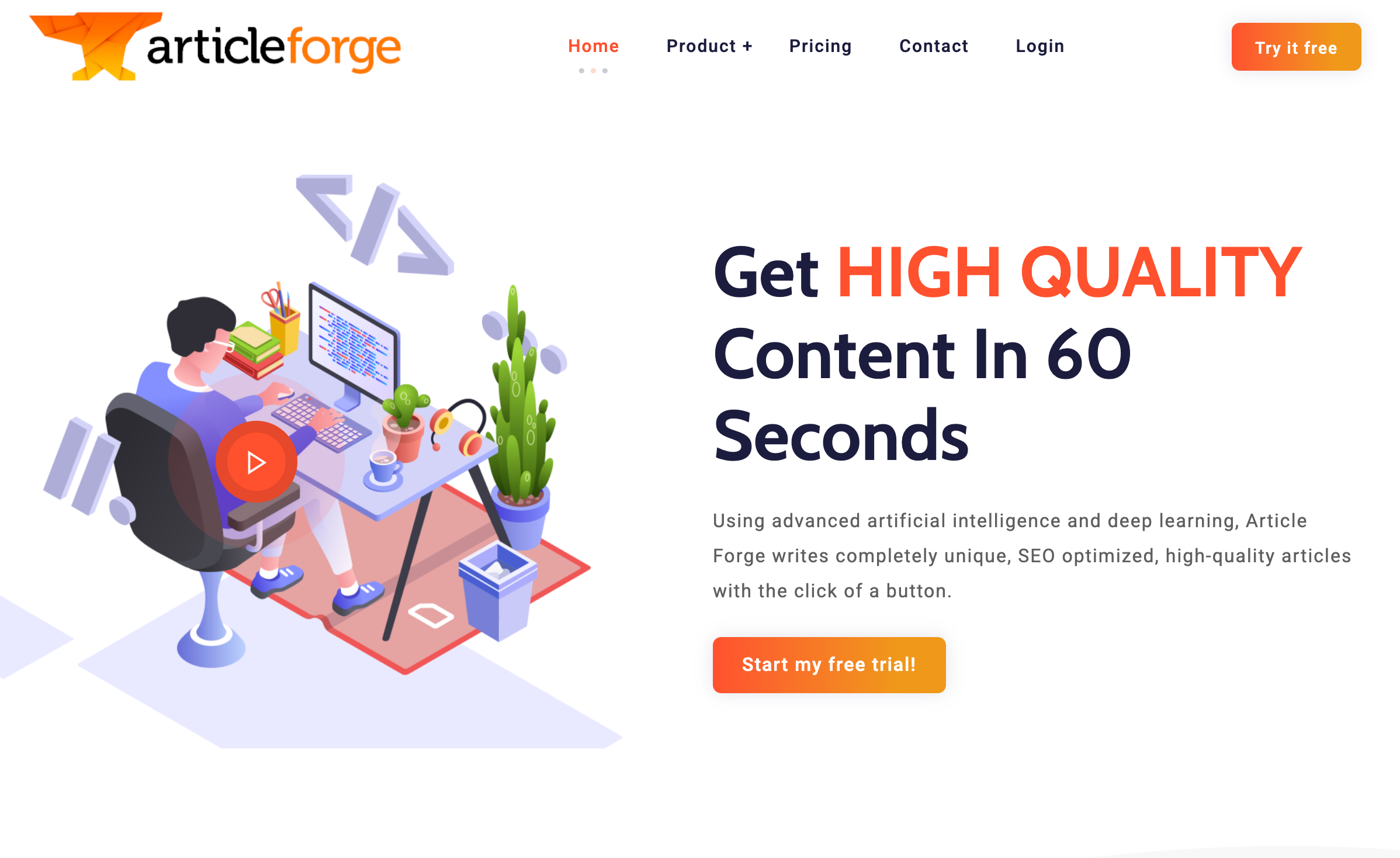 Article Forge differs from the previous marketing tools in that it allows AI to generate the content for you instead of just allowing you to optimize the content you've written. It's one of the leading content generator tools because it truly generates entire articles for you.
Article Forge will create a high-quality first draft for you to use. It might even be good enough to publish immediately, but given its AI, it's already a good idea to have a set of human eyes look it over for grammar and spelling.
You provide Article Forge with the keywords you want to use, and it does the rest for you.
Features
Rich Content – adds images, videos, and links to ensure your content is relevant and exciting.
SEO Automation – you can schedule and post your SEO content to WordPress sites to keep your SEO content on autopilot.
Seven Foreign Languages – you cant write in multiple languages, so you're not limited to English content!
Unique content creator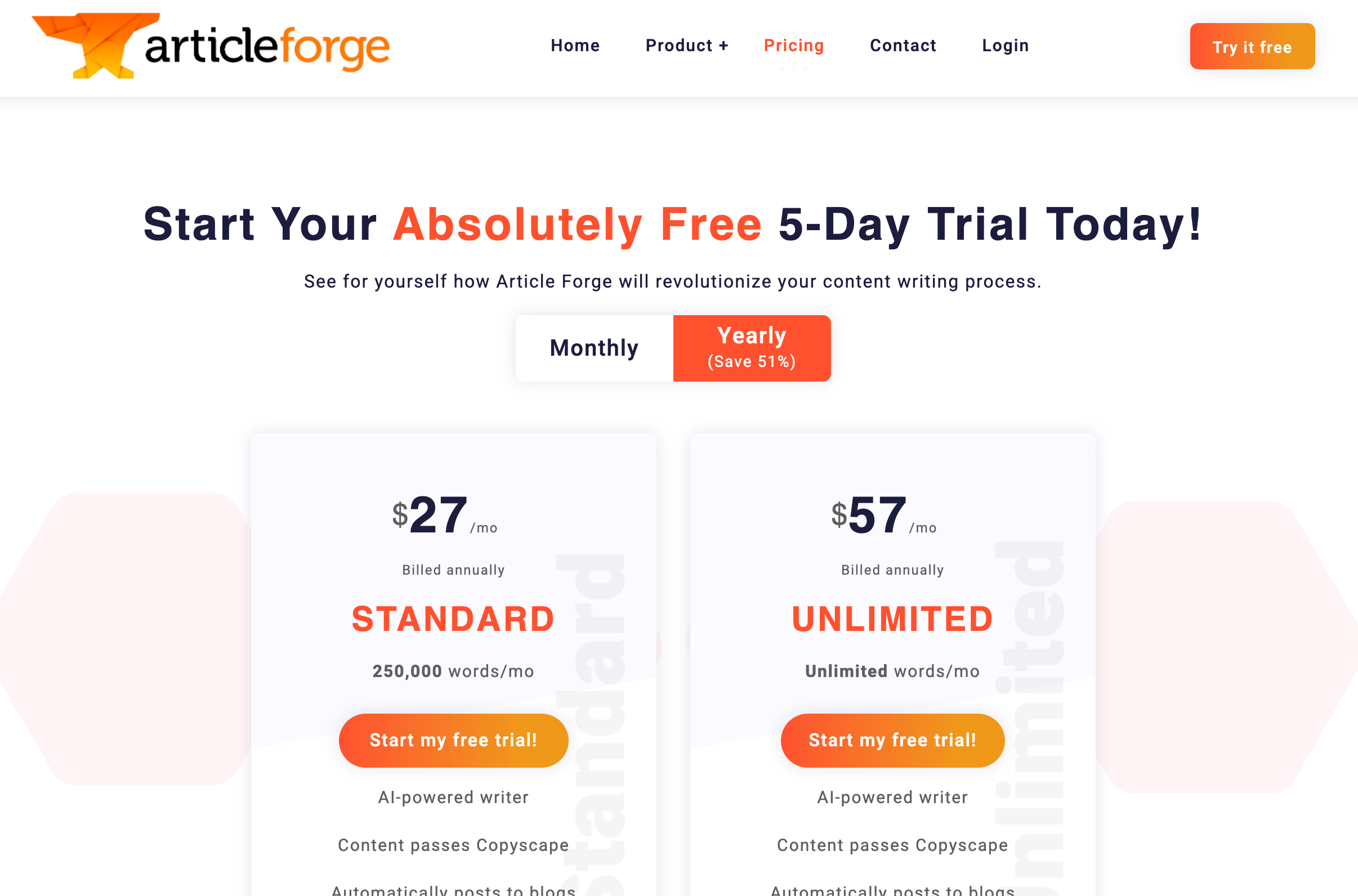 Pricing
Standard: $27/month – 250,000 words/mo
Unlimited: $57/month
Bottom Line
Article Forge is a helpful AI-powered content tool that allows you to write content for the web or a blog, and you can generate content in seven different languages and fully automate your SEO.
Article Forge has an easy and simple platform that makes creating content easier!
Narrato: Best All-in-One AI Content Creation and Workflow Platform
Overview
Narrato Workspace is an AI-powered content planning, creation, and collaboration platform that lets you manage all your content operations in one place. Narrato's powerful AI capabilities include an intuitive AI writing assistant, AI content assistant for quality optimization, SEO content brief generator for search optimization and research, AI topic generator, and AI images. Narrato eliminates the need for multiple tools in the content process and replaces a scattered, disjointed tool stack with a single, user-friendly platform.
Apart from its cutting-edge AI tools, Narrato also offers content planning features like content calendars, Kanban boards, custom workflows, and workflow automation. The platform allows for seamless collaboration with content teams and stakeholders. It can also be the central content repository for all your marketing content, supporting publishing automation too.
Features
AI writing assistant for multiple use cases including blogs, web and ad copy, emails, product descriptions, video marketing, and more
AI content assistant with grammar & readability checks, plagiarism checks, and content improvement suggestions
SEO content brief generator offering keywords, questions to include, competitor links, ideal length of post, etc.
AI topic generator for generating content ideas around your target keyword or theme
AI images and free image search tool
Custom content workflows and workflow automation (automated task assignment, notifications, etc.)
Content calendars, Folders, and Kanban boards for visually tracking tasks
Custom content templates and style guides library
Pricing
Free for individuals and teams just getting started.
$13/user per month; $9/user per month billed annually
$25/user per month; $19/user per month billed annually
Custom plan to suit unique needs
Bottom Line
For those who want a platform to help them develop their company's content operations, Narrato is definitely an AI content creation tool to consider! Narrato's content planning and organization features set it apart from other tools.
Ink for All: Well-Designed UI with Paraphrasing, AI Writer, and SEO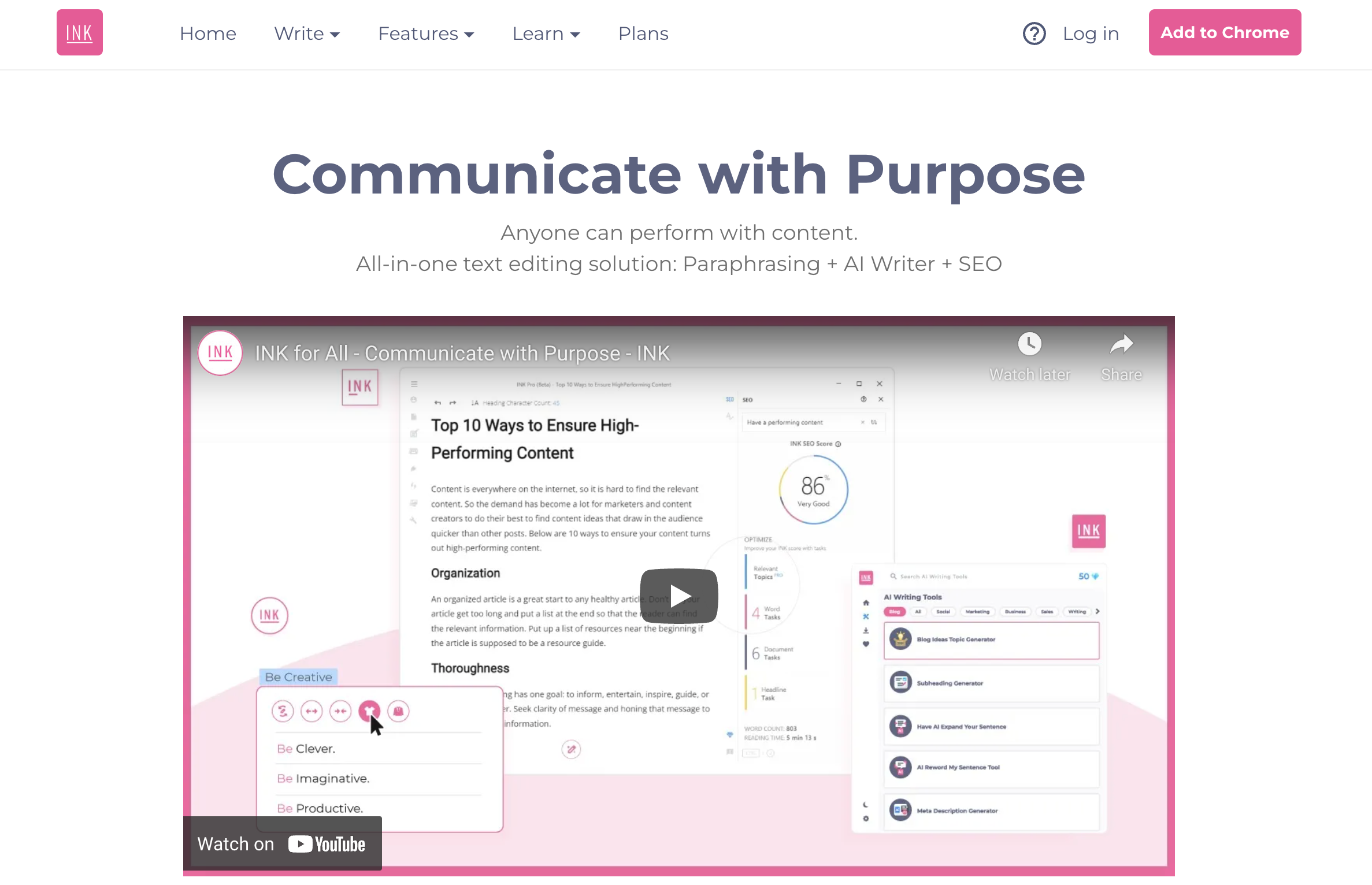 Ink for All is AI writing software that facilitates putting your ideas into ones that also resonate with others.Ink for All allows you to write content within the app and add it as a browser extension to get all the features.
Features
Paraphrasing
AI writer bot
SEO Traffic
Publish content faster
Team management
Headline optimizer
AI art image generator
Pricing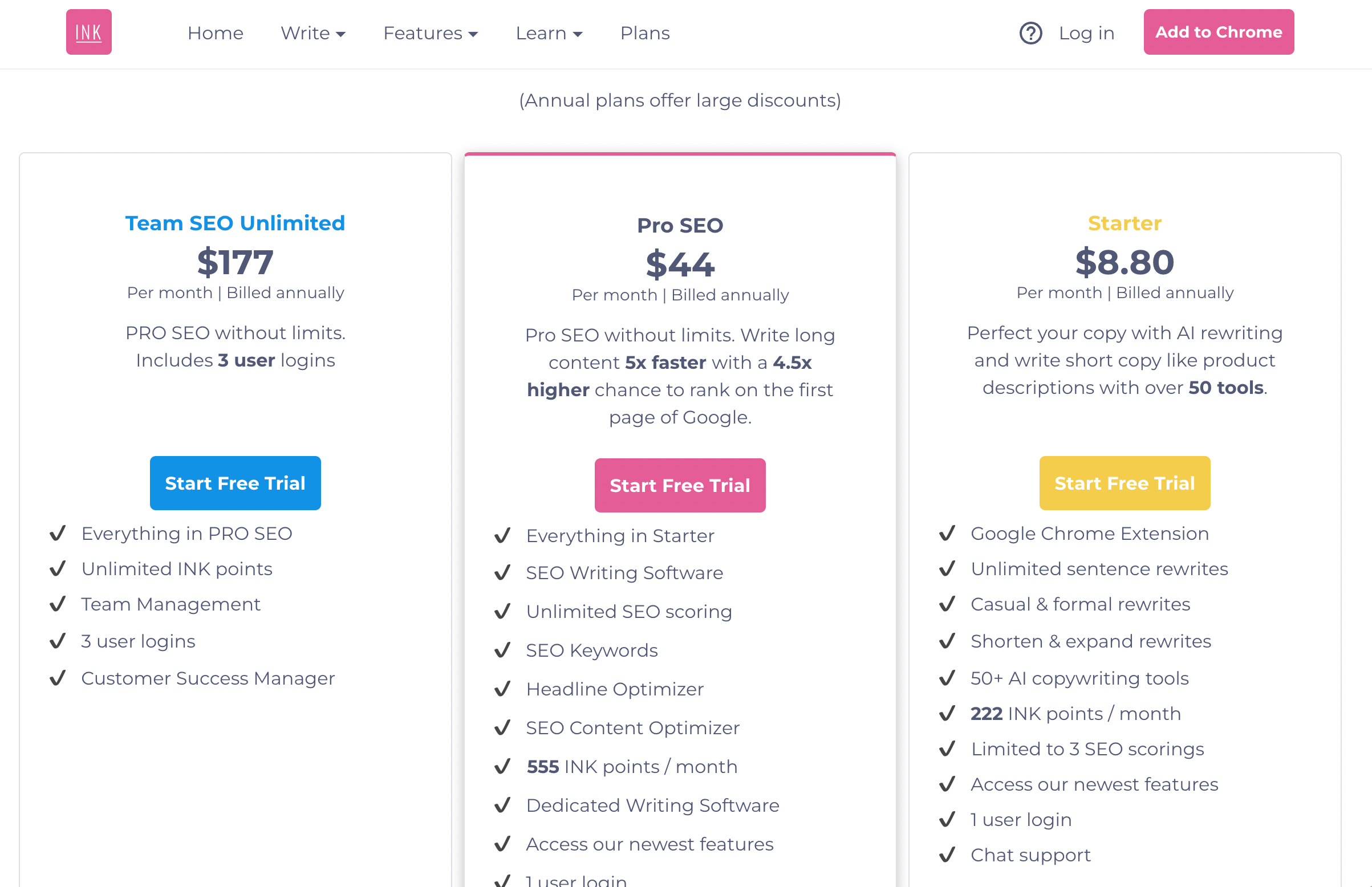 No free plan
Starter: $8.80/mo
Pro SEO: $44/mo
Team SEO Unlimited: $177/mo
Bottom Line
Ink for All offers a robust solution for a fair price. Unfortunately, there is no free plan or trial period to test out the product, but it's a strong contender.
AI Writer: Content Generation Platform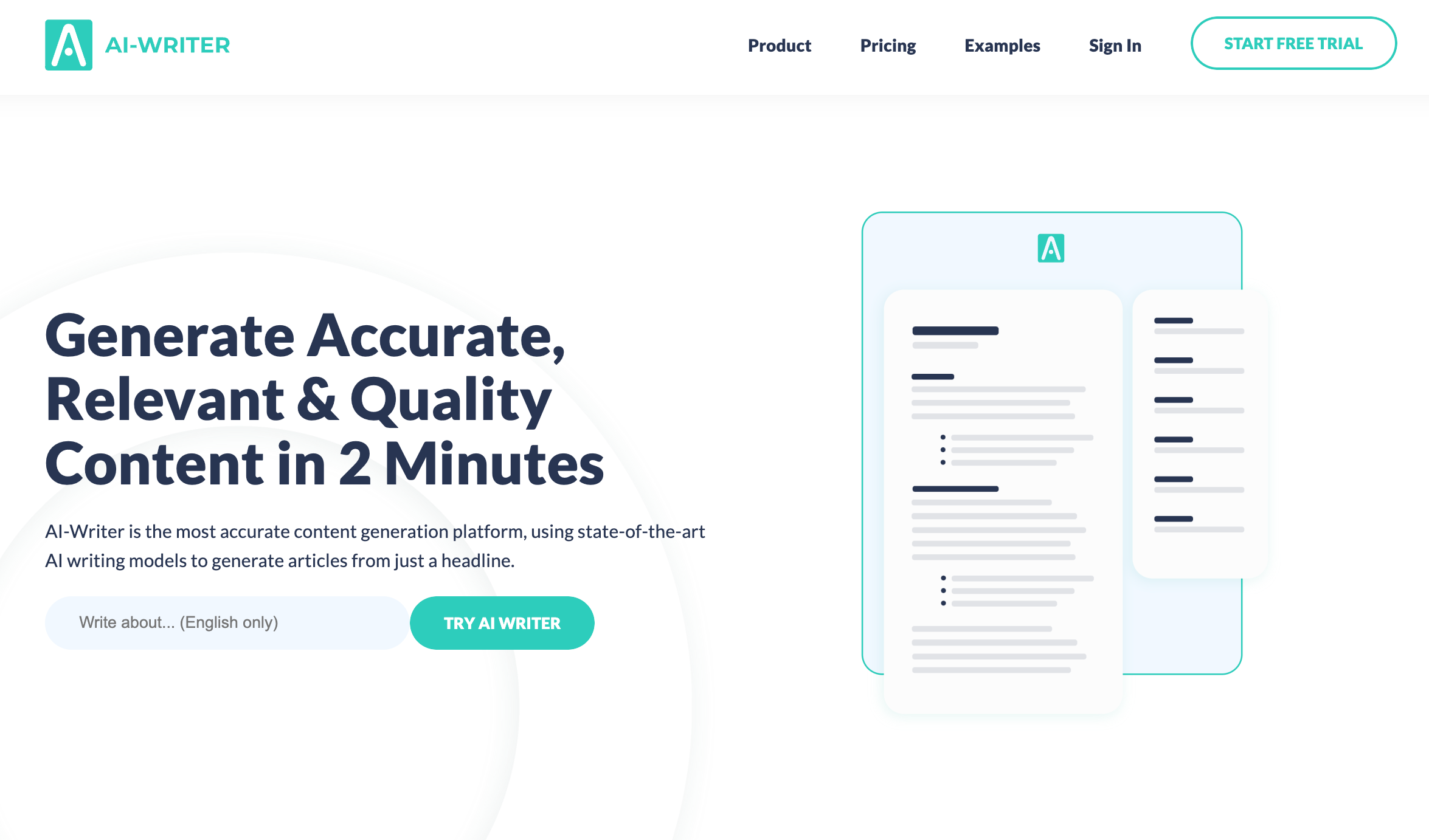 AI Writer is an AI copywriting platform that allows you to create content on a larger scale. The platform offers different writing services, including content writing and blog writing. No matter what type of content you are writing, AI Writer has a solution to help.
It is one of the most accurate content generation platforms; it provides high-quality content using state-of-the-art AI generators that provide relevant and accurate content for your niche.
Many companies use AI Writer to generate high-quality, niche-related content that fits their needs.
Features
The quality of your content is guaranteed with their patent-pending AI algorithm.
Each time you generate the content, you can rest assured it's SEO-friendly.
AI Writer never has a shortage of content topics, so you'll never run out of content to post.
Provides citations for each point so that you can deliver accurate, quality content.
They have many templates you can use to generate your content.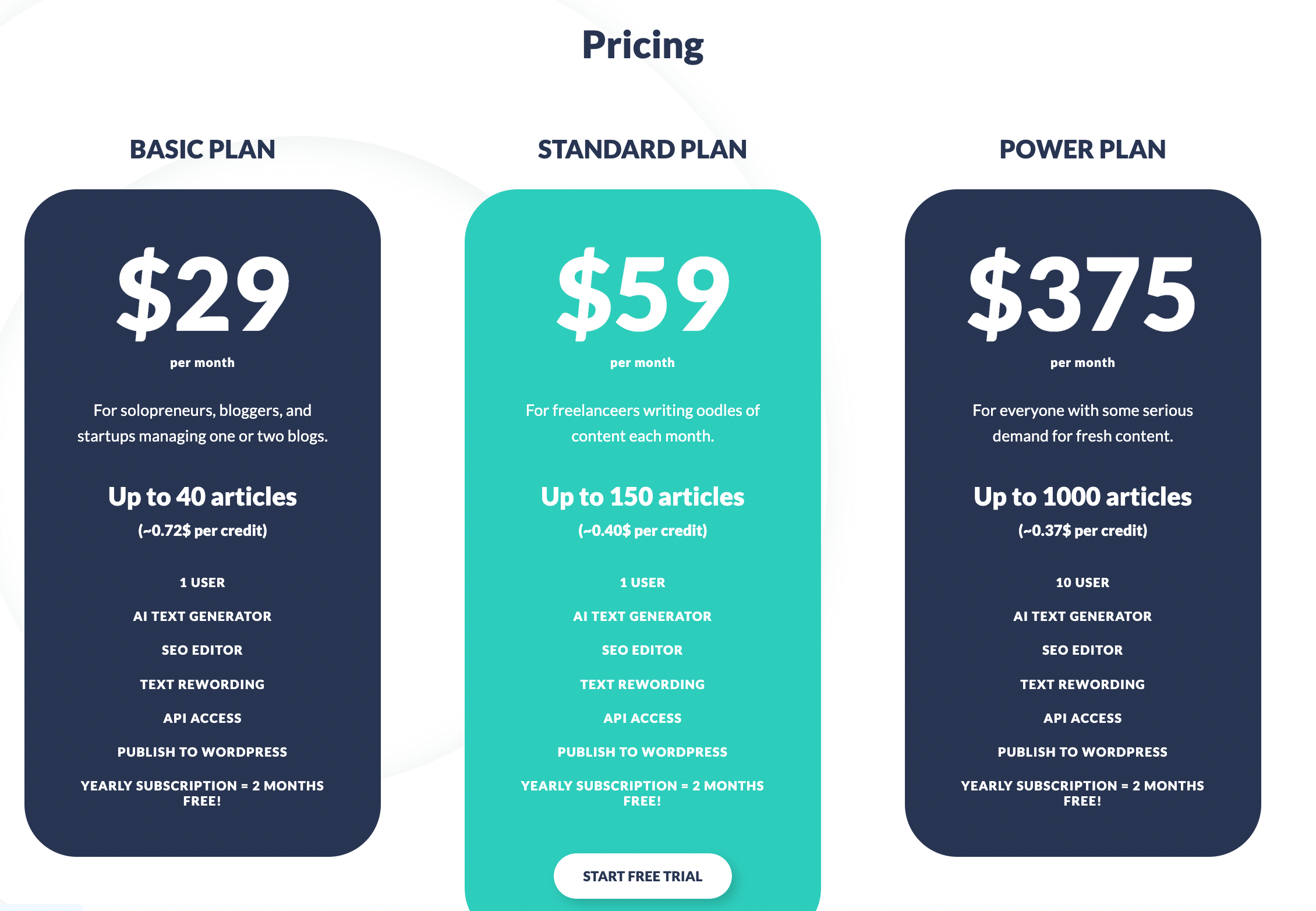 Pricing
Basic: $29 per month
Standard Plan: $59 per month
Power Plan: $375 per month
Bottom Line
AI Writer is a great starting tool to use to create content quickly.
However, AI Writer scrapes content from similar pages across the web, so you'll want to be careful of the content you get back from AI writer. So it should be taken into account before choosing it, and there may be times when you have to re-vamp the content yourself and update it.
Closers Copy: Proprietary Copywriting Machine Learning Model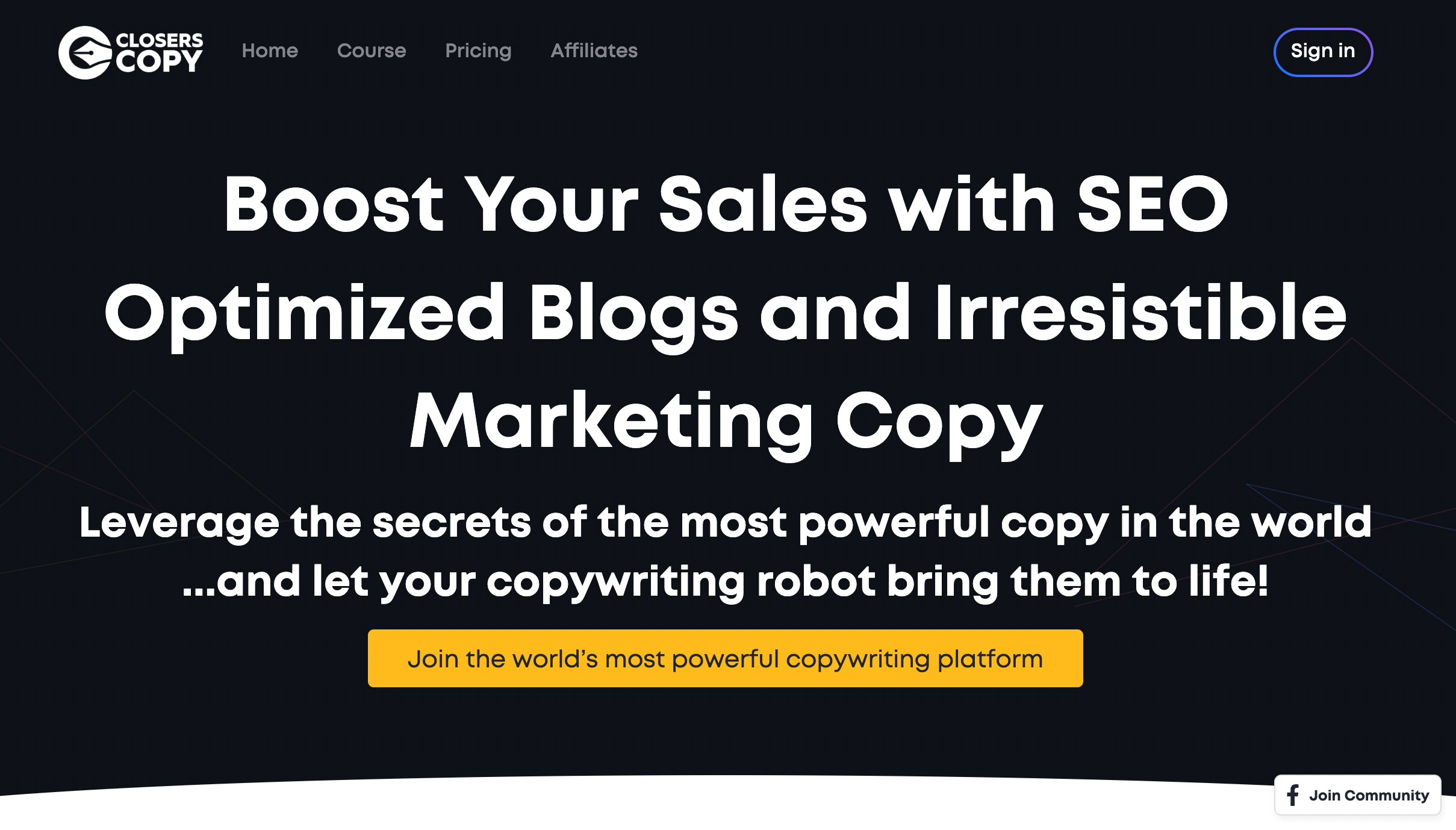 Closers Copy is an AI writing software that is great for marketing copy. Their website claims that other AI writing generators don't provide the type of software ideal for generating marketing copy.
Closers Copy has a course to get familiar with their tool, and they also have a Facebook community – that being said, the website doesn't provide a precise value for their product. You may want to do more research before choosing Closers Copy for your content writing.
Features
Collaboration – amount depending on the tier you purchase
Artificial intelligence: Blog AI, SalesAI, StoryAI
AI content generator
Different language options
SEO Audits and Planning
Support
Content writing automation
Community
Pricing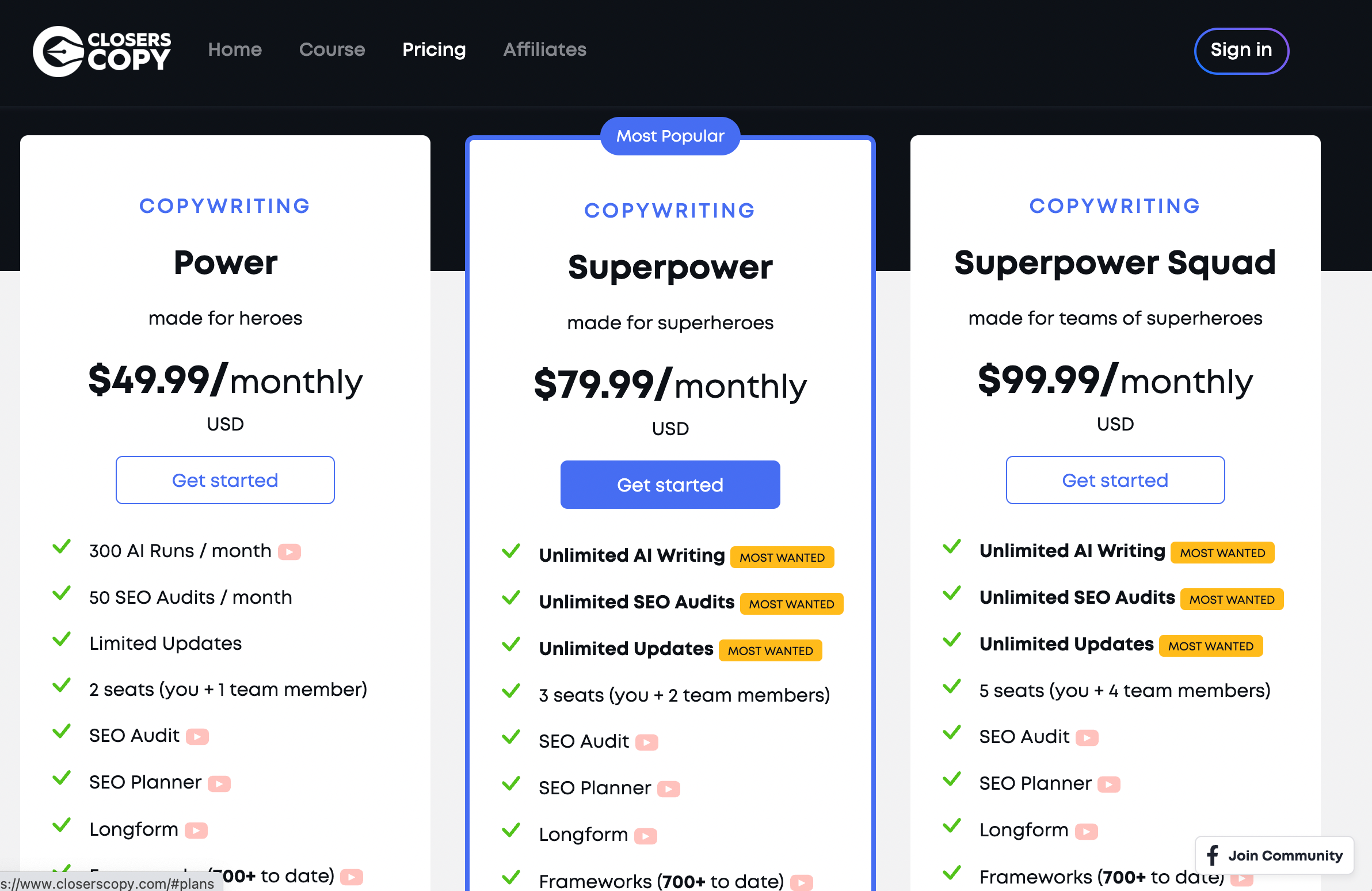 There's no free trial, but they offer a 14-day money-back guarantee.
Power: $49.99/mo
Superpower: $79.99/mo
Superpower Squad: $99.99/mo
Bottom line
If your main goal is to generate SEO content, Closers Copy is a fantastic tool.
Peppertype: Virtual Content Assistant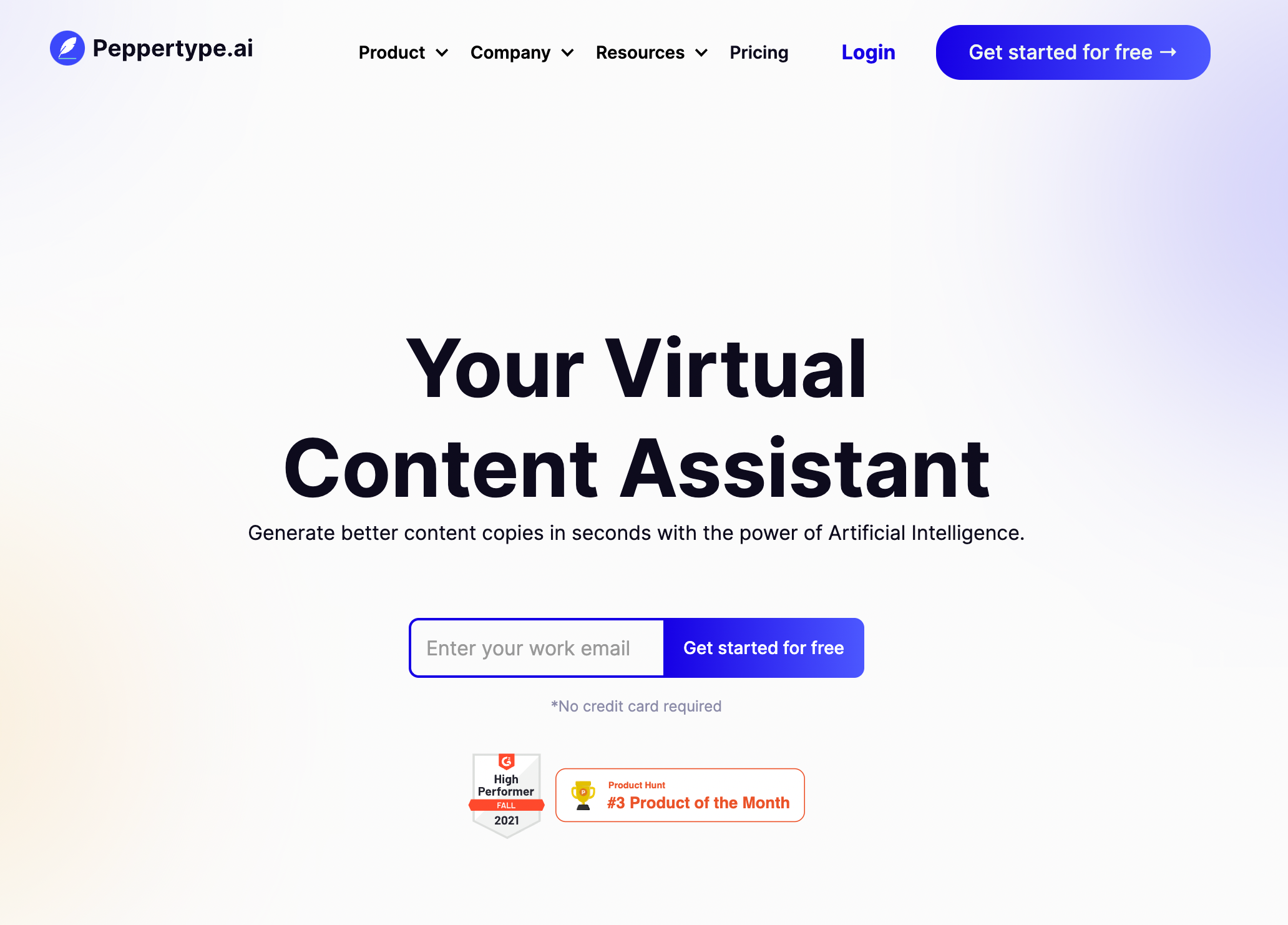 Peppertype utilizes machine learning to ensure you get the most relevant information for your articles.
It provides users with helpful insights and accurate suggestions on what to do next.
AI writing tools are only growing, and as more businesses use them for their writing needs, that popularity will grow.
Peppertype is an excellent resource for those that don't want to spend time learning an entire tool and want to get right into writing content.
Features
Sentence formatting in a way that provides the best readability and engagement across different mediums
Powerful engagement metrics to readjust and analyze your content on the fly
Automatic sentence rephrasing that quickly transforms sloppy writing into polished prose
Automatic grammatical checker with artificial intelligence to ensure mistakes are caught before they make it out of the door
Advanced plagiarism checker to prevent misuse of words, ensuring your content is unique.
Advanced style editor enables you to design with ease without any complex technical knowledge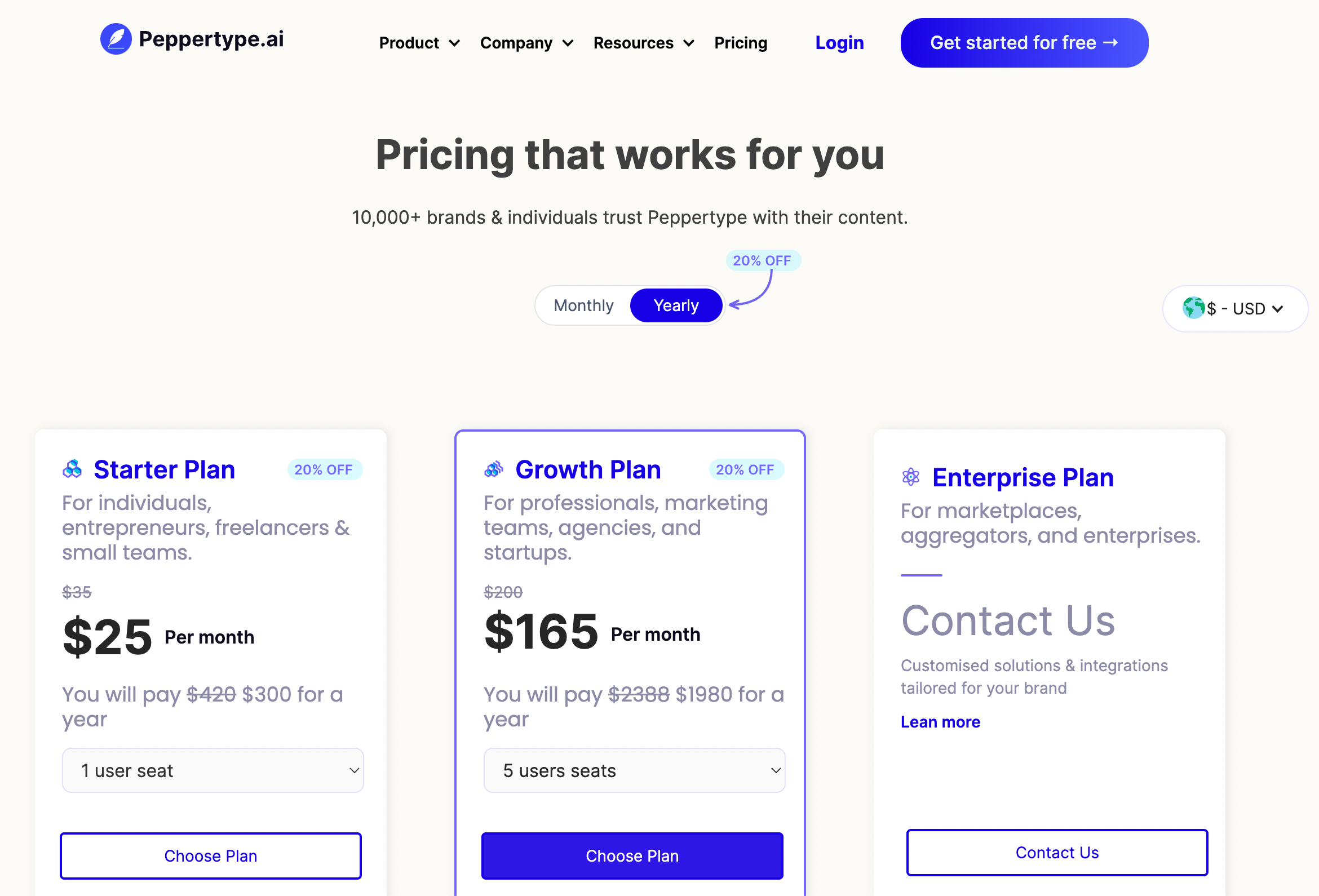 Pricing
Starter Plan: $25 per month
Growth Plan: $165 per month
Bottom Line
Peppertype generates content by taking the keywords you input and creatively generating the content you want and need.
Peppertype.ai is an excellent tool for copywriters who want to improve their work while having fun!
The platform does have templates available, but the choices are limited. A long-form editor does not appear to be available on the platform.
WriteMe.Ai: Flexible Up and Coming Writing Platform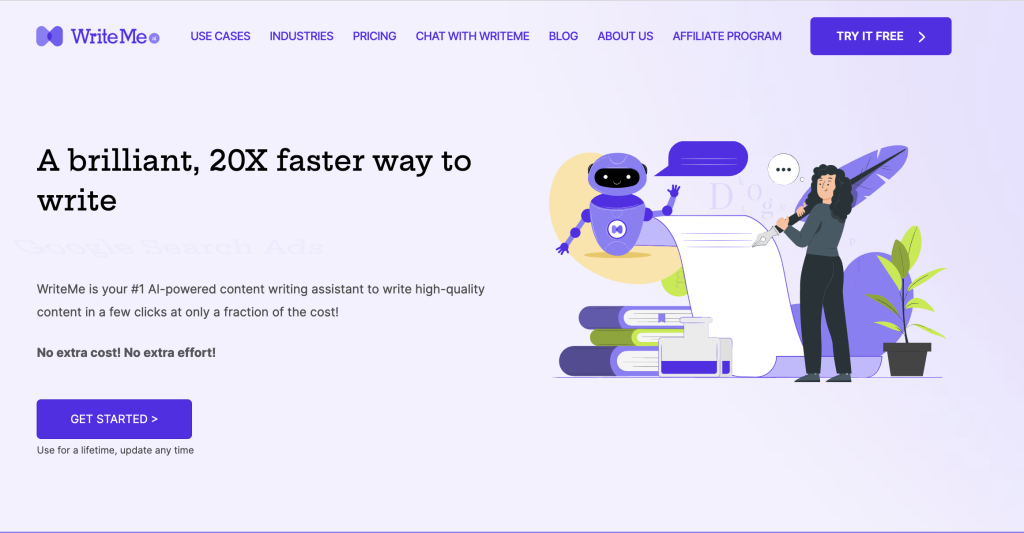 Overview
WriteMe.Ai is an up-and-coming writing tool for anyone looking to boost their productivity and creativity. With its powerful features such as chat with AI, SEO writing, and multilingual content, it simplifies the writing process and helps you create high-quality content in no time. Whether you're a blogger, writer, marketer, or creative, WriteMe.Ai has everything you need to take your writing to the next level.
The AI writing tool simplifies long and short-form content writing. It has features like chat with AI, project manager, in-built content editor, auto-save, SEO writing, marketing templates, creative use cases, freelance tools, ecommerce AI, content ideas, multilingual content, and a Chrome extension. It's perfect for bloggers, writers, marketers, and creatives who want to streamline their writing process.
Features
Long Form Writing Assistance: features long-form writing use cases such as complete blog, complete article, and story writing.
Short Form Writing Assistance: 50+ writing use cases ranging from social media writing, email writing, SMS and notification writing, review writing, and more.
Chat with WriteMe.Ai: Chat with AI and get human-like responses
Project Manager: Organize all your projects in one place. Sort projects based on keywords and categories. Create as many projects as you want.
Content Editor: Format, polish and edit your text in an built-in text editor. Add headings, bold text, and explore other formatting options. Export your final text in PDF.
SEO Friendly Writing: Write meta descriptions, meta titles and SEO friendly blogs on any keywords. Get SEO keywords ideas and blog writing suggestions.
Freelancing AI tools: WriteMe.Ai has tools for freelancers, bloggers and vloggers. Write GIG descriptions, bidding proposals, job descriptions, FAQs and more in minutes. Create profile bios and get YouTube video scripts and video ideas in minutes.
Ecommerce AI: Write product descriptions, digital ad headlines and descriptions, social media content and more with exciting new ecommerce use cases.
Content Ideas: Get new content ideas and never face creative blocks.
Multilingual Content: Write content in more than 30 different languages and more than 25 exciting tones.
Chrome Extension: You can download the WriteMe.Ai Chrome extension and generate content with simple command prompts.
Pricing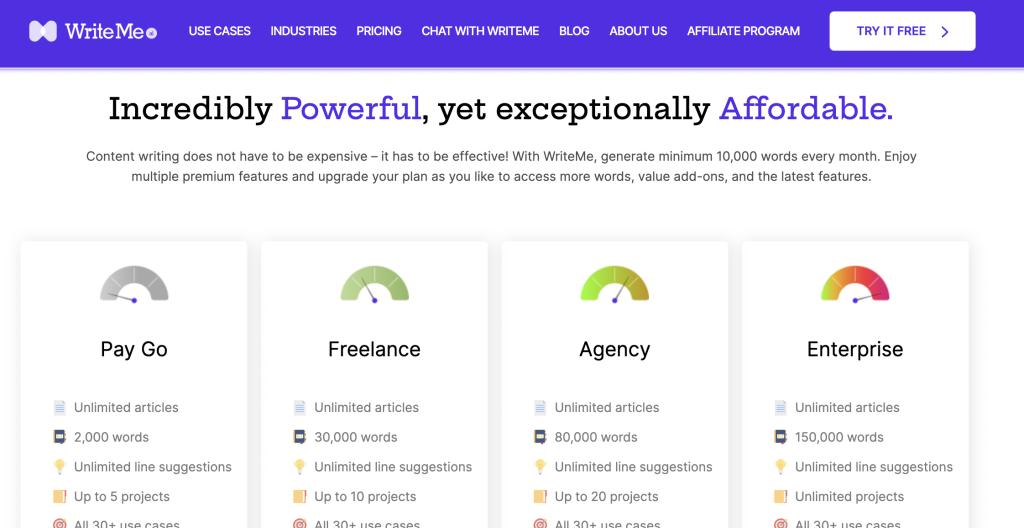 Pay Go: Free for 2,000 words (Get additional 10,000 words @ $10)
Freelance: $10/month for 30,000 words (Get additional 15,000 words @ $8)
Agency: $25 for 80,000 words/month (Get additional 15,000 words @ $6)
Enterprise: $50 for 150,000 words/month (Get additional 15,000 words @ $5)
Bottom Line
In summary, WriteMe.Ai is a comprehensive AI writing tool that simplifies content creation and offers advanced features for SEO writing. It can generate multilingual content, and offers seamless project management, making it ideal for bloggers, writers, marketers, and creatives looking to streamline their writing process and boost their productivity.
Neural Text: Free Tool for Copywriting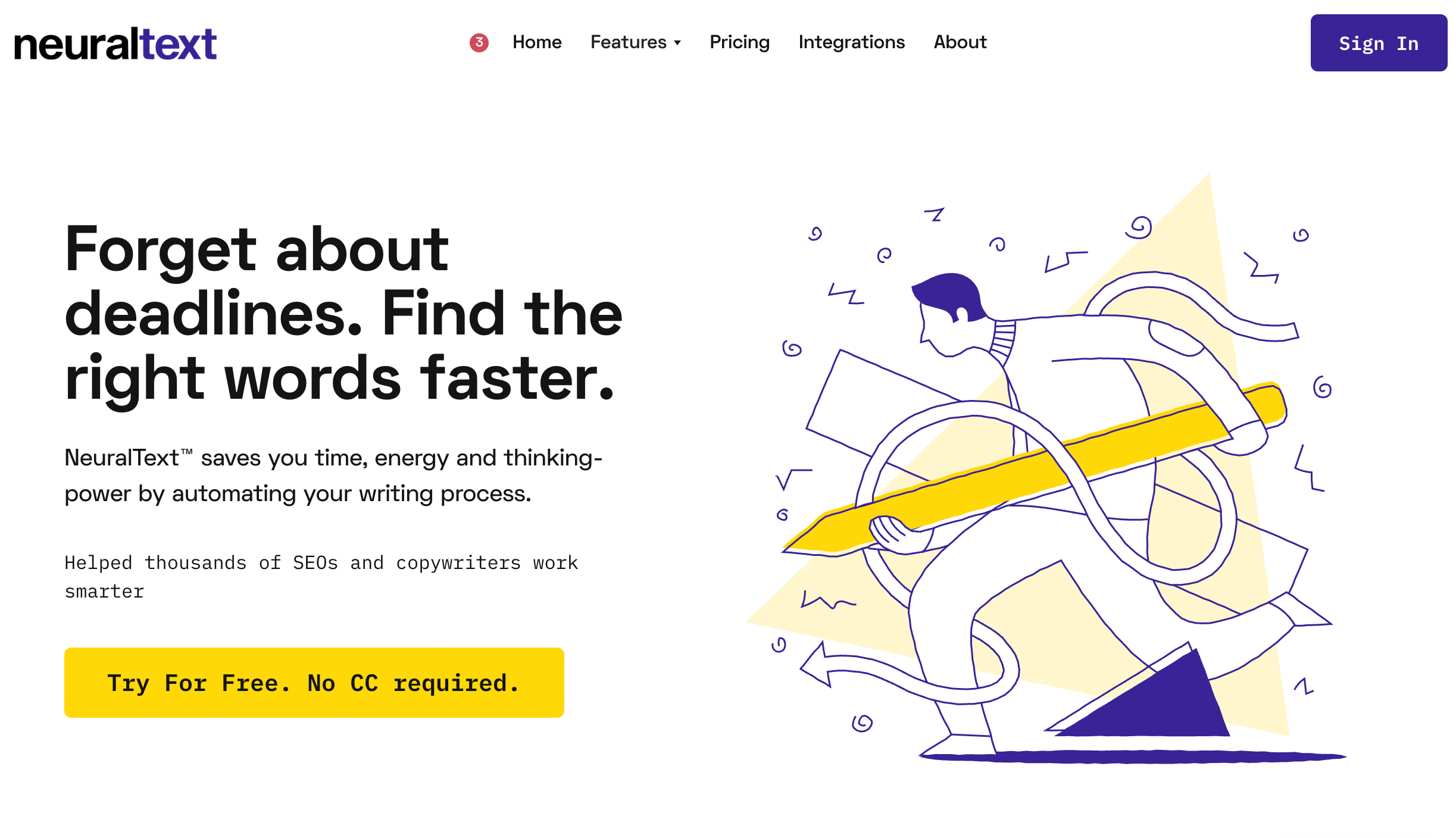 Neural Text is another platform that allows you to get AI-generated content based on keywords you input. There are many niches and fields that utilize this type of writing. Business, and healthcare, are two examples.
Natural Language Processing is a development that helps this technology flourish.
The system learns from data, improving as more data is added.
Neural Text is perfect for writers and creators to creat unique and original content.
Features
AI algorithm that scans for the best and most relevant keywords for your product or niche.
Powerful content optimizer that boosts the quality of your content.
Master keyword clusters to get high-quality traffic from the web.
Automatically find the best keywords to increase your keyword density to reach more potential customers.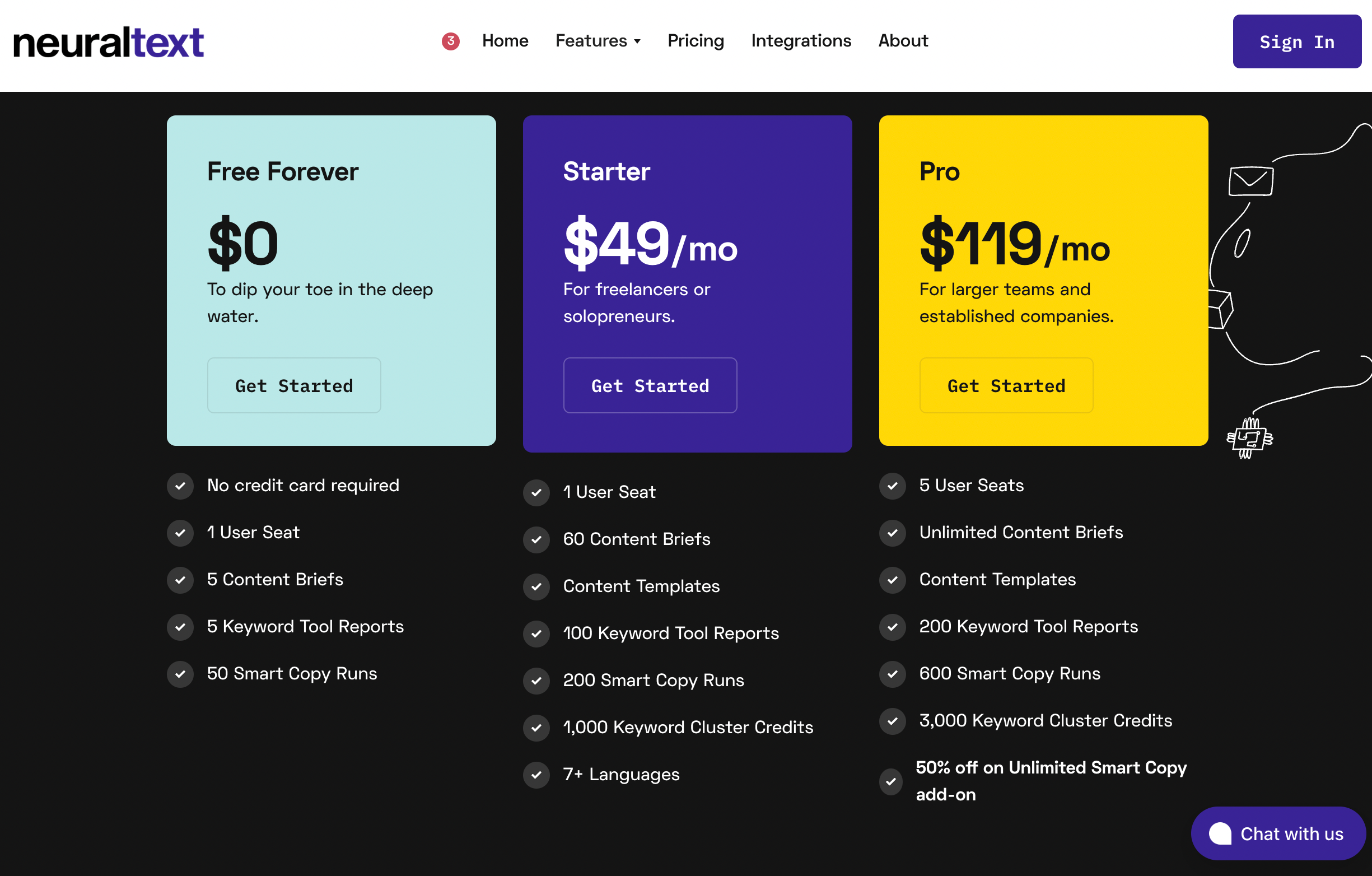 Pricing
Free Forever: $0
Starter: $49/mo for freelancers or solopreneurs.
Pro: $119/mo for larger teams and established companies.
Bottom Line
Neural Text relies on machine learning to develop and evolve, making it efficient and effective at generating content.
However, the user experience could be improved with an updated interface. The keyword difficulty tool allows you to see how you could rank with certain keywords and especially how difficult they are to rank.
Frase: SEO Copywriting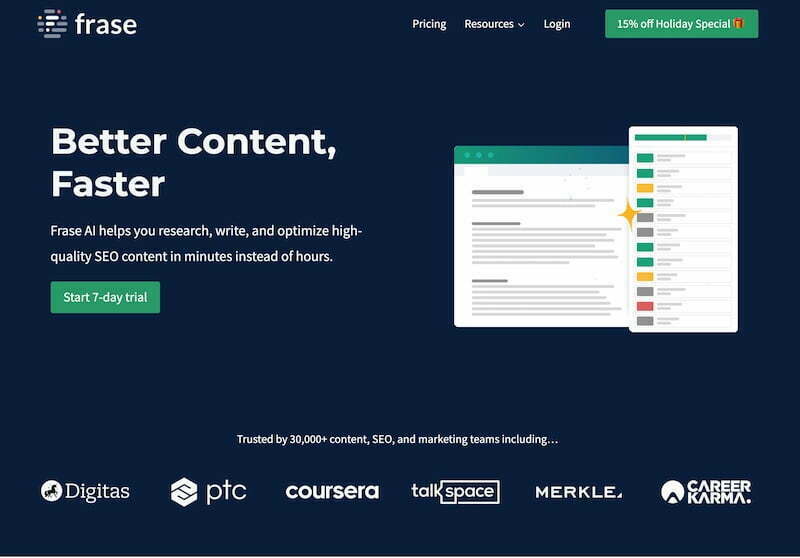 Overview
Frase is a powerful creation tool with a few features that help it generate content.
Frase offers a "5-day trial," but that is deceiving because it is not free – it costs $1 to try out the program for five days.
It feels deceiving as a prospective buyer – when you're under the impression the trial is free. On other tools, the disclose explicitly that the trial is paid. Frase didn't do that.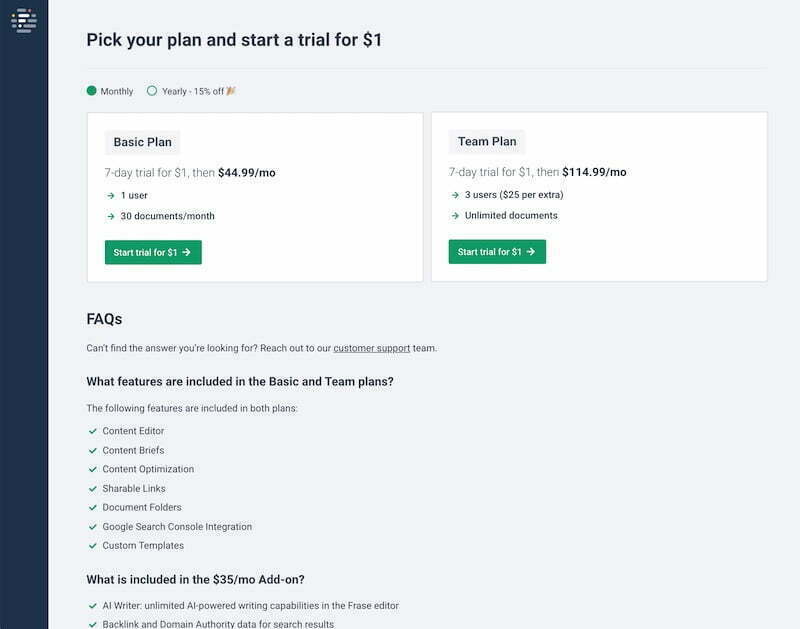 I did decide to test the trial to see the tool.
I'm not as impressed as I wanted to be after paying the $1. Frase has tabs for documents, templates, and analytics. It relies heavily on walk-throughs instead of interface text prompt, similar to other platforms.
They spent most of their time on the AI writer tool, which is an add-on feature.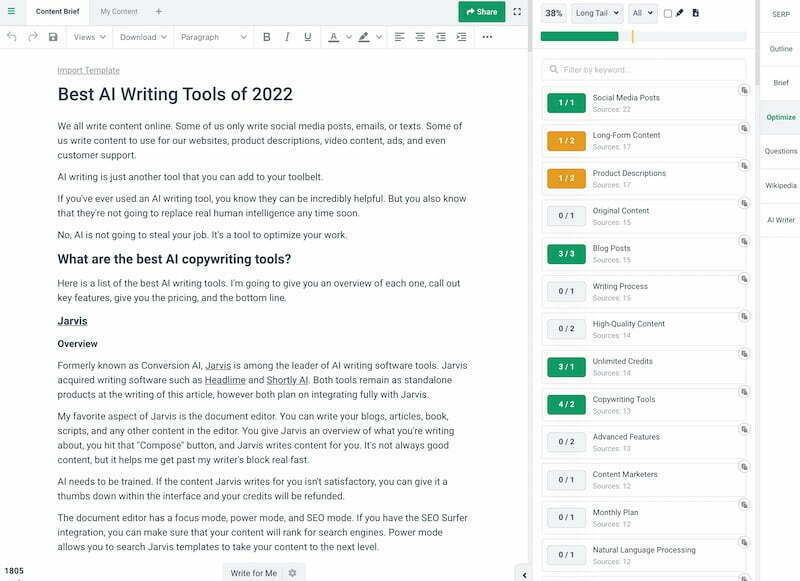 Features
Integrates with Google Search Console
Version control in the document editor
Undo/redo buttons – the other tools don't have them! You have to use keyboard commands
Export to PDF, HTML, or Excel
AI document editing
Pricing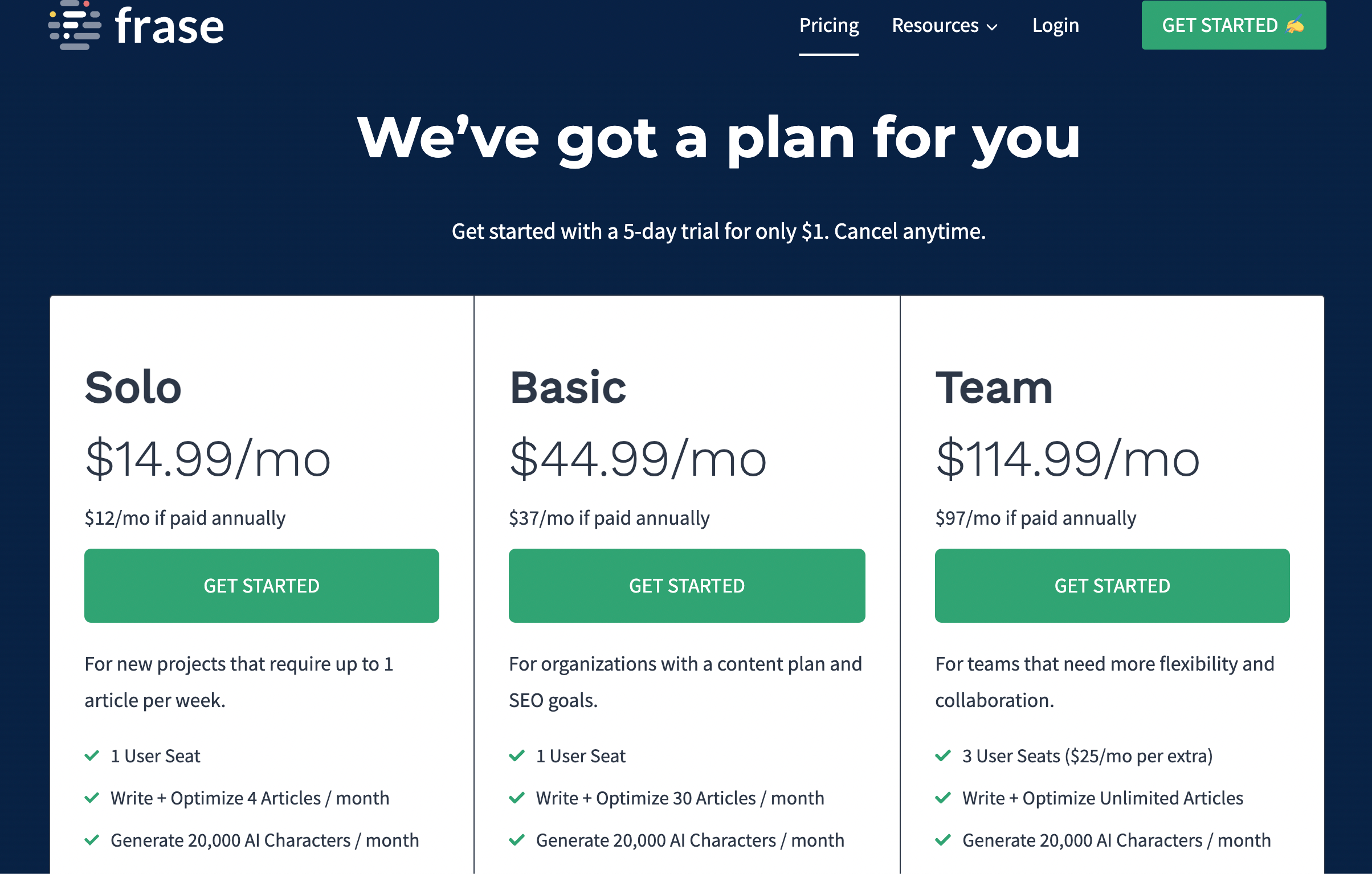 Solo: $14.99/mo
Basic: $44.99/mo
Team: $114.99/mo
Note: the AI writer is only available as an add-on for an additional $35/mo.
Bottom Line
Frase has a powerful interface, but the user ex[erience and the confusion over the trial make it rank slightly lower than the previous tools. I believe there are more valuable tools for AI content writing than Frase, but it's one to consider.
What is AI content creation?
AI content generation allows you to generate unique content or enhance previously created content. Whether you are focusing on SEO optimization or keyword research, AI generators help to optimize your content thoroughly.
How does AI content creation work?
AI content creation tools use artificial intelligence to examine your content and improve it where it needs to be improved. There are many ways this is done; most of them are either done through natural language or generated through keywords.
Why do marketers use AI?
Utilizing AI writers allows you to generate content efficiently and effectively for SEO. Marketers love using AI to help them generate SEO content that ranks on search engines.
What kind of content does AI technology work best for?
AI content creation tools can be used for blog posts, sales pages, website pages, emails, social media captions, and more!
What is an AI marketing tool?
AI marketing tools allow you to generate SEO-optimized content and rank in search engines.
Can Google detect AI content generation?
Yes, Google can detect AI content generation. That being said, getting a publish-ready post from AI-generated content isn't easy. There will always be a need to edit and revise the content created by an AI writer. You can disclose that the content is AI generated if you're worried about google detecting it and not ranking.
Final Thought
Surfer SEO is an excellent tool for focusing primarily on SEO efforts. If copywriting is your primary goal and focus, you might consider Copy AI. The best way to figure out what works best for you is to try out different tools and see what meets your needs.
Recommended reading