Have you ever wondered what SEO and content marketing tools can do for you? Meet Scalenut – a cutting-edge AI powered marketing tool designed to revolutionize your digital strategy. Scalenut is a full lifecycle solution that hopes to streamline your SEO stack and take your writing skills to the next level.
With Scalenut, you gain access to an all-in-one platform that simplifies the process of optimizing your content for search engines. Leveraging the power of artificial intelligence (AI), Scalenut utilizes advanced NLP (Natural Language Processing) models to analyze the latest information and generate data-driven insights for your content strategy.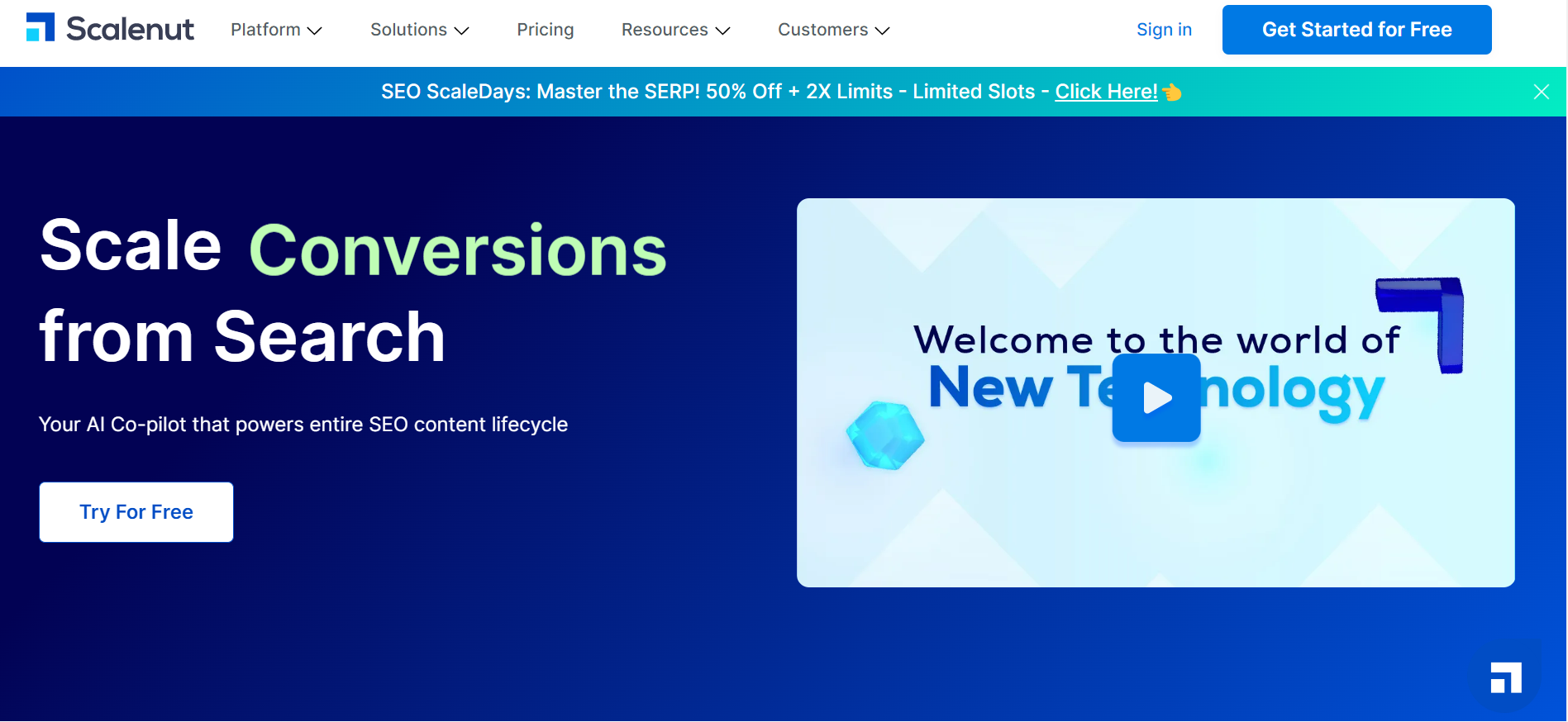 As Scalenut puts it, "Maximizing your ROI is now a given." Scalenut leverage various SEO and content marketing features to help businesses and marketing teams optimize their digital efforts and achieve significant results. We'll discuss what we think Scalenut does well, and what it could improve on below.
Scalenut Overview
Scalenut is an innovative AI powered SEO and content marketing tool that empowers businesses to optimize their online presence and drive organic growth. With a range of powerful features, this AI content generator simplifies the complexities of SEO and content creation, making it an essential tool for digital marketers and content creators.
At the core of this AI writing tool is its comprehensive SEO content lifecycle management. From keyword research, AI generated content, optimization, and performance tracking, Scalenut provides a centralized platform to streamline and enhance your entire content strategy. With advanced NLP models, this content writing tool offers deep insights into user intent, enabling you to create targeted and engaging content that resonates with your audience.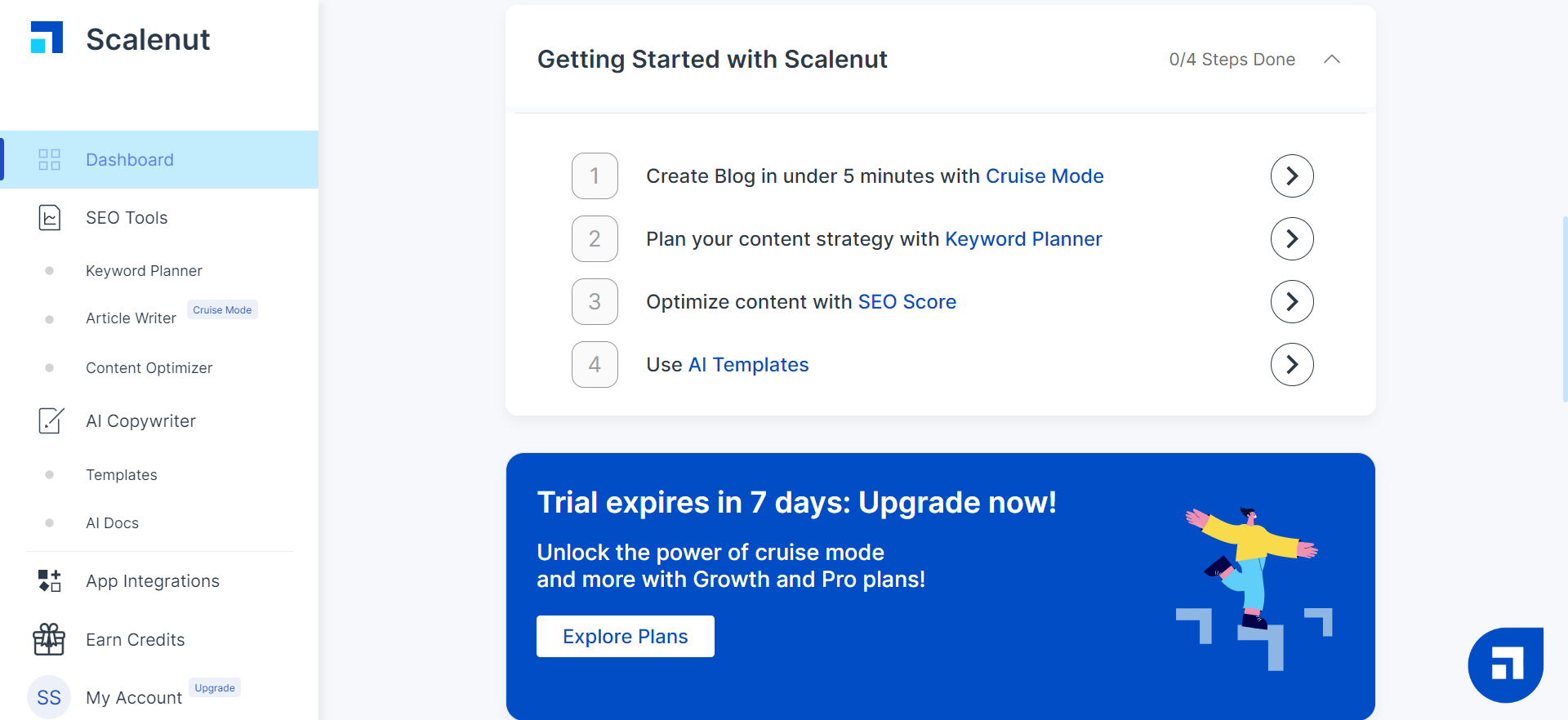 Scalenut's AI-driven capabilities extend beyond content creation. Its intelligent algorithms analyze the latest information and trends, providing real-time data-driven insights to guide your content strategy. From identifying current high-ranking keywords to optimizing on-page elements, Scalenut's AI assistance maximizes the effectiveness of your SEO efforts.
| | |
| --- | --- |
| Features | Scalenut |
| AI Technology | GPT-3 |
| Languages Supported | English |
| User Experience | Web interface |
| Educational Material | Yes |
| Long Form Document Editor | Yes |
| Search Engine Optimization | Yes |
| Art Generation | No |
| Text Summarization | Yes |
| Plagiarism Detection | No |
| Chrome Extension | Yes |
| API/Webhooks | No |
| Free Trial | Yes |
| Pricing Model | Monthly subscription |
What Scalenut Does Well
Scalenut is a solid tool that excels at simplifying the SEO content creation process, providing users with valuable AI guidance and recommendations to create content and rank higher on search engines. Additionally, its user-friendly interface make it accessible and convenient for users of all levels of expertise.
Artificial Intelligence
Scalenut is an SEO assistant that harnesses the power of OpenAI's advanced AI technology, namely GPT-3, to revolutionize content creation and streamline SEO efforts. GPT-3, one of the most sophisticated language models available, empowers users to create high-quality content and write articles with enhanced efficiency and effectiveness.
Scalenut provides AI assistance throughout the content creation process. Whether you're writing a social media post, e-commerce product description, or article, Scalenut's AI technology is able to offer suggestions, recommendations, and even generate content to aid in the creative process.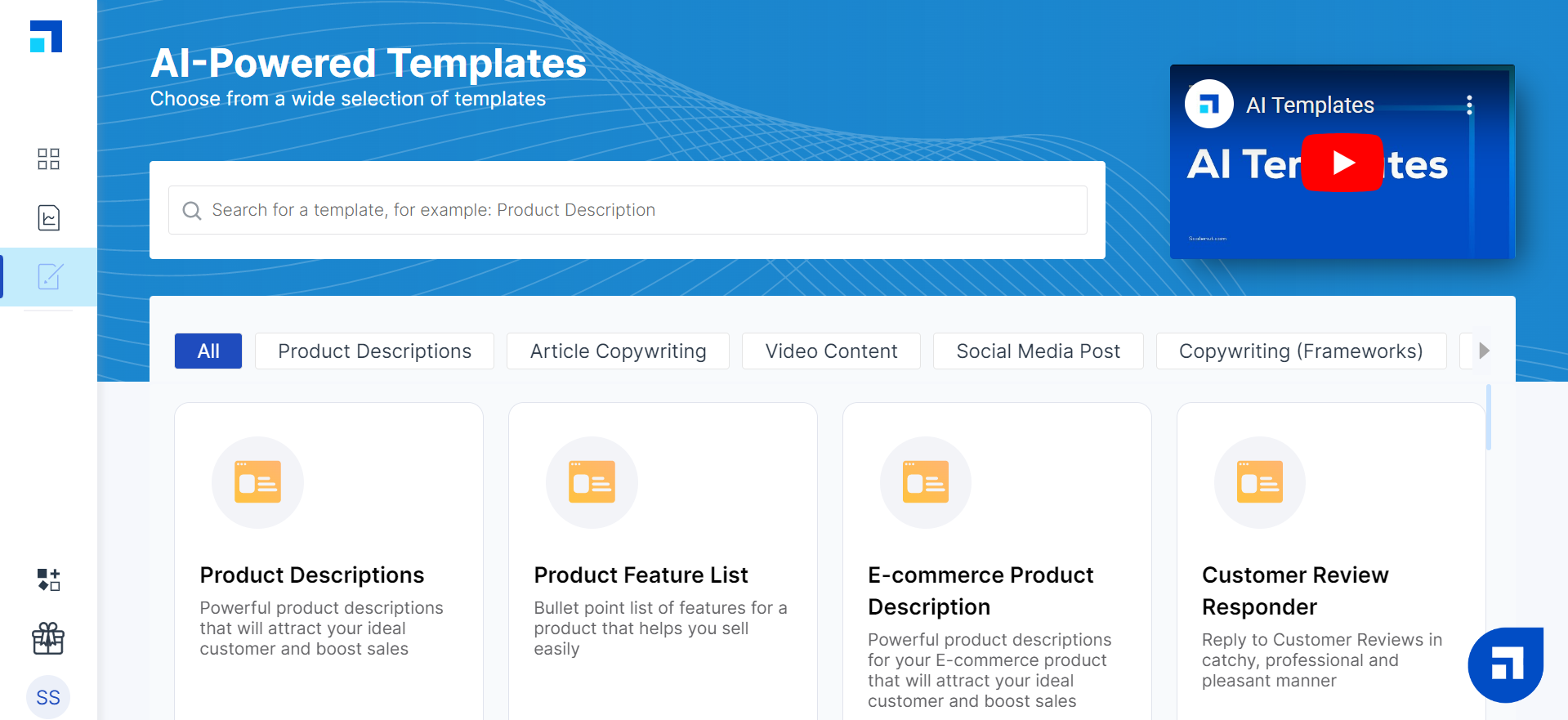 When it comes to SEO, Scalenut's artificial intelligence capabilities enhance the platform's UX. GPT-3 suggests SEO keywords based on your content, helping you identify relevant terms to incorporate naturally into your writing. It also analyzes the content to identify potential SEO issues and provides recommendations to improve its optimization. By leveraging GPT-3, Scalenut enables users to optimize their content for search engines effectively and increase their visibility in search rankings.
Scalenut empowers users to create compelling, search-engine-friendly content that resonates with their target audience. This seamless integration of AI technology enhances productivity, saves time, and ensures that content meets the highest standards of quality and optimization.
Long Form Document Editor
Scalenut's long form document editor is a powerful tool that offers all the essential features you would expect from a standard editor. With an intuitive interface and familiar editing capabilities akin to Google Docs, Scalenut allows you to write, format, and structure your long-form documents with ease. You have full control over text formatting, paragraph styles, headings, bullet points, and more, ensuring that your content is visually appealing and well-organized.
Scalenut's AI powered assistance takes your writing experience to the next level. Start with a template and soon with AI's help, you'll be able create the copy you need in a short amount of time. Receive suggestions like which target keywords to use as you write – The AI writer will help ensure that your writing remains consistent, coherent, and optimized for search engines.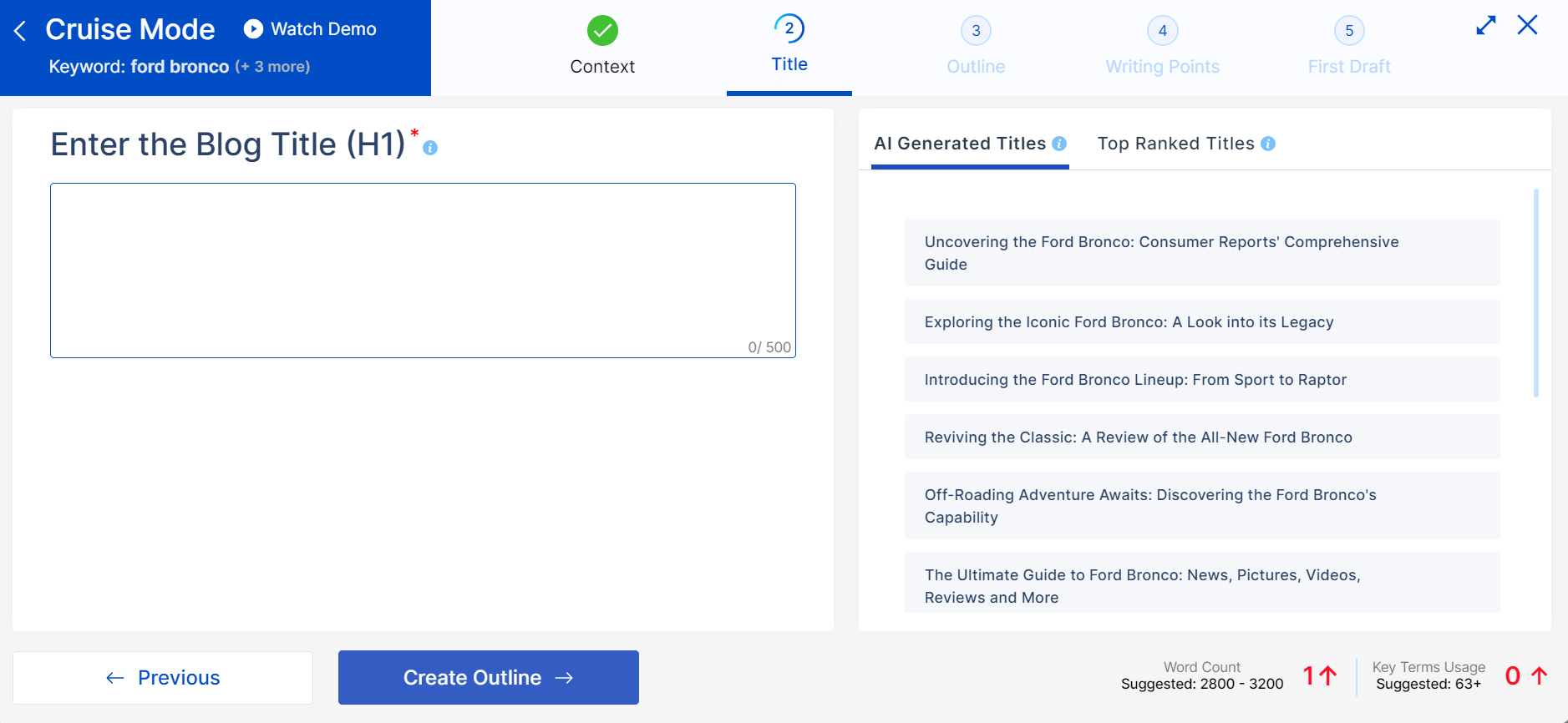 I gave Scalenut's content writing tool a whirl by prompting it to write an article about the life and legacy of the Ford Bronco. In just a few clicks and with some typing, this AI tool came up with various suitable blog titles and outlines. I was pleased with the first draft, although it needed some help SEO optimization wise.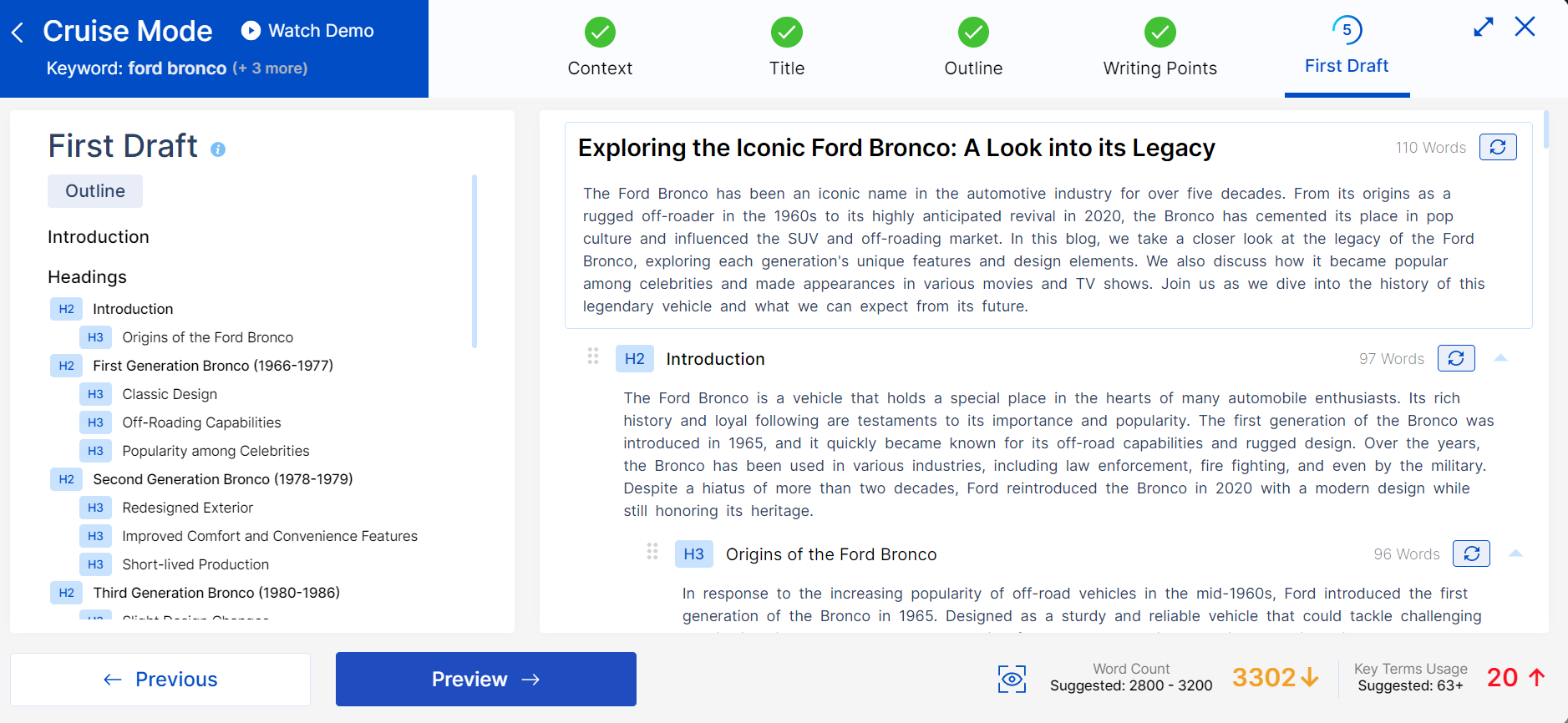 You can create AI-generated titles, headers, and expand on your writing with the 'Write' option. The AI writing tool suggests compelling and attention-grabbing titles and headers that align with the content and resonate with your target audience. This feature saves time and enhances the overall effectiveness of your content creation process.
Scalenut's ability to create long form content is powered by Cruise Mode – an exceptional AI copywriter that revolutionizes the process of content creation. With Cruise Mode, users can generate comprehensive long form content, ranging from SEO blog posts and articles to ebooks and emails, within a matter of minutes.
The AI powered copywriter within Cruise Mode can effortlessly produce articles that exceed 1500 words in just a few minutes, saving users significant time and effort. Whether you need to create engaging blog posts or craft social media posts, Cruise Mode's AI writer is capable of delivering high-quality content swiftly and efficiently.
With Scalenut's long form document editor, you can confidently create engaging and well-structured long form content content while harnessing the power of AI to improve your writing and generate eye-catching titles and blog posts. This combination of a robust AI powered editor with AI content creation empowers creators to produce high-quality, optimized content efficiently and effectively.
Search Engine Optimization
Scalenut offers a comprehensive suite of AI powered SEO capabilities that help businesses brainstorm strategic writing points and optimize their content for improved visibility and higher rankings in search engine results.
Scalenut provides an SEO Score that assesses the overall performance of your content. This score indicates how well your content is optimized to boost organic traffic and provides valuable insights into areas that need improvement. You can compare your score with average and top scores to gauge the effectiveness of your SEO efforts and track progress over time.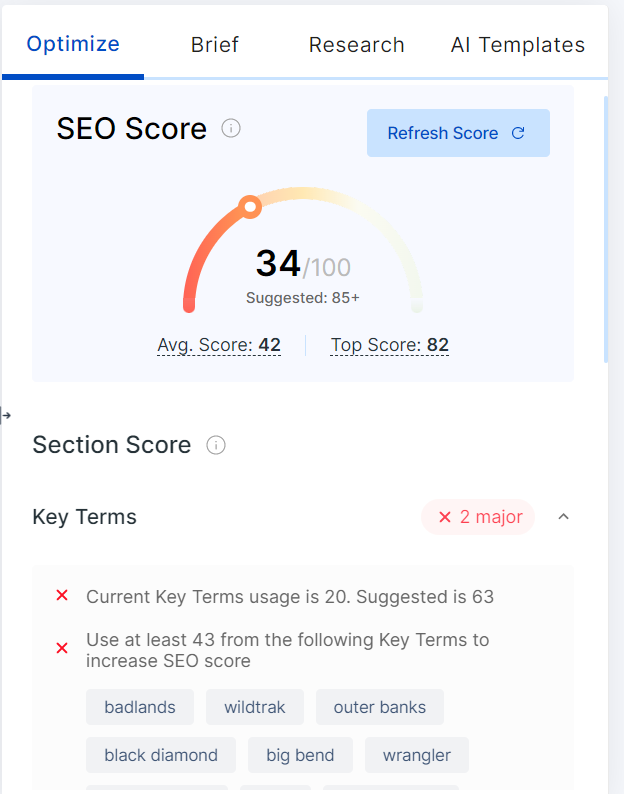 If you're looking to fully optimize target keywords in long form blog posts, Scalenut suggests relevant SEO keywords based on your content. By identifying the right keywords and integrating them naturally into your content, you can increase the visibility of your website and attract more targeted organic traffic. Scalenut's SEO assistant ensures that you have the necessary keyword density to enhance your content's search engine rankings.
It's always helpful to have a second eye on your work – Scalenut even analyzes your content and provides recommendations to address potential SEO issues. It highlights areas where you may need to add more bolding, images, or outbound links to improve the overall SEO blog quality. By addressing these recommendations, you can enhance create content that impacts, increase engagement and boost your content's visibility on search engines.
Another note-worthy feature is Scalenut's Search Engine Results Page (SERP) Ideas tool. This helps you identify specific keywords, phrases, or topics that will boost your company's visibility. This feature provides valuable insights into the current ranking landscape for your target keywords, helping you identify content gaps and opportunities. By understanding what other top-performing pages offer, you can create more comprehensive and competitive content to improve your search rankings.
With Scalenut's SEO capabilities, businesses can confidently optimize their content for search engines and improve their online visibility. By leveraging features like SEO Score, keyword suggestions, content optimization recommendations, and SERP ideas, you can enhance your SEO strategy, attract more organic traffic, and drive business growth.
What Scalenut Could Improve
While Scalenut offers a range of valuable features, some users may find its pricing model to be on the higher end, making it less accessible for individuals or small businesses with smaller budgets. Providing more flexible pricing options or introducing lower-tier plans could improve affordability and cater to a wider user base.
Pricing Model
Scalenut offers 3 different pricing models that cater to the needs of different users, like creators, growing startups, or large teams and agencies.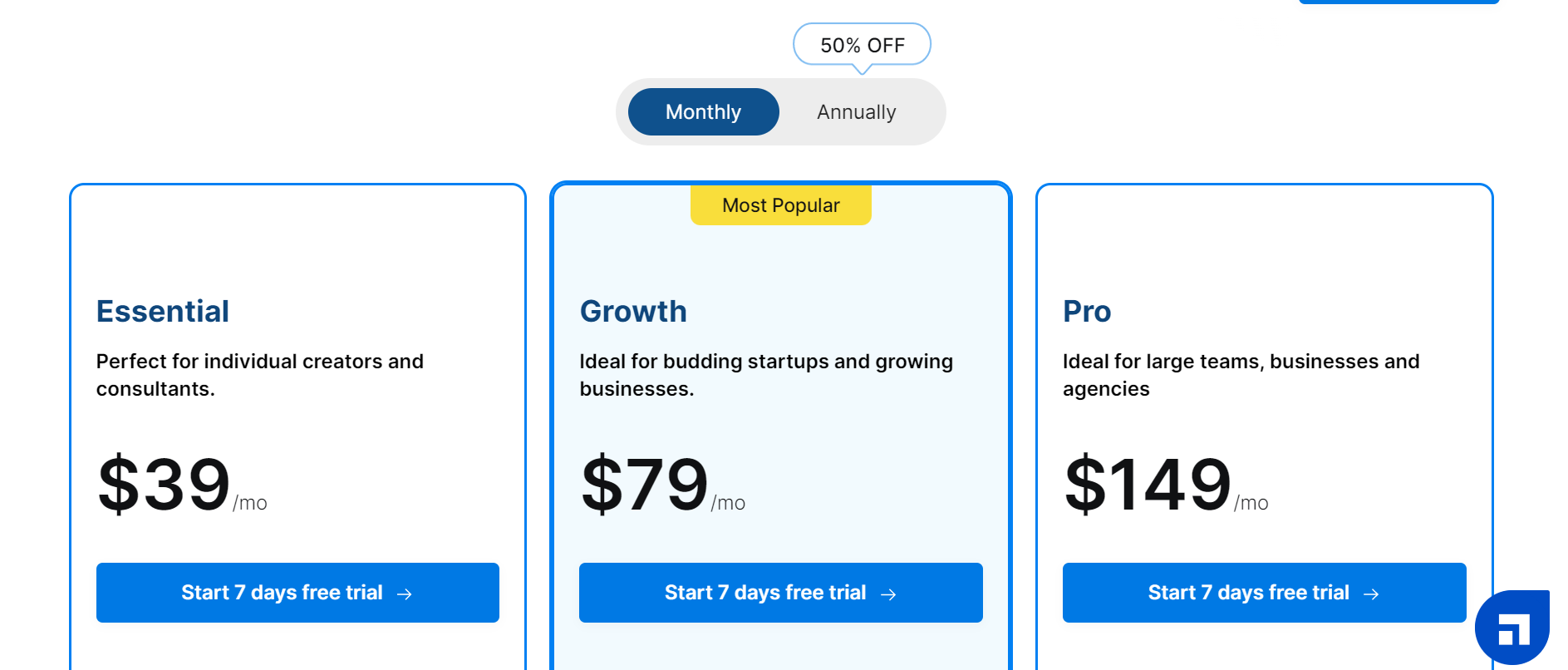 The Essential plan is priced at $39 per month and is perfect for individual creators and consultants. Some features include the ability to create SEO articles (up to 5 articles per month), access to 100,000 AI words, SERP analysis, NLP key terms, SEO editor (optimized for SEO), document sharing, Chrome extension, and more.
The Growth plan is designed for budding startups and growing businesses and is priced at $79 per month. It includes all the features of the Essential plan, along with unlimited AI words, the ability to create up to 30 SEO articles per month, build keyword clusters (up to 30 clusters per month), and audit and optimize pages (up to 30 pages per month). This plan also offers 1-click WordPress publishing and integrations with other tools and platforms.
Priced at $149 per month, Scalenut's Pro plan is ideal for large teams, businesses, and agencies. It includes all the features of the Growth plan, with the addition of more resources. Users on the Pro plan enjoy unlimited AI words, the ability to create up to 75 SEO articles per month, build up to 75 keyword clusters, and audit and optimize up to 75 pages per month. The Pro plan also provides the advantage of a dedicated Customer Success Manager to assist with any inquiries or support needs.
With a range of pricing plans, Scalenut ensures that users can select the plan that best aligns with their requirements and scale as their needs grow. However, the pricing can be steep at $40/month for an individual user. Another example of the cost is the Pro plan, which costs $149/mo for 1 user.
The 7-day free trial allows users to experience the platform's capabilities before committing to a plan, and the transparent pricing structure provides potential customers the clarity they need to make a decision.
Plagiarism Checker
Plagiarism poses a significant risk to the credibility of any piece, and manually scouring the vast expanse of the internet for potential duplicates is a daunting task. Scalenut offers a plagiarism checker via integration with Copyscape.
By integrating your Copyscape account with Scalenut, you gain the ability to assess the originality of your content in the platform. The tool scans the internet for similar content, highlights any duplicated text, and provides you with the original source. This integration empowers you to uphold the authenticity of your work.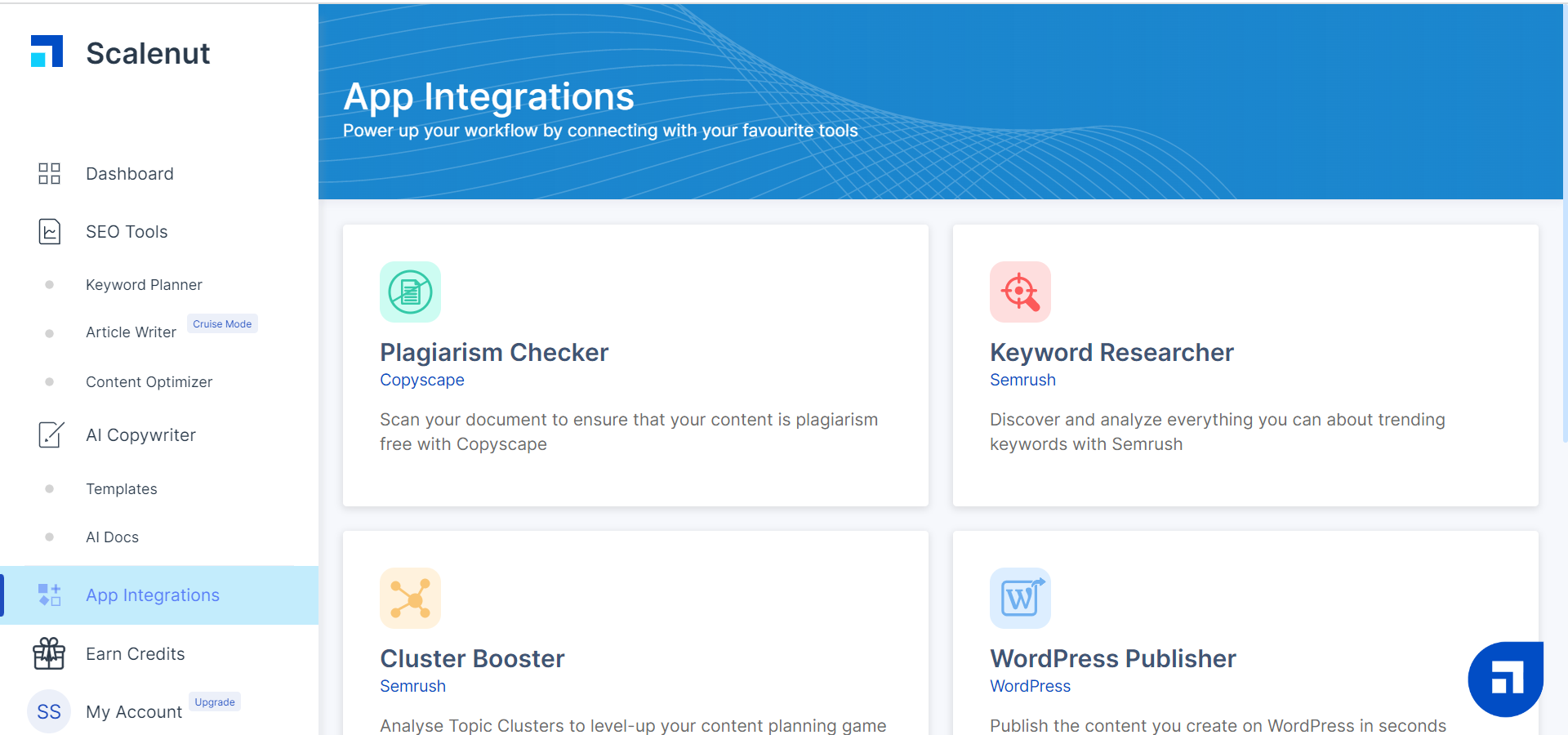 You do need to have an account with Copyscape in order to integrate it within Scalenut. This will be an additional and potentially bothersome step for a lot of users not familiar with Copyscape or on a free trial. Scalenut could improve on this feature by offering a plagiarism checker as a built-in tool on the platform.
You can access and connect to the Plagiarism Checker by heading to App Integrations in the left-hand column of the dashboard. Add your Copyscape username and API key to complete the integration.
Final Thoughts
In summary, Scalenut offers a powerful set of features and capabilities that streamline content creation and optimize search engine performance. Scalenut provides valuable assistance throughout the digital marketing process, helping users generate SEO-friendly and complete articles. With features like AI-generated suggestions, copywriting templates, SEO keyword recommendations, and content optimization insights, Scalenut empowers users to create engaging, well-structured content that resonates with their target audience.

One of Scalenut's notable strengths is its ability to simplify complex SEO tasks. By offering a comprehensive suite of SEO tools, including SERP analysis, NLP key terms, AI templates, and SEO article creation, this AI powered writer enables users to optimize their content for search engines effectively. Additionally, the platform's user-friendly interface and integration with popular platforms like WordPress make it accessible and convenient for users of all levels of expertise.
Scalenut may be considered relatively pricy compared to some alternative solutions on the market. The tiered pricing structure of Scalenut offers different plans with varying levels of features and capabilities, but the cost of the higher-tier plans might be a deterrent for individuals or small businesses operating on a limited budget. It is essential for users to carefully evaluate their specific needs, usage volume, and available resources to determine if the investment in Scalenut aligns with their budget constraints and expected return on investment.
However, for those who prioritize advanced SEO tools, AI-driven content creation assistance, and comprehensive features, Scalenut's pricing may be justified by the value it provides as an SEO optimization platform.
Overall, Scalenut is best suited for digital marketing teams and growing startups seeking to enhance their content strategy and SEO performance. As an AI powered writer, Scalenut can help users maximize their online visibility, attract targeted audiences, and drive business growth in the highly competitive digital landscape.