9 Best Social Media Management Tools if You Don't Have a Marketing Team
If you're running a small business, chances are you don't have a marketing team. And that's okay! There are plenty of social media management tools out there that can help you with your social media presence. In fact, there are so many social media publishing platforms that it might be daunting to know which to use!
I personally tried out Buffer, HeyOrca, Later, Missinglettr, MeetEdgar, Tailwind, and Social Bee social media automation tools to see if they would meet my social media management needs for my small business. I wanted social media automation software that would allow me to plan out my content for my social media channels but do most of the day-to-day scheduling for me since I work alone.
What are the best social media management tools?
The best social media management tools depend entirely on your needs and preferences. Are you a small team? A team of one? For me, Social Bee ended up being the clear winner for various reasons I'll get into below.
There are many, many more social management media tools out there, but I didn't consider them because I developed strict criteria for what I was looking for.
Specifically, I wanted a social media automation tool that would help me automate my social media creation process and create meaningful content quickly.
Disclosure: Some of the links in this article may be affiliate links, which provide $$$ to me at no cost to you if you decide to purchase the tool.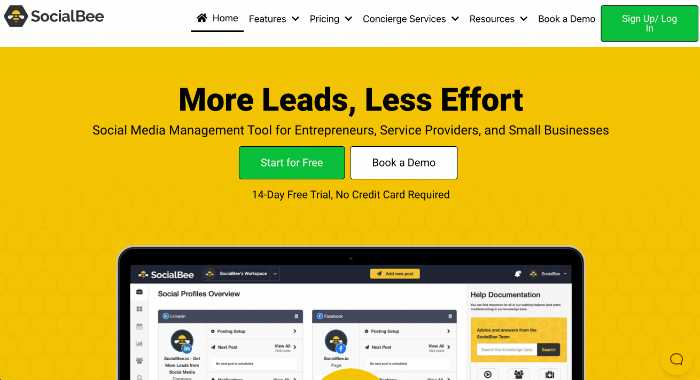 Social Bee is a powerful social media management tool, with a lot of bang for its buck. Don't let the less-than-visually pleasing landing page and complicated UI fool you, it has a lot of power behind it. Social Bee allows you to manage many social media accounts in one place. It has a content calendar feature that lets you see your upcoming posts and make sure they're scheduled in advance.
Pros:
Evergreen content
Post previews
Automatically pulls content from RSS feeds
Content library
Good for people who need additional services – concierge services
Post variations, but doesn't auto-suggest them
LOTS of social media options in one place for a nice price.
Canva integration
Free content curation service if you book within a certain time frame
Complimentary onboarding
Automated social media posting in specific categories
Social media analytics
Socialbee Instagram for business integration
Cons:
Outdated UI and complex tool
Don't like that you can't change the canvas size (e.g. for Pinterest) in the Canva integration
Pain that you have to upload an image for EACH platform
Doesn't have the shuffle button I like in MeetEdgar in the queue itself so I can't shuffle posts for specific platforms
Doesn't auto-suggest content ideas for you
Pricing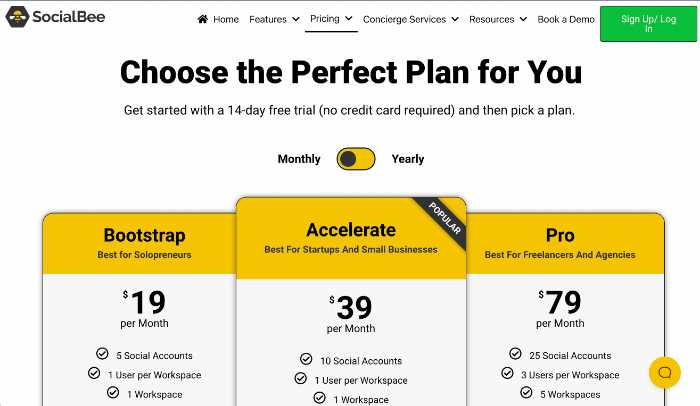 No free plan
Bootstrap: $19/month
Accelerate: $39/month
Pro: $79/month
Bottom Line
Social Bee is the best social media scheduler in my book because you can pull in content from a lot of sources, customize them for each social media platform, and then put it into a category that gets automatically posted at a certain time in a week. For me, I don't want to have to babysit my social media calendar all the time. I want to be able to put a bunch of content into a tool in batches and then let it post the content whenever. Most of my social media content isn't time-specific and I want to be able to create a lot of different variations so I can reuse the content. Social Bee is THE BEST in my book for this. If I need to, I can still schedule content for a specific time and label content to expire.
I just wish it were easier to use and auto-suggested content for you. It's also a bummer there's not a free version, but I think what it's doing for me is worth spending $20 a month since it's saving me from having to do so much work scheduling content myself. Overall, it definitely is a low cost social media management tool for what it does.
Also, out of all of the other social media management tools, I have not seen one with such a strong and dedicated support team. They offer 1:1 onboarding services, a free content creation service, and also offer cheap social media services if you want additional help.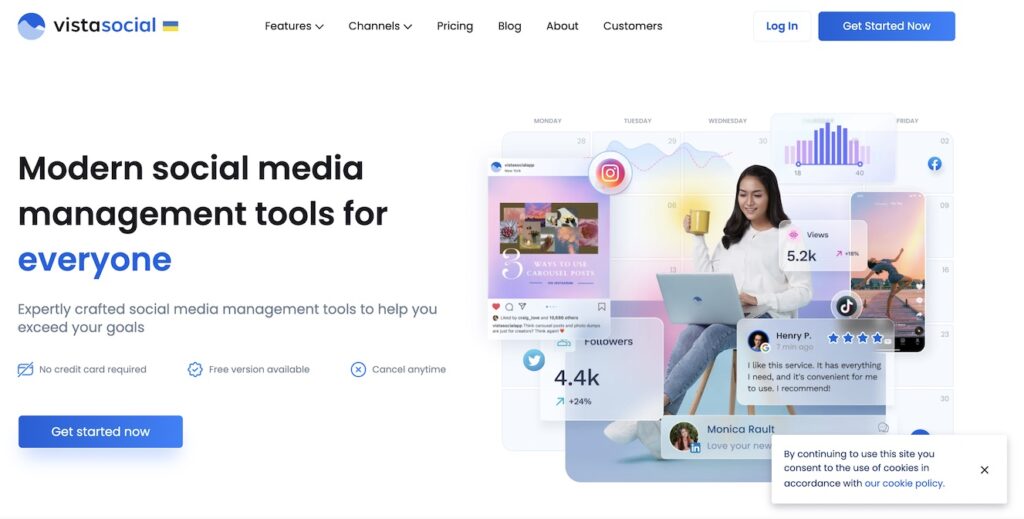 Vista Social is a social media management software tool that provides you with a lot of options to promote your business on social media. It's an all-in-one social media management solution that lets you monitor various social channels all across the social journey.
Features
Plan, collaborate, and publish posts
Monitor engagement with your social media posts
Analyze your social media marketing efforts with analytics
Social media listening to discover social conversations to help inform your social media marketing strategy
Manage reviews across different sites
Pricing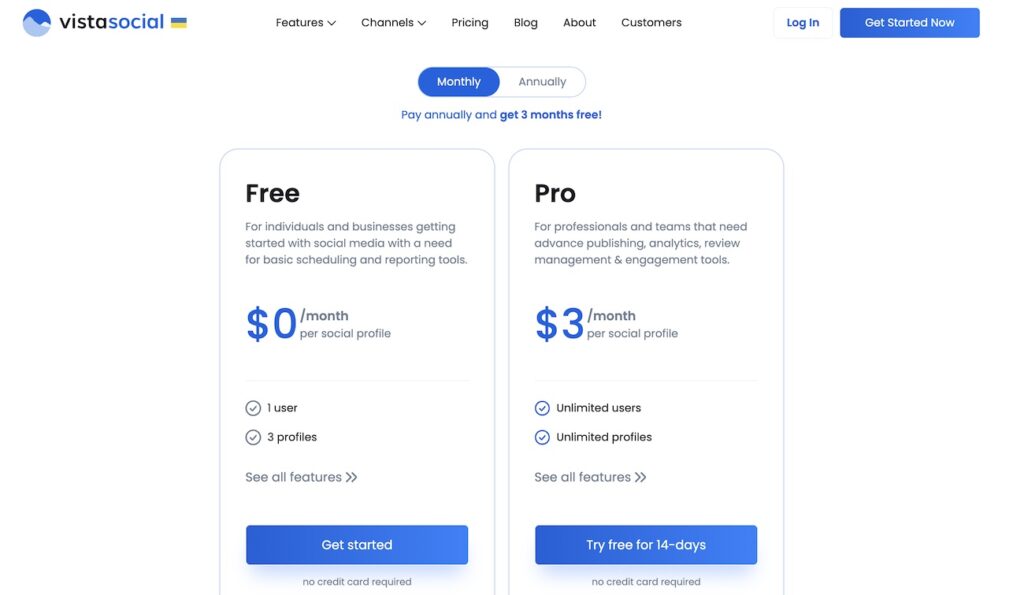 With a free plan and an incredibly affordable pro plan, Vista Social is definitely one social media management tool for small businesses to consider.
Pro plan: $3/month
Bottom Line
Vista Social is one of the most affordable social media management tools I've seen yet. It's a social media management tool that will allow you to scale up or down easily as your business needs. Rather than having a large, inflexible payment package, Vista Social social media management gives you the power to conduct as robust of a customer relationship management model as you'd like. With features like social listening, you're able to market to your target audience much easier.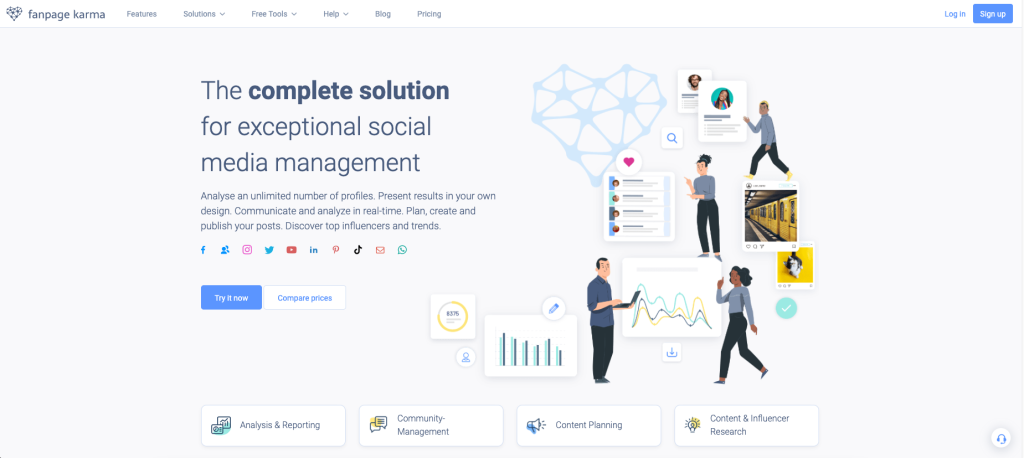 Overview
Fanpage Karma is a leading social media management solution that facilitates the boring and stressful parts of managing a presence across all major social media platforms, and lets people focus on the things that they really value: sharing their messages and content to an ever-growing number of fans.
It enables marketing professionals and influencers to analyze their competitors and their fans' interests, create, edit and publish every type of digital content, and lift the burden of building and staying on top of everything in their community.

With Fanpage Karma you can track your own profiles as well as other profiles, engage in reputation management, and discover influencers and copywriting ideas. You can also create personalized reports, schedule posts in advance with your team and answer messages from all of your social media channels from one place. In a nutshell: The Swiss Knife of Social Media

Fanpage Karma also lets professionals create, track, and store digital content in a centralized repository and share them with team members in real-time.

Pricing is available as a monthly or yearly subscription and customer support is offered via phone, e-mail, webinars, social media other online measures. Fanpage Karma offers a free trial.
Highlights
Track your own profiles as well as other profiles: analyze how your content is performing, set goals, and discover what your fans want to see.
Find out the best times for you to post, discover what is trending on social media / in your niche right now, and get alerts when your posts receive unusual amounts of engagement.
Share all of your results with team members in Fanpage Karma or external persons for free.
Engage with your audience: answer messages from all of your social media channels from one place, no matter if comments, DMs or mentions.
Delegate messages within your team and save time by creating personal templates you can quickly access.
ChatGPT integration which lets you answer your messages.
Build a personal brand and engage in reputation management
Discover influencers and copywriting ideas based on keyword you set.
Limit your discovery process to the social networks you are most interested in, to countries you want to grow in, and much more.
Schedule posts in advance with your team: create a content plan, upload unlimited photos and videos into your personal media library and publish on multiple platforms with minimal effort.
Networks included are: Facebook, Instagram, TikTok, YouTube, Twitter, LinkedIn, Pinterest
Pricing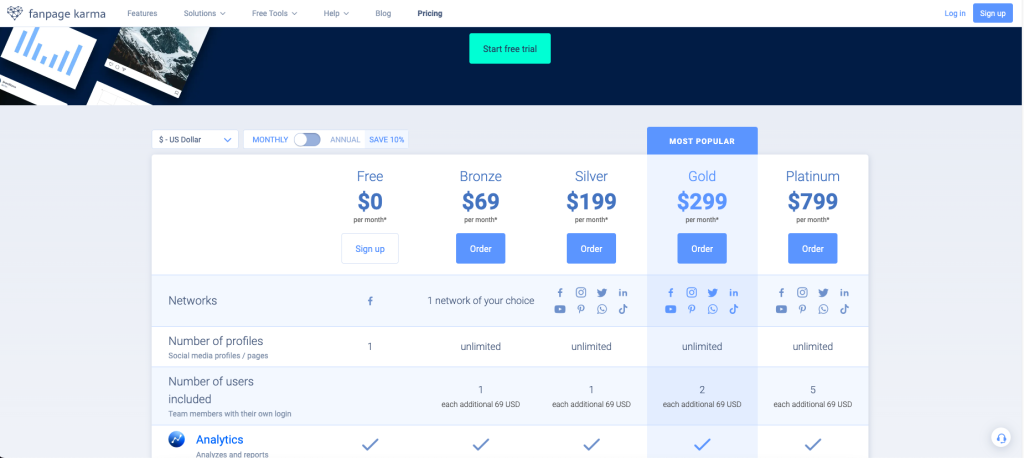 14 Day Free Trial with all of our features
Free version: analyze your Facebook profile with data from the last 28 days in 1 Dashboard
Bronze: $69 per month
Silver: $199 per month
Gold: $299 per month
Platinum: $799 per month
Bottom line
Fanpage Karma is a leading social media management solution that facilitates the boring and stressful parts of managing a presence across all major social media platforms, and lets people and brands focus on the things that they really value: sharing their messages and content to an ever-growing number of fans.
Plann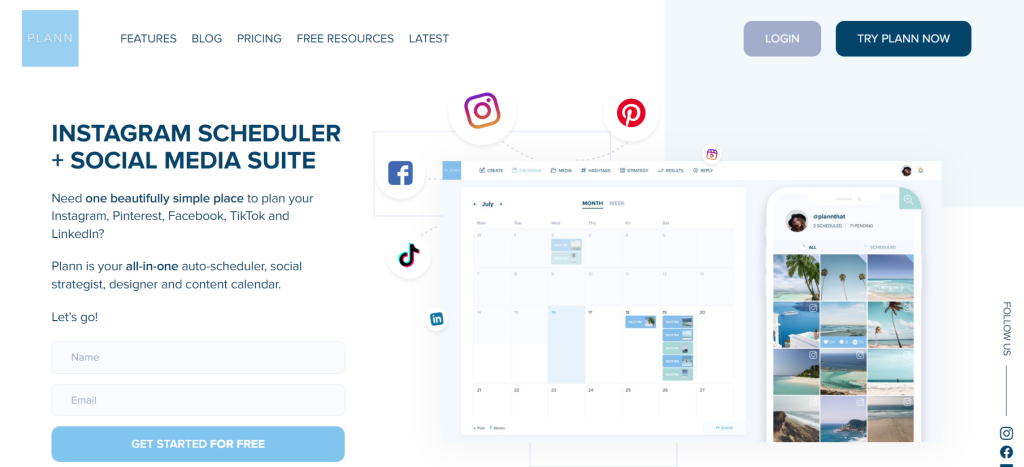 Plann is a powerful social media all-in-one marketing tool that offers a comprehensive solution for businesses and individuals looking to optimize their online presence. 
With its user-friendly interface and robust features, Plann simplifies the process of planning, scheduling, and analyzing social media content. From content creation to analytics, Plann provides a seamless experience for managing and growing your social media platforms.
Features
Content Scheduling and Publishing: Plan and organize your social media content in advance, ensuring a consistent brand image across platforms.
Visual Content Creation: Design stunning graphics and videos with ease using Plann's intuitive editing tools.
Analytics and Insights: Track engagement metrics, audience behavior, and campaign performance to refine your strategies and make data-driven decisions.
Team Collaboration: Coordinate and communicate effectively with your team members, streamlining the content creation and execution process.
Pricing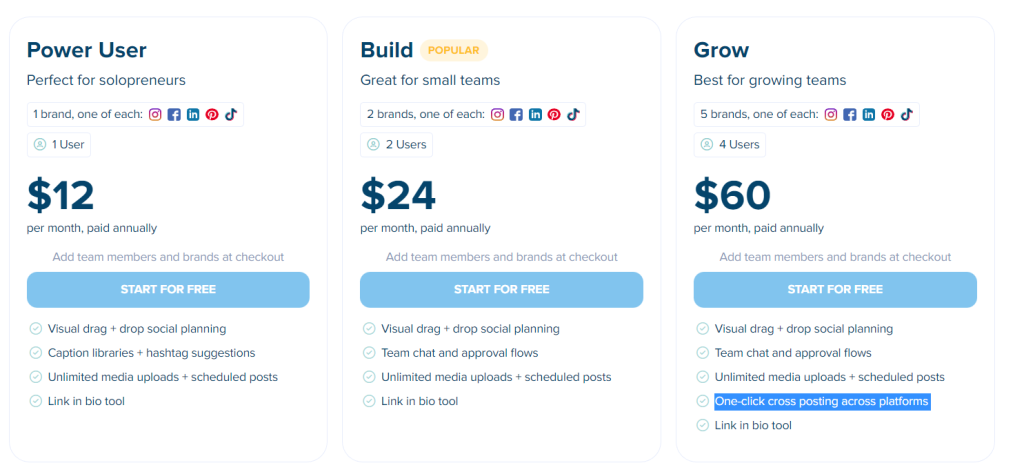 Free Plan: Get started with basic scheduling features and limited analytics for 7days.
Power user Plan: Unlock advanced scheduling, analytics, and team collaboration features.
Build Plan: Access premium features, including in-depth analytics, competitor tracking, and content discovery.
Growth Plan: Access premium features, including in-depth analytics, competitor tracking, and One-click cross-posting across platforms.
Bottom Line
Plann is an all-in-one social media marketing tool that empowers businesses to streamline their social media strategies and drive meaningful results. 
From content planning and creation to analytics and team collaboration, Plann provides the necessary tools for enhancing brand awareness, engagement, and conversions. With its user-friendly interface and affordable pricing plans,
Plann is a valuable asset for businesses of all sizes, helping them effectively navigate the dynamic world of social media marketing.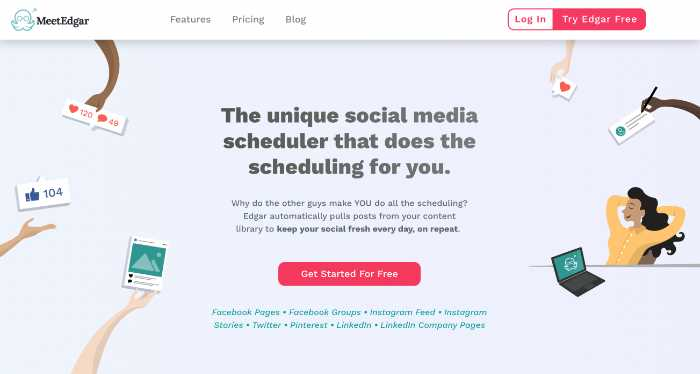 MeetEdgar is a great social media automation tool for social media management. It allows you to manage multiple social networks, schedule posts, recycle old content, and track your analytics. MeetEdgar ensures that your social media content is always fresh.
Pros
Automatically pulls content from your website via RSS feeds
Auto-suggests variations
Content library
Auto-post content in specific categories
Cons
Cannot customize content for each platform and its not on their roadmap any time soon – I asked
No social media analytics
Pricing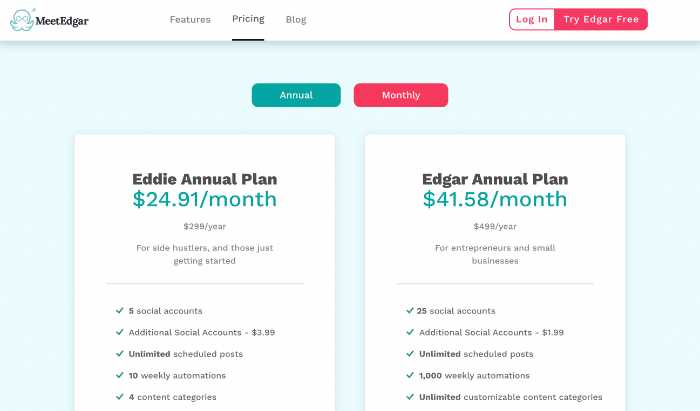 Two pricing plans:
Eddie: $24.91/month with 5 social media accounts
Edgar: $41.58/month with 25 social media accounts
Bottom Line
MeetEdgar is a more expensive social media management tool than Social Bee and it doesn't allow you to customize your content for the different social media platforms. Those were two big red flags for me. I use MeetEdgar for a volunteer organization I work for and I really like it, but Social Bee is more powerful.
That said, MeetEdgar is much a simpler and easier to use social media management tool, so if that's important for you, definitely consider it! As a Socialbee social media managements alternative, it just depends on what you need: ease of use OR power.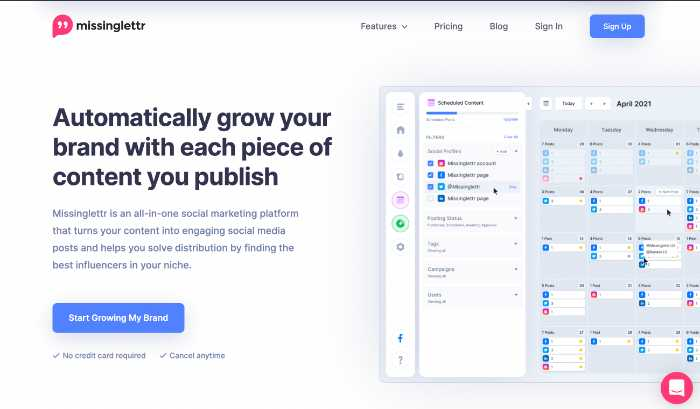 Missinglettr is an excellent social media marketing tool. It allows you to create social media posts from your blog content. Missinglettr helps you automate your social media content creation. Social media marketers should love Missinglettr because of its Campaign feature.
Pros
Curate section
Automatically pulls content from your website and YouTube
Auto-suggestions text variations
Social media analytics
Cons
Website slow
Campaigns do not fit my needs
Pricing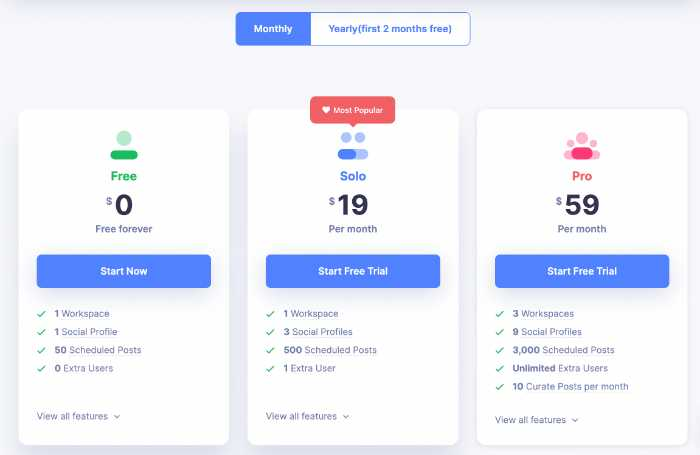 Free Forever: $0/month with one social profile
Solo: $19/month with 3 social profiles
Pro: $59/month with 9 social profiles
Bottom Line
My Missinglettr review: I would hands-down go with Missinglettr if they had content categories like Social Bee and MeetEdgar. They have a beautiful user experience and I love the Curate feature. I loved that I could import a link and it would generate my hashtags for me while also providing content suggestions for posts. Content creation is very easy in this tool.
I just really didn't like Campaigns and how it works. It's too structured for me and requires too much planning. Something like Social Bee and Meet Edgar with their scheduling posts by category meet my needs way better. I'm not sure if I would recommend it for a small business looking to do social media management. It depends on what you're hoping to accomplish with social media marketing. If your social media strategy centers around running social media campaigns, this social media management tool is an excellent option.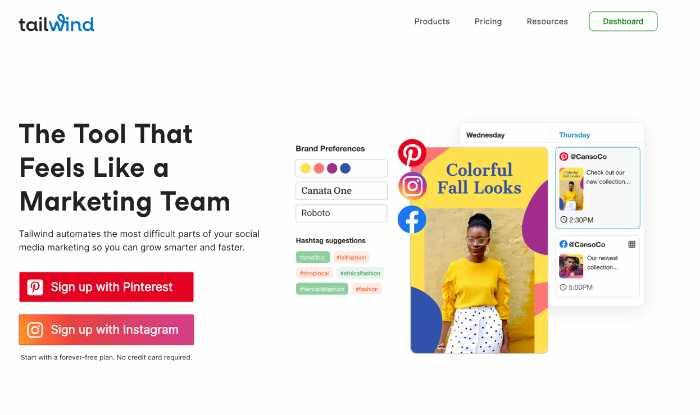 Tailwind is a great social media management tool for Pinterest and Instagram management. It allows you to schedule posts, track your analytics, and more. Tailwind helps you optimize your social media schedules for the best times to post. Tailwind is great for social media management for artists in particular.
Pros
Helps you easily create visual posts for Instagram and Pinterest
Communities to share your content
Cons
You have to schedule ALL of your posts rather than creating a content library
Pricing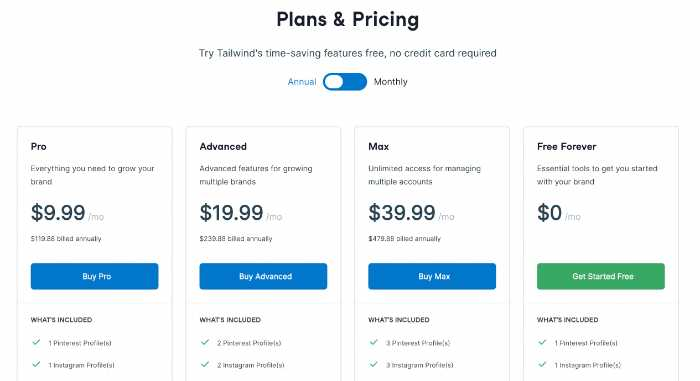 Free Forever: $0 with 1 Instagram and 1 Pinterest profile included
Pro: $9.99/mo
Advanced: $19.99/mo
Max: $39.99/mo
Bottom Line
I really like Tailwind's design features. They're great! If your social media strategy focuses on Instagram, Facebook, and Pinterest, then definitely consider Tailwind for your social media management platform needs.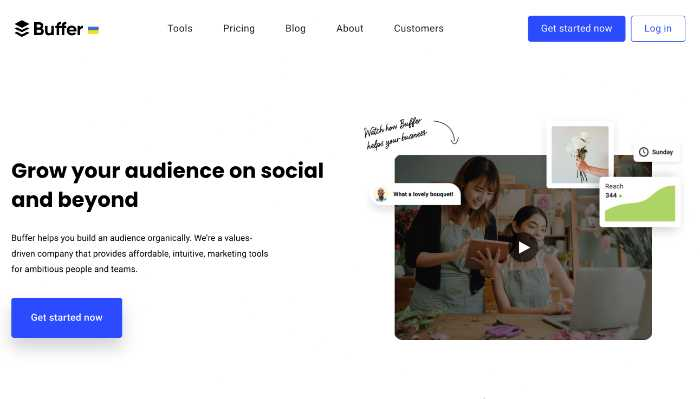 Buffer is a solid social media management tool for scheduling social media posts in advance. With Buffer's social media account management, you can connect all of your social media accounts and then easily share content across them with just a few clicks. You can also use Buffer to track your analytics and see how your content is performing.
Pros
Great if you have all your content planned out already
Simple, straightforward tool
Free version
Cons
I moved away from it because I didn't want to schedule everything individually
Pricing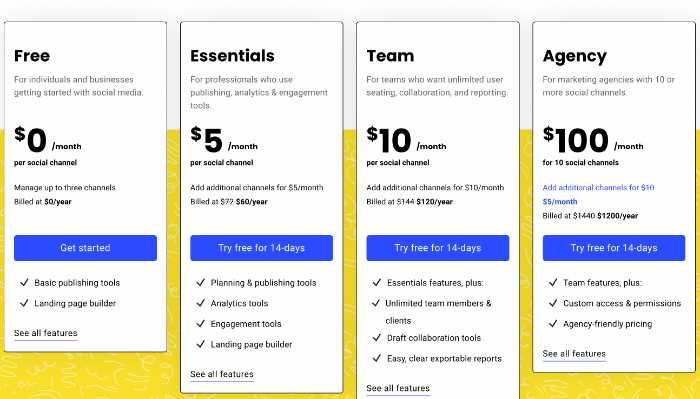 Free: $0/mo
Essentials: $5/mo
Team: $10/mo
Agency: $100/mo
Bottom Line
If you don't mind scheduling and want a powerful tool that gives you three accounts for free, consider Buffer! It's definitely worth considering. I used Buffer for a while, but once I discovered that tools like MeetEdgar exist with categories and automatic posting, I knew I wanted something more simple like that. For my small business needs, scheduling each post individually took too much time.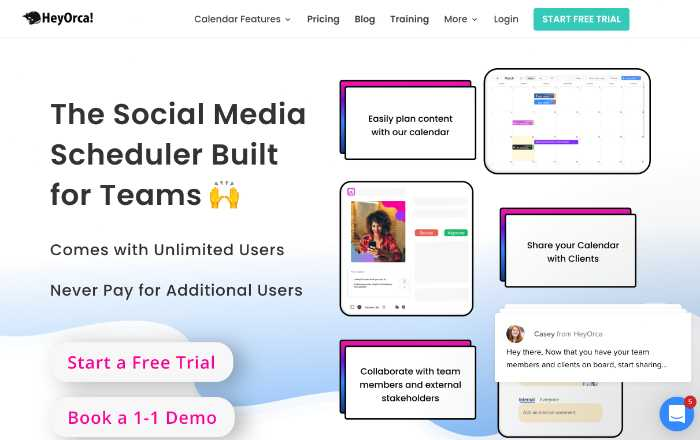 HeyOrca is a social media management platform perfect for managing social media for client projects and for businesses that have multiple social media accounts. You can use it to schedule posts, monitor social media activity, and more.
Pros
Schedule evergreen content
No CC required for trial
Great demo experience
Excellent product if you really want to tailor to each platform and have the resources to do that.
Corporate social media tools
Social media team collaboration software
Cons
Seems more for an agency than a solopreneur or small businesses
Manually edit the content for each individual platform. Great if you've got a team of people to do this, but kind of manual.
Not what I'm looking for because I want more automation and help with creating the content
Pricing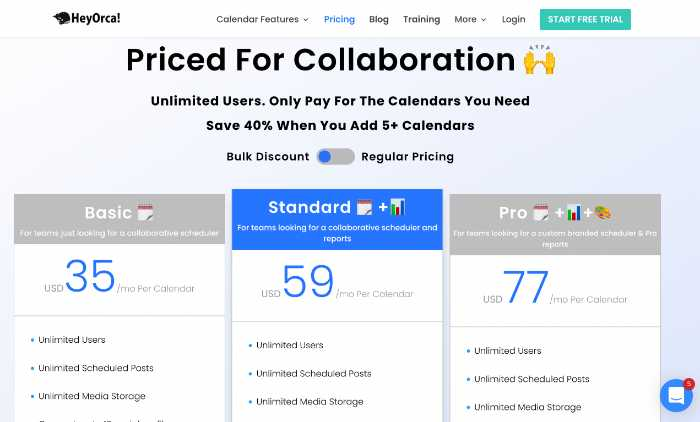 Basic: $35/mo
Standard: $59/mo
Pro: $77/mo
Bottom Line
I mostly only checked out HeyOrca because a marketing friend of mine recommended it. I would also recommend it for social media marketers and marketing agencies with a clear social media marketing strategy in place. With its social media marketing automation capabilities, it's for people with clear marketing efforts and who know exactly what they're doing on all the different social channels. I think if you're a team of one, small team, or a small business, it's more than you need.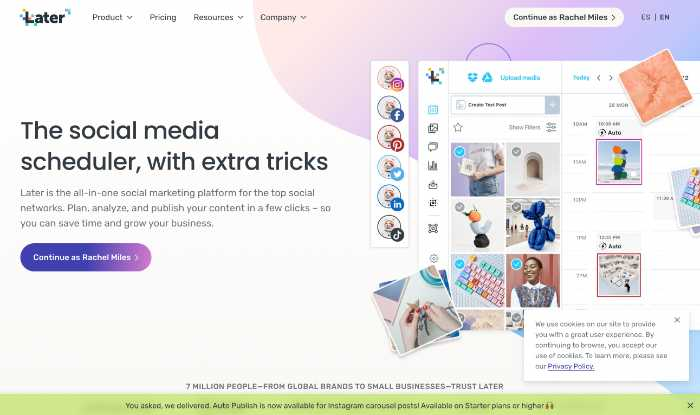 Later social media management makes it easy to visually plan out your social media content. Later is a great tool for visual social media scheduling and managing your content. You can use it to plan out your social media content, track your analytics, and more.
Pros
Partnerships feature for sharing content ideas
Connects media library with Unsplash
Visual content calendar
Cons
Cannot do trial without putting in CC info
Does not help you create visual posts. It's not winning for me on Instagram.
Pricing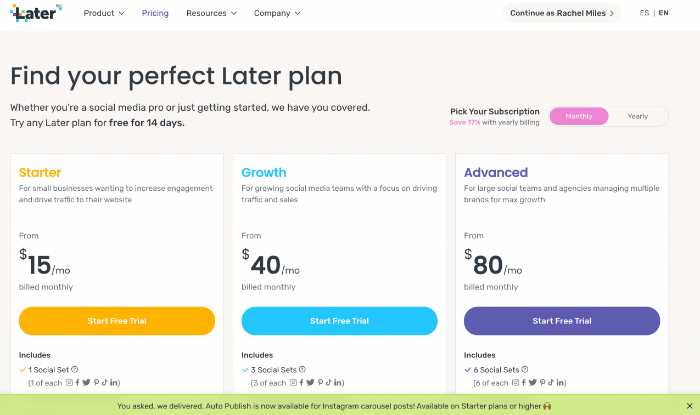 Starter: $15/mo
Growth: $40/mo
Advanced: $80/mo
Bottom Line
I did not get very far with Later because I could not do much in the free mode and I couldn't do a trial without putting in credit card info. That's why they're at the bottom of my list. Overall, it seems like a decent tool, I just couldn't see it for myself since I didn't want to put in my credit card information. That said, I do like that they've made pulling in images seamless. They don't help with creating more visual or graphical posts, however, like Tailwind or Missinglettr. It's another popular social media management tool with artists.
What does a social media manager actually do?
A social media manager creates and manages the social media presence of a company or organization. This includes creating and posting content, engaging with followers, and more.
If you're a freelancer, entrepreneur, author, coach, artist, and/or small business, you don't have someone doing your social media management. You're the one doing it! On top of the many other things you do in your small business.
Believe me, I get how overwhelming that can be. That's why I investigated these tools and wrote this article! Hopefully one of these social media management tools will suit your needs.
Why is social media management important?
Think about social media as a tool to grow your business. It allows companies and organizations to connect with their audiences more personally.
It also allows for two-way communication, which is essential for building relationships with customers and developing a better understanding of their needs.
Regularly posting to social media gives you more opportunities to engage with your audience and it helps you perform better in the various algorithms social media management software utilize to determine who shows up in people's feeds. Some tools like Buffer allow you to post directly from your content management system social media management accounts.
Final Thoughts
The best social media management tool depends entirely on what you need it to do! If you're like me and want to have something schedule all your social media posts for you, then consider Social Bee or Meet Edgar. If you want more structure and have some auto-suggested content, definitely check out MissingLettr. If you just want a social media scheduling tool, check out Buffer. If you're focused on Instagram and Pinterest only, consider Tailwind.
Recommended reading