9 Best VPN Software of 2023
Virtual Private Network (VPN) software does a whole lot more than just hide web search history. It can offer a wide variety of services. Need to connect to public Wi-Fi? Threat protection tools can defend you from potential cyberattacks. Slow internet speed? VPNs can prevent throttling. Want to stream restricted sites? Let VPNs unblock it. Need to protect multiple devices? Simultaneous connections are provided within one subscription. Do not want anyone to know your search history? Even these VPN providers will not log your data. Want to know more? Continue reading.
What is the best VPN software?
VPN stands for Virtual Private Network, it is created to provide digital security and anonymity to users when they connect their devices and accounts to web-based services and sites. It is a common idea that connecting to public Wi-FI networks can leave unprotected devices at risk of cyber-attacks, VPN services can help users with that and so much more.
Many users interrelate VPNs to private browsing modes such as Incognito on Google Chrome, believing that an Incognito window alone provides absolute invisibility. It is not as simple as that. Private browsing only protects users from other people sharing their devices, which is a good feature when using shared devices at work or school. However, a user's internet service provider can easily view their browsing activity with that, as well as advertisers and network monitors, not too incognito if you think about it.
Virtual Private Networks aim to stack layers of security features to hide user web traffic from every other party in the world wide web.
Join Renaissance Rachel's holiday giveaway!
1st Prize: $300, 2nd Prize: $75, 3rd Prize: $25
Here are a few key features to look at when browsing through our list of VPN service providers:
Threat Protection – Protection comes in many forms and has unique names. These are security solutions built to safeguard private data against potential cyberattacks such as malware and phishing campaigns.
No Log Policy – VPN companies do not log any user information such as IP address, browsing history, VPN session timestamps, bandwidth consumption, and DNS queries for utmost user privacy protection.
Reliable Protocol – A VPN protocol is a collection of rules that states how information is moved from a device to a VPN server, this is to provide users with secure connections. Strong well-known protocols include WireGuard and Lightway.
Strong Encryption – Encryption is a method used to hide data using code to prevent unauthorized access. Military-grade encryption used by many VPN providers is AES-256.
Kill Switch – A kill switch ensures that the user's IP address is never exposed even if the VPN connection drops.
Bypasses Geo-Blocks – Geo-blocks or geo-restrictions are technologies that restrict access to internet content based on the user's geographical location,
Split Tunneling – A networking technique that enables a user to simultaneously access networks with multiple levels of security. Users can choose which devices go over the VPN, and which do not.
Fast Connection Speed – An internet service provider may deliberately slow down the internet connection to encourage users to upgrade their bandwidth, "throttling" is the term. ISPs cannot throttle when VPNs keep activities private, thus increasing internet speed.
Multiple Simultaneous Connections – Use the services of the VPN providers simultaneously on multiple devices. Get several products worth in just one subscription.
Ease of Use – VPN services are commonly for personal use, making a user-friendly interface attractive to non-tech-savvy VPN users.
Cross-Platform Compatibility – Be able to use VPN services on a multitude of devices and operating systems such as Windows, Android, macOS, iOS, and Linux.
Available Customer Support – Have access to reliable customer support such as live chat and phone support.
Several of those features are also highlighted in our other articles such as the Best AI Sales Software, Best AI Time Management Tools, Best AI Project Management Tools, and Best AI Marketing Tools. See the articles to discover more ways to level up your digital experience.
With that in mind, check out our list of the best VPN services.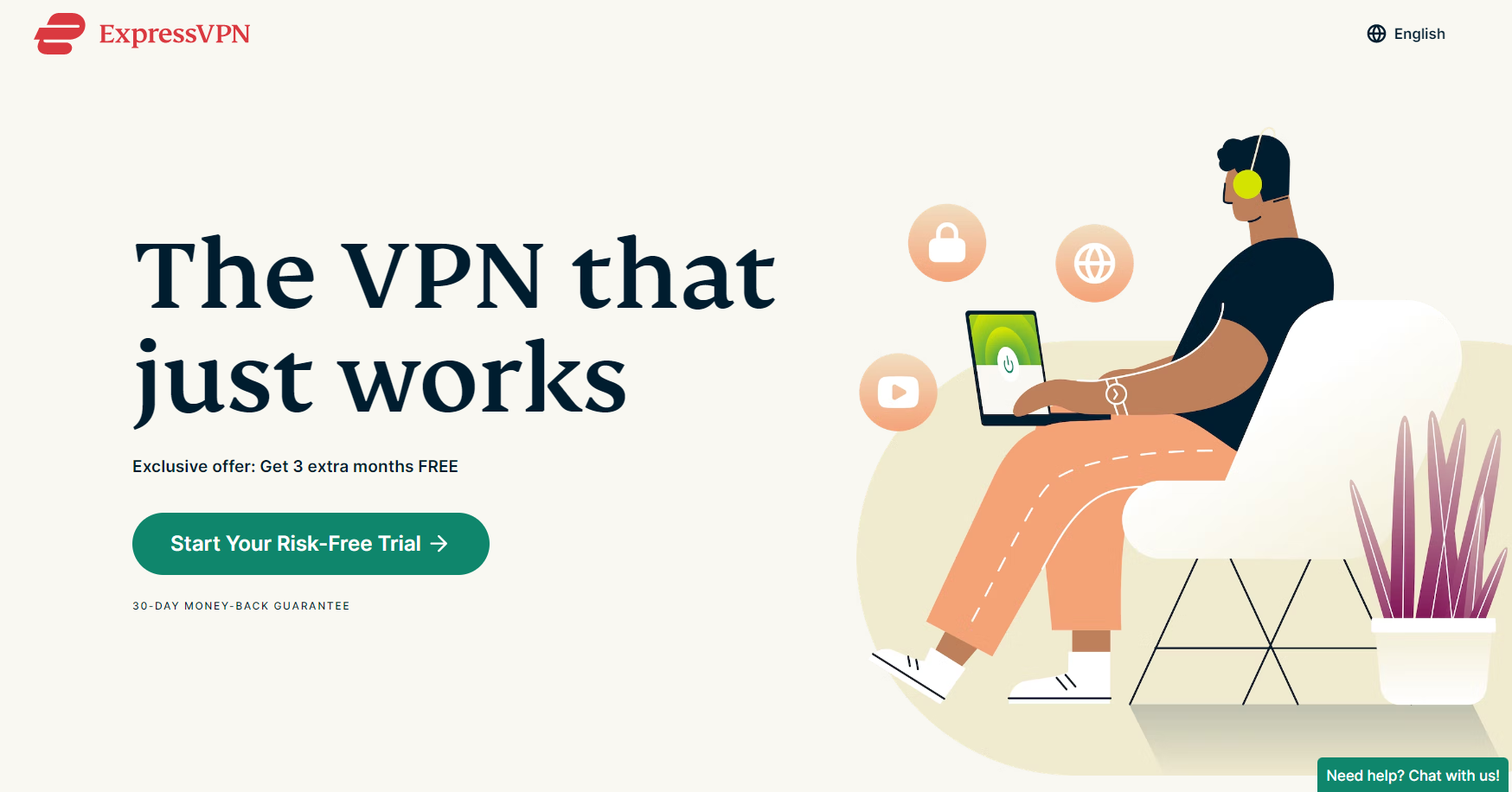 Overview
ExpressVPN is a VPN service that is known for its high speed, consistent security, cross-platform compatibility, user-friendly operations, and reliable 24/7 live customer support. Recognized as one of the best VPN service providers in the VPN industry, built for speed, powered by next-generation technology. Users can take charge of their online privacy and worldwide security with best-in-class encryption.
Highlights
5 Simultaneous Connections – 5 or unlimited simultaneous connections with the router app.
No Log Policy – Does not log user browsing history, IP address, traffic data, and DNS queries.
Lightway Protocol -Open-source technology comprised of about 2,000 lines of code. It provides standard safety features such as a kill switch, DNS leak protection, and even dynamic encryption keys.
Split Tunneling – Choose which application or device traffic route through an encrypted VPN and which have direct access to the internet, data is protected by AES-256.
Lightning-Fast Speed – Smoother, throttle-free browsing and gaming with ultra-fast speed.
Cross-Platform Compatibility – Works on platforms including Windows, Android, macOS, iOS, Linux, and Amazon operating systems.
VPN Server Location – Over 3,000 servers in 160 locations scattered in more than 94 countries.
Pricing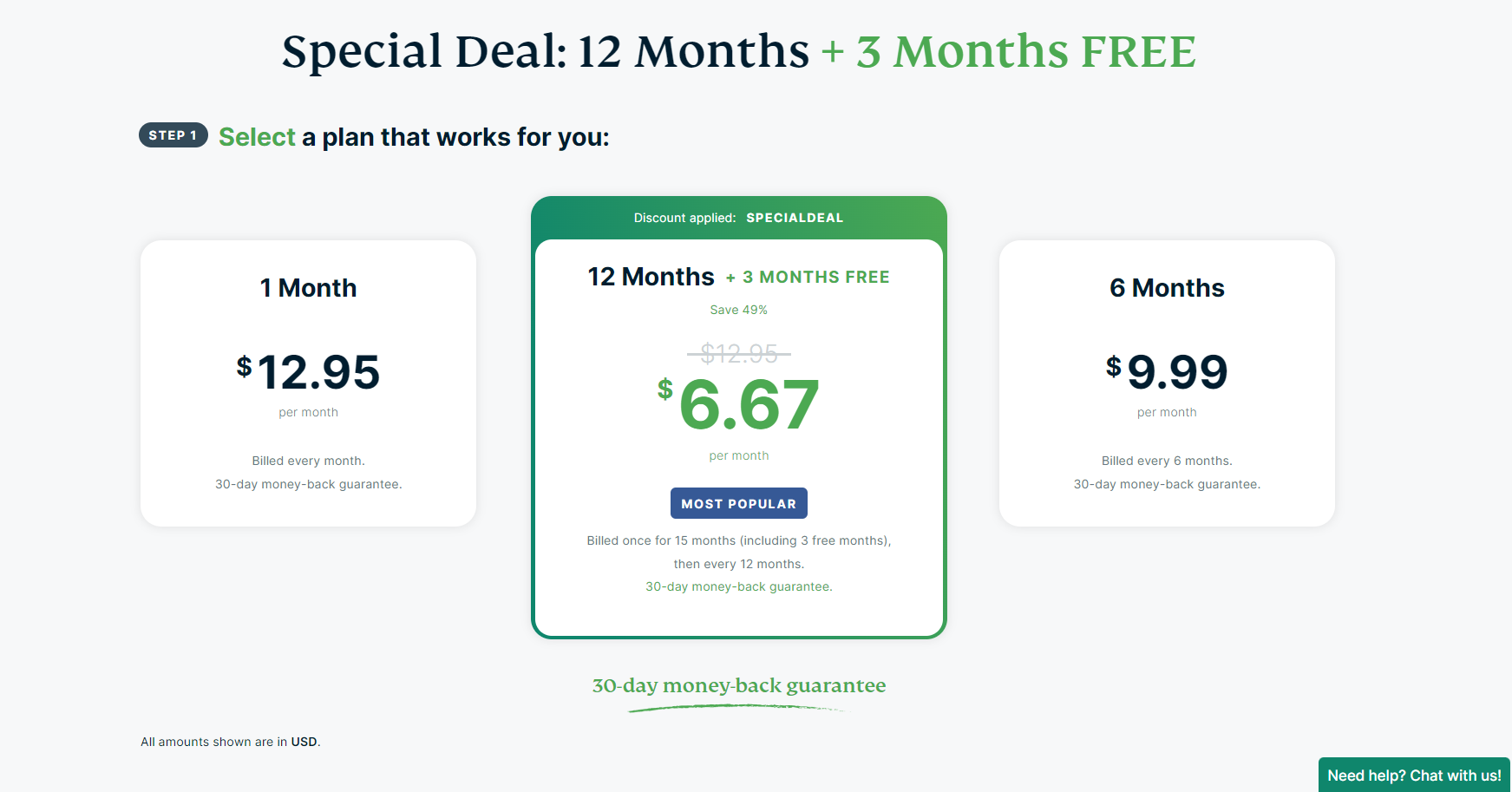 1 Month – $12.95 Per Month
6 Months – $9.99 Per Month
12 Months + 3 Months Free – $6.67 Per Month
Bottom Line
ExpressVPN is ideal for users and frequent travelers that want to have an all-rounder VPN service provider and do not mind spending a little bit more than most VPN services quote. Try out ExpressVPN with a risk-free 30-day money-back guarantee.
TunnelBear: Best for VPN Beginners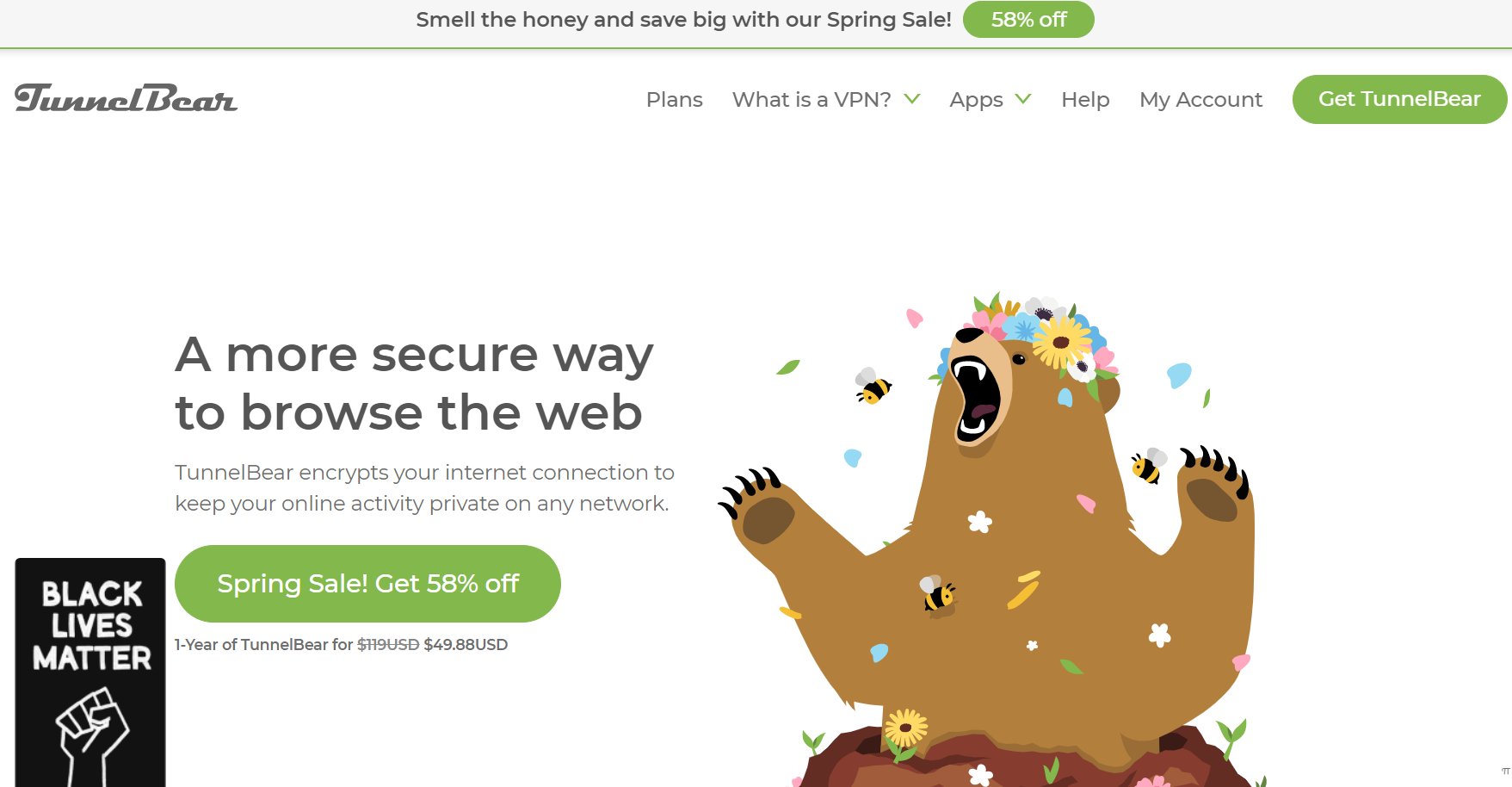 Overview
TunnelBear is a bear-themed VPN service provider. Along with its simple and friendly interface that helps first-time users navigate the VPN service with ease, it also provides strong security features and can unblock streaming services such as Netflix, Disney+, and Youtube. Users can expect solid protocols to protect their privacy and connection as TunnelBear is the only VPN in the industry to perform annual, independent security audits. This VPN provider offers a free version, however, the features in its premium plan are undeniably superior.
Highlights
VigilantBear – TunnelBear will block all unsecured traffic when any interruption occurs until it is safely reconnected.
No Logging – Does not log any activity of users connected to the VPN service, including IP addresses, DNS queries, and any other personal data.
Closest Tunnel – Allows users to access easy security when users are not sure which country to connect to.
Strong Encryption – Uses AES 256-bit encryption by default.
Unlimited Simultaneous Connections – Allows users to connect to unlimited devices simultaneously.
Worldwide Network – Connect to the fastest servers in over 47 countries.
Always On – Set to launch at startup and stays connected. No need to worry about re-connecting on restart.
Pricing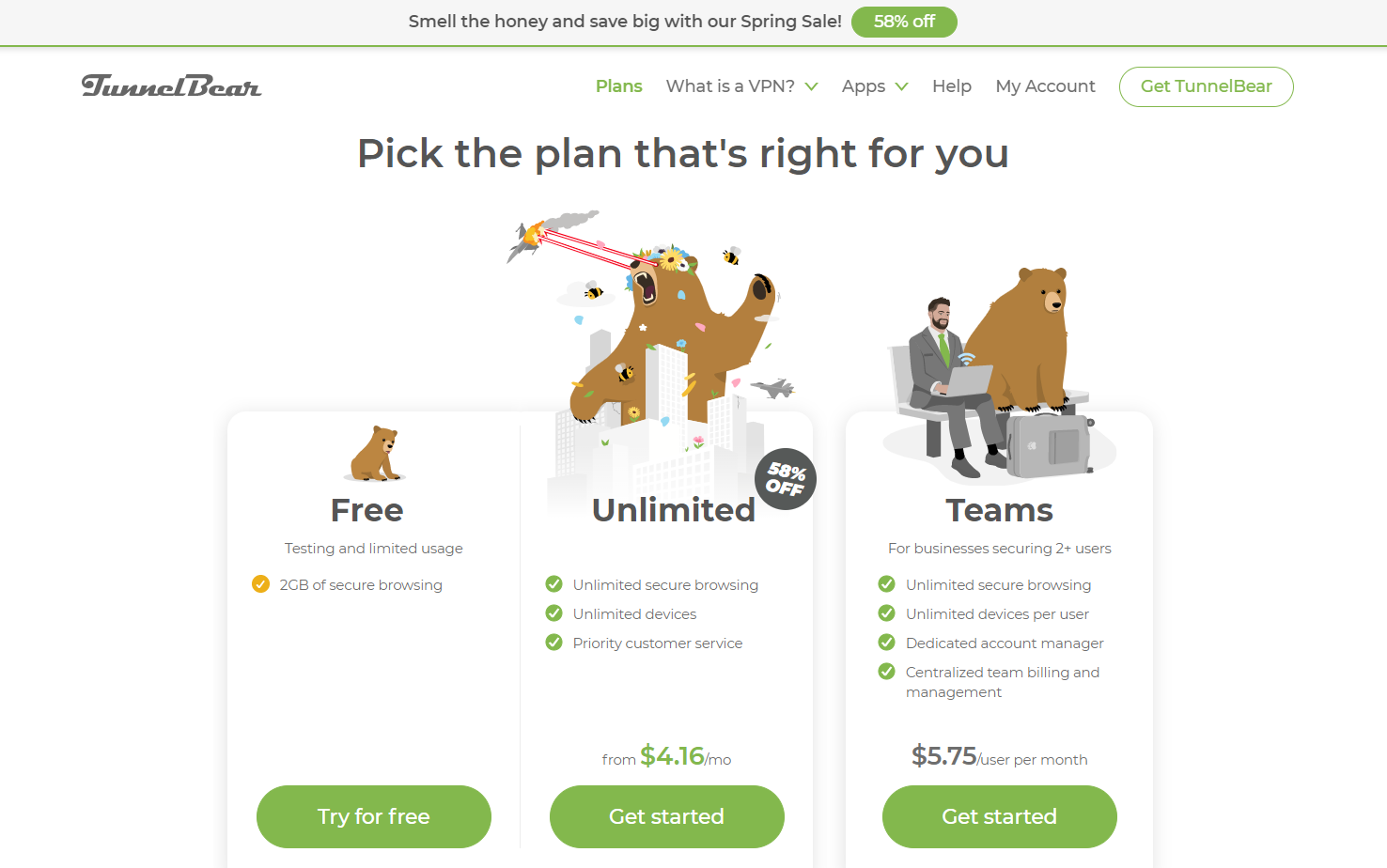 Free – Testing and Limited Usage
Unlimited – $4.16 Per Month
Teams – $5.75 Per User Per Month
Bottom Line
TunnelBear is ideal for users who are looking for robust VPN service and transparency for strong privacy protection. This easy-to-use bear-themed security software is great for first-time VPN service users.
FastestVPN: Best for Platform Compatibility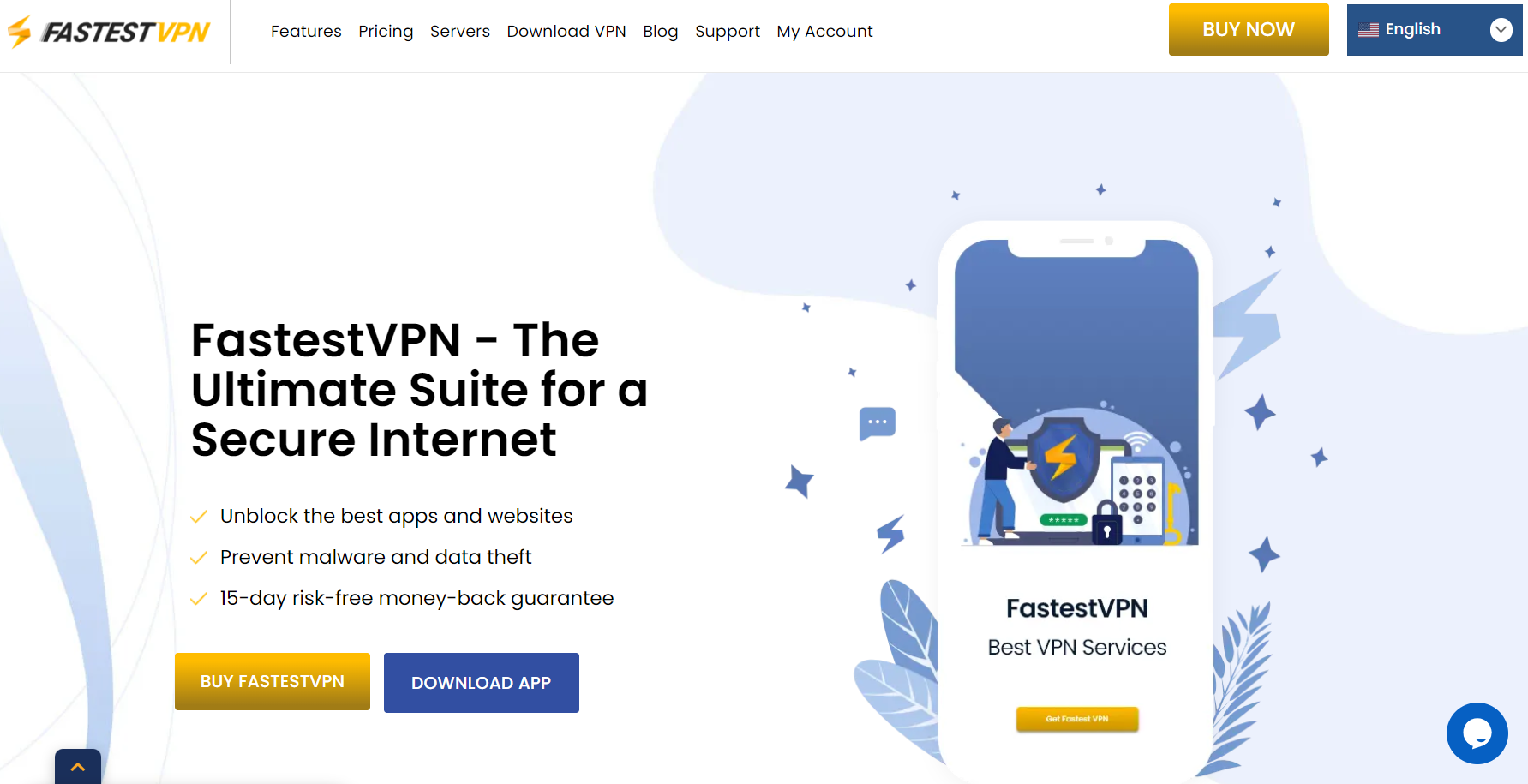 Overview
Fastest VPN is a secure VPN service provider known for its double VPN, unblocking streaming services such as Netflix allowing of torrenting on all its servers, extremely affordable plans, 24/7 live customer support, and a five-star rating on Trust Pilot. It has a decent speed connection that works better on mobile than on Windows. For the majority of daily tasks, it provides sufficient speed and security and features like free Cloud storage and a password manager.
Highlights
10 Simultaneous Connections – Allows users to have simultaneous connections with 10 devices.
Internet Kill Switch – Prevents user identity from leaking out. It terminates the internet connection when the connection to the VPN server is lost.
Strong Encryption – Uses military-grade AES 256-bit encryption.
DNS Leaks Protection – Ensures high security with its built-in leak protection technology.
Unlimited Bandwidth – Allows users to download files restriction-free at high speed, with no cap on downloading and uploading files. Servers are optimized for P2P file-sharing activities.
NAT Firewall – Blocks unsolicited incoming traffic for an extra added layer of security.
Smart Tunneling – Route select traffic automatically even when the app is not open.
Cross-Platform Compatibility – FastestVPN is compatible with over 20 devices including Xbox, Roku, PS4, Kodi, and Linux.
Pricing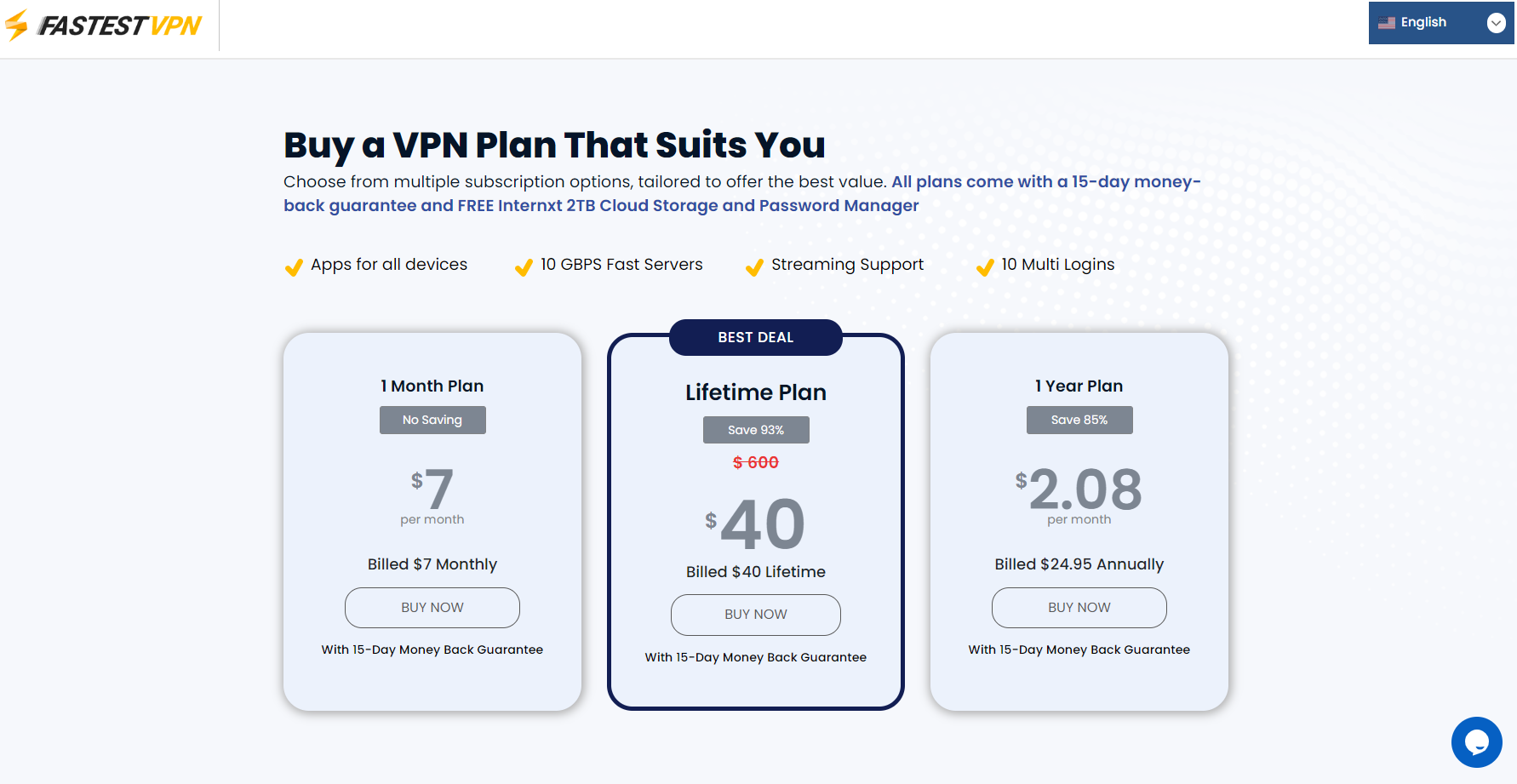 1 Month Plan- $7 Per Month
Lifetime Plan – $40 Lifetime
1 Year Plan – $2.08 Per Month
Bottom Line
Fastest VPN is a great deal for users that live in a highly populated region and just want to bypass regional and geographic blocks for a cheap lifetime price. Try out Fastest VPN with a 15-day money-back guarantee.
NordVPN: Best for High-Speed Connections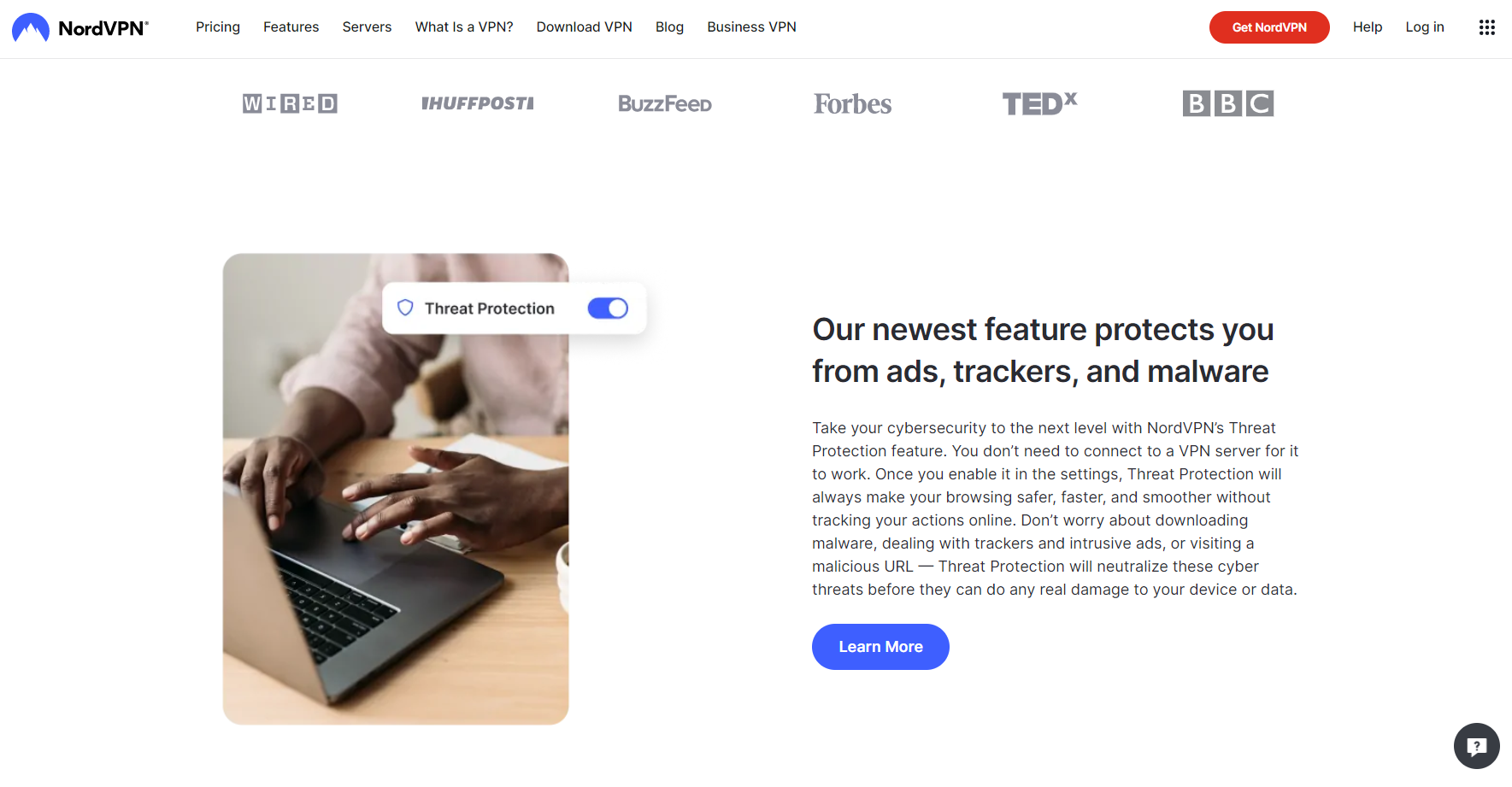 Overview
NordVPN is one of, if not, the fastest VPN service providers on the market. This popular VPN provider is known for a multitude of features such as its stable connection speeds that makes it great for traveling, extensive server network, dedicated tracker blockers, Onion over VPN and double VPN, split tunneling, kill switch, and AES-256 encryption. It basically has a touch of everything. Utilized by known companies such as Forbes, TEDx, BBC, Buzzfeed, and Wired.
Highlights
6 Simultaneous Connections – Allows users to have simultaneous connections with 6 devices.
Threat Protection – Stop malware, web trackers, ads, and other common internet threats.
Meshnet – Private encrypted network for safe file sharing, work, or LAN parties.
Dark Web Monitor – Get instant alerts if accounts have been compromised.
Dedicated IP – Maintain online reputation, skip blacklists, and access IP-restricted networks.
Basic VPN Services – Provides online security with robust IP address coverup, high-speed connection, global coverage, and no-log policy.
Seamless Digital Protection – Features include secure encryption, split tunneling, SmartDNS, private DNS, kill switch, and double VPN.
VPN Server Location – Has over 5,600 servers in 60 countries.
Pricing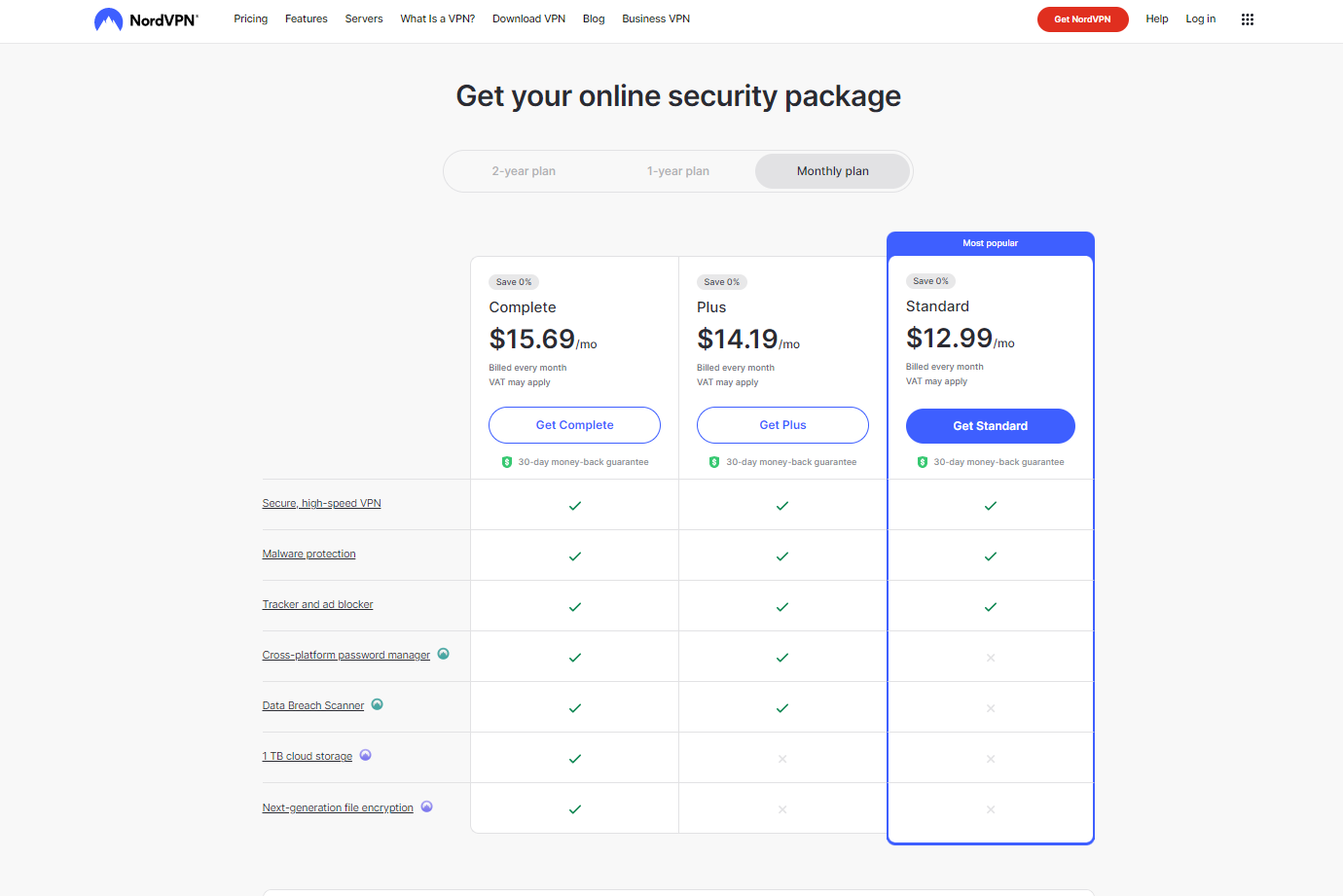 Standard:
Monthly – $12.99 Per Month
1-Year Plan – $4.59 Per Month (+3 Extra Months)
2-Year Plan -$3.29 (+3 Extra Months)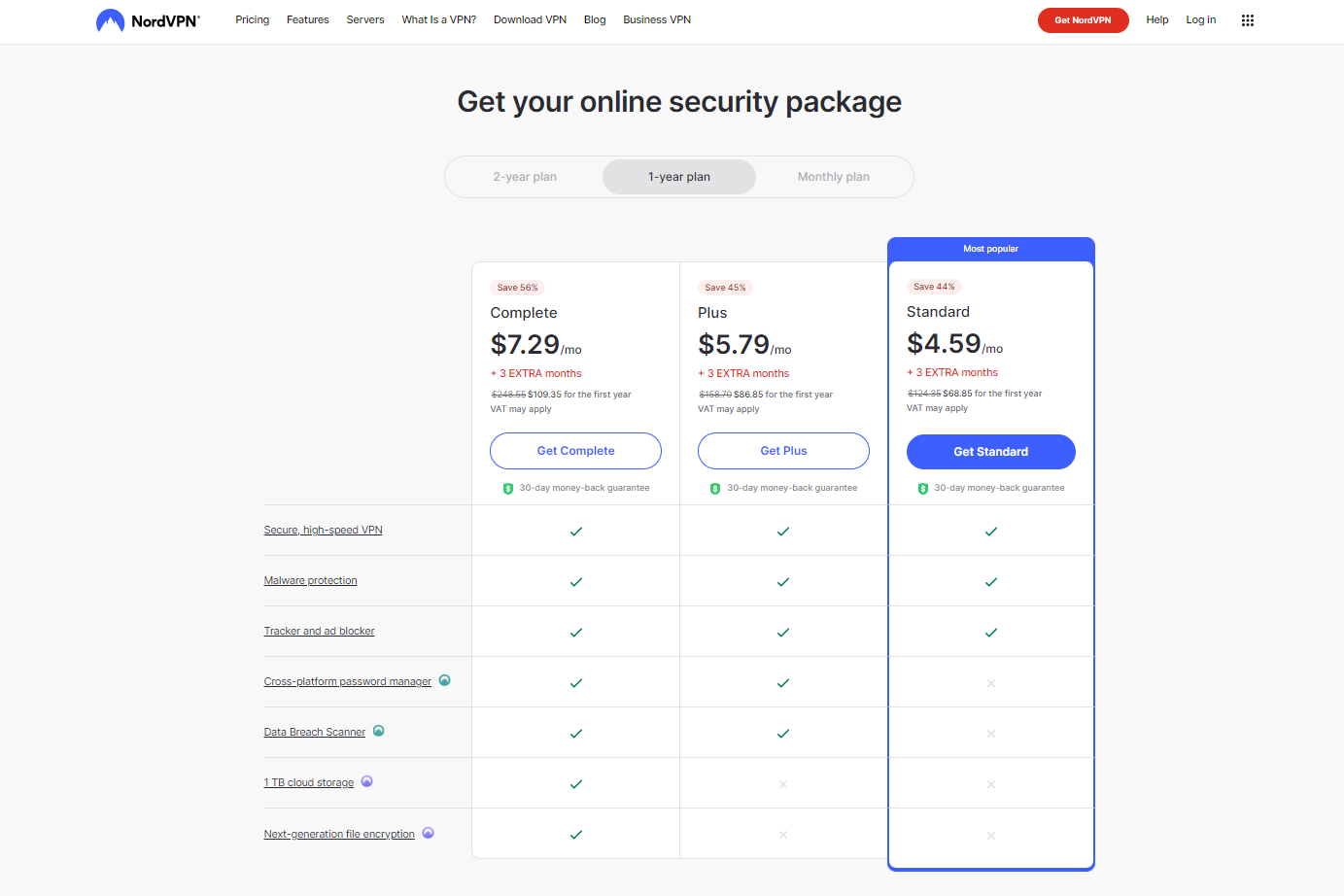 Plus:
Monthly -$14.19 Per Month
1-Year Plan – $5.79 Per Month (+3 Extra Months)
2-Year Plan – $4.49 (+3 Extra Months)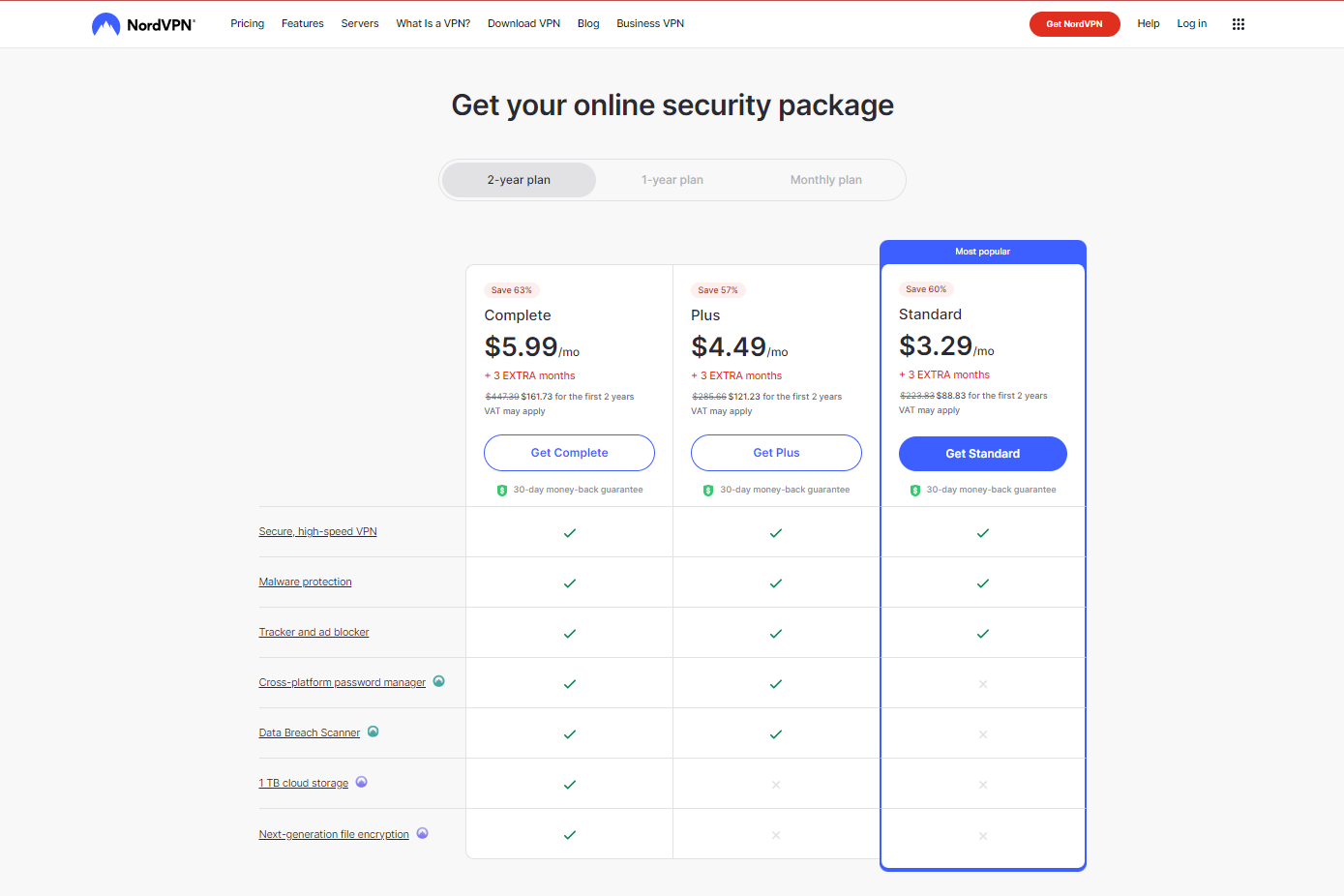 Complete:
Monthly – $15.69 Per Month
1-Year Plan – $7.29 Per Month (+3 Extra Months)
2-Year Plan – $5.99 (+3 Extra Months)
Bottom Line
NordVPN is a feature-rich software ideal for users that want premium VPN security, privacy, and streaming services. Its pricing is worth the services that it provides. Try NordVPN with a 30-day money-back guarantee.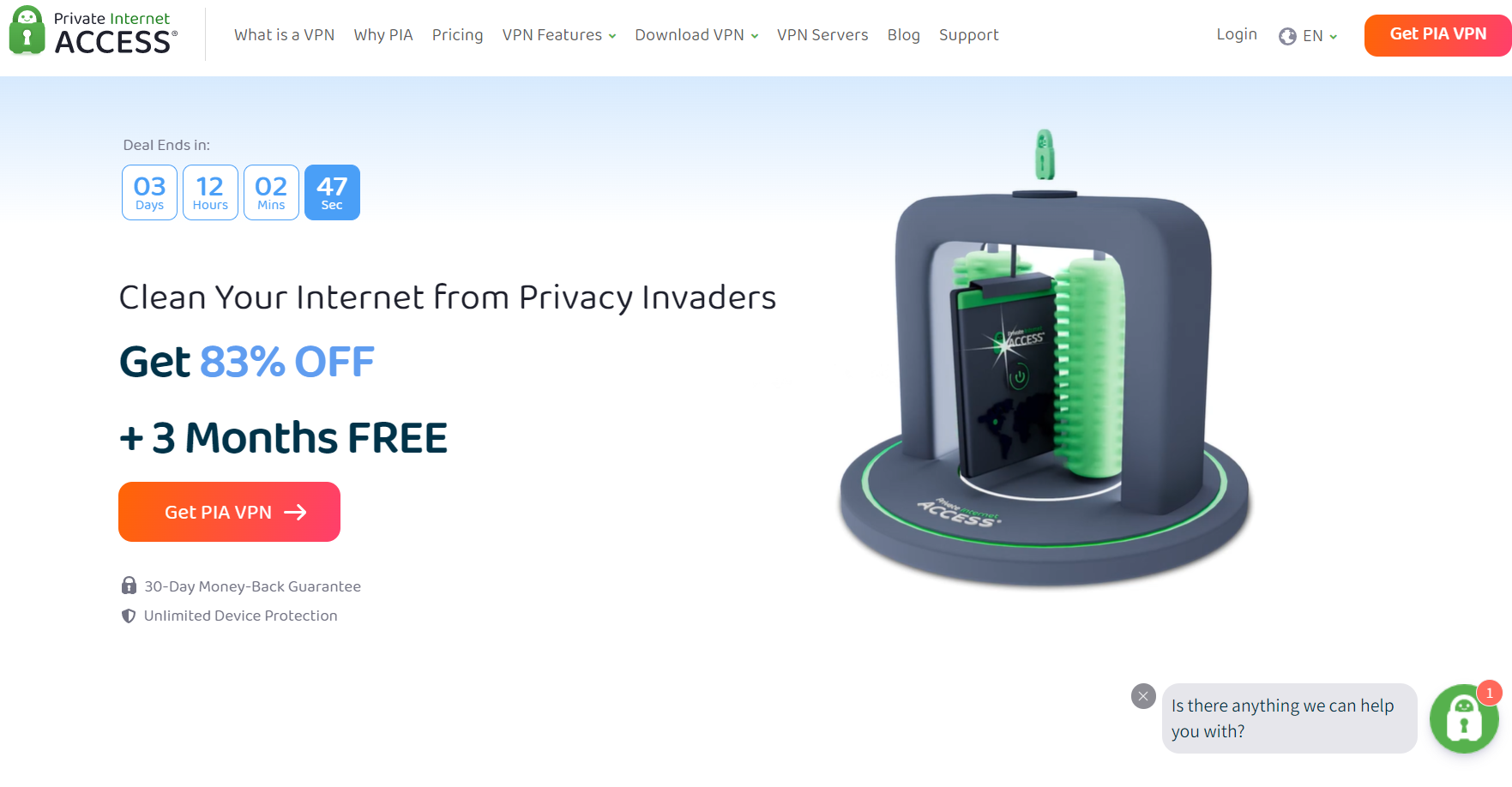 Overview
Private Internet Access VPN is an inexpensive VPN provider known for its dedicated IP that only the users have access to. PIA VPN offers an innovative and fully anonymous token-based model for users to authenticate ownership of their dedicated IP without the VPN company ever being able to associate the IP with the user account. Other benefits include smoother account access, better browsing experience, and IoT device protection. Additionally, it excels in anonymous file-sharing and torrenting.
Highlights
All-Rounder VPN – Fast access to worldwide servers, technical support available 24/7, and 100% open-source software.
No Log Policy – PIA VPN does not store any user information including user IP address, browsing history, VPN session timestamps, bandwidth consumption, DNS queries, and connection logs. This is reviewed in an independent audit and proven twice in court.
Dedicated IP Address – Provides a unique IP address that only the user has access to, and gets a more consistent web browsing experience that has fewer interruptions.
Antivirus – State-of-the-art antivirus removes malware without user tracking or logging.
VPN Router – Allows users to configure a VPN on their entire home or office network. Provides protection to any connected device — even devices that aren't compatible with VPNs.
VPN Server Location – Has over 17,000 servers in 84 countries.
Pricing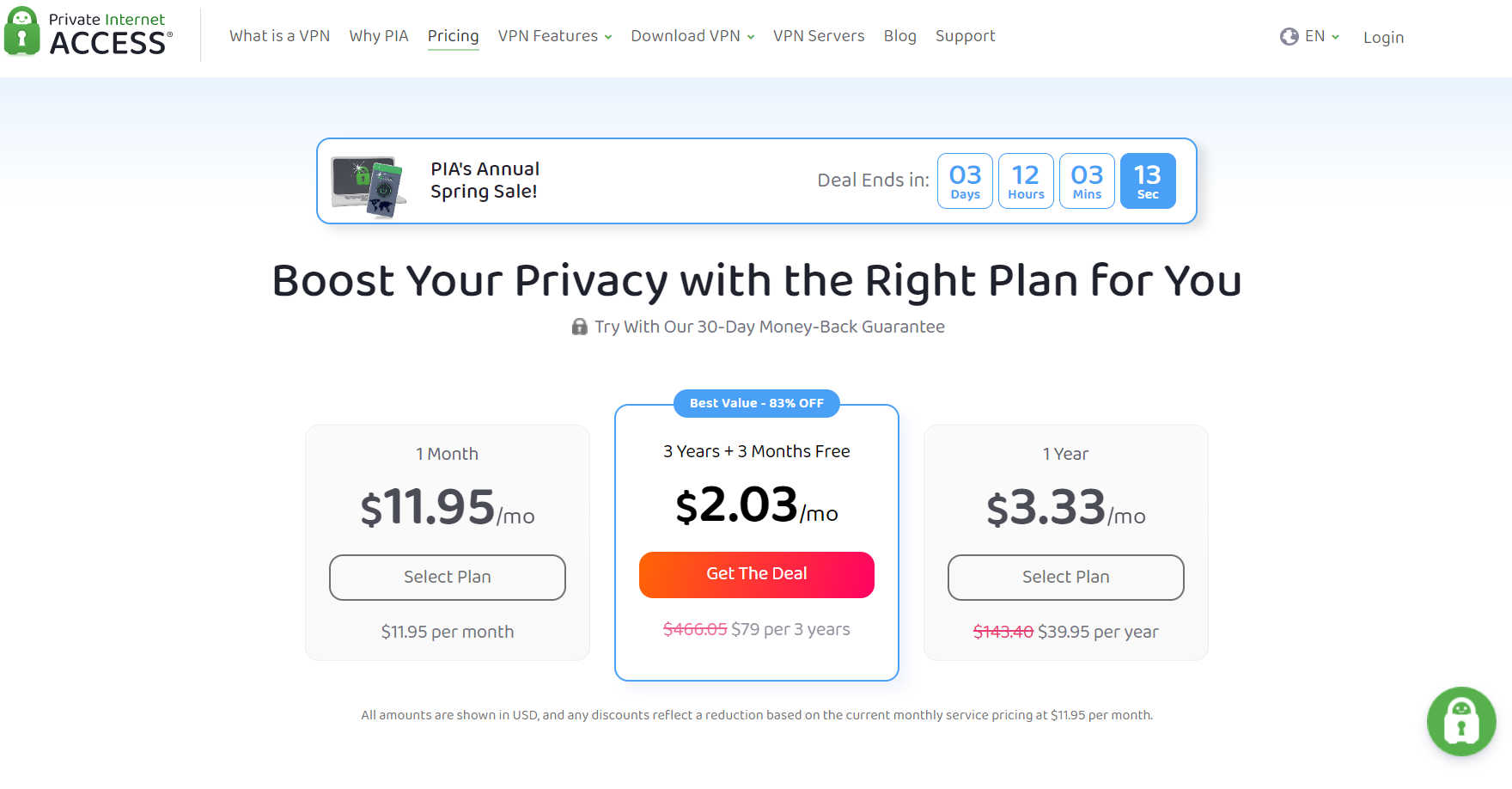 1 Month – $11.95 Per Month
1 Year – $3.33 Per Month
3 Years + 3 Months Free – $2.03 Per Month
Bottom Line
Private Internet Access VPN is ideal for users that are looking for affordable and feature-rich cybersecurity software and values privacy above all. As a bonus, there are also premium add-ons for extra security to look out for. Try Private Internet Access VPN with its 30-day money-back guarantee.
ProtonVPN: Best for Free VPN Plan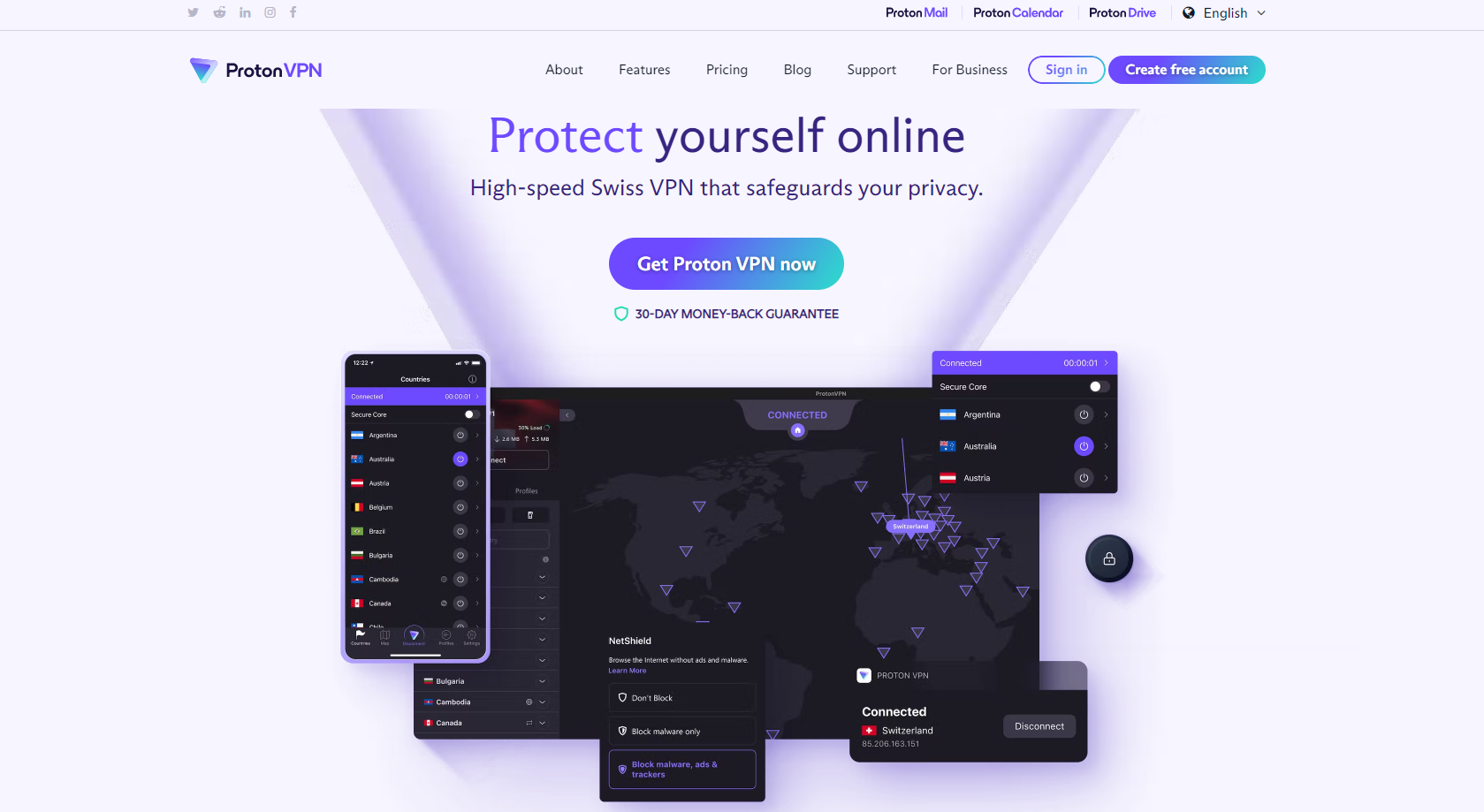 Overview
Proton VPN is a Swiss VPN provider known for having a free plan with premium features. Its design is inspired by the work created by journalists and activists in the field, making digital privacy and security a focus of Proton VPN. Users can access any website or stream content anywhere in the world. Proton VPN is part of the VPN company, Proton, which offers other apps such as ProtonMail, ProtonCalendar, and ProtonDrive.
Highlights
No-Logs Policy – Does a not keep record of any user information.
VPN Accelerator – VPN servers improve speed performance by up to 400%.
10 Simultaneous Connections – Allows users to have simultaneous connections with 10 devices.
Tor over VPN – Integrates with the Tor anonymity network to route all user traffic and access Onion sites.
NetShield Ad-Blocker – Blocks ads, trackers, and malicious scripts, its DNS filtering prevents connections to unwanted connections.
Kill Switch & Always-On VPN – Secures IP address when the connection is interrupted and is always- on to reconnect.
Strong and Full Disk Encryption – Uses open-source encryption standards such as AES-256 and ChaCha20. All servers are bare-metal-only and use full disk encryption.
VPN Server Locations – Has over 1,900 servers in over 65 countries.
Pricing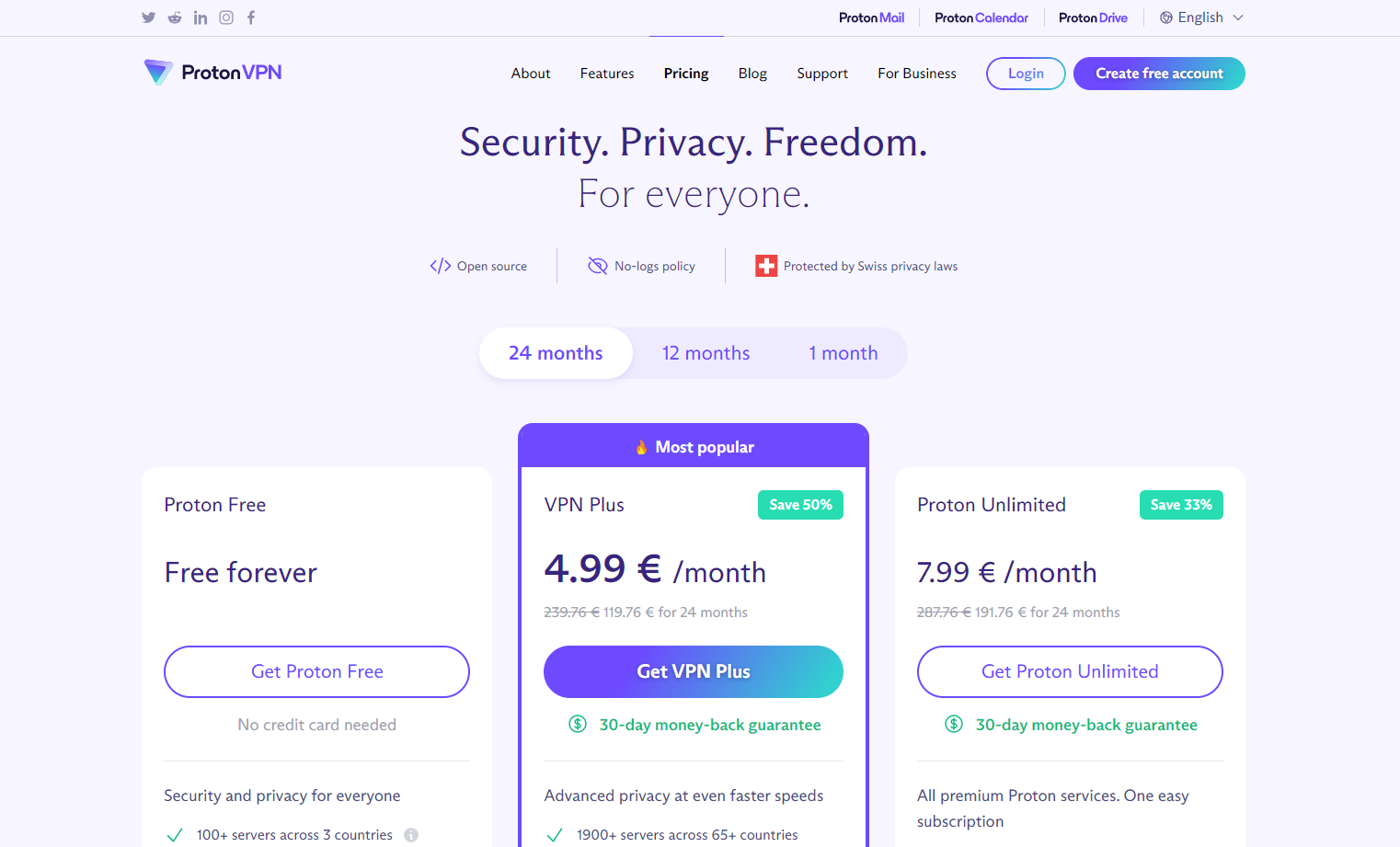 Proton Free – Free Forever
VPN Plus – $5.39 Per Month
Proton Unlimited – $8.64 Per Month
Bottom Line
Proton VPN is great for users that want to get all the benefits of strong and reliable VPN services, for free. No IP or DNS leaks, no data usage limits, and no hidden charges. Get your free Proton VPN today.
Surfshark VPN: Best for Security of Unlimited Device Connections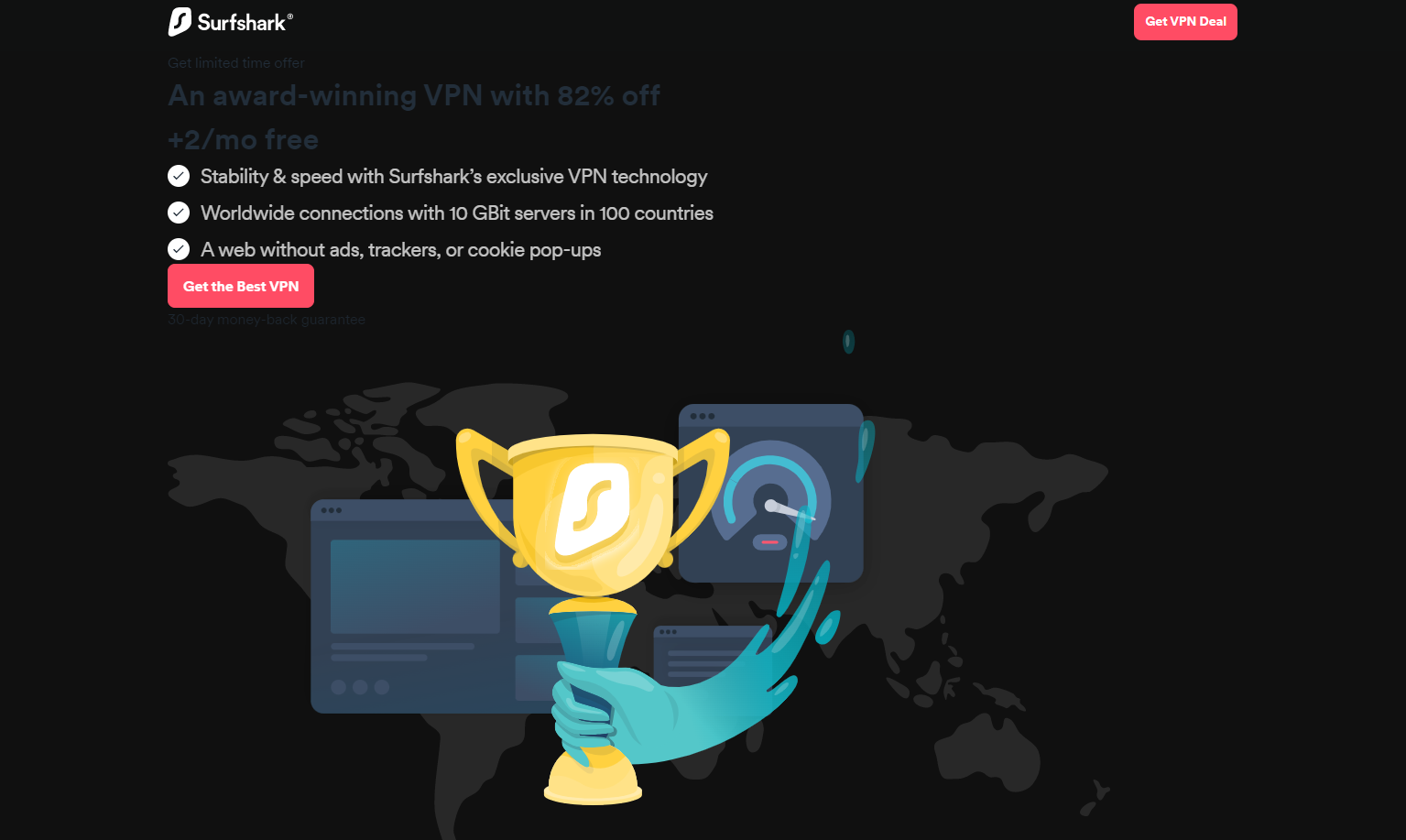 Overview
Surfshark is a VPN service provider that integrates seamless and secure protection to unlimited connections of devices simultaneously. Its rotating IP function further increases user anonymity and security online without changing the IP location. Other unique features include GPS-spoof and unblocking most streaming networks. The number of services this affordable VPN provider has to offer is not limited and continues to develop, exceeding its value-to-price ratio.
Highlights
Unlimited Devices – Allows simultaneous connections of an unlimited number of devices.
No-logs policy – Does not monitor, track, or store what users do online. That means no connection or activity logs.
Kill Switch – Activities and sensitive data are never exposed even when the VPN connection fails.
Bypasser – Allow specific apps & websites to bypass the VPN. Works great with mobile banking apps.
Private DNS leaks protection – Private DNS on each server and leak protection when using IPv4 stack.
CleanWeb – Surf in a clean cyber ocean with no ads, trackers, malware, or phishing attempts.
Strong Encryption – Uses industry-leading AES-256-GCM encryption.
Secure Protocols – Uses WireGuard® as a default protocol on all apps.
Change User IP -Change users' IP address to hide digital identity track.
Pricing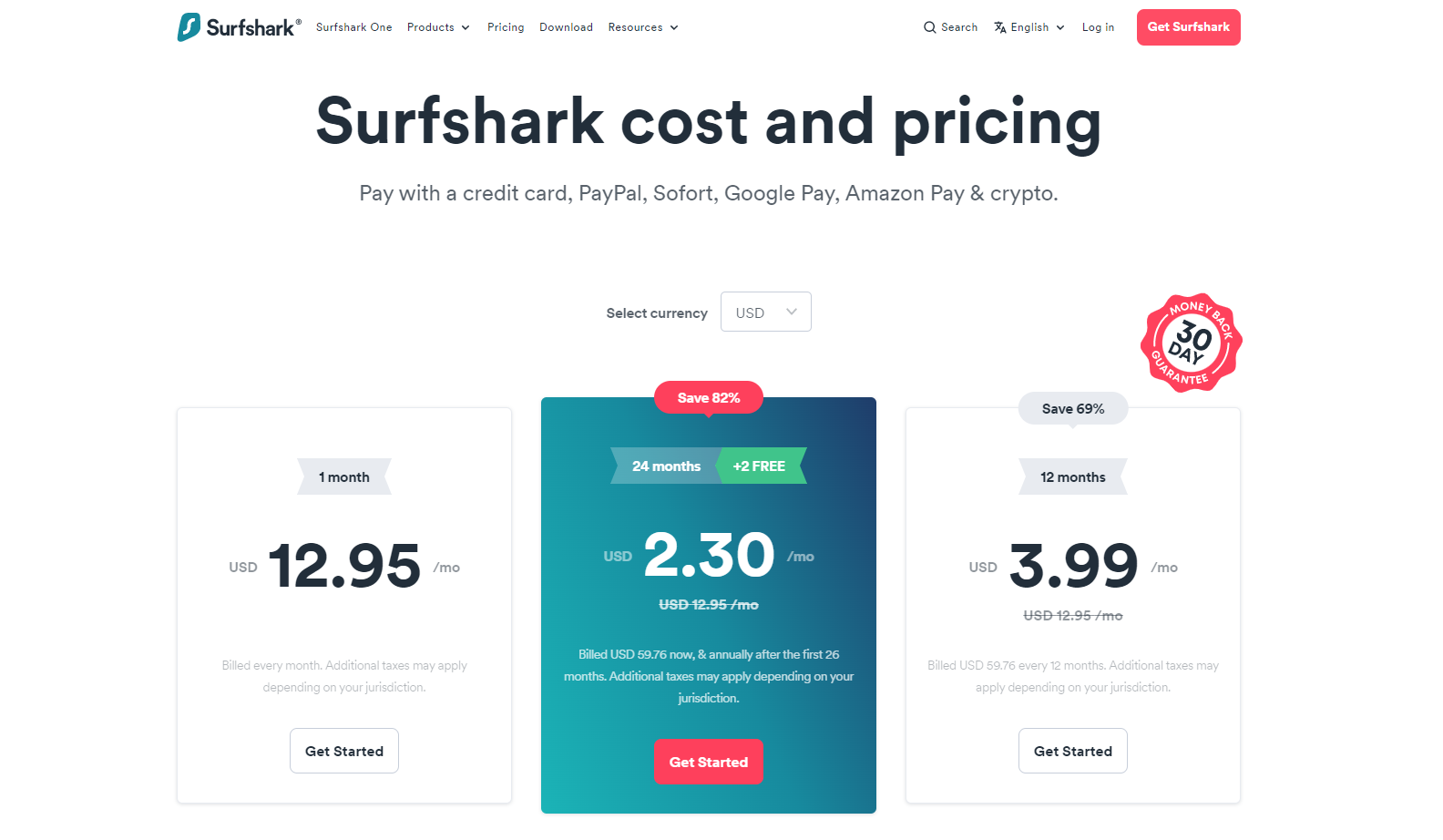 1 Month – 12.95 Per Month
12 Months – $3.99 Per Month
24 Months + 2 Months Free – $2.30 Per Month
Bottom Line
SurfShark VPN is ideal for low-budget users or organizations that opt for yearly subscription plans and want great technical and security features, surpassing the value of what users pay for. It is also great for bypassing regional or IP-based geo-blocks, torrenting, rotating IP addresses, and streaming services such as Disney+, Netflix, HBO Max, Spotify, and even YouTube. Try Surfshark with a 30-day money-back guarantee.
Windscribe: Best for Unblocking Content and Website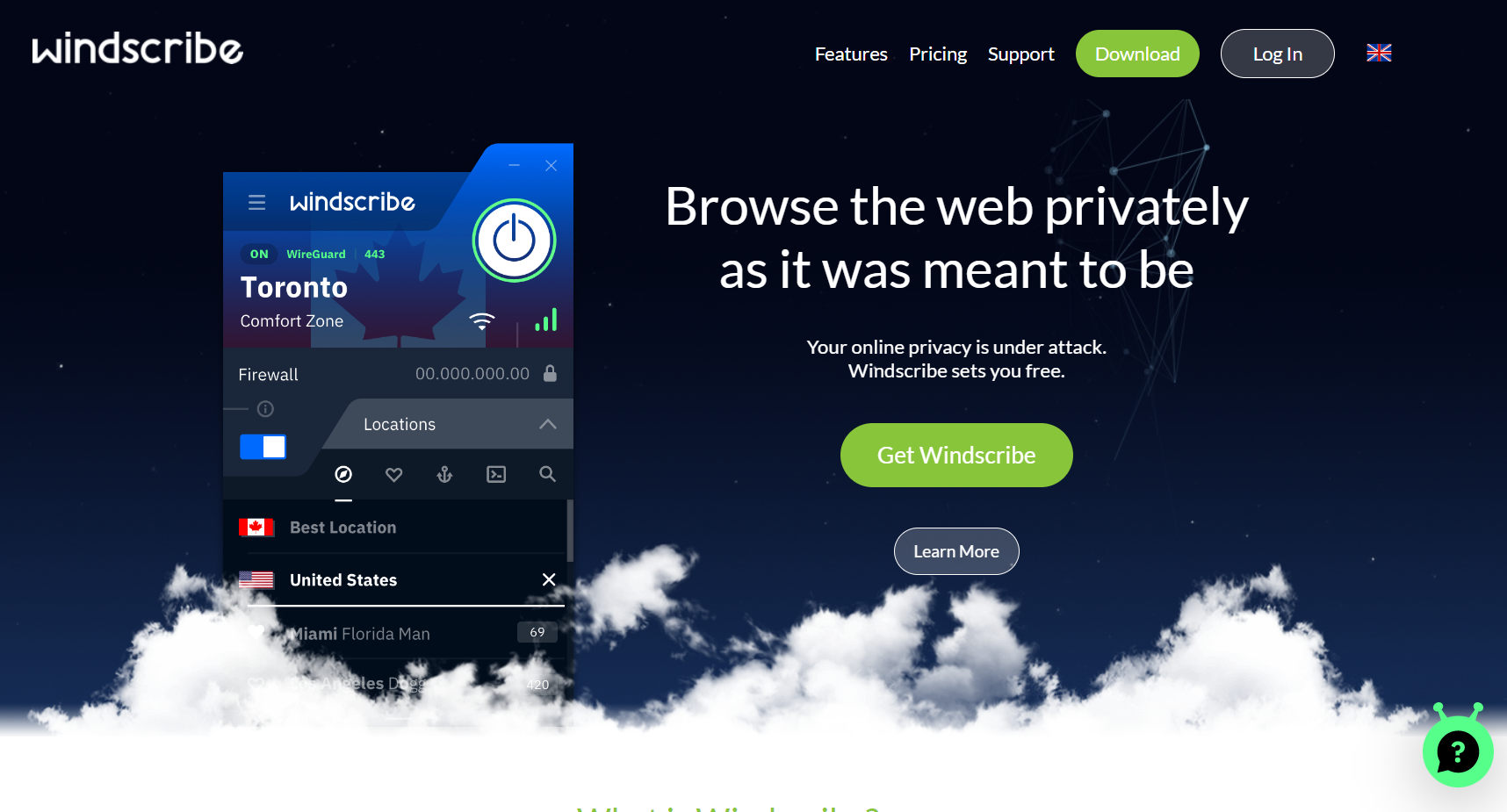 Overview
Windscribe is one of the best VPN servers when it comes to encrypting anonymous user browsing activity, blocking ads from malware and phishing websites, GPS spoofing, and unblocking geo-restricted content and streaming services. Windscribe has features such as a dedicated kill switch and a static IP address that lets users manage their online identity and keep them safe while accessing content and site restrictions that other virtual private networks are not able to bypass.
Highlights
No Identifying Logs – This VPN service cannot personally identify users based on IP and timestamp.
Strongest Encryption – Uses AES-256 cipher with SHA512 auth and a 4096-bit RSA key.
Double Hop – Users can proxy their connection through any two VPN servers on the Windscribe network.
Masks IP address – Gives unrestricted and private access to entertainment, news sites, and blocked content in over 69 different countries.
Split Tunneling – Users can choose which apps go over the VPN, and which do not.
Split Personality and Time Wrap – Randomly rotate user agents to reduce the chance of basic fingerprinting and change the timezone to avoid tracking.
Firewall – Blocks all connectivity outside the tunnel to eliminate all types of leaks.
R.O.B.E.R.T. – One-of-a-kind customizable server-side domain and IP blocking tool.
Pricing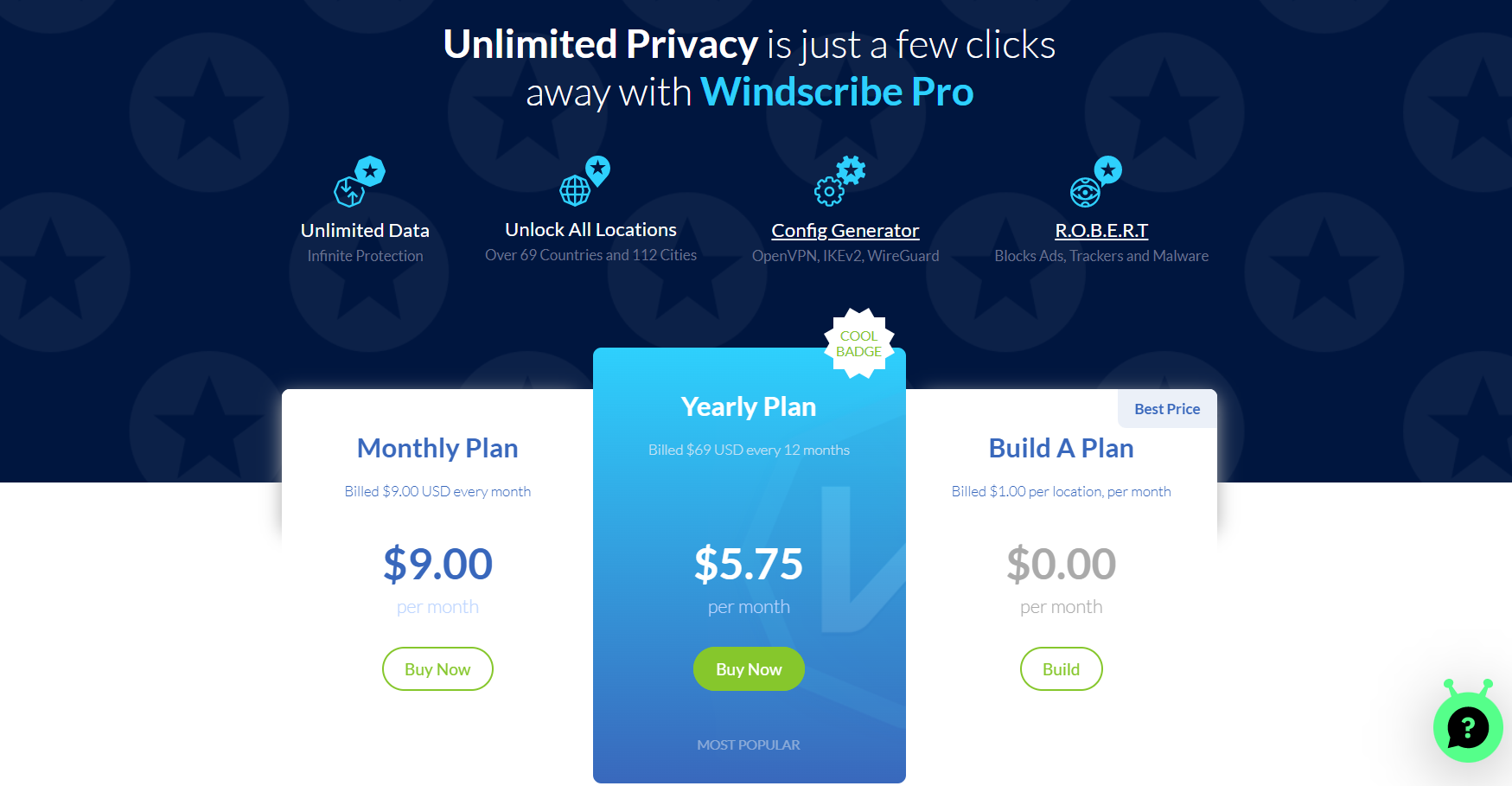 Free – Available upon download.
Monthly Plan – $9 Per Month
Yearly Plan – $5.75 Per Month
Build A Plan – Custom Quote
Bottom Line
Windscribe is a great choice for users that want to protect their online identity and privacy while bypassing geo-restrictions and unblocking content and websites, it even unblocks 32 international Netflix catalogs, something which other VPNs cannot offer to match. Windscribe also performs well with Hulu, HBO Max, Amazon Prime Video, BBC iPlayer, and Disney+. Get started with Windscribe today.
IPVanish: Best for Cybersecurity Configuration and Versatility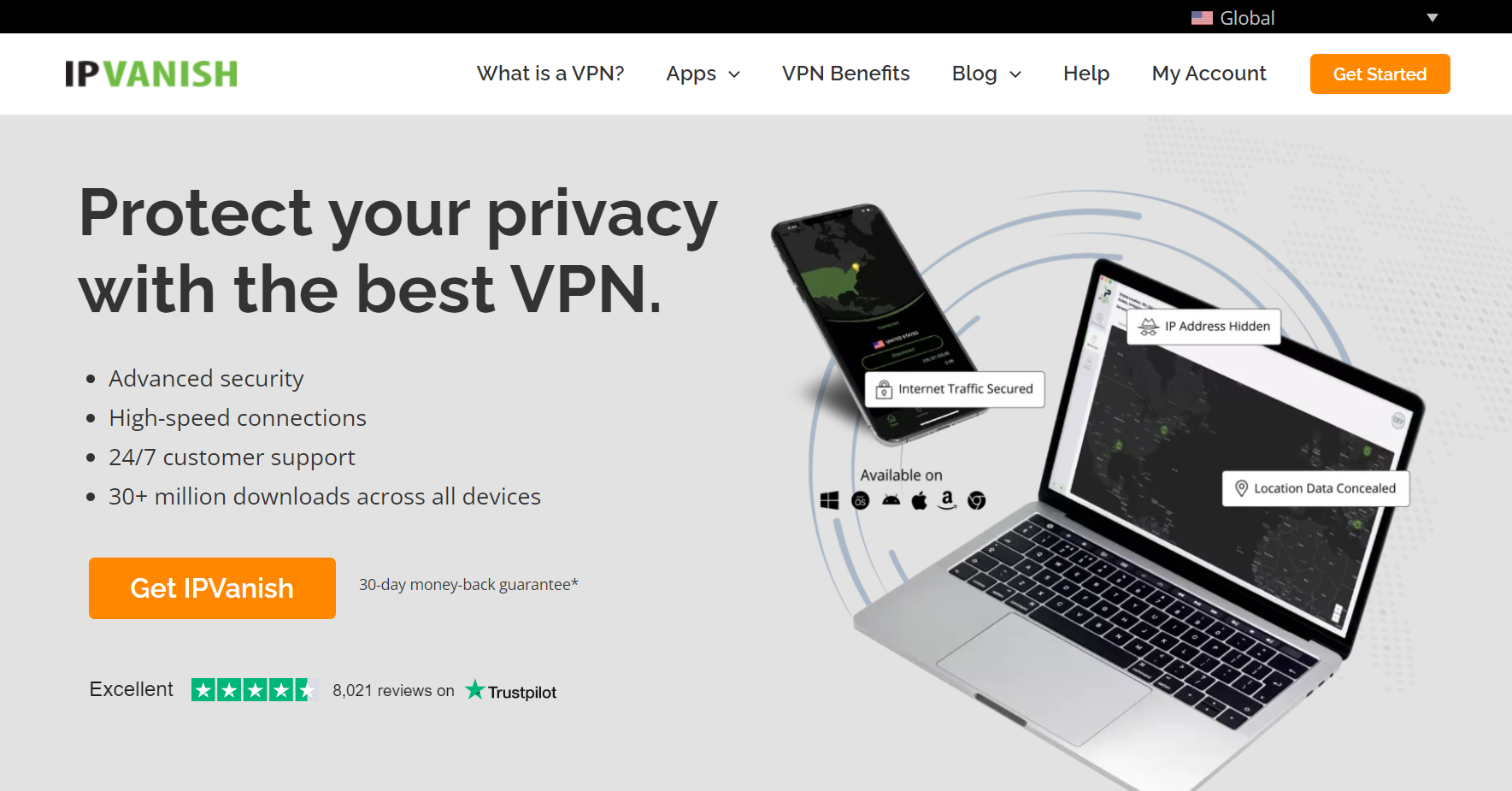 Overview
IPVanish offers all-rounder VPN services that are highly configurable and available on unlimited simultaneous connections. Users are provided with straightforward and affordable top-tier security and privacy features that they can customize depending on their demands. Including excellent graphic performance and an extensive number of servers. This plug-and-play solution comes with a free SOCKS5 proxy for torrent users. IPVanish also provides a secure Cloud storage solution and 24/7 live customer support with live chat and phone support.
Highlights
Verified No Logs -Independently verified no-logs policy ensures that internet traffic is not recorded by VPN apps at any time.
Shared IP addresses – Increase user anonymity and hide location with more than 40,000 IPVanish IP addresses.
Encrypted web browsing – Shield user internet traffic from snoopers, Man-in-the-Middle attacks, advertisers, and more with advanced encryption standards.
High-Speed Surfing – VPN service has been engineered to provide the fastest connections possible, and now it's faster than ever with the WireGuard® VPN protocol.
Unmetered Connections – Unlimited simultaneous connections per IPVanish account.
Advanced IPVanish VPN Features – Includes split tunneling, DNS leak protection, automatic startup, and multiple connection protocols.
VPN Server Locations – Has over 2,200 servers in over 75 VPN locations.
Pricing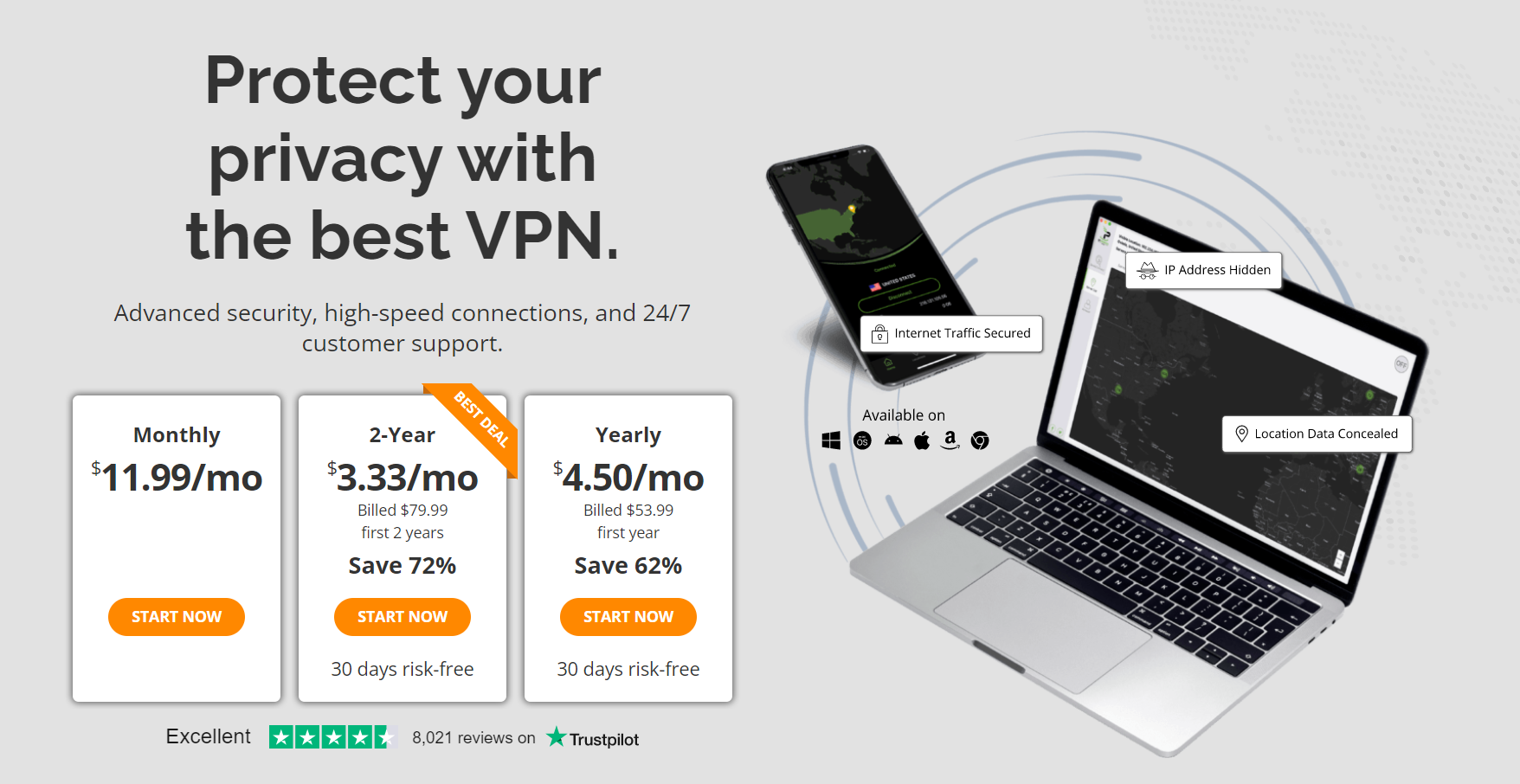 Monthly- $11.99 Per Month
Yearly- $4.50 Per Month
2-Year – $3.33 Per Month
Bottom Line
IPVanish excels in a number of features such as security and privacy, performance, streaming, and cross-platform compatibility. Making IPVanish ideal for users that want an affordable, feature-rich, good-quality, versatile, and configurable VPN service provider. Try IPVanish with a 30-day money-back guarantee.
What is VPN software?
Virtual Private Network (VPN) software is a cybersecurity tool to protect users' internet connections and online privacy. VPNs use encryptions or an encrypted tunnel to ensure safe and secure connections. Some actions it can do are provide instant alerts from potential malware, bypass network blocks, and even hide users' IP addresses to avoid tracking internet traffic when users connect to public Wi-Fi networks.
What is the most trustworthy VPN?
VPNs such as PIA VPN, NordVPN, ExpressVPN, and SurfShark undergo independent auditing, ensuring the transparency, security, and privacy of every user. Among the VPN providers on this list, Private Internet Access VPN takes the crown for most trustworthy. Just one subscription provides dedicated apps for all operating systems, a multitude of privacy features, and protects an unlimited number of devices.
Which free VPN is best to use?
Proton VPN is the best free VPN with premium security features in its forever free plan. With Proton Free, there are security and privacy features for everyone. Users are given access to over 100 servers across 3 countries, a dedicated ad blocker, unlimited bandwidth, and reliable customer support. In addition, Proton also offers free features from Proton Mail, Calendar, and Drive.
Can you be tracked if you use VPN?
Yes, even with the use of a VPN, there is still a chance for users to get tracked. User privacy online is getting harder and harder to maintain. To avoid tracking, users opt to utilize VPNs. It works by stacking cybersecurity layers to lessen the likelihood of tracking. That is why it is important to find reliable VPN providers.
How much does a VPN cost?
There is a wide range of pricing quotes for VPN providers. VPN companies usually categorize services by plans and provide monthly or yearly billings. The cheapest plans are the ones that charge free and the pricey ones range around $12-$15 per month. Users can check out sales such as the ones offered by NordVPN, SurfShark, and Private Internet Access.
Final thoughts
Cybersecurity is a must for all internet users to ensure online security and privacy. Users do not have to be tech-savvy to utilize VPNs. VPN companies recognize their importance and continue to develop user-friendly interfaces and features to encourage more users to avail of their services. Hopefully, our list of the best VPN service providers helps you pursue stronger cybersecurity.