13 Best AI Sales Tools of 2023
Artificial intelligence (AI) is dominating the market. With the advancement of technology, it has become integral if you aim to boost your business. Missing out on this high-tech approach would mean being left out of potential opportunities for success. Sales and marketing software, for example, stand hand-in-hand in using AI to boost their performances. The use of AI assistant tools can help improve sales and workflow by automating repetitive tasks, streamlining, accurately recording customer behavior, increasing closing deals, and just optimizing the entire sales process. Sales become easier with a few clicks. Don't miss out on being one of the leading organizations that use AI sales assistant tools.
What Are the Best AI Sales Tools?
There are over 100 AI sales software providers today, with endless features and pricing plans to choose from to suit your business needs.
The best AI sales software should prove significant value by helping companies and individuals increase their sales. Here are some key features to look for when browsing through our list of virtual sales assistant tools:
Automate tasks for an easier workflow and organize data
Integrate with other software like CRM tools to reduce system complexities, increase productivity, and maintain data consistency
Analyze and identify past trends, as well as detect buying signals, to highlight specific impacts on customer behavior and history
Enable personalization of playbooks, emails, conversations, notifications, dashboards, and more
Collects conversational insights for sales teams to learn more from and sales managers can gain better coaching strategies
Avoid errors in writing and use the right content for the target leads
Help companies and individuals reduce manual labor, increase qualified leads, and more deals.
Some AI software has limited features as they focus on certain platforms such as making campaigns, writing, or revenue analysis. But that does not mean it does not stand equal with other multi-featured software with the same price range. Its quality is honed and can be the perfect fit for businesses and individuals with specific needs and requests.
Like with any software, comparing brands and looking for the optimal features to assist you can be time-consuming. Searching for the right plan and switching between tabs for comparison with other plans can also be quite a drag. Fortunately, we have listed some noteworthy virtual sales assistants widely used in the sales industry. We have added what and who they are, their top features, and their pricing plans.
In recent articles, we have seen the best AI software for video editing, content creation, productivity, writing, and social media. In today's article, let's check out some of the best AI sales software we have got today:
Drift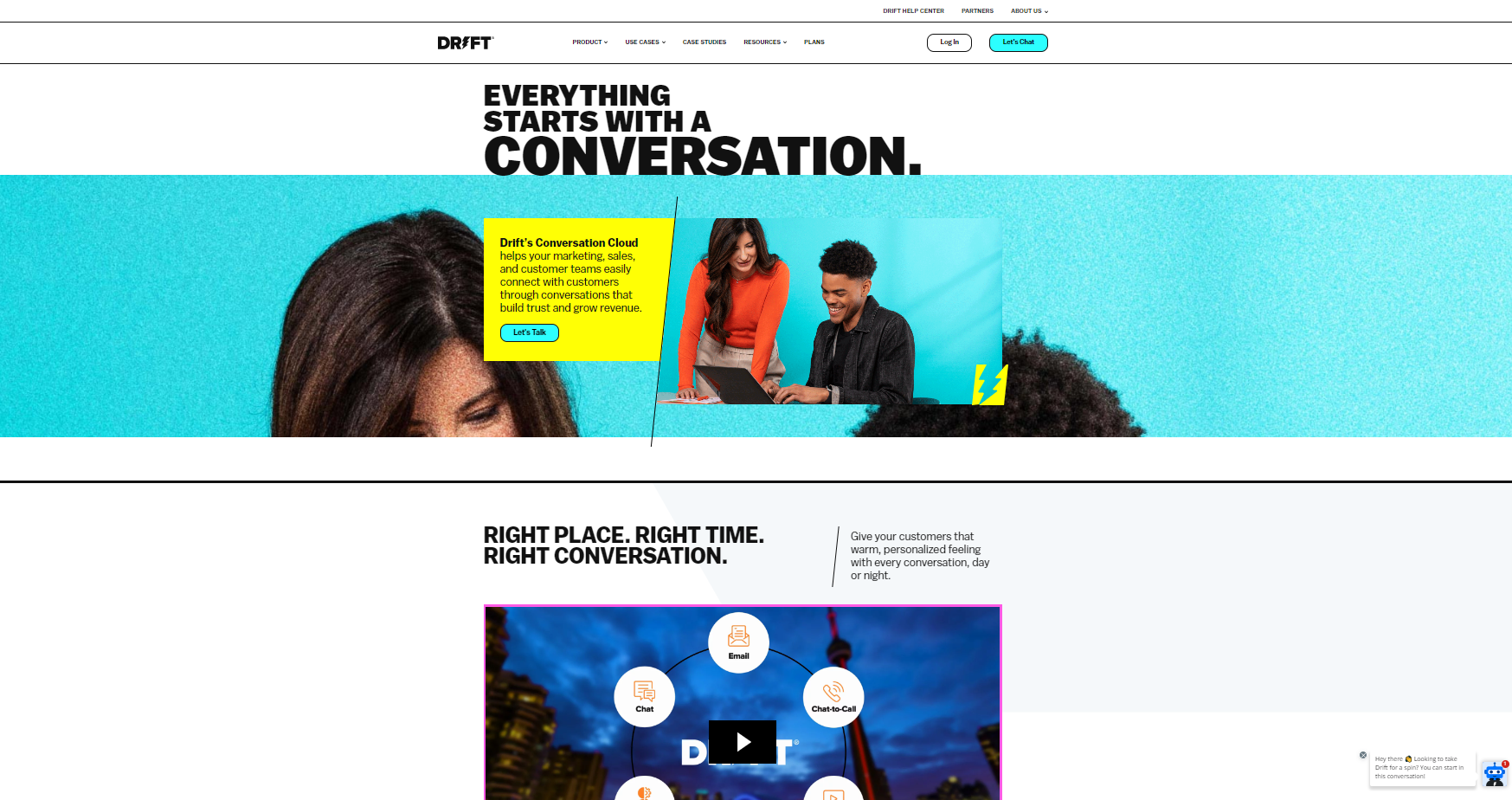 Overview
Drift is a well-known AI sales software that is used for conversational marketing. It is a chat platform that uses AI-enabled features that aims for better quality leads, closing sales, and marketing. Drift promises a 670% return on investment (ROI), a 100% increase in lead-to-pipeline conversion rates, and a 50% increase in sales rep efficiency for its over 50,000 customers.
Top Features
Potential customers can connect with live chat
Conversation inbox where companies can view visitor information and site activity, schedule meetings with clients, send files, type preset commands, and add tags
Easy to drag and drop Bot Builder to allow customer interaction set up quickly
Account-based marketing (ABM) feature where customers are offered personalized campaigns based on their specific attributes and needs.
Customer data can be extracted from other systems that can be used for segmentation, content personalization, and rich reporting.
Drift has a customizable Playbooks Builder and Playbooks Report. Data is recorded into advanced marketing campaigns to send targeted emails and chat messages, and analysis of marketing performance is viewable.
Chatbots are available in 30 languages
Integration with Google and Outlook, as well as other tools such as Salesforce and MailChimp
Pricing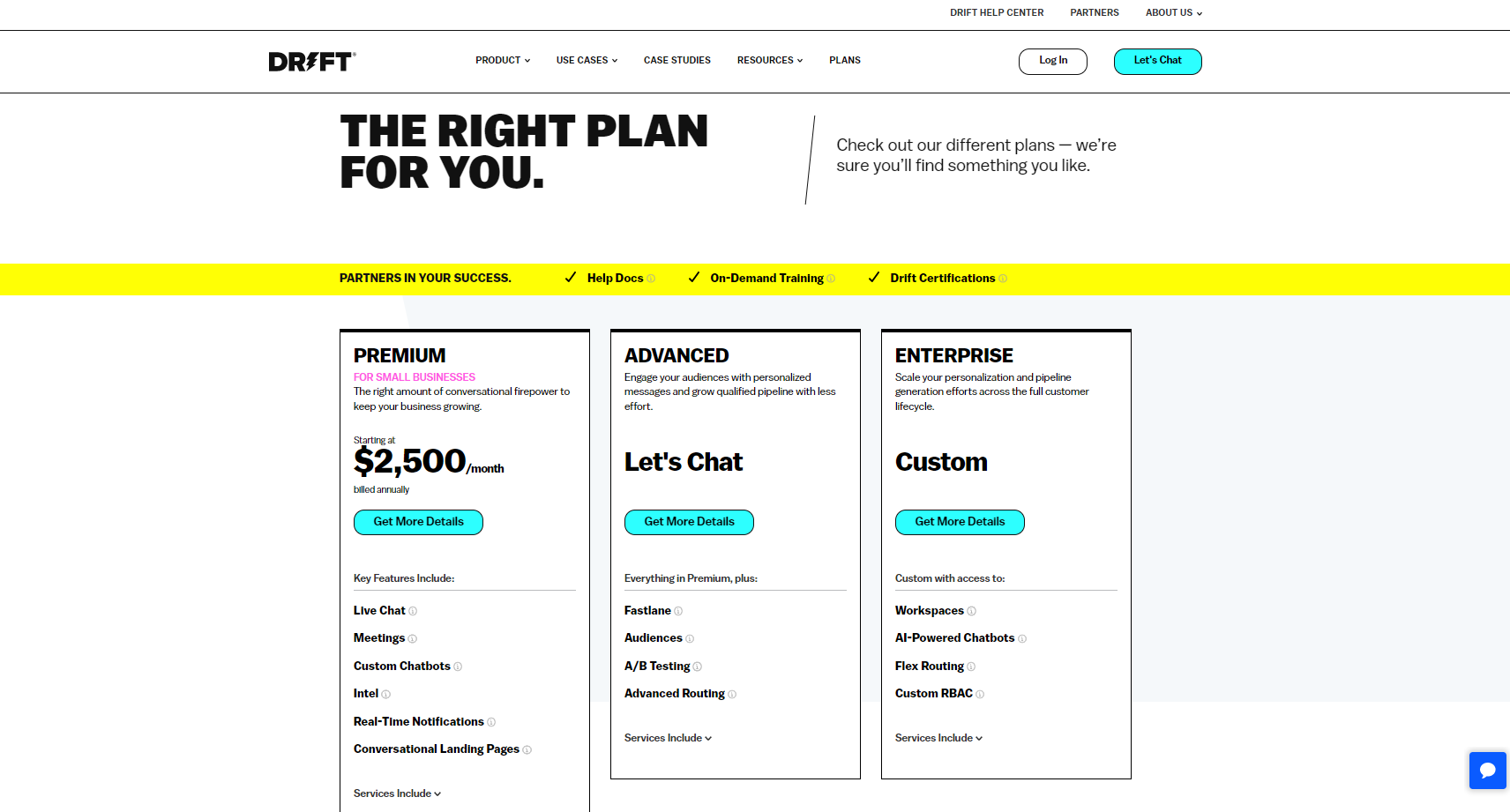 Drift even offers a one-seat free version for live chat. And three paid plans which include Premium, Advanced, and Enterprise. A Premium plan starts at $2,500 per month and is fit for small businesses, an Advanced plan is fit for medium-sized businesses, and an Enterprise or customized plan is fit for large enterprise businesses. Customers will have to contact Drift for the pricing of the advanced and enterprise as it will vary depending on the tools inquired.
Bottom Line
Drift is an advanced AI sales assistant tool that is used by large companies for its complex and high-quality tools, likewise, it comes with a price that large companies are expected to pay. It also works for smaller-sized businesses that are willing to work with advanced and expensive tools.
Warmer.ai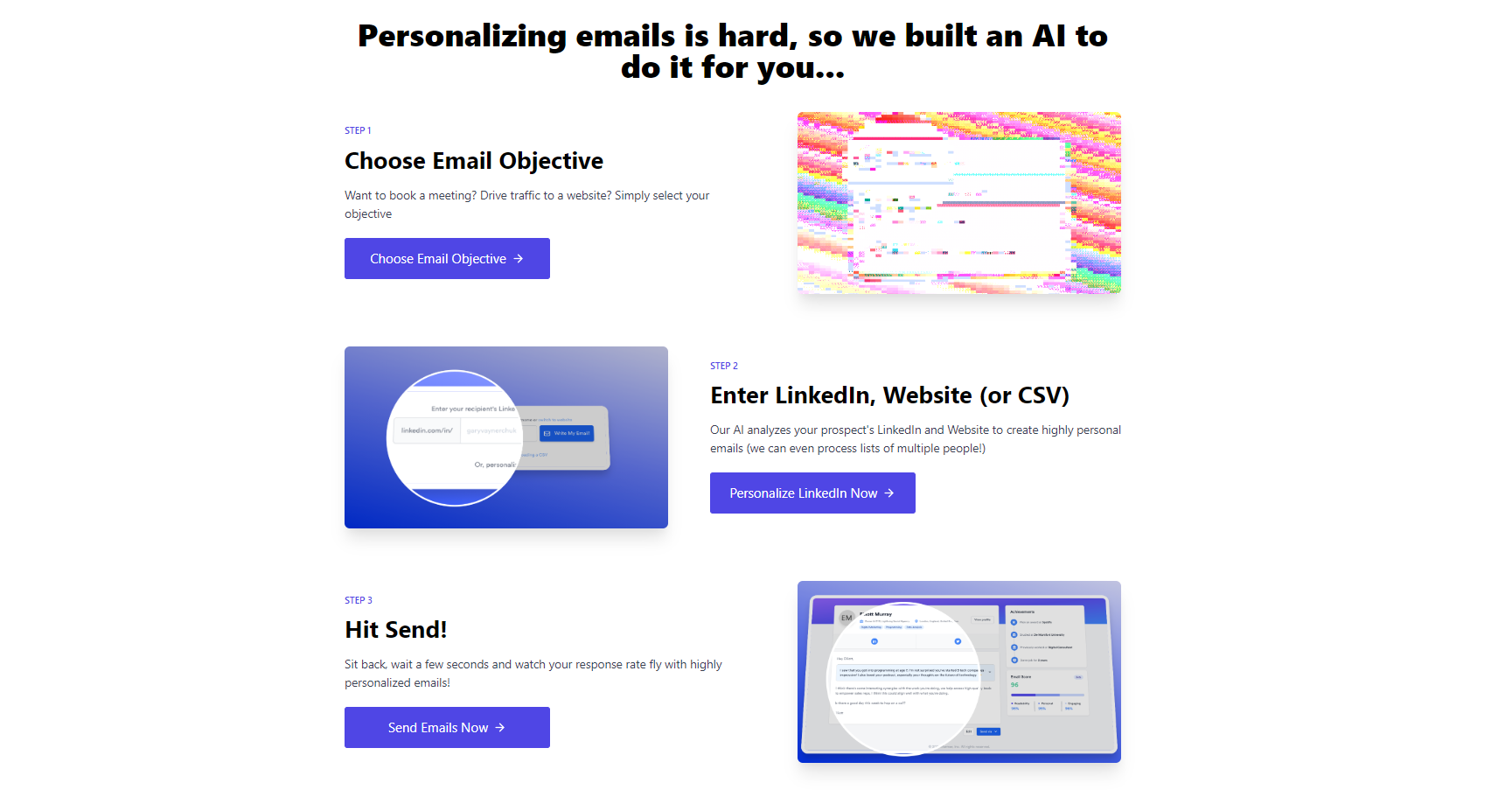 Overview
Warmer.ai is an advanced AI email personalization platform that excels in cold outreach. This AI software analyzes the potential customers' LinkedIn accounts and other websites to generate highly personalized emails. Sales and marketing teams will receive more positive responses from cold emails, gain more deals, and increase sales.
Top Features
Highly personalized emails that are generated from LinkedIn profiles and other websites for an enhanced customer experience
Easy booking of meetings and calls through cold emails
Pricing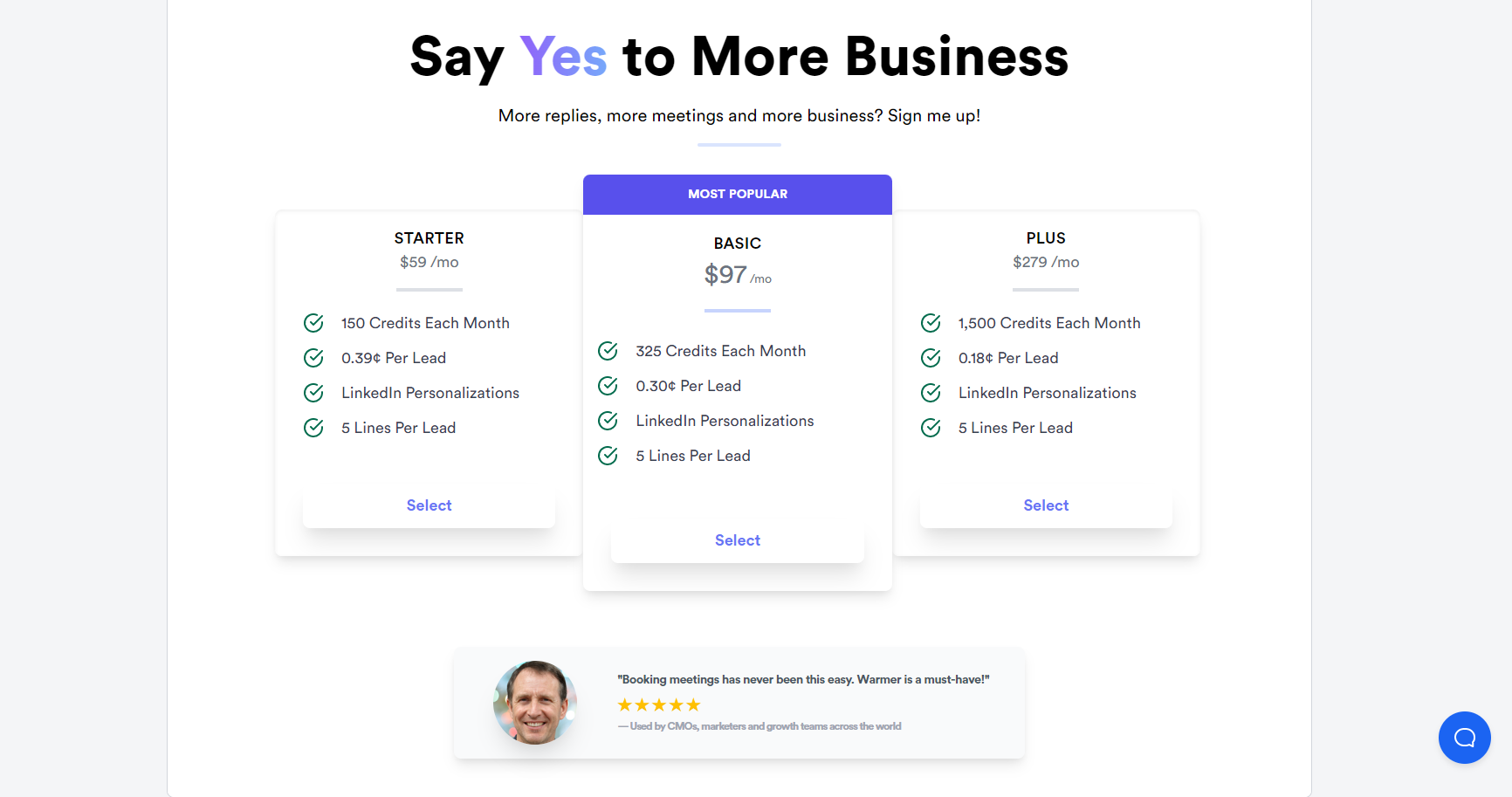 Interested customers can sign up with their email for a preview of the email customization process. Upgrading will lead customers to three plans: Starter, Basic, and. Warmer.ai uses the number of credits to categorize pricing plans, 1 credit is equal to 1 lead. The starter plan starts at $59 per month, the basic plan starts at $97 per month, and the plus plan starts at $279 per month.
Bottom Line
Warmer.ai is fit for small and medium-sized businesses, as well as for individuals. If you're looking for a cold email-focused sales assistant, Warmer.ai is for you. You can check out the free preview, and receive 10 free credits.
Sapling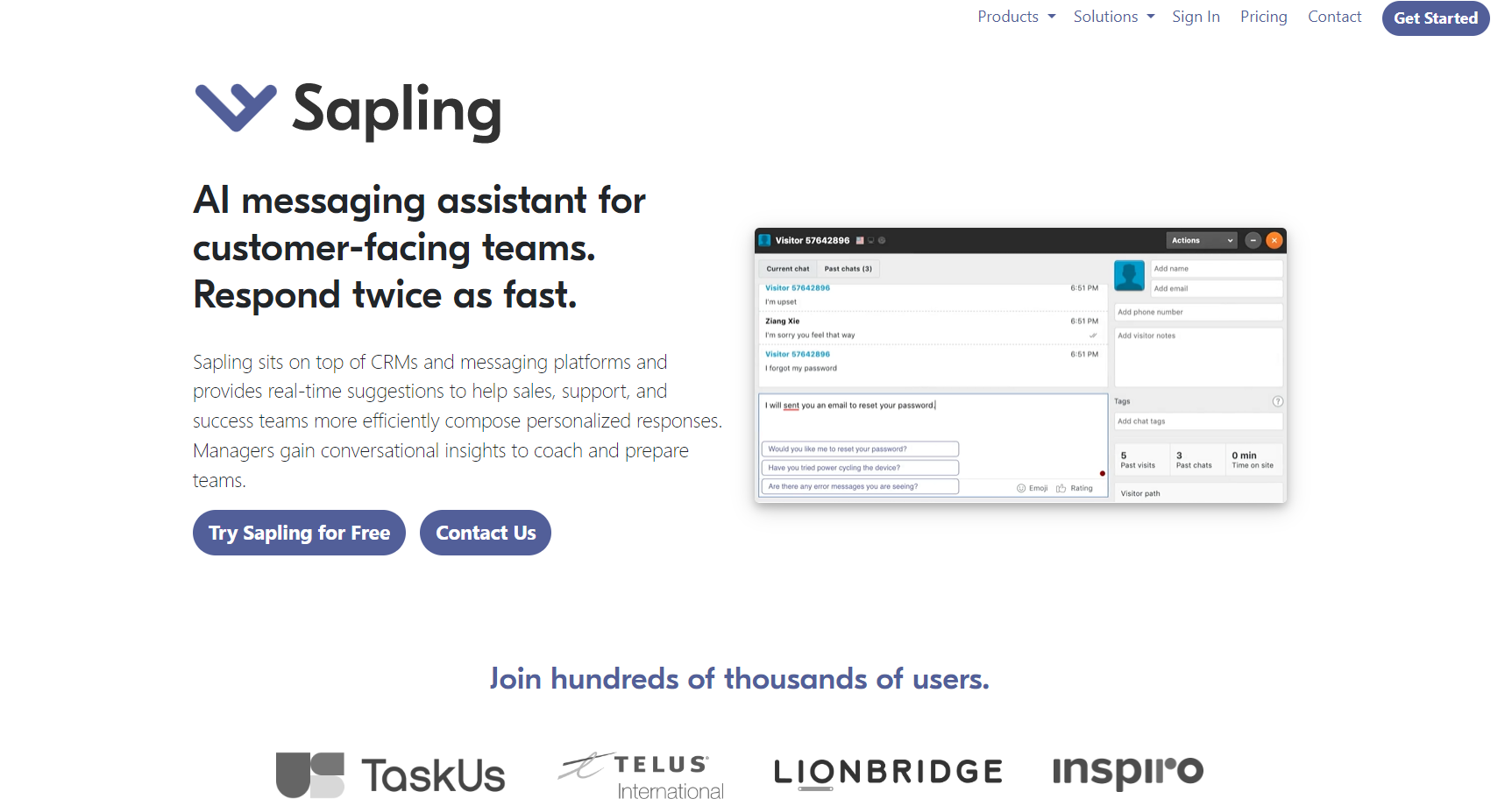 Overview
Sapling is a sales assistant software that uses AI to compose clear and effective messages. This sales software works with messaging platforms and CRMs to assist sales reps in creating personalized responses. Sapling analyzes your texts and suggests auto-grammar checks, spelling checks, dictionary searches, personalized word predictions, and more in just a matter of seconds. And it also keeps weekly writing statistics and autocompletes for an organized data entry and workflow.
Top Features
Better and faster writing by providing personalized suggestions based on context and recorded data
Flexible use of the English language
Available use of API and SDK engages developers to create language model functionalities for their applications.
Catches 60% more errors than competing software
Uses machine learning in autocomplete solutions to provide deep learning-powered autocomplete suggestions across various CRM and messaging platforms.
Instantaneous text expander and expand frequently-used snippets with short keystroke sequences.
Suggest solution recommends live chat responses across support and sales platforms, resulting in faster resolutions
Provides Google Chrome support and Google Docs add-on support
Gain more conversational insights for sales coaching
Over 40 integrations including Google, Amazon Web Services, Salesforce, Microsoft 365, Discord, and LinkedIn
Pricing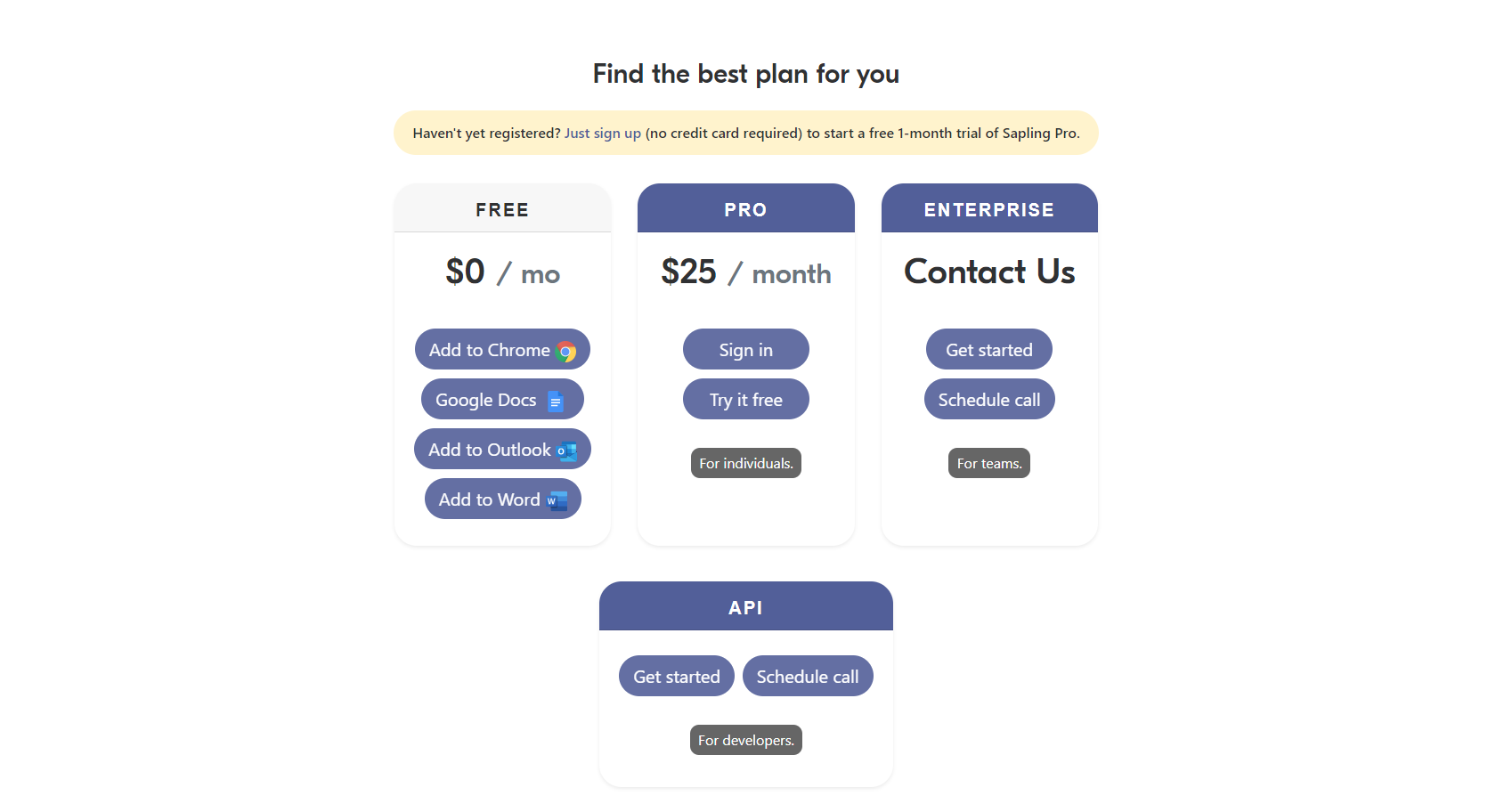 Sapling Grammar Checker and Writing Assistant is a free version extension available to download on the Chrome Web Store. There are also two paid plans: Pro and Enterprise. Sapling Pro starts at $25 per month. The Enterprise plan is geared towards large companies, customers will have to contact Sapling as the price will vary depending on customers' needs and requests.
Bottom Line
Sapling sits on the top of CRMs and user-friendly AI-driven messaging platforms. It provides real-time suggestions to create efficient and faster-personalized responses to suit the customer's needs. Enterprise businesses would gain efficient language models from Sapling, but overall this sales software is suitable for businesses of all sizes.
Growbots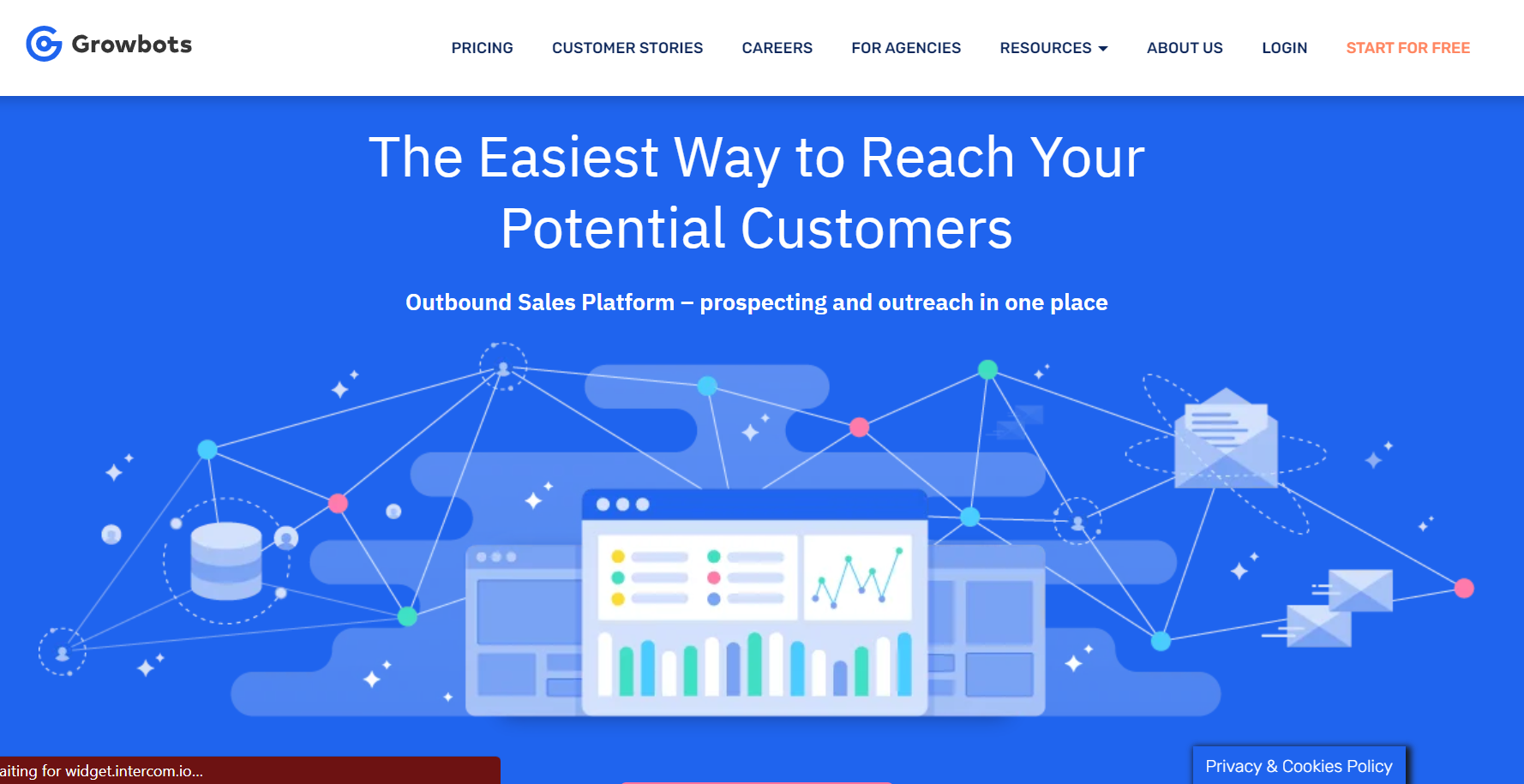 Overview
Growbots is an all-in-one AI-powered outbound sales platform, it generates prospects, automates email drip campaigns, and the entire sales process of lead generation. It analyzes specific target customers and provides their updated information from the database of their emails, making the sales funnel more identifiable and categorized based on customer interests. This sales assistant tool projects over 250k leads generated, 10M emails analyzed, and a $1.2b pipeline created.
Top Features
Tracks the marketing source of every individual website visitor
Imports and exports from other sources for easy contact management
Provides lead database that includes contact details of potential customers
Provides webhooks and integration to gain lead information
Personalized emailing with automated prospecting and follow-ups
Runs multiple campaigns at the same time, reducing time spent on individual emailing
Self-updating database through live email verification. Every email increases accuracy, resulting in high email deliverability with a bounce rate below 10%
Multichannel sequences include LinkedIn touches, phone calls, and other custom tasks. Increasing chances of piquing potential customer's interest
Out-of-office AI detection for automated rescheduling
Data syncing to avoid contact duplication and monitor prospect status change
Pricing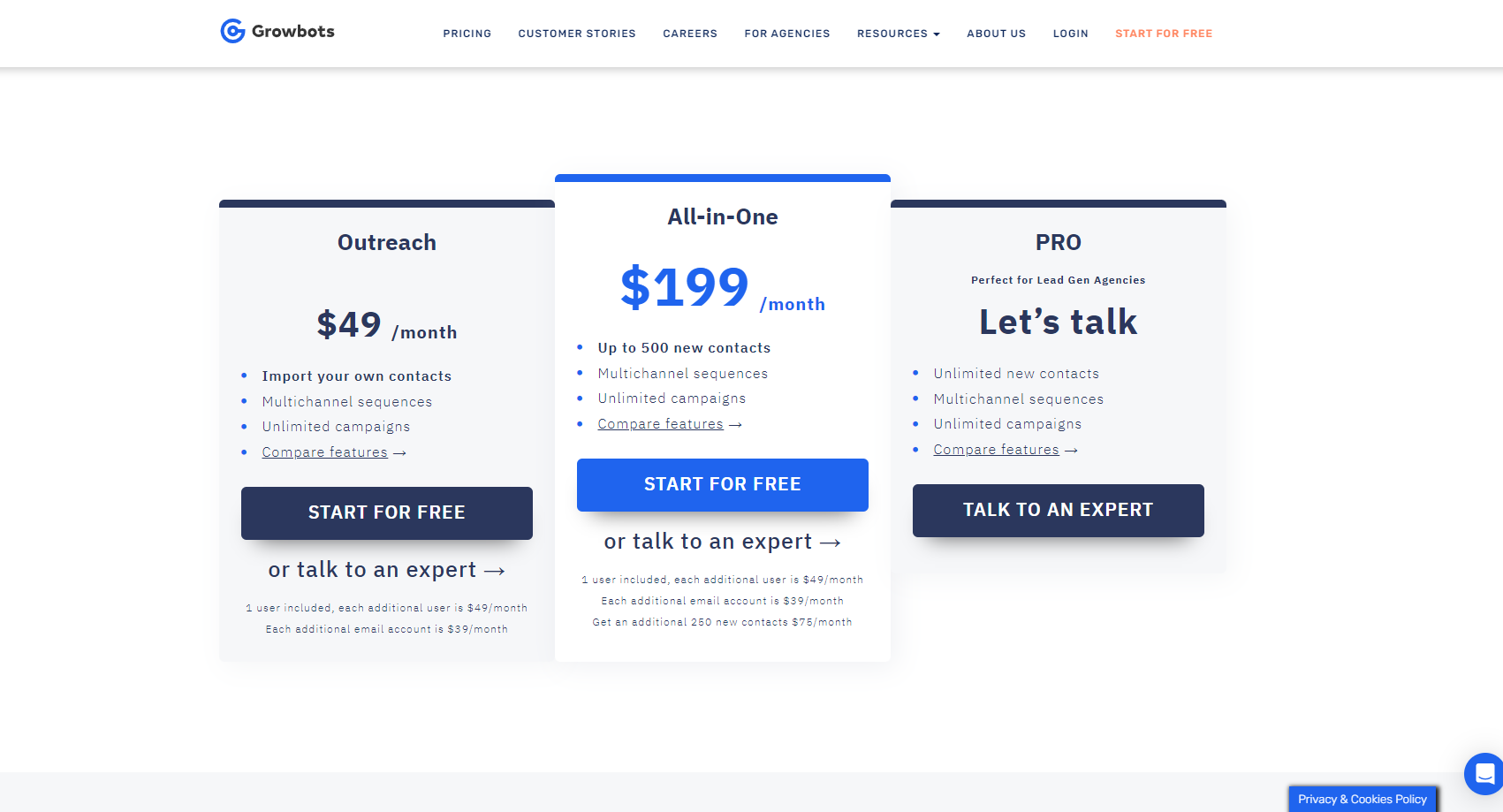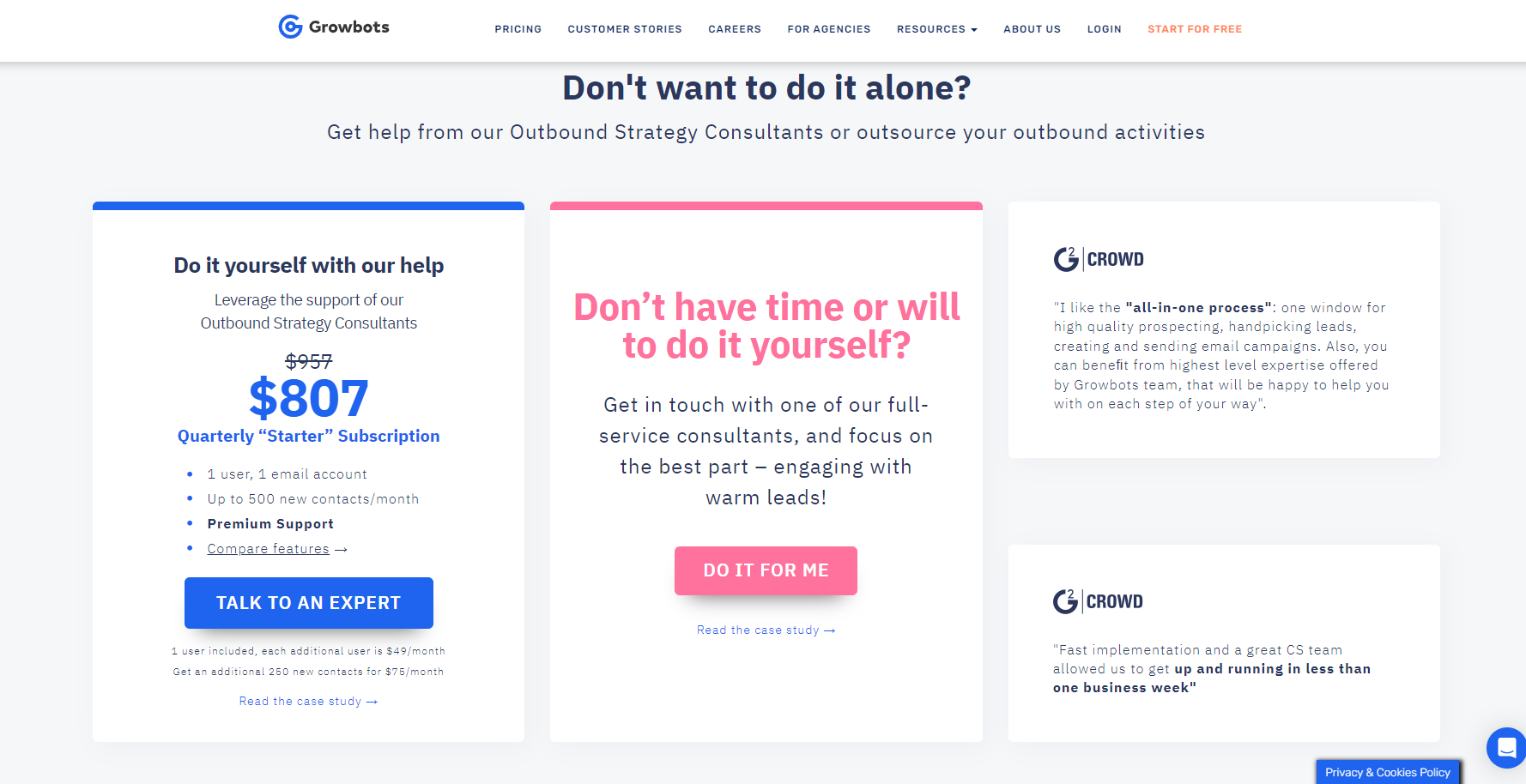 Growbots has four plans: Outreach, All-in-one, Pro, and Starter. The Pro plan is customizable and is perfect for lead generation agencies, customers will have to contact Growbot as the price may vary depending on the customer's needs and requests. The Outreach plan starts at $49 per month, the All-In-One plan starts at $199 per month, and the Starter plan starts at $807 per 3 months.
Bottom Line
Growbots is fit for companies of all sizes that want to pick their target market, set up a campaign, and spend minimal time daily regulating their pipeline management. Allowing more time for sales teams to focus on other tasks such as setting up meetings, lead scoring, and closing deals. Try the Google extension, GrowBot Automator for Instagram, which offers one week's free trial.
Write Cream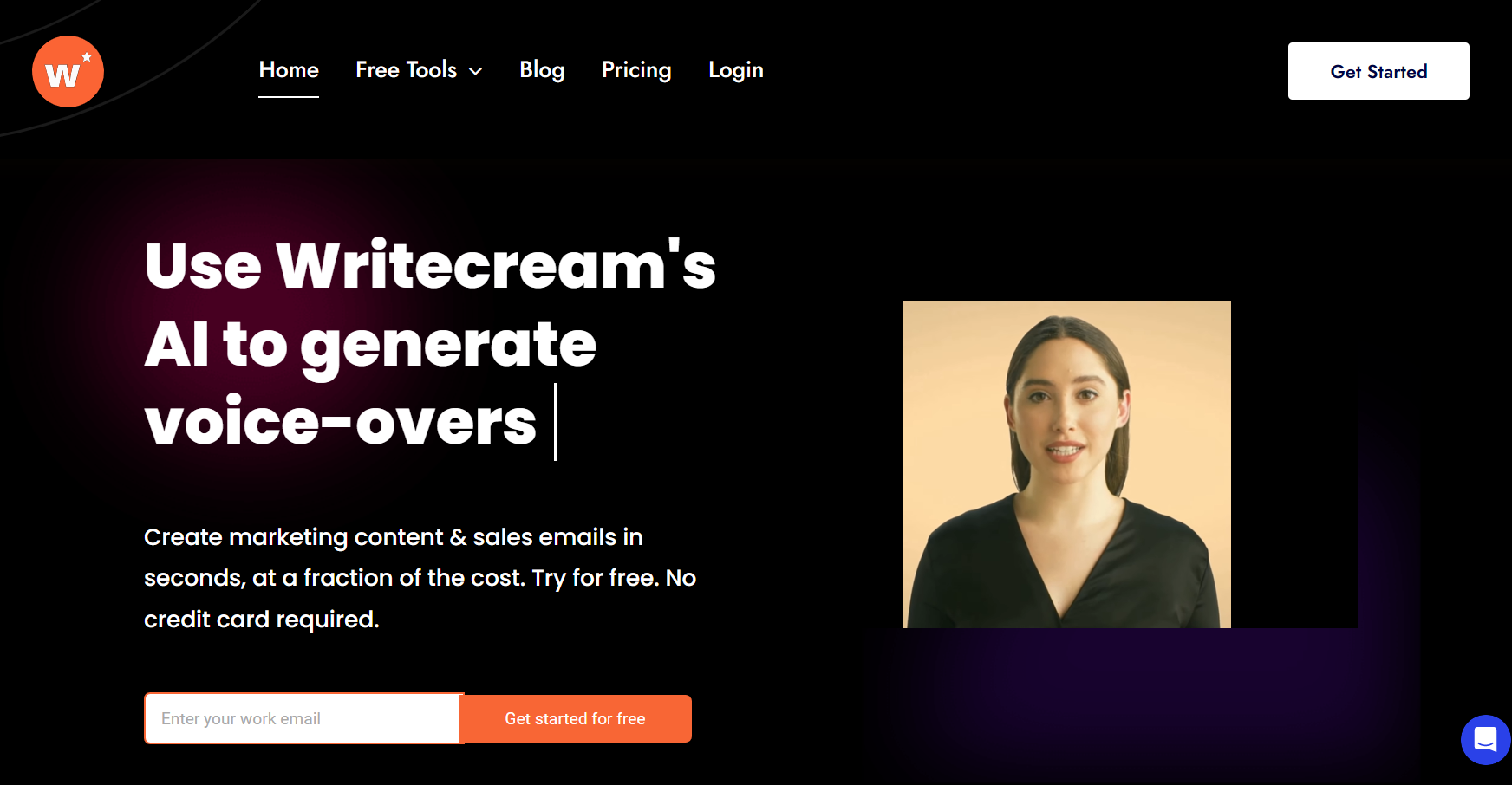 Overview
Writecream is a copywriting platform that uses innovative machine learning to generate marketing content and sales emails. This AI sales assistant can automate repetitive tasks in a matter of minutes. Its customers can expect to use advanced tools for ad copies, blog articles, sales, YouTube, podcasts, eCommerce, copywriting, SEO, social media, and 30 other tools.
Top Features
Artificial Intelligence article writer that generates long-form content in minutes
Produces advertisement copies for Facebook and Google, and other social media content with just a few clicks
Provides summarization and paraphrasing feature
Command mode instantly generates a headline, title, articles, bullet points, product descriptions, meta descriptions, plagiarism checker, and more
Personalized cold outreach campaigns, including cold emails, LinkedIn InMails & connection requests, and backlinks
Personalized games with image and audio ice-breakers
Generates podcast script and generator
YouTube voice-over and podcast available in over 40 voices with multi-lingual support
Text, image, and audio outputs are available in 75 languages
Great for e-commerce with its brand description, product description and reviews, and value proposition
Pricing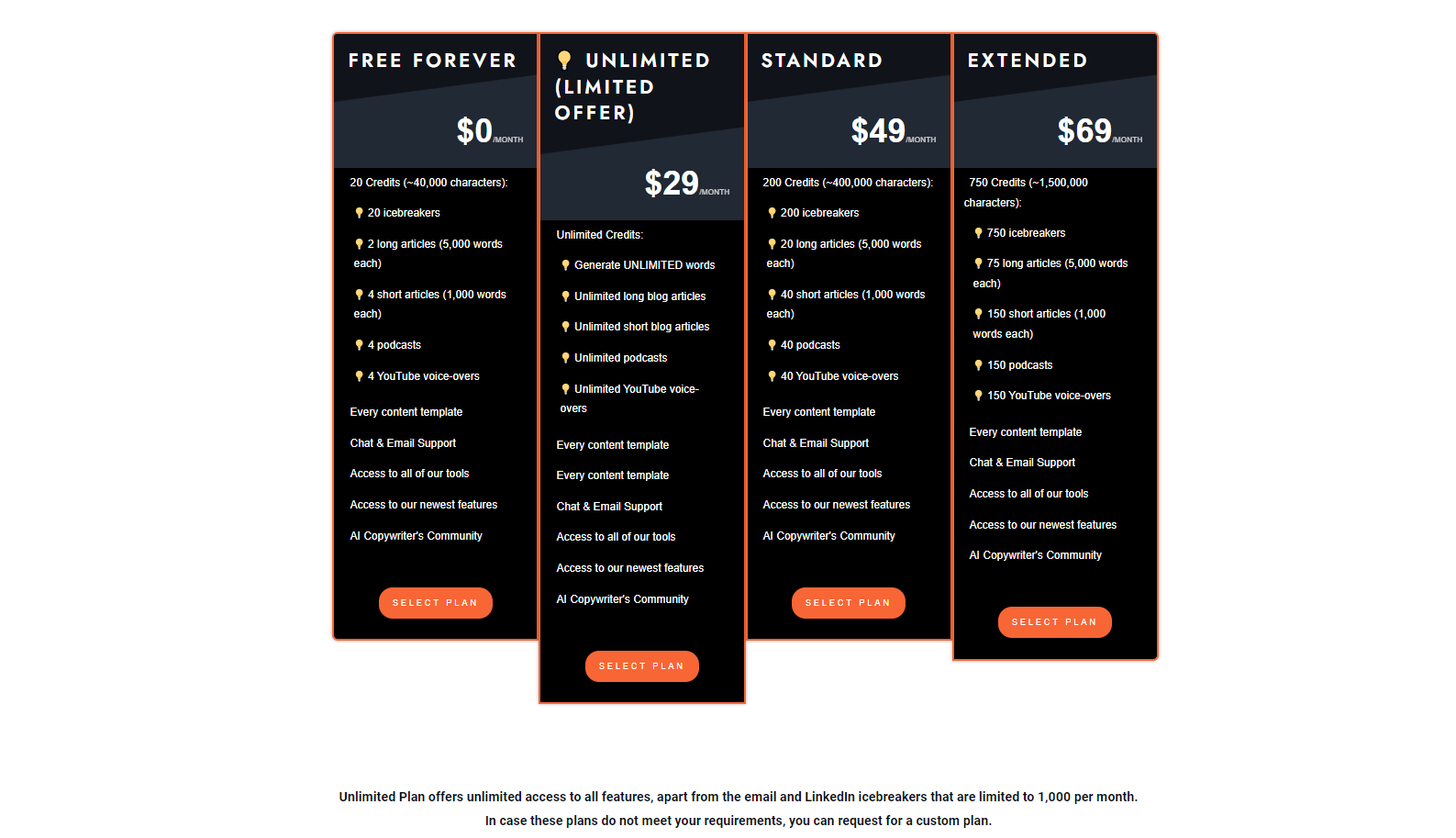 Writecream is available as a free Google extension. It also offers four paid plans: Unlimited, Standard, Extended, and custom. The Unlimited plan is a limited-time offer of unlimited access to all features for $29 per month, the Standard plan is $49 per month, and the Extended plan is $69 per month. For the custom plan, customers will have to contact Writecream as prices may vary depending on the customer's attributes and needs.
Bottom Line
Writecream is one of the best AI sales software because of its jam-packed tools when it comes to writing. Its limited-time Unlimited plan is a great deal to take advantage of while it is on the market. Suitable for businesses of all sizes that want extremely affordable yet capable and advanced AI sales assistant tools.
Chorus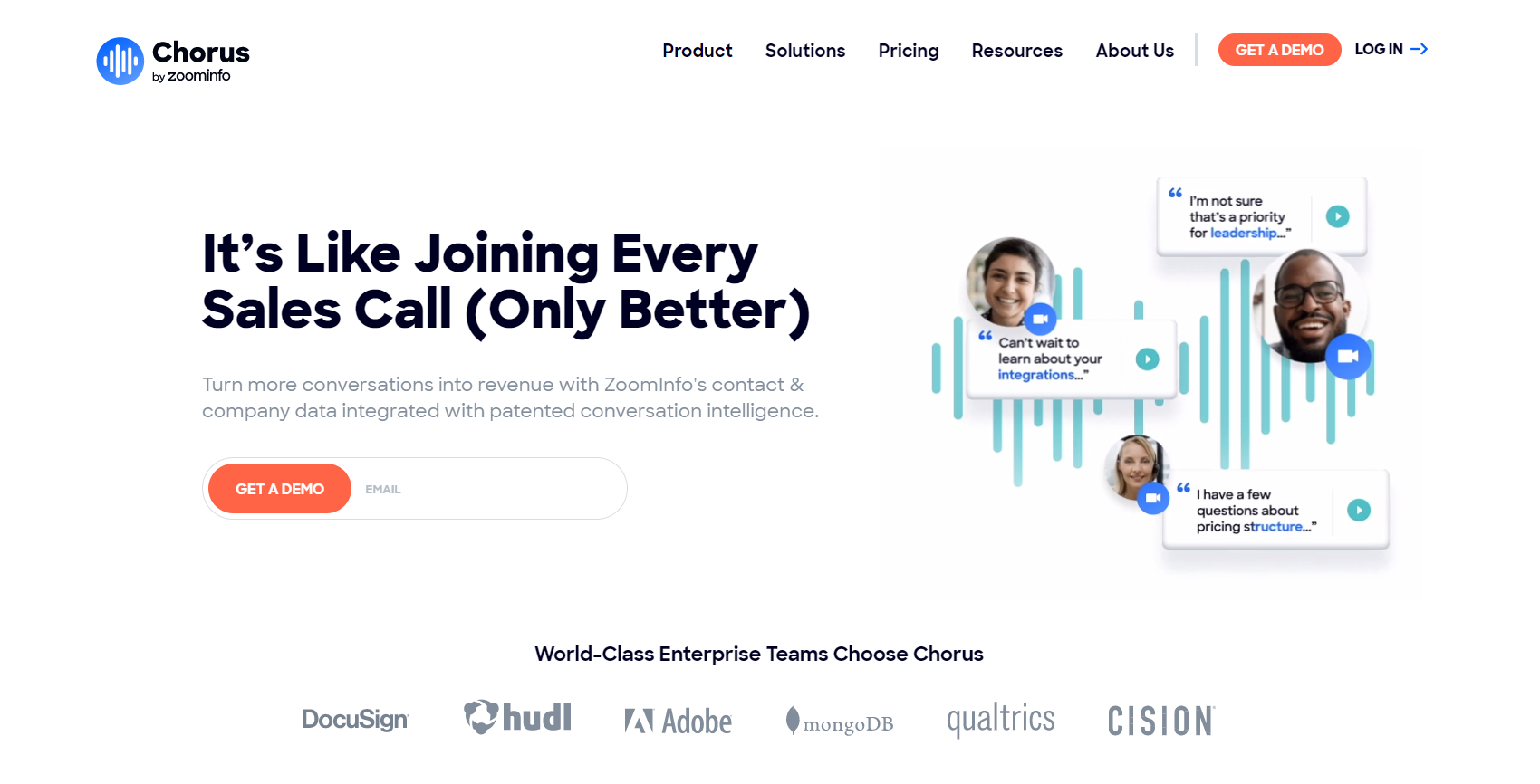 Overview
Chorus is a leading conversation intelligence platform for businesses that aim for high-growth sales teams. The most accurate call transcription software that uses artificial intelligence to record and analyze recordings. Chorus utilizes smart technology including machine learning, computer vision, and natural language processing to influence customers' interaction based on their needs, making them feel an in-touch personalized buying experience.
Top Features
Real-time transcription and analysis of sales meetings
Create and share recordings and snippets
Faster call reviews and automated follow-ups tasks
Quicker mitigation of deal risks, with contextual trackers
Advanced contact identification and speaker separation
Allows analysis of conversations for BDRs, AEs, and CSMs
Quick identification of leading strategies in trends for replications
Easy viewing of analytics and data of customers, as well as of sales teams for better sales coaching
Coaching Initiatives remove the guesswork and enable sales managers to impact outcomes. Pinpoint areas of improvement and measure progress over time to develop your sales team's performance.
Available in 6 languages
Pricing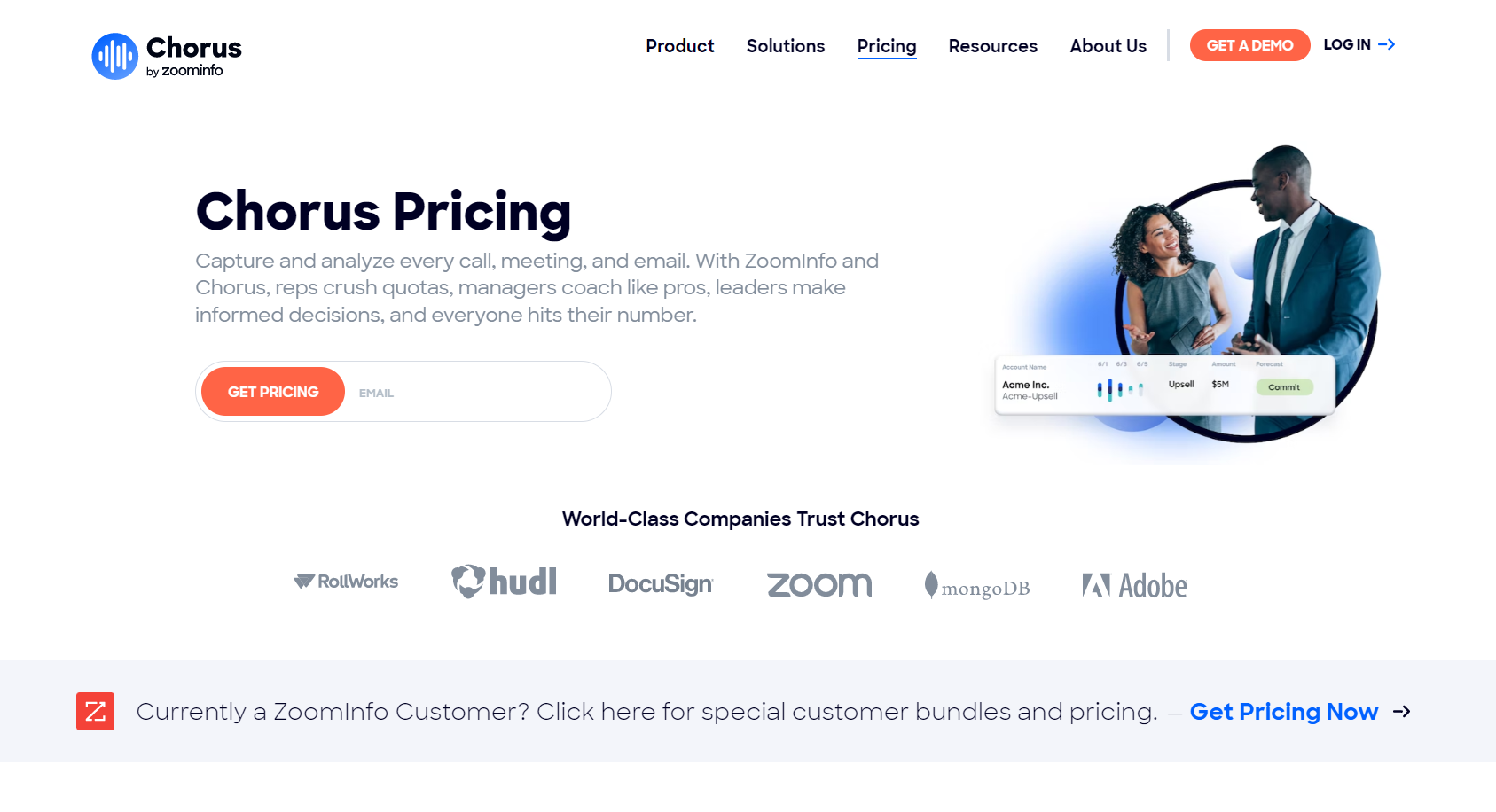 No pricing plans are available on Chorus' official website. Customers will have to contact Chorus as prices may vary depending on the customer's needs and requests.
Bottom Line
Chorus is one of the most timely AI sales assistants, as Zoom meetings are held and documentation is vital for better learning and documentation. It is for businesses of all sizes. You can schedule a demo to learn how to improve your sales productivity and sales operations with one of the best AI sales tools for transcription and recording.
Dooly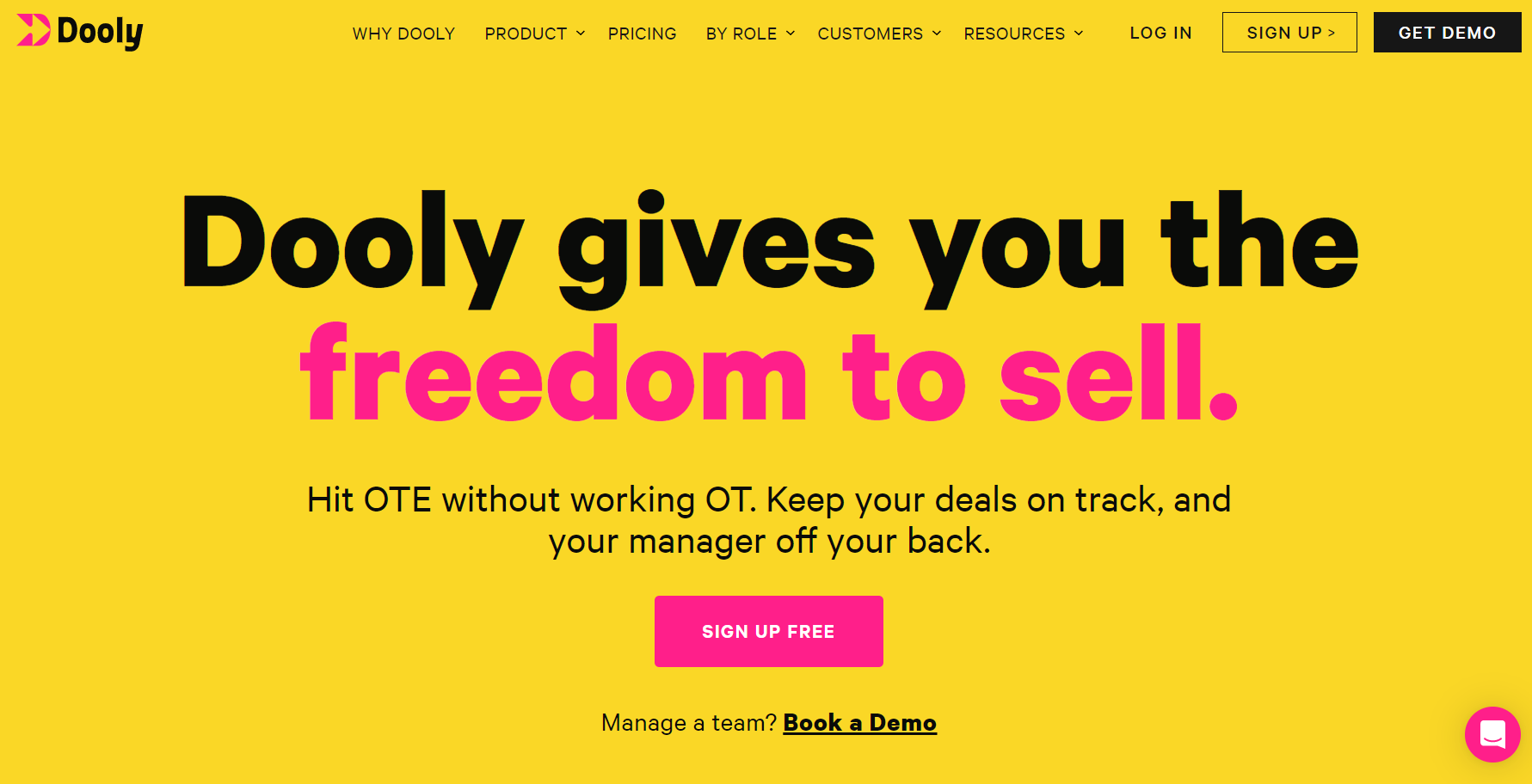 Overview
Dooly is a well-known sales enablement platform that uses AI to gather valuable data for prospecting and better chances of closing more deals. This AI sales assistant tool was designed for faster updates in Salesforce and has developed into an efficient workspace that integrates with CRM tools for a better flow of sales teamwork and sales productivity.
Top Features
Smarter and faster sales notes. Automatically sync notes, fields, and activities to Salesforce, with automated updating of contacts and suggestions
Dashboard for sales teams to share meetings notes and sales pipeline
Better revenue operations by streamlining sales team workflow and driving predictable outcomes
Deal Vitals gives a snapshot of each opportunity's progress for easy viewing of the sales pipeline
Unlimited templates to fill out mandatory fields for sales methodology
Unlimited real-time playbooks and highlights for guided sales calls
Integration with multiple CRM tools
Easy replication of top performers, automation admin work, and exceeding of quotas with less effort
High-end security measures for third parties, cloud, access, and vendor and risk management
Pricing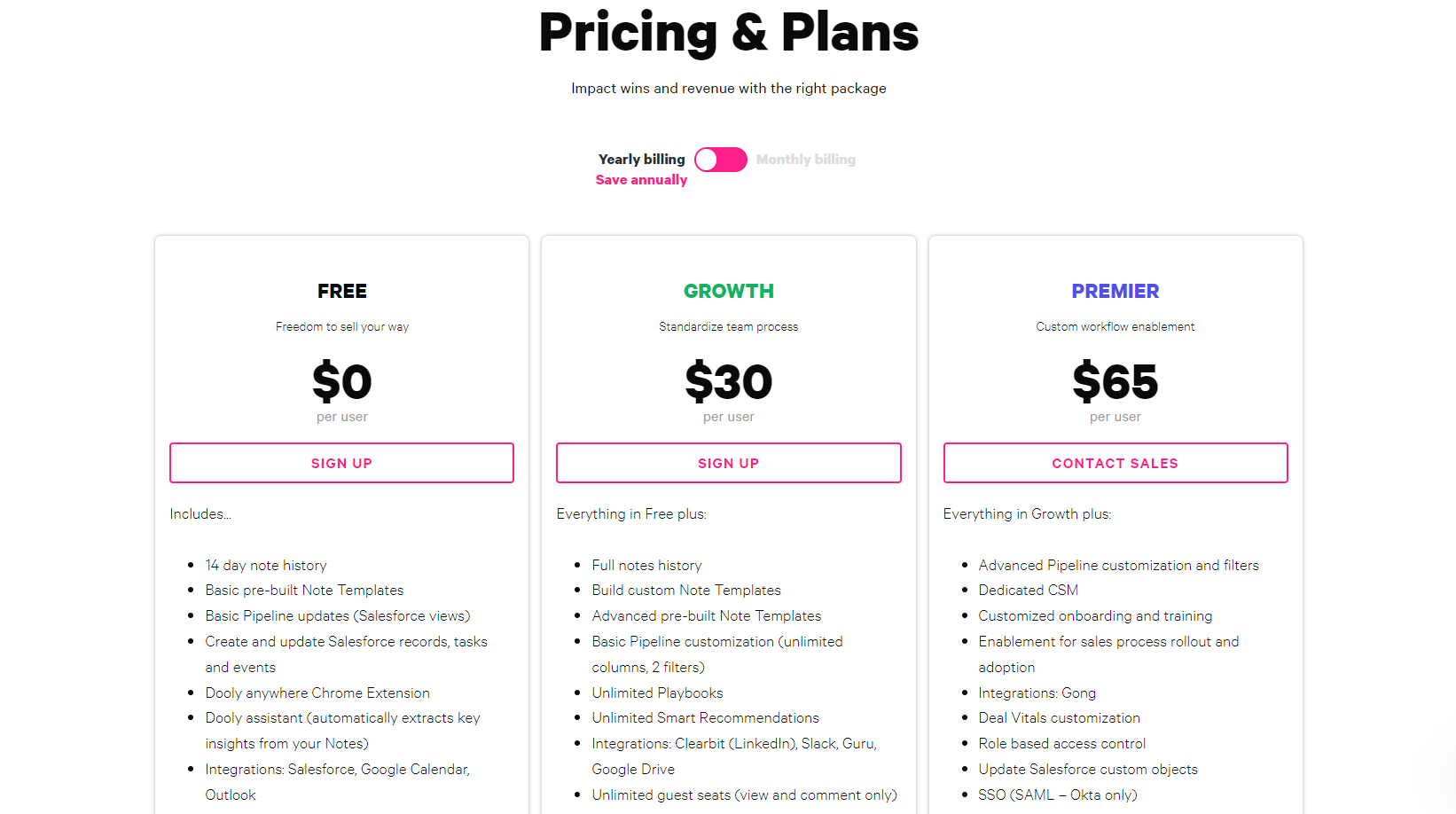 Dooly can be added as a free Google extension. It also comes in two paid plans: Growth and Premier. Growth starts at $30 per user for standardized team processes, while Premier starts at $65 per user and is available for custom workflow enablement. Save annually by choosing a yearly billing payment.
Bottom Line
Dooly does more than just automate tasks. This AI sales software provides a secure and transparent work environment to maximize sales teamwork and provide stronger customer relationships. Great for individuals and businesses of all sizes. Start for free and upgrade to Dooly anytime.
Troops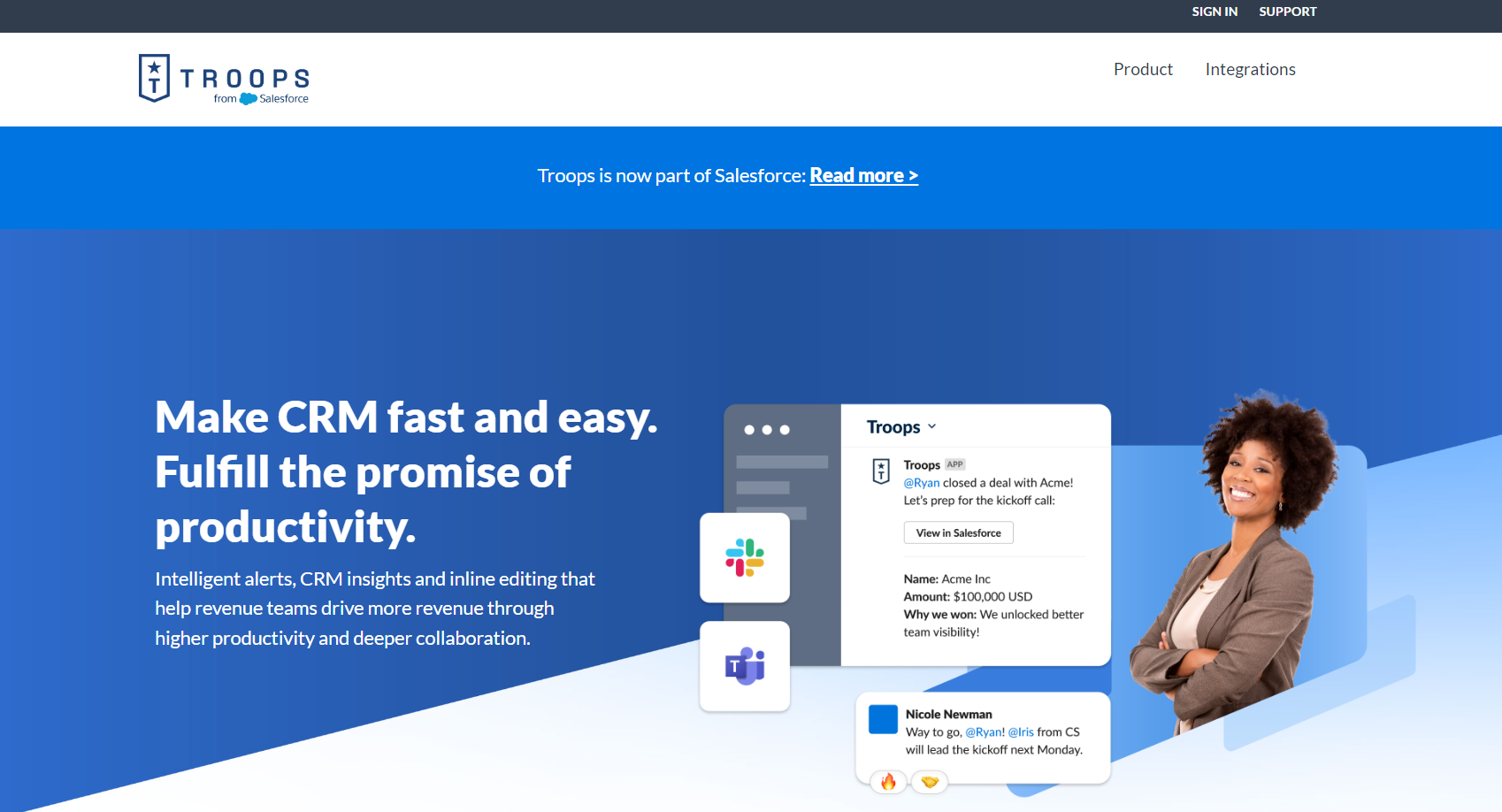 Overview
Troops is an AI-run revenue com­mu­ni­ca­tions platform that gives real-time updates, coaching, actions, and insights in a matter of minutes. Automate tasks from Microsoft and Slack into its many integrations for an easy workflow.
Top Features
Connects systems of record with messaging apps to automate key workflows in minutes
Reduce time updating CRM with Grid, a web-based inline editor that views, edits, and updates the same fields across multiple CRM records simultaneously
Signals that allow highly customizable, real-time notifications that deliver data entry and reminders to a sales team whenever company revenue has progress
Account-based collaboration with Deal Rooms that bring cross-functional teams, and provides sales teams with an overall view of the customer
Faster Salesforce approvals and provides key features such as decision-making context where it is needed
Integrated tools can be edited in one line using Command
Integration with over 10 sales tools including Salesforce, Hubspot, and Outreach
Pricing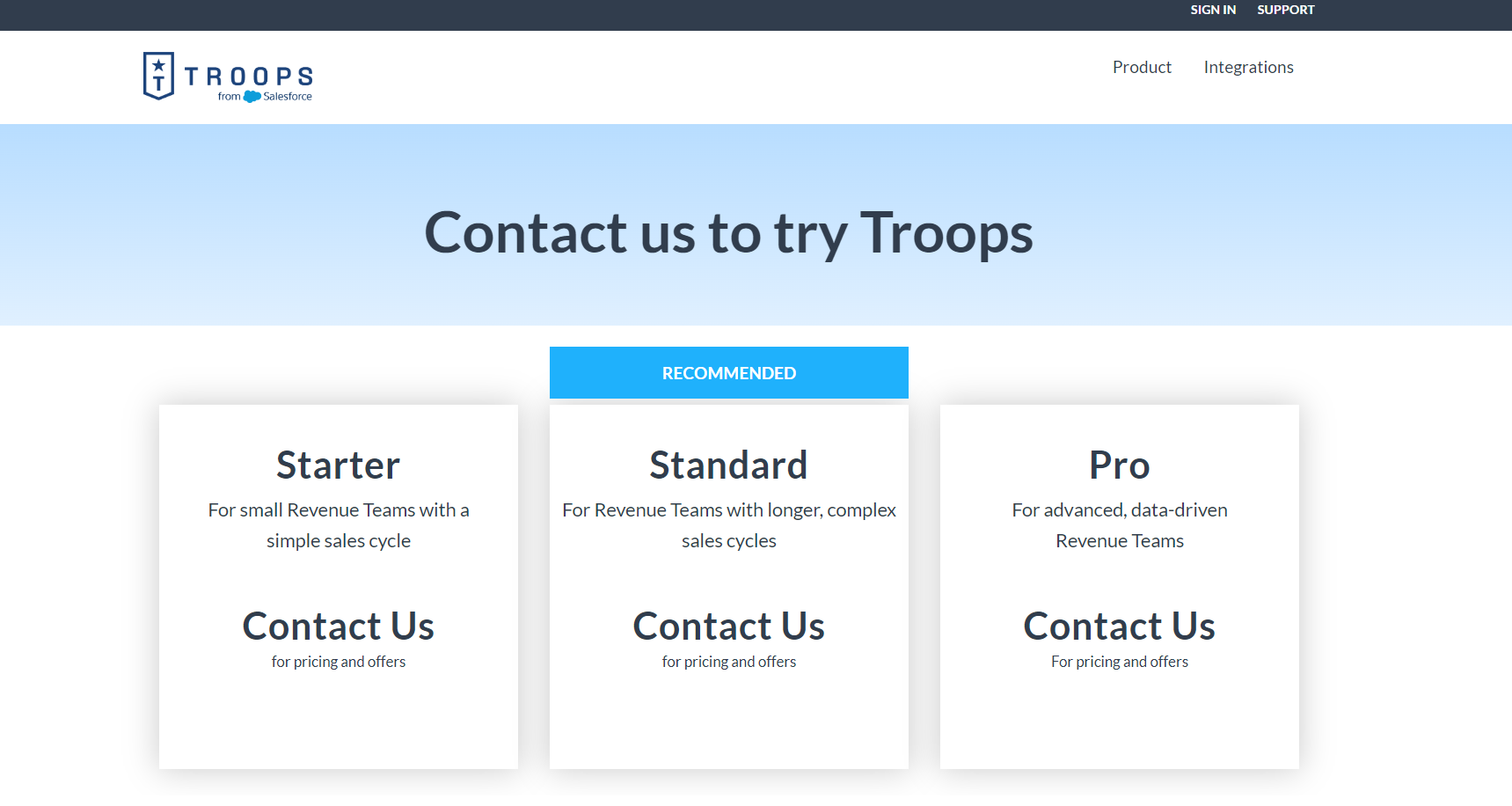 Troops offer three plans: Starter, Standard, and Pro. Starter is for revenue teams with a simple sales cycle, Standard is for revenue teams with longer and more complex sales cycles, and Pro is for revenue teams that are advanced and data-driven. Customers need to contact Troops for its pricing plans as the prices may vary depending on the customer's needs and requests.
Bottom Line
Troops is one of the best AI sales software to boost sales productivity and increase sales. This AI sales assistant comes up with revenue strategies through recorded collaborations for more orderly sales management. Fit for businesses of all sizes that want their sales team to garner more revenue.
Veloxy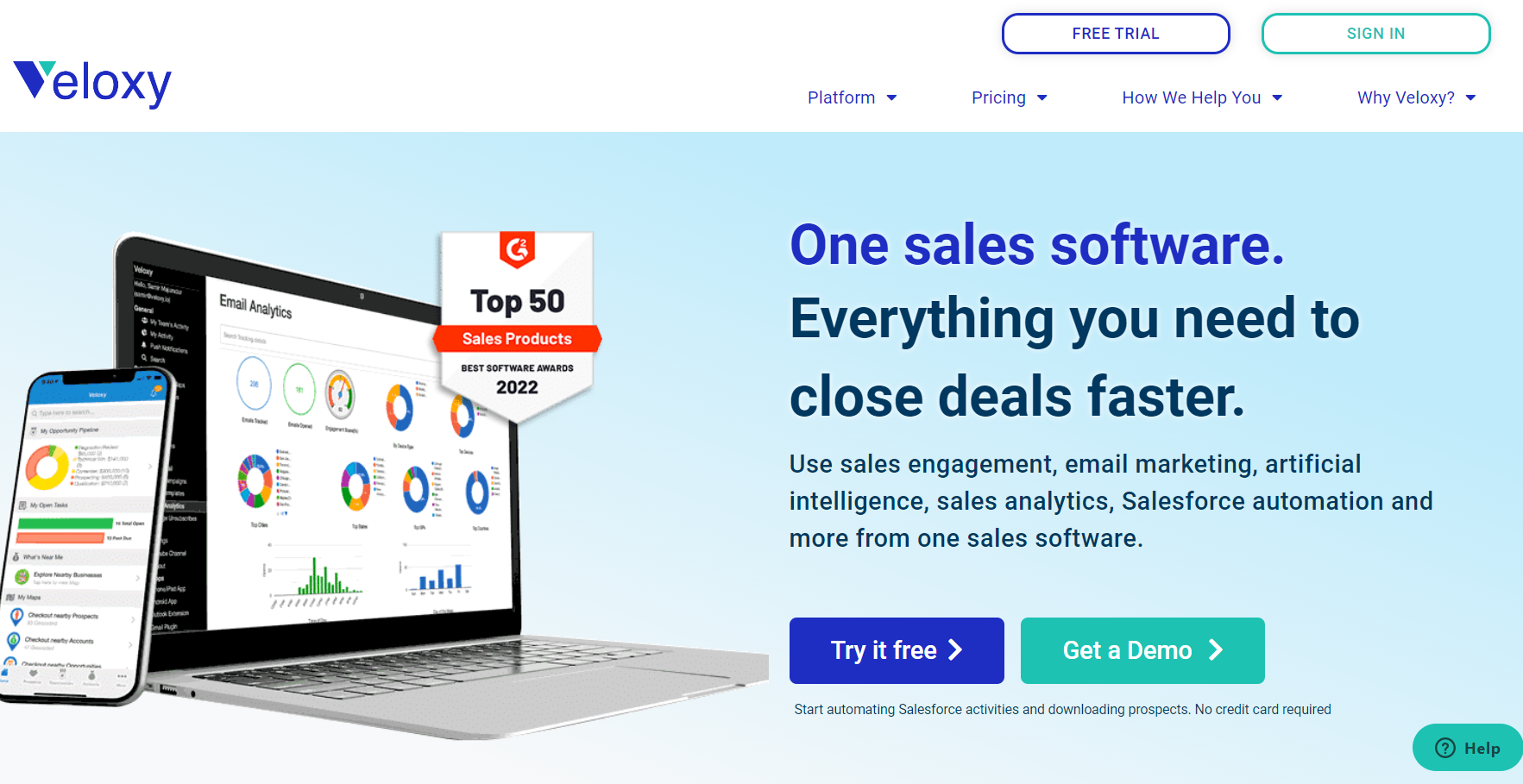 Overview
Veloxy is an all-in-one sales AI solution that aids sales teams' efficiency for better customer relationships and to increase sales at faster rates. Handles sales engagement, sales enablement, sales productivity, and Salesforce automation. This revenue growth AI sales software is optimal for sales engagement and shortening the sales cycle with its sales funnel.
Top Features
Sales Acceleration empowers sales pros, and personalized sales engagement produces more qualified prospects. Emailing with real-time buyer signals and personalized outreach.
Receive sales alerts with call blitzes on smartphones
Automation of sales pipeline. Real-time actionable insight on accessible customer data from email marketing initiatives, social media channels, and buyer history.
Multiple integrations including Google and Salesforce
Platforms include drip, email tracking, email and sales analytics, personalization, and pipeline management
Easy navigation with optimal route planning, geolocation intelligence, and prospect discovery
Shrink sales cycles from the inbox by adding email tracking, CAN-SPAM-compliant bulk email, analytics, and Salesforce
Available to use on smartphones, one click away from accessing real-time sales intelligence and pipeline reporting
Pricing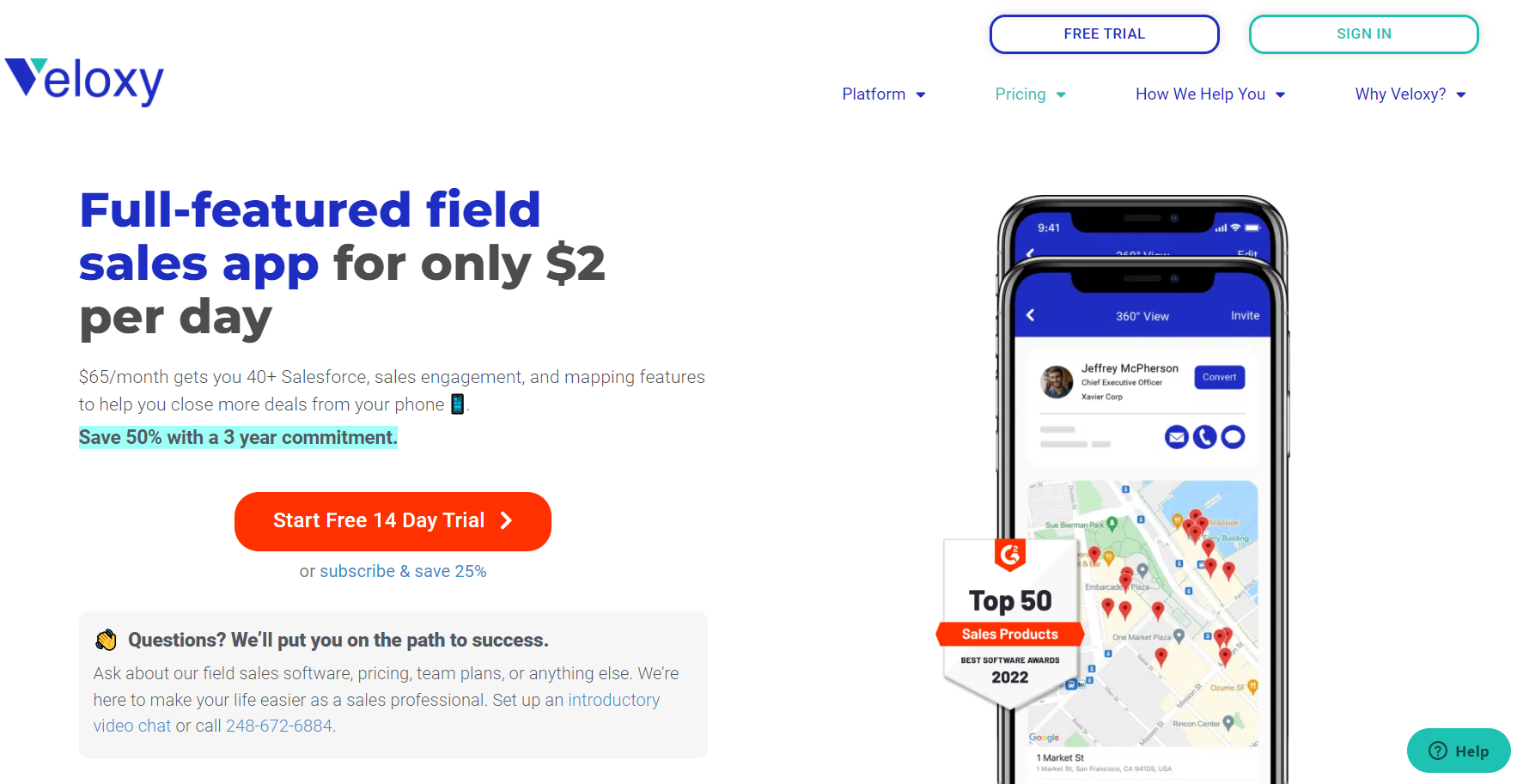 Veloxy offers two plans: Veloxy and Veloxy Lite. The Veloxy plan starts at $2 per day or $65 per month, while the Veloxy Lite plan starts at $1 per day or $35 per month. Choose the monthly billing to save 50% with a 3-year commitment plan.
Bottom Line
Veloxy helps sales representatives reduce the time they spend doing anything other than sales. Sales teams can explore with full analytics and a reporting dashboard for an AI-driven workflow. This is the best AI sales software for organizing sales data. Get a 14-day free trial or subscribe to get up to 29% off.
SetSail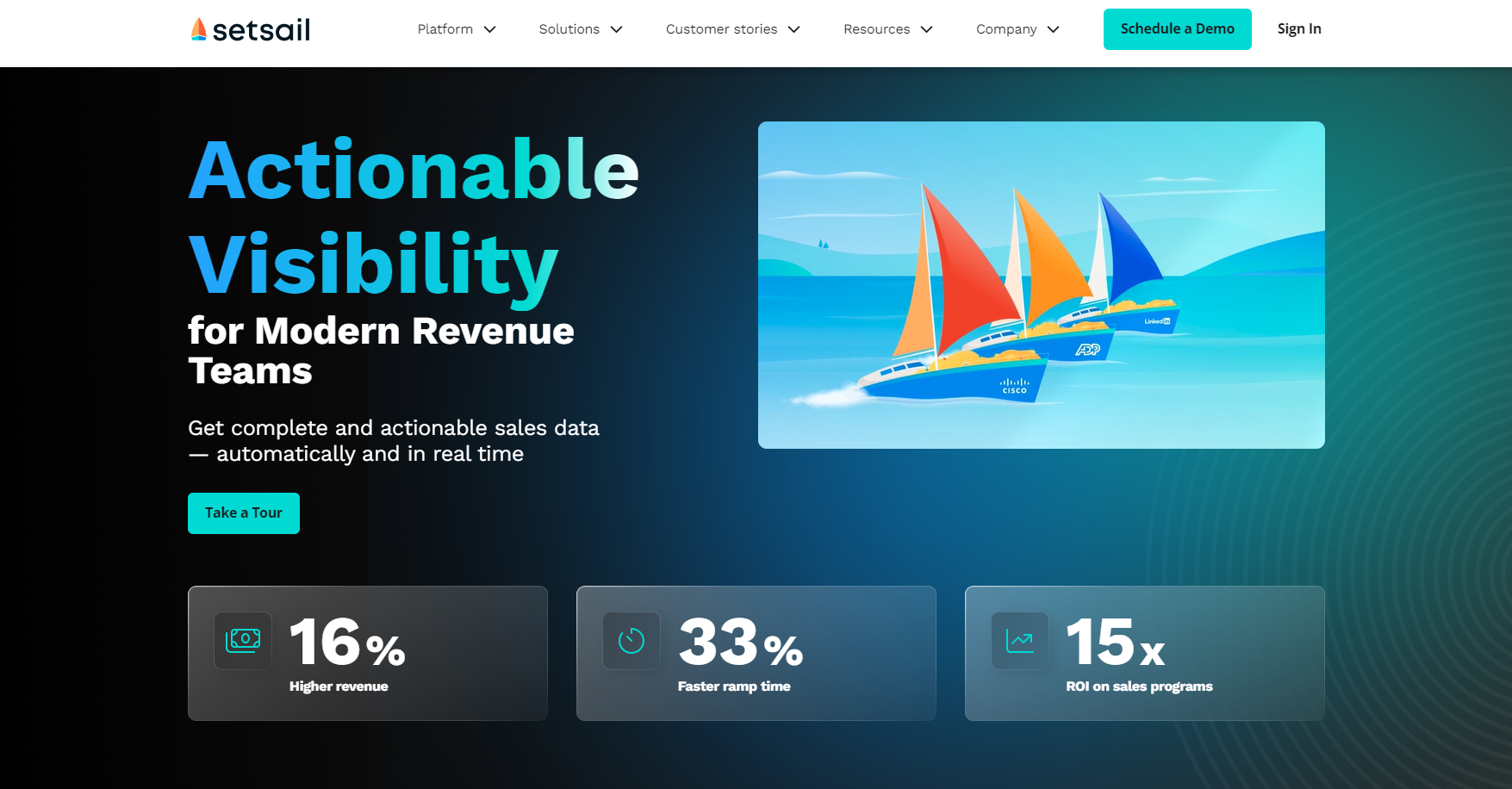 Overview
SetSail is an AI sales software that projects 16% higher revenue, 33% faster ramp time, and 15x ROI on the sales program. The first signal-based selling platform. This sales data hub is great to use for tracking sales pipelines and gleaning sales insights at scale. Fast analysis of leading success impacts on the history of sales stages.
Top Features
Provides sales rep performance metrics and automated suggestions for improvement
Connects to all major B2B engagement platforms, to securely and privately capture, enrich, and map sales data.
Utilizes machine learning to analyze buying signals and productivity patterns leading sales teams for better sales productivity
Surfaces sales data in an easy-to-use application, be it CRM, BI platform, dashboard, or data lake
Analyzes leading indicators on success in data trends for effective revenue strategies and future solution
Drive action visibility in the sales hub that projects a 26% increase in sales volume, 42% increase in quality conversations, and 63% increase in sales-led pipeline
Connect to a data warehouse, and stream all sales data to Snowflake, a BI tool, or other data stores. Data can be added to existing reports or used to build custom models
Pricing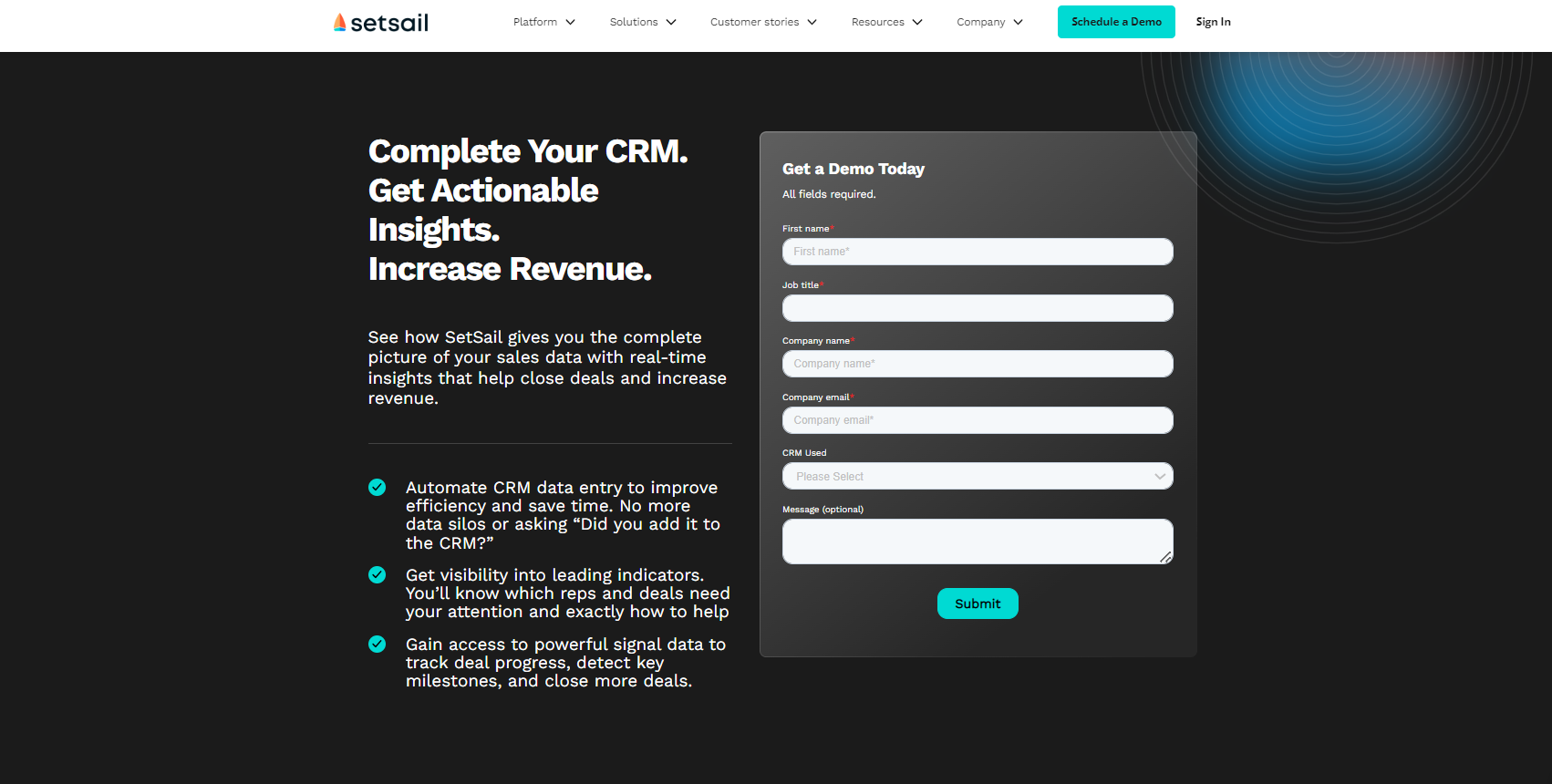 No pricing plans are available on SetSail's official website. Customers will have to contact SetSail as prices may vary depending on the customer's needs and requests.
Bottom Line
SetSail is one of the best AI sales software for growing and enterprise businesses. Get automated and real-time complete and actionable sales data to analyze trends and find the perfect strategies to boost your sales. Become one of the leading revenue organizations today.
Clari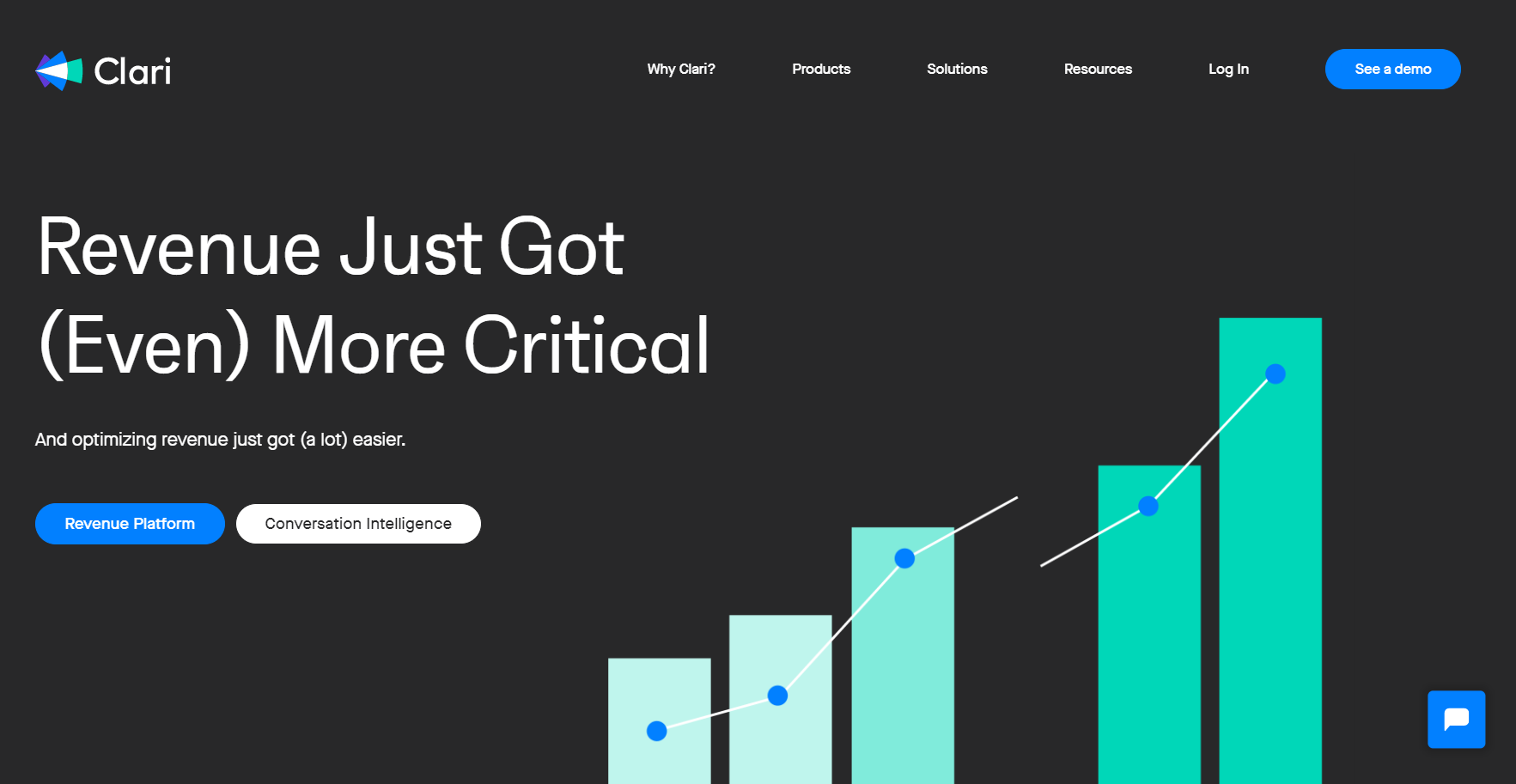 Overview
Clari is an AI-leading sales enablement platform best for sales forecasting. Sales reps have access to sales content, AI tools, and data-driven prospects. Enabling optimal sales processes, more qualified leads, and more deals to be closed. Automated forecasts from across every rep, channel, region, overlay, and product line.
Top Features
Integration of all deal data, enhanced and complete visibility of rep activity, customer and prospect engagement, and deal status
Generates pinpoint forecasts across teams, product lines, geographies, markets, and different revenue segments
Avoid revenue leaks through real-time visibility into pipeline health and AI-surfaced insights into risks and opportunities
Efficient pipeline management, easy overview of inventory transactions, coverage by segment and territory, and how many more deals to reach a quota
Automated reporting and workflows to streamline, scale, and standardize forecasting and revenue cadences.
Integration of CRM data with countless other activity signals
Conversation Intelligence. Robust CI capabilities including call libraries, game tapes, call summaries, in-context cue cards, scorecards, and leaderboards
Pricing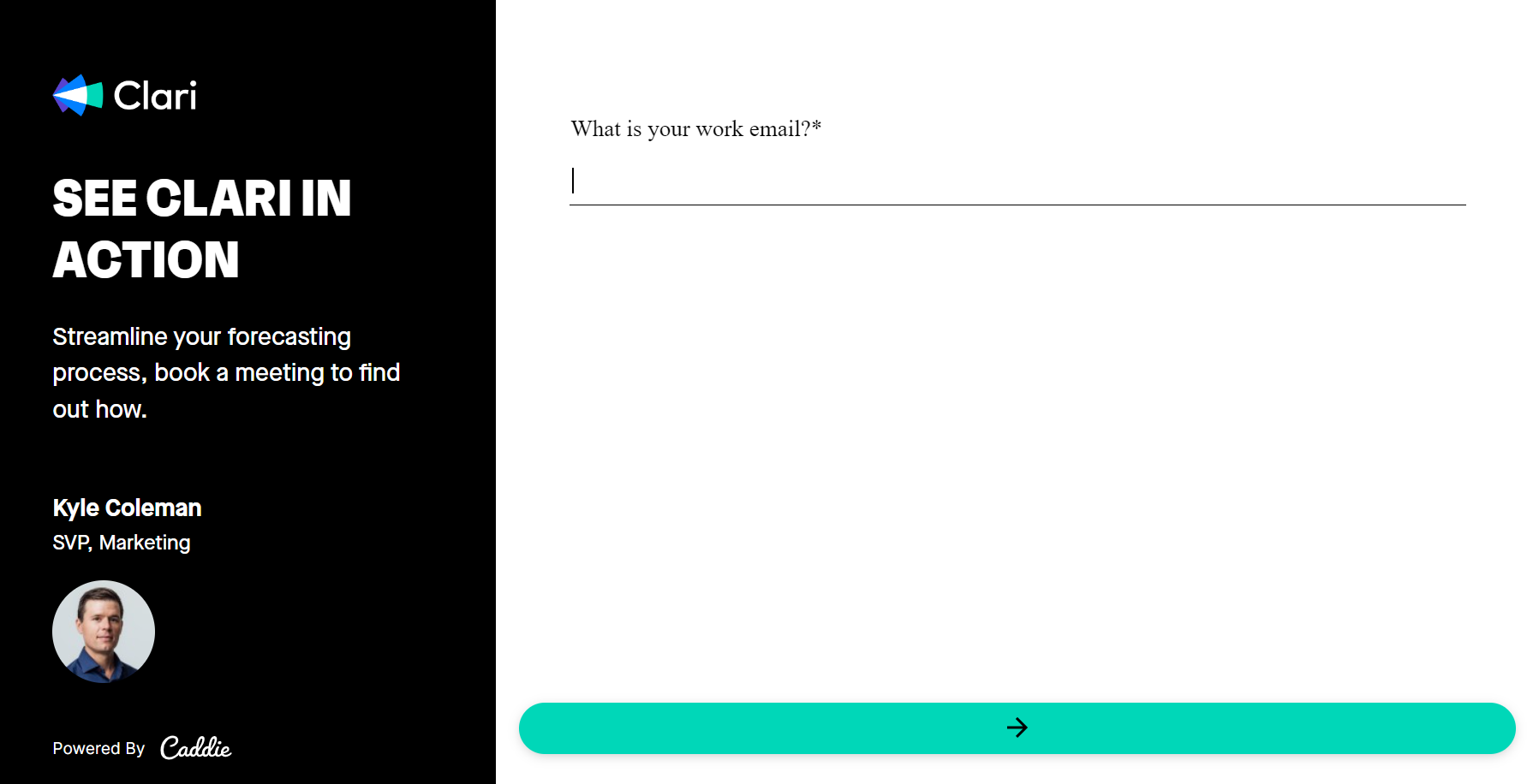 No pricing plans are available on Clari's official website. Customers will have to contact Clari as prices may vary depending on the customer's needs and requests.
Bottom Line
Clari boosts its reputation as the most accurate sales forecasting platform. It is a strong fit for growing enterprises. This sales software presents its data through infographic content that helps the sales team comprehend trends and best revenue strategies for the future, to figure out the leading to better and more secure sales processes.
Exceed AI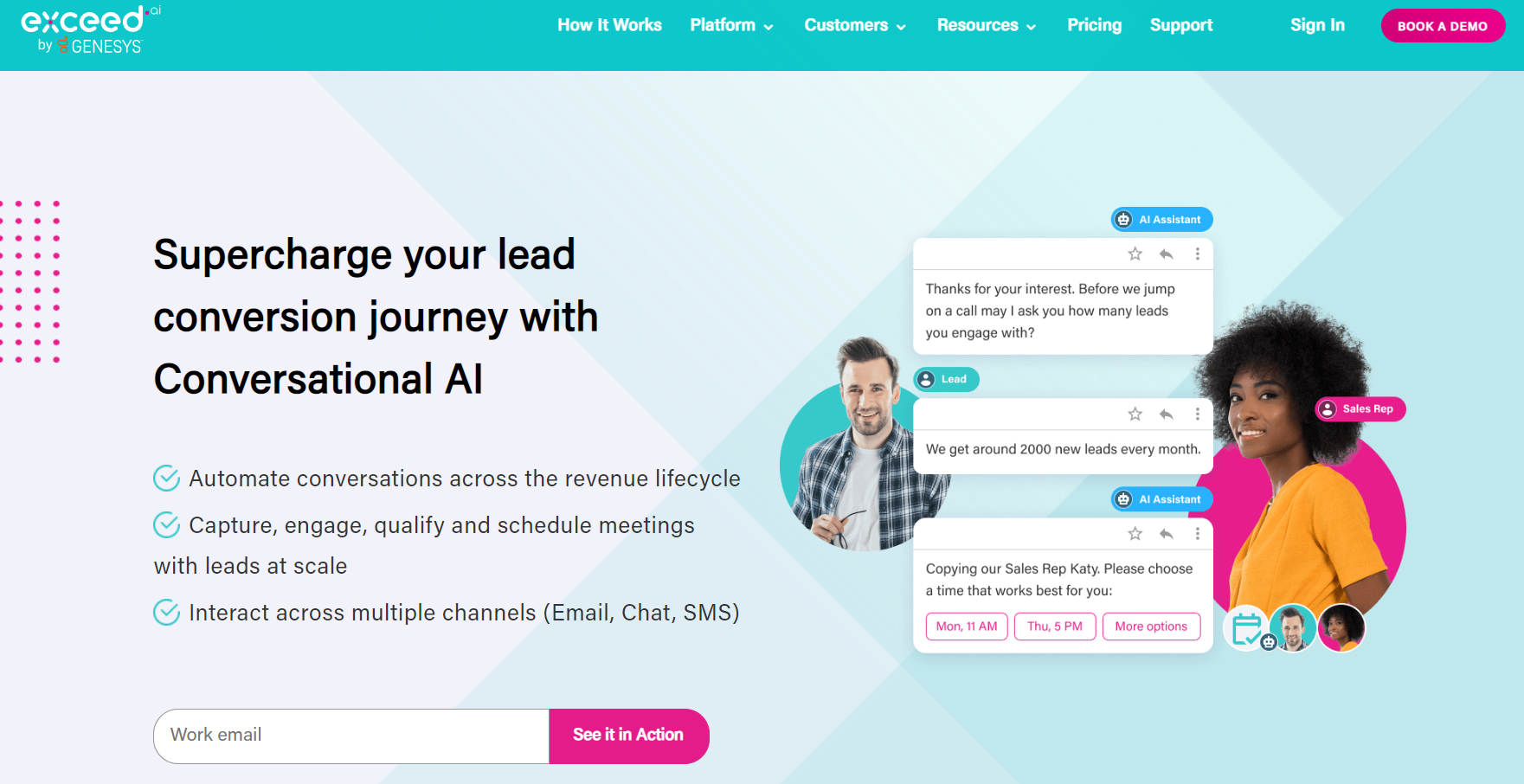 Overview
Exceed is an AI sales acceleration and productivity software for conversational processes and lead management. One of the most efficient AI-powered sales assistant tools supported by customer feedback of a 35% increase in productivity, a 25% increase in sales-ready leads, and a 109% increase in achieved sales quotas. Grab better sales opportunities by equipping sales reps with integrations for sales pipeline and data management.
Top Features
Automated conversations for anonymous communication with leads and customers
Automated CRM update, lead follow-up, lead qualification, and meeting scheduler
Quick and easy integration to major CRM and ERM systems, marketing automation, and sales automation platforms
Automated allocation of sales reps to leads based on qualifying information
AI-powered conversational nurturing where virtual sales assistant tools are an automated lead follow-up system that analyzes and identifies lead progress to provide for their needs
Features lead re-engagement for added capacity necessary to scale engagement and find more qualified leads
Utilizes firmographics and user profile data to tailor each conversation for each lead
Easy plug in the existing workflow, anonymously runs in the background and ensures every lead is engaged, followed up with, qualified, and booked meetings
Pricing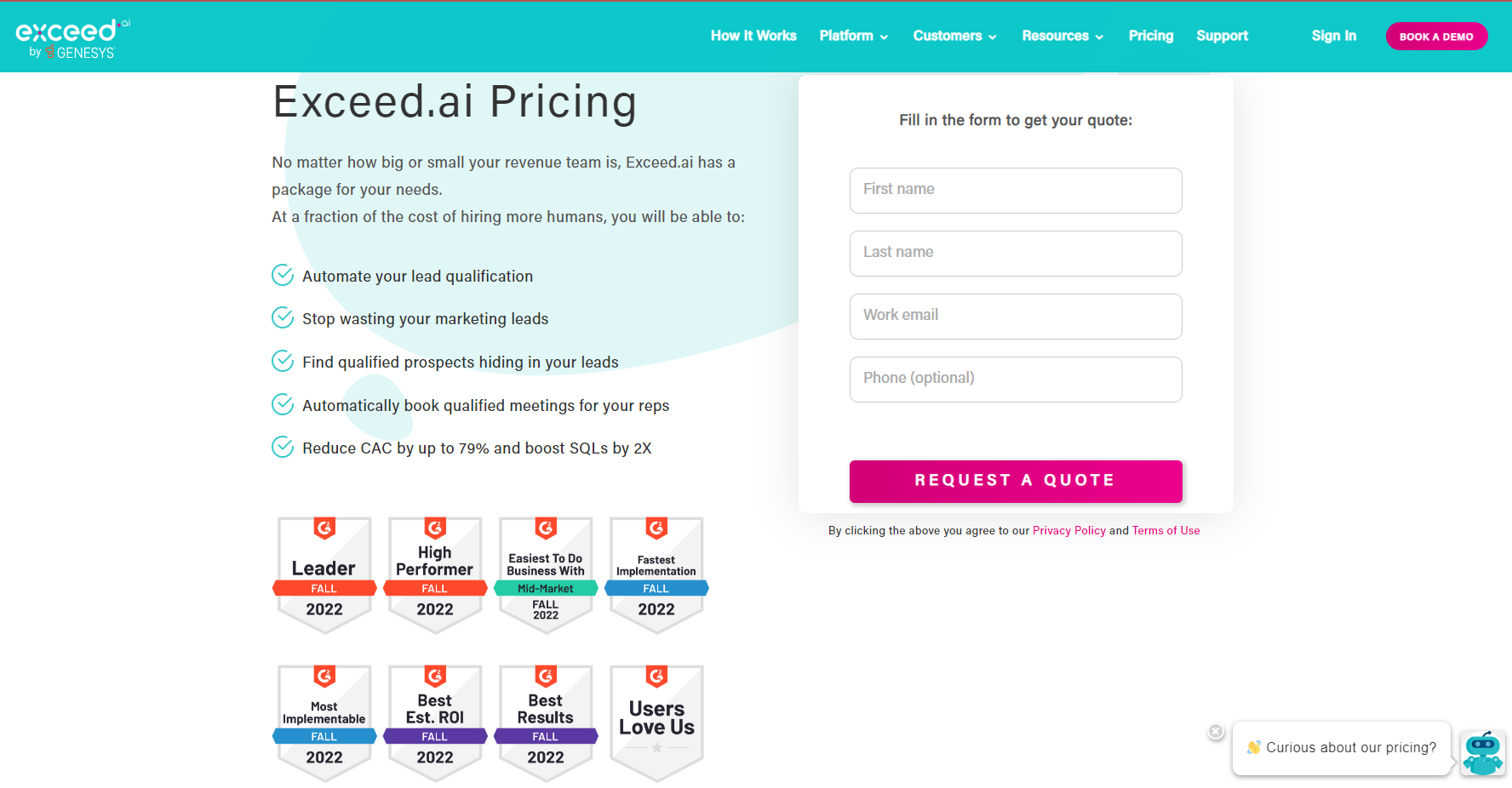 No pricing plans are available on Exceed's official website. Customers will have to contact Exceed as prices may vary depending on the customer's needs and requests.
Bottom Line
Exceed works based on a sales playbook to capture leads through conversational nurturing. This AI sales software releases emails and qualifies leads, answers questions, and follows up as needed. Once the lead is captured, sales reps take over.
Saleswhale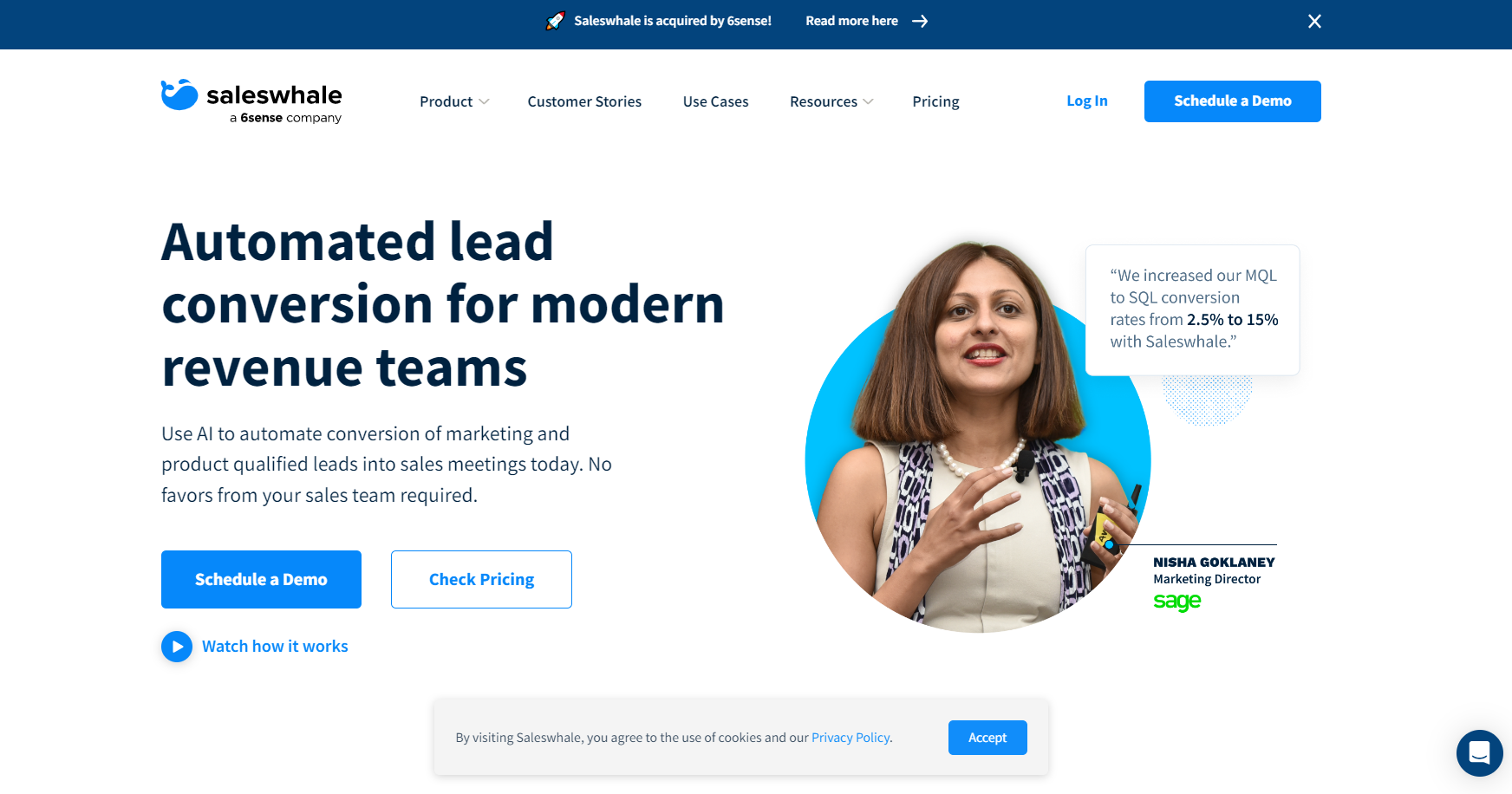 Overview
Saleswhale is an email-based lead nurturing sales software produced by 6sense. This AI sales software increases lead quality and counts by providing customized conversations and using machine learning to analyze responses from prospects to send follow-ups. Saving sales reps time from long one-on-one conversations with unqualified leads.
Top Features
Content experiments to assemble AI Assistant's outreach. Produce reusable content blocks with easy tracking to view their progress and automated suggestions
Personalization of each block with dynamic merge tags. Set up a custom library to serve a specific customer segment or use case.
Available pre-built data-backed Playbooks fitted for varying use cases
Build intent-based email campaigns using AI conversation flow
Wide customization range of email copy and follow-up sequence to establish content offers and ask for referrals.
Automated follow-up, content distribution, referral handling, out-of-office detection, lead qualification, DNC detection, and data collection
Integration with tools like Salesforce, Marketo, Zapier, and HubSpot
Pricing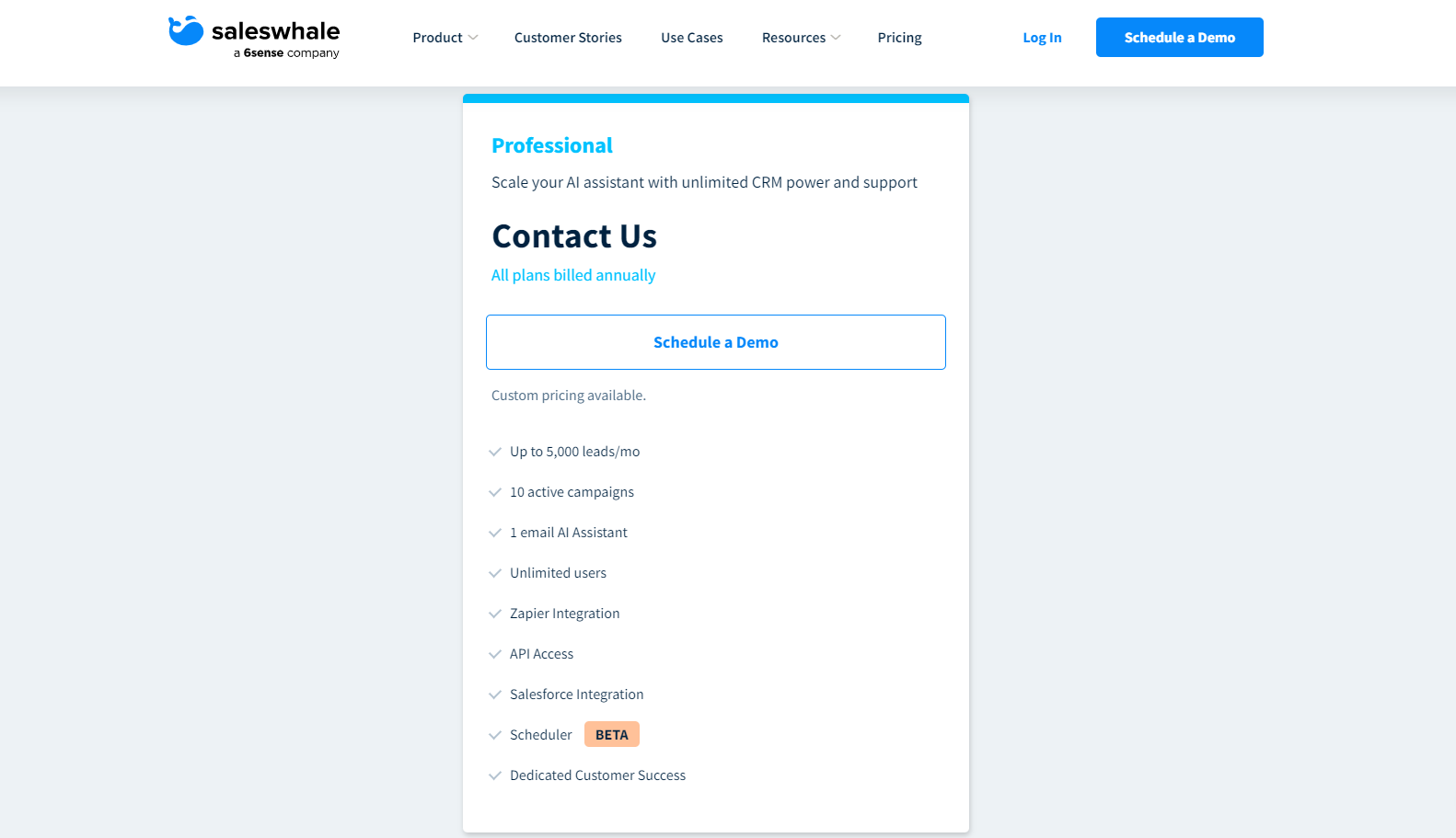 No pricing plans are available to view on the Saleswhale's official website. Customers will have to contact Saleswhale as prices may vary depending on the customer's attributes and needs.
Bottom Line
Saleswhale is an AI sales assistant that automates tasks to enable sales reps to spend more time handling more deals. The best AI sales software for email nurturing to capture leads. Saleswhale is great for new and seasoned businesses that are looking for efficient email marketing to capture leads.
What Are AI Sales Tools?
AI sales tools are application software programs that use artificial intelligence for a better and faster sales process. It helps sales reps and customers interact and find their needs to suit each other. With its key features for smart systems, it automates tasks which provides an intelligent working environment and allows reps to reduce time spent on manual labor.
How is AI used in sales?
Artificial intelligence is used to detect patterns in behaviors and produce accurate analyses of trends in a shorter amount of time. With the decreased time and cost, more deals and opportunities are spotted at a faster rate. Coupled with highly-developed AI-powered tasks and environment automation, customer demands can be met and sales are boosted to maximum efficiency.
Which sales tool is most important?
The most important sales tool would be the most versatile. Veloxy would take the crown as it is a one-sales software that offers key features for fields such as email marketing, field sales, sales AI, sales engagement, sales automation, and a lot more. It also allows customer flexibility to use on their smartphones.
What are the tools for effective selling?
The AI sales assistant tools listed above have varying features and focuses when it comes to their selling means, but they all made it on the list titled "Best AI tools" for a reason. Drift and Exceed are versed in conversational selling, Warmer, and Saleswhale are proficient in sales emails, and Growbots is an expert in outbound sales.
Final Thoughts
AI sales tools are a smart step toward business success, they are complex sales assistant tools that are built specifically to boost sales performance. And with the right AI tools, sales professionals can maximize their sales productivity. Hopefully, our list of the best AI sales software has helped narrow down what AI sales tools are a match for you.