14 Best AI Medical Software of 2023
Not long ago, AI in medicine was more of a sci-fi dream. But today, it's a reality that's changing our lives and the way we see healthcare in ways we never thought of before.
When the COVID-19 pandemic hit, it made things really tough for healthcare. But it also made many healthcare groups around the world start trying out new ways to use AI. For example, they've been testing out smart algorithms that can help watch over patients and tools that use AI to screen people for COVID-19.
While we're still collecting data and figuring out the rules for using AI in medicine, one thing is clear: AI is offering more and more ways to help doctors, researchers, and patients. At this stage, it's pretty much certain that AI will become a key part of the digital tools we use in healthcare. These are the systems that are going to shape the future of medicine and how we take care of people's health.
This article takes a look at how AI is making waves in healthcare, creating exciting changes in the world of medicine by taking a look at the amazing AI medical software options out there. For a more in-depth look at ways to use AI in the healthcare industry, take a look at our AI for medical professionals piece.
What Is the Best AI Medical Software?
Imagine a doctor who never sleeps, takes a break, and is always learning. That's AI Medical Software for you. AI medical software stands out as the best when it can easily work with existing healthcare systems, adapt to different medical areas, and show outstanding performance in specific situations. It gives doctors and healthcare professionals the tools they need to make informed decisions, streamline their work, and enhance patient results.
In this article, we'll explore some of the leading AI medical software options, taking a closer look at their special features and the positive changes they're bringing to the world of healthcare.
Hippocratic AI: Best for Enhancing Medical Diagnosis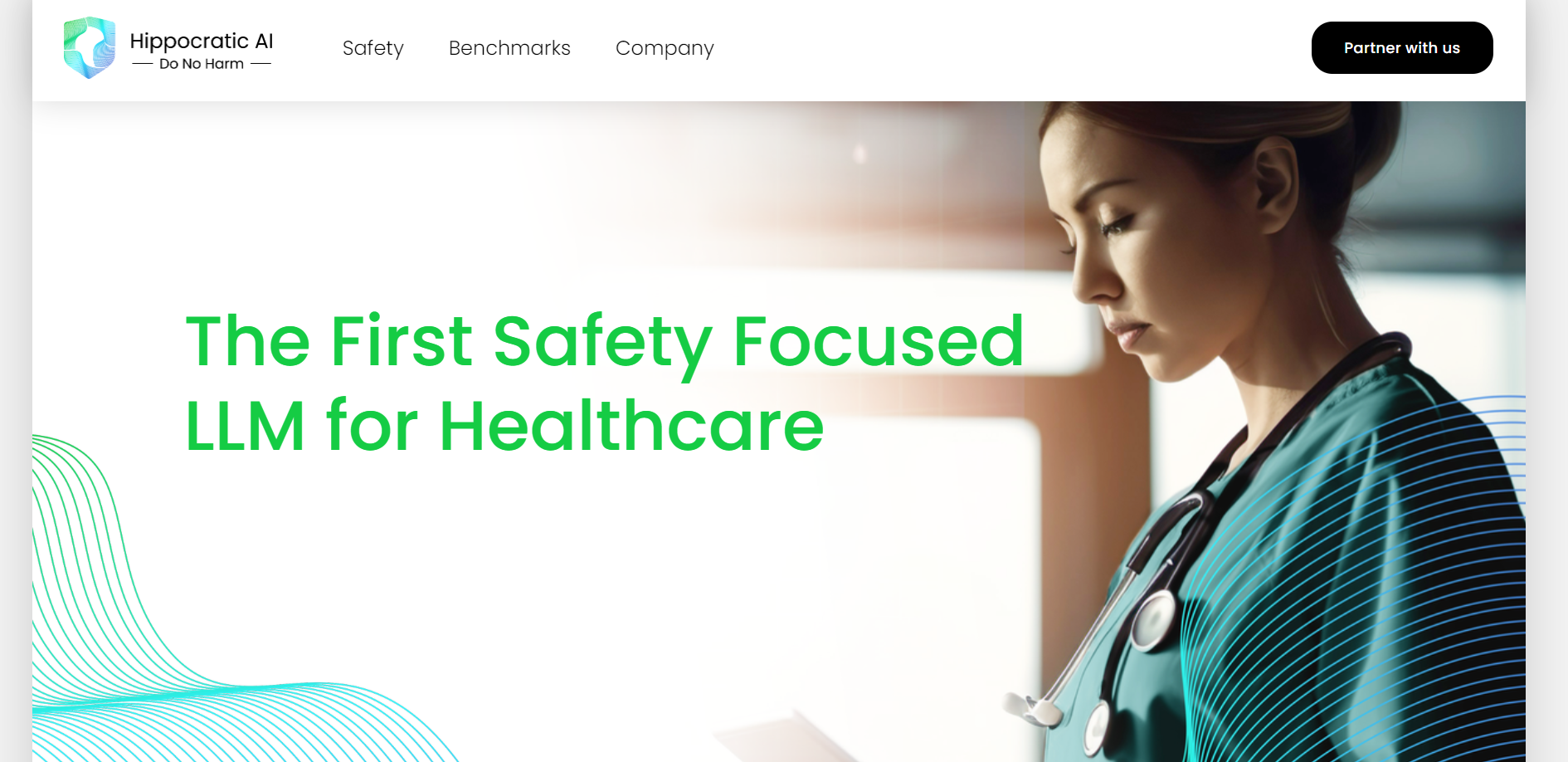 Overview
HippocraticAI offers a powerful platform that leverages artificial intelligence to enhance medical diagnosis and treatment. It uses algorithms and machine and deep learning, capabilities and learns from experience to correctly and quickly look at medical data. This helps doctors and other health workers make better decisions. The AI system is built to make work easier, make patients healthier, and make medical offices work better overall.
Highlights
Powerful AI-driven analysis: Accurate and insightful analysis of medical data for informed decision-making.
Enhanced diagnosis and treatment: Improved accuracy and efficiency in diagnosing and creating treatment plans.
Streamlined workflows: Automation of tasks to save time and prioritize patient care.
Improved patient outcomes: Accurate diagnoses, personalized treatment plans, and proactive interventions for better patient outcomes.
Efficient resource allocation: Optimized allocation of resources for cost savings and improved resource utilization.
Seamless integration: Smooth integration with existing medical systems and workflows.
Data security and privacy: Prioritization of data security and compliance with regulatory standards.
Pricing
For specific pricing details, it is recommended to reach out to HippocraticAI directly and request a personalized quote.
Bottom Line
Hippocratic AI is a game-changing medical AI software that empowers healthcare professionals with accurate analysis, streamlined workflows, and improved patient outcomes. Ideal for hospitals, clinics, and medical professionals seeking to enhance their diagnostic capabilities and optimize resource allocation, HippocraticAI offers a transformative solution that integrates seamlessly, prioritizes data security, and enables continuous learning.
Merative: Best for Health Data Management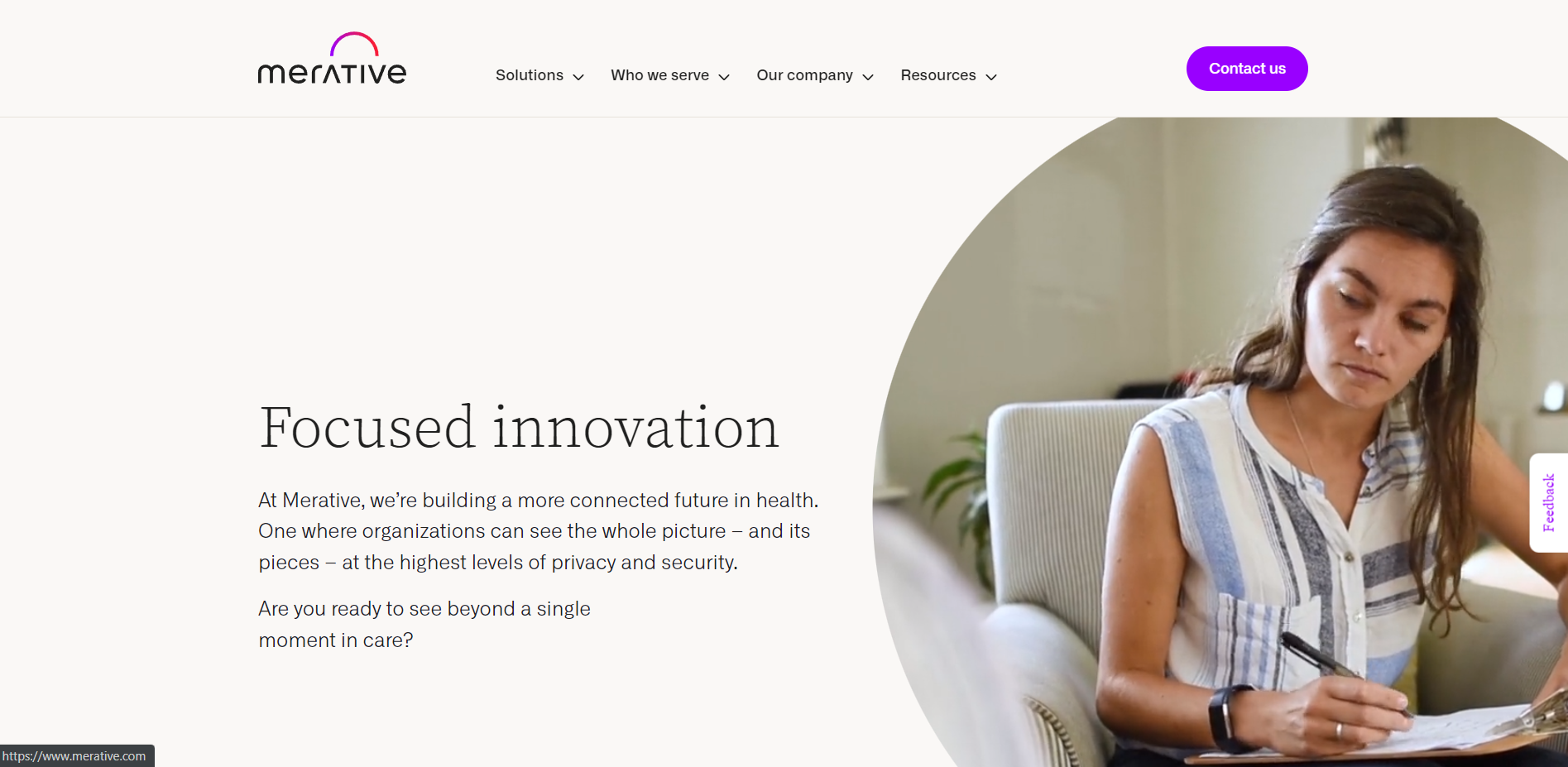 Merative (formerly IBM Watson Health) offers innovative data and analytics solutions for the healthcare and government social services sectors. Their strong focus on patient-centered data interpretation places Merative at the forefront of AI medical software providers.
Highlights
Advanced AI-driven diagnosis: Utilizes state-of-the-art AI for accurate medical diagnosis.
Personalized treatment plans: Customizes treatment plans based on individual patient data for optimal care.
Research and data analysis: Employs powerful analytics tools for comprehensive research, helping drive medical advancements.
Streamlined workflows: Enhances efficiency, enabling healthcare providers to focus more on patient care.
Clinical decision support: Provides real-time, evidence-based recommendations at the point of care.
Secure and compliant: Ensures patient data security and compliance with strict regulatory standards.
Interoperability: Integrates with various healthcare systems for smooth collaboration and data sharing.
Pricing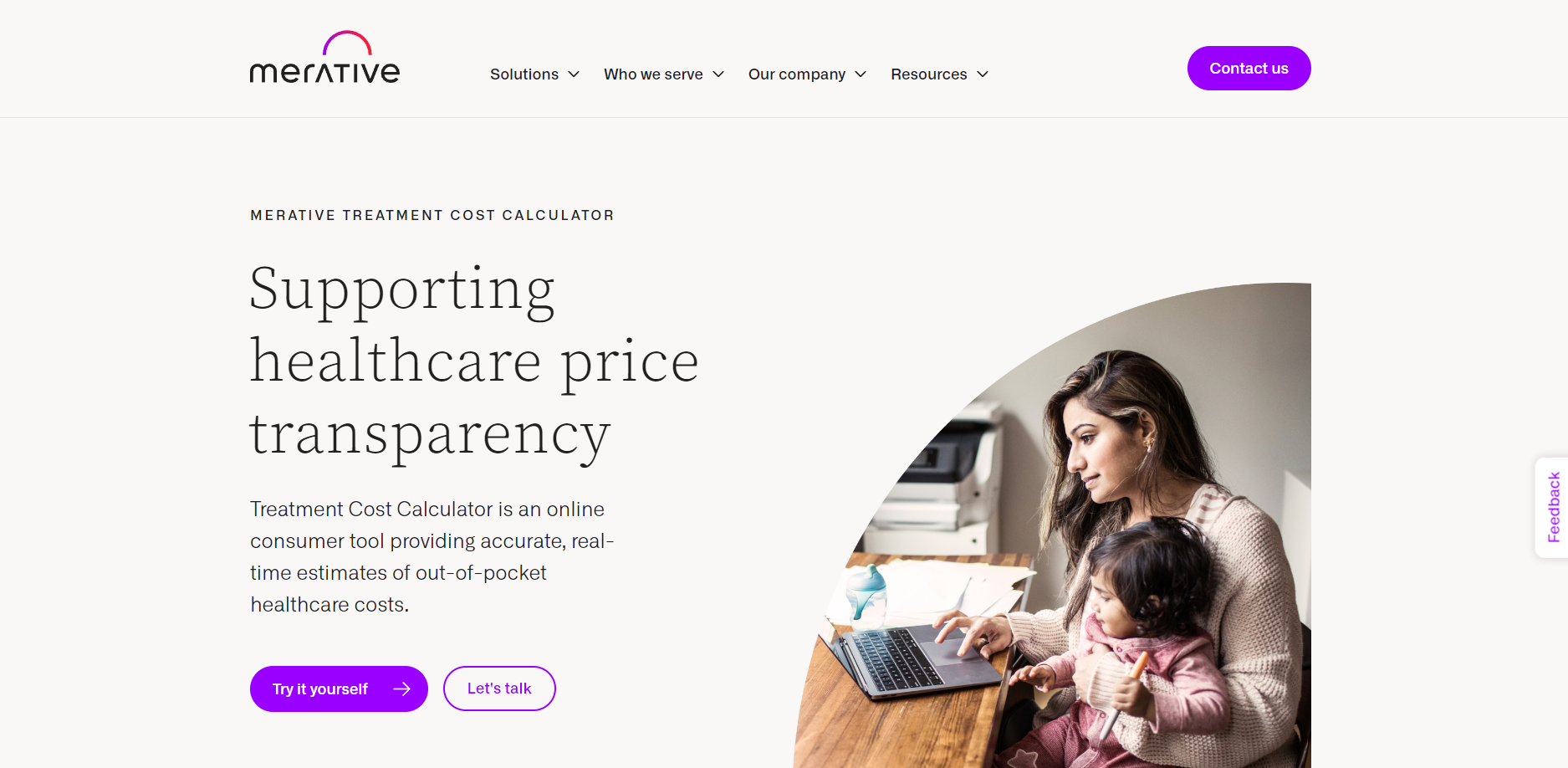 Contact Merative's sales team for pricing information that is customized based on deployment scale, user count, and specific customization or integration needs.
Bottom Line
With a focus on aligning information and insights around individuals, their products are best suited for providers, employers, health plans, governments, and life sciences companies looking to enhance decision-making and performance in these essential services.
Viz.ai: Best for Stroke Detection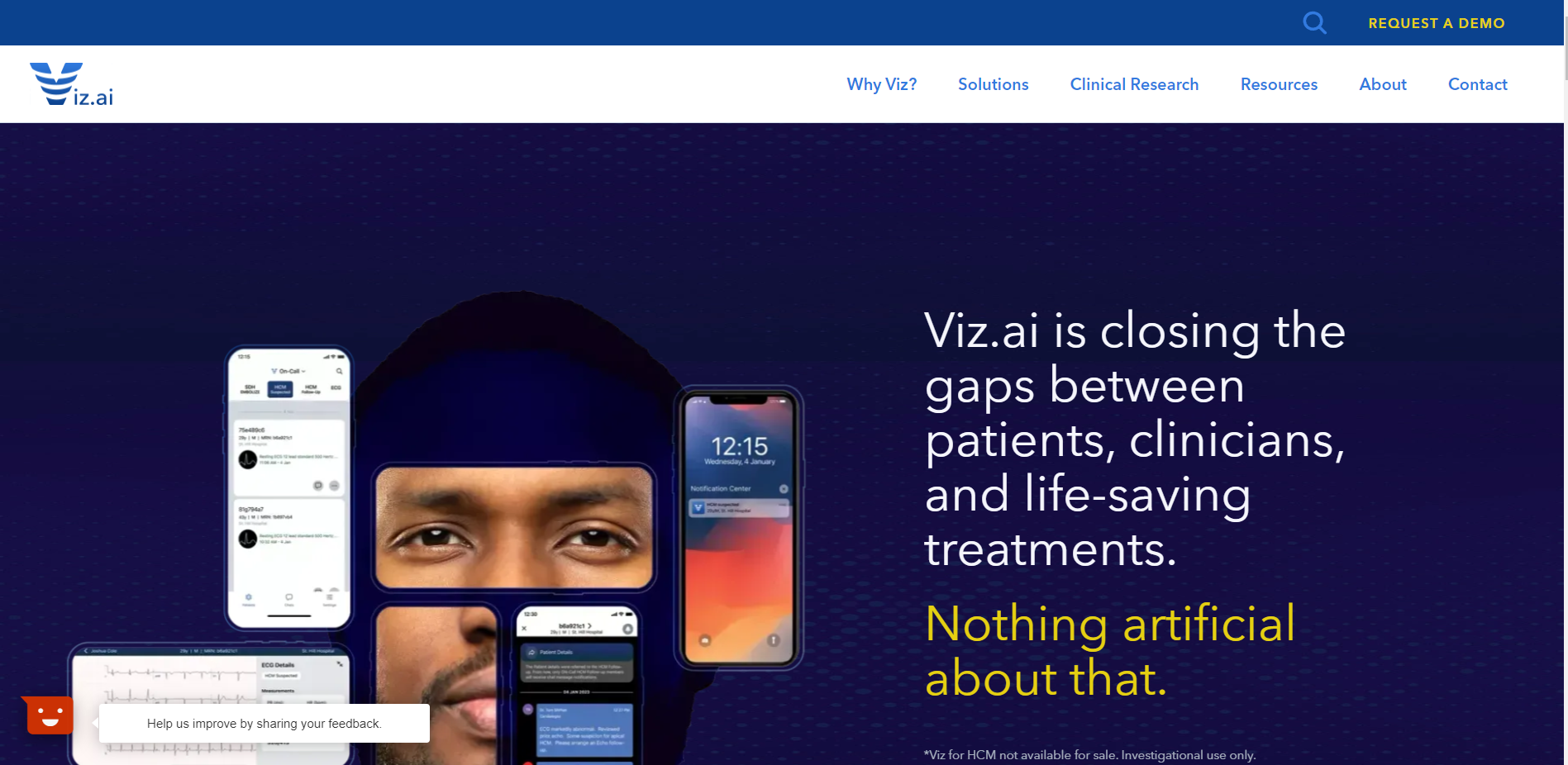 Overview
Viz.ai is a groundbreaking AI medical software that revolutionizes disease detection and treatment coordination. Founded by two doctors, CEO Chris Mansi, and CTO David Golan, this diagnostic tool can identify hypertrophic cardiomyopathy, a commonly undiagnosed genetic heart abnormality. Their intelligent care coordination solution is designed to recognize patients, provide crucial information for informed decisions during treatment, optimize care pathways, and ultimately enhance patient outcomes.
Highlights
Streamlined Care Coordination: Optimizes care pathways through a cloud-based platform, improving coordination among healthcare professionals.
Disease Detection: Uses intelligent AI for accurate identification of diseases, including difficult-to-diagnose conditions.
Informed Decision-Making: Empowers healthcare providers to make informed decisions for better patient management and personalized treatments.
Workflow Optimization: Enhances productivity and resource utilization by reducing delays and inefficiencies in healthcare systems.
Improved Patient Outcomes: Contributes to better patient outcomes and overall healthcare experiences.
Pricing
For specific pricing details, interested customers can directly contact Viz.ai's sales team for a customized quote based on their requirements.
Bottom Line
Viz.ai is a game-changer in the healthcare industry, providing a cloud-based care coordination platform powered by intelligent AI algorithms. This product is ideal for healthcare organizations seeking streamlined care coordination, efficient disease detection, informed decision-making, workflow optimization, and improved patient outcomes.
Enlitic: Best for Reading Medical Images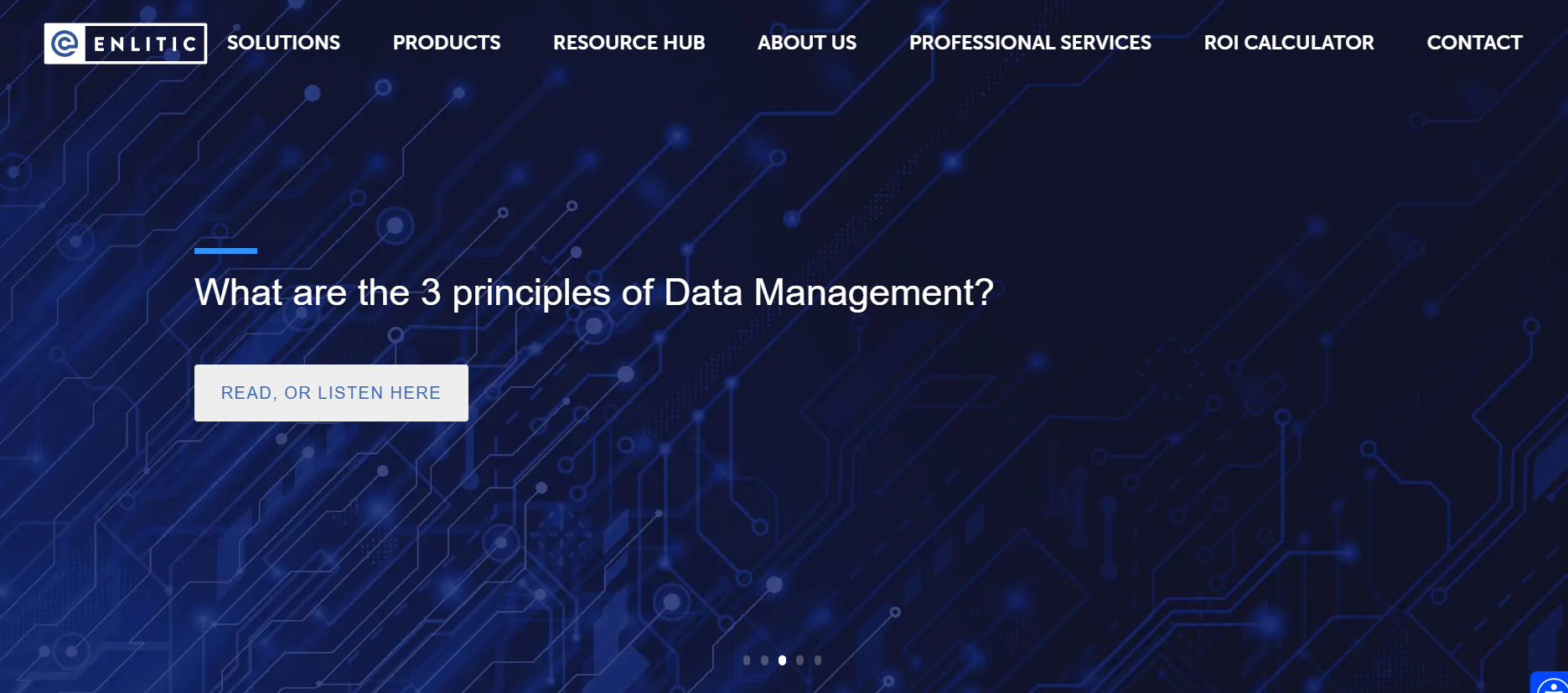 Overview
Enlitic stands out as a leading AI medical image analysis software, seamlessly integrating advanced technology into existing healthcare systems. Enlitic offers quality assessment by comparing radiology reports against corresponding images, helping prevent both over and under-called findings. This software enhances workflow, efficiency, and quality at scale, revolutionizing medical diagnostics.
Highlights
Seamless Integration: Integrates easily into existing health system infrastructure, improving workflow, efficiency, and quality.
Unremarkable Triage: Interprets scans in real-time, helping radiologists prioritize worklists based on each study's findings.
Real-Time Support: Works alongside radiologists, detecting subtle findings, providing measurements, automating the analysis, and generating reports.
Quality Assessment: Conducts post-read analysis, comparing radiology reports with corresponding images to ensure high-quality diagnostics.
Enhanced Accuracy: Improves diagnostic accuracy with AI algorithms, aiding in more precise and informed decisions.
Increased Efficiency: Streamlines workflow by automating tasks and providing real-time support, improving medical diagnostics efficiency.
Pricing
For detailed pricing information and to get a personalized quote, interested customers can directly contact Enlitic's sales team.
Bottom Line
Enlitic is an AI medical software that seamlessly integrates into existing healthcare systems, providing real-time support, improved efficiency, and enhanced diagnostic accuracy. This product is ideally suited for healthcare organizations and radiology departments seeking to optimize workflow, increase productivity, and deliver high-quality patient care.
Regard: Best for Predictive Healthcare Analytics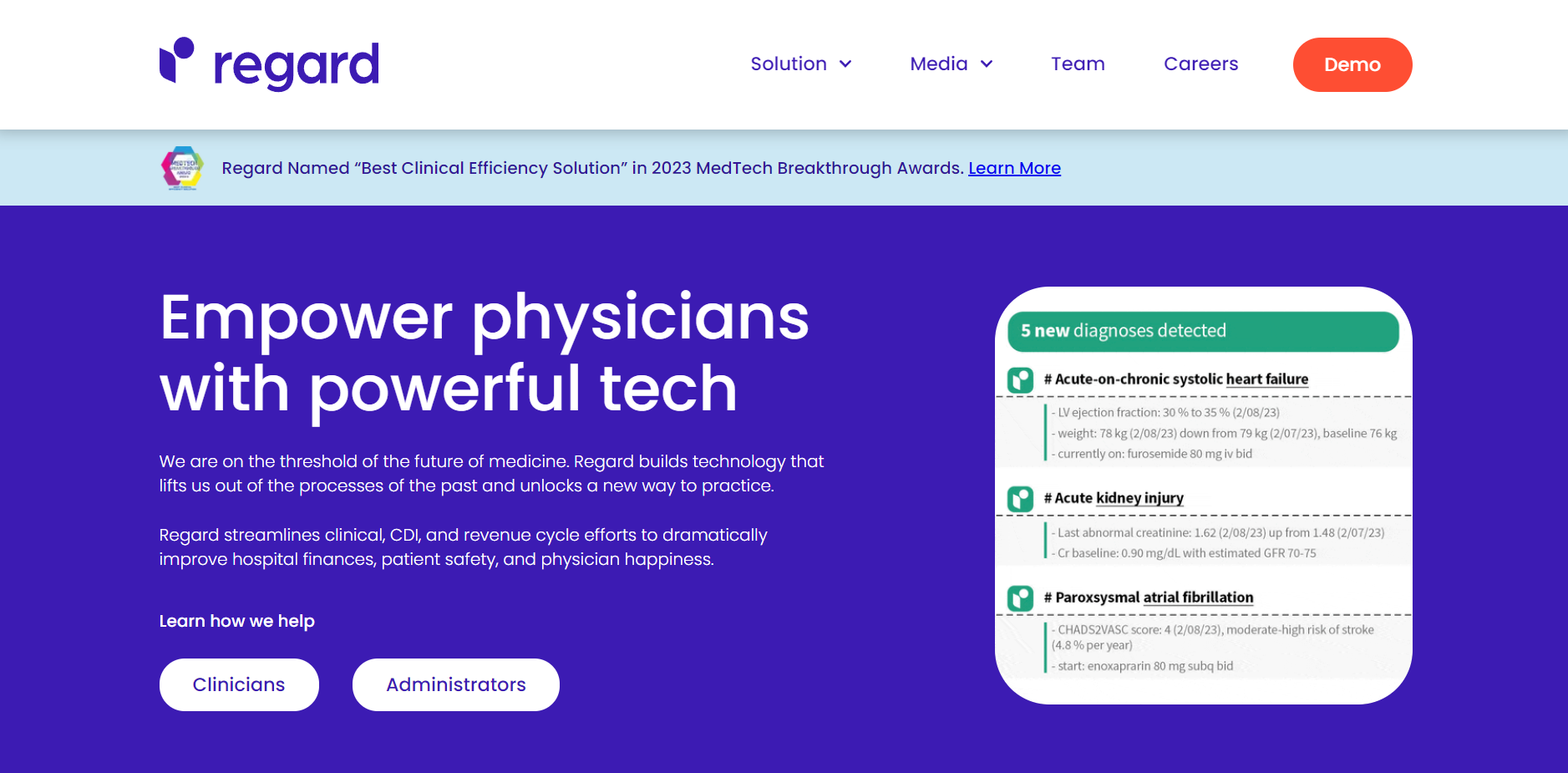 overview
Regard, formerly known as Health Tensor, is on a mission to revolutionize patient care and alleviate physician burnout. They achieve this by using artificial intelligence and machine learning to automate diagnosis, create accurate notes for doctors, and remove administrative tasks. Their smart platform easily works with electronic health records (EHR) to examine patient information, suggest diagnoses, automate note-writing, and capture missed income.
With Regard, doctors can improve their medical practice and concentrate on patient well-being. At the same time, everyone involved in the healthcare system benefits from smoother workflows and increased effectiveness.
Highlights
Automated Diagnosis: Uses AI for automatic patient diagnosis, improving patient care and outcomes.
Efficient Note Generation: Automates note generation, saving time on manual documentation and improving workflow efficiency.
Reduced Burnout: Decreases physician burnout by automating administrative tasks and supporting the patient diagnosis.
Simplified Coding Queries: Minimizes coding questions and ensures precise coding practices, reducing administrative burdens.
Revenue Capture: Optimizes revenue generation by analyzing patient data and identifying missed revenue opportunities.
Improved Medical Practice: Integrates with electronic health records, assisting doctors in enhancing their medical practice.
Enhanced Efficiency: Provides smoother workflows, faster diagnoses, and improved documentation processes for better efficiency and productivity.
Support for Stakeholders: Supports various health system stakeholders, promoting collaboration and smooth communication.
Advanced Data Analysis: Analyzes and synthesizes patient data for accurate diagnoses and personalized patient care.
Pricing
Regard offers tailored pricing options based on the specific needs and requirements of healthcare organizations.
Bottom Line
Regard stands as a transformative solution, revolutionizing the way diagnoses are made, notes are electronic medical records are generated, and patient care is delivered. It is designed to benefit healthcare organizations of all sizes, from small clinics to large hospital networks, by improving patient care, reducing administrative workload, and maximizing revenue capture. The seamless integration with electronic health record (EHR) systems allows for a smooth implementation of this innovative solution. By leveraging the power of AI and machine learning, Regard transforms healthcare into a more efficient, precise, and empathetic system, enabling physicians to prioritize their patients' well-being.
Twill Health: Best for Personalized Patient Care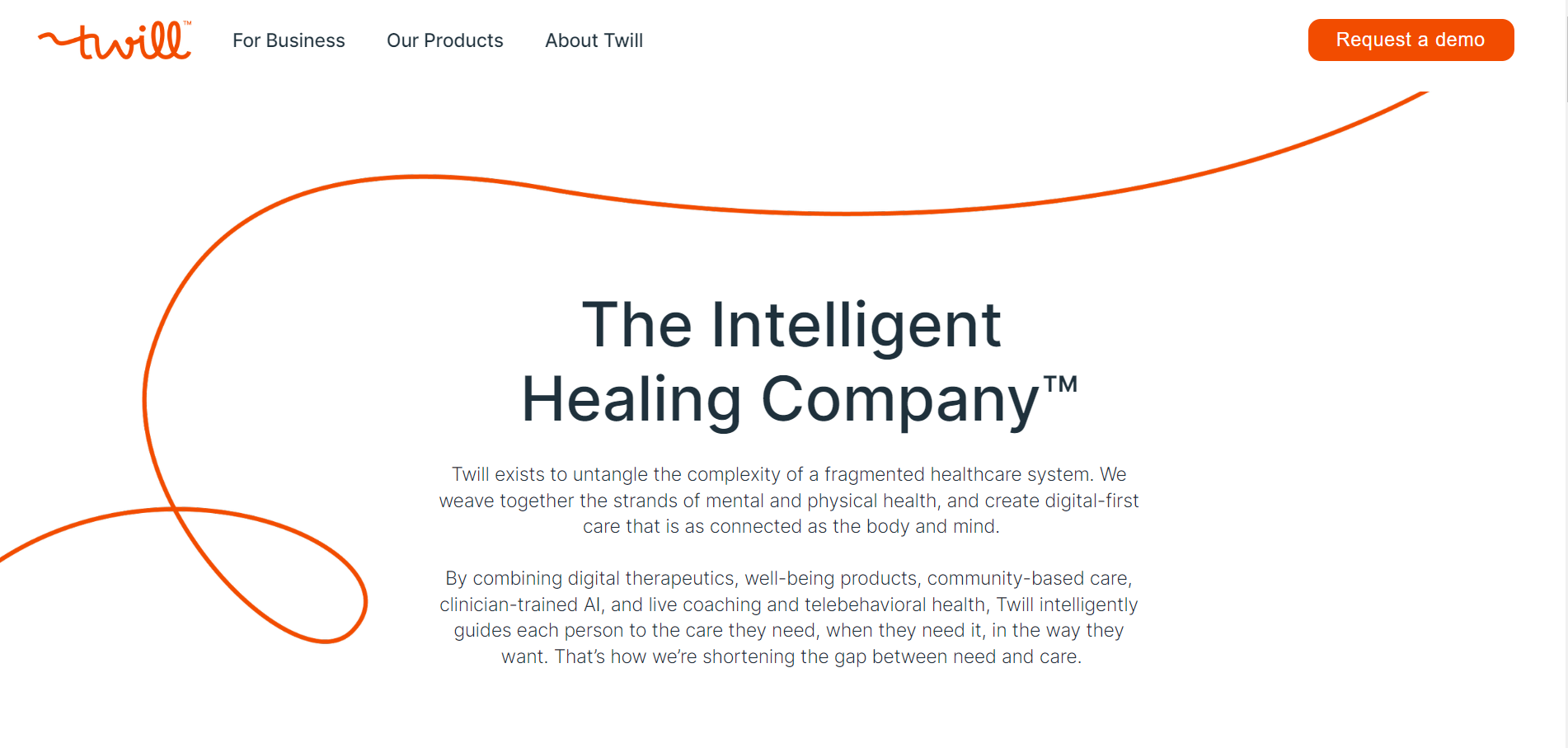 overview
Twill, previously called Happify Health, pioneered the concept of The Intelligent Healing Company™. Twill redefines patient care by providing a health tech infrastructure that seamlessly integrates various digital solutions. Their main product, Sequences, acts as a foundation that links wellness apps, digital treatments, virtual coaching, telehealth platforms, and other tools to create a personalized and guided patient care experience.
Highlights
Sequences, powered by Twill's Intelligent Healing Platform, intelligently guides individuals through a personalized and precise care journey. It leverages a deep understanding of clinical needs and personal preferences to provide a seamless and highly personalized care experience.
Therapeutic Intelligence™ ensures ethical responsibility and a strong therapeutic relationship, helping individuals access the care they need, when they need it, and in the way they prefer.
Therapeutic Media™ delivers evidence-based interventions through a specialized content library, resulting in high engagement, retention, and positive behavioral and clinical outcomes.
The Intelligent Healing Platform™ offers a flexible and scalable architecture that seamlessly integrates with third-party services.
Collaboration among clinicians, psychologists, engineers, and technologists ensures a human-centered approach to AI-powered care.
Twill supports pharmaceutical companies, health plans, large employers, and their members, serving over 18 million individuals worldwide.
Sequences is available in 10 languages, enabling a more accurate, personalized, and effective care experience on a larger scale.
Pricing
Twill offers flexible pricing options tailored to the specific needs of pharmaceutical companies, health plans, and jumbo employers.
Bottom Line
Twill, The Intelligent Healing Company™, redefines personalized care journeys with its powerful digital health infrastructure. With its hyper-personalized Sequences, configurable solutions, and focus on ethical responsibility, Twill is best suited for pharmaceutical companies, health plans, and jumbo employers seeking to deliver precise, engaging, and effective care experiences. Twill revolutionizes healthcare delivery, empowering stakeholders to mine health data to curate tailored experiences that optimize outcomes and enhance patient well-being.
Linus Health: Best for Brain Health Checkups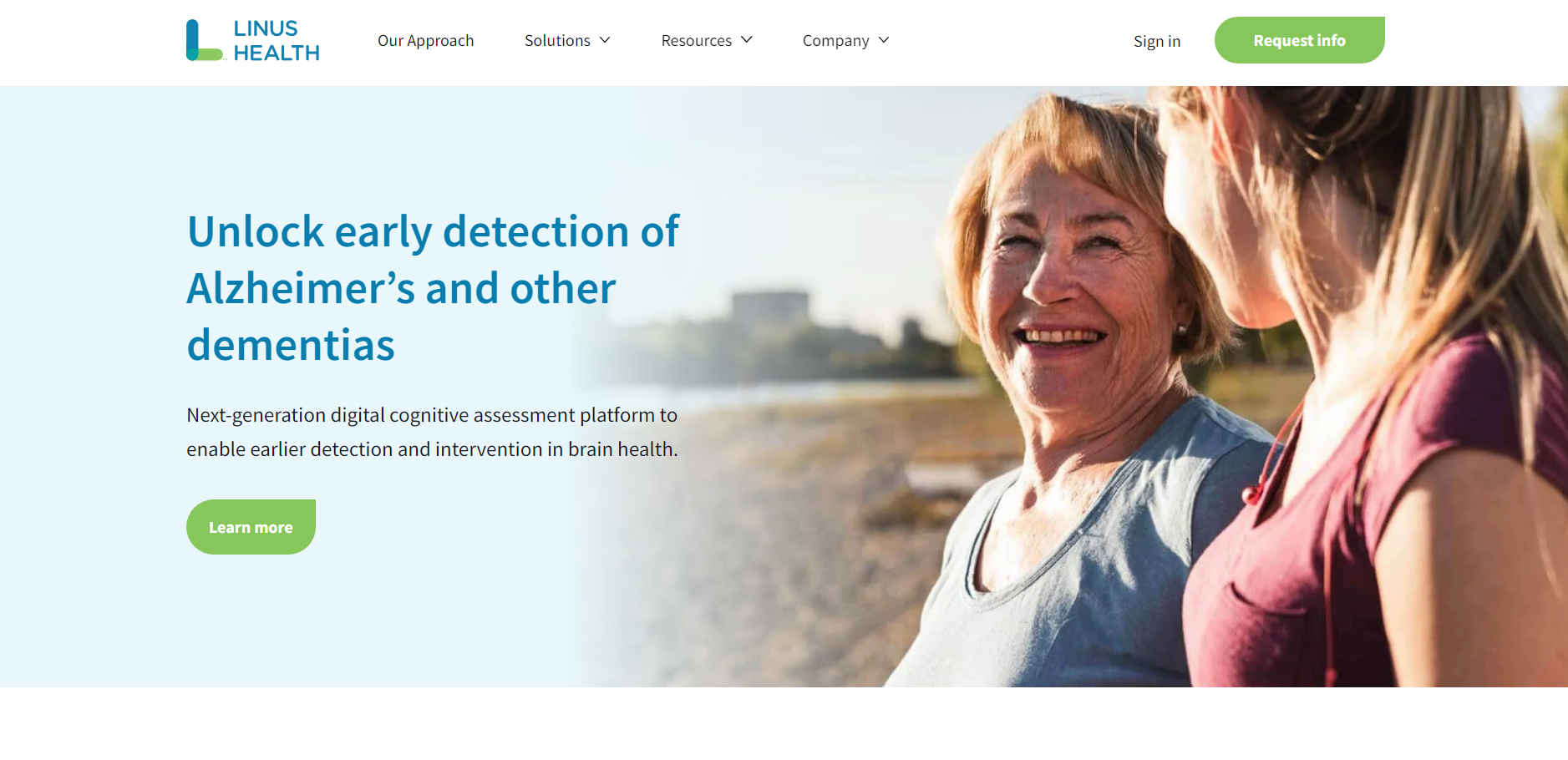 overview
Linus Health, a Boston-based digital health company, is dedicated to transforming brain health worldwide. Linus Health aims to enable a future where people can lead longer, happier, and healthier lives with improved brain health. Their digital platform offers early detection of cognitive and brain disorders, provides actionable clinical insights for healthcare providers, and delivers personalized action plans for individuals. Partnering with esteemed research institutions and healthcare organizations, Linus Health accelerates proactive intervention and personalized care in brain health.
Highlights
Next-generation Cognitive Assessments: Merges trusted cognitive tests with AI-enhanced brain analysis for efficient and scientifically-validated early detection of cognitive impairment.
Streamlined Workflows: Uses an iPad-based system to simplify clinical care and research with easy-to-use assessments, automated scoring, support for multiple languages, and integrated clinical decision support.
Personalized Patient Action Plans: Provides customized plans with specific interventions and recommendations based on individual needs.
Trusted and Proven Technology: DCTclock, an AI-upgraded version of the clock drawing test, is backed by 10 years of research from top institutions and has proven effective in over 20 studies.
Bridging Technology and Familiarity: Combines new technology with known cognitive testing methods for a smooth transition for healthcare providers and patients.
Pricing
Linus Health offers flexible pricing options to meet the needs of healthcare providers and organizations.
Bottom Line
If you're passionate about brain health and want to stay ahead in detecting and addressing cognitive disorders, Linus Health is your go-to solution. Their digital platform, powered by cutting-edge AI technology, is perfect for healthcare providers, research institutions, and organizations that are dedicated to proactive intervention and personalized care.
PathAI: Best for AI-Powered Pathology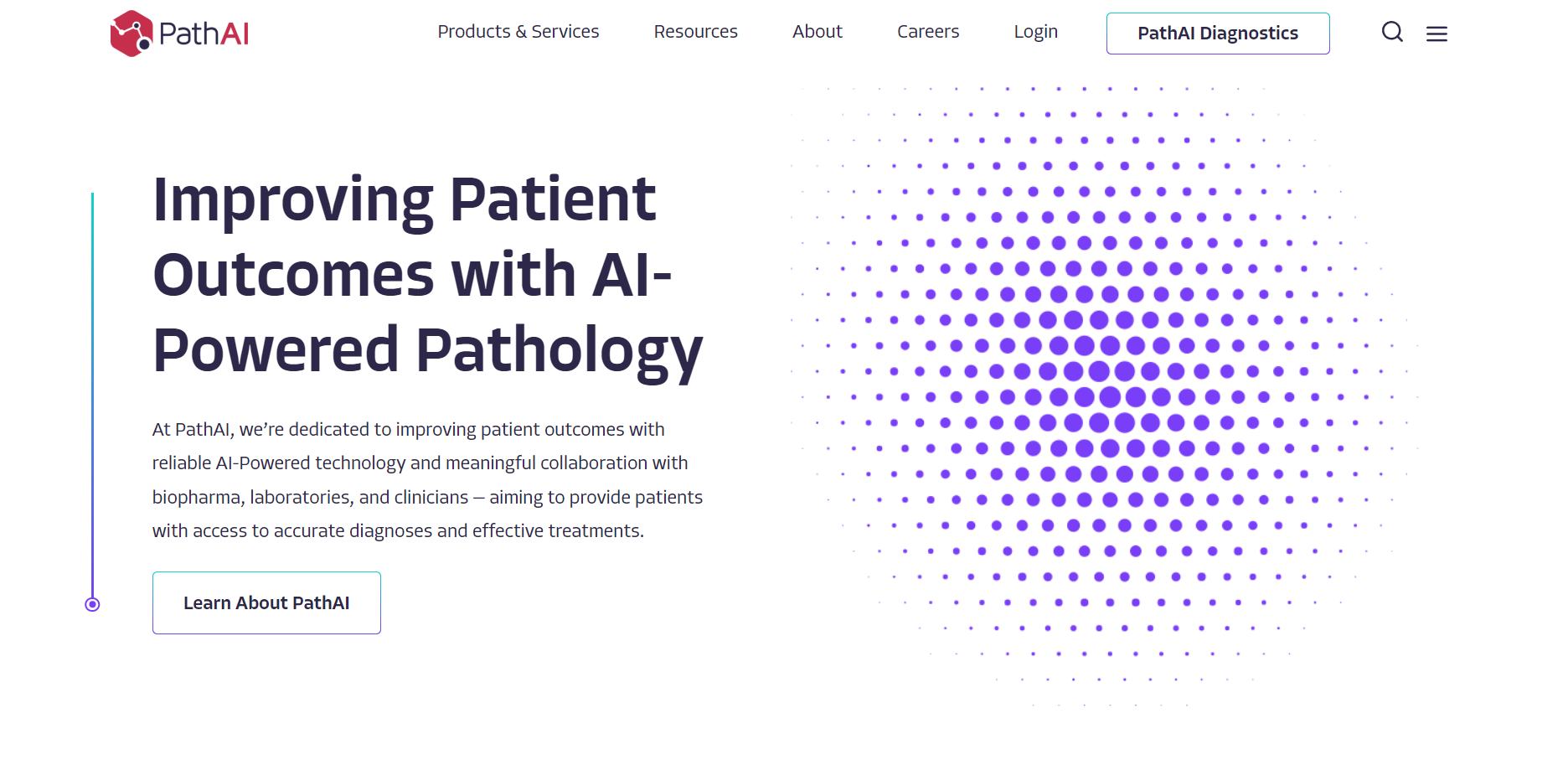 overview
Founded in 2016 and headquartered in Boston, Massachusetts, PathAI has positioned itself as a trusted partner in the healthcare industry. At the core of PathAI's mission is the aim to provide patients with access to accurate diagnoses and effective treatments. By harnessing the power of artificial intelligence, PathAI enhances the accuracy of pathology diagnosis, clinical trials, and the efficacy of disease treatment, with a particular focus on cancer.
Highlights
PathAI empowers pathologists to make more accurate and standardized diagnoses by leveraging consistent, AI-driven methodologies.
The platform accelerates drug development by enhancing analytical capabilities and automating tasks, allowing scientists to focus on the strategic implications of drugs.
PathAI is committed to global health, with a project funded by the Gates Foundation to develop affordable AI-driven applications that can provide pathologic diagnoses to developing nations.
The technology enables precise and personalized treatment plans, improving patient outcomes and ensuring access to effective treatments.
PathAI's AI-powered research tools support biopharma companies in developing new drugs and diagnostics, facilitating faster and more efficient innovation.
By harnessing the power of machine learning, PathAI delivers insights from vast amounts of data, enabling data-driven decision-making and improved patient care.
The platform offers a user-friendly interface, making it accessible and easy for healthcare professionals to integrate AI-powered solutions into their daily workflows.
Pricing
Pricing is available upon request and is based on factors such as the scope of services required, the scale of implementation, and the level of support needed. Contact PathAI directly to discuss pricing details and find a solution that aligns with your goals and budget.
Bottom Line
PathAI's AI-powered solutions are transforming pathology, offering enhanced accuracy and efficacy in diagnoses and treatments, particularly in the field of cancer care. With a commitment to collaboration and partnerships with biopharma companies, laboratories, and clinicians, PathAI is driving advancements in precision medicine. By harnessing the potential of AI and machine learning, PathAI empowers healthcare professionals with powerful tools and services that have the potential to revolutionize patient outcomes. To learn more about PathAI and its groundbreaking work, visit pathai.com.
Buoy Health: Best AI Symptom Checker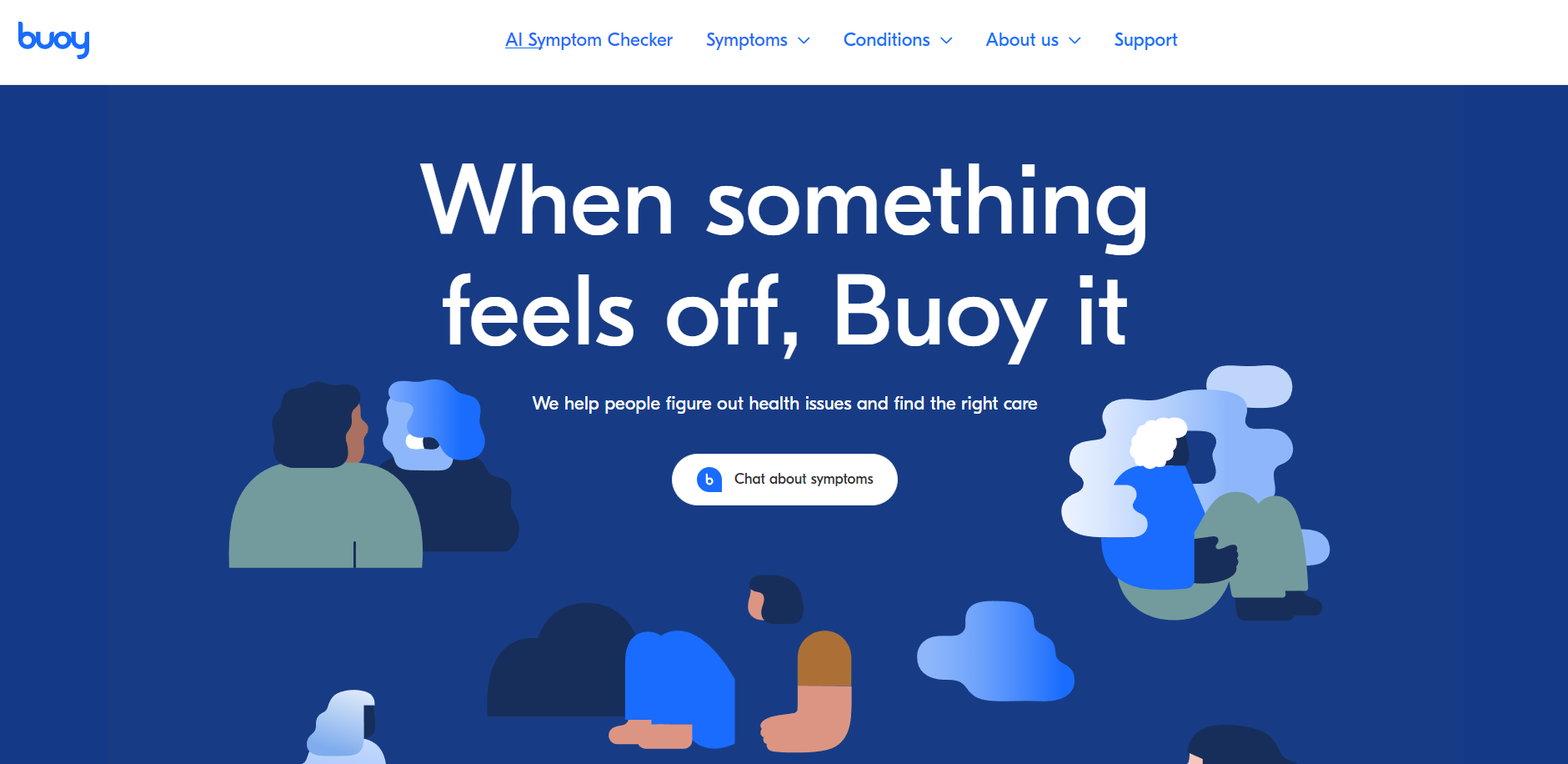 overview
Buoy Health is a leading AI medical software that offers a personalized symptom checker powered by artificial intelligence and advanced machine learning. By combining user-reported symptoms with the latest medical information, Buoy Health provides individuals with personalized insights on potential causes and treatments for their illnesses. With the official launch of its marketplace, Buoy has curated a comprehensive range of over three dozen care solutions, covering physical, mental, and specialized health needs.
Highlights
Personalized Symptom Checker: Uses AI to combine user symptoms with medical data for personalized insights on potential causes and treatments.
Centralized Employer Hub: Works with employers to simplify care solutions within existing health benefits, making billing and contracting easier.
Flexibility and Customization: Allows employers to add or remove digital health options based on employee needs for a tailored healthcare experience.
Cost-Effective Solutions: Provides affordable care solutions for underserved groups, ensuring accessibility and inclusivity.
AI-Powered Insights: Offers accurate and up-to-date medical information for reliable health guidance.
User-Friendly Platform: Easy-to-use interface helps individuals find the information and care options they need.
Streamlined Administrative Tasks: Simplifies administrative tasks for employers, reducing the complexity of managing multiple digital health vendors.
Pricing
Pricing details can be obtained by contacting Buoy Health directly.
Bottom Line
Buoy Health is an impressive AI medical software that offers a personalized symptom checker and a comprehensive marketplace of care solutions. It's perfect for individuals who want quick and accurate insights into their health concerns, as well as employers seeking to streamline their digital health offerings. With Buoy, you can make informed healthcare decisions, access a range of digital health options, and simplify administrative tasks. Try Buoy Health today and experience the convenience and effectiveness of its AI-powered platform.
Freenome: Best for Cancer Detection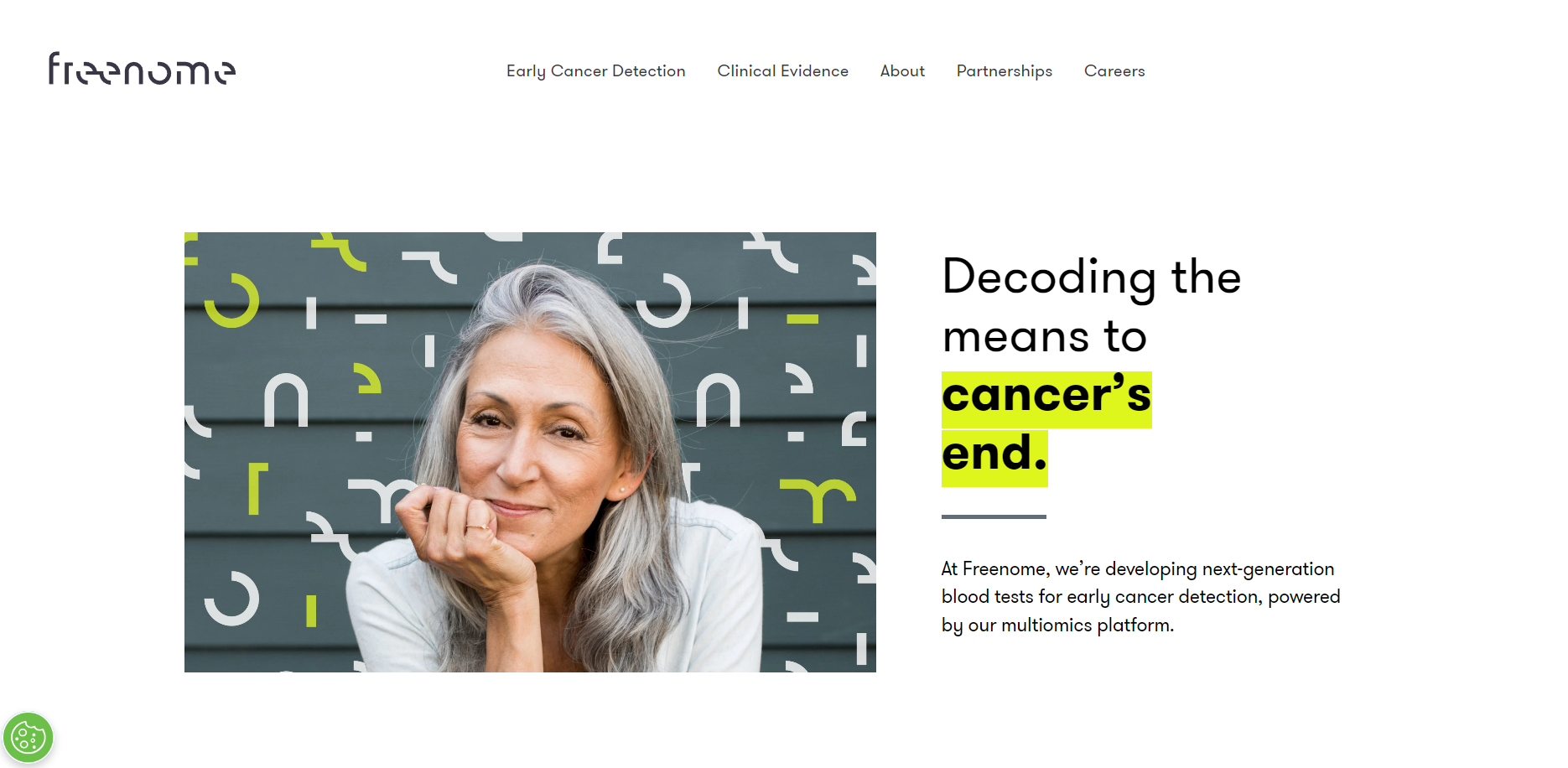 overview
Freenome is a pioneering AI medical software that focuses on developing high-quality diagnostic tests for the early detection and treatment of diseases, especially cancer, through a simple blood draw. Through their multiomics platform, Freenome's tests analyze disease-associated patterns in the blood, enabling the identification of suspicious molecular patterns associated with tumors. This breakthrough technology bridges the accessibility gap by offering a standard blood test that can detect cancer at its earliest stages, significantly improving the chances of successful treatment.
Highlights
Multiomics Approach: Combines nucleotide and protein data for a complete view of a patient's cancer, enabling early detection of pre-cancerous conditions.
Holistic Picture of Cancer: Provides a thorough understanding of a patient's cancer, allowing for personalized treatment plans.
Wide Application: Has the potential to detect multiple types of cancer, expanding its impact in cancer diagnostics.
Acceptable and Convenient: Uses a blood-based testing approach, offering a non-invasive, patient-friendly alternative to traditional screenings.
High Funding and Collaboration: Backed by substantial funding and collaborations with industry giants like Google, Novartis, and Roche.
Preemptive Cancer Detection: Identifies early cancer signals, allowing for proactive interventions, saving lives, and improving patient outcomes.
Pricing
For pricing details, interested parties can contact Freenome directly to discuss their requirements and receive a personalized quote.
Bottom Line
Freenome is an innovative AI medical software that offers a multiomics approach to cancer diagnostics, providing a comprehensive understanding of a patient's cancer and enabling early detection and personalized treatment. Best suited for healthcare providers, researchers, and organizations focused on cancer detection and prevention, Freenome's technology offers a powerful tool to improve patient outcomes.
VirtuSense: Best Fall Prevention Solution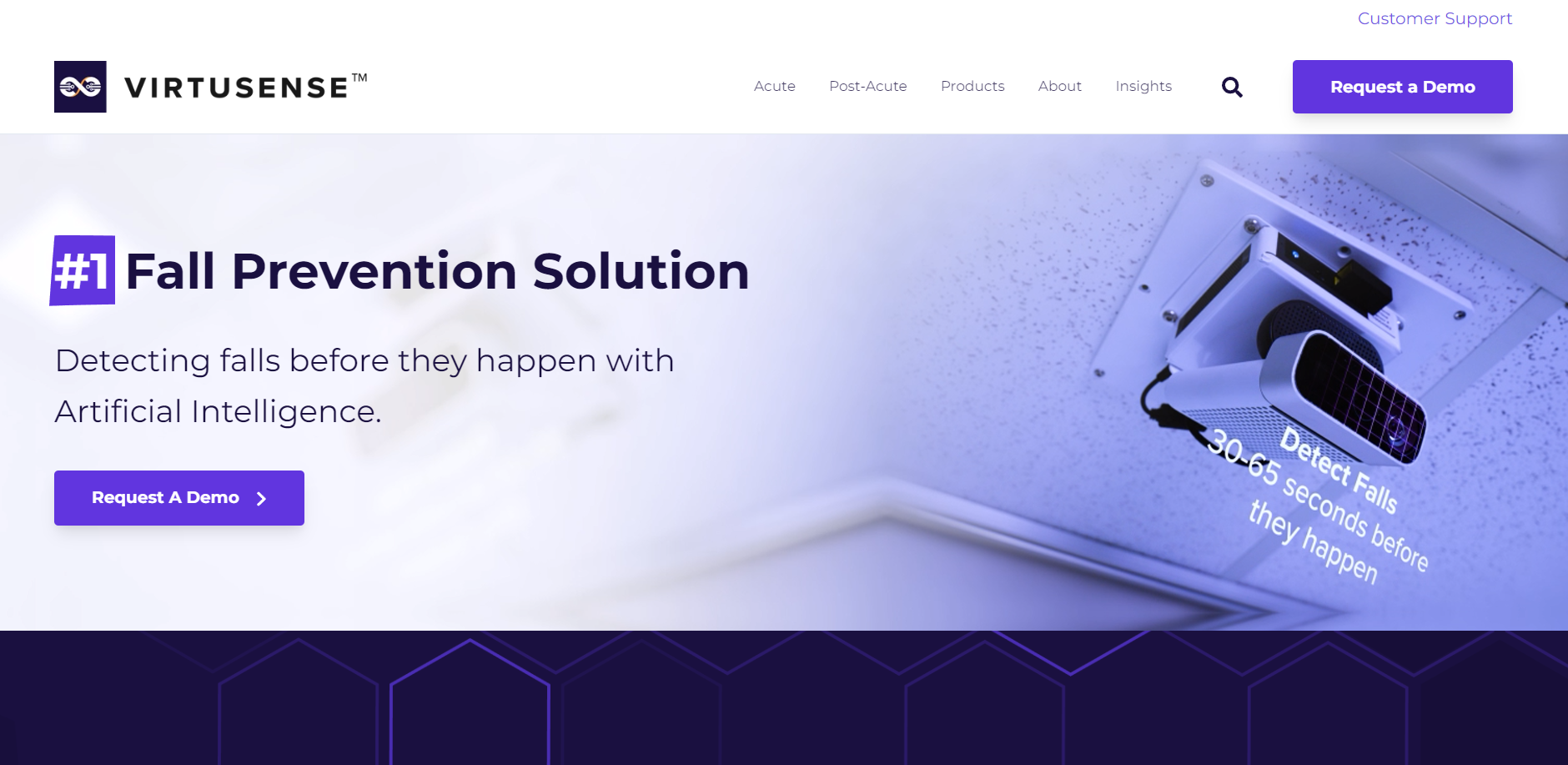 overview
With a focus on predictive technology, VirtuSense aims to transform healthcare by alerting care teams to adverse events such as falls, sepsis, and heart attacks before they occur. Founded in 2013 by an engineer who believed in the power of proactive care, VirtuSense is committed to making healthcare simple, affordable, and accessible without compromising quality. They have a proven track record in developing advanced AI-powered systems, including the widely deployed full-body scanning technology used in U.S. airports.
Highlights
CareAgents Program: VirtuSense's AI tools are supported by the CareAgents program, delivering proven outcomes in preventing falls and protecting older adults.
Predictive Safety Technology: VSTBalance and VSTAlert utilize advanced AI and LIDAR sensors to detect fall risk, offering long-term risk reduction and immediate fall prevention for bed-bound residents, respectively.
Significant Reduction in Falls: VSTAlert reduces falls in skilled nursing by 75% and falls with hospitalization by 78%, while VSTBalance increases resident mobility by up to 85% in assisted living communities, leading to a substantial reduction in falls with injury.
Enhanced Resident Safety and Trust: By detecting deficits in gait and function, VSTBalance enables residents to age in place longer, promoting safety, trust, and peace of mind.
Cost Savings and Efficiency: The benefits of VirtuSense's solutions include eliminating medical costs, annual insurance claims, and spending on deductibles, while also increasing staff efficiency and census for post-acute organizations.
Accessibility and Partnership: The CareAgents program increases accessibility to VirtuSense's tools, enabling senior living communities, rehab facilities, and skilled nursing communities to launch effective fall prevention strategies.
Pricing
Pricing for Virtusense is available upon request and is determined by several factors.
Bottom Line
VirtuSense is an exceptional AI medical software that brings proactive healthcare to the forefront. With their advanced AI tools and predictive safety technology, VirtuSense is perfect for post-acute organizations such as senior living communities, rehab facilities, and skilled nursing communities, aiming to prevent falls and protect older adults. Don't miss out on this opportunity to enhance resident safety, increase efficiency, and reduce insurance claims with VirtuSense.
Caption Health: Best for Heart Disease Detection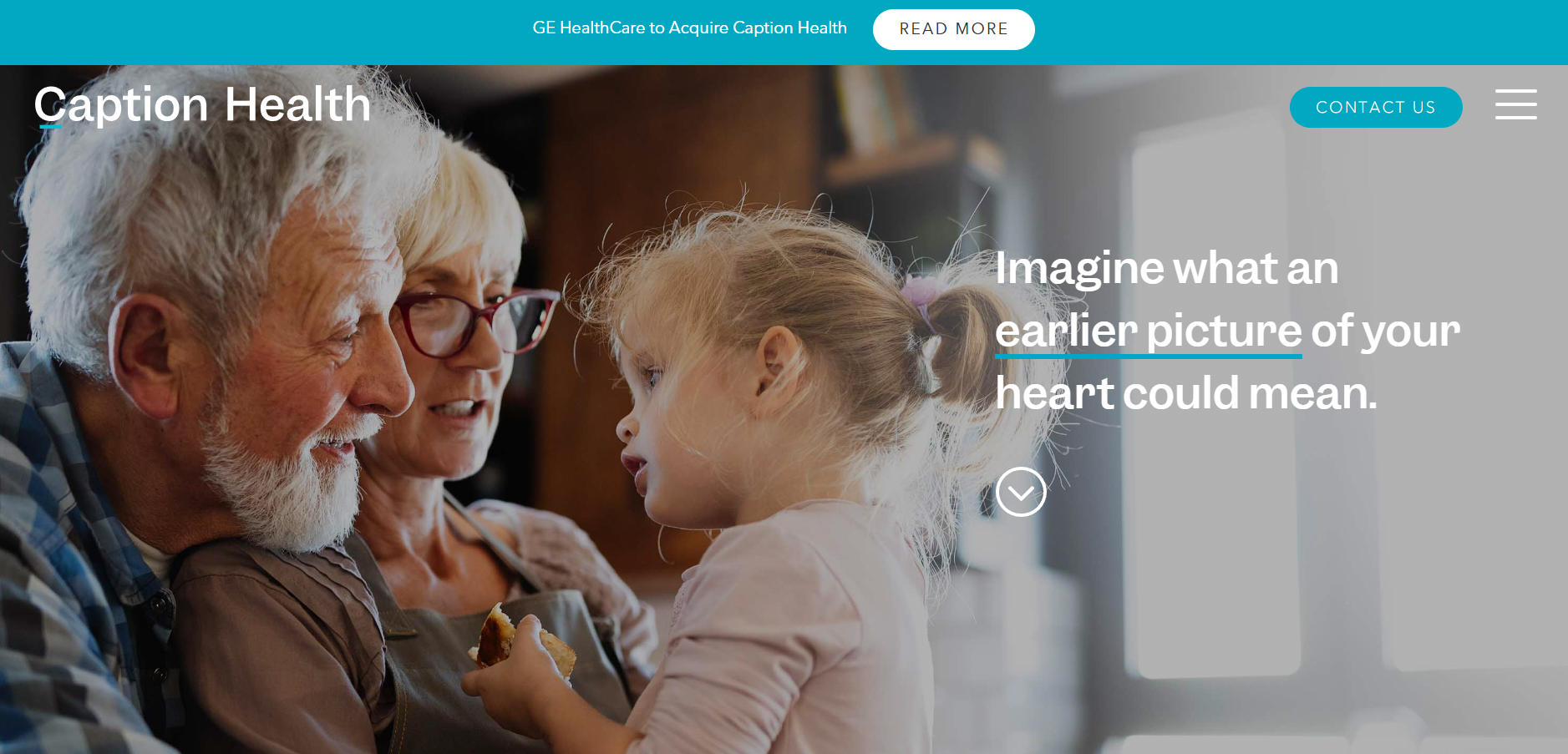 overview
Caption Health, a leading medical AI company, is revolutionizing healthcare outcomes by improving access to ultrasound technology. Their Caption AI ultrasound technology is being utilized in important medical studies, such as the COVID-19 Health Action Response for Marines study. Caption Health's AI platform enables early detection of heart disease through accessible echocardiograms. By identifying heart disease earlier, Caption Health helps prevent serious issues and enables timely care plan development.
Highlights
Easier and Faster Ultrasound Exams: Caption AI simplifies basic echocardiogram exams, making them quicker and easier.
Expanded Access to Care: Helps detect signs of diseases like heart failure in at-risk patients, improving health outcomes.
Strong Development Pipeline: Continues to innovate with new AI software for ultrasound use in lung-related applications.
Enhanced Diagnostic Capabilities: Improves the ability to accurately identify and diagnose heart and lung conditions.
Improved Patient Outcomes: This leads to better health outcomes by catching diseases early and enabling timely treatment.
Patent Topics: Has a strong presence in fields like magnetic resonance imaging and medical equipment, showing its dedication to advancing medical tech.
Pricing
To learn more about pricing and receive a personalized quote, please contact Caption Health directly to discuss your specific requirements.
Bottom Line
Caption Health's AI-powered ultrasound technology brings accessibility and convenience to healthcare professionals, enabling early detection of heart disease and improved patient outcomes. This product is ideal for healthcare providers, payers, and value-based care organizations seeking to enhance their diagnostic capabilities, expand access to care, and prevent hospitalizations through the efficient and accurate performance of echocardiogram exams. Experience the transformative impact of Caption Health's innovative solution and take your healthcare practice to new heights.
Arterys: Best for Medical Imaging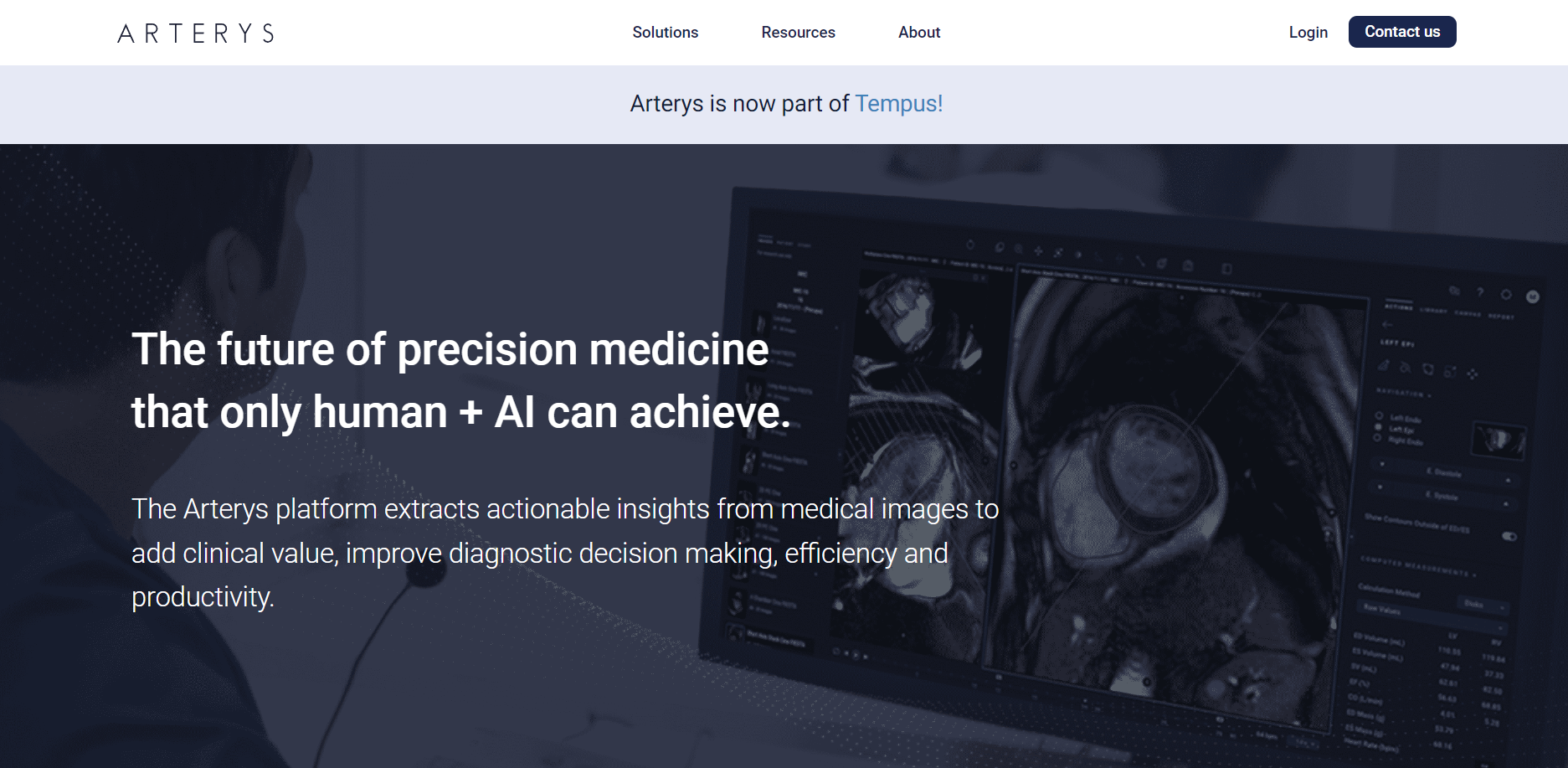 overview
Arterys is revolutionizing the field of radiology as the market leader and the world's first internet platform for medical imaging. Arterys specializes in 4D Flow technology, offering noninvasive and non-radiative measurements of blood flow throughout the body. This technology enables physicians to visualize and analyze blood flow in the heart in 3D, accompanied by automatic and interactive reporting.
Highlights
Workflow Integration: Connects smoothly with existing systems like PACS, RIS, EMR, and dictation software, fitting seamlessly into clinical workflows.
Speed: Uses elastic cloud GPU architecture to quickly perform tasks like rendering 3D files, analyzing large data, and running AI applications in real-time.
Accuracy: Combines human expertise with AI to improve patient outcomes through precise medicine and new insights, enhancing the physician experience.
Throughput: Designed for efficiency, quickly loads and interacts with files of any size, accessible from anywhere, anytime.
Arterys Viewer: A simple, intuitive tool that lets healthcare professionals work together on the same patient study and images without sharing personal information.
Pricing
To obtain detailed pricing information, interested parties can reach out to Arterys Sales team directly and request a personalized quote.
Bottom Line
Arterys is dedicated to advancing medicine globally. Their focus is on addressing the challenges faced by radiologists, including heavy workloads, lack of accuracy with existing tools, and the need for consistency across practices. Arterys has received multiple FDA clearances, operates in 28 countries, and strives to make imaging diagnostics quantitative, intelligent, and accessible to improve patient lives.
Cleerly: AI-driven Heart Imaging Technology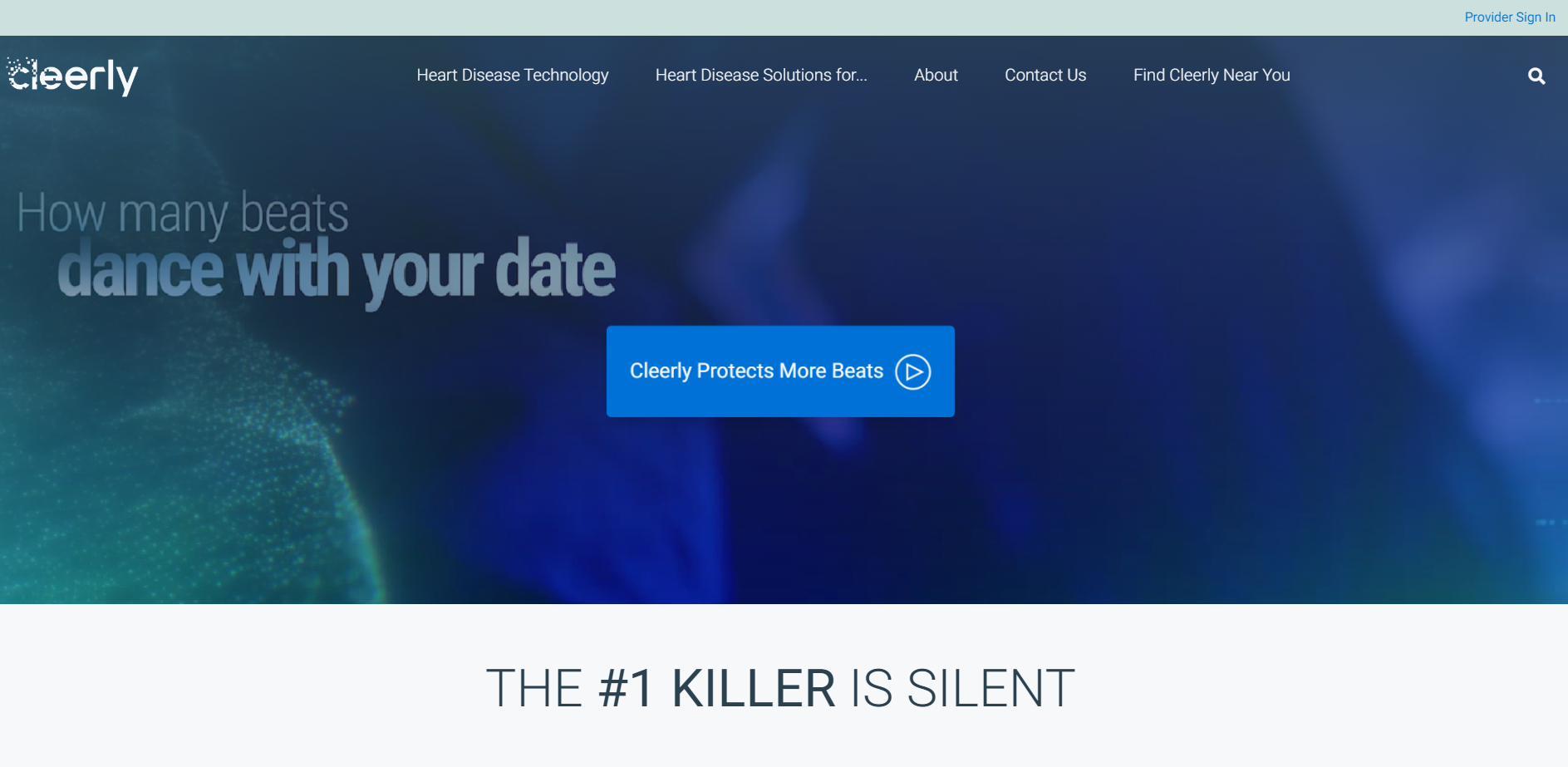 overview
Cleerly is a medical software that uses advanced technology to analyze heart scans and detect early signs of heart disease. By examining the amount of plaque in the arteries and calculating the risk of a heart attack, Cleerly helps doctors provide personalized treatment plans. This innovative tool reduces heart attack risks and provides clear insights for doctors to discuss with their patients, improving overall heart health outcomes.
Highlights
Cleerly goes beyond traditional measures of heart disease by analyzing and quantifying different types of plaque, helping providers accurately assess a patient's risk of a heart attack.
Their digital cardiovascular care management program provides innovative tools that transform complex imaging data into actionable insights for clinicians and patients.
Cleerly utilizes proprietary and FDA-cleared machine learning algorithms to analyze atherosclerosis and stenosis using standard coronary computed tomography angiography (CCTA) studies.
Their AI algorithms generate 3D models of coronary arteries, identify stenoses, and quantify and categorize plaque.
With millions of annotated CCTA images, Cleerly's algorithms accurately quantify and characterize atherosclerosis and its features.
By intervening before a catastrophic heart event, Cleerly aims to prove therapeutic success and improve patient outcomes.
Pricing
If you want to know the exact pricing details, it is advisable to get in touch with Cleerly.
Bottom Line
Cleerly is a groundbreaking platform that quickly analyzes medical images to detect and assess plaque build-ups in the arteries. It provides accurate results within a short turnaround time, allowing referring physicians to schedule timely follow-up appointments. Cleerly is best suited for healthcare providers and medical professionals seeking advanced diagnostic tools backed by FDA-cleared algorithms and high accuracy rates.
What are AI tools in healthcare?
AI tools in healthcare are sophisticated software systems that leverage artificial intelligence and machine learning algorithms to analyze medical data and images. These AI systems play a crucial role in assisting healthcare professionals by providing insights, predictions, and support for making more accurate diagnoses, ultimately improving patient care and outcomes.
Which is the best application of AI in the healthcare sector?
The best application of AI in the healthcare sector is the use of AI-powered diagnostic systems. These advanced software tools analyze medical data and images, aiding healthcare professionals in making accurate diagnoses.
What is the most advanced AI software?
The most advanced AI medical software is constantly evolving, with new breakthroughs and innovations emerging. It helps doctors make better diagnoses, predict outcomes, and create personalized treatment plans. It uses smart algorithms and big data to make better decisions, provide better care, and transform healthcare.
Which type of AI is currently being used in medical care today?
Right now, machine learning is the type of AI that is being used in medical care. It works by training algorithms to spot patterns and make predictions using large amounts of medical data. This technology helps with diagnosing illnesses, planning treatments, finding new drugs, and offering personalized medical care.
What AI is used in medicine?
AI used in medicine includes machine learning, natural language processing, and computer vision. Machine learning algorithms analyze medical data to aid in diagnosis, treatment planning, and personalized medicine. Natural language processing helps with understanding and extracting information from medical texts. Computer vision assists in medical imaging analysis and interpretation for better diagnostic accuracy.
What type of AI is used in the medical field?
In the medical field, various types of AI are used, including machine learning, natural language processing, and computer vision. Machine learning algorithms analyze medical data, aiding in diagnosis and treatment planning. Natural language processing helps extract information from medical texts, while computer vision assists in analyzing medical images for accurate diagnoses. Here are a few examples of AI that are being used in the medical field:
Diagnostic AI Software: AI systems analyze medical images to assist in disease detection and diagnosis.
Electronic Health Record (EHR) Systems: AI-powered software manages and analyzes patient data for better decision-making and personalized care.
Virtual Assistants: AI-powered chatbots provide medical information, answer questions, and schedule appointments for enhanced patient communication and convenience.
Drug Discovery and Development: AI analyzes data to accelerate drug discovery, predict drug efficacy and safety, and optimize clinical trials.
Remote Patient Monitoring: AI-enabled devices track vital signs and symptoms remotely, providing real-time insights for early detection and personalized care.
Final thoughts
In conclusion, the integration of artificial intelligence (AI) in healthcare holds tremendous potential for improving medical systems and patient outcomes. AI enables healthcare professionals to make faster and more accurate diagnoses, leading to improved preventive measures, cost savings, and reduced patient wait times.
However, it is important to acknowledge the limits and challenges of AI in medicine. Human surveillance remains essential, as AI still requires human input and review to be effectively leveraged. AI systems may overlook social variables and personalized preferences, potentially impacting patient care.
Despite these challenges, the benefits of AI in healthcare are significant. Through automation and improved data accessibility, AI has the potential to enhance medical practices, optimize patient care, and ultimately save lives. As the technology continues to evolve and overcome its limitations, it is crucial to ensure that AI is implemented responsibly and in collaboration with healthcare professionals. By embracing AI's potential while addressing its challenges, we can harness its power to revolutionize the medical sector and improve the well-being of individuals worldwide.