Quillbot is a comprehensive AI-powered writing tool that helps you, "Write like a pro, everywhere you write." Quillbot is designed to help writers improve their work efficiency and quality. It is a versatile platform that goes beyond simple paraphrasing and offers additional in-demand features such as Grammar Check, an AI co-writer, a plagiarism checker, text summarization, citation generation and more.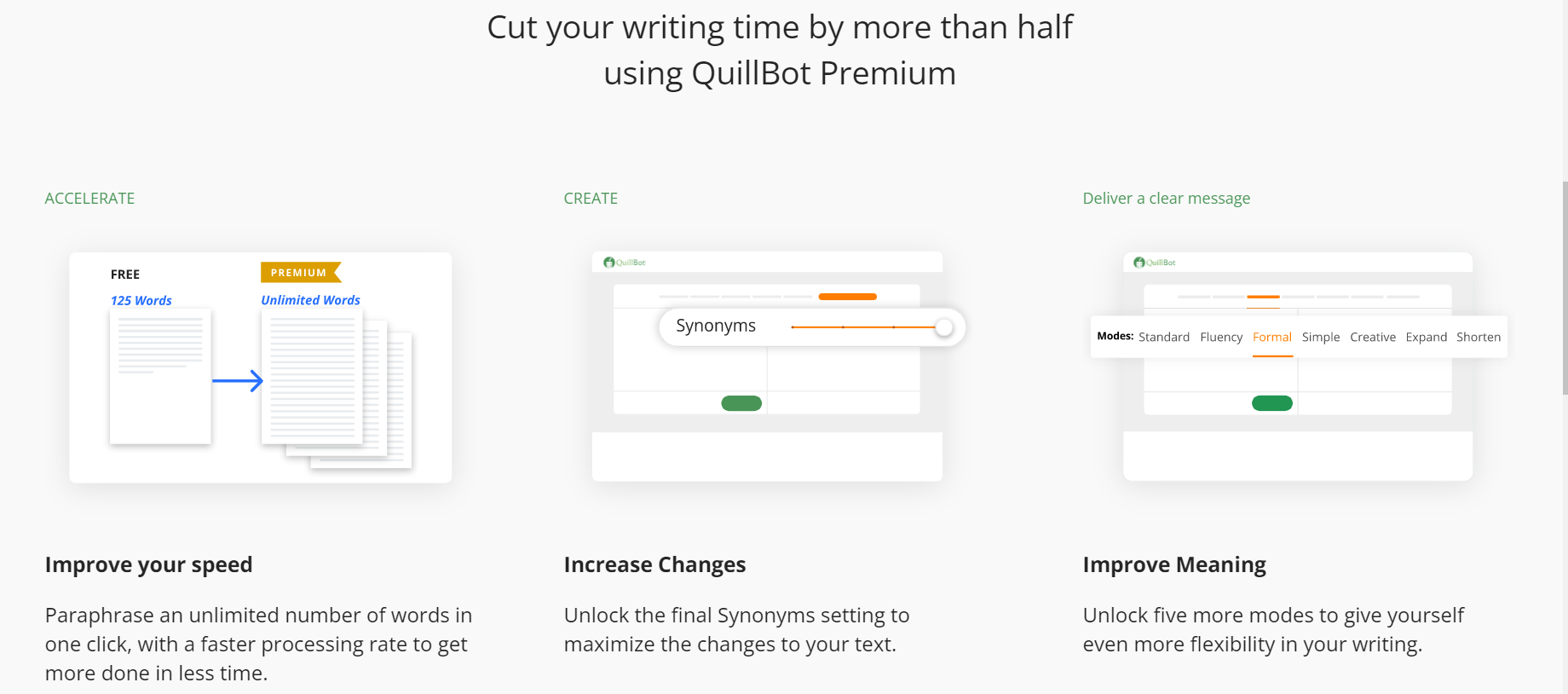 Quillbot's wide range of features makes it suitable for a diverse audience. Students can leverage the platform's various writing tools while professional writers can benefit from the co-writing feature and the ability to summarize large amounts of text. Generally, Quillbot caters to anyone looking to improve their writing process, enhance content quality, and streamline tasks.
With its comprehensive feature set and user-friendly interface, Quillbot aims to be the go-to writing companion for students, professional writers, and anyone aspiring to become a better writer. Whether you're working on research papers, creating engaging content for your blog, or crafting professional documents, Quillbot equips you with the necessary tools to elevate your writing and unlock your full potential.
Quillbot Overview
Quillbot is a simple but mighty writing assistant that hopes to help writers hone in their writing skills. Powered by AI and a versatile toolkit, Quillbot features several valuable tools, making it a great writing companion for writers across different domains – from students and professionals to content creators and researchers.

One of Quillbot's core features is its paraphrasing capabilities. By utilizing sophisticated algorithms, Quillbot effectively rephrases input text while preserving the sentence or paragraph's original meaning. The ability to paraphrase enables writer to enhance the readability of their content and express ideas in their own words.
Note too, Quillbot claims to operate differently from AI writing tools like ChatGPT or Copy.ai. While ChatGPT and similar AI writers can generate extensive text based on prompts, Quillbot's tools, such as grammar correction and paraphrasing, are meant to assist users in improving their writing. Quillbot does not classify their services as 'AI writing' and encourages users to utilize its feedback and suggestions to create original content that reflects their own ideas. Although, this claim is debatable since Quillbot offers Co-write, a long-form document editor offering various AI powered writing prompts.
Semantics aside, Quillbot is a valuable asset for individual writers and professional authors looking for a companion editor to enhance their writing process, improve the quality of their content, and streamline various writing tasks. Whether you're a student striving for academic excellence, a writer in need of reliable assistance, or a team seeking efficient collaboration, Quillbot can help elevate your writing to new heights. In this Quillbot review, we'll explore some of the platform's features in more detail.
| | |
| --- | --- |
| Feature | Quillbot |
| AI Technology | GPT-3 |
| Languages Supported | 22 |
| User Experience | Web Interface |
| Educational Material | Yes |
| Long Form Document Editor | Yes |
| Search Engine Optimization | No |
| Art Generation | No |
| Text Summarization | Yes |
| Plagiarism Detection | Yes |
| Chrome Extension | Yes |
| API/Webhooks | No |
| Free Trial | Yes |
| Pricing Model | Monthly Subscription  |
What Quillbot Does Well
Quillbot excels as a versatile and reliable writing tool, offering a range of features that enhance the writing process and elevate the quality of content. Quillbot does a fantastic job in helping writers refine and polish their work. The platform's user-friendly interface contribute to a seamless writing experience, making it accessible and easy to navigate for writers of all levels.
Paraphrasing
Quillbot's Paraphrasing tool allows writers to rephrase sentences or paragraphs while maintaining the core meaning of the original text. There is no need to create an account to utilize this feature, which can be appealing to students and new aspiring authors.
When using the Paraphrasing tool, Quillbot rewrites ideas and generates alternative versions of the user-provided text. It's a good tool to add variety into your writing. You can choose between 'Fewer Changes' and 'More Changes'. Free users have limited access to paraphrasing abilities, with maximum changes available to premium account users only.
As a test, I wrote, "It was a sunny day, filled with children's laughter and the smell of barbecue in the air."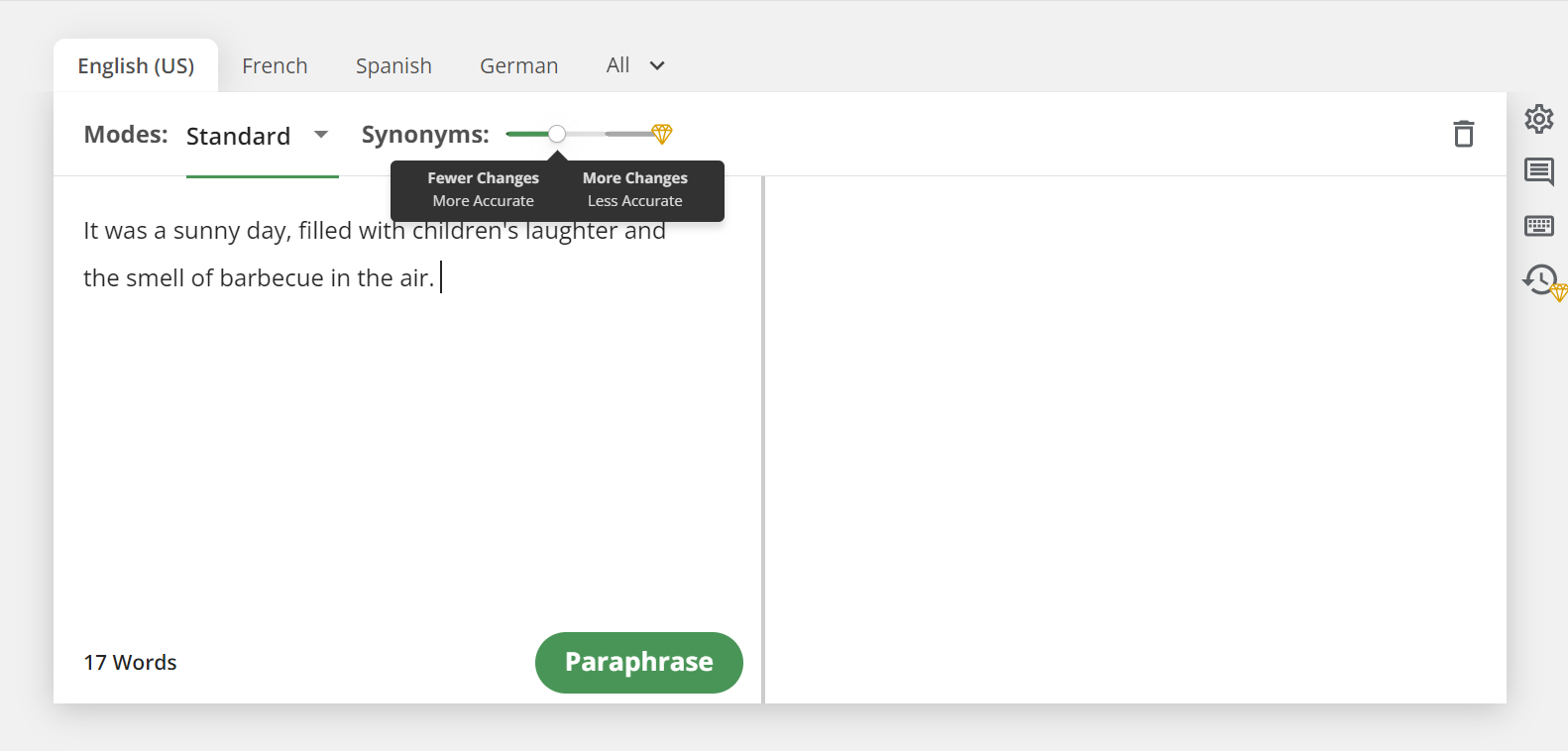 Quillbot swiftly generated a paraphrased output: "The sound of youngsters laughing and the aroma of barbecue permeated the bright day."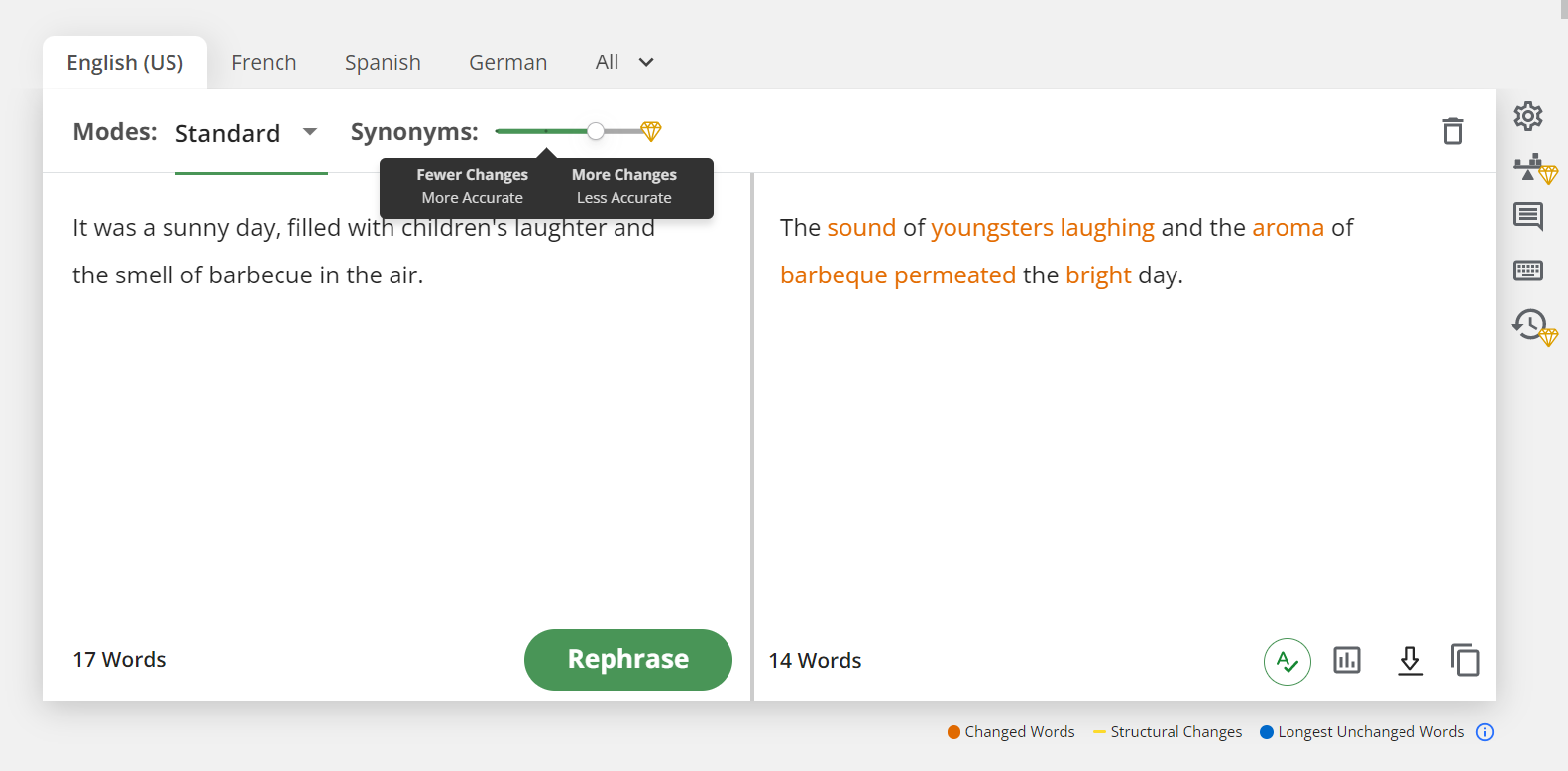 Quillbot's Paraphrasing tool enhanced the original language by introducing a vivid description of the scene.
The Paraphrasing Tool benefits writers in several ways. One being it improves the readability and flow of content, enabling writers to create engaging and coherent pieces. Secondly, by employing varied sentence structures and vocabulary, writers can keep readers keen and interested in their work. With Quillbot's Paraphrasing Tool, writers can break free from repetitive language patterns and inject creativity into their content.
Towards the bottom right of the Paraphrasing tool, you will see a 'Statistics' button. Quillbot's Statistics feature provides users with valuable insights into their written content. This feature offers a comprehensive overview of various statistical metrics, including average words and syllables, overall readability, word count, and percentage of change from the original text.
By examining the average number of words and syllables, Quillbot and its Statistics feature enables writers to assess the complexity and conciseness of their text. This information is particularly useful when targeting specific audience demographics, wordcounts, or aiming to enhance the overall readability of the content. By understanding these metrics, writers can refine their writing style and adapt it to suit the desired tone and audience engagement.
There is a tonality analysis feature available to Premium members. This feature examines the tone or sentiment of the content, providing valuable insights into how readers may perceive the written work. This analysis can be particularly beneficial when crafting persuasive or engaging pieces that aim to evoke specific emotions or responses from the audience.
The Paraphrasing tool is valuable for those seeking to rephrase and reshape sentences or paragraphs. Leveraging AI technology, this tool assists writers in avoiding plagiarism and crafting content that showcases their unique voice and style.
Grammar Checker
The Quillbot Grammar Checker brings precision and accuracy to your writing within a user-friendly long-form document editor format. The Grammar Checker ensures your content is free from grammatical errors and inconsistencies. Simply input your text and let Quillbot do the rest – The Grammar Checker will underline potential grammar mistakes in red, making it easy to identify and correct them.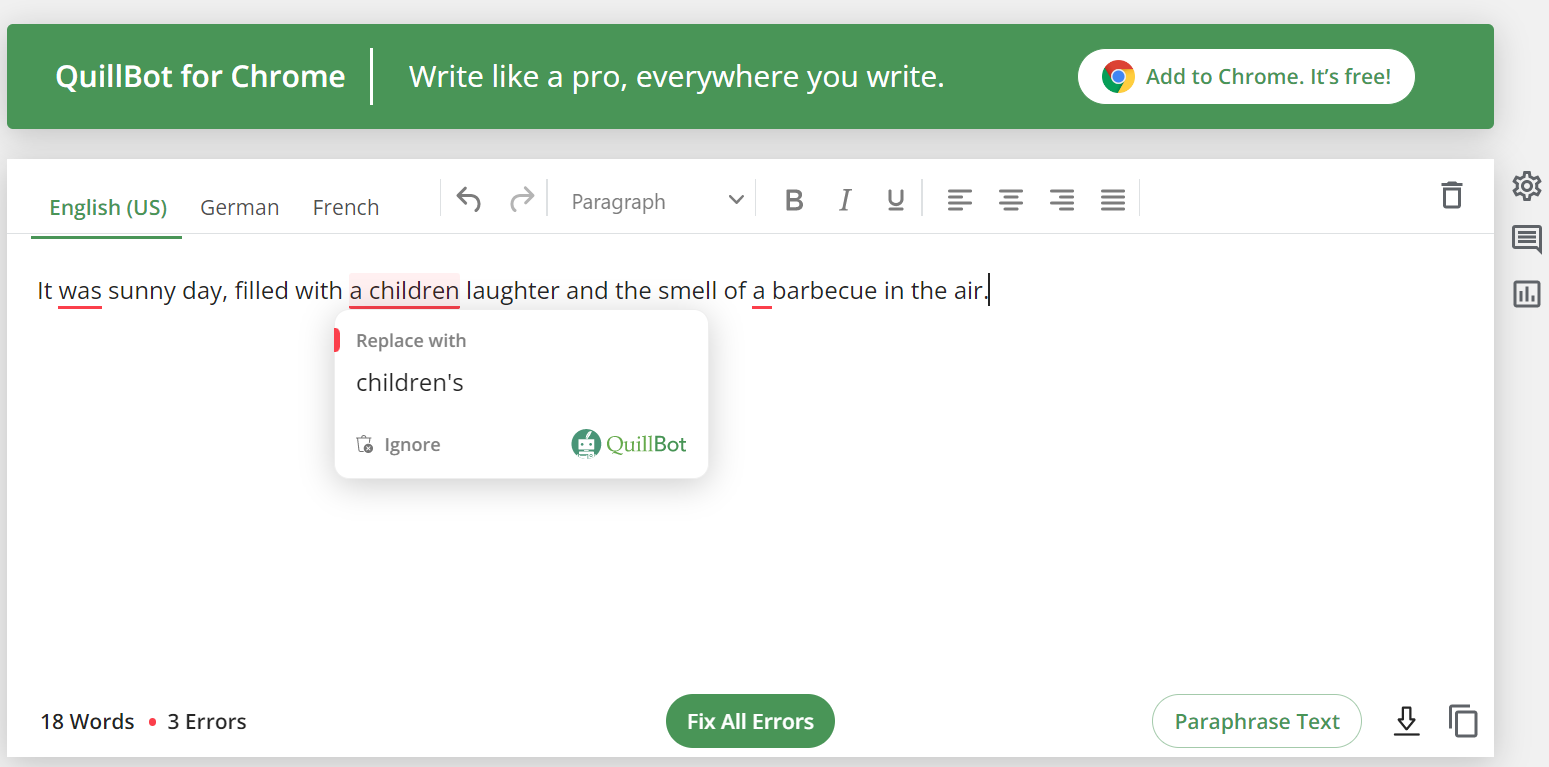 You also have the option to 'Fix All Errors' with Quillbot's help. This instant correction feature streamlines the editing process and helps ensure error-free content with a single click. Scouring through essays, reports, and other forms of content for errors can be a time-consuming task. This feature helps writers save time and boosts overall productivity.
In addition, the real-time underlining of grammar mistakes and the option to fix errors as you go make it nearly effortless to produce error-free and professional-grade content.
You can also access the Paraphrase tool from this section, which further promotes a seamless writing experience. There is no need to sign up for an account to use this feature.
Summarizer
Quillbot's Summarizer tool helps writers and researchers quickly grasp the key points of lengthy texts or articles. This powerful feature condenses extensive content into concise summaries. To test this feature, I copy-pasted a 114-word barbecue description into the tool and received a concise 26-word summary in return.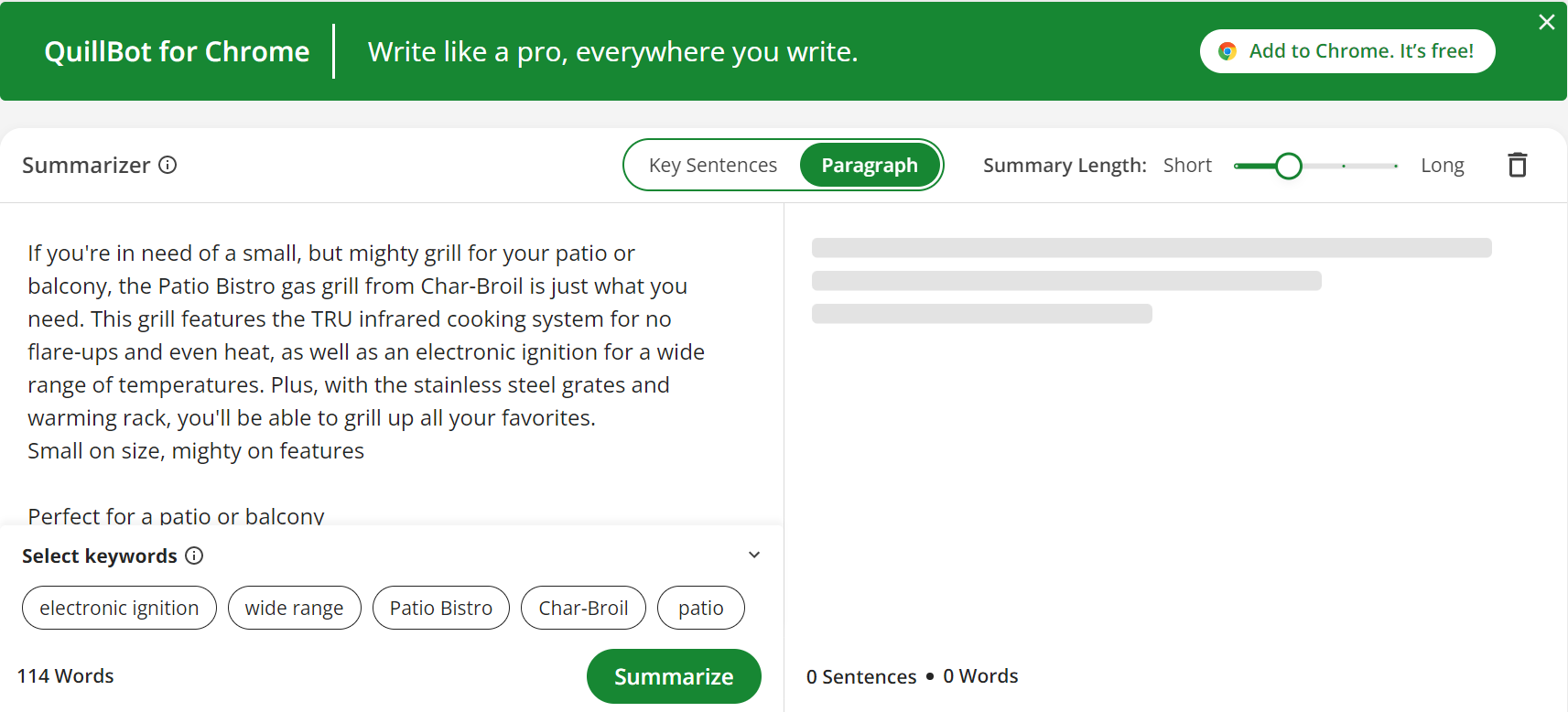 With the option to choose between "Short" and "Long" summarization, users have control over the level of detail they prefer. The "Short" summarization provides a brief overview, ideal for skimming through multiple articles or gaining a quick understanding of the main ideas. On the other hand, the "Long" summarization offers a more comprehensive summary, suitable for in-depth analysis or when seeking a deeper understanding of the text.
Quillbot's Summarizer tool is a valuable asset for students, researchers, and professionals alike. It enables students to efficiently grasp the core concepts of extensive academic papers, facilitating their research and study process. Writers and other professionals can quickly review studies or articles and extract the crucial information necessary for their work.
Long-Form Document Editor
Once you're logged into Quillbot, you'll find a feature-rich long-form document editor. Going beyond standard editor features like formatting and text styles, this comprehensive editor offers additional functionalities that empowers writers to conduct research, organize their thoughts, and ensure proper citation in a single integrated platform.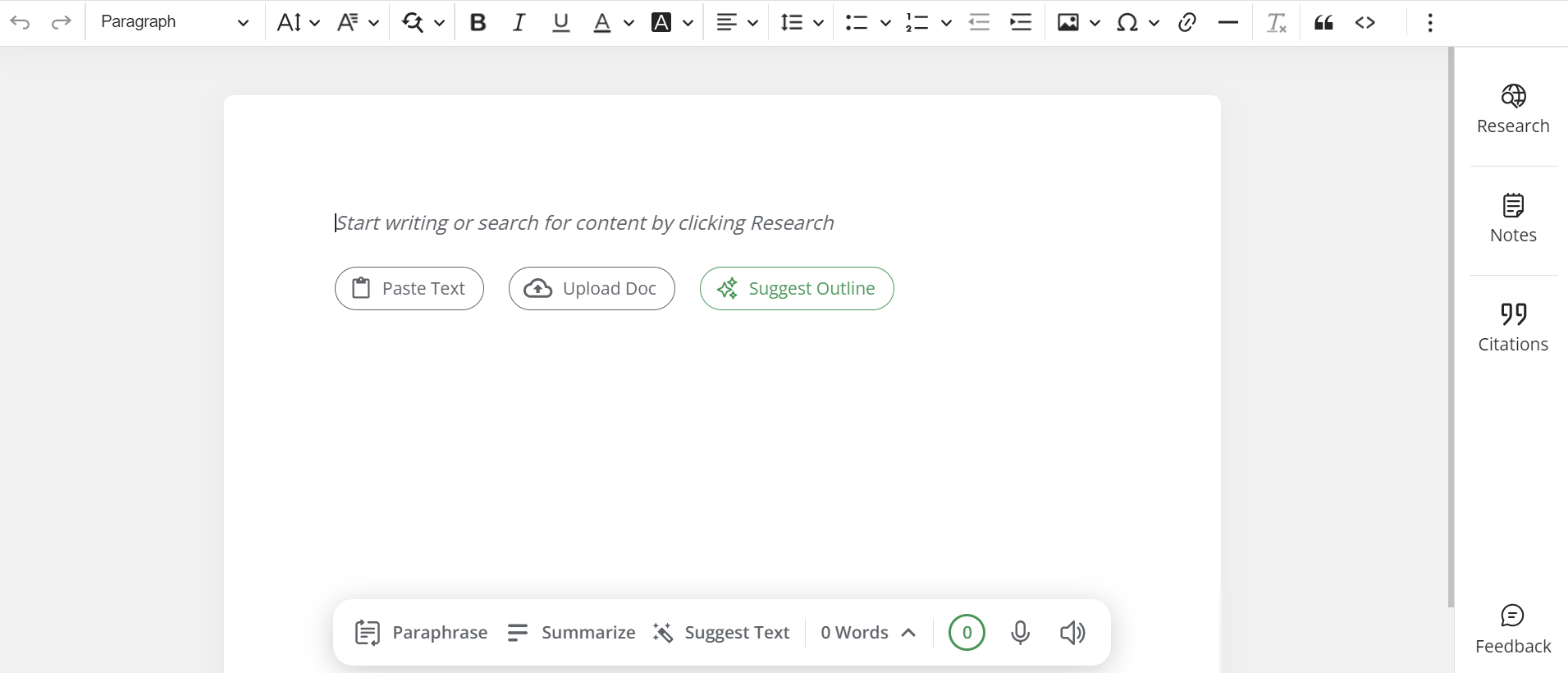 Within the editor, you can upload a doc, paste text, or have Quillbot suggest an outline. I prompted Quillbot to create an outline for a blog post about the benefits of barbecues. Quillbot did well with what is arguably a somewhat random topic.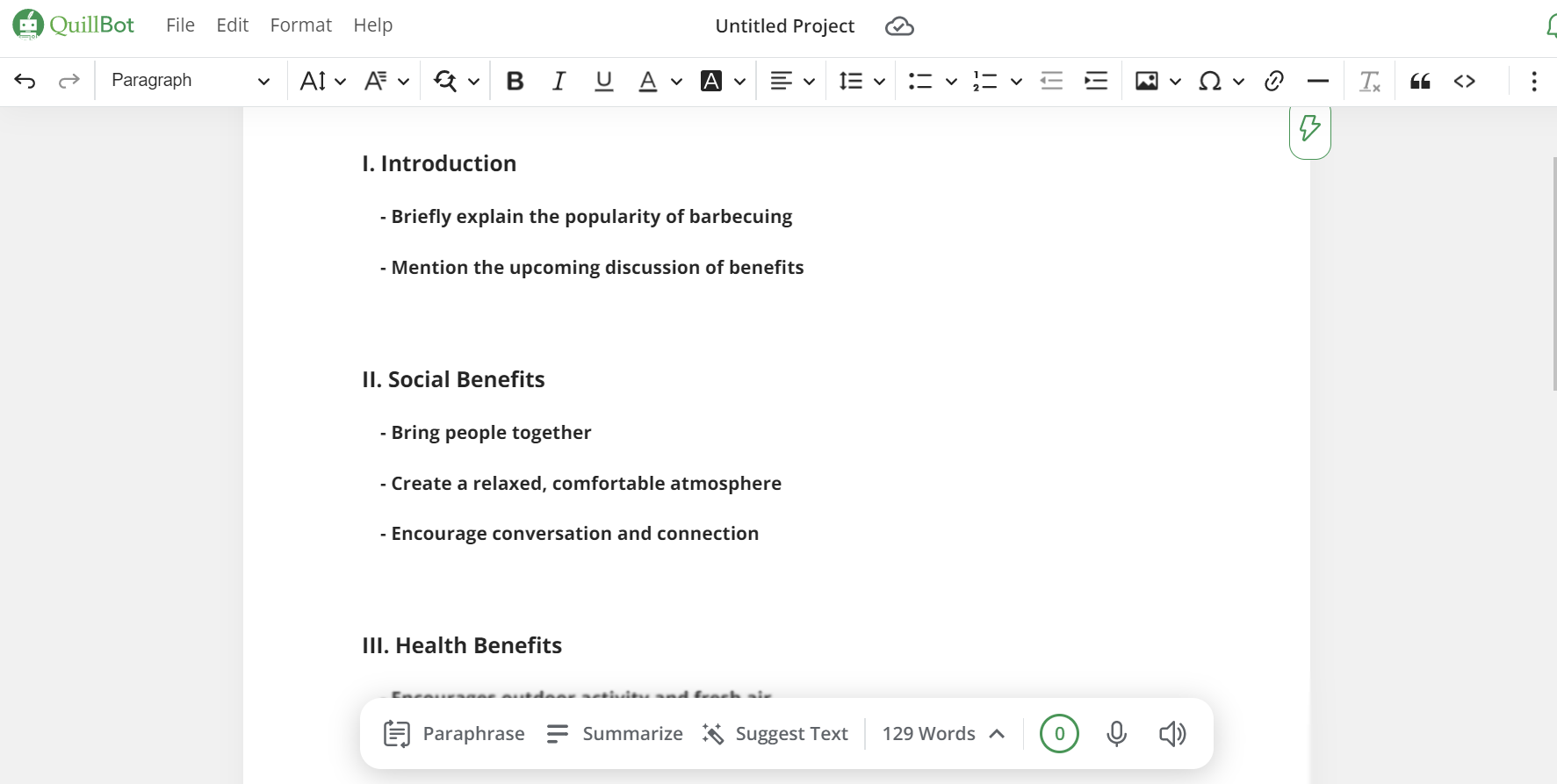 Flares
After creating an outline, I explored the Flares section which can be found pinned to the outer edge of the document editor. You can identify it by its lightning shape. Here, you can have Quillbot generate ideas, complete or start a new paragraph, add an example or counterexample, offer a new viewpoint, or input a custom prompt with keywords.
First, I prompted Quillbot to create a paragraph under the first subheading 'Briefly explain the popularity of barbecuing'. I don't think it addressed the topic as well as it could have. Instead of setting the stage for the pastime's popularity, the AI wrote about the variety of grills on the market today.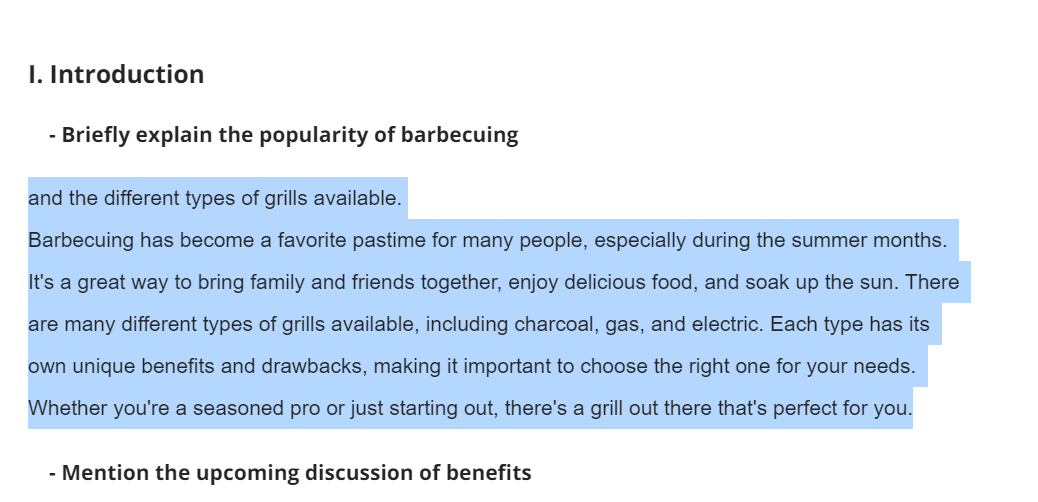 I prompted Quillbot again, and the introductory paragraph hit the mark this time.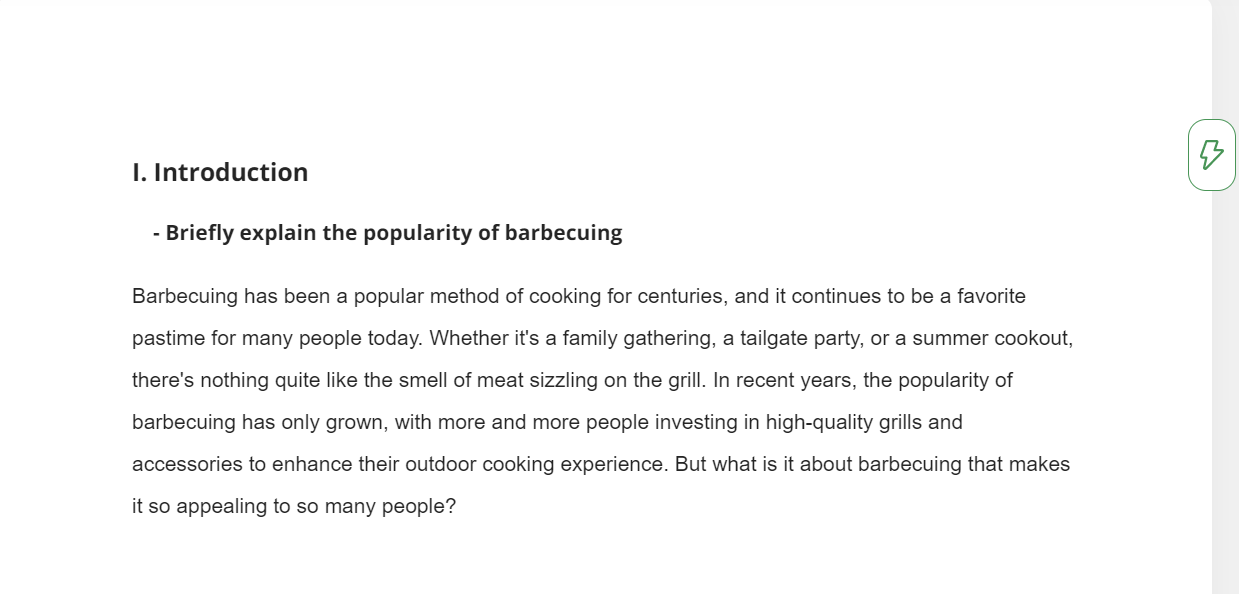 Quillbot's Flares is a beneficial tool that empowers writers to produce engaging and thought-provoking content on the fly, allowing them to break free from creative blocks and produce compelling writing in real-time. This feature serves as a catalyst for creativity, offering a diverse range of prompts and suggestions that stimulate the imagination and encourage unique perspectives.
Whether it's generating ideas, adding examples or counterexamples, or introducing fresh viewpoints, Flares unlocks a wealth of possibilities. By incorporating the Flares feature into the writing process, writers can experience a new level of spontaneity and creativity, resulting in content that captivates and resonates with readers.
Research
Quillbot offers an in-platform research tool, which streamlines the process of gathering information and resources for writers. With Quillbot's Research tool, you can simply input a topic of interest, and the tool promptly scours the web to retrieve relevant studies, articles, and resources. This valuable feature saves writers significant time and effort by eliminating the need to manually search for information across multiple sources. By providing a centralized hub for research within the editor, Quillbot enables writers to seamlessly access a wealth of information without the hassle of switching between tabs or applications.
Notes
Quillbot's Notes tool allows writers to brainstorm and brain-dump in one place. Found on the right hand side of the editor, the Notes feature provides a dedicated space to jot down ideas, outline thoughts, and store important references. The Notes section is a convenient repository and helps writers keep their focus by quickly referring back to their brainstorming sessions during the writing process.
Citations
Citing sources accurately is a crucial aspect of any well-researched piece of writing. Quillbot simplifies the citation process with its Citations feature. Users have the flexibility to choose from various citation styles and formats. This greatly reduces any headache associated with compliance to specific guidelines or academic requirements in your work. Additionally, writers can create citations manually, allowing for an organized and precise approach to citing sources.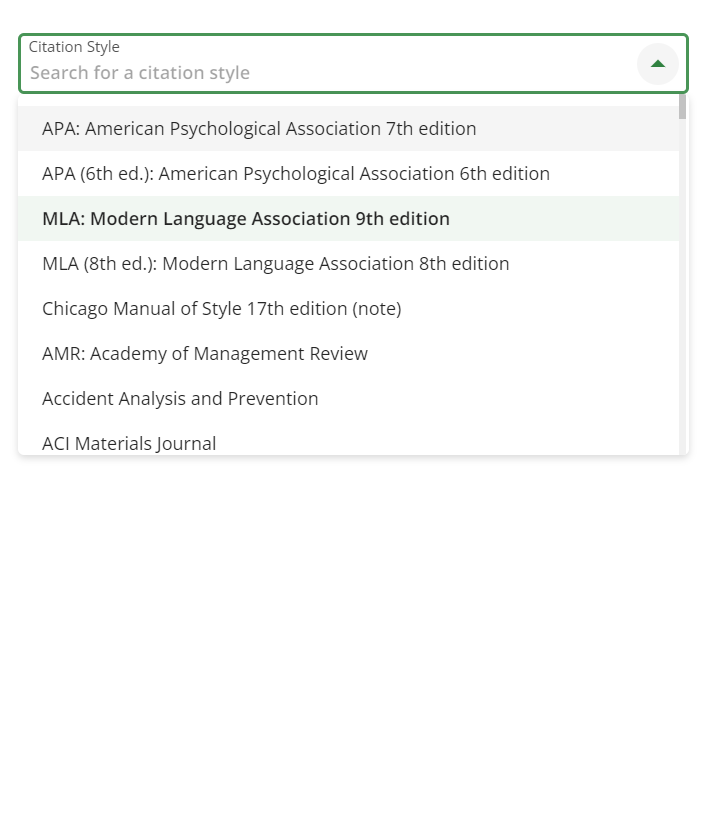 Whether you're a student working on a research paper or a professional crafting a report, Quillbot's citation generator offers a versatile and efficient solution to correctly attribute credit where it's due. By integrating research capabilities, note-taking functionality, and citation format support, Quillbot streamlines the writing process and eliminates the need to switch between multiple tools or platforms.
What Quillbot Could Improve
While Quillbot presents a robust set of features and functionalities, there is an area Quillbot could benefit from improving – namely offering a free version of the Plagiarism Checker. We will discuss this in-depth below.
Pricing Model
Quillbot offers 2 monthly plans. The Basic plan is free and provides a range of essential features, making it an accessible option for those seeking basic writing assistance. Some features include 125 words in the Paraphraser, 1200 words in the Summarizer, three synonym options, and more. This plan does not include the Plagiarism Checker.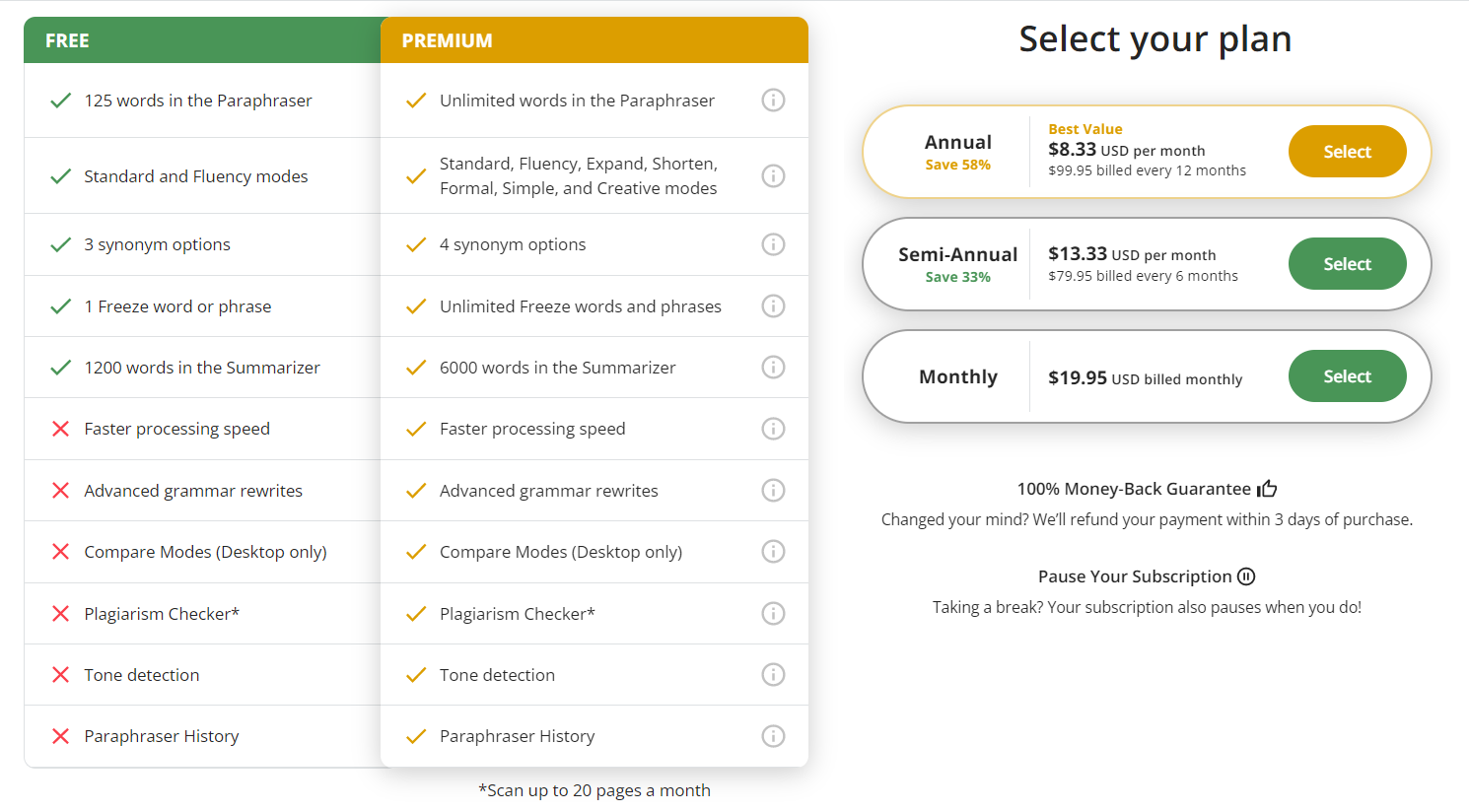 If you're seeking enhanced features and unlimited access, then Quillbot's Premium plan has a broader range of tools for you to take advantage of. The plans offers unlimited words in the Paraphraser, 6000 words in the Summarizer, faster processing speed, tone detection, and more. The Premium plan offers flexibility with a monthly subscription at $19.95 per month or an annual subscription at $8.33 per month – The latter gives cost-conscious prospects an opportunity to save.
Quillbot offers a Plagiarism Checker tool available only to Premium members. I found it interesting Premium members can scan up only 20 pages a month with the Plagiarism Checker tool.
Having a limited free version would greatly benefit users who may not have the means to invest in a paid plan. A free version of the Plagiarism Checker would enable a wider range of writers, students, and professionals to take advantage of the platform without incurring additional costs. By offering this essential tool as part of a free package, Quillbot would provide greater accessibility to users, encouraging ethical writing practices and fostering a more inclusive writing community.
Final Thoughts
Quillbot empowers writers with its AI-powered writing assistance and array of features. Its strength lies in its ability to provide users with a wide range of writing tools to enhance their productivity and improve the quality of their content. The Paraphrasing Tool is a valuable asset, allowing writers to rephrase sentences or paragraphs while maintaining the intended original meaning. This feature proves particularly useful in avoiding plagiarism and creating content that reflects a writer's unique voice.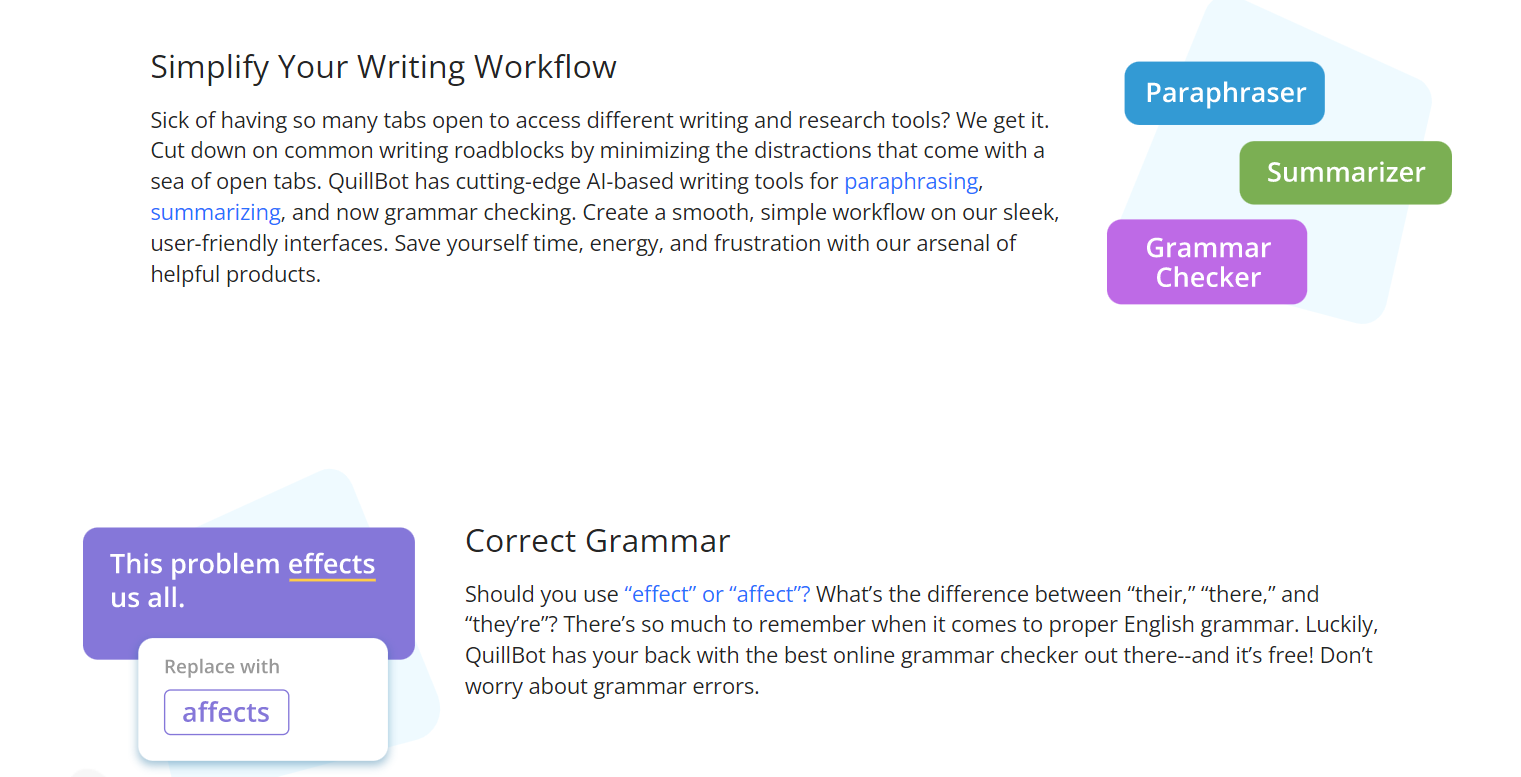 Quillbot is an excellent tool for a wide range of users. Students can benefit from its ability to assist in paraphrasing and checking grammar, aiding them in producing original and polished academic papers. Professionals, content creators, and researchers can leverage its features to enhance their writing productivity, generate ideas, and streamline their research process. However, Quillbot may be less suited for those seeking a fully automated writing solution or those who require highly specialized content tailored to specific domains or industries.
In conclusion, Quillbot presents itself as a powerful writing assistant, harnessing the potential of AI technology to help users refine their writing, improve efficiency, and boost creativity.