Irrespective of how important videos are for your business, some people hesitate to use them. There can be multiple reasons backing such a stance, but one of the most important ones is the lack of video creation and editing expertise.
But what if you don't need special expertise to create or edit your videos? Wouldn't things be simpler and easier, allowing you to make the most out of your marketing efforts? Flexclip is one such tool that allows users to create videos using existing templates or from scratch, depending upon your requirements.
Flexclip is an online video creator and editor that offers a range of templates for different purposes. You don't have to download the software to create your first video. The only thing you need is to know the purpose of video creation, and you'll find a relevant template. However, features like transcriptions, subtitling options, and audio editing aren't supported by Flexclip.
Flexclip software developers explain that the tool offers "Flexible Editing, Stunning Clips" options. The tool is easy, compelling, and equally good for personal or business use. It is beginner-friendly and incorporates drag-and-drop features to keep things quick and smooth.
To find out everything about this video creation and editing tool, let's go through the Flexclip review together.
Disclaimer: I'm an affiliate of Flexclip, which means if you click on my link (please do!) and decide to purchase the tool, I receive a small commission at no price to you.
Flexclip Overview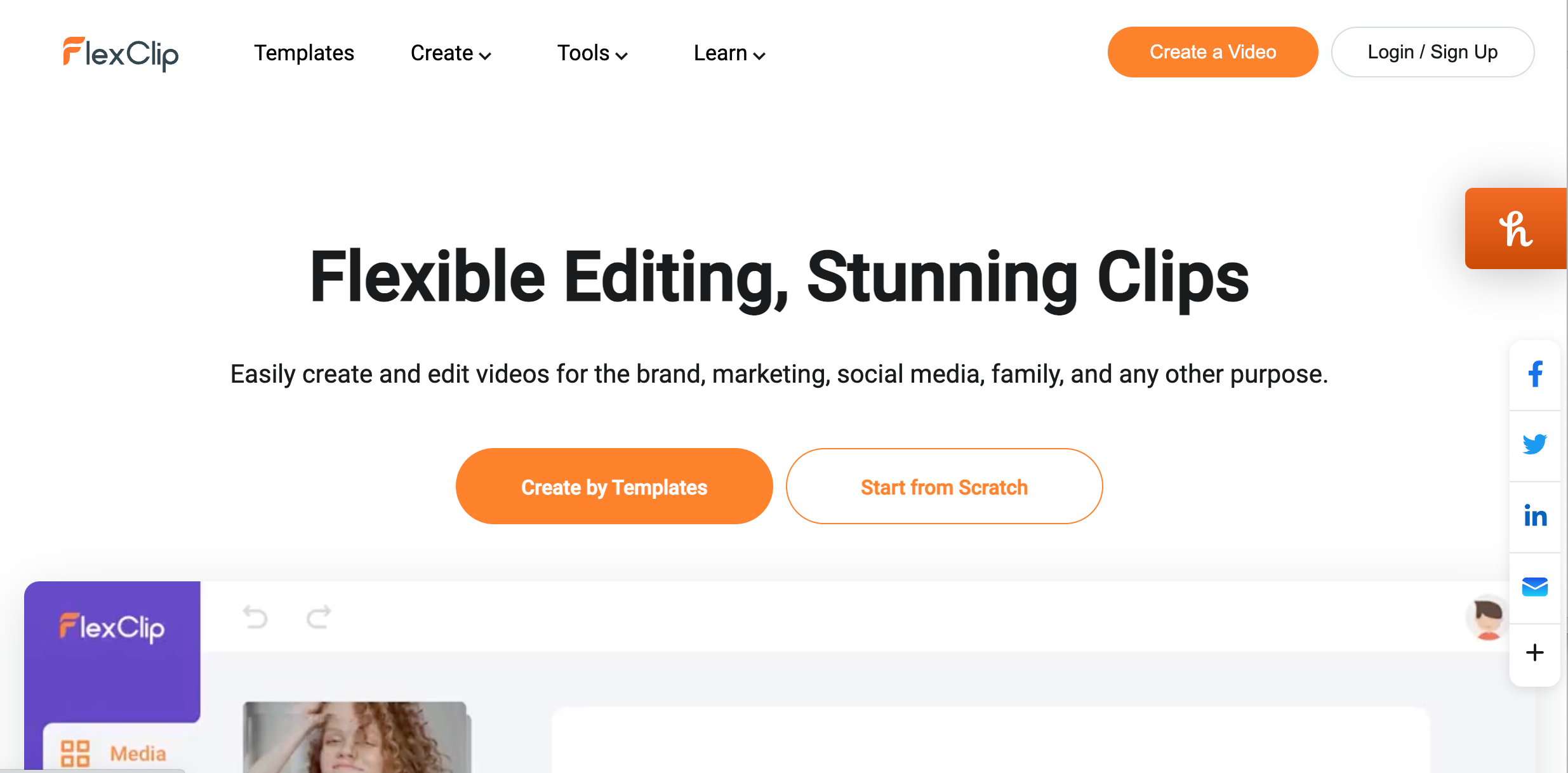 Flexclip is a cloud-based video creation and editing software that doesn't require you to put much effort and time into the video finalization process. You can access dozens of presets, hundreds of templates, and a broad stock library that simplifies video creation.
Various choices are available for video creation, from social media posts to screen recording options. You can also find multiple templates for different video types including, slideshows, essays, and promos.
The software also allows you to trim, merge or convert them into different formats. Major audio formats (AAC, FLAC, M4A, MP3, OGG, and WAV) are supported.
You can use two different modes: Storyboard and Timeline. In the storyboard mode, you need to provide relevant titles and images to make a video; it is more like a slideshow. It helps beginners to get their videos ready in just a few clicks or minutes.
While in the Timeline mode, you can add scenes with images or video clips and shorten or lengthen them to share your message. There is a diverse range of editing options available in this mode; it is more closely related to professional editing.
You can even add a branded touch to your videos by adding customized text, logos, or images throughout the video. But as this is not an AI video editing software, you cannot save the customized branding to use it for the other videos.
Motion graphics and the royalty-free library are also available to allow you to experiment with your creativity. The features Flexclip offers are simpler than the AI content creation tools.
A few Flexclip customers have figured the lack of undo function as a barrier to the ease and functioning it claims. Besides, users have also reported a few bugs creating problems in normal usage.
AI Technology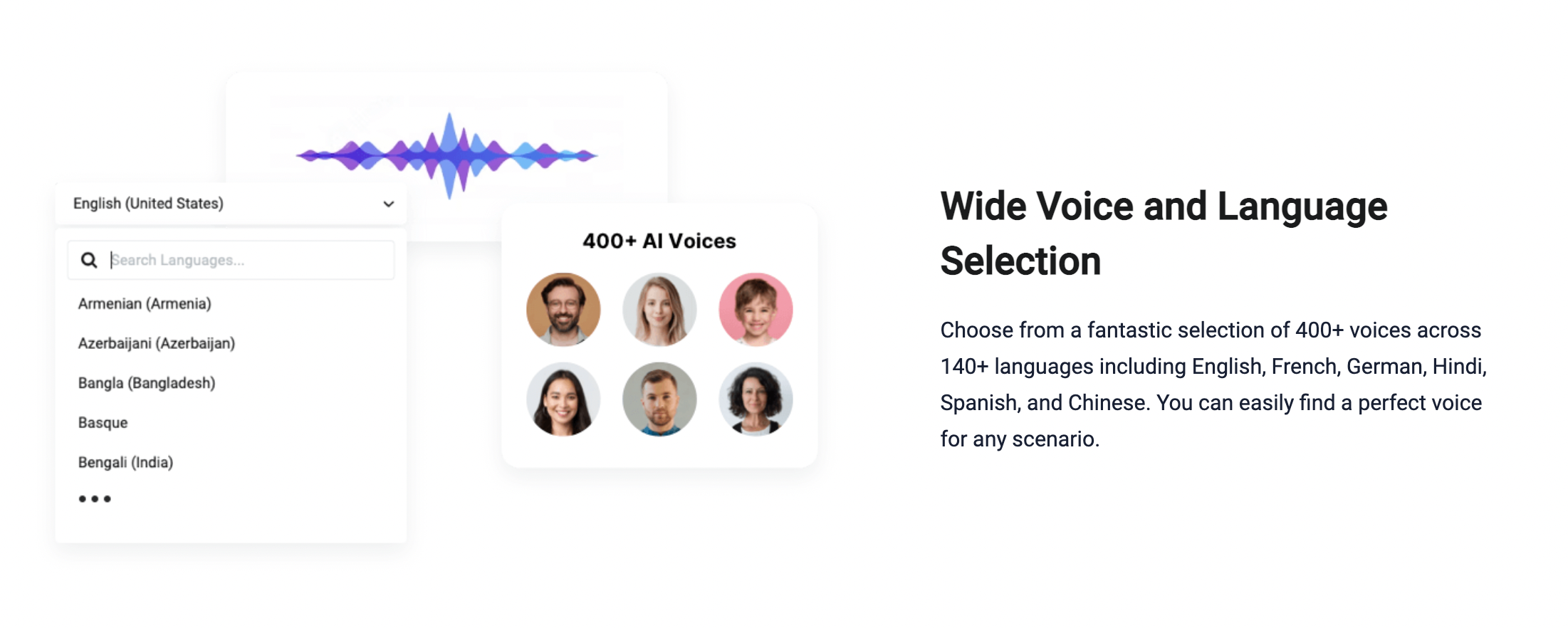 Like many AI content generation tools, FlexClip is a video creation and editing platform that uses AI technology to make the video creation process more accessible and efficient for users of all levels. FlexClip's AI technology offers a range of features to streamline the video creation process, including text-to-speech and speech-to-text conversion, automatic subtitle generation, smart cut, and video templates.
Text-to-speech and speech-to-text conversion enables users to add voiceovers or captions to their videos without the need for manual transcription, saving time and effort. Automatic subtitle generation makes videos more accessible and saves time on manual captioning.
FlexClip's library of customizable video templates uses AI technology to ensure that they are optimized for the best video quality and user experience. Overall, FlexClip's use of AI technology enhances the video creation process by providing users with efficient and effective tools and features.
Pricing
Flexclip offers a free plan where you can create 12 projects with only one video and audio per project. Moreover, the video length cannot exceed 1 minute in the free plan. Besides, you can expect the video quality to be 480p with an SD download feature.
With the high-tier plans, you can get 1080p Full HD video quality. Moreover, the number of stock videos per project increases to unlimited with an option to save as many projects as you want. The video length supported by higher-tier plans also goes up to 30 minutes as compared to 60 secs in the trial version. You can even add custom branding to videos after upgrading.
Flexclip Features
Features
Flexclip
AI Technology
Speech-to-text and
text-to-speech
User Experience
Simple and easy
Customizable Templates
Available
Audio Editing
Limited
Music Library
Available
Video Footage Library
Available
Transcription
Not supported
Subtitles
Available
Special Effects
Available
Educational Material
Tutorial available
Free Trial
Available
What Flexclip Does Well?
Within this Flexclip review, we have identified the multiple features this video editing software does well to simplify your life. Let's find out what these features are and how they can impact your existing AI video editor perception. Moreover, you'll also find the differences of Flexclip from the other AI productivity tools.
User Experience
Web-based Software
The interface of Flexclip is simple and user-friendly as it is web-based software, so you don't have to download anything and can start working immediately. The website provides clear instructions on how to start with your first video.
Drag-and-drop Feature
Besides, the drag-and-drop feature lets you quickly add your images, videos, sounds, etc. To simplify it further, the software provides you with a three-step video-making process: add media, customize and export.
Customizable Templates
Flexclip provides you with hundreds of customizable templates. You don't even have to adjust different types of videos to make your intended video. There are different categories of templates already available, and they cover nearly everything you can think of for video making, including brand awareness videos and personal videos with birthday wishes.
You don't necessarily have to start making videos from scratch. Setting up the video maker, frames, adding graphics & special effects, and then editing it can all be done with the pre-set templates. You can just login and add your images, text, brand messaging, etc., and your video is fully ready.
You can also choose from the following options of aspect ratios for your video: 16:9, 1:1, 9:16, 4:5, and 21:9.
Music Library
Music Bits
When working with Flexclip, you don't have to worry about the addition of music. It provides a range of music that can be searched by different mood expressions like happy, angry, and sad. You can even choose a genre to get a better suggestion list.
Sound Effects
The best part is that you also have a range of sound effects available in the Flexclip, which includes the heartbeat, cricket chirping, etc., to make your videos more lively. The availability of a good music library allows you to create the video just like you have perceived without compromising on the background music or the additional sounds to engage the audience.
Video Footage Library
You might not have video clips to demonstrate every situation. But this isn't a problem if you use Flexclip for video-making and editing gigs.
This software provides a wide range of video footage libraries depicting different emotions and occasions. For example, if you need to show photos of a family enjoying a great time together, you have multiple clips available with different background imagery. Similarly, corporate setting or business meeting clips are available within the library to ensure you have everything you need for a video to be perfect.
Special Effects
You can easily add special effects to your videos through overlays and post-production objects. Adjusting the speed, managing the lighting, and setting the orientation are the main features the software allows. You can even mask the videos with different objects and play with the speed by slowing, pausing, or forwarding what's going on the screen within minutes.
The templates already have these effects built-in, so you won't have to add them every time if you explore and find the right one for your business and personal needs.
Education Material
When you first sign up for your account, Flexclip's automatic video editing tutorial will provide you with some basic information you might choose to watch or skip. It makes it super simple for beginners to know where to start and what to do to get their first video ready within minutes.
Besides, there is an entire tutorial section with written content and images to guide you about all the features available in Flexclip. So, whenever you're stuck with any feature or want to know its best usage, you can hover over your image icon on the top right side; you'll see a drop-down menu; from there, click tutorials, and you'll be redirected to the special page created to help the audience.
Free Trial
Like many other automatic video editing software, Flexclip also offers you a free trial. With this facility, you don't have to pay for the software before analyzing its capabilities.
Although there are feature restrictions in the free trial, the basics are available to let you try the software and see if you need an advanced version with more features to fulfill your video-making and editing needs.
Some of the main features that you can find in the free version include the following:
480p SD Video quality (you can always get a better version once you opt for a paid Flexclip account)
12 projects maximum
1 stock audio per project
1 stock video per project
It allows video length of up to 1 min
You have three background credits available to remove background that you don't want in your video
What Could Be Improved?
Flexclip has a few shortcomings, which might impact your ability to create your first video. Here are a few features that software developers might want to fix to give their audience a holistic experience.
Audio Editing
The audio editing feature offered by Flexclip isn't strong. You cannot add the voice recording and the music together in a video. Similarly, you cannot mix audio bits in different scenes or video parts. You'll have to rely on one audio bit at maximum when making or editing your videos.
Transcription
If you want to use your videos for presentation and are looking for a tool or program that could help you take your notes at the backend and use them while presenting, then this software will not be helpful as transcriptions aren't supported by it.
Flexclip can only help you create videos, but you'll need your paper or digital notes along for presenting.
Final thoughts
Flexclip's easy-to-use drag-and-drop interface is one of the reasons Flexclip is gaining prominence with beginners and time-savvy individuals looking for video creation and editing.
The presence of customizable templates, music library, and footage in the free trial version makes the Flexclip video editing tool tempting for the audience. Besides, the software doesn't leave the audience alone to explore the software and offers tutorials to solve their queries.
With the support for these features, Flexclip becomes a perfect choice for people looking for a handy tool to make personal or professional videos. Flexclip also supports screen recording and webcam capturing, thus allowing educators to use it for spreading knowledge.
However, if you want your videos to include transcription, then these features aren't available. Similarly, it doesn't support audio editing, so you'll have to pick and rely on a single music sound bit for your entire video. Also, Flexclip does not support automatic video editing or creation like other AI video creation tools.
These limitations make Flexclip unuseful for presenters and people targeting multilingual audiences, as Flexclip does not have important features like transcription and subtitles.