Podcasts are a popular form of audio entertainment. They are an avenue to humor, educate and make constructive arguments. Each podcast is a series produced by a host and then made available online, episode by episode, for subscribers to download and listen.
Podcasting is now standard across every industry, even the digital marketing world. It builds a relationship of trust between the audience and the podcaster and, therefore, can be helpful for conversions.
According to reports, as of June 2022, there are over 2.4 million podcasts with over 66 million episodes between them. This shows the extreme competition in the podcasting world. To stay ahead of the competition, podcasters must become more creative and use the best tools for their podcast production.
Podcastle is an AI-powered audio creation software that helps amateur and pro podcasters create, edit, enhance, and share high-quality podcasts in seconds. This web-based platform has many features that make it a go-to for top podcasters, including echo & noise cancellation, audio-to-text transcription, and background noise removal.
According to the creators, 'Podcastle is the one-stop shop for broadcast storytelling. Studio-quality recording, AI-powered editing, and seamless exporting – all in a single web-based platform.'
The tool is perfect for podcasters, content creators, digital marketers, and anyone who wishes to connect seamlessly with their audience. This Podcastle review will discuss the software in detail, including its features and pricing.
Podcastle Overview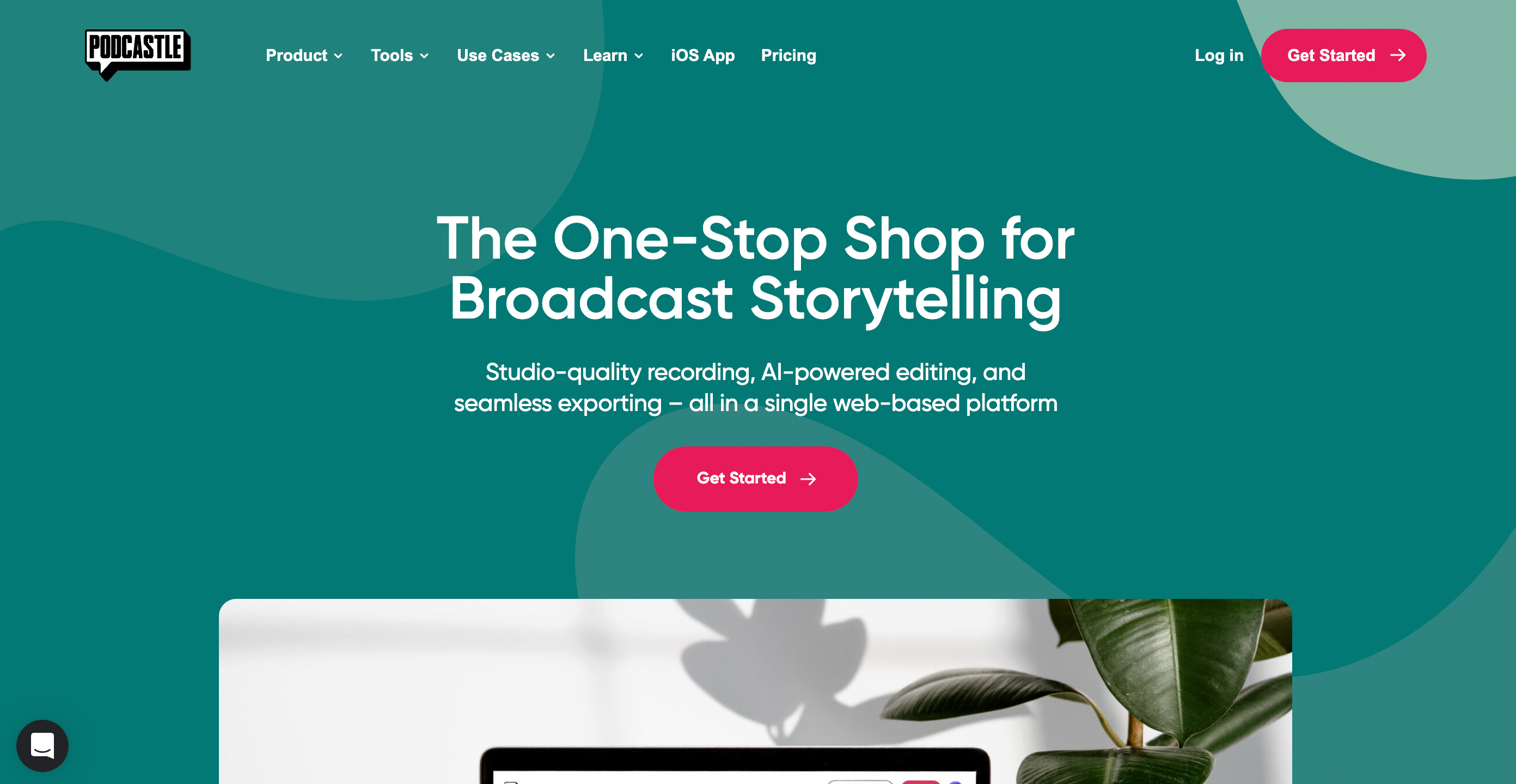 Before creating podcasts, you must understand the importance of audio recording and editing software. Sadly, most creators underrate this aspect, even though it is crucial to the success of their podcasting career. Several AI-powered audio creation software are available on the market, and Podcastle ranks high among them.
Podcastle is a SaaS audio creation and collaborative software that allows podcasters and creators to create clear and professional audio for their solo projects, voiceovers, and other recordings. It is a web-based platform that lets users record, edit, enhance, transcribe, and share their content with great simplicity.
Podcastle is powered by AI technology, allowing users to create podcasts from texts/articles (text-to-speech). In addition, this software has top-notch transcription, including audio-to-text, voice-to-text, MP3-to-text, audio translator, and automatic episode summaries.
The AI-powered audio editor detects filler words and phrases like 'ah,' 'um,' 'er,' 'you know,' etc., when transcribing audio. These words are highlighted automatically, giving users the option to delete them. Once deleted, they are removed from the transcribed text and the audio file.
Podcastle is more than just an audio creation and editing software. Users can invite and record up to 10 guests (video interviews) using the Chrome browser or iOS app. You can interview each guest with separate audio and video tracks, also known as multitrack recording.
Another popular feature of Podcastle is the Magic Dust. This feature allows users to remove background noise and optimize the audio levels, improve the dynamic range of audio, and soften the 'P's and 'S's to reduce static noise.
Other features of Podcastle include auto leveling, trimming, fade in & out, and a library of 7,000+ royalty-free professional music tracks and sounds to make editing your content a walk in the park.
AI Technology
Podcastle is powered by state-of-the-art AI technology that gives users several creating and editing options. The software has two (2) inbuilt Artificial Intelligence technologies: natural language processing (NLP) and machine learning.
The AI-powered audio editor can detect and delete filler words from audio and transcribed texts. This helps to create cleaner and more professional content.
The popular text-to-speech feature, which is also AI-powered, allows users to convert texts, news, and other articles into podcasts. In addition, Podcastle also has an automatic episode summary feature. This concise AI-generated synopsis of the audio works perfectly as a podcast episode description or SEO content.
Furthermore, Podcastle AI technologies allow users to clone their voices when they record themselves reading 70 sentences. Finally, the Magic Dust feature lets users isolate their voice, enhance the speech by removing the background noise, apply an equalizer, and make the audio sound like a professionally post-processed file.
Podcastle Pricing
Podcastle offers a 14-day free trial that allows users to explore the platform and decide whether it's right for them. After the free trial, you can decide what plan to subscribe to from three options; Basic, Storyteller, or Pro.
Basic Plan
This is a free forever plan. The basic plan contains every 'basic' feature you need on your podcasting journey, although it's limited. The features available include separate audio & video tracks for each participant, unlimited audio recording, three hours of video recording, and unlimited multi-track audio editing.
Users also have access to AI-powered features like Magic Dust sound enhancement, silence removal, auto-leveling, and limited access to the royalty-free music and sound effects library. Finally, the basic plan allows users to transcribe audio & video automatically and also edit the transcribed text.
Storyteller Plan
This is the most popular Podcastle plan. It costs $11.99 monthly. The storyteller plan has all features of the basic plan with some massive upgrades. For example, users can record up to eight (8) hours of video with 4k video quality.
There is also unlimited access to the royalty-free music and sound effects library. The storyteller plan contains better transcription features like filler word detection & removal and automatic episode summaries.
Pro Plan
The pro plan costs $23.99 per month and includes every feature present in the storyteller plan with improvements. Users can record up to 20 hours of video plus 25 hours of transcription. The pro plan also contains the "revoice" feature and gives users early access to new features.
What Does Podcastle Do Well?
Podcastle excels in some aspects, and they are further explained below.
Audio Editing
After recording a podcast episode, the next step is to convert the audio into a podcast for exporting by editing it. Audio editing is one of the most crucial processes in podcasting, and Podcastle has a wide range of excellent audio editing features.
The AI-powered audio editor is an intuitive digital audio workstation designed for audio content creators to record, edit and enhance their content. Firstly, the tool allows users to divide an audio file into two, three, four, or more sections. You can also cut the audio by specifying a time range or a specific period.
Secondly, with the audio editor tool, users can fade intros and outros of their podcasts, giving the audience a smoother transition between episodes. Podcastle also allows you to adjust the speed and trim any audio file. The filler word detection & removal feature means that you can delete filler and other unwanted words in your podcast.
Again, Podcastle has a unique editing tool called Magic Dust. Magic Dust is a feature that allows users to remove background noise, optimize audio levels, apply an equalizer, improve the dynamic range of audio, and reduce static noise.
With Podcastle, users can record multitrack remote interviews or from several microphones physically. Then the software will automatically provide a single transcript, and you can edit every track and work on each individually. Finally, Podcastle supports various audio types, including .mp3, .wav, .m4a, and .aiff. For exporting, however, free users can only save as .mp3.
Music Library
Adding music to your podcasts makes them more dynamic and fun and reduces the probability of listeners getting bored. As mentioned, Podcastle offers over 7,000 royalty-free music tracks. You'll find intro tracks, outro tracks, and even some tunes to separate your episodes in the music library.
You do not have to download any of the tracks; just start your project, and select any royalty-free song. As a result, you do not have to worry about copyright claims.
Transcription
Transcribing your podcasts has many advantages; for example, it boosts SEO. Transcriptions help you rank higher on search engine result pages (SERPs). By making your podcast searchable and transcribed, you can gain more listeners.
A great podcasting software should have automatic speech recognition and transcription abilities. Podcastle provides quick, easy, and accurate transcription services. It can transcribe both audio and video files.
With Podcastle, you can accurately transcribe up to one hour of audio for free. You can also edit transcribed texts.
Again, Podcastle can detect and remove filler words from the transcribed text. You can also do this in the audio file. Also, in addition to the full transcript, you can generate a summary when exporting the audio file.
Educational Material
The Podcastle website contains educational resources that teach new and existing users how to use the software. Additionally, Podcastle has a blog that explains new features and also educates users on audio creation-related topics.
The Podcastle Help Resources & Guide section educates users on various topics like step-by-step guides to setting up an account, billing & subscription matters, and essential details about solo recording, interviews, and text editing. A 'Use Cases' section is also available that describes the use cases of Podcastle in podcasts, audiobooks, education, and communications.
What Could Be Improved On?
Like every software, there are aspects of Podcastle that can be better. Some of them include the following:
User Experience
User experience describes the overall experience of an individual using a product, such as a website or an application, especially with regard to how easy or pleasing it is to use. A great podcasting software should be easy to use for both beginners and pros.
The Podcastle software does not disappoint in this regard. The website is straightforward to use. Creating, editing, and enhancing audio files can all be done with a few clicks of a button.
It is also a cloud-based tool which implies that it can be accessed from anywhere at any time. An iOS application is also available. Although Podcastle does not allow you to edit your audio from the app, you can easily edit all of your recordings from the Podcastle.ai website.
Podcastle is the perfect solution for audio content creators who are sick of complicated and time-consuming tools. With Podcastle, you can get professional-type audio in just a few minutes. It has surprisingly fast load times. For example, it takes about a minute to generate audio from three paragraphs of text. Also, a five-minute clip took about 20 seconds to export.
However, a few improvements can be made to the software to make the user experience better. One is adding a profile to an existing account — a feature allowing team members to edit audio themselves but with the host controlling permissions. This would be a better option than sharing passwords.
Another improvement would be an option to create folders to help organize projects on the dashboard. Also, mobile applications are only available on Apple phones; getting an Android application would be great. A chat box by the side during interviews is recommended too.
Special Effects
Since Podcastle is an audio creation software, special effects, in this case, would be sound effects that can be added to audio files. Podcastle has a massive library of sound effects for users to pick from. Available sound effects include kids laughing, explosion sounds, fire, tiger purr, hail, thunder & rain, applause & cheer, and many more.
However, some users believe that Podcastle needs more sound effects. For example, animal sounds. This would be useful if someone is making an audiobook that includes animals.
Final Verdict
Podcastle is an excellent audio creation and editing platform powered by adaptive AI technology. It enables users to create, edit and distribute high-quality podcasts quickly.
The software features tools like transcription, audio editor, Magic Dust, etc. These tools work individually and together to enhance your podcasts and give the audience a pleasant experience.