11 Best Survey Tools of 2023
Are you a marketer, researcher, or simply conducting a survey for fun? Are you struggling with various options that can help you with your survey? Wondering what are the best online survey tools available on the market? You're in the right place! In this article, we'll help you find the perfect tools for surveys that will meet your and your survey's needs and exceed your expectations. Take a look down below!
What Are the Best Survey Tools?
Each online survey tool offers unique features and functionalities, from SurveyMonkey to Qualtrics to Google Forms. In this section, we'll take a deep dive into the top online survey tools on the market and help you determine which one is right for you, your survey, and your budget.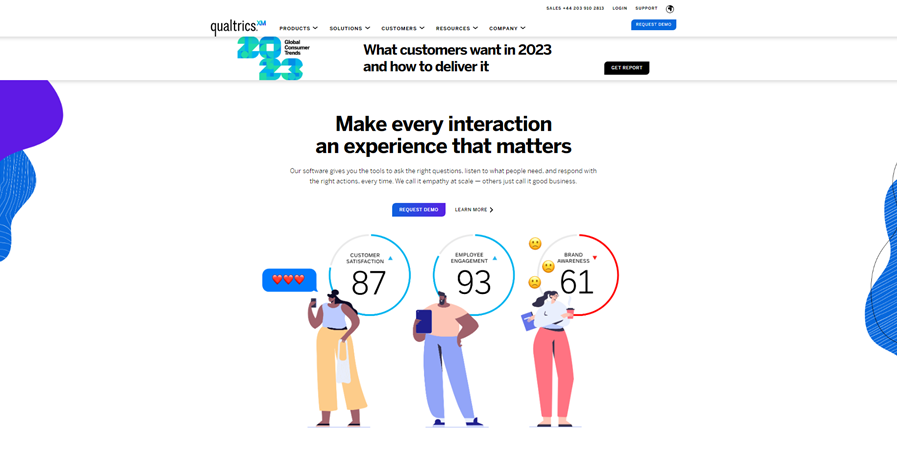 Overview
Qualtrics is a customer survey software designed to help businesses measure and optimize their CX by understanding the key drivers of customer satisfaction at every touchpoint. It offers a single platform to see all the data in real-time, where businesses can improve customer retention and loyalty, increase customer share of wallet, reduce the cost to serve, optimize customer acquisition, and increase brand awareness and equity.
Top features
Over 13K brands and 99 of the top 100 business schools use Qualtrics.
Survey your customers in a moment across multiple channels and see all your data in real-time on a single platform. And if you are struggling to find participants, there are quite a few excellent recruiting tools on the market designed to help you find participants for your studies.
Deliver personalized interactions at scale: Create, customize, and modify your customer surveys in minutes with a drag-and-drop user interface, a library of 100+ question types, and pre-built survey templates designed by Ph.D. survey scientists.
Predict what customers will do next: Predict what your customers will do next and anticipate their future needs with predictive analytics. It's all done automatically so every time you log in, you'll see the actions you need to take to have the biggest impact on your business.
Embed CX throughout your organization: Activate your organization by embedding customer survey feedback into your employees' daily routines using their exciting tools and processes. Everyone in the organization can see the data that matters to them with role-based dashboards that automatically surface the right insights to the right people.
The software also features a drag-and-drop user interface, a library of 100+ question types, pre-built survey templates, and predictive analytics to anticipate future customer needs.
Pricing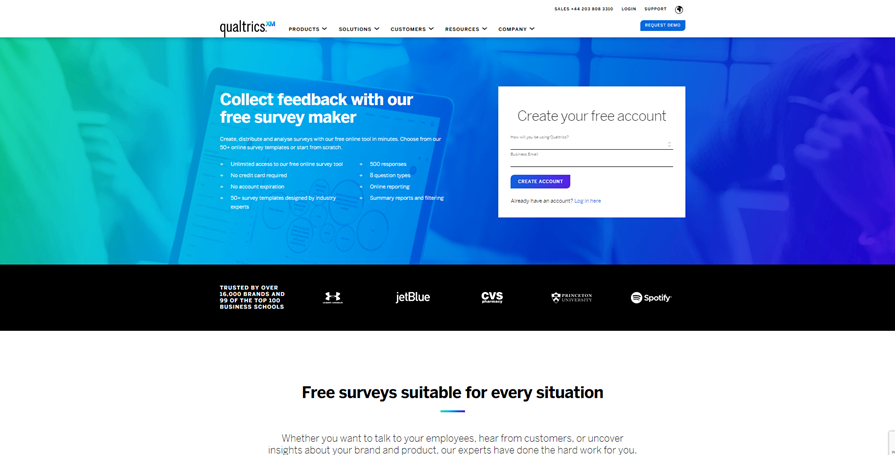 A free account to create, distribute and analyze surveys
Requesting a demo can help researchers and businesses discover why over 13,000 customers trust Qualtrics with their customer surveys
Bottom line
Qualtrics is an online survey tool best suited for businesses of all sizes that want to measure and improve their customer experience. With its sophisticated survey software, businesses can deliver personalized interactions at scale, activate their organization by embedding customer survey feedback into their employees' daily routines, and collect customer feedback through various channels like email, chatbots, messaging apps, text or SMS, mobile, and many more.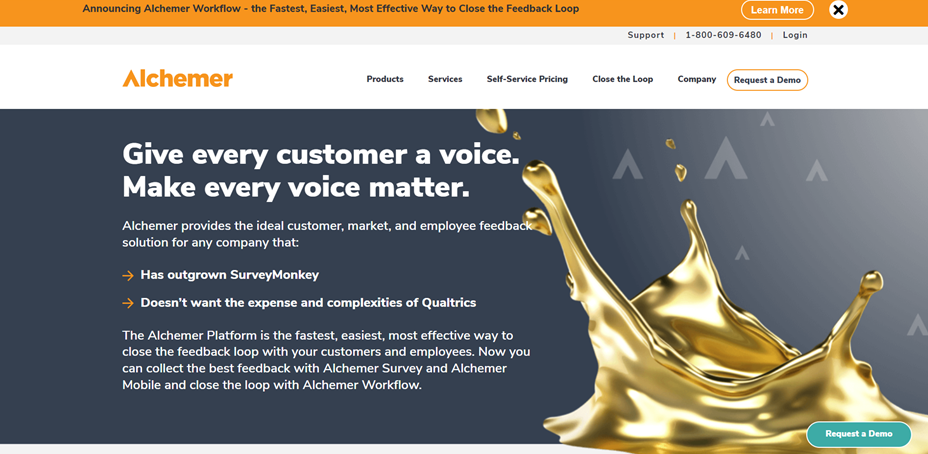 Overview
Alchemer Survey is an enterprise-ready online survey tool that offers the most flexibility, ease of use, and speed-to-value for organizations that need advanced capabilities and reporting. With more than 43 question types, 20 logic and branching options, and flexible reporting, Alchemer Survey helps users collect and analyze feedback to drive outcomes without requiring multiple department modules or IT resources. Alchemer Survey provides unlimited surveys and questions and does not charge per response. Alchemer Survey is suitable for various business needs and is ideal for market research, customer experience, employee experience, and operations.
Highlights
Alchemer Survey offers 43 question types, more than anyone in the industry.
Alchemer Survey includes more than 20 logic and branching options.
Flexible and customizable reporting are included.
Market-leading flexibility to meet all business needs.
Alchemer Survey is repeatedly recognized by industry analysts and reviews websites for flexibility, ease of use, and speed to value.
Highly Secure with ISO 27001 and SOC2 Type 2 Certifications, as well as EU GDPR compliance.
No modules or pay-per-response survey limitations.
Ideal for quizzes, polls, exams, and questionnaires.
Great for small teams and individuals.
Pricing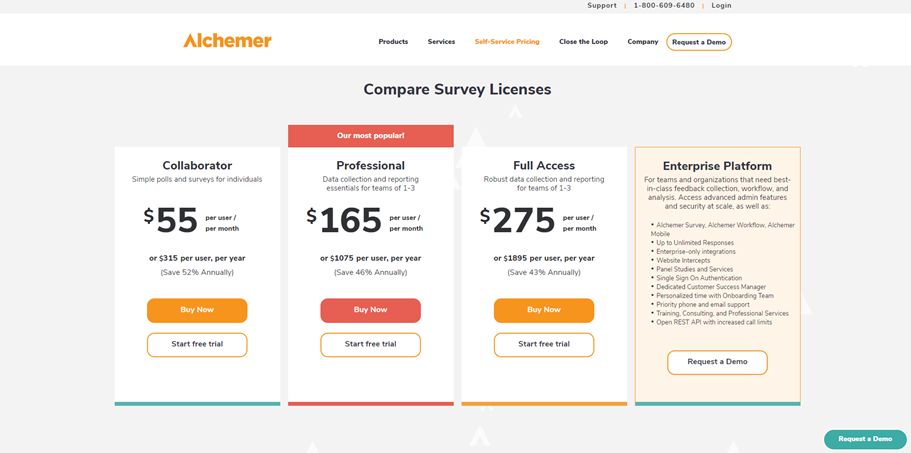 Collaborator for $55/user/month for simple polls and surveys for individuals
Professional for $165/user/month for data collection and reporting
essentials for teams of 1-3
Full Access for $275/user/month for robust data collection and reporting for teams of 1-3
Prices for teams larger than 3 are part of the Enterprise Plan and are not disclosed on the website, but if interested you can request a demo.
Bottom line
Alchemer Survey is a highly flexible and user-friendly online survey platform that provides advanced capabilities and reporting for enterprise organizations at a lower cost and without the complexities of other survey software. For organizations that need more advanced capabilities and reporting than SurveyMonkey and don't want the cost and complexities associated with Qualtrics, Alchemer Survey strikes the perfect balance.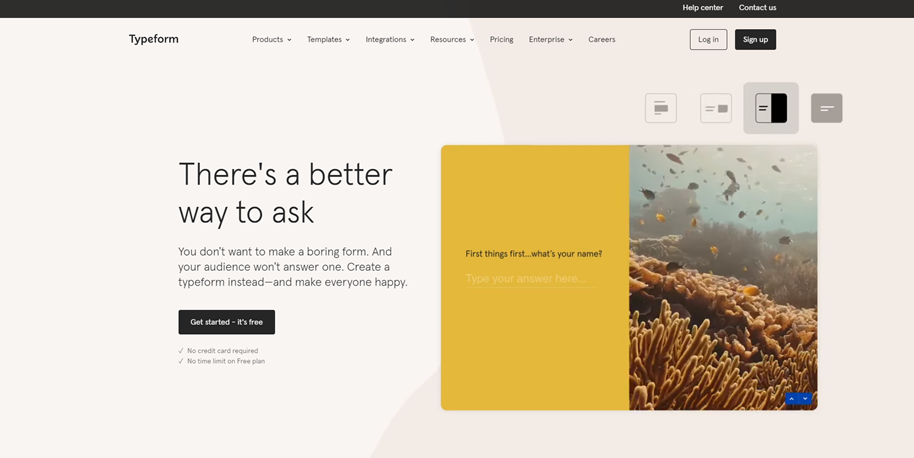 Overview
Typeform is a conversational tool that helps businesses connect with their audience by making it easier to collect feedback and insights through online quizzes and online surveys. It offers forms and surveys that flow with a conversational touch, video interactions, chatbots, and more (don't worry, you can transcribe these videos with a click of a button). Typeform also features success stories from satisfied customers who have used their services to increase bookings, sales, and engagement.
Highlights
The software contains a survey and a quiz maker, as well as poll and test makers and a form builder.
Typeform contains numerous templates for research, marketing, human resources, customer service, etc.
With their no-code forms, quizzes, surveys, and asynchronous videos, brands can engage their audience and grow their business with ease.
The platform integrates with essential tools like Hubspot, Slack, Google Sheets, and Salesforce, making it easy to collect and organize data.
Pricing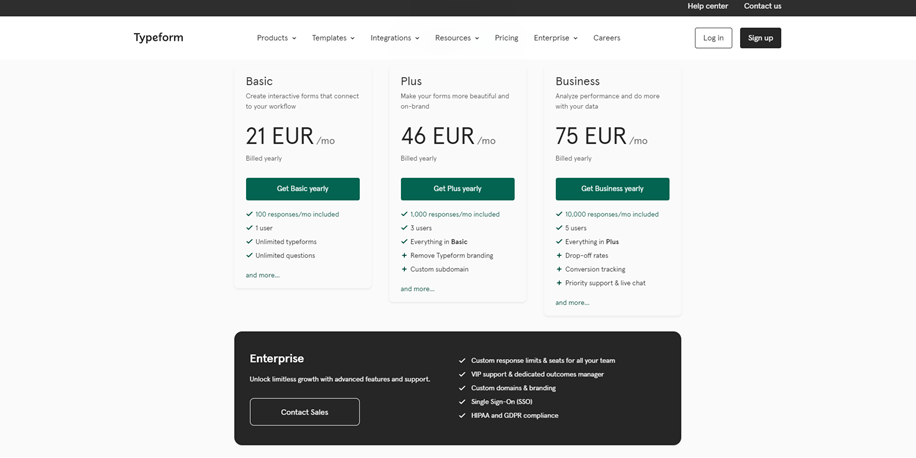 Basic Plan for 21 EUR/month helps you create interactive forms that connect to your workflow
Plus Plan for 46 EUR/month helps you make your forms more beautiful and on-brand
Business Plan for 75 EUR/month helps you analyze performance and do more with your data
Enterprise Plan is custom-tailored and unlocks limitless growth with advanced features and support.
Bottom line
Typeform is a powerful online survey tool for businesses looking to build more meaningful relationships with their customers by gathering deeper insights through conversations. With its conversational forms and surveys, video interactions, and chatbots, Typeform helps businesses get closer to their audience and provide better service. Although Typeform's logic is limited, the user experience might be just what you need.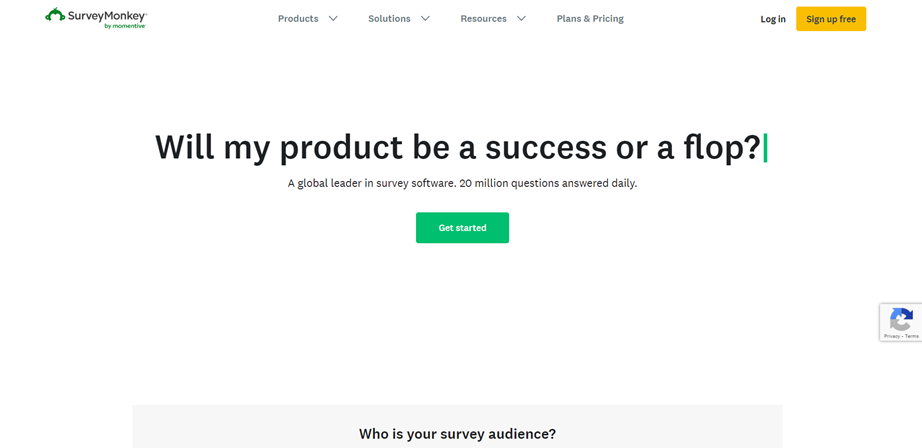 Overview
SurveyMonkey is a top-rated online survey tool that provides expert-written survey questions and templates for users to create, send, and analyze surveys with ease. It offers a global panel of more than 175 million trusted respondents through SurveyMonkey Audience, which provides targeted responses to users' surveys. The platform allows users to collect responses from various sources, including email, social media, and website embeds. With built-in reports or advanced dashboards that can be customized and shared, users can analyze responses at scale to gain valuable insights. Leading brands such as Samsung, Meta, Adobe, and Verizon rely on SurveyMonkey for many of the online surveys they need.
Top features
Ask the right questions with AI-powered guidance, logic, and so many question types.
Choose from 250+ expert-written survey templates that you can customize to match your brand's look and feel.
Collect information and feedback from almost anywhere: they offer a global panel that you can leverage to collect valuable market insights.
Analyze responses at scale using simple, built-in reports or advanced dashboards that you can customize and share with your team. Or export and analyze your data in your favorite software.
Deliver the right results with toolkits for most business roles and a wide variety of use cases.
Build products that customers want and create better marketing strategies that drive impact.
Send surveys to your target audiences with their global panel of 175M+ people and 200+ targeting options.
Connect your surveys to automate workflows with MailChimp, HubSpot, Zoom, Google Drive, Microsoft Teams, and Constant Contact integrations. Or use their API to build and customize your own.
Pricing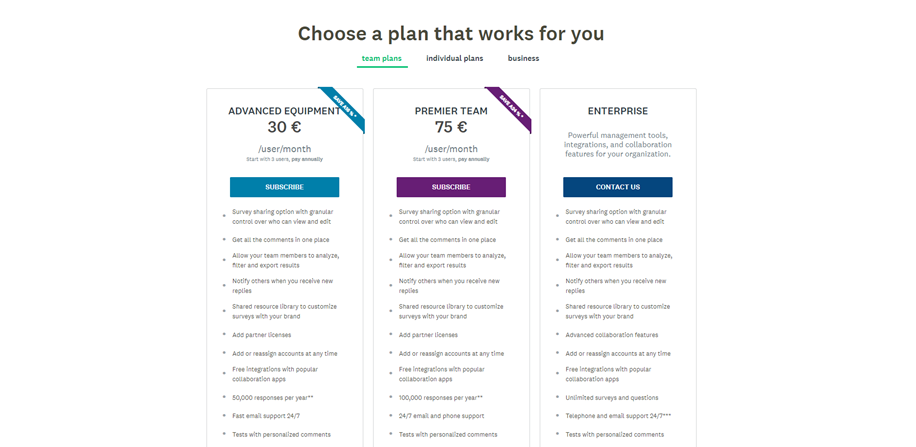 Basic Plan is free, and it lets you create unlimited surveys or forms with 10 questions each and collect up to 40 responses per survey.
Individual Advantage Plan is €36/month and lets you create unlimited surveys or forms with unlimited questions and collect up to 15K responses annually.
Team Advantage Plan is €30 per user/month, starting at 3 users, and offers unlimited surveys and questions and up to 50K responses per year.
SurveyMonkey Enterprise provides additional features like IT administration, SSO, user controls and permissions, HIPAA compliance, and more.
Bottom line
Survey Monkey offers expert-written survey questions and templates, as well as access to a trusted panel of respondents from around the world through SurveyMonkey Audience and it is an all-around survey tool for data collection. Brands should use SurveyMonkey because it provides a user-friendly platform to create and distribute surveys, collect responses from various sources, and analyze the data easily.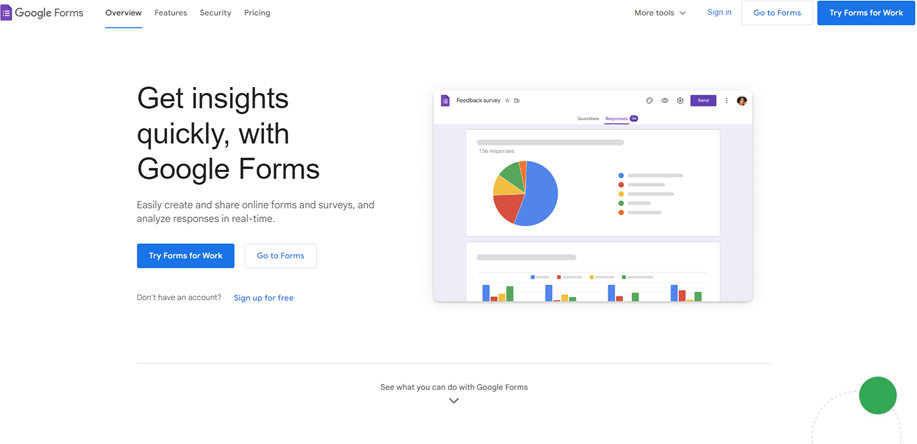 Overview
Google Forms is an online form and survey tool that enables users to create and share custom surveys and forms quickly and effortlessly. It offers a variety of question types, customization options, and templates to create polished forms that reflect the user's branding. Google Forms allows users to send their surveys and forms to respondents via email, links, or website embedding. They also analyze responses in real time using built-in summaries and Google Sheets integration. Users can collaborate in real-time with colleagues to build and analyze forms together, and access and edit their forms from anywhere with an internet connection.
Top features
Google Forms is part of Google Workspace, which includes other powerful tools such as Google Docs, Sheets, Slides, and more.
Create an online form as easily as creating a document.
Send polished surveys and forms: Customize colors, images, and fonts to adjust the look and feel or reflect your organization's branding. And add custom logic that shows questions based on answers, for a more seamless experience.
Analyze responses with automatic summaries: See charts with response data updates in real time. Or open the raw data with Google Sheets for deeper analysis or automation.
Access, create, and edit forms on the go, from screens big and small. Others can respond to your survey from wherever they are—from any mobile device, tablet, or computer.
Add collaborators—like with Google Docs, Sheets, and Slides—to build questions together in real-time.
Use built-in intelligence to set response validation rules.
Price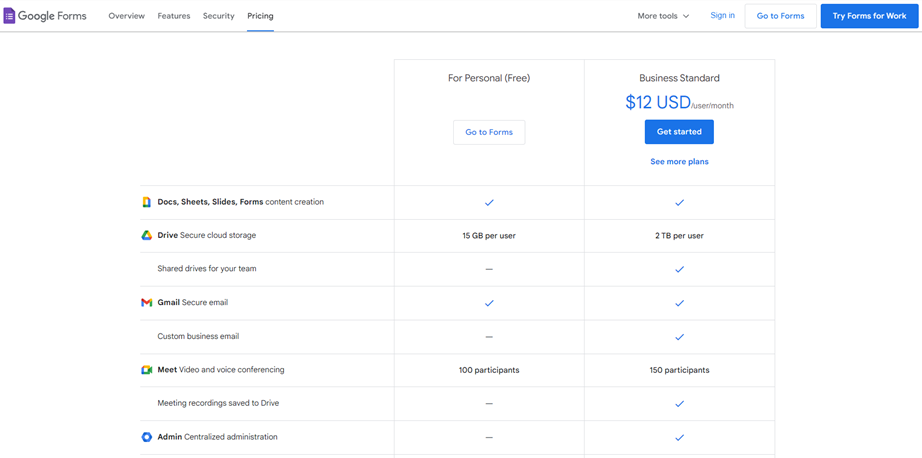 For personal use, there is a Free Plan
Business Standard Plan is $12/month/user
Bottom line
Google Forms is ideal for businesses, organizations, and individuals who need to quickly and easily create customized surveys or forms to collect data from customers, clients, employees, or other stakeholders. It's especially suited for those who already use Google Workspace and want seamless integration with their other Google tools. With its robust security and compliance controls, including encryption in transit and at rest, Google Forms ensures that users' data is protected at all times.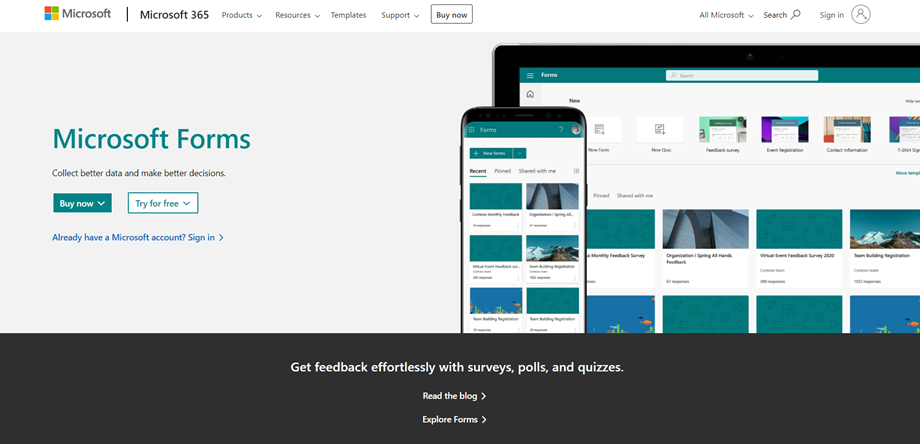 Overview
Initially, the Forms app was launched in Microsoft Teams for various experiences based on sync vs. async user scenarios. For example, it points to the polling experience in meetings for quick creation to launch, while it points to the survey experience in the Teams channel. The Polls app was introduced as a specialized app for all your polling and quiz needs in Teams meetings and chat in order to provide a simple and intuitive experience. Microsoft Forms helps you easily capture the information you need, helps you with built-in intelligence, increases your reach, and quickly turned insights into actions.
Top features
Microsoft Forms is generally available to Office 365 Education customers, Microsoft 365 Apps for business customers, and users with a Microsoft account (Hotmail, Live, or Outlook).
You can create a form, such as a survey or a quiz, invite people to respond to it using virtually any web browser or mobile device, see real-time results as they are submitted, use built-in analytics to evaluate responses, and export results to Excel for further analysis or grading with Microsoft Forms.
Recently, the company introduced some new features to Forms: a cover page template, theme suggestions, distribution of forms in Outlook, a new QR code experience, more question types (like image choice questions), Forms in Excel, three new types of polls in Teams meeting and enabled polls in channel meeting.
Templates and themes offer creative design and AI-powered intelligence.
Prices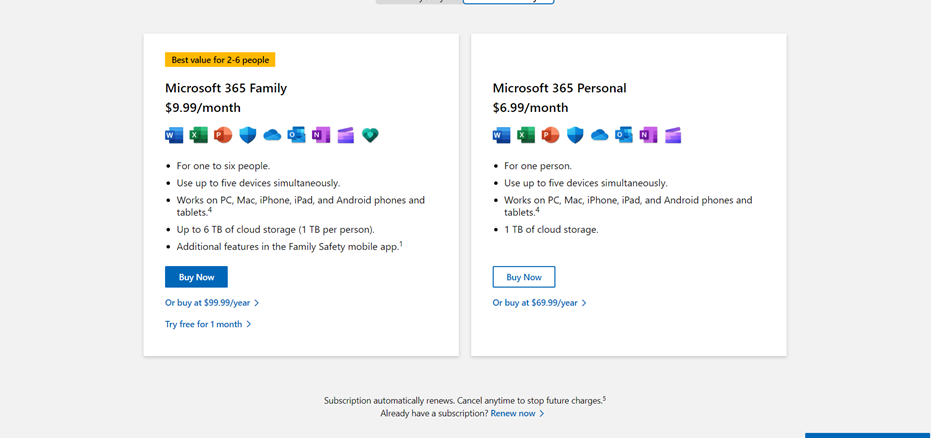 Microsoft 365 Personal $6.99/month
Microsoft 365 Family $9.99/month for up to 6 people
Microsoft 365 Business Basic $6.00 user/month
Microsoft 365 Business Standard $12.50user/month
Microsoft 365 Business Premium $22.00user/month
Microsoft 365 Apps for business $8.25user/month
Bottom line
Microsoft Forms is great for businesses and researchers who are already accustomed to Microsoft Office and use it regularly in their workspace. Microsoft Forms is integrated with Microsoft Teams and offers very quick survey responses that can easily be exported in Excel and other Microsoft tools. Microsoft Forms offers numerous templates and makes surveying in teams very easy.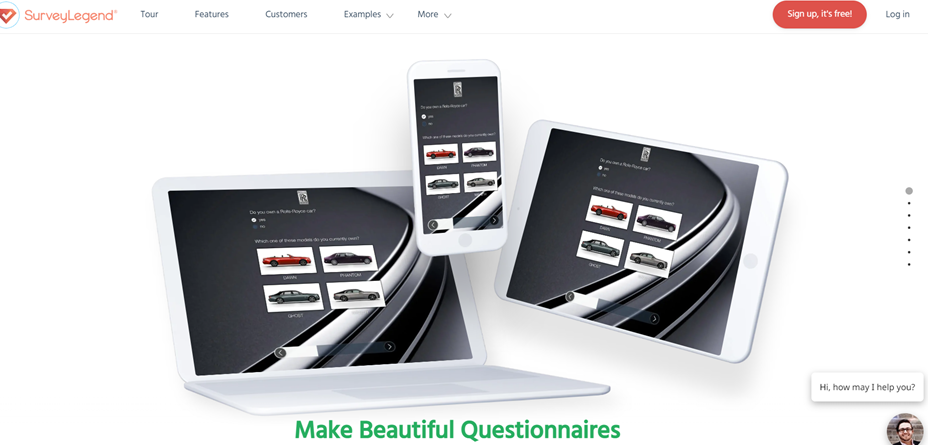 Overview
The SurveyLegend's journey started in Sweden in late 2010 with one simple goal: surveys should be a JOY to encounter. SurveyLegend offers its online survey software as a free survey tool and offers paid plans as well. SurveyLegend is carefully designed and engineered to be the most user-friendly and free survey maker on the web. With SurveyLegend, you can create surveys and collect data in a totally secure and encrypted digital environment from anywhere, at any time.
Top features
Effortless sharing: Share your survey via email, SMS, Facebook, Twitter, blogs, and more.
Enjoy world-class real-time data analytics: As responses come in, your analytics comes to life to give you real-time insights.
You can create great-looking surveys on your computer or tablet wherever you are, customize the look of your survey however you like, and display results with eye-catching and insightful graphics. It's all drag and drop and no prior design or market research skills are needed.
Mobile-friendly surveys.
100% money-back guarantee!
Prices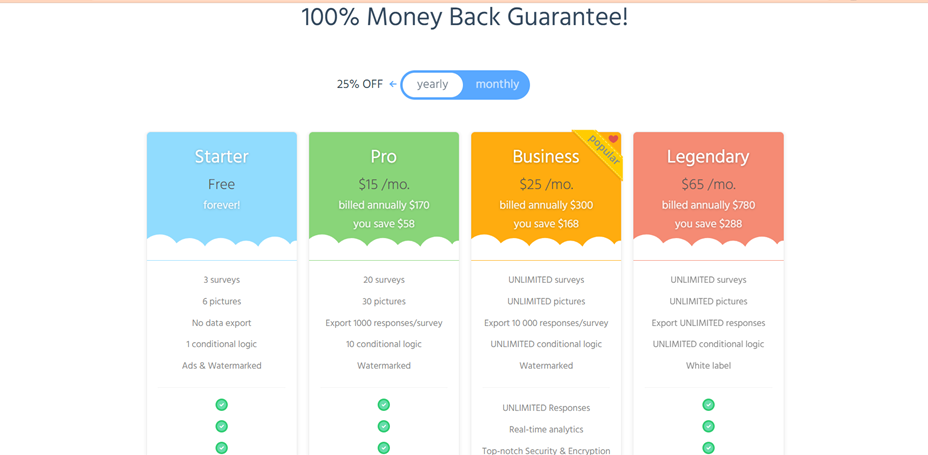 Starter plan is free and includes 3 surveys
Pro Plan is $15/month and includes 20 surveys
Business Plan is $25/month and includes unlimited surveys and 10000 exports
Legendary Plan is $65/month and includes unlimited surveys and unlimited exports
Bottom line
SurveyLegend is trusted by thousands of companies (such as Netflix, Airbnb, Bosch, Samsung, and Unilever) as they offer unlimited surveys and responses in their Business plan. The online survey software is a great choice for companies who would like an affordable price and access to one of the leading online survey tools.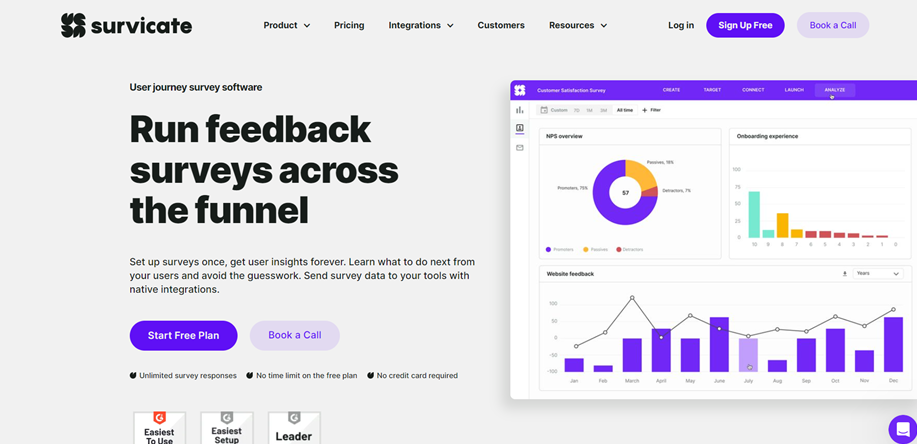 Overview
Survicate lets you make surveys in minutes and start getting customer feedback. You can easily make on-brand surveys with a visual editor using 15 question types including CSAT, NPS, and CES. Survicate gives you flexibility including survey skip logic.
Top features
Get more customer insights from your surveys: Other tools have ~5% average online survey response rates, while With Survicate there is a ~30% average online survey response rate.
Receive all surveys response, even for partially submitted surveys.
Drag & drop survey builders: Create surveys yourself without any coding. Start collecting survey responses in minutes.
Survey preview: View a question type before adding it. Make sure your survey has the right design and questions with a huge preview space.
Guided build: Make surveys in an intuitive, guided process and never get stuck building a survey.
Enrich surveys automatically with user attributes so there is no need to ask again.
Target web surveys to show in context so more people answer the survey.
Embed the first question right in the email preview, so it's easy to start the survey.
Send survey data to your tools with the most flexible native integrations: from Googe Analytics, Slack, Intercom, Microsoft Teams, and many more. If you are interested in how you can store all this data in one please, make sure to check out our article on the best research repositories.
Prices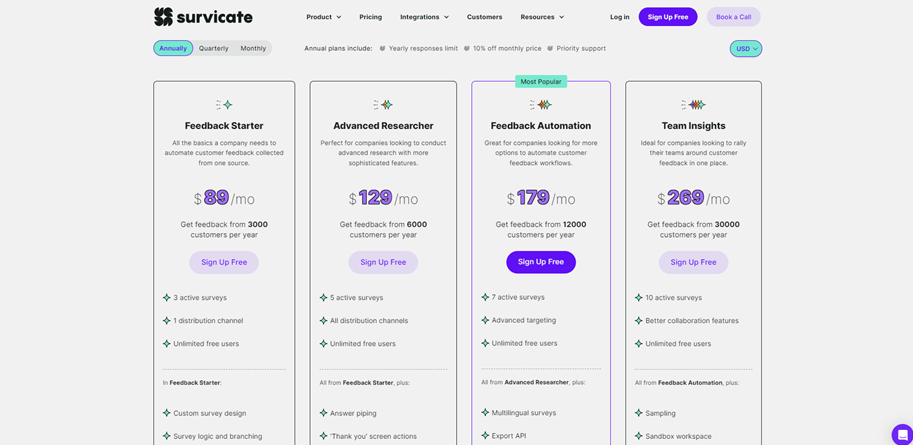 The Free Plan: Run any survey with the free plan. Collect unlimited responses for up to 7 days per survey.
Feedback Starter Plan is $89/month
Advanced Researcher Plan is $129/month
Feedback Automation Plan is $179/month
Team Insights Plan is $269/month
The Scalable plan for websites, products, or mobile apps with lots of users starts at $299/mo
Bottom line
Survicate is trusted by over 1500+ companies to run their online surveys, e.g. brands such as HubSpot, Spotify, and IKEA. The online survey tool offers a scalable plan which is great for websites, products to mobile apps that expect exponential growth of monthly users and would like online survey software that can keep up with their progress.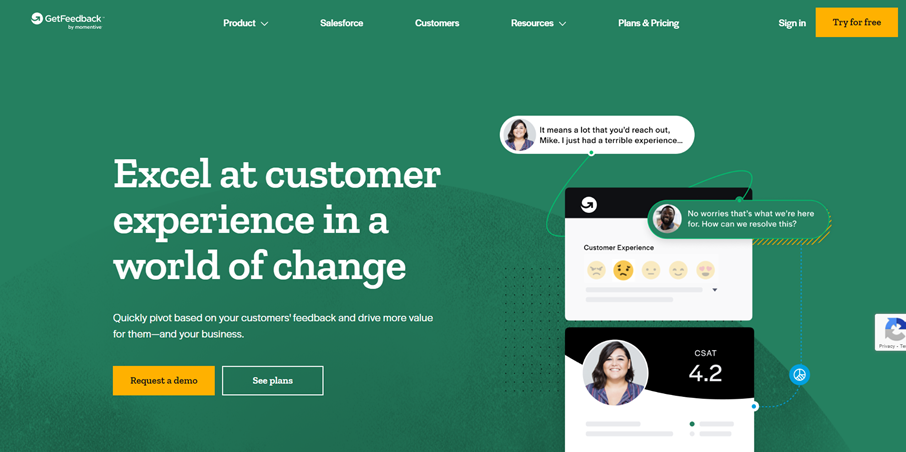 Overview
Get Feedback is an agile CX platform that moves as quickly as your team does. With this survey tool, you can collect in-the-moment feedback across multiple channels like email, SMS, websites, and mobile apps.
Highlights
Quickly pivot based on your customers' feedback and drive more value for them—and your business.
Collect targeted feedback and fuse it with customer data to quickly iterate on your digital experiences and improve customer interactions.
Access survey templates for NPS®, CES, CSAT, Digital and Purchase Experience, and more.
Make it easy to give feedback anywhere, on any device with mobile-optimized, fully branded surveys.
Close the loop faster with real-time alerts and automatically push feedback into the tools you already use.
Prices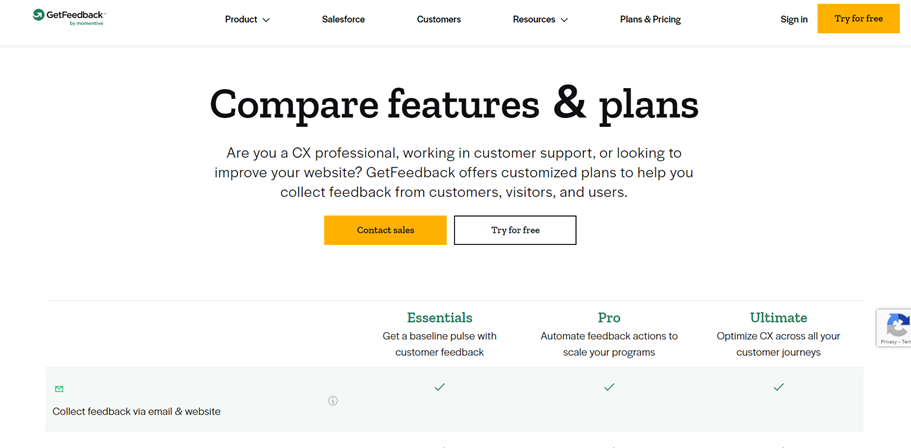 A 14-day free trial of the online survey tool
Customized plans available on request
Bottom line
Get Feedback claims that more than 80% of companies believe they deliver "superior experiences", but only 8% of customers agree. So, if you are a CX professional, working in customer support, or just looking to improve your website, see where your customer experience stands with Get Feedback.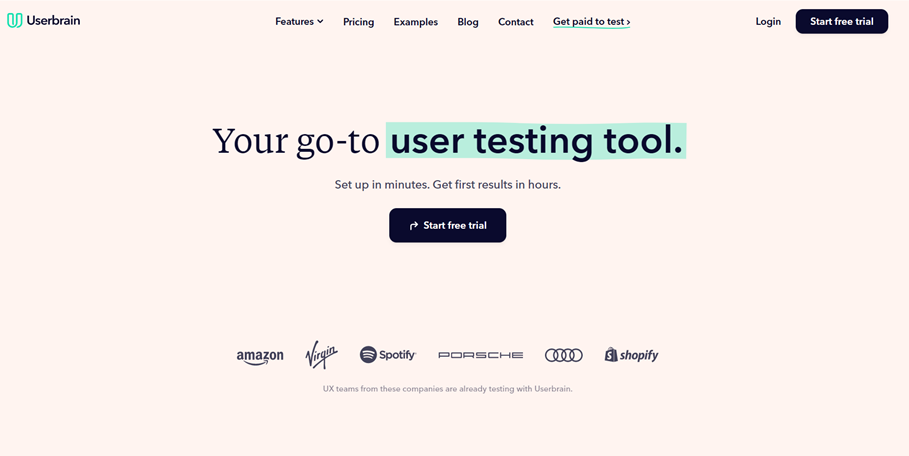 Overview
Userbrain reveals what is and isn't effective for your product. It is a straightforward tool that enables you to quickly create a user test and receive results. Whether you're a UX designer, researcher, or manager, Userbrain will help you create products that users will adore.
Top features
Set up surveys and user tests in minutes
Access 100k+ user testers. Wrangling study participants often takes UX researchers away from doing what they do best: conducting user research, so make sure you have great panel management software as well!
Invite your own testers
Analyze your user tests.
Collaborate with your team
Schedule regular testing
Prices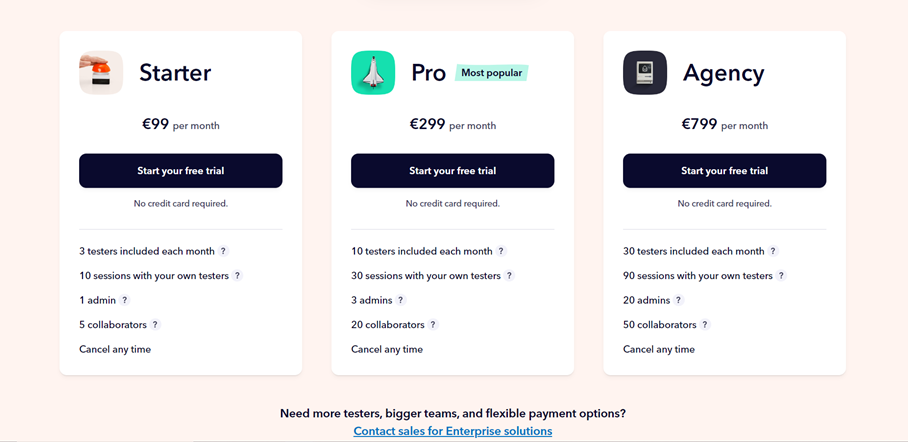 The Free Trial does not require a credit card
Starter for €99per month
Pro for €299per month
Agency for €799per month
Bottom line
UserBrain is a great online survey tool for researchers and companies who would like to conduct all of their research and analysis in one place, unlike some other tools that don't have this option. UserBrain has over 100+ user testers and an option to invite your own, which can provide you with all the necessary user experience data. And check out other great user testing tools like this that can improve your research.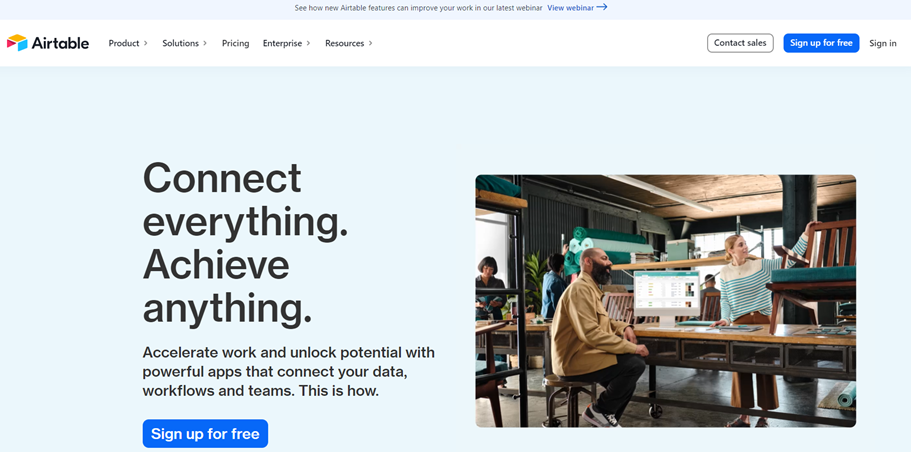 Overview
Airtable is a low-code platform for building collaborative apps. It lets you customize your workflow, collaborate, and achieve ambitious outcomes as well as accelerate work and unlock potential with powerful apps that connect your data, workflows, and teams.
Highlights
Begin building on day one. Airtable's pre-made templates and intuitive design help you tackle even your most complex needs, right away.
Bring all your data together: All your information. Always up to date. At your fingertips. Keep everything in sync across your organization.
Create custom interfaces that give each and every teammate the relevant information they need and a simple way to take action.
Create a single source of truth that's tailored precisely to how your teams work. Include everything you need, nothing you don't.
Prices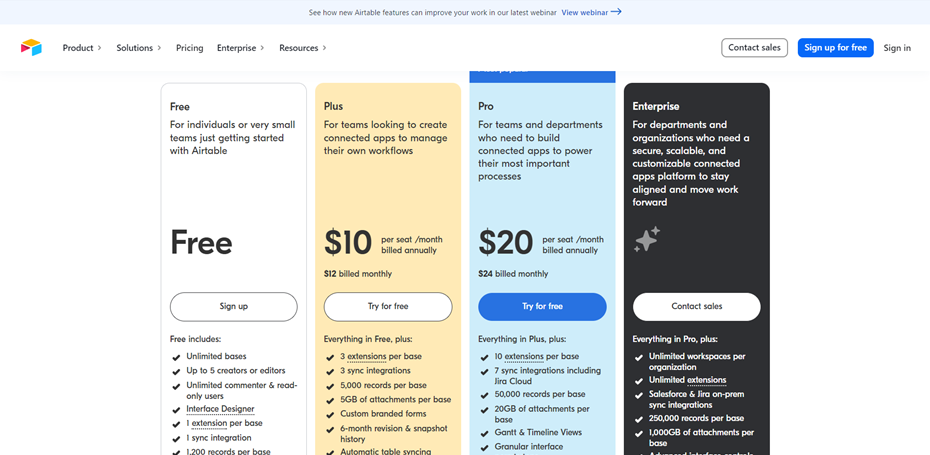 Free: For individuals or very small teams just getting started with Airtable
Plus $10 per seat /month: For teams looking to create connected apps to manage their own workflows
Pro $20 per seat /month: For teams and departments who need to build connected apps to power their most important processes
Enterprise: For departments and organizations who need a secure, scalable, and customizable connected apps platform to stay aligned and move work forward
Bottom line
Airtable will offer you so much more than classic online survey tools. The only question is, are you looking for a tool that can help you with your workflow and do much more than surveys?
What Are Survey Tools?
Survey tools are online software solutions that allow users to create, distribute, and analyze surveys. They come in various forms, from basic questionnaires to advanced survey platforms with complex logic and customization options. Whether you're looking to conduct market research, gather customer feedback, or collect data for academic research, survey tools can help you streamline the process and get the results you need.
Final Thoughts
In conclusion, finding the best survey tool for your needs requires careful consideration of your goals, budget, and desired features. Whether you opt for a free basic tool or to invest in an advanced survey platform, the right tool can help you save time and produce accurate results. But if you are looking for a research tool that can take your research to another level, check out our list of the best user research tools!