7 Best Panel Management Software Tools of 2023
If you've ever tried to manage a contact list, you know that it can be complicated. Add scheduling, incentive tracking, and contact rules on top of that and you've got yourself a big headache.
Join Renaissance Rachel's holiday giveaway!
1st Prize: $300, 2nd Prize: $75, 3rd Prize: $25
Wrangling study participants takes UX researchers away from doing what they do best: conducting user research.
At IBM, we decided to make the move from Airtable to finding a panel management solution. We'd been using Airtable for EVERYTHING. I highly recommend Airtable as a flexible way to prototype solutions, it did not meet our needs at scale. I still use it for my personal research work, but it's not optimal for enterprise companies.
You come to a point where you need a dedicated tool that works just for that purpose. It's not only marketing and sales teams that can benefit from a customer relationship manager (CRM).
Utilizing CRM for research can be complex, however, when all you need it to do is help you coordinate a research study.
That's where panel management software excels. So let's talk about the best panel management software of the year.
What is the Best Panel Management Software?
Here is a list of the best panel management software to use. I'll cover: what they highlight, their pricing, and an overview of what to expect.
All in all, your choice will depend on what features and aspects you need in an online panel management software to work best for your business. Are you looking for panel management software to manage your market research or your user research? That will impact which tool is right for you.
Disclosure: Some of the links in this article may be affiliate links, which provide $$$ to me at no cost to you if you decide to purchase the tool.
User Interviews' mission is to make sure you have participants within hours, instead of weeks. They take pride in being quick and efficient.
Top Highlights
Discover your single source of truth for participant management
Quickly recruit your own users with customizable tags, filters, email templates, and more.
Automatically track participant research history to choose the best study participants
Build your panel with CSV uploads or your customizable opt-in form
Mask participant PII
Manage consent forms
Develop user profiles based on past screener data and study participation
Distribute incentives
Pricing for Research Hub is as follows:
Free forever: $0/month with up to 100 contacts in your participant CRM
Essential: $250/month with up to 5,000 contacts
Custom package: Contact them directly if you need more than 5,000 contacts
Bottom Line
All in all, because User Interviews can both recruit for you and manage your own participants for you, they can become your one-stop-shop for participant recruiting. It is also great for companies who have very specific needs, more than just the average research participants for research studies.
Great Question allows you to build both a panel of customers and a research repository, which allows you to do a lot of your research all in one place. Having your research repository in the same place as your participant panel allows you to easily link insights between participants.
Highlights
Research Panel: manage each research participant in a centralized location
Research Repository: Keep all research in a single place, easy to search, share, and log valuable insights
Templates tailored to specific user research methods
Transcription
Screeners
Consent forms
Incentives: Send incentives to thank your participants in any country.
Integrations: Integrate with your existing calendars, emails, meeting tools, and more.
Research calendar: Schedule customer interviews around your existing calendar.
Compliance: GDPR and SOC2 compliance are included at every tier
Security: Protect your customers' and researchers' PII & privacy
Pricing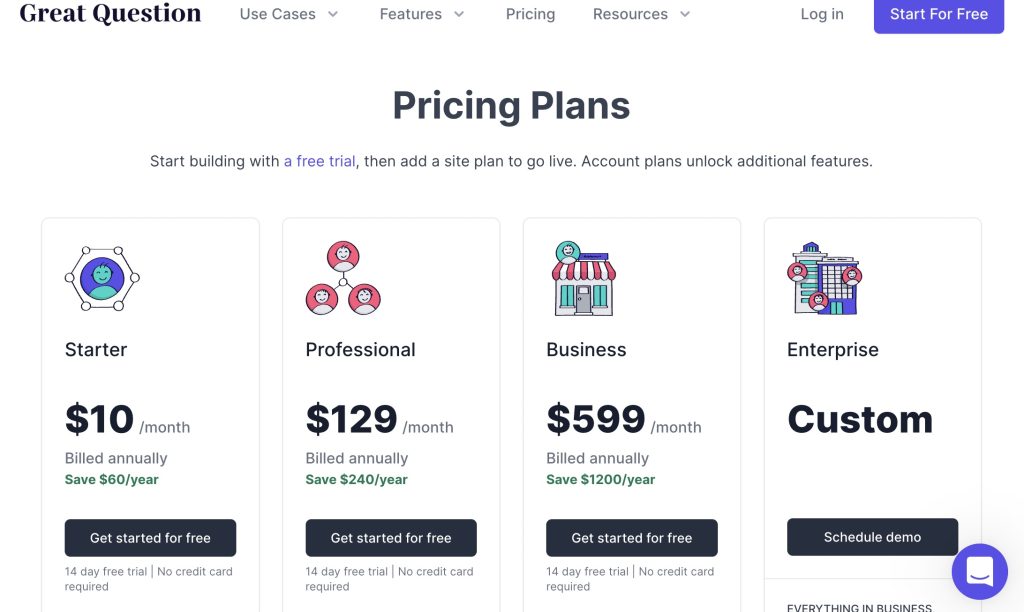 The plans offered by Great Question start with a 14-day free trial, and then you can purchase the monthly plans:
Starter: $10/mo
Professional: $129/mo
Business: $599/mo
Enterprise: Custom
Bottom Line
Great Question is still a relatively newer product, but it has great potential. If you want your participant panel and research repository in one place, for a reasonable price, this product is for you. So far, the capabilities won't be as robust as some other tools, but who knows what'll happen down the road!
Qualitative offers participant targeting, custom screeners, and an overall user-friendly platform. This company prides itself on being easy and effective to use for your UX research needs.
Highlights
Delivers website pop-up or emails user research invitations or conducts custom recruiting
Research participants fill out a screener and request interview slots based on your availability
Creates interview calendar events with video conferencing and dial-in
Sends interview reminders to research participants
Generates and emails incentives for completed interviews
Recruiting services
Incentive tracking
Based on the amount of traffic your website gets and the amount of participants in your panel.
Small is $50 per month.
Medium is $150 per month
Large is $290 per month.
Custom package for unlimited requires you to contact them for pricing.
Bottom Line
You get a lot of bang for your buck with Qualitative. You get in-app intercepts, custom opt-in forms, and all the other great stuff a panel management tool provides. You even get brand customization at the lowest tier.
Qualtrics is an industry leader in survey distribution. That's their bread and butter. However, they've grown into other areas and offer a whole platform dedicated to understanding the customer. Qualtrics is the only tool on this list that DOES NOT provide scheduling within the tool.
Top Highlights
Robust surveys
Dashboards and visualizations
Participant history
Multiple directories to track your participants
Incentive tracking
Pricing: Qualtrics doesn't have their pricing listed. You can request a demo, or contact them for further information.
Bottom Line
If you're looking to do market research, Qualtrics kills in that area. Qualtrics is an industry leader in creating surveys, however, their panel management is targeted towards market research use cases and not user research use cases.
Ethnio has a beautiful, easy-to-use user interface for managing your participant panel. Ethnio's specialty is providing you with in-app intercepts to recruit participants for your study. It does not offer external recruiting services.
Highlights
Pool – A central point for all research and participant information, you can sort and filter how you need with this feature.
Incentives – This feature allows you to send money all over the world to participants. Including using e-gift cards, PayPal, Amazon, and more.
Screeners – You're able to send a link and based on the answers participants provide funnel them into different categories.
Intercepts – Customize your intercepts with 30+ targeting variables to gather the right feedback in the right place in your online journey.
Scheduling – Different sessions, schedule and link to your personal calendar for meetings.
Starter pack is $79 per month.
Plus package is $179 per month.
Pro package including everything they have to offer is $349.
Enterprise would be custom pricing
Bottom Line
Ethnio looks great, but it's one of the priciest options out there. Their main differentiator is the web intercept feature. If you don't already have a mechanism at your company for doing in-app intercepts and you need creative ways like that to pull in customers for research, then Ethnio should definitely be one you consider. If your company does already have something for in-app intercepts, you might want to consider another option and just link to an opt-in form from one of the more reasonable tools.
Panelfox is designed to replace tracking everything in a spreadsheet. It has scheduling, emailing, screening, and tracking incentives all in one place. It also offers an area to track notes about recruiting participants and a survey function.
Highlights
Panelist Sign up
Rich profiles
Easy Search
Past Participation
Branding: Ensure your panelist experience is fully on-brand.
Tagging: Slice and dice your panel with tags, any way you want.
Bulk edit: Easily edit 1000s of panelists at once.
Export: Download a CSV of your panel.
Panel Fox does not list pricing on the website, you can start a free trial, schedule a demo which takes an hour, or you can contact them for further information.
Bottom Line
I would say that Panelfox is a great solution for smaller companies, but I don't actually know how much they cost since they don't list pricing on their website! Overall, they seem to offer very similar functions to the others. A differentiator is that they offer surveys in addition to screener capabilities, which is nice. The survey data is then saved to the participant profile. That said, I don't know how robust the survey actually is.
ARCS provides your panel members with an engaging experience to self-schedule and respond to studies while improving your operations' efficiency. ARCS panel management platform helps you find and qualify the right people, schedule them for studies, and optimize panel engagement.
Highlights
Manage Participation & Engagement- ability to manage and maintain "highly engaged" participants is key to successful study completion.
Reward Your Participants- create custom incentive programs for your panel participants.
Build, manage, and engage with your panel with ease
Offer consulting services in process consulting and technology consulting
This company doesn't show its pricing on the website. You will have to contact them to see what the price range is.
Bottom Line
In conclusion, this company would be ideal for someone who wants to be more hands-off and have them do the leg work for you.
What is panel management software?
Panel management software is used to assist your business in learning about your audience and understanding how to connect with them. Using participant panels allows you to manage research participants in one place.
Final Thoughts
In conclusion, User Interviews would be my top pick for user research. They have a free plan that allows you to start quickly and scale-up. They also offer excellent recruiting services. If you want a research repository and panel management tool, go for Great Question. If you're a smaller company and want a great tool, consider Qualitative. If you're a larger company and your use case is oriented towards market research, then I recommend Qualtrics.