13 Best AI Article Generators of 2023
AI has consumed a lot of the internet and the world of content creation – whether you're using GPT-3 to help you write your articles or using AI to help you edit professional videos, and even when AI enables you to grow your social media – there is no shortage of ways that AI helps you write
What Are the Best AI Article Generators?
You can choose from a variety of different AI content generator tools – some of the best involve ones that still give you creative freedom and the ability to edit and revise content as needed.
In addition to that, you also get the ability to use their content generator tools for all your content writing to save time and limit the headache of writer's block.
Some platforms have a free article generator, but others offer a free trial to give you a chance to use the product without paying for it.
Disclosure: Some of the links in this article may be affiliate links, which provide $$$ to me at no cost to you if you decide to purchase the tool.
Jasper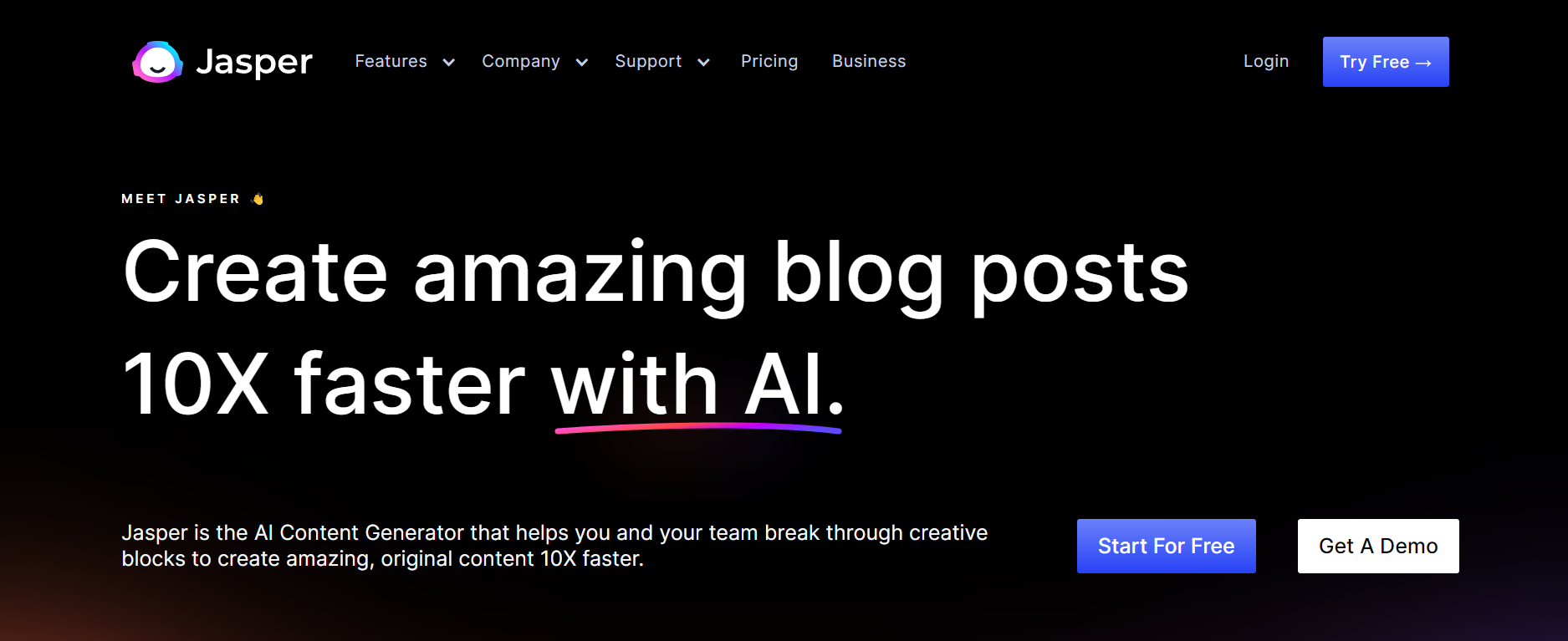 Overview
Jasper is an AI article generator that allows you to write high-quality articles faster and more effectively. It can automatically write a blog post for your target audience. Regarding content generation, novel writing, and general writing, we've talked about Jasper many times before – and it's ranked highly in multiple categories for a reason.
It's a versatile program that allows you to create content for various purposes using artificial intelligence – no more writer's block and no more spending hours working on your content marketing strategy!
Using machine learning and deep learning models, Jasper allows you to use relevant keywords to write articles and other long-form content.
Highlights
Create content in 26 different languages to connect with a variety of audiences
Brainstorm new ideas using their templates and other AI aspects – like AI art and Chat
Collaborate with team members or coworkers on projects
Pricing
Jasper has two paid plans, with the first one being a sliding scale:
Boss Mode: starting at $99/month for 100,000 words
Boss Mode: $500/month for 700,000 words
Business Plan: custom pricing and plan based on your content marketing strategy and the type of content generation tool you need.
Bottom Line
Jasper is always an excellent option for an AI writing tool that gets an article written quickly.
Pricing is relatively affordable and easy to manage – especially if you plan on using Jasper for your content creation.
Jasper offers many tools and benefits – beyond just AI writing software, which means you can take full advantage of the platform.
Article Forge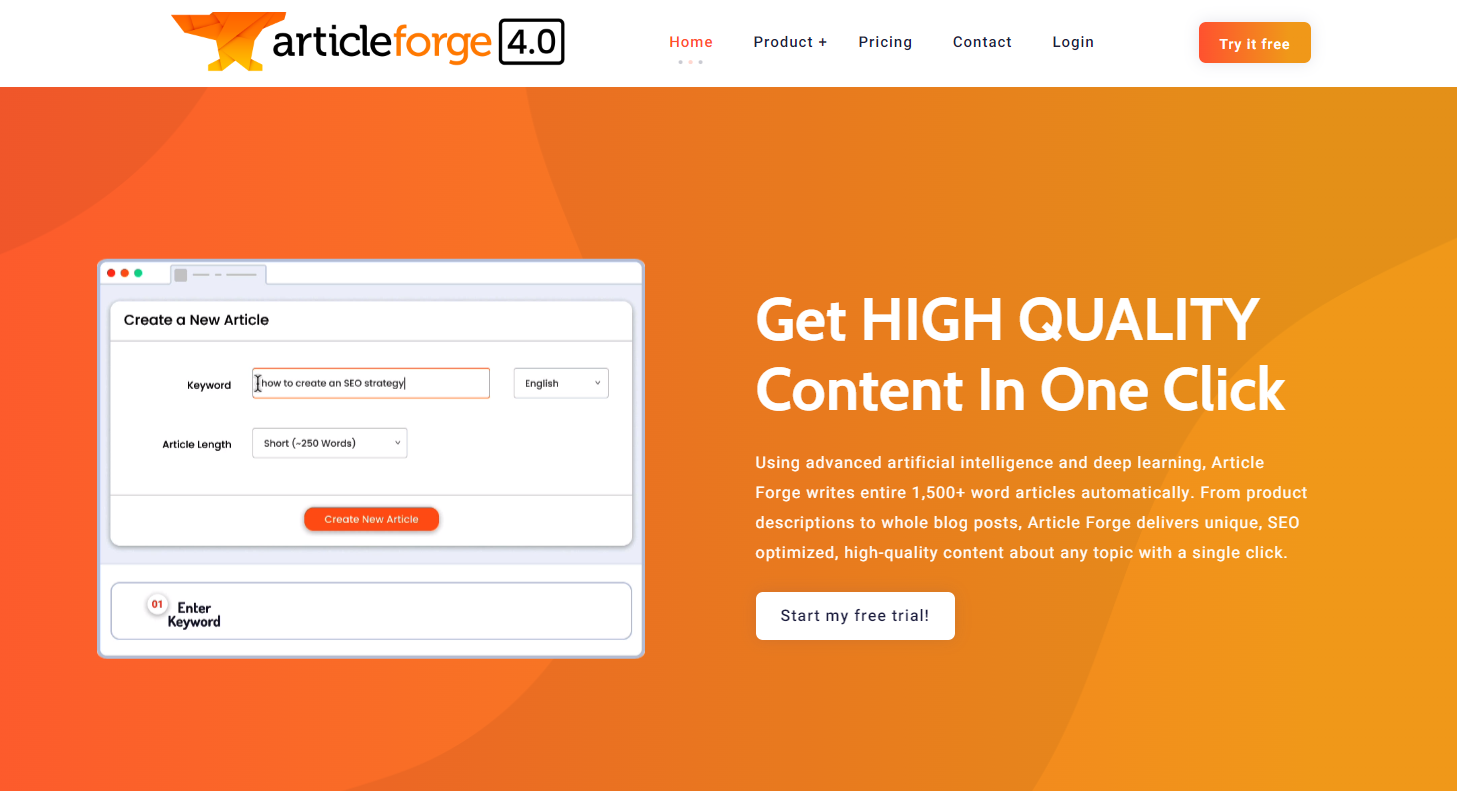 Overview
Article Forge is the fully automated article writing software that takes you through the process from research to planning and writing.
When you write with Article Forge – it uses the same deep learning as Google to evaluate content – meaning you're getting top-notch SEO content.
You can create high-quality content with the article-writing tool and know you can rank highly in search engines.
Highlights
True SEO automation
Written content generator with seven languages
Automatically add relevant images, titles, and videos to your blog post.
Pricing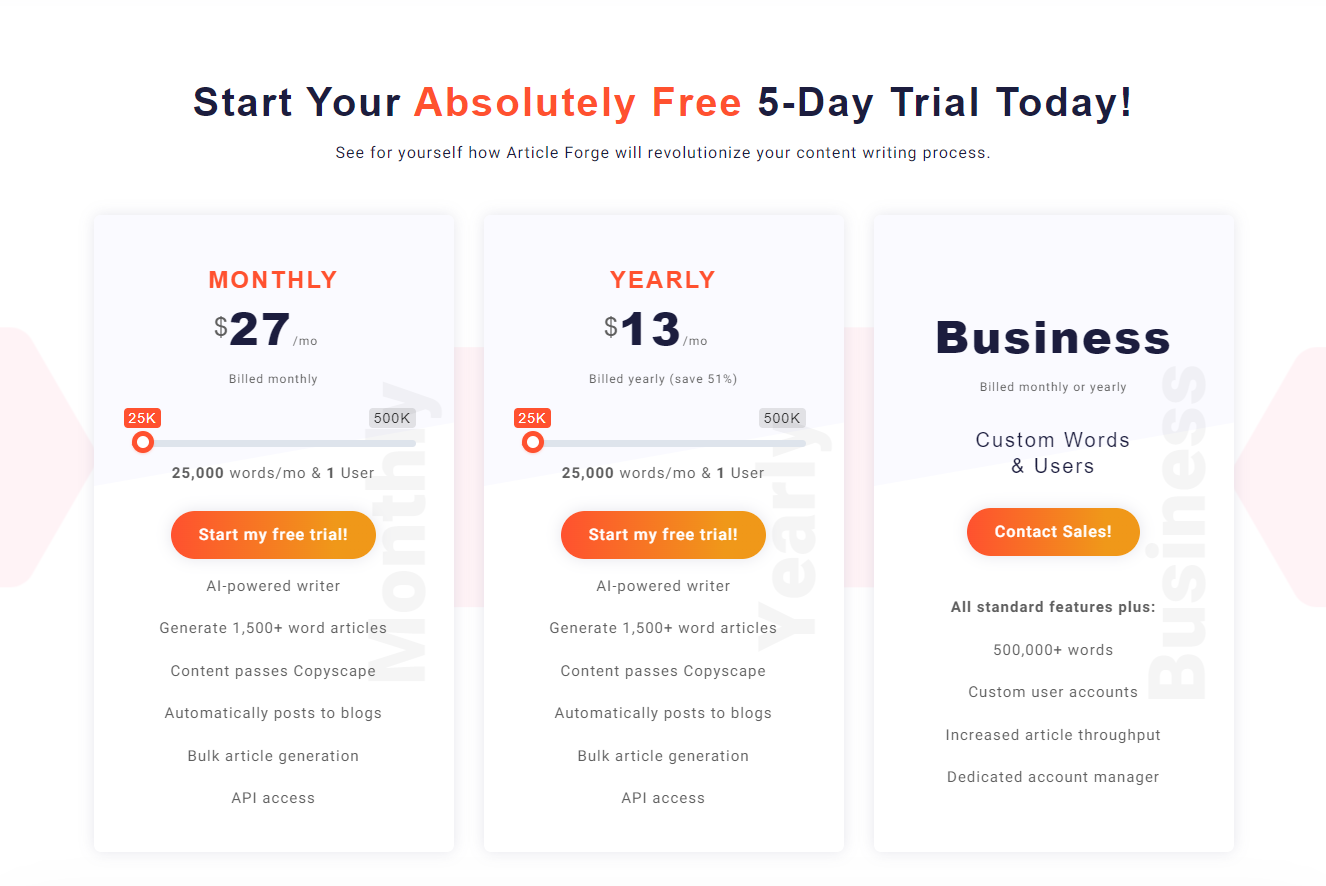 Article Forge has monthly and yearly payment options as well as a business plan:
Monthly: starting at $27/month for 25,000 words
Yearly: starting at $13/month for 25,000 words
Business: custom pricing and custom users designed for businesses.
Bottom Line
Article Forge is a fantastic resource for writing articles – you can take advantage of their free trial to test out the platform and see if it benefits your content creation.
Their pricing is very affordable and a bit cheaper than we've seen from some other AI content generators we've gone over.
They boast about themselves as the first fully automated article-writing software with the ability to provide an easy-to-use interface and perfect content creation.
Rytr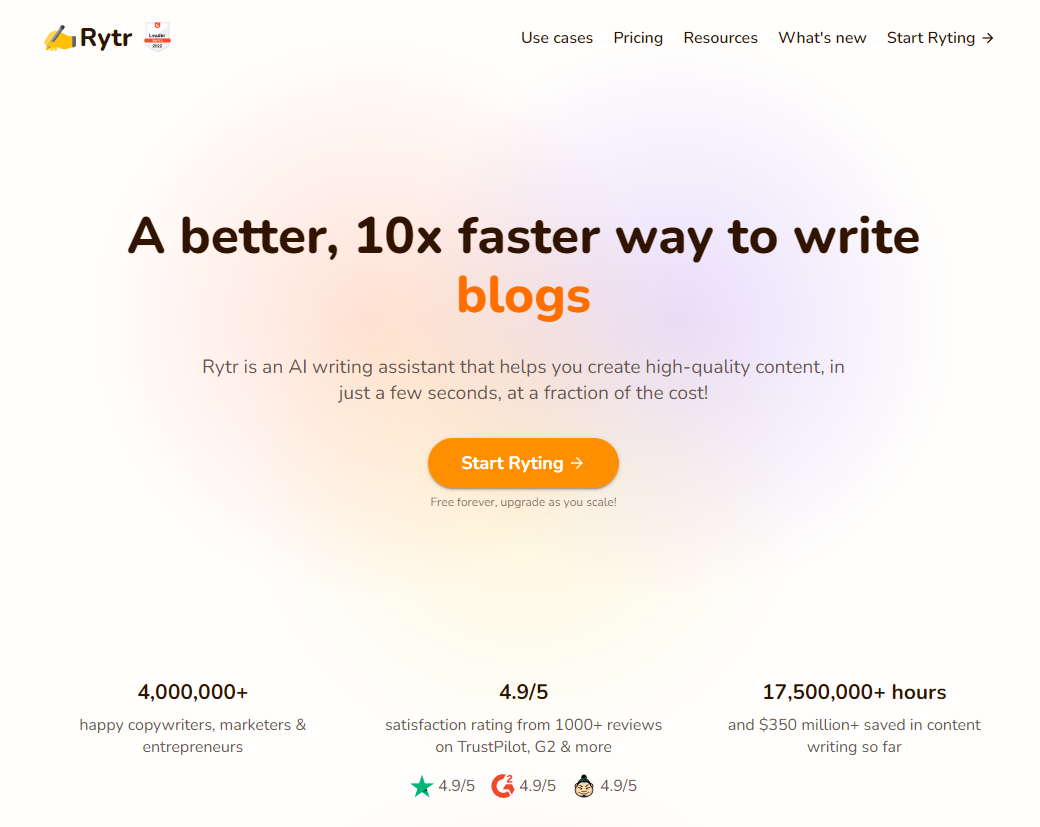 Overview
Rytr is geared toward turning out quality content using their online article generators, making it easier for you to write and generate content.
The platform focuses on blog post content, allowing you to quickly create articles on any subject matter.
The subject matter is not an obstacle to this platform because you have over 20 tones of voice to choose from and over 30 languages.
Highlights
Chrome extension that allows you to connect the benefits of Rytr to your Google Docs and web browser.
Mobile-friendly design to enable you to write a blog post and use SEO tools on the go.
Store, organize, and write your content in one place – making it an easy-to-use interface.
Pricing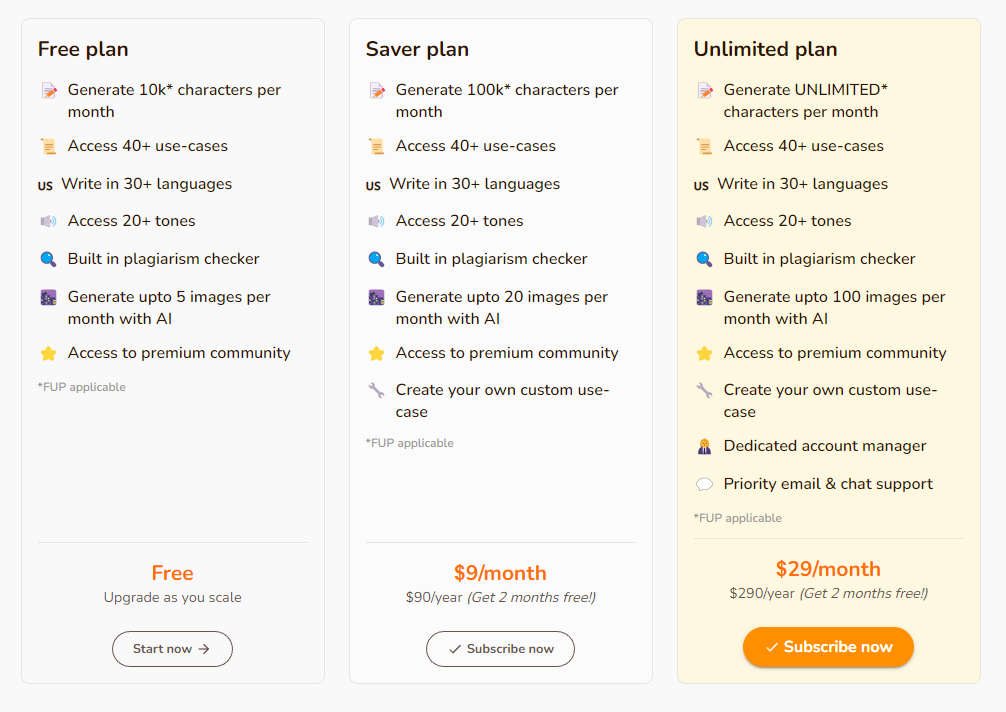 Rytr has one free plan and two paid plans:
Their free plan includes up to 10,000 characters
Saver Plan: $9/month for up to 100,000 characters
Unlimited Plan: $29/month for unlimited characters
Bottom Line
Rytr is a tool you can use at your disposal for AI writing and blog content generator – with a free trial and AI writing tools to create a blog post on any topic in just a few minutes.
Like other content generator tools we've looked at, Rytr allows you to test out the platform and gain access to its long-form editor.
Writing content doesn't have to be a stressful part of your content marketing strategy – with Rytr, you can create these easily.
GrowthBar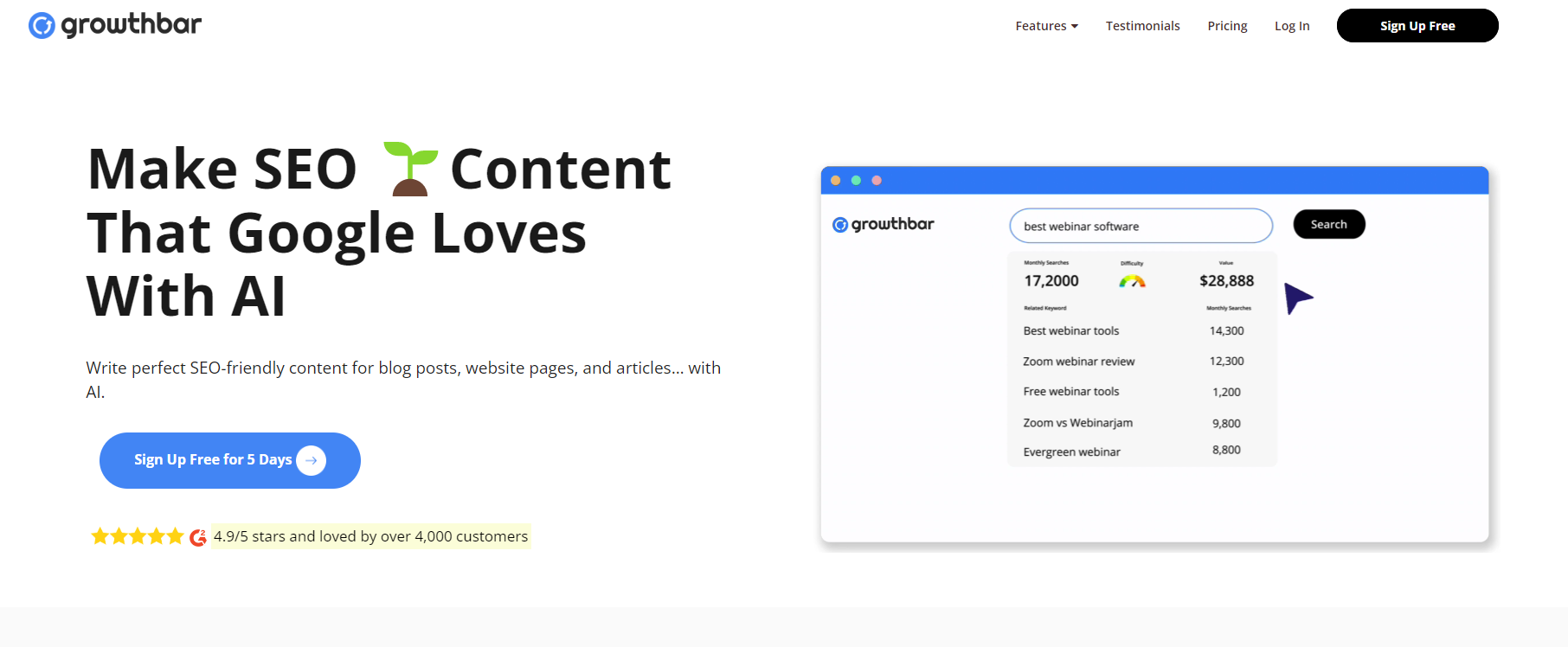 Overview
GrowthBar is one of the best SEO tools for generating articles with artificial intelligence and an easy-to-use interface to create reports and other aspects of SEO copy.
Developing content ideas doesn't have to be your strong suit – GrowthBar makes it easy to write factual and accurate articles.
It also has a wealth of SEO tools if you want to get your content search engine ready – instead of simply generating articles.
Highlights
Collaborate with teams
Write tons of AI content other than a blog post
Keyword research and competitor analysis
Pricing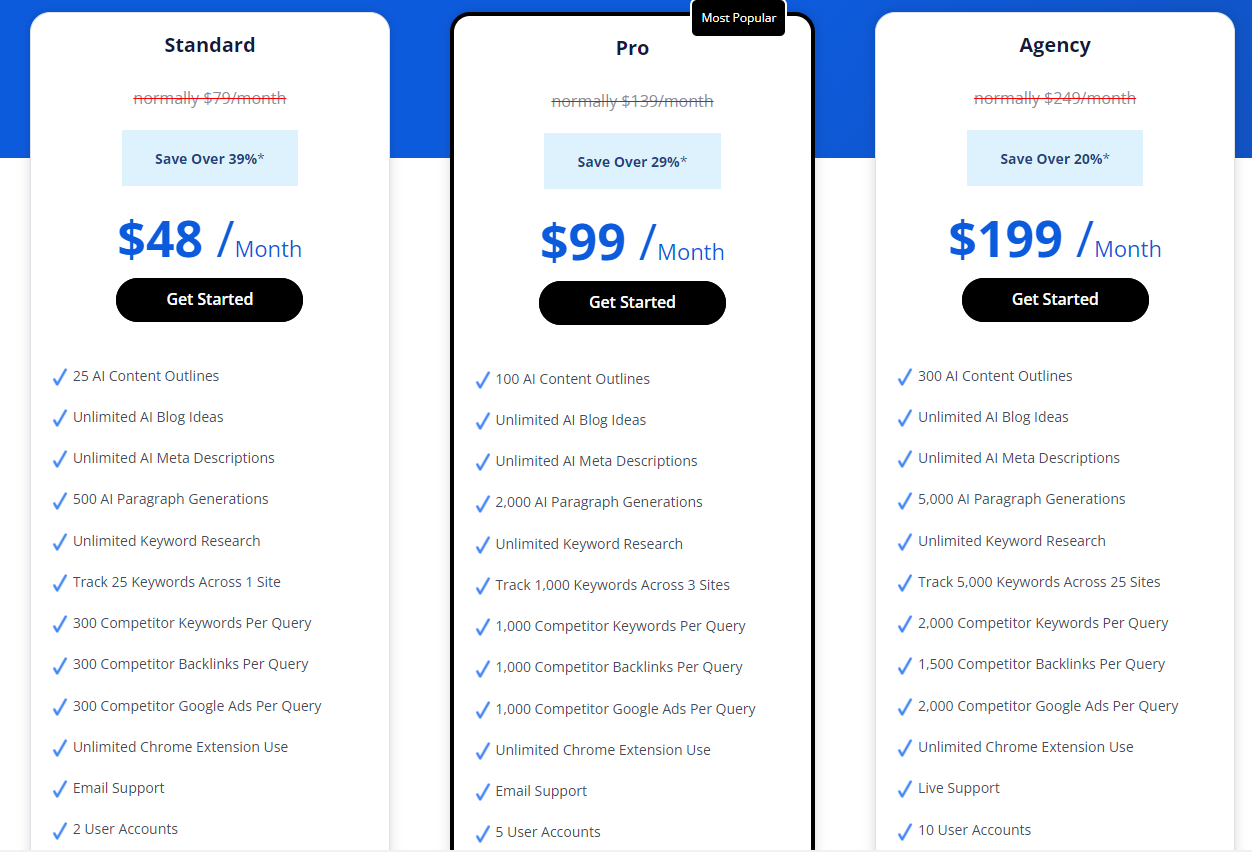 GrowthBar has three paid plans:
Standard Plan: $48/month for unlimited blog ideas and 500 paragraph generators
Pro Plan: $99/month for unlimited AI meta descriptions and 2,000 AI paragraph generators
Agency Plan: $199/month for unlimited AI blog ideas and ten user accounts
Bottom Line
You can count on GrowthBar as one of your main productivity tools with its ability to ease the content writing process and generate an article that is high quality. Despite it being written by advanced machine learning – it can mimic the human voice and tone.
Their paid plans are affordable, and you get the AI content generator software with just the basic program.
Writing SEO articles with GrowthBar will get you achieve your content marketing goals.
SurferSEO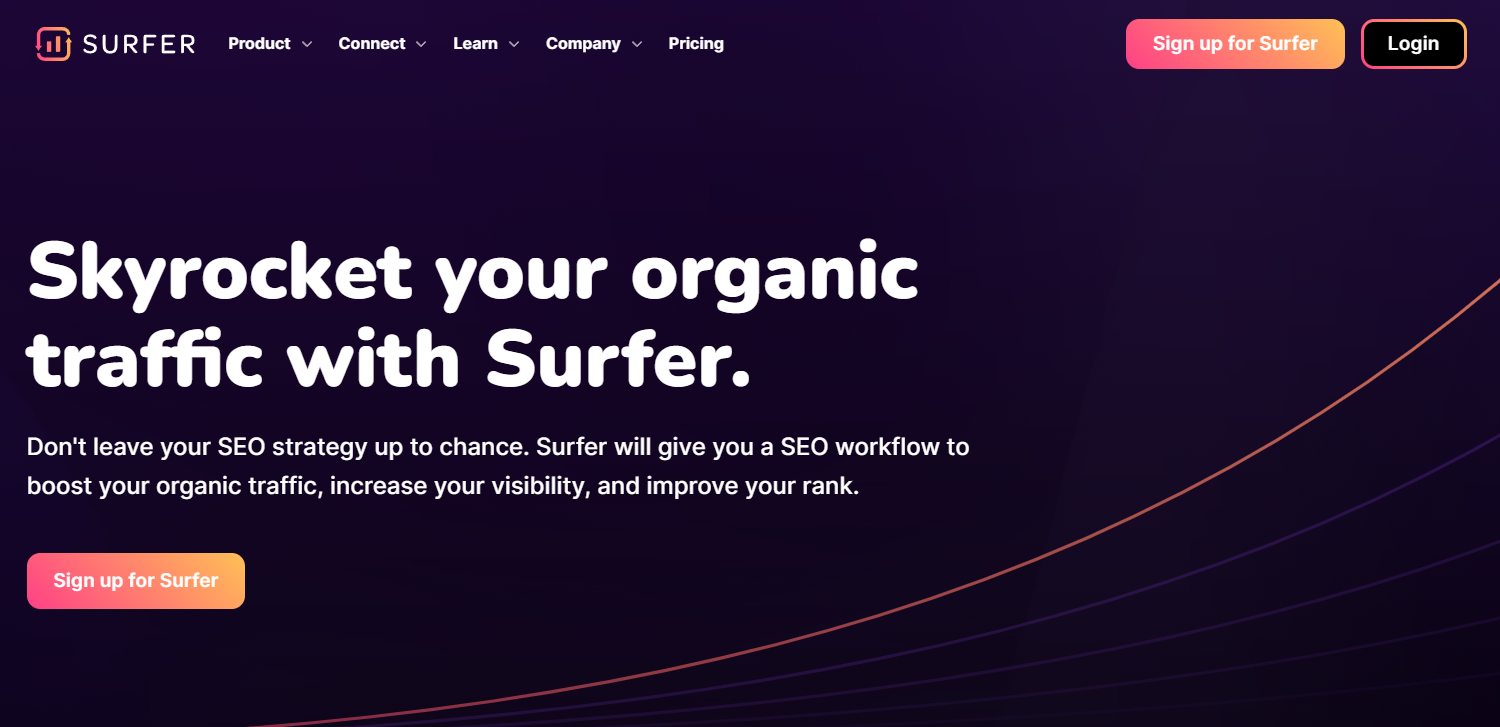 Overview
Surfer SEO is a powerful SEO tool that allows you to create content and articles that search engines love and your readers love, too – making it the best of both worlds.
Surfer SEO's AI content generator allows you to do keyword research, SERP analysis and audits to ensure your content is still ranking on Google.
Their content editor allows you to create content linked to the keywords you are trying to rank for – including natural language processing keywords.
Highlights
Keyword research
Content auditor
SERP analysis
Pricing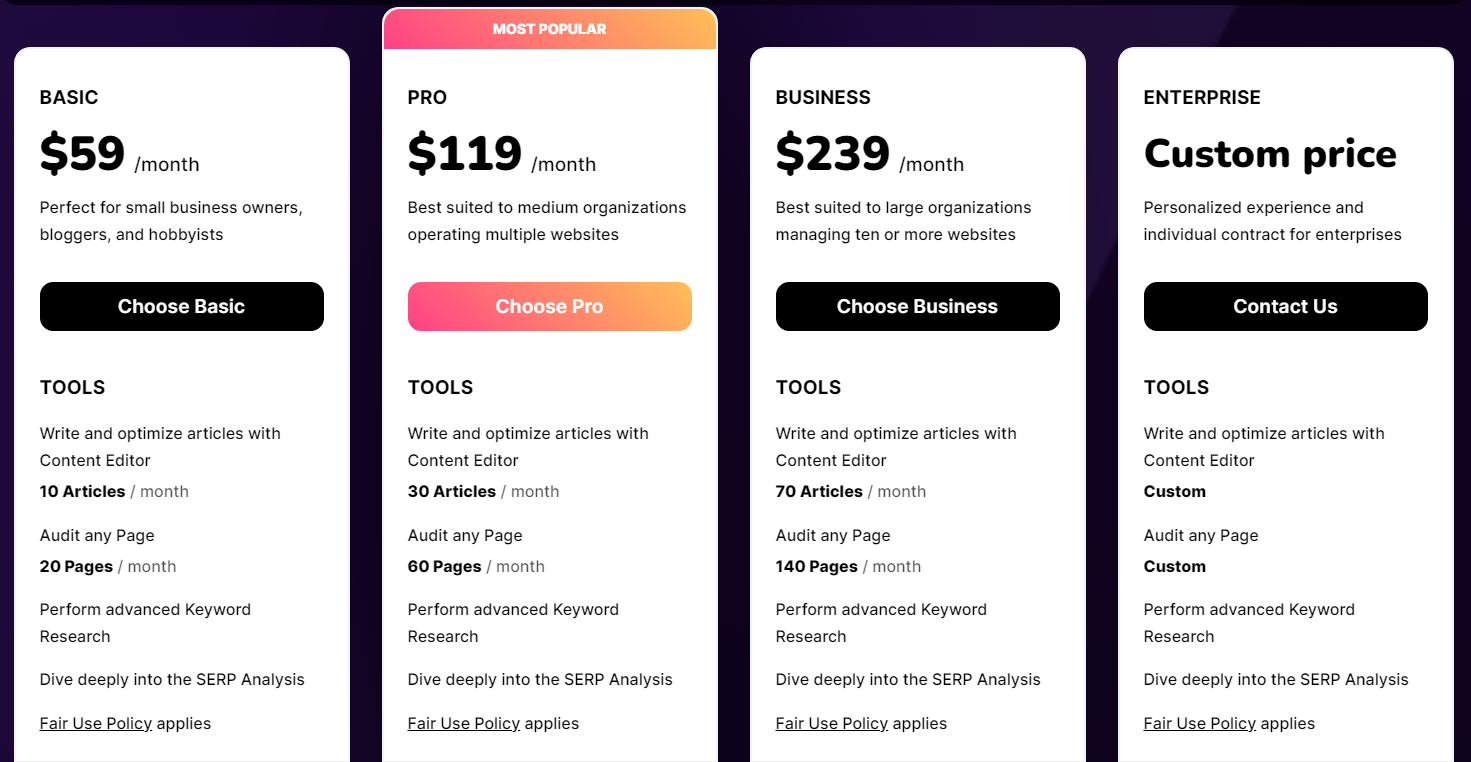 Surfer SEO has four paid plans:
Basic Plan: $59/month for ten articles and 20 pages a month
Pro Plan: $119/month for 30 articles and 60 pages a month
Business Plan: $239/month for 70 articles and 140 pages a month
Enterprise Plan: custom pricing and AI writing tools
Bottom Line
If you're looking to write and create content that is search engine optimized and allows you to search for keywords and SERP analysis in one app – then Surfer SEO is the perfect tool!
The pricing isn't quite as affordable as we've seen with other tools – but it is still relatively low and affordable.
Surfer SEO also gives you multiple language support to generate articles for any audience – you're not limited to English speakers.
Scalenut

Overview
Scalenut allows you to generate content for social media, ads, or a simple blog post. They have artificial intelligence that helps you through the writing process.
They offer multiple languages and a wealth of other AI writing assistant tools to help you from start to finish.
You'll never run out of blog ideas with Scalenut's SEO idea generator.
Highlights
If you still want the touch of human writers, you can access the 2% of writers through Scalenut – so you have more than an AI writing generator on your side.
You can use the AI features within the platform to prioritize quality content and write articles that resonate.
After writing, you can add images and other visual content to spice up your writing.
Pricing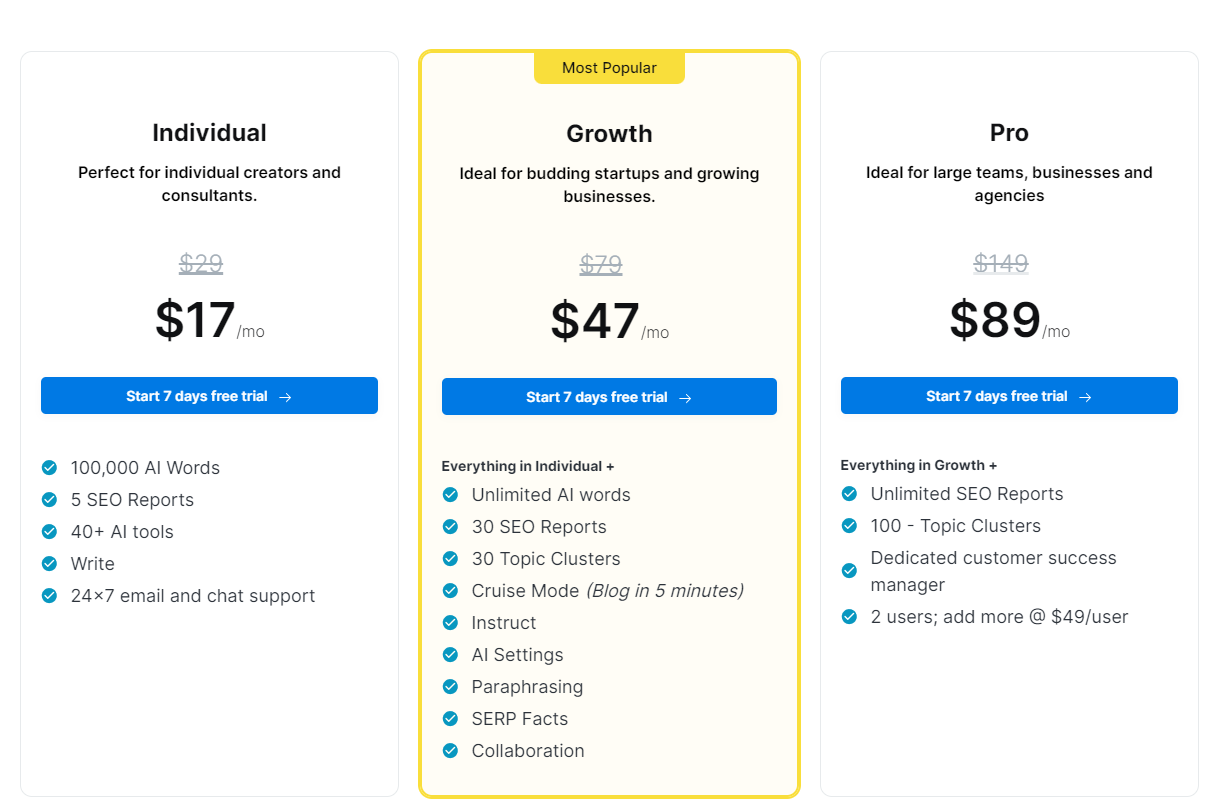 Scalenut has three paid plans:
Individual plan at $17/month for 100,000 words
Growth plan at $47/month for unlimited words
Pro plan at $89/month for unlimited SEO reports and unlimited words
Bottom Line
Scalenut has the benefit of AI writing tools and image tools to help you create the best content you can.
They have three paid plans that let you create the most out of your content and is more affordable than other tools we've looked at.
WriteSonic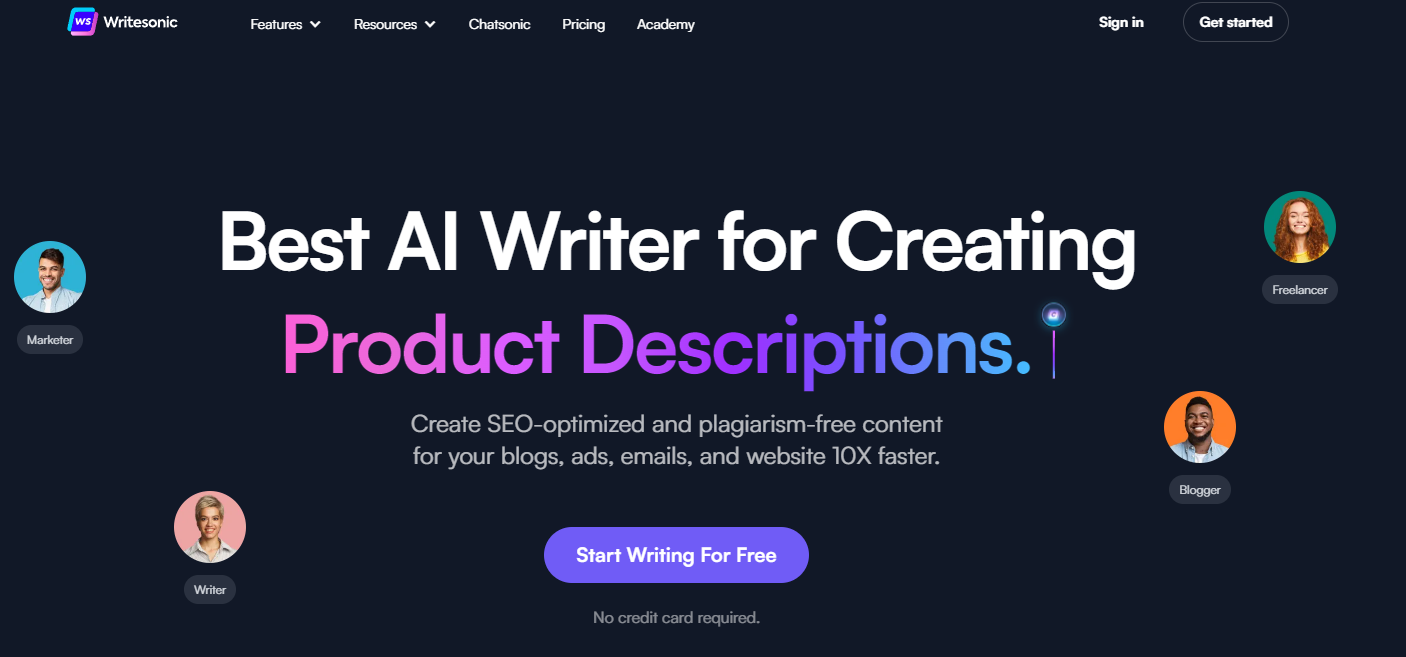 Overview
WriteSonic is excellent at several AI content, including product descriptions and social media posts. The content you want to generate using WriteSonic will give you quality content every time.
It is one of the platforms that include a free article generator and AI tool to create your content and use your AI writer without having to enter a credit card.
Creating stunning content without worrying about writer's block has never been easier. Get plagiarism-free content in any niche or field.
Highlights
Long-form content generator
eCommerce product descriptions
AI writing software for everyone
Pricing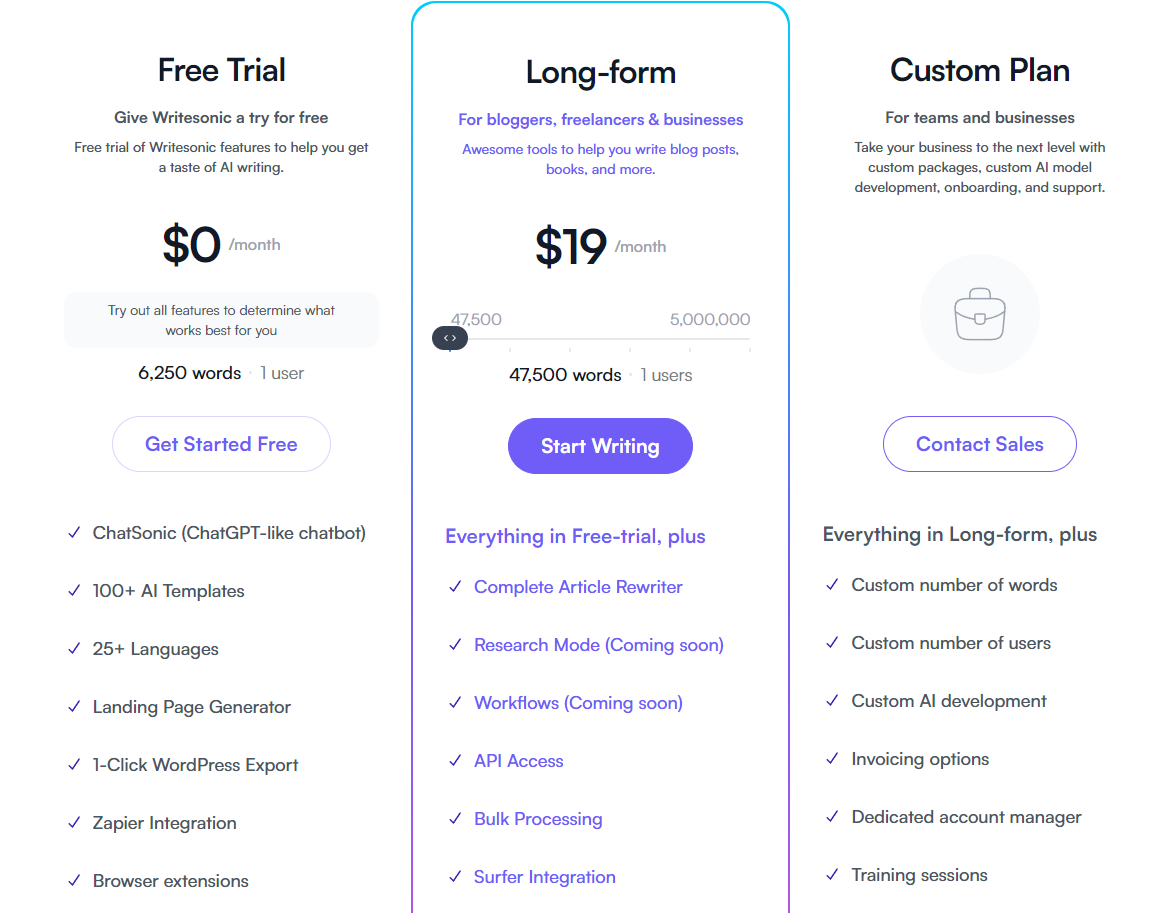 WriteSonic has two paid plans:
Free plan: 100+ AI tool templates
Long-Form Plan: starting at $19/month for bulk creation features
Custom Plan: custom pricing made for businesses and enterprises
Bottom Line
WriteSonic is a tool that allows you to create long-form content in addition to social media and product descriptions. The content writer is highly intuitive and can quickly generate articles for you in any niche or field.
Most free article generators give you access to a minimum number of content generators, which WriteSonic does as well.
The platform has over 100 AI article generator tools for you to use and take advantage of – meaning there is no shortage of generated article ideas in your future.
Hypotenuse AI

Overview
Hypotenuse AI is an AI content generator software that maximizes your writing ability with the help of content generators. While they don't have a free content generator, they give you a free trial to test their artificial intelligence – and how intelligent it truly is.
They have a ton of use cases, from SEO and long-form editor to sales and eCommerce, and even summarization tools. There is no shortage of AI writing software that Hypotensue takes advantage of.
Not to mention thousands of popular brands such as Google UpWork, and Shopify uses it. It boasts itself as a content writer who writes fluently and compellingly.
Highlights
Write full-scale articles with just a few keywords
Affordable pricing plans and enterprise pricing
Used by tons of professional sites
Pricing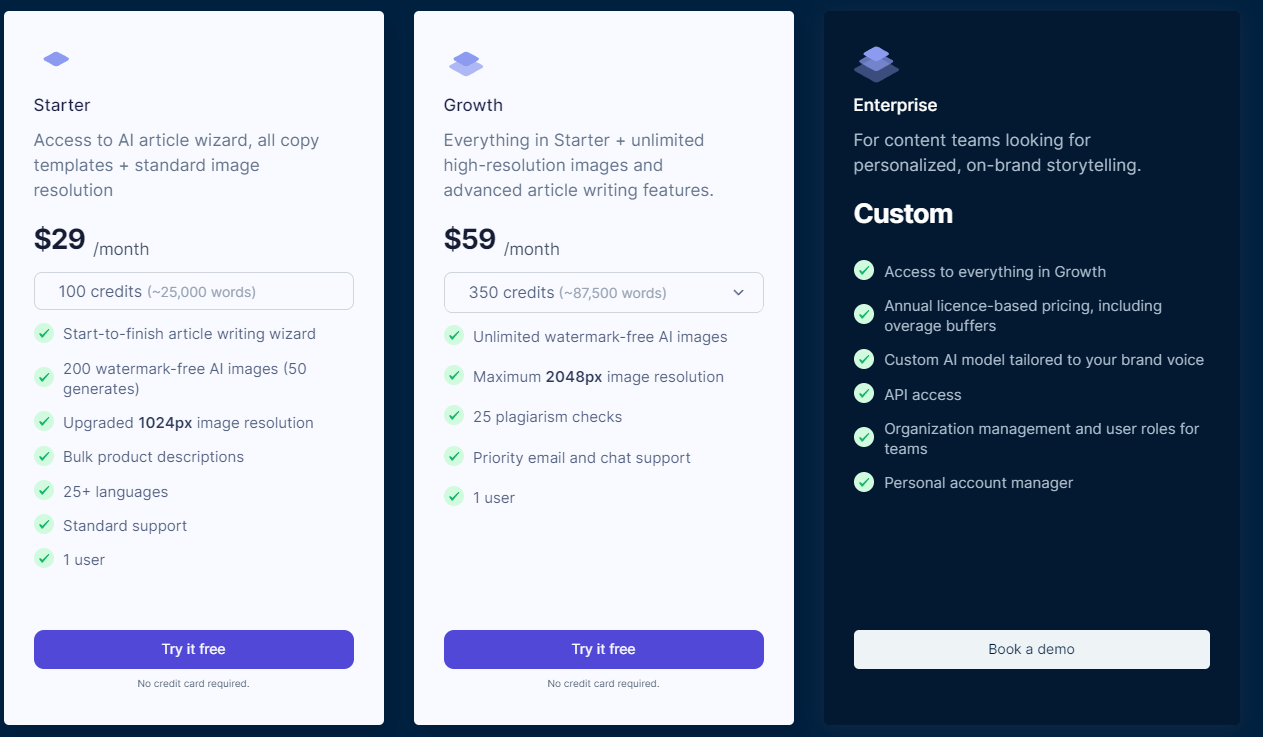 Hypotenuse AI has three paid plans:
Starter Plan: $29/month, 25,000 words
$59/month for 87,500 words
Enterprise plan: custom pricing and content generator
Bottom Line
Hypotenuse AI is a great AI content program that allows you to write entire articles with just a few keywords. The article writer is easy to use and gives you a free trial.
Quickly generate article after article with a click and a few keywords, so the AI writer knows what niche and field you're aiming for.
Hypotenuse AI makes it easy to create content, whether you're looking to write blog posts, social media posts, and other forms of digital copy.
Outranking

Overview
Outranking is an article generator tool that assists you throughout your content creation process – from start to finish.
The program generates SEO-optimized AI content and helps you write factual and accurate content every time.
The Outranking content generator takes artificial intelligence to the next level by helping you write your blog post from start to finish.
Highlights
SERP data for the 20 top-ranking pages based on what keyword you query.
Outranking allows you to generate Meta titles and other written content.
It will help you develop internal links to optimize your content and give readers more to consume.
Outranking allows you to hook up the analytics to other apps, which can help measure your article performance.
Pricing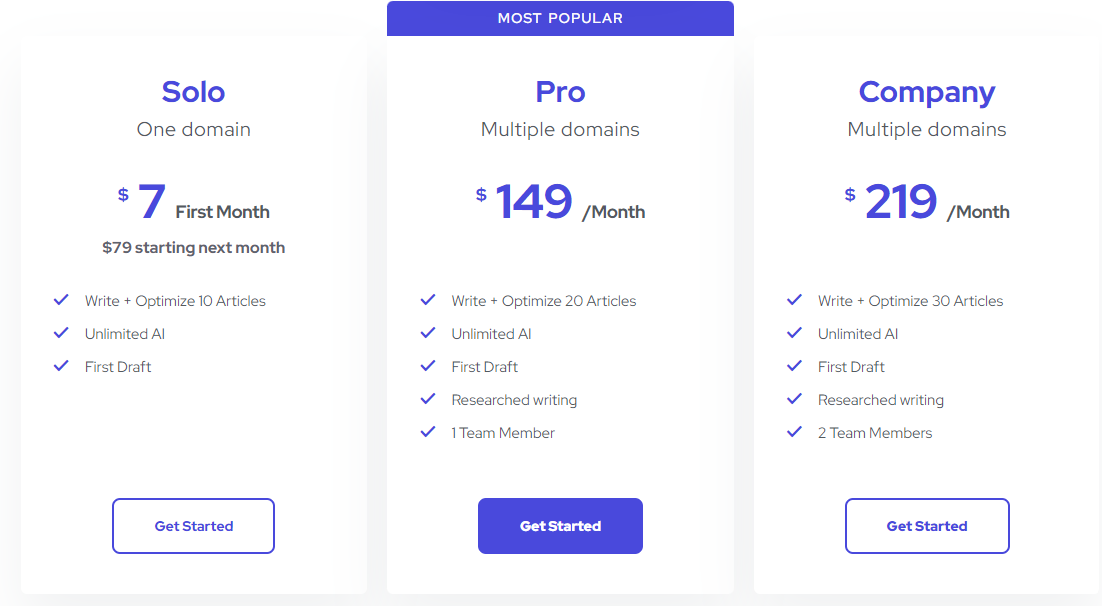 Outranking has three paid plans:
Solo plan: $79/month for ten optimized articles
Pro plan: $149/month for 20 optimized articles
Company Plan: $219/month for 30 optimized articles
Bottom Line
Ourtanking helps you write high-quality content with their article generator and keyword search engines. Creating articles people want to read is easy when you have the article generator software to walk you through the process.
If you're looking for an AI writer that's simple, user-friendly, and has a wealth of tools, this is one of the best article generator software you can get for the price.
Generate an article quickly and efficiently with Outranking and use their SEO-optimization tools to create niche-specific writing.
Ink for All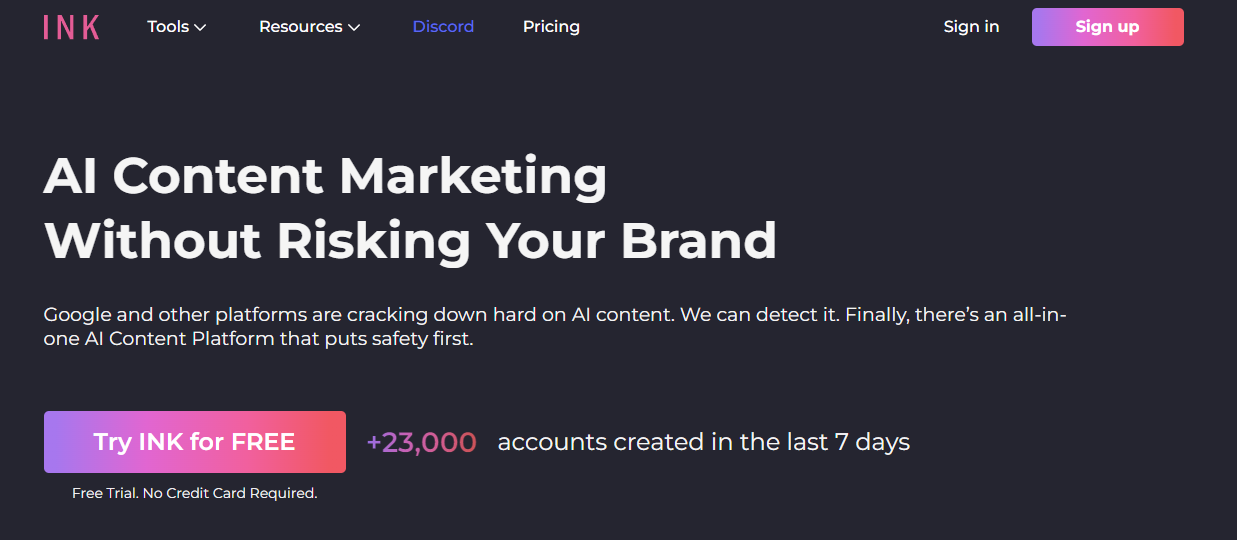 Overview
Ink for All is an article generator tool that gives you high-quality content and helps you rank on Google for niche-related topics.
Ink for All understands this goal and makes it one of the top priorities when you write on the platform.
The best part is it was built with the natural flow of human language in mind – it specializes in natural language processing to give your AI content a better tone and feel more human-like to the reader.
Highlights
Ink for All also lets you generate images and videos for your content in the content generator.
They simplify the content creation process by giving you a wide range of templates to choose from and make your own – so you don't have to come up with the layout or outline.
Their keyword planner will allow you to map your content marketing strategy and create blog posts with relevant content.
Pricing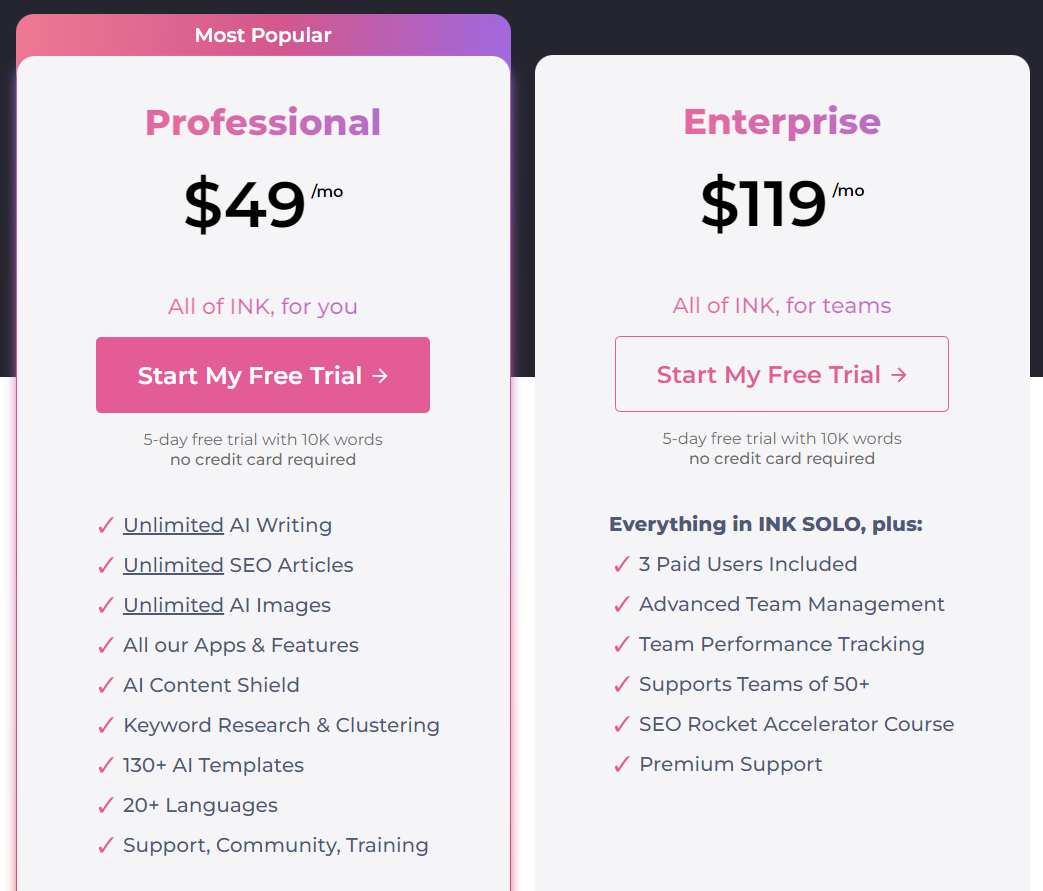 .Ink for All has two paid plans:
The professional plan at $49/month for 130+ AI templates and multiple languages
The enterprise plan at $119/month for 2 paid users and team management
The content editor, image generator, and templates are all part of the free plan
Bottom Line
Ink for All has article generator tools to help you create content quickly. If your main goal regarding your content writing tools is ranking and ranking high, Ink for All is the best article generator software.
They have a free trial to test out their article writer and see if it's the best fit for you.
We've already covered a few AI writing tools, but Ink for All is a resource for creative articles and those who want to take advantage of a free trial.
Copysmith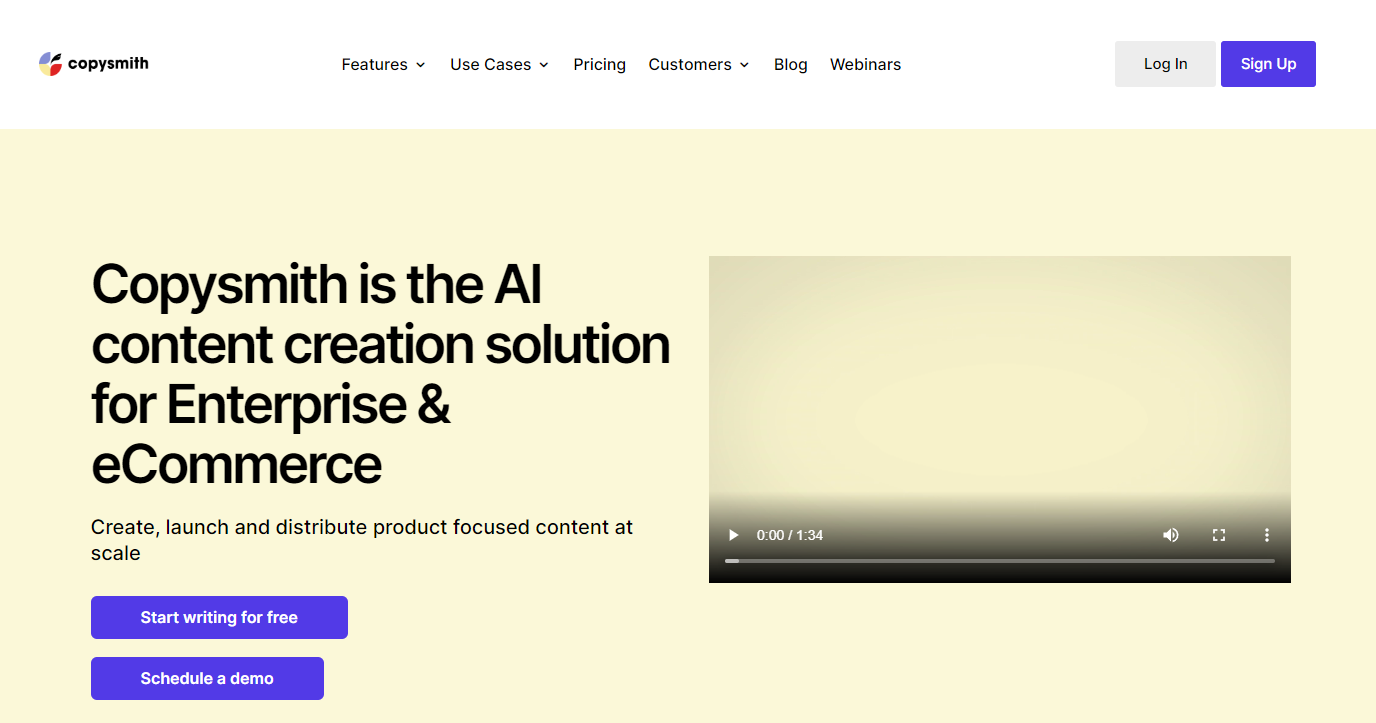 Overview
Copysmith is a content generator made and designed specifically for the type of copy you'd need for eCommerce and social media.
They have a specific process that you use to write articles to complement the buyer's journey and to guide customers into the sales funnel.
Copysmith's AI writing assistant can help you generate sales copy, marketing copy, and anything else you need to scale your eCommerce business.
Highlights
You can collaborate with your teammates and create AI content together – editing and revising as a team.
The unique aspect of Copysmith is that it has an entire content planner within the platform -making it easy for you to plan out your long-form content.
Building campaigns is also something that Copysmith offers to its users – they don't limit you to their article generator software.
Copysmith as bulk creation features – so you can focus more on the bigger picture and less on the particulars of landing pages, content generation, and writing articles.
Pricing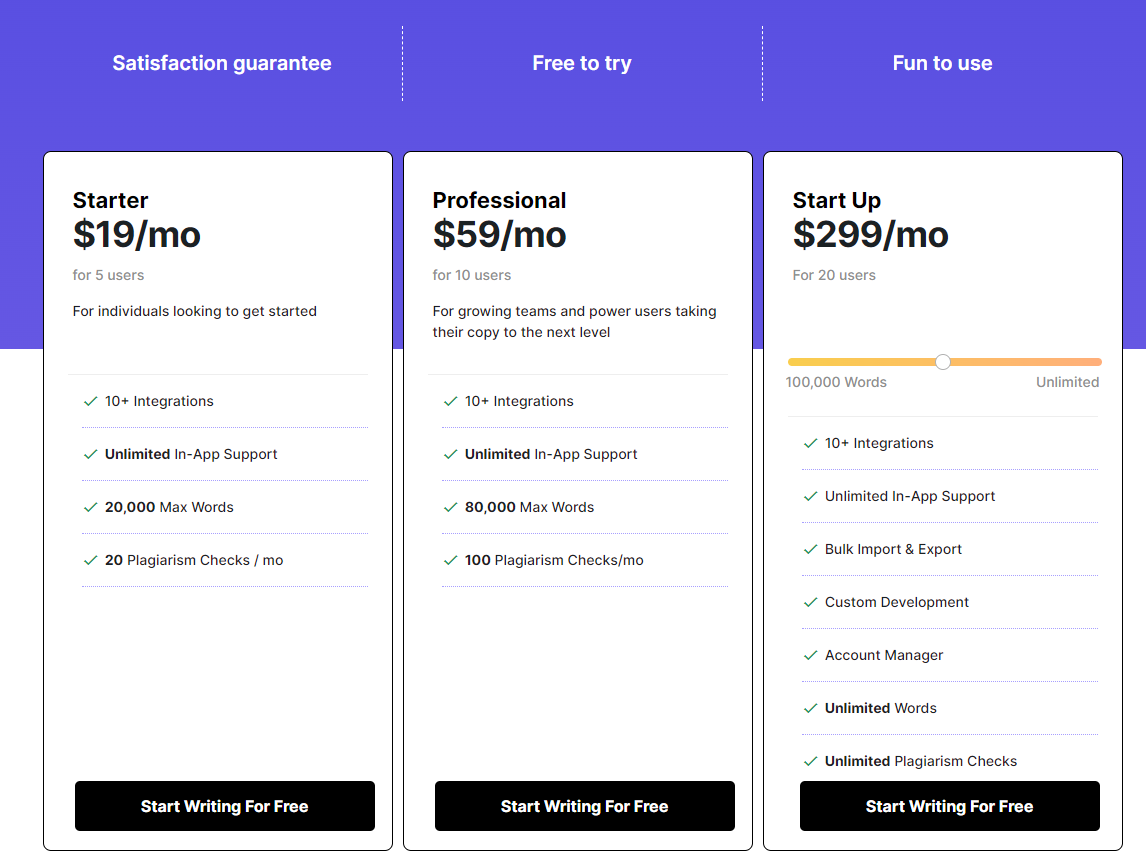 Copysmith has three paid plans, the third plan being a scalable version:
Starter plan at $19/month with 10 integrations and 20,000 words
Professional plan at $59/month with 10 integrations and 80,000 words
The start-Up plan starts at $299/month and has 20 seats
Bottom Line
If you are an eCommerce business looking for an AI writer tool with bulk creation features and the ability to get your content generated quickly – Copysmith is perfect.
This platform makes it easy not to overthink eCommerce content creation.
When it comes to the content writing process, Copysmith's got you covered. They have many resources and tools at your disposal that can elevate your content.
AI Writer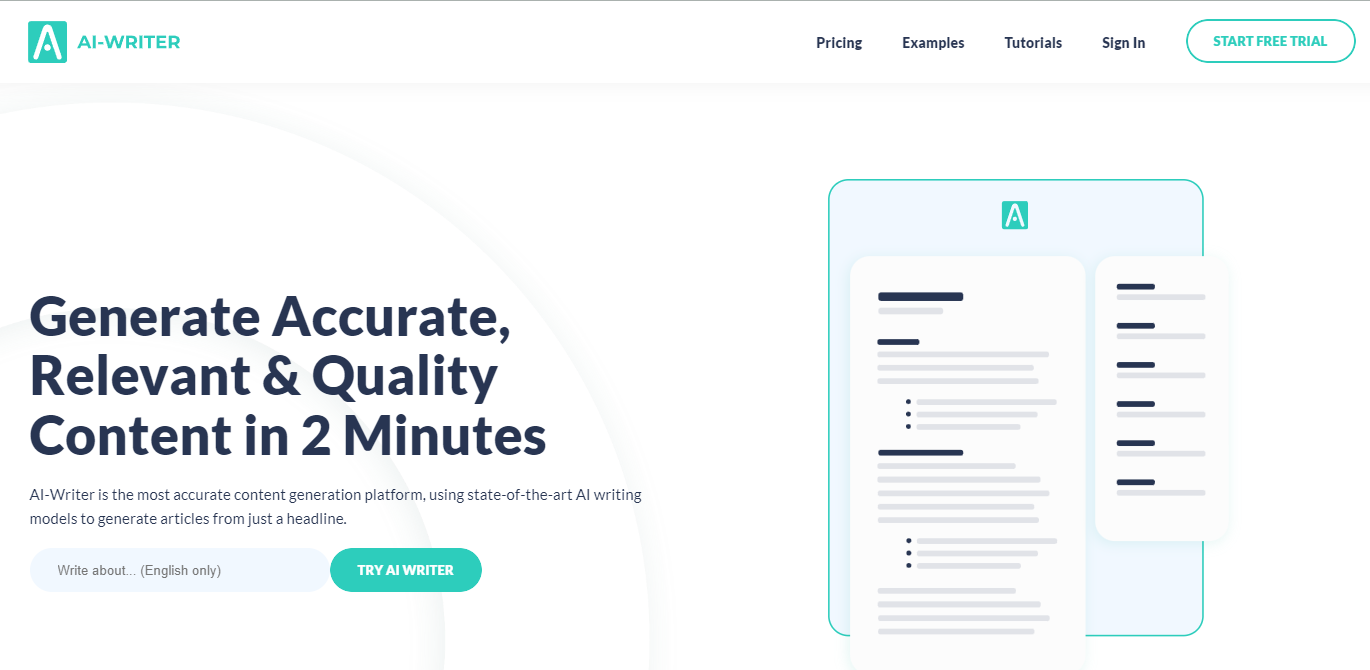 Overview
AI Writer boasts itself as an article generator tool dedicated to giving you quality content that's relevant and ready in two minutes. The content generated from their software is relevant and factual and saves you time in your content planning.
When you're writing content, there are tools that AI Writer helps with to make it easy to generate articles that are entertaining and engage your readers.
AI Writer also has a free trial that allows you to test out the software and the tools and generate content to test out.
Highlights
A variety of article generator tools to help you write content faster.
Research and re-write content, including verifiable citations
SEO-focused text editor and subtopic discovery to elevate your article.
Pricing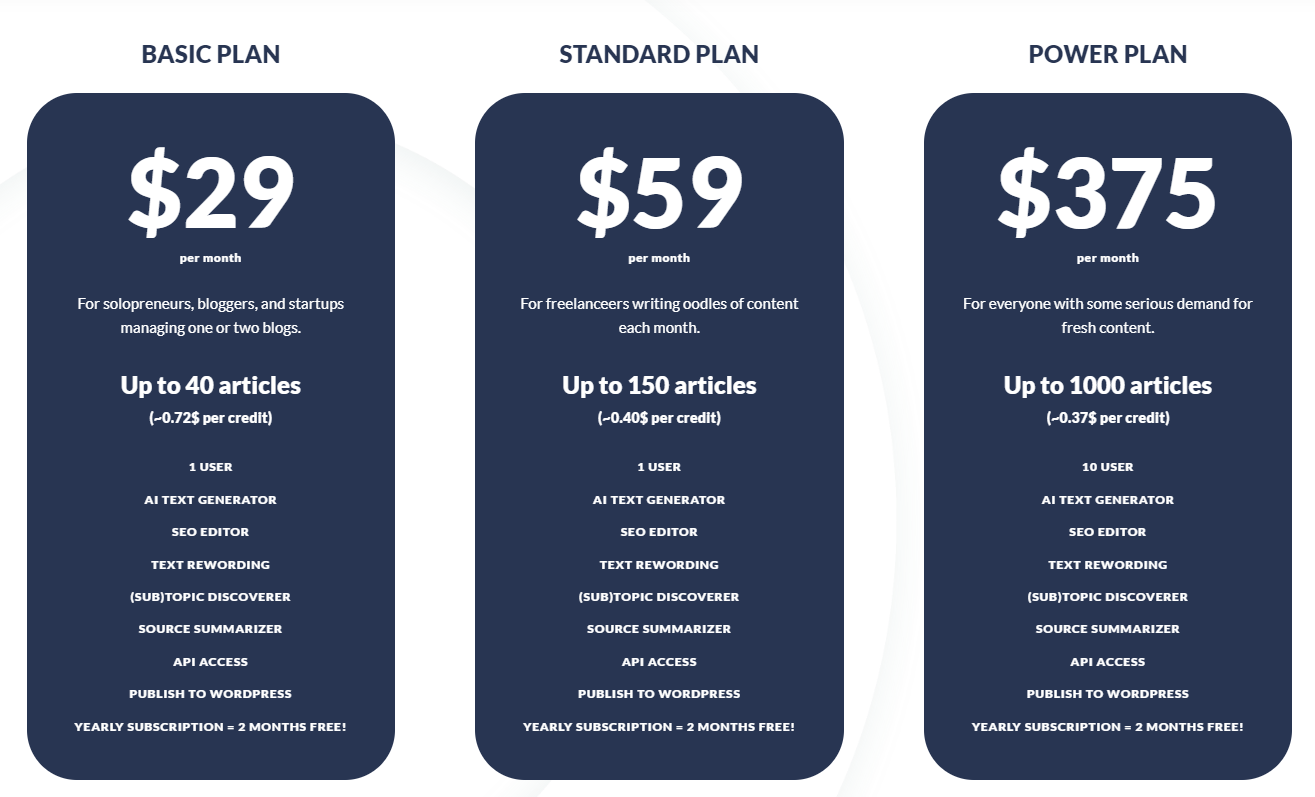 AI Writer has three paid plans:
Basic Plan: $29/month for up to 40 articles
Standard Plan: $59/month for up to 150 articles
Power Plan: $375/month for up to 1000 articles
Bottom Line
AI Writer is a content generator that allows you to generate articles in various niches and fields using creativity.
Writing blogs doesn't have to be difficult, stressful, or time-consuming – there are ways you can use AI content generator's to your advantage to leverage the material.
You can use their free trial to use their tool and determine if it will work for you!
Chibi AI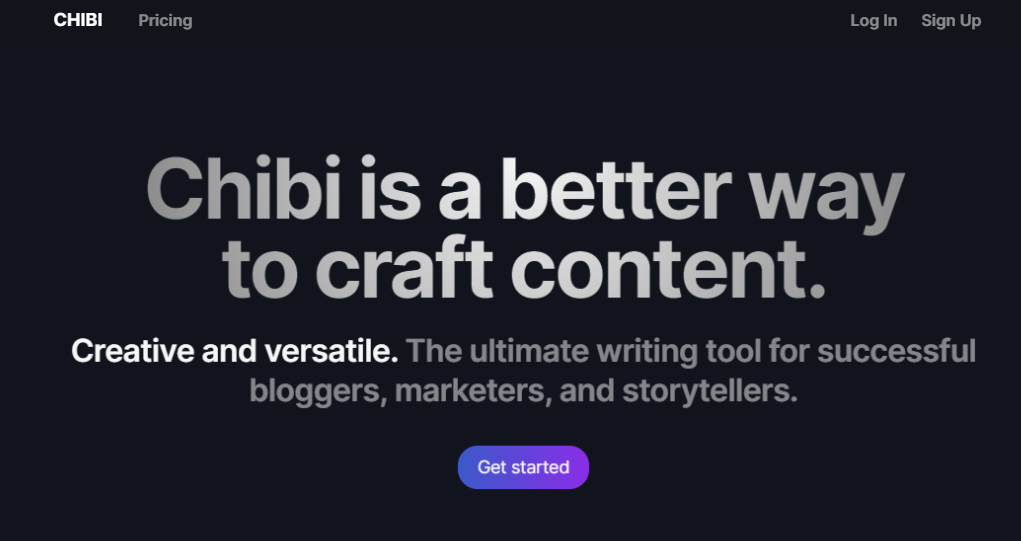 Overview
Chibi AI is designed for those content writers that want to tell a story – to blog with a purpose and create articles that people can genuinely relate to – without being crafted by human writers.
Chibi was designed with the reader in mind, not just the Google bots. The AI content you get from Chibi will give your readers articles they will enjoy reading.
This content generator tool emphasizes dynamic content where you control the context.
Highlights
Pre-made prompts you can combine for quality AI content.
Pricing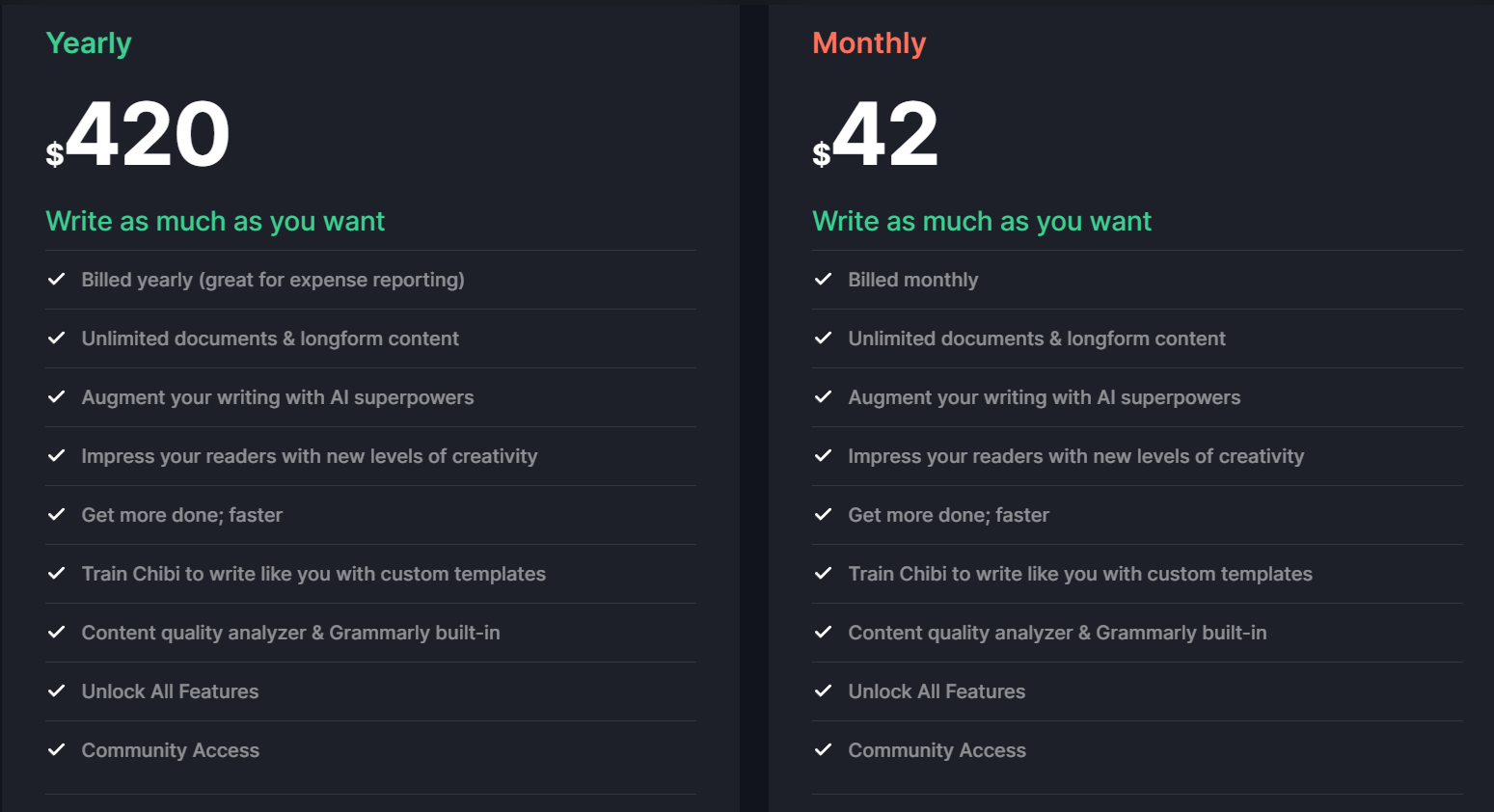 Chibi has two pricing plans:
Monthly Plan: $42/month for all the AI article writer tools
Yearly Plan: $420/year for the article generator and content generator tools
Bottom Line
Chibi is a great resource to include in your AI arsenal. They make it easy to get your content generated quickly with the help of the AI writer filled with prompts.
They have a monthly and a yearly plan that works for any budget. If you're looking for an article-generator tool that prioritizes the reader, Chibi AI is one of the best article-generator software programs you can get for the price.
Each AI content generator we've covered so far has different benefits. Still, Chibi specializes in content designed for the reader and makes it easy for you to generate content they'll enjoy.
What are AI article generators?
An AI content generator allows you to take advantage of artificial intelligence to help you curate an article – from planning to finding keywords and even to the actual writing – helping you avoid writer's block and get your content created faster.
Most article generator tools have a specific blog content generator that caters to writing blogs and making the content thorough and accurate.
How do you write content automatically?
Most AI content is generated by entering prompts into software, which then becomes an entire article or post. This is done when AI uses previous knowledge on the internet and matching learning to finish the article and relate it to your prompt.
It is typical for a content generator to have the ability to write a concise and relevant article using just a prompt – but it may still need fact-checking and editing.
AI content generators are incredibly intelligent and advanced and can shave your writing time in half when you use them to your advantage.
Are there any free AI content generators?
There are options for a free article generator that you can take advantage of – even if it's just a free trial. Most programs and platforms have a free AI content generator option with limited resources and the ability to add additional features for a paid plan.
Each article generator will be a bit different, including the features of a free AI content generator. But whether or not you're looking to pay for it, there are so many features you can take advantage of, and each article generator will vary in the benefits it offers you.
You can even take advantage of a few free AI content generator plans to see which works best for you.
How do you write AI content?
AI content is written by giving the program a prompt – this can be anything and should include precisely what you want the article or content to be about. The article generator then takes that prompt and curates an entire article around that topic.
You'll always need to edit and proofread AI content – as most of the time, an AI article generator will not be able to get everything right, contextually, spelling, and grammar-wise the first time.
That being said, once you get the hand on utilizing AI content generators, they can greatly benefit you and are a time saver.
Final Thoughts
In this day of the internet, it's extremely important to take advantage of an article generator to get your content quickly and done effectively without a headache for you.
You can write content easier and faster with various AI content generator resources to help you curate amazing content.