9 Best General Purpose AI Writing Tools
Writing is in every part of content today – whether you are writing social media posts, blogs, articles, long-form content, or any other type of digital content – writing is essential. However, it can be time-consuming, depending on what you have to write. AI writing software can come in handy when creating content that ranks on search engines.
What Are the Best General Purpose AI Writing Tools?
The best AI content writing tools utilize paragraph and sentence generators where you can edit your tone and structure. In terms of general purpose AI writing software, there are many on the market that are capable of writing human-like content via an AI writer.
Disclosure: Some of the links in this article may be affiliate links, which provide $$$ to me at no cost to you if you decide to purchase the tool.
Jasper

Overview
Jasper has become a household name for AI writing tools, one of the most popular because of the advanced machine learning Jasper is capable of.
Jasper is perfect for blog posts, landing pages, google ads, and other content creation. The GPT-3 powered writing tool is constantly growing and evolving with the AI trends – including ChatGPT and AI Art generators.
And, with their pre-built templates, you can generate the content writing you're looking for quickly
Highlights
Create content in 26 different languages to connect with a variety of audiences
Brainstorm new ideas using their templates and other AI aspects – like AI art and Chat
Collaborate with team members or coworkers on projects
Pricing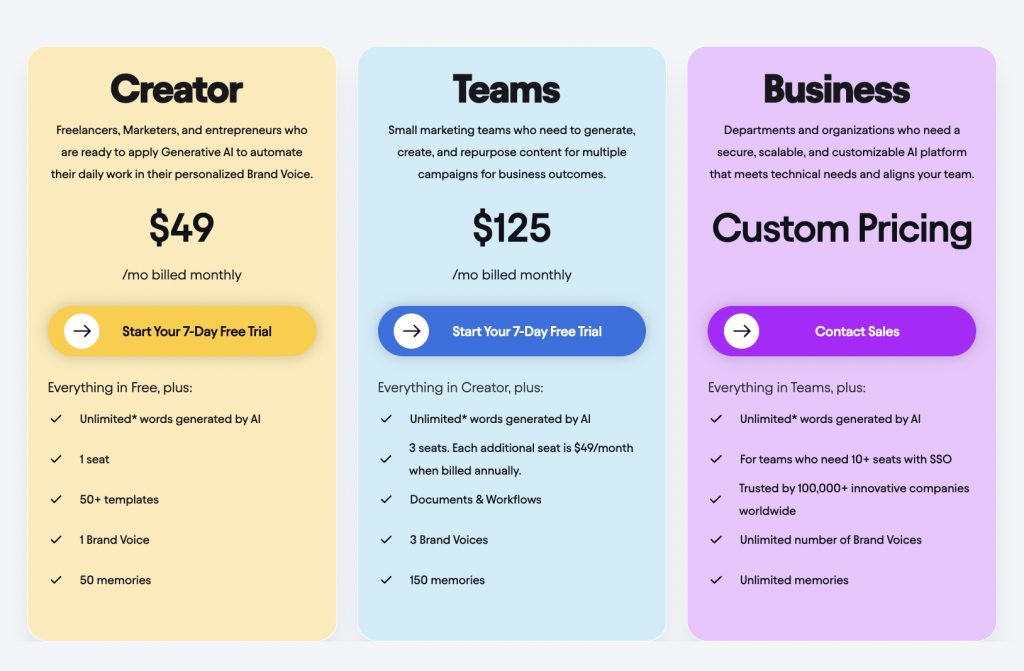 Jasper has three paid plans:
Creator Mode: $49/month for unlimited words
Teams: $125/month with unlimited words, 3 seats, and 3 brand voices
Business: Custom pricing
You can start on a free trial of the packages to see if it will be a good fit, which is nice if you're not sure that the writing style will align with what you envision.
The free version gives you a sample of how Jasper can quickly and efficiently write articles and social media posts, leaving you to edit and add your flare.
Bottom Line
Jasper is a well-known AI writing program for all your general content ideas – from blog articles to social media captions; Jasper can do it all.
They do have a free trial of their plans, but the trial only lasts for five days, but they have plenty of paid plans to choose from to continue to automate your content creation process.
It's a great platform for all things writing and provides high-quality content.
Sudowrite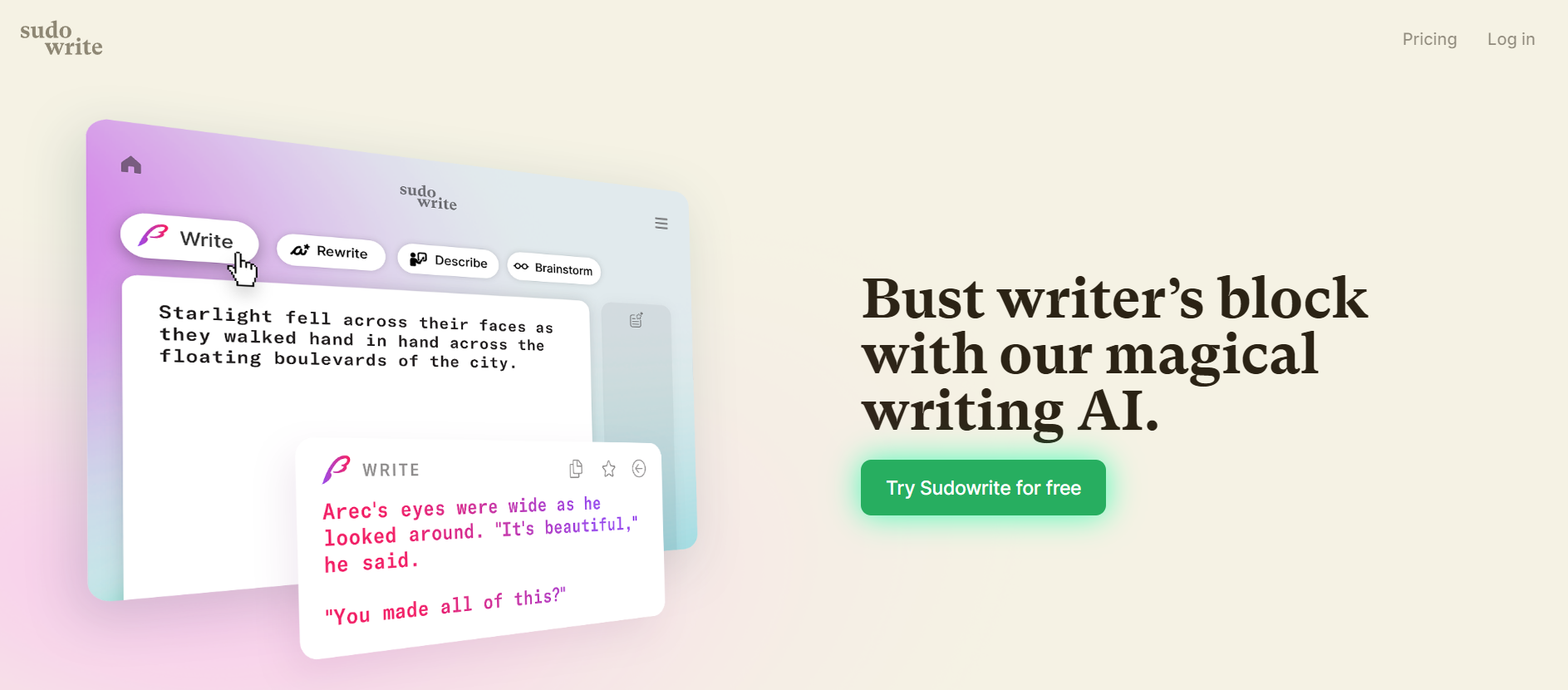 Overview
Sudowrite is an AI writing tool and AI writing assistant that provides feedback, brainstorms ideas based off prompts you provide, and can rewrite pieces of text.
Sudowrite's AI software is based on advanced machine learning that is keen on natural language processing (NLP) and using the context from the existing content.
It is similar to other novel writing tools that specifically help with the different aspects of writing a novel. Such as having to rewrite content to show rather than tell or brainstorming objects and ideas for a particular world or environment.
Highlights
Brainstorm ideas, character names, world objects, and more.
Rewrite tricky dialogue or writing that should be simplified.
Write in over 30 languages.
Pricing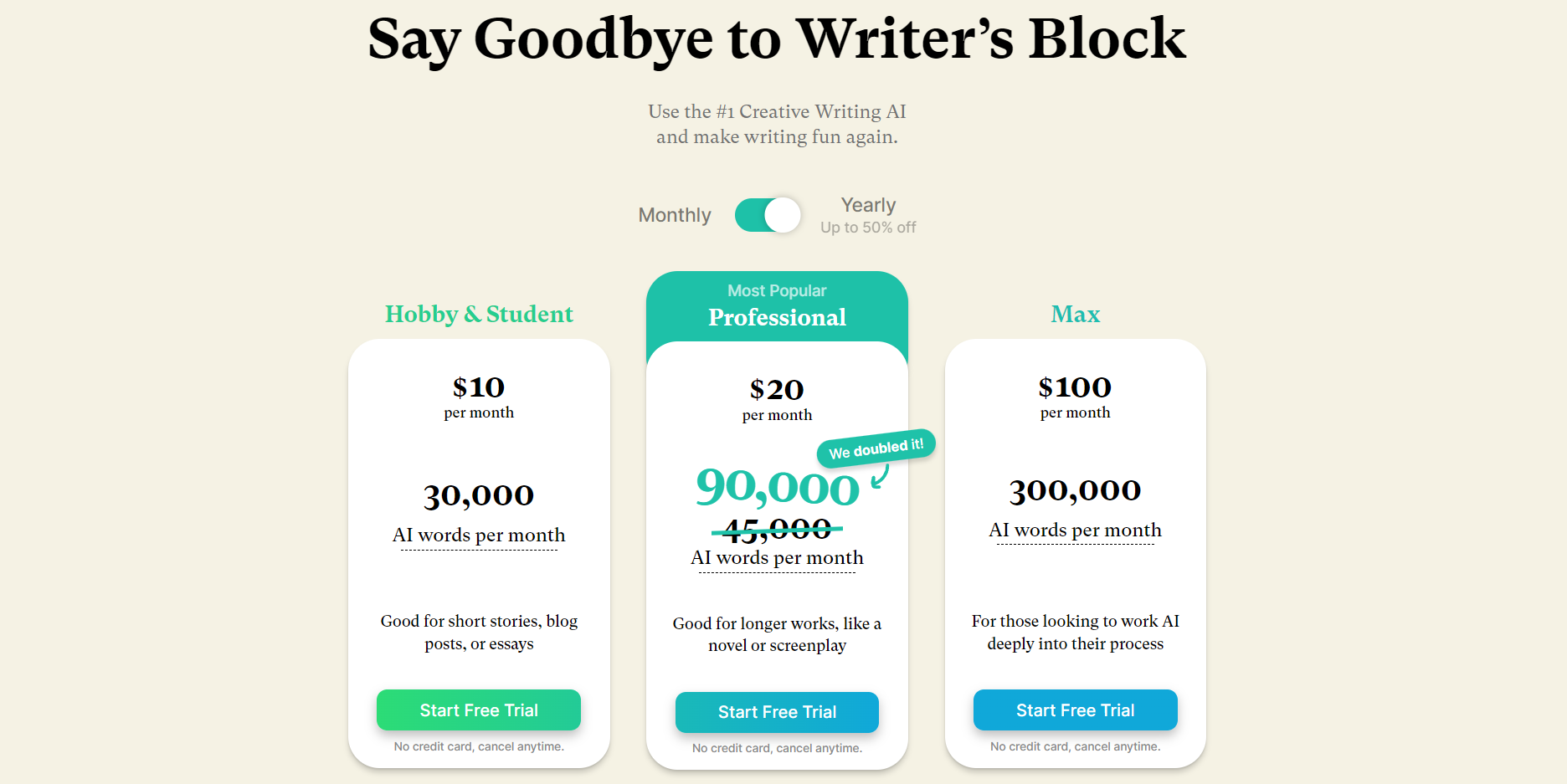 Sudowrite offers three paid plans:
Hobby & Student at $10/month for 30,000 words
Professional plan at $20/month for 90,000 words
Max plan at $100/month for 300,000 words.
Bottom Line
The paid plans are affordable for how many words you get per month, and each plan is catered towards an experience level with the platform and writing skills.
The program allows you to create high-quality content without worrying about writer's block – but also it lets you write in multiple languages. This is a plus for those worldwide who want to take advantage of AI writing software.
Using their brainstorming feature, you can create characters and easily integrate plot twists throughout your writing. This AI content generator is geared toward the novel writers of the world.
Rytr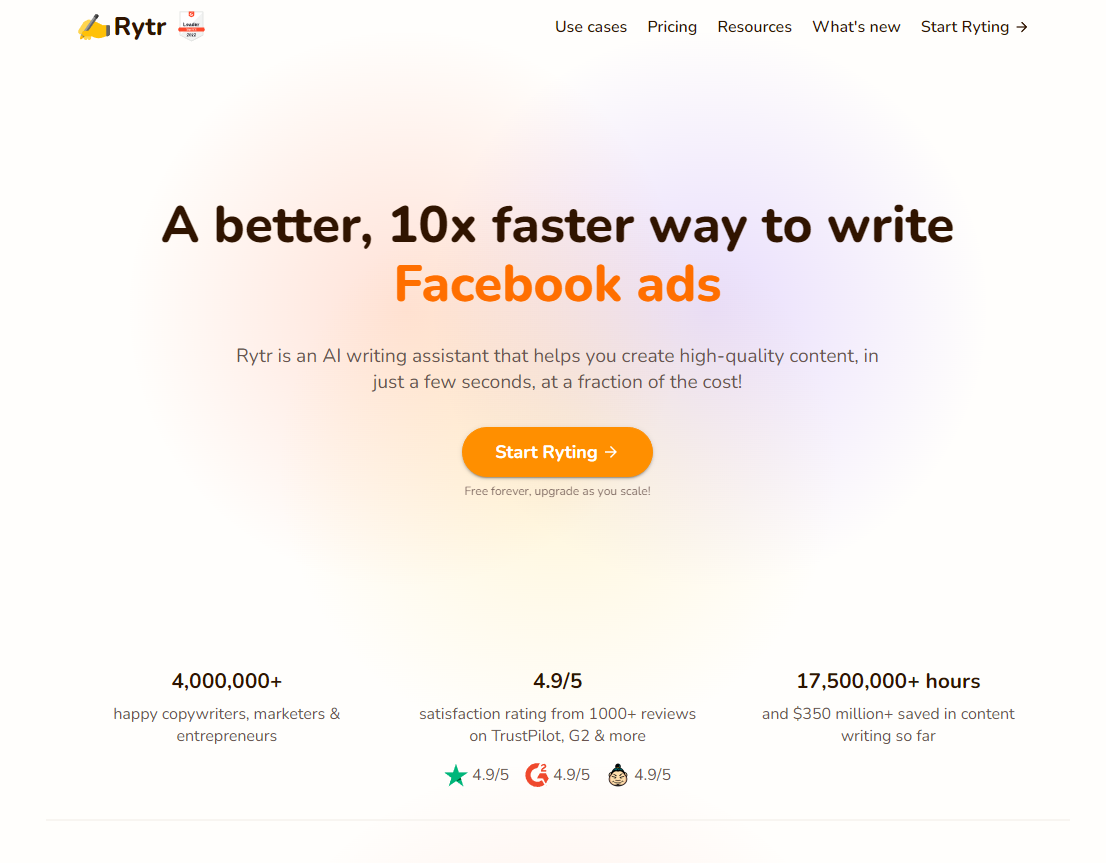 Overview
Rytr prides itself on quickly writing social media and Google ads. Their AI writing assistant tool makes it easy to create ads and other forms of content in just a few seconds.
Rytr does more than just ads; you can also create SEO-optimized content like blog posts and short-form content.
The program also allows you to utilize their multi-language support with over 30 languages to create content.
Highlights
Multi-Language Support
State-of-the-art AI writing software
Free plans are available, as well as paid plans
Pricing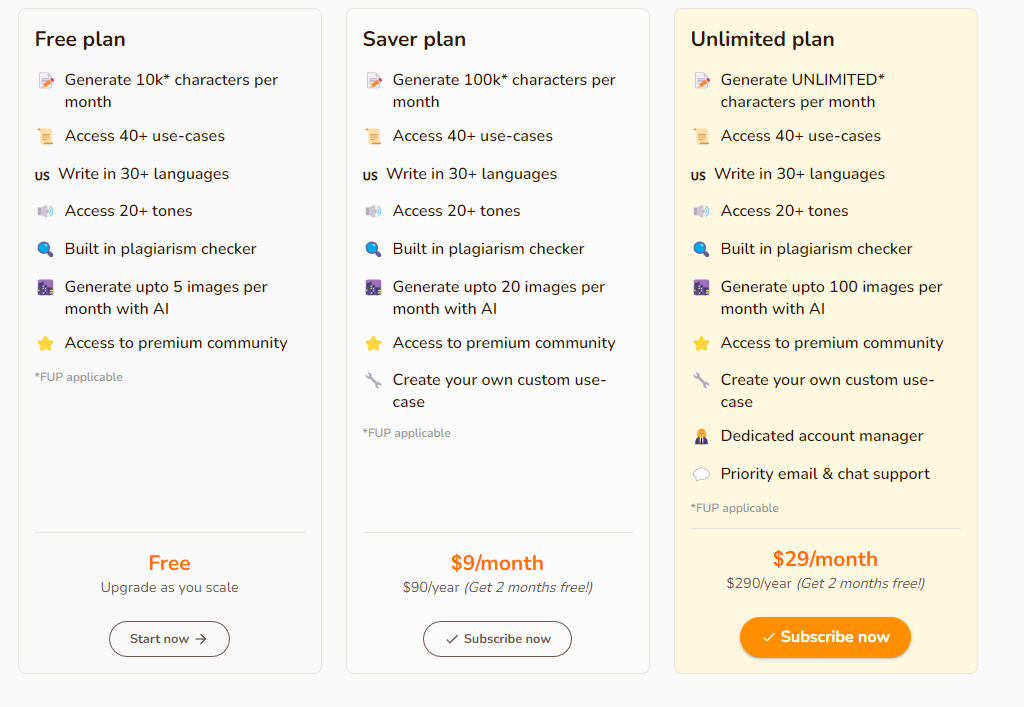 Rytr offers two paid plans:
Free plan includes up to 10,000 characters/month
Saver plan at $9/month for 100,000 words
Unlimited plan at $29/month for unlimited words
Bottom Line
It's a fantastic AI writing platform that gives you access to high-quality AI copywriting tools to generate content. If paying for this program isn't going to work out the best for you, you can opt for the free services.
Whether you are planning to write blog posts, create landing pages, or generate content for social media – Rytr has the tools you need to get it done efficiently and
They are quite affordable, with their ultimate plan being only $29/month.
Paragraph AI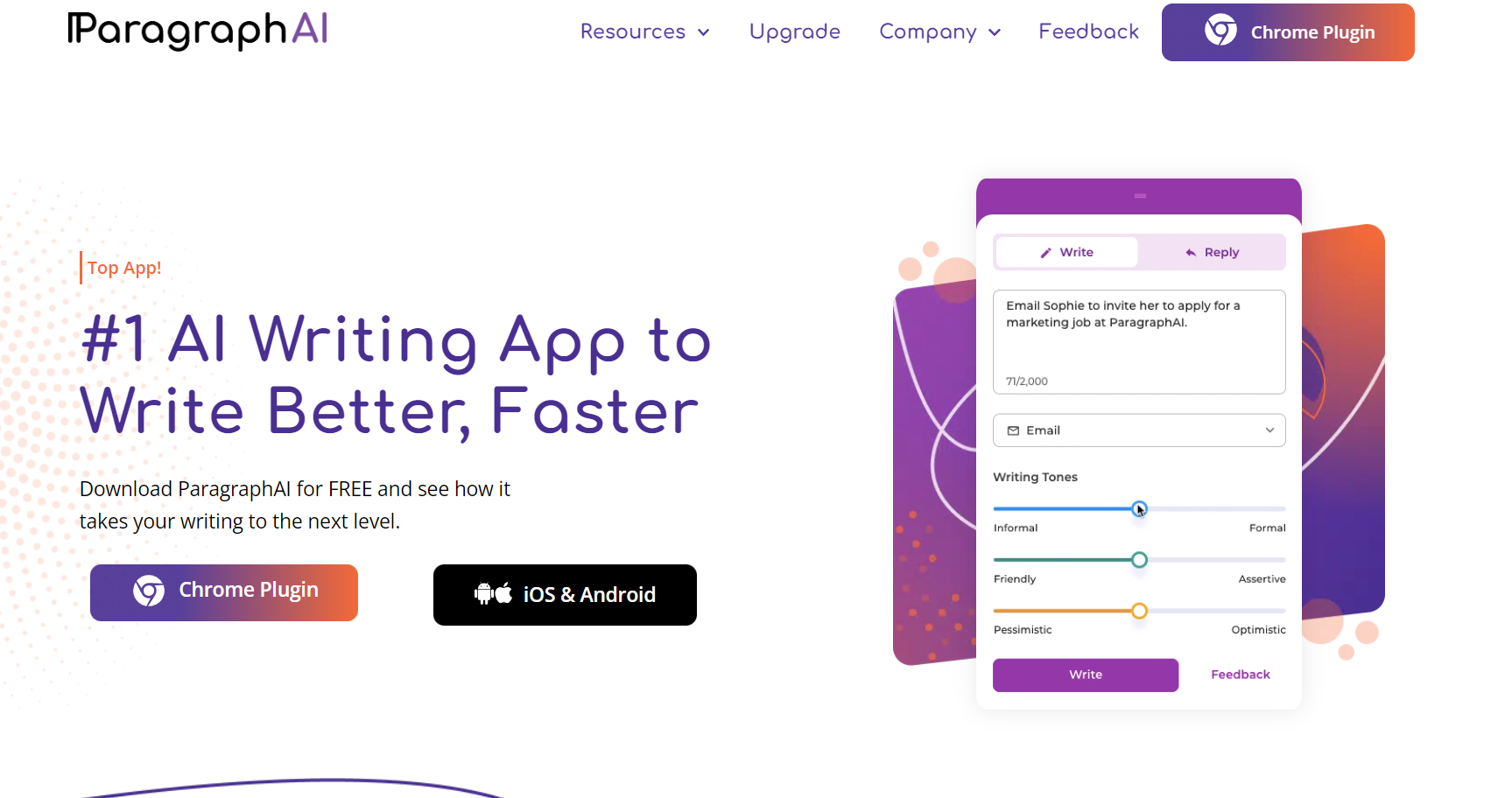 Overview
Paragraph AI is designed as a writing software that gets all your writing needs done faster – whether you need an email drafted, social media captions, digital ad copy, and even product descriptions.
You can type in the platform or download browser plugins to get an AI copywriting tool as you search. This also means you can utilize the AI writing assistants within Paragraph AI inside your Google Docs.
This program is designed to make the entire writing process easier and less time-consuming on your part – by integrating writing tools into your writing routine.
Highlights
Browser Extensions
20 use cases, including email responses
Built-in grammar checker
Pricing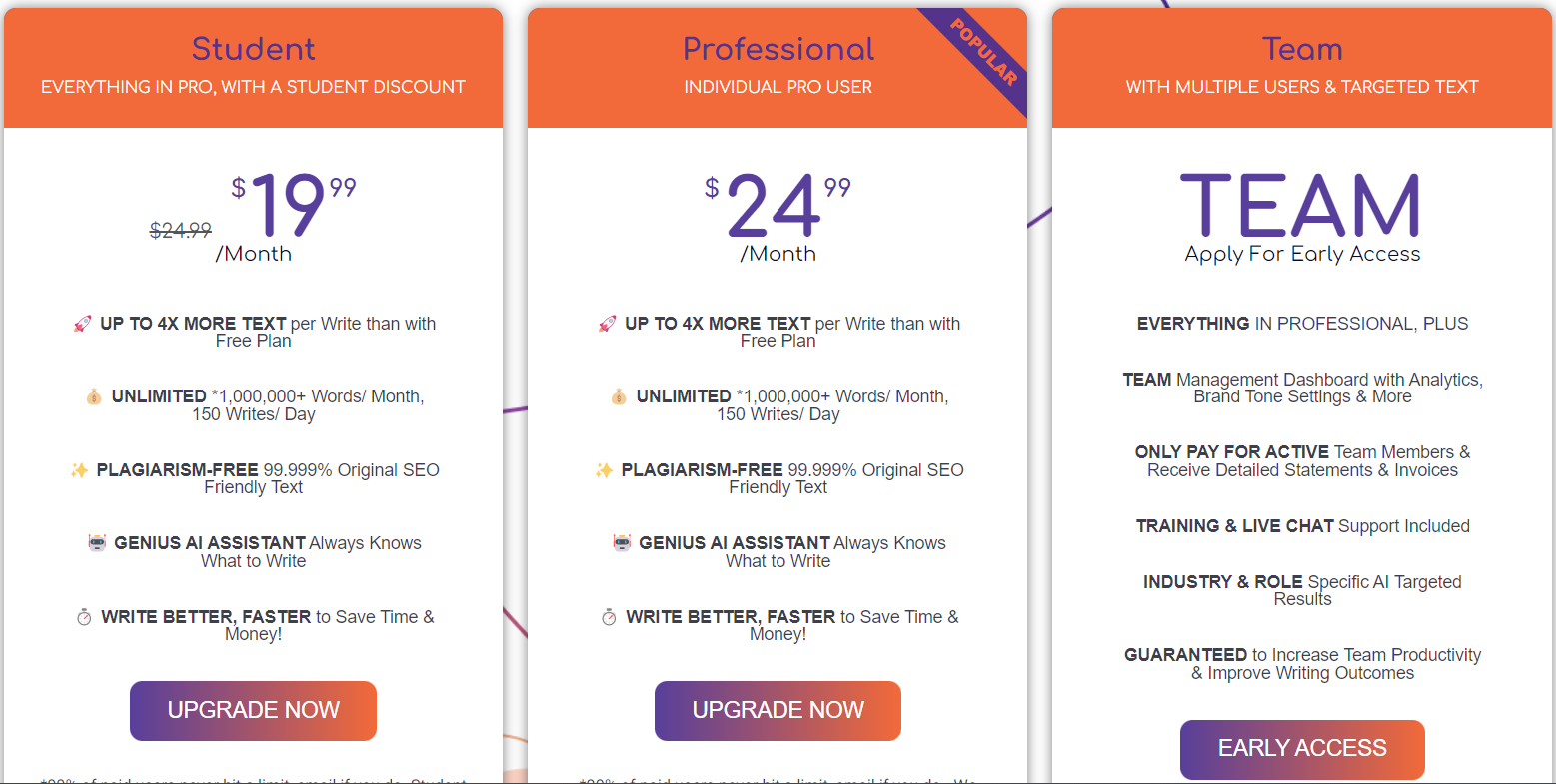 Paragraph AI offers three paid plans:
Student plan at $19/month for unlimited words per month and up to 4x more text
Professional plan at $24/month for unlimited words per month and up to 4x more text
Team plan, pricing varies. You get everything in the professional plan plus team management
Bottom Line
It's an excellent AI tool that allows you to complete all your writing tasks faster and with many different use cases. Whether you're writing an email or a blog post – it has the software to help.
In addition to the paid plans, Paragraph AI has a free option with limits but allows you to test the software tools.
It seems to be an AI content generator that's best for short-form text.
Jenni AI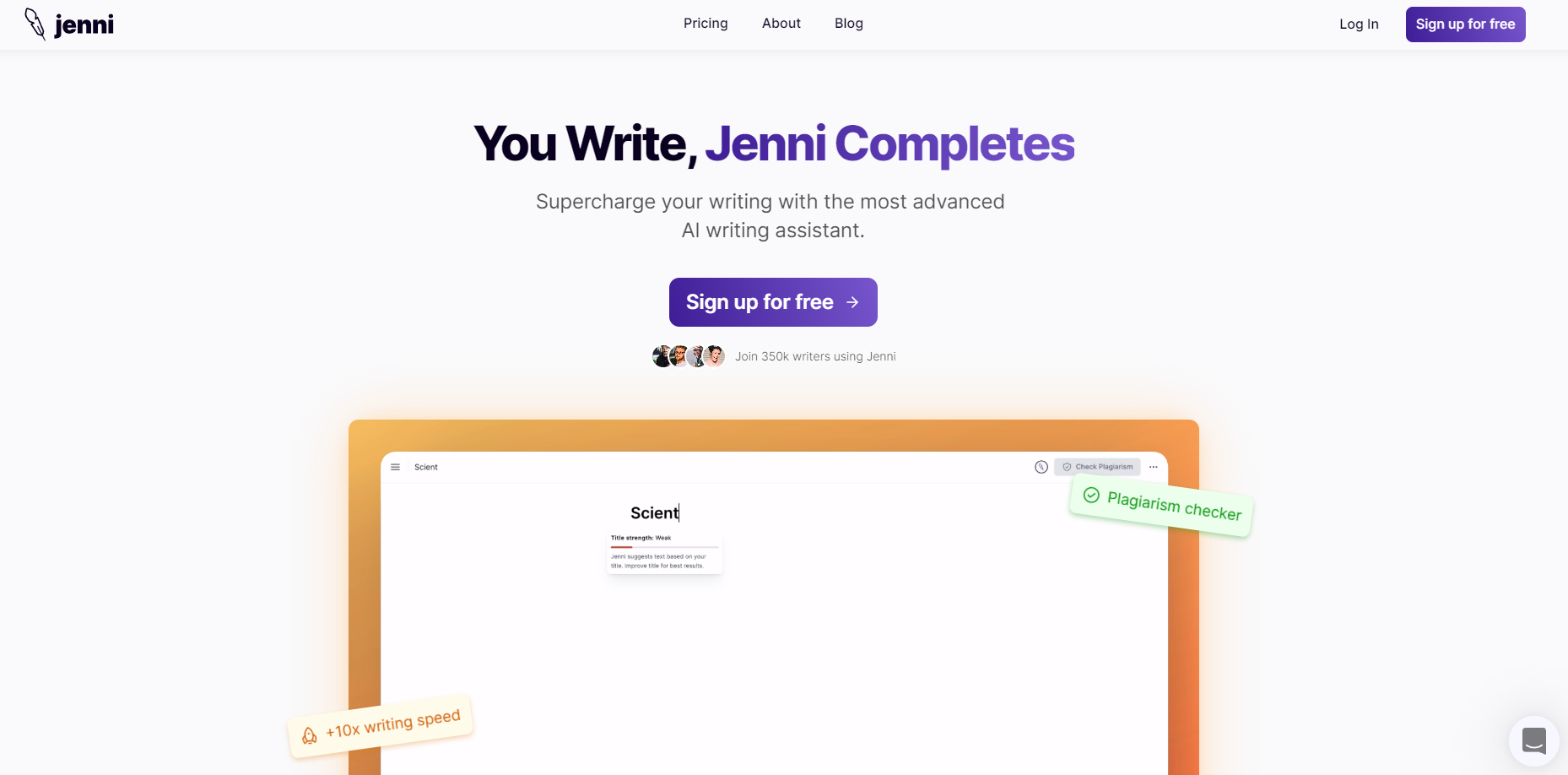 Overview:
Jenni AI specializes in longer content such as blogs and essays. You can create your draft and have the AI complete the rest for you, and a plagiarism checker so you can make sure your writing is plagiarism free.
Jenni AI can help you get rid of your creative block with their writing assistant – another one of the best ai writing software.
Highlights
Intuitive AI writers
In-text citations
Paraphrasing options
Pricing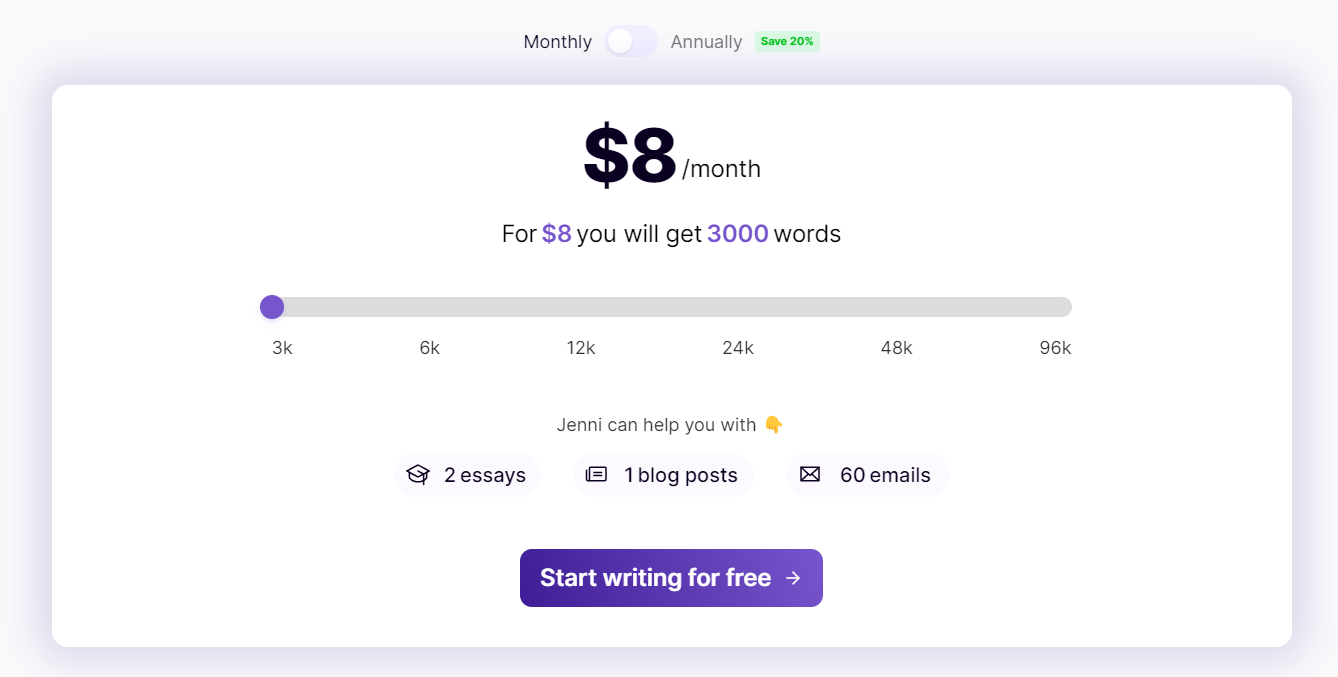 Jenni AI as a slider-based plan:
Ranging from 3,000 to 96,000 words per month
Starting at $8/month and going to $161/month
Bottom Line
It's a very intuitive program that lets you write longer content with a scalable pricing plan.
Just because Jenni generates suggestions for your writing, doesn't mean you have to take them. If you don't use the suggestion that Jenni presents, it doesn't go towards your monthly word count.
You get access to in-text citations and paragraphing options, as well as a plagiarism checker.
Hyperwrite AI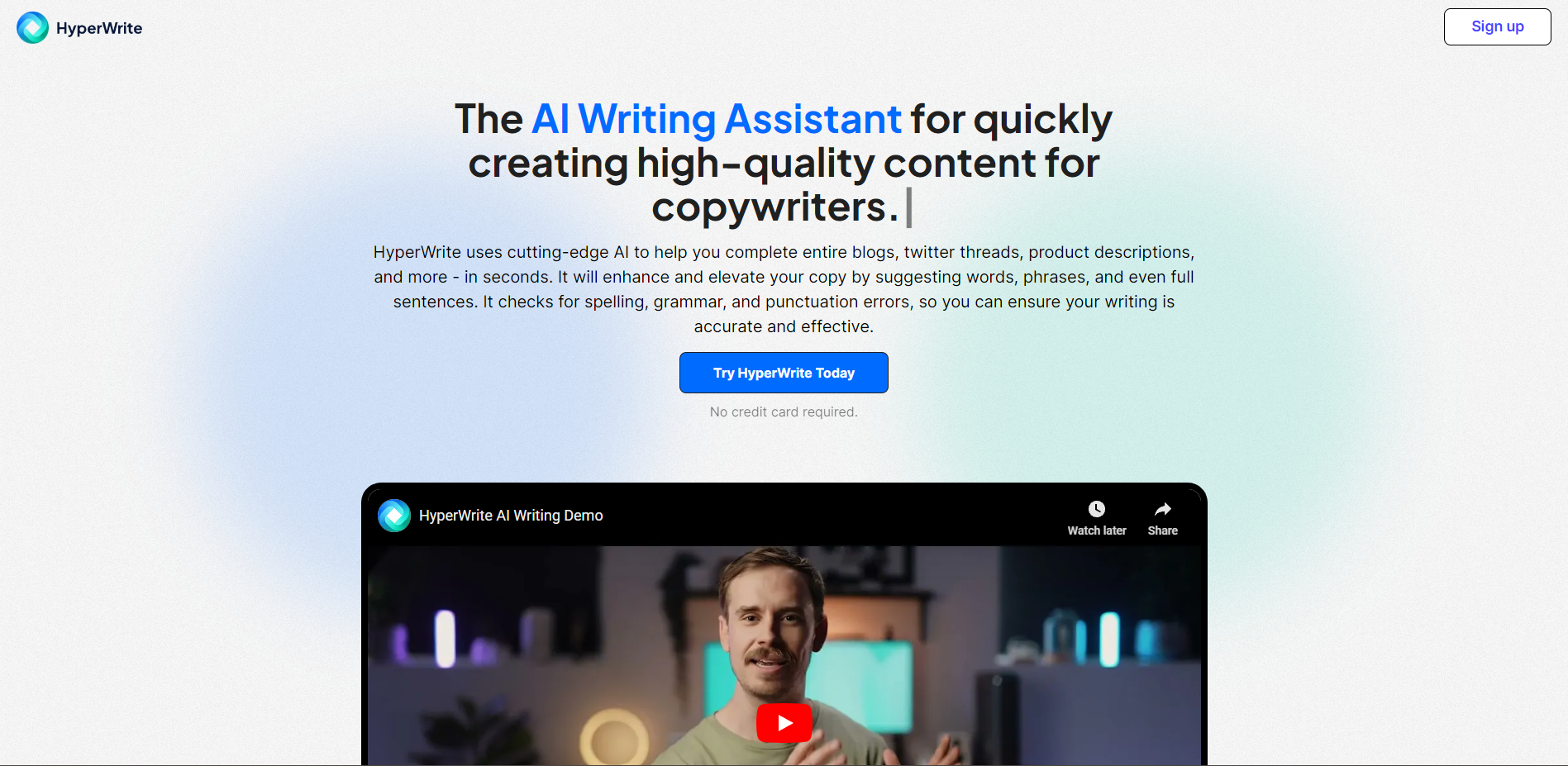 Overview
Hyperwrite is designed to be a platform that allows your to generate blog posts, social captions, reporpose content you already have written, and more. They have templates available to customize to your needs, so you don't need to start from scratch.
It's great for professionals that needs to write professional social posts, emails, and longer forms of content. It's also made for marketers, freelance copywriters, and whoever needs to write content fast and effectively.
Hyperwrite is also integrated into a bunch of apps already, so if you prefer to use Google for your content writing, you can use hyperwrite within the Docs app.
Highlights
Integrated into common and popular apps
Customizable templates
Free option
Pricing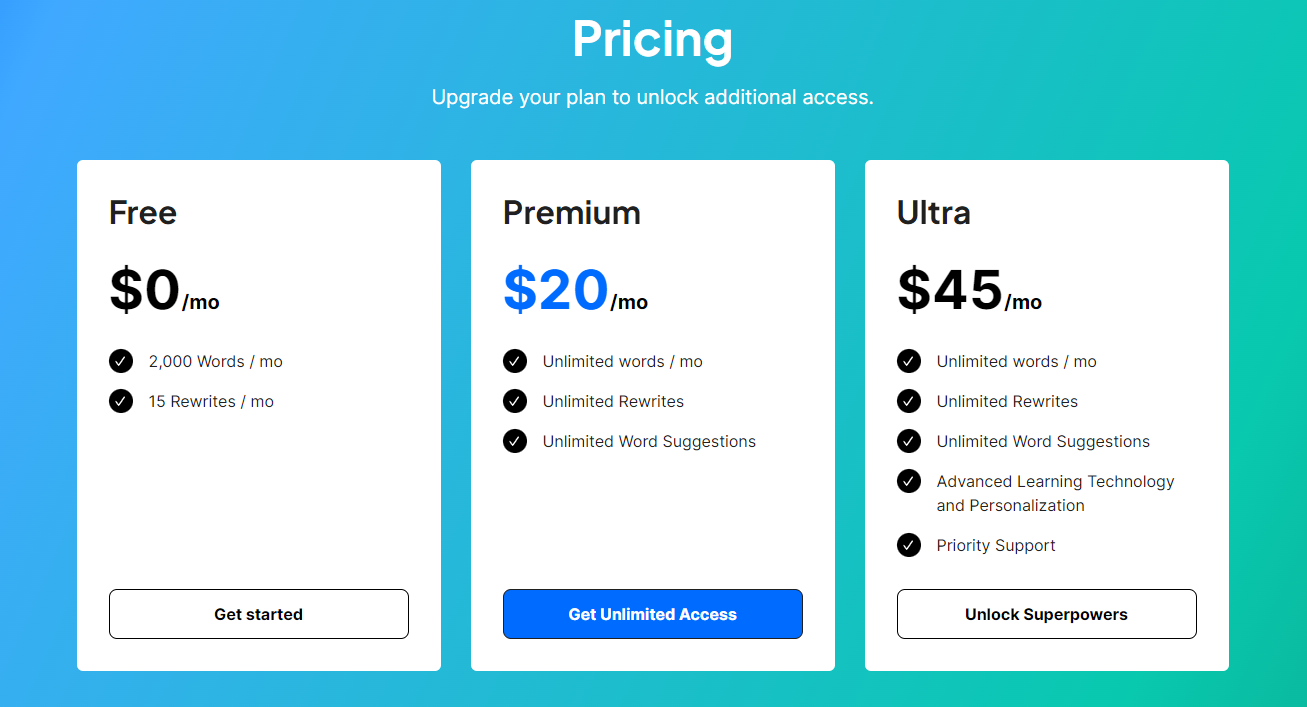 Hyperwrite has two paid plans:
Free plan with up to 2,000 words/month
Premium plan at $20/month and unlimited words
Ultra plan at $45/month and unlimited words
Bottom Line
Hyperwrite is a great option for a program that gives you a free options without having a super limiting word count per month. They also have affordable unlimited plans.
It uses the most recent AI technology like Chat GPT-3 to help you write your content faster and more effectively.
It's integrated into the most common and popular apps already, so you don't have to use their platform to write your content, but you still get the technology and tools.
Chibi AI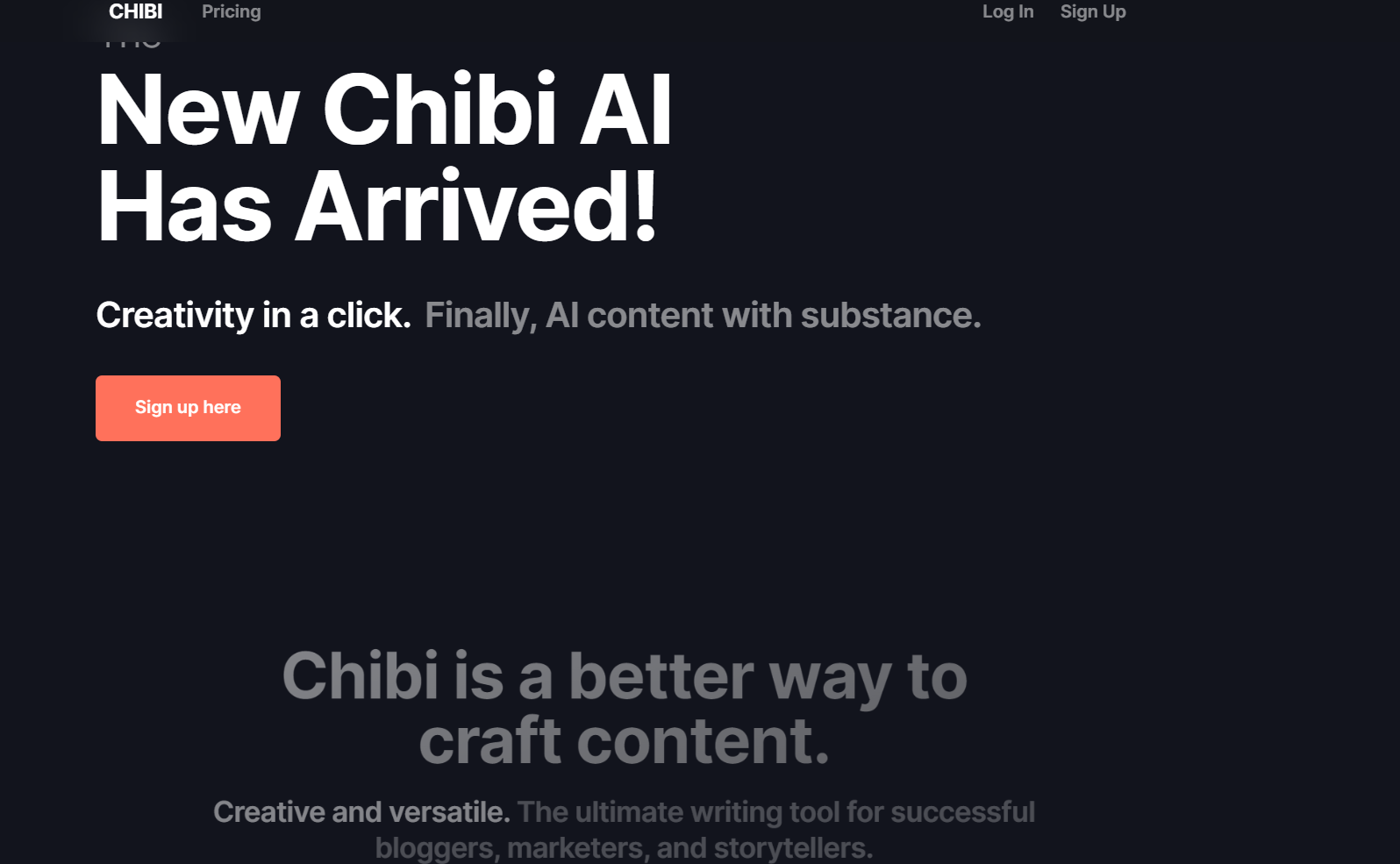 Overview:
Chibi AI is an AI writing tool for writers and storytellers who care about their readers. Whether you're writing articles, product descriptions, or digital ads – Chibi strives to make it a piece of writing that readers want to read.
You can also control the context Chibi writes for you using AI writing assistant software – making the content readable and having the element of human writers is easier.
With Chibi, you can get over writer's block and enter your authentic "boss mode" in content generation.
Highlights
Insights and tips on replacing your text with more interesting content
Long-form content and over 60 tools
Affordable pricing and a range of package tiers
Pricing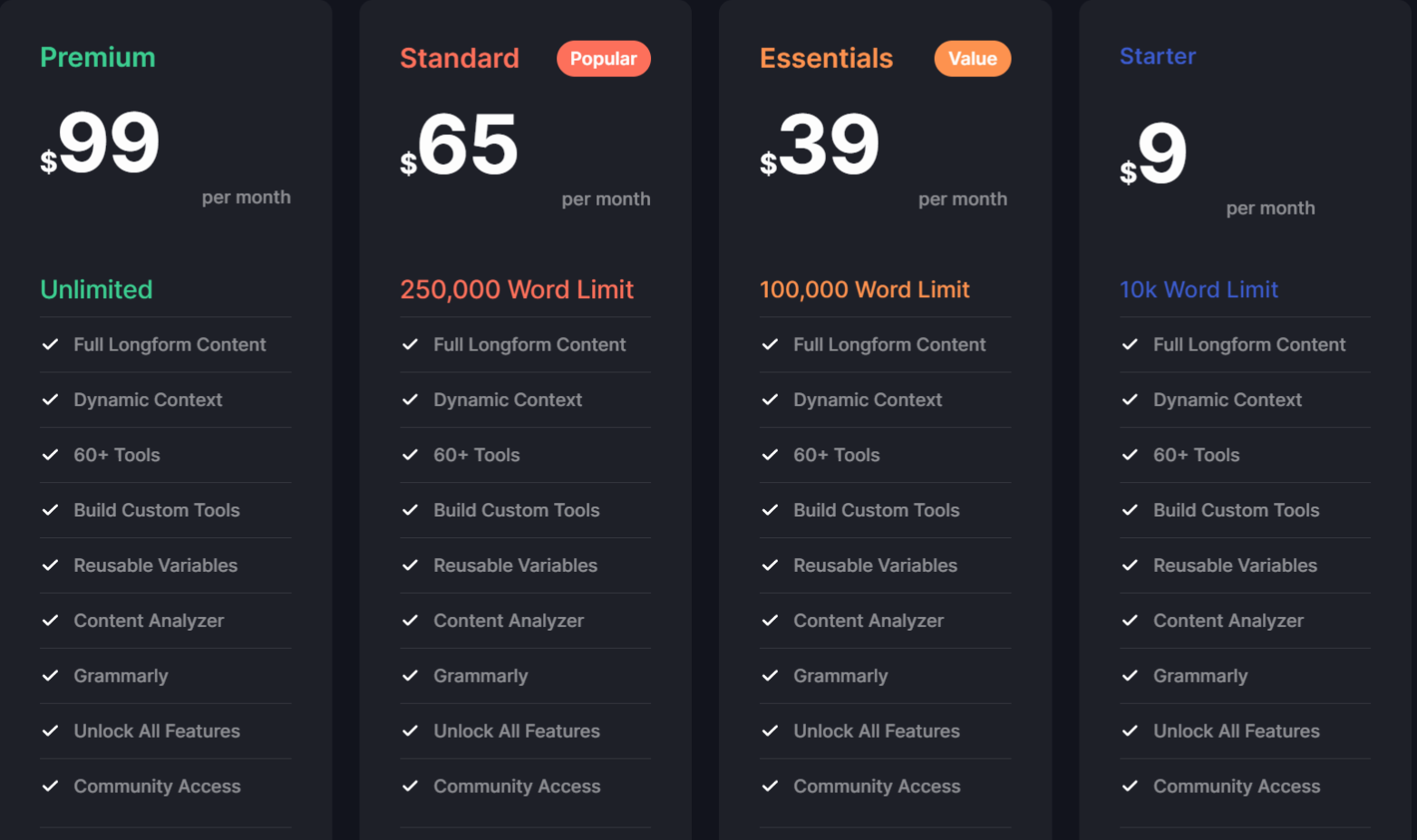 Chibi offers four paid plans:
Starter plan at $9/month for 10,000 words
Essentials plan at $39/month for 100,000 words
Standard plan at $65/month for 250,000 words
Premium plan at $99/month for unlimited words
Bottom Line
Chibi allows you to create AI-generated content that doesn't sacrifice quality and still gives you keyword research and content generation ideas.
You can brainstorm concepts and come out with a high-quality finished product and cater to the reader, not just the google bots.
AI writing isn't a completely new concept, and it's also not going anywhere – with Chibi, you get an automated article writing software that can help you craft a blog post effectively.
Elephas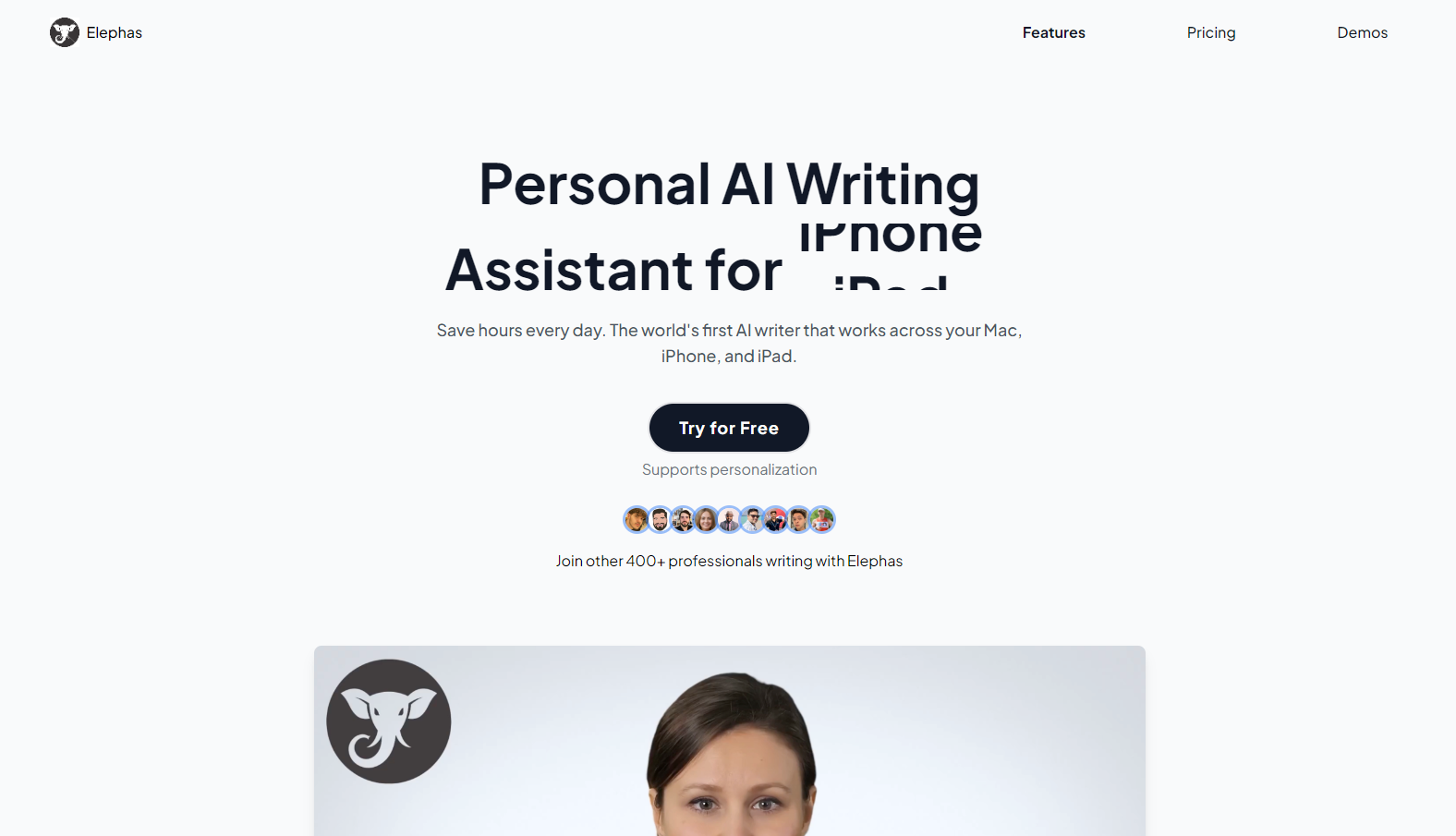 Overview:
What sets Elephas apart from the other AI platforms we've looked at, is it is made exclusively for Mac products – iPad, iPhone, and Mac devices.
The program allows you to add an AI keyboard to your iPhone to use the tool on the go and with any writing you're doing.
It works with any and all apps you use on your iOS devices, as it's downloaded right onto your computer – not as a browser extension. You can use the tool in Gmail, Slack, Messages, Notes, Microsoft Word and Outlook, and so many more.
Highlights
Exclusively for Apple products
Works across various applications – not just within your browser
You can try it for 7 days, free
Pricing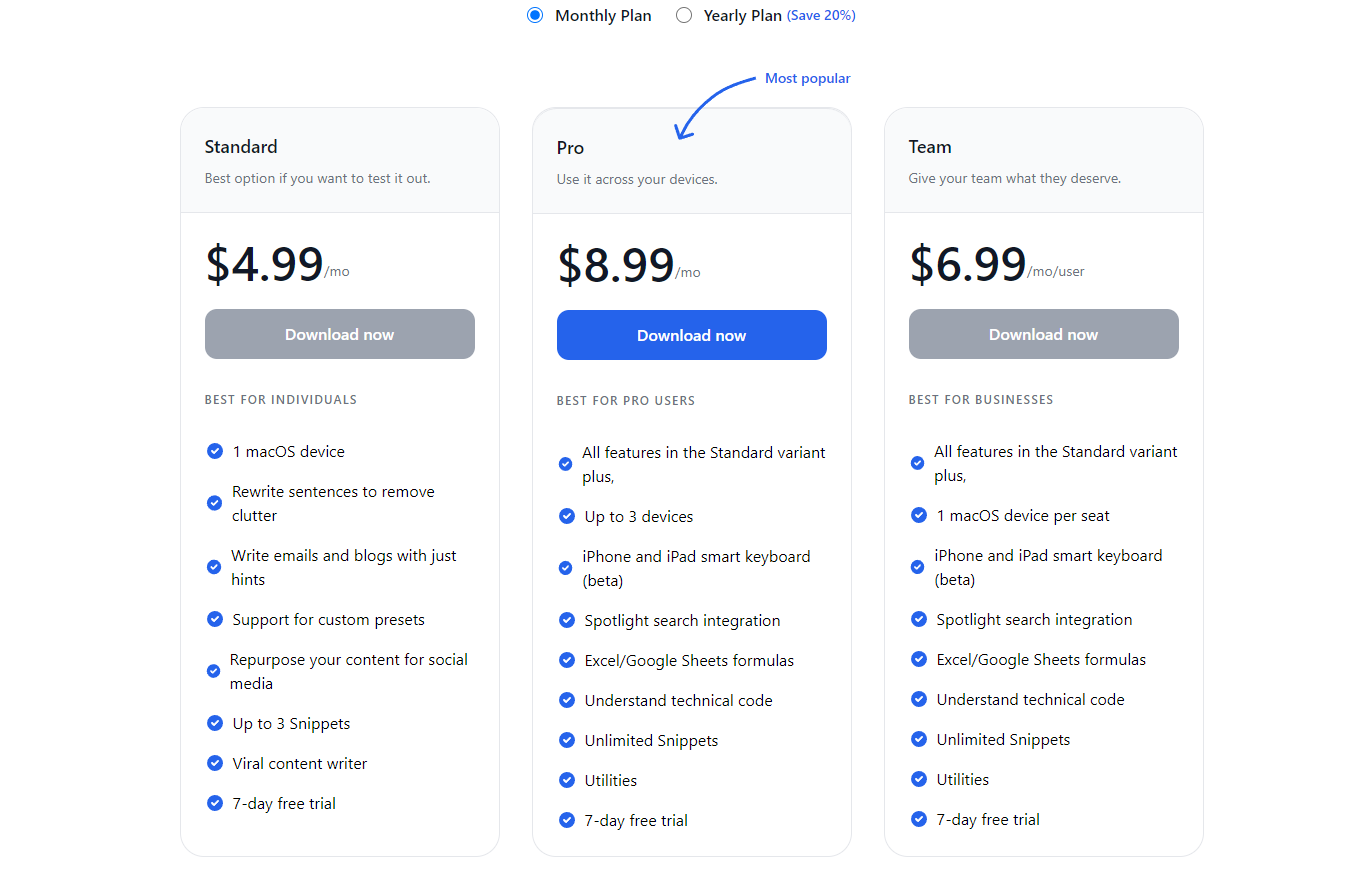 Elephas has three paid plans:
Standard plan at $4.99/month for 1 macOS device
Pro plan at $8.99/month for 2 macOS devices
Team plan at $6.99/month for 1 macOS device per seat
Bottom Line
If you work exclusively on iOS and Mac products and are looking for a tool that works outside of your browser, this tool will be a great fit.
You can try the app out for seven days free and if you decided to get a paid plan, they're very affordable.
What are AI writing tools?
AI writers work by using artificial intelligence to assist you in writing content with machine learning to identify context and prompts to generate human-like writing on the topic.
Typically they allow you to write content from blogs, social captions, emails, press releases, and other forms of digital text.
Each writing software varies and caters to different types of content. Most AI writing apps, such as blogs and press releases, are used for longer content.
Which AI writing tool is the best?
The best ai writing software combines various tools to allow you to use text input and edit the tone and structure of the AI writing to get the best results.
This article covered a few of the best ai writing software and how each AI writing tools work.
Is there a free AI writer?
All of the programs we covered in this article at least offer a trial for free to write content – and most allow you to generate AI writing free; they limit the number of resources you have access to.
Depending on which AI writer you choose to use, there are some that may be more beneficial than others with a free option of the program. Each individual AI writing software has its own plan.
Is AI good for writing?
AI writing software tools are a great for writing as they use intelligent learning to integrate your text prompts and topic to write a human-like article or piece of writing.
Final Thoughts
We've gone over the best AIwriting software throughout this article and covered most of the popular AI writers out there.
AI is not just for writing though, there are ways that AI can assist with productivity or video editing in ways that make these aspects of life incredibly accessible and reach new levels.