9 Best AI Video Generators for 2023 (Text to Video)
The influence of video content is undeniable. It serves as a potent tool for reaching out to a broad audience, playing a pivotal role in digital marketing and e-learning. Yet, the process of creating videos has traditionally been a lengthy, costly, time consuming and labor-intensive endeavor. It often involves assembling a team, investing in high-end equipment, renting a studio, or subscribing to a multitude of software applications. And even when you have all that, things can still go wrong, costing you more money and time.
Today, artificial intelligence (AI) is changing that, making video creation easier and more efficient. One exciting use of AI is in video production. A new AI-powered tool stands out. This tool uses smart algorithms and learning methods to create professional videos that make creating videos easier and more creative. These AI tools are rewriting the rules on how we create visual content. It's for everyone, from filmmakers to marketers, who want to create professional videos that share their stories in a unique and eye-catching way.
What are the best AI Video Generator tools?
The best AI video generator is one that simplifies video creation while maintaining high-quality output. It should offer diverse customization options, like a variety of AI voices and avatars, and support multiple languages. Features like text-to-speech, auto translations, and easy-to-use video editing software and tools are key. An ideal platform would cater to various users, from educators to marketers, facilitating the creation of everything from marketing materials to educational content.

The best video generator uses AI to examine and understand raw video footage. It can understand scenes, objects, and even emotions in the footage, helping identify the key parts of the narrative. It then suggests edits, transitions, and visual effects. This automated process makes creating videos quicker and easier, while still producing eye-catching results.

If you're digging this whole AI video creation thing, you'll love what you find at this link.
HeyGen: Best for Promotional Videos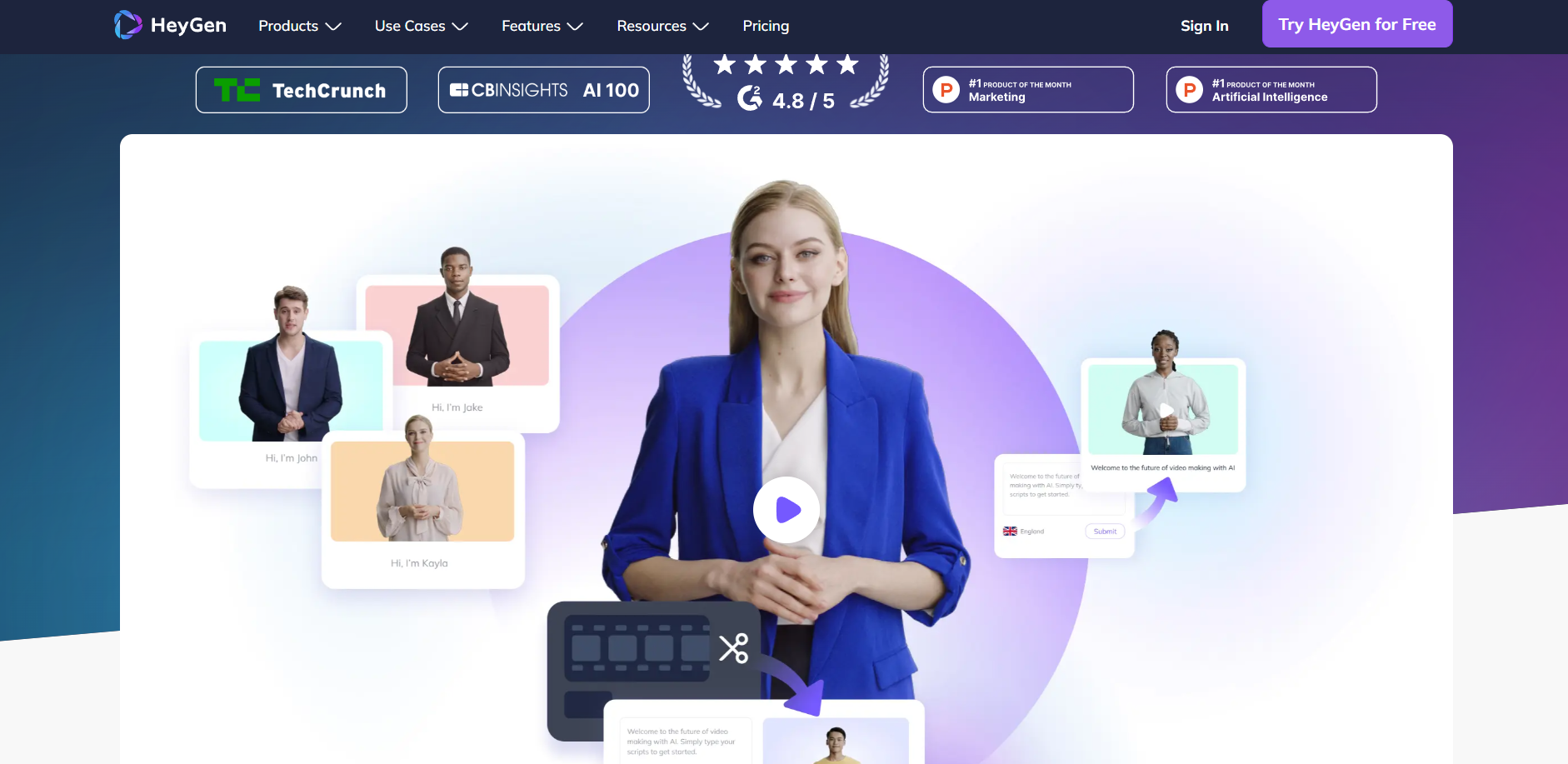 Overview
HeyGen stands out as a versatile video platform that enables users to create engaging business videos through generative AI. From the convenience of your browser, HeyGen allows you to transform text into professional videos within minutes. The tool offers over 300+ voices in 40+ languages, allowing for a personalized touch. Users can make face-swap videos and photos, customize avatars with their own voice recordings, and add music to match the video's theme. HeyGen's intuitive interface and customization options make it an ideal choice for various use cases.
Highlights
Transform text into professional videos quickly and easily.
Choose from a wide range of voices in multiple languages.
Personalize videos by recording and uploading your own voice.
Customize videos with face swap functionality and favorite music.
Combine scenes to create cohesive storytelling experiences.
User-friendly interface for easy video creation.
Generate business videos for presentations, marketing, and more.
Save time and costs with efficient AI-powered video creation.
No need for expensive equipment or extensive video editing knowledge.
Pricing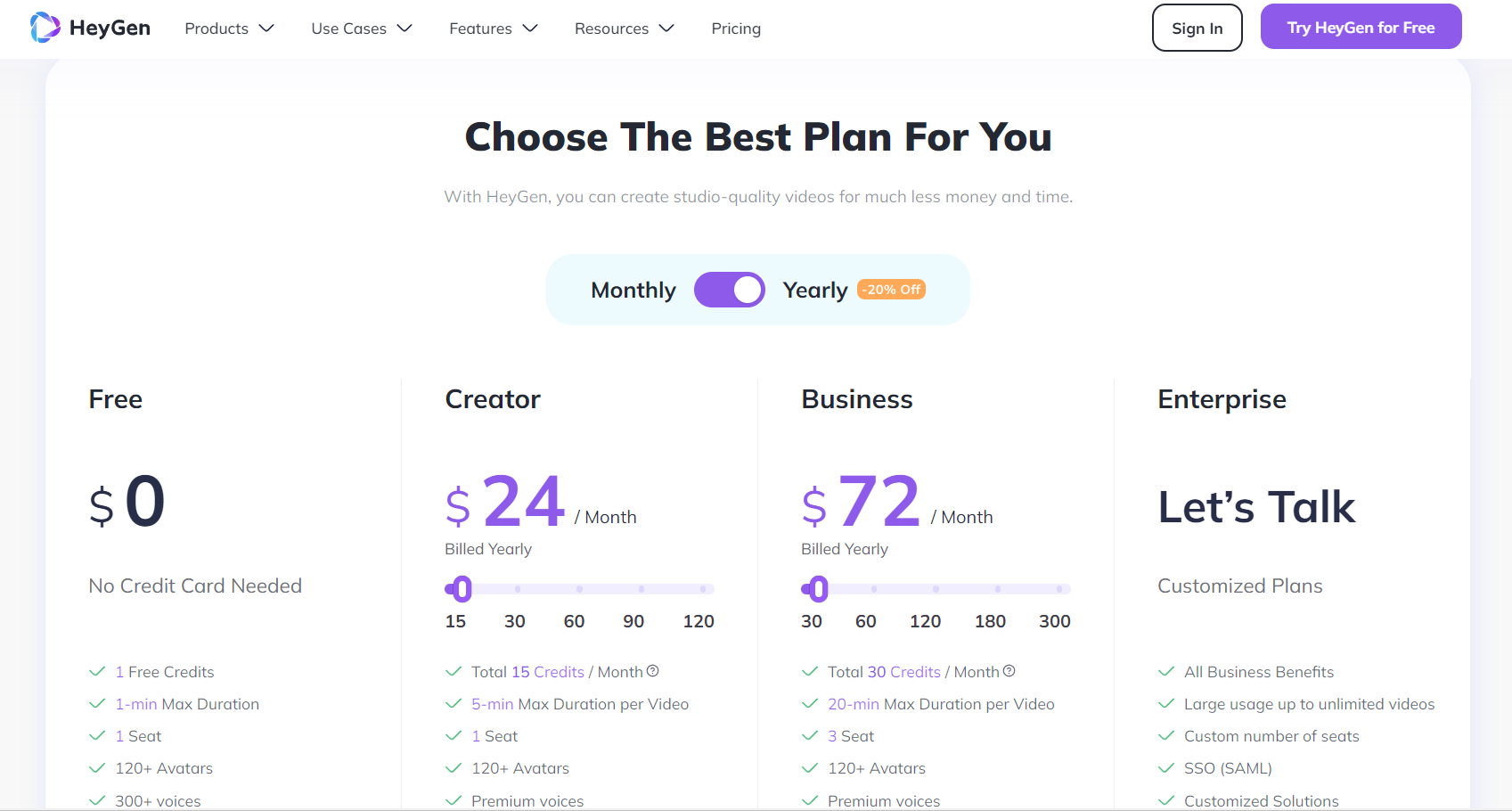 HeyGen offers a free version with 1 minute of daily usage.
For longer usage and access to additional features, pricing starts at $24 per month.
Contact HeyGen for detailed pricing information and plans tailored to your specific needs.
Bottomline
HeyGen stands out with its user-friendly simplicity, allowing anyone to create professional-looking videos without prior expertise. The customizable avatars bring scripts to life with their expressive performances, while the presentation avatar video feature adds visual appeal ai videos. Constantly evolving and improving, HeyGen sets the pace in video creation, making it a gem for effortlessly adding sparkle to your videos. Perfect for individuals, content creators, and businesses seeking to elevate their video content with ease and creativity.
Collossyan AI: Best for Educators & Marketers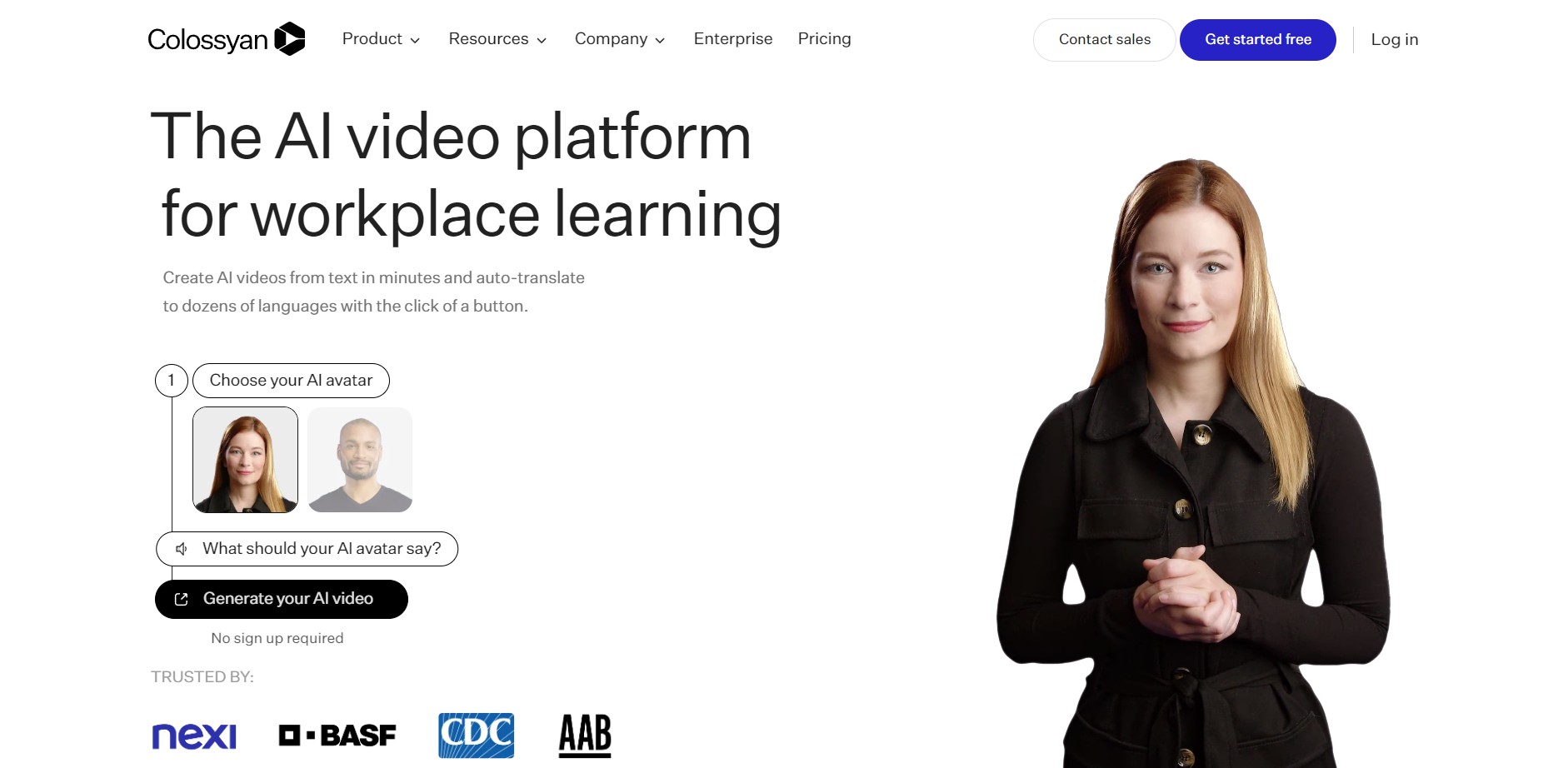 Overview
Collossyan AI is here to help you create captivating training videos and engaging explainers like a pro. With Colossyan, you'll have a fantastic range of avatars at your fingertips, each with its own accents and languages, allowing you to add a touch of diversity and authenticity to your content. And that's not all – Colossyan also offers must-have features like auto translations, subtitles, and screen recording enhancements, making it easier than ever to educate and captivate your audience.

With support for over 70 languages, Collossyan offers a vast library of synthetic AI presenters to choose from. Customize your videos by adding media, selecting accents, and even including subtitles. The platform goes beyond just video creation – it can convert PowerPoint presentations and PDF documents into dynamic videos, saving you time and effort.
Highlights
Audio Editing: Adjust and enhance the audio in your videos for a professional sound.
Voice-over: Choose from a variety of voices or record your own voice for a personalized touch.
Video Editing: Easily edit your videos, trimming and arranging clips to create a polished final product.
Text to Video: Transform your written content into engaging videos that capture attention.
Templates: Get a head start with pre-designed templates for faster video creation.
Stock Resources: Access a library of stock images, videos, and music to enhance your videos.
Media Library: Store and organize your media assets for easy access during video creation.
Drag & Drop: Simple drag and drop functionality for effortless file importing.
Pricing
Colossyan AI provides a free trial and three pricing plans:
Starter ($28/month), Pro ($96/month), and Enterprise (contact sales).
Pricing is based on video generation minutes and access to premium features.
Bottom Line
Collossyan AI is a comprehensive video and creation platform and tool ideal for educators, marketers, and small business owners seeking to produce captivating content efficiently. The platform stands out for its extensive collection of AI avatars, customizable accents, and languages, offering a unique diversity to your marketing videos in. Converting PowerPoint presentations and PDF documents into dynamic videos is another of its noteworthy capabilities, perfect for those who value time efficiency. The platform's audio and video editing tools, along with access to a rich library of stock resources, make the video production process smooth and professional. If you aim to enhance your content's reach and impact with engaging, multilingual, and diverse video content, Collossyan AI could be the perfect fit for you.
Elai.io: Best for Text-to-Video Conversion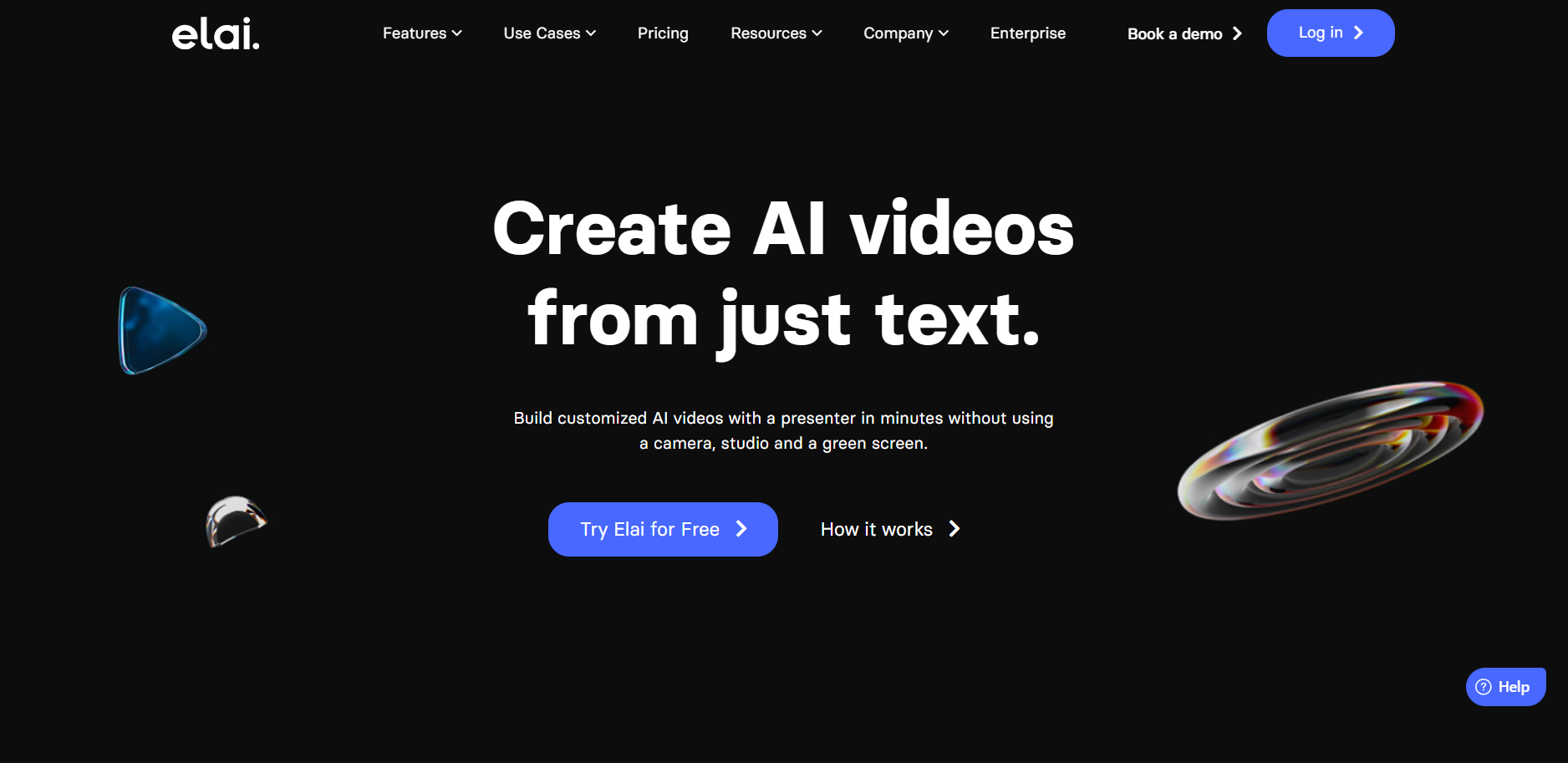 Overview
Elai.io is an AI video generator tool that empowers users to effortlessly create high-quality videos from text. With just a few simple steps, you can generate professional videos at scale. Using Elai.ai, you can transform articles or blog posts into engaging videos with just a few clicks. Simply copy and paste the URL or text, select a template from the library, and let the AI do the work. Review the video, make any desired changes, and then render and download the final product.
The platform's range of over 25 diverse human avatars and support for more than 60 languages ensures your videos can be customized to suit your audience. Beyond creating simple video content, Elai.io is highly effective for crafting training videos and marketing materials, doing away with the need for actors, voiceovers, or complex post-production.
Highlights
Generate professional videos from articles or blog posts in just three clicks.
No video editing skills required; an easy-to-use platform.
Wide range of customizable templates to choose from.
Support for over 60 languages and more than 25 avatars, allowing for personalized videos.
Ideal for creating training videos and product marketing materials without the need for actors, voiceovers, or complex post-production.
Pricing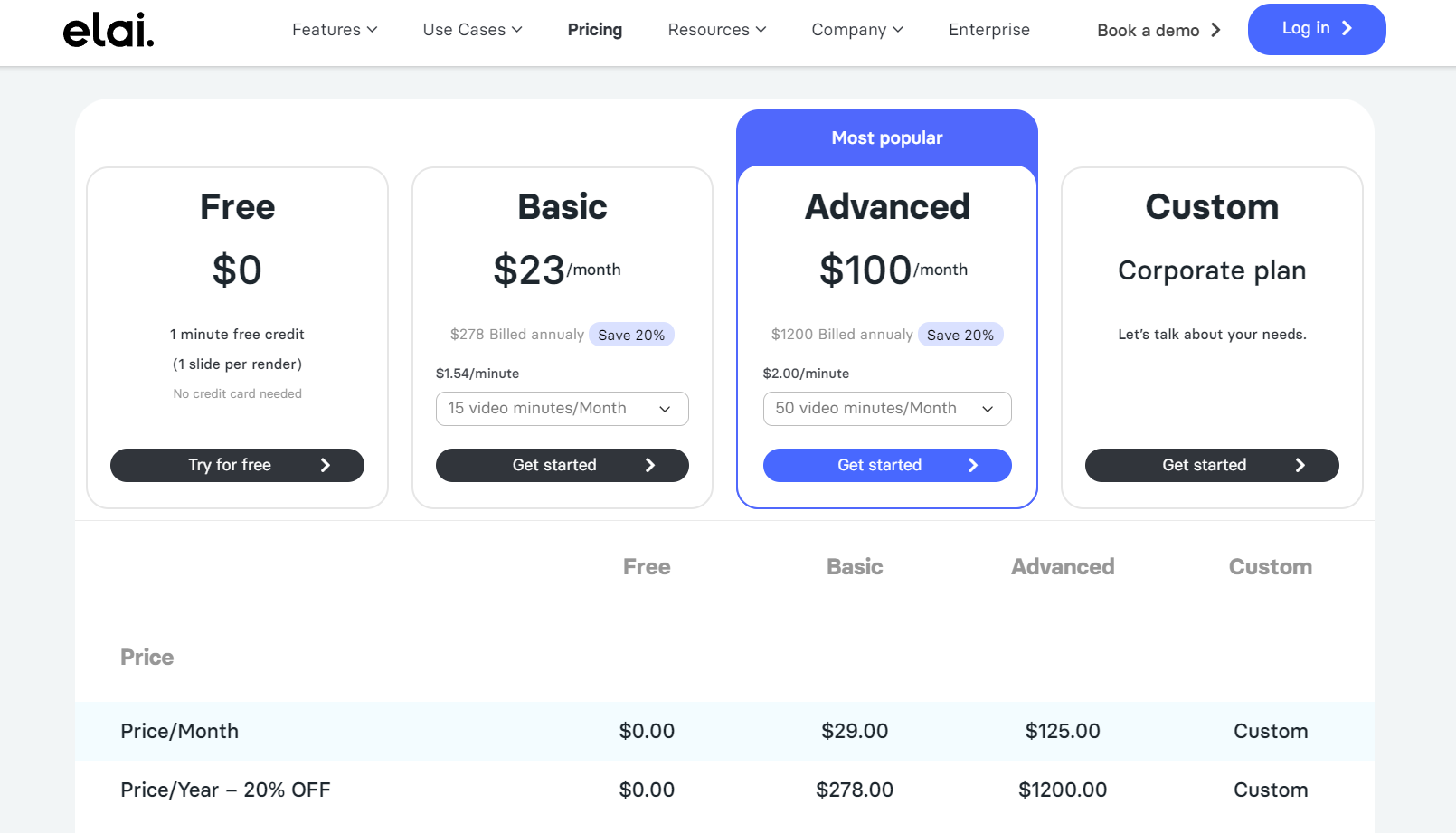 Experience the simplicity of Elai.io without any video editing skills required. You can try Elai.io for free with a 1-minute credit, and for additional features, affordable plans are available starting at $23 per month.
Bottom Line
Elai.io is an AI-driven video generator tool that simplifies and streamlines the video creation process. Ideal for educators, marketers, and small businesses, Elai.io enables the transformation of articles or blog posts into engaging, professional videos in just a few clicks. You don't need any video editing skills, making it a practical tool for those without extensive video production experience. If you're looking for a user-friendly tool to scale your video content without draining resources, Elai.io is a superb option to consider.
Synthesia: Best for Custom AI-Assisted Video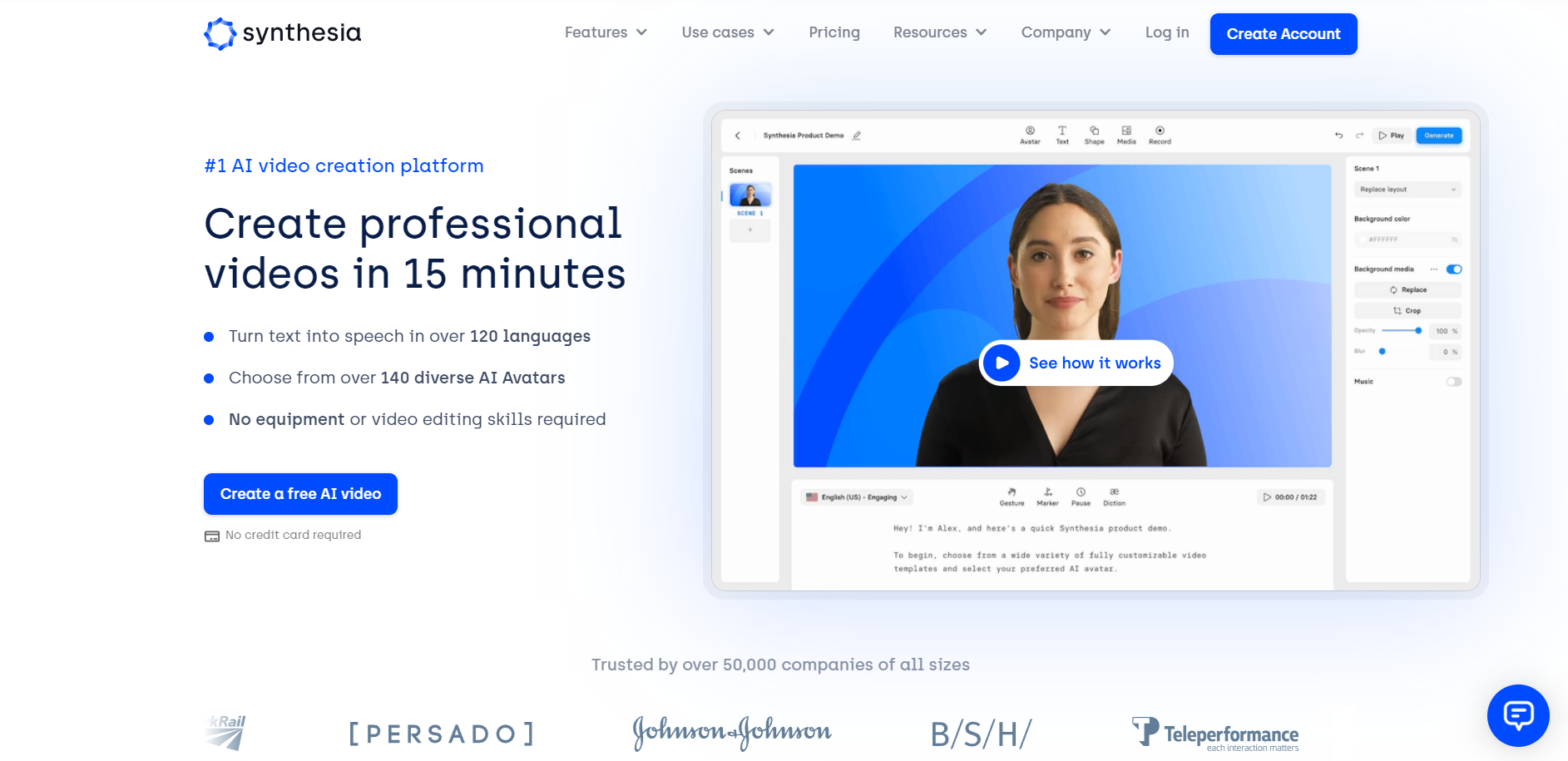 Overview
Synthesia is a powerful AI video generator tool that stands out for its custom AI avatars and extensive language support. With over 120 unique AI models and native language compatibility, you can easily deliver your message in the language of your choice. Although automatic translation is not available, Synthesia provides a seamless video creation experience with features like text-to-speech voiceovers, AI script assistance, and a built-in screen recorder. While it may not be ideal for social media videos, Synthesia excels in creating realistic how-to videos, marketing materials, and training videos.

I've got a comprehensive review of this product. Here's the link for you to explore.
Highlights
Custom AI avatars: Choose from a wide range of custom AI avatars to bring a human touch to your videos and make them engaging.
120+ AI voices: Select the perfect voice from over 120 AI voices to match your content and deliver your message with impact.
Text-to-speech voiceovers: Easily convert your text into natural-sounding voiceovers with Synthesia's advanced text-to-speech technology.
AI script assistant: Get assistance in crafting your video script with Synthesia's AI script assistant, ensuring your message is clear and concise.
Built-in screen recorder: Record your screen directly within the platform to showcase software demos, tutorials, and walkthroughs effortlessly.
Pricing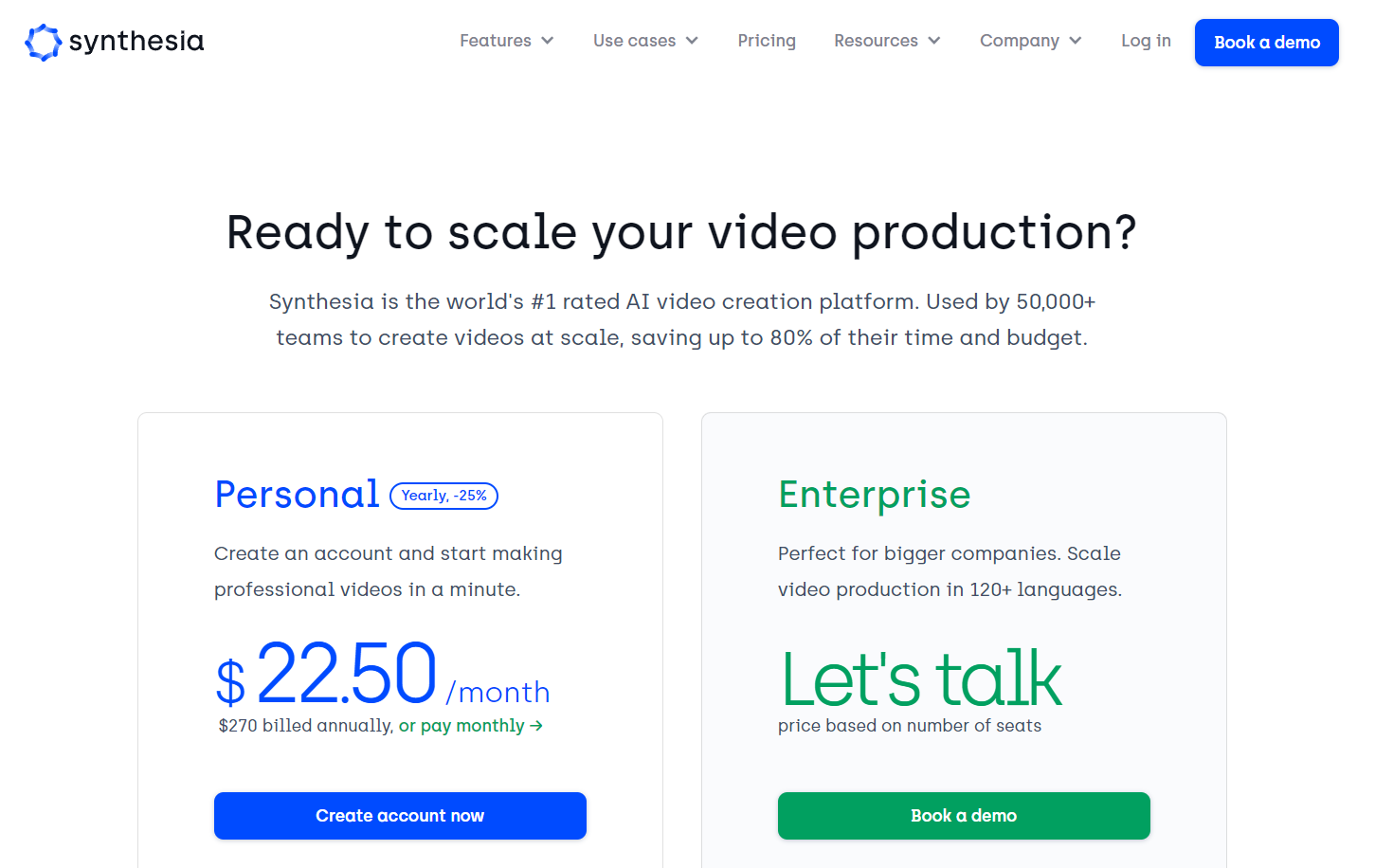 Starting at $22.50 per month.
Bottom Line
Synthesia is an AI video generator tool designed for anyone needing to create professional, engaging videos with ease. This platform sets itself apart with its text-to-speech voiceovers, AI script assistance, and built-in screen recording capabilities, simplifying the video creation process. Users can easily record software demos, tutorials, and walkthroughs directly within the Synthesia platform.
Runway: Best for Creative and Artistic Projects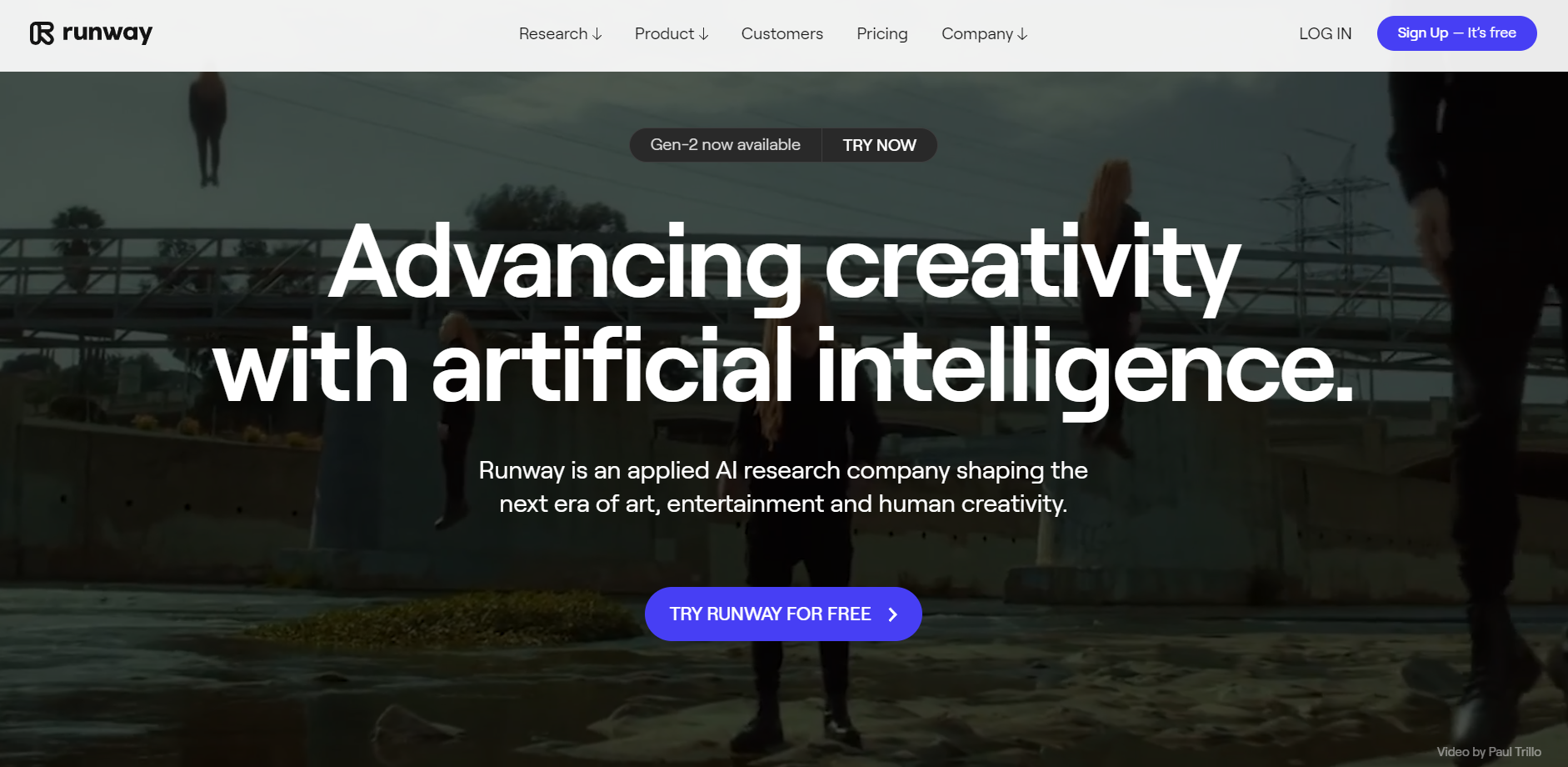 Overview
In our quest to find the best AI video generator of 2023, we couldn't leave out Runway, which comfortably secured a spot on our list. This advanced AI video tool is the brainchild of the startup that pioneered stable diffusion technology. What sets Runway apart is its knack for taking your videos to the next level.
Runway puts a myriad of video effects at your disposal. From adding slow-motion sequences, blurring faces, and removing awkward pauses, to tweaking colors, it's all possible with just a few clicks. But where Runway really steals the show is with its Gen 1 video-to-video tool, their latest feature. Powered by stable diffusion technology, the video-to-video tool is a game-changer. You simply upload a video, and then apply an array of AI-based effects using preset textures and styles for a unique touch.
Highlights
Gen 1: Video to Video: Adds special effects to your videos using AI.
AI Background Remover: Removes unwanted backdrops from your videos easily.
AI Static Image Upscaling: Improves the quality of your still images with AI.
Text to Image Generator: Turns your text descriptions into beautiful images.
Erase and Replace Tool: Lets you remove and replace parts of your video for a neater look.
Pricing
Free, with paid monthly plans starting at $12.
Bottom Line
So, who should consider Runway? If you're a fan of MidJourney's AI art, you'll adore Runway. It lets you bring that level of AI sophistication into your video projects. We recommend giving it a shot, especially since they offer a free tier for you to experiment with your videos and enhance your prompts.

Interested in AI Art design and AI image generators? Click here if you wish to learn more.
Pictory: Best for Turning Articles into Videos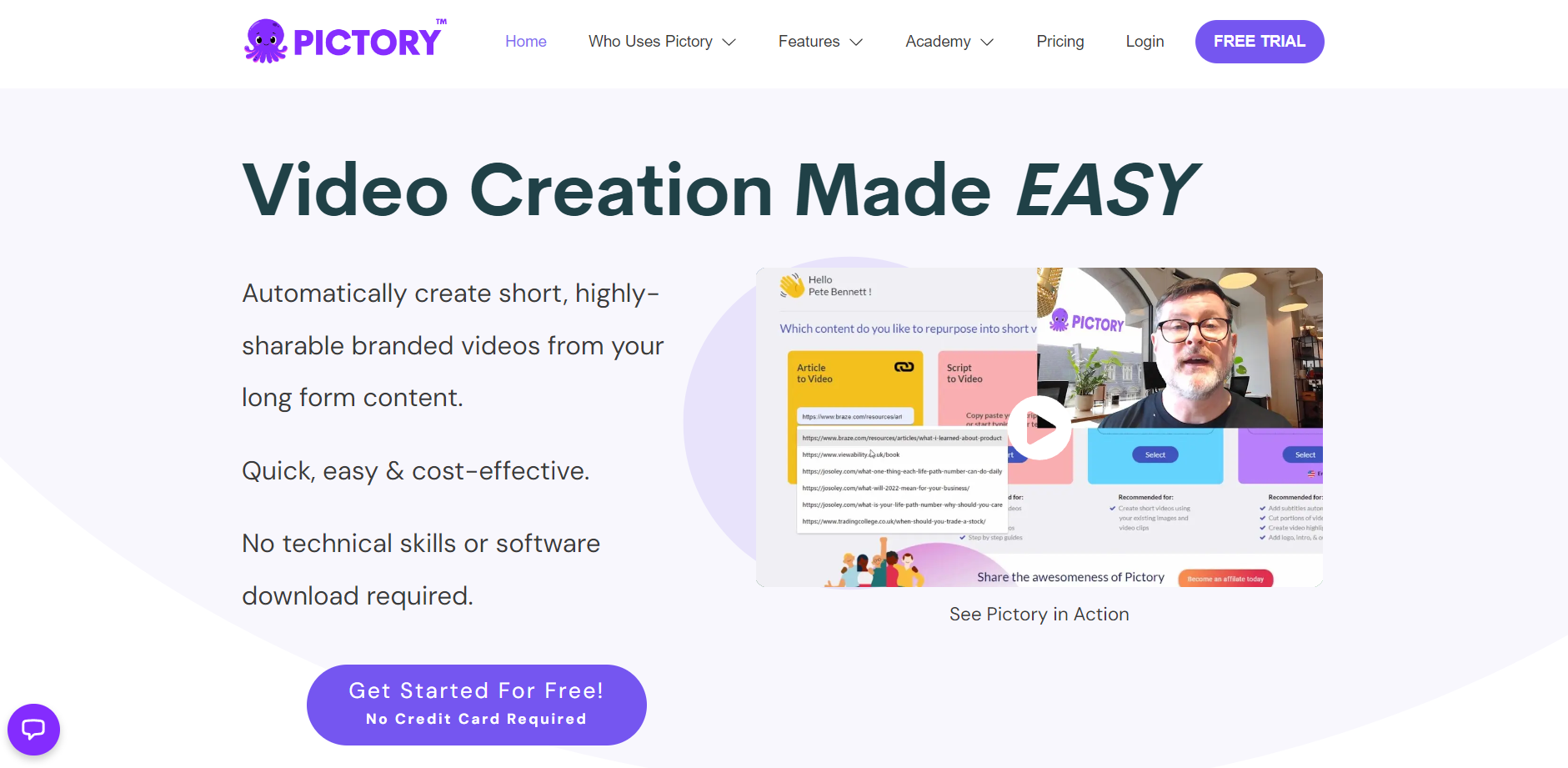 Overview
Pictory is the ultimate AI video generator designed for creators and marketers seeking to produce high-quality videos without prior experience in the video editing software itself. With Pictory, all you need to do is provide a script or article as a reference for your video content. For instance, by submitting a blog post, Pictory can effortlessly transform it into a captivating video suitable for various platforms such as social media or your website. The platform also offers an intuitive text editing feature, allowing you to make quick edits to your videos within minutes.
Highlights
Effortlessly transform scripts or articles into engaging videos for social media sharing.
Edit videos easily using text, making it ideal for enhancing webinars, podcasts, and Zoom recordings.
Create captivating shareable video highlight reels, perfect for trailers or short clips on social media.
Enjoy the convenience of automatic captioning and summarization features for enhanced accessibility and engagement.
Quick and user-friendly, delivering professional results in minutes to help you grow your audience and build your brand.
Pricing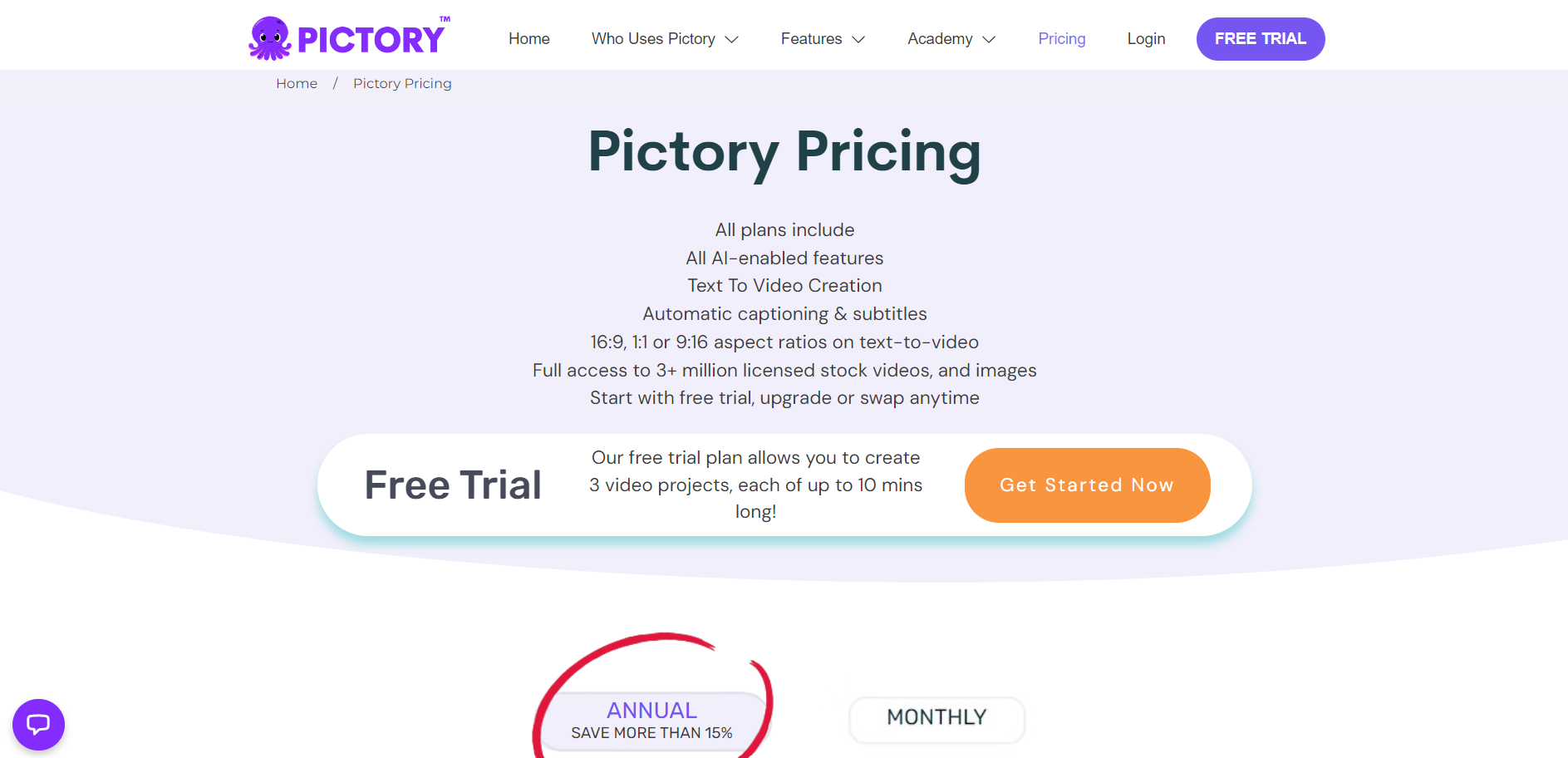 Starting at $19 per month, Pictory offers affordable plans for marketers and creators.
Additional pricing tiers are available for enhanced features and customization.
Choose the plan that suits your needs and budget to unlock the full potential of Pictory's AI video generation capabilities.
Bottom Line
For those looking to refine their work, Pictory's intuitive text editing feature lets you tweak and tailor your videos within minutes. You can enhance your webinars, podcasts, and Zoom recordings, creating captivating highlight reels that could make a big splash on social media. Pictory doesn't just stop there. It also offers the benefits of automatic captioning and summarization features, making your content accessible and engaging. The platform quickly and efficiently delivers professional video results that can help to grow your audience and build your brand.

Pictory is ideally suited for content creators, social media influencers, digital marketers, and businesses of all sizes who strive for an impactful online presence. It's particularly beneficial in situations where there's a need to repurpose written content into video format, broaden audience reach, enhance engagement on social media platforms, or create compelling video content rapidly and efficiently without advanced video editing skills. If you're curious for more, I've penned a review about Pictory. You can find my review here.
Deepbrain AI: Best for Lifelike AI Voices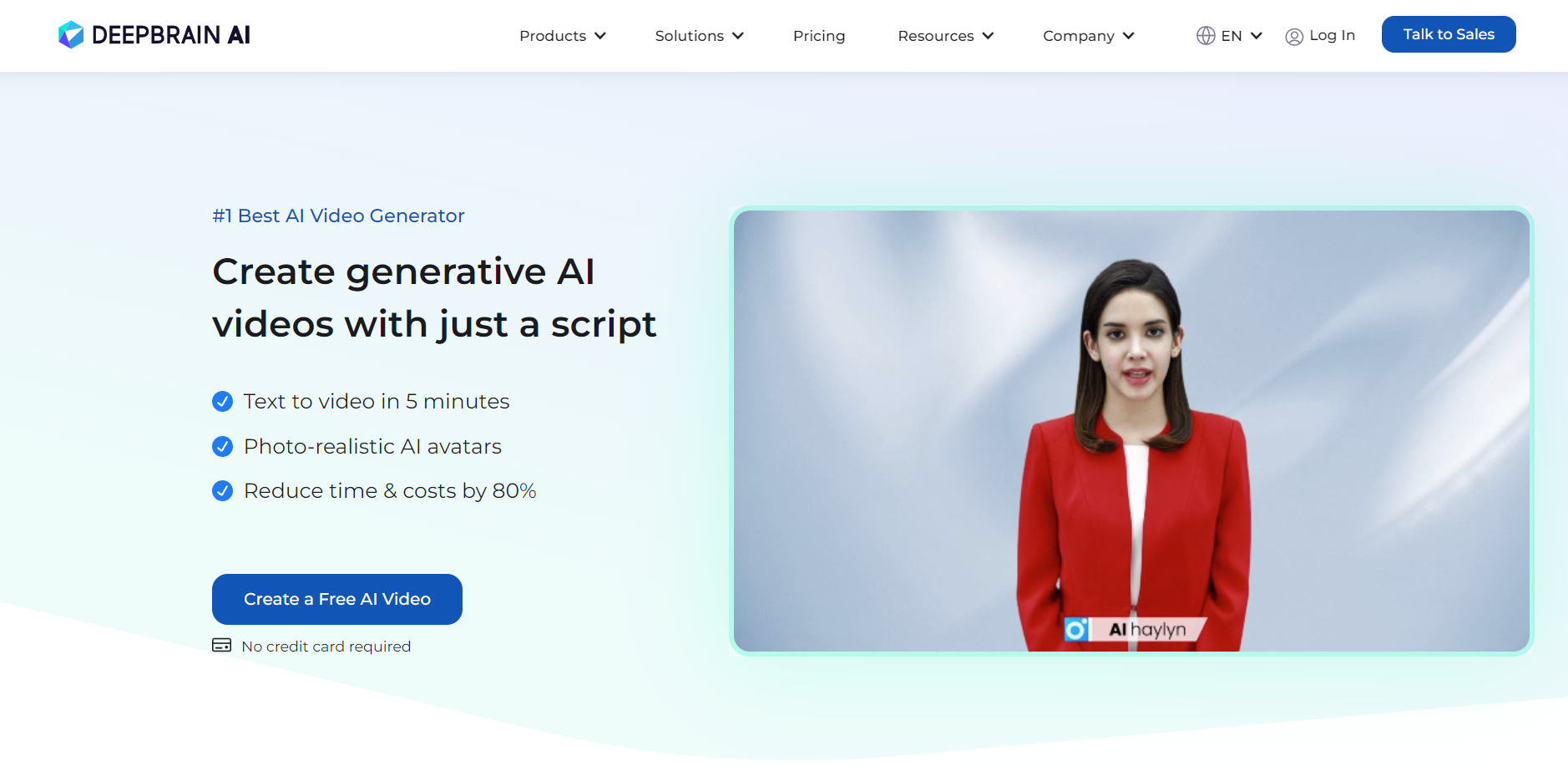 Deepbrain AI emerges as a powerful and user-friendly text-to-video generator, offering a time and cost-saving video maker solution. DeepBrain AI is like your own personal, video maker and production studio. You type in your text, select a template and an AI avatar, and presto – DeepBrain conjures up a mesmerizing video in mere minutes. It's an online video editor that feels like magic, yet is designed with simplicity in mind. There's no need to be a video editing whiz or spend countless hours learning intricate software; DeepBrain AI caters to beginners, making video creation as easy as pie.
And it's not just about simplicity; it's also about personalization. You have the freedom to set the tone of quality video with background music, choose from an array of stock images, or add a personal touch with your own photos. Want to make your videos accessible? DeepBrain can generate subtitles at your command.
Highlights
Instantly create AI-generated videos using basic text, with quick and easy implementation.
Text-to-Speech feature transforms your script into a fully synthesized video in 5 minutes or less.
Choose from your own PPT template or starter templates to kickstart your project.
Effortlessly input your script through manual typing or copy and paste, with automatic input from uploaded PPT files.
Find the perfect custom-made AI avatar to align with your brand identity.
Intuitive tool designed for beginners, making video creation simple and user-friendly.
Enjoy significant time savings in video preparation, filming, and editing processes.
Benefit from cost savings throughout the entire video production journey.
Pricing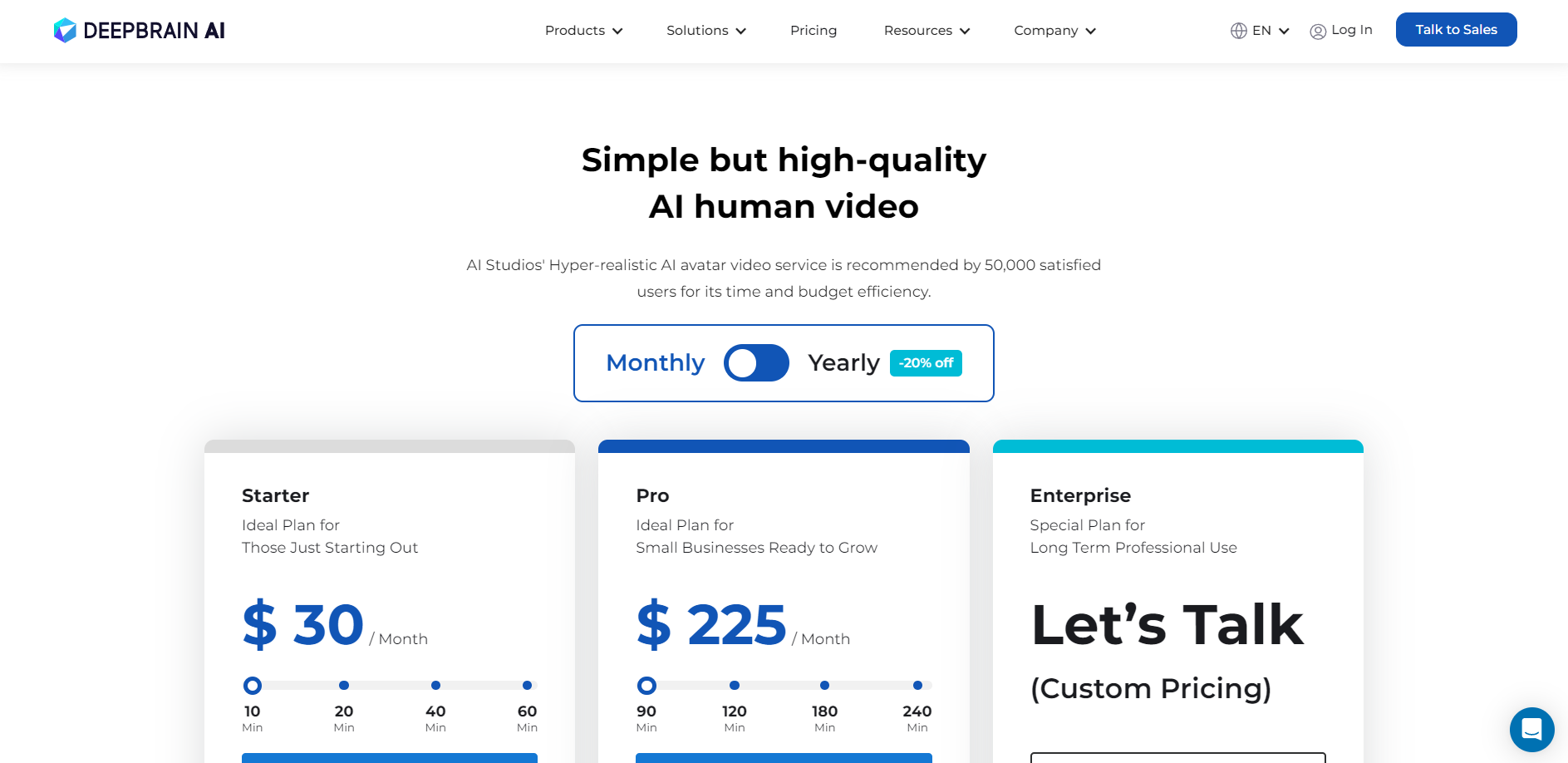 Starting at $30 per month, Deepbrain AI offers affordable plans to suit your needs.
Additional pricing tiers are available for enhanced features and customization.
Bottom Line
DeepBrain AI is perfect for startups looking to create videos to showcase their products, marketers aiming to increase audience engagement, and educators seeking to make their teaching materials more dynamic and engaging. It's a lifesaver for anyone seeking to transform their text-based content into captivating videos, efficiently and affordably.
GliaCloud: Best for Quick Video Generation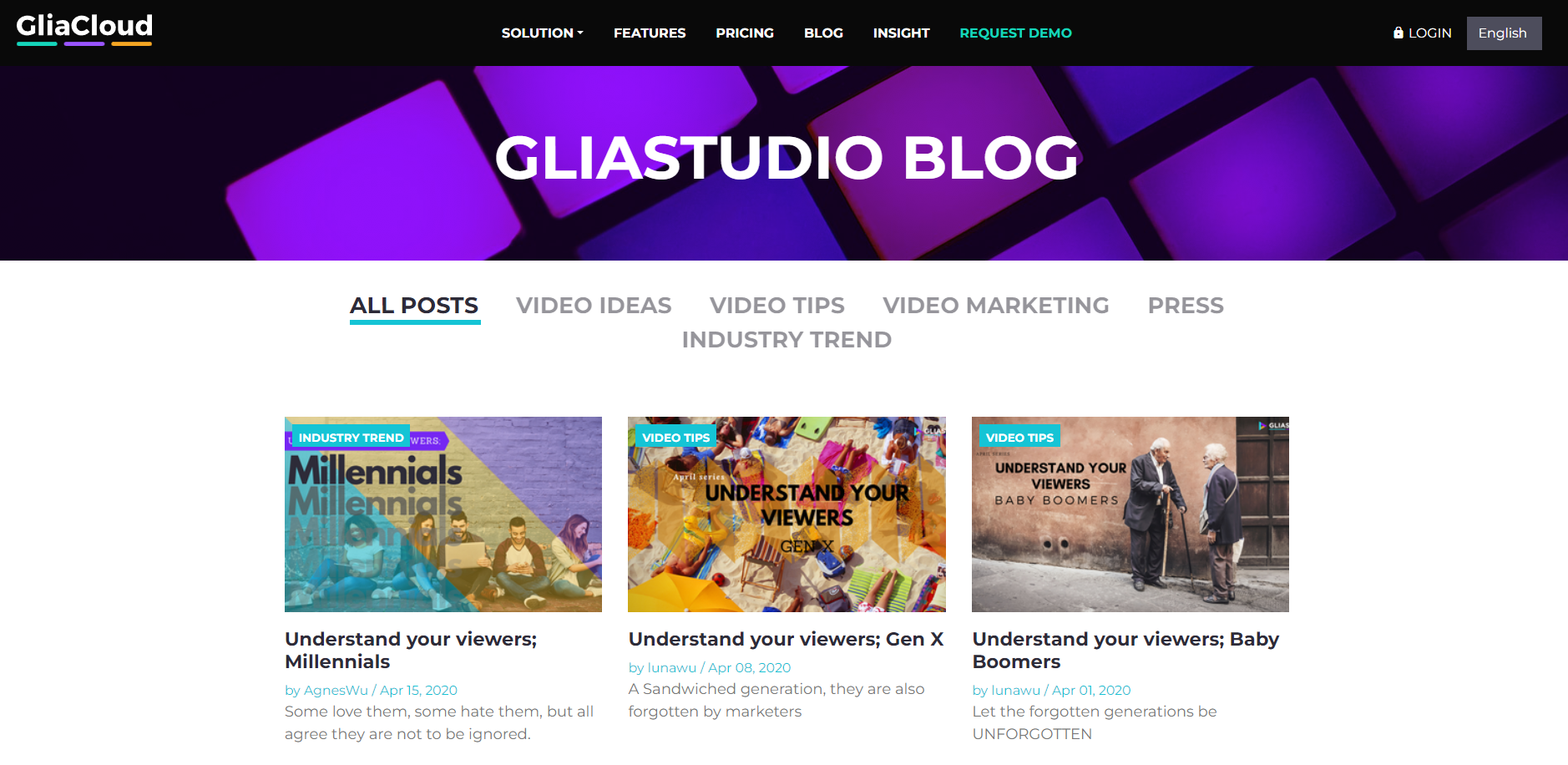 Founded by David Chen in 2015, GliaCloud uses artificial intelligence to breathe life into your content, turning written words into captivating visual narratives. Here's how it works: you provide an article or a piece of text, and GliaCloud does the rest. It analyzes your content, extracts key points, and pairs them with relevant clips. And to make things more engaging, it even adds a voiceover. The result? A compelling video that's ready to capture your audience's attention.
But GliaCloud isn't stopping there. They're gearing up to launch a subscription service, so you'll have even more content to transform into video format. Plus, they offer a unique feature that allows you to share your work and split revenue with other publishers.
One of the best things about GliaCloud is that it's easy to use. You don't need any specialized equipment or prior video editing experience. You can preview and edit scripts, choose from a wide array of templates, and create customized videos that align perfectly with your needs. It's like having a personal video production team right at your fingertips. Not only does GliaCloud make video creation a breeze, but it also helps boost traffic, engagement, and conversions. It saves you time, freeing you up to focus on creating great content.
Highlights
Turn text into professional videos in just minutes.
No need for fancy equipment or video editing skills.
Upload articles or share links to create videos automatically.
Edit your scripts before turning them into top-quality videos.
Choose from lots of ready-to-use templates for quick video creation.
An easy-to-use interface lets anyone make impressive videos.
Plenty of tools on hand to help you customize your videos.
Use exciting videos to increase website traffic, engagement, and conversions.
Easily add videos to your online content without needing to be a video editing pro.
Save time and effort by quickly changing text into eye-catching videos.
Pricing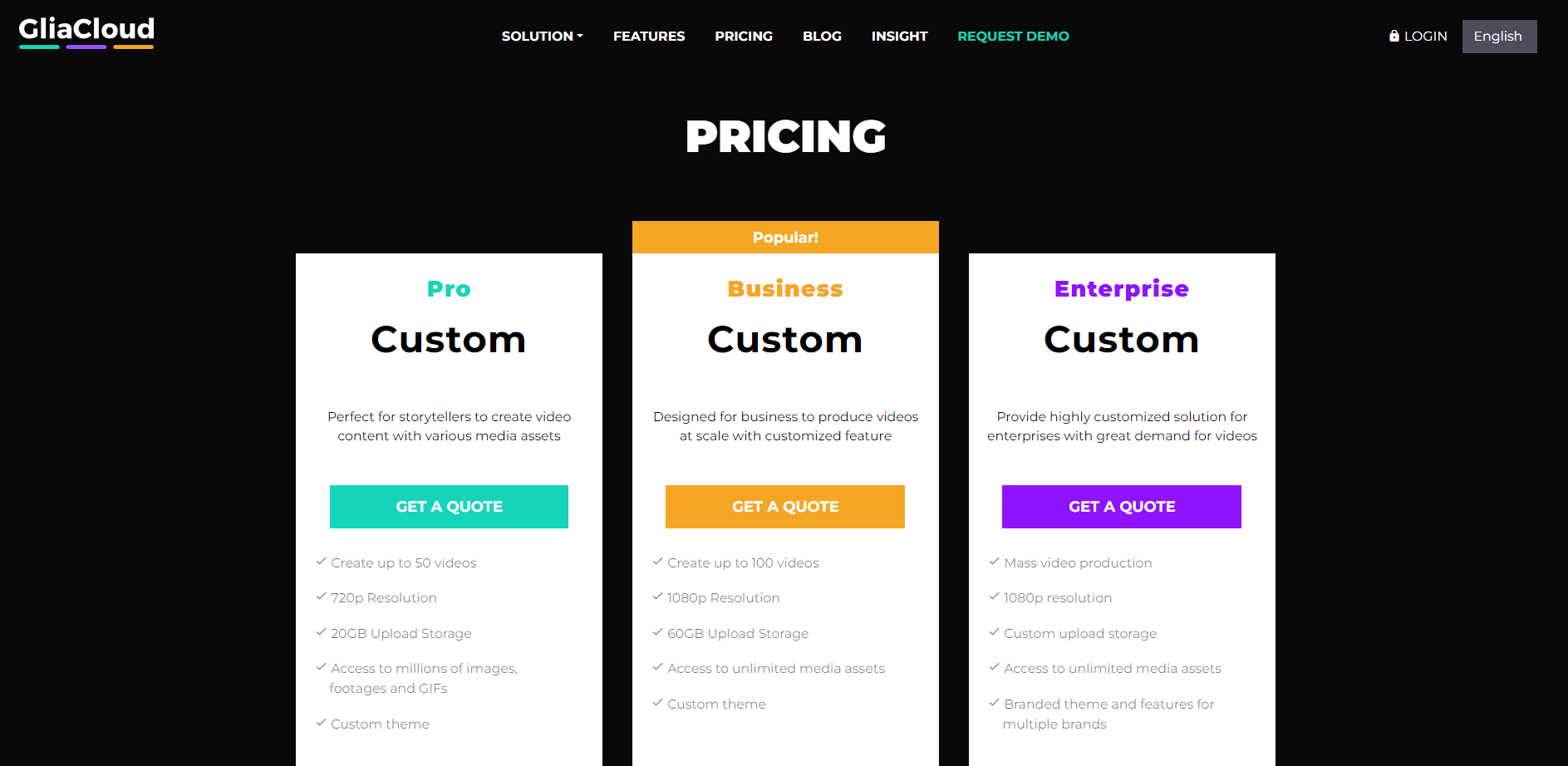 Contact the GliaCloud team to discuss pricing details and options based on your specific requirements.
Bottom Line
GliaCloud, with its flagship product GliaStudio, is a leading AI technology business empowering the media and advertising industries to transform stories into high-quality videos at scale. It's an invaluable tool for marketers, digital publishers, and businesses wanting to enhance their online presence. Social media managers looking to create video content for platforms like YouTube, TikTok, Facebook, Instagram, and DailyMotion will find it especially useful. With GliaCloud, creating engaging, attention-grabbing videos is as simple as can be. It's all about telling your story in the most impactful way.
Designs.ai: Best for All-In-One Content Creation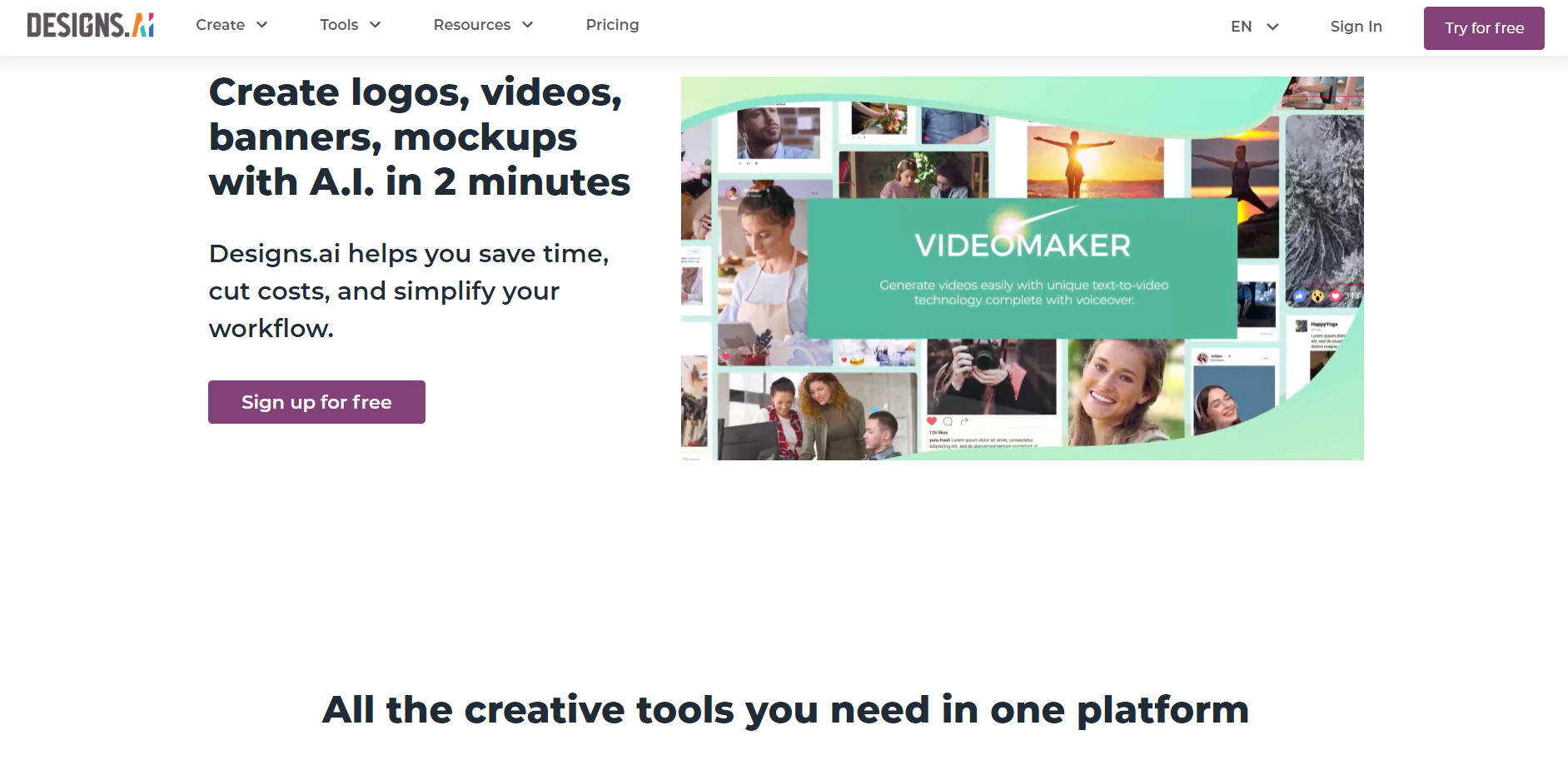 Overview
Designs.ai takes advantage of artificial intelligence to offer an automatic, fast, and user-friendly solution for generating professional videos. By signing up and inputting your logo or text, you can select the relevant industry, language, and voice for the voiceover, resulting in attention-grabbing videos that effectively convey your message with impactful audio and visuals.
With support for over 20 languages, Designs.ai also allows you to resize your videos for optimal performance on various social media platforms like Facebook, Instagram, Twitter, and TikTok. Designs.ai offers logo creation, banner design, voiceover capabilities, and more, making it a comprehensive tool for all your visual and audio needs.
Pricing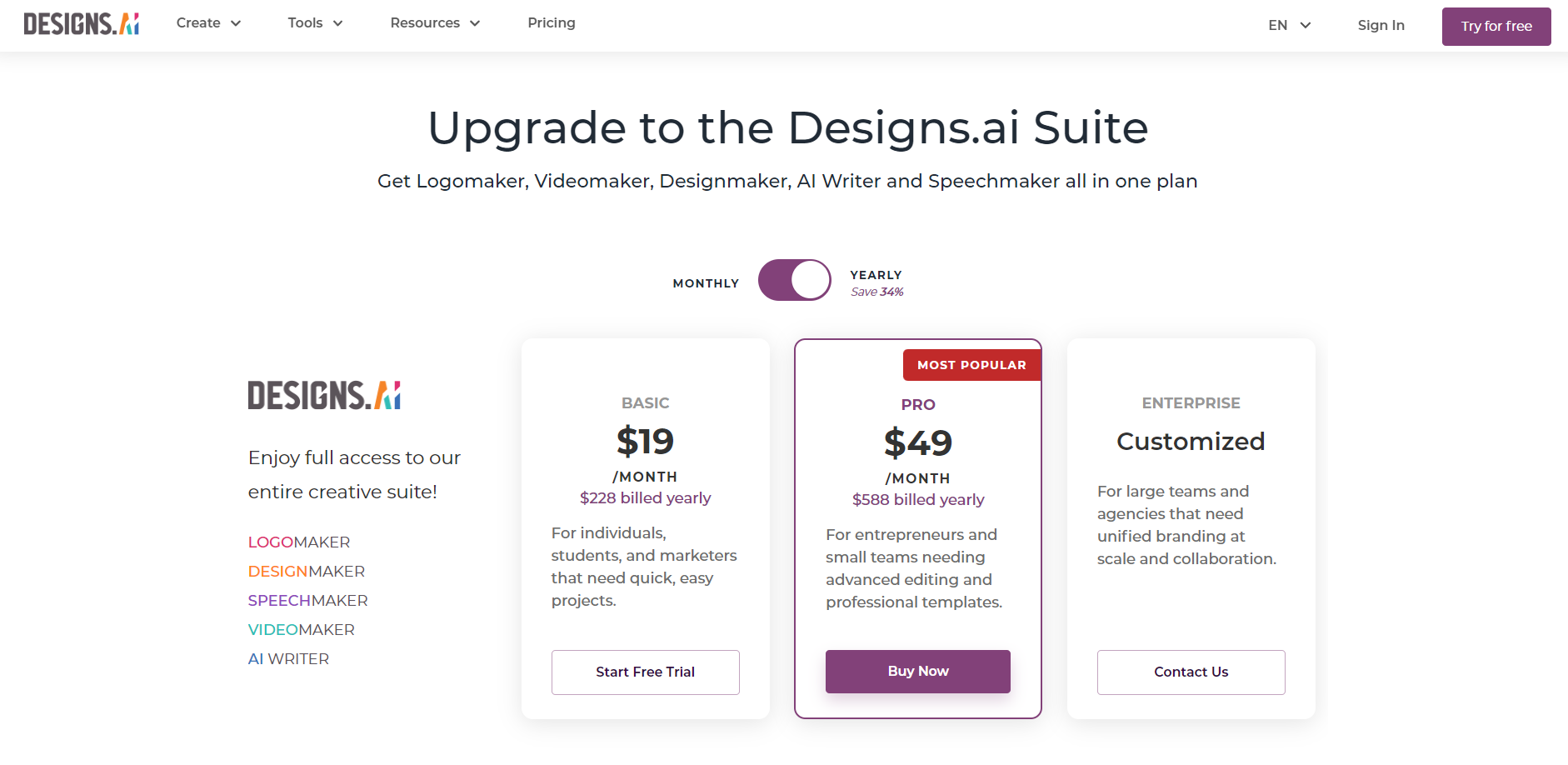 Pricing Designs.ai has three premium plans: Basic, Pro, and Enterprise.
Basic plan: $19 per month
Pro plan: $49 per month
Enterprise plan: Contact customer support for the price.
Highlights
AI-powered platform for automatic video, logo, banner, and voiceover creation.
Easy sign-up and text input for quick and compelling content generation.
Customize videos with industry, language, and voiceover options.
Resize videos for optimal performance on popular social media platforms.
Supports over 20 languages for effective communication.
Unlimited projects are available for creative flexibility.
All-in-one tool for various visual and audio needs.
Fast and efficient creation process, delivering results in minutes.
Bottom Line
Designs.ai is an innovative all-in-one digital content generation platform best suited for content creators, digital marketers, or small businesses looking to produce diverse and engaging content with minimal effort. Its text-to-video feature is a designs.ai standout, allowing users to turn a written script into a video in mere minutes. However, the AI voices can sometimes truncate sentence endings prematurely, which may impact the overall quality of the video. Despite this, Designs.ai offers a range of impressive AI tools to generate not just videos, but also images, text, and more, making it a versatile choice. Whether you're looking to make marketing videos or enhance your website, blog, or social media presence, Designs.ai can save you considerable time and effort in content creation.
However, its full potential is realized when designs.ai is used for regular, consistent content generation, so it might not be the best fit for one-off projects or those who prefer a more hands-on approach to content creation. In a nutshell, Designs.ai is a dynamic and user-friendly, creation platform that holds great potential for users who want to leverage AI to streamline their digital content creation process.
How does AI generate a video from text?
Artificial intelligence vdeo generators can make videos using text. In just seconds, an intelligent video creator will make a high-quality text-based presentation using virtual presenters. You provide the AI with a script, which analyzes key themes and context. Then, the AI selects relevant images, video clips, or animations based on that analysis. It can even add voice-over narration using text-to-speech technology. Once all the elements create a video are gathered, the AI arranges them to create a video sequence that aligns with the script. So, with just a few clicks, your text transforms into a full-fledged video!

So, if you're into AI video creation, you've got to check out Best AI Video Editing for more information.
Final Thoughts
Wrapping it all up, the best AI video generator is a fusion of simplicity, versatility, and advanced technology. It should empower users to produce high-quality, customized video content with minimum effort. Key attributes to look the best ai video generators for include a variety of AI voices and avatars, multi-language support, text-to-speech capabilities, and efficient editing tools. The ideal tool accommodates a wide user base, including educators and marketers, enabling the creation of diverse content types. Affordability and an intuitive interface are the cherries on top, making the power of professional video production accessible to all, irrespective of their technical prowess.