9 Best Whiteboarding Software of 2023
You can throw out the traditional whiteboards and markers once you see what these mind map tools can do for you and your next project!
Some of the best mind mapping software offers you: real-time collaboration features, full-time collaboration, customizable templates, integration with other tools, an extensive library, video conferencing (which you can easily transcribe with one of the best transcription tools), and advanced features like mind mapping, diagramming, and user flow creation.
Whether you're a remote team, a designer, or an individual looking to visualize new ideas, there is a mind-mapping tool out there that can meet your needs. Try out some of the options mentioned in this article and see which one works best for you.
What are the best digital whiteboard tools?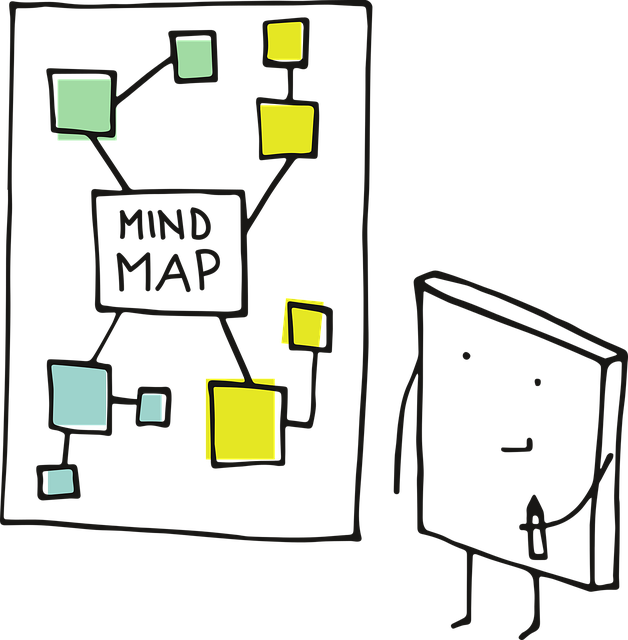 When it comes to the various digital whiteboard software and mind-mapping tools, there are plenty of options available.
Customers and users should focus on the specific needs of their team or project when choosing a top digital whiteboard software or tool, considering the type of projects and visualizations needed, the level of collaboration required, and any necessary integrations with other tools. Additionally, consider the key features and pricing plans (are the digital whiteboarding software a recurring cost or do they have a single-user license) and whether they fit within the budget for the team or organization.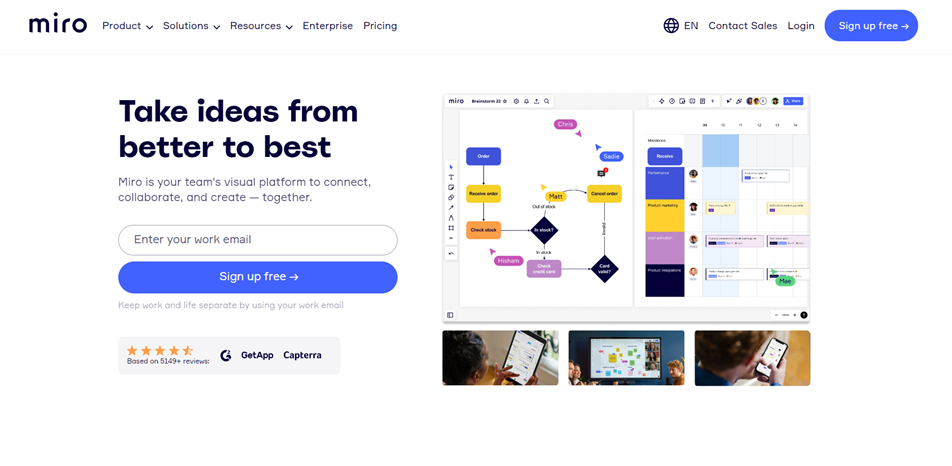 Overview
Miro is a digital whiteboarding and brainstorming tool that allows users to collaborate with their team on an infinite virtual canvas. The software offers a range of features to help users generate ideas, visualize complex structures and landscapes, and collaborate effectively. With Miro, users can brainstorm remotely, vote on ideas, and engage in icebreakers or live reactions.
Highlights
Miro's key features include clustering sticky notes to categorize them, voting to reach a consensus, reacting with stickers and emojis, using a timer to keep track of time, organizing and communicating thoughts with the Mind Map Template, and drawing freely with the pen tool.
Miro also serves over 50 million users worldwide, making it a trusted platform for virtual whiteboarding.
The platform offers over 1000 expert and community-made templates for users to structure their thoughts and express themselves visually with sticky notes, emojis, shapes, images, a pen tool, and connection lines.
With Miro's digital whiteboard, users can collaborate from anywhere, on any device, and store all ideas on the board to continue building on them long after the meeting ends.
The whiteboard app is available on mobile devices on Android, iOS, on desktop, and as an interactive display on Windows and macOS.
Pricing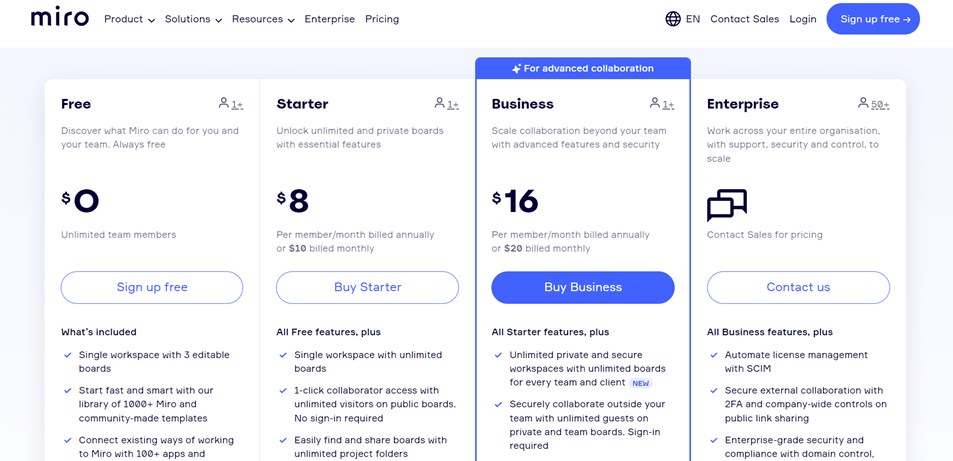 Free Plan, with limited features
Starter Plan for $8 per member per month includes unlimited mind maps and private boards
Business Plan for $16 per member per month includes advanced features and security
Enterprise Plan is custom-tailored and great for scaling
Bottom Line
Miro is an ideal collaboration tool, for anyone looking to improve their team's collaboration, generate new ideas, visualize complex structures in a more effective way and do it on a number of devices. Miro is best suited for remote teams who need to collaborate on visual projects, and often on the go. The great thing about Miro is that a free version is available before committing to a paid plan.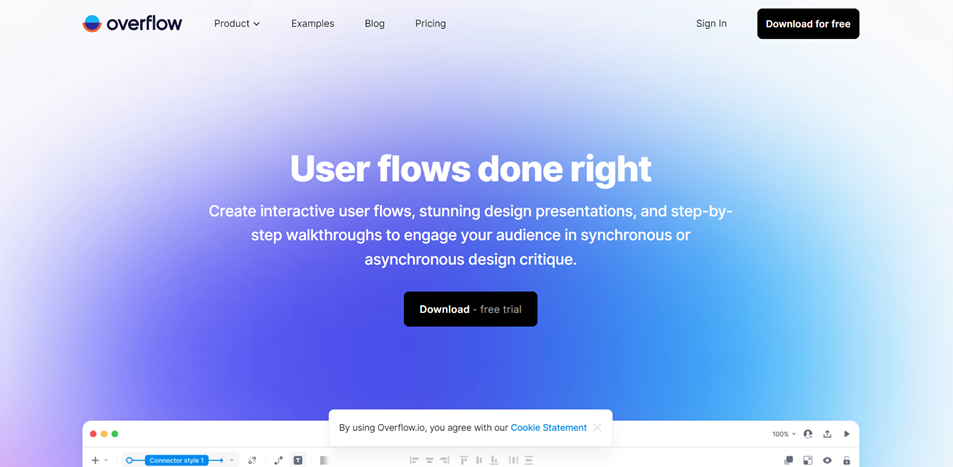 Overview
Overflow is a user flow and design presentation software designed to help designers and product managers create interactive user flows, stunning design presentations, and step-by-step walkthroughs to engage their audience in a synchronous or asynchronous design critique.
Highlights
Overflow allows users to sync their work from popular design tools like Figma, Sketch, Adobe XD, Adobe Photoshop, and more.
Key features of Overflow include Canvas View, Prototype View, Story Presentation, and User flows.
The software allows designers to visually enhance their presentations by adding custom elements like branding, typography, and colors.
The tool is highly customizable, easy to use, and trusted by more than 500,000 designers and product managers globally.
Pricing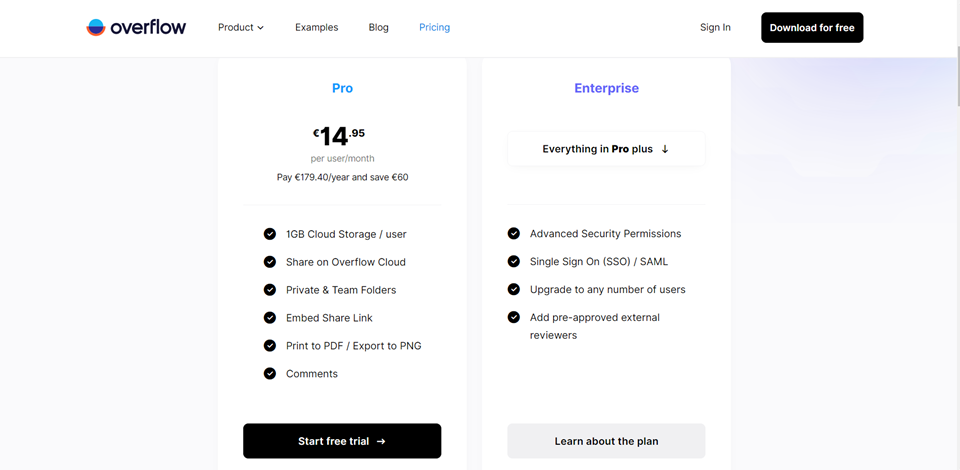 Pro Plan is priced at $14.95 per user per month and includes multiple whiteboards and 1Gb of storage
Enterprise Plan is custom-tailored
Bottom Line
Overflow helps you in creating user flows, mapping complex products or features, and achieving a more collaborative result by inviting teammates to contribute as project editors. This mind-mapping software is the best choice for designers and product managers who want to create stunning design presentations and user flows without spending too much time on tedious tasks.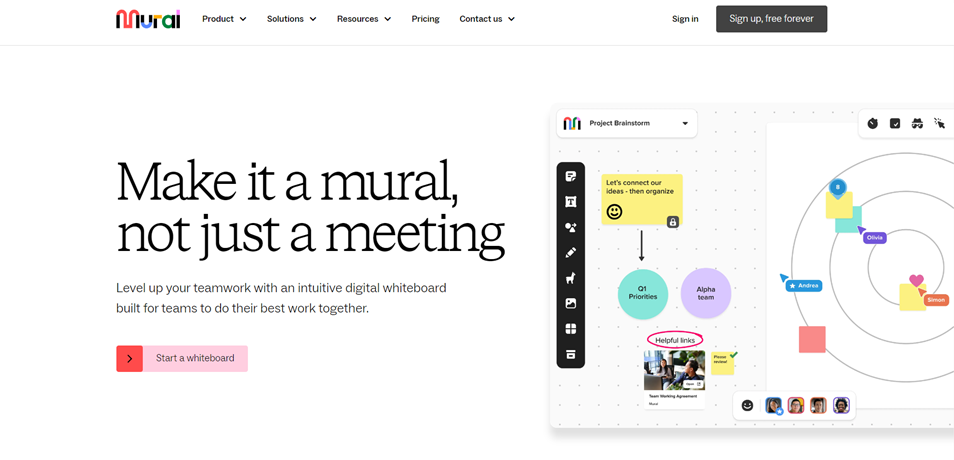 Overview
Mural is a digital whiteboarding software that allows teams to collaborate and do their best work together. The software offers both a place to collaborate and guidance to hone team collaboration skills.
Highlights
The mind-mapping software Mural provides users with hundreds of templates and resources to meet their team's specific needs, making it an excellent tool for every type of team.
Users can add ideas, action items, sticky notes, text boxes, icons, GIFs, and images.
This mind-mapping software offers infinite and resizable canvas options and flexible permissions that control access to collaboration features with view-only, edit, and facilitator settings.
Mural also allows users to run productive meetings and workshops with facilitation superpowers.
It has integrations with existing productivity tools used across teams, making it easy to integrate into existing workflows.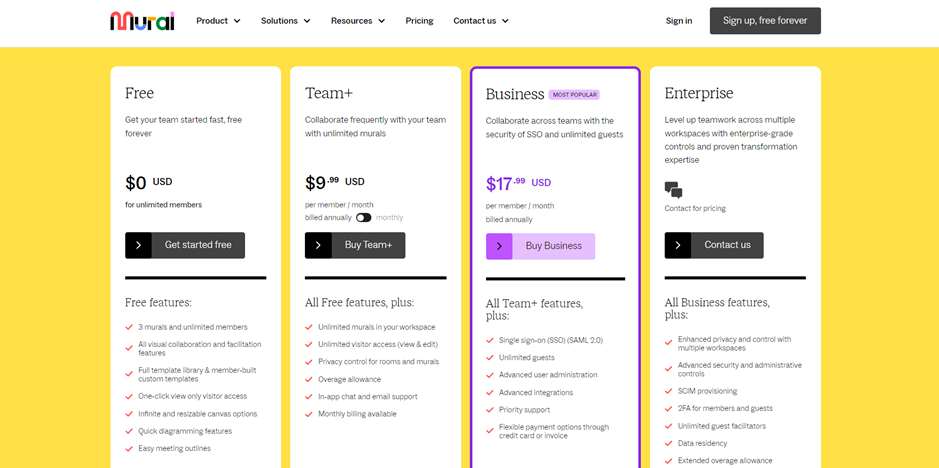 Free Plan, with limited features
Team+ Plan is $9.99/user/month and includes unlimited murals in your workspace
Business Plan is $17.99/user/month and includes unlimited guests
Enterprise Plan is custom-tailored
Bottom Line
The software is intended for both project management and brainstorming sessions, communicating ideas, and collaboration. This digital canvas connects ideas that can be used by enterprise teams, consultants, executive teams, product teams, sales teams, and IT teams, among others. The free version is there to show you the key features of this mind map.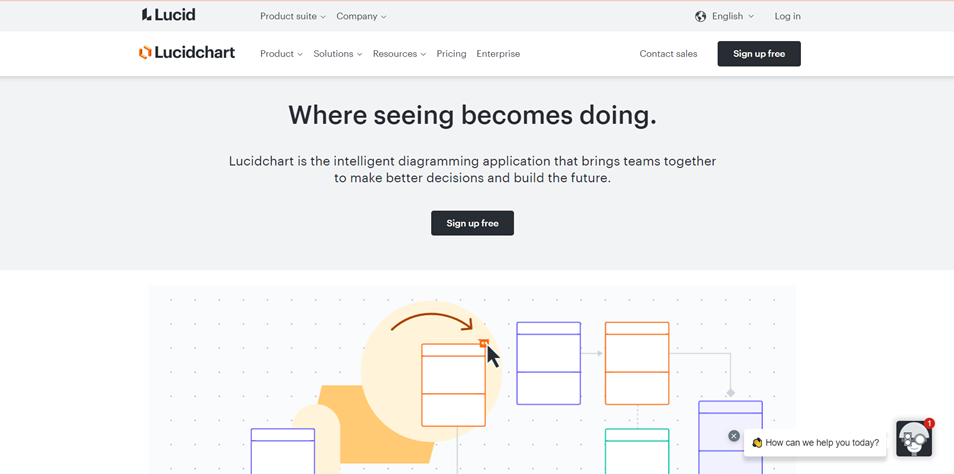 Overview
LucidChart is a diagramming digital whiteboard software designed to help individuals and teams map out complex ideas faster and more collaboratively. The software aims to clarify complexity and align insights by enabling users to create visual representations of their ideas, processes, systems, and organizational structure.
Highlights
LucidChart is used by individuals and teams in various industries, including tech, education, healthcare, and finance, and it is trusted by 99% of Fortune 500 companies.
The software's key features include real-time co-authoring, in-editor chat, shape-specific comments, and collaborative cursors, enabling team members to work together seamlessly from anywhere.
The software is integrated with industry-leading apps such as Google Workspace, Microsoft, Atlassian, Slack, and more, making it easy to include existing visuals where conversations are already happening.
Pricing
The pricing page on their website appears to be broken. Despite this, we were able to confirm the prices through other reliable internet sources. It's important to note that this issue may be temporary and may already be resolved, so be sure to check the website for updates.
Free Plan
Individual Plan for $7.95 /month
Team Plan $6.67 /month
Enterprise Plan: Contact for pricing details.
Bottom Line
LucidChart helps users optimize business processes, visualize technical systems, brainstorm with remote teams, design a superior user experience (just like with some of the best AI design tools and AI UX tools. ), and plan and deploy new features faster. This potentially free mind map software could be a great budget option for you and your team. So try out the free plan, with no commitment, and experience the versatile whiteboard firsthand.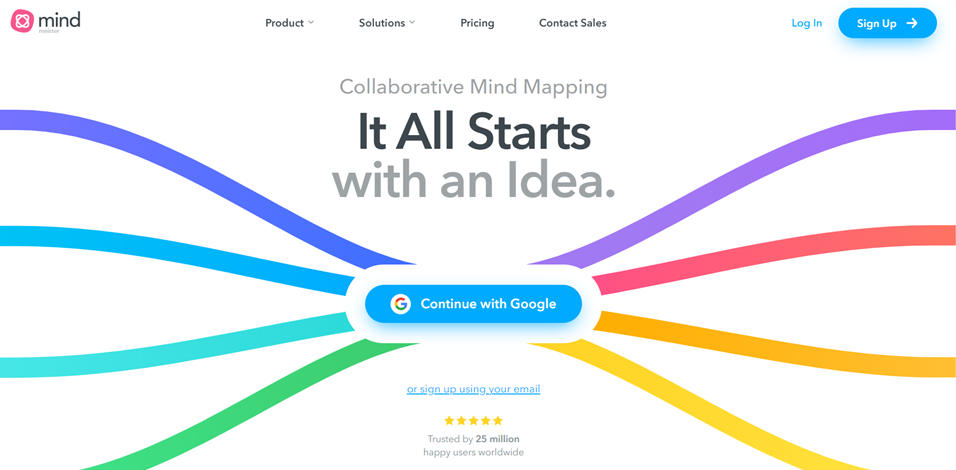 Overview
MindMeister is a whiteboarding software that enables users to create visually stunning mind maps online. MindMeister's web-based mind mapping and one of the best whiteboard software help capture, develop, and share ideas visually.
Highlights
With MindMeister, users can collaborate with their teams, manage their tasks, and share their mind maps with the world in real-time.
The software features unique styles, mixed map layouts, outline and focus mode, comments and notifications, and embedded media that guide users through their first mind maps to maximum creativity.
The mind mapping app offers integrations with Microsoft Teams and Google Workspace.
Using MindMeister and MeisterTask helps you with project planning, project overview, and multi-project management, improving every stage of the project.
MindMestier offers you pre-made themes and templates and will soon introduce presentation tools as well.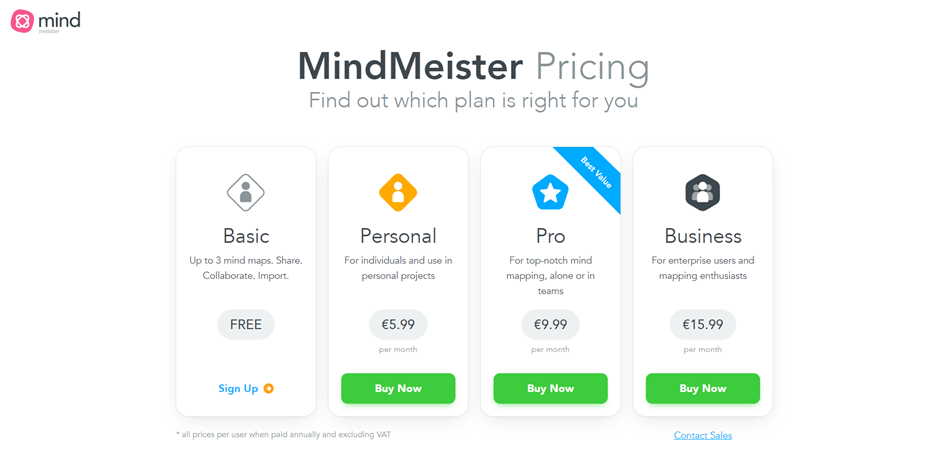 Basic Plan is free of charge
Personal Plan is $5.99/month and is intended for individual use
Pro Plan is $9.99/month and included top-notch mind-mapping
Business Plan is $15.99/month and is intended for enterprises
Bottom Line
Mind mapping improves creativity, productivity, and collaboration. Mind maps can store and structure vast amounts of information. Mind mapping software like MindMeister is easy to use, and the best-looking software in its class.
MindMeister's powerful toolkit drives productivity every step of the way. MindMeister is intended for students, individuals, teams, businesses, and anyone else looking to improve creativity, productivity, and collaboration.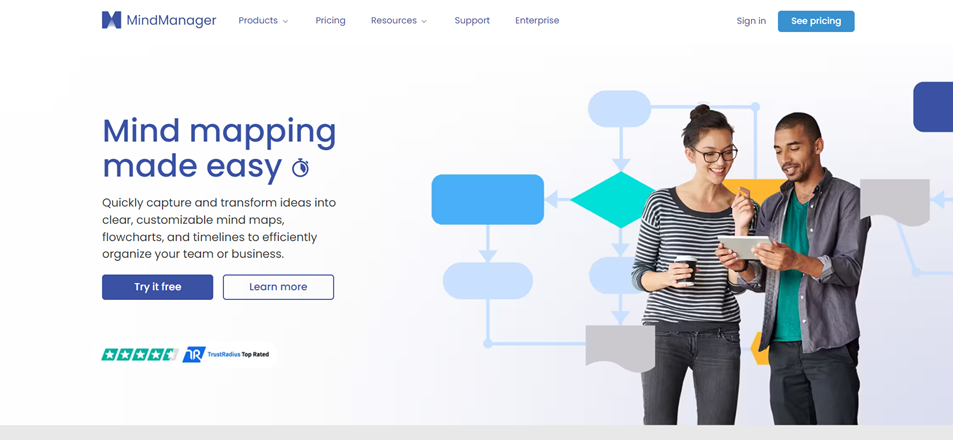 Overview
MindManager is a whiteboarding software that simplifies mind mapping, allowing users to capture and transform ideas into clear and customizable mind maps, flowcharts, and timelines. The software offers various intuitive features, such as topic info cards, drag-and-drop functionality, priority markers, filtering, and a modern topic info style.
Highlights
MindManager allows users to organize and structure their data intuitively and gather knowledge from external sources.
The software offers a 360-degree perspective, allowing users to reduce complexity, accelerate understanding, and improve communication.
It provides users with the flexibility to work how they choose, with features such as cross-platform co-editing and Microsoft Teams integration, allowing for seamless collaboration.
MindManager offers structured, interactive visual maps that make information easy to understand, with features such as topic info cards, drag-and-drop functionality, and priority markers.
The software also offers a modern topic info style and built-in templates for greater flexibility and customization.
MindManager can be used on Windows, Mac, Chromebook, iOS, Android, and the web.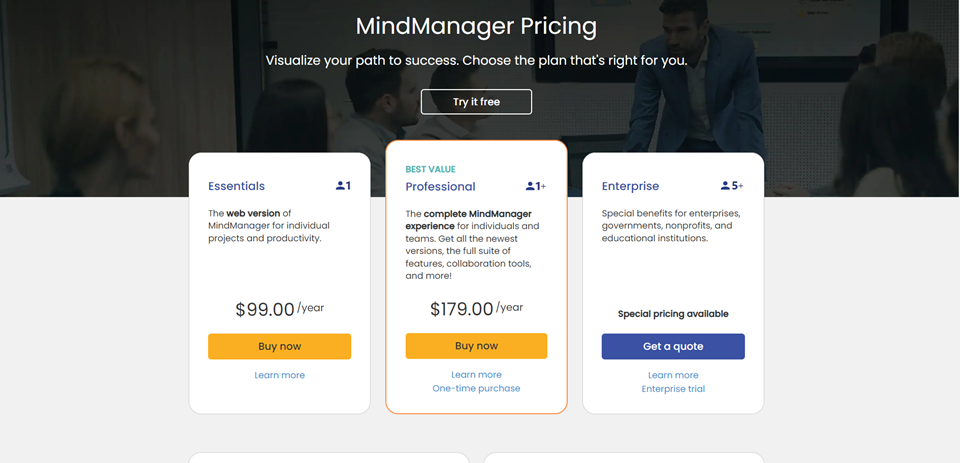 Essentials Plan is $8.25 a month but billed annually at $99
Professional Plan is $14.85 a month but billed annually at $179
Enterprise Plan offers special pricing
Bottom Line
MindManager is suitable for individuals, small teams, and enterprises, as well as students and educators, with features such as project cost tracking and Gantt charts. With a 30-day fully functional free trial, MindManager provides users with the peace of mind for their business and the tools they need to turn complexity into clarity.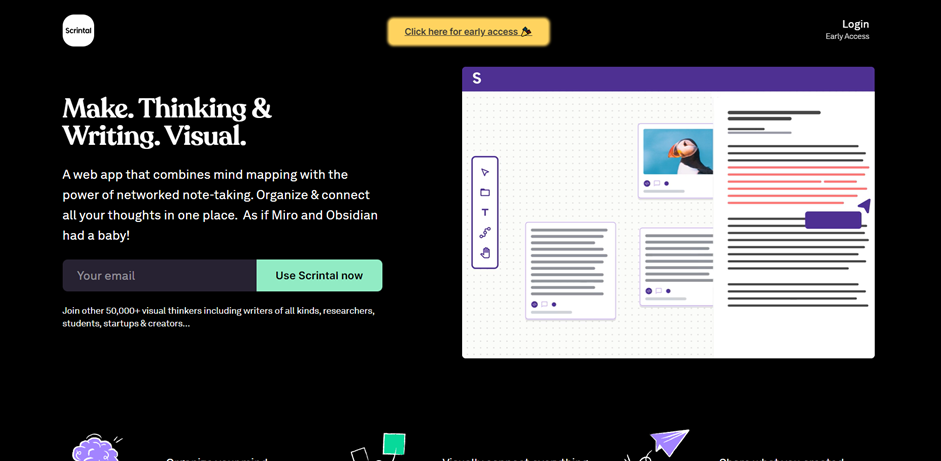 Overview
Scrintal is a web application that combines mind mapping with networked note-taking, allowing users to organize and connect all their thoughts in one place. It is designed for people who struggle to see all their thoughts at a glance, lose the context of their writing and thinking, and need a more organized and creative way to brainstorm ideas, manage projects, design research (based on the user feedback you got using one of the best user research tools), and learn something new.
Highlights
The software allows users to take atomic notes using the Zettelkasten method, create bi-directional connections between thoughts, group familiar notes with tags, and visually organize everything on an infinite canvas.
Users can also collaborate with others on their notes and export their work in various formats.
Scrintal provides a visual power to link and make sense of notes that Obsidian lacks and combines the best features of Miro and Obsidian in one tool.
It is intuitive and easy to use, with no user manual or learning curve required, and can help users go from stressed to refreshed.
Pricing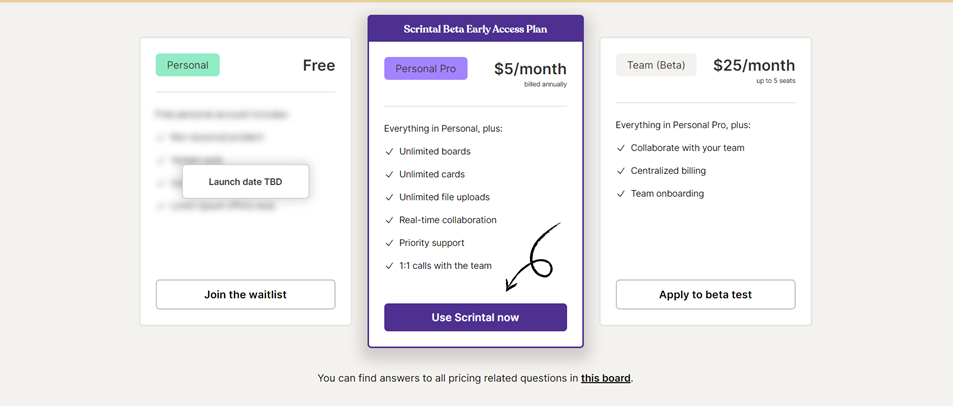 Personal Plan is free but is yet to be publicly available
Personal Pro Plan is $5/month and includes unlimited boards
Team Plan is $25/month and includes team collaboration features
Bottom Line
Scrintal is the best mind map software for researchers, students, entrepreneurs, and creatives who need to organize and connect their thoughts in one place. The free mind mapping software is a way better blank canvas than physical whiteboards and sticky notes for your creative ideas. You can start creating concept maps and then present ideas visually with no previous experience or specific drawing tools needed!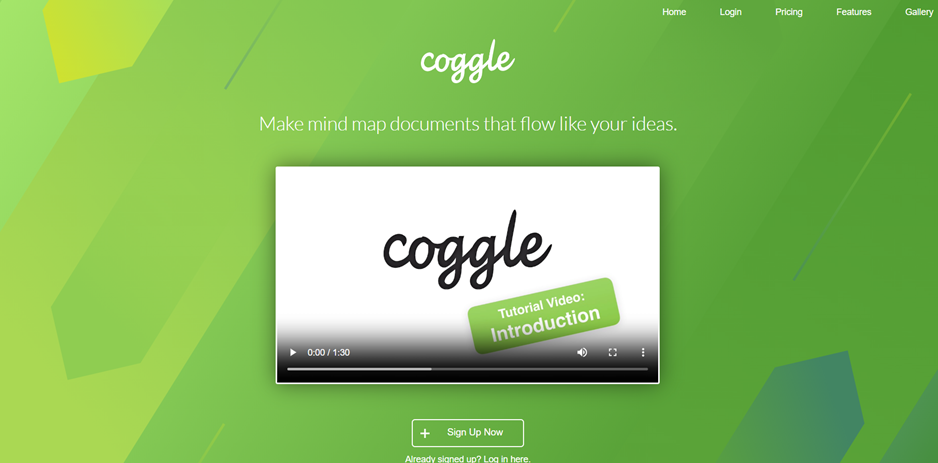 Overview
Coggle is an online mind-mapping software that enables users to create and share mindmaps and flowcharts. With Coggle, users can unleash their creativity and produce beautiful notes quickly and easily. It is an ideal tool for taking notes, brainstorming, planning, or doing something creatively.
Highlights
Coggle's key features include powerful flowcharting tools, the ability to create loops and join branches, multiple starting points, and unlimited private diagrams. It also offers a free forever plan with limited features and paid plans with advanced features such as high-resolution image uploads, SAML Single Sign-On, and user and data management for organizations (you can use one of the best research repository tools to store all of the data in one place).
Other notable features of Coggle include auto-arrange branches, full change history, PDF and image downloads, and the ability to export to Microsoft Visio.
The mind mapping software is super simple to use, and changes made show up instantly in other users' browsers, wherever they are in the world.
With Coggle, users can also collaborate with friends or colleagues in real-time, save every change made to their diagrams, and add unlimited image uploads, floating text, and images.
Coggle offers unlimited private diagrams, advanced features, and pricing plans that are ideal for discovering Coggle, personal or professional use, and for teams that want to control access to their data and consolidate billing.
Pricing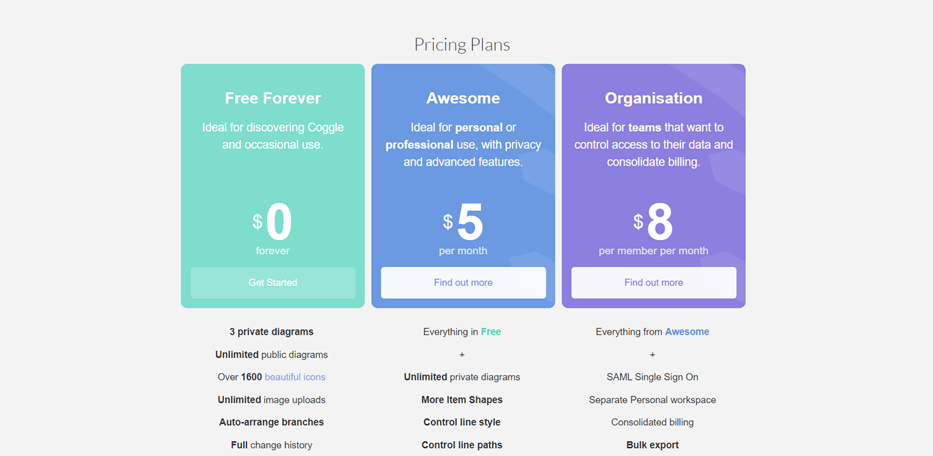 Free Forever Plan
Awesome Plan is $5/month and is best suited for both individual and personal use
Organisation Plan is $8/member/month and is ideal for teams
Bottom Line
Coggle is one of the best mind-mapping tools for individuals, teams, companies, and organizations that want to manage their ideas and information creatively and efficiently, as well as anyone looking to organize their thoughts, brainstorm, plan projects, and collaborate with others visually.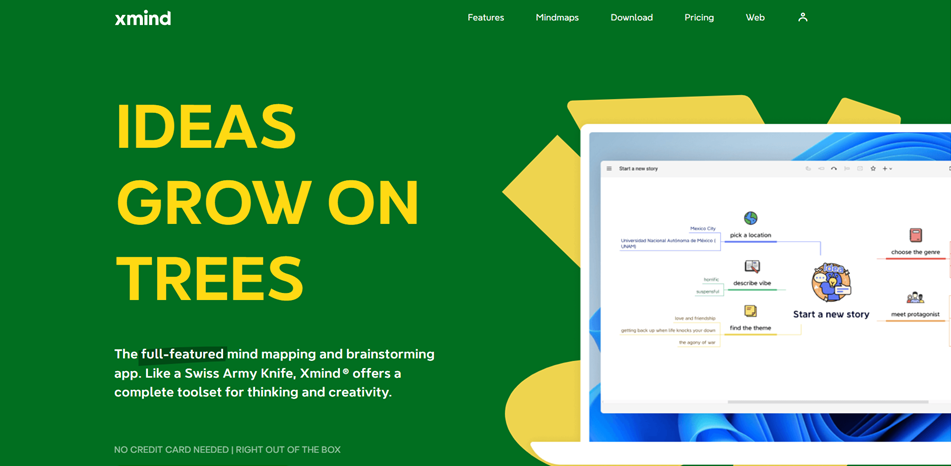 Overview
Xmind is a feature-rich mind-mapping software that offers a comprehensive set of tools to create mind maps for thinking and creativity. It allows users to create non-linear mind maps for just about anything, including organizing thoughts with intuitive tools and enriching maps with multimedia information.
Highlights
With well-matched color themes, users can customize their maps to make them their own.
Xmind empowers structured thinking with a wealth of well-designed structures and impressive features, such as Fishbone, Timeline, Org Chart, and Treetable.
The mind mapping app's unique combination of multiple structures on the same branch makes mind maps more cohesive and balanced, especially for complex issues or large projects.
Xmind also includes an Outliner view that displays thoughts in a hierarchically ordered way, making it a quick way to jot down notes.
Xmind's visual mind mapping becomes even more powerful with ZEN Mode, which helps users stay focused on one mind map, eliminating distractions and increasing productivity.
Additionally, with the Pitch Mode, users can easily turn their mind maps into slideshows, and with the Sticker and Illustration feature, they can add a bit of fun to their maps.
Xmind values users' privacy and does not track, collect private data, or show any commercial advertisements.
Pricing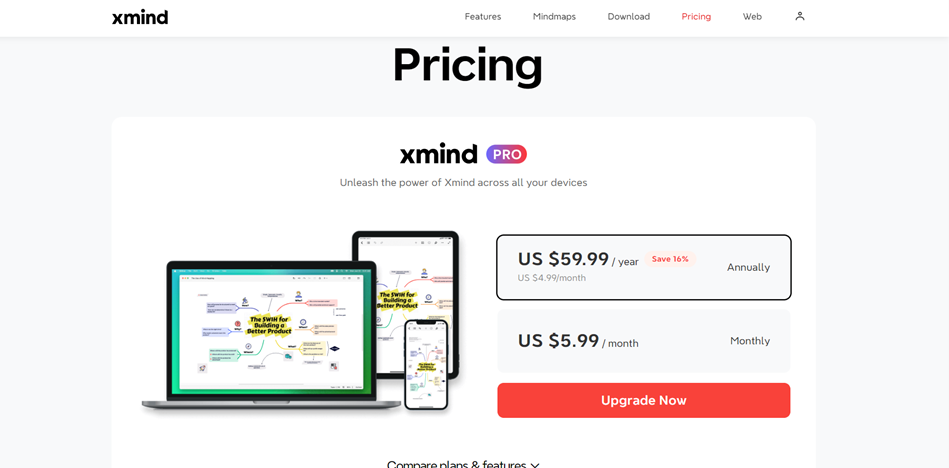 Xmins offers one monthly plan for $5.99
Annual plan is $4.99/month ($59.99/year, saving you 16%)
Bottom Line
Xmind's users range from productive learners who use it for note-taking, memorizing, and achieving clarity to professionals who use it for brainstorming, organizing ideas, and presenting them. The digital whiteboard software is best suited for individuals and teams who need to create and collaborate on project planning and brainstorming sessions.
What are digital whiteboards?
Digital whiteboards are interactive displays that allow for real-time writing, drawing, and idea presentation. While they resemble traditional whiteboards, digital whiteboard software has more features, including the capacity to save and share content, work remotely with others, and integrate a digital whiteboard with many other apps and digital tools.
What is the best virtual whiteboard?
Your particular requirements and preferences will determine which virtual whiteboard app or software is best. A variety of features are available on these platforms, including real-time collaboration tools, editable templates, and tool integrations. The tools mentioned above are some of the best for virtual mind mapping.
Which is the best free online whiteboard?
There are a number of excellent free mind mapping software available for online whiteboards. Real-time collaboration and editable templates are features that the best free online, whiteboard software should have. The most well-liked choices include Coggle, Scrintal, MindMeister, Mural, and Miro. These mind-mapping tools provide a variety of features and tools for designing and working together on digital whiteboards and some even provide a mind-mapping app.
Is there an alternative to Microsoft Whiteboard?
Yes, there are many alternatives to Microsoft Whiteboard, including Miro, Overflow, and Mural. Some of their features are discussed in the text above so that you can choose the one best suited for your needs.
Which software is best for mind maps?
Depending on your goals and tastes, there are various mind-mapping software solutions for producing mind maps. The best mind-mapping software is one that allows for real-time collaboration, scalable templates, and tool integration. MindNode, XMind, and MindMeister are a few of the well-liked choices. For developing and arranging ideas in a visual style, each of these platforms provides a variety of features and capabilities.
How do I make a mind map?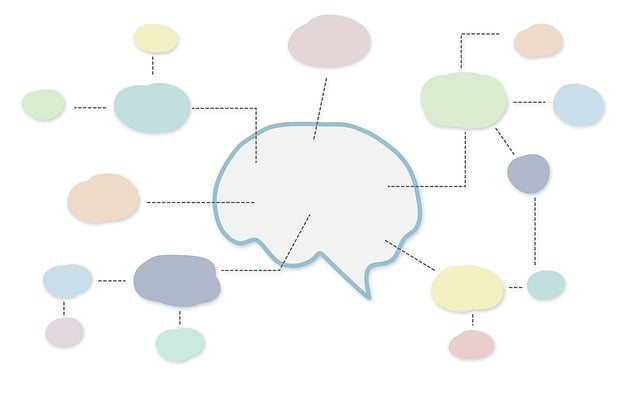 To create a mind map, on a physical whiteboard as well as any of the online whiteboards, you should first decide which main concept or subject you wish to study or explore. Write this central idea in the middle of a whiteboard or a blank sheet. Then, list the important themes or ideas that are related to the main idea as branches that extend from the center.
Continue adding more specific subtopics and concepts as minor branches from there, linking them to the main branches as necessary. Make it more visually appealing by using colors and images. To help arrange and connect the concepts in a clear and understandable way, use keywords, photos, and other visual clues. And there you go, you just started mind mapping!
Final thoughts
In conclusion, using a digital or whiteboard app is a fantastic approach to mind mapping, visualizing concepts, and interacting remotely. There is a tool available to you whether you need to build mind maps, user flows, or diagrams, whether you need it for project planning, network diagrams, or for its present mode. Some of the tools listed above are web-based, and some even have mobile apps accessible to you on the go, as long as you don't forget your mobile device at home.