8 Best AI Social Media Software of 2023
Social media is an integral part of our world – whether you're using it to catch up with friends, follow along with your favorite celebrities, build your business, or be entertained – these platforms are now starting to integrate AI into their software and other apps are being developed as side-cars to social media platforms.
That being said, these AI tools for social media marketing will come in handy and be the most beneficial for those using social media platforms to market and grow their business. We've already talked about the best social media tools for entrepreneurs, but there are the best AI tools that can be coupled with these platforms.
What Are the Best AI Social Media Tools?
The best AI social media tools include SocialBee, which is excellent for helping you organize and schedule posts and streamline your marketing techniques across platforms. Most of these AI social media tools have a business use rather than personal use, and things such as Sprout Social and SocialBee help you schedule posts quickly and without hassle.
Social media isn't meant to be overcomplicated. When it comes to marketing, you can use artificial intelligence to help you manage and organize your social media channels, develop a social media strategy, and analyze your past marketing assets.
Join Renaissance Rachel's holiday giveaway!
1st Prize: $300, 2nd Prize: $75, 3rd Prize: $25
Most of the AI technology comes with an analytics dashboard and target audience help and works with all major platforms to ensure you create content that holds purpose and will align with your goals.
Disclosure: Some of the links in this article may be affiliate links, which provide $$$ to me at no cost to you if you decide to purchase the tool.
SocialBee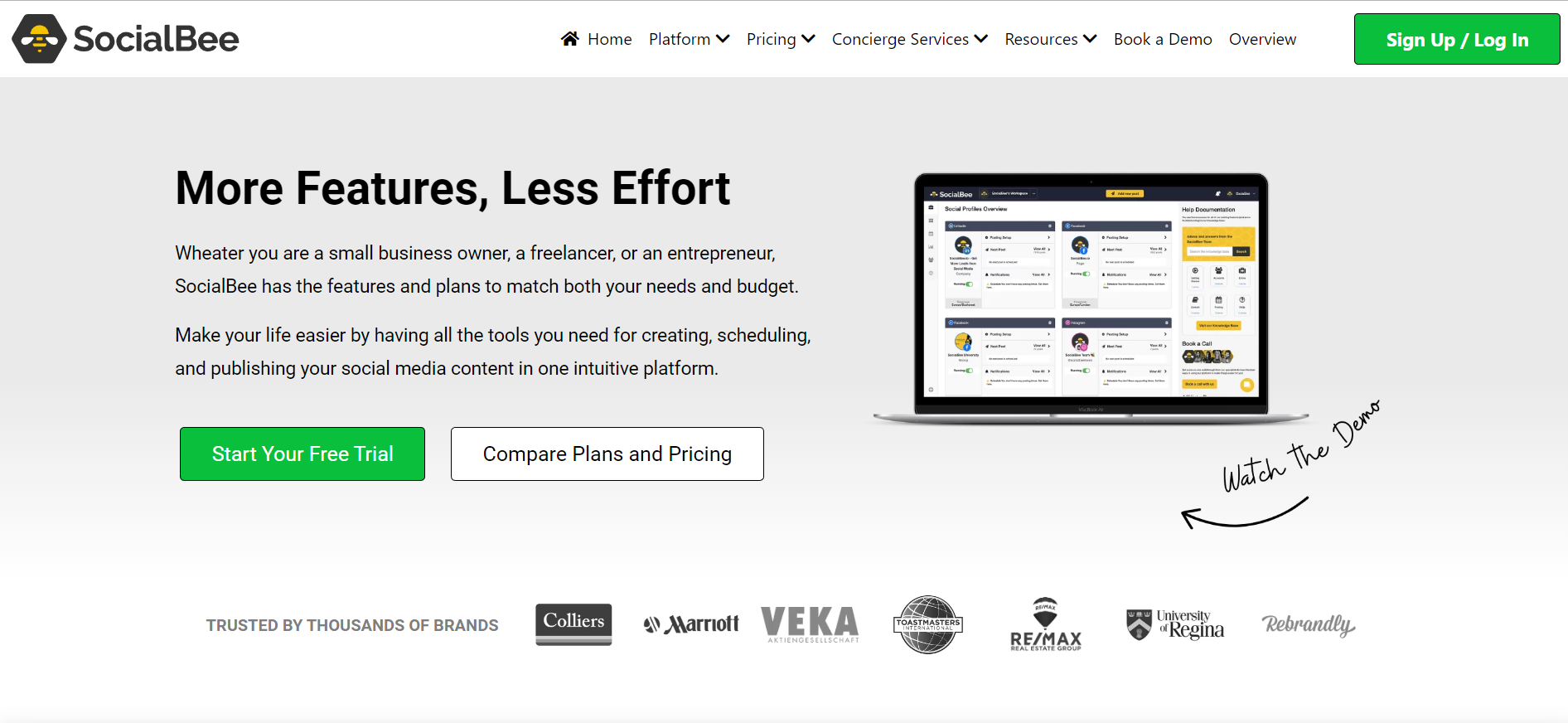 Overview
SocialBee makes managing and running social media marketing accounts easier by scheduling, creating, and maintaining posts through one social media management platform. With SocialBee, you don't have to overcomplicate how you manage social media – it's an all-in-one platform that allows you to focus on the content you produce without stressing about how you will post it.
With SocialBee, you can create social media posts and content, manage your social media platforms and profiles directly through the website, and schedule your posts ahead – which is especially helpful for platforms that don't already have a scheduling feature. You can also gain insights into your social media growth and how well your digital marketing pays off.
Through the platform, you can manage and post for Facebook, Twitter, Instagram, LinkedIn, Pinterest, Google Profile, TikTok, and Youtube – imagine the advanced audience insights and ease of managing many social media platforms you will see when you use SocialBee.
Recently, SocialBee introducedtheir AI Post Editor Assistant to generate your social media captions.
You can give the AI commands to write (and edit) captions from scratch, or paste the URL of a blog you'd like to summarize.
Wanna give it a go? Here's how:
1. Go to SocialBee here
2. Click on the "Add Post" yellow button (top-center of the page).
3. Select the social media profiles you'd like to write for.
4. Click on "AI" to open the editor (see the image above to find it).
5. Type in your command, choose a tone of voice, and number of variations you'd like to create.
Once you have your posts ready, schedule them like you normally would in SocialBee.
Highlights
Post variations – conduct A/B testing with your social media posts
Hashtag generator – allow SocialBee to do the hashtag research for you
First Comment Scheduling – always reserve the first comment for any additional information you don't want in the caption of your post
AI Post Editor Assistant – generate AI content
Pricing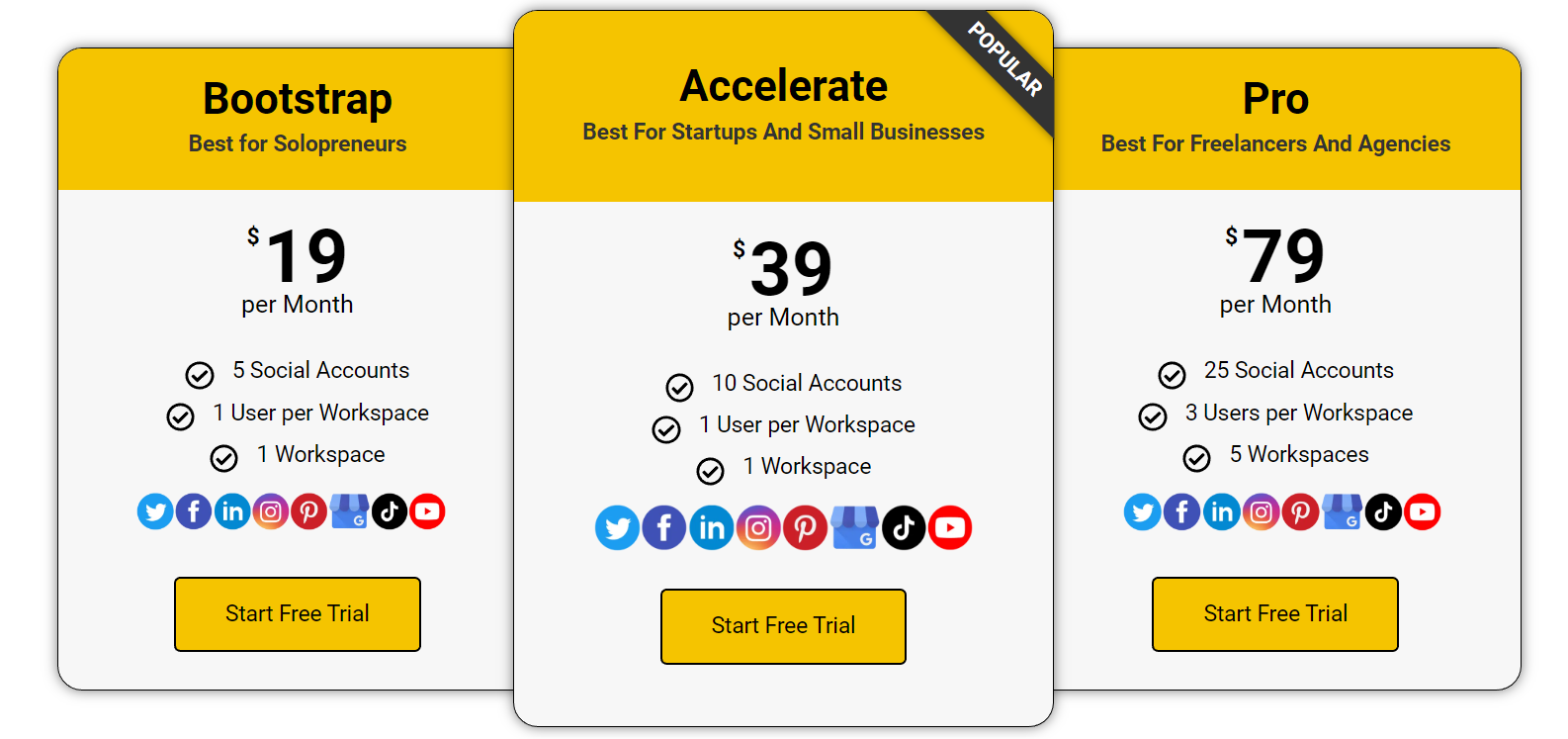 SocialBee has three paid plans:
Bootstrap plan: $19/month for 5 social accounts
Accelerate plan: $39/month for 10 social accounts
Pro plan: $79/month for 25 social accounts
Bottom line
If you're looking for an all-in-one platform to manage social posts, keep track of social media users if you're a social media manager, take advantage of smart scheduling tools, and hit your goals for all your social media strategies – SocialBee is an incredible AI tool.
You get access to many features beyond simply scheduling posts and having all your accounts in one space; you also get access to information about your social media audiences and copy-related aspects such as hashtag generators and image alt text generation.
A great way to implement AI into your content marketing efforts to get the most engagement is by using a social schedule to manage the engaging content you create. You can even combine SocialBee with other AI writing tools to help elevate your social media marketing copy.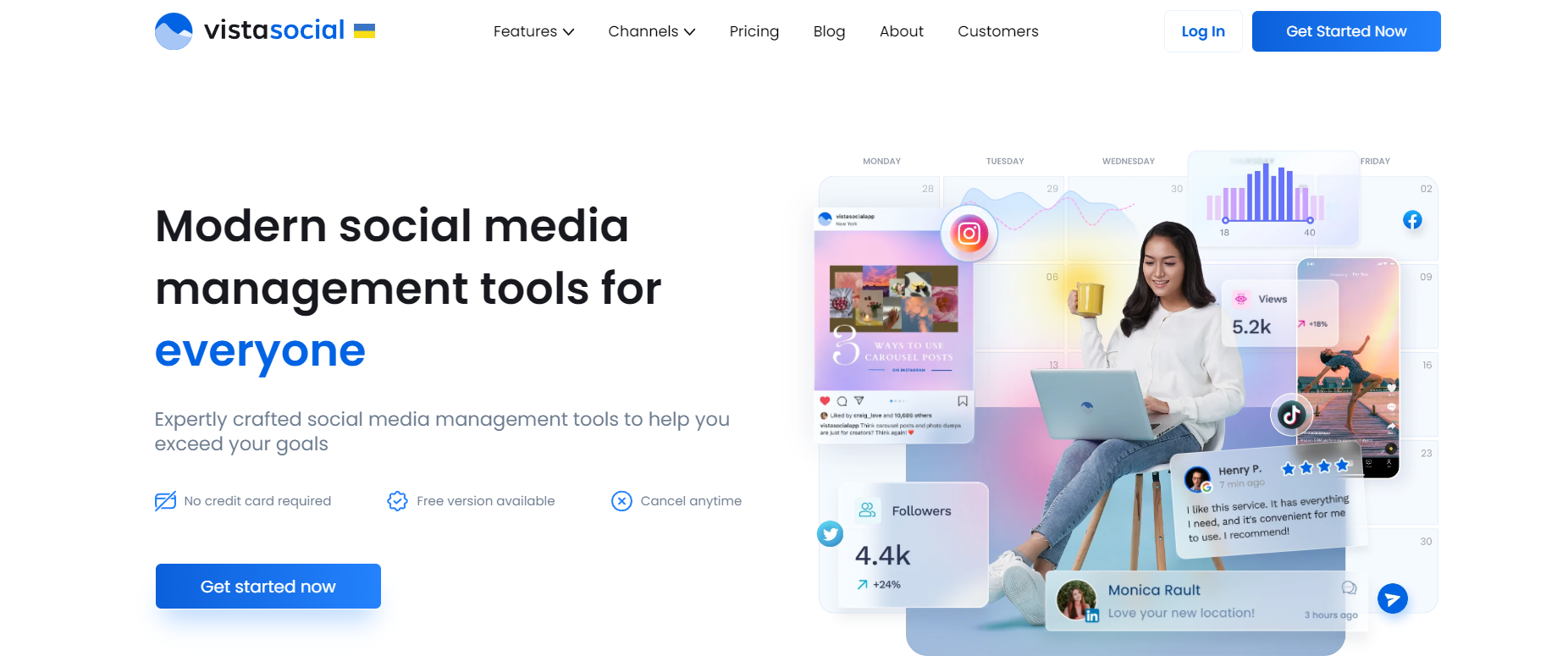 Overview
VistaSocial is another AI tool that helps you manage your social media tasks and schedule on all platforms – but it also allows you to manage your social media inboxes in one spot, versus having to manage them on each individual platform. This incredibly helpful machine-learning system takes your social media management to the next level.
You can track your followers and awareness, which is excellent for brands trying to grow organically, engagement, views, and more. Your social media platform transforms from a place to post about your business and create social ads to a tool that analyzes existing content to help you enhance your social media strategy.
Highlights
Social listening tools that help you follow the conversation
Review management for eCommerce and service-based social accounts
Platform analytics and metrics that help you track performance
Pricing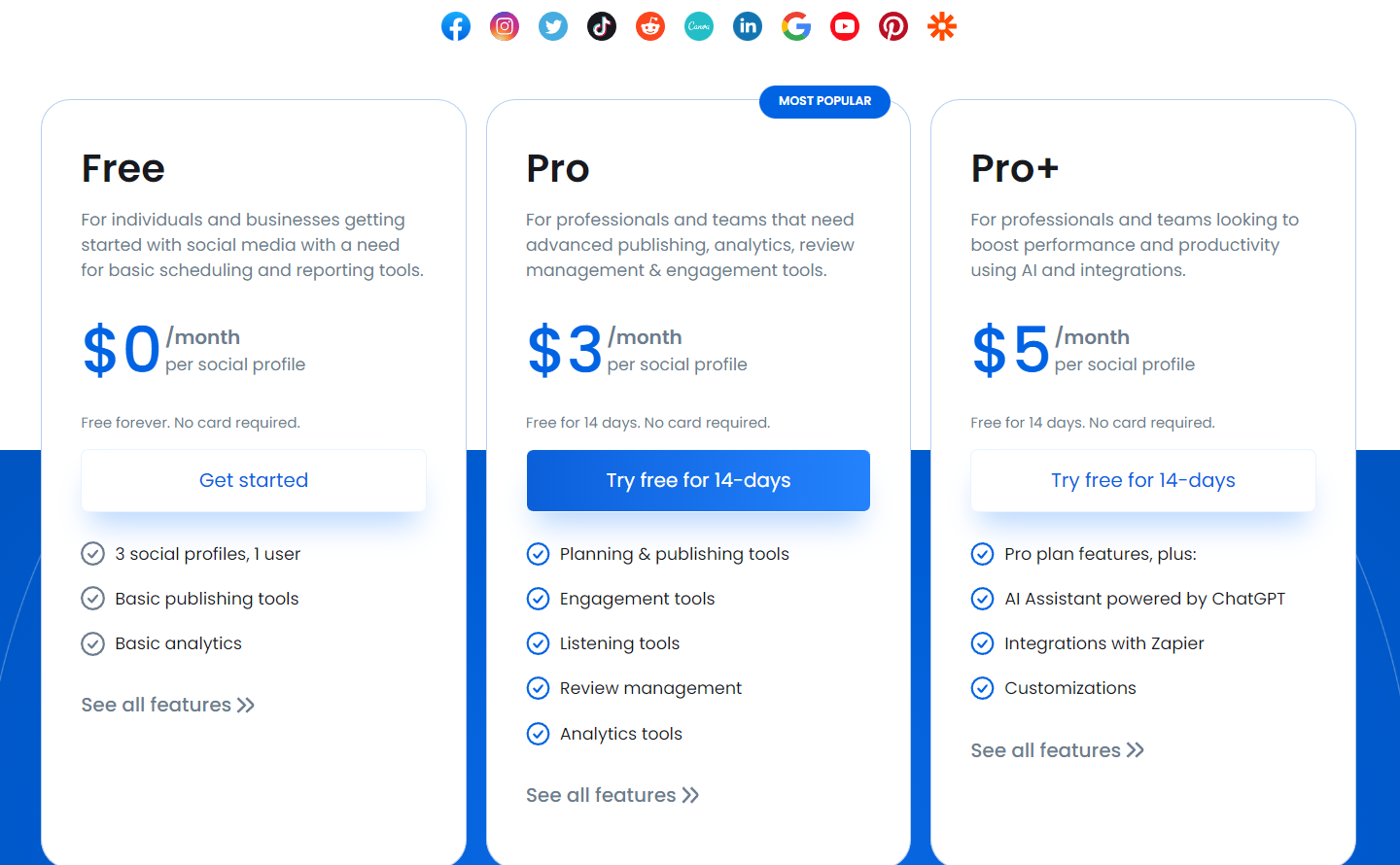 VistaSocial has one free plan and two paid plans:
Pro plan: $3/month for planning, publishing, and engagement tools
Pro+ plan: $5/month for all pro features and AI assistant powered by ChatGPT
Bottom line
Compared to SocialBee, VistaSocial is more affordable, and you get many AI tools to help you with your social media project management. You can continue your content creation, let VistaSocial focus on audience targeting, and help you create a unified content feed with its scheduling tools and unlimited users per platform.
With the Pro+ plan, you get AI assistant help powered by ChatGPT and more customizations tailored to your social media and the social pages you manage without conducting time-consuming research on your audience and what they're looking for.
Flick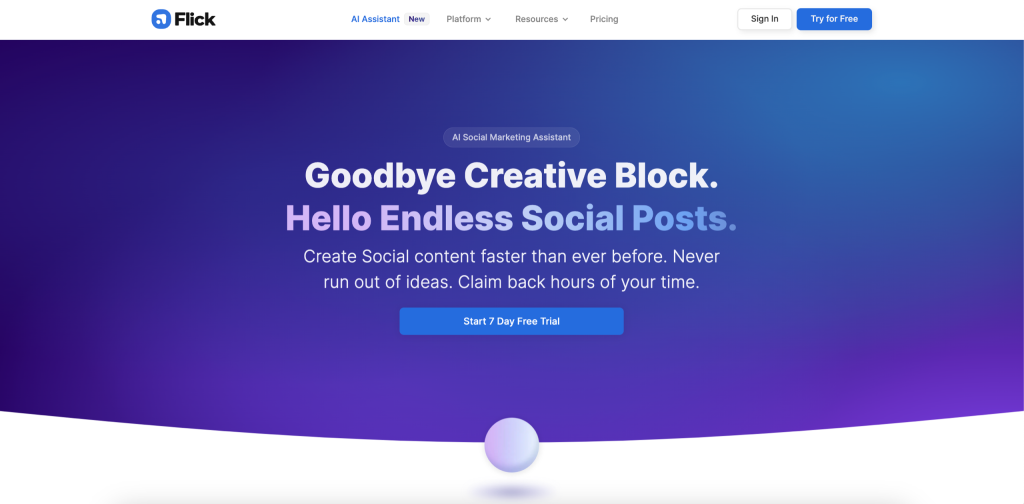 Overview
Flick's AI Social Marketing Assistant intends to change social media. Its strong AI algorithms allow marketers, company owners, and content creators quickly create captivating and original content.
Flick AI Social Marketing Assistant's Brainstorming tool uses cutting-edge AI algorithms for content brainstorming. This instrument gives creators endless ideas. To overcome creativity blocks and identify audience-relevant ideas, the AI engine gives brand-specific content ideas.
Caption Writing uses powerful natural language processing to produce brand-appropriate captions quickly. AI creates captivating captions that match your brand's tone and style. This capability enables producers focus on other content strategy pieces while maintaining captivating and consistent captions.
Flick AI Social Marketing Assistant's Repurposing feature updates social media without developing new content. Long content is quickly shortened by AI algorithms. This smart solution enhances content strategy visibility and engagement while saving creative resources.
Flick automates content scheduling. It collects captions, notes, and thoughts. One click schedules posts. Planning optimizes scheduling periods for maximum reach and interaction, freeing up time for great content.
Highlights
Brainstorm unique content ideas and breakthrough creative block
Write on-brand captions, tweets, video scripts (and more!) in seconds
Repurpose your long-form content into bite-sized social snippets
Promote your products and services in new and interesting ways
Repurpose all additional content types into social media snippets
Get more control over your brand voice and writing style
Plan and strategize your content calendar with a clearer vision of you and your band and business
Get access to an endless stream of high-quality post ideas
Pricing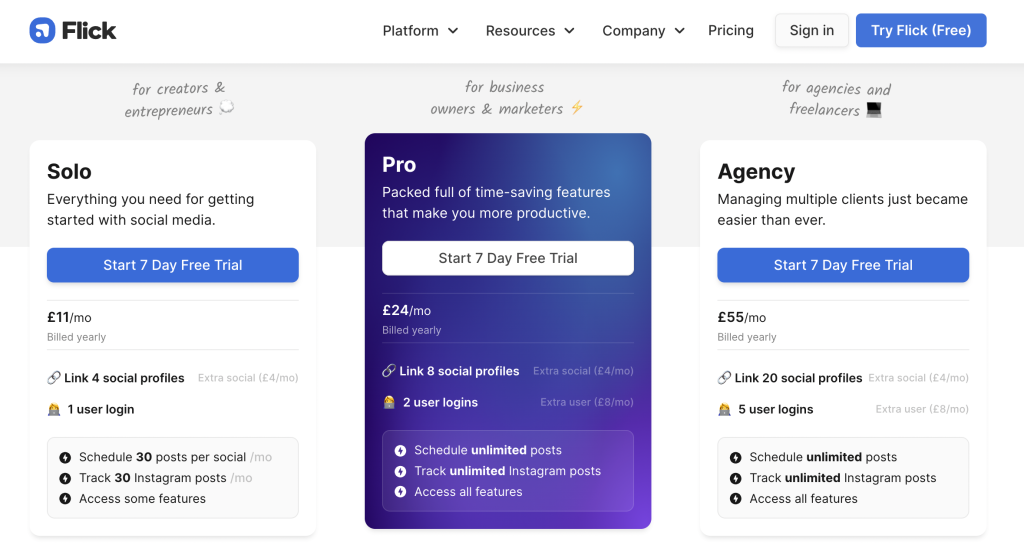 Free for 7-days
Solo: £11/month
Pro: £24/month
Agency: £55/month
Bottom line
Streamline your social media workflow, say goodbye to creative block, and start focusing more on the things that need your time and attention when it comes to social media marketing. With Flick's AI Social Media Marketing Assistant, it'll do all the heavy lifting for you to make your social media marketing work 10x faster and easier.
Predis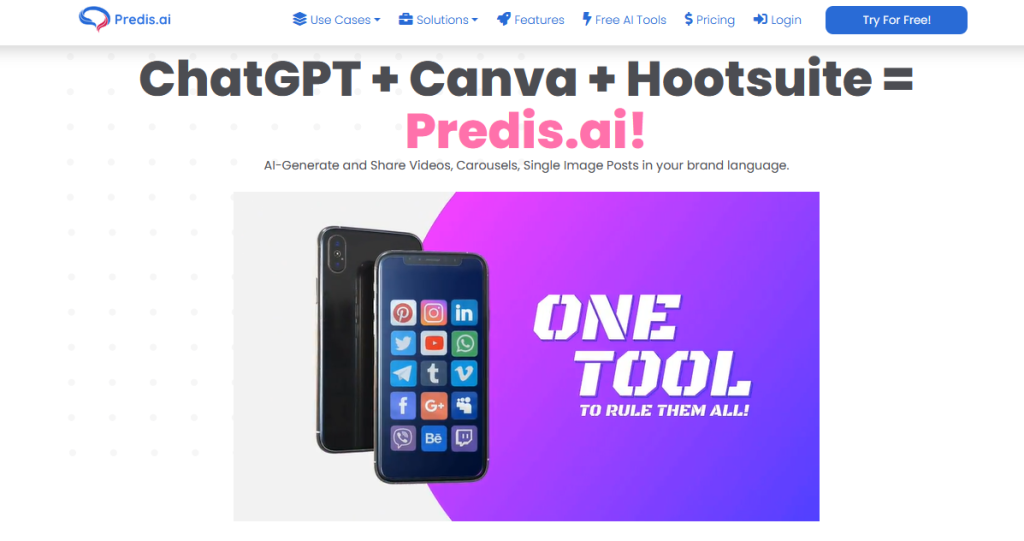 Overview
Predis.ai takes a simple text input and generates ready to publish complete social media posts (templatized creative, caption, hashtags). Users can publish and schedule the content directly to their social media platforms. Predis has a built-in AI chat tool tuned for social media management. Check your competitor's Instagram strategy and get useful insights using AI.
Features
Generate single image posts, carousels, videos, reels, and memes.
Generate captions and hashtags
Built-in AI chat.
AI based competitor analysis
Content scheduler
Supported integrations: Facebook, Instagram, Twitter, LinkedIn, Fb groups, Google business, TikTok, YouTube shorts, Shopify, Woocommerce, Pinterest.
Pricing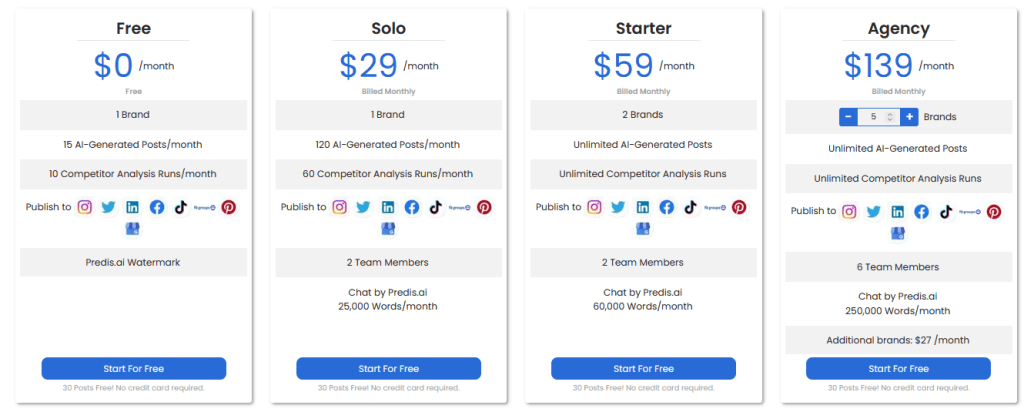 Free – 15 posts/month
Solo – $29 – 120 posts/month
Starter – $59 – Unlimited posts
Agency – $139 – Unlimited posts
Bottom Line
Generate stunning social media content with AI in seconds. Using ChatGPT, Hootsuite, and Canva integrations, Predis is a powerful tool indeed.
Lately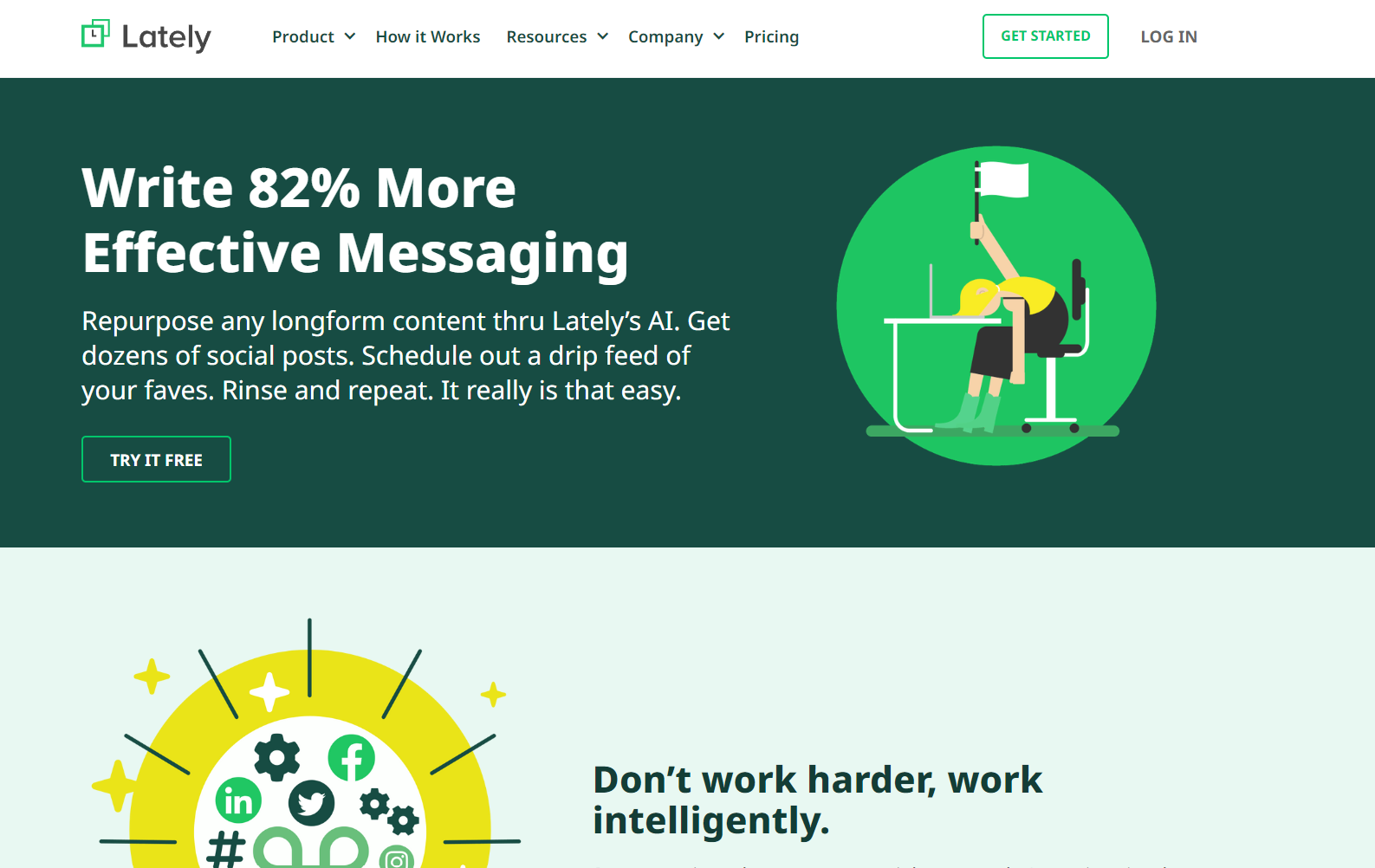 Overview
Lately AI technology aims to elevate your ad copy and captions and revamp your past ads to convert your audience. It can recognize context and return detailed analyses of the words you need to use to get viewers to click and increase revenue for your business or brand through social media content.
Social media copy is all about conversion. Many businesses can save time by using Lately instead of figuring out how to get their audience to convert – Lately does the work for you. Many customers don't recognize that you create content to get post-based interactions and convert them to customers – ad copy is obvious to them. Still, standard posts are where artificial intelligence tools can help eliminate the headache of finding those perfect conversion words.
Highlights
Data-driven recommendations based on historical metrics of your social accounts
AI learns from your past posts to get the highest value interactions from your audience in the future
Machine learning that helps social media marketers grow social accounts organically
Pricing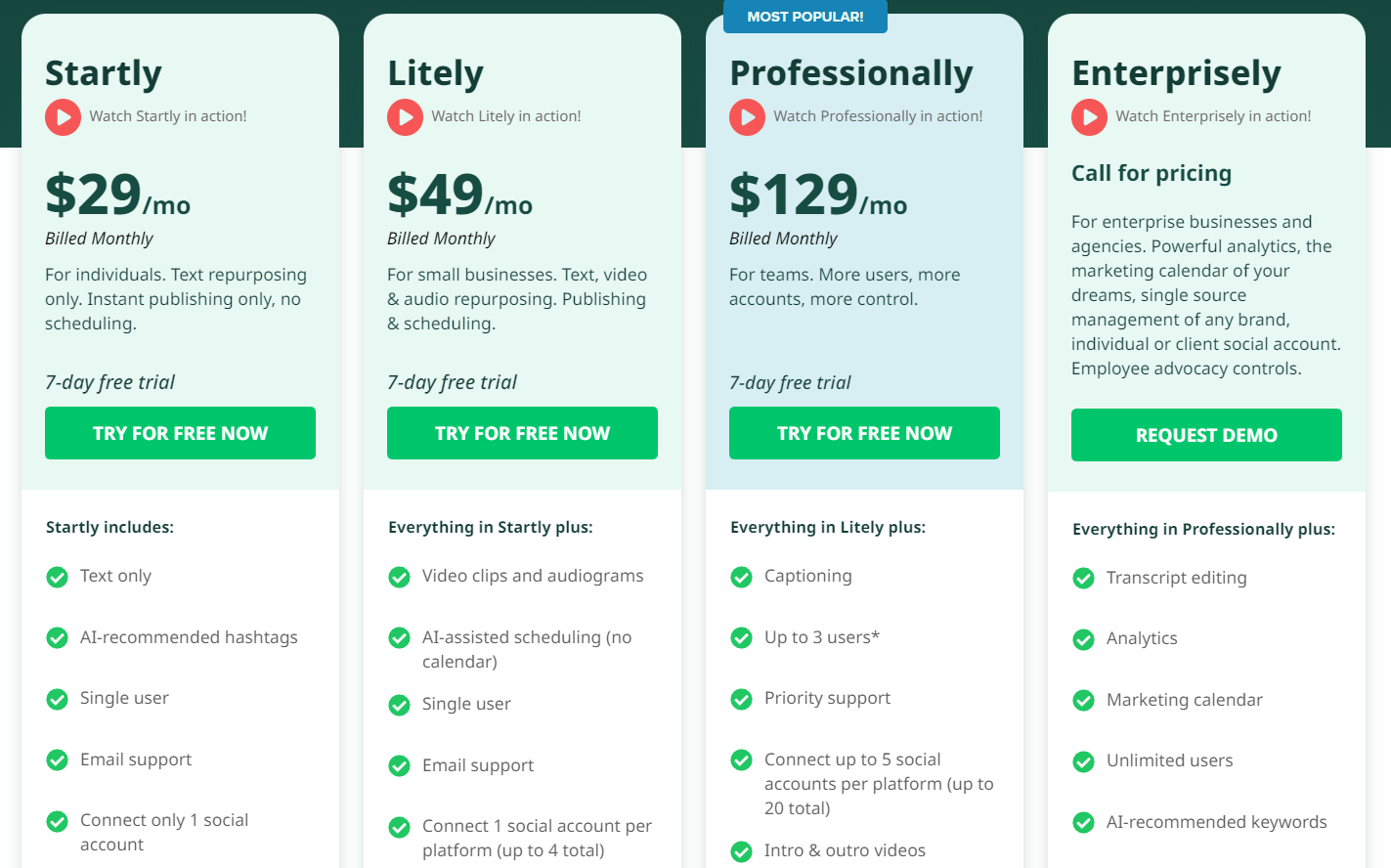 Lately has four pricing plans:
Startly plan: $29/month for text only and a single user
Litely plan: $49/month for video clips and audiograms for a single user
Professionally plan: $129/month for captioning and up to 3 users
Enterprisely plan: custom pricing for transcript editing and analytics
Bottom line
If you have your social strategy down and are instead looking for AI tools that help you increase your engagement, convert viewers to customers, and socially sell – Lately is the go-to AI tool. They have various pricing plans based on your social presence or business size.
You can take blog posts, whether your own or inspiration, and Lately will create a social post that reflects that topic in a way that converts.
Using this intelligent machine learning tool, you can focus more on the content creation aspects of social media instead of figuring out how to write copy that converts and resonates with your audience.
MeetEdgar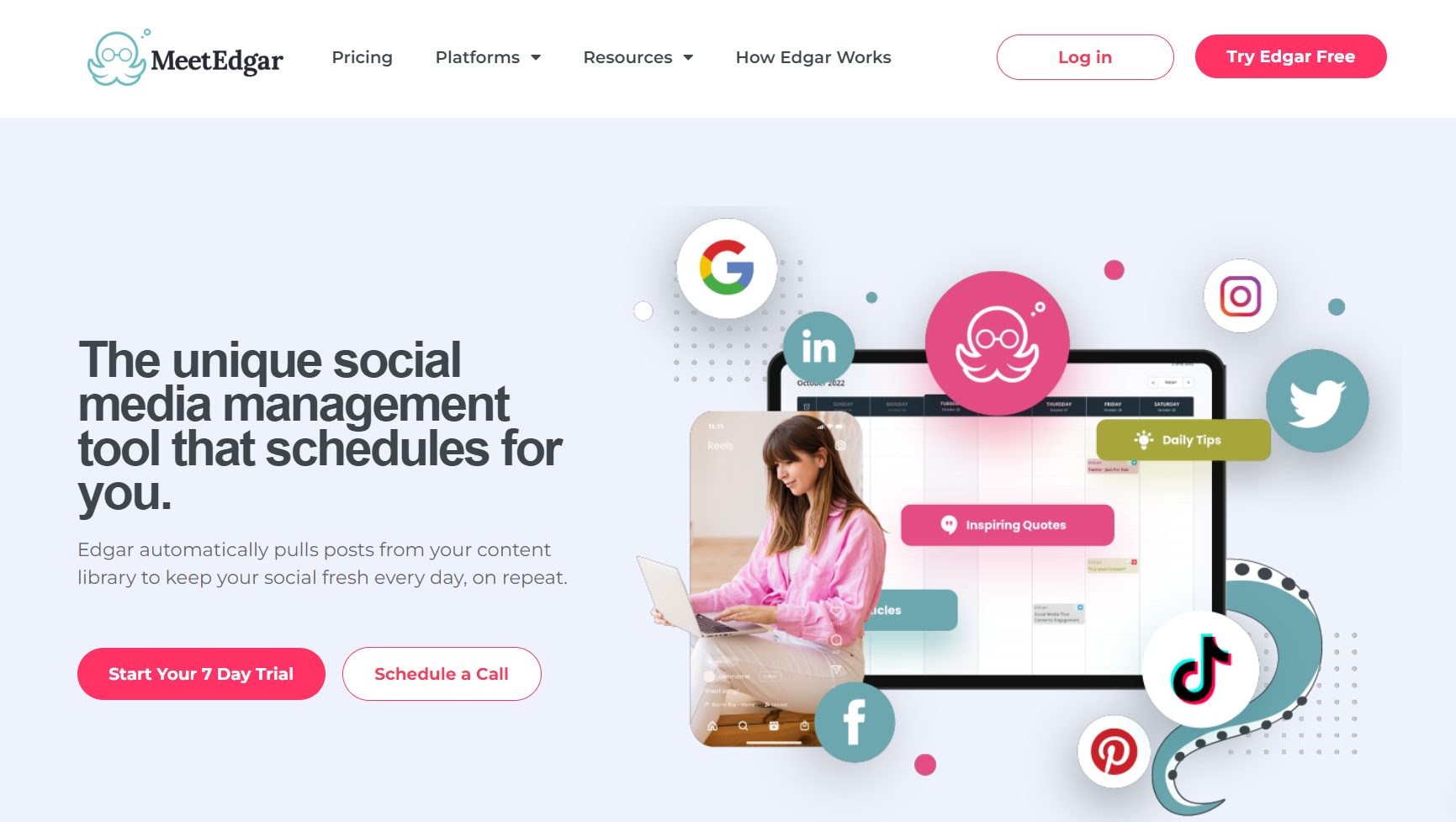 Overview
MeetEdgar allows you to schedule, repurpose, track, and conduct A/B testing and grow your audience with its machine learning and social listening. You can track your performance with each post, and unlike other social media marketing tools, MeetEdgar keeps your past posts instead of deleting them – so you can reuse and repurpose the content.
Your social media channels can be managed efficiently by utilizing the artificial intelligence that MeetEdgar offers – without paying for ads, you can grow organically on all the popular platforms.
Highlights
Easily repurpose older content without running out of content ideas
Connect up to 5 social accounts with their Eddie plan
Create your own automation scheduling calendar
Pricing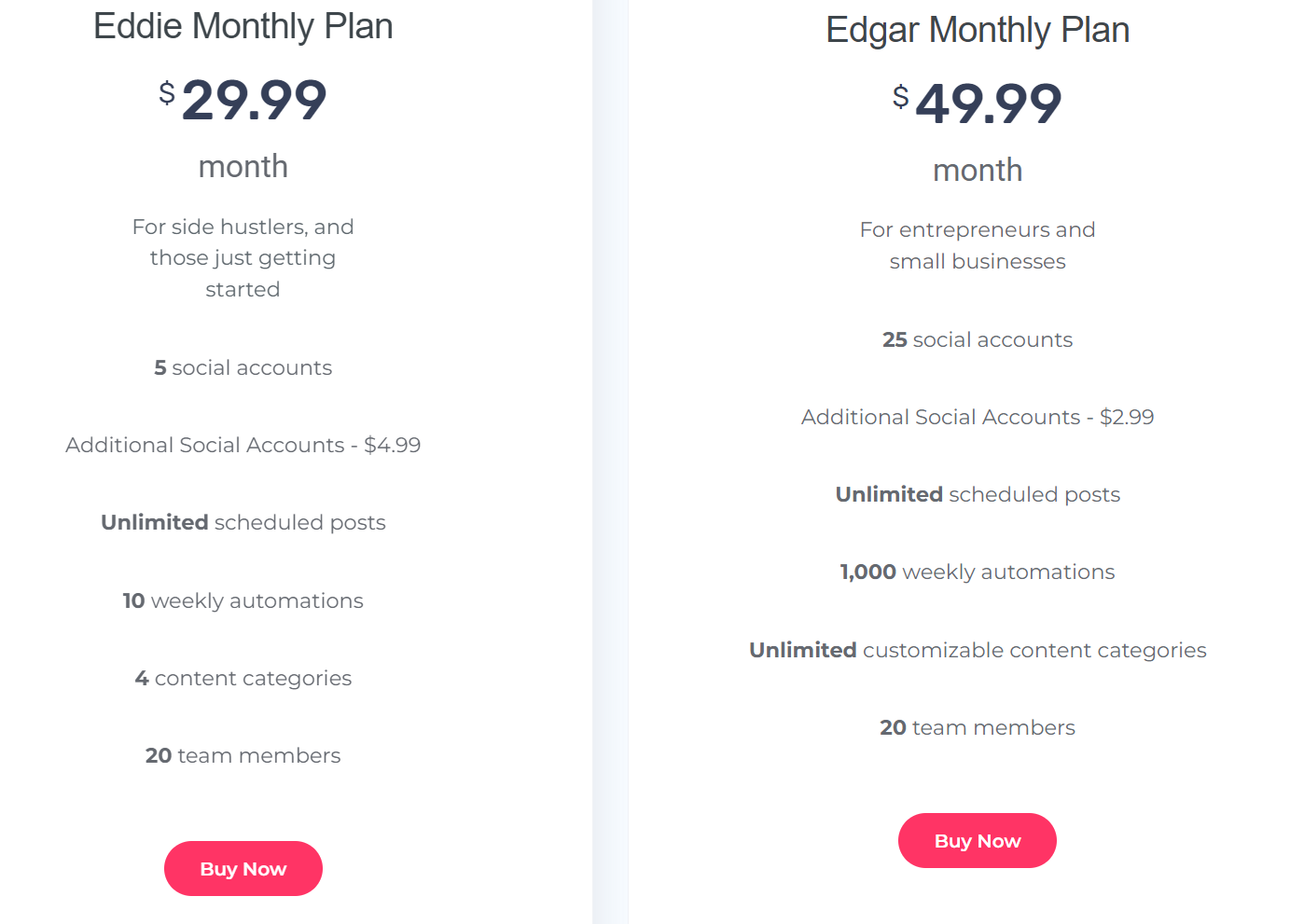 MeetEdgar has two paid plans:
Eddie plan: $29.99/month for 5 social accounts and 10 weekly automation
Edgar plan: $49.99/month for 25 social accounts and unlimited scheduled posts
Bottom line
MeetEdgar is a fantastic AI tool with a simple dashboard that allows you to focus on creating your content without worrying about the hassle of scheduling it. The platform even gives you optimized suggested times for each platform on when to post – this is based on historical post data and when you've received the most engagement or when most of your followers are online.
Social media just became easier to manage with the help of MeetEdgar – without an artificial intelligence tool to help you automate the scheduling process and give you suggested times to post on each platform – you may find yourself with a bigger headache when it comes to managing your social accounts.
Missinglettr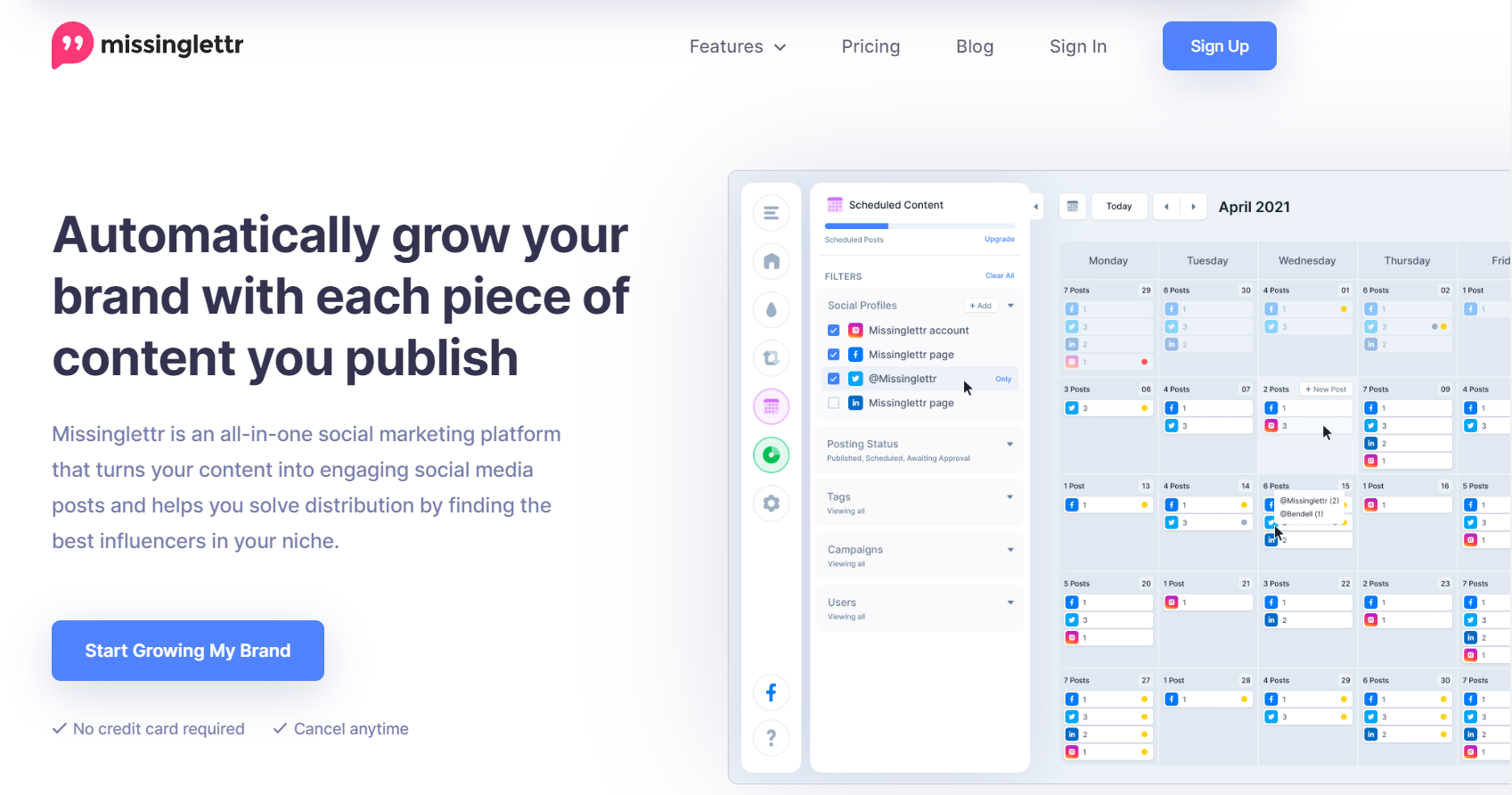 Overview
MissingLettr allows you to automatically grow your audience and social media accounts through scheduling and analytics that give you in-depth insights into your followers, clicks, leads, and conversions through social.
You can use MissingLettr to revive and reuse blog content to give the content you create a more extended life yet still provide meaning to your viewers.
Social media is not something everyone has down to a science; some aspects still leave people guessing – which is why MissingLettr takes the guesswork out of posting on social.
Highlights
Brand customization to get unique content
Collaborate with team members on social media management
Stock image library to create stunning content
Pricing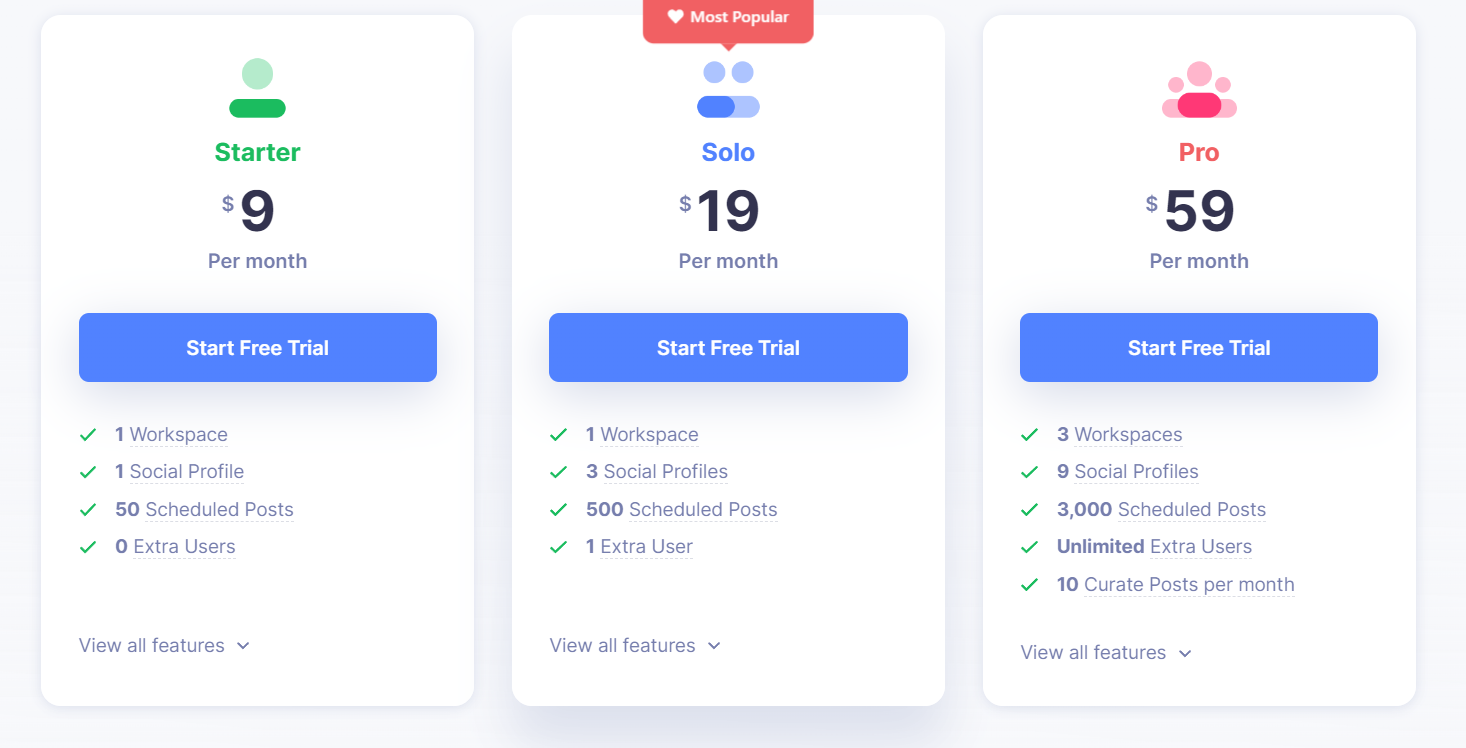 MissingLettr has three paid plans:
Starter plan: $9/month for 1 workspace and 1 social profile
Solo plan: $19/month for 1 workspace and 3 social profiles
Pro plan: $59/month for 3 workspaces and 9 social profiles
Bottom line
Whether you're looking for an easy and straightforward program to help you manage your social media or your team's social media. MissingLettr has artificial intelligence and machine learning that helps you track performance and provide content to your viewers that they want to see – giving you the chance to grow your channels and increase your income and conversion.
SproutSocial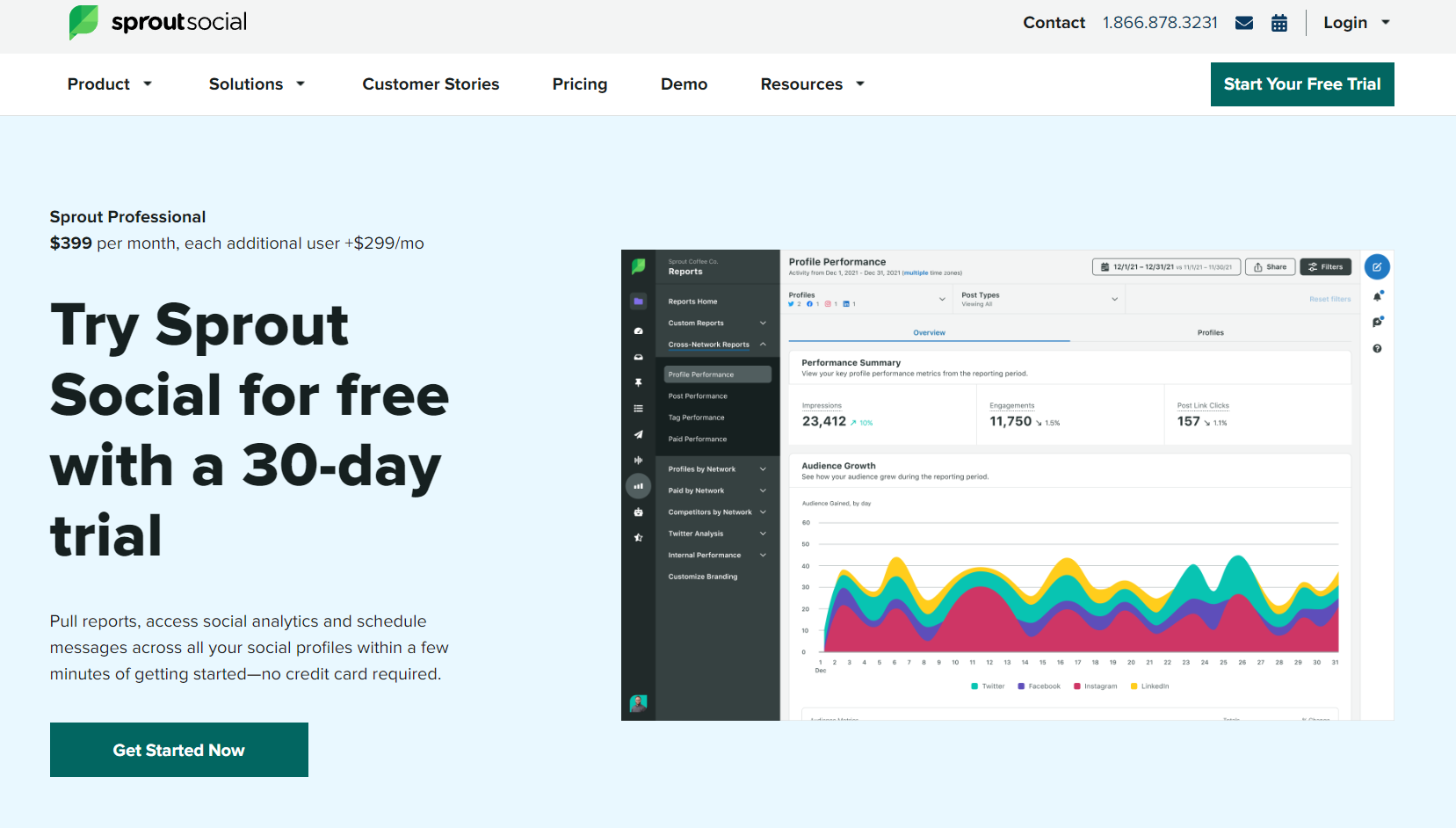 Overview
SproutSocial is a highly intelligent and in-depth analytics and scheduling platform that gives you data that helps you drive conversion, regulate your messaging, and build your brand.
These things can be done through the various features that SproutSocial offers – social media is a numbers and awareness game most of the time. This means that to grow organically on socials, you need to understand what your viewers engage with the most and what they find helpful and entertaining.
The tools SproutSocial offers are similar to that of the other artificial intelligence tools we've looked at – but what sets it apart is the engagement and awareness features they offer.
Highlights
Publishing and scheduling
Social listening to discover trends
Allow employees to become brand advocates
Pricing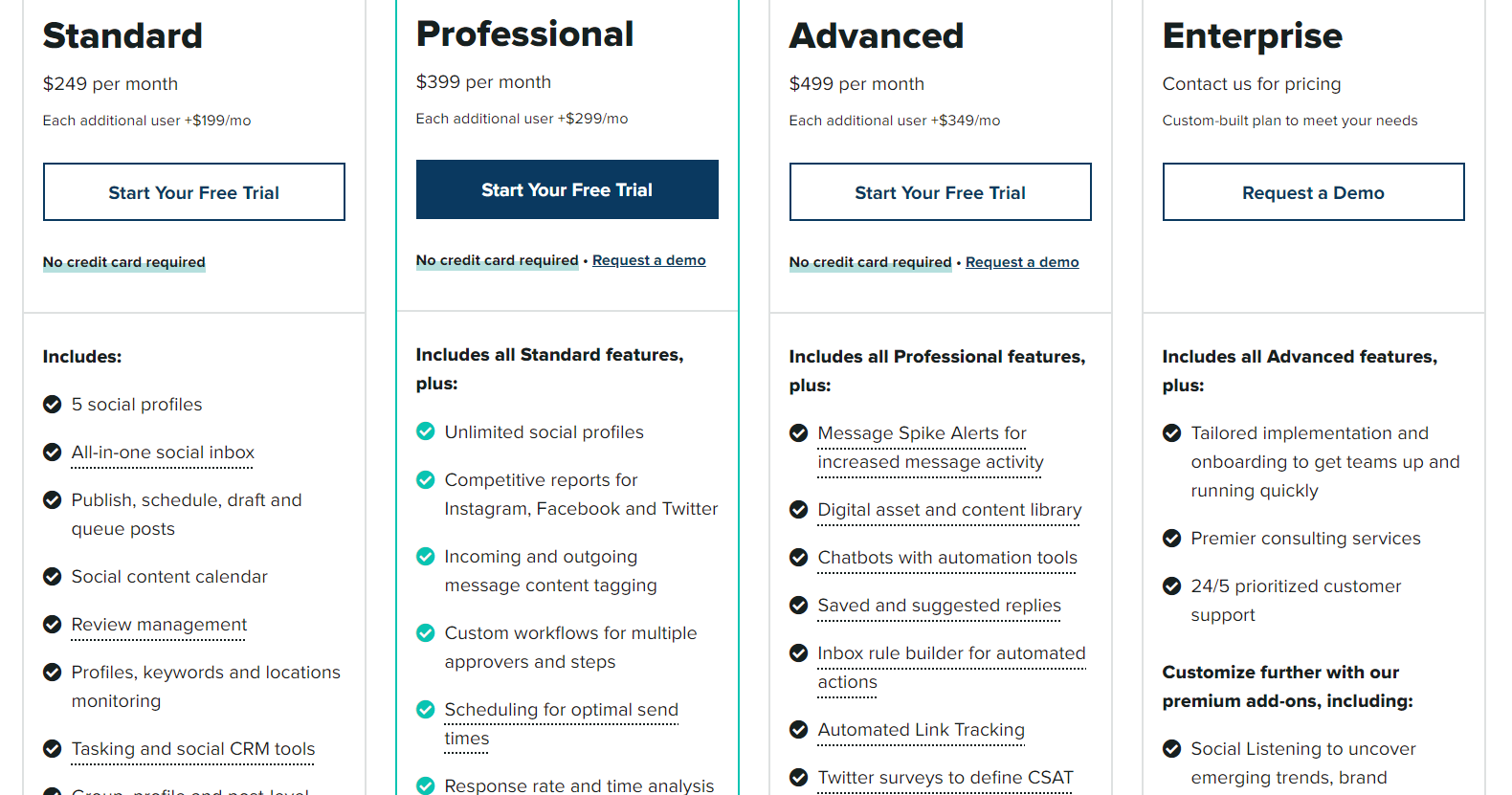 SproutSocial has four paid plans:
Standard plan: $249/month for 5 social profiles and social content calendar
Professional plan: $399/month for unlimited social profiles and competitive reports
Advanced plan: $499/month for the digital assets and content library
Enterprise plan: custom pricing for tailored implementation and onboarding
Bottom line
SproutSocial is an investment for your business – their plans are not exactly in the affordable price range for a small business or everyday user who wants to create a more engaged viewer. Yet, it does have incredibly practical artificial intelligence aspects that can help you create a more engaging and exciting social media presence.
Whether you're looking to schedule one or more photos a week or promote short-form ad copy – SproutSocial is an excellent platform if you have the ability to invest.
HubSpot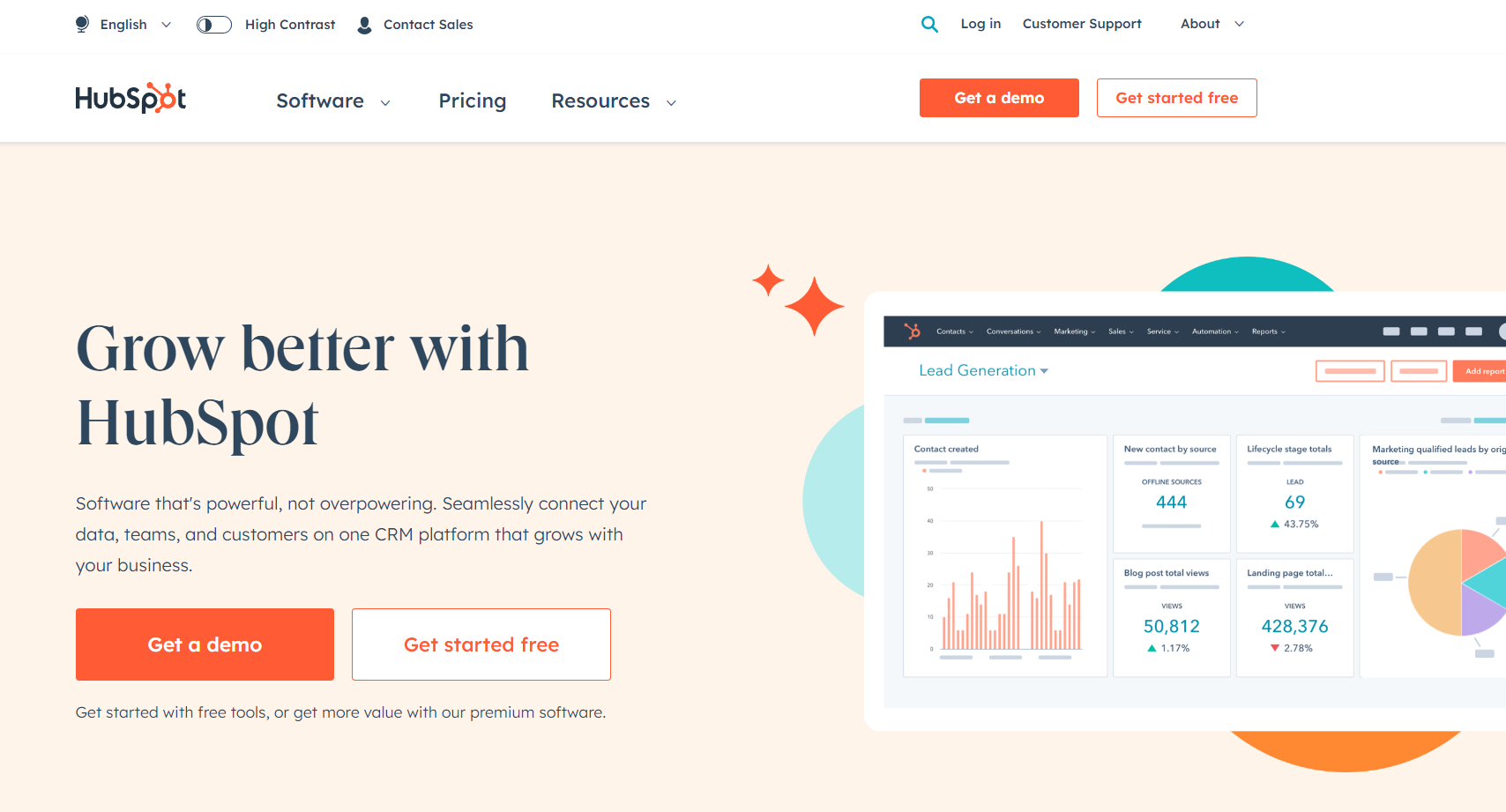 Overview
Many who engage in business and have a social media presence are familiar with HubSpot – it is a premium CRM and social media management program that gives you in-depth analytics, marketing tactics, and techniques but also provides a way for you to learn and grow with your marketing efforts in the form of education.
HubSpot has hundreds of free training and certificate courses on social media management and marketing that you can use to transfer into your accounts. Including other aspects of social media that allow you to engage and resonate with your viewers.
Highlights
Marketing and sales hub to help you grow and get deeper insights
Lead generation analytics and operations hub
Free education and marketing courses
Pricing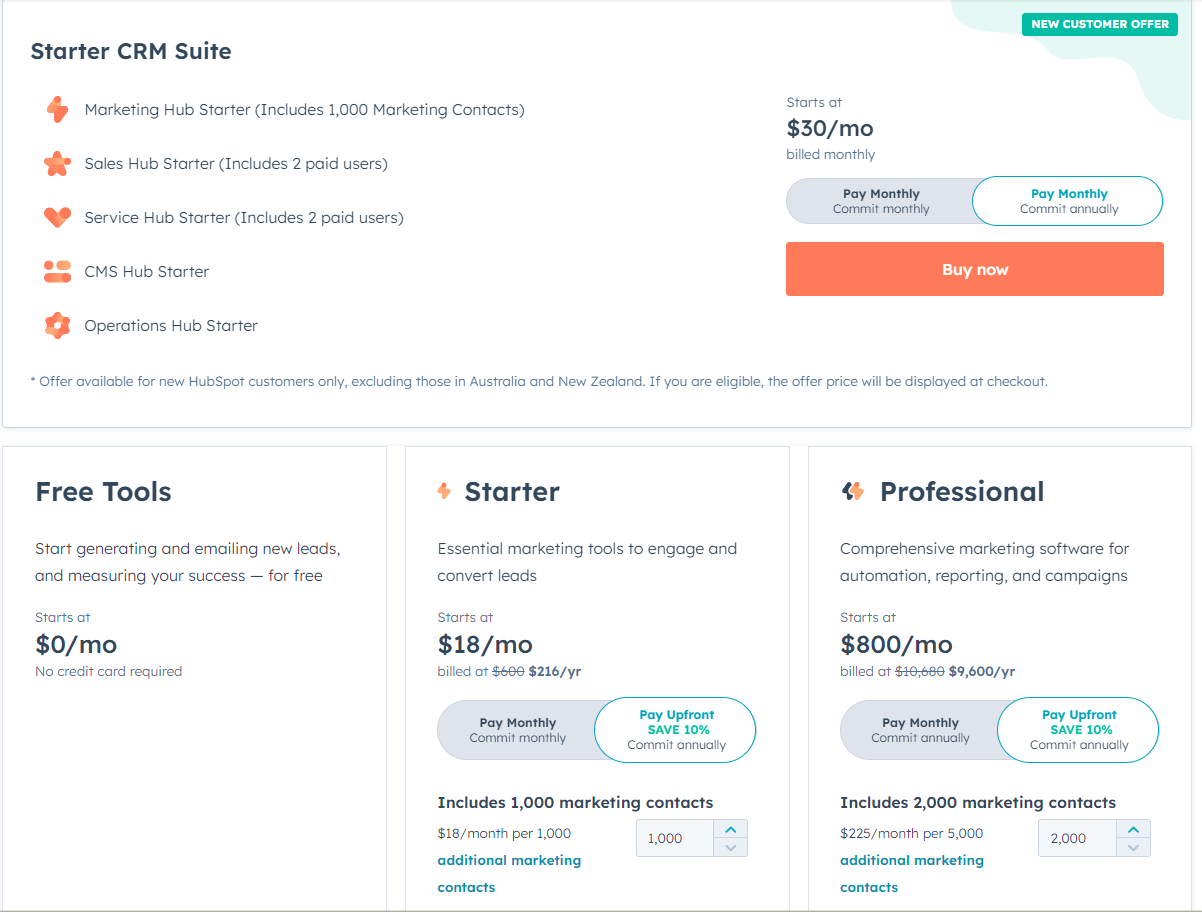 HubSpot has one free plan and two paid plans:
Starter plan: $18/month for 1,000 marketing contacts
Professional plan: $800/month for 2,000 marketing contacts
Bottom line
HubSpot is incredibly well-known and well-used by tons of social media managers, marketers, and everyday businesses that want to gain valuable insights on their socials but also educate themselves and grow by taking advantage of their training and certifications.
Not every social media strategy will be the same. Each brand and business can use the tool to create a unique social media experience and grow their social accounts.
How do I create social media content with AI?
You can create social media content using AI in a few ways, but you can also manage and organize your social media using AI – a unique way to grow and engage your viewers.
Whether you're looking to create unique and original content, revamp content you've already posted, or develop a strategy for your content and social accounts.
What is the future of AI in social media?
The future of AI regarding social media will be simplicity and ease of access to analytics, including hashtag research, caption generation, and engagement analytics similar to what we're seeing now.
AI can be an incredible asset to society, and your strategy is unique to you and your business. If you want to focus on analytics rather than scheduling, HubSpot might be an excellent tool for you to use and will only become more helpful as AI creeps into the world of social platforms.
AI will automate so many tasks that it will become second nature to have AI assisting in your social platform efforts.
What is the advantage of AI in social media?
The most significant advantage is that many tasks become automated and don't require so much time-consuming research and effort to see the results you want.
Instead of spending hours planning your content and setting reminders on when to schedule specific posts – you can do it right through these platforms and forget about it until it's posted.
The best thing about coupling AI with social media is that you can still have fun with it, even though you're running a business and using it as a marketing technique. Social media isn't supposed to be stressful, even if you use it for business. AI helps alleviate that stress and makes it fun again.
How is AI used in social media marketing?
We've reviewed a few ways AI is used in social media marketing. One of those is measuring and analyzing followers, engagement, etc., which you cannot easily measure without the help of AI.
You can also use AI for social media marketing by repurposing content and creating new content to post to your followers and increase engagement.
There are so many ways to utilize an AI program for social media marketing; it just depends on what goals you have for your business and what your strategy looks like.
Can you use AI to create a social media post?
Yes, you can use AI to write the caption, generate hashtags, develop a post idea, summarize an article to create a post topic, and more. It can also assist with graphics, edit videos, and generally make social media more engaging and straightforward than it is without AI for brands and businesses.
Programs like Canva also have AI features that can assist in creating social media posts – but those are typically exclusive to the design and have limited scheduling and/or analytic capabilities.
What is the best AI social media software?
The best AI social media software combines scheduling, analytics for engagement, followers, and interests, and ways to repurpose and revamp old posts and content to never run out of ideas.
The best social media software also helps with planning content and creating a calendar to let you know that your content is organized and aligned with your strategy.
Final Thoughts
AI and social are starting to go hand-in-hand, whether you're looking to generate captions and hashtags, create content, and take a look at how your performance is doing compared to previous posts.
Social media doesn't have to be complicated and stressful – you can easily manage and organize your social media without stressing over your strategy. We went over a few of the AI programs you can use, and depending on your budget and the tools you want to take advantage of, there are so many options. Hubspot and SocialBee are great ones!