As a writer, there are few things more frustrating than hitting a proverbial wall and struggling to find the right words for your essay or story. Well, what if there was a tool that could help you power through those tough moments and get the creative juices flowing? That's where Sudowrite, an AI creative writing tool, comes in.
Sudowrite offers a range of features to help writers overcome common obstacles and streamline the actual writing process. Sudowrite saves writers a significant amount of time and helps moves a story forward by providing various different tools to generate content on demand. With this AI writer, you can generate up to 1000 words in a matter of seconds.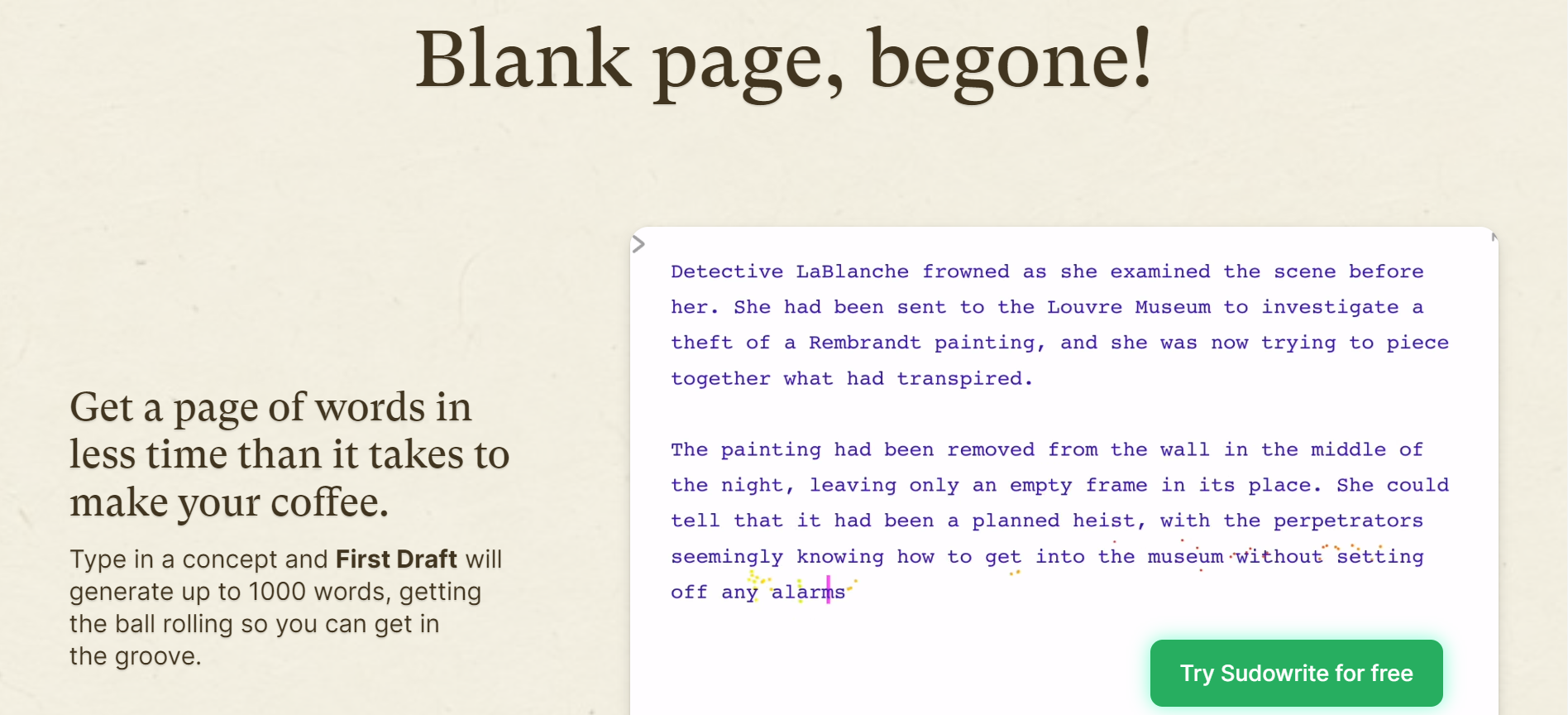 Sudowrite uses sophisticated algorithms to analyze your writing style and voice, and the content it generates is tailored to your unique needs and preferences. If you're on the fence about whether or not to implement an AI tool like Sudowrite into your creative process, remember, "You could rewrite the same sentence 100 times… or you could make the computer do it."
Whether you're a seasoned author or just starting out, Sudowrite's intuitive interface and user-friendly features make it easy to jump in and start creating. And because Sudowrite is cloud-based, you can access your work from anywhere, whether you're at home, in the office, or on the go.
Sudowrite Overview
Sudowrite is an AI copywriting assistant that uses GPT-3 technology to help writers overcome common obstacles and simplify the writing process. Conveniently, Sudowrite can be used in almost any language, making it an accessible tool for writers throughout the globe. The AI system works by guessing one word at a time based on general concepts it has learned from billions of samples of text.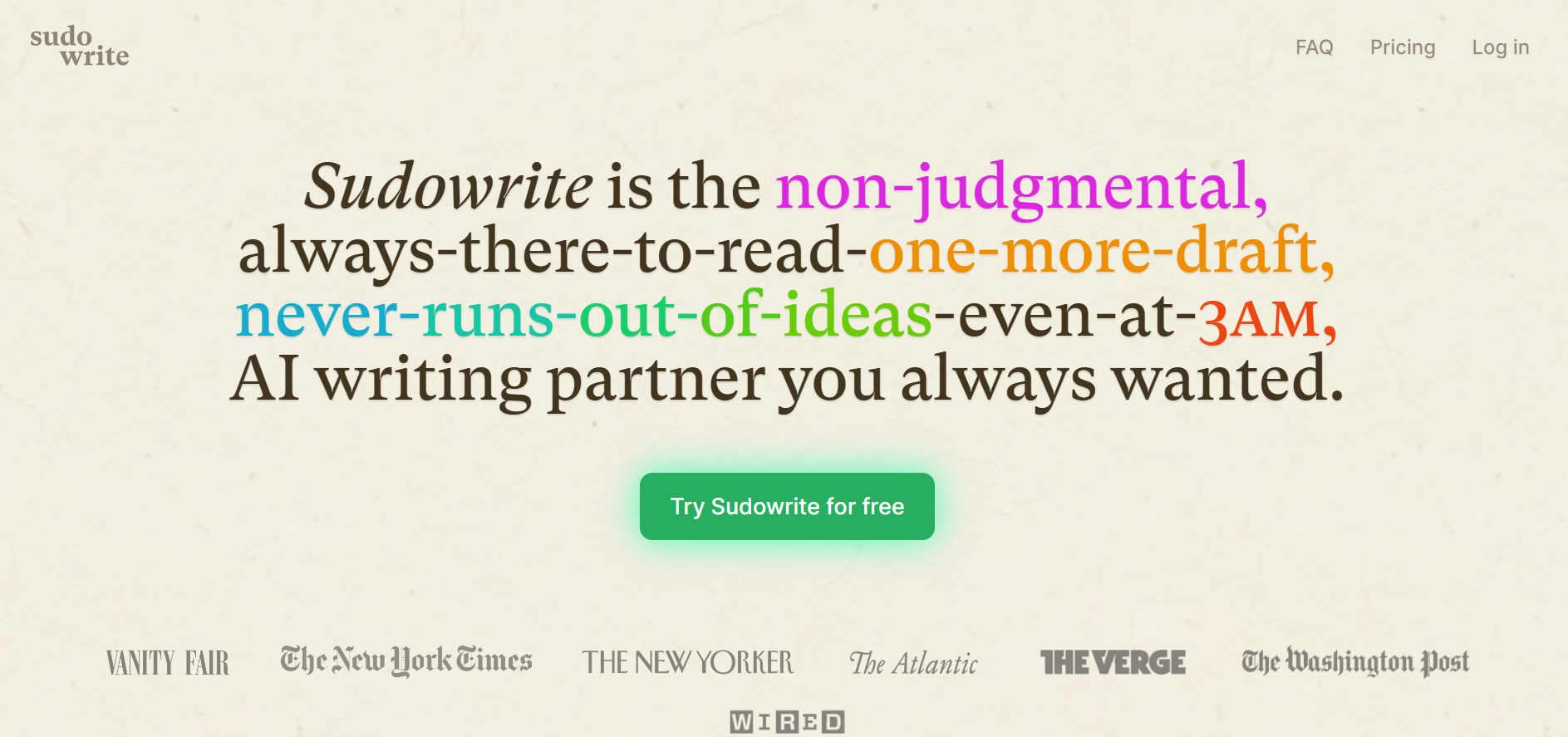 Sudowrite is designed to help you create a better draft, not to take over the writing process completely. Sudowrite is there to assist you with generating ideas, finding the right words and phrases, and helping you move forward with your writing. It's not a substitute for your creativity, but rather a tool that can help you unlock your potential as a writer. That being said, Sudowrite may help you take your novel into a completely different direction than what you may have initially envisioned – and as all fellow writers know, this isn't necessarily a bad thing.
Sudowrite employs multiple versions of GPT-3, which is a Transformer model that OpenAI developed. The model is trained on a wide range of sources, such as the CommonCrawl dataset, an extended version of the Webtext dataset, internet-based book corpora, and the English-language Wikipedia. To enable AI writing features that are not available elsewhere, Sudowrite combines GPT-3 with various proprietary narrative model-based and algorithmic pre- and post-processing techniques.
| | |
| --- | --- |
| Feature | Sudowrite |
| AI Technology | GPT-3 |
| Languages Supported | 28+ |
| User Experience | Web interface |
| Educational Material | Yes |
| Long Form Document Editor | Yes |
| Search Engine Optimization | No |
| Art Generation | No |
| Text Summarization | Yes |
| Plagiarism Detection | No |
| Chrome Extension | No |
| API/Webhooks | No |
| Free Trial | Yes |
| Pricing Model | Monthly Subscription |
What Sudowrite Does Well
Sudowrite is an AI-powered writing tool that is designed to assist writers in brainstorming ideas and generating content quickly. Two of the platform's key strengths are its friendly user experience and use of GPT-3 technology.
AI Technology

Sudowrite utilizes GPT-3, a state-of-the-art natural language processing technology developed by OpenAI, to generate high-quality writing suggestions. You may have heard of GPT-3 in conjunction with ChatGPT, a novel AI writing assistant that has taken the world by storm. GPT-3 is an advanced AI language model with an impressive capacity to hold natural conversation and generate human-like text. The model has been trained on a diverse range of sources, including books, articles, websites, and other written material.
Sudowrite pairs GPT-3 with narrative models of their own to enable its unique AI writing capabilities. Sudowrite's AI technology provides a powerful outlet for writers to overcome writer's block and generate new ideas quickly and easily.
User Experience
Sudowrite's user experience is designed to be simple, intuitive, and even aesthetically pleasing with a mellow yellow to lollipop pink gradient as its background. Its clean interface and easy-to-use writing tools make it a breeze for writers of all levels to get to doing what they love most – cough writing. Sudowrite's offers in-platform tutorials on how to use the product as efficiently as possible.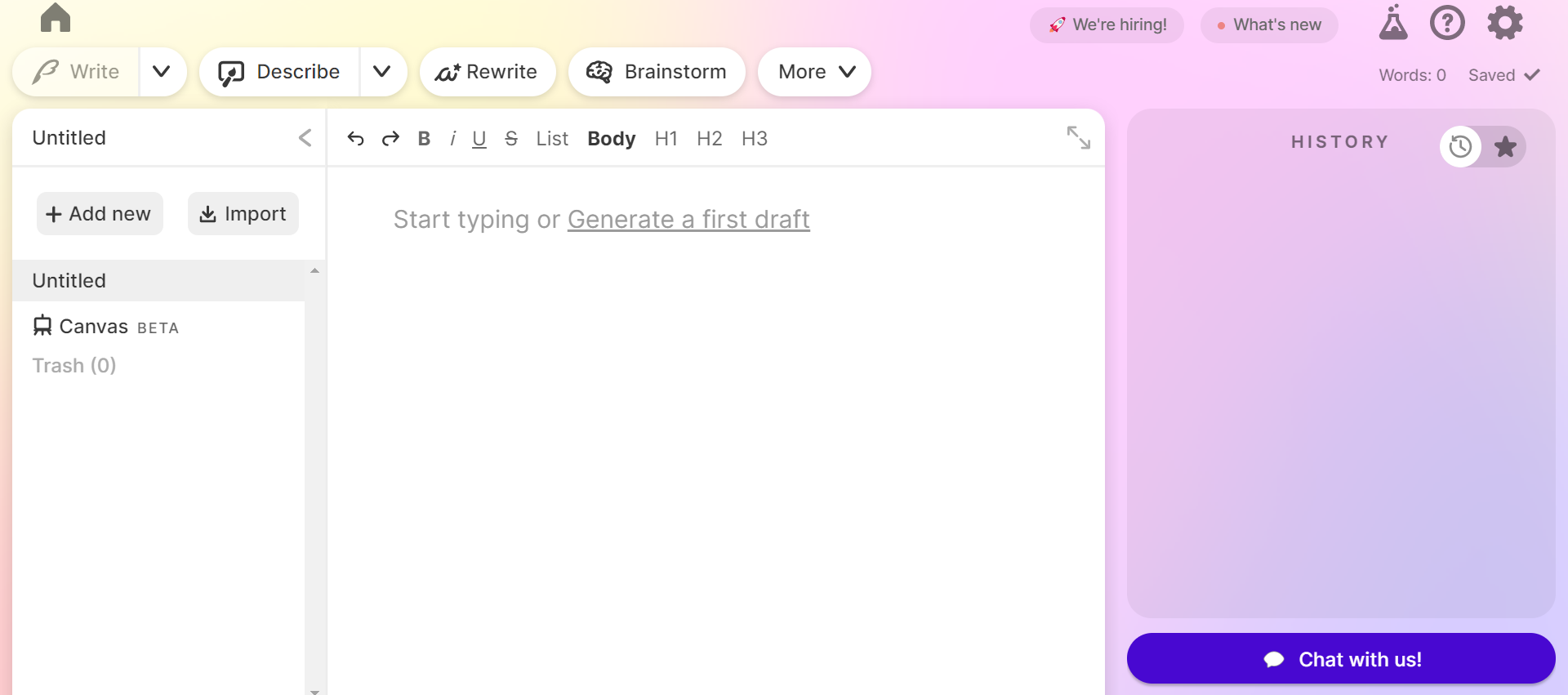 From the moment you log in, Sudowrite provides clear and concise guidance on how to get started with your writing with a live example. All of the essential story tools and brainstorming features you need can be found right at your fingertips. There are no complicated menus or confusing interfaces to navigate, making it easy to focus on what's most important – your writing.
Sudowrite is designed to be a companion tool for writing stories, providing suggestions and guidance as you go. The platform's AI-powered features are seamlessly integrated into the writing process, providing helpful suggestions and tips to improve your writing without being intrusive. With Sudowrite, you can write with confidence, knowing that you have a powerful AI assistant at your disposal to help you bring your ideas to life.
Generate a First Draft
Sudowrite's "Generate a First Draft" feature is a powerful tool that can help writers jumpstart a rough first draft. Whether you're looking to write a mystery story, a non-fiction article, develop a character, or outline your hero's journey, Sudowrite has you covered.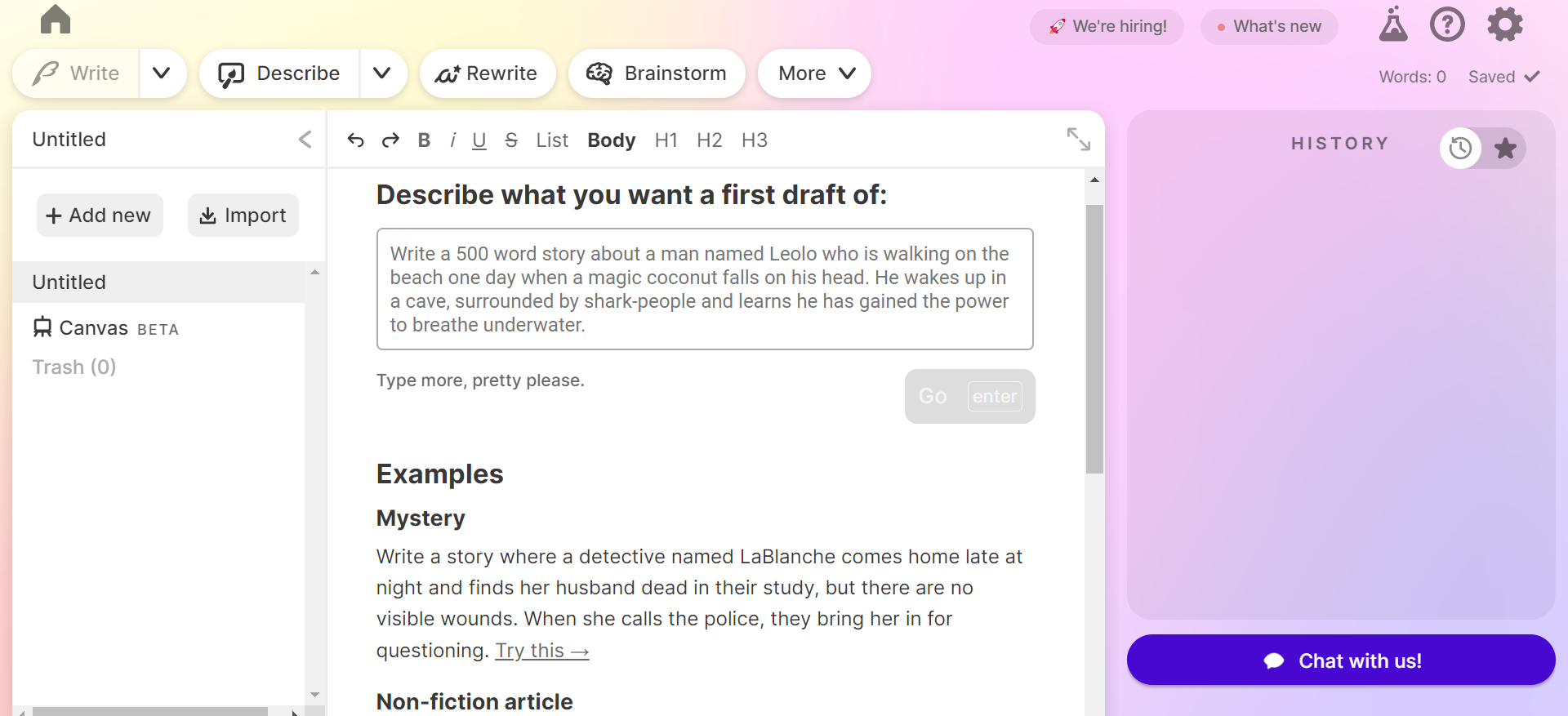 For example, let's say you're in the mood to write a mystery story. Sudowrite's "Generate a First Draft" feature provides a writing prompt to get you started. In this case, the prompt is about a detective named LaBlanche who comes home to find her husband dead in their study. But the twist is that there are no visible wounds on his body.
From there, Sudowrite uses its powerful GPT-3 technology to suggest possible plot twists, character motivations, plot points, and dialogue options to help you flesh out your story. The end result is a compelling first draft that you can refine and polish to your heart's content.
The ability to generate a first draft with minimal input is a robust solution for those struggling with getting into focus mode. The software's user-friendly interface, coupled with its advanced GPT-3 technology, expertly guides you through the writing process. Sudowrite offers valuable suggestions and prompts, providing assistance to help you get started with your writing in no time.
Write
Once you've got a general idea of what you'd like to write about, Sudowrite's Write feature is a handy tool that will help you expand on your ideas and take your writing to the next level. This feature is perfect for those who have a rough idea of what they want to write but need some help fleshing out their thoughts. Simply highlight the text you want to expand on and click Write.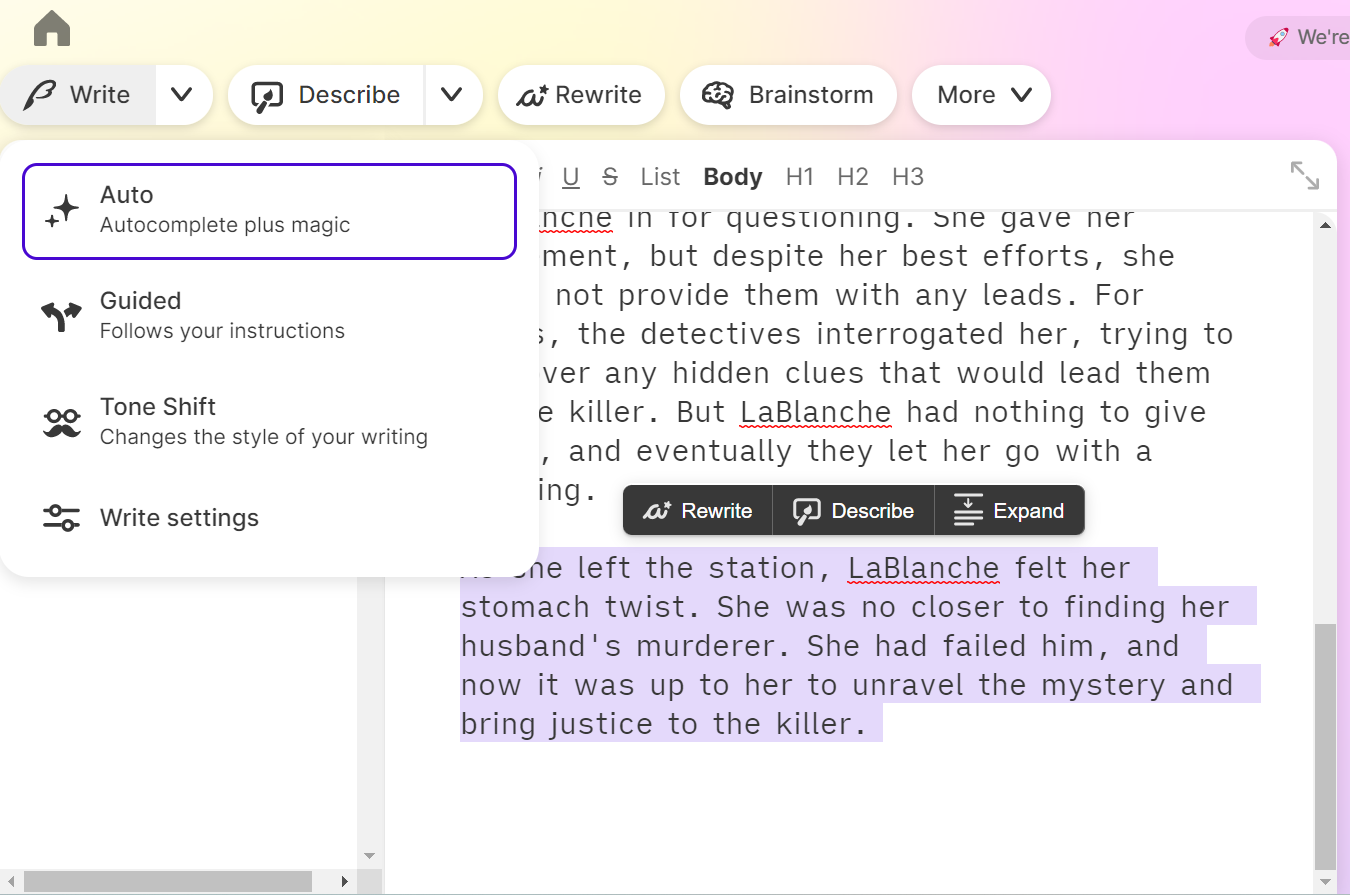 Once you've selected a few sentences or a paragraph, Sudowrite analyzes the text and provides several options in the right hand column. The suggestions are varied and you can select the text that resonates most with you.
With Sudowrite's suggestions, you can quickly and easily add depth and complexity to your writing. The suggestions are dynamic and change based on the context of your writing, providing a unique experience every time.
Brainstorm
Sudowrite's Brainstorm tool is an excellent resource for writers who need help coming up with ideas for their stories. The tool provides a vast range of options to help you brainstorm characters, settings, plots, and more. You can customize the details of your character's backstory to fit the plot's needs, and you can expect the tool to suggest other details that might complement your selections.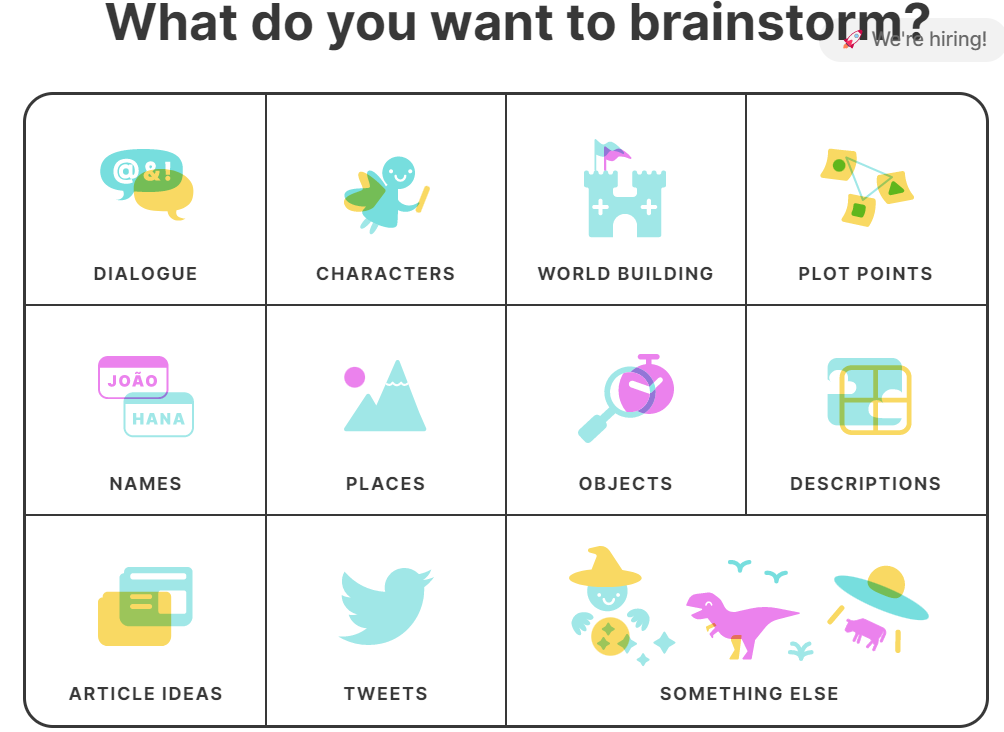 I followed the existing Character brainstorming prompt to create a character named Julie. Sudowrite generated some backstory options for me to choose from, and gave me the option to customize some aspects of her personality. After a certain point, it was unclear how I could save my brainstormed ideas in-platform. Nonetheless, as long as you've got a pencil in hand to take notes, the brainstorm tool is a powerful way for writers to come up with and flesh out characters and ideas.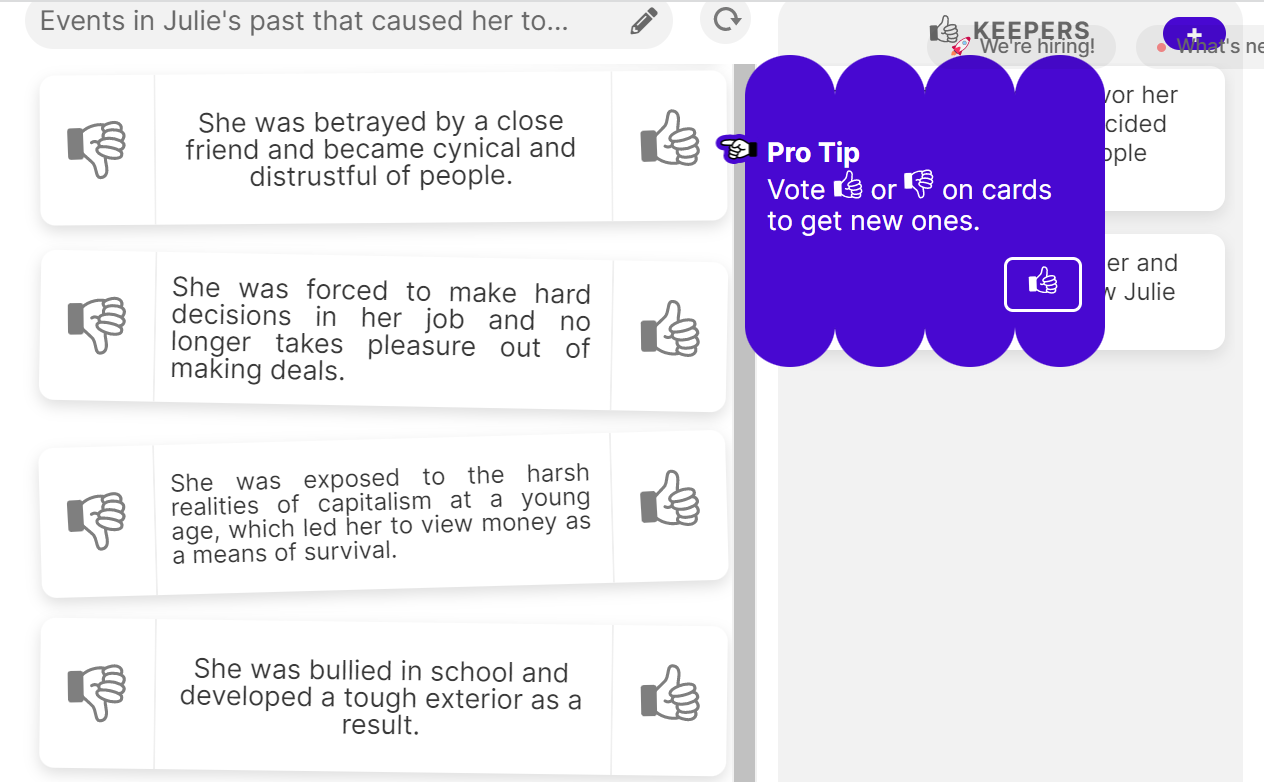 Sudowrite offers several additional tools to assist writers in the writing process. One of these tools is Twist, which generates a plot twist for your story. The twist feature works by taking the existing plot of your story and taking the plot of the story in an unexpected direction.
Text Summarization
Aptly named, the Shrink Ray tool takes long-form text of 500+ words and condenses it into your choice of a logline, blurb, synopsis, or outline. A logline is a powerful tool used to summarize the main plot or premise of a story in just one or two sentences and is often used as a quick and effective way to pitch a story idea to agents, publishers, or producers. With Sudowrite's Shrink Ray tool, you can easily create a compelling logline that captures the essence of your story and grabs the reader's attention.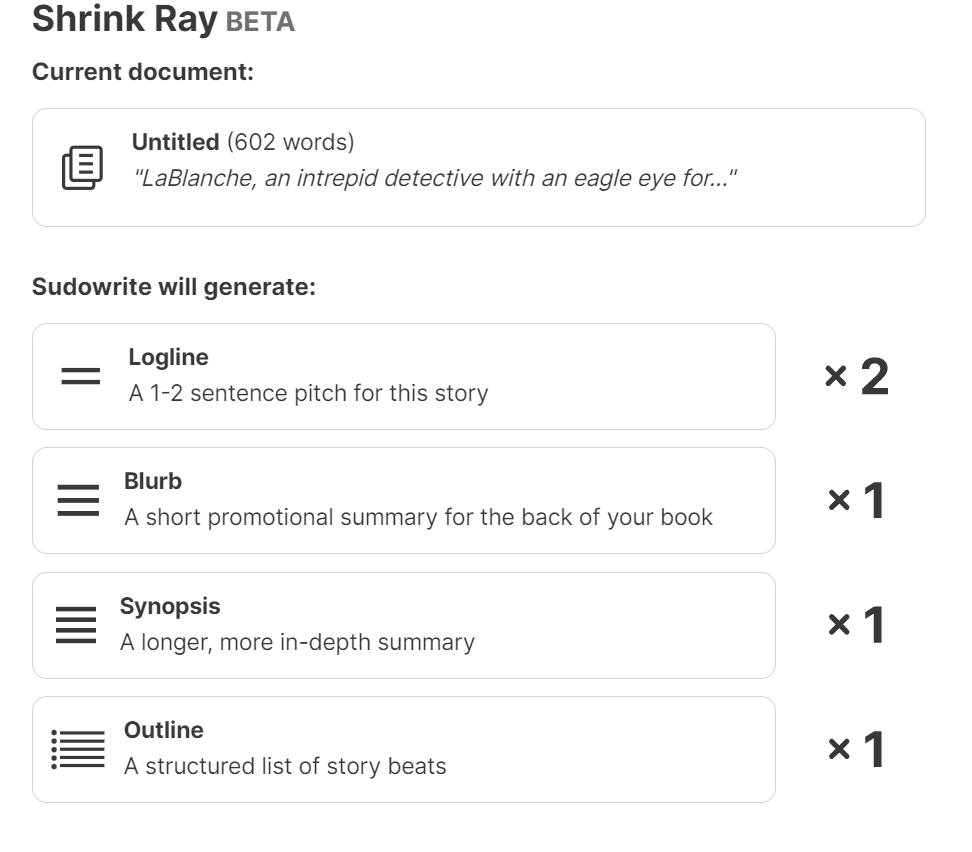 You can also use the Shrink Ray tool to create a blurb, or promotional summary, for your book. This is the text that's found on the back cover or inside flap of a book. A blurb is designed to entice potential readers with a brief but intriguing description of the story. Sudowrite does a great job summarizing text, and successfully creates quality loglines and attention-grabbing blurbs.
What Sudowrite Could Improve
While Sudowrite is an excellent tool that offers a range of helpful features to aid the writing process, some users may find the pricing model to be a downside. We'll discuss this in-depth below.
Pricing Model
Sudowrite's pricing model consists of three tiers:
Hobby & Student for $19/month with a limit of 30,000 AI words per month
Professional for $29/month with a limit of 90,000 AI words per month
Max for $129/month with a limit of 300,000 AI words per month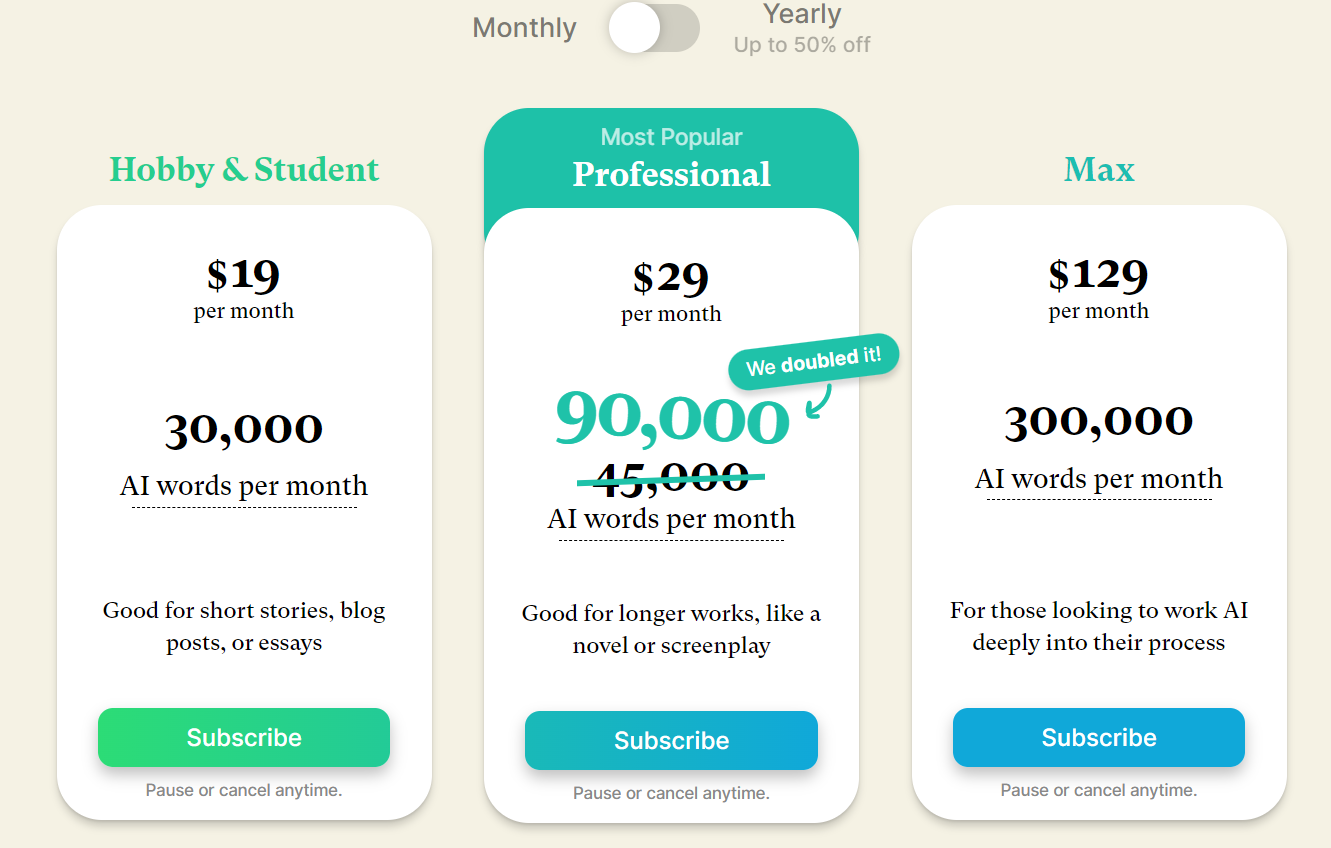 The pricing model is straightforward with each plan offering different levels of usage. While some people may find the pricing to be a bit steep, others may find it to be a worthwhile investment in their writing process.
The hobby and student plan offers 30,000 AI words per month for $19, which may not be sufficient for those who are actively writing longer works or conducting extensive research. This pricing tier may be more suitable for those who are writing shorter works, such as blog posts, essays, or short stories.
While the professional plan offers a more substantial 90,000 AI words per month for $29, users who are actively working on a novel or screenplay may find this limit to be restrictive. The max plan, which offers 300,000 AI words per month for $129, may be more suitable for those who are looking to integrate AI tools deeply into their writing process. However, the cost of this plan may be prohibitive for a lot of people.
There does not appear to be any in-between plan between 90,000 and 300,000 words, and the price difference between the professional and max plans is a lot to swallow. Sudowrite could benefit from offering more flexible pricing plans that cater to a wider range of user needs and budgets.
Final Thoughts
Sudowrite's greatest strength lies in its use of powerful AI technology that provides writers, whether aspiring or established, with a treasury of helpful tools and features. The AI model has been trained on a vast amount of data and is capable of generating high-quality content in a variety of formats, including fiction and poetry.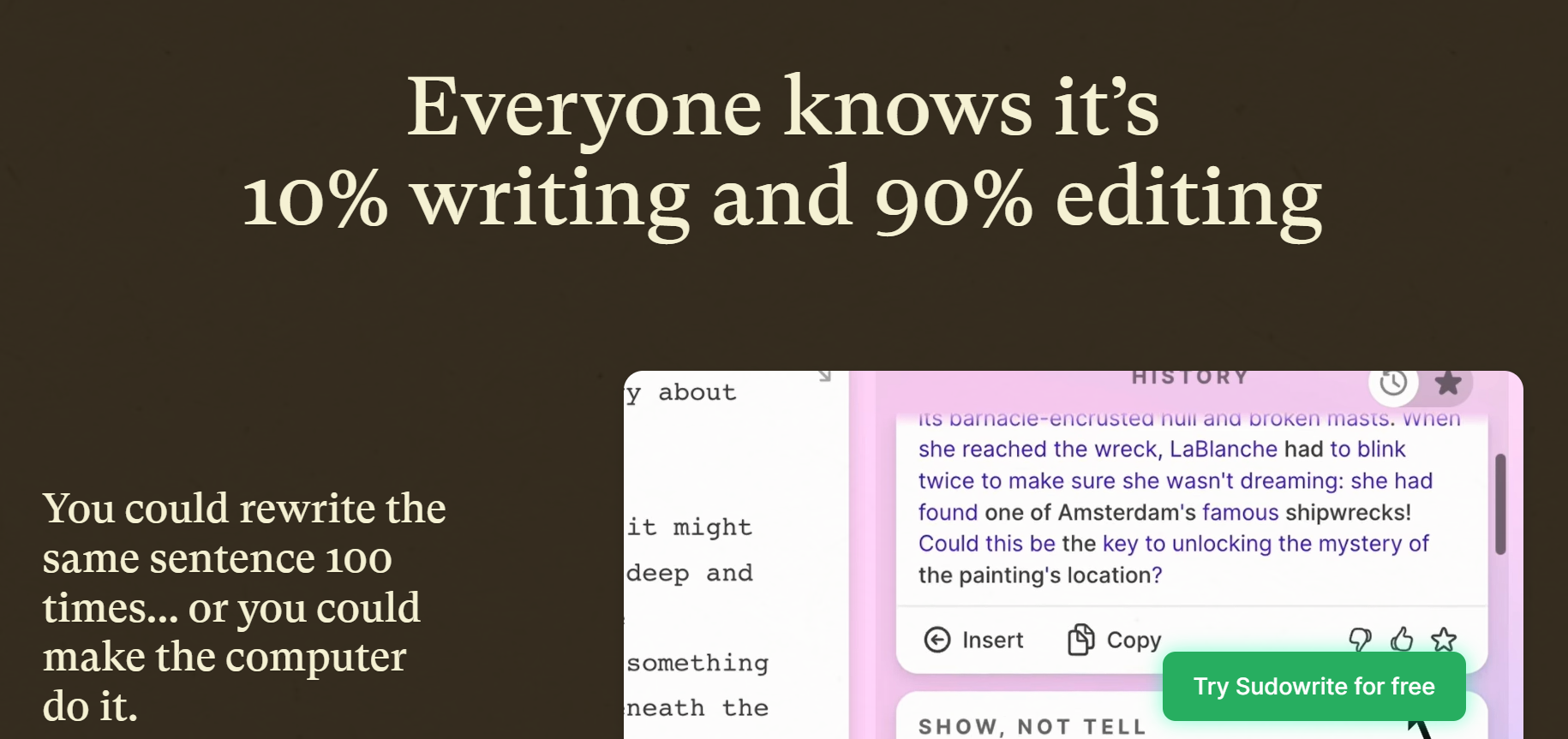 Sudowriter's brainstorming tool is particularly helpful in generating fresh ideas and developing rich, multi-dimensional characters and settings. The ability to expand on original text and generate first drafts can help those writing novels or short stories overcome writer's block and create new material with ease.
However, Sudowrite's pricing model could be improved, as it can be cost-prohibitive for creative writers who require larger amounts of AI-generated text. Additionally, while artificial intelligence is becoming more advanced every day, AI writing tools like Sudowrite may not be suitable for users who prefer to write more organically or worry that AI will one day replace human writers.
All in all, Sudowrite is an excellent AI tool for those who write stories and who are looking to enhance their creative output. It is especially useful for hobbyists, students, and professional writers looking to streamline story writing and increase their productivity.