Jasper vs Rytr: Which is Best for Me?
In the past few years, there has been an explosion of AI copywriting tools coming to the market, making digital marketers interested in using AI to produce unique, high-quality content in a very short time. There are article generators that can generate entire articles for you based off a few prompts.
The tricky part is making sure the content produced by AI makes sense and sounds like a human being wrote it. There is no doubt that AI will play an important role in the future of content marketing, but how exactly search engines will interpret AI-generated content is still very much up in the air. In short, we need humans!
Jasper and Rytr are among some of the best AI copywriting tools out there available today. I will briefly discuss the major features, advantages, and limitations of each AI copywriting tool and which one is best suited for your needs.
Note: this post contains affiliate links which means that if you click one of my links (please do!) and purchase the tool, I get a small commission at no additional cost to you.
Join Renaissance Rachel's holiday giveaway!
1st Prize: $300, 2nd Prize: $75, 3rd Prize: $25
What is Jasper?
Jasper, formerly known as Jarvis, is a copywriting tool that automates your content creation. It is entirely based on artificial intelligence and machine learning. The only thing you need to do is provide the data or input it needs to create a piece of content for you: a brief description, target audience, topic, tone of voice, and keywords.
What separates this content generation tool from others is its ability to provide high-quality, custom output based on your input. With a human touch, it produces the most relevant sentences and phrases for your needs.
What Is Rytr?
Rytr is an AI virtual assistant writer that helps you create better content fast. The goal is clear and simple: to make writing content an easier and more enjoyable experience for you. Rytr has over 60,000+ users and thousands of businesses and content marketers are taking advantage of their service to generate content on a daily basis.
Abhi Godara an Indian entrepreneur, venture capitalist, and co-founder of Rytr, had seen that the content writing industry was growing and decided to take it upon himself to create software that would make things easier for everyone. Writer's block is a real thing! It's not easy to create quality content in a short amount of time.
Whether you are a full-fledged, experienced writer or just starting out, Rytr is a tremendous help. YouTubers, bloggers, entrepreneurs, and freelancers are all easily able to knock out quality content using Rytr.
Rytr vs Jasper: What is the difference?
Comparing Jasper vs Rytr involves getting into some key details about the two products. As I mentioned before, both Jasper and Rytr help in creating content faster and producing quality content that will engage your audience. However, they have a different set of features and capabilities.
It can be a bit overwhelming, especially when you have little to no idea about AI content writing and its models. Experienced marketers and agencies typically have a whole bunch of tools in their arsenal, for small business owners and freelancers, having an expanded toolkit isn't budget-friendly. It's better to have an all-in-one tool or a tool that does many things.
While a lot of the AI writing tools are marketed and advertised in a way that makes them appear to be the same, their capabilities are quite different. I thought it would be useful to pick out the most significant differences between Jasper vs. Rytr so that you can get an idea of what tool will be a better fit for your business.
Feature Breakdown
| | | |
| --- | --- | --- |
| Feature | Rytr | Jasper |
| AI Technology | GPT-3 model | GPT-3 model |
| User Experience | Clean and simple | Layered for experience level |
| Educational Material | Basic guide to using the tool, but doesn't go into content needs details. | Numerous tutorials and an active Facebook Community |
| Languages Supported | 30 languages | 26 languages |
| Long Form Document Editor | Yes | Yes, only in Boss Mode |
| Search Engine Optimization | No | Yes, with SurferSEO add-on |
| Plagiarism Checker | Free built-in checker | Copyscape integrated for an additional fee which costs extra dollars $10 |
| Chrome Extension | Yes | Yes |
| API/Webhooks | Yes | No |
| Free Trial | Yes, 10K characters every month for free | Yes, 5-day free trial |
| Pricing Model | Subscription pricing model | Subscription pricing model |
AI Technology
Learning a bit about the technology between Jasper vs Rytr will provide you a glimpse into how these two tools work.
Open AI is the core of both platforms – On June 11, 2020, Open AI released the API to the GPT-3 model for everyone. It was the biggest update since the release of previous predecessors GPT-2 and GPT-1. It contains a much deeper understanding of language and text than the GPT- 2.0 model. Language translation, question answering, and text classification are just a few of the tasks that GPT-3 is capable of.
GPT-3 is a neural network machine learning model which is able to generate text using the internet, a little input from the user is required, and then GPT-3 does the rest of the work.
Many AI copywriting tools use GPT-3 as their underlying text generator, including Jasper and Rytr. The fact that you will be getting hands-on experience using GPT-3 for your own projects is a valuable skill for anyone.
User Experience
Both Jasper and Rytr have well-designed user interfaces. All in all, Rytr AI is a much simpler tool than Jasper and getting up to speed in Rytr takes less time. However, while Jasper is complex, the user experience is layered within the tool so that if you're just starting out, you can use a lighter version of the experience. When you're ready, you can then go into power mode.
In Rytr, everything centers around the document experience. You open a new document and then decide which "use case" you'd like. Rytr has a number of use cases that cover marketing, blogging, business strategy, product descriptions, video creation, novel writing, and even lyrics.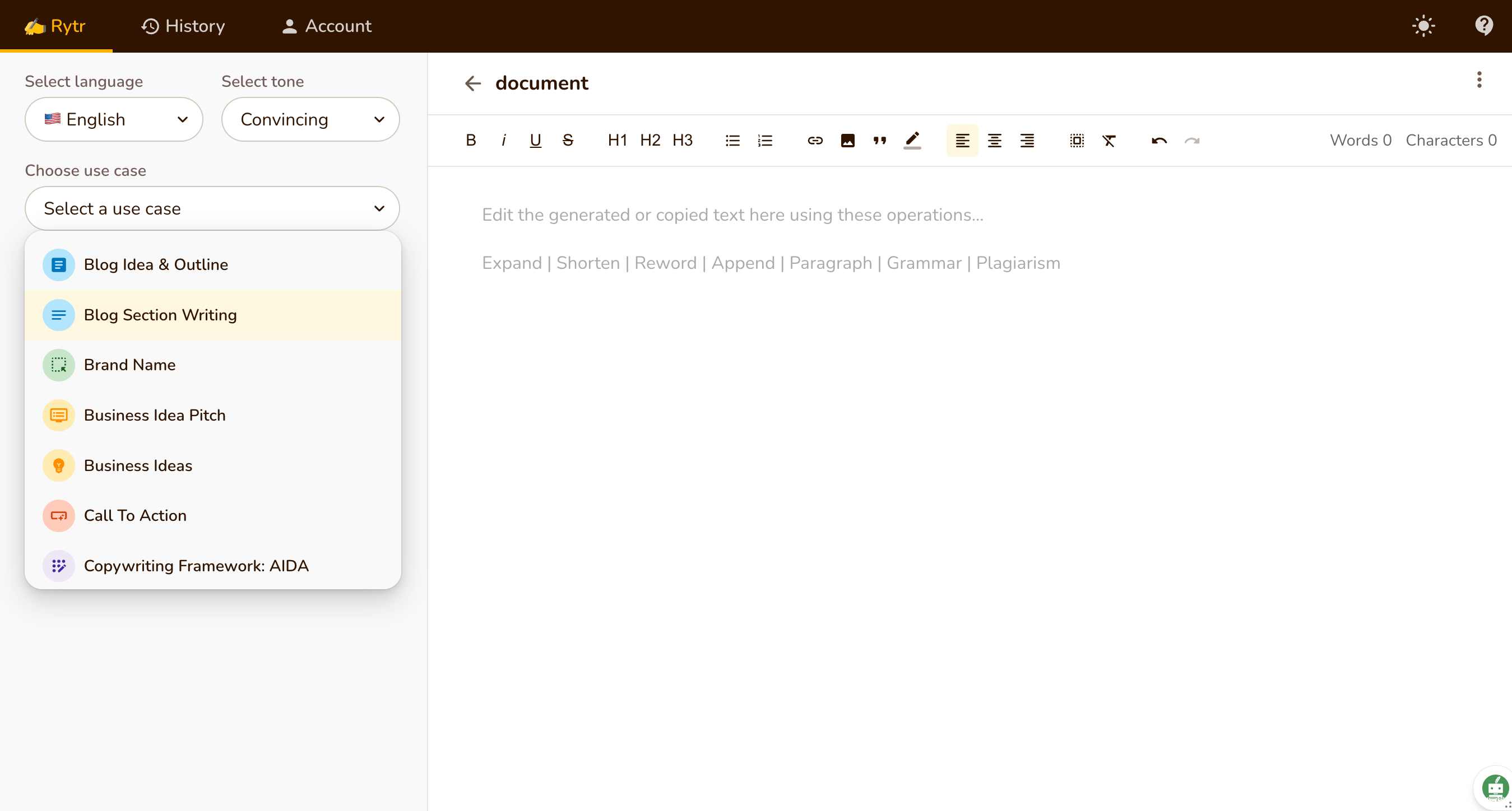 After selecting your use case, then you're given 1-3 prompts to help Rytr produce high quality content for you.
Jasper also has a document editor capability if you have the Boss plan, but Jasper also has an area for you to use their various templates for different use cases. Most of the same use cases overlap with Rytr.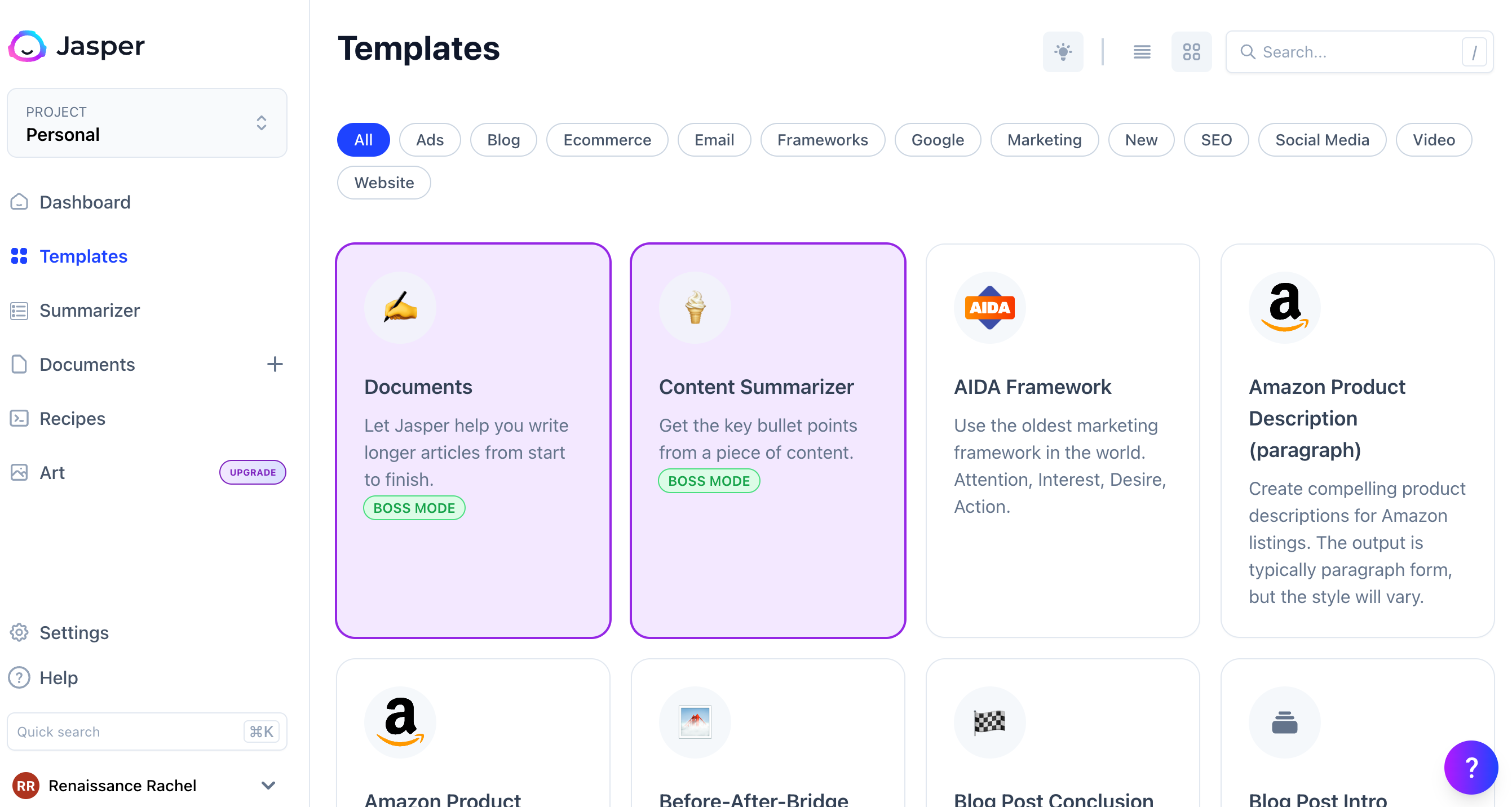 I like that Jasper allows you to tell the tool whether the content generated is helpful for you or not.
Both tools offer dark mode, which can you can toggle on and off at will.
Educational Material
Educational material in the form of videos, blogs, or community support makes a big difference in the success of a product since it helps you understand the tool better.
Jasper carries a huge amount of video content that is well-organized to help everyone get on with their tool. There is even a certification for writers to showcase themselves as true Jasper geeks. Writing isn't only about ranking in Google; from social media, ads, and marketing, to sales and PR, there is a lot to cover. Jasper gives a great collection of tutorials for each type of writing, so you can easily find the information for your specific need and generate valuable content with it. On top of that, the Jasper Facebook community is outstanding and I recommend joining it to keep up with the latest trends and news; the people there are super cooperative and helpful.
Rytr's official Youtube channel is a good starter and their blog page could be of help. However, they don't cover everything, it's just the basics. The tool is very simple and straightforward but you'll have to dig through other Youtube videos on the same topic to get the full picture.
Rytr's customer support is always ready to help.
Languages Supported
Almost all the popular languages are covered by both tools. English is the most used among all the other languages but also Italian, Swedish, French, Spanish, etc are available for you to choose from. Rytr supports 30 languages and Jasper 26, these numbers are quite impressive as they are able to understand the context of a given input in one language and generate relevant paragraphs for it in another.
Even if you don't know a specific language and have to write for a client, you can give writing it a go using either of these tools. For example, one of Jasper's users said:
"I just optimized a client's website (7 pages, 3 blog posts) SEO Titles & META descriptions in under an hour in FRENCH! I don't speak French. When Jarvis started spitting out full sentences in French because the keyword I entered was French but my input was English, I was blown away. And then when I was done with the site in an hour, well – I'm speechless."
7 pages and 3 blog posts aren't a piece of cake for an average writer and if you don't have any command over that language, it's impossible to write decent content. She had planned to write the same content in English and then translate it into French for her client but instead, she asked Jasper to do this. The whole process took less than 60 minutes; just a few keywords entered to get a solid first draft is extremely helpful.
Of course, it is still possible for a tool to go out of context or deliver a poor output. That's why it would still be important to have someone fluent in that language review it. However, rather than paying someone to translate something from English to French, for instance, you'd be paying someone to proofread and edit your content.
It's a little bit harder to find the language settings in Jasper than it is Ryter. You need to go into settings and select your input and output language. You can also select a formality level, though I have no idea how "Default" differs from less or more formal.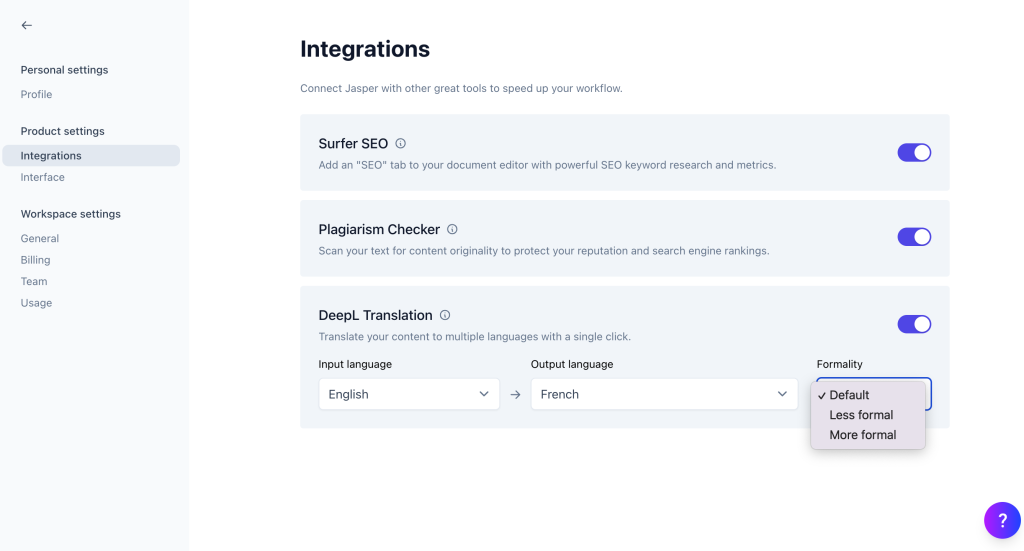 As a quick example, I asked Jasper to write an article about alternative places to travel in France besides Paris. I wrote all of this in English and put my keywords in English. While I don't speak French either, I can see that the list Jasper generated includes other places in France besides Paris, and wrote an intro paragraph before that.
Rytr does a very good job of creating content in other languages. It includes 4 more languages than Jasper offers. So definitely check the languages in both tools if that's a big consideration for you.
Switching between languages is much easier in Rytr. Every time you get ready to generate an AI output, Rytr has an option for you to select language.
Here's an example of what Rytr can do for the same prompt in French about travel alternatives to Paris.
All of my inputs were in English, and then Rytr wrote something in French! I used the Blog Idea and Outline use case to generate this outline. From there, I can go into each paragraph and have Rytr expand upon it.
I'd for sure want a French speaker to review it. But the process is very simple: select a language, choose a use case then enter the required details, and the blank document canvas is now filled with catchy content.
Long Form Document Editor
One of the big things I look for in an AI writing tool is a long-form editor that will allow me to craft blog posts and articles in the tool. However, many of these tools offer a Chrome extension to allow you to write in your preferred location such as Google Docs or WordPress. A long-form document editor, therefore, might not be as big of a consideration for you.
Jasper offers a long-form document editor that has extreme flexibility and many features including custom commands. You can toggle between three different modes: Focus Mode, Power Mode, and SEO Mode.
Focus Mode is exactly how it sounds: it has the basics that you need to just get in and write.
Power Mode gives you access to 50+ templates the can help you get creative and can be used easily while staying in the main long-form document. Whether PAS, AIDA or Facebook Ads any template you wish is at your fingertips in Jasper AI.
SEO Mode is an additional feature that you need to pay for.
The caveat? You need to have the higher-tier plan (Boss Plan) to use it.
In Rytr, the document editor is included in every plan. In fact, everything in Rytr operates around working in a long-form document editor.
Once you login into the Rytr app, you will see a sidebar with all the content brief options, and on the right, you can see the document, open it up and start writing. Whether you're looking to use the song lyrics template or blog section writing, Rytr has you covered. If you highlight the text, a bunch of other options display on your screen: rewrite, expand, commands, and more.
Search Engine Optimization
SEO is still one of the most effective strategies to get more traffic to your website, while paid ads would require a huge budget to move the needle. In both tools, the keywords field is visible but optimizing the content based on NLP suggestions from a tool specialized in SEO gives an edge over traditional methods.
In Jasper, you're able to utilize a direct integration with SurferSEO to optimize your content beyond entering a few keywords. It's an add-on feature for an additional cost, but you can get a free trial for $1 to see if it's the right fit for you. The two tools are extremely well-integrated, so you can generate your content with Jasper and then use Surfer to further optimize it. Surfer provides a list of additional keywords based on the ones you provided that you should be sure to include in your article. Surfer specifies optimal word length, header usage, images, and more to calculate its keyword score. If your article is at a content score of 80 or higher, you know you've done a good job.
While Rytr doesn't have a huge focus on SEO optimization and it doesn't offer any third-party SEO tools for content improvement integrated into their user experience.
However, while you're using Rytr to generate blog posts for you, you can include keywords in each section that you know you want to use.

If you have the time and inclination to implement, there are plenty of free online tools that will provide a good analysis for your target keywords. You'd have to switch between the two tools, rather than it being in one tool as it is in Jasper.
Jasper definitely has an upper hand if you want in-depth SEO and care about only working in one tool. That said, Rytr's ability to create SEO-friendly content is quite good.
Plagiarism Checker
With AI content, a lot of people wonder if it's been plagiarized somewhere from the internet. The great thing is that both of these tools offer ways to detect plagiarism.
Copyscape powers the plagiarism detection in both tools.
With Rytr, the plagiarism detection is built natively into the app. You highlight the text you're writing and select the "Plagiarism" option.
If plagiarism is detected, you'll see the source where your content overlaps from within the app.
In Rytr, plagiarism detection is one of the many actions you can run while writing your content.
While also powered by Copyscape, Jasper treats plagiarism detection as a separate feature, called the Plagiarism Checker. These checks are an optional add-on to any Jasper plan. It's not included in the base price.
If you think you're going to run plagiarism checks a lot, then Jasper might not be the right choice for you from a cost perspective. Especially since they're both powered by the same plagiarism detection tool, Copyscape.
Chrome Extension
We write content all the time in numerous places. From social media to emails to Google Docs to other forms of written communication, a Chrome extension that follows you along can come in handy.
Rytr's Chrome extension is all about enhancing your writing ability from blogs to emails to ad copy. You can auto-generate catchy, original, and high-converting copies in different tones within seconds. As long as there's a text editor, this Chrome extension fills the void.
Jasper's Chrome extension gives you access to all the templates and allows you to write compelling headlines, blogs, rewrite, improve readability, or even just brainstorm.
After turning on the extension, look for the Jasper icon in the various places you're writing and consult with your virtual writing assistant.
Web browsers are getting more powerful every day, keeping users' productivity in mind and providing a better experience. With these extensions added to your browser work performance goes on the rise and you can have a mini ai content assistant that's going to be immensely beneficial for your day-to-day writing whether it's a quick announcement for your Facebook group or something else – it's all possible by just using one of the extensions.
Chrome extensions are prime examples of how AI can be used to increase your productivity.
API/Webhooks
If you already have a tool that you use to do all of your content writing and don't want to switch between tools, you're probably interested in a tool that offers an API or webhooks.
Rytr allows you to connect to the app through their API, however, as of now, Jasper doesn't offer any API. Just 3 lines of code will let you start creating content according to your rules all from the convenience of your own chosen app. Fill the parameters with a use case, brand voice, tone, and leave the rest up to the Rytr app to do the job. Learn more via their documentation.
Free Trial
Jasper and Rytr both have a free trial to give you an idea of how the tool works, output quality, and what to expect from their services. If you decide that they're worth your money then it's very easy to sign up for a monthly subscription.
Jasper has a 5-day free trial but it requires your card information.
Rytr's free trial is for a lifetime and what's more, no card details are required, 5K credits every month – now that's something special.
Pricing Model
Jasper has three paid plans:
Creator Mode: $49/month for unlimited words
Teams: $125/month with unlimited words, 3 seats, and 3 brand voices
Business: Custom pricing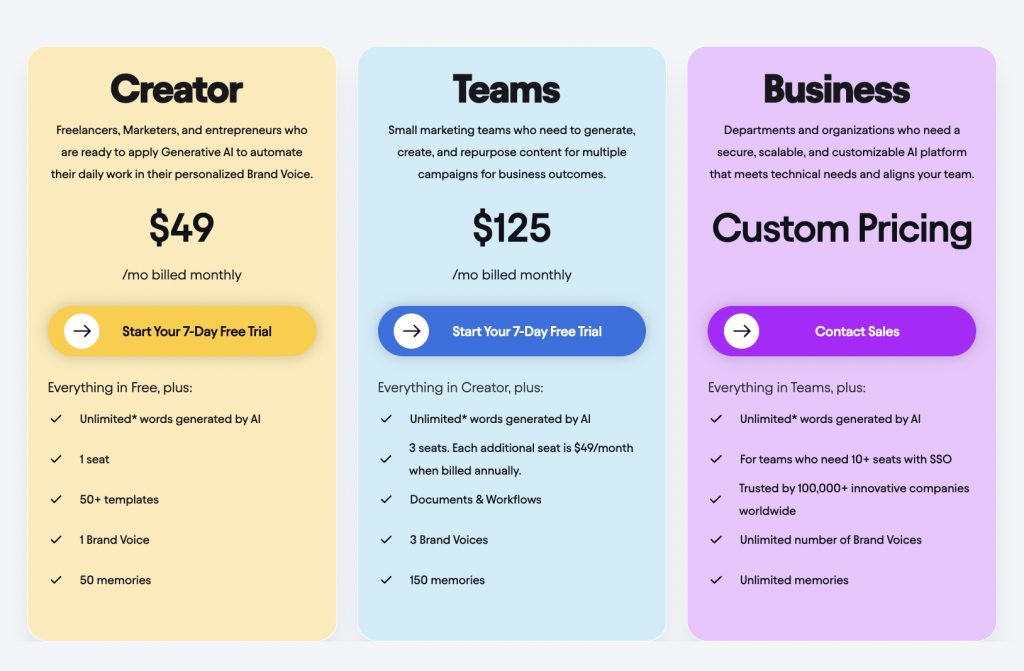 Rytr's plans start at $9/month (50K words) and $29/month (Unlimited).
How do I choose between Jasper vs Rytr?
Before you decide anything, ask yourself what actually is important for your online business in terms of content and what are your expectations.
Are you planning to rely heavily on the templates that both tools provide such as Ad campaign, meta descriptions, blog outlines, etc.? If yes, then you might consider Rytr because Rytr offers unlimited content generations for a reasonable price.
Do you think you want to leverage powerful commands and advanced SEO? Then you might prefer Jasper because it's more powerful when it comes to customization of the output.
Think deeply about your needs and how you want to take advantage of your AI writing assistant.
Jasper might seem like it offers more, but Rytr is quickly catching up and has a much friendlier price point.
Other AI Writing Tool Alternatives
There are a lot of AI writing tools that have flooded the market. If you haven't seen my detailed AI writing buyer's guide, then you might want to check it out. Otherwise, here are a few of my favorites:
Final Thoughts
Comparing Jasper vs Rytr requires you to get down to some nuanced differences. With all of the add-ons required to power-up Jasper, it starts to feel like you're on a budget airline that charges you for the air you breathe. But maybe it's just me. I'm sure some people like the flexibility of only paying for what they'll use.
If you want a powerful, robust tool, you definitely want to consider Jasper. Jasper's commands and ability to customize your output makes Jasper a powerful tool.
Aside from the cringey spelling, I like Rytr because everything is nicely packaged into one, simple user experience. If you're looking for a straightforward tool, Rytr might be the one for you.
But since they both have free trials, try them both out yourself and see which you prefer!