Article Forge Review: Everything You Need to Know
Article Forge is an online article generator that creates content based on keywords entered by users. Article Forge differs from other AI writing tools because it's genuinely a content generator. Article Forge generates articles for you based on the keywords you enter.
Full disclosure: Article Forge wrote the first draft of this article. Then I brutally edited it, fact-checked it, and added some additional content. Overall, the tool did a solid job of creating an ArticleForge review about itself, even critiquing itself at times. Sometimes the information was off, incorrect, or outdated, but it certainly sped up my workflow. While I'm disclosing things, I should also mention I'm an affiliate of Article Forge, so if you click my link (please do!) and buy the tool, I get a small commission at no additional cost to you.
Article Forge uses an artificial intelligence engine to produce unique and informative content. It is a useful tool for bloggers, content creators, and business owners. The software is extremely flexible and can be tailored to meet a business's needs.
ArticleForge Overview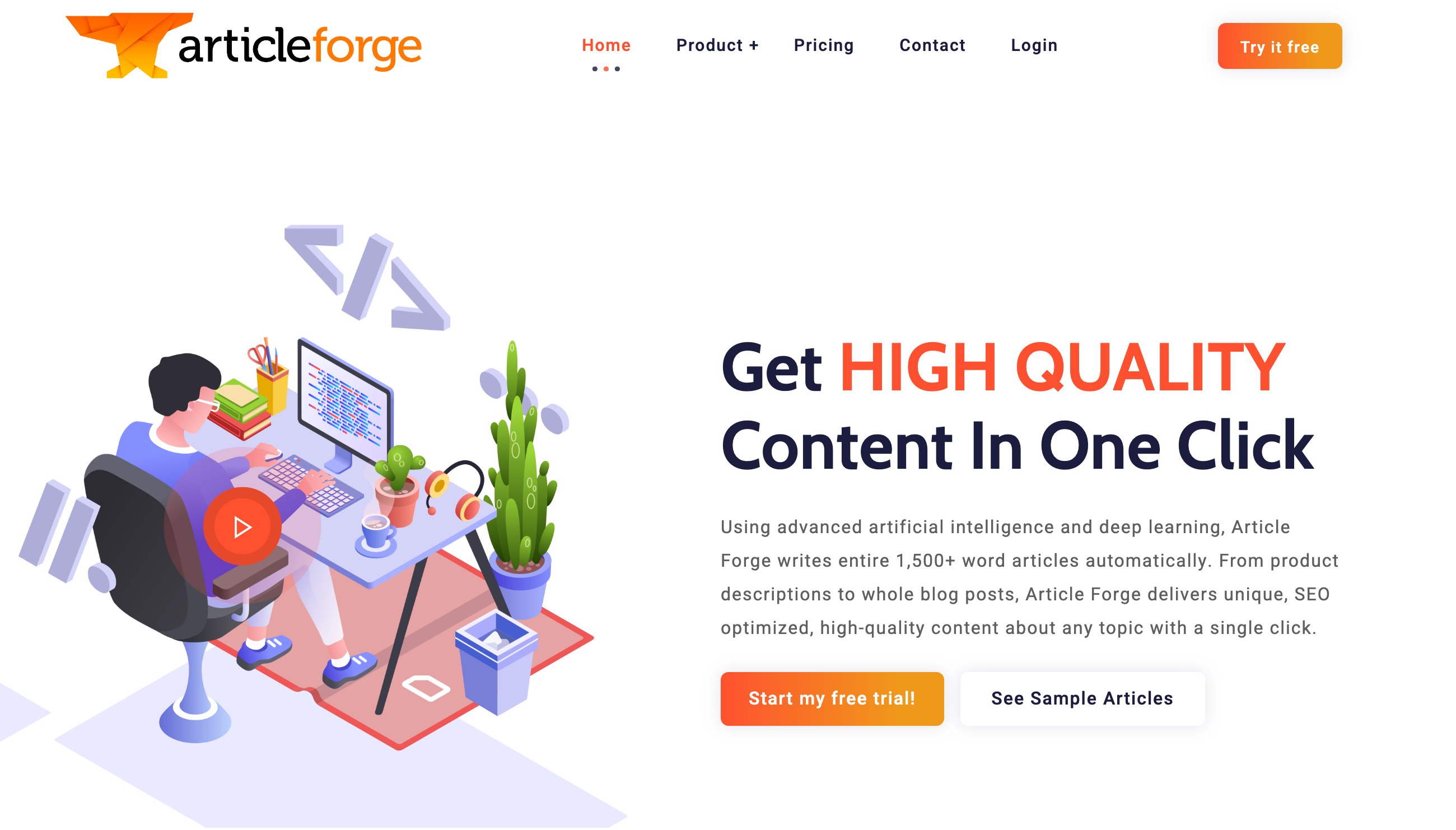 Article Forge's AI-powered algorithms can generate articles without human effort. This allows you to save time while composing the first draft of an article. You can then spend more time on refining and tweaking your work. The program uses the same artificial intelligence technology that Google uses to make its search results. This means that Article Forge not only researches content for you but also it's also designed to include content that Google and regular people find relevant.
Article Forge Features
| Feature | Article Forge |
| --- | --- |
| AI Technology | Developed In-House |
| Languages Supported | English |
| User Experience | Fair |
| Educational Material | Good |
| Long Form Document Editor | Yes |
| Search Engine Optimization | Yes, to a degree |
| Chrome Extension | No |
| API/Webhooks | Yes |
| Free Trial | Yes, 5 days |
| Pricing Model | Subscription |
How Article Forge Works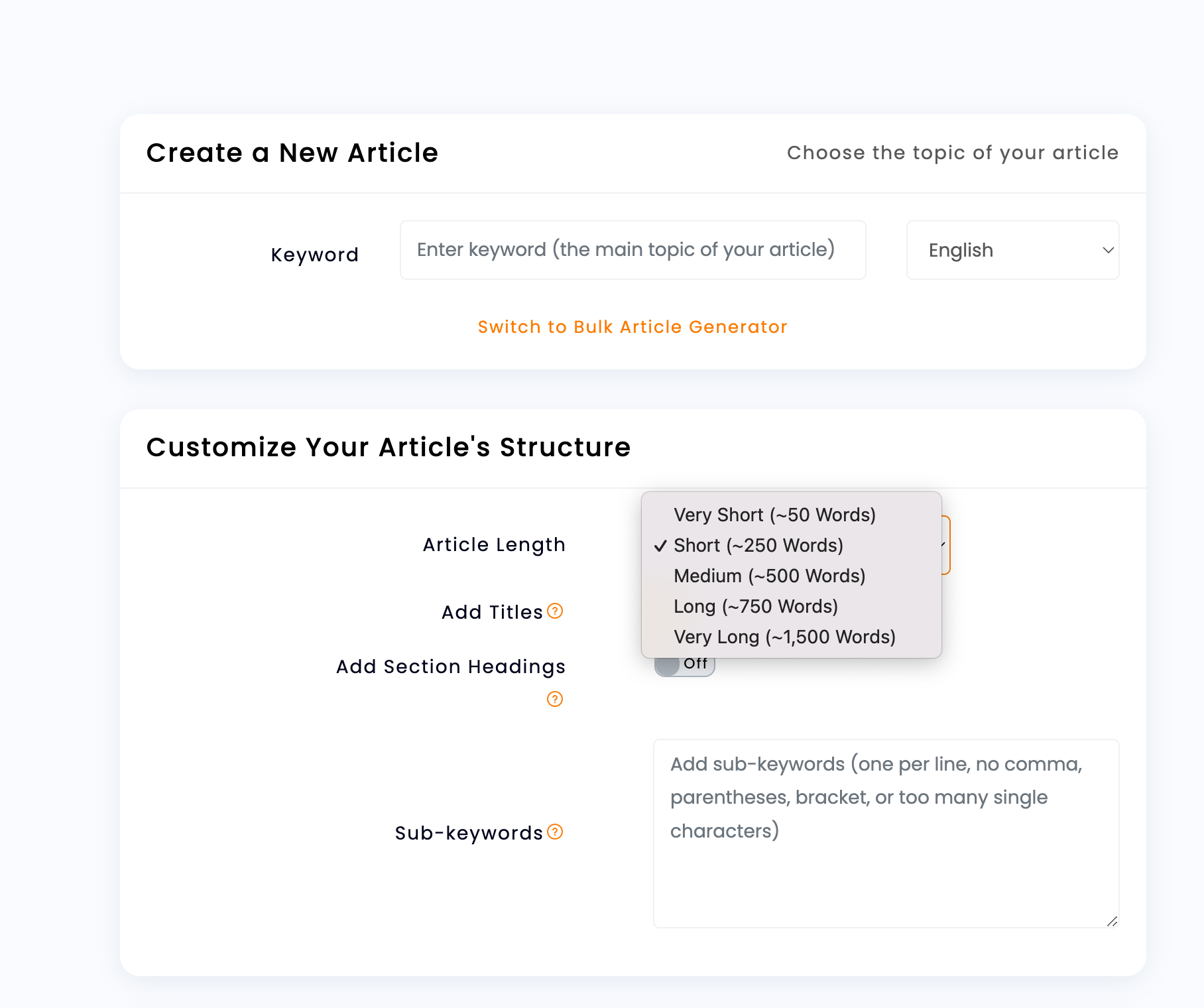 Article Forge is an article generator that allows you to produce high-quality articles of up to 1500 words in length based on a keyword that your provide. It has five article length settings: very short, short, medium, long, and very long. You can add your own subheadings or you can opt for generated content subheadings. Certain article length settings allow you to put in "sub-keywords" to help tailor the content generation output.
And that's it!
You have additional settings to pull in images, videos, and links. If you'd like, you can automatically post to your WordPress blog. If you'd like to be able to have an AI writer rewrite certain aspects of the blog, you need to create an account with a separate tool, WordAI, which is an AI text rewriter tool.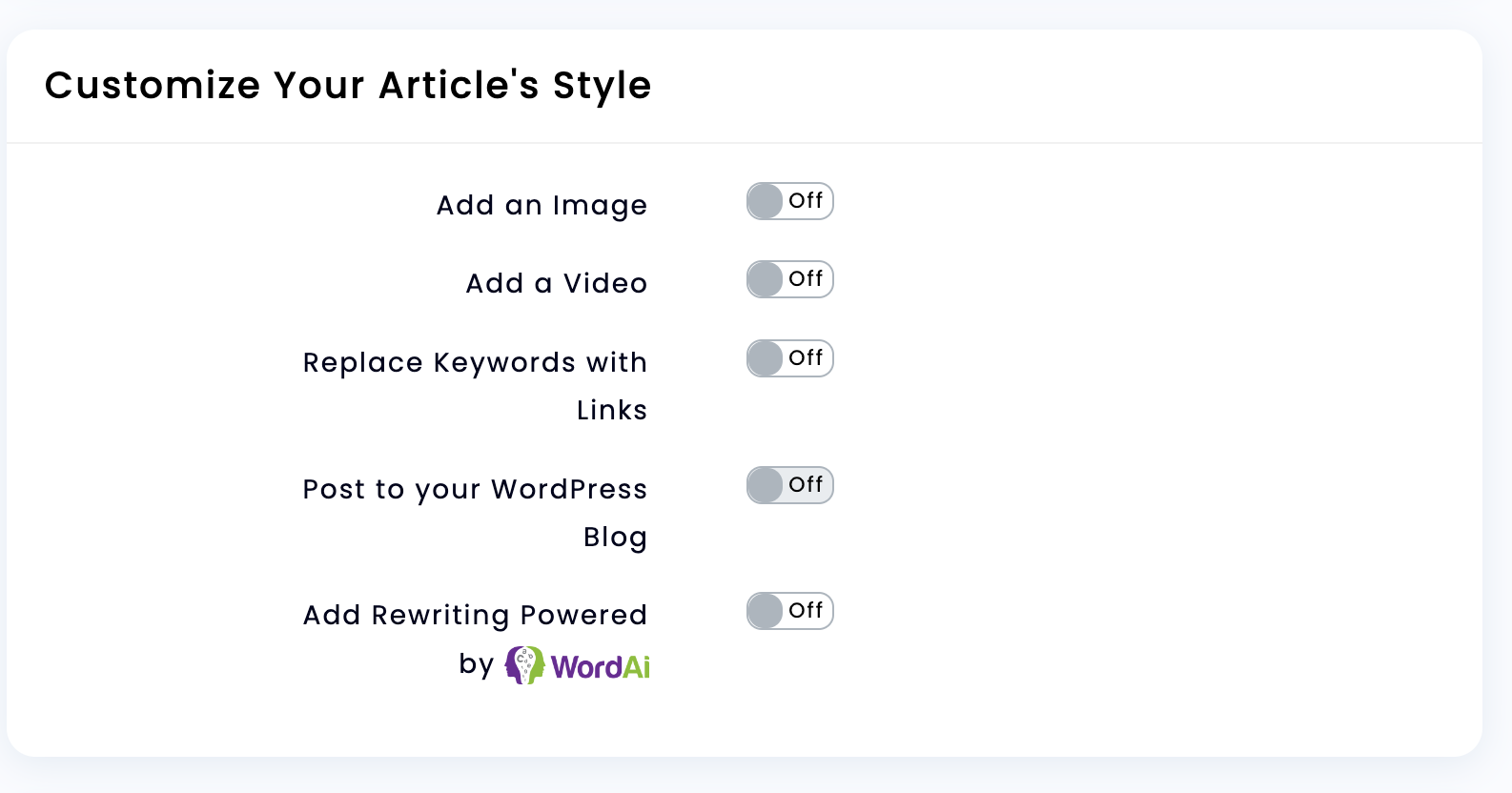 It is also possible to edit the article after it is generated to correct errors. You can edit the text directly in the long form, rich-text document editor or in HTML. You can export the content as a PDF, text file, or HTML. You can also post directly to WordPress once you've gotten it where you like it.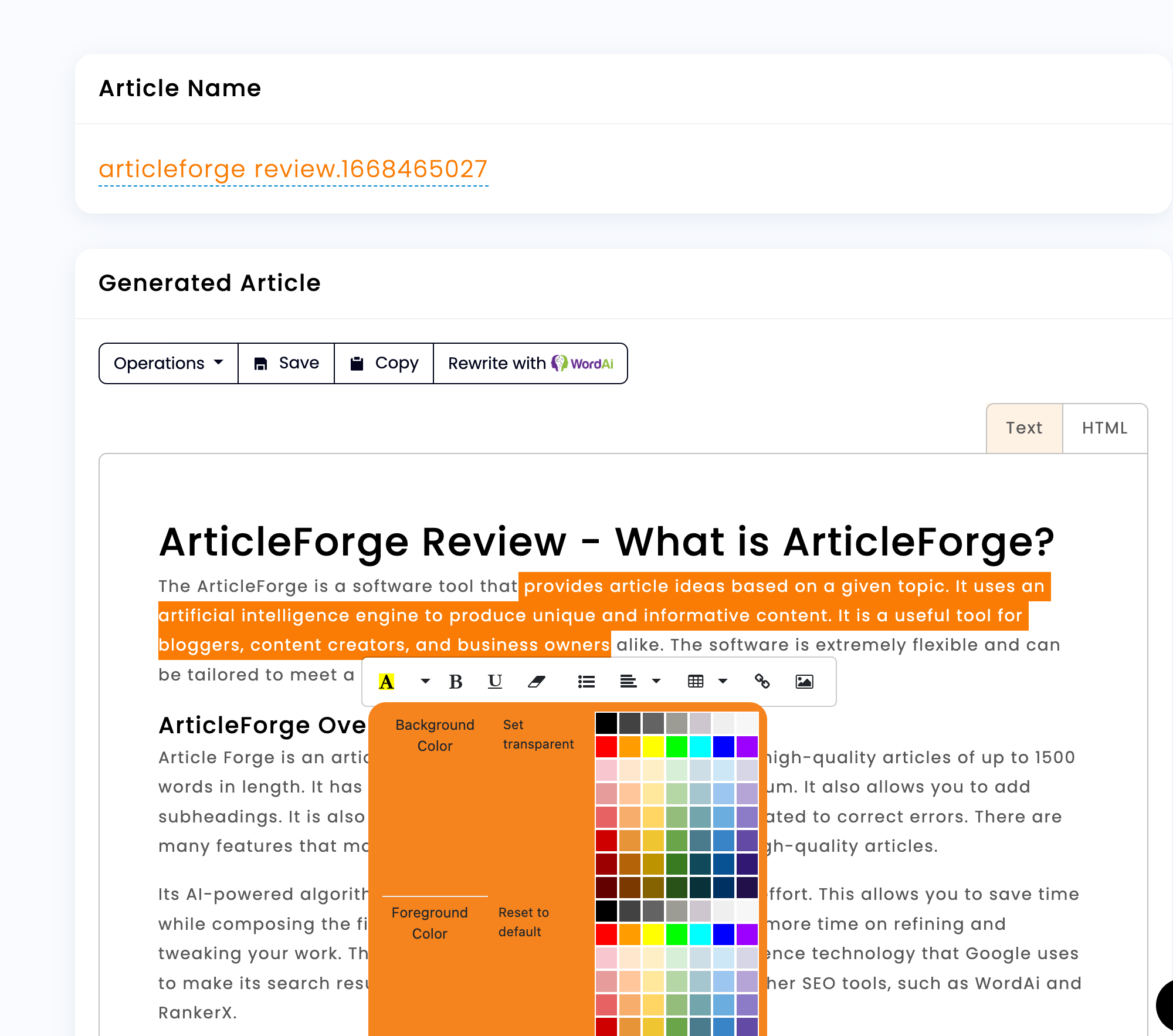 Article Forge is not like the other AI content creation tools you see out in the market. It's a true content generator tool. For better or for worse.
Most of the other AI writers like Jasper, Copy.AI, Ryter, and others require you to put in content and write alongside it. Article Forge is an article generator, which means you put in a keyword or phrase and it generates the article for you.
There are positives and negatives to using an article generator. You get a fully written article, but you don't get as much nuanced control over the output. You see the final written product rather than writing together. If the article generator completely goes in a direction you don't like, there's nothing you can do about it besides starting over. As with any AI writer, the more specific you get with your input (keywords), the better the output you get.
Pricing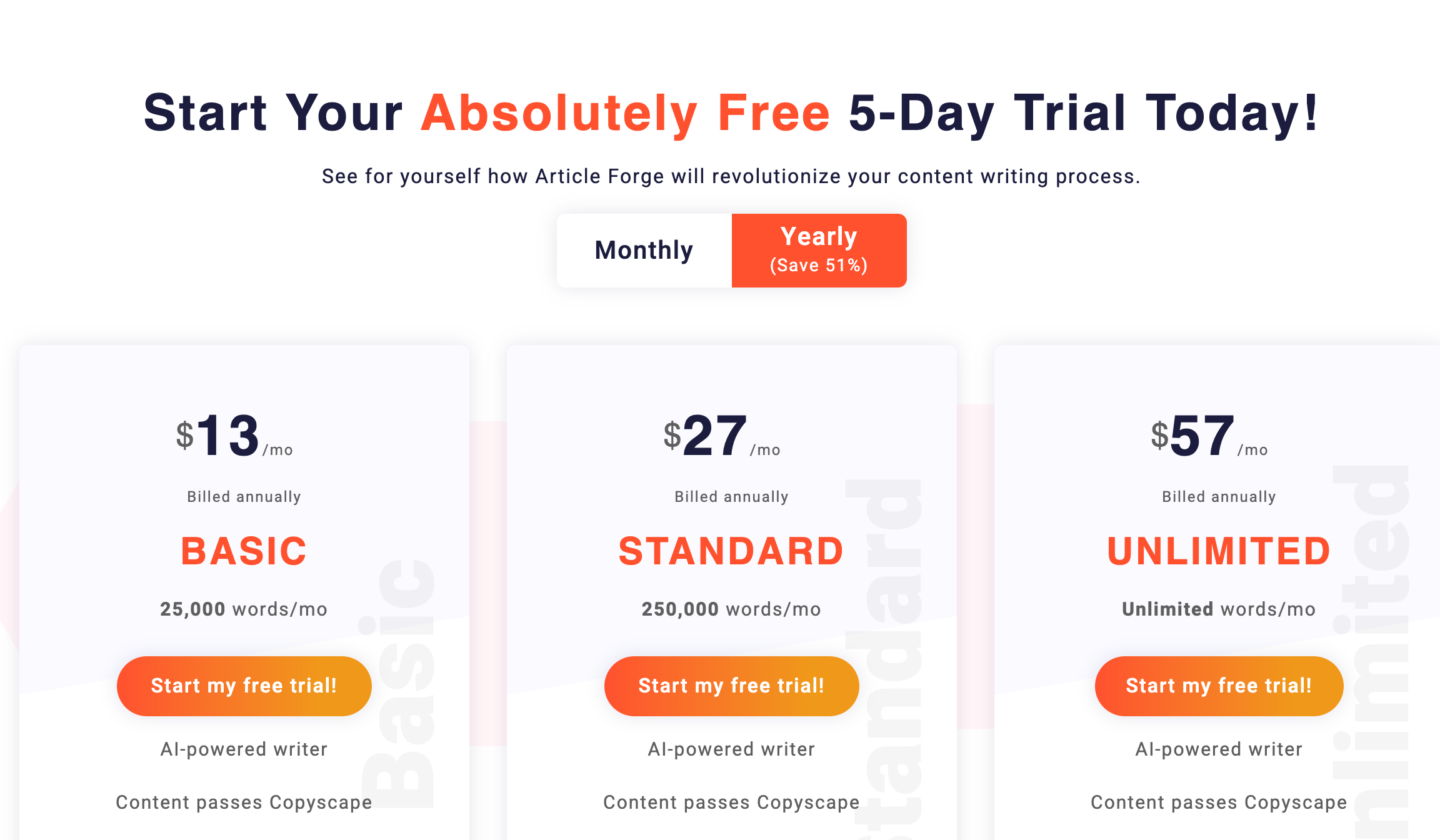 Article Forge offers a free trial that lasts for five days. However, after that, you will have to subscribe to their service. The standard paid version costs $27 a month if paid annually, and $57 per month if paid monthly.
If you're unsure about whether you'll like Article Forge, check out their 30-day money-back guarantee. You can cancel your subscription if you're unhappy, no questions asked.
What ArticleForge Does Well
Article Forge is an article generator that uses artificial intelligence to generate articles with high quality content. With its help, you can customize the article writing process to your needs and get dozens of articles in no time. The article generator can even generate more than one version of the same article if you have more than one topic to cover.
AI Technology
The Article Forge article writer generates content using artificial intelligence and natural language processing.
Article Forge works by using similar technology as GPT-3. The AI article generator checks itself against its knowledge base for factual information before generating content. The AI article writer reads millions of articles and learns about your topic. The article generator creates hundreds of thousands of relationships between different topics. It's capable of creating unique articles based on your inputs. The article generator can create 1,500-words of generated content from a single prompt. It also provides additional tools for editing and fine-tuning your content. For example, it can rewrite existing information pages or articles.
It's essential to use sub-keywords carefully, since they can have an impact on the quality of your AI content. The generated articles by the article writer may not be related to the keyword you entered. They could be about a completely different topic. They could also contain incorrect information. That's why AI tools simply operate as a tool to help you work.
Educational Material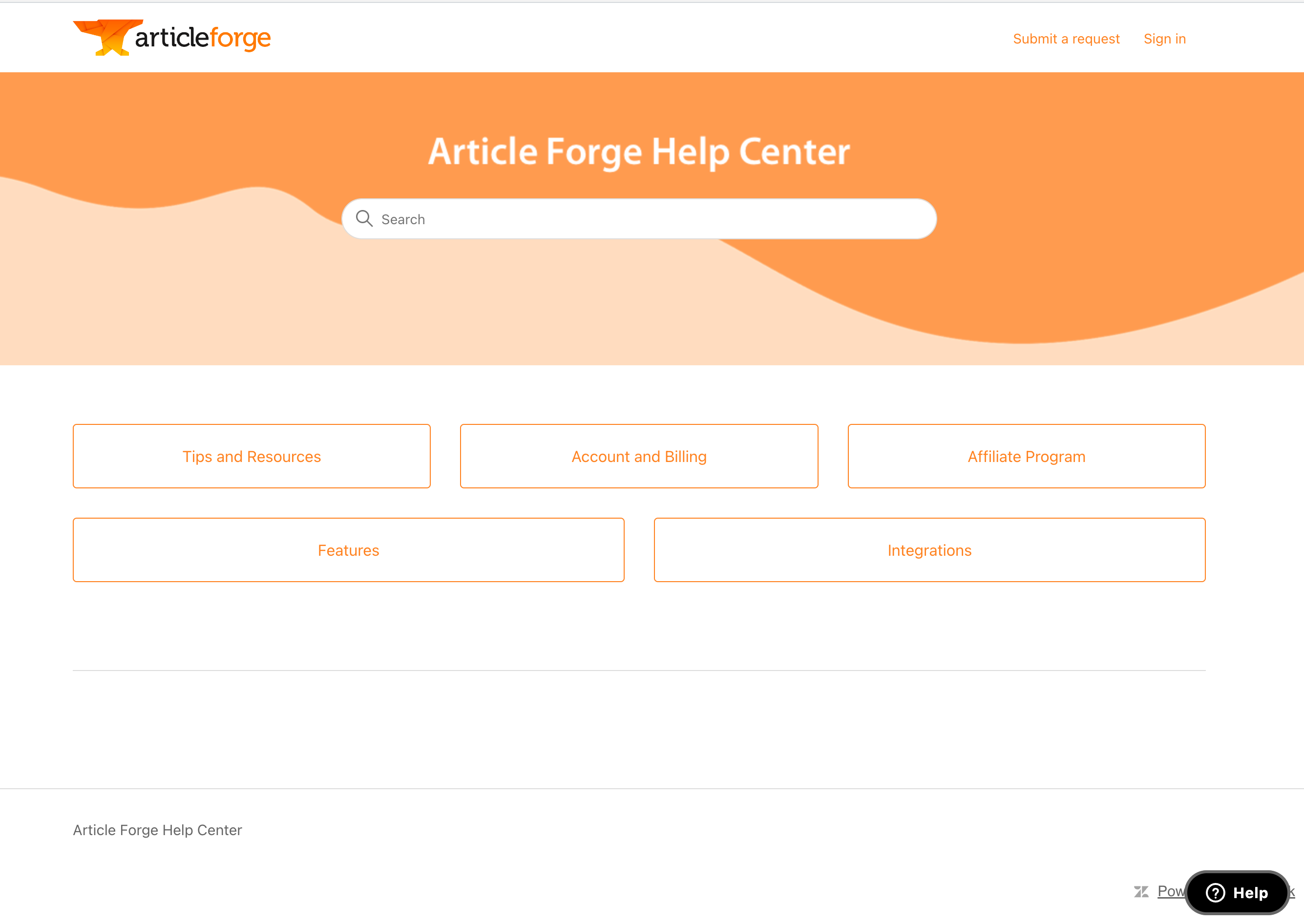 Article Forge has a help center for your basic questions. I think they could definitely add more content there, but it's definitely a good starting point.
There's no live chat or help desk number, but you do have the option to submit a support request from the help center. Within the tool, you can click the persistent help button in the bottom right of the screen to quickly search the help center.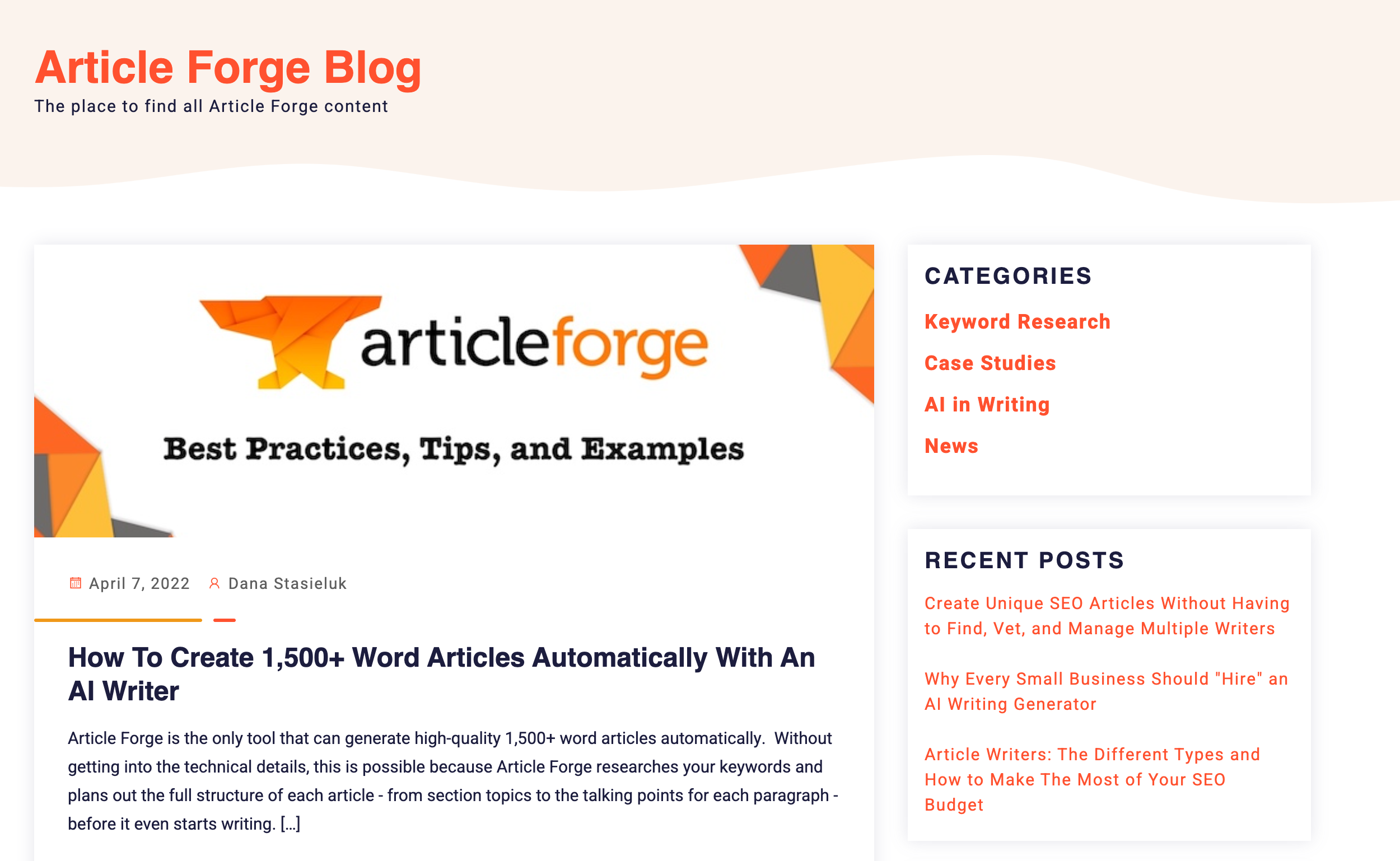 Article Forge's blog has a number of helpful how-to articles. The blog could be better integrated with the help center, in my opinion, but the blog overall has a lot of helpful content. It includes best practices, case studies, SEO tips, news, and more.
API
Article Forge has a powerful API that allows you to integrate with other tools to automate your content creation process. You can use the API key that the article generator tool provides to connect Article Forge to any of their prebuilt integrations.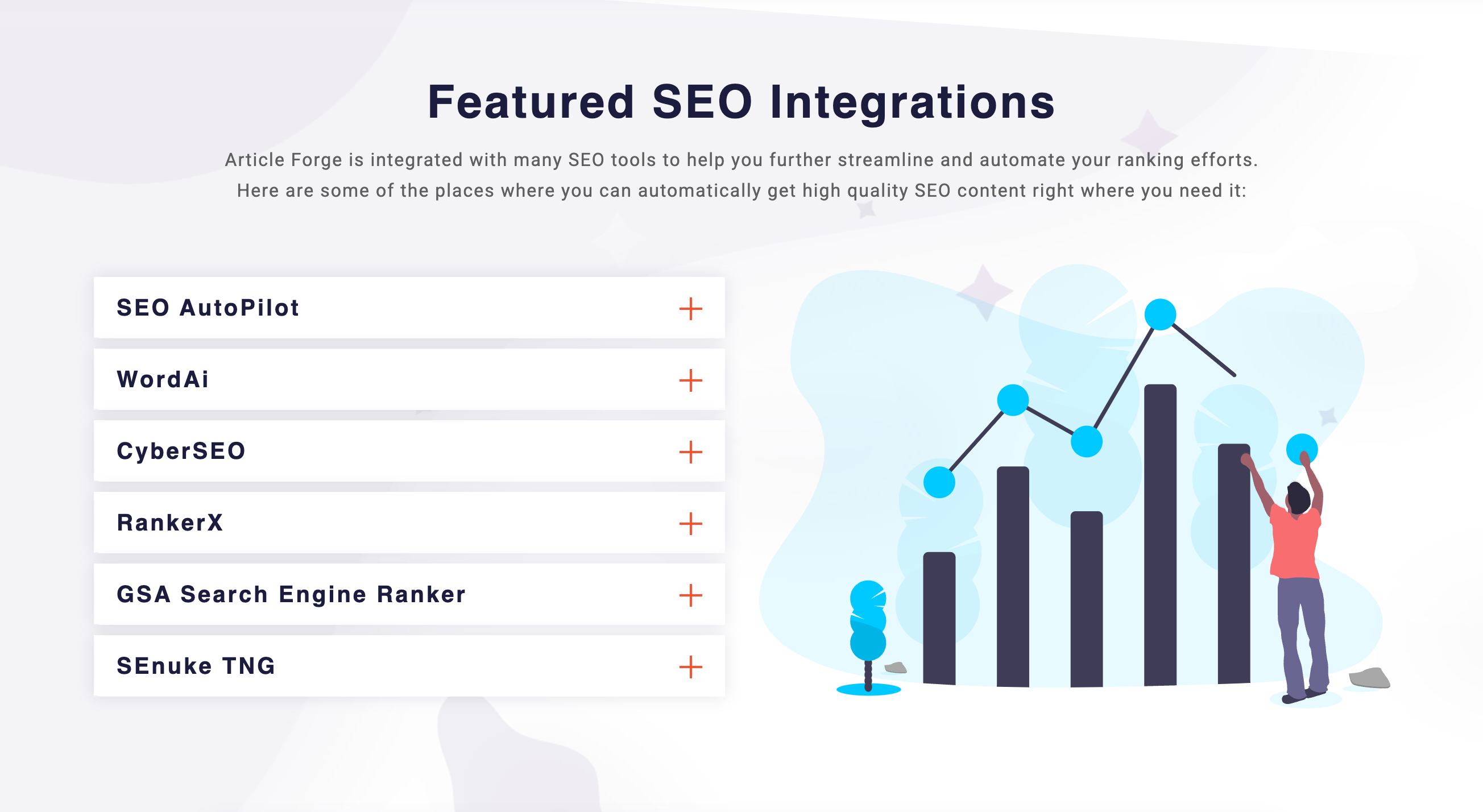 What ArticleForge Could Improve
As with any article creation tool, Article Forge is not without its drawbacks. Whether or not it is a good investment is a matter of personal preference.
User Experience
While Article Forge is fairly straightforward to use initially, I found that the user experience was lacking in some areas.
Confusing terminology in the article generator
Inside of the article generator, you're simultaneously prompted to "Choose the topic of your article" and to "Enter keyword (the main topic of your article)." Which is it? Keyword or topic?

I'm accustomed to expect the keyword to be the one I want to rank in Google for. My topic, however, would be the more in-depth description of the keyword.
I find this language to be confusing. After reading a how-to article on their blog, I realized that you should put in the topic and even information about the tone into this keyword section.
I think this could be laid out in a clearer way.
Even better, Article Forge could give us three options: a keyword option, a topic option, and a tone of voice option. Those aren't hard to think up and would produce a better output for more people.
Sub-keywords
Article Forge allows you to use sub-keywords…some of the time. It's very unclear when you can and cannot use these sub-keywords.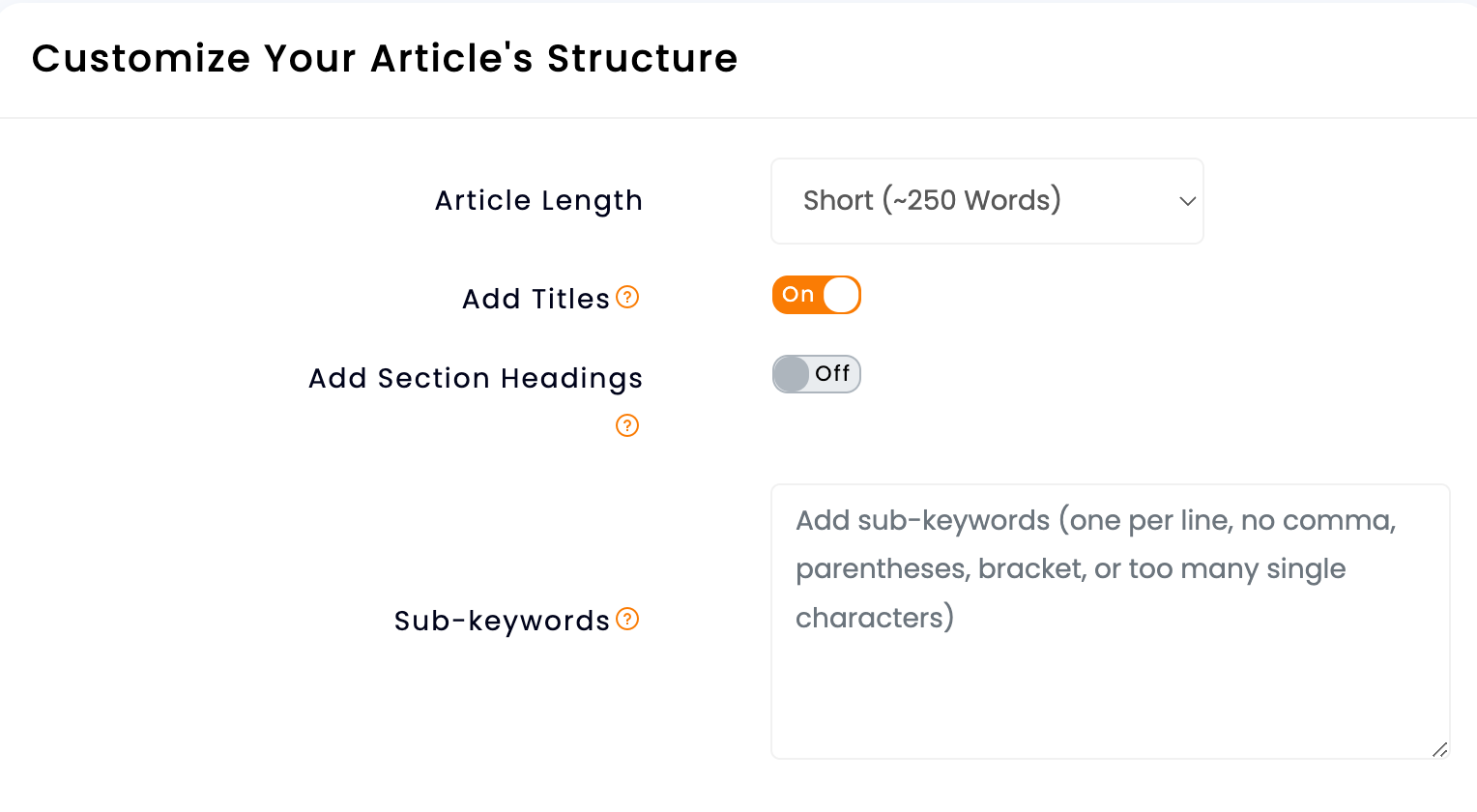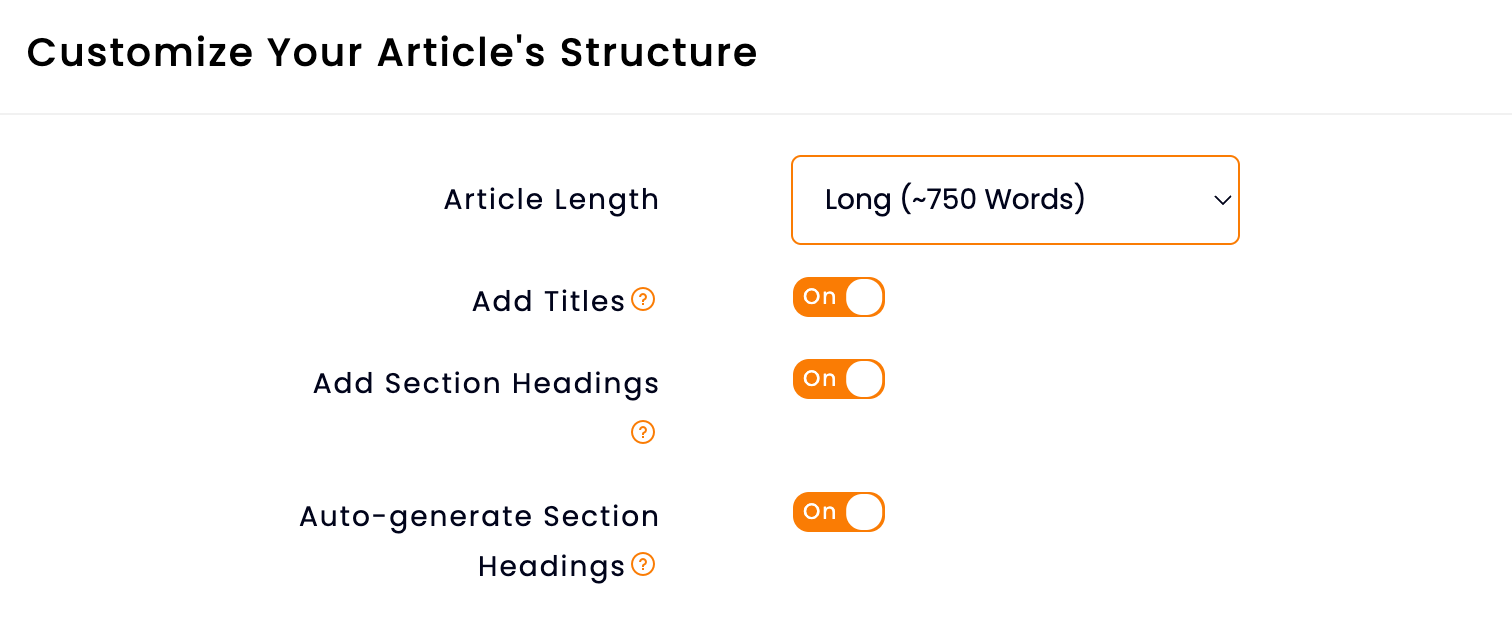 For the short article length, you can use sub-keywords. However, with longer lengths you cannot. I would think for a longer article, it would be more important to include sub-keywords. You can create your own section headings with those sub-keywords, I assume, but I would still want them as separate options.
Article Style
Asking article generator to automatically add images and videos sounds like it would be a great thing, no? Well, I found that the images and videos it found were really random and not what I'd want to use.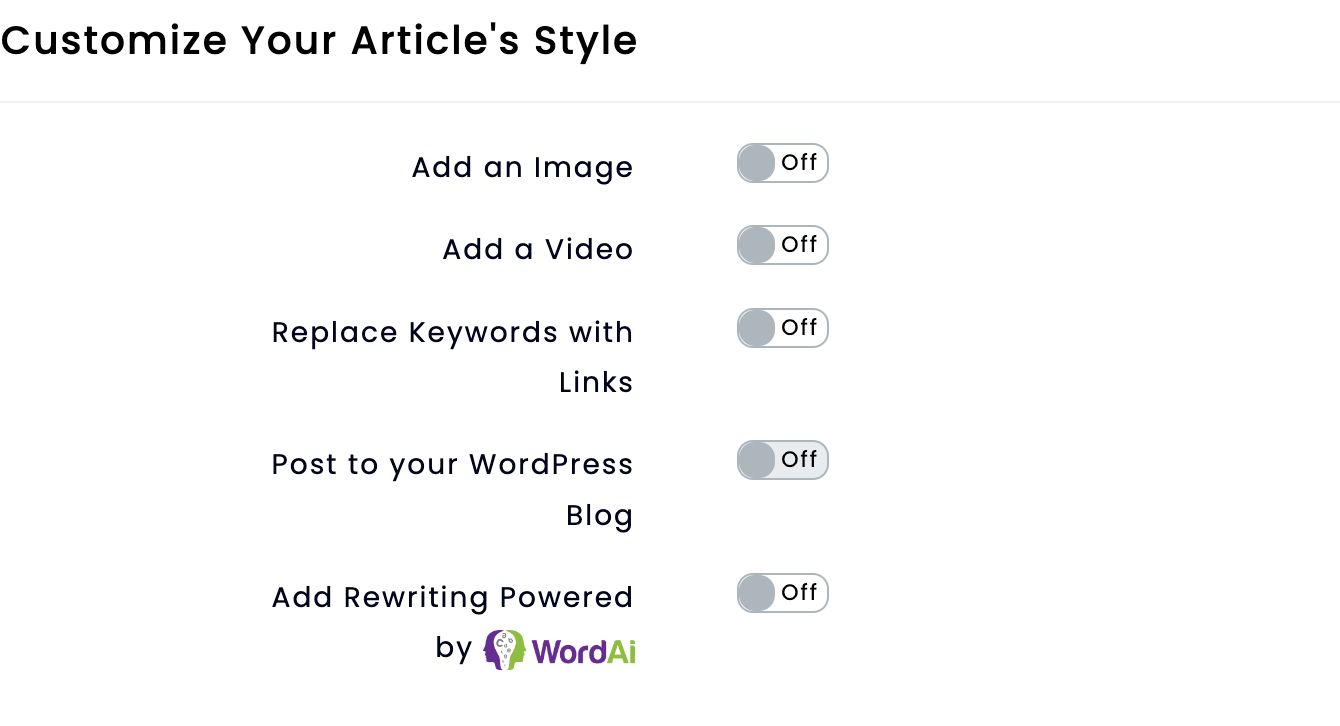 Also, when do you ever want to add just one image? Most articles require multiple images.
Overall, this feature is a nice idea, but not effective in practice. Yet!
Time to Generate Content
It takes quite a while for the article generator to run. It's not a huge deal because Article Forge's algorithm supposedly goes and researches your topic. However, you just need to be aware that it can take some time. Run the article generator when you have some other task you can work on at the same time.
Search Engine Optimization
I've taken articles from the Article Forge article generator and put them directly into my SEO tool. The result is not bad. It's usually pretty close.
My main complaint is that there's no feedback inside of the tool to know that your content has been optimized. It doesn't highlight how often the keyword has been used, for instance.
As long as you're aware that this is not an SEO tool and you have other ones to further optimize your content, then this isn't something you need to worry about too much.
I'm not sure I would rely on this tool alone to create SEO AI content. That said, you can integrate Article Forge with a few different SEO tools using the API.
Verdict
Article Forge is a content generator tool that helps users write and publish articles. Users can use the generated content as-written or customize them to fit their needs. The system uses intelligent tools to write articles, making sure they follow your specifications.
Even though Article Forge allows you to create articles in minutes, the quality of those articles isn't as high as you would need. Often, these articles contain fluff or inaccurate facts.
While Article Forge won't produce ready-to-publish content, it can help speed up your writing process. It cannot replace a professional writer. Rather, it can help you speed up the composition process and save time.
Given all of that though, I do think it's worth trying. Sign up for free and see what you think!