Content creation is paramount in today's digital age and the demand for high-quality copywriting has never been greater. Marketing teams and freelancers are flocking to the world of AI generated content hoping to outwrite and outrank their competitors.
Meet AI Writer, an AI writing tool that hopes to provide writers and creators with the tools they need to generate high-quality content in a fraction of the time it would have taken just 5 years ago. This AI content generator helps you generated SEO-optimized long-form content with relative ease.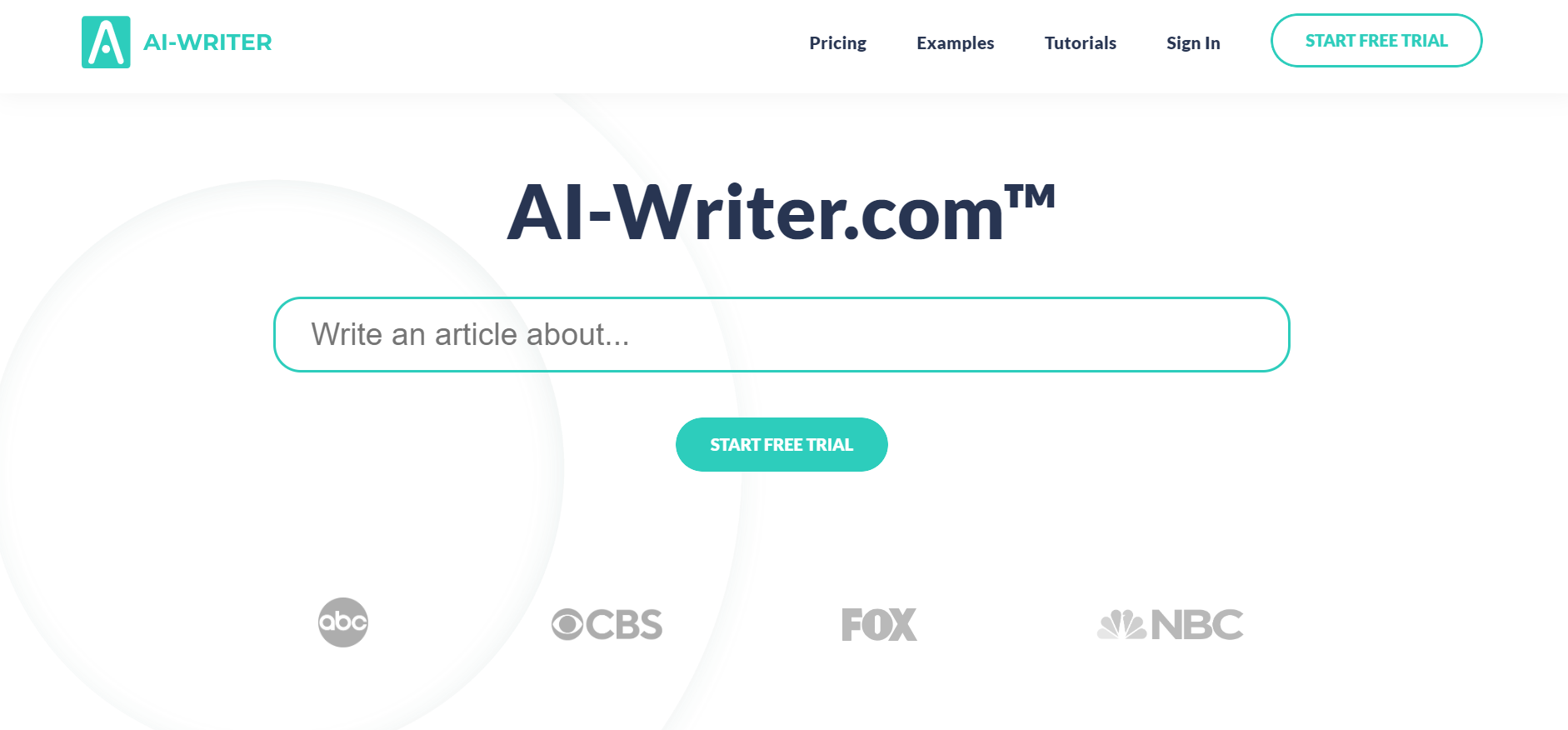 At your command, AI Writer generates fresh and relevant full articles with citations. (Where was this tool when I was in high school?) And when writing on the platform, you can be assured that, "The AI-generated text is guaranteed to be unique and original." as AI Writer's website claims. 
Whether you're a researcher seeking to boost productivity or an aspiring writer refining your skills, using AI writing tools can help take your penmanship to new heights and make writer's block a thing of the past. In this review, we'll explore AI Writer's features and determine what it does a great job at, as well as what the platform could improve.
AI Writer Overview
AI Writer is a powerful tool that leverages the capabilities of artificial intelligence to create high quality AI generated content and help writers reach their article and blog post goals. The platform offers a comprehensive toolkit including AI writing, text rewording, SEO editor, and more. You can explore what this AI tool is all about with its free trial.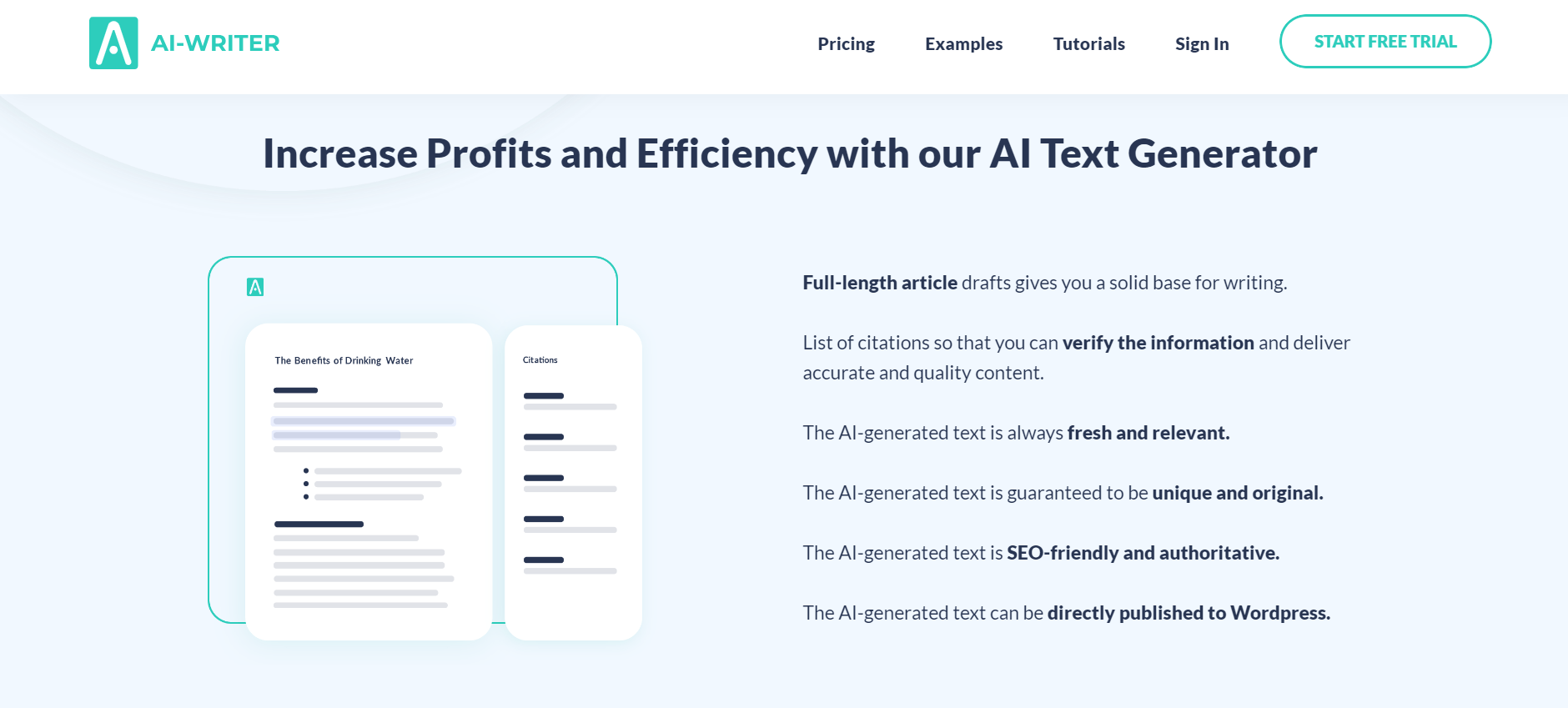 AI Writer offers an article generator that utilizes advanced algorithms to generate high-quality and SEO optimized content. You can also take advantage of the text rewording feature, which helps reword and enhance the overall clarity, coherence, and flow of existing content. Additionally, the platform offers an SEO text editor which further helps your content rank higher on search engines.
AI Writer is committed to helping its users write accurate and plagiarism-free content. By providing citations for all the information used in the generated content, AI Writer places authenticity and reliability at the forefront of its values. Writers can verify the sources and information to ensure that their content is accurate and trustworthy.
Whether you are an academic student, professional researcher or a blogger, AI Writer has the potential to transform your writing process and help you produce well-written content.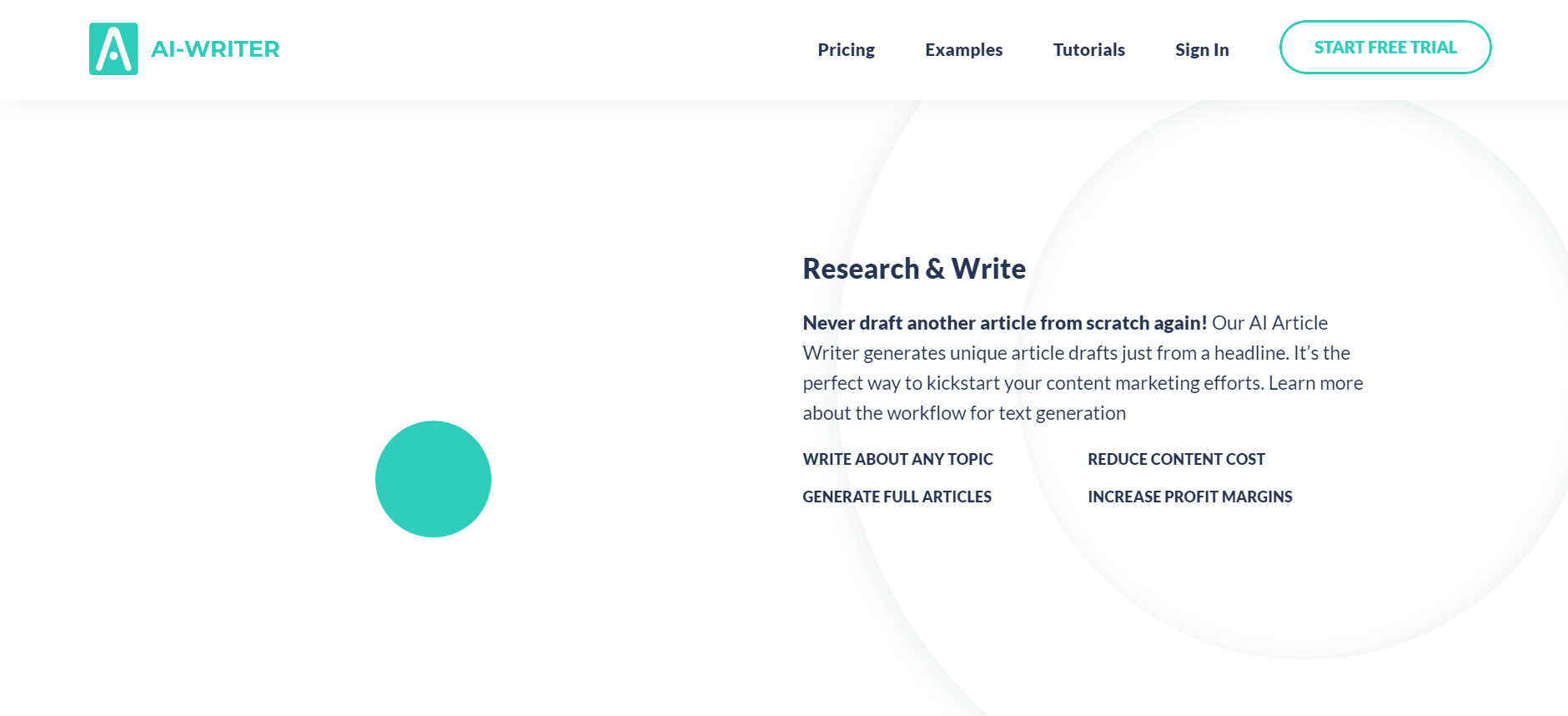 | | |
| --- | --- |
| Feature | AI Writer |
| AI Technology | GPT-3 |
| Languages Supported | English |
| User Experience | Web Interface |
| Educational Material | Yes |
| Long Form Document Editor | Yes |
| Search Engine Optimization | Yes |
| Art Generation | No |
| Text Summarization | No |
| Plagiarism Detection | Yes |
| Chrome Extension | No |
| API/Webhooks | Yes |
| Free Trial | Yes |
| Pricing Model | Monthly Subscription  |
What AI Writer Does Well
AI Writer is a great tool when it comes to article generation and shines in its commitment to accuracy and credibility by offering a long list of reliable citations to back up any content written. Below, we'll explore in more depth what AI Writer does well.
Article Generation
AI Writer offers the ability to generate first drafts of articles with just a couple clicks and some typing. Some AI content creation tools don't allow you to specify how long your long form content should be – I liked that I could tell the platform exactly how many words I wanted the article to include.
To generate articles, click on "Research and Write" in the top left-hand corner. Once you're there, input the desired number of words for your blog. Subscribers can write articles with up to 5,000 words.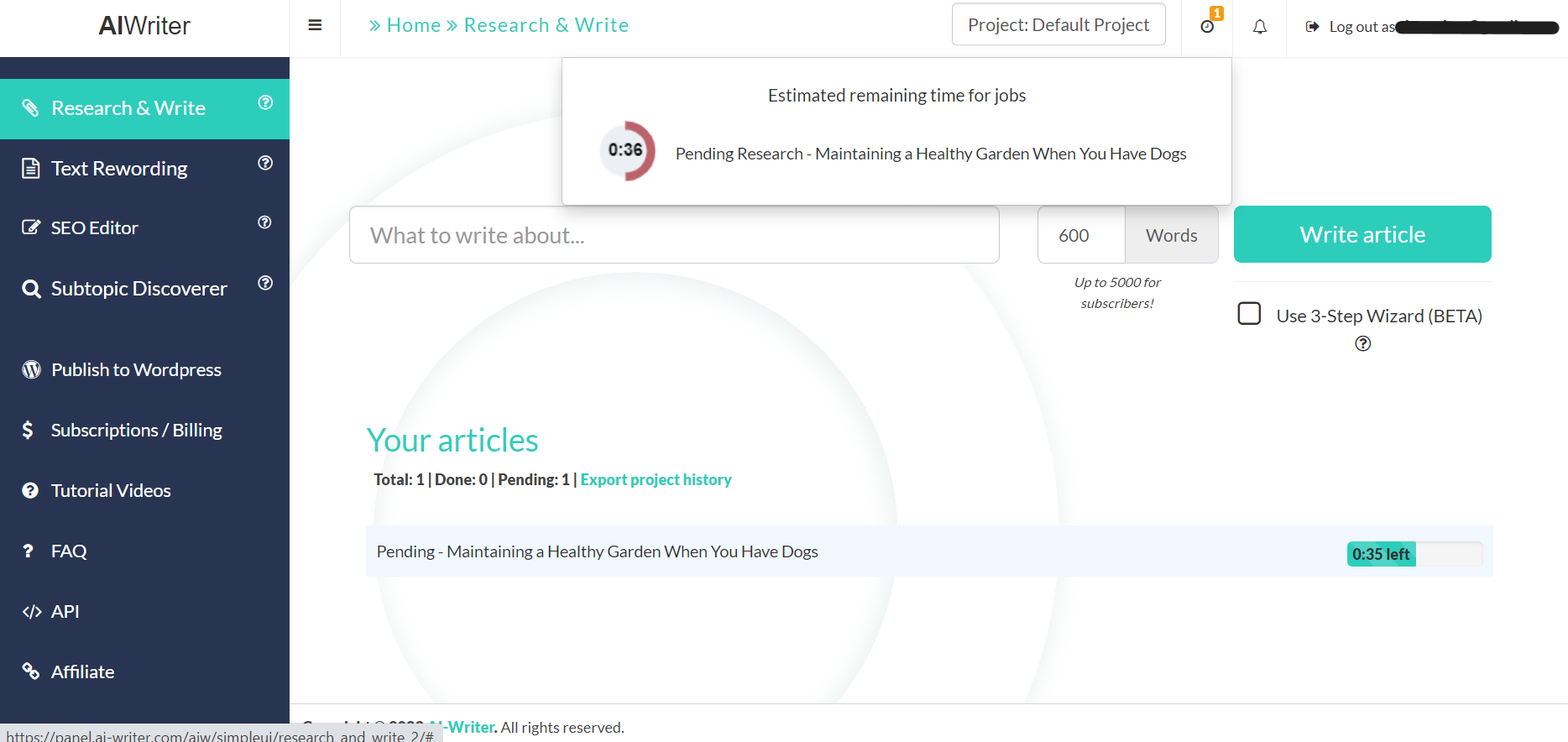 Proceed to click "Write Article". You'll be able to choose keywords relevant to your topic. This feature enables AI Writer to generate content that is closely aligned with the chosen keywords and ensures a targeted and focused approach to article creation.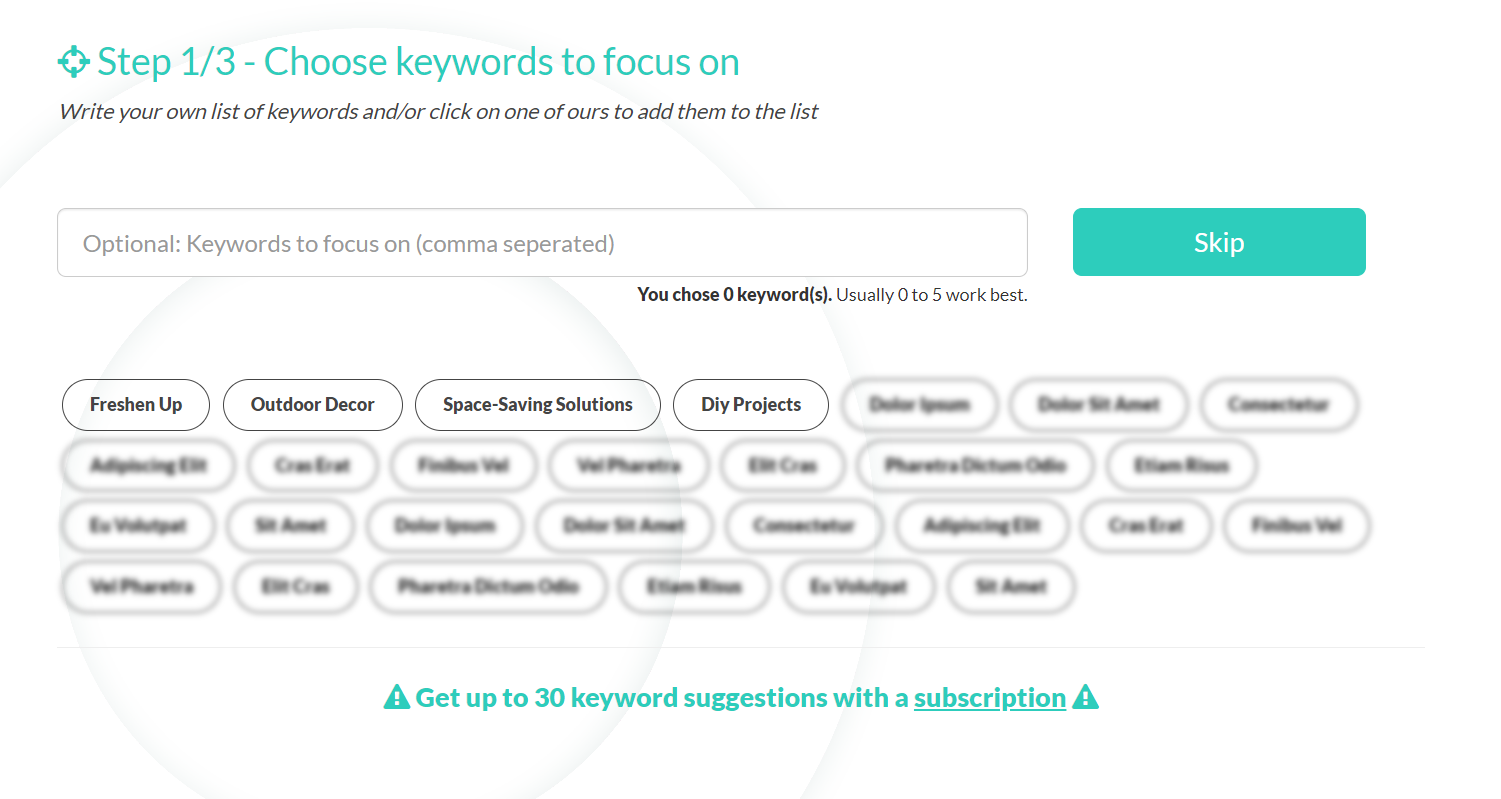 Writers have the freedom to customize the outline of their articles by moving the AI generated subtopics around to the preferred order in which they should be covered. This level of customization allows writers to maintain a logical flow in their work, and prevents moving paragraphs around later.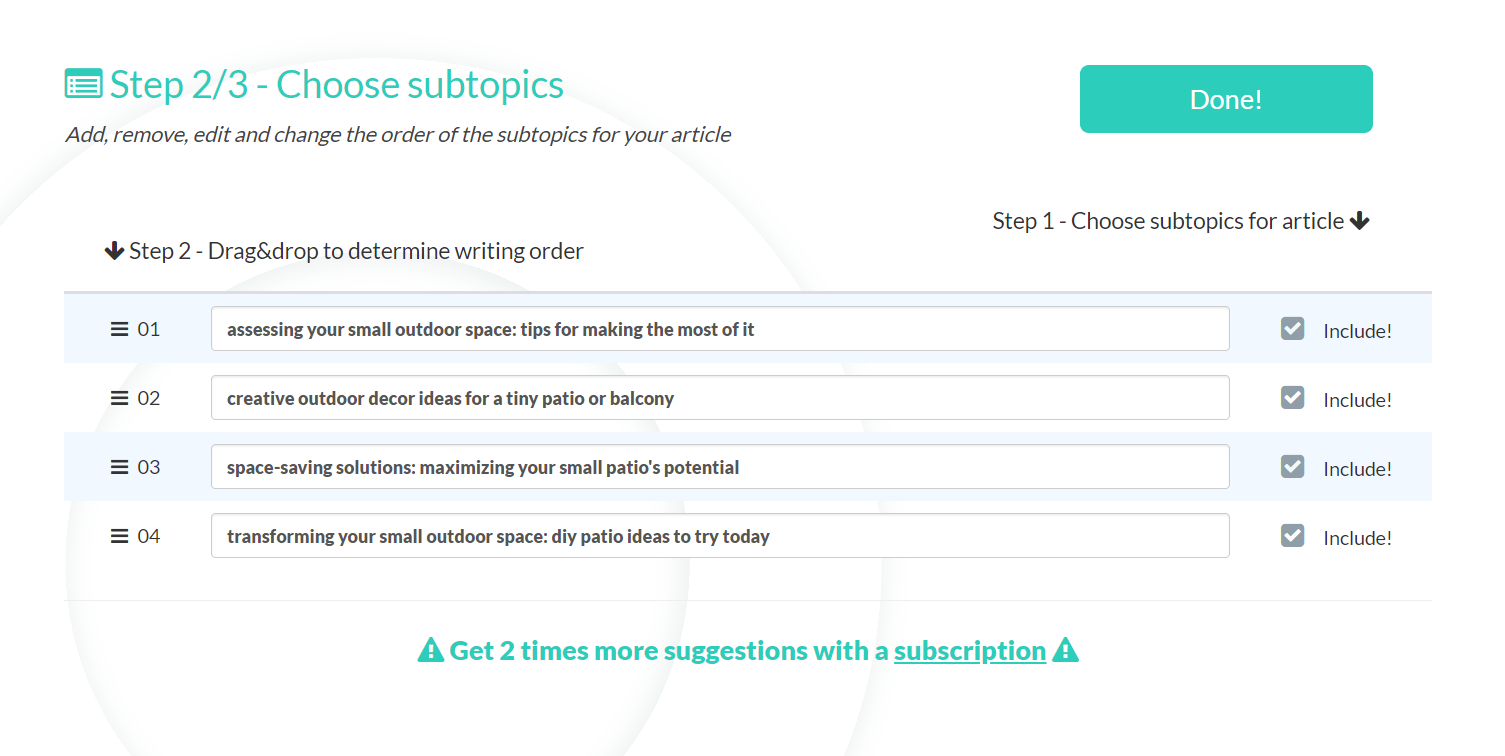 After the article is generated, you will have to access it through the dashboard. For those who wish to make edits or enhancements, AI Writer offers the option to open the article in the SEO Editor with the 'open in another window' button.
I asked AI Writer to write 2 articles for me. The first article was entitled, "Maintaining a Healthy Garden When You Have Dogs." The AI writing tool did a great job, and I have no complaints.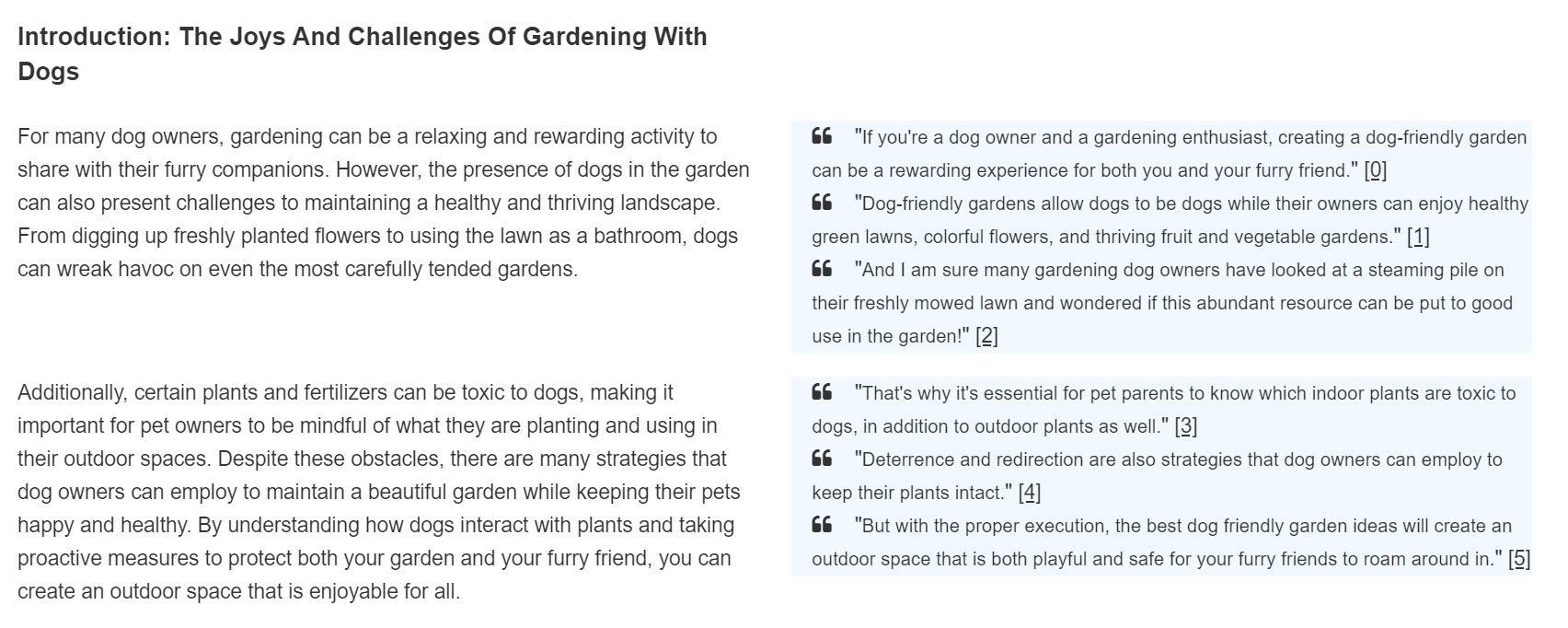 Then, I asked the platform to write about ways to freshen up a small patio space. The content delivered was on point, but the AI seemed to gloss over the introduction and conclusion.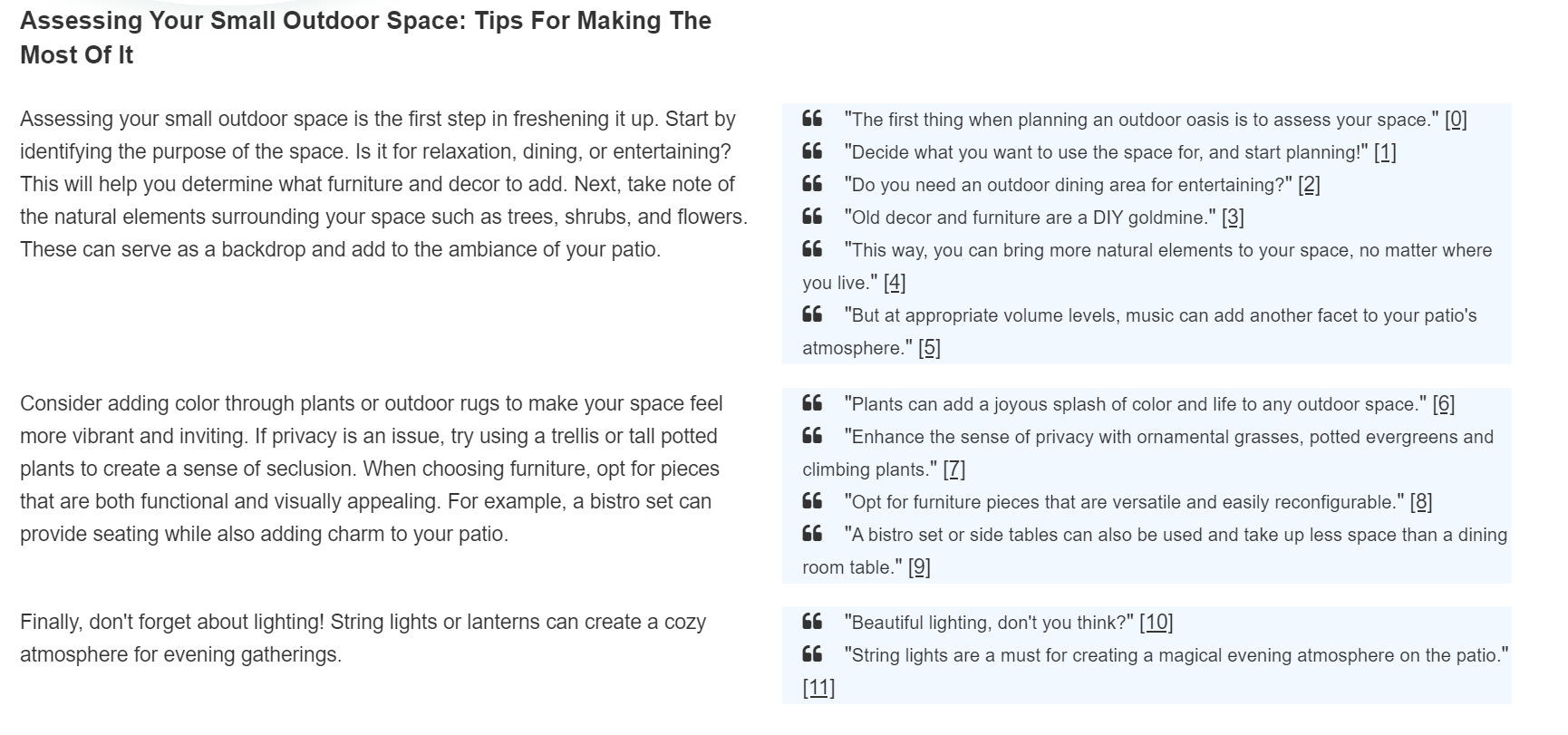 If you're on the hunt for an AI text generator that will not only write articles for you, but provide an abundance of citations backing up the information provided, then AI Writer may be the platform for you. I am impressed by the number of citations provided as well as the fact it led to live sources.
With a simple but effective UX, AI Writer provides writers with the tools needed to create engaging, well-crafted, and properly cited articles.
Long-Form Document Editor/Search Engine Optimization
AI Writer's Long-Form Document Editor, known as the SEO Editor, helps writers in optimizing their content for search engines to achieve higher rankings. The SEO Editor offers a straightforward interface with standard formatting options like headings, bold, italicize, and more.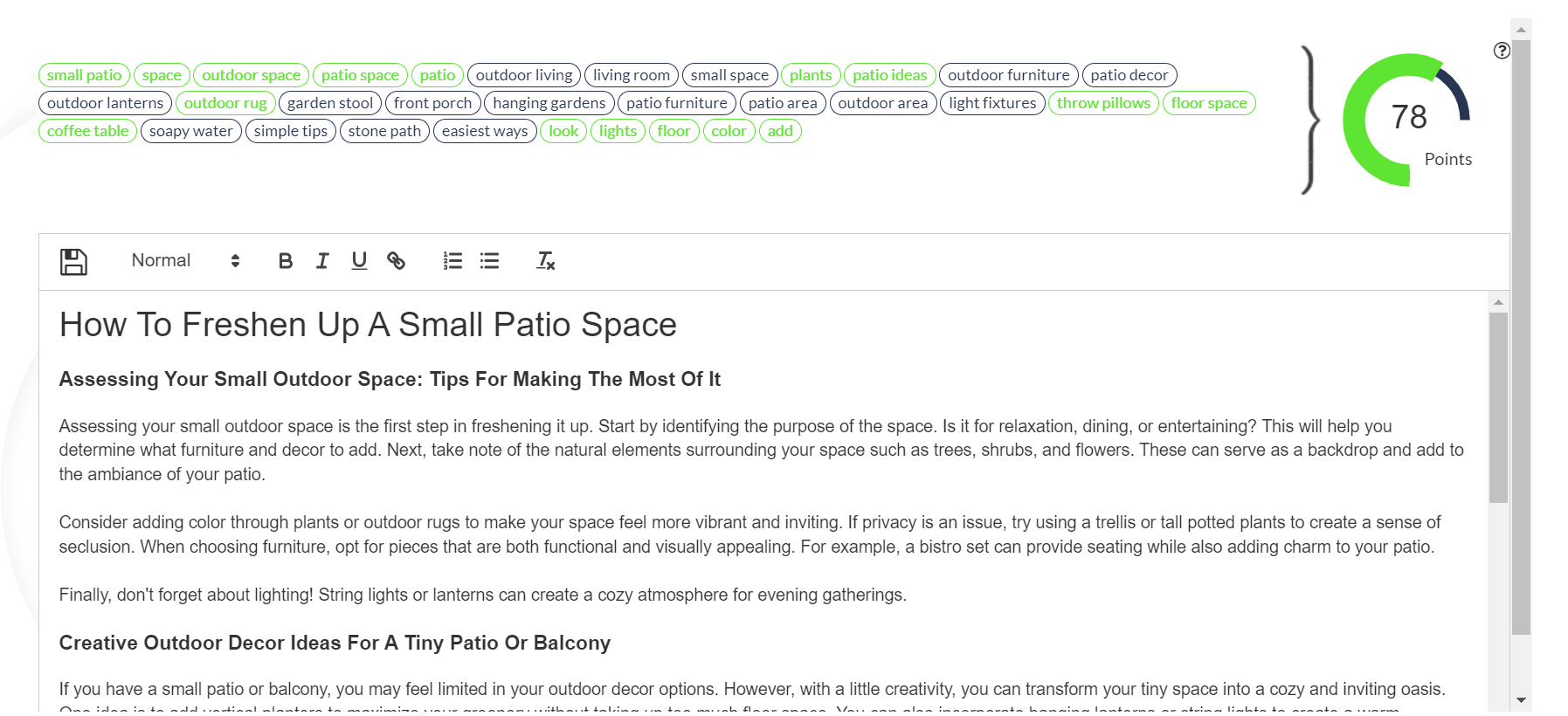 The SEO Editor provides a content score which evaluates your topic's keyword distribution within your article and compares it to other ranking articles and websites. By analyzing this data, the content score provides insights into how your article will outrank your competitors. This valuable information empowers writers to strategically enhance their content to achieve better search engine visibility.
You will also see a list of recommended keywords to include in your work at the top of the page. These keyword suggestions are carefully curated to improve your content score and enhance its relevance to the target audience. By incorporating these recommended keywords into your writing, you can improve the quality content and SEO-friendliness of your article.
AI Writer's SEO Editor equips writers with the tools they need to optimize their content effectively. Whether you are an experienced SEO writer or new to the concept, the SEO Editor simplifies the process of crafting content that is search engine-friendly, authoritative, and engaging.
What AI Writer Could Improve
While AI Writer does well at article generation and SEO, there are areas where the platform could benefit from improvement. For example, enhancing the writing experience by streamlining the user workflow and consolidating features onto a single page or editor would greatly enhance the platform's usability and convenience. Let's discuss some aspects where AI Writer can improve below.
User Experience
AI Writer's user experience, while functional, could benefit from some modernization as it feels a tad dated. A fresh, modern design could make the platform more visually appealing and attract more customers in the long run.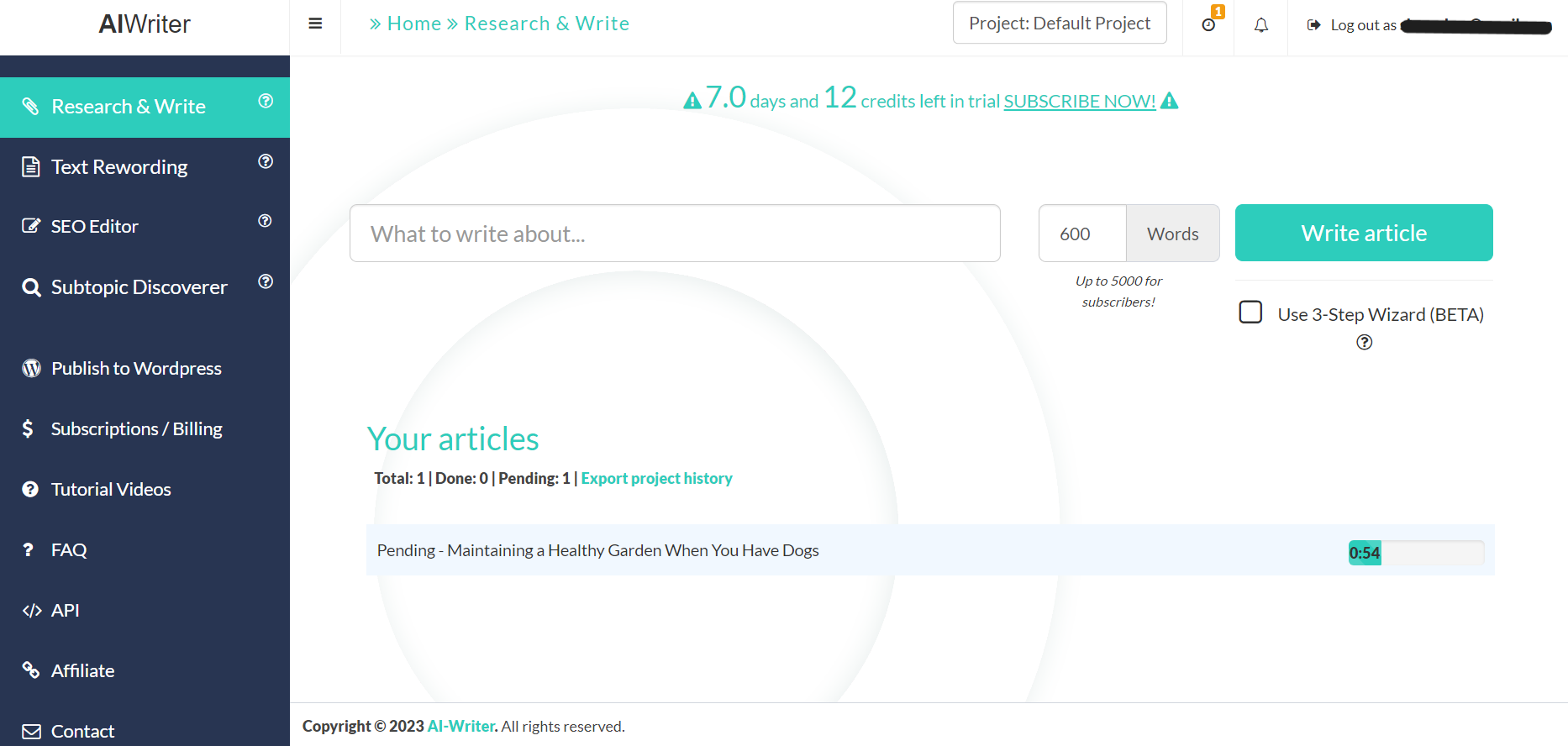 While the existing tools within AI Writer perform their intended functions, a consolidated interface would allow users to easily navigate the platform and conduct their work from one page. Instead of clicking on an article and being taken to a page that has no editing capabilities, AI Writer could direct users to the SEO Editor. Once there, a 'Preview Article' CTA would make sense to have. In most cases, the articles generated are not final drafts and will need revisions.
AI Writer can definitely offer a more user-friendly environment that promotes productivity and creativity with a little refinement and polishing of the existing dashboard. It is worth noting that AI Writer's dashboard experience is relatively easy to grasp, and users can quickly get started with their writing projects. It's a tool that is accessible to both experienced writers and those new to the industry. With some UX enhancements, AI Writer has the potential to provide an even more seamless and enjoyable writing experience for its users.
Text Rewording
AI Writer offers a Text Rewording Tool for writers that need a different take on already written content. You'll start by inputting text that needs to be rewritten and provide a headline for context. Then, you can click 'Rewrite'.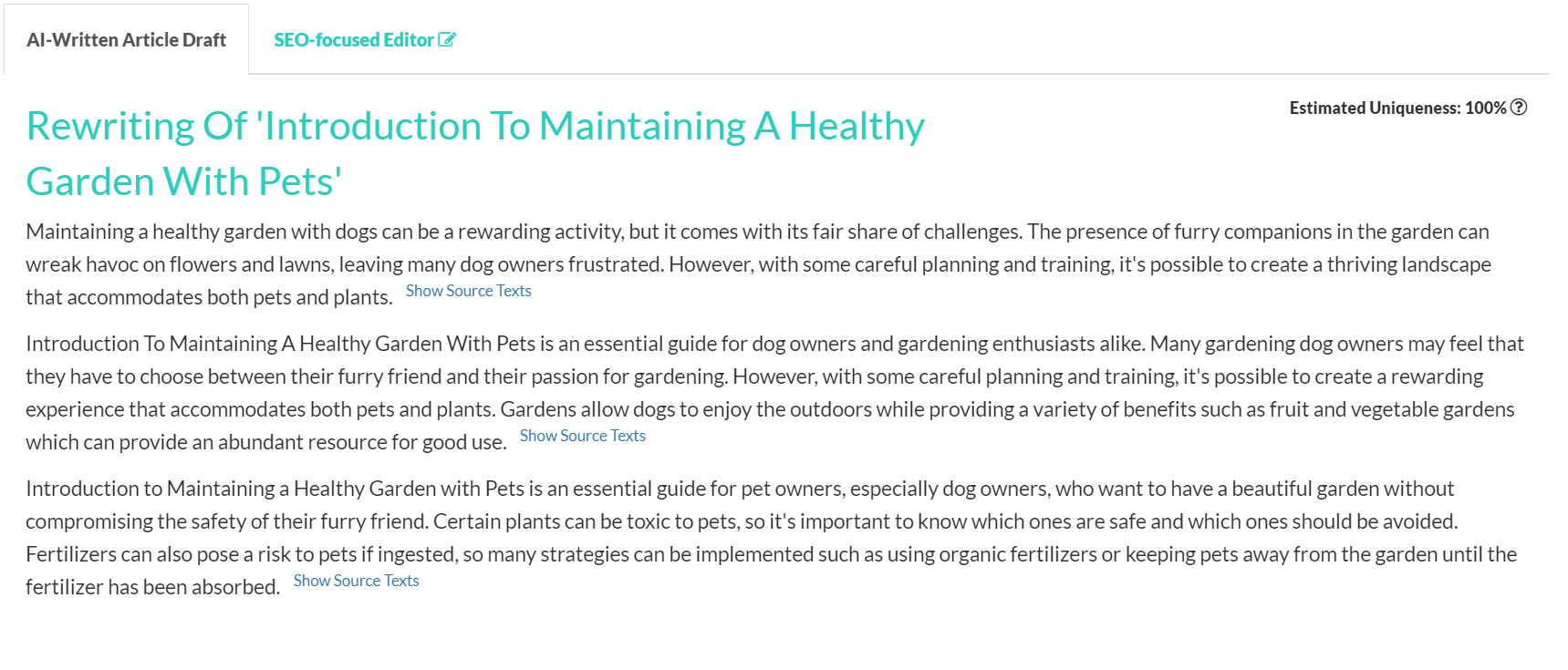 AI Writer could improve this workflow. Currently, after pressing "Rewrite," the rewritten text is saved to a project that needs to be navigated to and clicked on separately. When you click on the project, similar to the article generation UX, you're taken to a non-editable page where you can view the AI's work. These extra steps can be inconvenient for those who are used to more streamlined platforms.
As briefly mentioned above, AI Writer may consider integrating the Text Rewording Tool, SEO Editor, and Article Generator onto a single page like most other AI writing platforms do. This would allow writers to seamlessly switch between these functionalities within a unified workspace, eliminating the need to navigate through multiple files or pages. By consolidating these features, writers would have the convenience of writing, editing, and generating content from a single location.
I also noticed the AI writing tool placed the headline I had provided, "Introduction to Maintaining a Healthy Garden with Pets" in some weird spots. It would also be nice to see the different versions of the reworded text clearly segmented. Currently, there are 3 alternate versions of the same text. The way AI Writer presents it makes it looks like it's one section.
Pricing Model
AI Writer's pricing model offers three tiers: Basic, Standard, and Power. Each plan offers the same features like Content Research, Article Writing, the SEO editor, and more.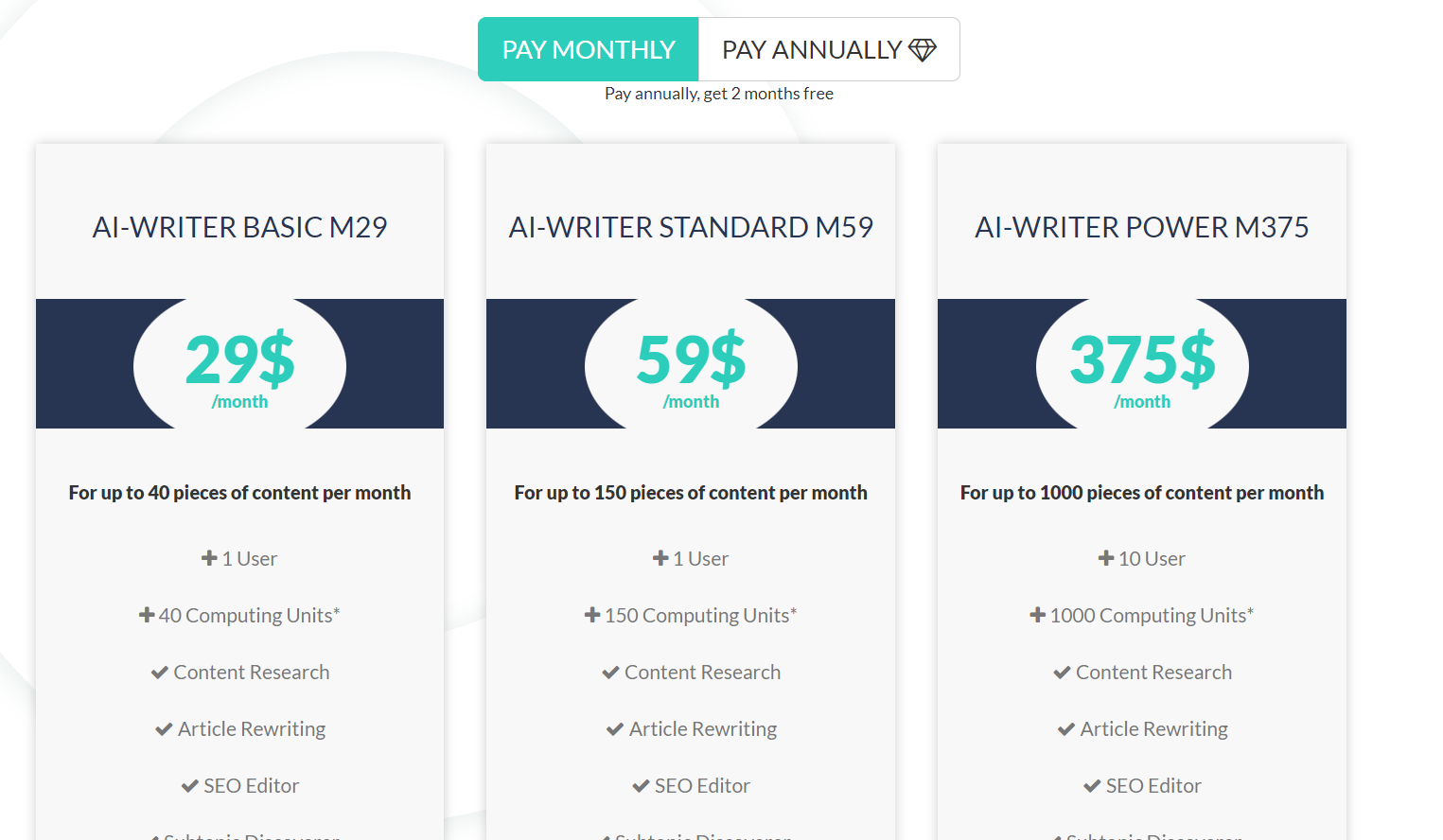 The Basic plan is priced at $29 per month and includes 1 user and 40 pieces of content.
The Standard plan, priced at $59 per month, also offers 1 user but provides an increased content limit of 150 pieces.
The Power plan, the most expensive option at $375 per month, accommodates up to 10 users and allows for the creation of 1,000 pieces of content.
When comparing AI Writer to other AI writing services available on the market, some freelancers might find AI Writer's pricing to be a bit steep. This is especially true when considering that other platforms offer a more extensive range of AI writing services, such as social media posts, landing pages, sales emails, and more, for a similar price. As such, users who require a wider variety of AI-generated content may find the pricing less competitive in relation to the available features.
The Power Plan's resources can be quickly depleted in a team setting, particularly if multiple team members are brainstorming or are new to the platform. It came as a surprise to me that the quantity of content creation allowed is still capped with the Power Plan. This limitation might pose a challenge for larger teams or those with high content demands who rely heavily on AI-generated content. On AI Writer's pricing page, they do claim custom plans and discounts are available if you get in touch with them.
While AI Writer provides a range of pricing options to cater to different user needs, it may be beneficial for the platform to reconsider their pricing structure and explore options that offer a more competitive and flexible pricing model.
Final Thoughts
In conclusion, AI Writer is a valuable tool for professionals and teams in need of article generation capabilities. The platform does a great job at generating well-crafted article drafts and provides users with solid first drafts to build upon.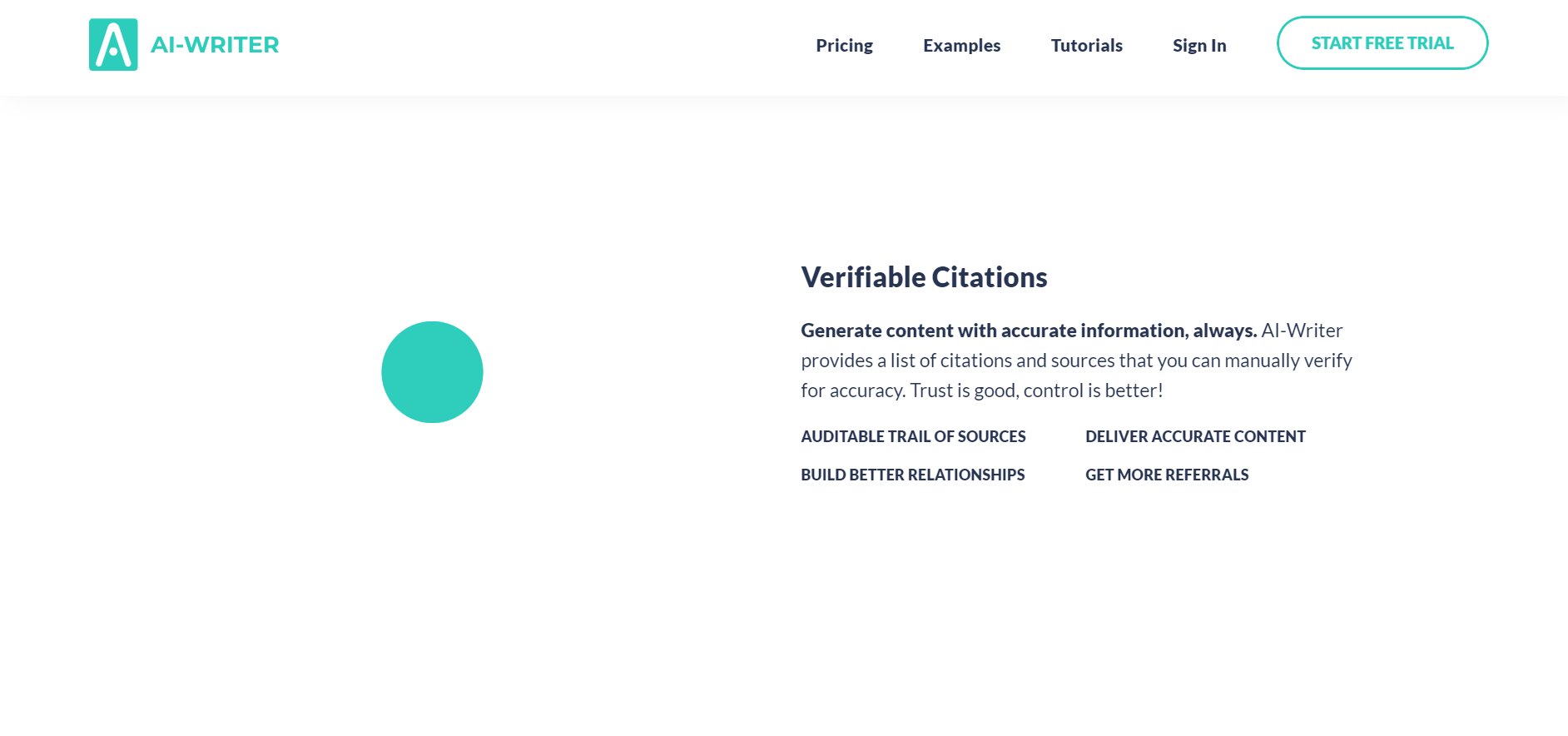 Perhaps one of AI Writer's greatest strengths is its ability to provide plenty of citations to back up its writing and research. The platform's emphasis on accuracy and credibility ensures that users can trust the generated content and easily reference reliable sources. This feature is especially helpful for professionals in research-driven fields or those who need to stay current with the latest industry trends and developments.
However, the user experience could be improved by consolidating the features onto a single page or editor, streamlining the workflow and reducing the need to navigate to various files to piece a project together.
Despite its weaknesses, this AI text generator is a handy resource for writers seeking help with content writing, particularly when combined with its reliable citation and up-to-date information gathering abilities. If AI Writer addresses its pricing model and user experience, the platform could easily become a top choice for those in need of AI writing assistant with an efficient and up-to-date trained article generator.