The world of online shopping is fast-paced and the battle for consumers' attention is fiercer than ever. Ecommerce business owners know the importance of crafting compelling product descriptions, optimizing content for SEO, and collaborating seamlessly with their team.
While there are many software solutions on the market today, not all AI writing tools are made equal or for the same purposes. Copysmith, an AI powered ecommerce management platform, hopes to meet the needs of business owners who are on the verge of transforming the way they create, store, and optimize their product copy but don't quite know where to start.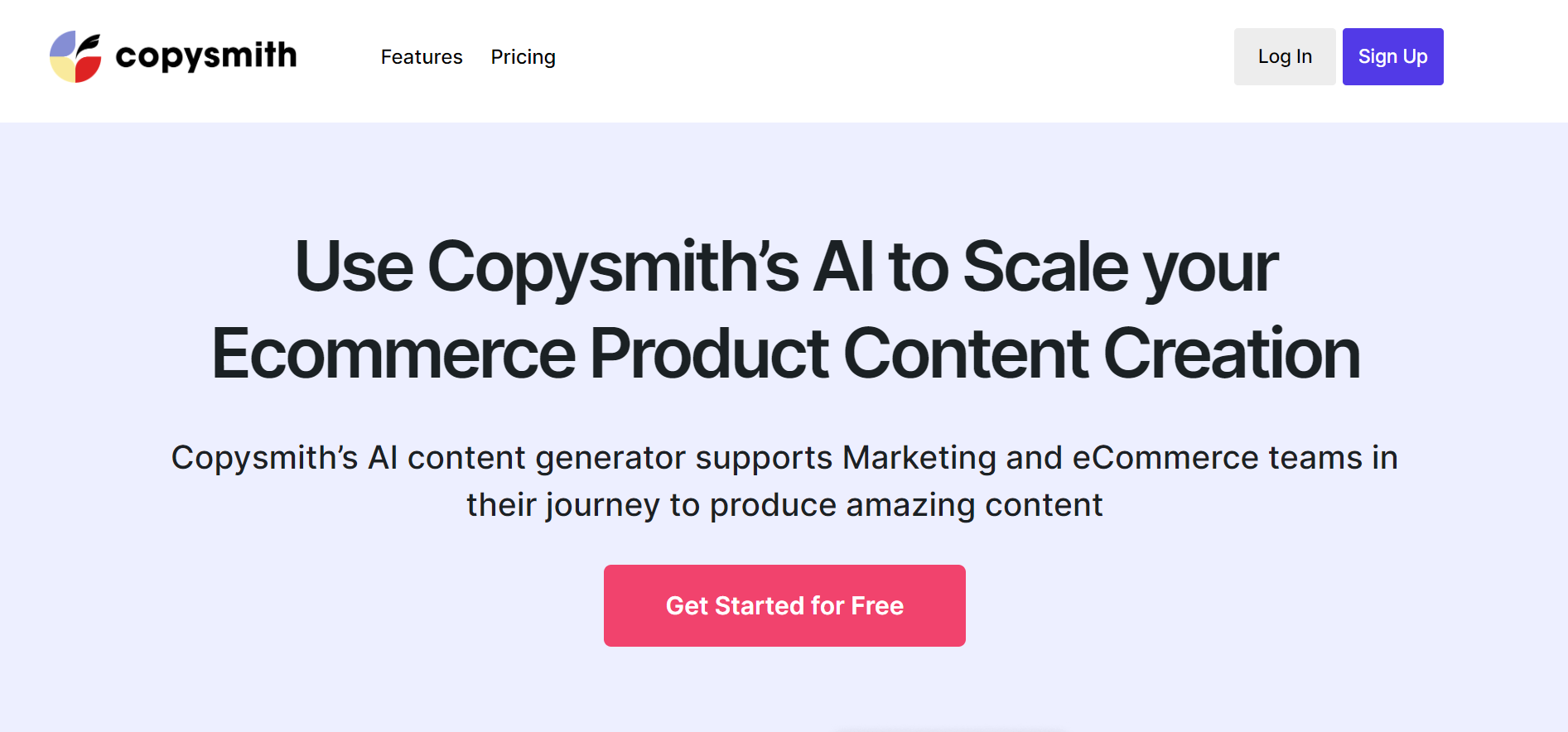 Copysmith helps product teams create engaging and persuasive content for their entire product catalog. The platform doesn't stop at content creation – It also offers SEO optimization in the form of keyword research. This AI tool helps teams rewrite and optimize existing product copy, helping brands stand out in search engine results without compromising their unique brand voice and tone.
Copysmith largely serves as a centralized platform where ecommerce teams can manage all their product content and copy in one place. In addition, the platform's team collaboration feature allows fellow colleagues to contribute to the product content creation process.
Copysmith claims to make "product content creation super easy and scalable." By automating and streamlining the content creation process, Copysmith empowers businesses to focus on other critical aspects of their operations, such as marketing strategies, customer engagement, and product development. The scalability offered by Copysmith ensures that businesses can meet the demands of rapid expansion and maintain a consistent and compelling brand voice. Whether you're a small business owner or an enterprise-level eCommerce giant, Copysmith may be the solution for your copywriting and SEO optimization needs. 
Copysmith Overview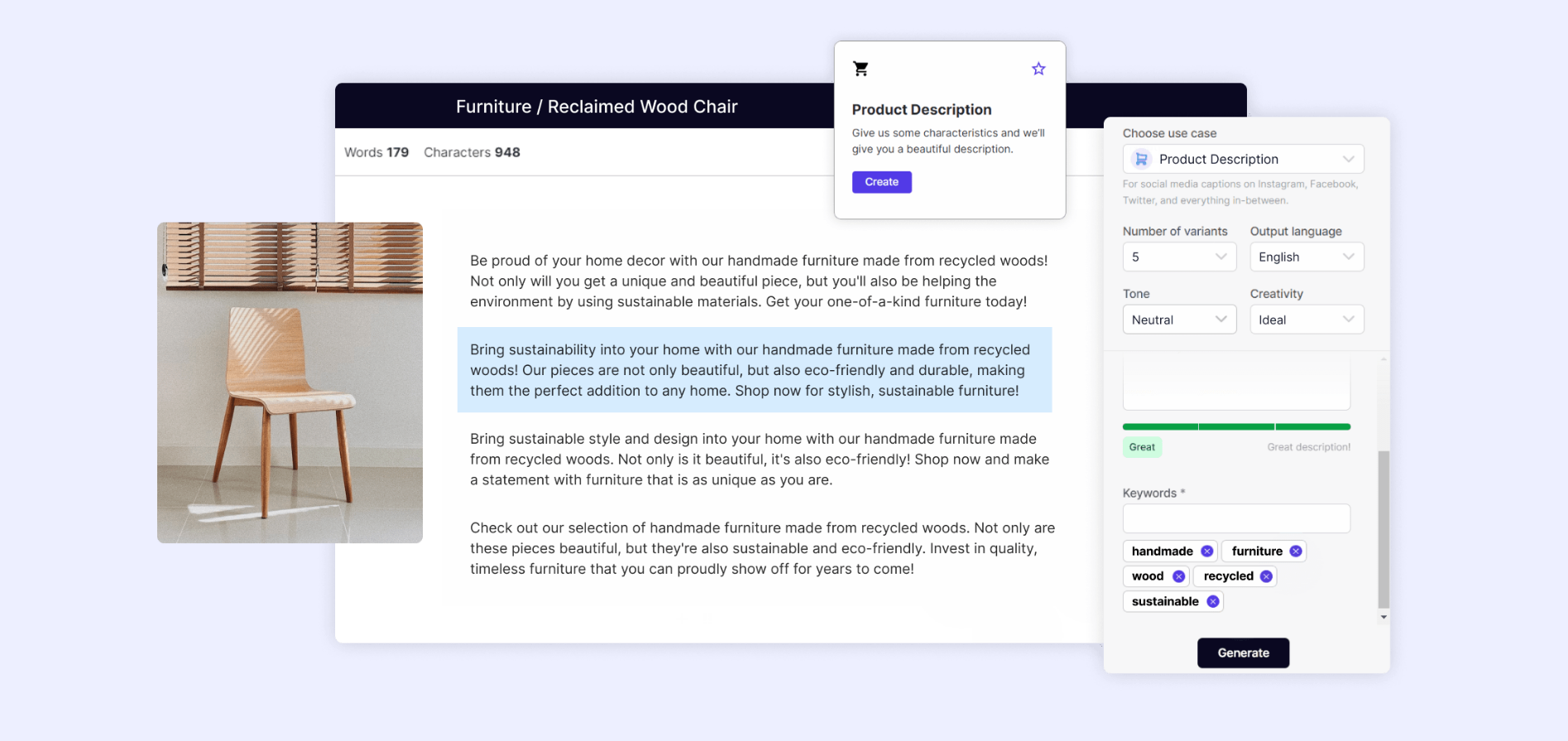 Creating compelling and persuasive product content is essential for content writers and ecommerce success. Copysmith is poised to help ecommerce managers and teams change the way they approach writing content and product management.
Whether you need to create product descriptions, bullet points, FAQs, or titles, Copysmith's AI copywriting tools can help simplify the process. Copysmith enables users to generate effective copy that successfully captures a brand's voice and resonates with its target audience.
Any ecommerce guru knows how critical SEO is to a product listing's success. Copysmith offers keyword research capabilities to help product managers optimize and write product copy. With this feature, product managers gain valuable insights into the most relevant and high-impact keywords for their specific products.
The platform enables nearly effortless team collaboration. By inviting team members to review and contribute during the copywriting process, Copysmith helps foster efficient workflows. With real-time collaboration and feedback, teams can work together seamlessly to produce high-quality and optimized content.
Managing product data can be a daunting task, especially for businesses with extensive catalogs. Copysmith simplifies this process by offering a centralized place to store any and all product data. Copysmith provides a single, organized platform for managing product descriptions, meta tags, images, and other essential product information – streamlining the content production and data management workflow.
For businesses with large catalogs, Copysmith offers a Bulk Content Generation feature. Instead of populating product content one item at a time, businesses can upload their entire catalog and the AI copywriter will generate SEO-optimized and effective copy in bulk.
Copysmith seamlessly integrates with a wide range of third-party tools and ecommerce platforms, including Google Chrome, Shopify, Amazon, WooCommerce, and more. Its versatile integrations ensure a smooth and efficient workflow across your entire ecommerce ecosystem.
For those with specific requirements, Copysmith's robust API offers customization options and integration possibilities. Businesses can leverage the power of this AI solution and its capabilities within their own applications, collaboration tools, or third-party solutions.
In this Copysmith review, we'll dive into the platform's features and determine what the platform does well, as well as what it could improve. 
| | |
| --- | --- |
| Feature | Copysmith |
| AI Technology | GPT-3 |
| Languages Supported | 50+ |
| User Experience | Web Interface |
| Educational Material | Yes |
| Long Form Document Editor | Yes |
| Search Engine Optimization | Yes |
| Art Generation | DALL-E |
| Text Summarization | Yes |
| Plagiarism Detection | Yes |
| Chrome Extension | Yes |
| API/Webhooks | Yes |
| Free Trial | Yes |
| Pricing Model | Monthly Subscription  |
What Copysmith Does Well
Copysmith excels as a one-stop shop for ecommerce product management, copy creation, and AI art image generation. The platform offers centralized data management where businesses can efficiently manage product descriptions, meta tags, images, and more. Let's explore these features below.
User Experience
Copysmith provides a user-friendly experience for product management, offering a centralized platform that simplifies the organization, creation, and optimization of product content. We'll discuss this feature in-depth below.
Product Management
Copysmith's product management feature offers centralized data management for ecommerce managers. Its simple user interface backs up the following paraphrased version of Copysmith's own claim on their website that gone are the days of navigating spreadsheet hell and juggling multiple platforms to handle product content!
Using the Products feature, users can populate and manage all their online store and product-related information from a single, centralized dashboard. This is more efficient than having information scattered across multiple websites.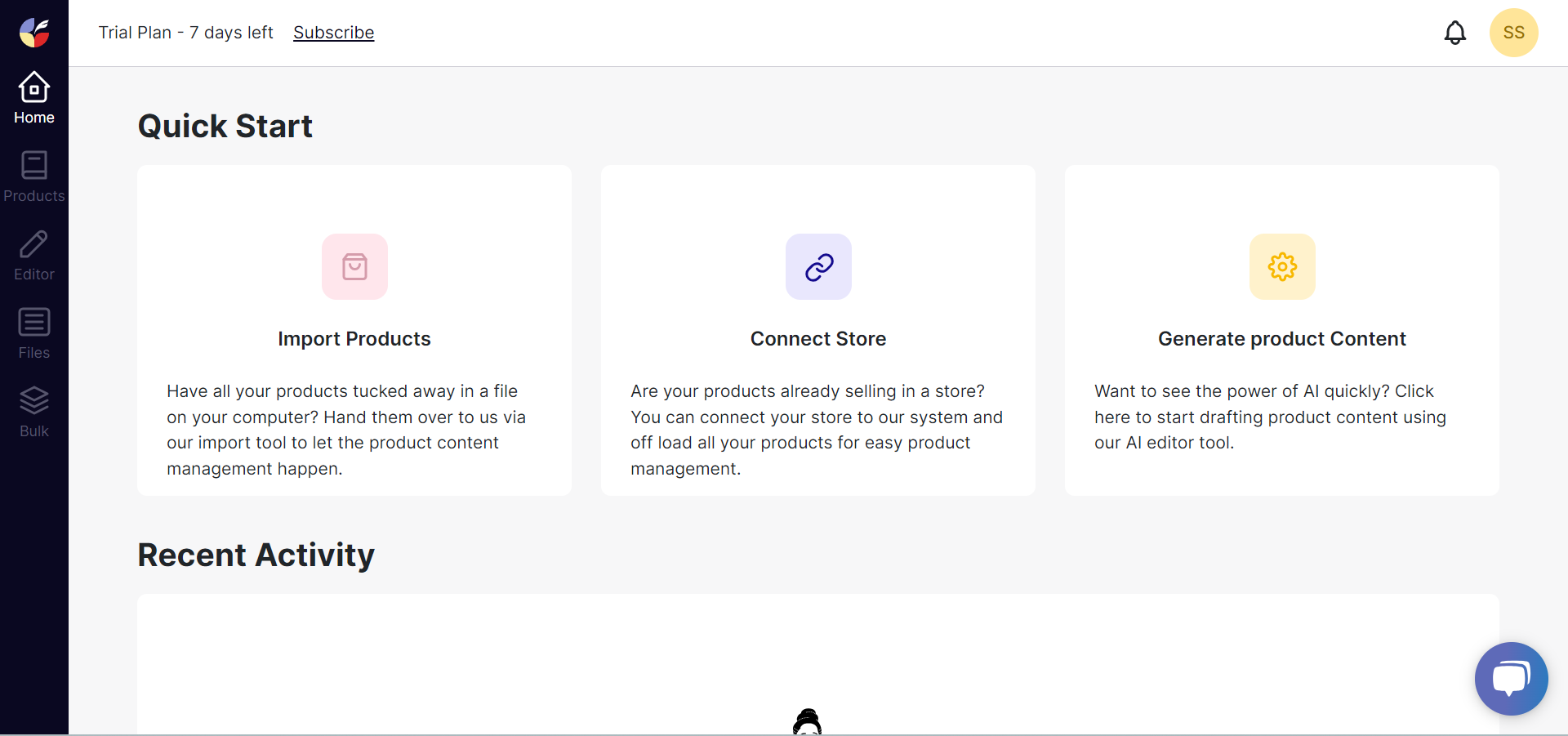 The product management feature covers various aspects, including product descriptions, keywords, and other vital product-related data. By having everything in one place, account managers can streamline their workflow, eliminate inefficiencies, and save significant amounts of time and resources.
Having one place where all product copy and related data lives helps ecommerce teams ensure consistency and accuracy across the brand. This not only saves time but also helps keep things organized throughout the entire product catalog. Users can upload products individually or in bulk via a .csv file.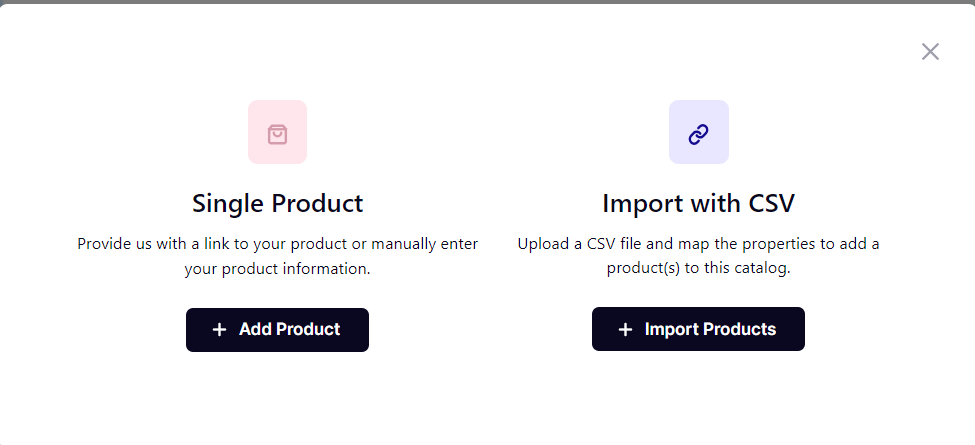 Art Generation
Who doesn't love AI art? Copysmith offers an 'art studio' where users can prompt DALL-E, a state-of-the-art AI model developed by OpenAI, to create copyright-free and totally unique images. I tested out Copysmith's art generation capabilities and prompted the AI to create an image of a middle-aged woman holding a locally made clay mug, in front of a fire.
The generated images were on par for the most part and captured the essence of the desired scene. However, the AI's interpretation showcased hands that appeared slightly older than middle-aged. This minor detail is a nominal issue and can be fixed with more specific prompting. Overall, the output demonstrated Copysmith's ability to produce visually engaging content that aligns with its users' needs.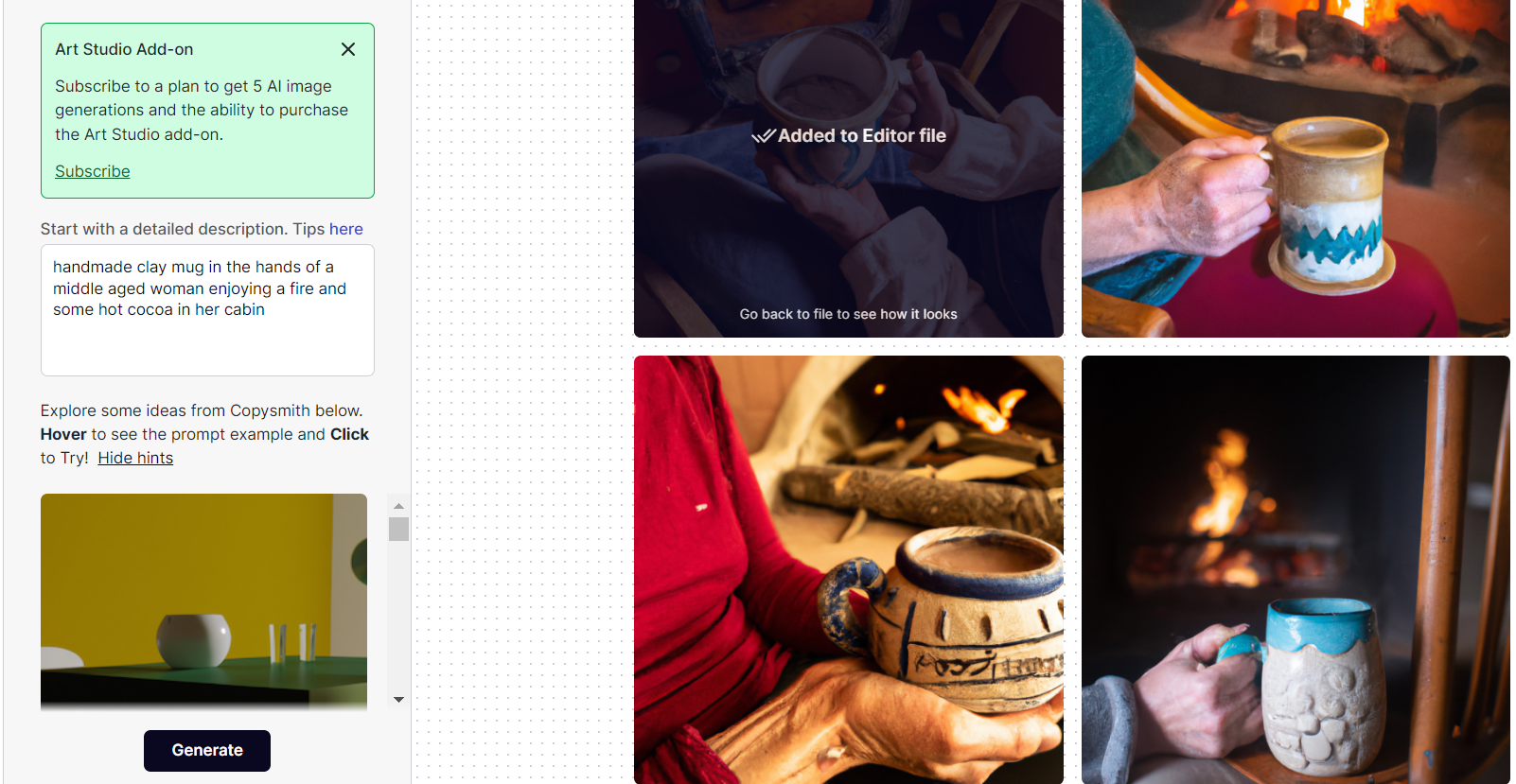 Copysmith's AI art generation tool holds its ground when compared to other AI image generators on the market, like the AI image tool Writesonic offers. It's worth noting that, like any AI-generated content, manual refinement may be required to fine-tune the image to meet specific preferences or branding requirements. As a general rule, the more specific AI prompts are, the better the output will be.
With Copysmith's Art Studio tool, users can unlock their visual creativity and access a diverse range of ready-to-use images. Whether it's for marketing materials, social media, blog posts, or website images, this feature empowers users to enhance their content with optically compelling imagery that captures attention and conveys their desired message perfectly.
What Copysmith Could Improve
While Copysmith exceeds as a centralized ecommerce product management platform, there are areas where improvements could be made to enhance the user experience. From long form content formatting issues to improving readability, we will discuss some improvements Copysmith might consider implementing below.
Long-Form Document Editor
Copysmith's long-form document editor offers a range of valuable features. However, there are specific areas where the platform could benefit from improvement. These enhancements would elevate the user experience and make the editor easier to use.
While the long form document editor provides a space to write, take notes, and generate ideas, it feels more like a scratch pad than a dedicated writing tool. Perhaps it's the narrow set margins of the document that makes it feel this way or a lack of a toolbar at the top with standard editor tools (i.e. bold, italicize, heading). These tools can be found by highlighting a block of text. The issue could also be rooted in the default size of the font (really small). Overall, I found the long-form document editor to be unengaging.
Once you're in the editor, you'll have the ability to choose a specific use case, like an Amazon product description or social media posts, to write about. You can also prompt the AI with a unique command utilizing the 'Command Copy' feature. I tested out the 'Amazon Product Description' use case and prompted the AI to write about locally-made personalized clay mugs. The AI-generated suggestions provided by the editor were fair enough. During the process, I input a description of the product, target keywords, keywords to avoid, creativity level, and more.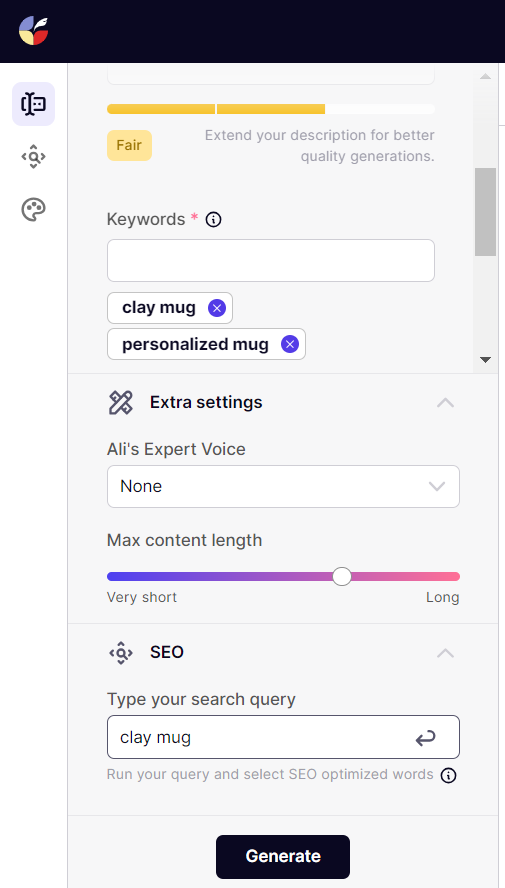 I used the 'Expand' feature on the first bullet-point. The results were interesting as the AI added the sentence, "They are tough as hell and practically unbreakable." Bold claim.

Then, I had Copysmith rewrite the bullet-point. This time, I was extremely pleased with the output.

I decided to try out the SEO feature which is integrated into the editor. It can be found at the bottom of the use case setup settings and as a standalone feature on the lefthand side of the editor. Supposedly, the tool should identify SEO optimized words. However, when I clicked generate using the SEO feature found alongside the product copy feature, the tool failed to produce any results.
Furthermore, when adding AI-generated images to the editor, I found it impossible to resize and move the images. The default size of the image takes up over half of the screen. The current implementation lacks intuitiveness and improvement is needed in the handling of images, including moving, resizing, and manipulation.
By making improvements in these areas, Copysmith can enhance the overall user experience and ensure that the platform meets the evolving needs and expectations of product managers and enterprise customers in various industries.
Search Engine Optimization
Copysmith's SEO Optimizer, conveniently located within the AI powered long-form document editor, helps ecommerce product managers boost their content's search engine visibility with keywords. By inputting a target keyword, users will in turn receive a comprehensive list of suggested keywords to optimize content effectively.
While the list of suggested keywords provides valuable insights, the formatting could be improved. Currently, users must scroll through the entire list (which can be lengthy) to identify keywords they can use in their copy. This is a cumbersome way to review all the suggestions. Enhancing the formatting by displaying a good chunk of the keyword list at once would greatly improve the user experience, allowing for quicker and more efficient keyword selection.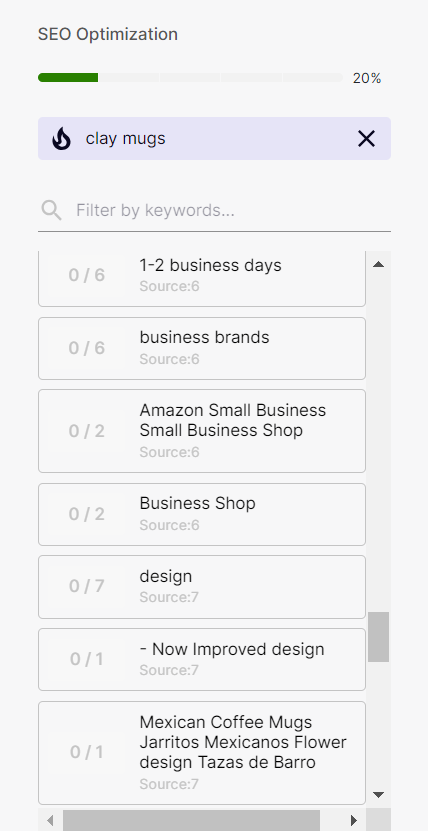 When users click on a suggested keyword, it is immediately added to the editor, and the content score increases. Users must make sure their cursor is placed in the exact area they would like the suggested keyword added. Although this functionality is beneficial, there is room for improvement.
Other tools like SurferSEO take keyword suggestions a step further by identifying specific areas and sentences in the written content and automatically inserting the keywords into the sentences. Writers can then review and approve or dismiss the suggestions. Implementing an intelligent feature like that would make more sense for Copysmith users, as well as streamline the optimization process.
User Experience
There are aspects of Copysmith's user experience that could be improved to enhance usability and efficiency. One area for improvement lies in the navigation options presented in the far left-hand column. Currently, the options' text is set to a dark gray color that can be difficult to read on the black background. Enhancing the visibility and readability of the navigation options would make it easier for users, especially those who may be color-blind or hard of seeing, to navigate the platform.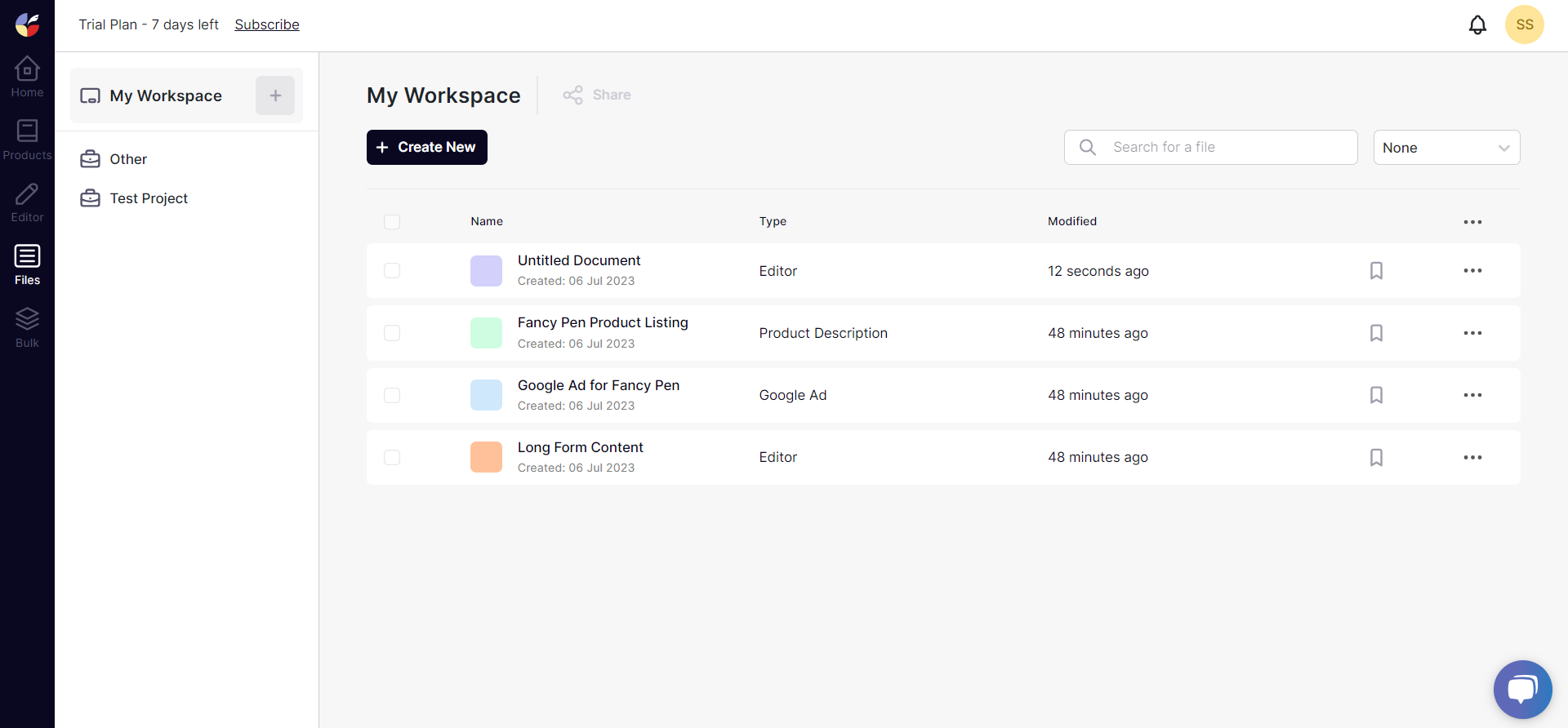 I encountered a bug when navigating to the long-form document editor via the homepage. Once in the editor, I clicked to go back to the previous screen using the back button. This action did not work. This issue does not occur when I access the editor via the Products option, and occurred multiple times.
Additionally, considering the similarities between the "My Workspace" and "Home" pages, it would be smart to merge them into a single page. Since both pages display the user's files, consolidating them would eliminate redundancy and simplify the user experience. Having a unified page that presents all relevant files, recent activity, and resources would streamline access to information.
Overall, Copysmith can enhance the user experience by improving the readability of navigation options, ensuring smooth navigation between screens and tools, and consolidating similar pages to contribute to a unified experience.
Final Thoughts
Copysmith is an innovative tool for ecommerce product management and content writers. It helps teams manage their product data efficiently from one place. Copysmith's AI tools, such as the long-form document editor and art studio, offer valuable assistance in content production and optimization for search engines.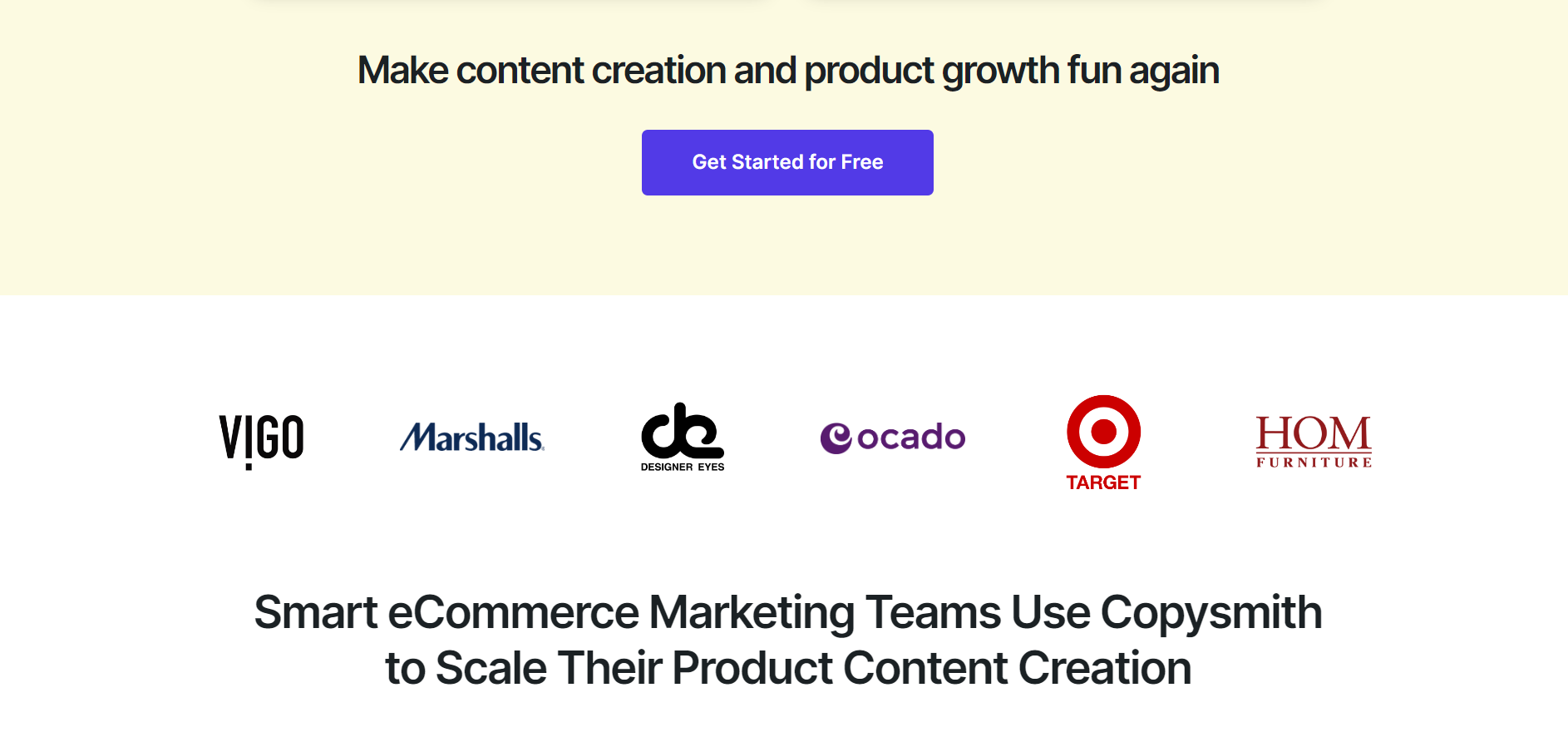 However, there are areas where Copysmith could further enhance the user experience. Improvements to the long-form document editor, such as formatting enhancements and advanced keyword insertion functionality, would help users create content more efficiently. Additionally, addressing usability aspects, such as better readability of navigation options and consolidation of redundant pages, would make the platform more intuitive and efficient.
Copysmith is an ideal AI system for ecommerce businesses of all sizes who need centralized product management. While there is room for improvement, Copysmith's strengths in centralized product data management and content creation make it a valuable asset for ecommerce success. By continuously refining and innovating, Copysmith has the potential to become an indispensable tool for businesses striving to manage their products and create marketing content at the same time.