As a marketer or freelancer, you must be tired of spending countless hours crafting the perfect copy for your content marketing strategy. If there was an SEO-friendly tool that could do it all for you and make your job 100x easier, would you be interested? Well, look no further than Writesonic, an AI writer and assistant that can help take your marketing content to the next level. Whether you need blog posts, compelling landing pages, social media posts, or something else, Writesonic might be the answer to your long nights and headaches.
With Writesonic, you can easily generate high-quality content with just a few clicks. The platform uses cutting-edge AI technology – ahem GPT-4 – to analyze your writing style and generate text that matches your brand voice and tone.
Writesonic is perfect for marketing teams or freelancers who need to create engaging content quickly and efficiently, without sacrificing quality. Whether you're a startup looking to increase your online visibility, or an established business looking to expand your marketing efforts, Writesonic could be the tool you've been missing in your arsenal.
Writesonic Overview
Writesonic is an AI writing and marketing software that provides a range of tools to help writers, ecommerce stores, marketing teams, and entrepreneurs create high-quality blog posts, articles, ads, and more. For those writing long form content, Writesonic offers AI-driven editing tools like Paraphraser, Expander, and Shortener to help polish your blog post to perfection.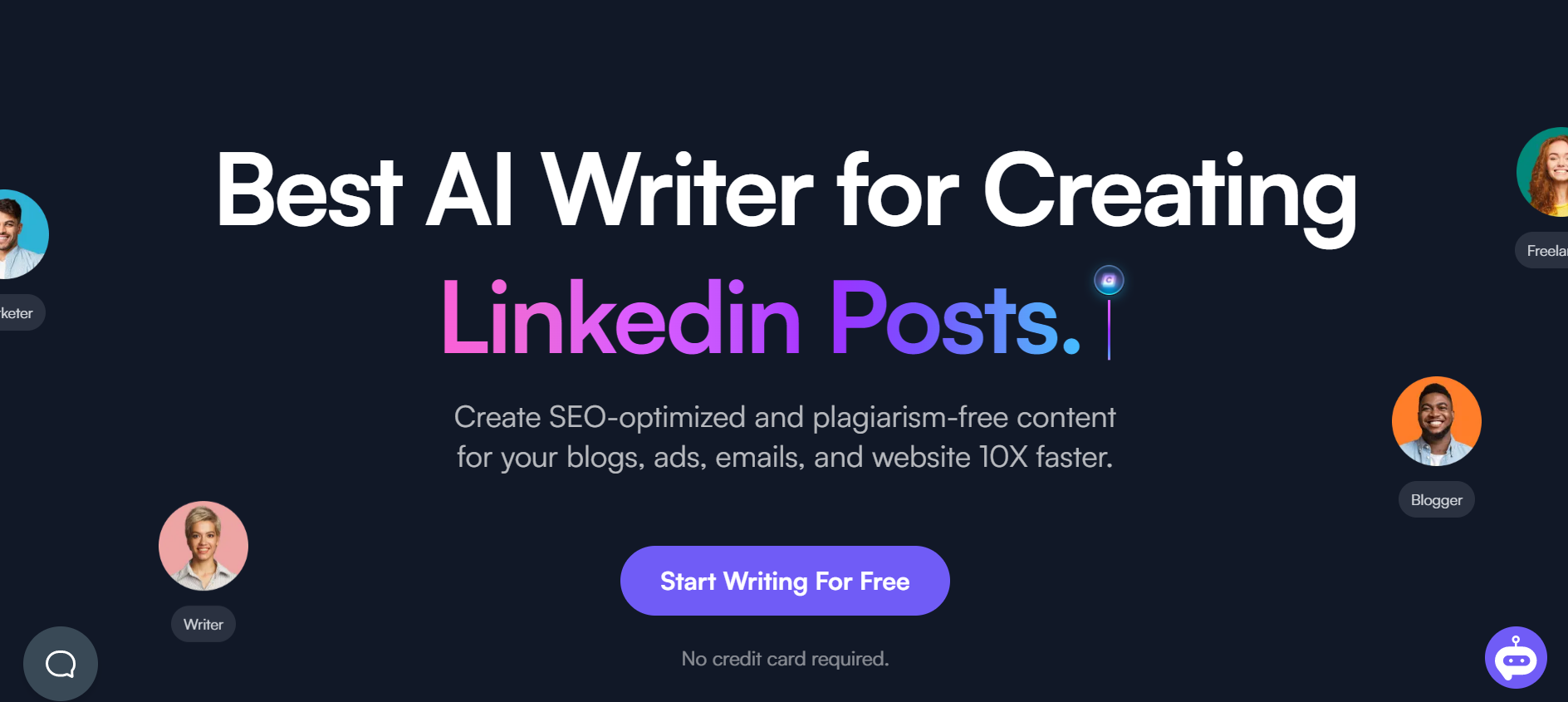 Writesonic offers a suite of tools to improve Google rankings and increase sales. With Writesonic's help, your generated content will be SEO-optimized. Whether you're working on ecommerce product descriptions or blog ideas, this AI assistant will help put your brand in front of people making a quick Google search to find the company that's right for their needs. There are a variety of high-quality ad copy tools for Facebook, Google, and other media that will help your team boost conversions, increase CTRs, and reduce cost-per-click rates.
Writesonic is a versatile tool that has a lot to offer. Let's explore some of the platform's features in-depth below.
| | |
| --- | --- |
| Feature | Writesonic |
| AI Technology | GPT 3.5 and GPT-4 |
| Languages Supported | 28+ |
| User Experience | Web Interface |
| Educational Material | Yes |
| Long Form Document Editor | Yes |
| Search Engine Optimization | Yes |
| Art Generation | Yes |
| Text Summarization | Yes |
| Plagiarism Detection | No |
| Chrome Extension | Yes |
| API/Webhooks | Yes |
| Free Trial | Yes |
| Pricing Model | Monthly subscription |
What Writesonic Does Well
Writesonic aims to simplify the content creation process and excels in providing a range of AI-powered writing tools and features for various purposes. We'll discuss Writesonic's AI technology, long-form document editor, AI image generation, and pricing model below.
AI Technology
AI-powered writing assistants like Writesonic have become increasingly popular for their ability to help writers generate high-quality content quickly and efficiently. One of the main benefits of using an AI writing assistant like Writesonic is the time-saving factor. With Writesonic, users can generate content in minutes that would otherwise take hours to write. This not only saves time but also increases productivity, allowing writers to focus on other aspects of their work.
Writesonic uses GPT-4, a state-of-the-art AI language model developed by OpenAI. GPT-4 works by using a neural network to analyze vast amounts of text data and learn from it. This allows the model to recognize patterns and generate text that is coherent, informative, and engaging. GPT-4 is one of the most advanced AI language models available today, and its capabilities have made it a popular choice for many AI writers.
The power of GPT-4 is available on all paid plans, giving Writesonic users access to a powerful AI language model that can help them create on-brand content quickly and efficiently. With Writesonic's use of AI technology, you can take your writing to the next level and produce content that engages and resonates with your target audience.
Chatsonic
Chatsonic is Writesonic's answer to a ChatGPT alternative. This AI-powered chatbot is capable of performing a variety of tasks, from answering complex questions to generating professional content. Users can interact with Chatsonic through text prompts.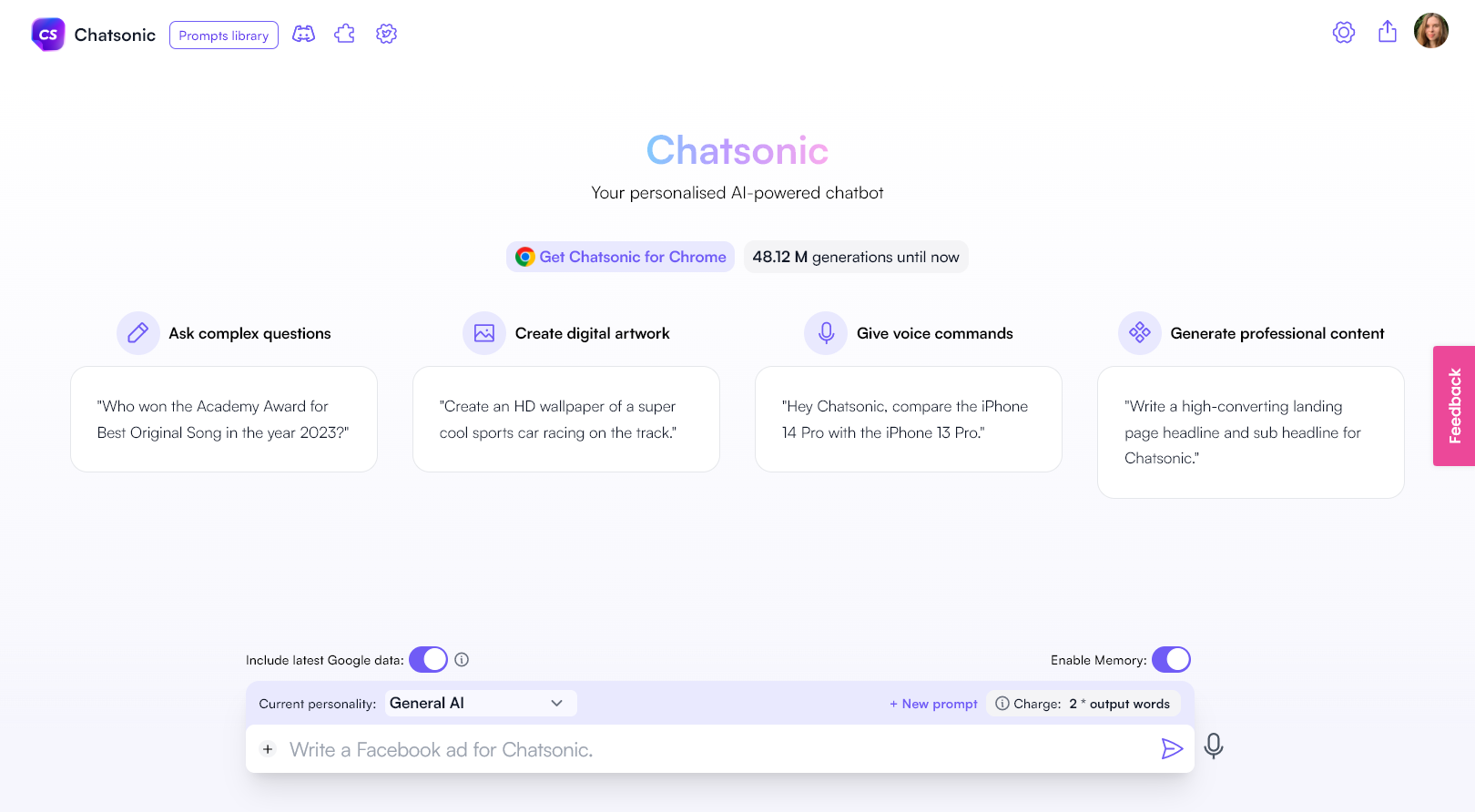 Unlike ChatGPT, Writesonic scrapes the internet for answers to questions that require up-to-date information. Another impressive feature of Chatsonic is its ability to create digital artwork. Users can ask Chatsonic to "Create a HD wallpaper of a super cool sports car racing on the track," and it will generate an image that meets their specifications. This is a great tool for graphic designers or anyone who wants to add some visual flair to their digital content.
This is a valuable tool for marketers and business owners who want to create compelling content that drives conversions and enjoys the conversational style an AI chatbot like Chatsonic offers.
Long-Form Document Editor
Writesonic's long-form document editor offers a simple interface that is relatively easy to navigate. Writesonic delivers plagiarism free content – According to their help page, AI writers create fresh and original content because AI models learn the patterns of high-quality content and generate unique outputs based on the given input.
Writesonic's editor has all the standard features you would expect, such as a formatting toolbar, spell-check, and autosave. On the left-hand side of the screen, you can access a list of tools and features that you can use to enhance your writing, including various AI writing, rephrasing, e-commerce, and social media tools.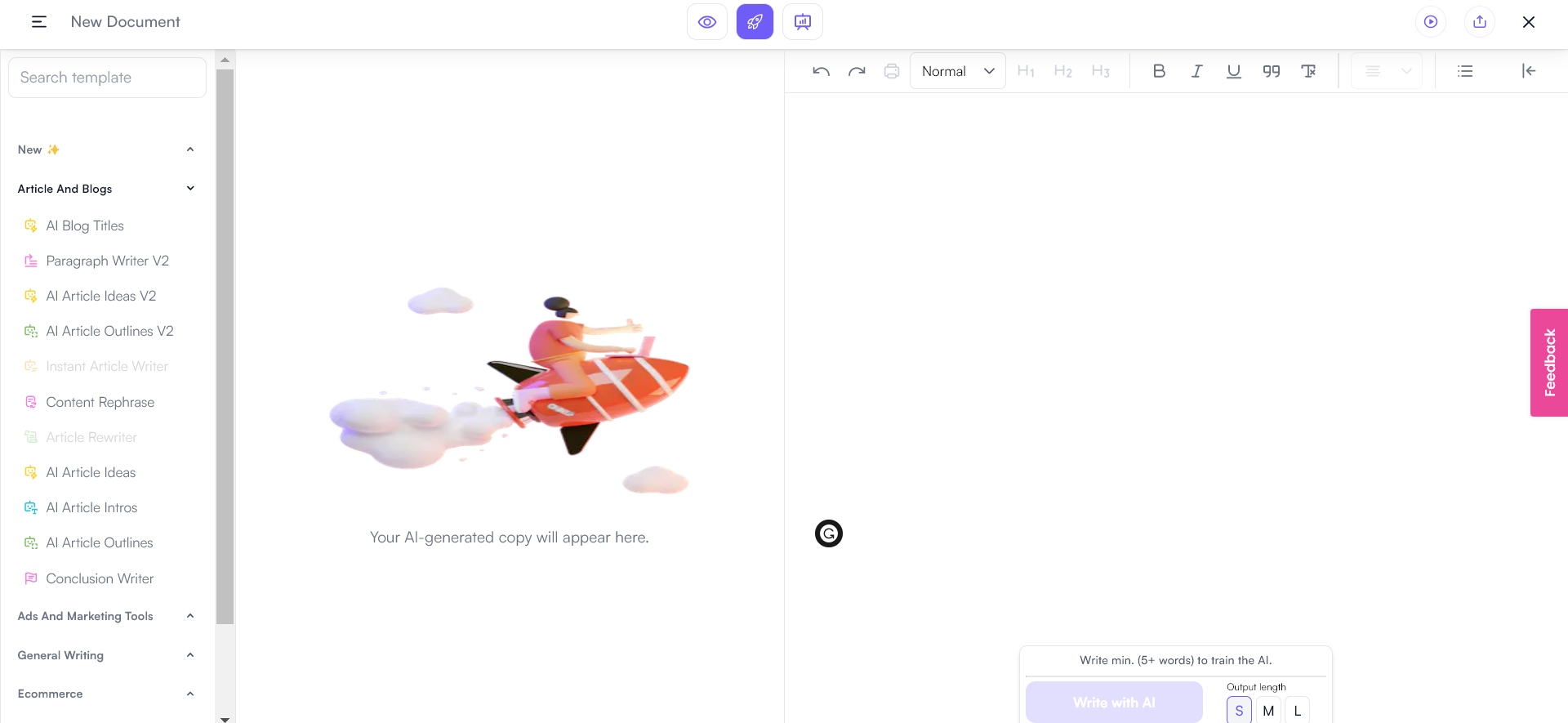 I prompted the AI to write a couple paragraphs about travel on a budget. It did the job well-enough, and the output was a short blog around 400 words. Then, I used the Write with AI tool to generate some more content – The AI wrote 2 on-topic sentences.
When writing in Writesonic's long-form document editor, you can highlight a block of text and see various formatting options pop up. The toolbar is straightforward, with options to bold, italicize, underline, and more. Click on "AI shortcuts" to access the paraphrase, expand, or shorten tools. Using the AI shortcuts will allow you to quickly make changes to your writing without having to spend extra time brainstorming.

Instead of having to stop and think of new ways to phrase a sentence or paragraph, you can rely on the AI to generate options for you. This is especially helpful when you're working on a large project and need to ensure that the document flows well and stays cohesive.
Paraphrase
I tried out the paraphrase tool. 2 AI-generated results appeared in the right-hand side of the screen after highlighting the text and prompting the paraphrase feature. Writesonic effectively rephrased the original text, giving me alternative ways to express the same idea without losing the original meaning.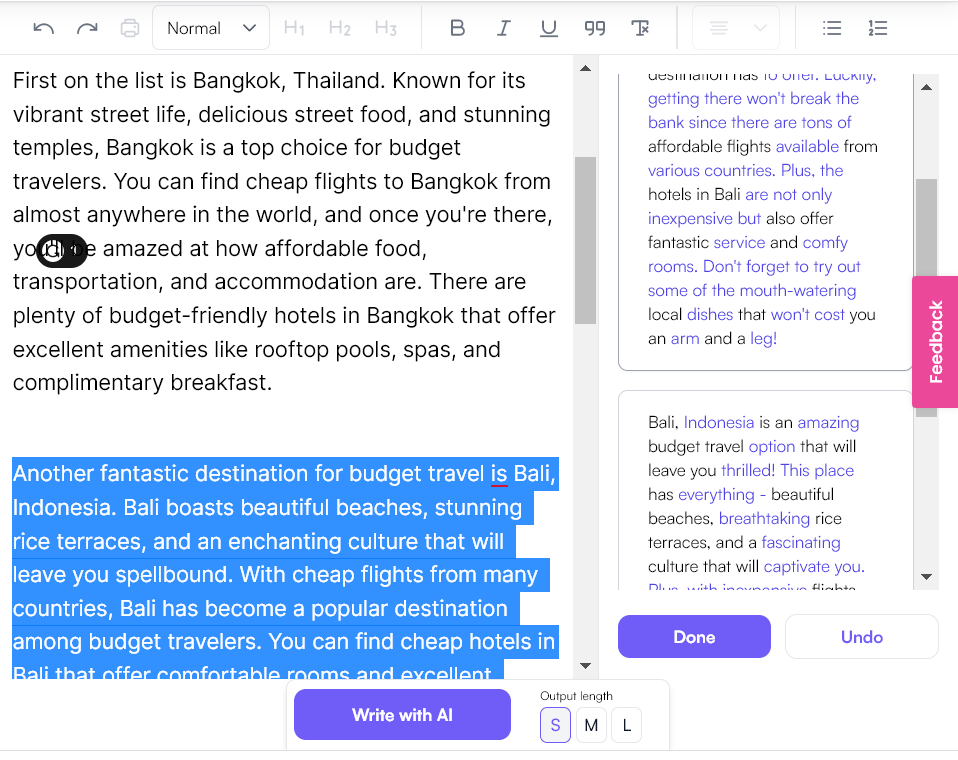 The paraphrase tool can be helpful for those struggling with writer's block or looking for new ways to phrase their content.
Shorten
Writesonic's shorten tool helps anyone who wants to keep their writing concise and to the point. The tool allows you to highlight a longer piece of text and then shorten it while retaining the meaning of the original text. This is especially useful for those who need to write brief summaries or headlines for their content.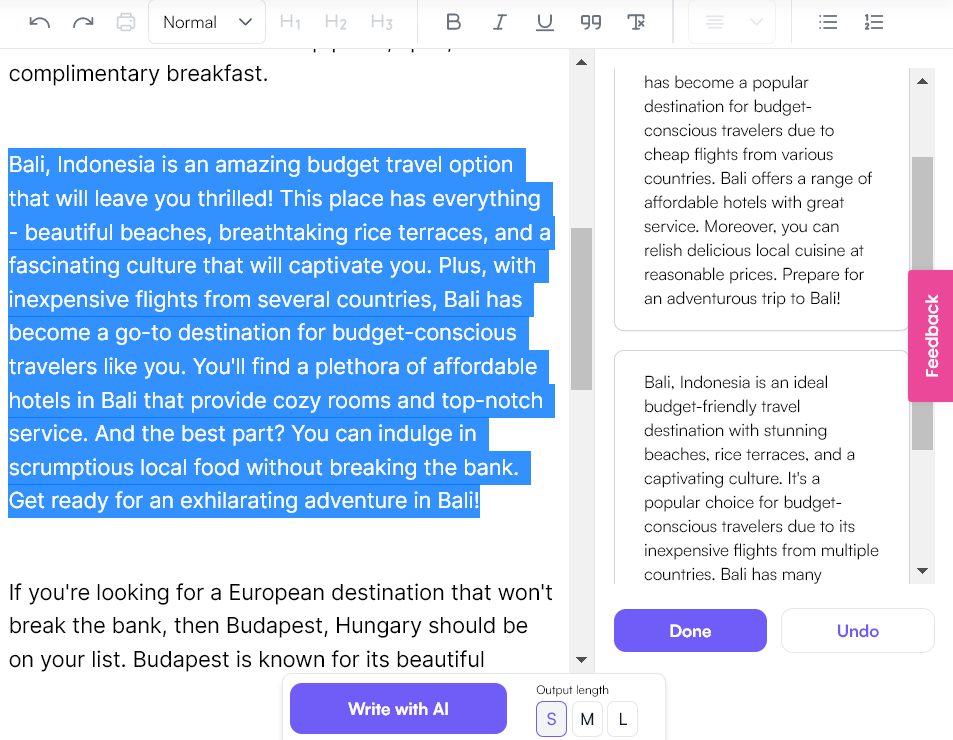 Using the shorten tool is simple. The shortened text will be displayed in a separate box on the right-hand side of the screen, and you can select it to use in your content. The tool is especially useful for social media posts, email subject lines, and headlines.
Expand
The Expand tool in Writesonic is another AI-powered feature that can be useful for writers who want to add more depth and detail to their writing. The Expand tool takes a highlighted sentence or paragraph and instantly generates a longer, more detailed version of it. This can be particularly helpful when you're trying to expand on an idea but don't have a good idea of where to start.
Whether you're looking to add more context, provide additional examples, or just flesh out your ideas more thoroughly, the Expand tool can help you do it quickly and easily.
Writesonic's long-form document editor is a great tool for those who want to improve their writing skills and produce high-quality generated copy with the help of an AI copywriting assistant. With its user-friendly interface and comprehensive set of tools and features, this editor is a valuable asset for any writer or content creator.
Pricing Model
Writesonic offers 3 different monthly subscriptions. The free version gives potential customers a taste of what AI writing can do for them. The free plan provides access to all features and up to 10,000 words a month.
Upgrading to the Long-form plan costs $19 per month and unlocks 60,000 words for one user. This plan includes everything from the free trial plus GPT-4 and a complete article rewriter. As a Long-form plan subscriber, users also have access to 100+ AI templates, an AI article writer, browser extensions, a 1-click WordPress export, Zapier integration, a landing page generator, and a Sonic Editor (Google Docs-like editor) in 25+ languages.
The custom plan, which doesn't have a price on the website, is available for teams and businesses. It includes a custom number of words, custom number of users, custom AI development, invoicing options, dedicated account managers, training sessions, and premium support.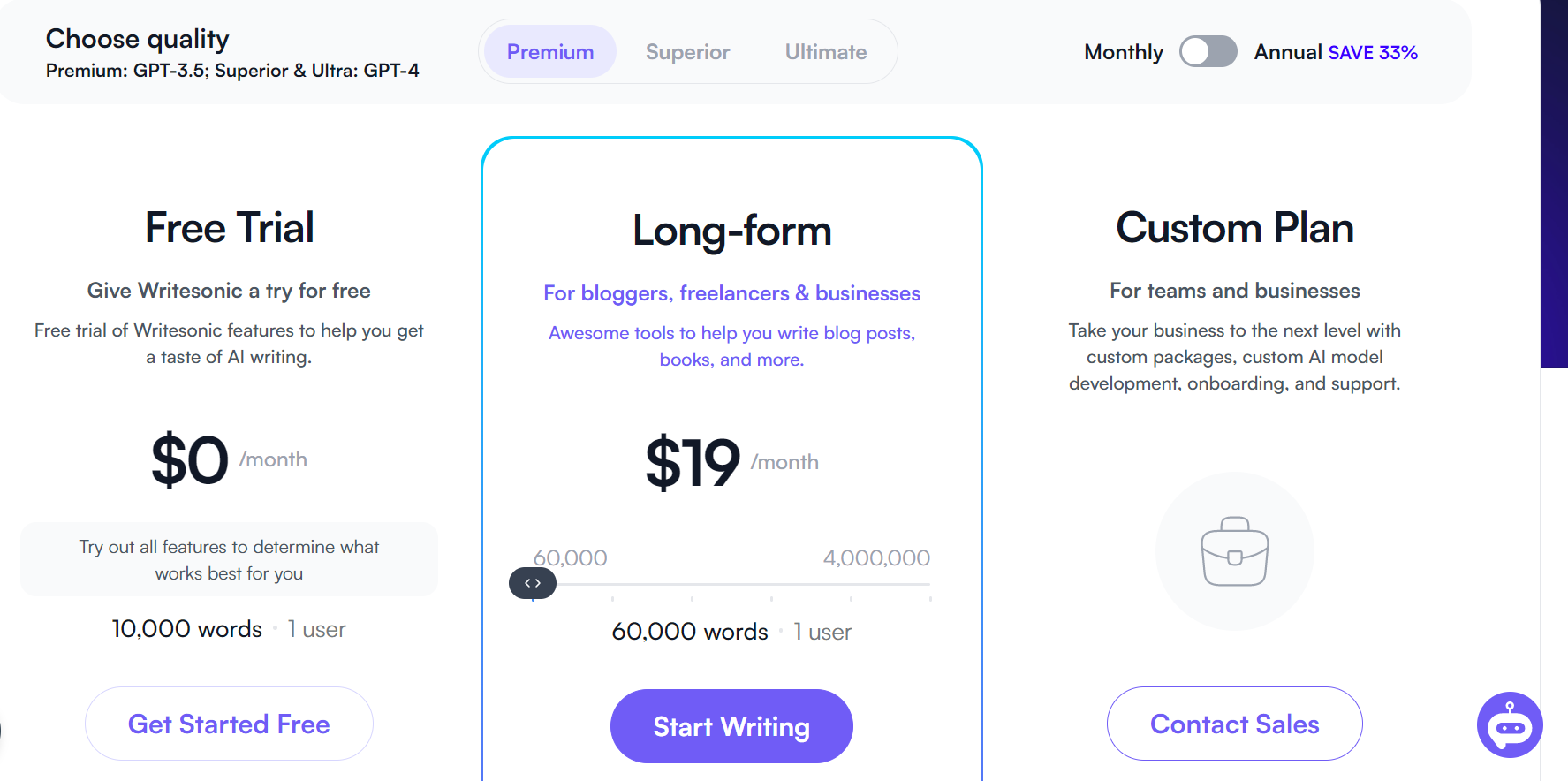 White navigating the platform, you'll find you have the option to choose between Premium, Superior and Ultra qualities. These qualities offer enhanced intelligence, improved understanding of inputs for smarter contextual responses, and support longer texts as well as non-English language comprehension. The Superior quality is currently available, and Ultra will be coming soon.
Writesonic offers a concise range of pricing plans for individuals, businesses, and teams. There is a free version available to test out the features and determine if Writesonic is the right tool for you. The plans vary in price, word count, and features, with options for AI templates, chatbot builders, API access, and more. There is also an option for custom plans with additional features and support. Discounts are available for students and non-profits.
Image Generation
Writesonic's AI image generation tool, Photosonic, is a powerful addition to the platform that allows users to generate unique and copyright-free images for their content. With this tool, you can easily generate images that match the text and theme of your project. You can find and use Photosonic in the left hand column of the dashboard. Once there, simply prompt the AI to generate an image for you by following this prompt: [Description of subject, media type]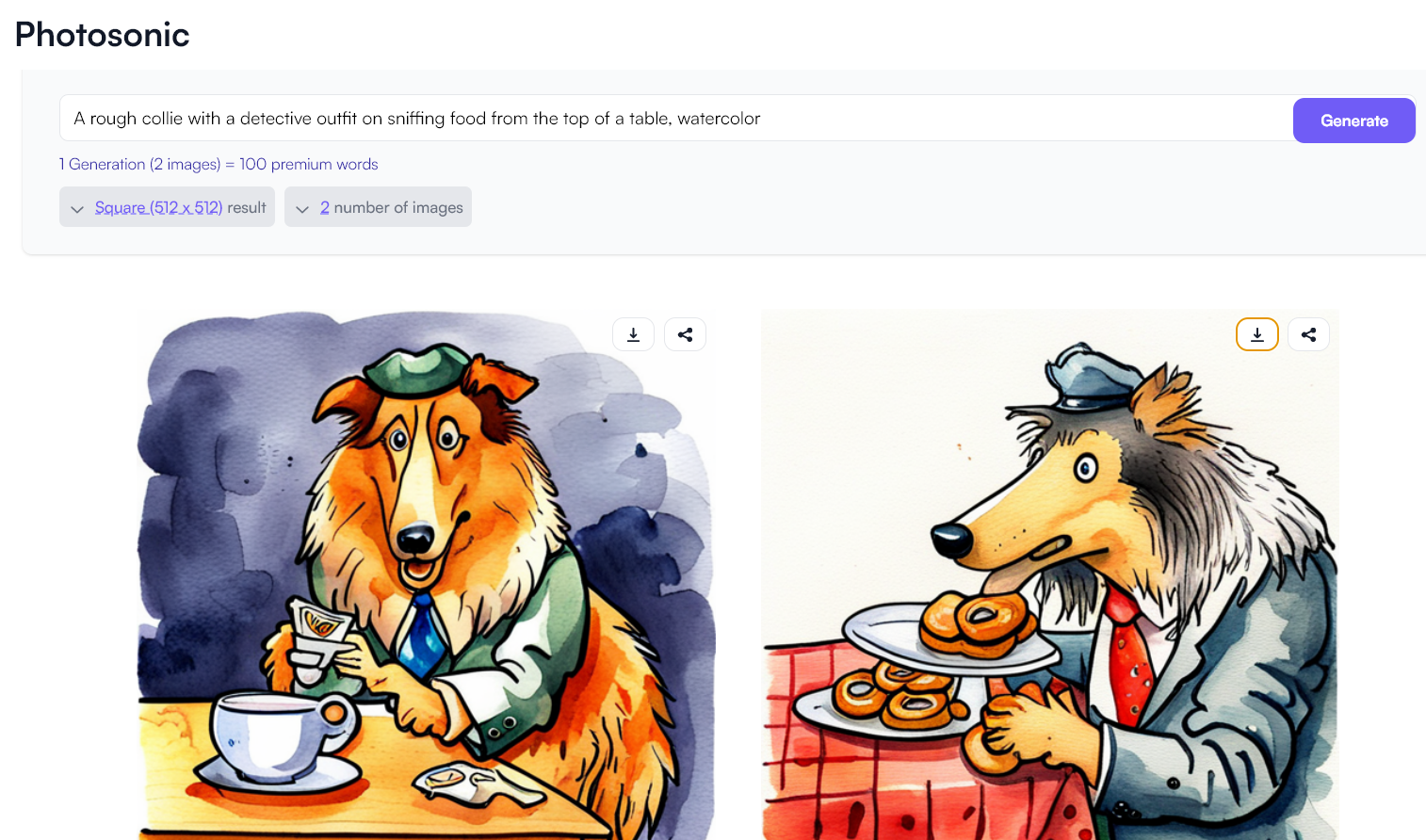 The AI image generation tool works by using machine learning algorithms to analyze the provided text and generate images based on the content. AI image generation is a helpful way to create unique images without needing to hire a photographer or graphic designer. It is useful for a variety of applications, from creating social media graphics to generating illustrations for books and articles. By automating the image creation process, AI image generation saves time and resources, while also offering a cost-effective solution for businesses and individuals who need high-quality visual content.
What Writesonic Could Improve
While exploring the Writesonic platform, I identified an area that would benefit from some extra attention from Writesonic's UX team. Writesonic could improve its user interface to make it more intuitive and user-friendly for new users so they're more readily able to utilize all of Writesonic's features and tools to the fullest.
User Experience
When logging into Writesonic the first time, I was a little overwhelmed by the amount of information being presented to me. It seems like everything the platform has to offer is laid out at once, on one screen. With so much information being presented at once, it can be challenging to know where to start.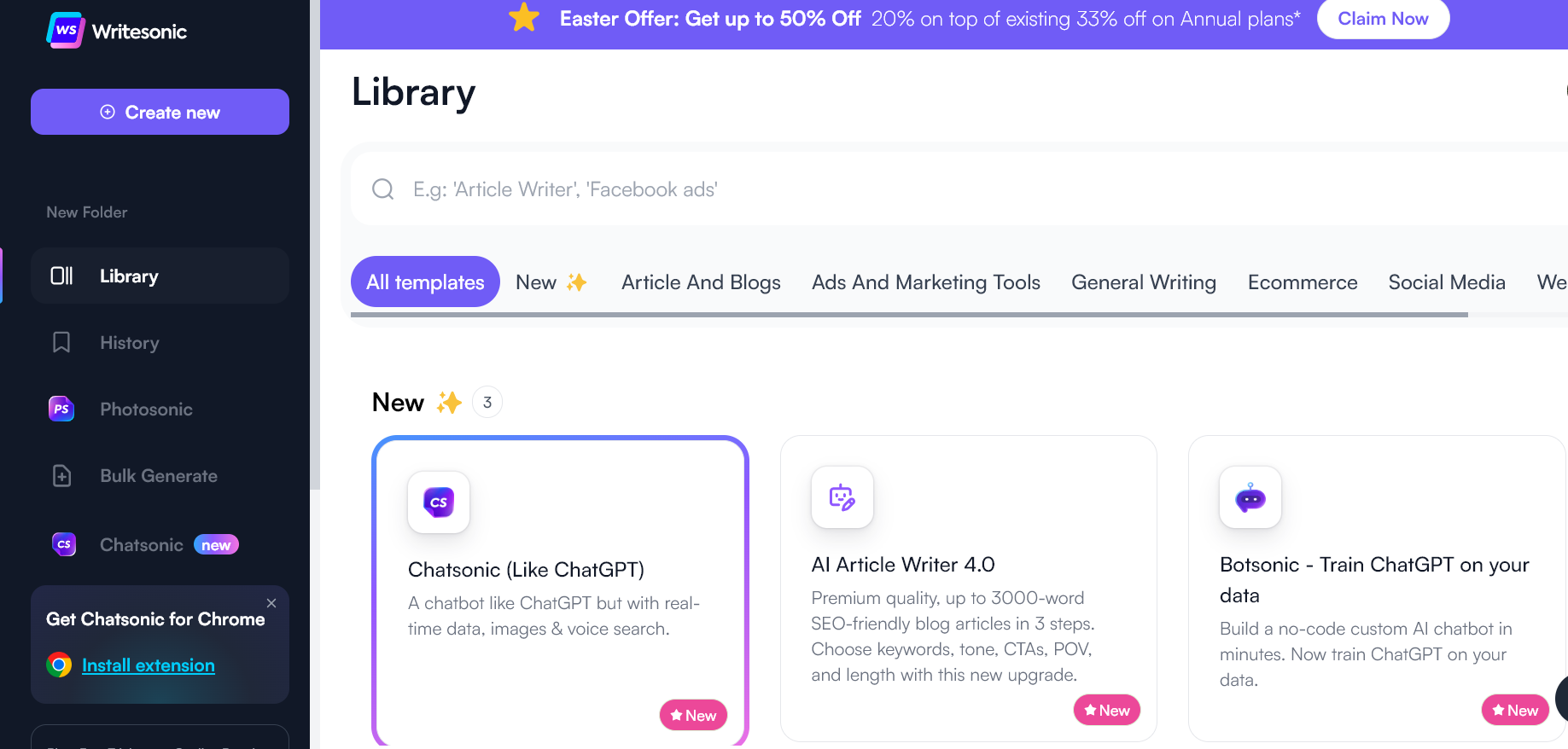 The number and assortment of tabs makes it a tad difficult to find specific features or tools. Although Writesonic's range of features and tools is undoubtedly a valuable asset to many, the sheer volume of information presented simultaneously can be overwhelming, making it less of a brainstorming and spontaneous creation tool and more of a "know your purpose before using" tool. As Writesonic evolves with even more features, it will be crucial for the platform to prioritize user experience and make it as intuitive as possible. Less clicking and more efficiency is needed here.
After sorting through the various menus, I spotted "Create a New Project" in the upper left corner of the dashboard. After successfully creating a new project, I received a success notification, but was left wondering about its whereabouts.

Writesonic's UX would benefit from implementing some sort of guided tutorial for users or simplifying the look of the dashboard.
AI Writer Tool
I decided to try out Writesonic's AI Writer Tool. The tool was easy to access. I was prompted to input a title, keywords, choose a tone, point of view, etc. Within a minute, I had a complete well-written travel blog. The tool even included a stock photo that the AI had chosen, which was a nice touch.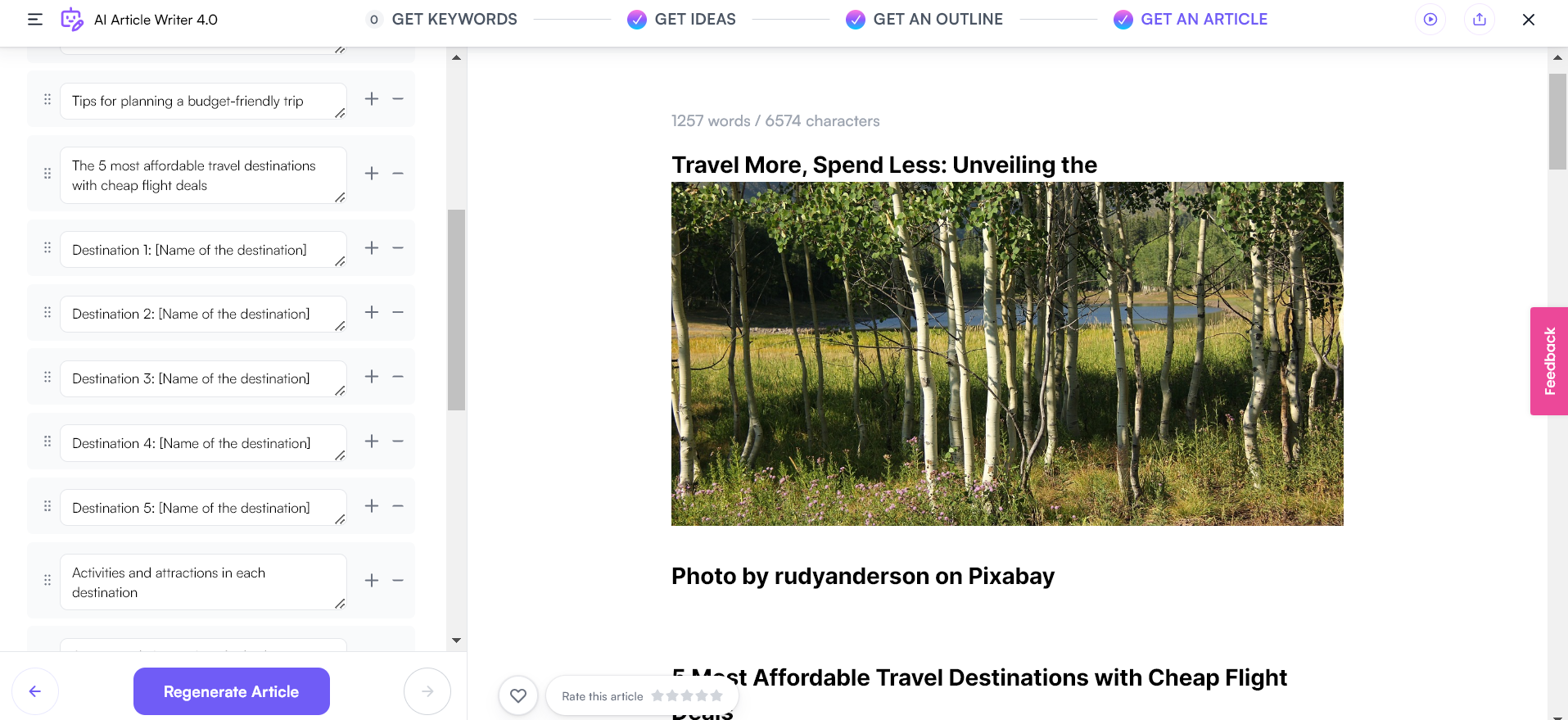 I was impressed with the quality of the article. However, I did not fact check the flight prices which the AI claimed were as low as $200-$300 per ticket, roundtrip.
I was unable to edit the blog, which I found to be unusual. After I exited the tool's page, it wasn't immediately clear to me where I could access the project I had just created. I ended up finding the project in the "History" tab. While the AI Writer tool worked well enough, the user experience could be improved by making it easier to find and edit projects without jumping through hoops.
Final Thoughts
In conclusion, Writesonic is a powerful tool that can help streamline the content creation process for businesses and individuals alike. The AI writing and editing tools, as well as the AI-generated images, offer a wealth of features that can be incredibly useful for anyone looking to create quality content quickly and efficiently.
One of Writesonic's key strength truly is the breadth of its features. It's a solid product with a lot to offer. From long-form writing to ad copy, to Chatsonic and AI image generation, Writesonic has something for everyone.
On the flip side, Writesonic's interface can feel cluttered and overwhelming, especially for new users. However, once you get the hang of it, the interface becomes easier to navigate.
Overall, if you're someone who creates a lot of content and wants to do so quickly and efficiently, Writesonic could be a great fit for you. Its powerful AI tools and features make it an attractive option for anyone looking to streamline their content creating process.