12 AI tools for transforming your presentation skills
AI presentation tools have transformed the way we create and deliver presentations. These tools use AI to automate the design process, allowing users to create professional-looking presentations in minutes. AI presentation tools can generate slides, create outlines, summarize text, and even generate pitch decks in a matter of minutes.
With the rise of remote work and virtual events, AI presentation tools have grown in value, allowing users to create engaging and interactive presentations from anywhere in the world. In this article, you'll discover AI tools for presentations that will elevate your presentation skills to new heights.
Benefits of using AI tools for presentations
AI tools for presentations offer a wide range of benefits that can greatly enhance your presentation skills. These tools leverage machine learning and generative AI algorithms to automate various aspects of presentation creation, making the process faster and more efficient. Let's explore some of the key benefits of using AI tools for presentations.
1. Time-saving
They can generate slides, create outlines, and even draft entire presentations in minutes. This allows users to focus on the content of their presentation, rather than spending hours on the design and formatting.
Join Renaissance Rachel's holiday giveaway!
1st Prize: $300, 2nd Prize: $75, 3rd Prize: $25
2. Easy to use
AI tools are designed to be user-friendly and intuitive, making them easy to use even for those with no prior experience.
3. Engaging visuals
They can automatically design visually appealing slides and graphics, making your presentations more engaging and impactful. This includes everything from color schemes and fonts to images and graphics. Additionally, AI presentation tools often come with pre-designed templates that can be customized to fit the user's needs.
4. Customizable
They provide users with the ability to customize their presentations to suit their specific needs. This allows users to create presentations that are tailored to their audience and message.
5. Simplifying complex ideas
They can simplify complex concepts and data, making them easier to understand for your audience. These tools can transform technical jargon into easily digestible content, ensuring that your message is effectively conveyed.
12 AI Presentation tools you must try
Now that we've explored the benefits of AI tools for presentations, let's dive into some popular tools that you can start using today. These tools have gained popularity due to their advanced features, ease of use, and ability to create professional presentations. Here are AI tools for presentations that you should try out.
Presentations.ai is designed to reduce the time spent on creating presentations while simultaneously improving the overall design quality. It leverages AI technology to make the creation process effortless and offers many personalized design options. It enables the sharing, tracking, and analysis of presentations to determine how well they reach the target audience.
Features
Smart templates
Instant presentation creation from a single prompt
Customizable presentation tools and options
Collaboration features
Branding options for a consistent, professional look
Pricing
Starter: $0 (beta pricing)
Pro: $396 (beta pricing)
Enterprise: Contact for a custom quote
Designs.ai offers a suite of tools, including an AI-based presentation maker. Users can create professional-looking presentations with ease, choosing from a range of templates, design elements, and graphics. It also allows for the creation of videos, logos, and social media graphics.
Features
A vast library of smart templates and design elements
Customizable design elements
Support for multiple languages
One-click resize for various devices
Collaboration features
Intuitive design editor
Pricing
Basic: $19/month
Pro: $69/month
Enterprise: $169/month
Beautiful.ai offers a revolutionary approach to presentation design, empowering users to effortlessly create visually stunning slides that captivate their audience. With its intuitive and user-friendly design, it provides a unique and engaging way to communicate complex information, making it accessible to individuals of all technical proficiencies.
Features
Smart templates
Customizable design elements
In-depth analytics for slide impact assessment
Secure sharing with key stakeholders
Seamless integration with PowerPoint
Pricing
Pro for individuals: $12/mo
Team for collaborative work: $40/mo
Enterprise: Contact sales for a custom plan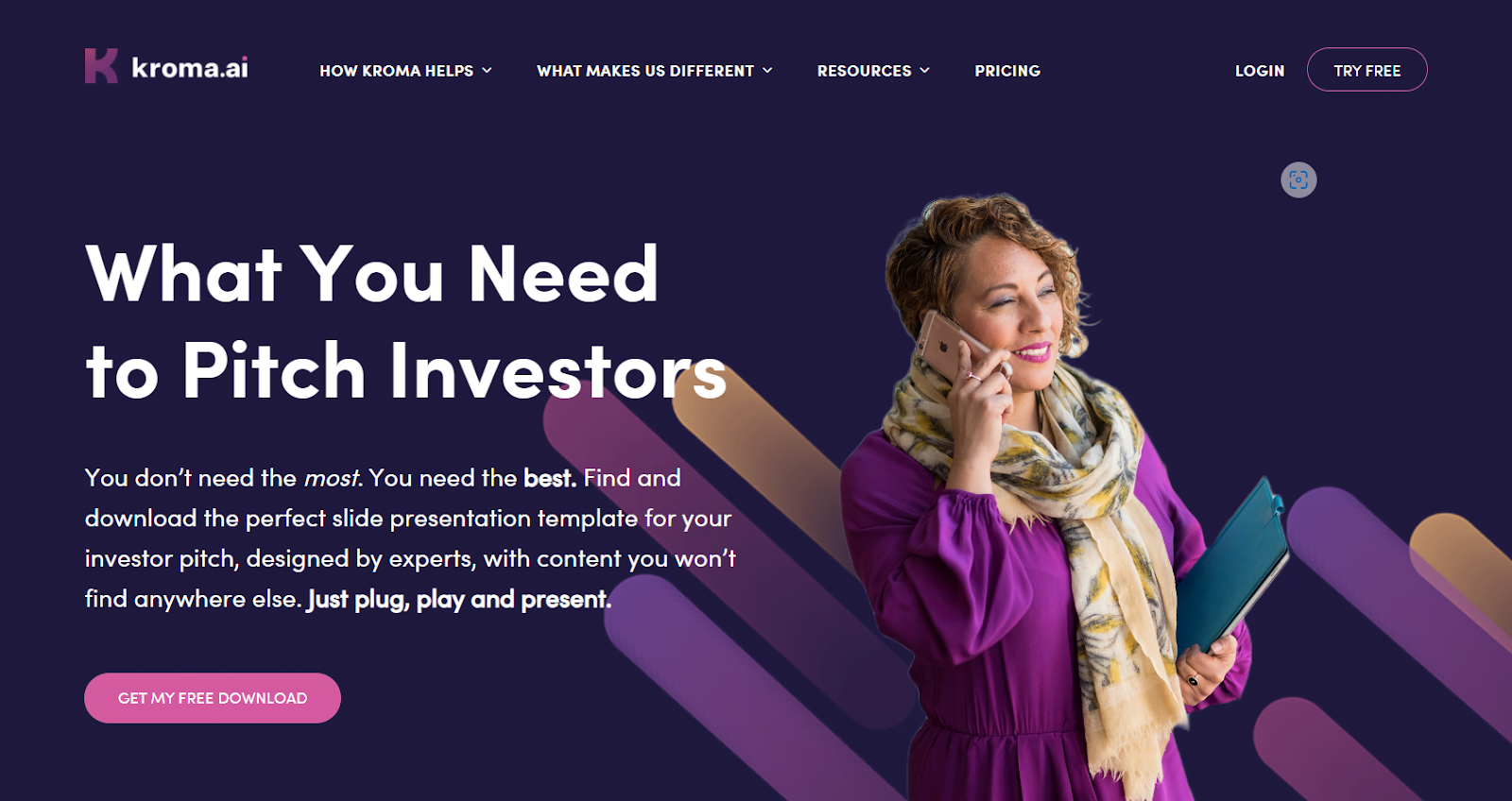 Kroma.ai helps users create beautiful presentations, whether for potential investors or to share ideas and data. Users can pick a template, choose colors, and add their logo. The platform then uses expertly generated content to enhance the presentation, making it more convincing and engaging with the help of industry leaders.
Features
Expertly designed smart templates
Customizable design elements
Robust data visualization tools
Generate various multimedia content, including videos, logos, and social media graphics
Pricing
Explorer: Free
Premium: $49.99 per user per month
Enterprise: $1,699 per year
Sendsteps.ai is an AI-powered presentation maker that creates interactive presentations quickly and easily. It uses machine learning to generate unique content, design, and interactivity for presentations.
Features
Interactive features for enhanced audience engagement
Time-saving presentation creation
Real-time audience engagement tools
Unique content creation with no plagiarism
Supports various document types and languages
Pricing
Starter: $220/month
Professional: $490/month
Enterprise: Contact for pricing
Gamma simplifies professional presentation creation with AI. It offers effortless customization with an intuitive interface, enabling one-click restyling, efficient template usage, live presentations, and webpage sharing. You can embed various media types like GIFs, videos, charts, and websites to enhance your content and engage your audience effectively.
Features
With one-click templates and no-code editing, produce polished content.
AI-assisted presentation tool
Integration of GIFs, charts, videos, and websites
Real-time feedback from viewers
Pricing
Starter: Free
Pro: Coming soon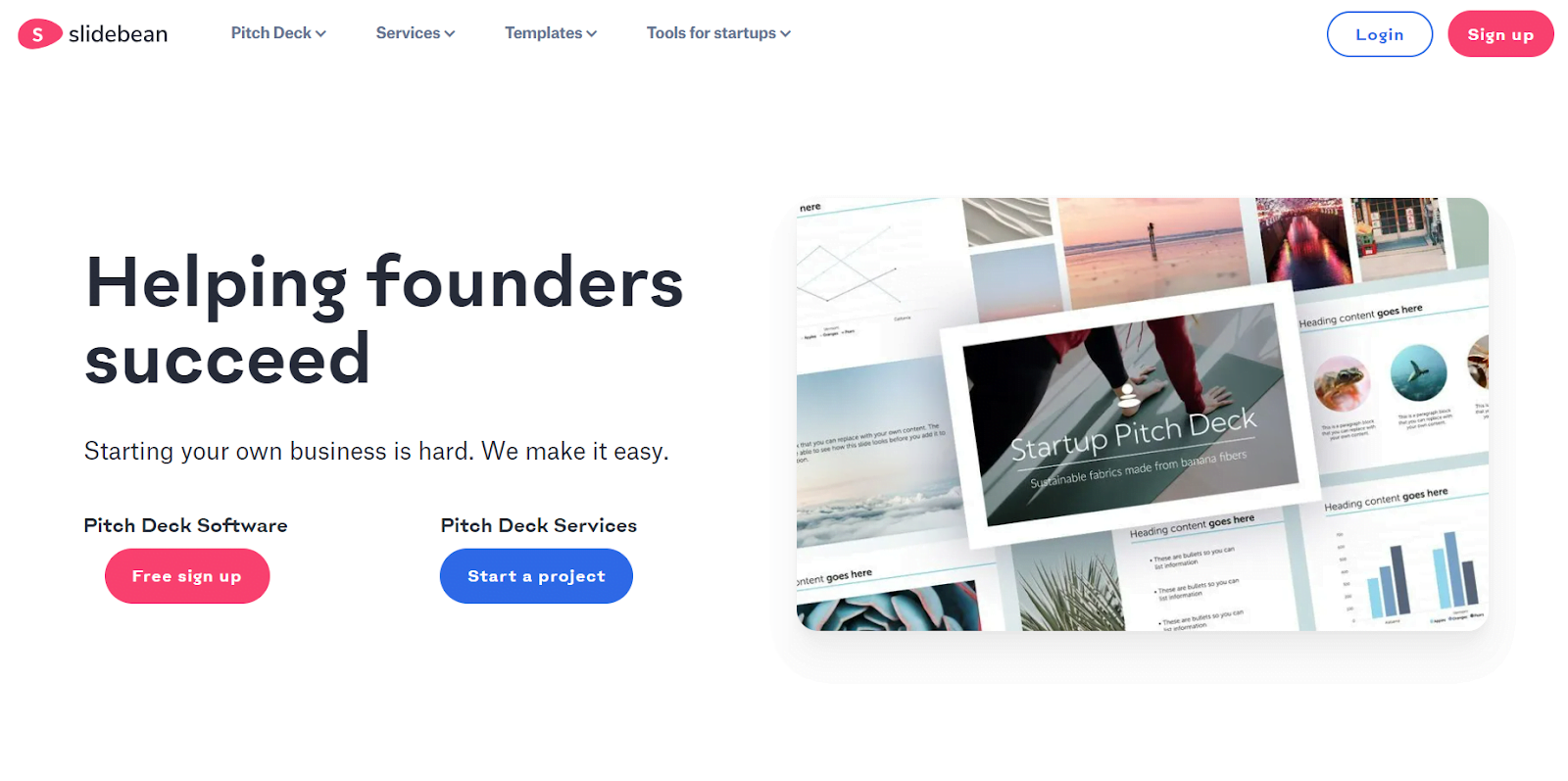 Slidebean focuses on helping founders and startups create their pitch decks. It simplifies the pitching process and ensures that the right pitch is delivered at the right stage of company development. It is suitable for initial pitch decks, marketing presentations, or sales decks
Features
Automated designs
Secure online sharing for pitch delivery
Slide activity analytics
Easy collaboration options
Pricing
All Access: $199/year
Accelerate: $499/year
Plus AI is a user-friendly AI presentation maker designed exclusively for Google Slides. This tool streamlines the process of creating custom presentations and enhancing slides with AI features. Plus AI seamlessly integrates with Google Slides, eliminating the need to learn new software or switch between applications, making it particularly valuable for creating high-quality, professional, and academic presentations. It offers robust AI-driven editing capabilities, enabling users to add new slides, revise existing ones, and remix slide layouts.
Features
Create presentations within minutes
Prompt to presentation feature
Text-to-slides conversion
Slide translation and layout options
Pricing
Free: Free forever
Slides: $10/month
Pro: $20/month
Enterprise: Contact for pricing
Deck Robot functions as a plugin for PowerPoint presentations. It takes the first draft of a presentation and transforms it into a polished final deck. All data remains secure as all information stays on the server. It allows users to redesign their presentations with preset corporate branding in just one click.
Features
Plug-in for PowerPoint presentations
Secure data storage on your server
One-click preset corporate branding
Tailored for PowerPoint users
Pricing
Set up a demo call on their website for product and pricing details.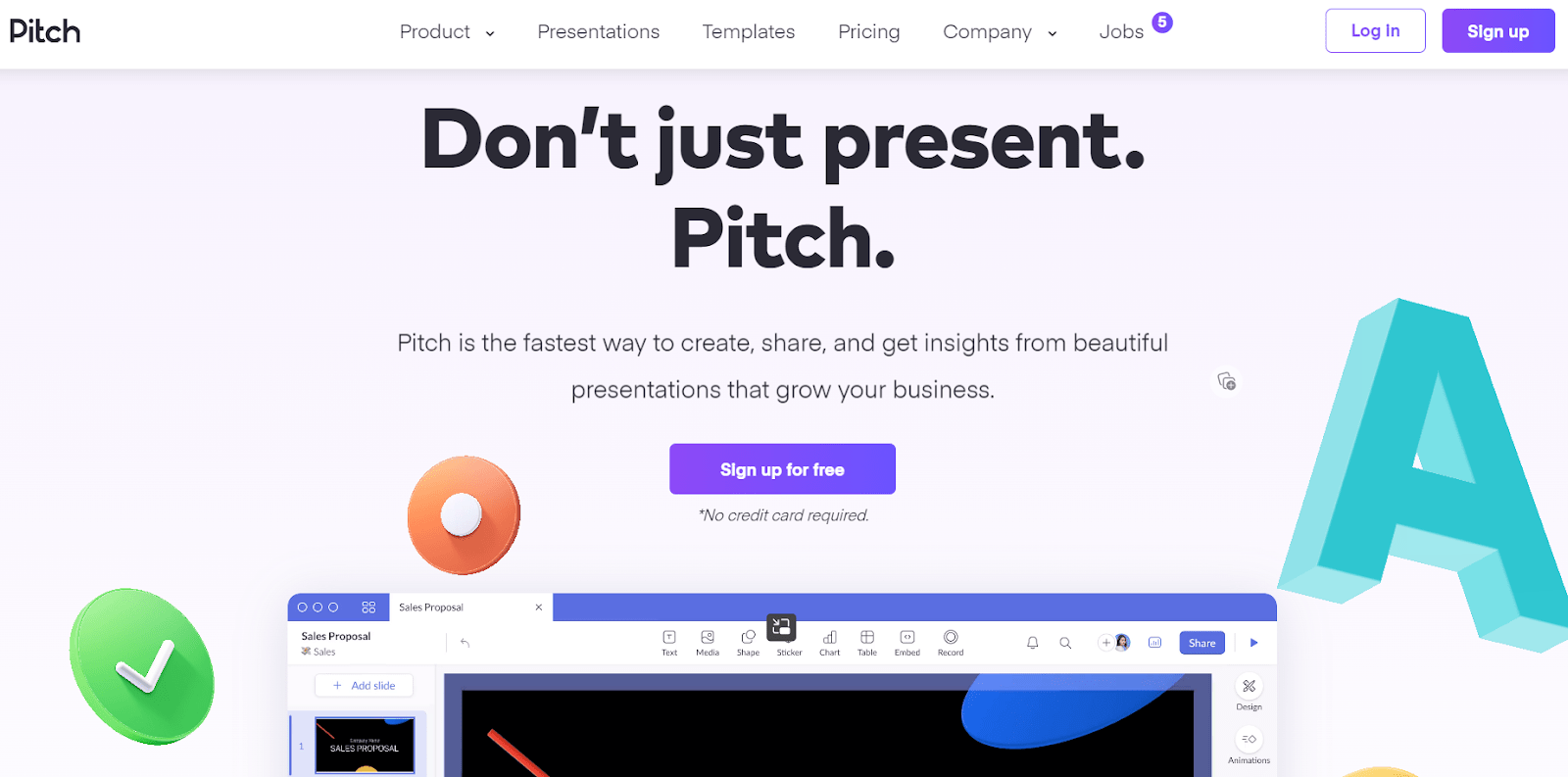 Pitch provides a unified workspace for creating various types of content, such as project plans, pitch decks, and conference keynotes. This platform is designed to streamline collaboration and real-time editing of presentations, making it an efficient tool for teams
Features
Choose from a variety of templates or create your own
Deliver live presentations or record your own narration
Analytics for presentation performance tracking
Embed video recordings within your slides.
Includes a free forever starter plan
Pricing
Starter: $0, free forever
Pro: $8 per member per month
Enterprise: Contact for a custom quote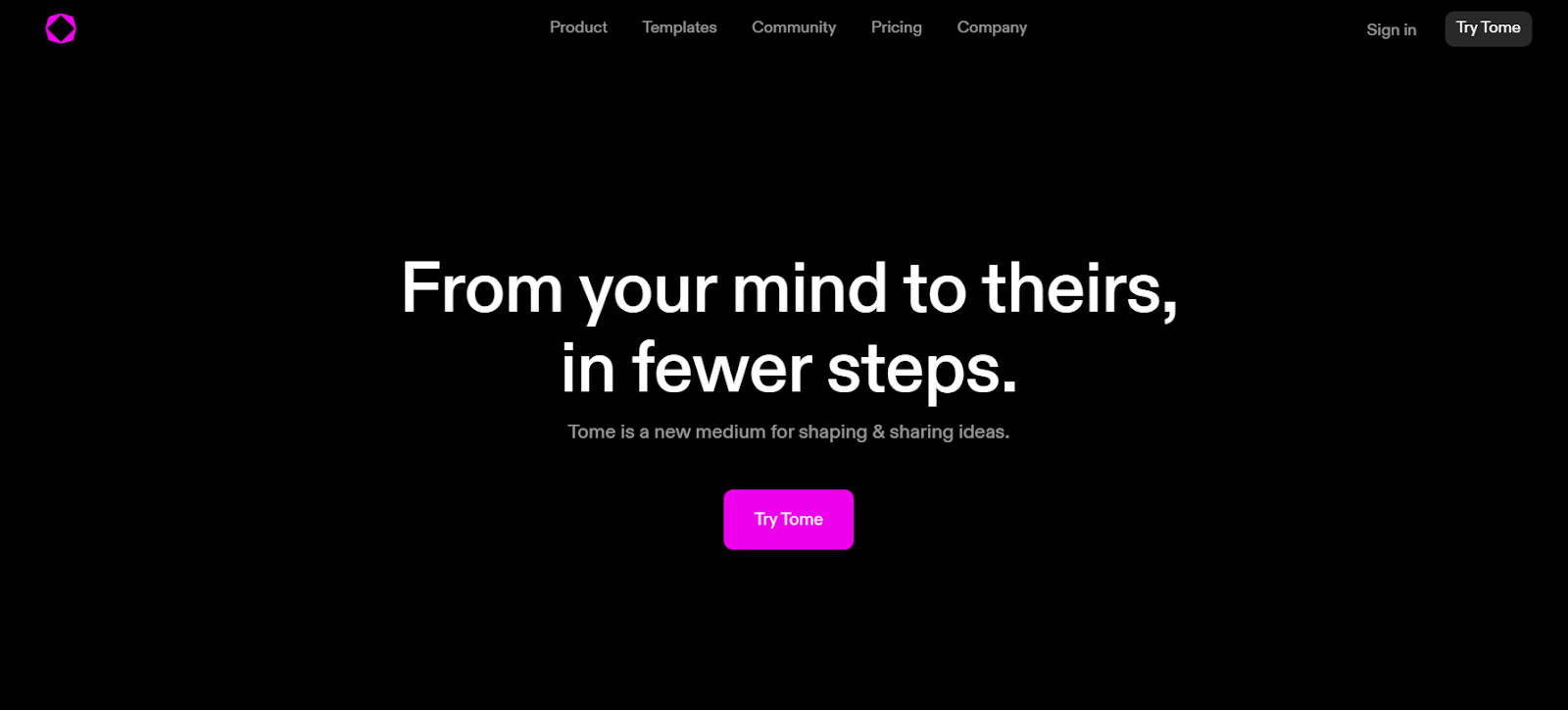 Tome AI is a user-friendly tool for crafting compelling narratives and creating stunning presentations in a matter of minutes. With Tome AI, you can effortlessly generate eye-catching presentations that are accessible on any device. It leverages the power of ChatGPT and Dall-E in the background to help you create professional-looking presentations with AI-generated images and videos.
Features
Interactive presentations
Find and cite references for claims
Easy language translations
Customizable templates
Pricing
Free Plan: Free Forever
Pro: $8 per person per month
Enterprise: Contact for custom pricing
Simplified's AI Presentation Maker promises to help you make on-brand presentations effortlessly. The platform handles image and content creation for any topic, and you can customize the results to suit your needs. All you have to do is tell the AI what topic you want to present, and it will generate the presentation in a few seconds.
Features
Pre-designed templates and a vast visual library
Edit text and images with AI
Integration with Google Drive and Shopify
Real-time collaboration on presentations
Pricing
Design Free: $0 for one seat
Design Pro: $6/month for 1 seat
Design Business: $10/month for 5 seats
Enterprise: Contact for custom pricing
How to choose the right AI tool for your presentation needs
If you're in the market for an AI presentation tool, it's important to consider a few key factors to ensure you choose the right one for your needs. Here are some considerations to keep in mind.
1. Ease of use
One of the first things to consider when choosing an AI presentation tool is its ease of use. After all, the whole point of using AI tools is to simplify the presentation creation process. Look for a tool that has a user-friendly interface and intuitive features that make it easy to navigate and create professional-looking presentations. The last thing you want is to spend hours trying to figure out how to use a complicated tool.
2. Customization options
Every presentation is unique, and you want a tool that gives you the flexibility to customize your slides to match your specific needs. Look for a tool that offers a wide range of customization options, such as different templates, fonts, colors, and layouts. This allows you to create presentations that are not only visually appealing but also align with your brand or personal style.
3. Consider your presentation goals and objectives
Before choosing an AI tool, it is important to consider your presentation goals and objectives. Are you creating a sales pitch, a product demo, or a training presentation? Depending on your goals, you may need different features and functionality from your AI tool. For example, if you are creating a training presentation, you may want a tool that allows you to easily incorporate interactive elements such as quizzes or polls.
4. Consider the pricing and budget
Another important factor to consider is the pricing and budget. AI presentation tools can vary widely in price, so it is important to choose a tool that fits within your budget. Look for tools that offer a range of pricing plans, so you can choose the one that best fits your needs and budget.
5. Integration with popular software
Finally, it is important to consider the integration of the AI tool with other popular software. You want a tool that seamlessly integrates with the software you already use, such as Microsoft PowerPoint or Google Slides. This allows for a smooth workflow and ensures that your presentations can be easily shared and edited across different platforms.
Future of AI in Presentations
As AI technology continues to evolve, the future of presentations looks bright and promising. With the advent of AI-powered presentation tools, the process of creating visually appealing and engaging presentations has become faster and easier than ever before.
Emerging Trends
One of the emerging trends in AI-powered presentations is the use of natural language processing (NLP) to generate content. NLP allows users to input text and have the AI tool generate a presentation based on that text. This technology is particularly useful for those who struggle with creating engaging content or who are short on time.
Another trend is the use of AI to personalize presentations for individual viewers. By analyzing data such as the viewer's job title, interests, and location, AI tools can create customized presentations that are more relevant and engaging. This can lead to increased audience engagement and better retention of information.
Potential Impact
The potential impact of AI on presentations is significant. AI-powered tools can help businesses and individuals save time and money by streamlining the presentation creation process. They can also improve the quality of presentations by providing visually appealing and engaging content.
Final thoughts
AI tools have revolutionized the way we create and deliver presentations. These tools can assist you in quickly creating presentations that look professional, regardless of your level of presentation experience.
With the ability to automate various aspects of presentation design, simplify complex concepts, and create visually appealing visuals, AI tools empower presenters to deliver captivating presentations that leave a lasting impact on their audience. Using AI in your presentation process can help you save time and produce more engaging presentations, whether you're a student, professional, or business owner.