13 Best AI Design Tools of 2023
If you're looking for the best AI design tools to take your creative projects to the next level, infinity, or beyond, you've come to the right place. In this article, we'll be sharing the top options available on the market today. From Adobe Spark to Colormind, we've done the research and compiled a list of the best AI software for designers to save you time and money and elevate the quality of your designs. Whether you're a professional graphic designer, intern, influencer or just starting out, these tools will help you create stunning designs with ease. So, let's get started and discover the best AI design tools together.
What Are the Best AI Design Tools?
The market for AI design tools is constantly evolving, and it can be challenging to keep up with the latest and greatest options available. When it comes to design and artificial intelligence design, AI has come a long way in recent years. It has made designing more efficient, accurate, and user-friendly. From creating presentations to generating color schemes, AI design tools can help you with almost every aspect of your design projects. However, with so many options available, it can be challenging to find the right one for you and that is why we compiled this list of the best AI design tools for your needs: from presentation software to logo and color palette generators and background removers, we will tackle most of your graphic design problems with artificial intelligence and AI assistance.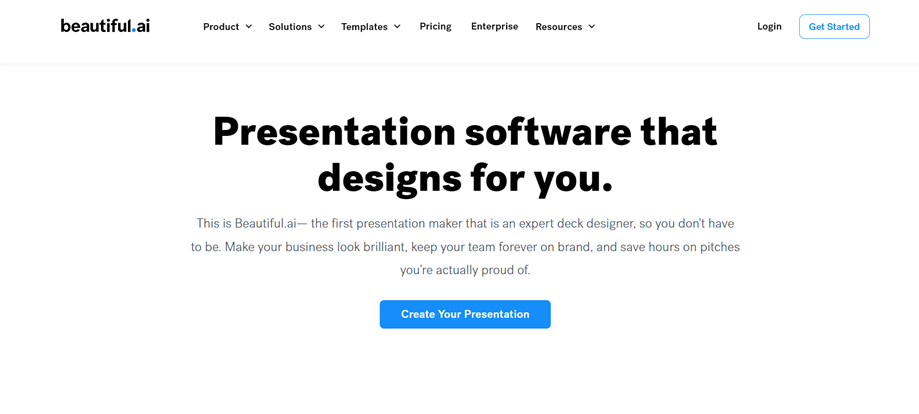 Overview
Beautiful AI is an artificial intelligence software tool that makes your presentation approach easier – starting with a design that works faster. You can use it to win pitches, reimagine reports, and get better work done every day. You will spend less time on your computer and have more to pitch your ideas!
Highlights
Trusted by the world's leading brands such as Google, Uber, eBay, and Tesla.
In order to move quickly from chaotic ideas to the appropriate message, Beautiful.ai removes outdated steps. The presentation software assists you in keeping your thoughts organized so that your story comes to life quickly, whether you're working on a single slide or an absurd number of presentations.
The software had hundreds of pre-built templates and slides, simple and intuitive, and user-friendly controls as well as an option to create new layouts in seconds.
Powerful data visualization tools give you granular control over every detail.
Pricing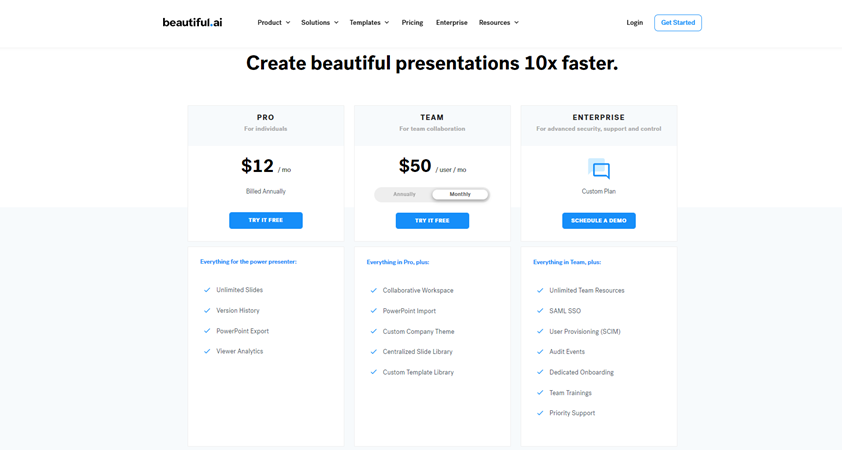 Pro Plan for $12 per month, aimed at individuals, and includes unlimited slides, viewer analytics, and PowerPoint export.
Team Plan for $50 per month per user is aimed at teams for team collaboration and involves collaborative team space and a centralized slide library.
Enterprise Plan entails unlimited team resources, priority support, and team training as well as several benefits, and is custom-tailored and priced.
For ad hoc projects, there is a single presentation $45 plan.
Bottom line
Beautiful.ai is the best presentation software for businesses looking for tools that increase their productivity and for individuals who need advanced features and customizations for stunning online presentations. It's one of the best AI design tools on the market to help you make stunning presentations.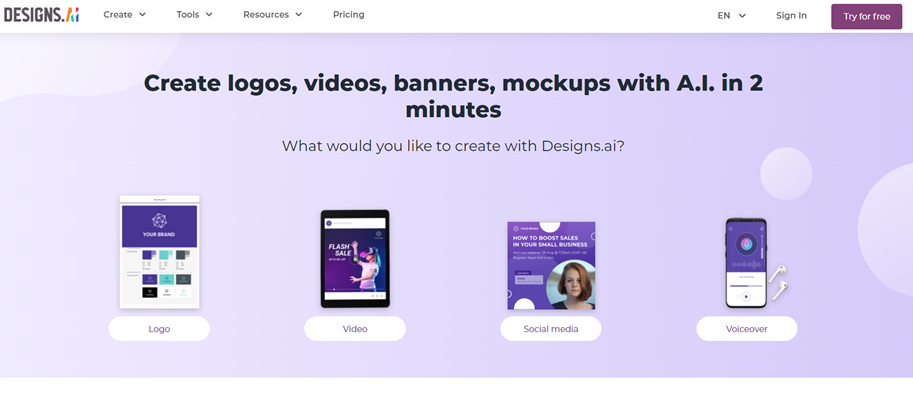 Overview
Users can create, edit, and scale content using the Designs.ai platform, an integrated agency-as-a-service with AI tools for graphic designers. Machine learning is used by Designs.ai to streamline your creative workflow. Less manual labor means more time to think strategically. With artificial intelligence, complete marketing campaigns can be created in just two minutes. Designs.ai's user interface is simple and makes design accessible. Even as a novice, you can produce stunning visual content.
Highlights
AI logo generator can be used to launch your brand with a unique logo and a full brand identity kit. Choose from over 10,000+ icons.
Text-to-video technology can be used to transform articles, posts, and text scripts into powerful, fully-edited videos in more than 20 languages. The library contains 10M clips, 170M images, 500K audio files, and 50 voices and makes it easy to resize for Facebook, Instagram, Twitter, TikTok, etc.
Text-to-speech technology allows you to convert text scripts into realistic voiceovers with multiple languages, tones, and pitches in 50+ high-quality natural-sounding voiceovers and helps you generate a voiceover in 15+ global languages.
Input your text, select a dynamic design template, and use the design wizard to generate thousands of potential variations. There are 20,000+ stunning templates to choose from and help you generate all your marketing collateral in seconds.
The design wizard auto-generates and resizes.
Pricing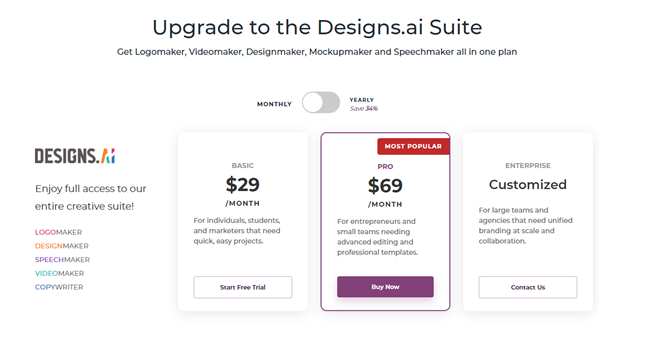 Basic Plan for $29/month is intended for individuals and quick and easy projects.
Pro Plan for $69/month is intended for entrepreneurs and small teams needing advanced features.
Enterprise Plan is customized and intended for enterprises.
Bottom line
Designs.ai is a one-stop-shop with AI tools for graphic designers and creatives needing to produce content for social media or marketing agencies and helps them save time, cut costs and simplify their workflow. Designs.ai is the best AI powered graphic design tool for creatives who would like to create all their content on one design platform. But make sure to check out other AI content creation tools on the market that might be more suited to your specific needs.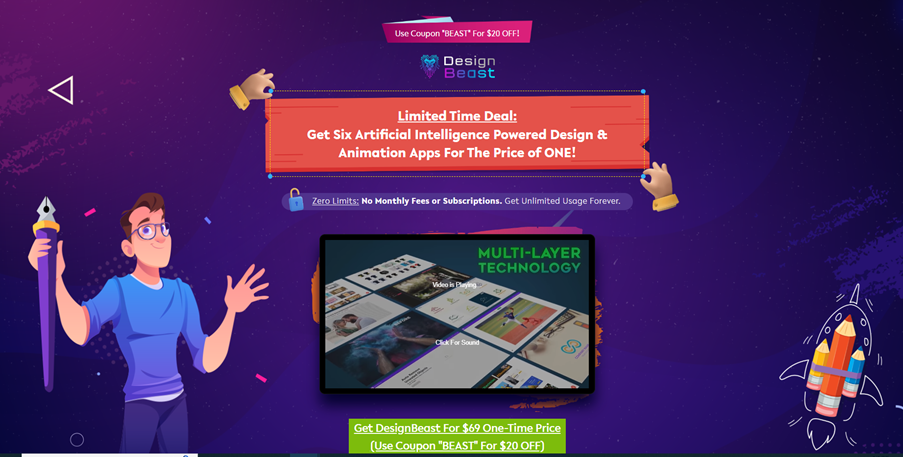 Overview
Design Beast is an AI-powered graphic design tool that helps you create high-impact dynamic visuals to sell anything. Design Beast helps you create simple, elegant, and astonishingly captivating designs to turn prospects into sales and capture and keep attention to get up to 10X more engagement to boost ROI and revenues as you visually communicate with your prospects with flair to grab attention and drive people to your offers.
Top Features
All-in-One Mockup Designer: Captivate Attention with 7000+ ready-made design templates and create world-class visuals for all social platforms in any language.
Live Motion Photos App: Transform boring photos into dynamic moving visuals with stunning effects and animations.
Multi-Purpose Image Editor: Edit, resize, enhance, or add filters to turn blurry/unappealing photos into stunning visuals ready to print or publish online.
AI-Powered Logo Creator: Boost Authority with professional logos. Automatically bulk creates 50 logo variations for any brand within seconds with artificial intelligence.
1-Click Background Removal: Erase backgrounds from any image within seconds with the machine-learning automatic object and edge detection.
Magic Object Removal: Selectively remove any unwanted objects, people, or elements from your photos to boost engagement and sales.
Pricing

One-time purchase for $69.
Bottom line
If you are looking for a one-time purchase to solve all of your creative troubles and increase the impact of your marketing and your sales, DesignBeast is the best AI graphic design tool for you. You are getting unbeatable value at a low one-time price – there are no monthly or yearly fees. But if you don't trust our judgment, feel free to look into the best AI productivity tools that could serve you on your productivity journey!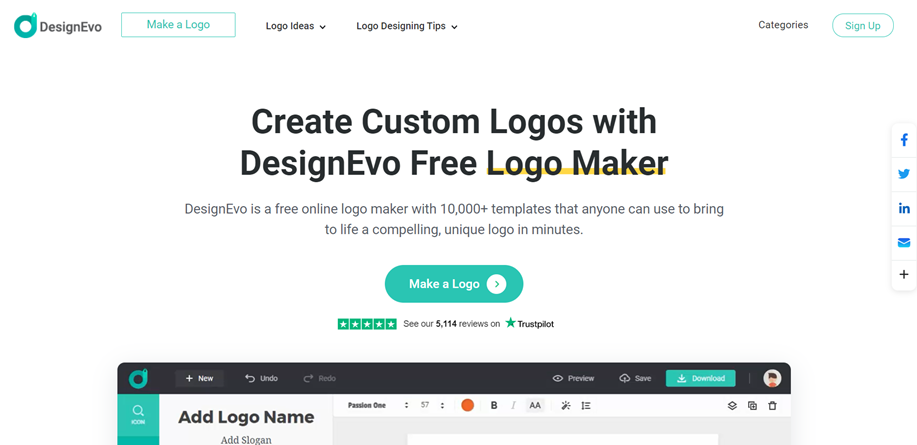 Overview
DesignEvo is an online logo maker with 10,000+ templates that anyone can use to bring to life a compelling, unique logo in minutes. Skip the back and forth with a designer and let DesignEvo show you countless options generated from your input.
Highlights
Browse through different categories or search 10,000+ logo templates using keywords to find a design that meets your needs and customize it to make it your own.
Create your logo in 5 minutes with a few clicks. They offer all types of resources that can help you take logo design to the next level.
Create a top-quality logo to build your brand identity. The multiple file formats you get from our logo creator makes it easier for you to create brand assets.
High-resolution JPG and PNG files in Basic Package. The Plus Package gives you vector files (PDF, SVG) and font files used in your logo design.
You own the copyright of a logo that you have customized and purchased the plus package on the DesignEvo platform. You can use your final logo for any commercial or non-commercial use.
Pricing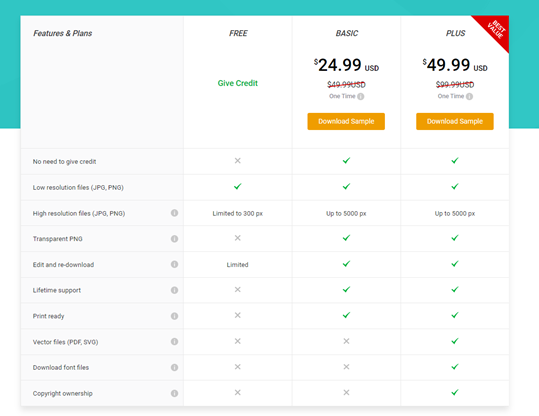 Free Plan.
Basic Plan for $24.99 as a one-time purchase lets you have transparent PNGs, lifetime support, and the ability to edit and re-download.
Plus Plan for $49.99 as a one-time purchase gives you copyright ownership, and the ability to download font files and vector files.
Bottom line
DesignEvo is a cheaper option compared to other AI tools for graphic designers if you need to create a logo for branding purposes and to use all over social media and is user-friendly, so you don't have to hire a graphic designer to make an eye-catching logo.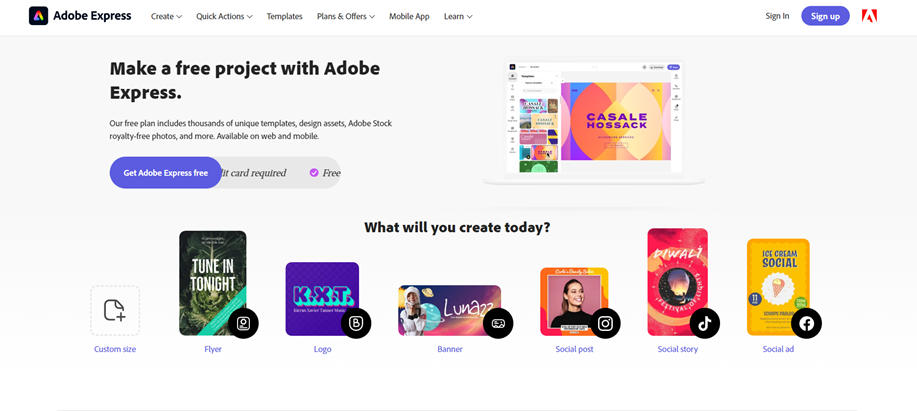 Overview
Turn your creative ideas into reality fast with Adobe Express. Check out the world class graphic design software's quick and easy tools to create standout content in an instant for school, activities, and causes you care about. You can try it out on mobile or the web. Adobe Express Premium has tools for anyone to make content, whether it be flyers or social media posts.
Highlights
All premium templates and design assets.
One-tap branding, logo, colors, and fonts.
Over 160 million royalty-free Adobe Stock collection photos.
Plan, schedule, and publish social media content across multiple channels.
Create on both web and mobile.
Over 20,000 licensed Adobe Fonts, curved type, grids, and font pairs.
Pricing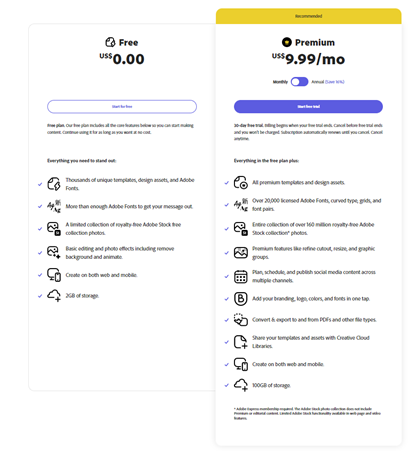 Free individual plan.
Premium individual plan is for $9.99/month.
Bottom line
Adobe Express is one of the best design tools on the market that has a completely free version and is accessible to individuals, students as well as non-profits, and schools. The price for the Premium Plan is very competitive for the market and covers a wide variety of features, from social media posts to resume edits.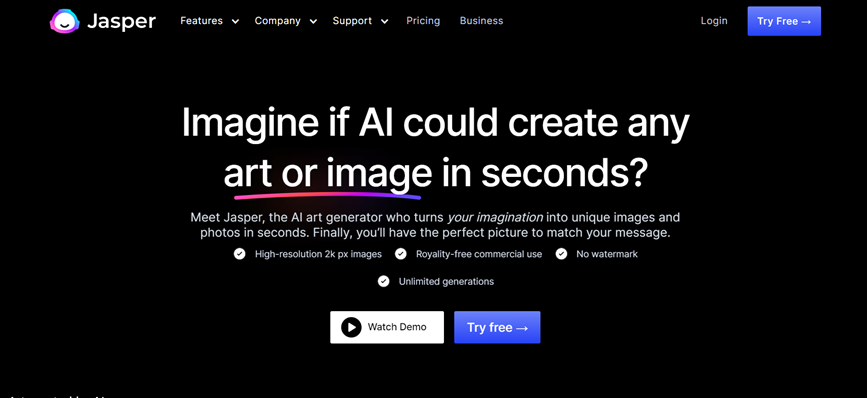 Overview
Jasper AI is a text-to-image software that converts your imagination into unique images and photos in seconds. Jasper is an AI art generator and writer that helps you create amazing content faster, whether it's a story or pictures to bring it to life. With just a few words, the AI will create numerous images, so the creative freedom is up to you.
Highlights
High-resolution 2k px images.
Royalty-free commercial use.
No watermark in the pictures.
Unlimited generations.
Since Jasper has read 10% of the internet, it can generate content and improve your writing to be more engaging, readable, and helpful.
Stop spending hours hunting for stock photos or trying to photoshop by yourself. Tell Jasper what you want and watch it create unique AI art in seconds.
Pricing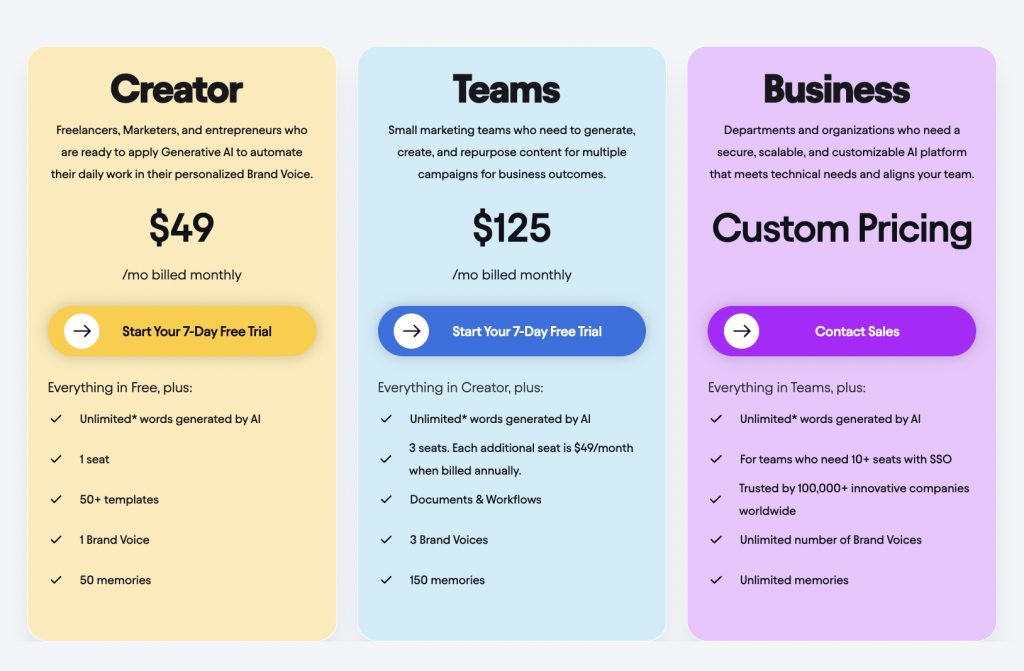 Jasper Art is a $20/month add-on service to Jasper's standard plans
Bottom line
Jasper AI works with you and your idea and is your both writing and graphic design assistant, leaving creative direction to you. Your AI assistant helps you in producing amazing copy and distinctive images for your company. But if you are interested in other AI tools that can assist with writing and streamline the content creation process, make sure to find the one for your specific needs.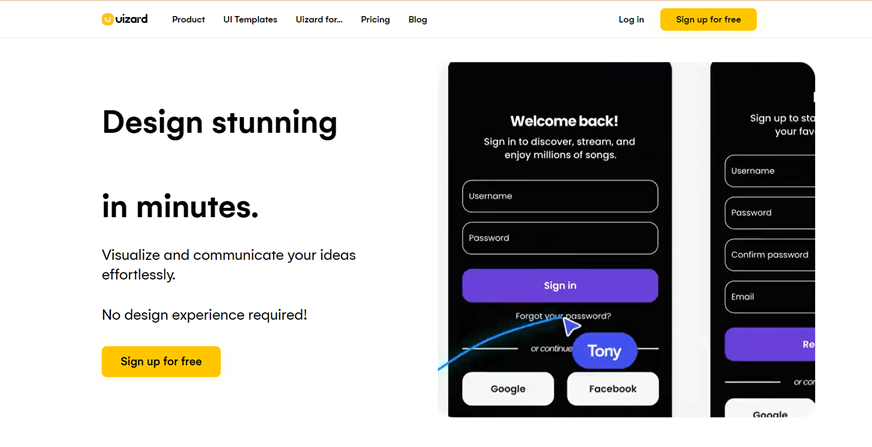 Overview
A quick, AI-powered UI design tool Uizard can be used to create wireframes, mockups, and prototypes in a matter of minutes. With the help of Uizard's AI powered features, you can also turn hand-drawn sketches into wireframes and prototypes with the click of a button. Uizard has a large selection of pre-made design templates and elements that you can drag, drop, and modify in a matter of seconds. Uizard is the ideal tool for collaboration and iteration because it was created to empower both designers and non-designers.
Highlights
Trusted by Pinterest, Tesla, Google, Adidas, and Samsung.
Upload screenshots of apps or websites and convert them into editable mockups in a matter of seconds, all with the power of AI.
Use Uizard's AI design features to scan your sketches and transform them into beautiful designs automatically.
Upload a screenshot of your inspiration and the AI Design Assistant will generate a unique UI design style automatically.
Pricing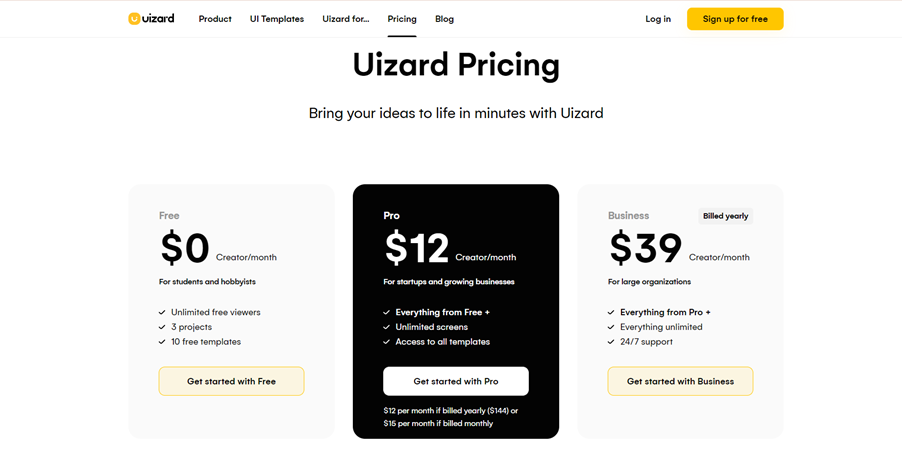 Free Plan for 3 projects and 10 free templates.
Pro Plan is for $12/creator/month with unlimited screens and access to all templates.
Business Plan is for $39/creator/month for large organizations and 24/7 support.
Enterprise Plan offers unlimited users, design system setup, SSO, and more for a flat price.
Bottom line
UI design has been made easy like never before with UIzard. If you are a student, a startup, or a graphic designer needing a quick prep before an important presentation, you can design your app, website, or software in minutes, very simply.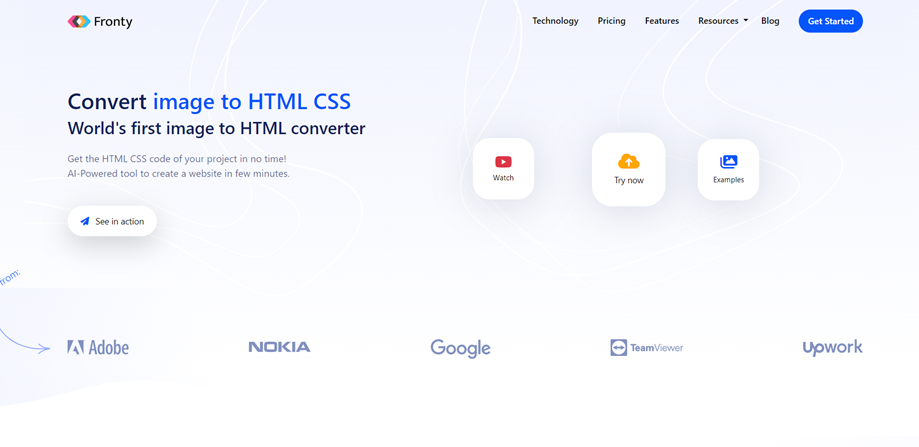 Overview
Fronty is the world's first AI-powered image-to-HTML converter. Fronty AI will convert your image to HTML CSS code. Within a few minutes, you will get your HTML CSS code from the uploaded image. Use the power of their editor to make complex websites, like e-commerce, blog, team members, and any other types. Their online editor allows them to change the design and styling as well. Once your website is ready – go live with their hosting service.
Highlights
Upload your image and convert the image to code!
Clean source code – easy for further usage. No code is required!
Online website editor: Clear and easy design. Edit content and design in no time.
One of the best UI design solutions for websites.
Attach your custom domain, have 99.8% uptime hosting and get backups anytime.
SEO-friendly and mobile-friendly website with valid world-class standards.
Pricing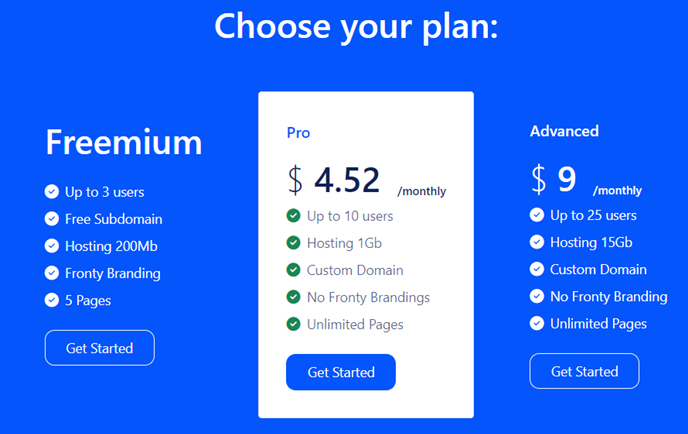 Freemium and a free subdomain (but includes Fronty branding).
Pro Plan for $4.52/month hosts 1 Gb and up to 10 users (custom domain, no branding, unlimited pages).
Advanced Plan for $9/month hosts 15 Gb and up to 25 users.
Bottom line
The only way to have an unlimited and easy-to-maintain website has been developed by humans so far. Fronty is here to solve this issue with artificial intelligence. Provided code is super-clean, well-commented, and easy to use for any further needs. So, if you are sick and tired of Wix or Squarespace, and cannot get them to turn your idea into a design, check out Fronty, as it gives you more creative freedom for a fraction of the price.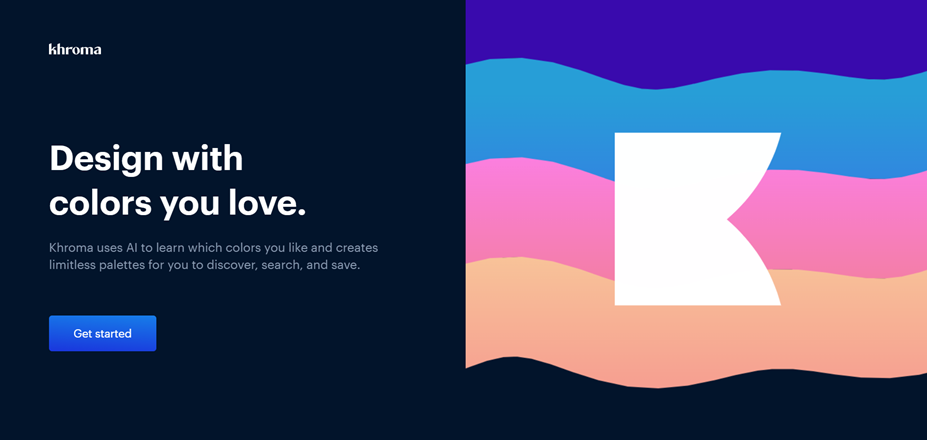 Overview
Khroma is an AI tool that will learn which colors you like and creates limitless palettes for you to discover, search, and save. An AI-based color tool is created specifically for designers, by designers. You can use Khroma to train an AI powered algorithm by selecting 50 of your favorite colors. A neural network that can recognize thousands of other colors that are similar to these is then trained using these colors. The quickest way to find, search for, and save unique color combinations that are customized for you and only you is with Khroma.
Highlights
By choosing a set of colors, you'll train a neural network-powered algorithm to generate colors you like and block ones you don't, right in your browser.
Khroma has learned from thousands of the most popular human-made palettes across the internet to produce great combos which you can view as typography, gradient, palette, or custom image.
Got something in mind? Khroma's search allows you to search and filter the generator by hue, tint, value, and color, as well as hex and RGB values.
Create an unlimited library of your favorite combos to reference later. Get color names, hex codes, RGB values, CSS code, and WCAG accessibility rating of each pair.
Pricing
Free to use for everyone.
Bottom line
If you need a quick, easy, and free way to create a color palette for your project, then the color generator Khroma is one of the best AI tools for graphic design on the market, whether you are just getting started or have experience with tools for graphic designers.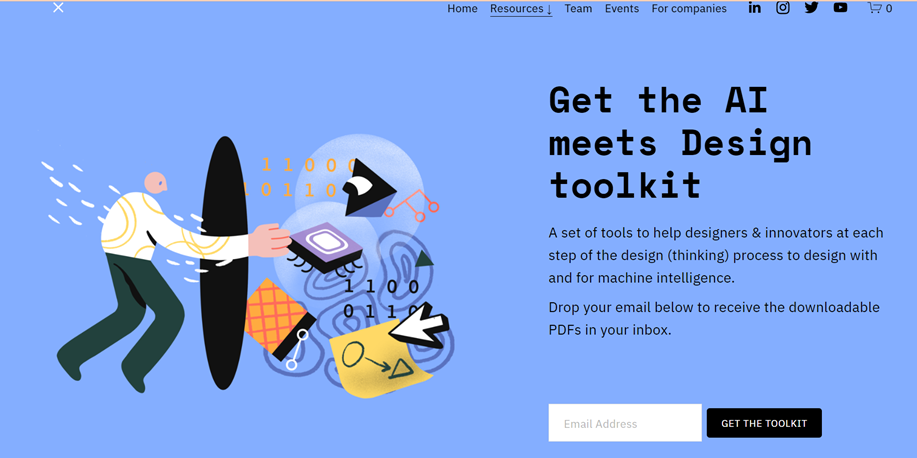 Overview
The AI meets Design toolkit was developed by Nadia Piet in collaboration with MOBGEN | Accenture Interactive Amsterdam in 2019, and became the soil on which the AIxDesign community was founded. The AI meets Design toolkit is a set of tools for each step of the design (thinking) process to help designers turn AI into social, user, and business value.
Highlights
A 2-page crash course in AI/ML to help you get up to speed on different kinds of artificial intelligence and machine learning.
Prompts to start spotting opportunities based on user needs, AI capabilities, and data availability and a card deck with 30 prompts of common AI applications for ideation sessions.
Exercises to align with your machine learning engineers and data scientists on the model, confusion matrix, and evaluation metrics.
Assessing feasibility, viability & desirability.
Worksheets to make value tensions explicit and anticipate (unintended) consequences.
An overview of 9 UX and design challenges of AI as a material.
Pricing
Free downloadable PDFs (consisting of the crash course, prompts, exercises, worksheets, and other material).
Bottom line
The objective is to help designers, creatives, and innovators turn AI into social, user, and business value, using advanced technology to create human-centered applications & meaningful user experiences. AI meets Design is building a bridge between the disciplines of AI & design and exploring how to design human-centered artificial intelligence applications and consists of a set of tools for each step of the design (thinking) process to help designers turn artificial intelligence into social, user, and business value. It's an invitation to designers and innovators everywhere to design with and for machine intelligence to create human-centered applications and meaningful user experiences.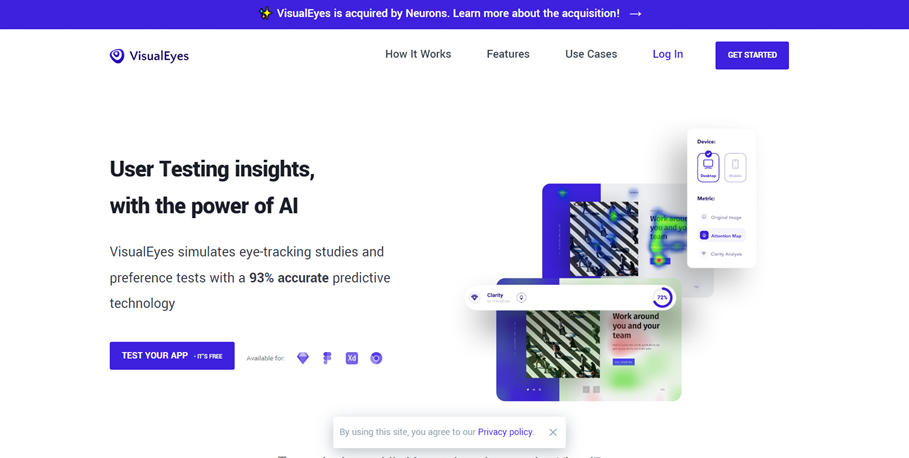 Overview
VisualEyes simulates eye-tracking studies and preference tests with 93% accurate predictive technology. VisualEyes uses web-based eye tracking to provide insights to brands, agencies, and market researchers. As a consultancy service, they remain dedicated to their mission to make eye tracking more accessible and help companies evolve their Design Processes and Guidelines. With VisualEyes, companies can gain valuable insights into their designs with just one click. The platform offers a web app and design tools' plugins, making it easy for users to upload their work and receive in-depth insights within seconds. The platform is designed to be user-friendly, with an intuitive interface and intelligent algorithms that forecast user behavior patterns based on large-scale datasets. Whether you are a market researcher or an agency, VisualEyes is the perfect solution for streamlining your design process and improving your product cycle. The company was recently acquired by Neurons.
Highlights
Get valuable insights about your designs with a single click.
Choose between the versatile web app and the design tools' plugins to upload your work. Select the target device for your design and kick-start the process.
Their intelligent algorithms forecast user behavior patterns based on extensive data sets from large-scale studies. Design confidentiality is an essential part of the process.
Receive in-depth insights within seconds without leaving your design tool or browser window. Days of research are compressed into a single click.
8000+ professionals and brands such as Airbnb, Spotify, and Microsoft are already using VisualEyes.
Pricing
VisualEyes is free to use and has recently been acquired by Neurons and its features will be incorporated into the Neurons platform. You can book a demo here.
Bottom line
VisualEyes is one of the best AI design tools for user research and user testing insights. VisualEyes gave you access to all the perks of automated eye-tracking from pre-testing campaigns and design to speeding up product cycles and generating customer insights with the touch of a button.
By exploring articles and reviews on user testing tools, you can gain a deeper understanding of the industry and its offerings, and determine which one is the right fit for you.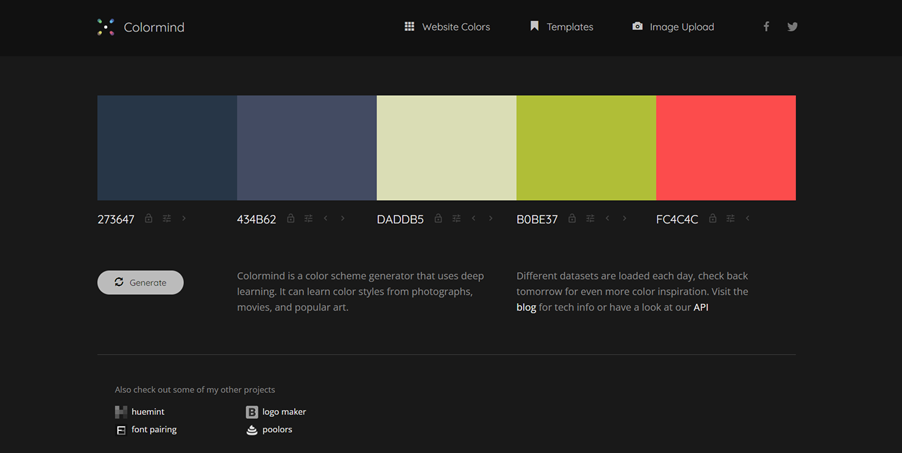 Overview
Colormind is a color scheme generator that uses deep learning. It can learn color styles from photographs, movies, and popular art. Colormind has been trained on popular real-world user interfaces – it extracts the background, text, and branding, and highlights colors for contextual awareness.
Highlights
If no colors are locked Colormind will generate color palettes at random.
If you have a specific starting color in mind, pick that color and lock it. The location of the color does matter, so experiment with different placements.
If you have two complementary colors, try placing them at opposite ends of the palette. Colormind will tend to generate nice intermediate values.
If you want more variety try placing contrasting colors closer together, Colormind will then tend to create triadic and other more complex color schemes.
Different datasets are loaded each day.
Pricing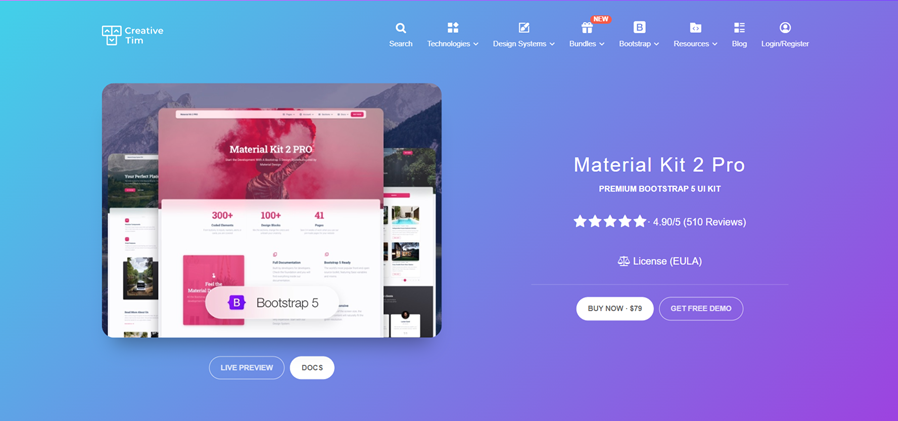 Free to use.
Material kit pro for $79
Bottom line
If you need a quick and easy AI powered tool to determine a color scheme from a picture or help you in creating a custom one, ColorMind is the best AI design tool for you. You can very quickly set up and optimize a color scheme, and be done on to the next task.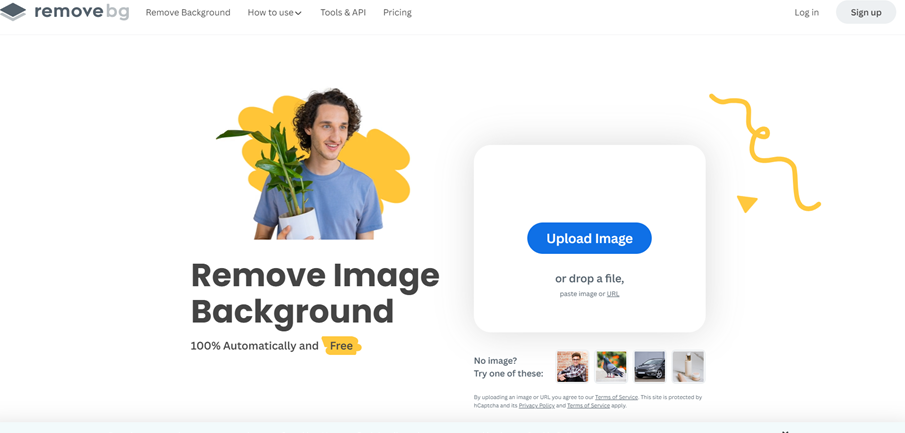 Overview
As the industry-leading solution for automated background removal, remove.bg and Unscreen solve a problem that has held back creatives long enough. Our tools enable designers to create outstanding art, support professionals from all over the world in doing creative work that fulfills them, and empower developers to build the apps and systems of the future. By making complicated tech simple, we strive to enable individuals and businesses of all sizes to benefit from the recent advances in Visual AI. Our tools simplify and accelerate workflows, foster creativity, and enable others to create new products.
Highlights
100% GDPR compliant which means we ensure a safe and reliable environment for your data at all times.
Automatic image and video background remover.
Automatic designs are ready in seconds.
Available in Canva.
Pricing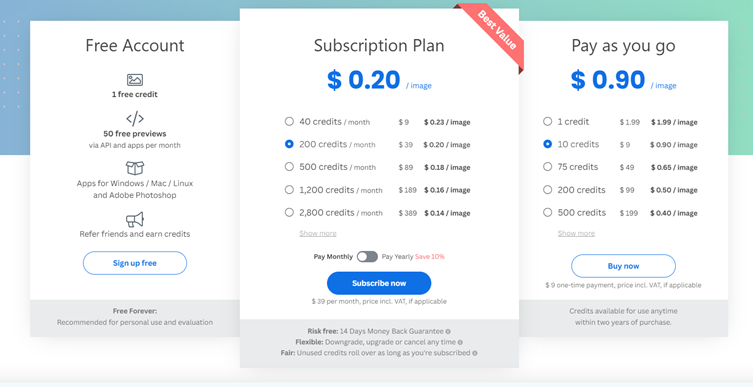 Free Account.
Subscription Plan for $0.2/image.
Pay-as-you-go Plan for $0.9/image.
Bottom line
Removebg makes it easier for professionals and creatives to create outstanding designs and visuals. With their automatic image and video background removal tool, users can quickly remove backgrounds and streamline their workflows. It is a cheap alternative to the hours you or your editor would spend removing the background from a video or an image. The software is one of the best design tools for creatives who need a large number of images or videos processed and are short on time. But if you are looking for other options, check out the other AI video editing software available on the market.
What is the best AI design tool?
The best AI design tool is the one that is suited to your exact needs and your budget. If you are looking for a design tool to help you with social media marketing and sales, then Design Beast is the option for you. If you would rather pay an AI service to create a logo than go back and forth with a graphic designer, Design Evo is the software for you. Then again, if you need custom art created quickly, JasperArt is the AI designer software for you. Designs.ai is a pricier option, but an AI-powered tool that will handle all the manual labor of your creative team.
Additionally, it is important to consider your budget when selecting an AI design tool. Some tools may have a free option with limited capabilities, while others may require a monthly subscription or pay-per-use plan. Be sure to compare the cost and benefits of each option to determine the best fit for your needs and budget.
The requirements and objectives of your project will ultimately determine which AI design tool is best for you. The options on the market are sure to have something to meet your needs, whether you're looking for a strong marketing tool or one that streamlines your creative work.
Final Thoughts
The AI tool market for creatives, from editors to graphic designers is rapidly evolving and changing the reality of manual work. So many new artificial intelligence-powered software is introduced to the market that it can be challenging for individuals and companies to keep pace. It's essential to research and compare the available options to find the one that offers the right features and fits your budget. Whether you need a tool to handle your social media marketing, create custom logos, or automate manual labor tasks, the right AI design tool can help you achieve your goals and streamline your workflow.