12 Best AI SEO Writing Tools
SEO content helps you rank on Google and other search engines to reach the customers and target audience you want while ranking with the right keywords. SEO writing is no exception to the variety of tools and programs that involve AI to make content generation easier.
What Are the Best AI SEO Writing Tools?
AI writing software tools help us create content that ranks within search engines and resonates with the reader. The best AI writing should involve some aspect of natural language processing, which can be done with help from your AI writing assistant.
We review some of the best AI writing tools for SEO content writing and what makes each tool helpful.
If you can use the AI tool for content creation that gets you the best content optimization while still being readable – it's a success!
NeuralText
Overview
NeuralText is an AI copywriter and SEO research assistant that excels at various forms of content creation and SEO reporting.
From generating high-quality content to optimizing it for search engines, the platform's SEO research capabilities provide valuable insights into common topics, questions, and keyword popularity from the internet.
NeuralText can be a valuable ally in elevating businesses' content strategy and boosting their online visibility.
Highlights
The platform provides users with comprehensive insights and content scores to maximize their content's search engine optimization.
NeuralText offers powerful SEO research capabilities, including top-ranking competitor articles, popular questions, and leading keywords from the internet alongside its long-form document editor.
Keyword clustering simplifies tedious keyword research and streamlines content creation for maximum ranking potential.
A comprehensive SERP Analysis Report provides insights into keyword searches, search volume, user intent, and more.
Pricing
NeuralText offers 3 paid plans:
The Starter Plan is $19/month and includes 1 user, generation of up to 20,000 AI words, 5 articles, and 2,000 keyword suggestions.
The Basic Plan is $49/month and includes everything the Starter Plan offers plus 5,000 keyword clusters.
The Pro Plan is $119/month and includes 3 users, generation of up to 40,000 AI words, unlimited articles, 50,000 keyword suggestions, and 15,000 keyword clusters.
Bottom Line
NeuralText offers powerful SEO research tools to meet the needs of content creators and marketing teams.
The platform offers a thoughtfully designed long-form document editor where users can write, brainstorm, and research all from one page.
Depending on individual needs, pricing for one user can be as expensive as $49/month.
SurferSEO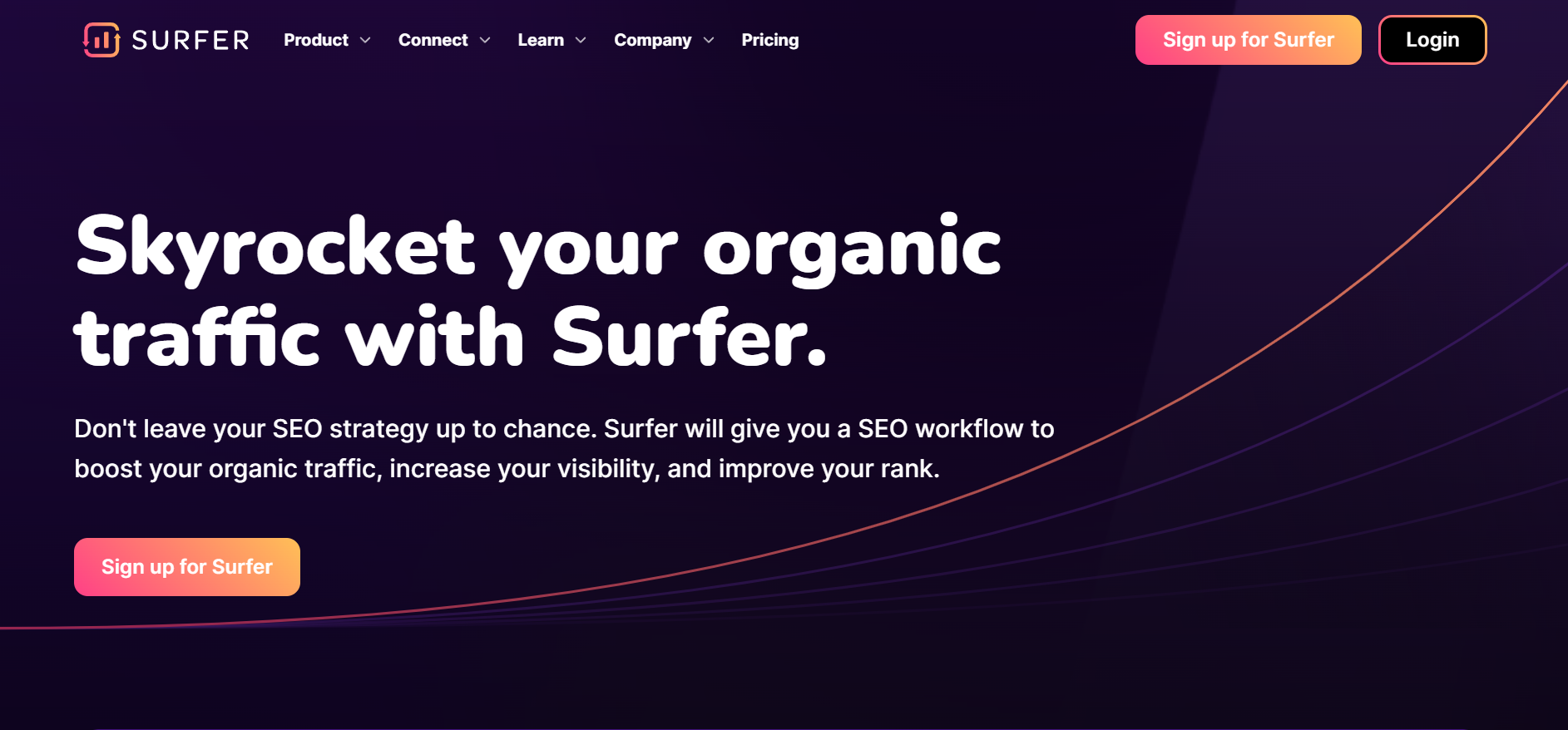 Overview
Surfer SEO is an AI writing software that is especially great at SEO best practices. It focuses on the aspects of content writing that allow you to rank on search engines and generate content that Google can index.
Various features to help your content creation achieve the highest SEO score possible.
Surfer SEO implies the entire writing process by allowing you to focus on the content and not so much the keyword research – which it does for you.
Highlights

Keyword research and outliner builder that lets you create your content outline with guides for headings, titles, and, more specifically, what keywords should be headings versus plain text.
You can generate content in any language. As you're writing, Surfer SEO uses natural language processing, so keywords also include words and phrases that are a part of natural language.
You can confidently publish content written with Surfer SEO knowing a built-in plagiarism checker has checked your content. This scans over your content and highlights anything red deemed plagiarism – you can edit these sections and rescan until nothing is highlighted in red.
Surfer SEO can also be integrated into your browser as an extension to utilize it in Google Docs or anywhere you prefer to do your writing and content creation.
You can always ensure your content is still ranking on search engines long after it's been posted with the Audit tool – this lets you search by URL to see how your published content is ranking – so you can edit and revise if needed.
Pricing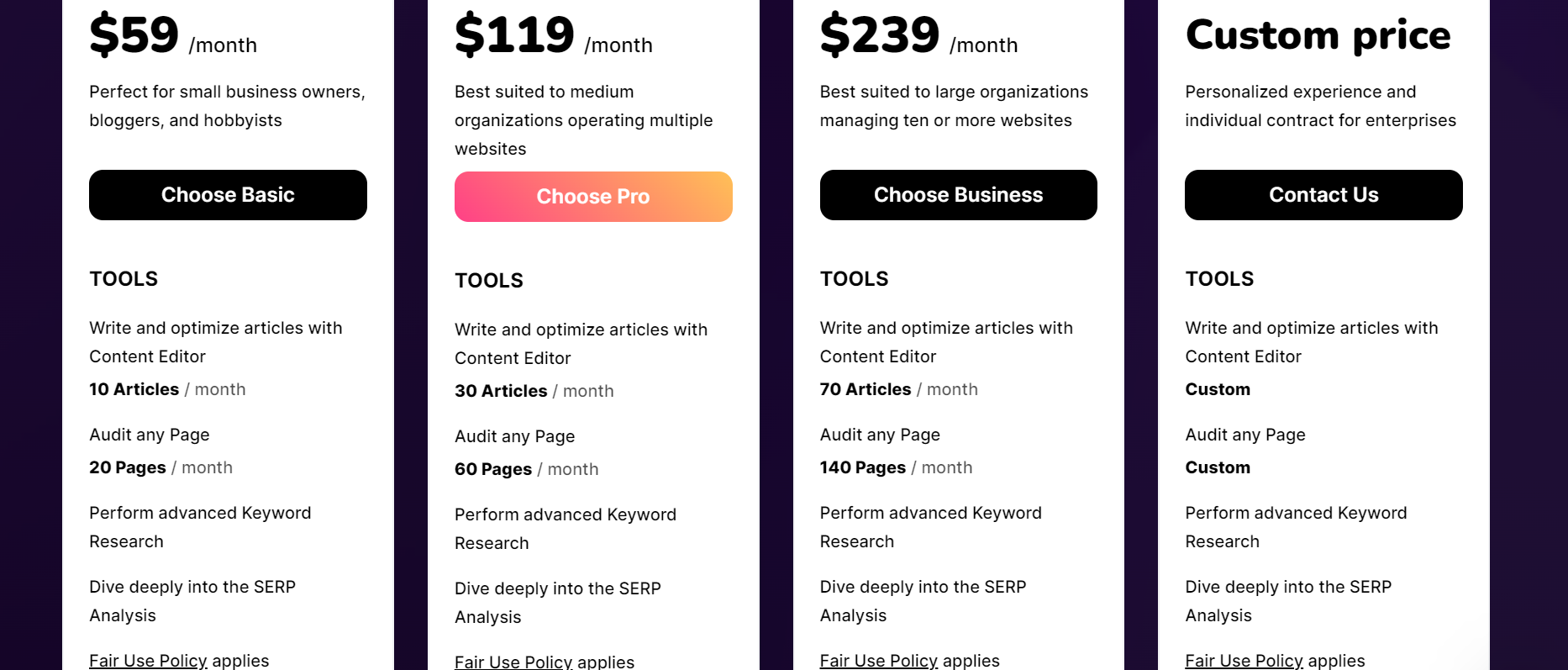 Surfer SEO is a bit on the pricey side of the spectrum for SEO writing tools. But they have four paid plans:
The basic plan at $59/month for 10 articles and 20 audits
Pro plan at $119/month for 30 articles and 60 audits
The business plan at $239/month for 70 articles and 140 audits
For a customized plan for larger businesses – you can contact Surfer for pricing options.
Bottom Line
Surfer SEO is one of the best content writing tools for ranking on search engines. It's super easy to use, and you can create your blog post with the help of Surfer, making sure you're writing optimized content.
Surfer does give you a free trial, and they have four paid plans to choose from once you're hooked!
Make sure you're always ranking, even with older articles, by using the audit tool to find ways to increase your content score.
GrowthBar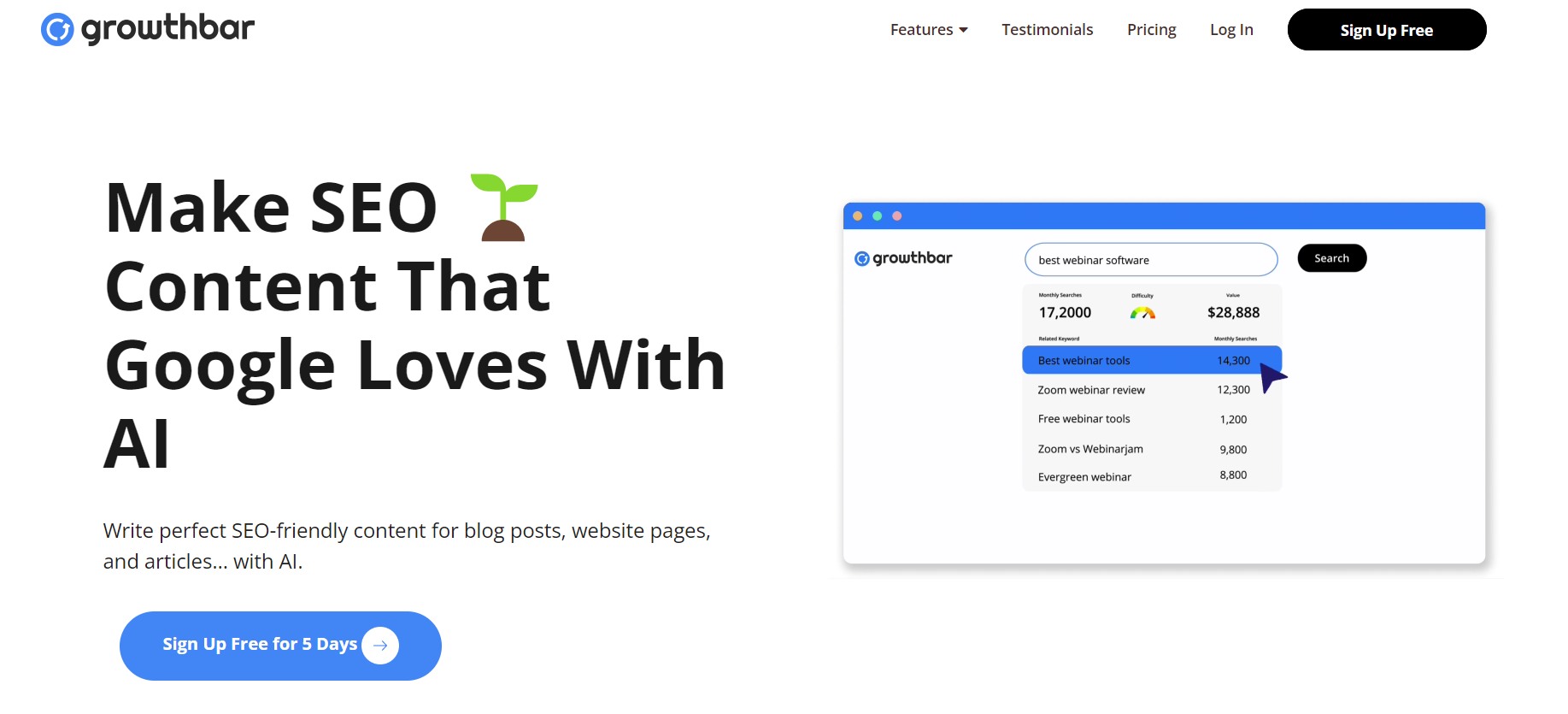 Overview
GrowthBar will help you rank high regarding landing pages, blog posts, and other articles.
If you struggle to develop content ideas, GrowthBar can help you write blog posts that are killing it at search engine optimization.
GrowthBar also allows you to look at Google ads and your domain authority – both beneficial copywriting tools for SEO.
Highlights

Keyword research and keyword ranking are done within the platform. You can use these keywords to create SEO content that readers will enjoy.
Chrome extension that allows you to edit and do research right within Google Docs.
Collaborate with your team members – you can now connect your writers, editors, and other important people to your GrowthBar to create articles faster.
They also have other helpful tools, such as backlinks, paragraphs, and AI meta descriptions, which can further help your SEO content.
Pricing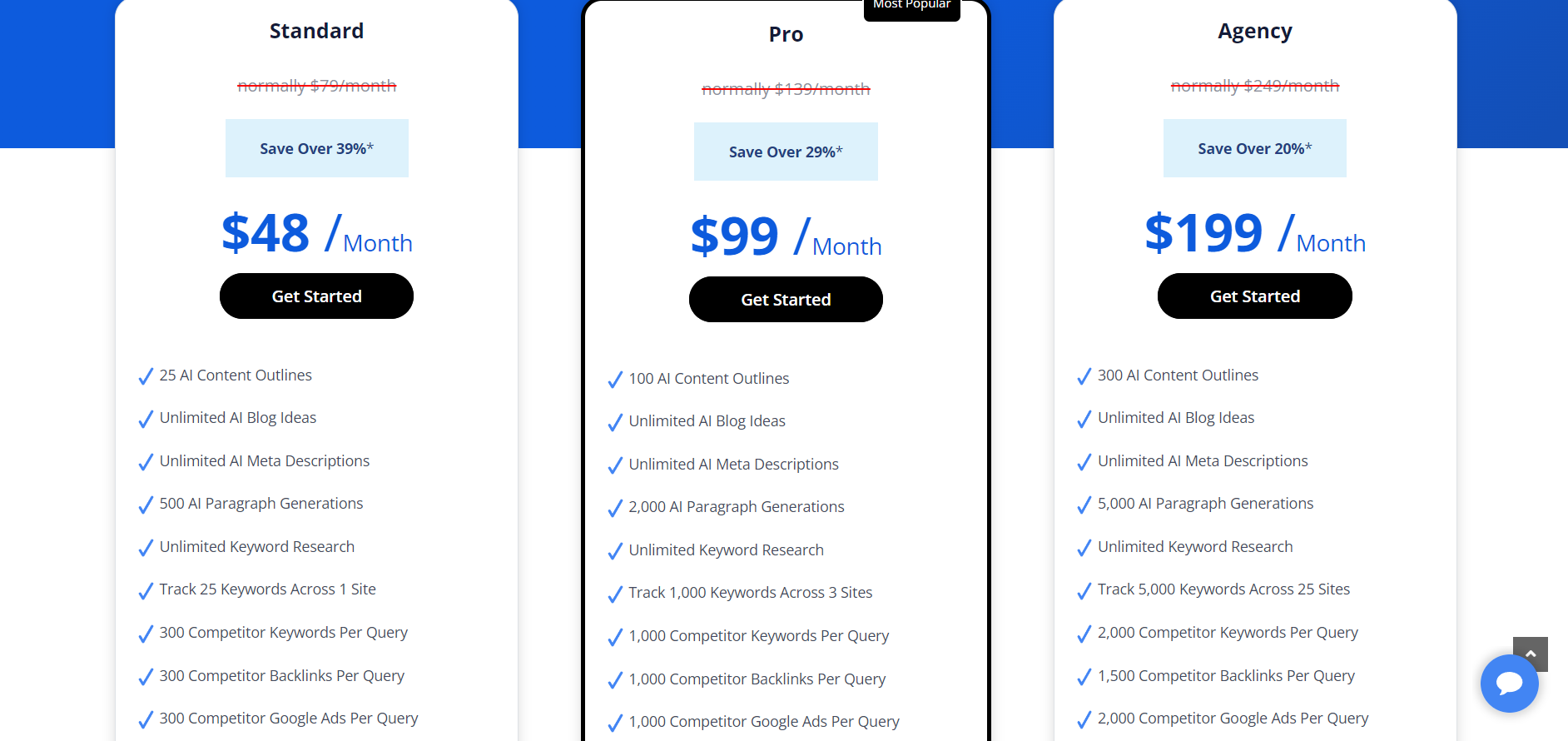 GrowthBar has three paid plans:
Standard plan at $48/month for 25 AI outlines and unlimited blog ideas
Pro plan at $99/month for 100 AI outlines and unlimited blog ideas
Agency plan at $199/month for 300 AI outlines and ten user accounts
Bottom Line
You can now write high-quality content and collaborate with your team – add your editors, writers, and other team members to work together and write content in half the time.
GrowthBar is a wonderful AI copywriting tool for long-form content.
Outranking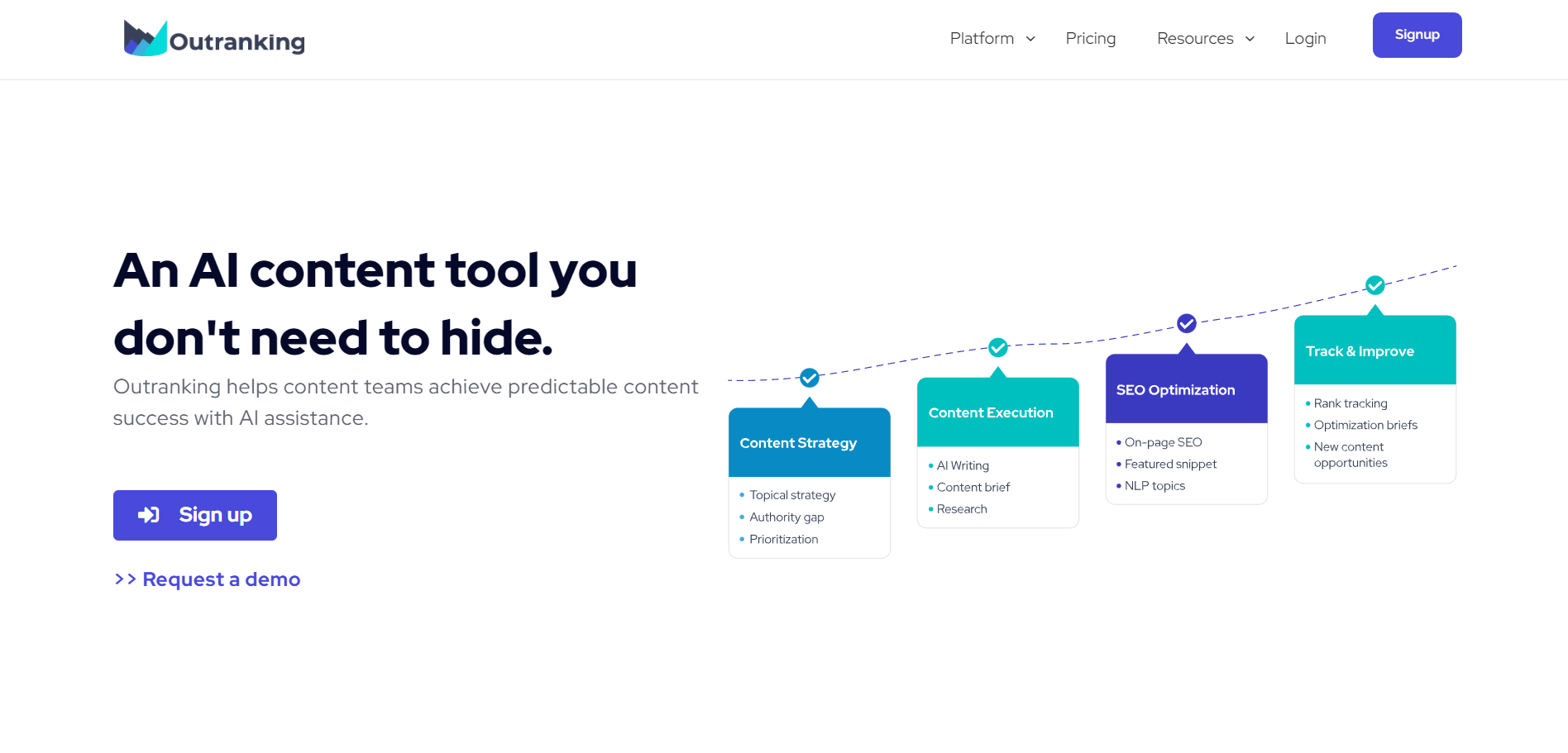 Overview
Outranking is an AI writing app that helps you through the entire writing process – starting with your content strategy and ending with tracking your success and improving your writing when it needs it.
The program generates SEO-optimized outlines and helps you write factual content by searching authority websites and custom search sources for fact gathering.
The AI tools available with Outranking take artificial intelligence to the next level by assisting you from start to finish with your writing skills and content generation.
Highlights

SERP data for the 20 top-ranking pages based on what keyword you query. This is huge in analyzing your competition and creating high-quality content.
Generate meta titles and descriptions using AI writing tools to rank outside long-form content.
Outranking gives you internal link suggestions to boost your SEO and score your on-page SEO factors.
You can track your ranking for the content you generate and integrate your Google Search Counsel to get optimized results.
Pricing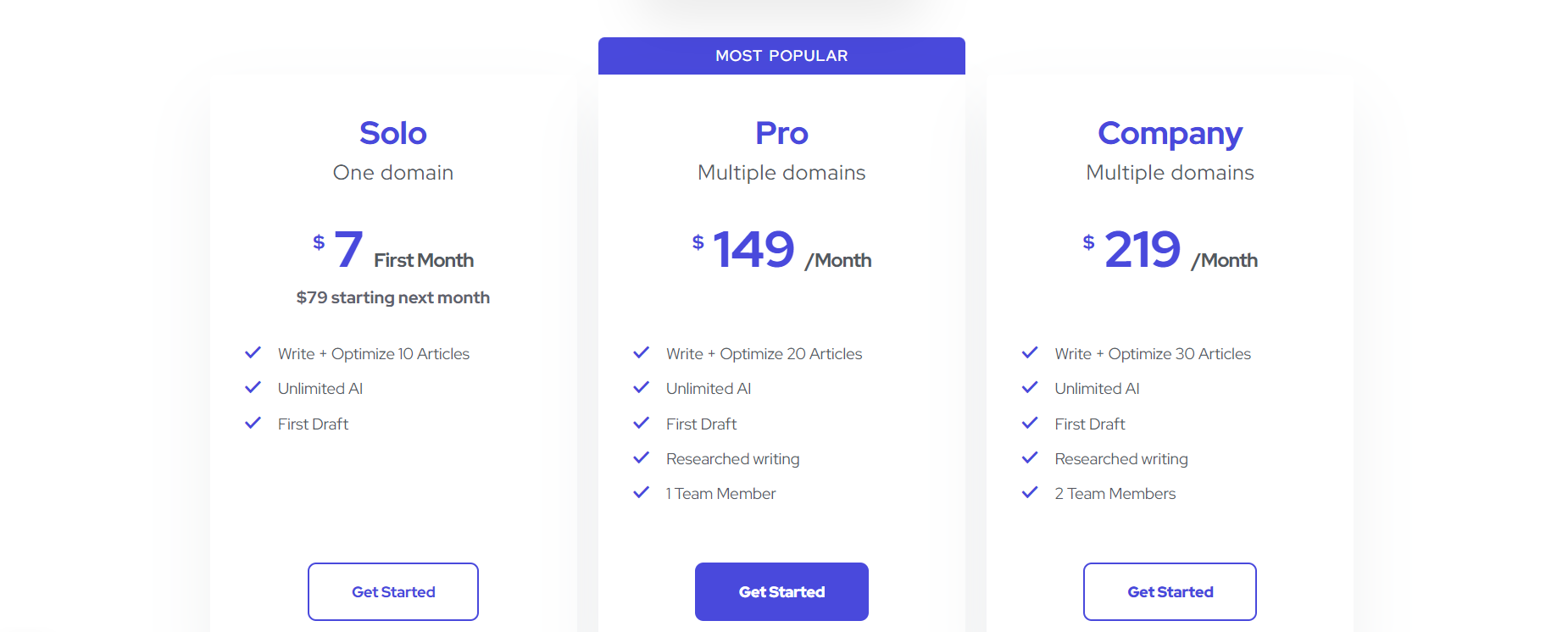 Outranking has three paid plans:
Solo plan at $7/month (your first month) for ten articles and one domain
Pro plan at $149/month for 20 articles and multiple domains
Company plan at $219/month for 30 articles, multiple domains, and 2 team members
Bottom Line
This is a great AI writing tool if you're looking for content optimization that includes tracking and content strategy.
There are a ton of features that cater to SEO content generation and have AI writing assistants to help you.
You get your first month for just $7, but after that, the price is steep at $49/month for ten articles and one domain – so it's a bit on the pricey side, similar to Surfer SEO.
WriteSonic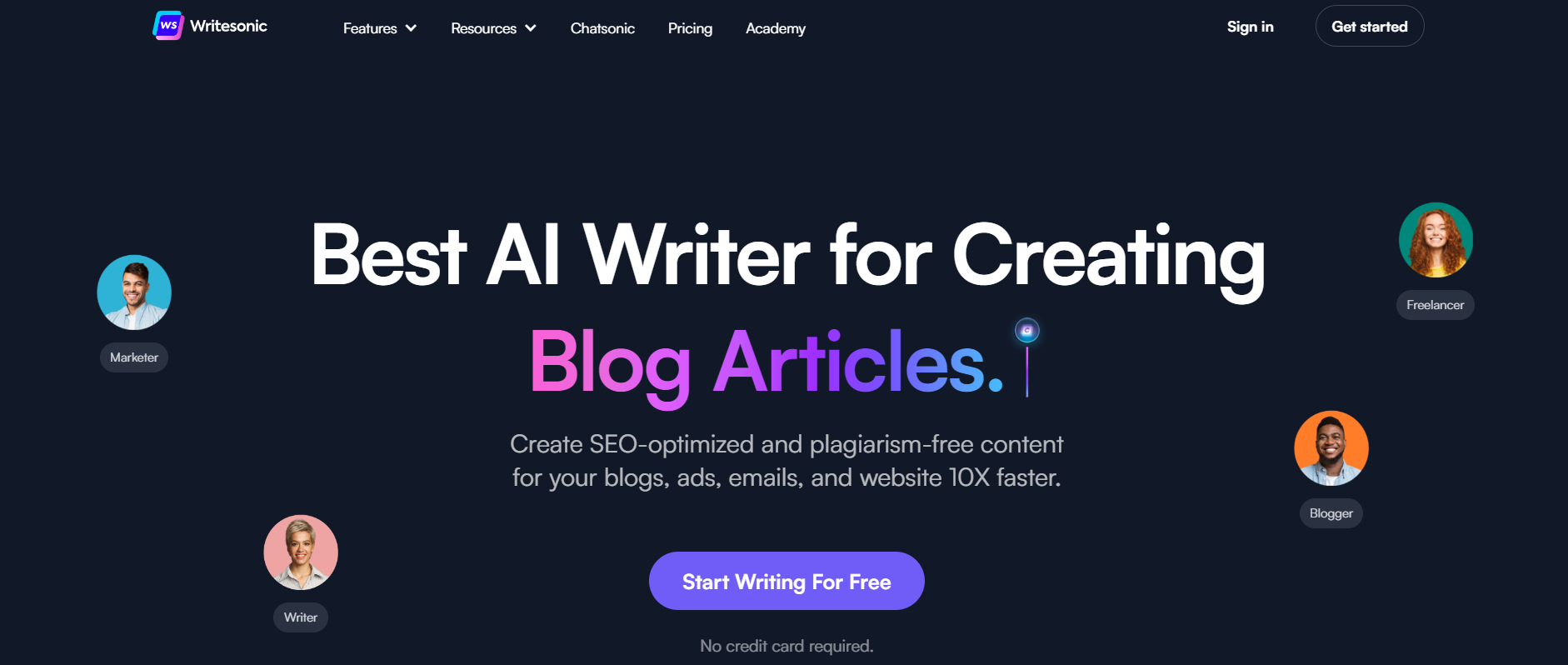 Overview
WriteSonic can be your go-to article and blog post generator, especially when you want to ensure that your AI-generated content ranks on Google.
The platform can be catered to different niches based on what writing tools would help them the most. Whether you're a content writer, an e-commerce store, a marketing team, or an entrepreneur in general.
WriteSonic has over 100 AI writing tools to help you create content.
Highlights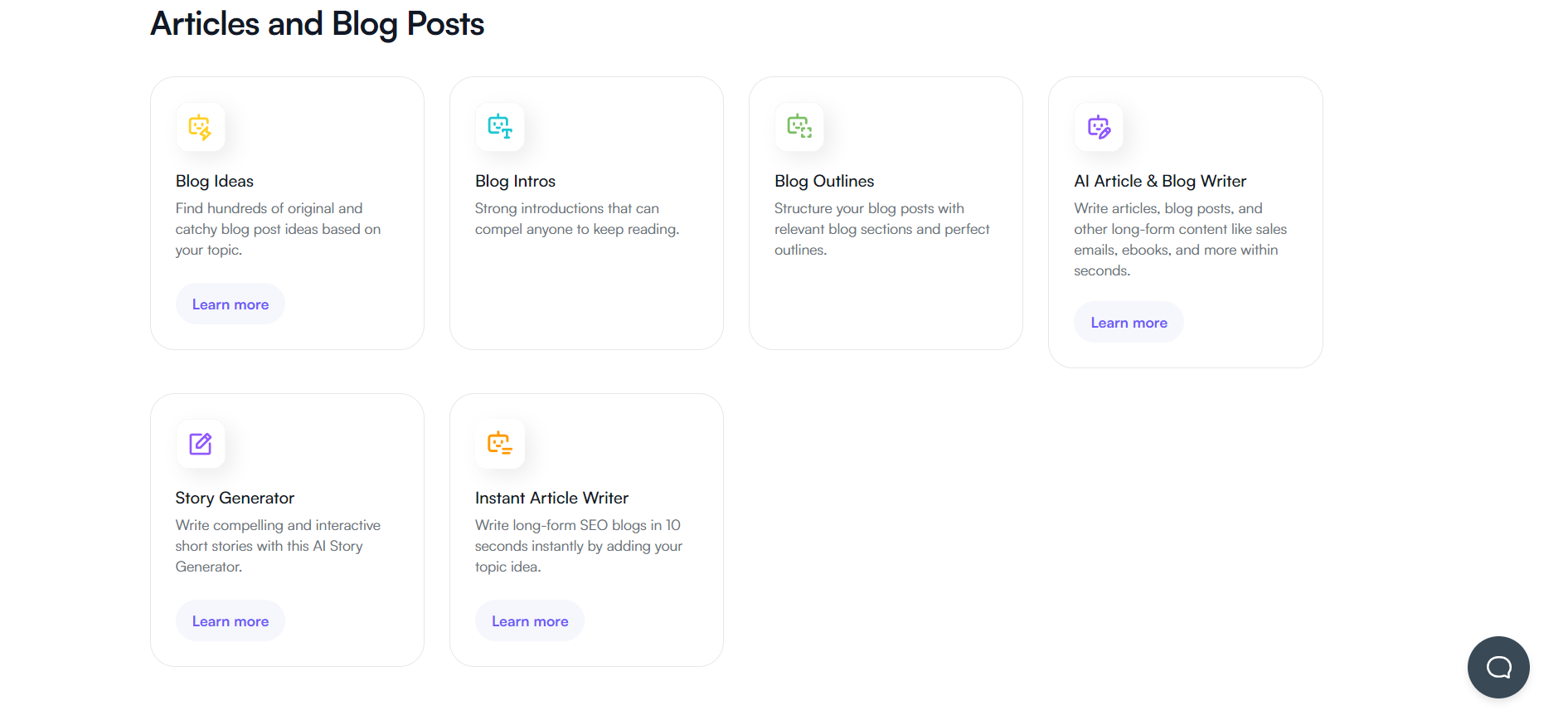 AI software can help you create your blog post and article efficiently with keyword research and SEO tools to help you rank for your specific keywords.
If you're an eCommerce store that wants to write fantastic product descriptions, including Amazon product descriptions, and still implement SEO – WriteSonic has the software tools to help.
Content marketers can have everything at their fingertips for their content creation process. WriteSonic enables you to create social media and Google ads to ensure your business or service will show up with related keywords.
You can also generate press releases, cold email copy, company biographies, and other forms of content with their writing assistant.
WriteSonic also has a Surfer SEO integration – if you want to use both AI writing tools to write articles and other content.
Pricing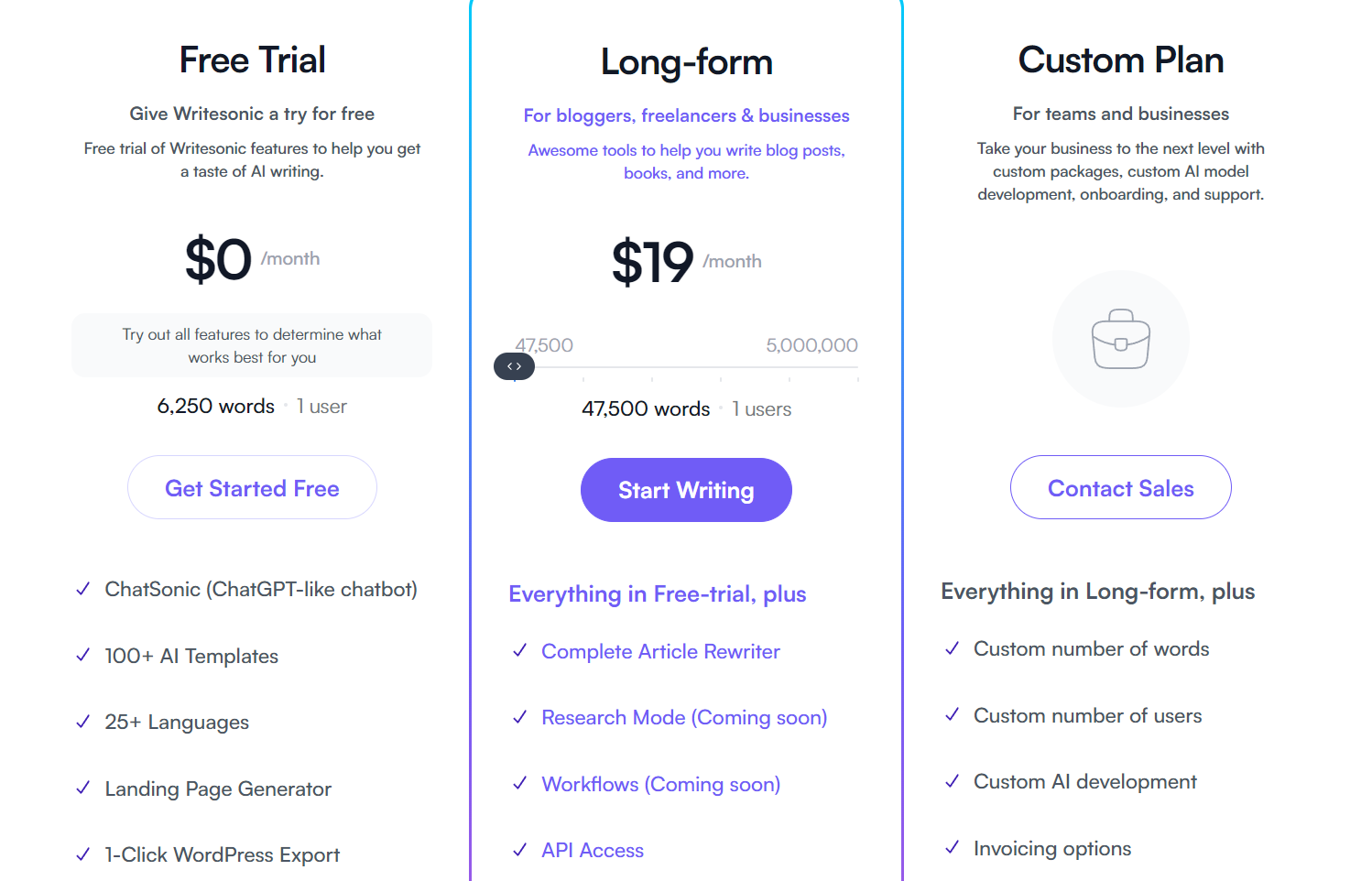 WriteSonic technically has three paid plans, but the long-form plan varies in price depending on the word count:
The free plan includes 6,250 words and 100 AI templates
Long-form plan starting at $19/month for 47,500 words and going up to $999/month for up to 5,000,000 words.
The custom plan varies in price and allows you to create a custom plan that works best for you and the type of blog articles you want to create.
Bottom Line
It's a great platform with a wealth of AI writing tools and writing assistants to help you with your optimized content – but it's pretty expensive, so I would say you have to be hooked on the platform to pay for the subscription.
They have a free plan, which is different from the other platforms we've looked at, so you can still access their SEO tools without paying for a subscription.
This AI tool might be best for those looking for longer content rather than content marketing copy.
Scalenut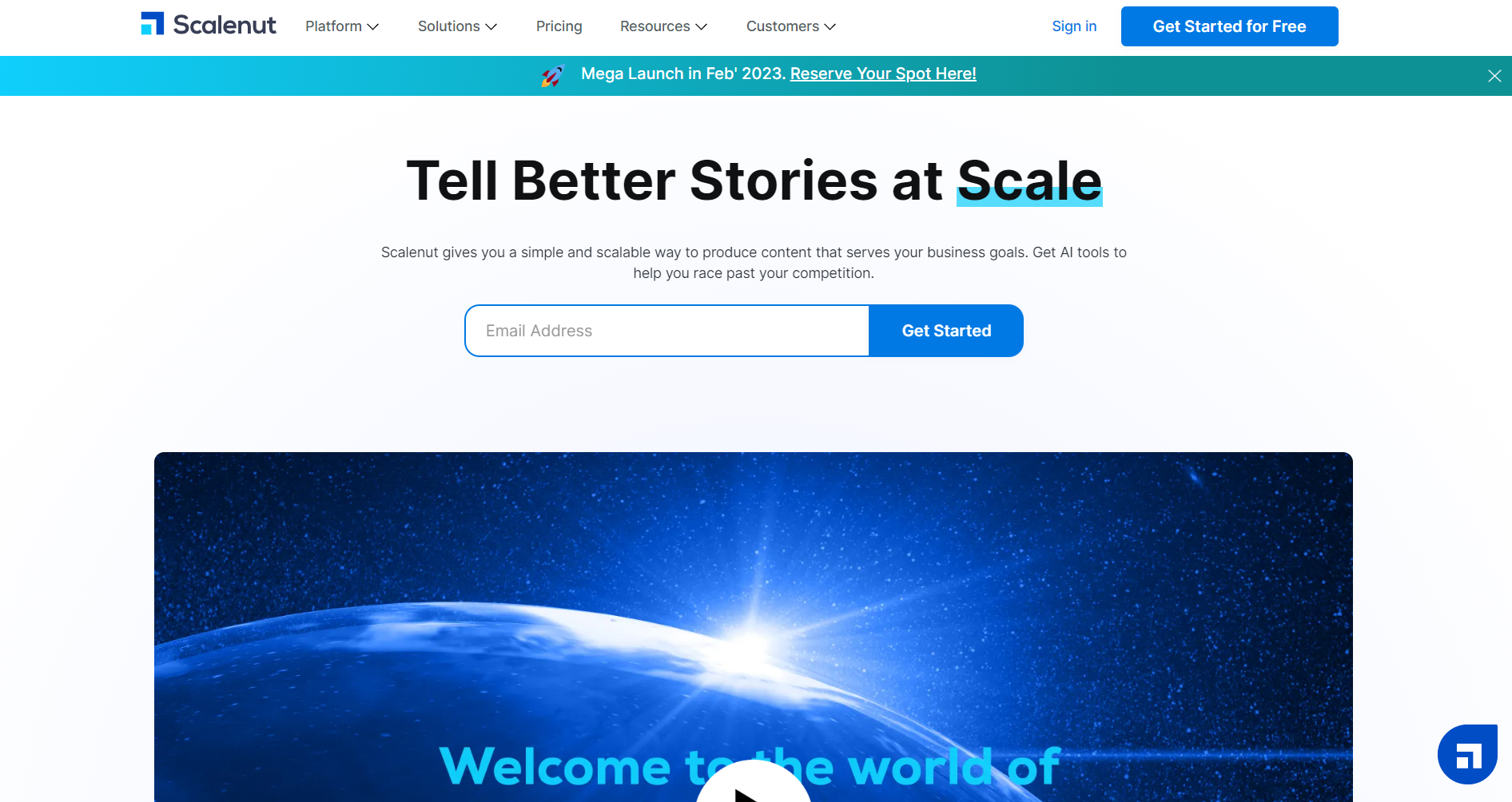 Overview
Scalenut is an automated article-writing software to overcome writer's block and generate content for social media posts, Google ads, and longer content.
Yet another content optimization tool that lets you hone into your proper "boss mode" and get unique AI content in multiple languages.
You'll never run out of blog ideas with Scalenut's SEO idea generator.
Highlights

Not only do you get help from a writing assistant, but you also get matched with 2% of writing professionals to write content for you if you want the touch of human writers.
You can use the SEO tools within the platform to generate high-quality content that prioritizes natural language processing.
After writing your SEO-optimized content, you can directly add images from a bank of royalty-free photos on the platform.
Pricing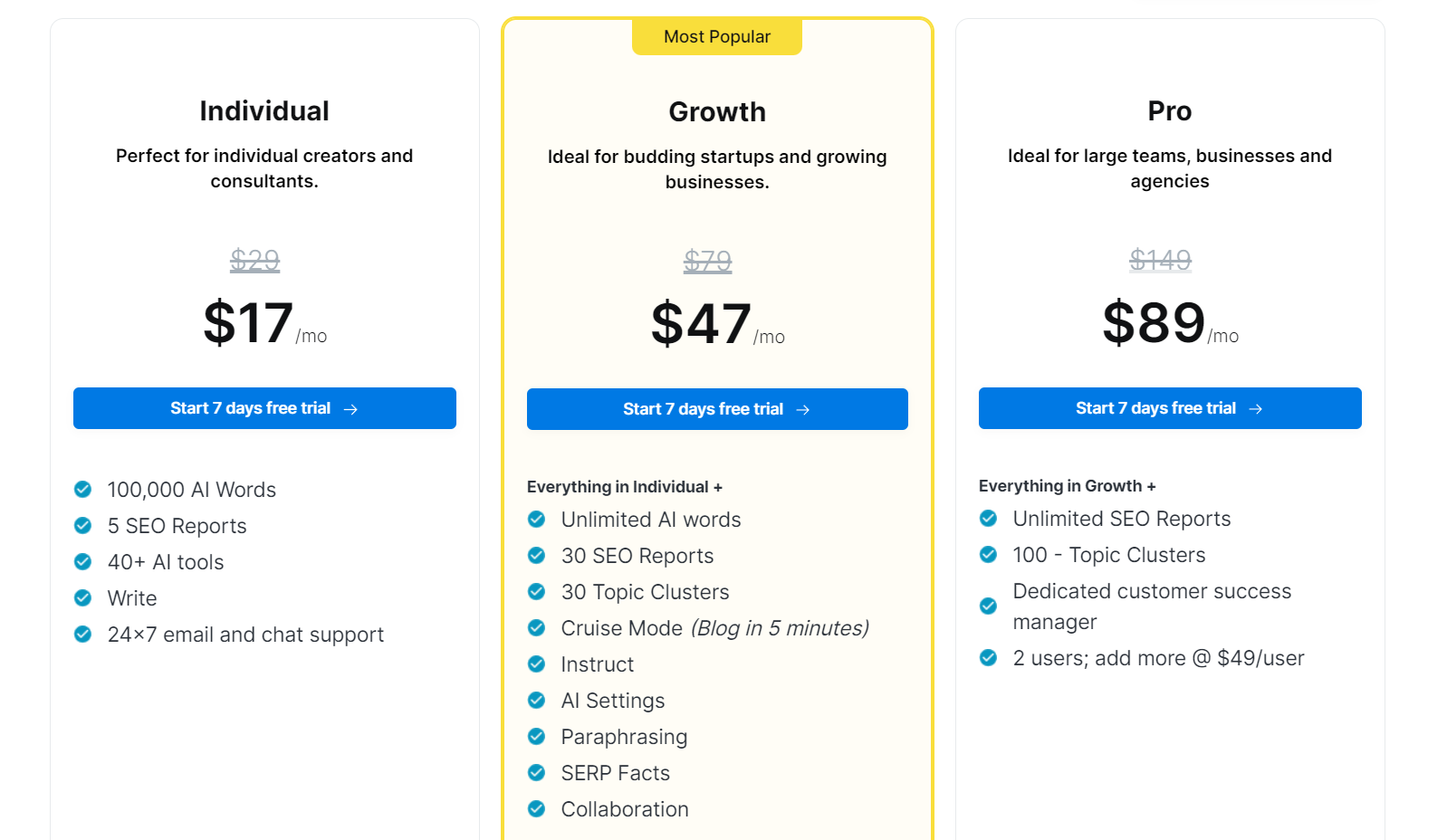 Scalenut has three paid plans:
Individual plan at $17/month for 100,000 words
Growth plan at $47/month for unlimited words
Pro plan at $89/month for unlimited SEO reports and unlimited words
Bottom Line
Scalenut has an all-in-one benefit of images and AI content writing tools that make it easier to generate content.
With three paid plans that are significantly more affordable than the previous platforms we've looked at, you can do your keyword research and AI writing with Scalenut.
Copysmith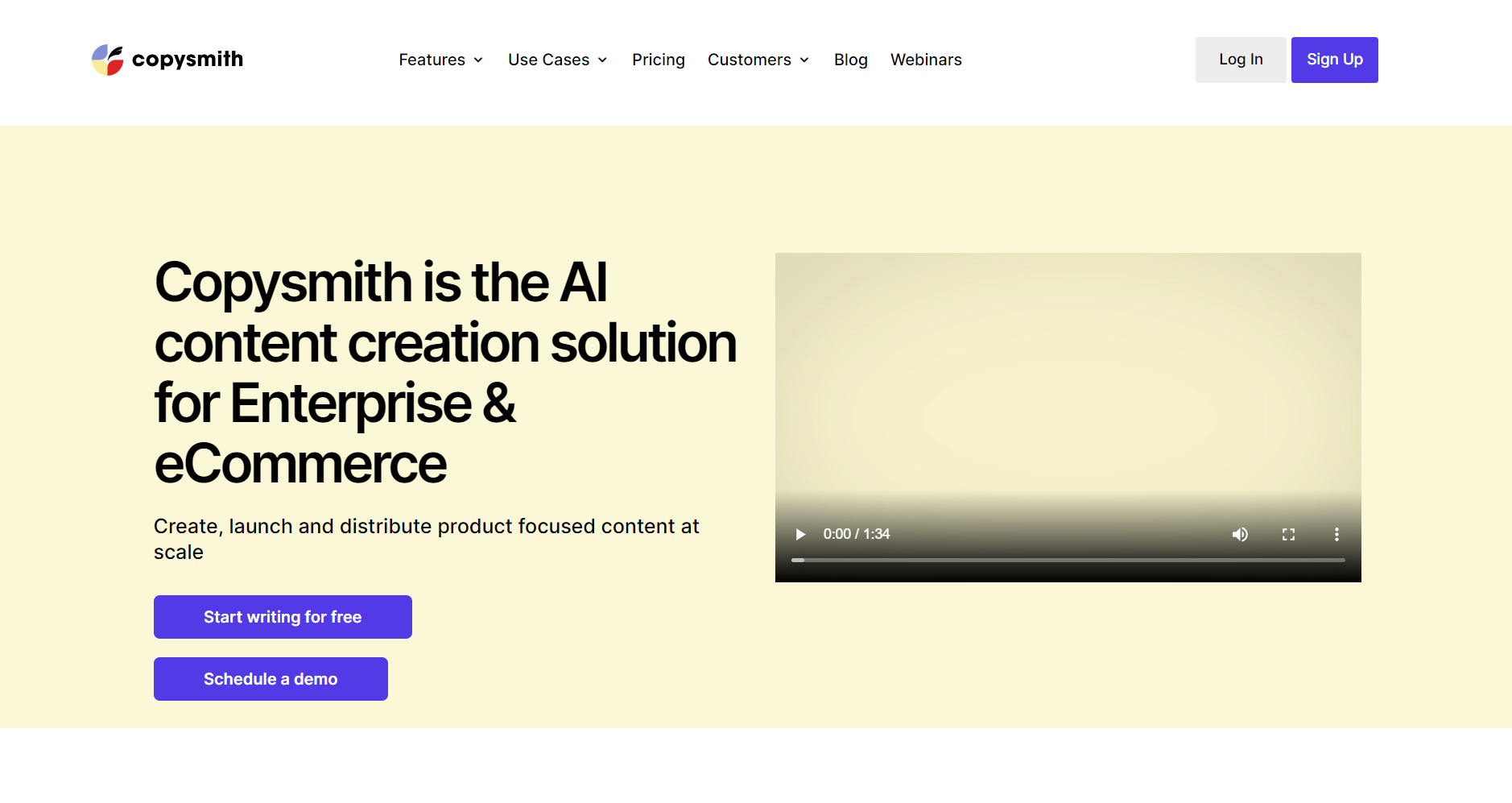 Overview
Copysmith is AI writing software specifically designed for enterprise and eCommerce copy – compared to the general copy for a blog or social media posts.
The entire process that Copysmith's AI writing helps with is made for the sales funnel and the buyer's journey.
Whether you're looking to write copy for an ad for content marketing or write winning product descriptions for the website – Copysmith has the SEO tools you need for content writing.
Highlights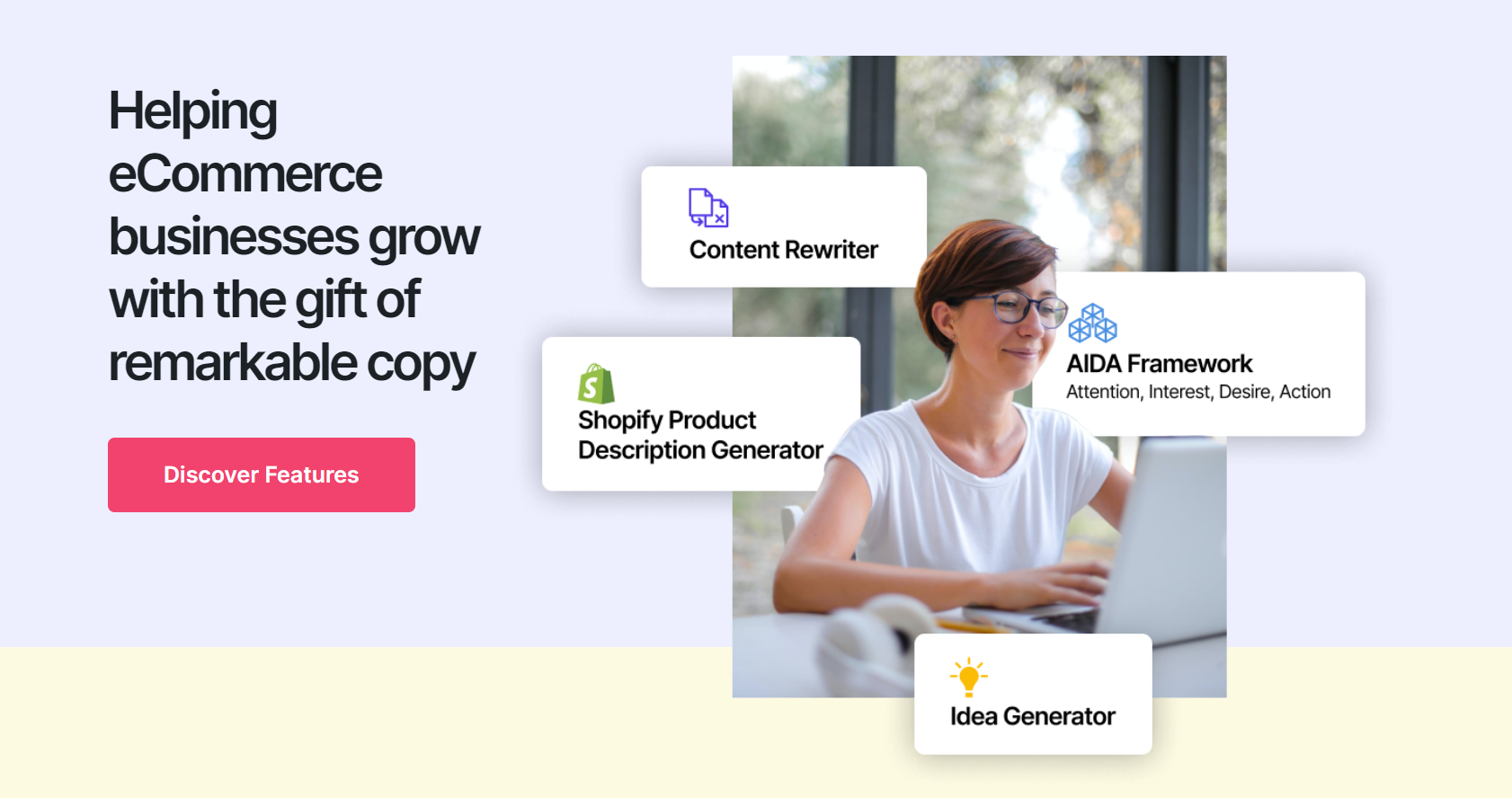 AI writing doesn't have to be done alone – you can collaborate with your team inside Copysmith and brainstorm content writing and optimization ideas together. This means no more writer's block!
The unique aspect of Copysmith that we haven't seen with another platform is the bulk generation ability it provides. With this feature, you can create your entire content calendar of product descriptions in a fraction of the time.
You can also generate and build campaigns within the platform to help you focus on other tools and key launch features that will make it successful.
Copysmith boasts itself as the platform that can create launch-ready content at scale – so you can focus more on the key features and less on the landing pages, content generation, and writing articles.
Pricing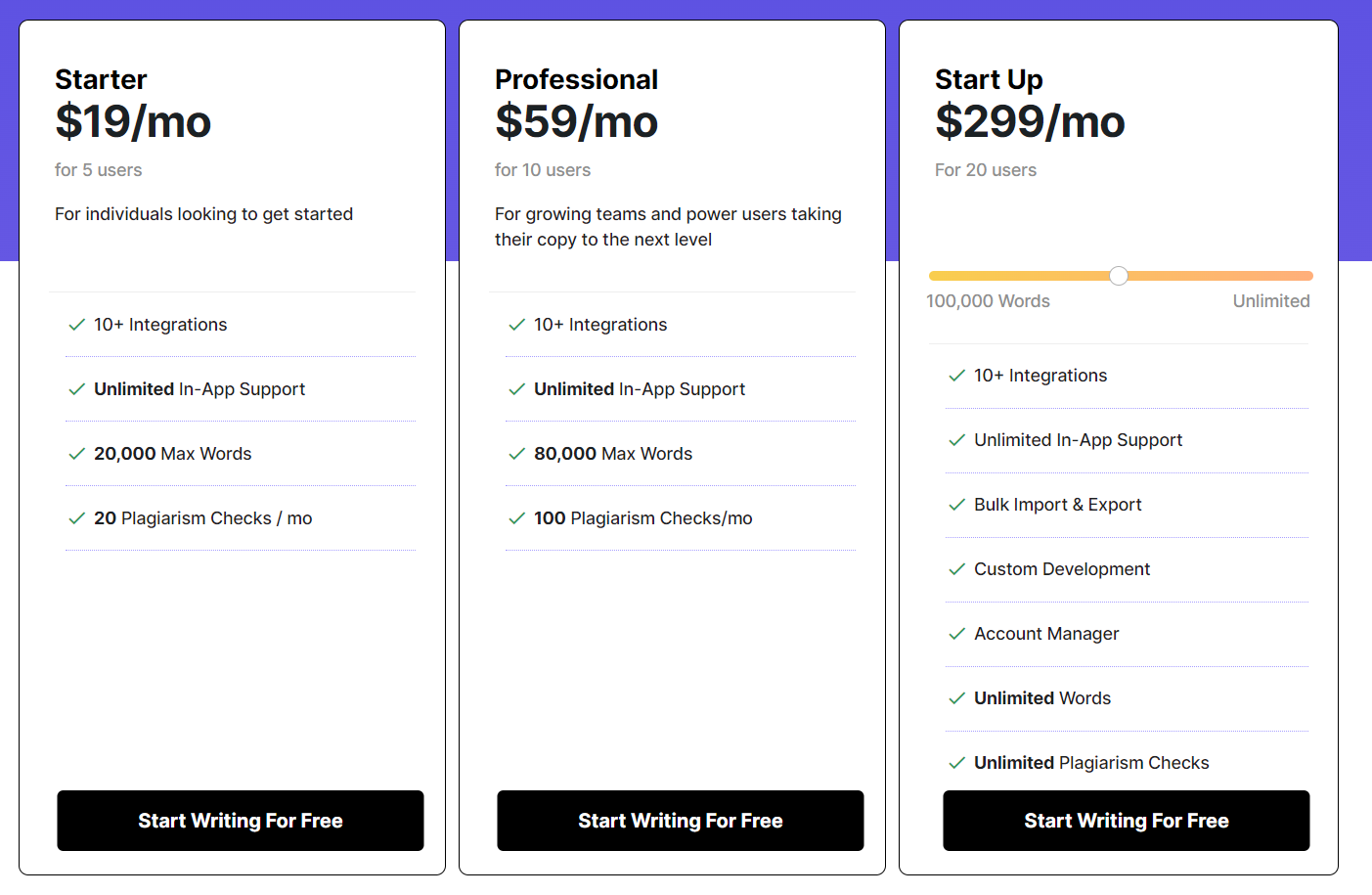 Copysmith has three paid plans, the third plan being a scalable version:
Starter plan at $19/month with 10 integrations and 20,000 words
Professional plan at $59/month with 10 integrations and 80,000 words
The start-Up plan starts at $299/month and has 20 seats
Bottom Line
If you are an eCommerce business or enterprise looking to cut down time as a "content creator" and focus more on the launch aspect of your business, this SEO tool is perfect.
Its writing software specializing in eCommerce copy – so you don't have to overthink that part.
The content writing aspect of a business is something that Copysmith has covered. You can focus on the more important parts of your business instead of keyword research and writing skills.
Closers Copy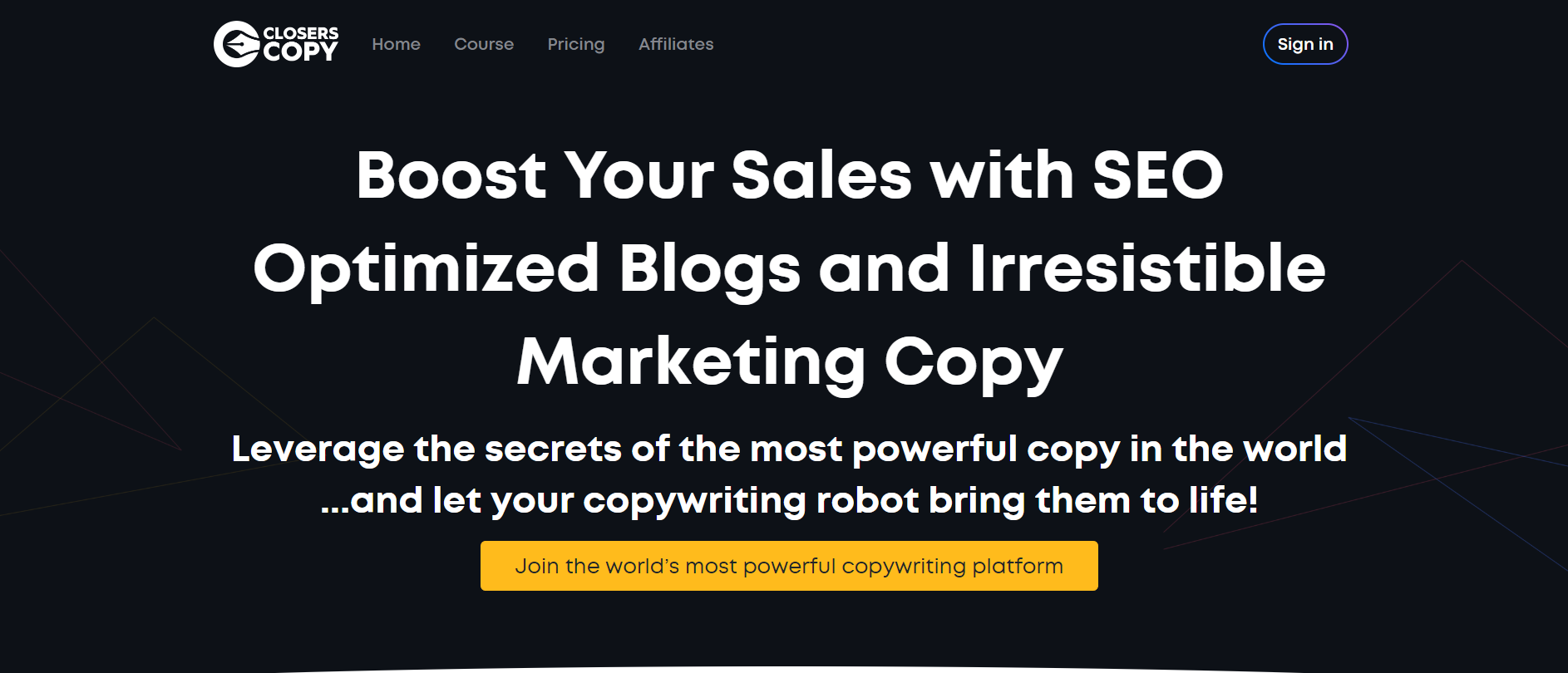 Overview
ClosersCopy will be your go-to AI software for SEO blogs and marketing copy. Using machine learning and artificial intelligence, it is your writing assistant for both digital ad copy and
Your personal AI content generator for all things SEO content has various features that you get with a paid plan, and most of these other tools are super helpful in stepping up your marketing and blog copy.
Various content generators on the internet specialize in or are great at different things. CloserCopy is great for marketing copy.
Highlights

Various paid plans include many software tools you may or may not use. There is no free version or free trial of the program.
ClosersCopy offers SEO audits to get information on the AI content and how it's performing via search. This allows you to evaluate how the writing software is performing and how your content is doing.
You also get email support and an SEO planner to accompany your content generation. That is a unique feature we haven't seen with other tools or writing software.
Depending on what type of content you're looking to write and what AI writing tool works best for you.
Each one will be different and may have features, like ClosersCopy, that are incredibly useful for some but not so useful for others.
Pricing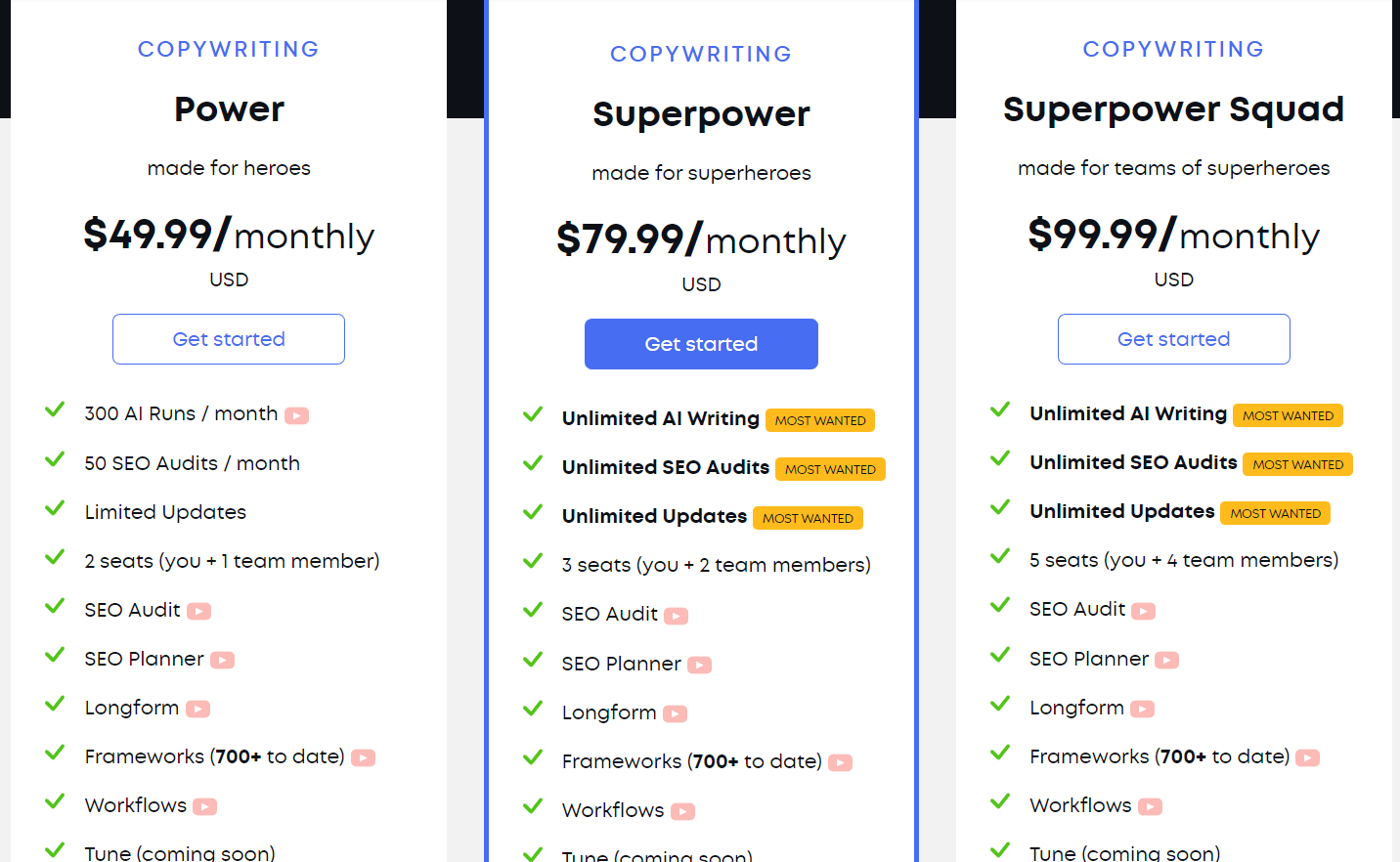 ClosersCopy has three paid plans:
Power plan at $49.99/month and includes a ton of features, including 50 SEO audits a month
Superpower plan at $79.99/month with the same features as the power plan but with 3 seats
The Superpower Squad plan comes with five seats and all the same features as the Superpower plan.
Bottom Line
It's a beautiful platform for those who love content creation and want to take advantage of the variety of tools that AI writing software has. Whether you write product descriptions or longer content, ClosersCopy has advanced artificial intelligence to help you create the content you need to excel.
You can create longer content, audit your landing pages and other content creation with their SEO audits, and utilize other aspects of their AI writer.
It's not as pricey as some of the platforms we've covered previously, so you might get more out of this platform than other platforms. There are many options for AI writing software tools that can be used for productivity.
Ink for All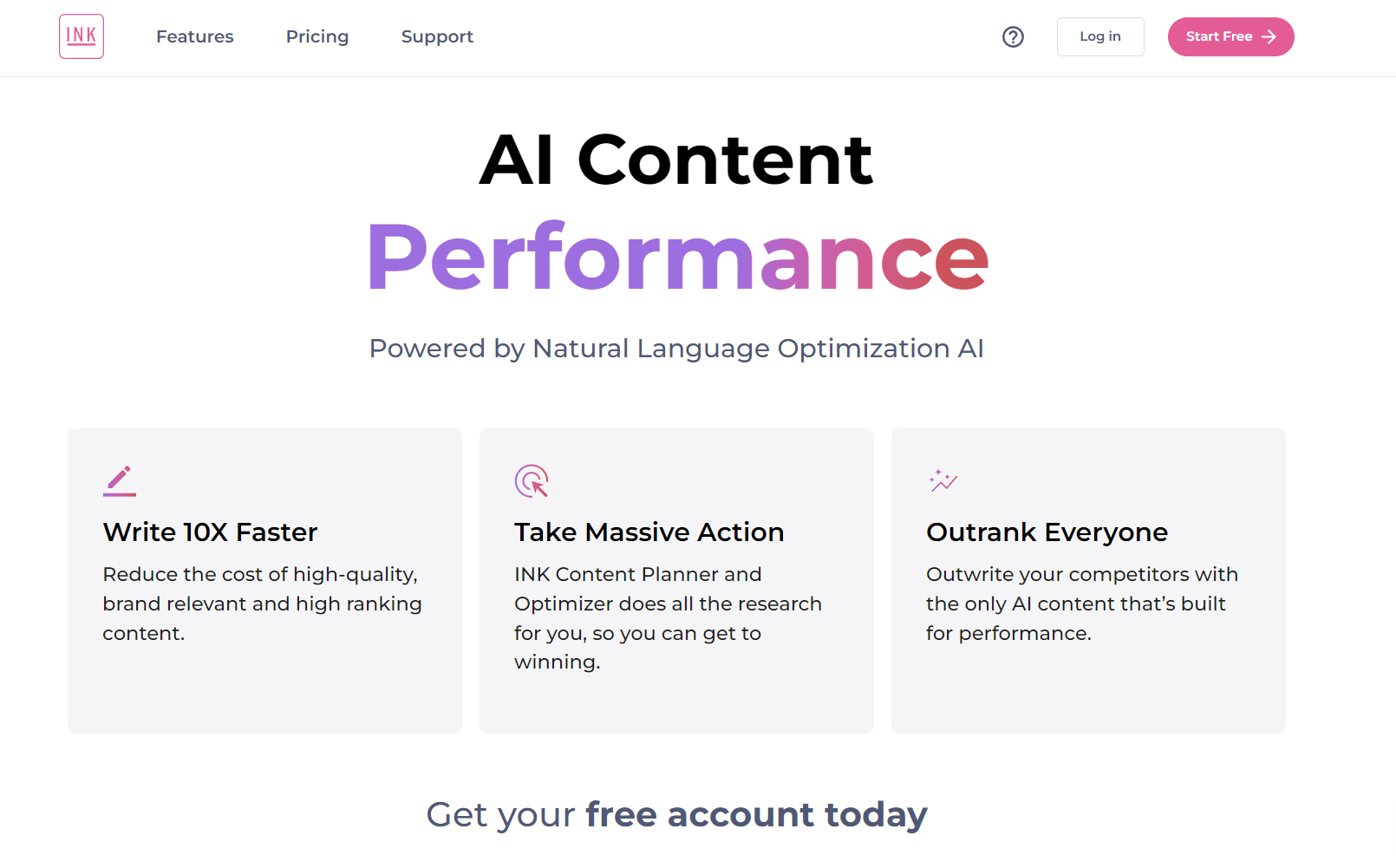 Overview
Ink for All is an AI writing software that reduces the cost of getting high-quality and "brand-relevant" content. When taking advantage of an AI writer, your main goal is usually to make sure you can rank on Google.
Ink for All understands this goal and makes it one of the top priorities when you write on the platform.
The best part about the platform is that natural language processing AI powers it – so it's built with the flow of human language in mind.
Highlights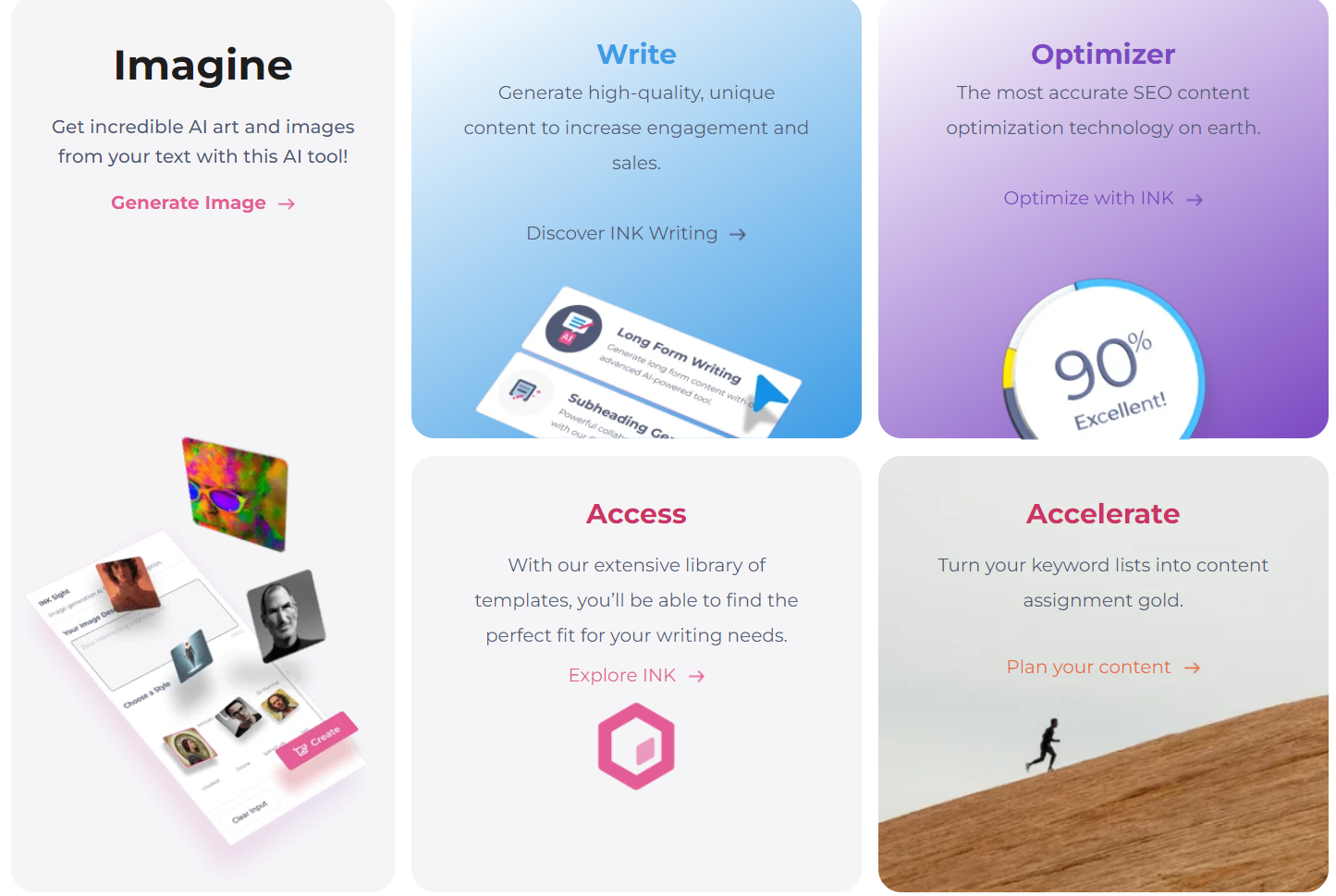 Not only can you generate content writing with Ink for All, but you can also get AI-generated images and optimize your content for search engines.
They have a ton of pre-built templates to help you kick-start your writing and create content without having to brainstorm layouts and basic concepts.
They have a keyword content planner that allows you to map your keyword goals and create content marketing gold.
Pricing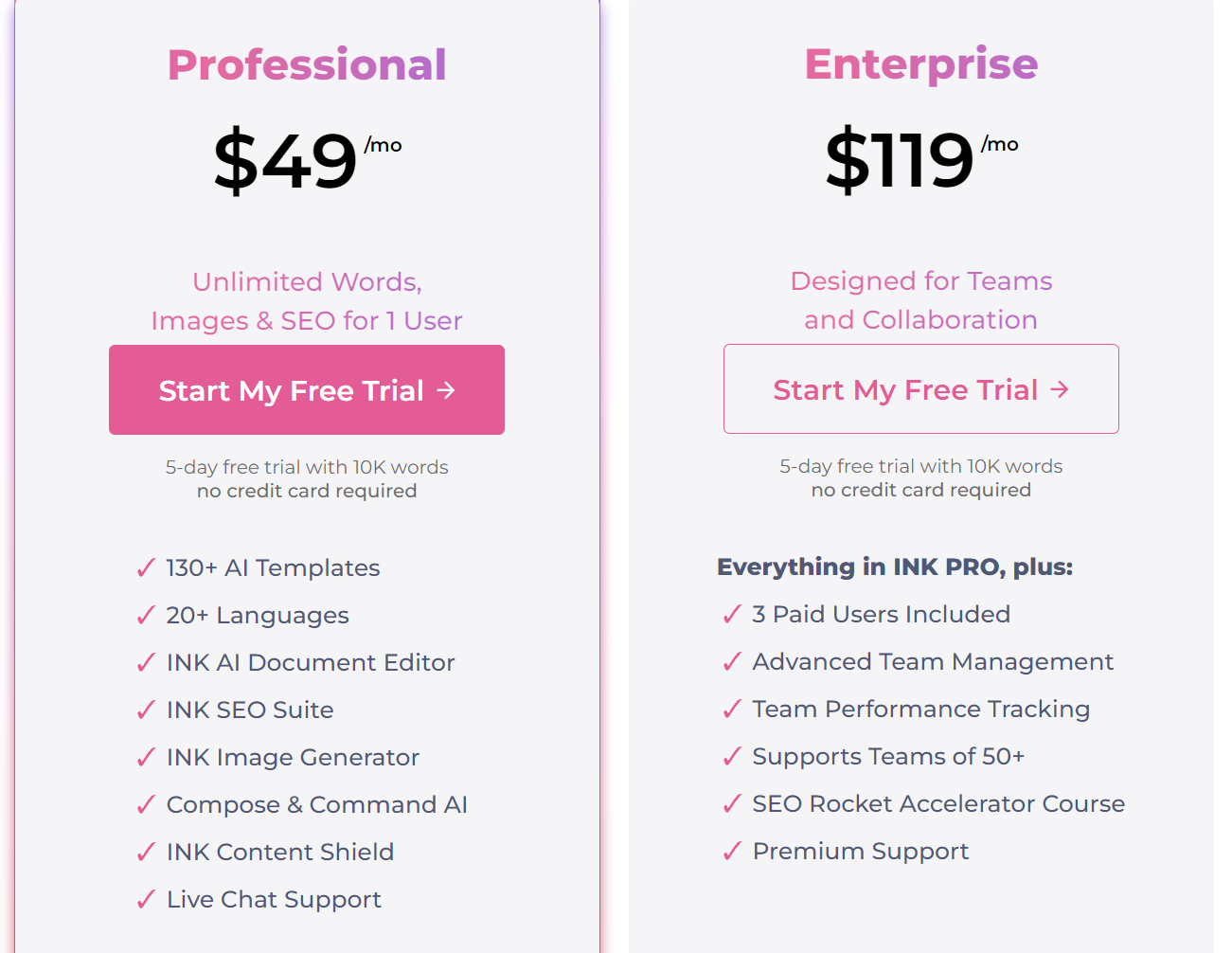 Ink for All has two paid plans:
The professional plan at $49/month for 130+ AI templates and multiple languages
The enterprise plan at $119/month for 2 paid users and team management
The content editor, image generator, and templates are all part of the free plan
Bottom Line
Ink for All is a great AI writing software that helps you write content that Google will love and will outrank your competitors. If your main goal when it comes to your content writing tools is ranking and ranking high, Ink for All would be an excellent platform for you.
As they have a free version and a free trial of the pro plans, you'll be able to test out all the AI writing tools within the platform and rank with related keywords.
We've covered a few AI writing tools, but Ink for All ranks higher on the list because of its vast features and free plan.
Wordplay AI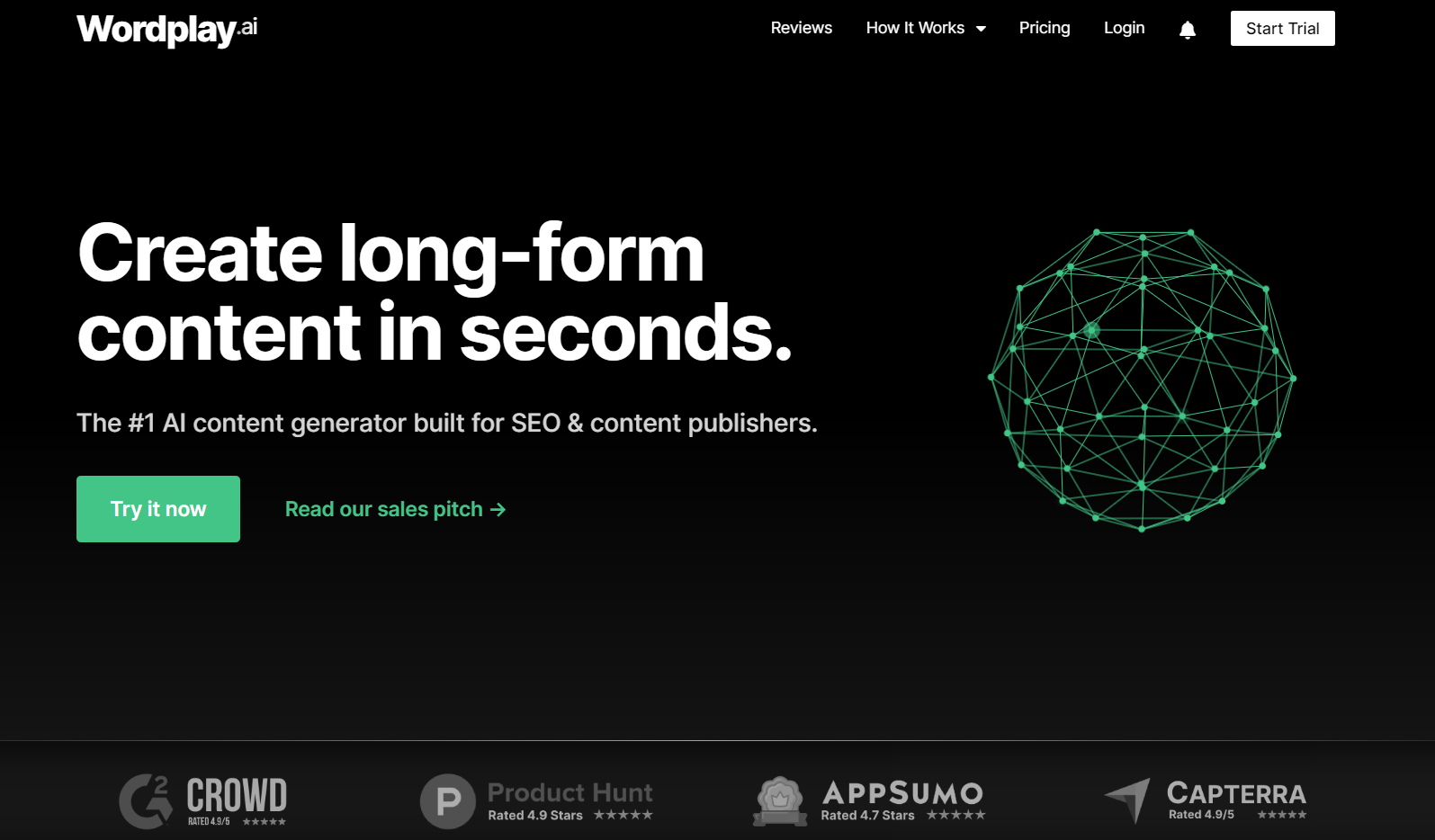 Overview
The biggest thing that this powerful AI writing assistant boasts is that it can generate content that is 95% complete, with little to no edits needed afterward, in 15 seconds.
It also mentions that it needs little to no input and can put out longer content, around 5,000+ words.
This AI content generator allows you to create bulk content without having to set aside time for content marketing.
Highlights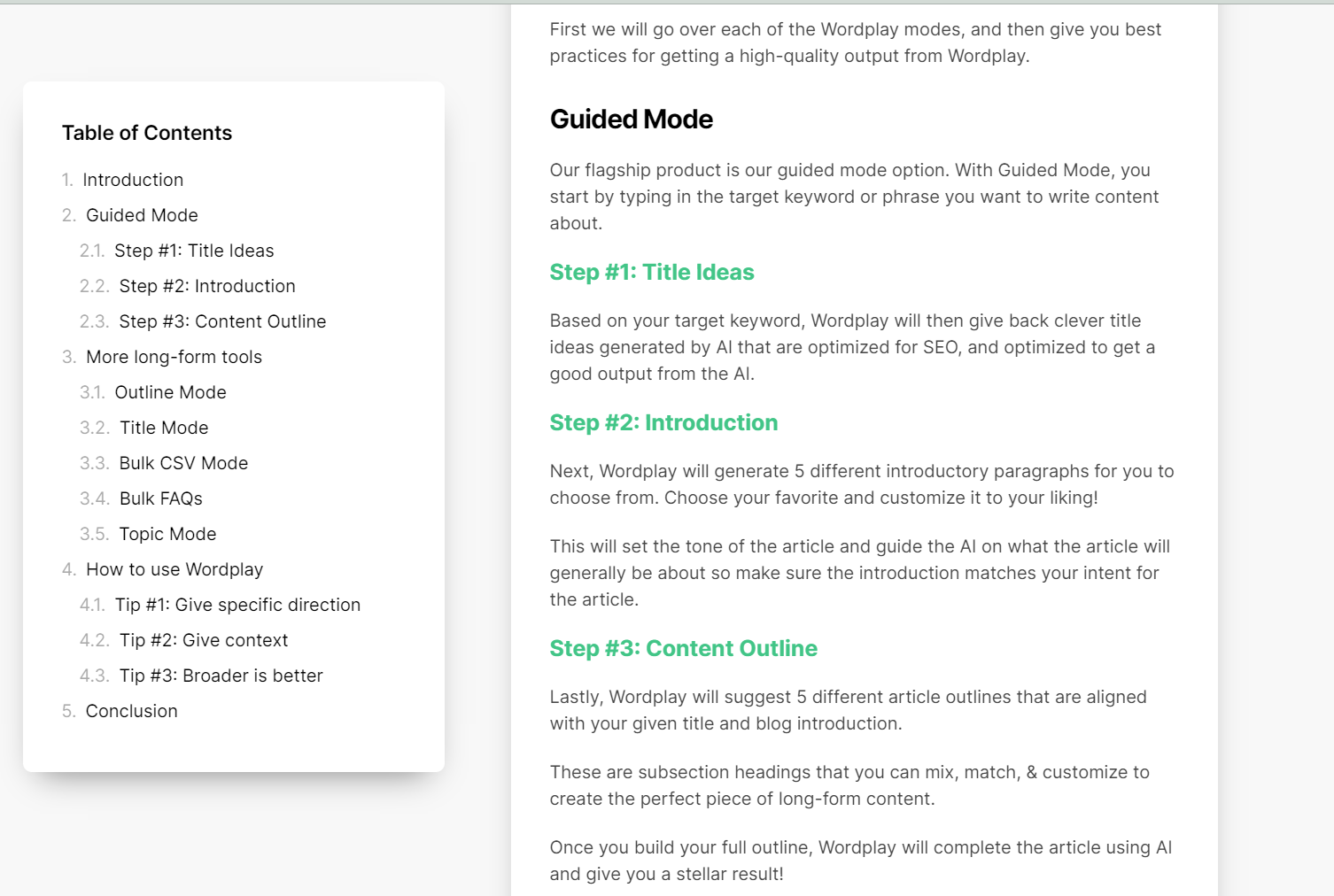 This AI writer can generate longer content built for Google and search engines, making it easier to rank and having to spend less time content writing.
It can create your content in 15 seconds with little input or editing, so it is primarily a seamless process for an AI writer.
Based on the keyword you want to rank for, it can generate a title and outline that will best fit the topic and target audience. Most AI writers work like this, but the difference between those and Wordplay is that it can turn out this content quickly and with little writing assistance on your end.
The key features of this platform are based on the method you want to use for your information input to the AI writer – you want to use your long-tail keyword and the intent for the article to get the best results.
Most AI-generated content will still require human editing and re-writing, but this platform claims to reduce that significantly.
Pricing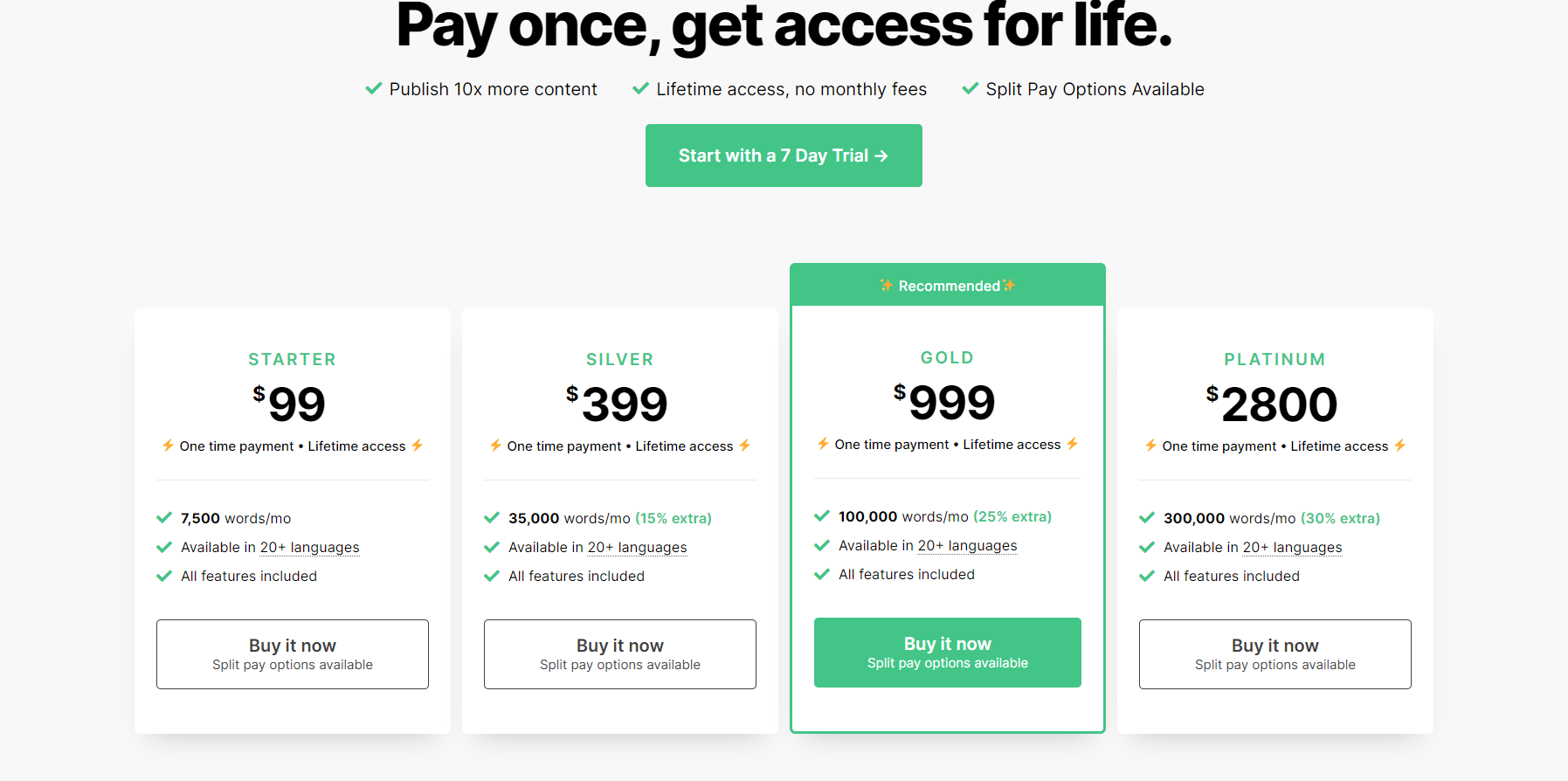 Wordplay has four paid plans – but the difference between them and other platforms is that you pay once and have access to the tools for the rest of your life – no need to pay monthly or yearly.
The starter is $99 for 7,500 words a month
The Silver is $399 for 35,000 words a month
The Gold is $999 for 100,000 words per month
The platinum package is $2800 for 300,000 words per month
Bottom Line
Wordplay is a highly powerful AI writer that makes content writing simple and can be argued as one of the best AI writing tools. With this platform, you can accomplish an entire month's worth of content writing in a concise amount of time.
An AI writing software that is this intuitive and able to write longer content without much human input is vastly different than what we've seen with other tools.
Not to mention you only pay a flat fee once and have access to word counts and features for life.
Get Genie AI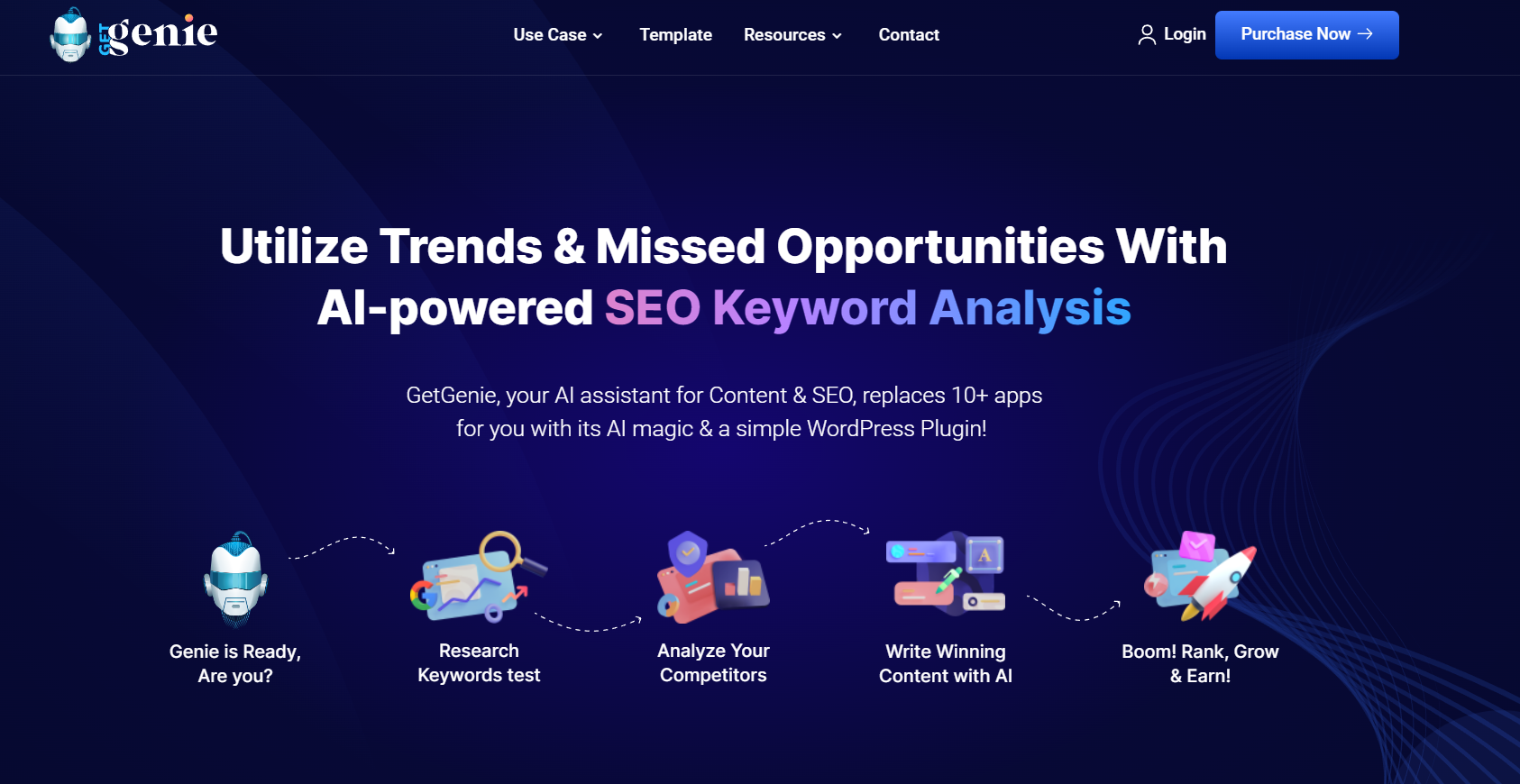 Overview
Get Genie AI boasts itself as the super platform to replace any other AI writing tool on the market, including Jasper and Surfer SEO.
It combines keyword research, optimization, analyzing your competition to understand how you can rank higher, and integrations into WordPress.
Similar to Surfer SEO, it has a built-in content score to track how your content will rank compared to your competition.
Highlights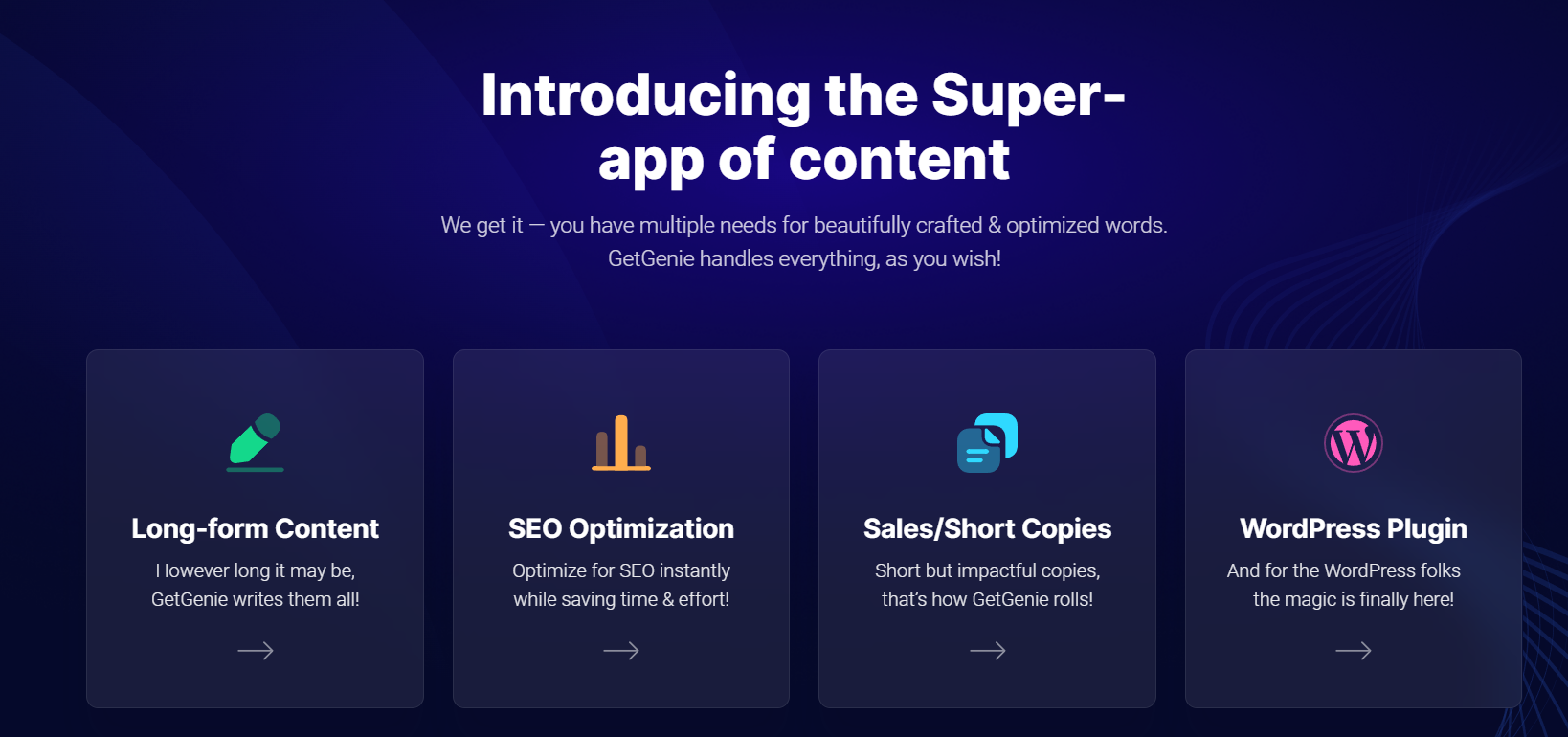 With Get Genie AI, you can create longer content, like blogs and articles, while keeping the rank in mind. Using their SEO optimization tool, you can also optimize your content, new or old.
If you need a short-form copy, they have sales and social media copy to get you the AI content you need to rank on social platforms.
You can add Get Genie AI for your WordPress to continue using the writing assistant and optimize your content within WordPress itself.
They also have a chrome extension, email copy, competitor analysis, and product descriptions, so no matter what content you need to create, the Genie AI writing assistant can help.
Pricing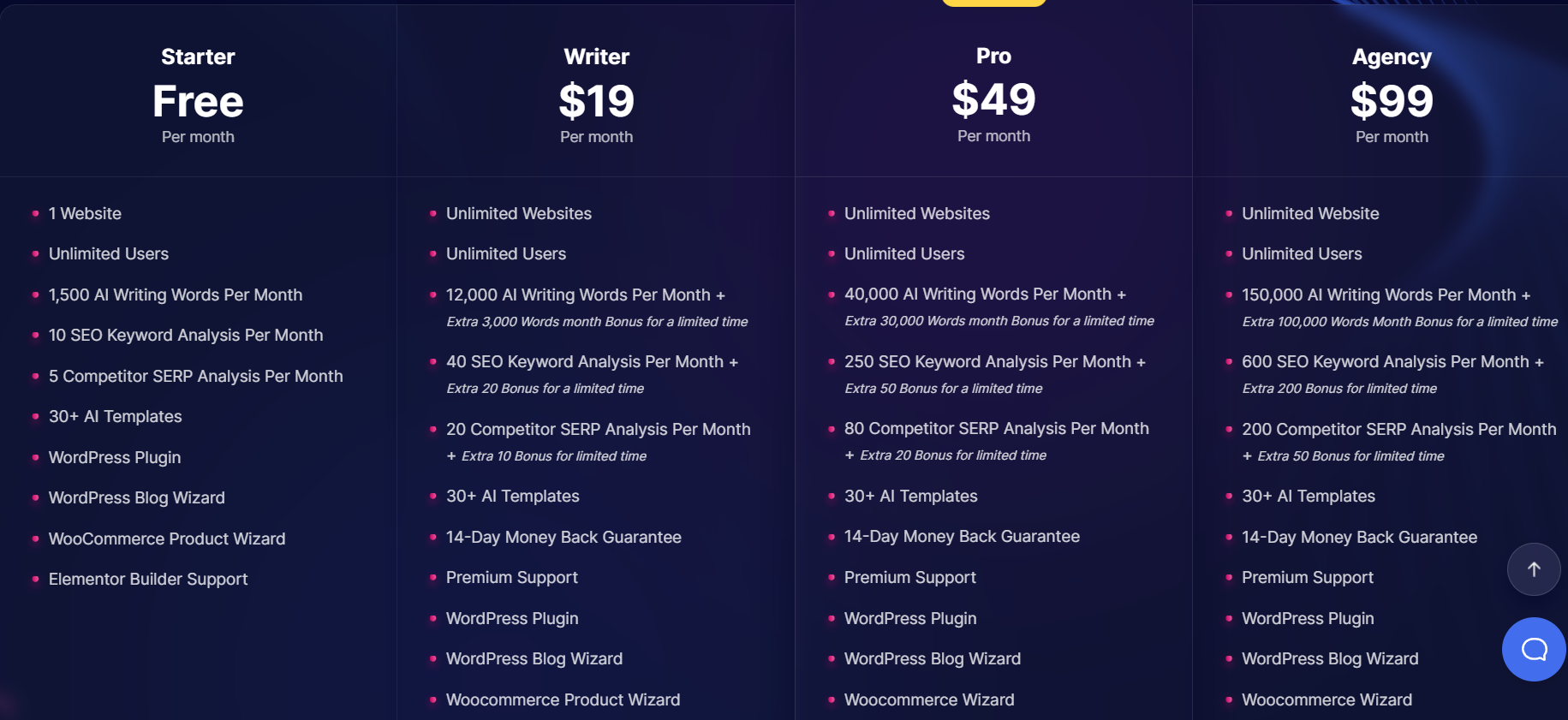 Get Genie AI has three paid plans and a free plan – including a free trial of any of the paid versions:
The free plan includes 1 website and 1,500 words per month
The writer plan at $19/month includes unlimited websites and 12,000 words per month
The pro plan at $49/month includes unlimited websites and 40,000 words per month
The agency plan at $99/month includes unlimited websites and 150,000 words per month
Bottom Line
Get Ganie is an excellent tool for those that want a chrome extension to do their writing outside of an original platform. This allows you to write directly in Google Docs instead of natively on the website, and you continue to get your content optimization.
It's affordable, and in line with most of the other AI content writers we've looked at – a plus!
You can create tons of content with this platform and enter your "boss mode" for writing.
AI Writer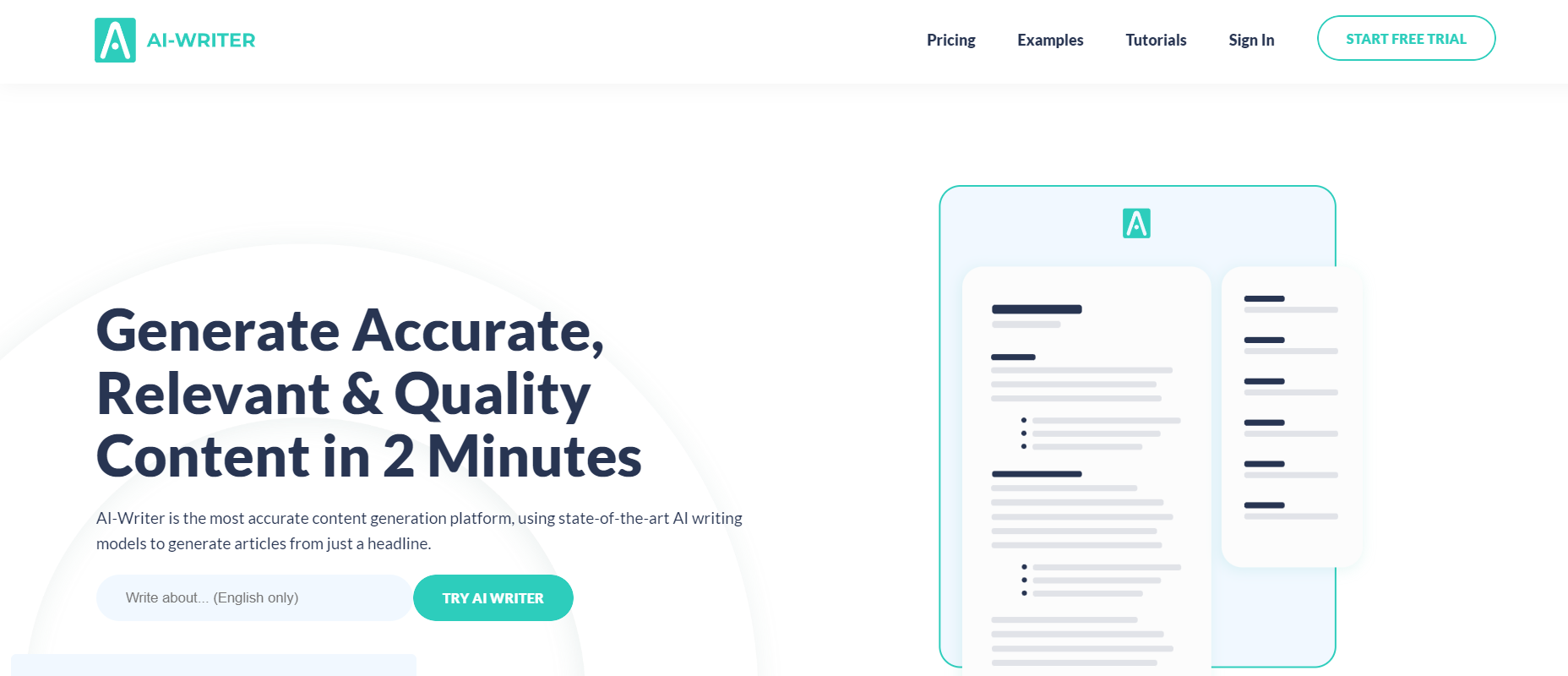 Overview
AI Writer can get you quality AI content in 2 minutes – making it a close competitor to Wordplay. You can get unique and relevant content in any niche and field with optimized writing.
The main goal of AI content generation is to save you time when you're writing while you get the benefits of optimizing your content for Google.
This AI writing tool allows you to write and utilize the features to create outstanding content.
Highlights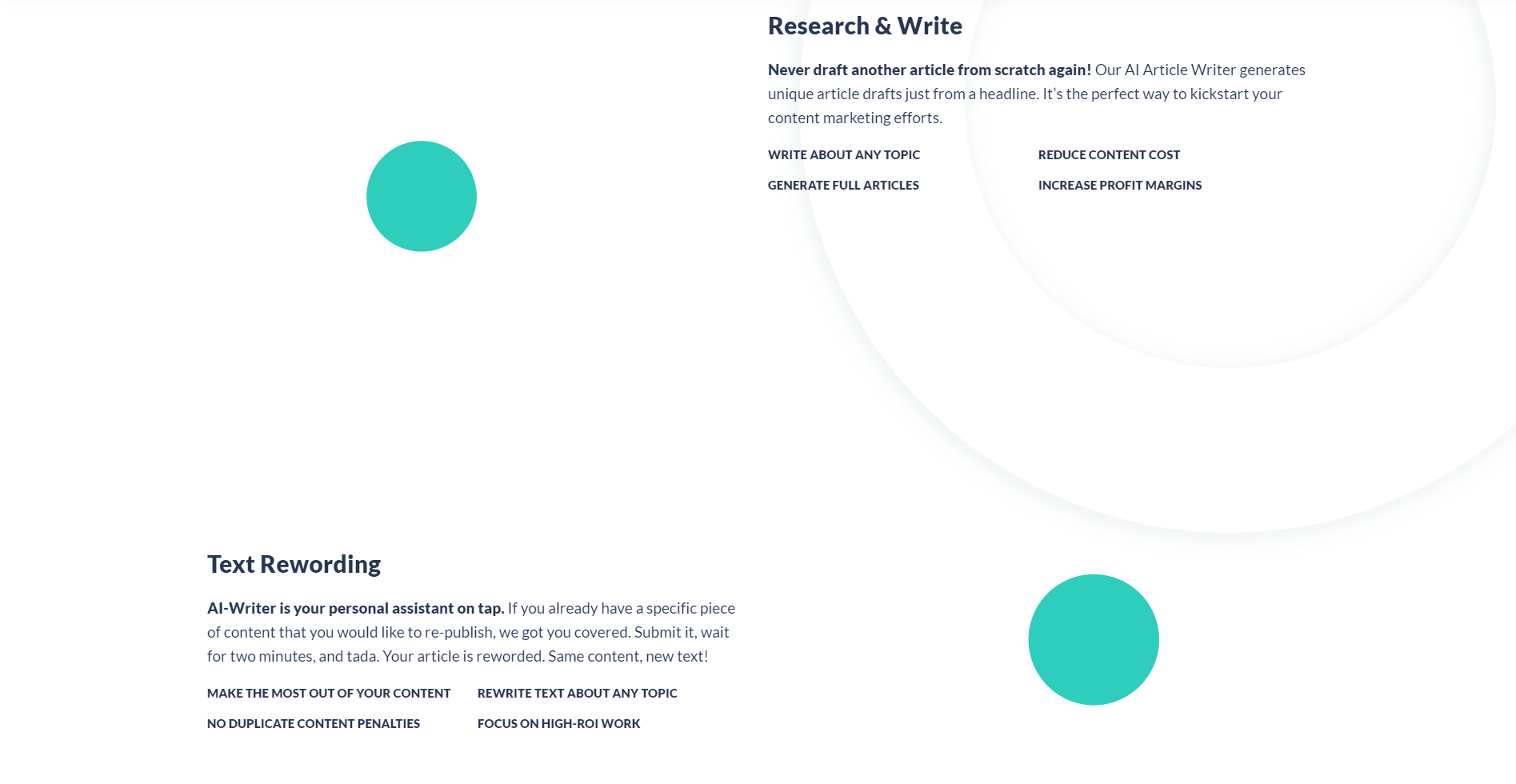 AI Writer can take a simple headline and turn it into a fully-fleshed outline that you didn't have to think of from scratch.
If you already have content that you need to reword, AI Writer gives you AI content generation that's unique to the previously written content.
If your writing requires citations, don't worry – this AI writing tool gives you trustworthy and credible citations, so you can count on factual and accurate information.
The platform has a built-in SEO editor to ensure the words you use are the ones Google is looking for – which is crucial when talking about the best AI writing software.
Pricing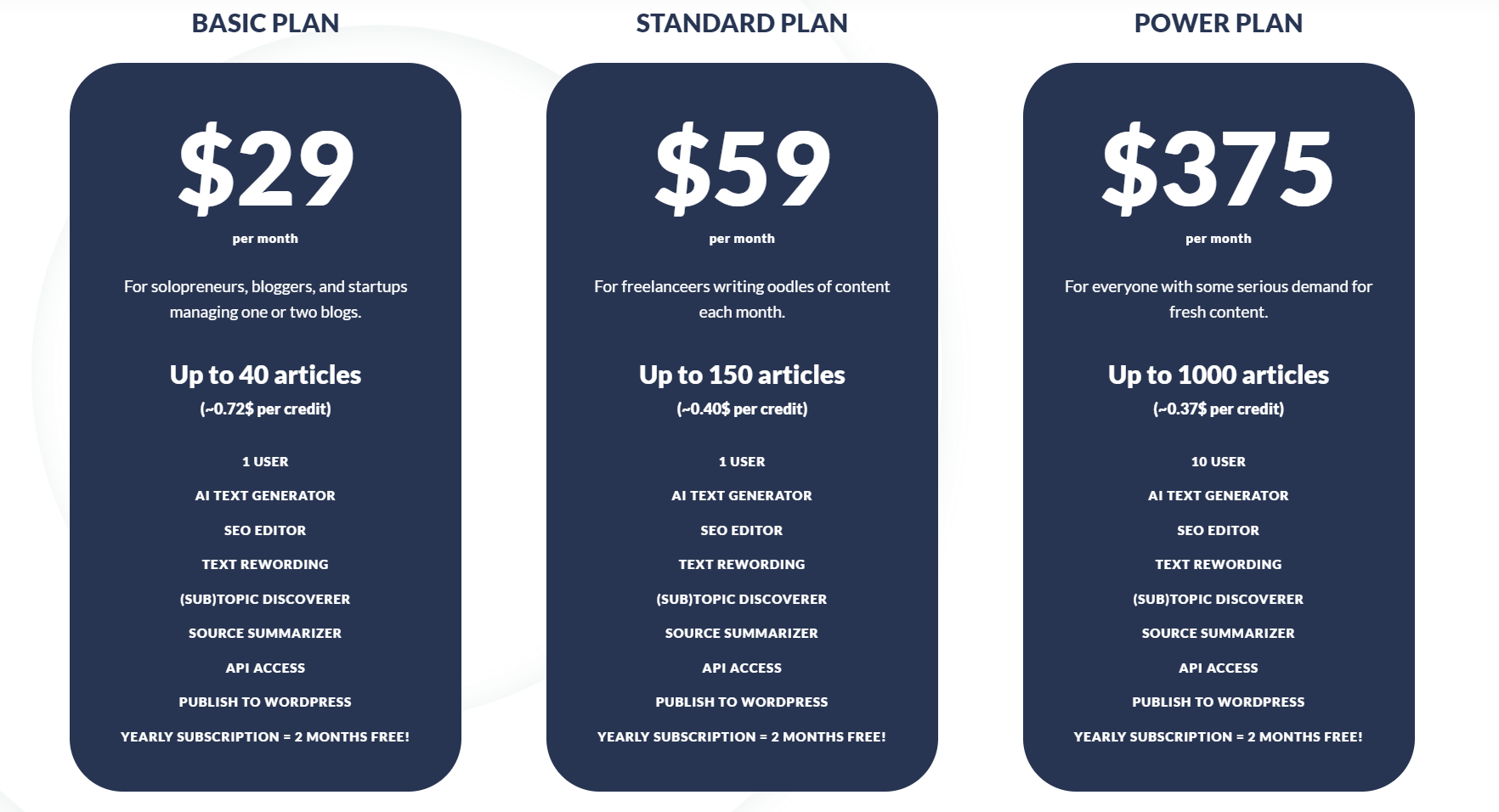 AI Writer gives you a trial of any of the three paid plans they offer:
The basic plan at $29/month for up to 40 articles
The standard plan at $59/month for up to 150 articles
The powerplant at $375/month for up to 1000 articles
Bottom Line
It's time to enter your boss mode era of writing and content optimization – which AI writer can help you with. It has all the tools that most other platforms have, with the added benefit of a rewording tool if you want a fresh look at old content.
The pricing plans are affordable and a bit pricey, but if you're looking for a super basic plan, the $29/month plan is doable!
The best ai writing software will always be up to your interpretation, but we'd say that AI writer is on the list for sure!
What is SEO?
SEO stands for search engine optimization, when you write content that Google and other search engines can crawl, index, and then show to potential customers and a target audience searching for specific keywords you include in your content.
AI writing tools are experts in SEO in the sense that they're able to quickly and efficiently crawl and index the ranking and keywords that Google has to give you an idea of what you should include to rank higher against your competition
SEO is also a way to get your content organically, in front of the right audience – without paying for Google ads.
Why is SEO important?
SEO is important because when someone searches a keyword in Google to find information, Google then turns up results that contain that keyword.
You want to keep the keywords you want to rank for in mind when creating content – but this is something that AI writing software and AI writing assistants can help with.
What are AI SEO writing tools?
AI writing tools specializing in SEO are artificial intelligence-based writing software that allows you to create and optimize content for search engines.
The most important thing that these AI content writing tools need to know is what keyword you're trying to rank for and what you want to write about – the writing assistant can do the rest for the most part.
The best AI writing software often requires little to no human editing after the content is created, but some editing and rewriting will always be necessary.
Which tool is best for SEO?
If you're looking for an AI writing platform that requires little effort, Wordplay might be the top choice – it can generate tons of content for you with minimal effort.
Surfer SEO is great for tracking your keywords and how many times you should use them to rank well.
No matter what AI writing tool you decide to use, you can use the help of other tools to rank on different platforms, such as social media tools for entrepreneurs.
Final Thoughts
There are a ton of AI content tools out there, and some offer a free plan and/or a chrome extension so you can write your content outside of the platform – but the best AI writing software allows you to create incredible content that Google loves.
We looked at many of the best AI writing platforms, some of which stuck out more than others. Wordplay was one of those, requiring little to no human input to create stunning copy. Other AI writing platforms needed help with editing and rewriting after the content was generated.
AI writing software can be as helpful as other AI-based programs, such as AI video editing and AI novel writing tools. It is also possible to start using AI Writing free with some of the trials and free versions offered by most of these platforms.