7 Best Research Repository Tools of 2023
Do you work for a company and have been tasked with finding an enterprise-level research repository for user research? Are you a researcher in a university who's looking for a way to securely share research with your peers? Luckily, you've come to the right place!
As more and more people conduct user research, research findings get buried and you might not realize that there is existing research and previous research for the user research you want to run.
As a user researcher, you want your research insights to live beyond individual research projects.
The need for research repositories has become more and more evident as more raw data and user research data get collected. These specialized tools are becoming more and more important in the workplace. They help companies to increase their productivity by providing access to a database of research material and surfacing relevant data.
That's why in this blog post, we'll explore which are the best options that'll help you find an effective solution to access content easily!
What Are the Best Research Repository Tools?
We know that research can be time-consuming, especially when you have limited access to physical resources. That's why thanks to the internet we can find many tools available like templates and guides that help you find relevant information quickly and easily.
Here's my list of all the best tools to make your research process a success:
Overview
If you're looking for a simple, searchable, and secure way to store and share your research knowledge with clients, partners, and co-workers, then Great Question is for you.
Its cloud-based platform is an all-in-one solution for storing and organizing research projects and sharing them in a way that's easy to find, use, and collaborate on.
Top Features
Centralized qualitative data management in their research repository
Ability to manage all your research data from a single dashboard.
Run research studies with a variety of methods including usability testing
Templates to help stakeholders, product teams, and UX teams run their own user research studies
Keep track of which incentives and channels are working best for you and intervene when needed.
Work on user research with product teams, or just by yourself with built-in collaboration tools.
Get help with security and compliance regulations
Get full control of your customer panels with their panel management module.
Data privacy and compliance
Pricing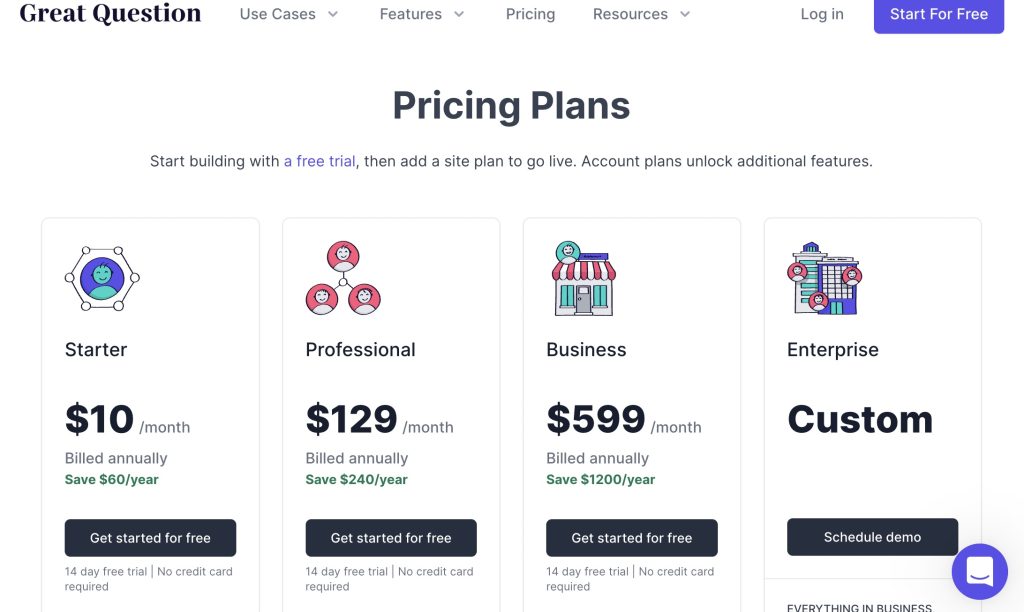 The plans offered by Great Question start with a 14-day free trial, and then you can purchase the monthly plans:
Starter: $10/mo
Professional: $129/mo
Business: $599/mo
Enterprise: Custom
Wrap Up
It's super smart to integrate your research repository and panel management into one. Great Question takes care of recruiting, scheduling, and conducting interviews, surveys, and prototype tests—all from a single dashboard. You'll save time and money, and you'll have a ton of data to show for it.
If you want a company that puts data privacy and compliance first, Great Question definitely should be one that you consider.
Great Question is used by Research Operations departments, product managers, designers, and researchers on a daily basis.
Learn more about this platform by clicking here.
Overview
Dovetail is one of the most intuitive, user-friendly user research tools available. It's becoming a full-service platform with panel management included.
, file sharing, pattern recognition, and full-text search make your research more accurate and the visualization tools help you to spot insights that were otherwise missed.
Top Features
Create professional-grade research reports in minutes.
Store all materials right there in one place
Visualize your data with journey maps
Discover patterns in their robust insights repository
Share research findings all in one platform
You can export all your research and findings whenever you want for sharing or safekeeping
It offers unlimited storage for recordings, photos, notes, files and reports of all kinds
Data privacy and compliance
Pricing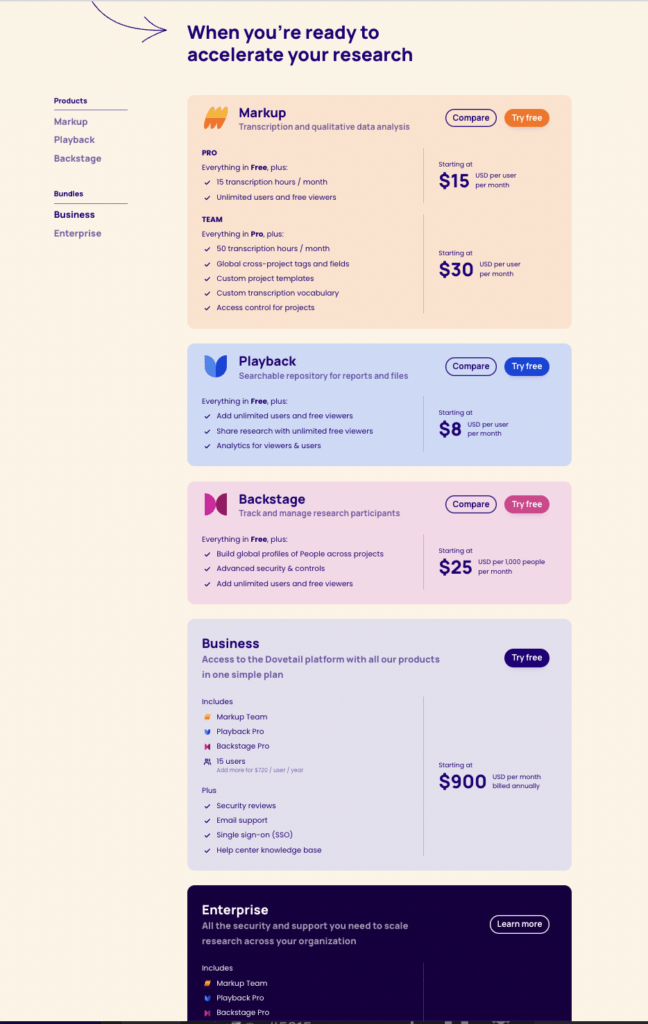 If you want to get started quickly, Dovetail's basic features are free forever.
After that, you need to decide what features of Dovetail you want. If you just want the research repository, it's going to start at $8/mo. If you want the panel management only, it starts at $25/mo. If you want transcription and qualitative data analysis, it starts at $15/mo. You can mix and match these as well.
Wrap Up
Companies in the product, service, and design industry, as well as research agencies, academic, and government institutions, use this tool. Some of its most important clients include Harvard, Deloitte, Deliveroo, Shopify, and Thoughtworks + VMware, to name a few.
Dovetail is a comprehensive tool for teams and individuals to easily publish and share their thoughts, insights, and expertise.
It allows you to conduct online usability testing, share files seamlessly, make sense of user patterns, and get an edge on your competition with a full-text search.
It's everything you need in one place for fast and effective decision-making.
Definitely worth a try!
Sign up for free here to get started.
Overview
EnjoyHQ, is a cloud-based platform that turns your UX research data into insightful, actionable insights. It has been designed to help organizations of all sizes centralize and share their user experience and UX research data with interested parties and team members.
Its analytics engine provides a unified view of your users' behaviors and the results from all the usability testing you've done. With these insights, you can make better product decisions on behalf of your users.
Top Features
Workflow Management to keep everyone on task by staying organized.
Collaboration features to quickly raise the level of productivity.
Idea management to generate innovative ideas and out-of-the-box thinking.
Feedback collection for qualitative insights that will help you improve your product.
Full-text search so you can find what you're looking for in no time flat.
Cataloging/categorization helps you stay organized and boosts productivity, which is much appreciated!
Share findings across the entire organization
Pricing
The package options offered by EnjoyHQ are Start, at no cost but with limited features. Grow at $750 per month and Scale, custom-priced.
Wrap Up
Small businesses, mid size businesses, and large enterprises trust EnjoyHQ to improve their research processes.
What differentiates EnjoyHQ from other platforms is that it offers the necessary functionalities to consolidate your business customer feedback from all platforms.
This is very useful to identify which are the problems where your product or service needs to be improved. You can start setting up your account here.
Overview
Aurelius is a research repository and insights platform that works alongside your UX research process while driving research results that align with your business goals.
Coming in web-based software that can be accessed from anywhere in the world, this user research and insights platform is a must-have for any business house. This software not only allows you to analyze and search your insights in one central location but also keeps them organized for you.
Top Features
Organizes and manages your entire UX research process
Allows you to see notes that are relevant to your keywords, form groups of notes for easy analysis, and check off positive or negative remarks for each note in the research repository
With its smart coding, it will convert all your data into nuggets and insights that are easy to understand
You can seamlessly integrate your app with 1500+ other apps.
Pricing

Aurelius offers a set of packages for every need such as the Professional plan for $79 per month, a Premium plan for $259, and the option to request a custom quote for the Enterprise plan.
Wrap Up
What really stands out about Aurelius is its searchable, visual research repository with qualitative data analysis to find patterns. Its solution is a digital version of post-it notes and grouping them (qualitative analysis).
It's really innovative and helpful for those who are constantly involved in qualitative research.
This tool is used by user experience researchers, design strategists, and education management professionals, product management and marketing teams who conduct user research.
For more information, visit their website here.

Overview
With Condens, one click is all it takes to analyze a research session. Simply provide your user's login credentials, and in seconds you'll be looking at the user's session transcript and your conclusion in the top panel.
You can open up a conclusion (your final report or findings document) on the right-hand side of your screen while looking at the session transcript, no coding is required.
You can also go straight to the conclusion editor from the dashboard, making it quick and easy to produce high-quality analyses in less time than ever before.
Top Features
No more need for manual transcription. Get an accurate transcript with the push of a button.
Get access to footage that is otherwise inaccessible or time-consuming to produce like videos, audio clips, and video highlights with the click of a button.
Create and manage your own study panel with ease.
Share your work with clients and stakeholders in one place for easy collaboration in their research repository
Pricing
Condens offers 4 packages for all needs: Individual for $40 per month, Company for $162 per month, Enterprise (custom-priced), and Project-based at $50 per project.
Wrap Up
Condens is a great tool to help teams and individuals to do better user research. It aims to make your life easier, and it looks like it's just getting started.
UX researchers, designers, and consultants are among the people who use this tool.
Try your free 15-day trial of Condens today and get instant access to powerful insights that will change how you shape products.
Overview
Formerly known as Sticktail, Reveall allows you to collect and analyze customer insights, and then create and share action-inspiring stories. You'll also be able to find new opportunities and messages with its customizable journey map.
In addition, it makes it really easy to quickly find inspiration for your content with the media library.
Top Features
Centralize research data into one research repository
Analyze qualitative data using tags
Prioritize product features for product teams
Integrate with a variety of other tools to bring in raw data from other data sources
Pricing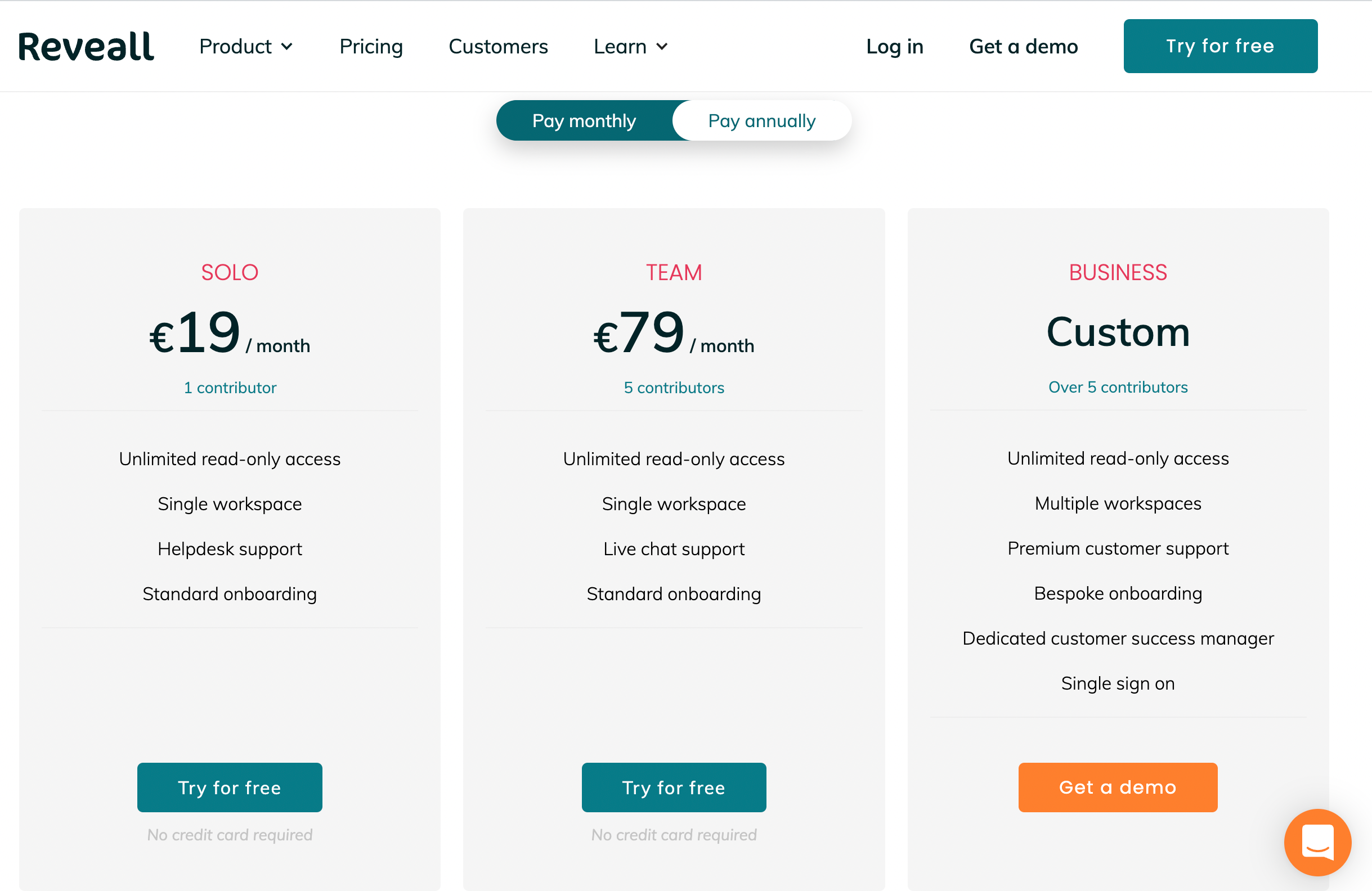 Solo: 19/mo
Team: 79/mo
Custom : Contact
Wrap Up
Reveall allows you to grow your business with its customer insights platform. It's useful to share stories from your interviews and watch as your team gets briefed on the people who matter most to you.
With easy-to-use, intuitive tools that bring data to life, you can get up to speed quickly while saving time and money.
UX researchers have recommended the use of this tool as an effective research library.
Tools you can repurpose into a research repository
The research repository tools I mentioned before are all purpose-built for user research. A lot of the time, you don't have the budget for a new research tool. Or, perhaps, rather than introducing something new, it might make more sense to create your research repository within existing tools that the entire team uses. There's nothing worse than putting in a lot of work to organize an insights repository and then you're not able to share findings because no one looks at the new insights repository.
Other times, it just makes more sense to start somewhere, see if it works, and then switch later.
Overview
Airtable is a great way to keep track of all your data. It's one of the easiest and most powerful database and spreadsheet software for teams and businesses of all sizes.
You can use it to manage data in a spreadsheet, generate custom reports and dashboards, and create forms that people can interact with.
Top Features
With pre-made templates, it's easy to create your first Airtable base.
Customize views for different applications with just a few clicks.
Document storage keeps project files in one place.
Manage tasks and track progress with ease.
Expand your tables with blocks that integrate third-party services like Google Drive and Dropbox
Pricing
Airtable offers many pricing options like a free plan with many features but for growing teams the Plus plan is at $10 per month, Pro for $20 per month, and like the other tools, the Enterprise plan that you can purchase by contacting the sales team.
Wrap Up
I've had a lot of experience utilizing Airtable as a research repository, a customer database, a road mapping tool, and more.
I love Airtable because it is so customizable and flexible that you can quickly stand up prototypes of what you're trying to achieve.
Airtable is the easiest way to manage large quantities of data in an intuitive, friendly format.
Whether you're looking for a better way to plan your work, store your project archives, or simply want to be more organized at home Airtable's powerful features make it simple.
Freelancers, small businesses, mid-size businesses, and large enterprises are users of this tool within their teams.
Sign up for free on Airtable here!
Overview
Coda is an amazing software that helps you streamline your document-centric processes with a powerful, yet easy-to-use document management solution.
With features like real-time collaboration, unlimited storage, powerful file security, an intuitive interface, and more, Coda can help you make your business more productive and profitable as an excellent research repository tool.
Top Features
Automate repetitive tasks with time- or action-based rules.
Create different packs to connect your docs with the apps you use every day, like Mailchimp, Google Drive, etc.
drag-and-drop templates.
Table Views: no predefined reports, just what you need – and all of your data sorted and grouped the way you want it.
Edit in real-time with your team, without emailing files back and forth.
Pricing
Depending on your business needs, you can enjoy a free membership (with limited features) or the other monthly plans: Pro at $10 and Team at $30 which allow you to create docs.
Finally, the Enterprise membership which offers all the features to all members of your team equally under a customized quote.
Wrap Up
Coda is a document editor. Coda is a spreadsheet. Coda is an app. It can do anything and everything and more.
It's built with a familiar interface and functionality that enables anyone to make a document as powerful as an app.
Many types of companies and individuals use Coda to manage research in their teams. To give you an idea, companies such as Spotify, Square, and Uber are some of its most popular customers.
With Coda, you can create anything from a simple to-do list all the way to an intricate data analysis project. Sign up for a free account here.
Overview
Notion is a collaboration platform that helps teams work smarter and faster. It combines a set of productivity tools into one place, so you can use it for meeting notes, task lists, product roadmap, and design repository – all with a sleek and intuitive design.
As a professional researcher, I know how important it's to find the right tools for every job. So, Notion is an ideal option for a research repository.
Top Features
Notion is a comprehensive collaboration tool for teams.
Simple, intuitive, and powerful; it's the perfect dashboard for modern project management.
Keep your team on track with Notion's workflow tools, meeting notes, task lists, and design repositories.
Pricing
As far as prices are concerned, the free account is Personal, and the truth is that it contains many useful features despite being free. If you require something more professional, you can use the following accounts billed annually at different prices: Personal Pro for $4 per month, Team $8 per month, and Enterprise with a custom quote.
Wrap Up
Sometimes it can be hard to keep up with all the knowledge in your company. There are so many ways to store and access information in a business, and it can be a hassle to try to organize it all in one place. That's where Notion comes in.
Notion is a powerful tool designed for teams and companies, and individuals alike. With it, you can create everything from notes and to-do lists to Gantt charts and timelines to organize your life.
This innovative new software system acts as a central hub for all your projects, notes, and wiki articles. It helps promote collaboration and organization through its intuitive design and ease of use.
You can get started with a free account through this link.
Overview
Confluence is the next-generation collaboration platform for teams to organize, share, and discuss all their information or knowledge work.
Confluence is built for the way people work today; it offers open and shared workspaces that connect people to the knowledge that they need to do their best work.
In addition, Confluence's built-in intelligence means it knows when content changes so teams can stay in sync, with a single source of truth.
Top Features
Wiki pages for easy collaboration
Comments to encourage constructive feedback
Versioning and version history to keep track of changes
Decision trees for clear, proven steps
Knowledge dissemination through page analytics, permissions, knowledge sharing, notifications, etc.
Pricing
Confluence offers 4 package options: a free membership for up to 10 users, Standard for $5.50 per month, Premium for $10.50 per month and Enterprise billed annually with unlimited features upon receipt of a custom quote.
Wrap Up
Confluence is an enterprise-grade knowledge management software solution, built specifically for the organizational needs of today's savvy and data-driven businesses.
Many kinds of departments of all sizes use Confluence, from technical and project management teams to marketing, human resources, legal, and finance.
With robust features like real-time insights, social collaboration, and rich analytics, Confluence is a one-stop solution for leading organizations to achieve their company goals.
Get your free account here.
What is a research repository?
A research repository helps enable research data to live on past an individual research study. Researchers often conduct research and create a research report that ends up getting buried in the cloud. Creating an effective research repository allows for research insights to live beyond the research project and benefit the product team with actionable findings that can be utilized time and time again to innovate.
Why do you need a research repository?
Research repositories benefit the entire organization by surfacing data and insights about the target audience and the pain points found within the experience. A well-structured and organized research repository helps avoid research data getting lost and enables the research findings to continue to drive business impact.
How do you create a research repository?
Creating a research repository involves a very strategic approach to figuring out how to make research data consumable. There's no one right way to do it. It depends on the needs of your company, teams, and stakeholders. It usually involves extracting key insights from various research studies and making them searchable. I've written about creating a research repository in Airtable. When I created that research repository, I built it for one product team. Now that I work in Research Operations, I've been working with my teammates to scale a research repository across all of IBM. It's a very complex challenge.
Conclusion
Research repository tools are designed to help people find, organize, and share information.
If you're just getting started and want to prototype how a research repository might benefit your team, consider Airtable.
If you're looking for UX research repository solution that also offers panel management, consider Great Question.
If you still have no idea, don't hesitate to reach out! I offer research tools and consulting services.