9 Best AI Security Tools of 2023
Artificial intelligence is just as beneficial to us as it can be to other individuals and organizations, including cyber criminals. With the growing number of threats and undetected malware, companies and individuals alike are all at risk. Cybersecurity becomes an essential part of prevention and risk management to protect data systems. Breaching is now done easier to unsuspecting and unprotected systems. Even simply connecting to a public WiFi can put devices at risk for malware installation. What can be used to combat these cyber-attacks?
What Are the Best AI Security Tools?
In recent articles, we have featured tools that use artificial intelligence for video editing, content creation, productivity, writing, and social media for entrepreneurs. Now we venture into the field of cybersecurity.
Cyber security is the application of technologies to protect systems, networks, programs, devices, and data from cyber threats. The advancement of technology allows companies to use digital systems to pursue greater business success. The greater the reliance on these digital systems, the greater need there is for cybersecurity. And what better technology there is to apply to cybersecurity than artificial intelligence?
Artificial intelligence is an advanced weapon that companies can use and can be used against companies. It is not an understatement to say that AI systems have become integral for cybersecurity software to offer up-to-date features.
Here are some key features to look out for when browsing through our list of AI Security Tools:
Machine Learning, is a subfield of artificial intelligence that uses algorithms to analyze chunks of data and make evaluations and predictions based on patterns from previous records
Cybersecurity Automation to create security protocols to protect businesses from cyber-attacks, damage to sensitive data, and anything that might lead to cybercrime
Better Vulnerability Management by analyzing and assessing the existing security policies and protocols
Automation of Authentications adds more security as AI utilizes various tools for identification such as CAPTCHA, facial recognition, and fingerprint scanners
Accurate Risk Assessments and Threat Intelligence for management of risks and automated suggestions for stronger security protocols, leading to the improvement of automated security models and posture
Threat Detection enables the uses of AI and machine learning algorithms to detect unusual user behavior or system deviations that might point to or potentially become a security breach
Anomaly Detection to analyze patterns for possible variations, detect anomalies in network traffic or other data systems, and prevent potential threats from further breaching
Security is an important aspect of handling any business, physically and digitally. With the use of cybersecurity software, companies can avoid cybercrime including unauthorized data access, cyber-attacks, and identity theft, as well as human errors.
The number of cybercrimes increases nonstop as the digital space expands. Human-scale effort cannot process billions of time-varying signals that must be analyzed in detail to evaluate risk and operate cybersecurity postures.
We have listed some noteworthy AI security tools widely used in the cybersecurity industry. We have added what and who they are, their top features, and their pricing plans. Check them out now.
Crowdstrike
Overview
Crowdstrike operates a security system called Crowdstrike Falcon that utilizes an AI-based detection system called User and Entity Behavior Analytics (UEBA) and attack systems called zero-day attacks. Keeping track of all activity on an endpoint, characterizing the behavior of each user, and keeping an eye on all regularly occurring system operations, creating baselines of consistent activity. The system keeps track of every process and issues an alert if a user suddenly takes a different action or if a new system process emerges that hasn't been seen before. This flag activates additional activity-tracking methods.
Top Features
Cloud-native Next Generation AntiVirus (NGAV) protects against all types of attacks from commodity malware to sophisticated attacks. No need for signatures, fine-tuning, or costly infrastructure
Endpoint Detection and Response (EDR) continuously monitors and captures endpoint activity, delivers in-depth analysis to automatically detect and prevent possible threats, and accelerates security operations
Forensics streamlines the collection of point-in-time and historic forensic data for robust analysis of cybersecurity incidents and periodic compromise assessments
Firewall Management enforces firewall policies with a simple, centralized approach. Quickly deploys, operates, and defends against network threats, and gains instant visibility to enhance protection and inform action
Pricing
CrowdStrike Falcon® Go: Build Your Security Strategy for an Annual pricing of $299.95
CrowdStrike Falcon® Pro: Optimize Your Defenses for Annual pricing of $499.95
CrowdStrike Falcon® Enterprise: Assess The Attack for Annual pricing of $924.95
CrowdStrike Falcon® Premium: Fortify The Business for Annual pricing of $999.95
These pricing plans include the minimum of 5 devices required.
Bottomline
Crowdstrike is a security platform that offers superior protection in a multitude of industries including businesses of all sizes, election security, the public sector, healthcare, financial services, and retail. Its AI-based technology boasts augmentation with deep security expertise in world-class threat intelligence, 24/7 threat hunting, and fully managed services. Try CrowdStrike's free trial today which includes a free Falcon Pro subscription including Falcon Prevent, Falcon Device Control, Falcon Intelligence, and Falcon Firewall Management.
BioHAIFCS
Overview
BioHAIFCS stands for a Bio-inspired Hybrid Artificial Intelligence Framework for Cyber Security developed by Konstantinos Demertzis and Lazaros Iliadi. This is a framework that integrates machine learning methods suitable for the protection of critical network applications, namely military information systems (MIS) and Networks (MNET), and applications.
Top Features
Hybrid Evolving Spiking Anomaly Detection Model (HESADM) is used to zero in and prevent cyber attacks in the early stages
Evolving Computational Intelligence System for Malware Detection (ECISMD) that detects and isolates malware hidden in compressed executables that antivirus software often overlook
Evolutionary Prevention System from SQL Injection (ePSSQLI) attacks that quickly and intelligently generates predictions of the attacks using SQL Injections methods.
Pricing
BioHAIFCS does not have an official site as it is a framework referenced in textbooks that can be found and downloaded from Research Gate and Springer Link.
Bottomline
This AI framework excels in its function for military cybersecurity. Military information is required to be held with confidentiality and integrity, and is a subject of continuous research and design, due to the fact that they handle vital information for the country's national security. BioHAIFCS was built for this purpose and upholds the quality of its advanced threat intelligence and detection, network protection, AI and machine learning methods, and overall cybersecurity system.
Cognito by Vectra
Overview
Vectra's Cognito is an AI-driven platform that detects and responds to cyberattacks in the cloud in a matter of minutes. Its threat detection automation defends against stealthy attackers. Cognito detects, analyzes, and investigates data and systems in real-time, allowing security teams to identify attacks early on and protect from malicious activity.
Top Features
Threat Detection and Response harnesses Attack Signal Intelligence to automatically detect, triage, and prioritize unknown threats across Cloud, SaaS, Identity, and other networks
Attack Signal Intelligence produces AI-driven Detections, Triages, and Prioritization
AI-driven Detections analyze signatures and anomalies to understand attacker behavior and narrow down on attacker TTPs across the cyber kill chain
AI-driven Triage examines detection patterns particular to a data system's surroundings to reveal significant events and filter out noise
AI-driven Prioritization gives analysts the ability to concentrate on responding to essential risks, reducing business risk, by providing a picture of threats by severity and effect
Managed Detection and Response (MDR) Services offer security analysts complete visibility and collaboration in investigating and resolving threats
Pricing
No pricing plans are available on Vectra's official website. Customers will have to contact Vectra for a scheduled demo and its pricing, as prices may vary depending on the customer's needs and requests.
Bottomline
Cognito by Vectra can identify and stop threats on IoT, cloud, and data networks. This AI-driven platform offers businesses attack coverage, signal clarity, and intelligent control to equip and enhance their defense against emerging, evasive, and sophisticated real-time cyber attackers.
DefPloreX by TrendMicro
Overview
DefPloreX by TrendMicro is an AI-powered machine learning toolkit used for large-scale cybercrime forensics. Its name is a word play on"Defacement eXplorer" and is based on open-source libraries for analyzing millions of defaced web pages. This security software analyzes files containing metadata records, uses headless browsers to access their resources, takes data from the defaced web pages, and stores the results in an Elastic index. Its Elastic Search allows data with easy integration into other systems.
Top Features
Machine learning and visualization techniques turn unstructured data into meaningful high-level descriptions
Real-time data on events, breaches, attacks, and risks are quickly analyzed and compiled into browsable objects that may be used for effective large-scale e-crime forensics and investigations
Uses a multitude of Python-based data-analysis techniques and tools, which creates offline "views" of the data, allowing easy pivoting and exploration
Automatically categorize similar defaced pages into clusters, and organize web incidents into campaigns within one read on the data, the clustering technique used is intrinsically parallel and not memory bound
Text and web-based UIs easily queried using a simple language for investigations and forensics.
Pricing
No pricing plans are available on TrendMicros' official website. Customers will have to contact TrendMicro as prices may vary depending on the customer's needs and requests.
Bottomline
DefPloreX is a feature of TrendMicro that specializes in defacement campaigns. Its developers challenged the web perspective to follow real-world terrorism to query their system and find out which defacement campaigns are related to that terrorist attack. For that reason, DefPloreX was created, which is a combination of machine learning and statistical learning to find clusters of defacement campaigns automatically.
IBM QRadar Advisor with Watson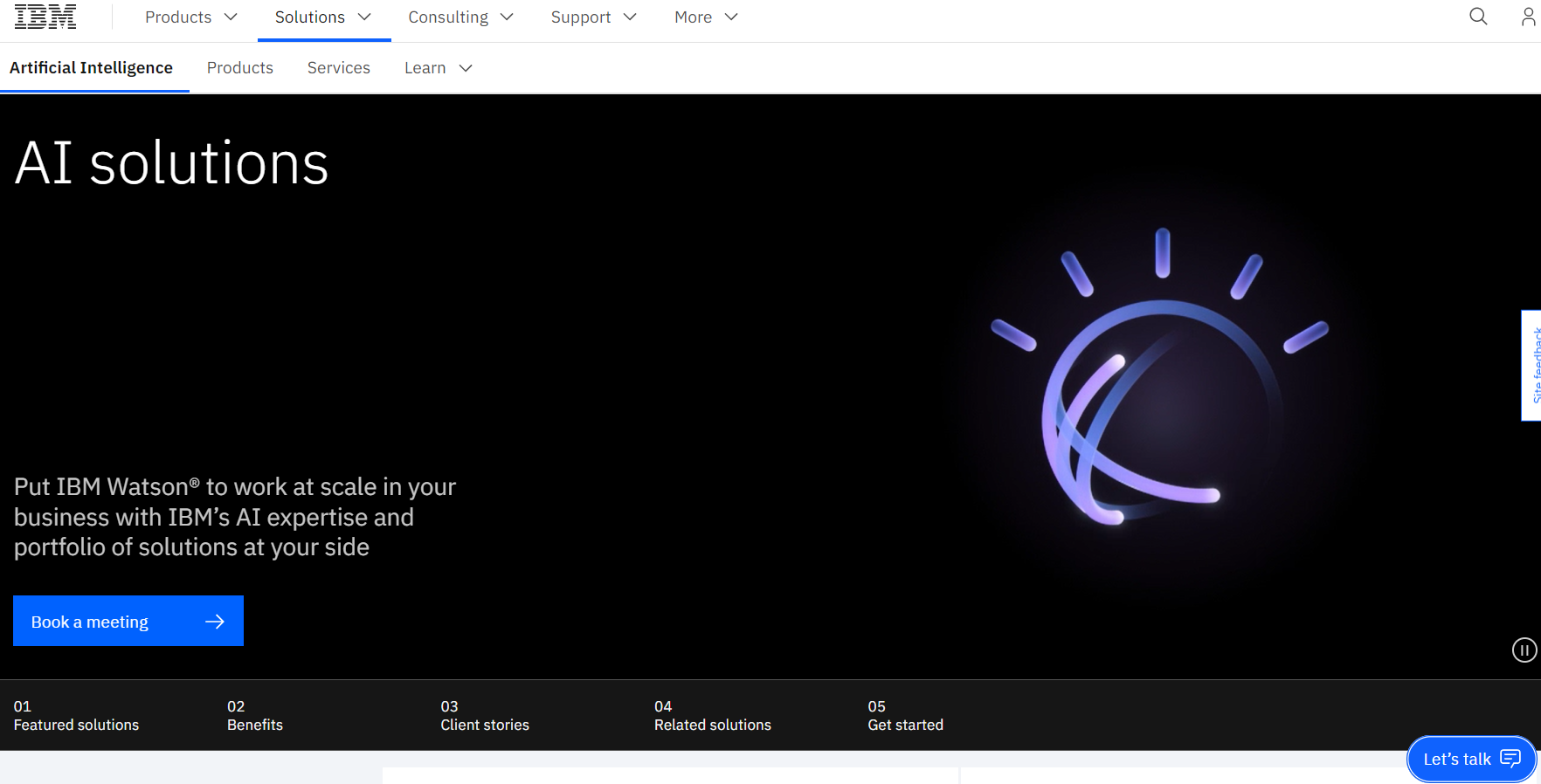 Overview
IBM's QRadar Advisor is a cybersecurity software using AI to easily remediate threats faster while maintaining the company's bottom line. QRadar SIEM prioritizes high-fidelity alerts to help capture stealthy attackers and prevent serious threats and vulnerabilities from disrupting the operations of businesses.
Top Features
Align attacks to the MITRE ATT&CK chain. Analysts can confirm the threat, see how attacks have happened and are advancing, and learn what methods may still be used by utilizing the confidence level at each stage of the attack
Analyst learning loop evaluates systems and generates a more decisive escalation process
Perform cross-investigation analytics by automated linking investigations through connected incidents, reducing duplication of effort and extension of an effort
Proactive tuning of the system for better security in the case of multiple duplicate investigations being triggered by the same events
Priority list of investigations with the greatest risk by running multiple investigations simultaneously and sorting and filtering through the data to quickly see significant areas
Pricing
Lite Plan – No cost
Standard Plan – Pay-as-you-go catalog pricing
Enterprise Edition – Starts at $18,300 per instance
Bottomline
IBM QRadar Advisor uses its AI Watson technology, a machine learning and cognitive computing platform. It provides a wide range of AI technologies to process both structured and unstructured information from a wide range of sources, analyze its significance, and add them to its body of knowledge for subsequent use. Try IBM QRadar Advisor on cloud for no cost.
StringSifter
Overview
StringSifter is a machine learning tool that rates strings depending on how relevant they are to malware investigation. This software requires Python 3.6 or above to operate. It operates by receiving a list of strings as input and ranks the output of the strings program for binary triage analysis.
Top Features
Automation of any workflow to enable faster, easier, and more consistent work processes, as it reduces the need for manual labor and repetitive tasks
Host and manages software packages, analyzing for any potential threat
Analyzes and fix vulnerabilities for better management of the security system
Automated software development in working environments, codes are written and stored in a company's central source code repository to easily track and resolve conflicts
Provides AI copilot to write and manage changes for better codes, faster and with less work, by drawing context from codes to suggest individual lines and whole functions
Collaboration outside of the codes for better company review and tracking of the progress of data
Pricing
Install the latest version of Stringsifter for free, and use pip to get running immediately.
Bottomline
Stringsifter is a cybersecurity tool easy to download on third-party apps at no cost at all. It offers workflow automation, data threat detection, and automated software development. As StringSifter may be applied to any list of strings, it is helpful for professionals who want to extract information from unrecorded intelligence sources such as live memory dumps, sandbox runs, or binaries that include obscured strings.
Targeted Attack Analytics (TAA) by Symantec
Overview
The TAA tool is a cloud-based AI solution used in the integrated cyber defense platform for Broadcom's Symantec's enterprise-focused advanced threat protection. Symantec big data analytics and targeted attack research, and Endpoint Detect and Response (EDR) supplement existing security tools, enabling enterprises to expose previously unknown attacks.
Top Features
Global telemetry data improves the local enterprise landscape with Symantec Endpoint Protection
Continuous feed to EDR and feedback for retraining. TAA identifies incidents with AI and advanced machine learning, SOC analysts evaluate the insights, and analysts feed back into the system, retraining to limit false positives and reinforcing correct alerts
TAA provides descriptive, prioritized incidents including recommended actions to drive incident resolution and the EDR console with more than an alert
Combination of targeted attack analytics with research from the Attack Investigator Team (AIT) to find advanced attacks patterns
Models adapt to new attack techniques automatically with the use of both local data and global intelligence networks to protect against more targeted attacks
PricinG
No pricing plans are available on Broad's official website. Customers will have to contact Broadcom in their respective regions and find a partner or distributor.
Bottomline
The integration of Targeted Attack Analytics with EDR will solve critical cyber security challenges. The TAA tool offers in-depth threat detection and provides defense against cybercrime at an early stage. TAA users benefit from the continuous distribution of new attack analytics and generation of custom incidents, covering detailed analysis of attacker methods, impacted machines, and remediation guidance—all at no additional cost.
Sophos' Intercept X Tool
Overview
The Intercept X from Sophos is a cybersecurity tool with a deep learning neural network incorporated that transforms endpoint security from a reactive to a predictive approach to defend against possible threats and cyber attacks. This Endpoint Security solution reduces the attack surface and prevents attacks from running before impacting the system.
Top Features
Endpoint Detection and Response (EDR)automatically detects potential threats and quickly sees where to focus attention and which machines may be impacted
Extended Detection and Response (XDR) goes beyond the endpoint by incorporating cross-product data sources or even more visibility
Managed Detection and Response (MDR) where an elite team of threat hunters and response experts take targeted actions on your behalf to neutralize threats
Anti-ransomware provides fire protection, automatic file recovery, and behavioral analysis to stop ransomware and boot record attacks
Deep learning technology through artificial intelligence is built into Intercept X to detect both known and unknown malware without relying on signatures
Pricing
No pricing plans are available on Sophos' official website. Customers will have to contact Sophos as prices may vary depending on the customer's needs and requests.
Bottomline
Sophos' Intercept X is a tool efficient in blocking malware and ransomware while safeguarding affected files in a safe state. It works 24/7/365 security delivered as a fully managed service and is easy to deploy, configure and maintain even in difficult working environments. Try Sophos' Intercept X Tool's free trial today.
Intraspexion
Overview
Intraxpexion is an AI software system that highlights using Deep Learning algorithms to identify risk and provide early warnings from threat detection. Its recognition is most notable in the legal industry, with reviews from Artificial Lawyer, LawGeex, and the National Law Journal.
Top Features
"DeepLearning" software system allows scoring of previous data and provides designated an early warning of the specific litigation risky data
The first patented "litigation prevention" service for businesses and organizations
Pricing
No pricing plans are available on Intraspexion's official website. Customers will have to contact its founder, nick.brestoff@intraspexion.com, as pricing is highly confidential and varies depending on the customer's needs and requests.
Bottomline
Intraspexion is renowned for its system's ability to prevent potentially enormous losses in productivity and financial resources in litigations. Their brand upholds leadership in its operation of good faith in preventing harm to businesses.
What are AI security tools?
AI security tools are software applications that utilize artificial intelligence to secure data, networks, and devices from digital threats or human error. These AI softwares go beyond human capabilities, it can read multiple threats simultaneously in a minute, analyze and detect deviations from records within a single look, and collect new information that produces predictions to prevent possible cybercrime before it damages data.
How is AI used in security?
Artificial intelligence uses machine learning to analyze patterns in a large amount of data and detect deviations that may become potential threats. It reduces the risk of cybercrimes and protects against the unauthorized exploitation of data, systems, networks, devices, and technologies. Virtual Private Networks (VPNs) use machine learning algorithms to combat threat breaches to data privacy.
What is the most popular security tool?
Crowdstrike is a leading cybersecurity software that offers a wide array of features and plans to suit a company's needs and requests. Its solutions include real-time breach protection on any endpoint, ransomware protection, real-time observability, and log management, cloud security or multi-cloud and hybrid environments, and provides the latest information on evolving vulnerabilities.
Will AI make things more secure?
Absolutely. Artificial intelligence is an essential feat for companies to look for in cybersecurity, in the age of digital transformation. It becomes the means for threat intelligence, which allows the identification and analysis of cyber threats. This secures the company's network, website, services, and technology from possible malware, ransomware, and any other cybercrime or human errors.
Final Thoughts
In today's techno-driven industries, businesses continuously worry about the threats and risks of cybercrime. A single cybercrime issue has the ability to devastate a company immensely. Looking for tools to equip one's company becomes significant when human effort no longer suffices. The utilization of artificial intelligence in cybersecurity helps make the impossible, possible. Strengthen your digital defense today.