9 Best Recruiting Tools of 2023
User research is a critical process in creating effective products and features by understanding your users, their needs, and their behavior. Finding the right participants is crucial to get the most out of your research. But how do you go about recruiting them efficiently? Fortunately, many tools are available to help you plan, manage, and analyze user research studies.
This article will take a closer look at some of the best recruitment tools for user research. These tools can save you hours of time and effort, and provide valuable insights into your target audience. Whether you're recruiting for usability tests, user interviews, or focus groups, these tools will help you find the right participants quickly and easily. Finding participants for your user testing research doesn't have to be hard, just take a look below!
What are the best recruiting tools?
Some of the best tools on the market that can help you with user research and more importantly, recruiting the right participants for your UX research are listed below. If you are looking for a tool to help you find potential research participants, User Interviews is the tool for you, if you are looking to test the usability of your product with less represented, disabled users, Fable is the tool for you. But if you already have your participants and are looking for a tool to help you organize and conduct the research, Ethnio is the platform for you.
Disclosure: Some of the links in this article may be affiliate links, which provide $$$ to me at no cost to you if you decide to purchase the tool.
Overview
User Interviews is a powerful tool that connects product teams with real users, enabling them to gather valuable user feedback and insights for their products. With its robust Recruit feature, User Interviews helps you identify and recruit qualified participants who match your target demographic and user types. This ensures that you work with the right users to gain accurate and meaningful insights. Plus, with over 2.4 million quality participants available, User Interviews gives you a wide range of options to choose from.
The platform's Research Hub feature provides a centralized place to manage your participant panel, making it easy to track, organize, and communicate with your research participants.
Highlights
Top-rated participants: their participant scoring system evaluates researcher feedback and past participation to bring you the best feedback.
Fraud-proof: their fraud detection system monitors for multiple key indicators of fraud, removing participants before they ever apply to a study.
Target participants by industry(140+ industry categories), job titles, demographics, location(all 50 US states, Canada, United Kingdom, Australia, France, Germany, and South Africa), and technology (narrow targeting by technical characteristics, including computer or smartphone operating system, web browser, or webcam capabilities).
Create custom screener surveys with multiple choice, short answer, skip logic, and long answer questions to help qualify your ideal participants for research.
Schedule automatically by syncing your calendar, connecting Zoom, and automatically generating and sending links to your confirmed research participants.
Also includes panel management software, which makes managing a contact list much easier. Pay incentives instantly by automatically distributing them to participants. You can also choose to do it yourself. 100% of incentives go to participants.
Pricing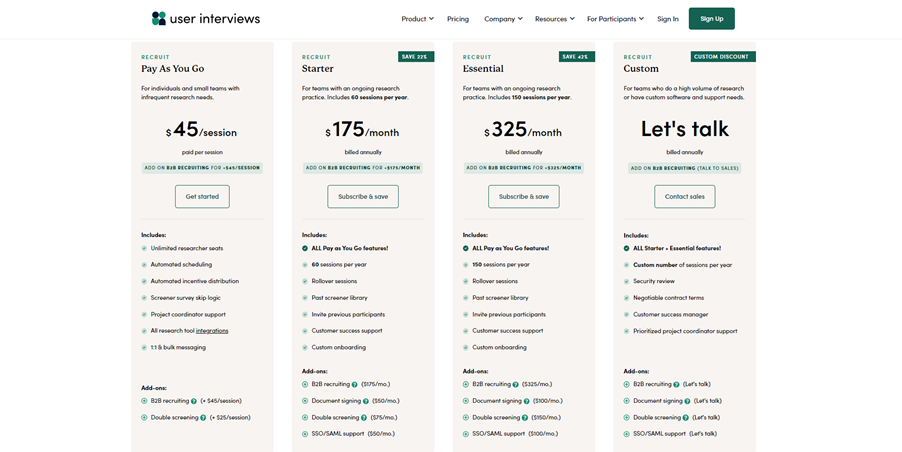 Recruit participants with Recruit plans, sourcing from their own panel:
Pay As You Go Plan for $45/session
Starter Plan for $175/month includes 60 sessions per year
Essential Plan for $325/month includes 150 sessions per year
The Research Hub lets you build your own panel, and is offered through the following Plans:
Free Forever, with 100 contacts in your participant CRM
Essential Plan starting at $250/month with 1000 contacts in your participant CRM
Premium Plan starting at $1250/month with 5000 contacts in your participant CRM
Enterprise Plans are custom tailored and priced
Bottom line
User Interviews offers millions of potential participants for research, letting you target users with specific job titles, professions, and user demographics. They will give you fast access to quality participants, helping you bypass the troubles of finding participants, and recruiting users, and act as your own personal recruitment agency.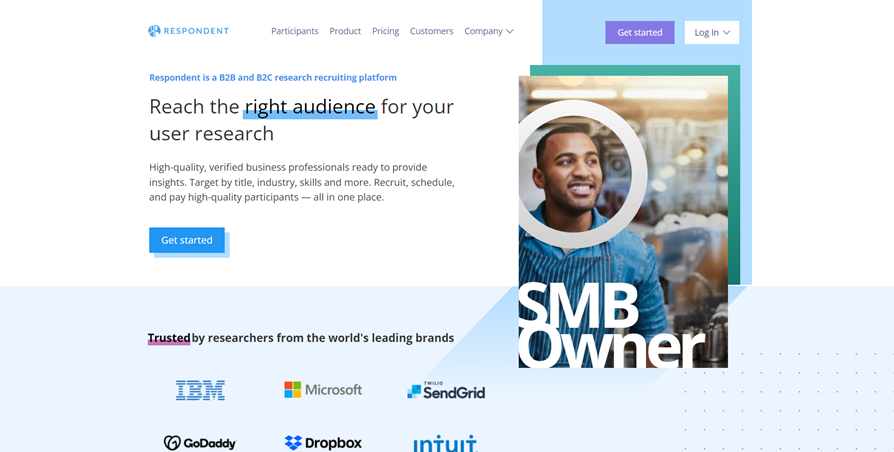 Overview
Respondent is an effective and reliable recruiting tool for user research, with a primary focus on gathering insights from business professionals and the general public. Unlike other UX research tools where user research may be a secondary priority, Respondent prioritizes the user research process (check out how to get user research insights on a product forum). With a recruitment strategy that includes screener surveys, recruitment agencies, and an internal panel, Respondent ensures that the right participants are selected for research studies, including those with specific demographics, job titles, and user types. By targeting multiple user groups, Respondent delivers valuable insights to product managers, UX researchers, and marketing professionals. Whether conducting remote studies or scheduling research sessions, Respondent's process is geared towards finding the most qualified participants for the best research results.
Highlights
High-quality, verified business professionals ready to provide insights.
Target by title, industry, skills, and more.
Recruit, schedule, and pay high-quality participants — all in one place.
Trusted by researchers from the world's leading brands: IBM, Microsoft, Dropbox…
1.5M+ verified participants(from software engineers to CFOs and HR professionals)
Pricing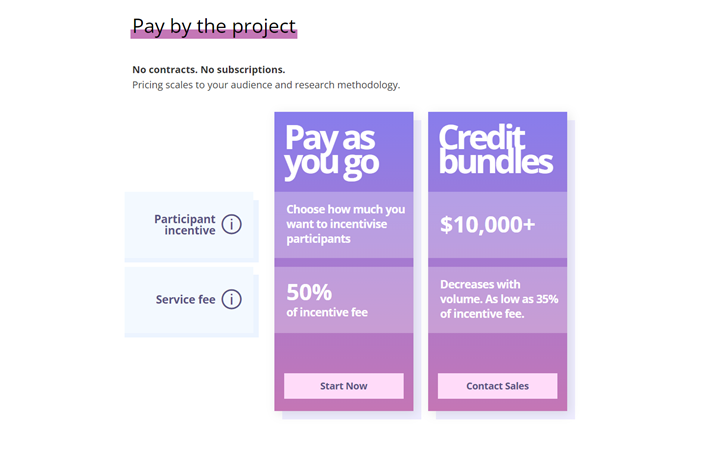 Pay as you go: choose how much you want to incentivize participants with a 50% of the incentive fee
Credit bundles: participant incentives are $10,000+ and the incentive fee decreases with volume, and goes as low as 35%
Bottom line
Respondent is one of the best recruiting tools for researchers and companies with constrained budgets. You will have the freedom to choose how many participants you will conduct user interviews with and how much you will incentivize them. Respondent makes user research recruiting easy and custom-tailored to your research study needs.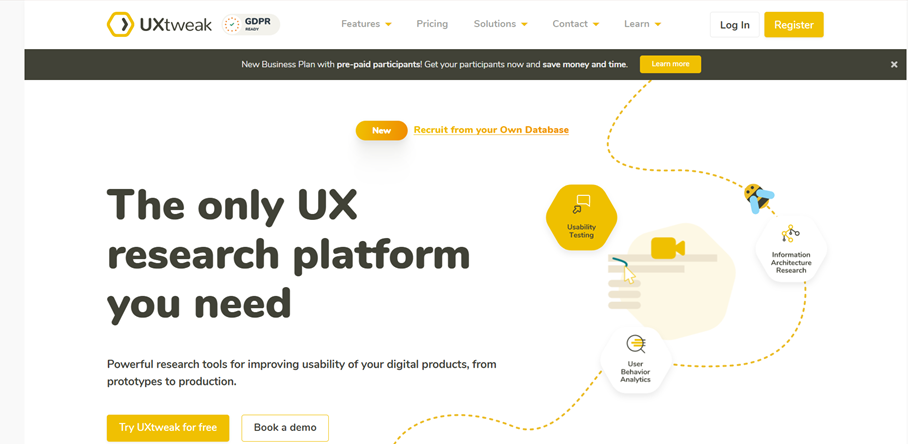 Overview
UXtweak is an all-in-one UX tool that provides powerful research tools for improving the usability of digital products. The company boasts a panel of over 155 million panelists from 130+ countries and 2000+ profile attributes, allowing detailed requirements for testers to be set. The company offers 10 progressive tools for research, complex analytical results, and easy team cooperation. UXtweak also provides panel recruiting with no borders and expert UX consulting, including hands-on training, dedicated onboarding, and end-to-end solutions. Their customers include enterprise clients, small companies, non-profits, universities, and solo UX researchers.
Highlights
Organize content to perfection: Make your website easy to navigate and content easy to find with card sorting and tree testing.
Empathize with your users: Understand what your users do, need, think, and feel. You can conduct preference tests, 5-second tests, surveys, and even record sessions.
Test usability for smooth user experience: Observe how users interact with your site, designs, and prototypes. You can conduct mobile testing first-click tests, prototype testing, and website testing.
You can choose from a variety of recruiting options: Recruit the right participants for your user interviews or surveys quickly for agile decision-making, from the user panel to onsite recruiting and your own database.
Pricing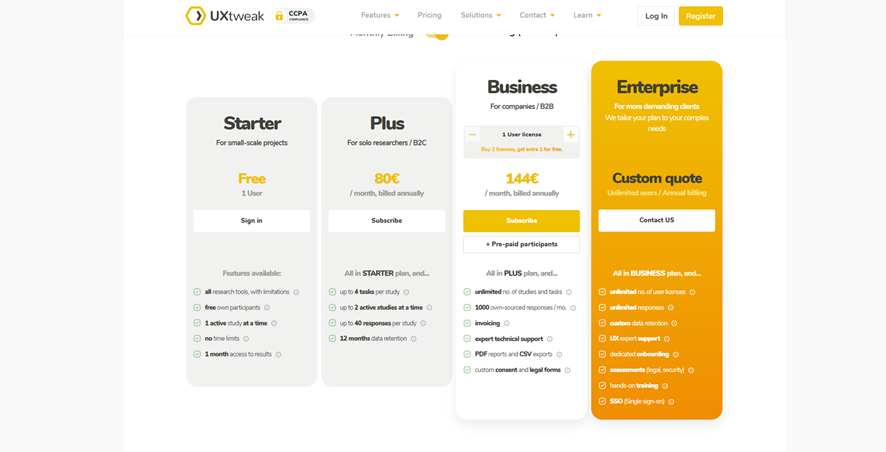 Starter Plan is free for one user for small-scale projects and includes 1 active study at a time
Plus Plan is 80€/month, billed annually, and includes up to 4 tasks per study and up to 40 responses per study
Business Plan is 144€/month, billed annually, and includes an unlimited number of studies and tasks
The Enterprise Plan is custom quoted
Bottom line
UXtweak is great for UX user research of any length and at any price and even offers a free plan for UX researchers on a budget. It offers user testing and user responses in 10 languages and can be very useful if you are conducting studies outside of the English-speaking world. Which saves you so much time, just like some of the best AI productivity tools!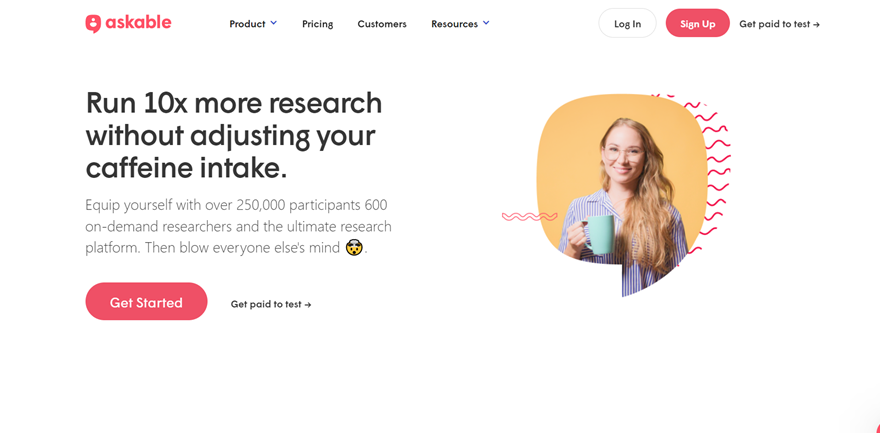 Overview
Askable is the UK & Australia's fastest-growing UX testing participant recruitment platform. Born out of a digital marketing agency, they experienced recruitment firsthand and all the issues that go along with it and decided to fix what was broken.
Highlights
Askable offers connections with over 250,000 participants and 600 on-demand researchers.
Over 600 globally recognized brands are retaining their competitive edge with Askable, such as Domino's, Vodafone, Mastercard, Canva, and Deloitte.
Target demographics, behaviors, and custom screening questions. Then optimize turnout with automated reminders and confirmations.
Find participants for face-to-face interviews, remote interviews, qualitative and quantitive surveys, online tasks, and more.
Free yourself from a panel, and experience a new kind of platform that expands on-demand with access to millions of people in Australia, NZ, the UK, and the US.
Their filtering system lets you create your own screening questions so you can precisely narrow your audience.
Handpick the participants you want, or let their intelligent software handle selection for you.
The Askable platform will automate reminders to ensure participants turn up, then trigger incentive payments upon session completion.
Pricing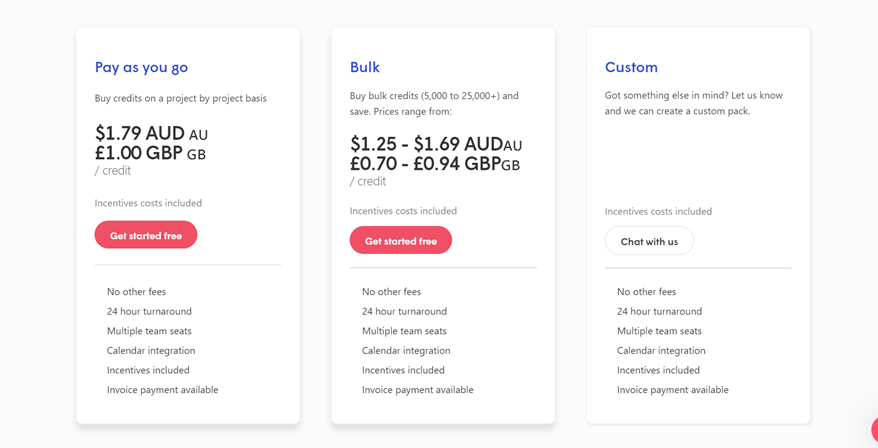 Pay-as-you-go buys credits on a project-by-project basis for $1.79 AUD/credit with incentives costs included
The Bulk Plan lets you Buy bulk credits (5,000 to 25,000+) and save. Prices range from $1.25 – $1.69 AUD with incentives costs included
The Custom Plan is custom-tailored and priced for your specific needs
So what will the credits get you?
In-person interviews are priced at 100 credits per participant.
Video calls are priced at 80 credits per participant.
Online tasks are priced at 20 credits per participant.
Surveys are priced at 10 credits per participant.
Bottom line
Askable is a great option and one of the best recruiting tools for user research for customers based in the US, UK, Australia, and New Zealand. The pricing scheme lets you as a researcher have greater freedom in tailoring your UX research.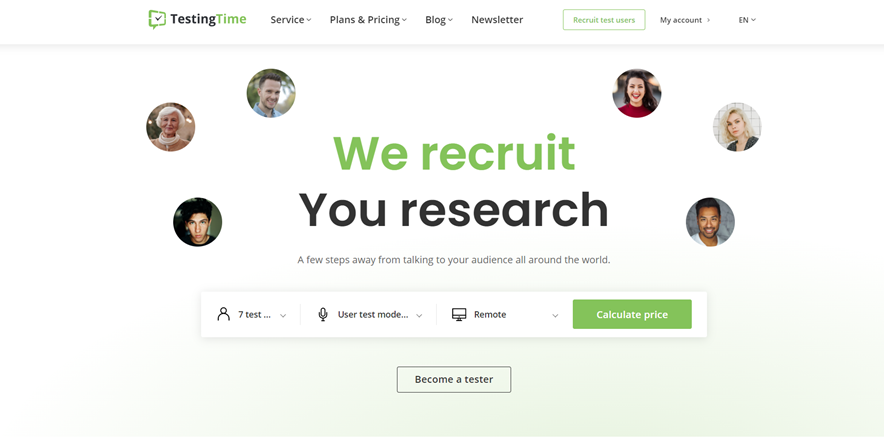 Overview
TestingTime recruits test users and other study participants. Since 2021 TestingTime is part of the Norstat Group. Recruiting test users is their core business. Their pool consists of more than 730,500 test users and they put a lot of time and effort into quality management. So not only can they provide you with the test users you need – they can do it fast and at a fraction of the cost. The offices in Zurich, Cologne, London, and Paris serve their core markets: Switzerland, Germany, the UK, and France. Upon request, TestingTime will recruit participants in other locations.
Highlights
Choose between 'Remote', 'At your location', or 'At the test user's home'. TestingTime enables you to conduct any of your favorite study methods (user tests, surveys, focus groups, etc.).
Apply state-of-the-art screening and artificial intelligence to select a suitable match from our international pool of over 730,500 people. Their platform allows you to follow the recruitment process in real time.
TestingTime coordinates appointments, ensures that your users are on time, and handles payments. In case of no-shows or mismatches, we find a replacement or you get your money back.
TestingTime is trusted by companies such as ASOS, Microsoft, and Deloitte.
Pricing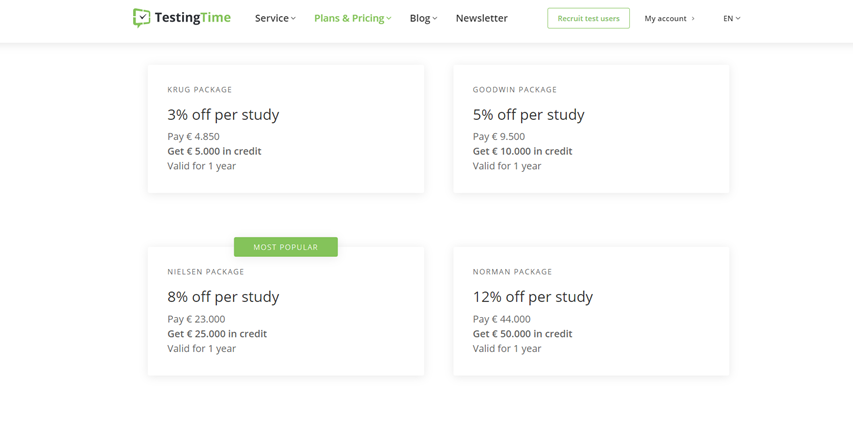 User test moderated: € 60 per test user
User test unmoderated: € 25 per test user
Workshop / Focus group: € 60 per test user
Interview: € 60 per test user
Online survey: € 6 per test user
Diary study: € 20 per test user
Remote tests: no additional cost
At your location or at the test user's home: € 45 per test user
For more details on general pricing, check out the company's website, but also check out their pre-paid plans:
Krug Package for € 4.850 a year (buys you € 5.000 in credit)
Goodwin Package for € 9.500 a year (buys you € 10.000 in credit)
Nielsen Package for € 23.000 a year (buys you € 25.000 in credit)
Norman Package for € 44.000 a year (buys you € 50.000 in credit)
Bottom line
TestingTime is a great way to recruit participants for UX research in the areas of Switzerland, Germany, the UK, and France. Though the plans they offer may be pricey, the incentive payments are always included in your total price.
Ethnio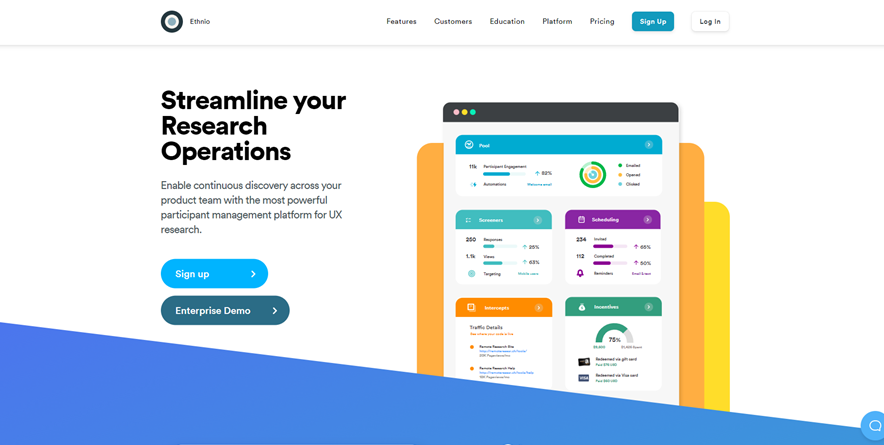 Overview
Ethnio is a participant management tool that allows you to create a database, screen, and schedule research sessions with qualified participants, and pay incentives. Ethnio does not provide its own participants, making it an ideal platform for user research if you have your own participant database to recruit from. With Ethnio's features, you can launch targeted intercepts and streamline the participant management process, including the recruitment of specific user types, job titles, and demographics.
Highlights
Keep track of all your participant activity with your own CRM. Manage your participants with tags, notes, segments, and filters—and always keep a record of those key interactions.
Control your scheduling workflow across the whole team. Customize and share research sessions, integrate with Zoom, Outlook, gCal, and more.
Issue incentives in over 140 countries and currencies, and set limits so recipients don't become taxable. Finance with the invoice or CC and keep all your rewards tracked and secure.
Intercept, screen, and schedule from your site or iOS/Android—and customize with 30+ targeting variables.
Automatically delete screener responses, scheduling emails, and incentive records from all accounts, and only store data for the time you need it.
Pricing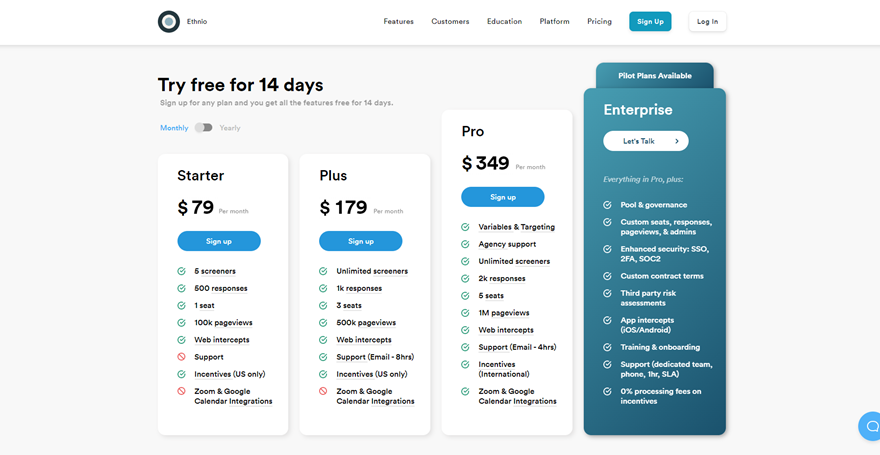 Starter Plan for $79/month includes 5 screeners, 500 responses, 1 seat, and 100k pageviews
Plus Plan for $179/month includes unlimited screeners, 1k responses, 3 seats, and 500k pageviews, as well as web intercepts and support
Pro Plan for $349/month includes variables and training, agency support, unlimited screeners, 2k responses, 5 seats, 1M pageviews, and international incentives
Enterprise Plan is custom-tailored and priced for your specific needs
Bottom line
If you have difficulty finding actual users for your research studies, you might want to consider other options for participant recruitment, such as research agencies or recruitment tools with their own participant pool. Ethnio is particularly useful for those who already have a pool of potential participants and need help managing them for research purposes and would like to build a database and have a research repository.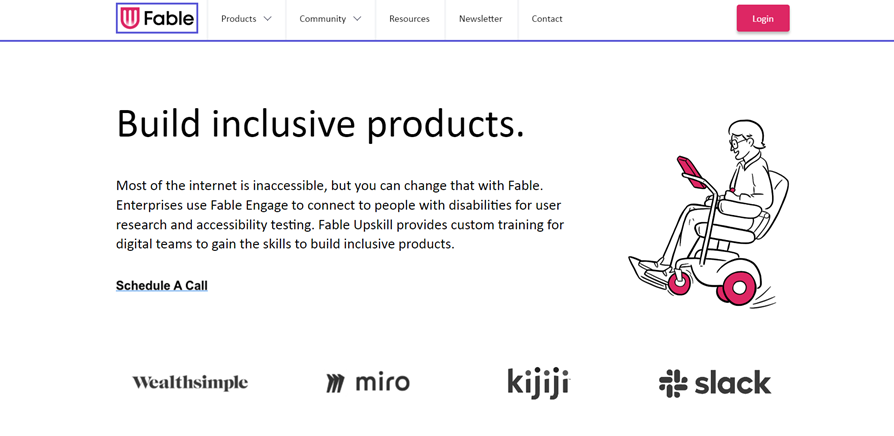 Overview
Fable is a user research platform that specializes in finding participants with diverse abilities to measure the accessibility of digital products. With Fable, you can conduct usability and prototype tests to gather actionable insights on how to make your product more accessible. The platform targets people with disabilities and utilizes specific accessibility metrics to measure accessibility.
Highlights
Fable takes care of tester recruitment, technical support, and compensation so you can focus on building great products.
Fable Engage connects enterprises to participants for user research and accessibility testing. Fable Engage enables you to collect video recordings (check out how you can edit these videos with AI software), conduct user research, review prototypes, meet with experts, and test compatibility across assistive technology configurations. It also enables you to benchmark your products' accessibility with the Accessible Usability Scale, which can be used to measure your progress over time.
Five types of testing, depending on the stage of development and whether it's a researcher, designer, or engineer conducting the test.
Fable's community of people with disabilities enables Fable to provide the most high-quality perspectives on how to make digital products more accessible and usable.
They provide a 2-business day turnaround on all platform requests.
They are certified to enterprise-grade security standards including SOC2 and GDPR.
Pricing
Fable's team does not disclose their pricing online, but you can always contact them for a quote.
Bottom line
If you're looking to make your product more accessible, Fable can help you gather the insights and skills needed to create a more inclusive product. Fable helps you conduct user research recruiting and scouting for people with disabilities, who might be harder to find through other platforms. By recognizing the unique qualifications of each person, and adopting inclusive processes (such as co-design), it's possible to have a broad and complex impact on societal systems.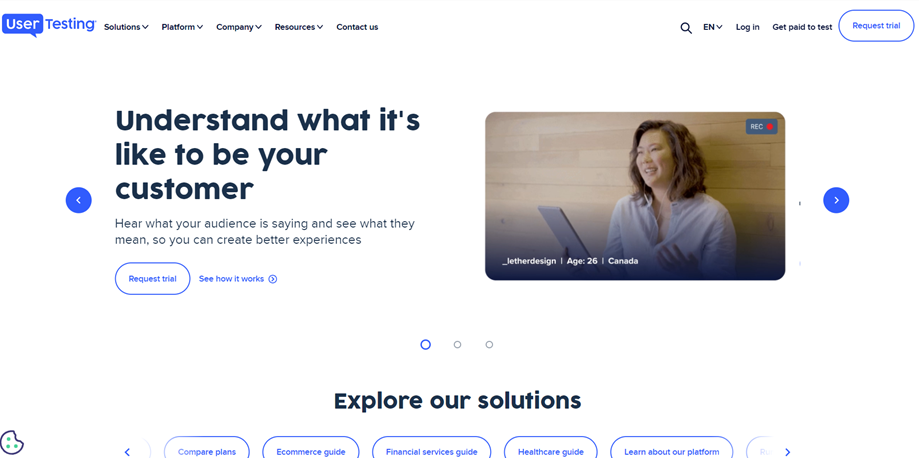 Overview
UserTesting is a platform that recruits participants for unmoderated usability testing, remote usability testing, and live sessions. Their focus is on capturing human responses that cannot be measured in a spreadsheet and enabling companies to connect with their audiences authentically. UserTesting is used by half of the top brands in the world and generates over 1 million customer experiences each year. The platform has over 850 employees globally and offices in 4 different locations. UserTesting captures tens of millions of minutes of video each year, providing an unparalleled level of insight for user researchers seeking to improve their products.
Highlights
Target your customers: Target the UserTesting Contributor Network or connect with your own audiences.
Ask your customers: Create a test plan to ask any question or request people to perform tasks—anything from UI, UX design, holistic CX, and more.
Watch your customers' experience: CxNs give you a first-hand view of your customers' experience through video (which is great, but check out what these AI video creation software can do). Watch their experience and hear the inflection in their voice.
Learn from your customers: Build customer empathy and intuition quickly with visualizations, transcripts, metrics, and analysis. Learn from digital and real-world interactions.
Share your insights: Share insights easily across the organization. Create highlight reels, download, export, or share in your favorite tools like Slack, JIRA, and Trello (you can use one of the best AI writing tools to write up summaries).
Pricing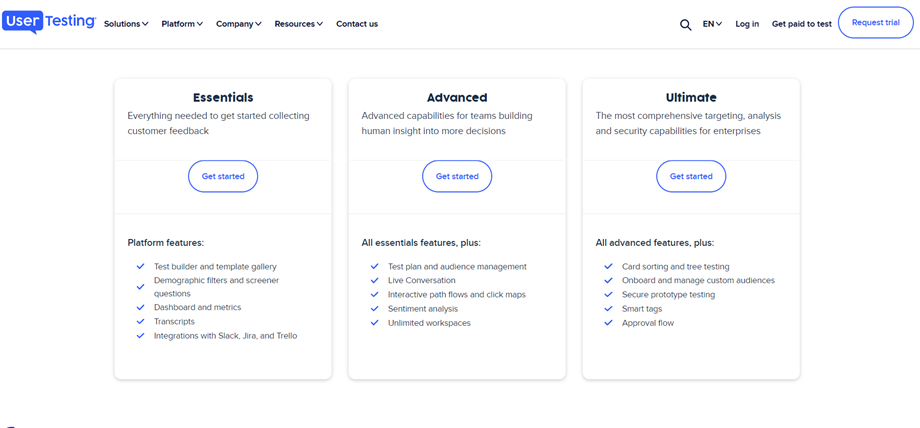 With UserTesting's flexible pricing model, you can scale your plan to meet your team's unique needs in the following plans:
Essentials
Advanced
Ultimate
The specific prices are quoted upon specific requests based on your needs.
Bottom line
Even though the company does not publicly disclose its prices, internet sources confirm that they are indeed high. The price is justified by the company's experience and previous track record working with the world's most innovative companies from startups to Fortune 500s, such as Canva, GoDaddy, Hello Fresh, hp, and Subway. So if you are looking for real human insight for your UX research, UserTesting is the company for you.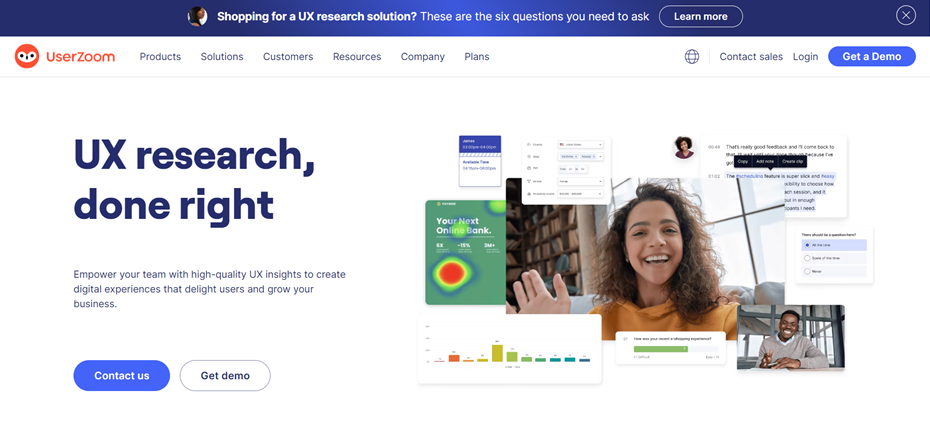 Overview
UserZoom is a comprehensive user research platform that empowers teams to create digital experiences that engage and satisfy users. The company provides mixed-method research capabilities, world-class UX consultancy, and a sophisticated participant recruitment engine that is capable of delivering high-quality insights throughout the product development lifecycle. UserZoom is trusted by experience-leading brands worldwide to deliver exceptional digital experiences that drive measurable ROI.
Highlights
Mixed-method research: Get accurate, actionable insights from the right blend of methods, all on one platform.
Participant recruitment: Fast and flexible access to more than 120 million vetted participants worldwide.
Measure user experience: Demonstrate impact with meaningful UX measurement over time vs. competitors.
UX research consultancy: Their global team of research experts is with you every step of the way.
Industry-leading security: UserZoom exceeds industry standards for security and confidentiality. The UX research solution is both SOC2 Type I and SOC2 Type II compliant.
Find the right sample size: Ensure quality insight by recruiting the right number of participants for rapid qualitative testing and make confident, data-driven decisions based on quantitative data from higher sample sizes.
Fast decision-making with automated insight: No matter the research method you choose to inform decision-making, UserZoom's automated reporting makes it fast and efficient to review and share key insights.
Get clear, actionable data on how customers behave: Automatically get behavioral data on task success rates, time on task, and visual heatmaps. Share this easily understood data with stakeholders to confidently inform design decisions.
Pricing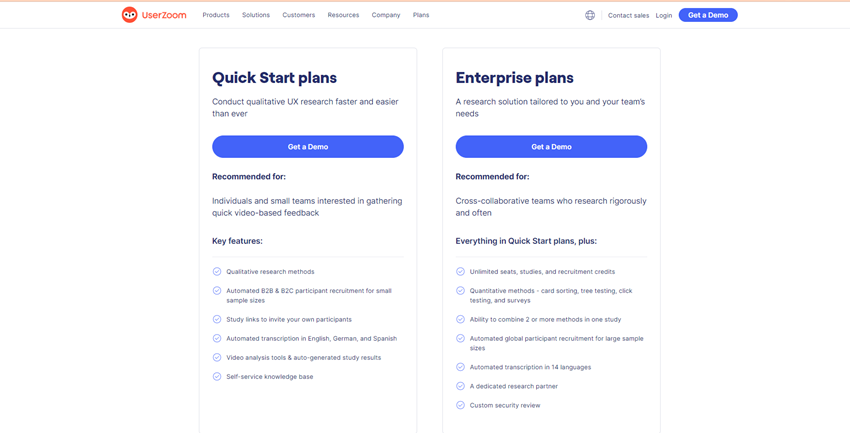 UserZoom as well does not publicly disclose prices, but rather tailors them to your UX research needs. The plans they offer are:
Quick Start Plans
Enterprise Plans
Bottom line
UserZoom offers the greatest number of possible research participants of all the companies reviewed, which gives you, the researcher, the greatest variety of UX research participants and the ability to very specifically target your audience.
How do I find people to interview for UX research?
When conducting research, recruiting the right UX research participants is crucial. You can find participants through various channels (social media, user research platforms, and professional networks). Always consider the specific criteria for your research, such as demographics and skill sets, as well as your budget and time frame.
How do you recruit users for UX research?
To recruit users for UX research, you can use online tools such as UserTesting, UserZoom, or Fable. You can also use social media, online communities, and professional networks to find participants. You might find it easier to go with one of the options stated above, as the potential participants already signed up to be part of the research, which is a great start in building your relationship with potential customers.
What are the criteria for recruitment of research participants?
The participant data you will gather will depend solely on niching your target participants. When recruiting research participants, it's important to consider factors such as demographics, behavior, and skill sets. The specific criteria will depend on the research objectives and the user personas you're targeting. Consider the right screening questions to ensure that you're recruiting participants that are representative of your target audience.
What are recruiting tools?
Recruiting tools are online platforms or services that help you find research participants. These tools can provide features such as participant screening, incentives, and scheduling. Examples of recruiting tools include UserTesting, UserZoom, and Respondent. These tools can streamline the participant recruitment process and help you find the right participants for your research.
Final thoughts
Recruiting the right participants for your specific research is a critical step in UX research. By determining the participant qualification criteria and using the right recruiting tools, you can ensure that your research accurately reflects your target audience. Be sure to consider incentives, scheduling, and screening questions to help you determine the best recruiting tool for your research.