SEO is not a new concept, nor is AI – and somehow, they both can go hand-in-hand now. There are many ways that AI can be used to help advance your SEO writing and make SEO efforts easier than before.
You can still do SEO keyword research and find the best marketing tools the old-fashioned way – but AI certainly makes it easier regarding content optimization. Let's dive into ways to use AI for SEO.
1. Content Optimization with Surfer SEO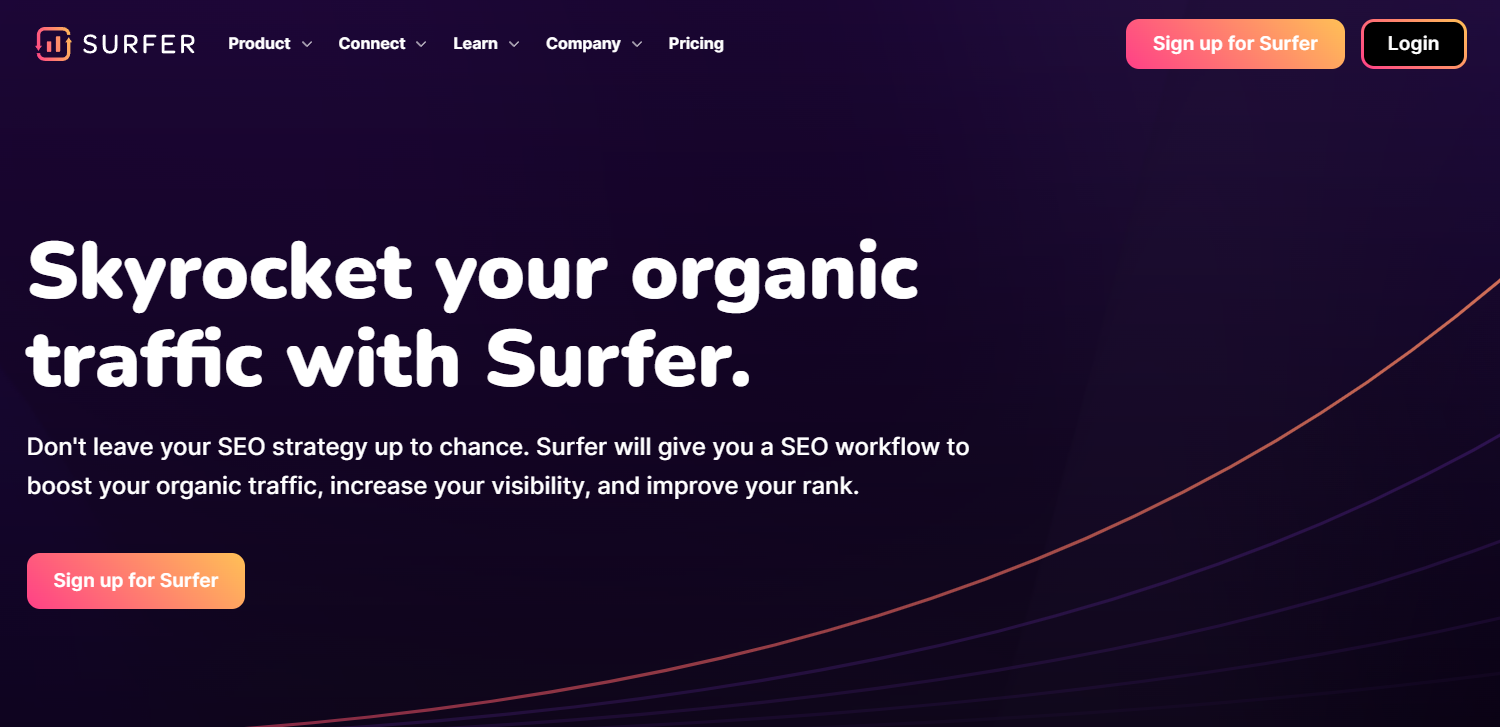 From start to finish, Surfer SEO can be a fantastic tool when ensuring your content is built for search engine optimization with the help of AI-powered SEO tools.
This program is geared more towards longer content, such as blog posts and articles, but you still conduct keyword research through the platform and fine-tune your keywords based on the words you want to rank for and how difficult they are.
AI tools such as Surfer make it super easy to integrate SEO software with the power of a search engine to optimize content perfectly. The SEO industry is a large part of optimized content and organic traffic today – with thousands of ways to create content, a program like Surfer uses machine learning to help with automatic SEO tasks.
When you utilize AI SEO tools like Surfer, you get to create content and start to develop an SEO strategy. You can determine how you want to integrate natural language processing into your writing and how that affects your rank on search engine results.
How to Use Surfer SEO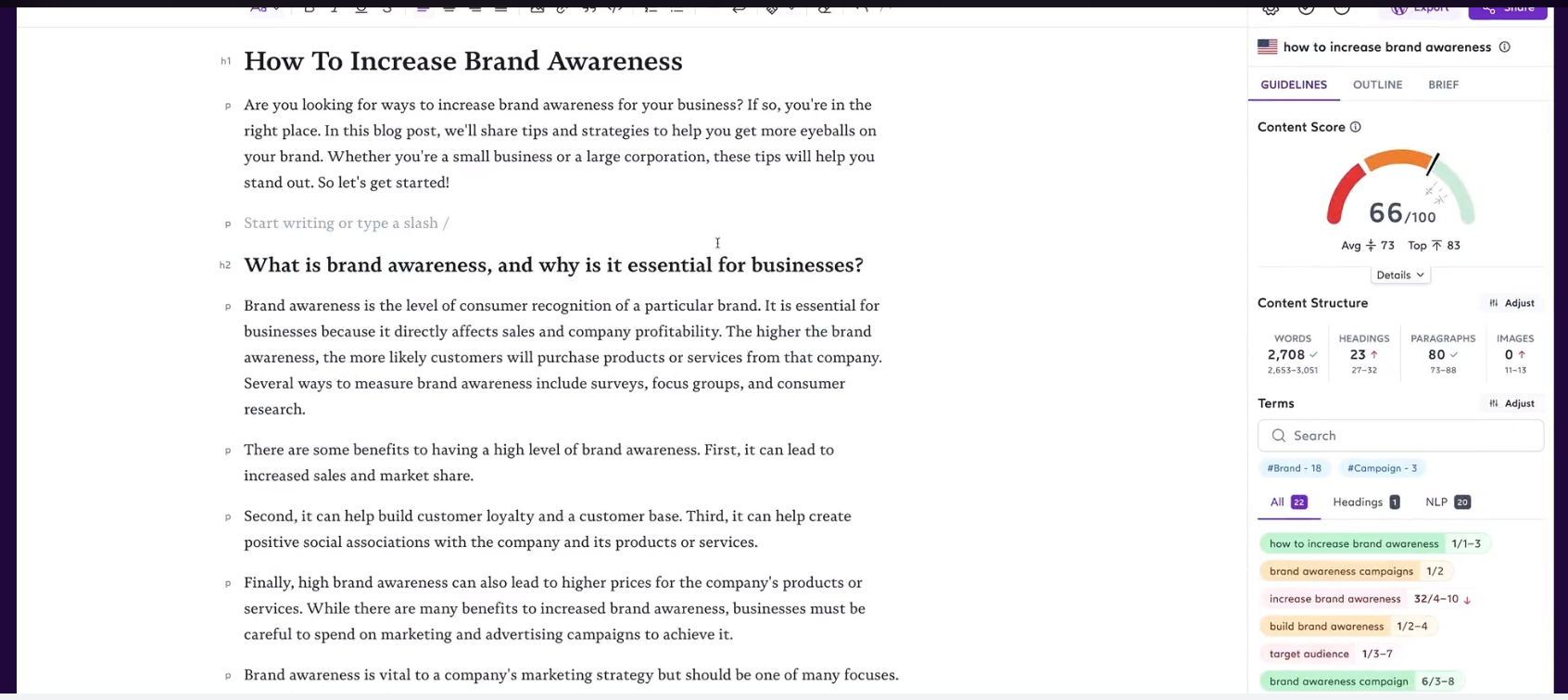 Surfer has a few tools that you can take advantage of, and one's that either focus on creating new content and optimizing it for a search engine or Google analytics. They have a content editor which allows you to create and write the content using keywords and some content strategy.
The program also can audit your current website and help you re-evaluate your target keyword and relevant content to gain better rankings. In addition to the website audit, you can get SERP analysis to increase your search rankings further and search traffic to your website and landing pages.
Surfer has a ton of SEO content tools that make your content marketing more manageable and significantly more helpful when figuring out user intent and using that to your advantage. When you conduct a SERP analysis through Surfer, you get the type of user intent and the difficulty level of the keyword – giving you better search results and an SEO perspective on how to utilize them.
2. Spark Creativity with Jasper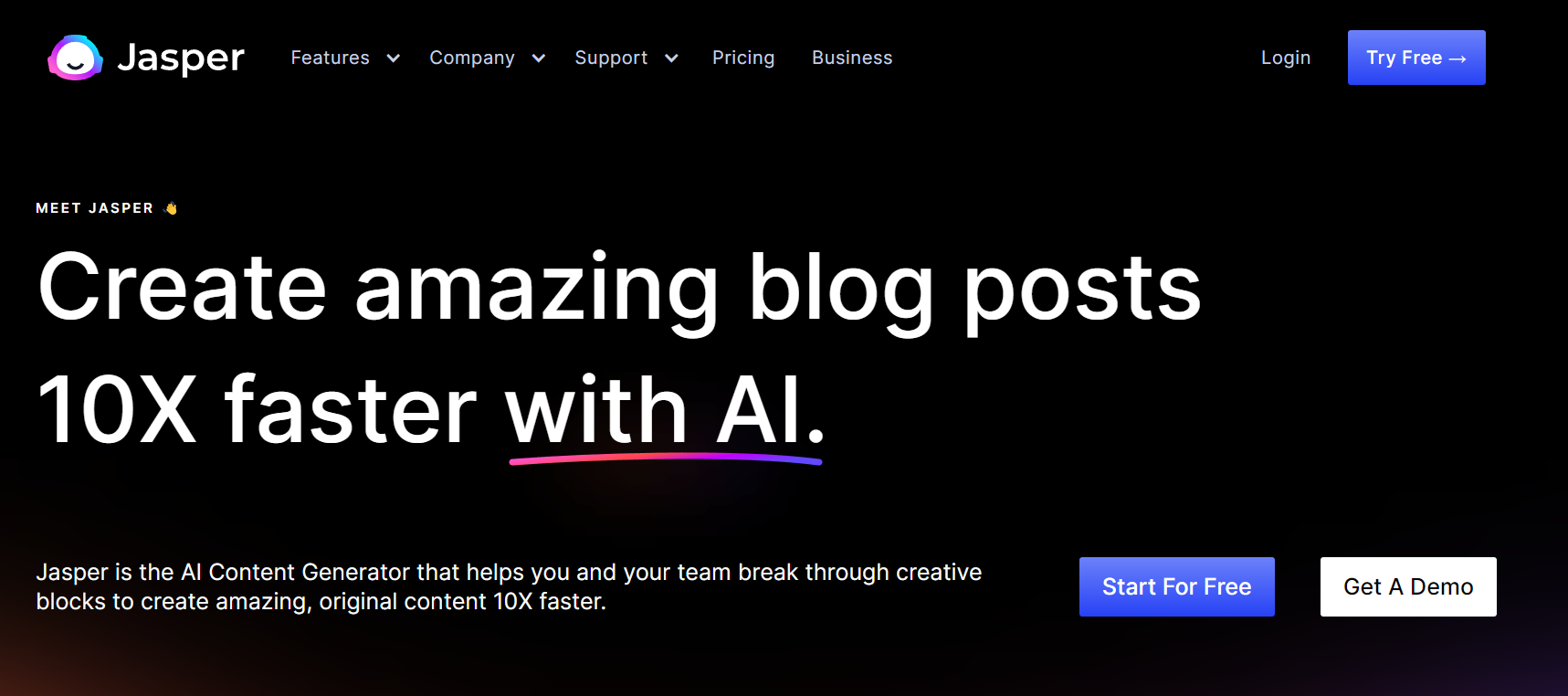 Jasper is similar to Surfer SEO in that it can help you develop your on-page SEO and generate keyword suggestions to optimize high-quality content for search engines. When your content is optimized for voice searches and contains related keywords in a search engine, the result is more traffic to your site and landing pages. Jasper is the SEO tool geared towards creating content and taking AI-powered tools to the next level.
AI tools can help your content optimization in many ways, and Jasper understands how a search engine analyzes the content and crawls a web page to pick up on SEO data. Search intent is a massive part of your content creation that Jasper understands – when you have content ideas and need them taken in directions backed by deep learning and keyword clusters – Jasper's got it covered!
We've done a full Jasper review that goes over all of Jasper's capabilities regarding SEO and beyond – but how can you use Jasper for your SEO strategy?
How to use Jasper for SEO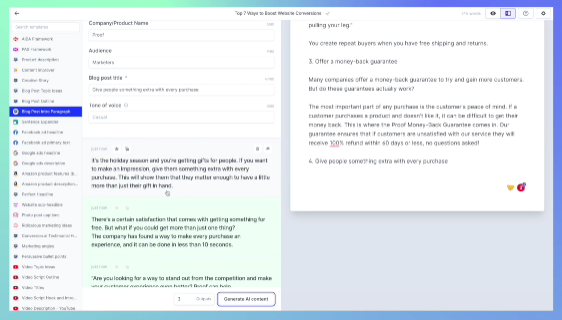 When looking to use Jasper as one of many AI SEO tools on the market, there are a few different resources you can take advantage of. Their content optimization comes from their content editor – the most widely known of their services. They have recently branched into AI art and developed more tools built from artificial intelligence.
One of Jasper's other features for SEO tools is integration with Surfer SEO – which gives you the best of both worlds regarding keyword research and content strategy.
Tools like Jasper take the guesswork out of search engine optimization and handle most of the work for you – while you can still edit and create the content you want, but make sure it will get found by Google and other search engines.
If you want to dive deeper into Jasper, they also have a chatbot feature and AI art that can help increase your SEO by creating unique pictures for your writing within Jasper itself.
3. Keyword Research with SEMRush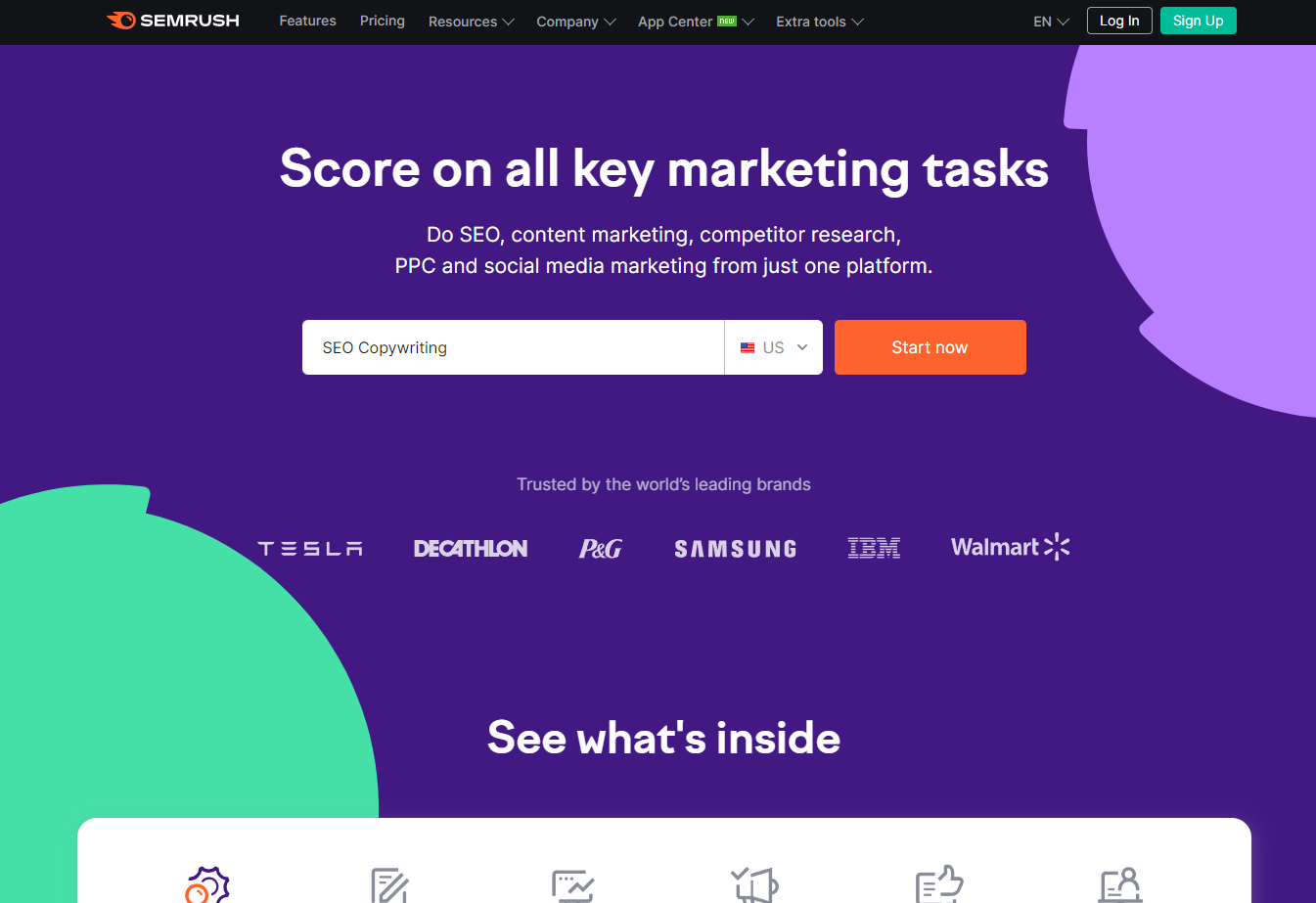 Semrush is a popular keyword research tool to help discover your content across search engines. Using SEO artificial intelligence, you can find many keywords, their difficulty ranking, related queries, and more by entering the ideal keyword clusters or topics you want to rank for.
There is a bit of a learning curve when it comes to Semrush, as there are so many features and ways to use the SEO tool that it can be overwhelming when you first start using it. Once you get the hang of it, your content optimization will thank you!
The keywords you choose in your content creation process are a significant factor in ranking in search engines, and thankfully Semrush has machine learning that can help you discover those keywords.
And this SEO software doesn't just help with longer content like blog posts; it can also help you write a meta description, analyze SERP data, and develop content strategies based on the keywords you want to be ranking for.
How to Use Semrush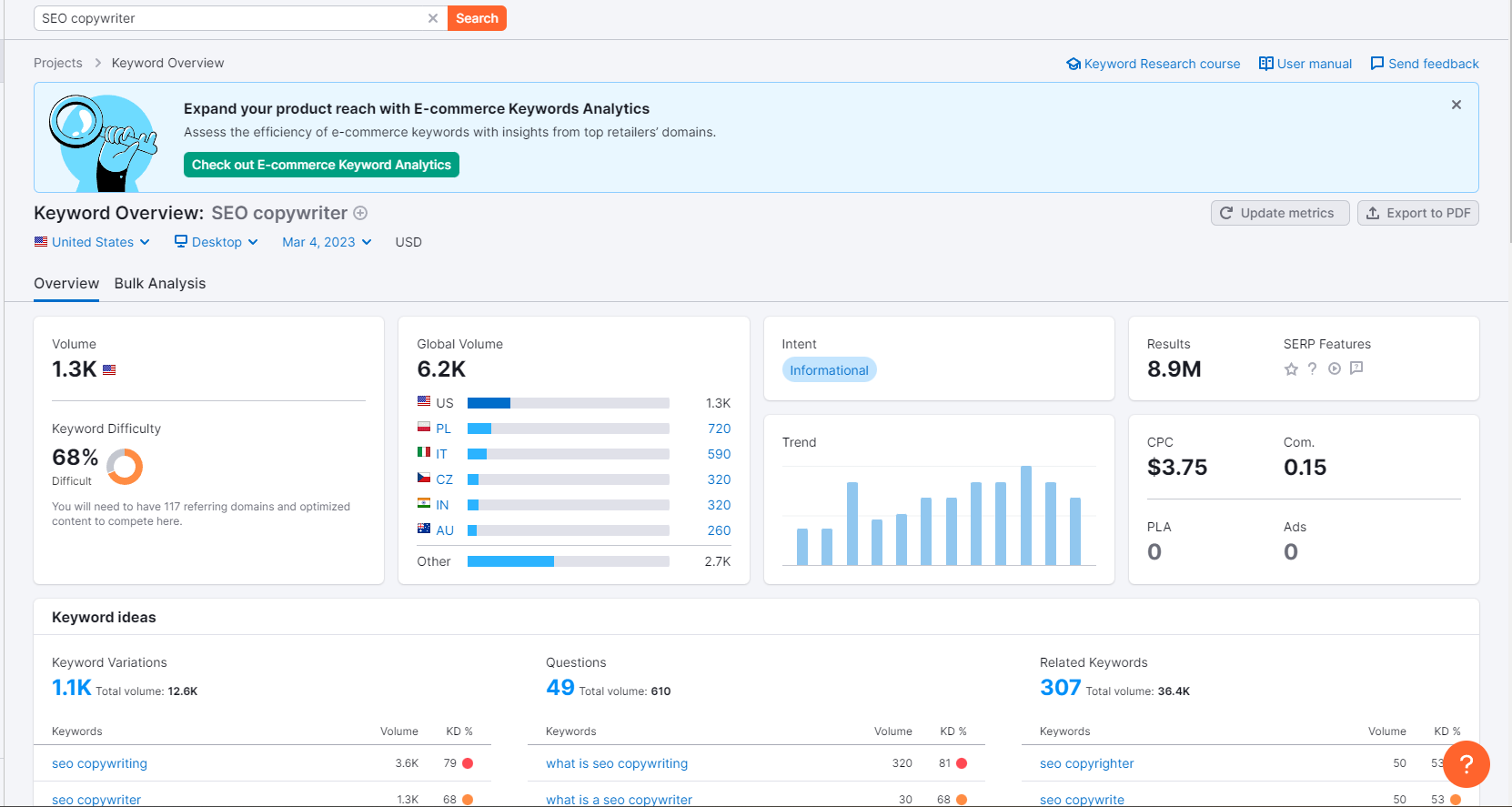 Semrush has a search bar that you will use to type in your queries – such as SEO copywriter or AI tools. Once you search, it will show you the views that particular search had, the keyword difficulty (the closer to 100%, the more difficult it is to rank high for that keyword), and the global search volume for that keyword.
These insights give you research content that customers and clients are looking for – you can use this information for optimizing content, creating content briefs, or creating a strategy for your content creation based on search volume and difficulty.
Semrush can help an SEO team, or SEO professionals cut down the time spent doing keyword research for SEO content. The program also has natural language generation to incorporate typical search phrases and queries optimized for mobile search.
4. Increase Voice Search Optimization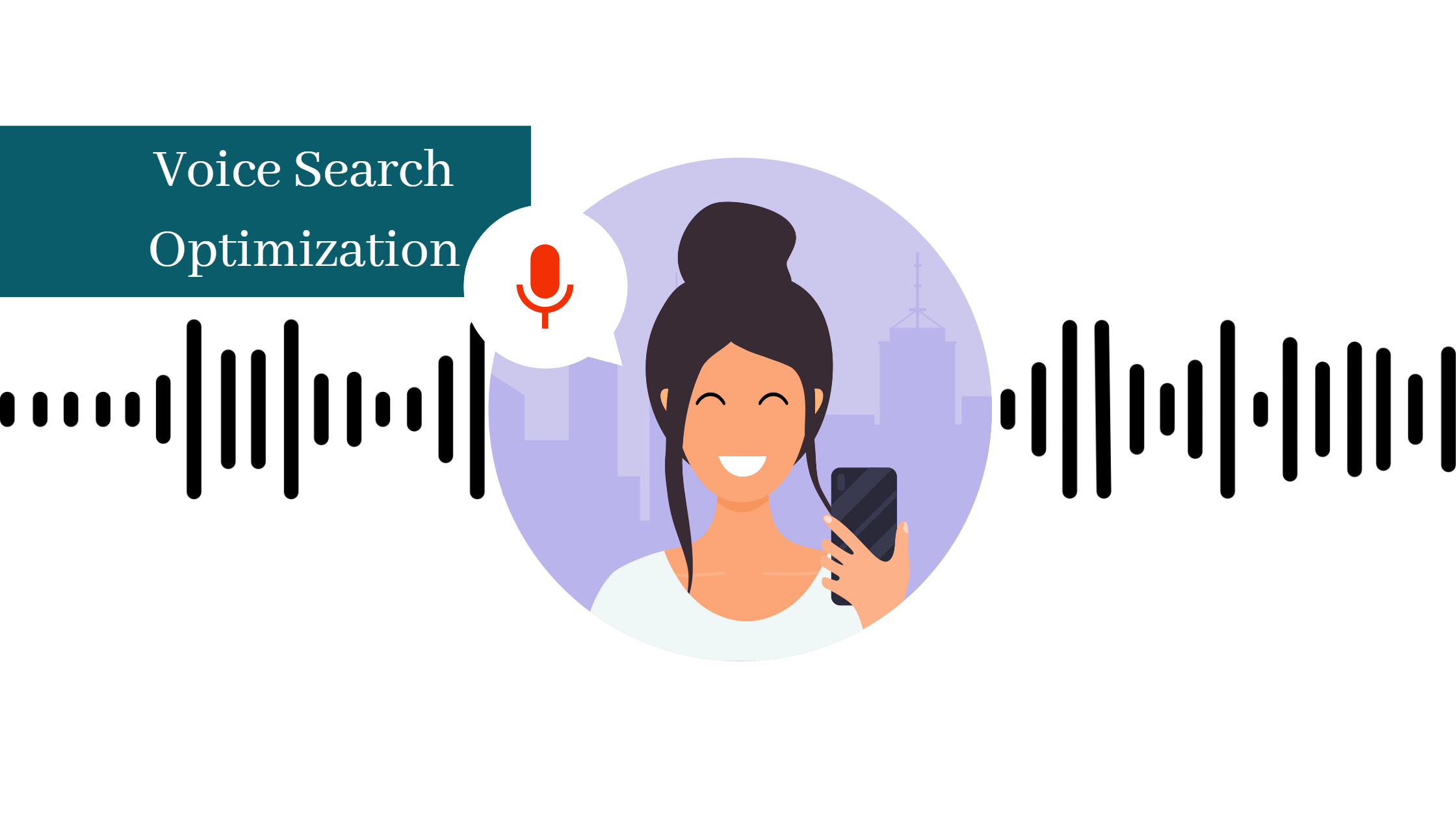 In today's tech world, voice search optimization (VSO) is becoming as important as standard SEO. SEO teams and SEO professionals are starting to integrate VSO into content ideas because it helps written content appear in search engines. Whether you're writing content for web pages, blogs, social media, or doing general SEO research – VSO is an essential part of this.
Every day people use artificial intelligence software like Siri, Alexa, and Cortana (Windows) to search for things instead of opening a Google page and typing in their questions or query. This is where natural language generation comes into play with SEO software and AI SEO tools.
You will want to include this to guide search engine optimization efforts and tasks because it's becoming increasingly important in SEO content creation.
What is VSO?
VSO is a different way to search other than opening up a search engine browser and typing in your query – instead, you can ask Alexa or Siri or use a simple voice command on most smart devices and speak your question rather than type it. When you do this, you use more of a natural speech pattern than if you type – meaning that keywords are different when AI SEO tools are looking at data.
How to use Voice Search Optimization to increase your SEO
AI capabilities have recently started to include VSO-optimization and SEO keywords more aligned with natural language patterns, making it easier for Google and other search engines to find content that includes them.
If you're not doing so already, you will want to start incorporating VSO into your content strategy and content writing to better optimize your content for Google.
5. Know What's Being Searched For with Outranking

Outranking is a fantastic tool for understanding what is being searched and how to use that within your marketing strategy and using machine learning and AI SEO tools.
Outranking seems to combine the best of both worlds when it comes to Surfer SEO, Jasper, and Semrush – as it does have AI-based SEO tools that target the keywords you want to rank for and provide suggestions for headings and subheadings that match. However, it also has AI writing tools that allow you to create content briefs and take advantage of the SEO superpowers outranking offers.
It's also a great AI marketing tool for SEO in other settings, such as social media captions, emails, ads, and more. Outranking is one of the SEO tool preferences, and content writers love to use AI tools for all writing use cases.
How to use Outranking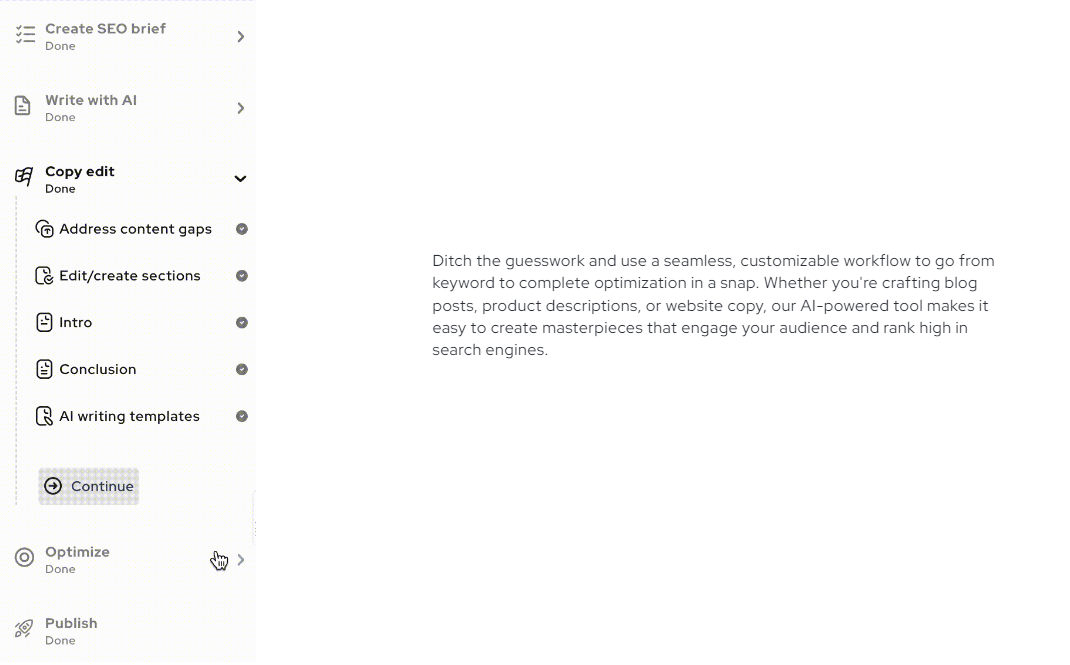 You can use Outranking as an individual or as part of a team to get the most out of the SEO artificial intelligence that Outranking specializes in – including keyword topics, titles, headings, and subheadings.
The AI platform works similarly to Surfer or Jasper, where you can insert these and continue writing with the keywords in mind, internal links, and semantic keywords.
How can AI be used in SEO?
AI can take the guesswork and the hefty research out of finding keywords, clusters, topics, and search intent of the customers and clients entering or speaking their searches into search engines. Instead of crawling through Google, Yahoo, and other search engines looking for valuable and highly searched keywords in your niche, applications like Semrush and Surfer can automate this process for you – making creating and optimizing content easier using an AI SEO tool.
It is an incredibly valuable resource, and artificial intelligence is constantly growing and developing new ways to assist with writing and optimization. By jumping on the AI-SEO bandwagon sooner rather than later, you can reap the benefits of optimized content and higher conversion rates to your website, blog, or social media.
Due to SEO becoming a huge part of content writing, almost any AI tool, even ones we didn't cover here, can help in some capacity with SEO. They are all starting to add these features to aid you in writing and optimizing content.
How to implement AI in SEO?
Using any of the SEO artificial intelligence tools we've covered is a great way to implement AI into your SEO strategy and content plan. Some of these programs may take a while to get used to, such as Semrush, but once you understand them, it makes your content plan much more straightforward and streamlines it efficiently.
There isn't a one-size fits all approach to using AI for SEO either. You can customize it and cater your practices to what fits your content and strategy best.
What is SEO-AI?
SEO AI is when you take advantage of an AI SEO Tool to help create optimized content for search. Taking advantage of these tools and utilizing them to plan effective and efficient content with AI SEO tool combinations such as Surfer and Semrush or Outranking and Jasper.
Final Thoughts
In many ways, artificial intelligence can be combined with an SEO tool to help optimize your content and ensure the readers love the content, but the search engines love the keywords and structure.
SEO and artificial intelligence go hand-in-hand in today's world of content – and using an SEO tool like Surfer, Semrush, or Jasper can help optimize content without having to stress about doing in-depth keyword research, having to constantly update your written content or staying up to date on structure and keyword cluster trends.
Whether you're looking to paraphrase existing content, create a new blog post, write social media captions, or another form of short-form content, these AI SEO tips will help optimize your content from start to finish.