9 Best AI Writing Apps and Browser Extensions of 2023
There are a lot of AI writing tools out there – so what makes these the best writing apps and browser extensions to use for writing? Many of these platforms, like we've gone over for the AI video editing software and productivity tools, have unique features that set them apart from other AI writing software tools.
What Are the Best AI Writing Apps and Browser Extensions?
The best AI writing apps and browser extensions combine artificial intelligence with learning technology that can adapt to your writing. All of these tools we mention allow you to create high-quality content that mimics human writers without using these tools natively within the program.
Most have a free option or free trial, so you can test each AI writing tool to see which fits your needs. They are all incredibly intuitive and give you access to various tools that make the entire writing process – no matter what you're writing – much more straightforward. Not to mention that you don't have to use these tools through the website – downloading the browser extension makes writing with these tools incredibly efficient.
Jasper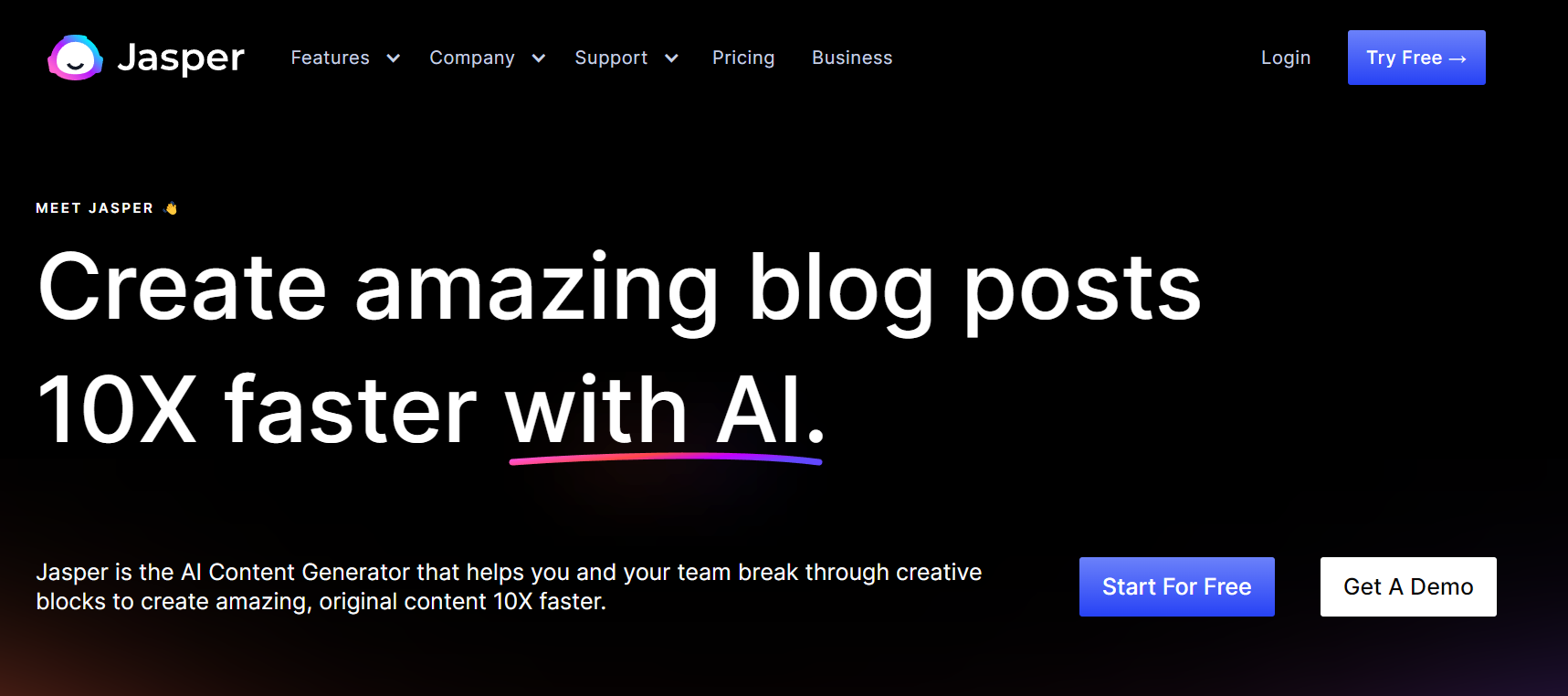 Overview
Jasper is an all-around great AI writing software for various purposes – as we've seen with it being included in many of these AI articles.
With Jasper, you get it all, blog posts, social media posts, Google Ads, and other long-form content. The platform makes your writing process simple, and with the Chrome extension, you can use their tools outside the platform, which is a significant plus for editing and creating content outside Jasper. You can use their tools in Google Docs, Microsoft Word, and even Google search.
You get content creation with just a few clicks using their advanced AI software to generate articles in many niches and subtopics.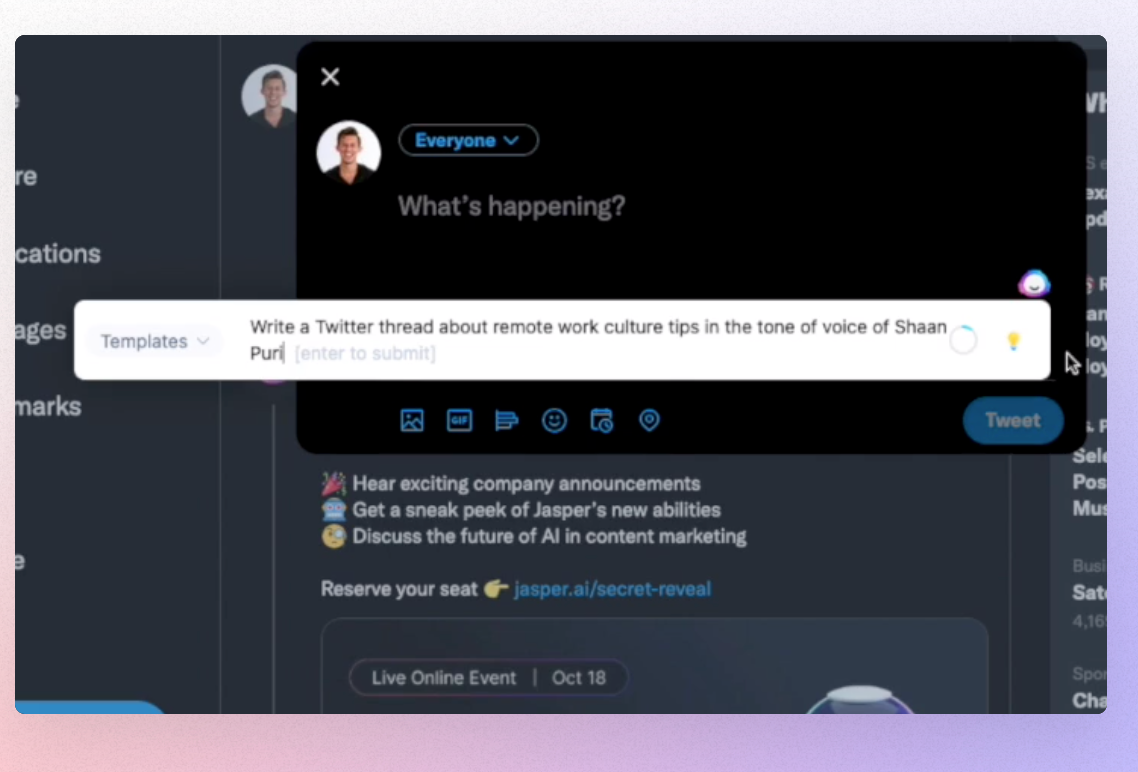 Jasper's Chrome extension in action
Highlights
Seamless content creation using advanced AI technology with writing skills that mimic human writers.
Create product descriptions, blog ideas, Google Ads, and social media posts.
The Chrome extension allows you to write directly in Google Docs, Microsoft Word or Google Search.
Pricing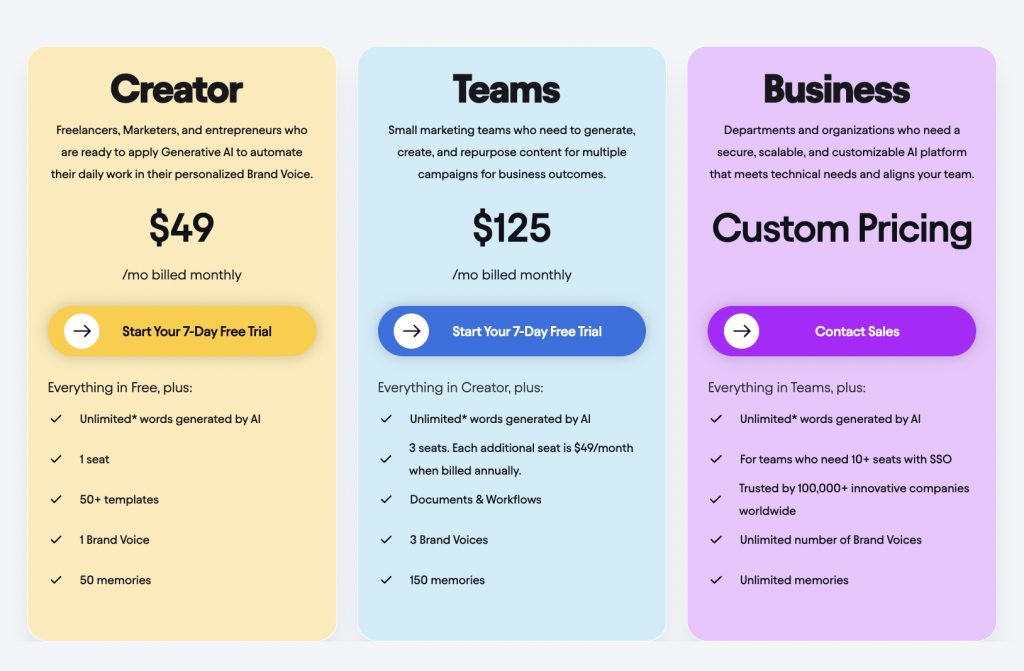 Jasper has three paid plans:
Creator Mode: $49/month for unlimited words
Teams: $125/month with unlimited words, 3 seats, and 3 brand voices
Business: Custom pricing
Bottom Line
We've talked about Jasper before and how it's one of the best AI writing software you can get for various use cases. With their browser extension version, the AI writing tool allows you to curate and write hundreds of high-quality content outside the native application.
Keep a simple writing process with their software tools that allow you to rank in search engines and get access to other tools and features that only the browser extension offers.
If you're looking for an AI writing software that does it all – Jasper is one of them.
Read my Jasper review | Install the Chrome extension
SurferSEO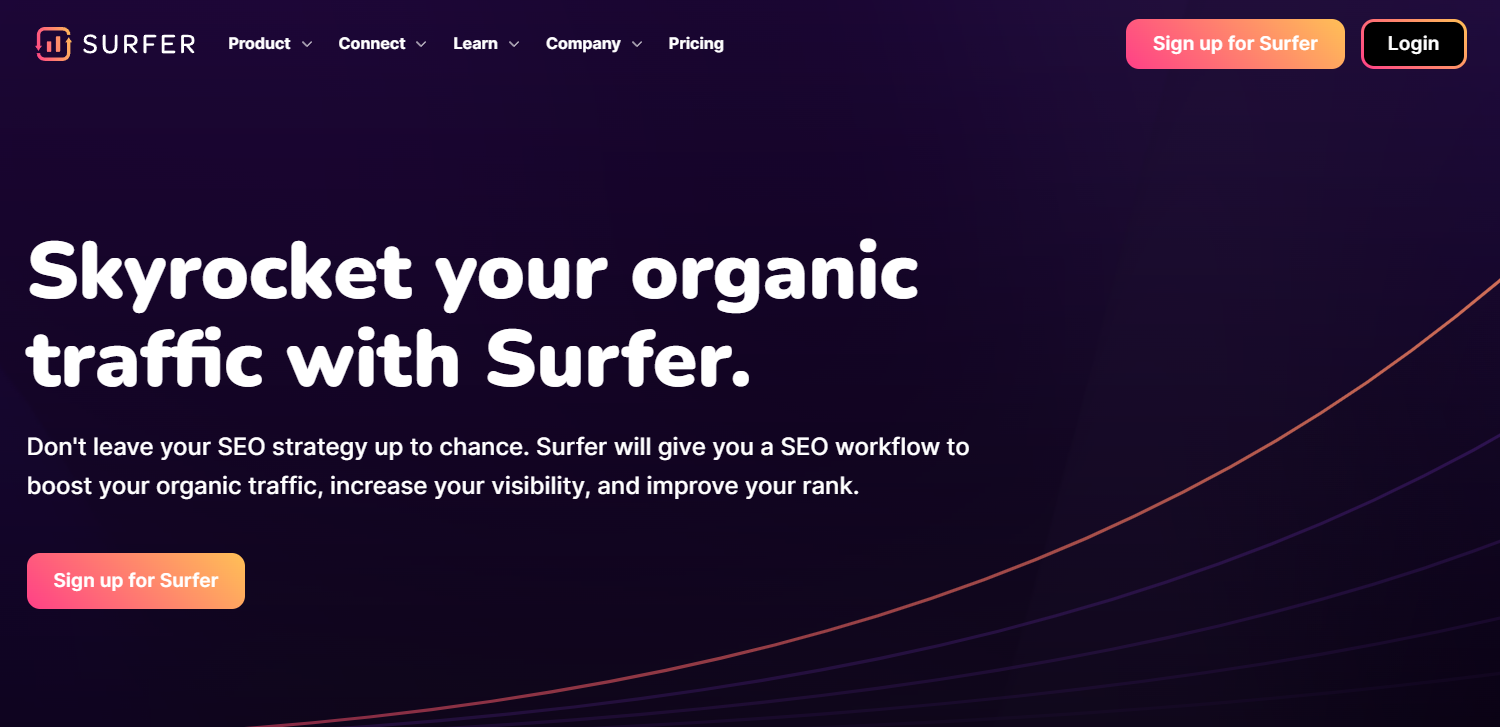 Overview
Surfer SEO is an AI writer that prioritizes keyword ranking and SEO-optimized content – you get AI writing assistance with their advanced machine learning techniques.
Content creation is easy with just a few clicks of their SEO tool. You get to break down your content into word count, grammar mistakes, what keywords you're using and how many times, and so many other tools.
Surfer SEO allows you to create SEO-optimized content endlessly, and their browser extension works on Google Docs and Google search, so you can access their tools no matter where you're typing.
Highlights
AI-powered tools with multi-language support for short-form content such as product descriptions and landing pages.
When you get the extension, you can integrate Surfer into your Google search to tell you the volume of searches for specific keywords within your query. As well as the number of words, the exact number of keywords, and the monthly estimated traffic on each SERP result.
They have flexible pricing plans and a free option for limited resources and tools.
Pricing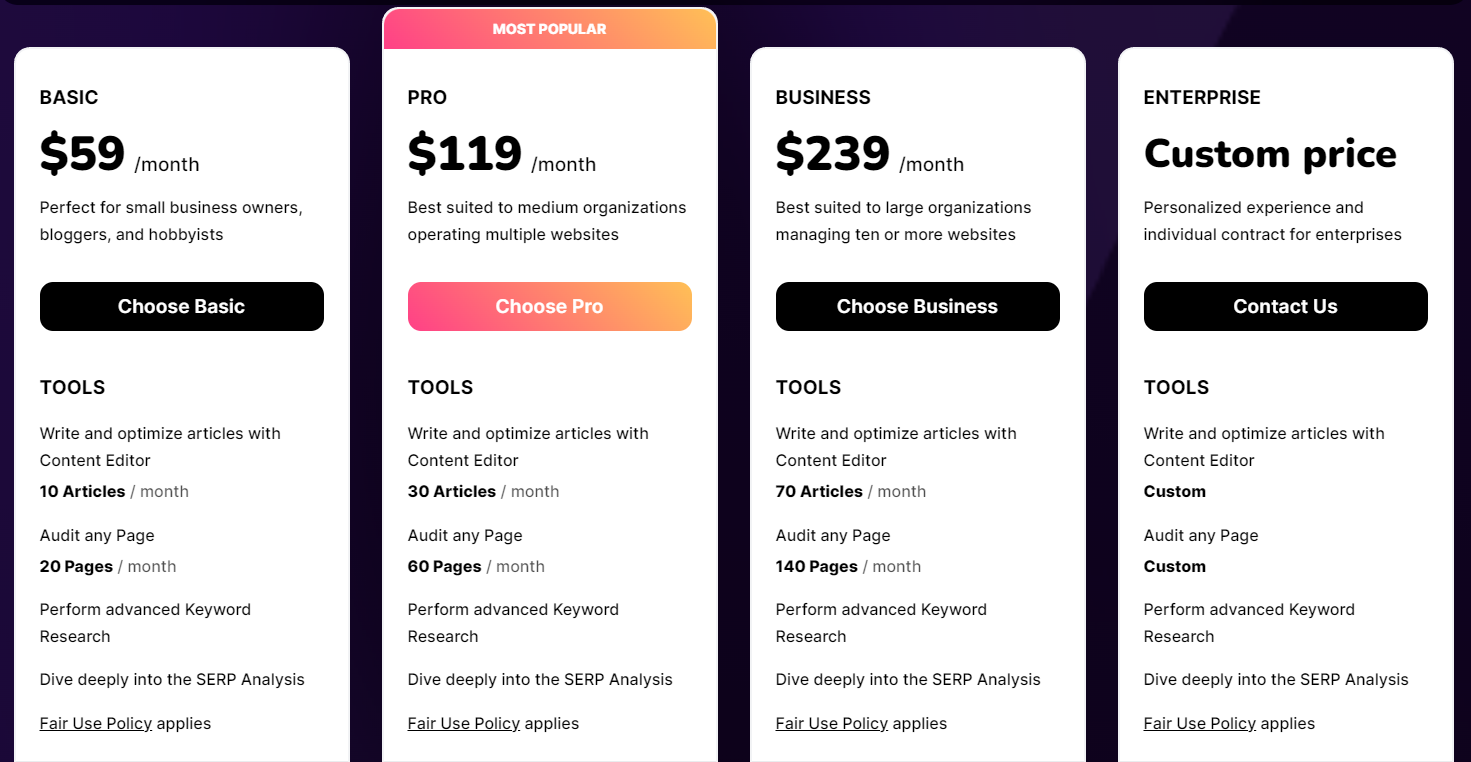 Surfer SEO has four paid plans:
Basic plan: $59/month for up to ten articles and 20 page-audits
Pro plan: $119/month for up to 30 articles and 60 page-audits
Business plan: $239/month for up to 70 articles and 140 page-audits
Enterprise plan: customer price and plan for larger companies
Bottom Line
This platform provides excellent content creation tools, especially for long-form content, and when you need an AI copywriting tool to get you a blog post in just a few seconds.
We've also mentioned Surfer SEO before, similar to how we've talked about Jasper. It is a very sophisticated program with advanced artificial intelligence that helps you create writing with the AI writing assistant – you can create outlines and generate full content quickly.
You can easily come up with an entire list of keywords without having to do in-depth keyword research – the platform does it all for you with the click of a button. You can do a general search on Google, and the browser extension will let you know what specific keywords are in that query.
GrowthBar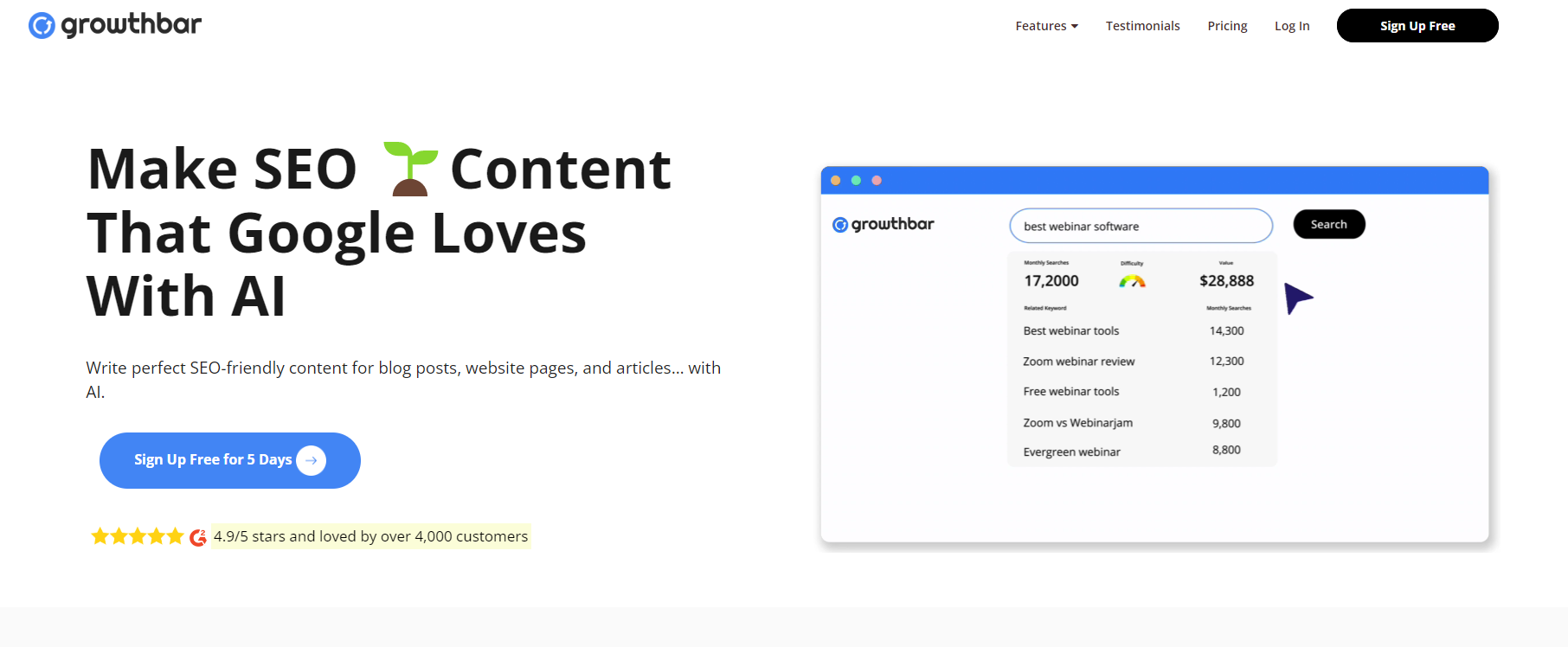 Overview
GrowthBar is an AI writing tool that allows you to tap into the best AI writing for a blog post that Google loves.
One of the best features of GrowthBar is that it takes advantage of natural language processing for keyword research – making your keywords more dynamic than others.
We've talked about this AI writing software as well, too – it has powerful resources to get you high-quality content ranging from simple blog post to long-form content.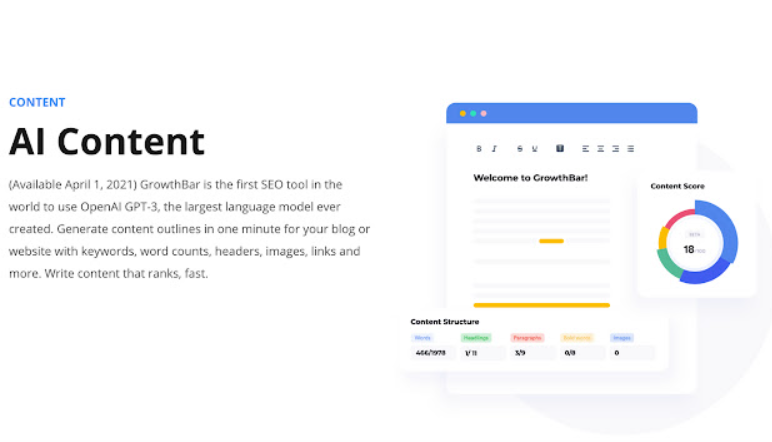 Highlights
Quickly generate content for Google ads, landing pages, product descriptions, social media posts, and other short-form content.
Make sure you're always creating SEO-optimized content with their keyword competition analysis and keyword ranking tools.
You can also audit your existing content with their audit tool to ensure that the content you're writing is always relevant and ranking in search engines.
Pricing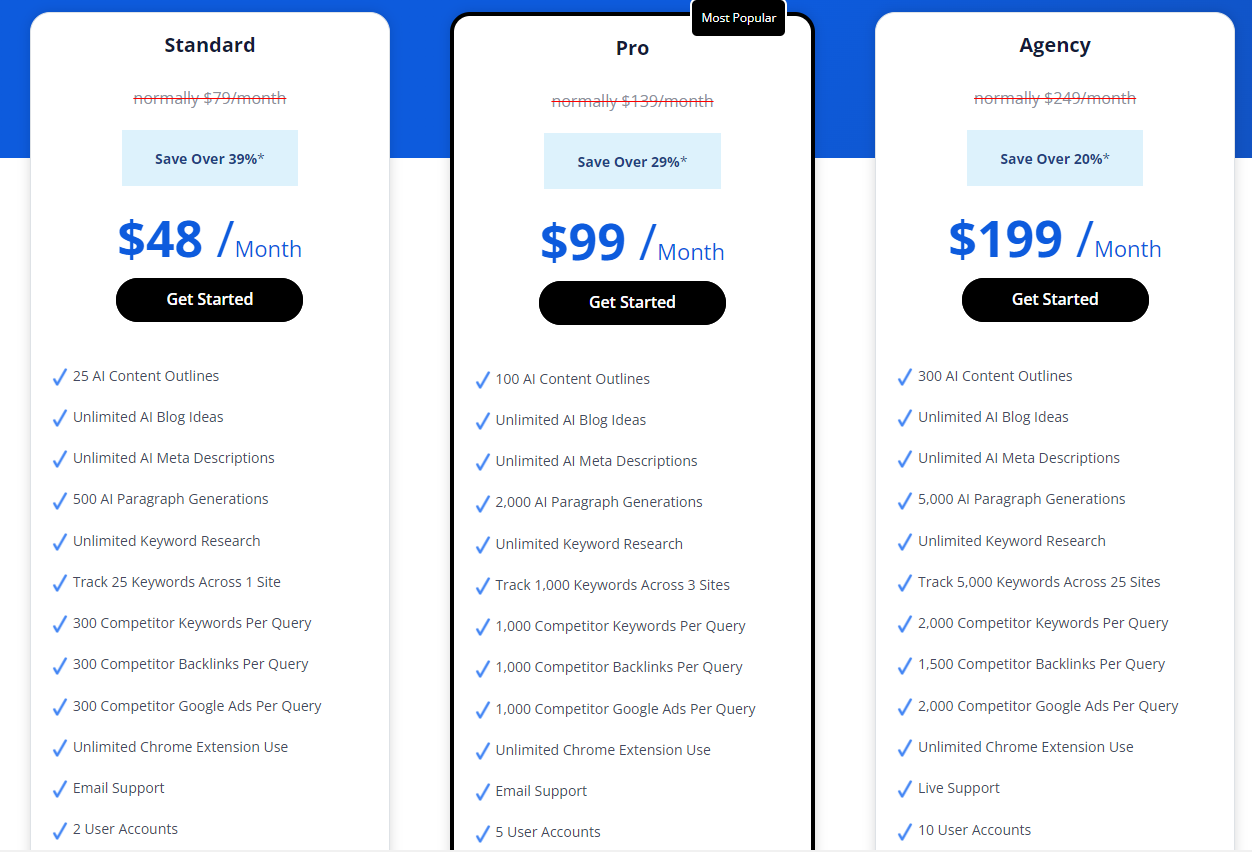 GrowthBar has three paid plans:
Standard Plan: $48/month for unlimited blog ideas and two user accounts
Pro Plan: $99/month for unlimited blog ideas and five user accounts
Agency Plan: $199/month for unlimited blog ideas and ten user accounts
Bottom Line
If you're looking for the perfect AI writing app that prioritizes SEO tools allowing you to write blog posts directly for your target audience – GrowthBar is the ideal article writer.
Using their Chrome extension gives you better access to their tools outside of the native platform and allows you to use their tools anywhere you write.
GrowthBar uses GPT-3, to write articles within your niche and field with little intervention from you.
ParagraphAI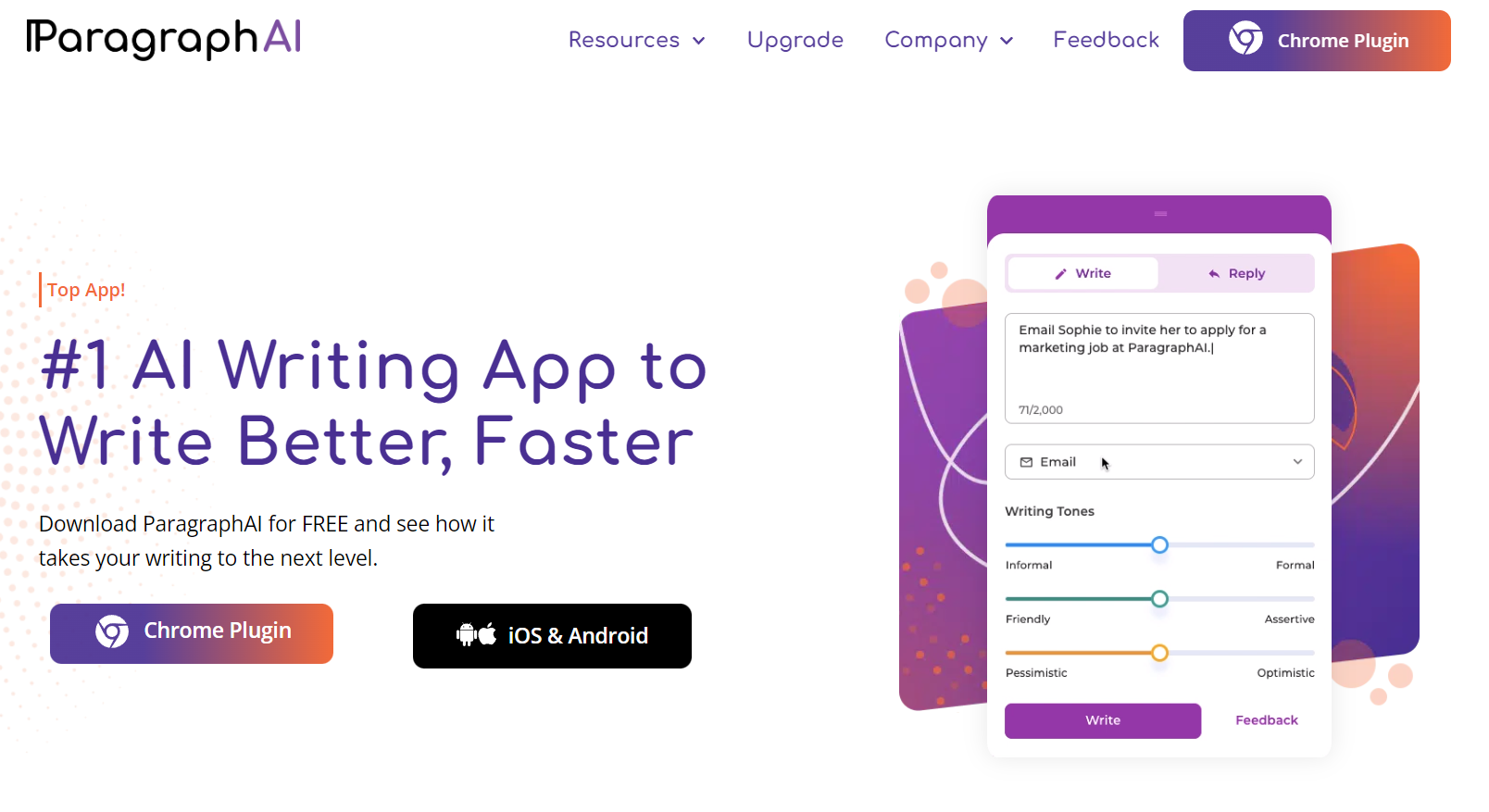 Overview
Paragraph AI is not only able to generate paragraph content but also functions as an automated article writing software with the ability to adjust the tone – such as how friendly or assertive, informal or formal, and how pessimistic or optimistic you want to sound.
One thing that seems unique to Paragraph AI, you can also use the feature to generate an email reply – paste the original email and again choose your tone, and a response will be generated. This is incredibly helpful when you know what you want to say but want to make sure it sounds exactly as you want it to!
Not to mention any generated text will be free from grammatical and spelling mistakes – a big win for sounding professional in your content creation process.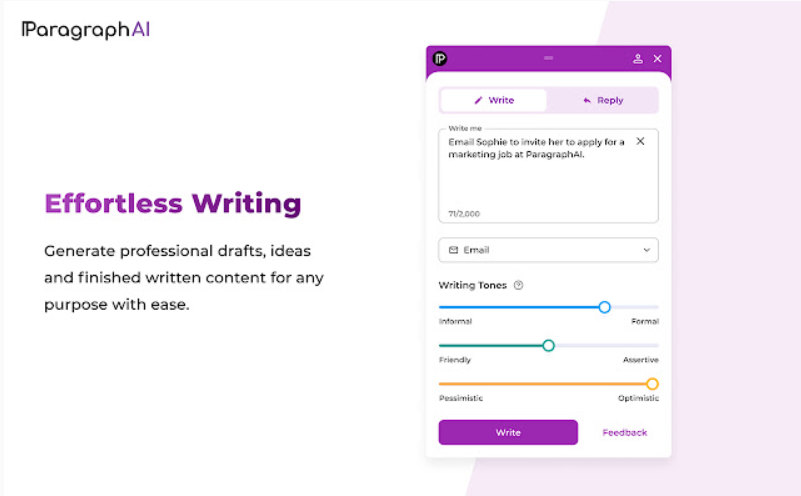 Highlights
Personalize your text style by choosing how informal or formal, friendly or assertive the text sounds all within their extension, too – so you don't have to use it natively in the platform.
Create Google Ads, landing pages, digital ad copy, real estate listings, technical manuals, and more – including long-form content.
The AI writing assistant software allows you to create content with a built-in grammar checker, natural language processing, and other writing tools that make the entire content creation process easy.
Pricing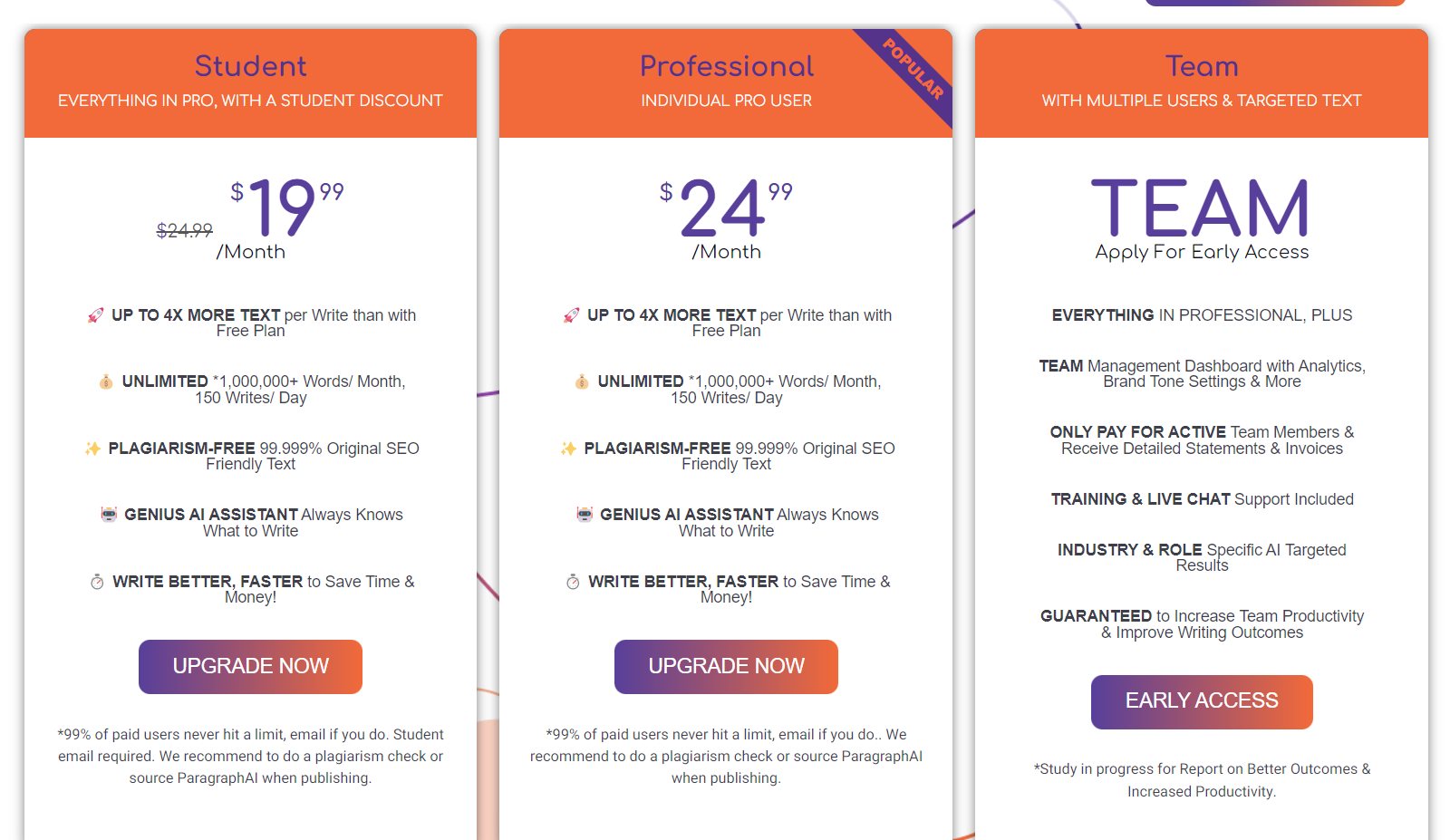 Paragraph AI has three paid plans, and they do offer a free version:
Free: up to 20 paragraphs of text
Student plan: $19/month for unlimited words
Professional plan: $24/month for unlimited words – the only difference between this plan and the student is the discount.
Team plan: custom pricing for everything in the Professional plan with team management features.
Bottom Line
If you're looking for an AI content generator that focuses on the tone of the text, Paragraph AI is a great resource – and one to add to the list of social media tools.
They have a free version that lets you write up to 20 paragraphs a month – but with any of the paid versions; you get access to advanced machine learning and more AI writing tools per month.
Overall, it's a great platform for any AI-generated content – one of the many writing tools you should easily add to your content strategy with their extension so you can write outside of the platform.
QuillBot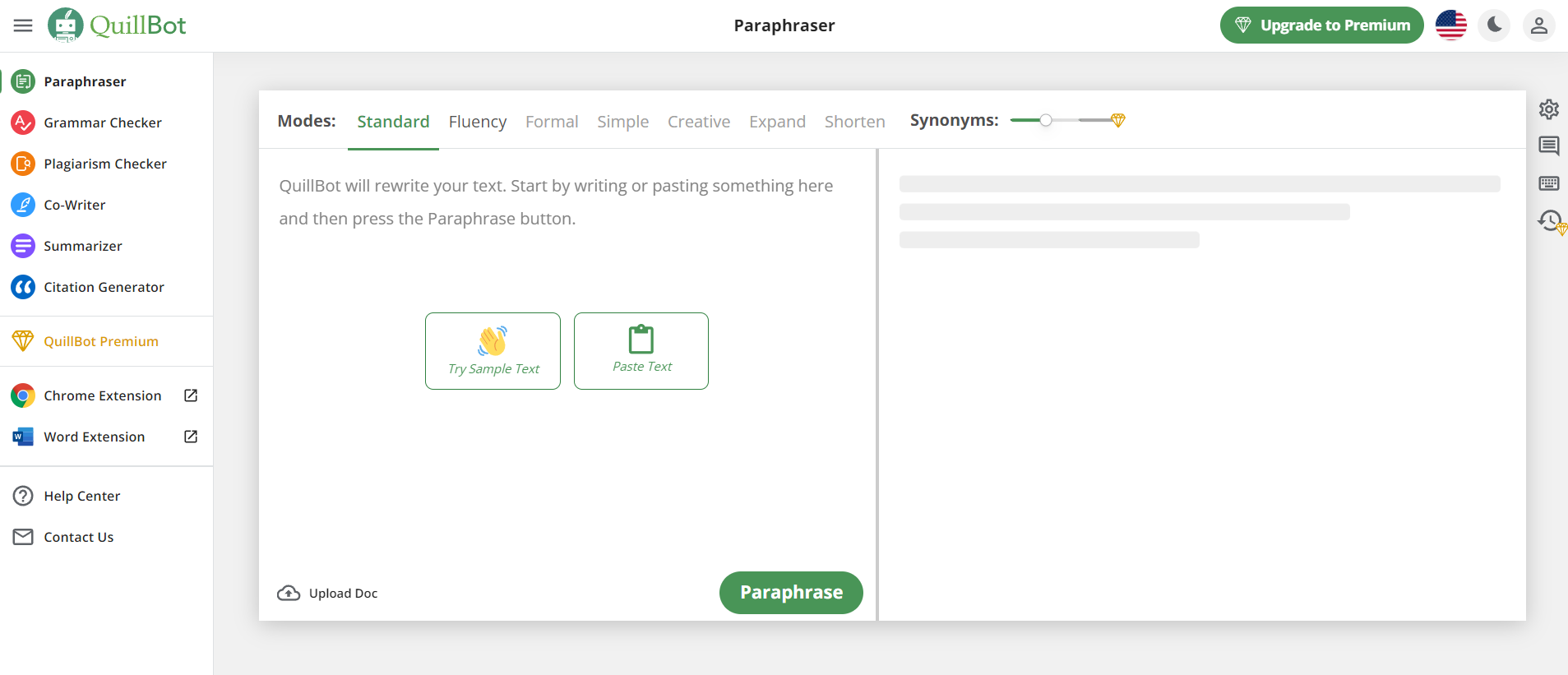 Overview
Quillbot offers an easy-to-use interface with a grammar checker, AI content generator, and summarizer. With their extension, you can create content using their free plan inside Google Chrome.
They have a variety of content generation modes that allow you to target a different writing style. their AI writing free plan lets you write content without needing to upgrade or enter a credit card.
Quillbot is an AI tool with an incredibly simple interface that jumps right into the writing tools – without needing to sign up for an account.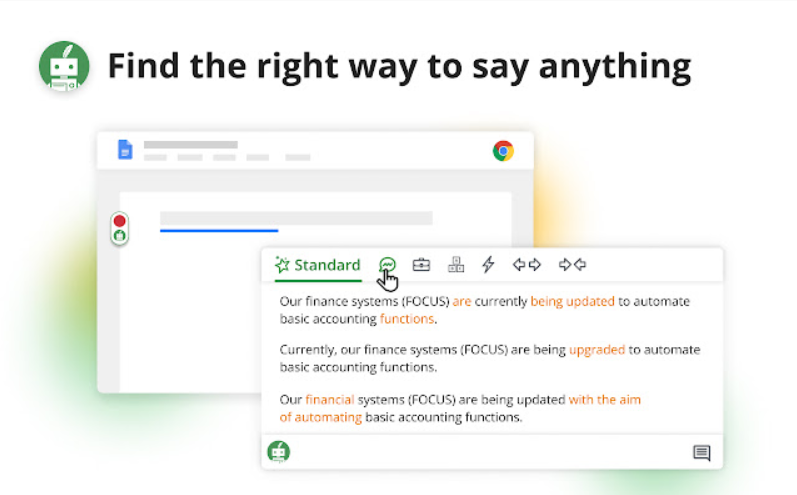 Highlights
Quillbot gives you immediate access to their AI writing software without creating an account or entering a credit card.
You can create a variety of long-form content efficiently with their AI writer and the writing tools you have at your disposal – from choosing different writing styles that fit your needs.
Flexible pricing includes a free plan with which you can use the AI writing tools when you need to without having to pay – you just have limited access to the content.
Pricing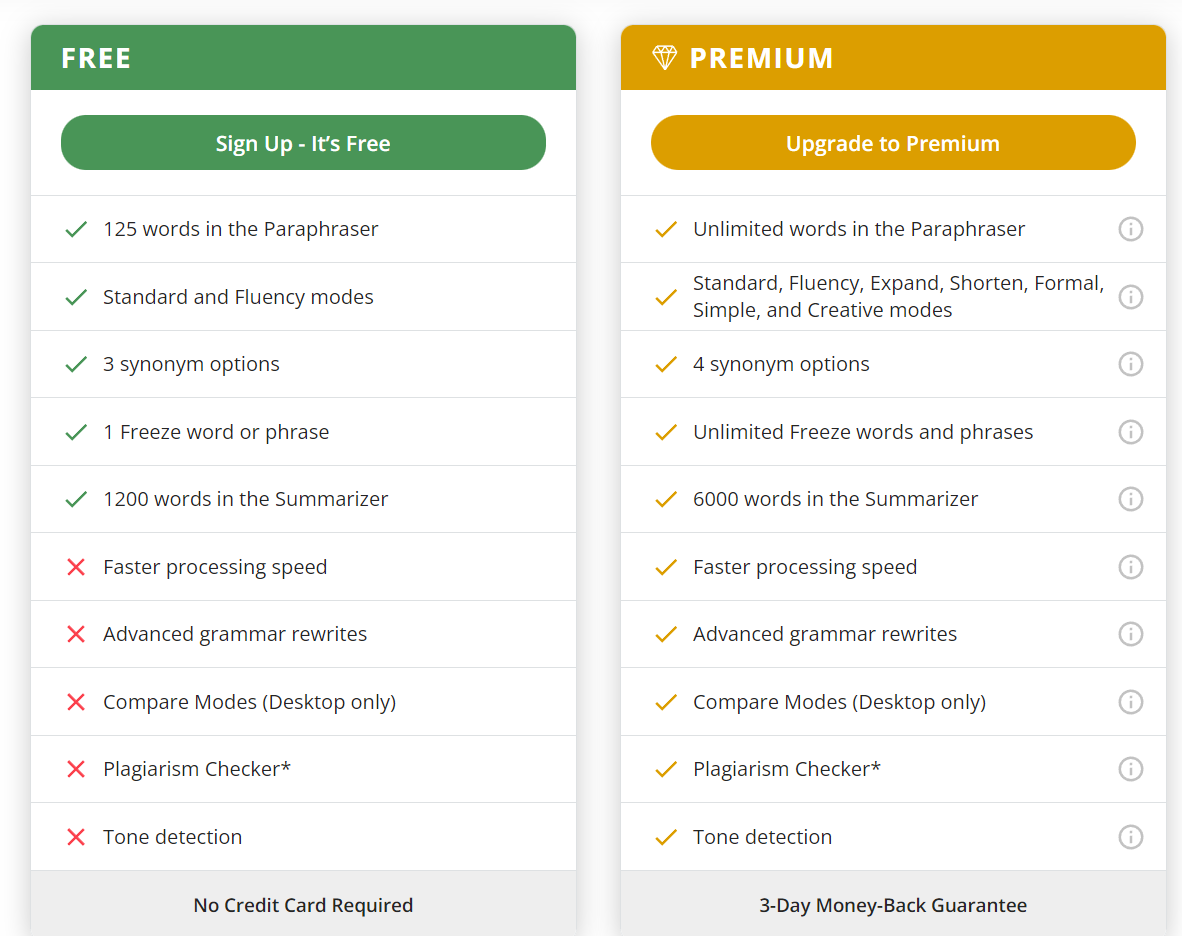 Quillbot has one paid plan and one free plan:
Free: 125 words for paraphrasing and 1,200 words for summaries
Premium plan: $19.95/month for unlimited words for paraphrasing and 6,000 words for summaries
Bottom Line
If you're looking for a quick and extremely simple AI writer, Quillbot is a go-to resource. You get access to their natural language processing and writing tools, allowing you to craft quality content with little effort.
They have a completely free plan that requires no credit card and isn't a free trial – you have a limit on the number of words you can utilize, but their writing tools are given to you for free.
Quillbot makes it easy to generate content with its advanced and skilled artificial intelligence. The AI software will write content for you and has the writing skills to be accurate and without grammatical errors.
Wordtune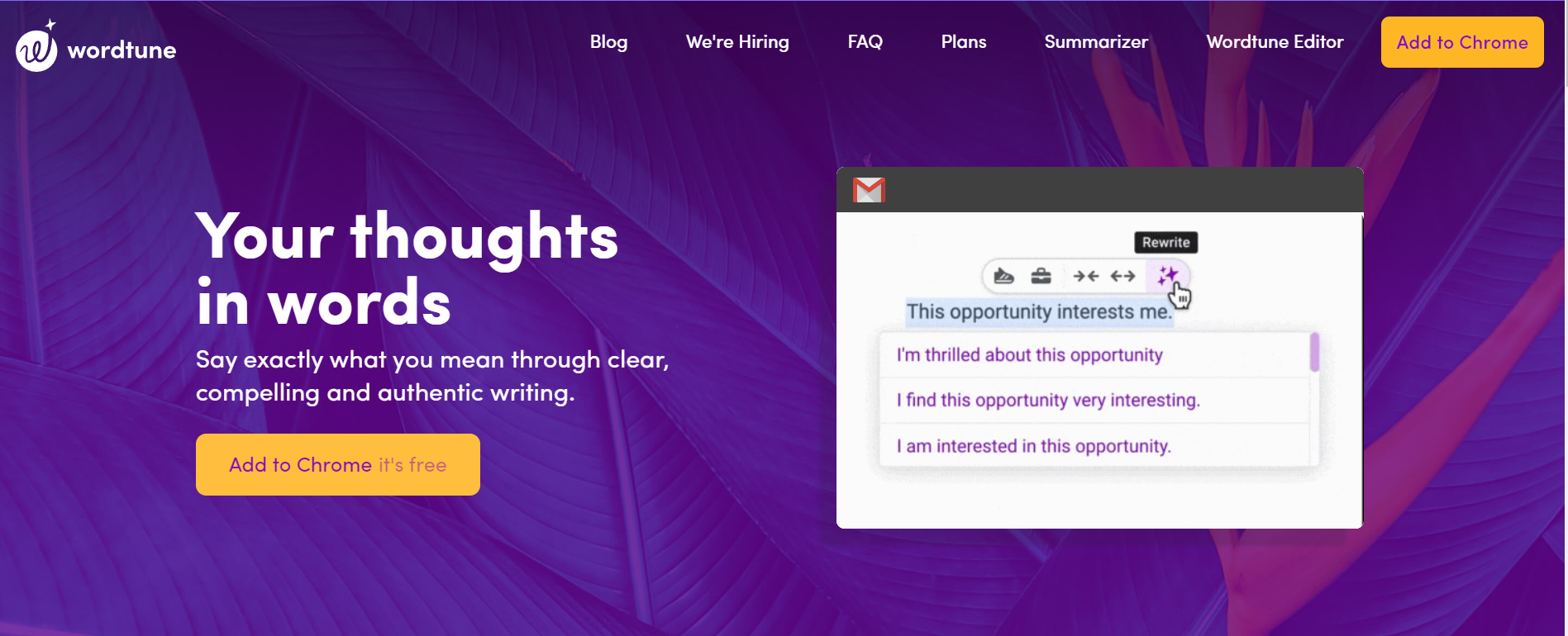 Overview
Wordtune is a writing tool that gives you a chrome extension and works on outside apps. You can write a simple blog post, product description, and short-form content. You can differ your writing style with various tools and multiple languages.
Creating content is easy with Wordtune – you can collaborate with your team and work directly on Microsoft Word or Google Chrome.
You don't have to worry about errors in your writing as they have a built-in grammar checker that ensures your content is the highest quality.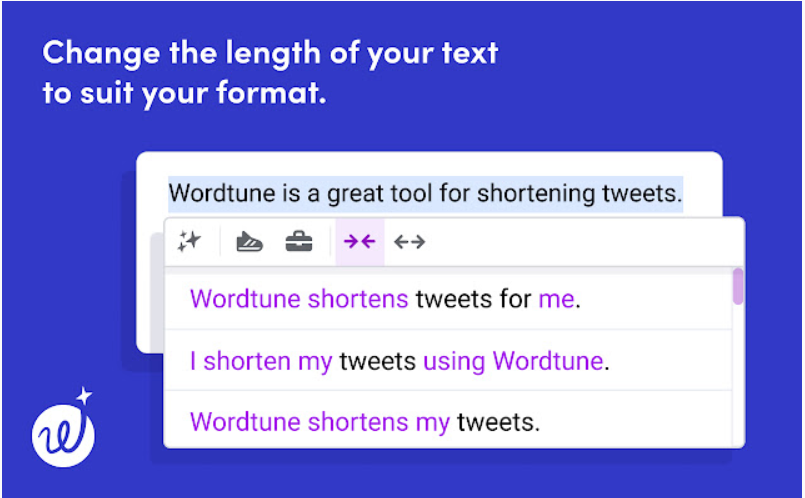 Highlights
Share Wordtune's writing tools with your team by collaborating or getting a business plan.
Install Wordtune directly into Microsoft Word – to get the best AI writing software outside your browser.
Utilize their AI writing assistant and change the tone of your writing.
Pricing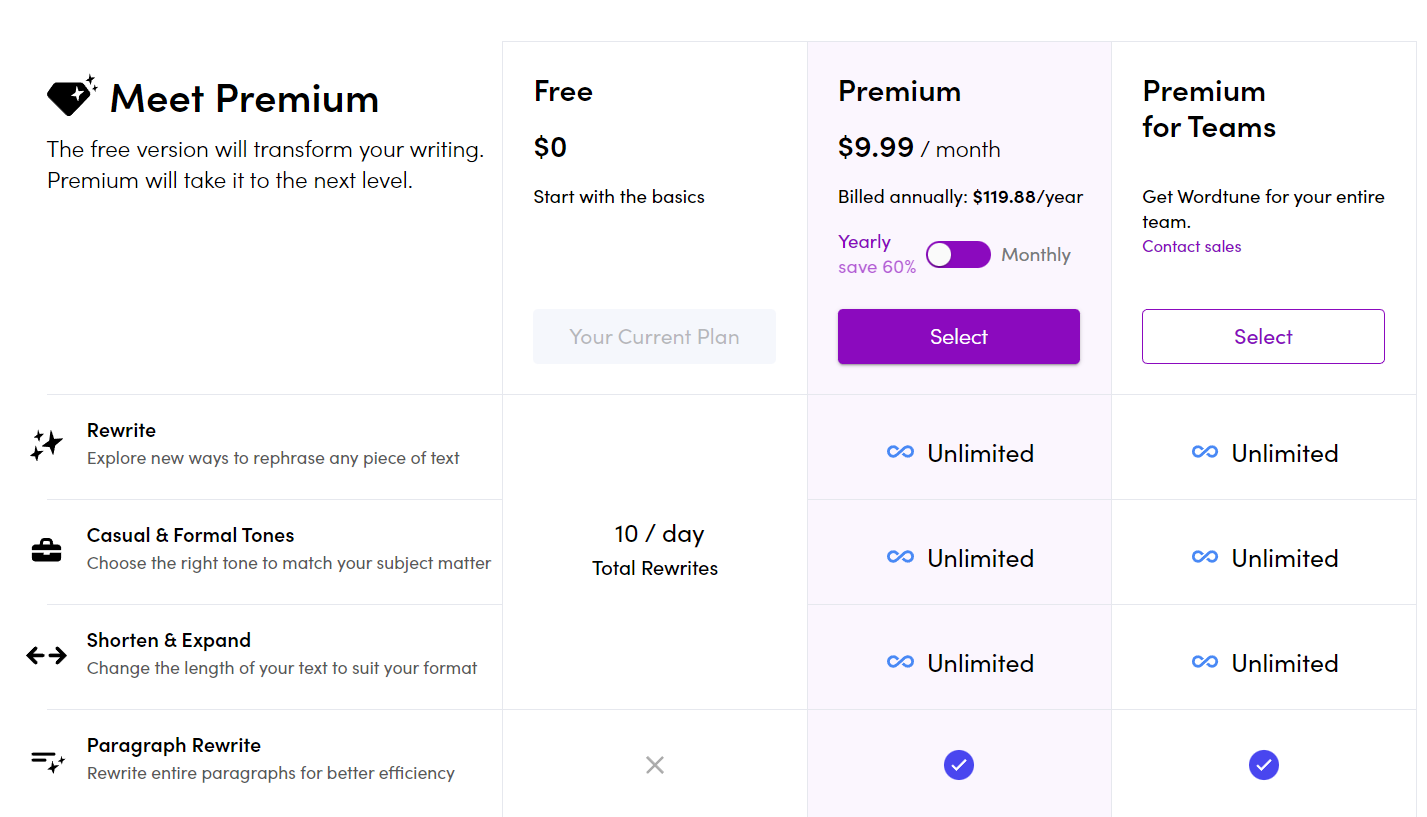 Wordtune has two paid plans and one free:
Free: ten rewrites a day
Premium plan: $24.99/month for unlimited rewrites a day
The premium for teams: custom pricing with team access to all the AI writing software tools
Bottom Line
If you're looking for a simple and affordable AI writer extension – Wordtune's a fantastic option. While it doesn't have keyword research like other tools, it can still generate content in multiple languages.
It still has a great article writer structure and multi-language support compared to other tools. Unlike other tools, it doesn't cater to content generation that favors SEO.
You can still create content using Wordtune's artificial intelligence to create something that resonates without the hassle of writing it yourself.
Hyperwrite

Overview
Hyperwrite is another excellent tool for creating content faster without sacrificing quality. It can edit and rewrite existing content in addition to original content generation.
It's an AI writer designed for freelancers, business owners, marketers, and everyone. You're getting the best AI writing software when taking advantage of Hyperwrite.
You don't have to start your writing from scratch either – they have a vault of templates to get you started – say goodbye to writer's block.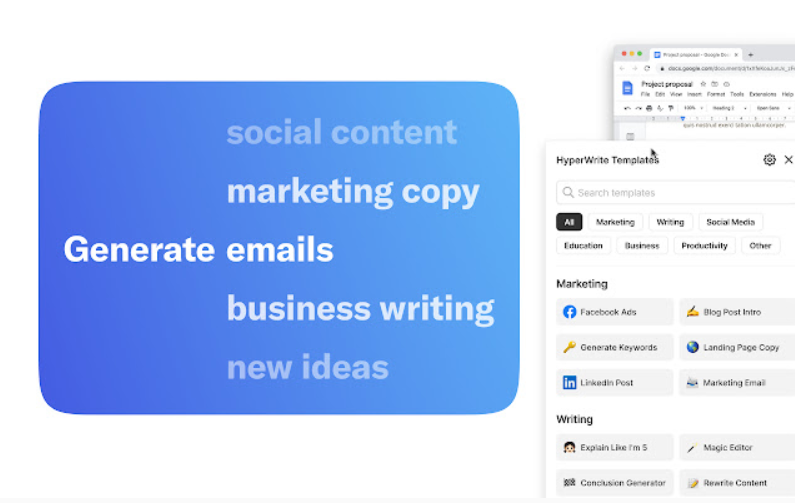 Highlights
Spelling and grammar proofreading to make sure your content is always high quality.
Content writing tools to excel in the content you've written in the past.
Content generation with SEO tools.
Pricing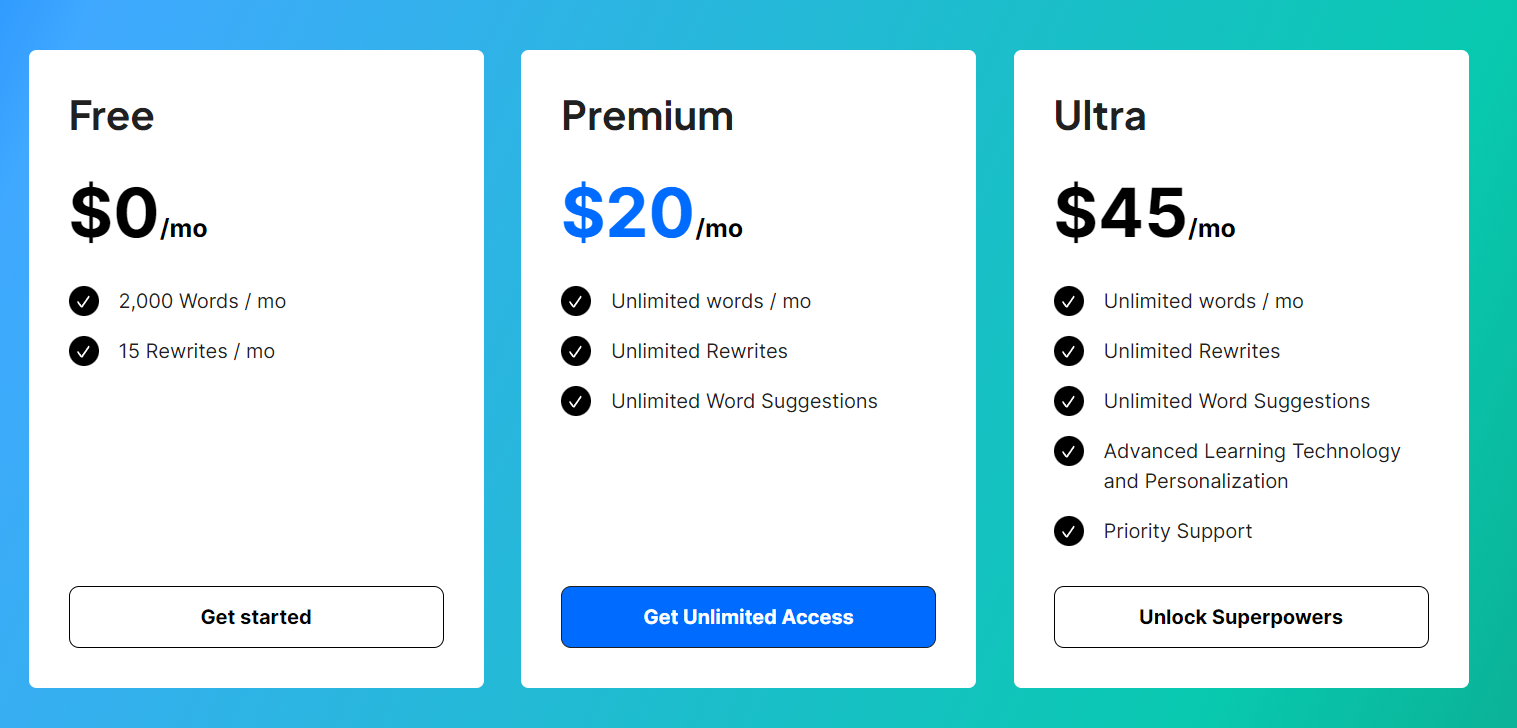 Hyperwrite has two paid plans in addition to its free option:
Free: up to 2,000 words a month
Premium plan: $20/month for unlimited words
Ultra plan: $45/month for unlimited words and advanced learning technology
Bottom Line
For SEO and AI content writing tools, you get Hyperwrite; it's an excellent tool for the price.
Hyperwrites browser extension makes it easy to generate content that readers will love, emails that sound professional, product descriptions that sound enticing, and keyword research that helps you reach your target audience.
You can also utilize this program outside your browser by downloading and including the browser extension for popular apps.
Grammarly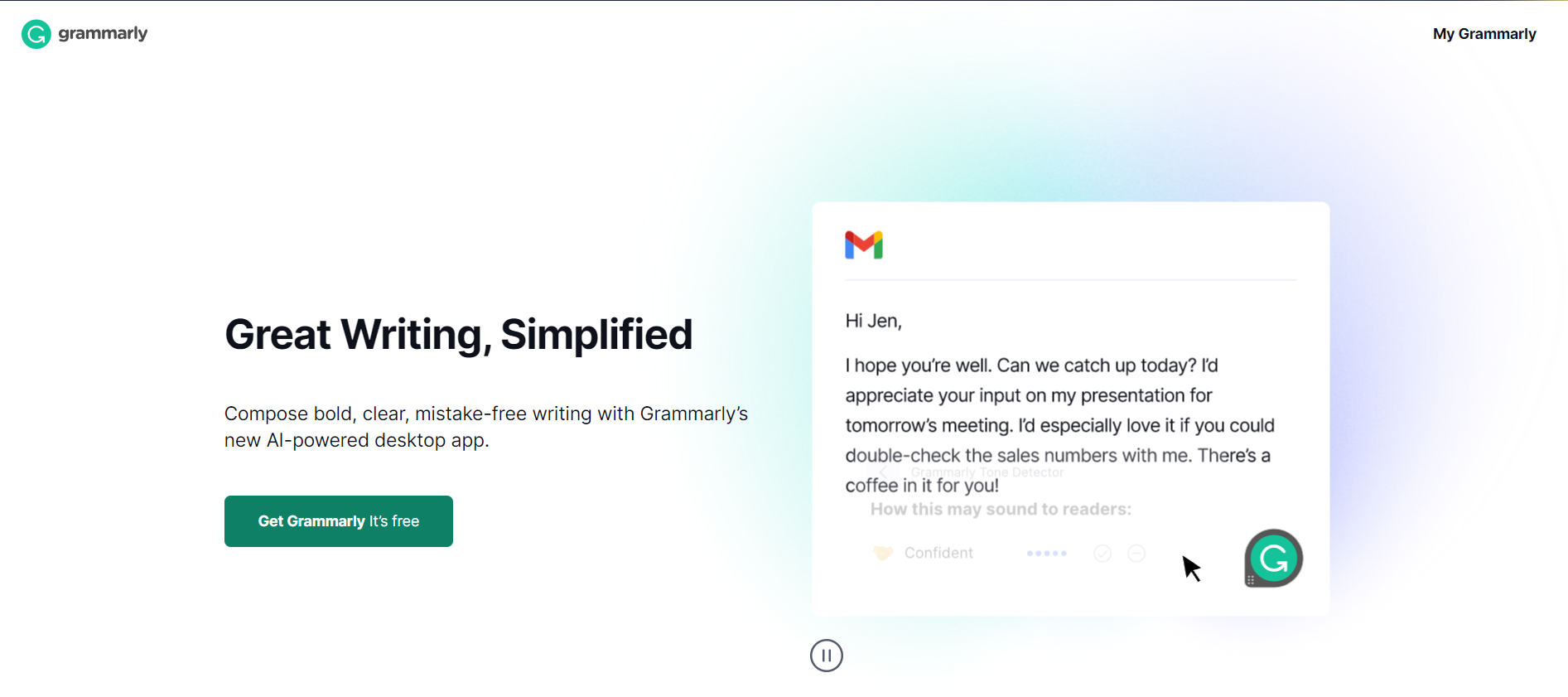 Overview
Grammarly helps you with the grammar and spelling aspects of your writing – it's an extremely helpful tool that you can use inside your browser or, with the app, in all of your popular writing programs.
It lets you know the tone of your text and corrects common and specific grammatical and spelling errors to ensure your content always sounds professional and error-free.
When you download the browser extension, you can also toggle it on and off if you don't need grammar or spelling checks on a certain program or document.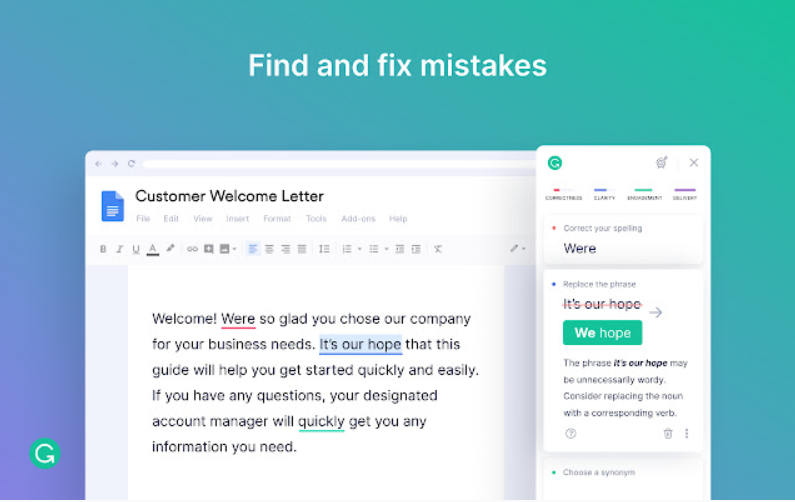 Highlights
Works on social media – we all know that proper grammar is still essential on social accounts.
You can use this on programs that allow you to type within your browser and other non-browser apps, such as Microsoft word.
It gives you insights into the tone of your text, so you can always ensure you sound the way you want.
Pricing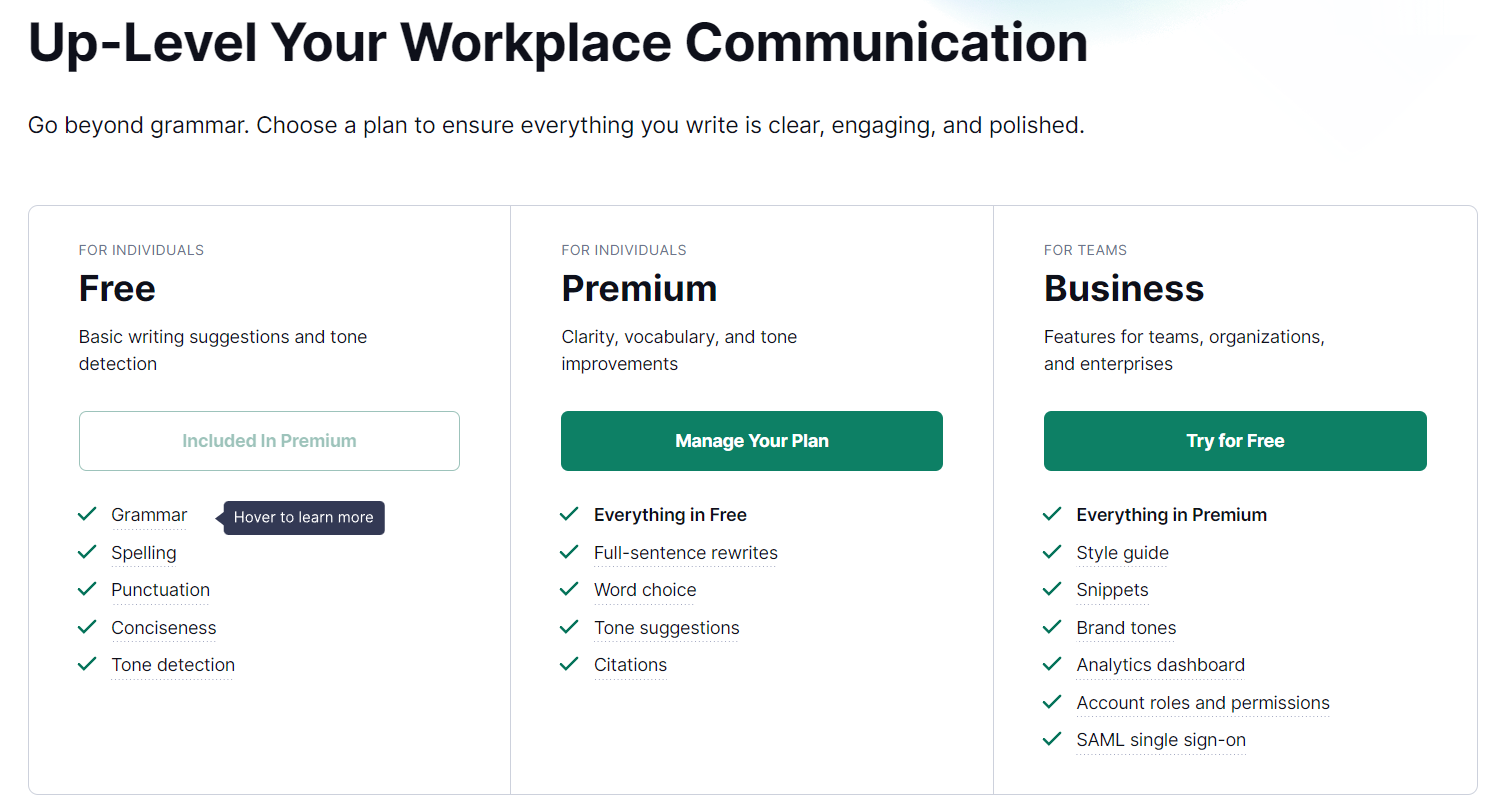 Grammarly has a free option as well as two paid plans:
Free: grammar, spelling, punctuation, and correctness
Premium plan: $12/month with full sentence rewrites and word choice edits
Business plan: $15/month with everything in premium plus brand tones and analytics dashboard
Bottom Line
Grammarly is an AI writer tool that you want to take advantage of. It will give you peace of mind that you're always using proper grammar and spelling, no matter where you're writing.
Aspects of Grammarly don't account for context or intention, especially when finding synonyms.
It is a great way to create error-free content using artificial intelligence.
Hemingway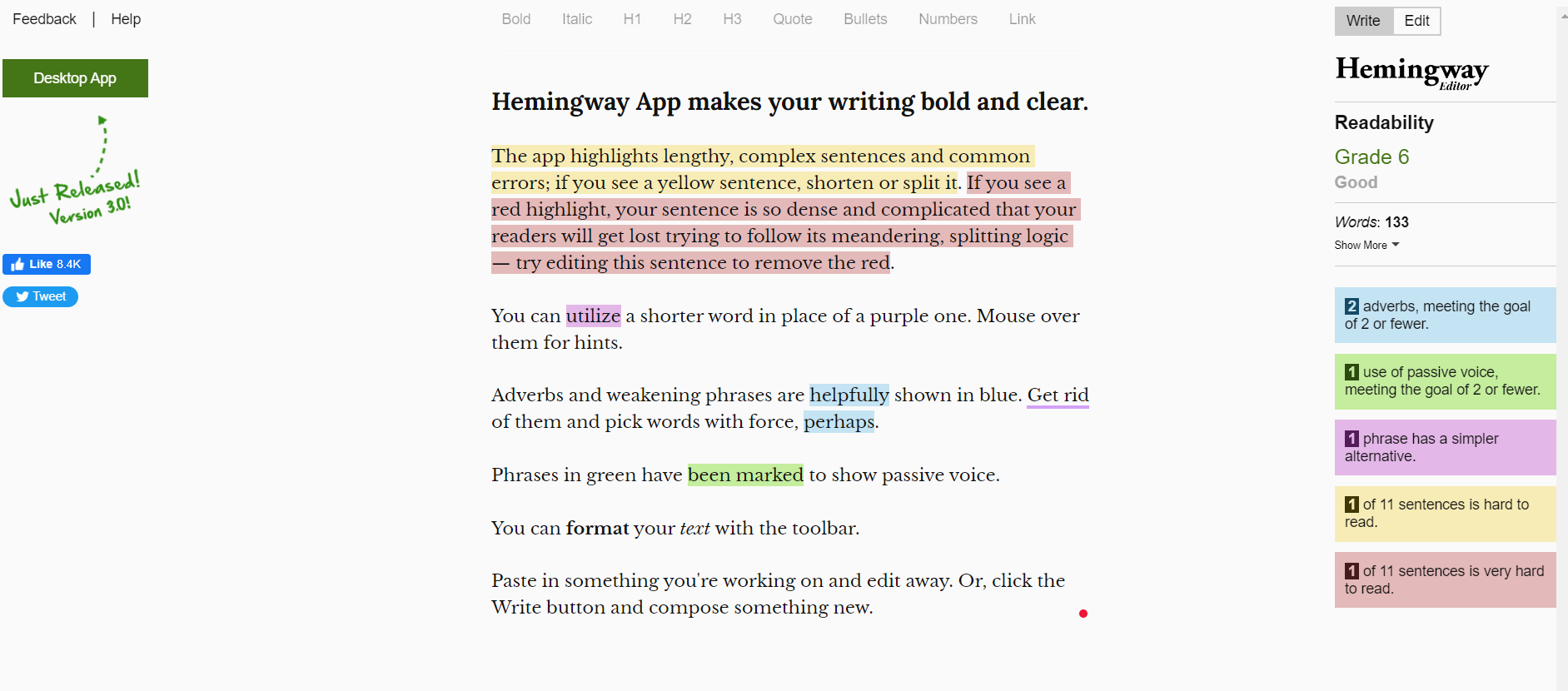 Overview
Hemingway Editor is highly similar to Grammarly; it can check your content for readability, the type of voice you use in your text, and simple grammar checks. Writers often debate whether they prefer to use Hemingway or Grammarly.
This AI writing tool is very simple and has an easy-to-use interface. It highlights each part of your text related to grammar, voice, readability, or ways to rephrase.
No matter what type of content you're writing, Hemingway is a great tool to have at your disposal.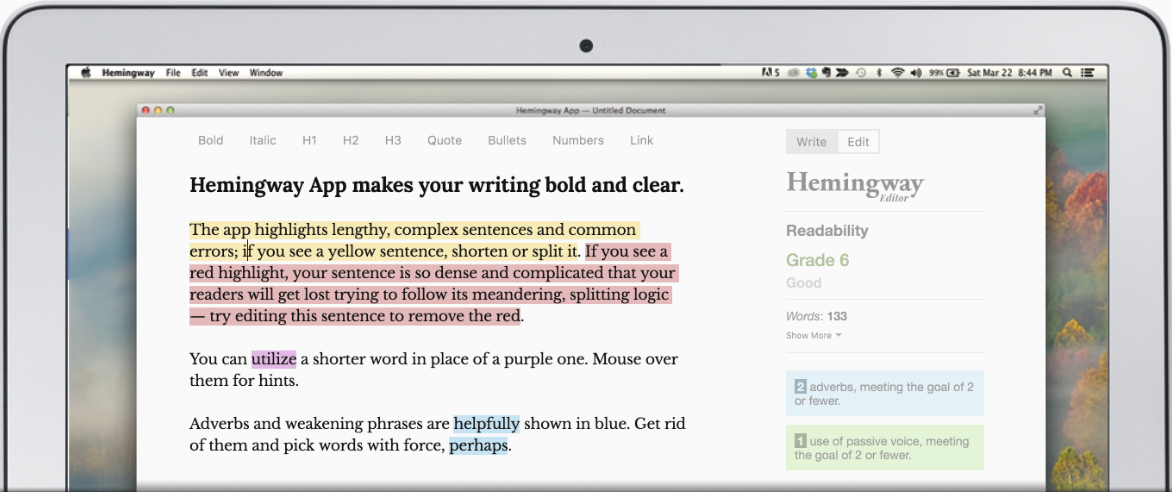 Highlights
Passive and active voice detection.
Readability is important for blog posts, especially as you should have an average fifth-grade reading level with most content.
Simple grammar edits and rewrite opportunities.
Pricing

Hemingway Editor for your browser is completely free
Desktop App: $19.99 one-time fee to use the app outside of a browser
Bottom Line
If you need a straightforward grammar editor, Hemingway is a great option that's completely free. It's very similar to Grammarly but offers a more user-friendly interface and is a visual app that color codes errors.
Hemingway is one of the best AI writing assistants for grammar and spelling checks, active and passive voice, and to check for readability.
What are AI Writing Apps?
AI writing software is designed to make the content generation process more manageable and with little effort on your part. These programs use artificial intelligence to help you generate content, correct grammar and spelling, make suggestions for previously written content, and many more features.
Each writing tool is unique; specific tools can offer more benefits than others depending on your goal when you create content.
Whether you're writing simple product descriptions or entire articles, a writing tool is used to help make content generation less stressful.
What are AI writing browser extensions?
AI writing tools often double as browser extensions, allowing you to utilize the writing tool outside a browser such as Chrome or Safari.
The program will prompt you to download the extension and most will work with a writing tool such as Google Docs or Microsoft Word – which are sometimes used outside of a browser.
Each is unique and may give you access to different programs outside of a browser. AI writing tools work to help you with writing content but may not be compatible with every program or application.
What browser extension is best?
If you're looking for an all-encompassing browser extension that gives you SEO tools and corrects grammar and spelling – you'll be looking at something like Surfer SEO.
Each AI writer will have a different version of their program as a browser extension. For example, Surfer SEO also works when searching for things in Google to identify keywords and give you small analytics about the SERP results.
Other AI writing software may not have this feature as a browser extension, so it depends on what types of benefits you're looking for.
What writing apps are free?
A lot of these applications and browser extensions we mentioned have either a free plan or come with a free trial. Grammarly has a free plan, and Hemingway Editor can also be used as a free version (the desktop app is a paid feature).
All of these apps and browser extensions offer a free trial that you can use to see how the tool works for you and to choose the best one.
What app can I use to tell a story?
Any of these tools allow you to create longer content with which you can tell a story – if you're looking for one with SEO tools, Surfer SEO or Jasper would be great options.
Telling a story is a big part of content marketing and resonating with your audience – AI tools recognize this and implement this into their apps.
Final Thoughts
The best AI writing software will vary depending on what your needs are, what benefits you are looking for, and what price you want to pay for an AI tool.
Each one we reviewed has unique aspects and other more common ones offered by various AI writing software.
Most apps and extensions have a free trial or a free option to use at your leisure without needing a credit card. It's best to test out a few different AI writing assistants to see which one fits your needs best.