Every word counts. Captivating readers and converting them into customers is a challenge that businesses face daily. There are many AI copywriting tools that hope to address this dilemma. ClosersCopy, an AI writing tool that promises to "Boost your sales" with its copywriting software, is one of them.
In addition to its powerful copywriting capabilities and huge library of premade templates and workflows, ClosersCopy provides valuable SEO tools, including competitor insights and audits. By integrating SEO optimization directly into the writing process, businesses can ensure that their content not only engages readers but also ranks favorably in search engine results.
ClosersCopy's true power lies in its ability to harness the potential of artificial intelligence and machine learning to optimize your content and boost your business's online presence. This AI writing software uses in-house developed artificial intelligence to get the job done. If you haven't heard already, AI is taking the world by storm and from what we can tell, has no plans on slowing down.
In this review, we will delve deeper into the world of ClosersCopy and explore the platform's key features, including what it does well and what it could improve. If you're a professional copywriter or marketer, you'll have the insight you need to determine if ClosersCopy is an appropriate fit for your business needs by the end of this article.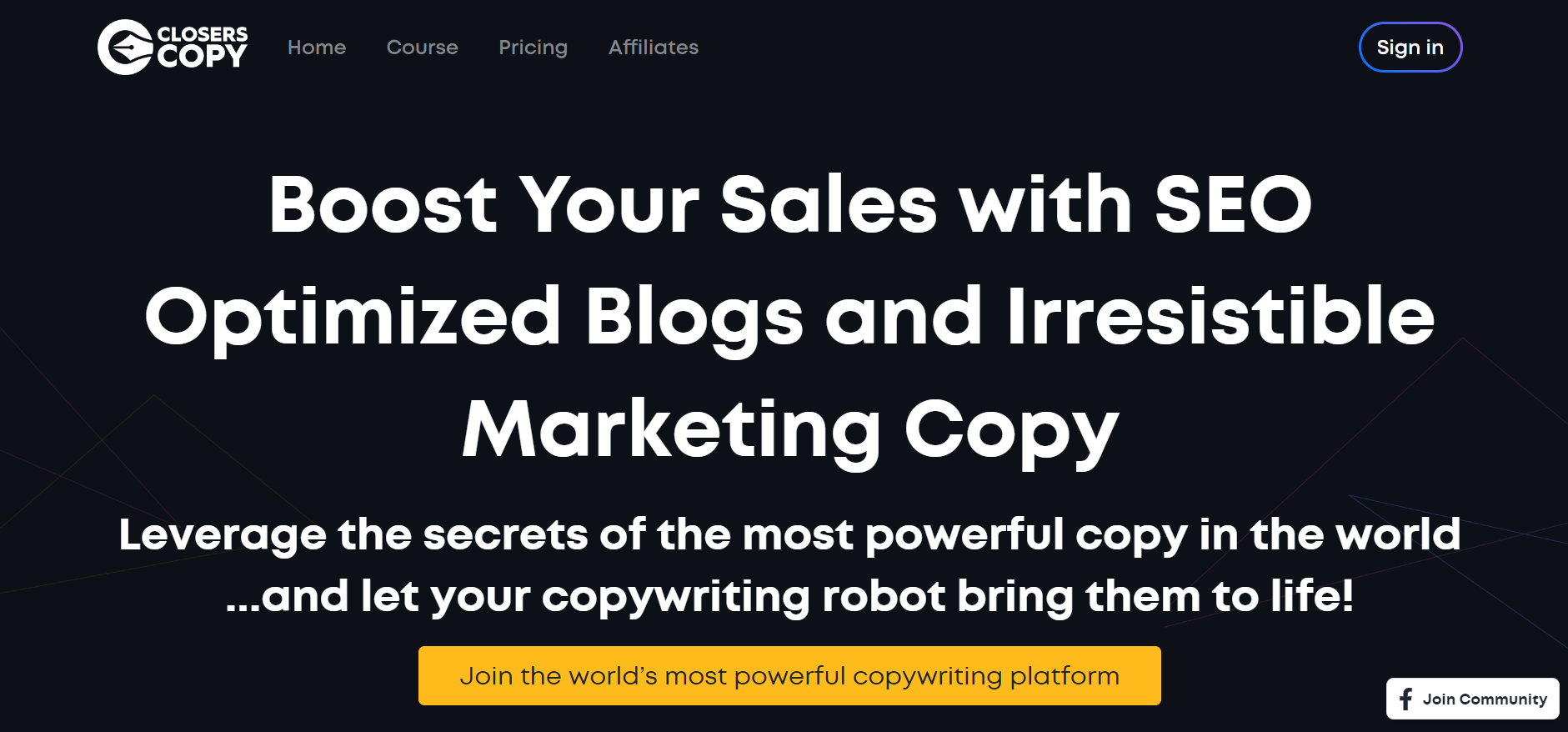 ClosersCopy Overview
ClosersCopy is an AI copywriting software that hopes to make the lives of content creators and marketers easier. The platform offers a comprehensive set of features, including but not limited to – a long-form document editor, pre-built frameworks for different scenarios, and workflows. Notably too, in contrast to other AI assistants on the market today, ClosersCopy utilizes in-house developed AI technology designed specifically to write marketing copy. In addition to CloserCopy's proprietary AI, the platform also makes use of GPT-3.
At the core of ClosersCopy's user experience is its long-form document editor. Here, writers can use various writing tools to simplify the process of creating engaging and polished content. Whether it's blog posts, articles, or sales pages, the ability to generate long form content is a breeze. Offering standard formatting options and a distraction-free environment, ClosersCopy enables businesses to craft professional and impactful copy nearly effortlessly.
ClosersCopy offers an extensive library of pre-built frameworks for various scenarios. From AIDA (Attention, Interest, Desire, Action) ads to sales copy and landing pages, the platform's templates help marketers say goodbye to writer's block. By leveraging proven frameworks, businesses can have confidence and write content knowing that the delivery of their content is based on facts and data.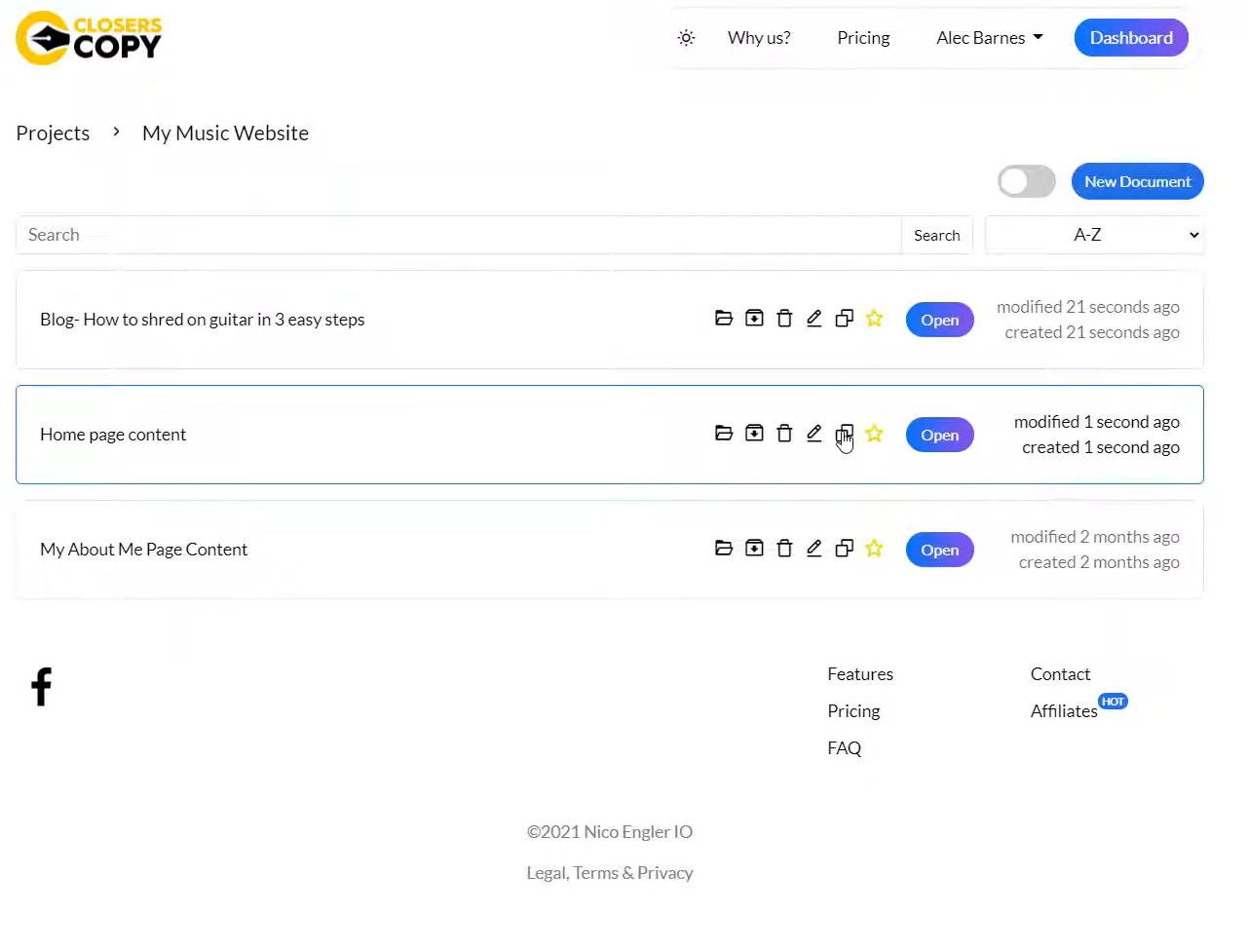 ClosersCopy also offers SEO insights, audits, strategic planning and competitor analysis. This AI writing software equips businesses with the tools necessary to craft highly optimized and engaging copy that resonates with both readers and search engines.
ClosersCopy has emerged as one of many AI tools that equips businesses with the marketing knowledge they need to succeed in today's digital landscape. With a comprehensive set of features, ClosersCopy empowers businesses to optimize the content creation process and increase customer conversion rates.
| | |
| --- | --- |
| Feature | ClosersCopy |
| AI Technology | ClosersCopy SalesAI, BlogAI, StoryAI & GPT-3 |
| Languages Supported | 128 |
| User Experience | Web Interface |
| Educational Material | Yes |
| Long Form Document Editor | Yes |
| Search Engine Optimization | Yes |
| Art Generation | No |
| Text Summarization | Yes |
| Plagiarism Detection | No |
| Chrome Extension | No |
| API/Webhooks | No |
| Free Trial | No |
| Pricing Model | Monthly Subscription  |
What ClosersCopy Does Well
ClosersCopy is an AI copywriting tool designed to simplify the content creation process. The platform various AI tools allow businesses to free up time and resources, so they can focus on other critical aspects of their operations instead. The platform excels at AI writing its various frameworks and tools, as well as SEO analysis. We'll discuss these aspects in further detail below.
Long-Form Document Editor
ClosersCopy provides a long-form document editor that looks clean and is easy to navigate. With its simple no-fluff layout, the editor provides a distraction-free environment where creators can laser in and focus on writing short or long form content.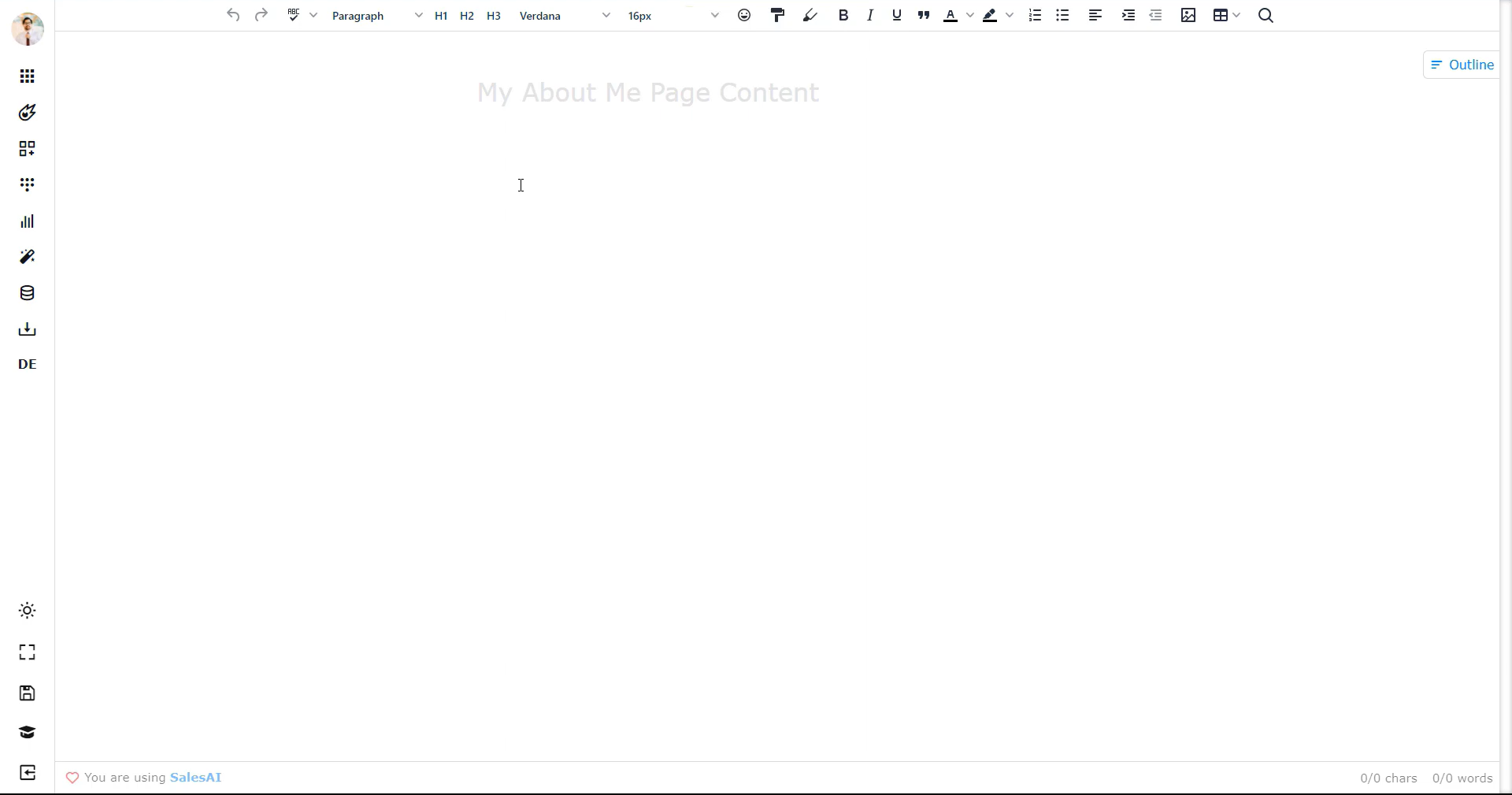 At the top of the editor, users will find standard formatting options that are essential for structuring and styling their content. These formatting options include text formatting (such as font style, size, and color), paragraph alignment, bullet points, numbering, and heading styles. ClosersCopy ensures that businesses can easily customize their content to meet their specific requirements with these familiar formatting tools.
On the left hand side of the long-form document editor, users will find various AI copywriting tools conveniently located on the toolbar. These artificially intelligent features leverage the power of CloserCopy's proprietary technology and machine learning algorithms to make fantastic copy available to its users.
In addition to frameworks, workflows, and SEO insights, users can take advantage of the Expand, Improve, Rewrite, and Summarize tools. You can access these features by highlighting a block of text and right-clicking.
Below is an example of ClosersCopy's 'Expand' feature in action. The AI did an impressive job at sounding casual and humanlike.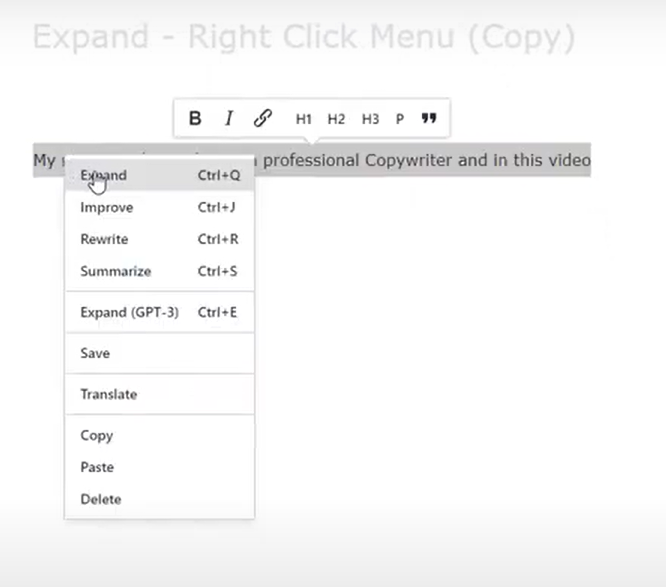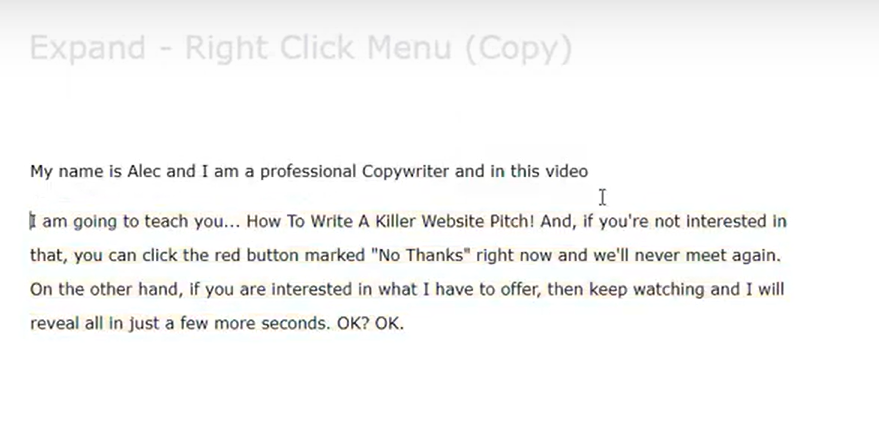 Frameworks
ClosersCopy's frameworks feature is a helpful tool that takes the guesswork out of copywriting. This tool provides users with a range of proven marketing frameworks and templates for nearly any customer scenario you have in mind. When using the frameworks feature, accessible through the long-form document editor, CloserCopy will prompt you to add context and specific details about the product of interest, service, or campaign.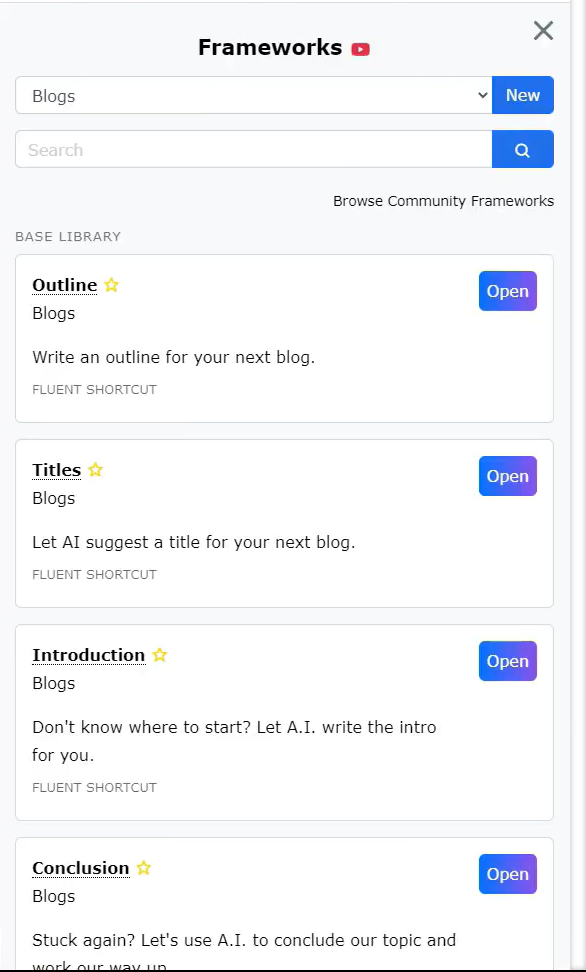 In the example below, ClosersCopy was prompted to write about a lead generation company based on BAB (Before, After, Bridge). The AI did a fine job at writing a convincing ad for the company in the example.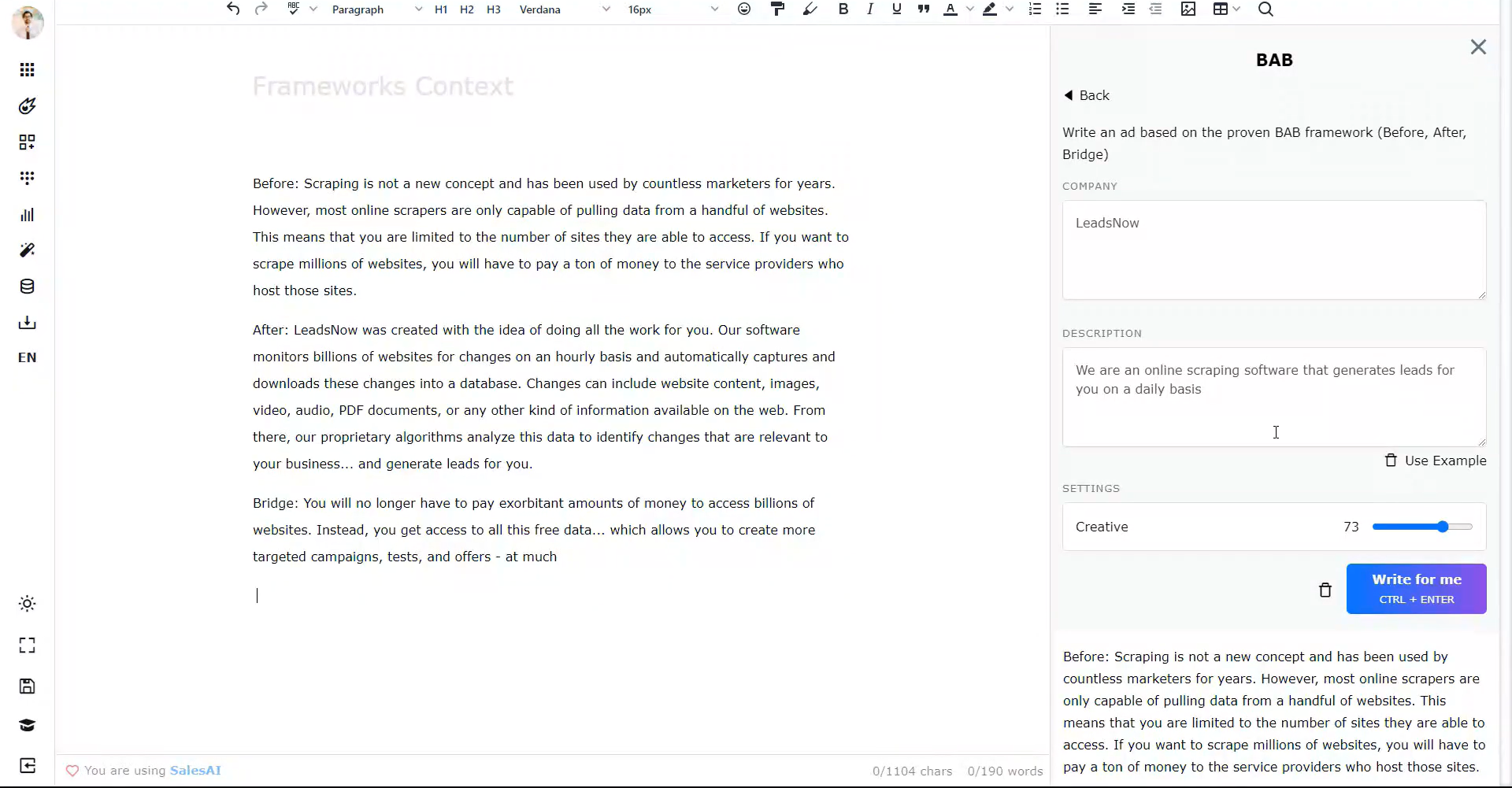 With a library of pre-built frameworks at your disposal, you can choose the one that best suits your specific needs. It's a lot like having a marketing prodigy to tap into whenever you need them. These marketing frameworks follow proven structures and formulas that have been shown to be successful in driving conversions and engaging readers.
Instead of starting from scratch and spending hours researching effective copywriting strategies, ClosersCopy streamlines the process by providing an apt starting point based on tried-and-true templates.
Workflows
CloserCopy's workflow tool provides users with a collection of templates for various copywriting scenarios. Users can leverage these pre-built workflows to kickstart their writing journey with ease, or create custom workflows.
The workflow tool guides users step-by-step through the content creation process and allows them to choose to add the AI generated content to the editor as they go. By following the prompts and filling in the necessary details, users can have the AI generate paragraphs on at a time that align with their specific goals and target audience.
Similar to the frameworks tool, the workflow tool offers a creativity setting. This setting allows users to adjust the level of creative freedom they want the AI to have when generating the content. Whether you prefer a more predictable approach to marketing, or thrive on the endless bounds of the imagination, the creativity setting can be adjusted to suit your individual preferences.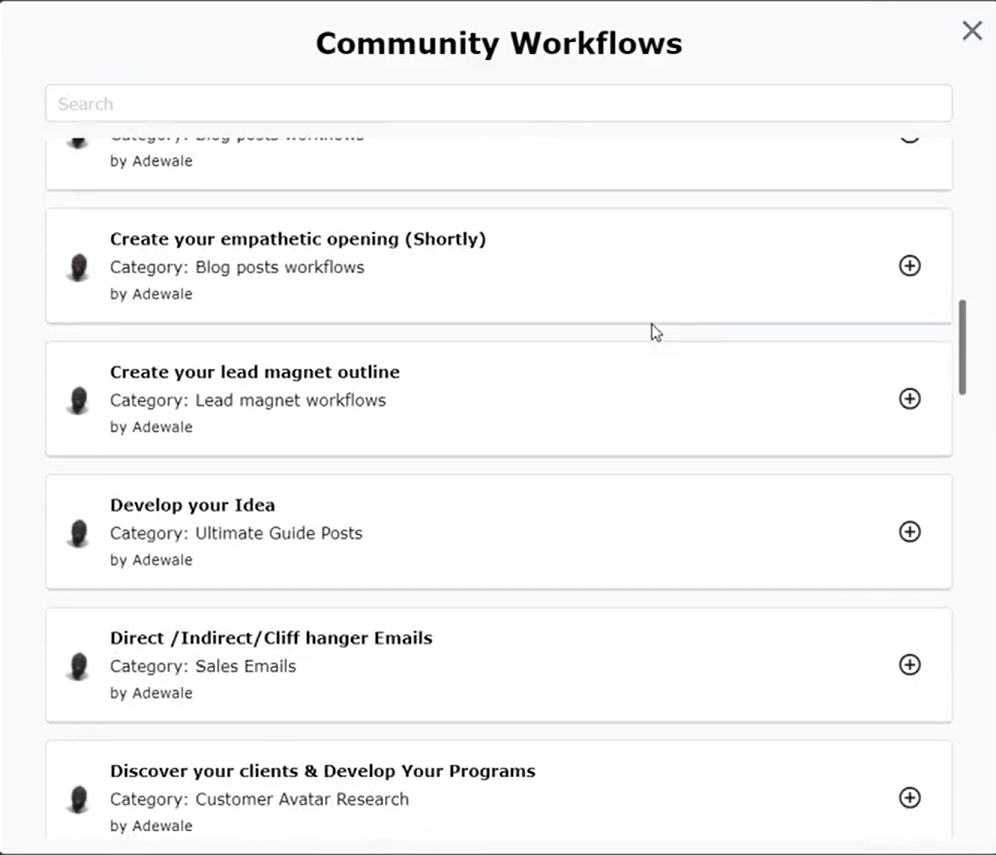 Users can also take advantage of community workflows. These workflows are created and shared by other users of the platform. Community workflows allow users to tap into a vast pool of collective knowledge and best practices. This collaborative aspect enhances the versatility of the platform and allows members to benefit from the collective wisdom of the ClosersCopy community.
With its step-by-step approach and AI intelligence, ClosersCopy empowers users to take their writing endeavors to new heights. The platform provides advanced tools and a structured framework that guides users through each stage of content creation, ensuring a systematic and efficient workflow.
Search Engine Optimization
The world of digital content demands effective search engine optimization strategies to ensure visibility and reach a wider audience. ClosersCopy recognizes this need and addresses it by providing a range of SEO tools designed to boost content optimization and improve search engine rankings. In this section, we will explore the SEO tools offered by ClosersCopy, including insights, audits, and planning capabilities.
Insights
Understanding SEO and how content may be perceived by a potential customer is crucial for businesses hoping to enhance their online presence and improve their conversions. ClosersCopy offers an Insights tool, found via the long-form document editor. The Insights tool can be likened to having your own personal editor, who can be pictured as someone aggressively redlining your work all the while leaning back nonchalantly in their chair.
The Insights tool analyzes your content's headings and paragraphs. It assigns a score that indicates the overall quality and SEO optimization of the copy. This score takes into account various factors, such as the use of sensory words, spiritual words, emotional words, and the sentiment conveyed. These insights allow marketers to craft content that resonates with readers on a deeper level, better capturing their attention and fostering a stronger emotional connection.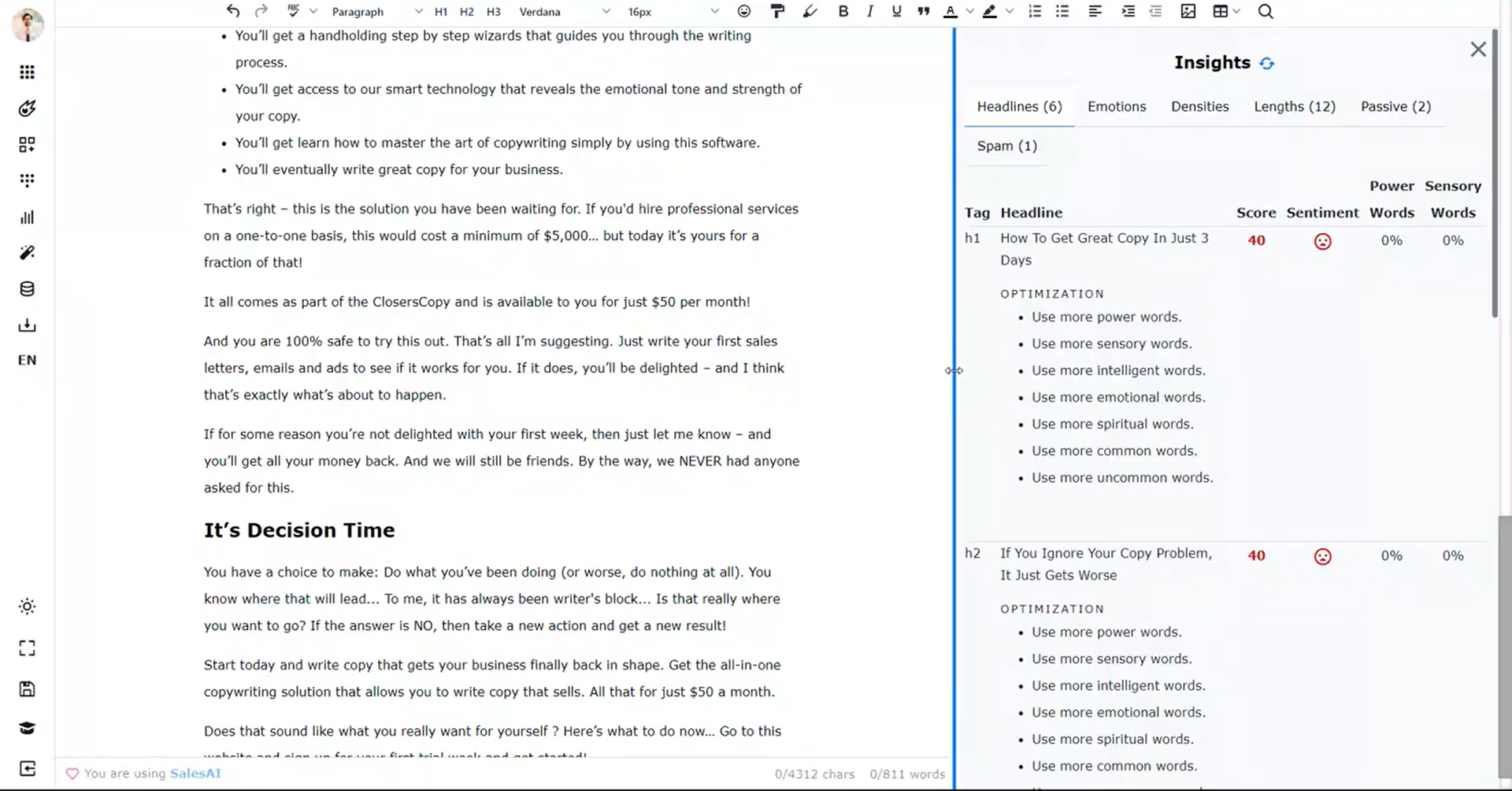 Additionally, the Insights tool helps writers identify other potential areas of improvement. For example, the Insights tool highlights sentences that are too long and encourages writers to consider breaking them into more concise and digestible chunks. The Insights tool will also flag sentences that may sound passive or spammy, as well as provide guidance on how to make them more active and engaging.
Overall, the Insights tool enables businesses to create high-quality, optimized content that stands out in search engine results.
Audit & Planning
If you have ever wondered how your competitor's content is performing, ClosersCopy can help answer that question. Offering an SEO audit feature, you can gain insights into what other companies in your niche are doing well and what they could improve in their SEO efforts.
The SEO audit tool allows users to search for competitor articles and copy. Users can choose which article they want to conduct an in-depth analysis of. Auditors will be provided with a content score that indicates how well chosen articles are optimized for specific keywords and whether they meet the ideal word/ heading count suggestions. These insights help marketers identify areas where they can improve their own content to gain a competitive edge.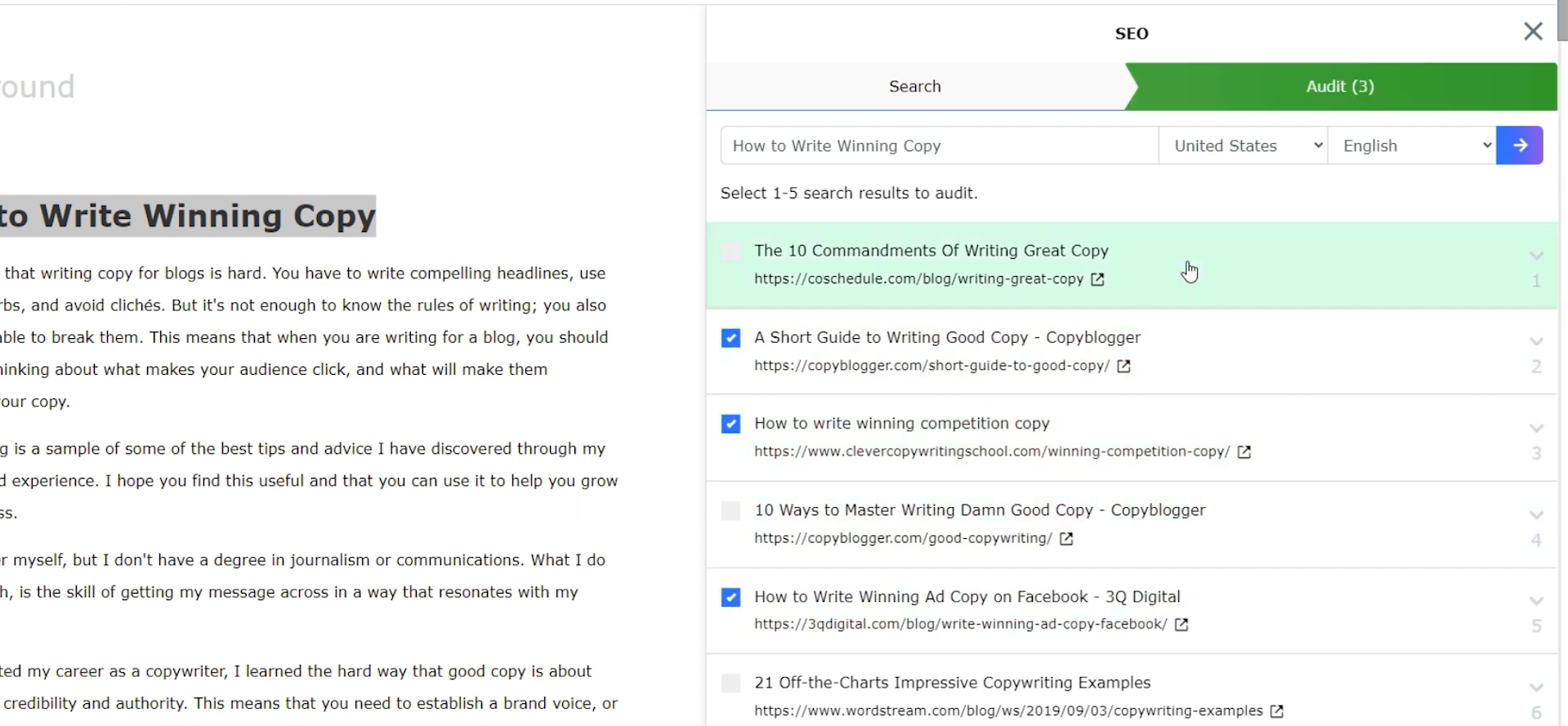 In addition to the audit feature, ClosersCopy's SEO planner helps take your blog planning and writing to the next level. Based on the articles the user chooses from the search function, the planner will extrapolate the various headings used in those articles. You can then pick and choose the headings you would like to implement in your own work.
Alternatively, users can select headings that resonate particularly with their own content goals and explore subtopics suggested by the AI. The ability to plan headings in advance enables users to create well-structured and comprehensive content that covers relevant subtopics and satisfies search engine algorithms.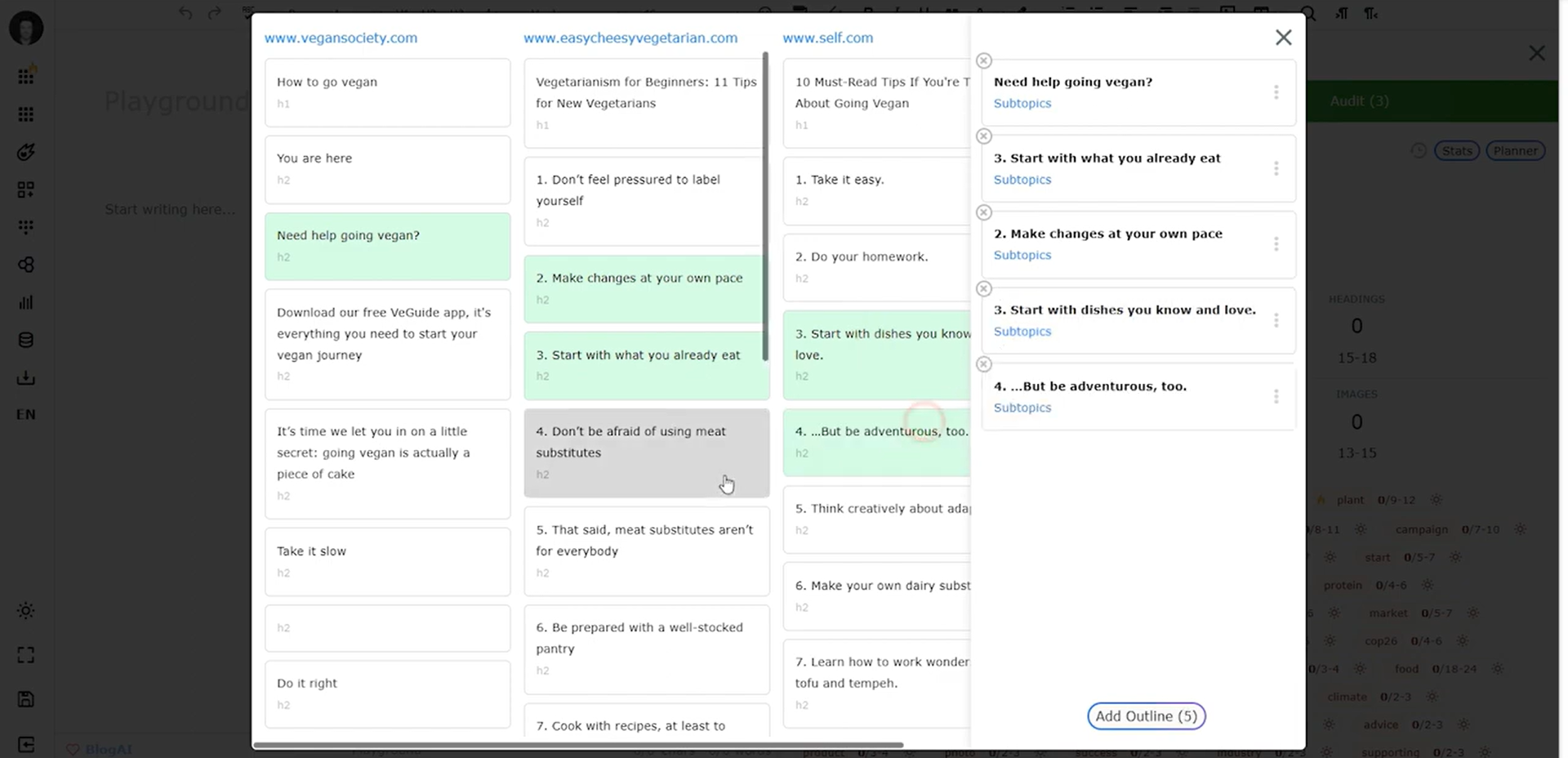 The ability to conduct thorough audits of competitor articles, analyze content scores, and strategically plan content headings and subtopics provides practical guidance for crafting highly optimized and competitive content. These features collectively empower businesses to elevate their content creation game and craft truly compelling copy that outshines the competition.
What ClosersCopy Could Improve
While ClosersCopy presents some impressive features, there are areas where it could benefit from improvements. We'll discuss below what ClosersCopy could improve to address certain limitations and ensure a successful customer experience.
User Experience
ClosersCopy offers a user experience that can be described as clean and straightforward. While it may not be particularly groundbreaking or revolutionary, it provides users with a functional platform for their copywriting needs.
One area that could benefit from improvement is the projects/documents page. Currently, all projects are displayed in a single list, which can become cumbersome to navigate as the number of projects grows. One enhancement could involve implementing a visual separation of projects into folders. This organized visual hierarchy would make it easier for users to locate specific projects or group related projects together.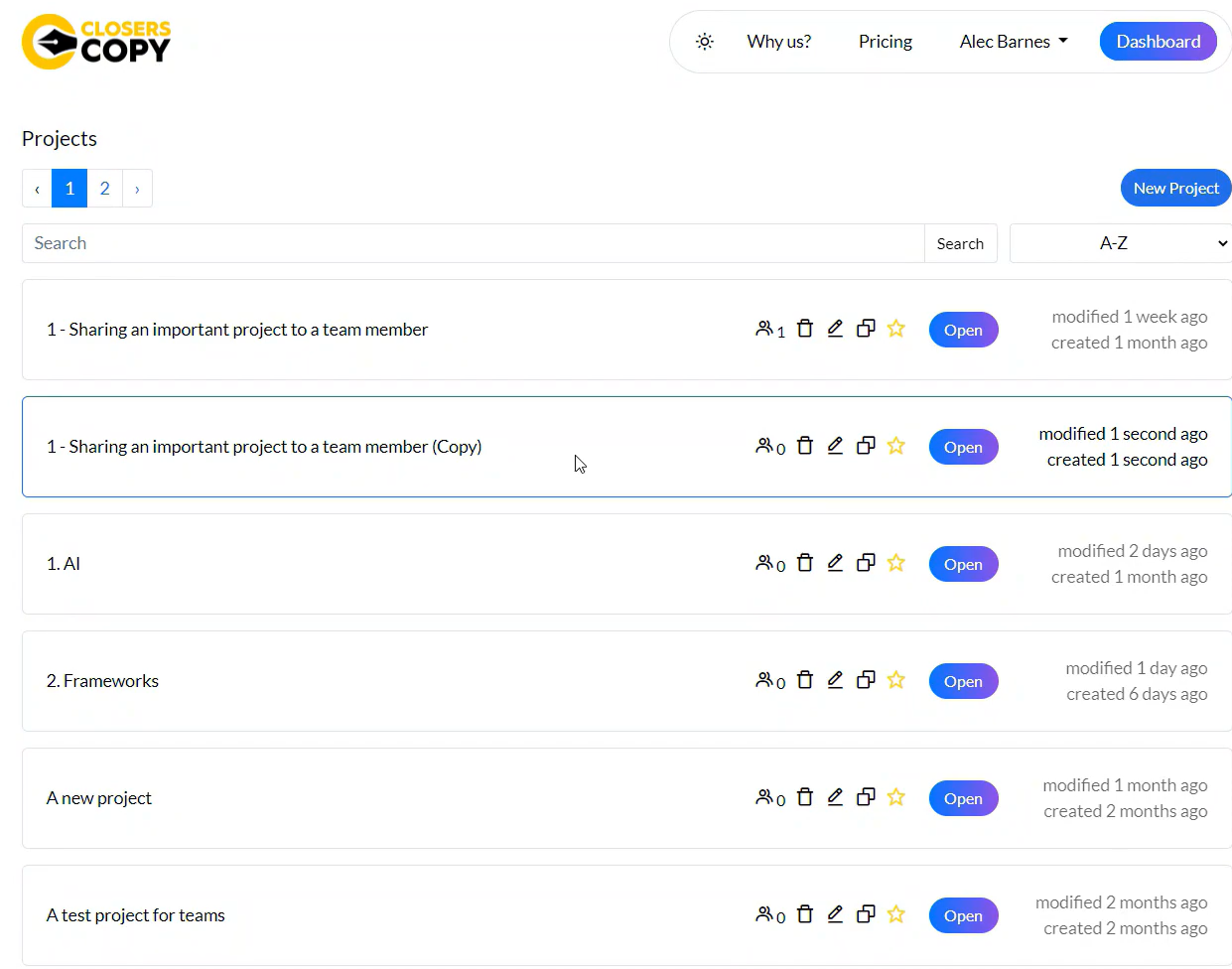 While ClosersCopy's user experience may not be groundbreaking, it offers a clean and straightforward interface that allows users to navigate through the platform with relative ease. Though the projects/documents page could benefit from visual organization, the overall usability and functionality of the platform contribute to an effective copywriting experience.
Pricing Model
ClosersCopy offers a tiered pricing model with different subscription options to accommodate marketing teams of various sizes.
The Power plan comes in at $49.99 per month for 2 team members.
The Superpower plan is $79.99 per month for 3 team members, while the Superpower Squad plan is $99.99 per month for 5 team members.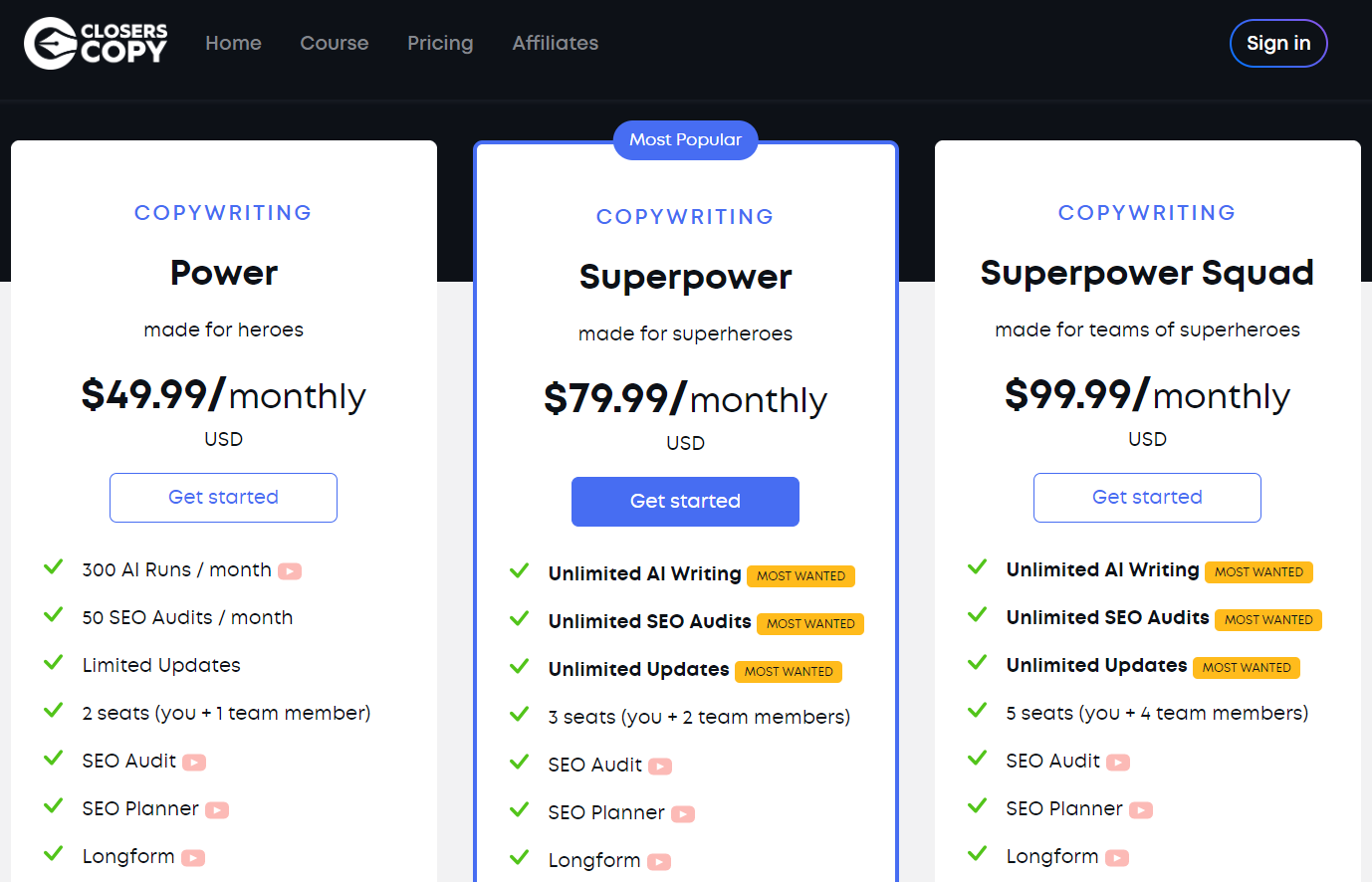 One drawback of ClosersCopy's pricing model is the current absence of a free trial option. This means potential customers are unable to explore and test the platform's capabilities before committing to a subscription. While CloserCopy's website provides information about the platform's features and functionalities, a free trial would allow businesses to assess its suitability for their specific needs and evaluate its performance for themselves.
There does appear to be a 14-day money back guarantee for any subscription purchased, no questions asked. However, the lack of a free trial will turn off many potential customers from taking a chance on and exploring the platform in-depth.
ClosersCopy might also consider a pricing model for individuals. Sometimes, marketing teams are made up of a mighty team of one – This AI tool might benefit from appealing to that specific market.
Final Thoughts
In conclusion, ClosersCopy is a powerful AI copywriting tool that excels in streamlining the content creation process and empowers businesses to deliver persuasive and engaging copy. Its long-form document editor, pre-built frameworks, and AI copywriting software promotes productivity and the ability to effortlessly write content. The integration of SEO insights and audits bring great value to the platform by helping businesses optimize their content for increased search engine visibility.

However, there are areas where ClosersCopy could improve. The platform's user experience, while clean and straightforward, could benefit from enhancements such as visual organization of projects and the inclusion of a free trial option.
ClosersCopy is best suited for businesses and content creators looking to optimize their copywriting processes and enhance their online presence. It provides a comprehensive suite of features that cater to various copywriting scenarios, making it a valuable tool for crafting persuasive ads, email sequences, blog posts, and more. The platform is particularly beneficial for teams seeking collaboration and efficient project management capabilities.
In summary, ClosersCopy offers a range of powerful AI-driven features that simplify the content creation process, optimize SEO strategies, and foster collaboration. While there are areas that could be improved, the platform's strengths lie in its ability to generate compelling copy, provide valuable insights, and streamline workflows. With its versatile capabilities, ClosersCopy is a valuable asset for businesses aiming to enhance their online presence and drive conversions through impactful writing.