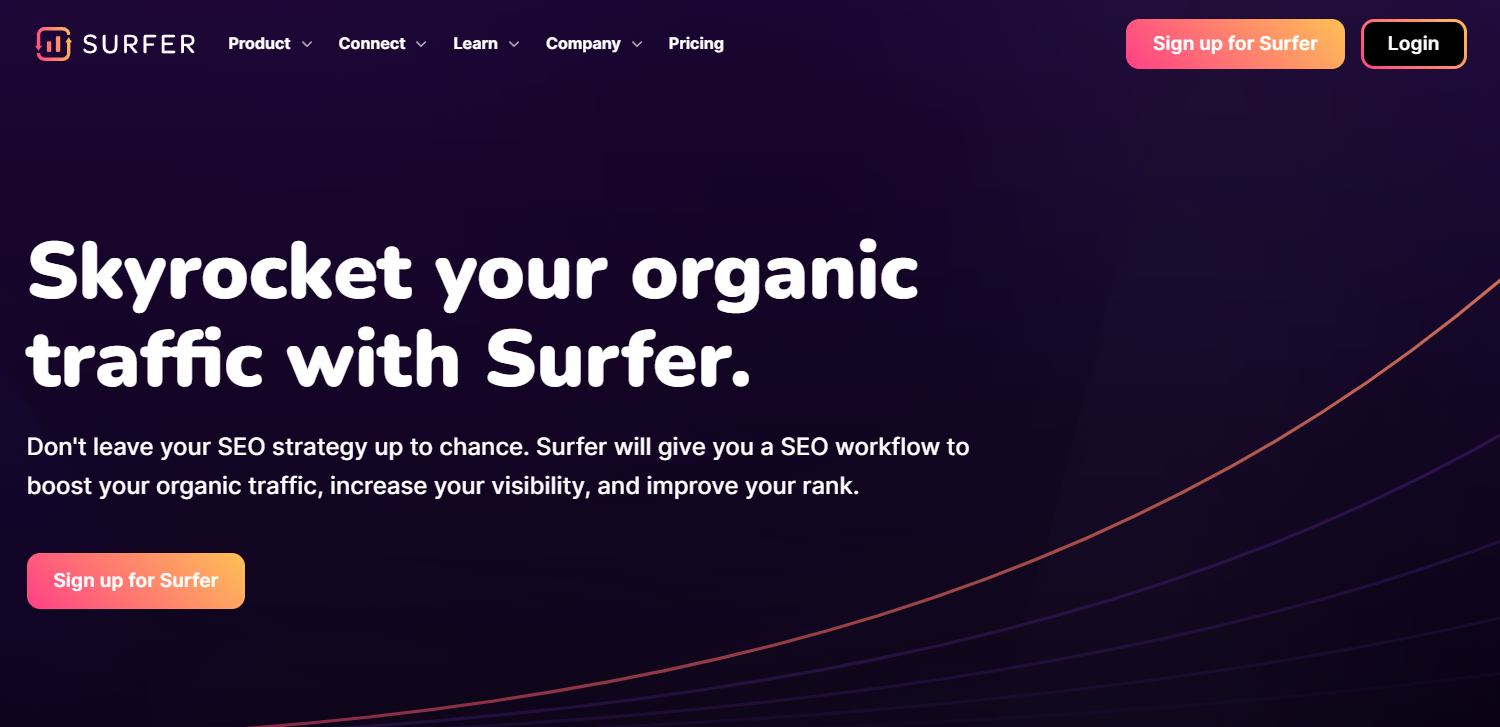 Surfer SEO is a powerful tool that allows you to conduct keyword research natively inside the platform, has a content editor to create content with a high content score, and a browser extension that allows you to utilize these tools and more outside the Surfer SEO website.
We've looked at other AI content generators, and for this one, we're going to take a deeper look at what Surfer's tools can do for you and your article's optimization.
Disclaimer: I'm an affiliate of Surfer, which means if you click on my link (please do!) and decide to purchase the tool, I receive a small commission at no price to you.
SurferSEO Overview

Surfer SEO is an extremely powerful SEO tool that uses Google search results and keyword research to optimize your content. This helps boost your organic traffic while also taking advantage of previous articles from a website in a similar niche to give you an idea of the type of content that people are searching for and the links you need to be relevant.
Join Renaissance Rachel's holiday giveaway!
1st Prize: $300, 2nd Prize: $75, 3rd Prize: $25
Surfer SEO gives suggestions for internal links, ways to boost your optimization through keyword research, and the density of the text you write. We will review the features more in-depth throughout the rest of this review. It is similar to other reviews we've done for AI content creation tools but is unique in several ways.
The website has features such as SERP analysis that give you insight into the search result pages after a Google search and how those results can benefit the content you write. They also have an audit tool and GrowFlow that goes over your current website or a specific piece of writing you have published with a fine-tooth comb and gives you insights on what you can improve on, what your related competitors are ranking as compared to you, and what you can do to improve the overall organic traffic of your site.
Plus, the site's biggest asset is the content editor, where you can write and create content in a detailed manner that allows you to track your success with the article after it's already posted. Let's say you posted an article in 2022 and want to repurpose that article for 2023.; the audit tool allows you to see any tasks you need to complete and look at the SERPs for added optimization.
| | |
| --- | --- |
| Feature | Surfer |
| AI Technology | Natural Language Processing (Proprietary + Google NLP) |
| Languages Supported | 15 languages supported for NLP |
| User Experience | Easy-to-use |
| Educational Material | Yes, and they offer a Surfer certification |
| Long Form Document Editor | Yes |
| Search Engine Optimization | Yes |
| Art Generation | No |
| Text Summarization | No |
| Plagiarism Detection | Yes |
| Chrome Extension | Yes |
| API/Webhooks | No |
| Free Trial | Yes, 5 day free trial |
| Pricing Model | Subscription Based |
AI Technology
Surfer uses Natural Language Processing algorithms to aid us in writing – natural language processing is how we talk to each other or in a complete sentence compared to when searching for something. When searching, we typically use shorthand and short-tail keywords; natural language processing often involves longer-tail keywords and sounds more how we speak regularly.
This type of algorithm and SEO helps improve voice search – so asking Siri or Alexa a question and waiting for an answer. Surfer is starting to understand that SEO prioritizes writing that optimizes for voice search as well as traditional SEO.
Pricing Plans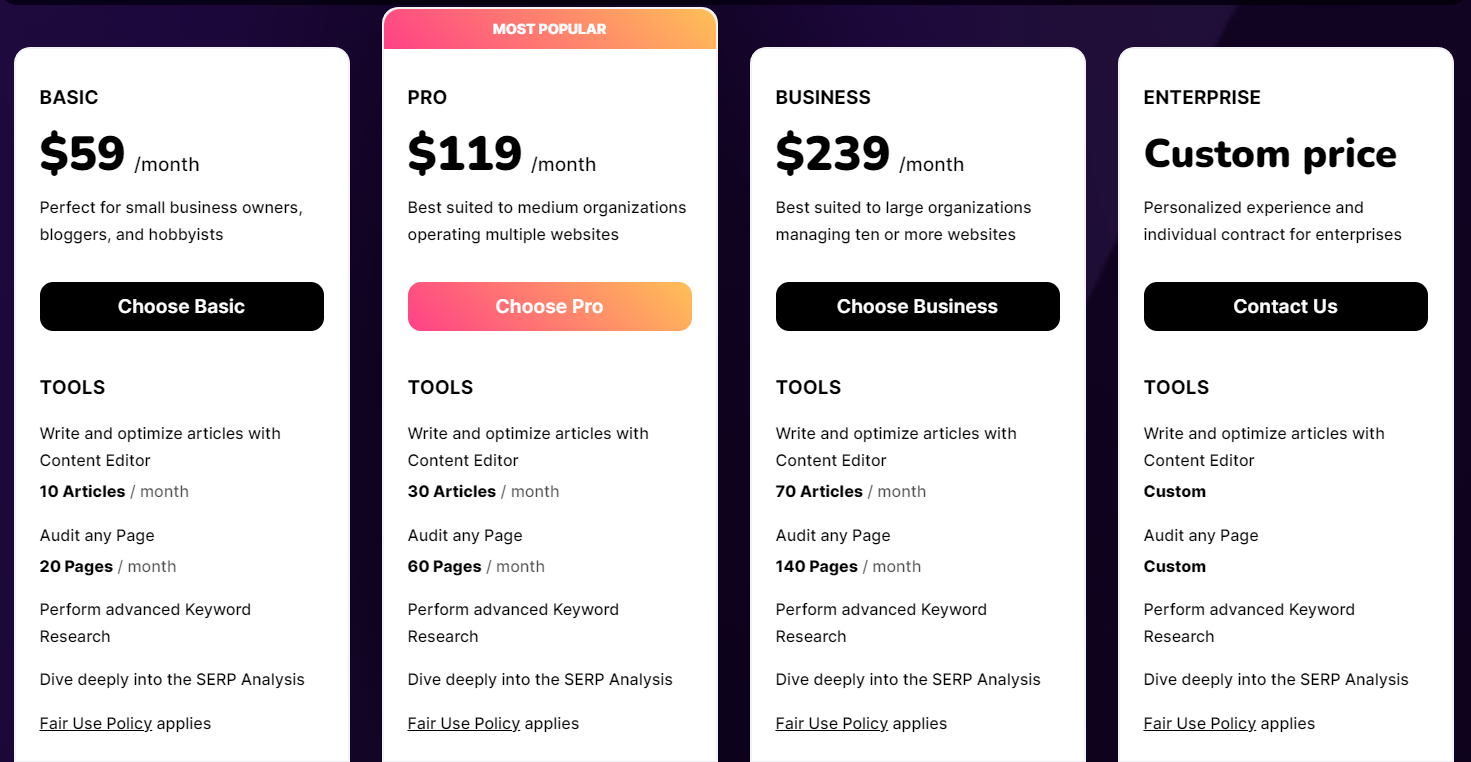 Surfer does have a free plan available where you can use Surfer for a limited amount of audits and content edits a month. That being said, if you're looking to use Surfer to take advantage of the analysis and suggestions it gives you when you create a document – the paid versions they offer have more relevant resources and can be applied to your domain in GrowFlow.
They have paid plans that range from being able to manage a team to just an individual paid account that gives you more monthly features and power to scale organic traffic. Most of the previous AI writing tools we've gone over have had some aspect of a paid plan; Surfer SEO may be a bit on the pricey side of things regarding subscription fees. Still, you genuinely get an optimized experience tailored to the specific goals of your domain and each article.
The difference that a paid plan makes versus the free version is that it simply gives you access to more SERPS searches, more credits towards creating articles, more detailed reports on what internal links it suggests you add, and more insights into how you could leverage keyword search in your marketing strategy.
Free Trial
Their free trial is more so a free version – you can get your money back within seven days if you're unsatisfied with the per-month subscription and are not getting the results you hoped for with the platform.
The free version, however, does not allow you to collaborate with a team like the paid plans do, so if collaborating with teammates is an essential part of the process for you or your business – the free version will not be an option.
SurferSEO Specific Features
What sets Surfer SEO apart from the other AI writing, content creation, and productivity tools we've looked at? Apart from SEO being a significant factor in the average use of the platform, with every article you write, you have the chance to grow your site and start ranking organically.
We will go over Surfer SEO-specific features and an example or two of how each feature works with the process and the content you're trying to post. The entire basis of Surfer is that it provides you with keyword data and data about your pages that you can't get with other platforms – it's a beautiful tool for SEO and creating content that's still enjoyable for the reader but increases your chances of ranking and getting noticed by search engines.
Depending on the project you're working on, you may not use all of these features at once or at all – but they're there, and they are fantastic to take advantage of. At some point, you'll wonder how to increase your organic traffic through SEO – Surfer has the solution to support you and your business while allowing your content to grow.
Grow Flow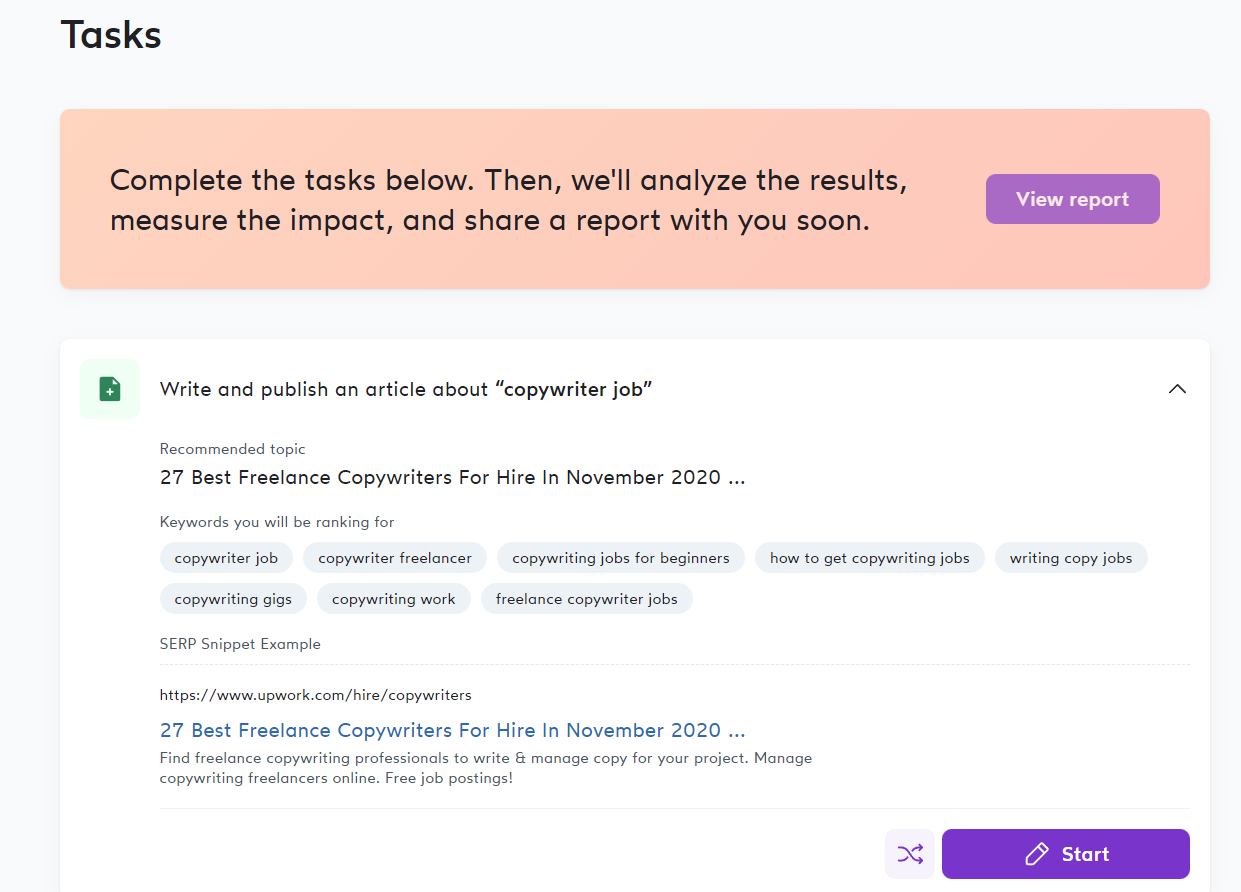 GrowFlow is your best friend regarding your domain and getting optimization suggestions and analysis results. Based on the web address you use and the keyword you want to rank for, it will comb through every aspect of your site, give you a brief overview of your competition, and what points you need to hit to optimize further and start ranking higher than your competition.
Once you finish the tasks that GrowFlow assigns to boost your site – it can analyze your site again to find out what more you can do within Surfer to create success and see results with your marketing and content. Most of the tasks assigned when using GrowFlow consist of writing a blog post incorporating a related keyword used by your competitors.
Surfer simplifies the entire process of writing and optimizing your blog content and business. It takes the guesswork out of search results and trying to analyze on your own – keywords are easy to use and search for with their search tool – and you can review the search results to see how best to optimize the keywords for your specific content creation strategy.
Keyword Research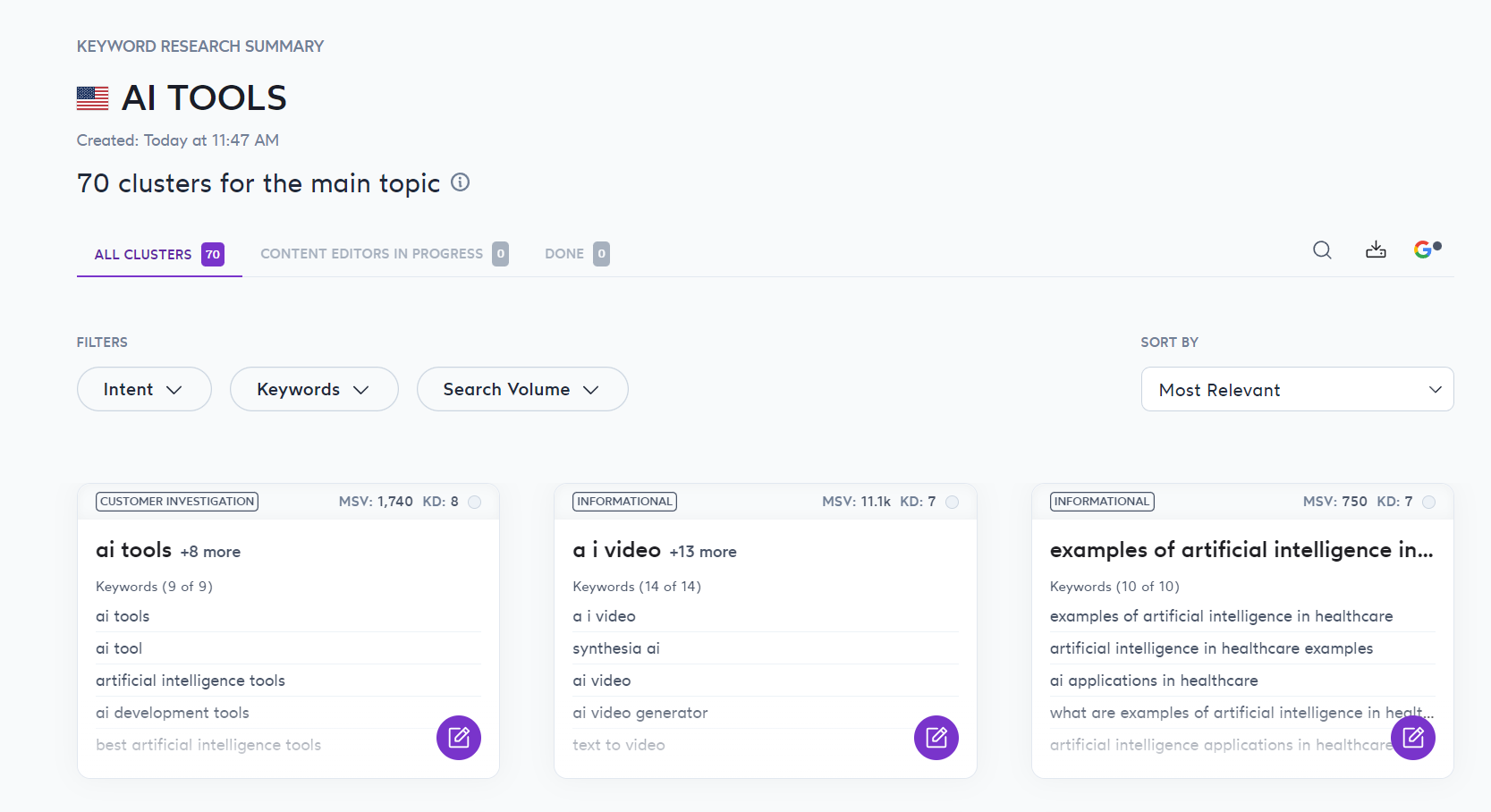 If we take a deeper look at the keyword research aspect of Surfer, it's data-driven. It uses Google to aid the results you get – meaning that ranking is taken into consideration, and Surfer's analysis can look at both long-tail, short-tail, and NLP keywords to get the best results.
The software takes what is searched for on Google, including any related searches, and lets you visually see what keywords you can rank for, their difficulty, and a few of the NLP keywords that are part of that Google search specifically.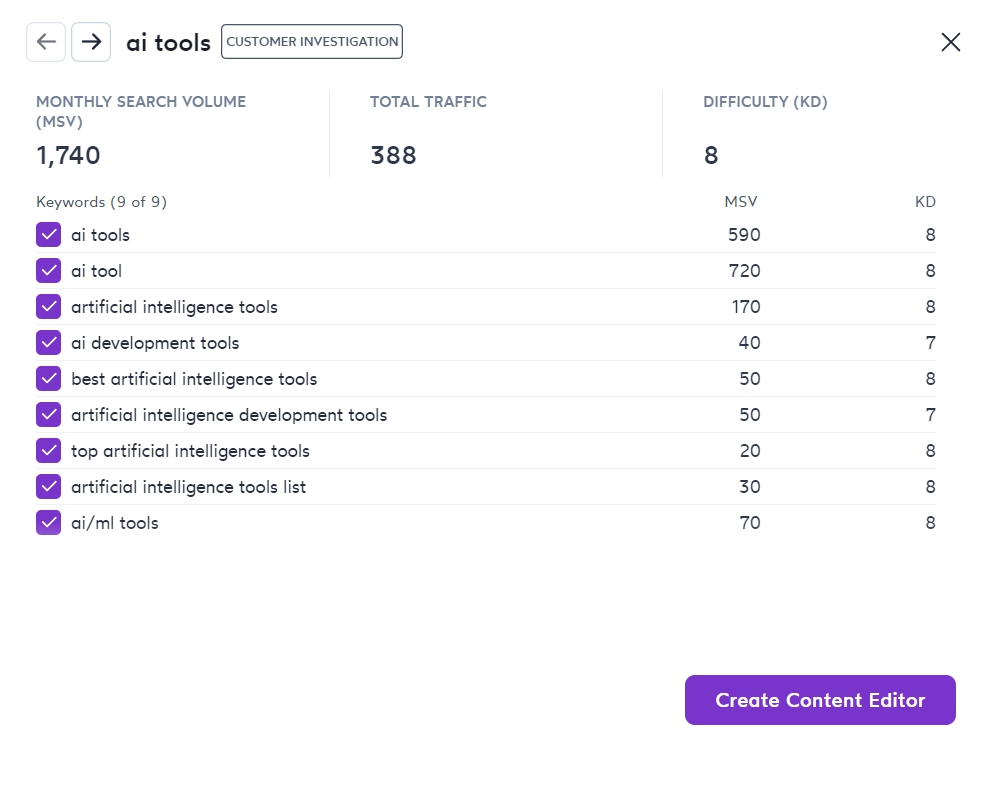 The data is there, the SEO content is there, and the content editor is there for you to take advantage of – their search is data-driven by Google searches directly, so it's not just a number made up by Surfer's platform – they show you a real example of searches.
Content Editor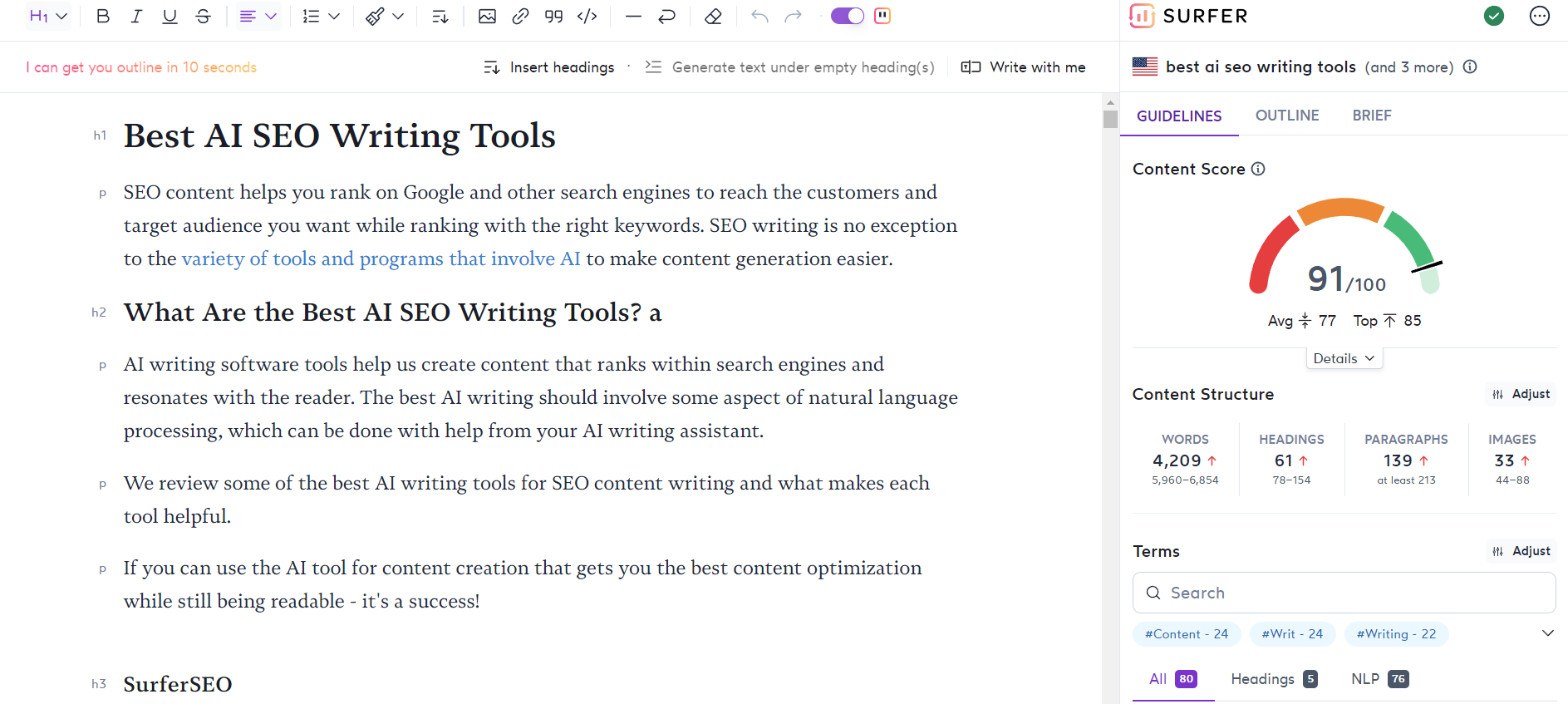 The content editor is where all the content tools for SEO happen – you get access to the keyword bank, which includes NLP keywords that go from red, when they haven't been used, yellow when they've been used but are not in the optimal range, and green when you've used each keyword the suggested number of times. To get the best content score, you'll want to get as close as you can to marking all the keywords as complete – but do not sacrifice the quality of the content.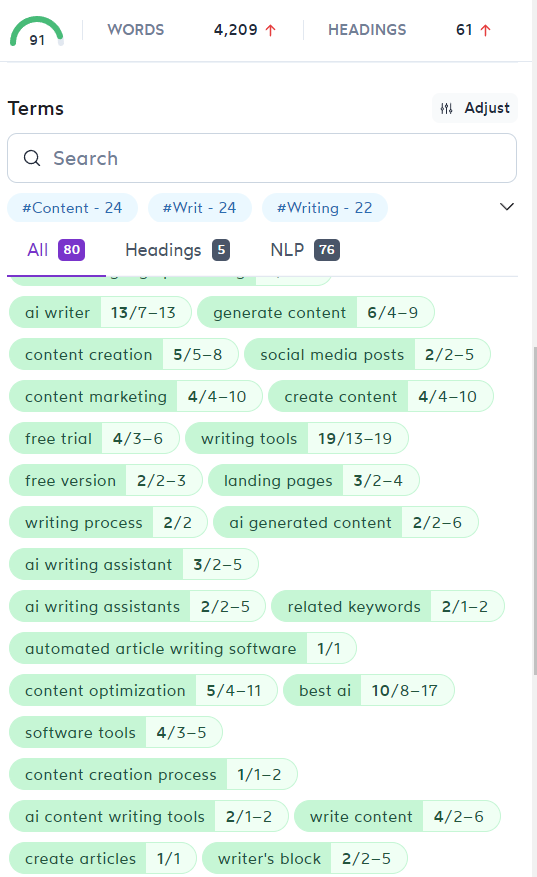 The content editor also gives you support regarding the structure and the number of headings, paragraphs, and images – ensuring the entire document is SEO-friendly. When you have a team membership, you can collaborate on the docs editor to leverage both Surfer SEO data and keyword data you may have collected as a team outside of Surfer.
This content editor is where you utilize all of the SEO features that make Surfer an incredible tool for on-page SEO. While writing, it tells you your current content score, the average content score, and the top content score for the particular keyword and length based on other competitors. If you want to make changes to any of the keywords or features it's having you complete, you can click the little settings wheel above the content score and adjust the terms to be where you want them.
Audit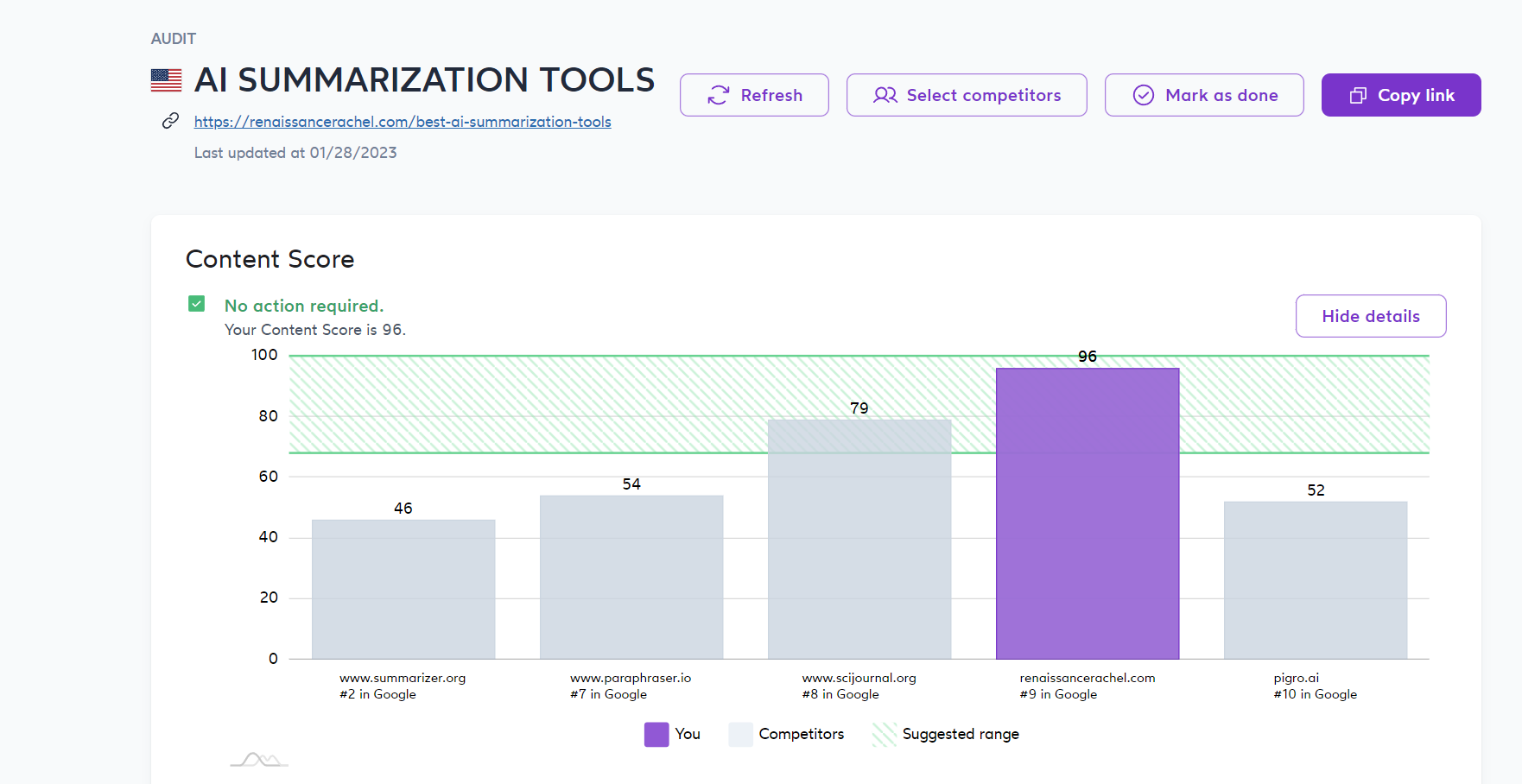 The Audit tool is excellent if you want to re-vamp a page or ensure any pages you already have written content for are correctly optimized. With this tool inside of Surfer SEO, you can find errors where you may have left out an internal link or a specific keyword that will help you increase your rank, or if you have a team plan, you can even white-label the SEO audit and export the audit.
Surfer SEO's audit tool lets you repurpose and restructure content you've already written, so you don't have to go writing an entire piece of content when minor changes need to be made to optimize it better.

SEO is complicated and can change rapidly. Another reason to do audits and use Surfer's tool is to ensure your content is always up to speed on the latest SEO information, both on-page and off-page.
Even between 2021 and 2022, the rules and best practices of SEO changed – making the rules of SEO and what makes a potential client or customer click on your search result even more complex. Thankfully, Surfer SEO takes the guesswork out of that complexity and makes it easier to re-vamp content.
SERP Analyzer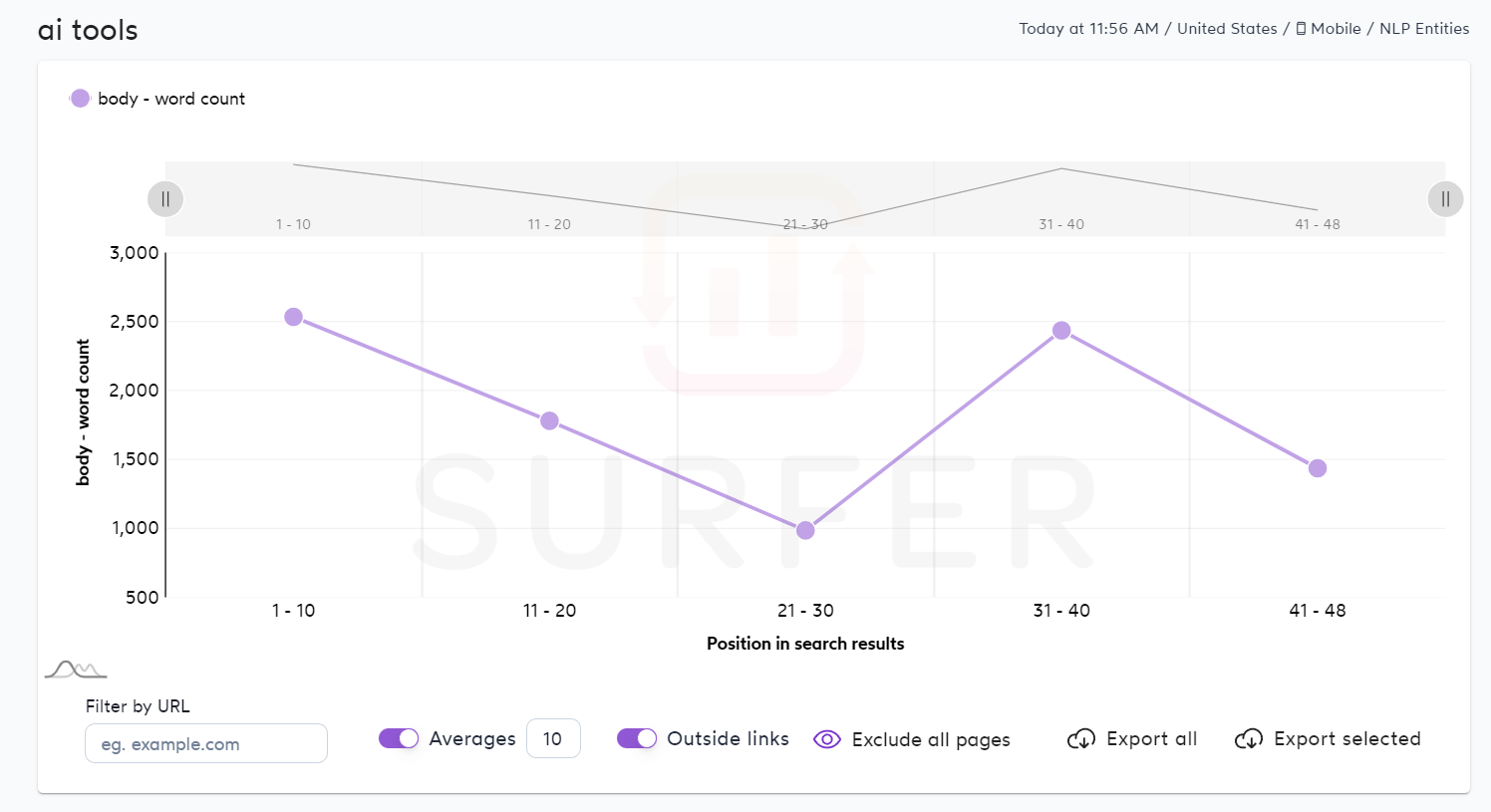 When you type anything into Google, the outcomes can be a bit overwhelming – but the SERP analyzer page of Surfer makes it easy to see all the popular outcomes, their difficulty ranking for keywords, related searches, and more with their simple page layout.
You don't have to search Google for hours to find the best page outcome organization. You can do this with a simple click of a button. You can leave the old ways of SEO in 2022 because Surfer SEO can transform your on-page SEO.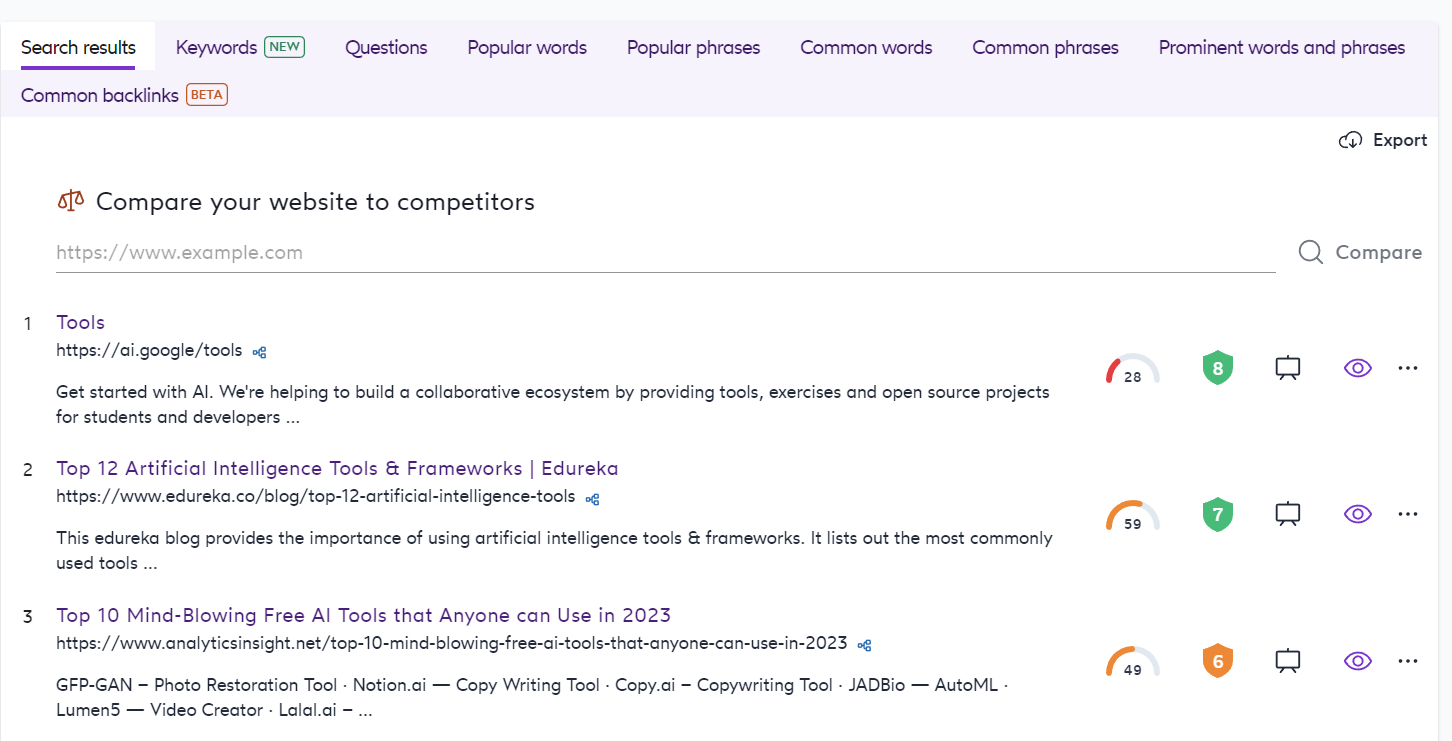 The SERP of any search can tell you many things about the words you need to rank for and what people are searching – the things that Surfer SEO does for you – meaning you don't have to worry about them. It's all automated. Sufer is a great resource for analyzing SERP pages and docs – taking the extra research load off you.
What SurferSEO Does Well
Surfer does many things well – their keyword platform is extremely helpful for digging deep into what your writing needs to include to rank. Surfer makes it easy to take the guesswork out of SEO research and takes a load off your task list for each project.
It also is terrific at auditing content you've already written – you can take the content you wrote last year and repurpose it for the next year, adding to the content and re-vamping it.
You can tell that the platform truly focuses on the SEO aspect of content writing and how surfer can implement keyword research into a writing and content marketing strategy.
What SurferSEO Could Improve
The pricing of Surfer could be improved as it is pretty pricey – especially when comparing it to the other tools we've reviewed in detail. Surfer has many features that you can take advantage of, but the price is a bit steep if you need more monthly audits and content edits than the free version gives you.
The basic plan is the cheapest at $56 a month, which is already higher than others. We reviewed some of the other AI tools that improve SEO – Surfer was high on that list, but it could be improved if the audit tool and editor provided more insights about the specifics of your rank and where you fall on the SERP pages.
Final Thoughts
If you're looking for an all-in-one platform that takes a load off your task list for your next writing gig and wants to ditch the old SEO strategies of last year, Surfer is a fantastic tool to take advantage of!
After personally using Surfer SEO for a few different writing pieces, it is clear that it performs better than most AI tools. It has a wealth of data-driven tools that help you write outstanding content while taking extra research tasks away.
If you don't mind the extra price for the basic or pro plan, I would recommend giving Surfer a try to see if it fits your SEO needs.