Synthesia.io offers a way to turn any script or piece of writing into an AI video with a range of AI avatars. Whether you're looking for simple and visual explainer videos, a video to send to your company employees, or general video content – Synthesia allows you to create a professional-looking video.
Synthesia offers a unique and new way for business owners and companies to create videos for various needs – video production no longer needs to be expensive and break the bank. Synthesia allows you to create stunning videos without the need for an entire video production team and costly gear.
In today's age of the internet, videos Synthesia gives you a chance to create videos without needing to be on camera, have a mic, or even a production team – they create it all for you, and it's incredibly user-friendly!
Synthesia Overview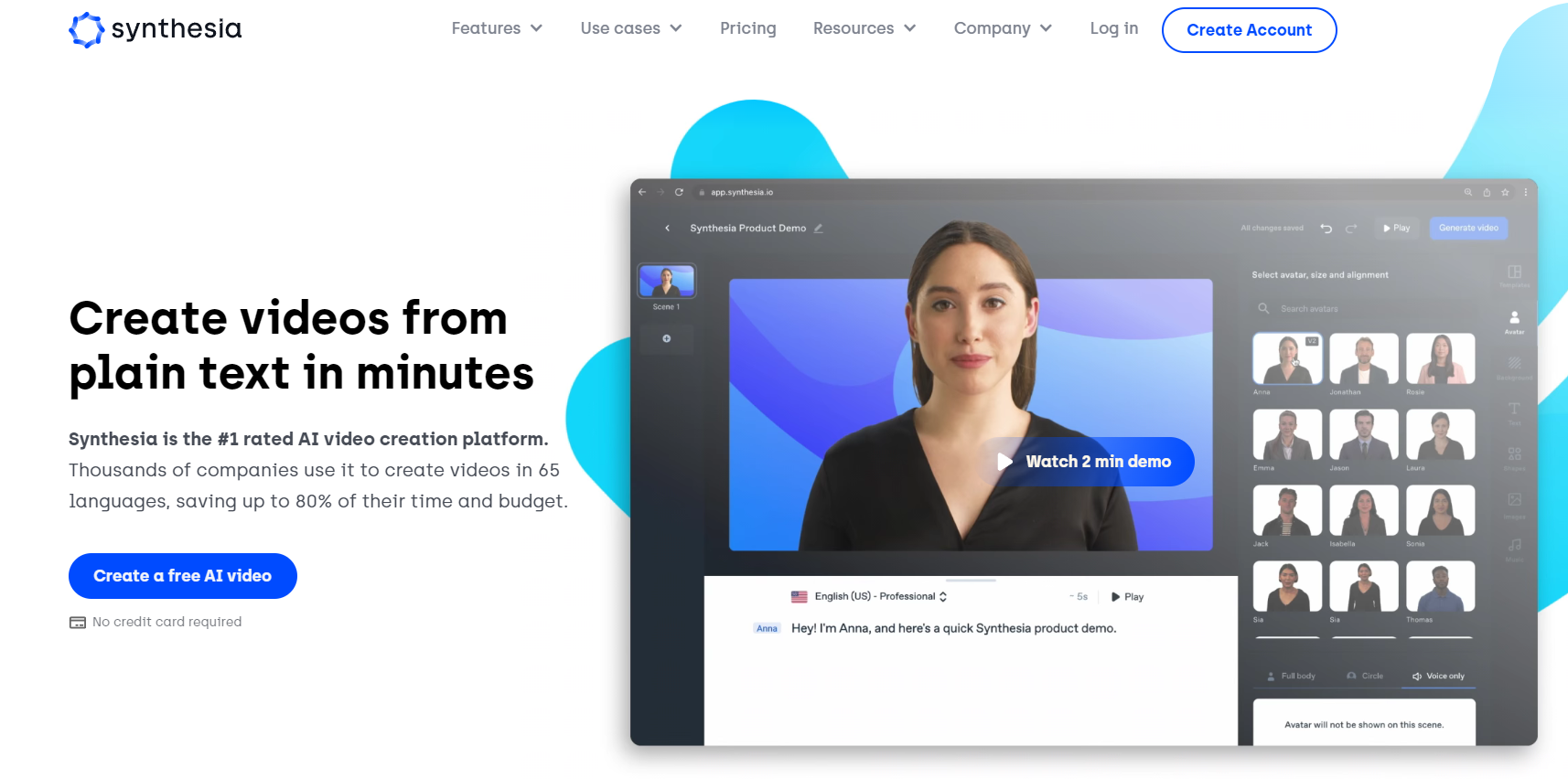 Synthesia has over 50 avatars, various backgrounds, music, and add-ons to each video to ensure that each video you create is unique and specific to your purpose.
Join Renaissance Rachel's holiday giveaway!
1st Prize: $300, 2nd Prize: $75, 3rd Prize: $25
We'll dive into what technology powers Synthesia, what it does exceptionally well, and what it could improve on.
AI Technology
Synthesia.io uses various AI-based technologies to produce professional videos without the need for a camera crew, production team, or mics – but the primary type of AI technology is reactive AI.
Reactive AI is programmed to perform certain functions depending on the type of input received. This is typical of all AI video software and other basic AI-based systems.
Pricing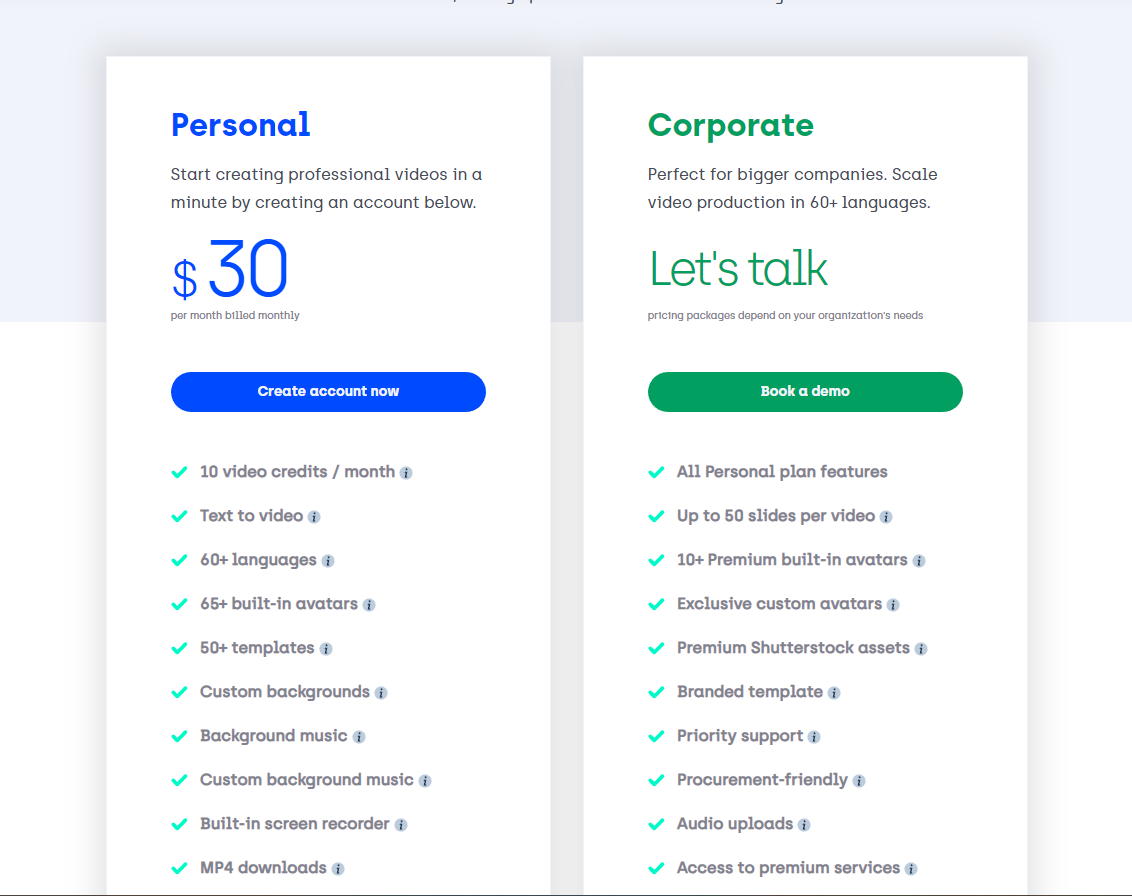 Synthesia has two pricing plans, both of which offer numerous benefits – but are geared towards individual users versus companies and corporations.
Their plan offers 10 video credits per month with the ability to generate those videos in over 60 languages and over 50 templates – you can also choose from more than 65 avatars to best fit your style and content type.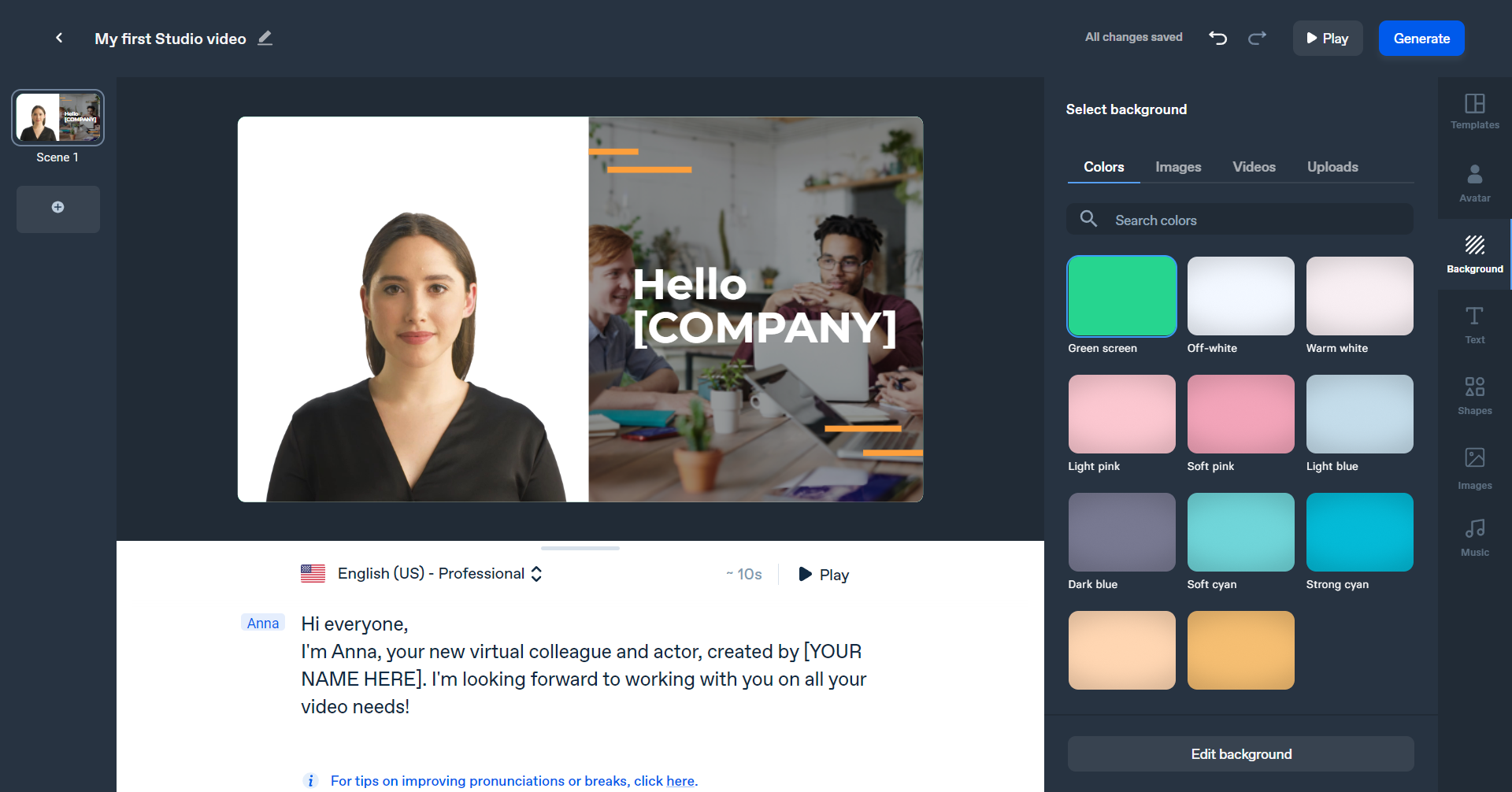 With the personal plan, you don't have a lot of customization opportunities to ensure your video matches your brand.
For $30 per month, you can create a professional video where you can choose the background; whether you want a color, stock video, or image, there is a built-in screen recorder so you can provide demos with AI voice-overs.
If you dislike pre-built video production templates, you can create your unique video by adding text, images, and shapes to each scene.
Once your visual elements are added, you can bring the video together by adding music to the background.
If you're a company or corporation, you get all these features and more with the corporate plan – but you can add up to 50 slides per video, and there is no limit on the number of videos you can create per month.
Features that Synthesia.io Offers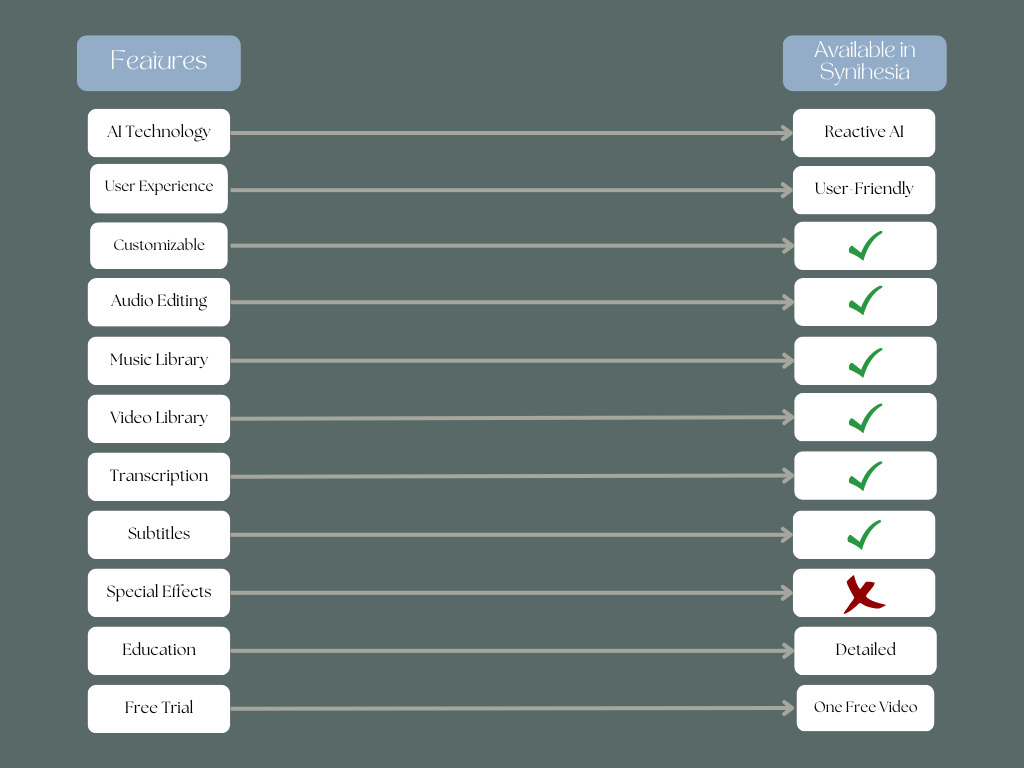 | | |
| --- | --- |
| Features | Synthesia |
| AI Technology | Reactive AI |
| User Experience | User Friendly |
| Customizable | Yes |
| Audio Editing | Yes |
| Music Library | Yes |
| Video Library | Yes |
| Transcription | Yes |
| Subtitles | Yes |
| Special Effects | No |
| Educational Materials | Detailed |
| Free Trial | One free video |
What Synthesia Does Well
As an AI video production software, there are a lot of features that Synthesia does well – besides creating professional videos.
Customizable Features
The entire process is incredibly customizable, from backgrounds and you write avatars, the script itself 100% – and you can customize the background music to give off the specific emotion you are going for with each video creation.
Within the Synthesia studio, you can choose an avatar that fits your purpose, choose from various languages, and add audio to create a further personalized video.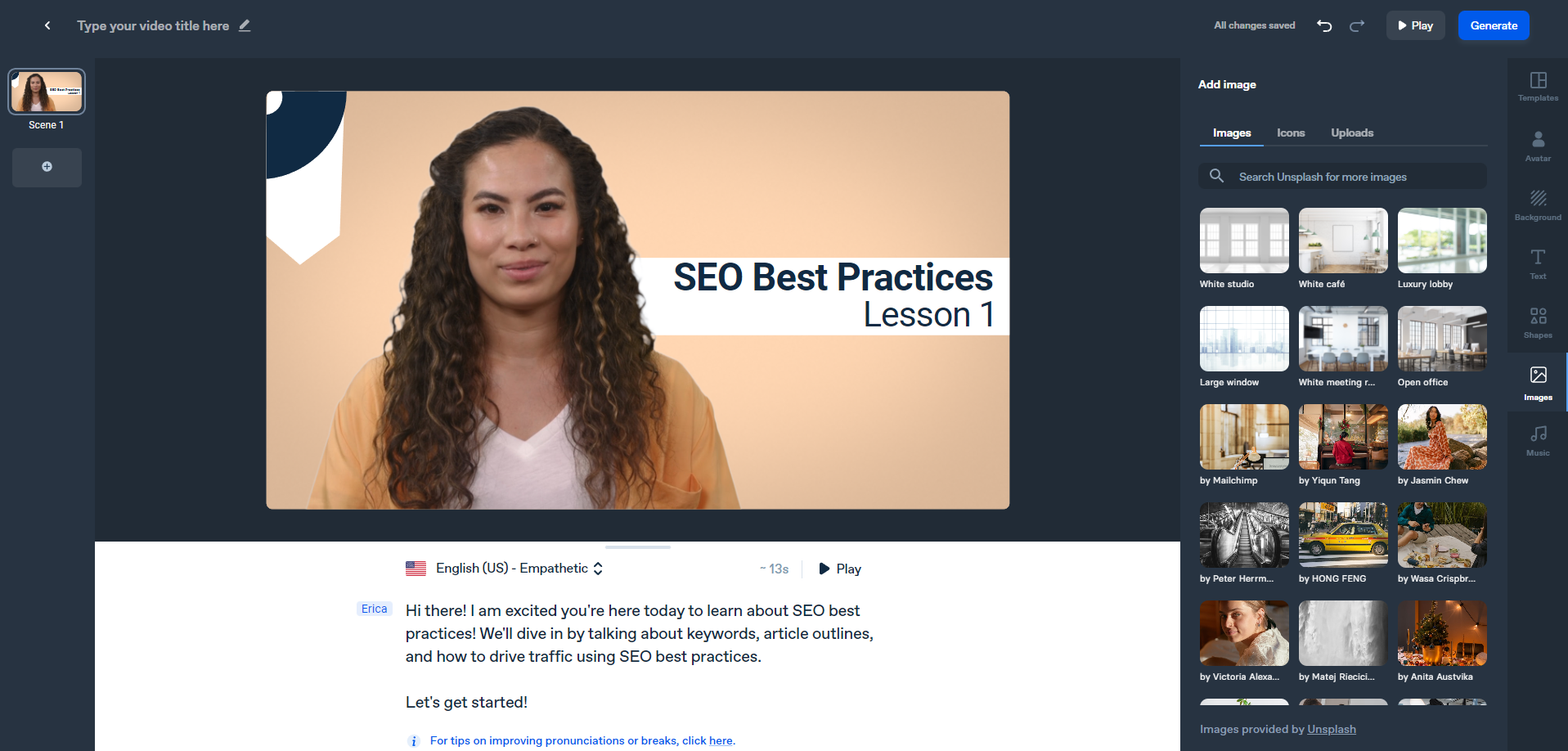 In the example above, after I created my script and selected the avatar I wanted, I could then go in and add the title and subtitle text to the slide and the graphics.
Not only does this allow you to create a more professional-looking and quality video but it also allows you creative freedom when creating premium videos.
Suppose the video you're creating is more word or visual-heavy. In that case, Synthesia AI does give you the capability to choose whether you want the avatar to show on screen, or if you just want the voices.
This makes it great for a marketing video where you don't need an avatar on screen.
Subtitles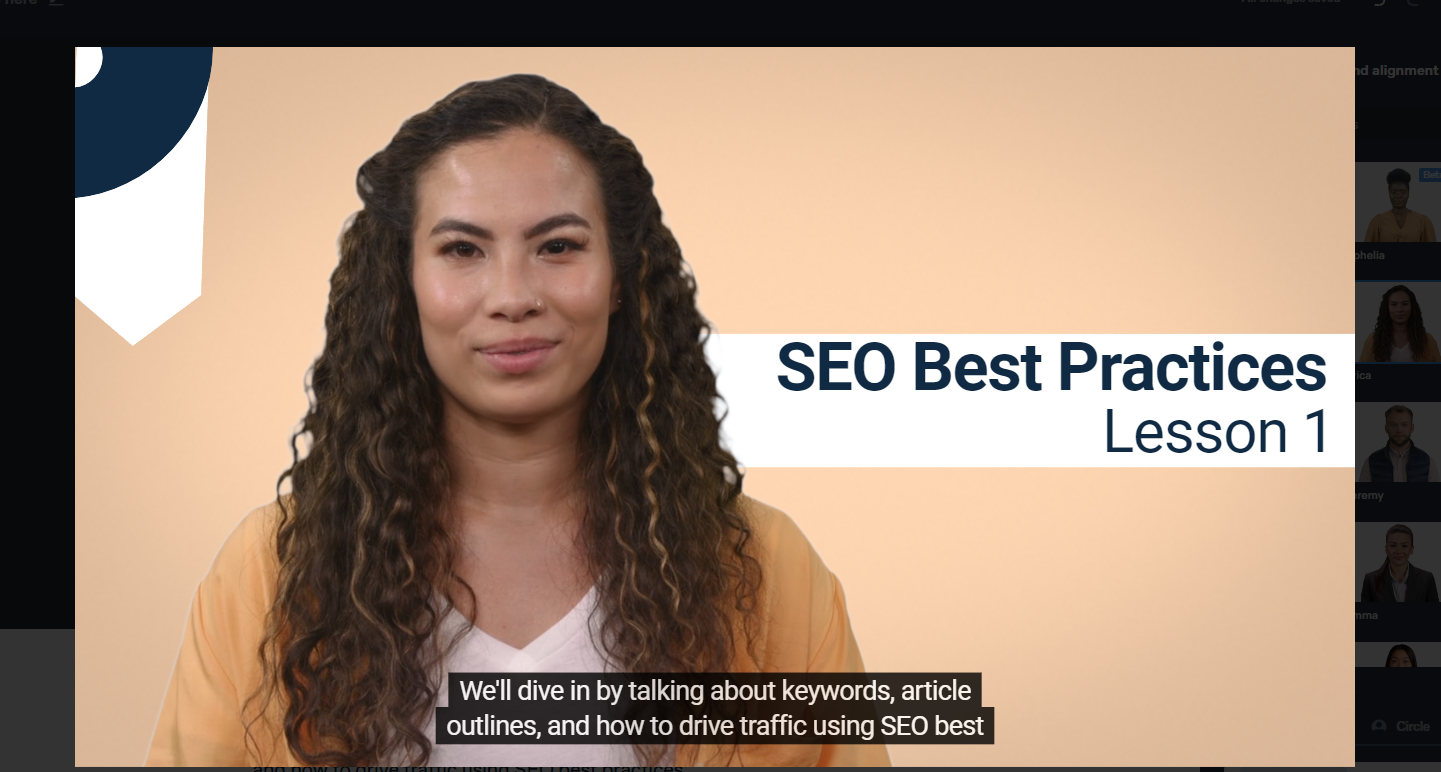 The best part of Synthesia AI is that it automatically generates the subtitles for you once you are done customizing and hit the 'generate' button.
So the days of hours of video editing to make sure the subtitles are correct and line up with the audio are behind you. Each video you create comes with automatically generated subtitles, ensuring inclusivity for all audiences.
In the same way that the voice-overs are available in multiple languages, the same goes for the subtitles. When you go through the list to select what language you want your voice-over, this automatically updates so the subtitles reflect the same vocabulary.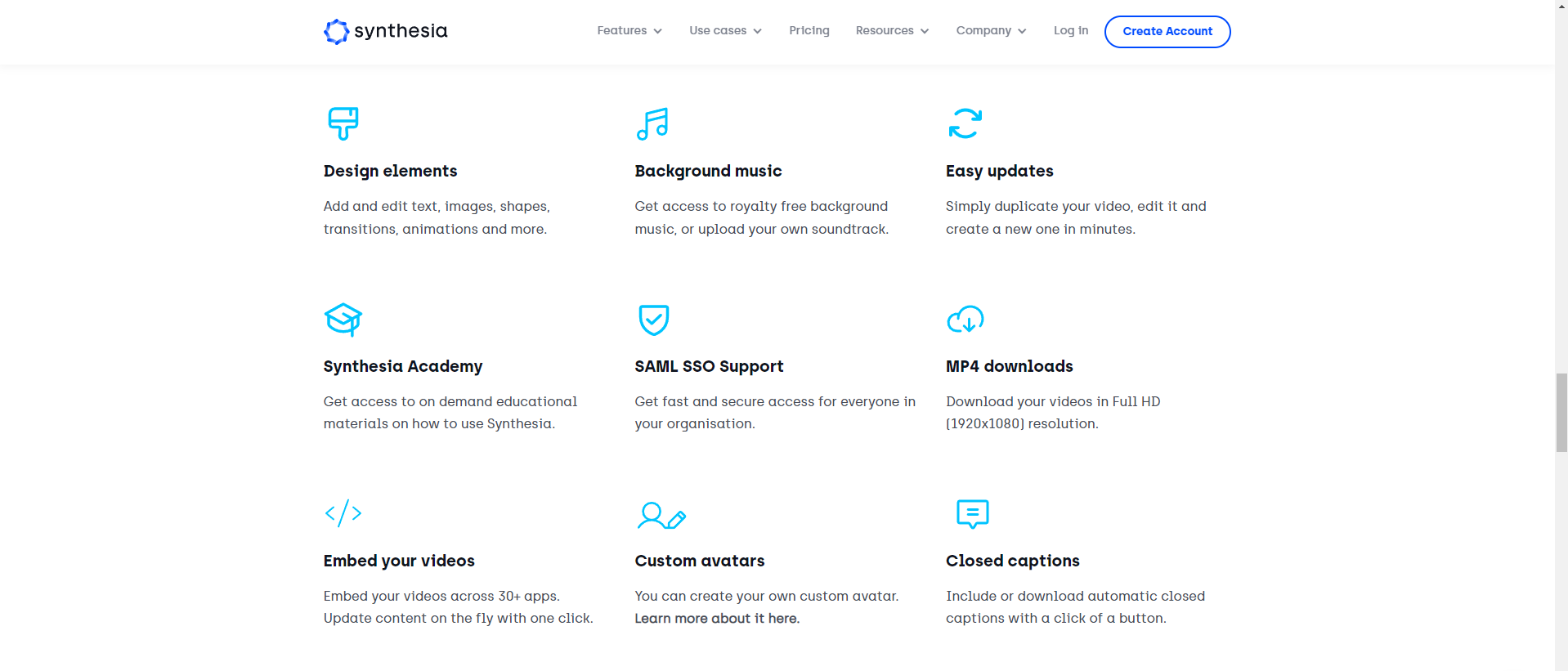 This makes it an excellent tool for international companies that want to create the same type of content but use a different language per video.
In addition to the multiple languages, each language has a variety of tones to choose from. You can have your video sound empathetic, natural, easygoing, lifelike, warm, serious, and many more.
Whether you're creating training or marketing videos, you can select your message's tone – just as you would if you recorded it yourself.
User Experience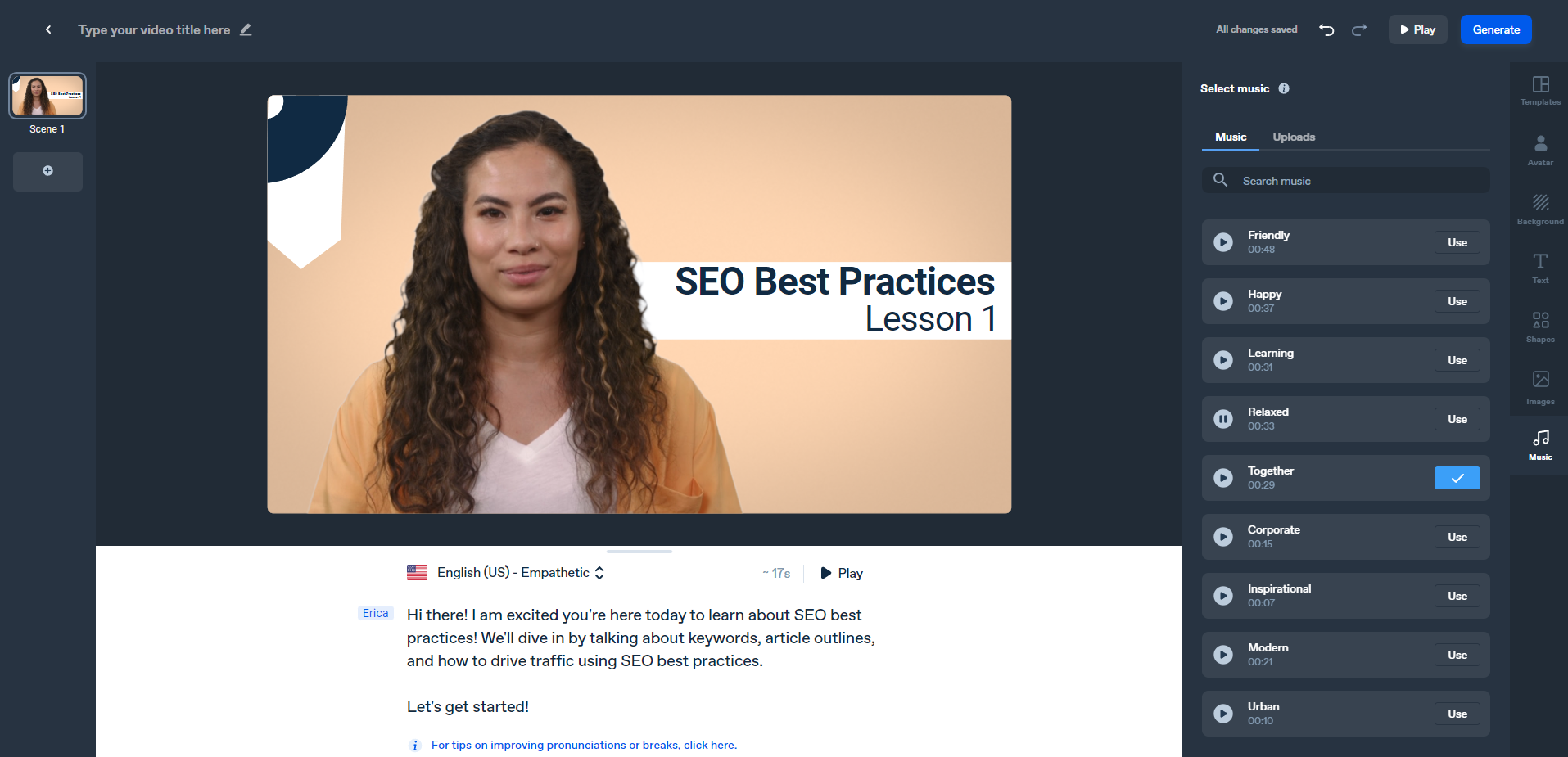 Synthesia is easy, and the platform has many resources you can reference if you need extra support when creating your videos. Each step in the process is straightforward, and you have access to custom features that make editing and creating a video simple yet personalized.
Users with various backgrounds and skills can use this platform easily; you don't have to be an expert in AI in any sense!
The media you can add to the video uses a drag-and-drop or click-to-add method that makes AI video creation seamless using Synthesia.
If you struggle with anything while using Synthesia to create videos, they have an incredible customer support team to ensure your success with the tool.

If you're ever unhappy with something you've added or want to change a shape's color, size, or style" or you're the other media you've added- you can easily undo or delete it without having to start all over or have any video editing knowledge.
Synthesia truly makes it easy to import your images or video, change and edit the script, or AI avatars to produce professional product marketing, how-to, or training videos.
Educational Materials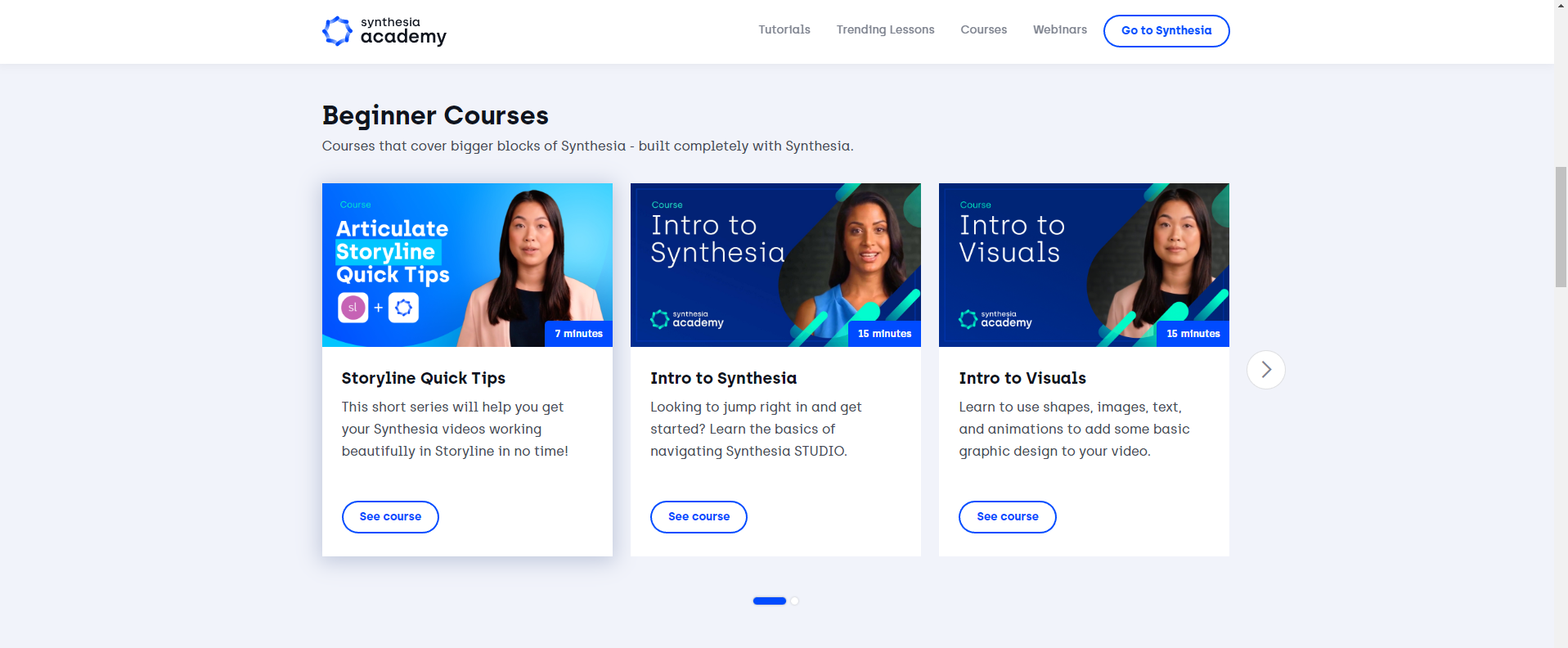 Once you start using Synthesia, you can access their educational materials, such as how-to videos and beginner courses, to further your knowledge of creating professional videos on their platform.
Whether you need more help understanding avatars or how to produce great marketing videos using visuals – their educational materials are fantastic resources to learn the ins and outs of Synthesia.io.
What Could Be Improved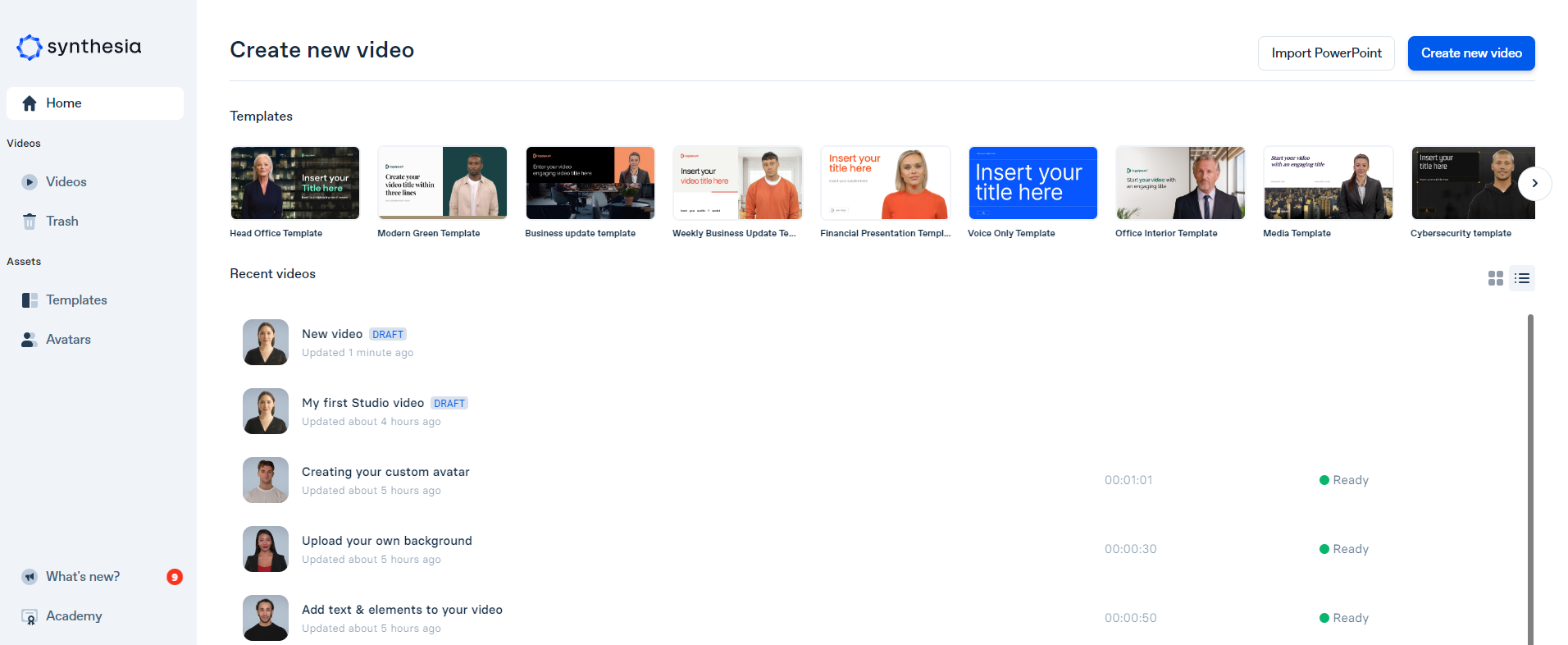 All that being said, there are some ways that Synthesia AI could improve its video creation process and software.
Suppose you don't need a ton of features for your video. In that case, Synthesia has the major ones covered – you can add shapes and text, change the background, ad an AI avatar, and choose from over 60 languages, but as far as extra features go, there are ways you could improve to add style to your videos.
Further Customization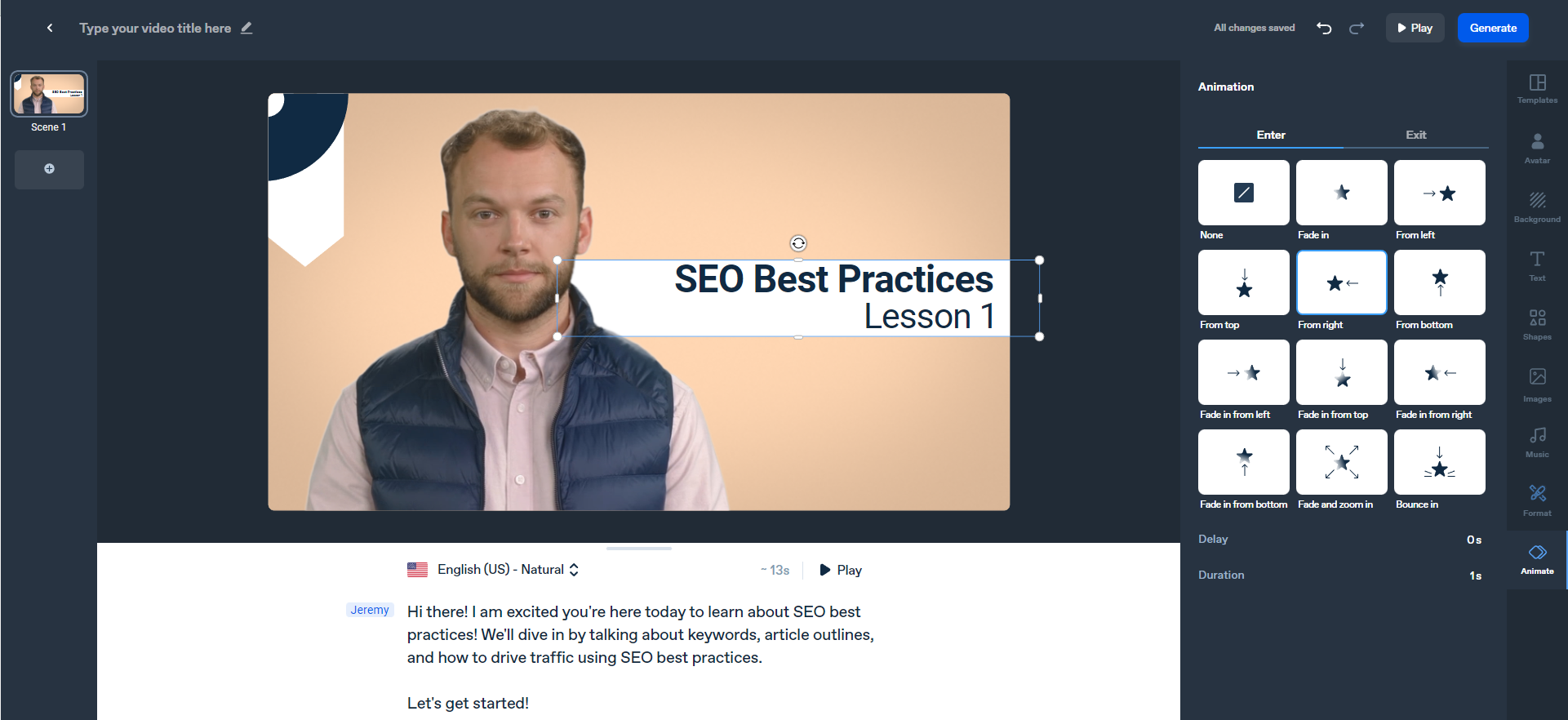 Synthesia has a few customization options you can add to your video creation, such as animations for shapes and text. It doesn't provide any unique products for a seamless transition between each scene – which is typically more aesthetically pleasing for the audience than a dry cut to the next scene.
If you're looking for even more custom options to spice up the visuals, the platform doesn't offer many outside simple shapes, text, and animations. It still provides a quality studio tool to create various videos.
Free Trial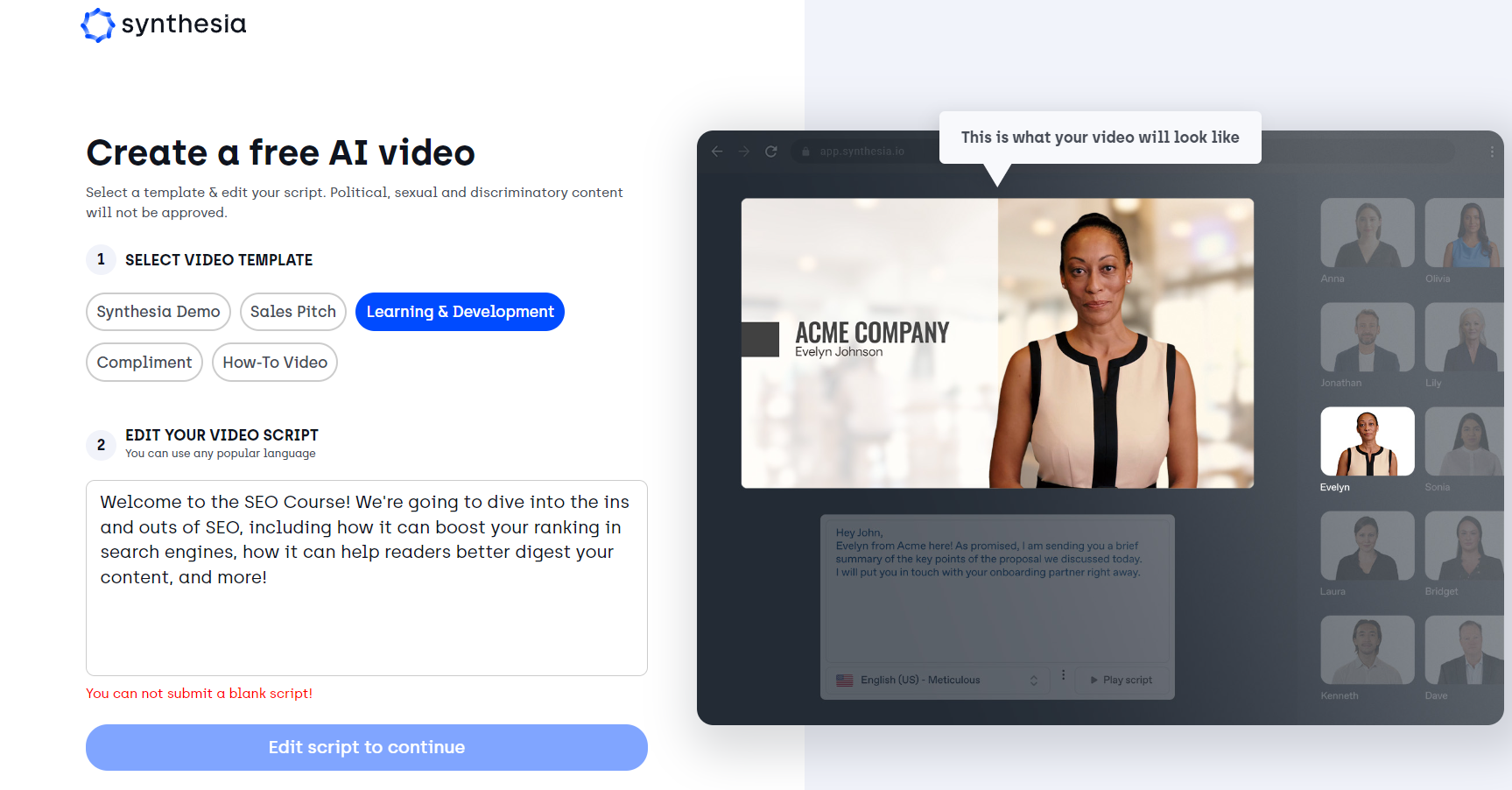 The one feature that would typically bring a 5-star rating for a platform like this is it doesn't offer a free trial – you get to produce one introductory video with a simple script and no editing.
The Synthesia app allows you to select the type of video you're looking to create, type or copy and paste a hand into the field, and your video result will be emailed to you within a few days.
This doesn't typically constitute a free trial on Synthesia – you don't get to choose from the 60 languages or use the studio to add custom elements.

You don't get a real sense of how the tool works until you pay for the personal or corporate plan, which is an integral part of evaluating the cost of a product; you want to be able to test it and see how the software works before you pay money – the purpose behind a free trial.
The Synthesia app and studio components allow you to add so many personalized aspects that it would be nice to give the customer a chance to access these before spending money on the premium tool.
The one free video component of Synthesia.io doesn't allow you to add scenes either; you enter your script, select the purpose of your video, and it does the rest – without allowing you to add custom elements to it after it's produced, either.
Final Thoughts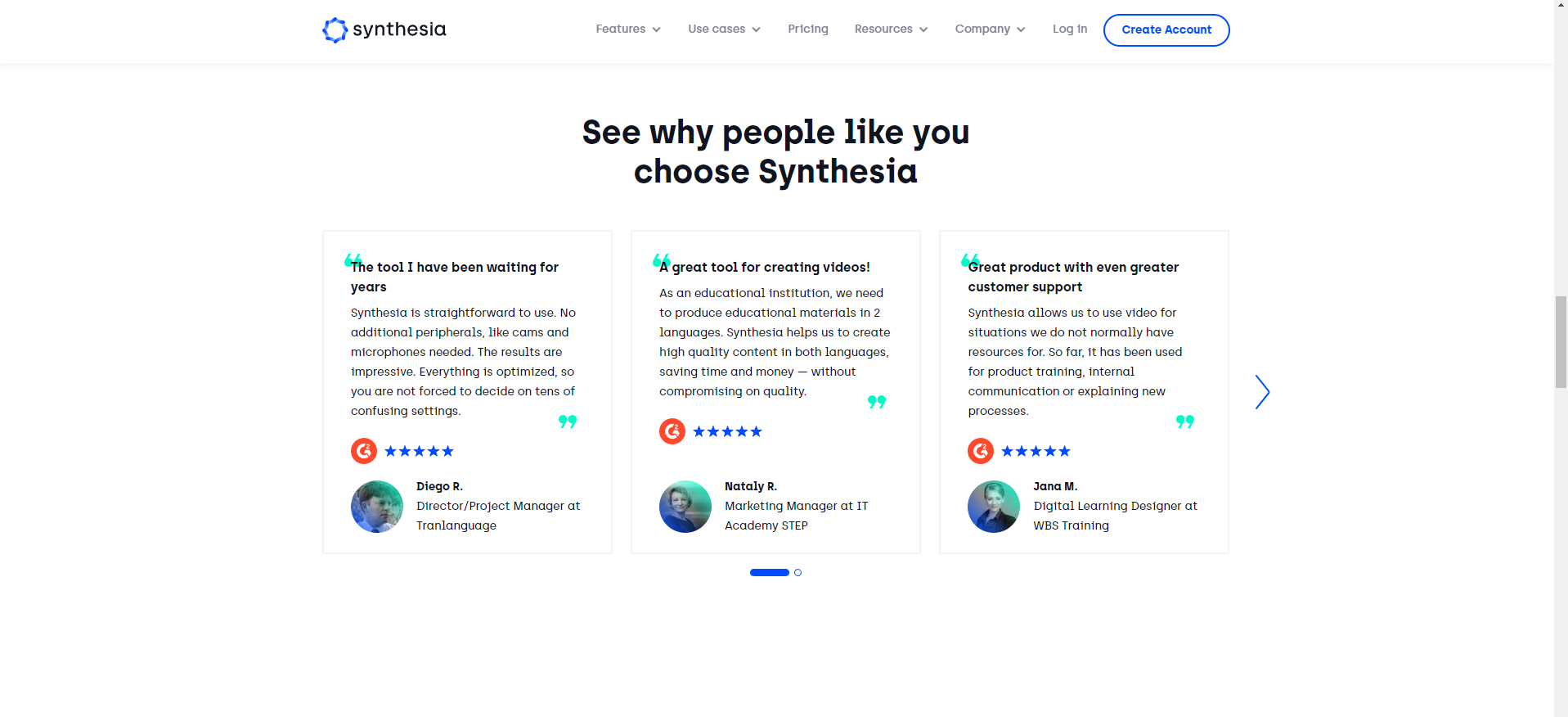 Synthesia.io has many strengths regarding the quality of the video you can produce, the variety of voices available to pick from, the user-friendly interface of the app, and the customer support you can reach out to if you need assistance with any aspect of their page.
The company had a mission to allow corporations to produce and scale content using media actors without needing large-scale production teams and expensive video and audio equipment.
You can reach and create content for audiences worldwide by utilizing the range of voices and languages they offer – many customers agree, given their 5-star ratings.
Synthesia is fantastic for business owners, entrepreneurs, social media managers, marketers, or any digital business that wants to use professionally created media without spending thousands on a production team.
If you need a sign that tells you to level up your marketing video production – Synthesia is that sign. You can input your brand logo with the corporate plan, or you can still upload your media with a personal project.
You can use Synthesia to create professional videos for your next marketing campaign, employee training day, or how-to social media post – and create AI video content anywhere in the world without a big budget.