11 Best AI UX tools of 2023
AI-powered tools are transforming the field of user experience design, now more than ever before. With the ability to generate design suggestions, provide real-time feedback, and analyze user data and behavior, artificial intelligence UX tools are helping (and only helping, they are not coming for your job) UX designers optimize their processes and deliver better user experiences.
What are the best AI UX tools?
The AI UX tool that is the best will ultimately depend on what specific needs and preferences the designer has. Some tools may be more suited for generating design suggestions, while others may be better for analyzing user interface, data, and feedback. 
It's important to keep in mind that artificial intelligence-powered tools are still a relatively new technology and that while they have the potential to improve the design process greatly, they are not yet perfect. And they are definitely not a replacement for a human designer, and won't take away the UX designer's job. AI tools are best used as a companion in the design process of a UX designer. By combining the power of artificial intelligence with the creativity and imagination of the human touch, these tools can help to create truly exceptional user experiences.
Best UI Generators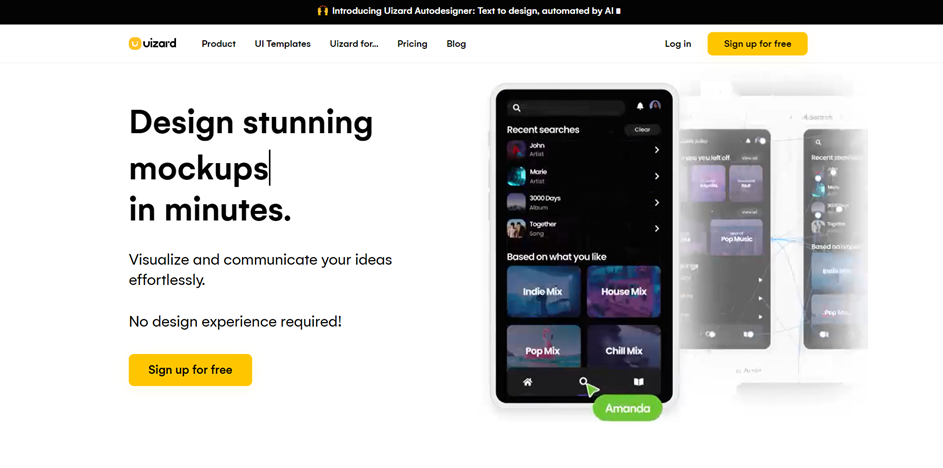 Overview
Uizard is an AI-powered design platform that allows you to turn hand-drawn sketches into digital UX designs in seconds. With this amazing prototyping tool, you can craft UX designs for apps, websites, and UI systems made easy. Work faster and smarter with this powerful artificial intelligence tool and create interactive prototypes with great image resolution and test the usability of your design.
Join Renaissance Rachel's holiday giveaway!
1st Prize: $300, 2nd Prize: $75, 3rd Prize: $25
Highlights
With Uizard, you can easily create prototypes and UX mockups. By importing your hand-drawn sketches, Uizard will design screens and UIs for you with a click of a button. Prototyping has never been this fast! Just scan and let Uizard do its magic!
Uizard works both ways. Turning your wireframes into high-fidelity mockups AND turning your designs into wireframes.
The prototyping tool comes with a drag-and-drop editor and premade UI design templates. You will also gain access to their vast UI components library.
You can easily link screens, add new pages and update CTAs, and then share your designs with team members and potential customers.
Uizard has really smart sharing features, helping you gather feedback with ease. You just share a link and wait until the comments and suggestions roll in. But you know what is even smarter? Some of the best AI project management tools on the market!
Pricing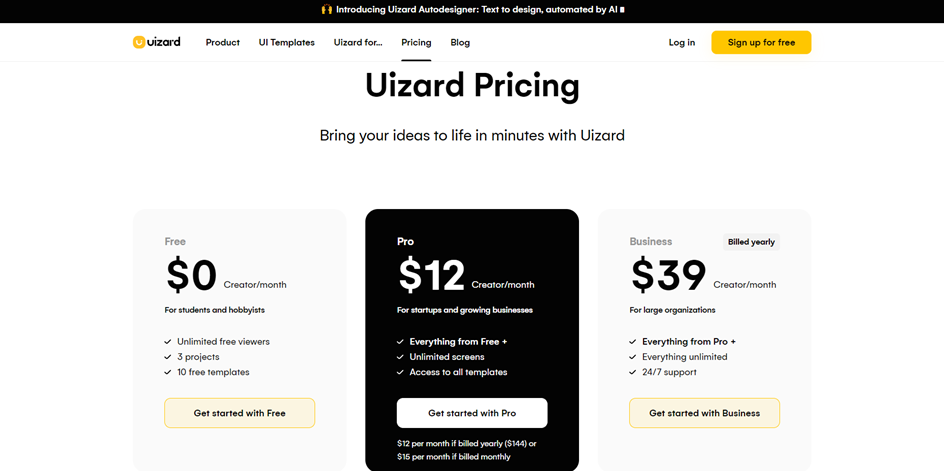 Free Plan for up to 3 projects
Pro Plan for $12 per month per creator
Business Plan for $39 per month per creator
Enterprise Plan is custom-tailored and custom-priced
Bottom line
Uizard is the best option for UX designers looking to quickly turn hand-drawn sketches into digital designs. Uizard is definitely one of the best prototyping tools in the AI UX design market today. Try out the free plan for yourself and see the magic come to life!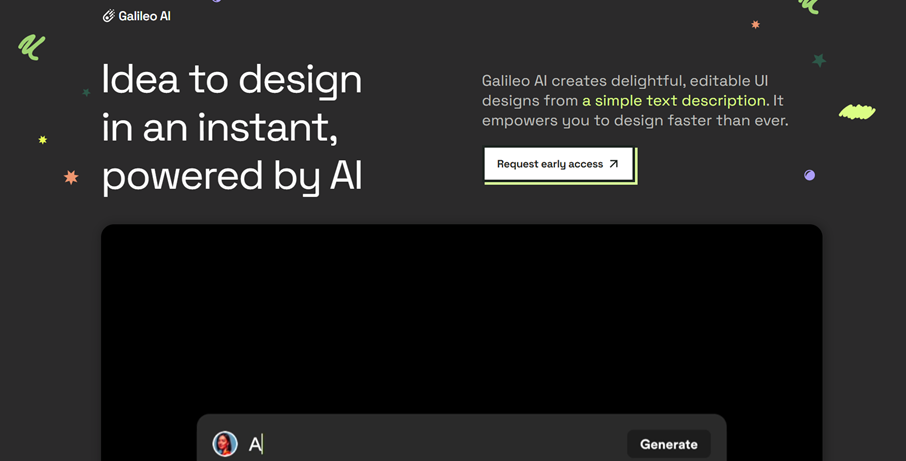 Overview
The AI-powered platform provides UX designers with data-driven insights to improve their designs. Galileo AI creates delightful, editable UI designs from a simple text description. It empowers you to design faster than ever. Trained on thousands of outstanding designs, Galileo AI turns natural language prompts into high-fidelity designs without losing quality.
Highlights
Generate a complex UI in a flash: their technology learns from thousands of top user experiences, and then designs and builds the UI that meets your needs at never-before-seen speed.
Their platform offers a selection of AI-generated illustrations and images that have been carefully curated to match your vision and style, and these images are available in high image resolution.
The AI on their platform is capable of understanding complex contexts and accurately filling in product copy from end to end.
Spend less time on tedious tasks such as creating repetitive UI patterns and making small visual tweaks. Instead, focus your efforts on landing a bigger impact: designing creative solutions. Organize your time efficiently with the best AI time management tools on the market today!
Pricing
Bottom line
Galileo AI is yet to prove its worth. Judging from their website copy, there is little the platform cannot do. Well, except for replacing the human touch. Depending on the price and usability of the final version, Galileo might prove to be one of the AI-powered tools that is the best on the market.
Best User Research AI Tools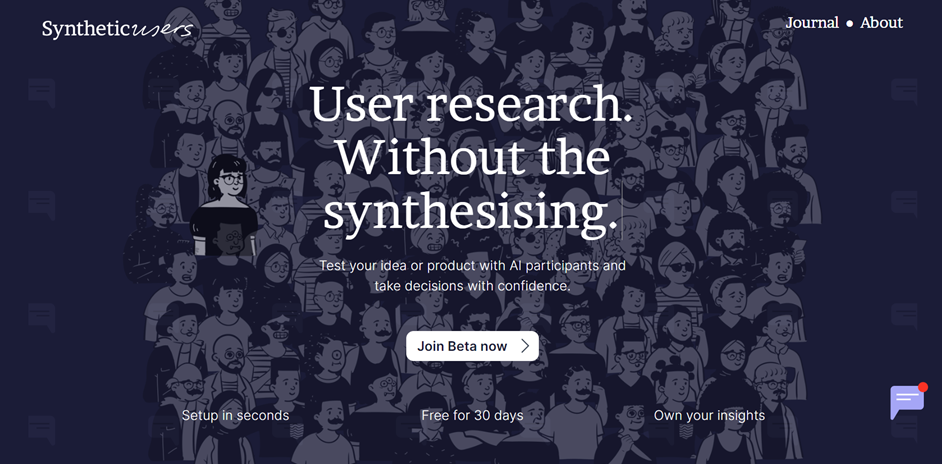 Overview
Synthetic Users is an app that allows users to validate product assumptions quickly and cheaply. With Synthetic Users you can test your idea or product with AI participants and take decisions with confidence. The AI-powered tool is still in the beta phase and not freely available.
Highlights
Test desirability by finding your winning concept and validating market fit. Learn about customer preferences, habits, and more
Optimize your product with Synthetic users. It will give you a unique overview of your product allowing you to uncover features and blockers.
Fine-tune and segment your own participants by targeting your product to very specific audiences and get meaningful feedback,
Their results are periodically compared with live user testing sessions.
Product market fit can be accelerated. Their stack is fine-tuned to ensure you get insights that allow you to increase your success metrics.
Pricing
Synthetic users is still not available freely, but you can join the beta.
Bottom line
Synthetic Users is, like Galileo AI, still in the beta phase. Pricing and the final product will determine the ultimate value of the platform. But until then, the AI-powered user research platform is the best one for tech-savvy and curious individuals who want to potentially jump in ahead of the curve, and don't mind the waitlist.
Synthetic Users, like all of these tools, is not a substitute for an actual person making the final calls in doing the research. Check out this excellent review of Synthetic Users by an actual researcher.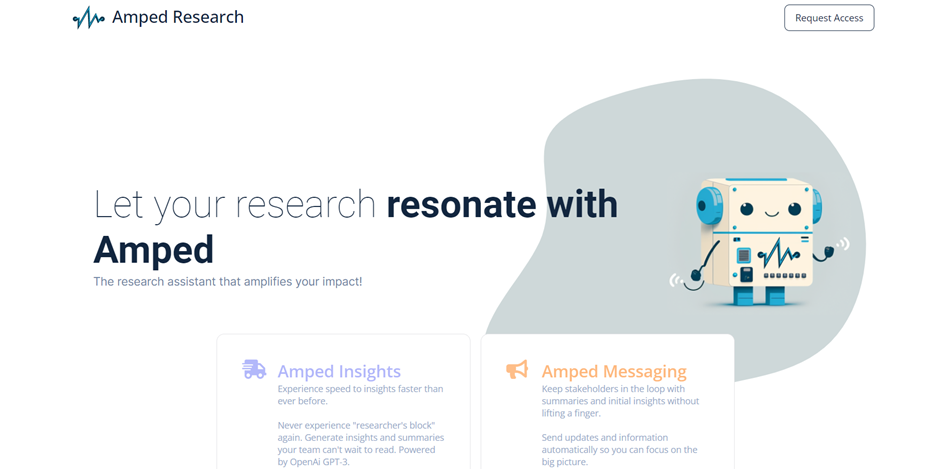 Overview
Get Amped Research is a user research and insights platform that helps businesses make data-driven decisions. It provides a range of research tools, including surveys, user testing, and analytics. You will never have to worry about finding the best user testing tool again! The AI-powered Get Amped Research is the research assistant that amplifies your impact!
Highlights
Experience insights at a faster pace than ever before. Eliminate "researcher's block" and generate valuable summaries for your team to eagerly read. Powered by OpenAI GPT-3.
Keep your stakeholders informed with automated updates and insights. This allows you to focus on the bigger picture instead of constantly updating them.
Demonstrate measurable improvements to your organization with the insights you gain. Align your research to your organization's priorities, track impact, and showcase the value of your research.
Pricing
Bottom line
Get Amped Research is ideal for businesses looking to make data-driven decisions based on user research and insights. This AI-powered research assistant can prove to be a necessity in the years to come if you are operating within a small time, and need time and resources on your side.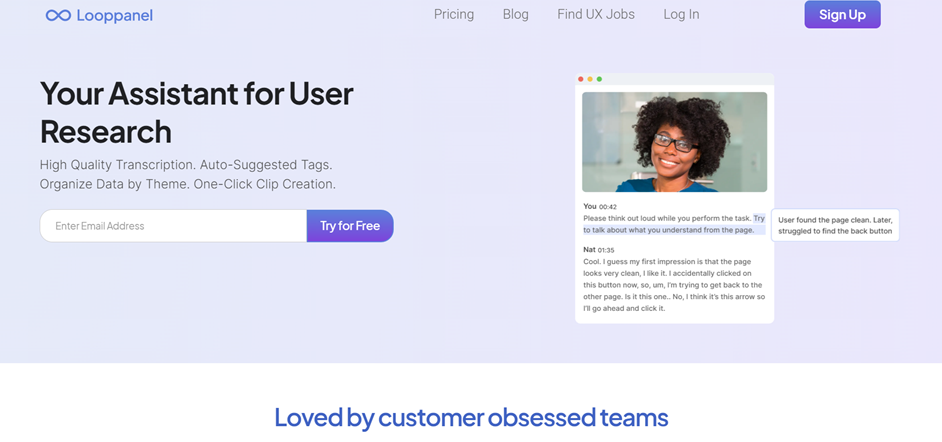 Overview
Looppanel is a powerful assistant for user research, offering a variety of features to help you organize and analyze your data with ease. Looppanel automatically records your calls, transcribes them, and centralizes all your research data in one place. You will never have to worry about transcribing, with tools like Loopplanel and some of the best transcription tools.
Highlights
High-quality transcription: Looppanel provides an accurate and reliable transcription of your user research sessions. This means you can focus on the conversation without worrying about missing important details. Check out some of the best user research tools that will take your research to another level.
Auto-suggested tags: Looppanel automatically categorizes your notes into relevant tags based on the content of the conversation. This makes it easy to quickly find specific insights later on.
Organize data by theme: With Looppanel, you can organize your notes and insights by theme, making it easy to see patterns and trends across multiple sessions.
One-click clip creation: Looppanel allows you to easily create clips of key moments from your user research sessions with just one click. This makes it easy to share specific insights with stakeholders and team members.
Instant transcription of calls: Looppanel automatically records your user research calls and provides an instant transcription of the conversation. This means you don't have to worry about taking detailed notes during the call.
Highlight relevant parts: Looppanel highlights relevant parts of your transcript, making it easy to quickly identify important insights and key takeaways.
Pricing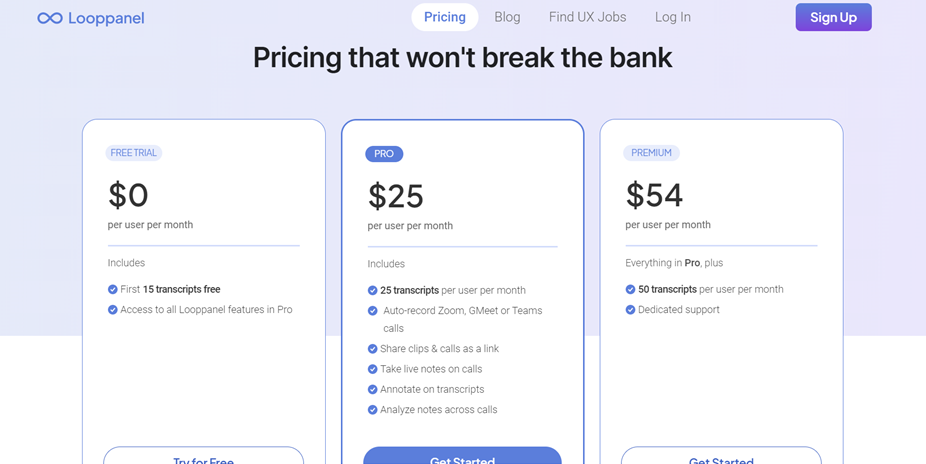 Free trial
Pro Plan for $25 per user per month
Premium Plan for $54 per user per month
Bottom line
Looppanel is a great option for UX researchers and designers needing a transcription service to fit into their budgets. With this tool, they can easily transcribe interviews and translate the findings into UX design.
Best for AI Research Analysis
Sprig: Best for Collecting Targeted Insights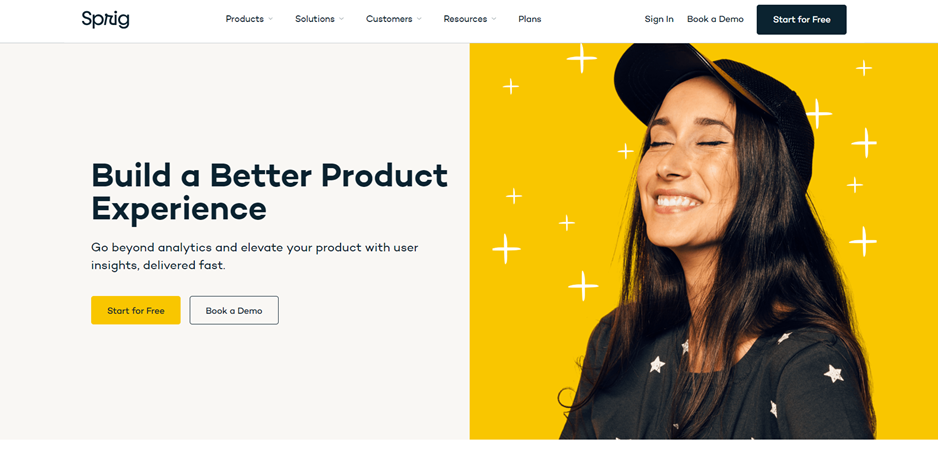 Overview
Sprig helps you go beyond analytics and elevate your product with user insights, delivered fast. Sprig uses AI analysis to identify common themes in your user feedback and keep you focused on doing your best design work.
Highlights
Increase product adoption by creating experiences your users will love by understanding their needs at scale.
Optimize core flows by surfacing and solving pain points in your product experience before they become problems.
Collect targeted insights from customers with in-product surveys. Sprig's platform processes over 500 million users and 10 billion events per month.
Measure your core flows and ensure they're meeting customer needs. Quickly discover pain points and prioritize what to work on next. Get 30% more responses by surveying users as they experience your product.
Test usability to ensure success by having users record their screens and video responses to see first-hand what's working and what's not. Test designs from Figma, Adobe, Marvel, and more.
Leverage the latest GPT-3 artificial intelligence models and native integrations with your favorite tools to turn product insights into a better product experience.
Advanced artificial intelligence groups open-text, voice, and video responses into themes unique to every study, so you can quickly review results and dig deeper.
Connect Sprig to analytics and experimentation tools including Mixpanel, Amplitude, and LaunchDarkly. Combine what users are doing with the "why".
Pricing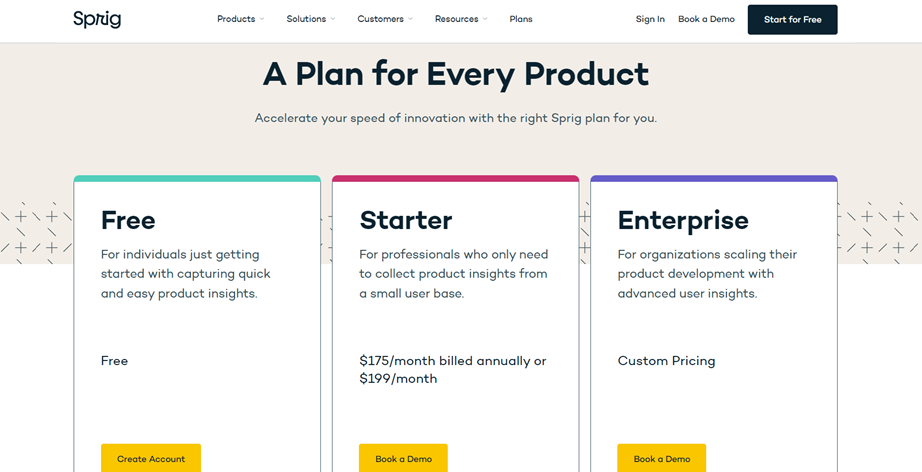 Free Plan includes 1 link survey and 1 concept test
Starter Plan for $175 per month includes 2 in-product surveys and 2 concept tests
Enterprise Plan is custom priced
Bottom line
Sprig will help customers increase product conversion, response rates, and feature adoption all while decreasing engineering hours needed to support product development. The AI-powered tool is trusted by teams from 1 to 10000, offering the free version if you are just getting started.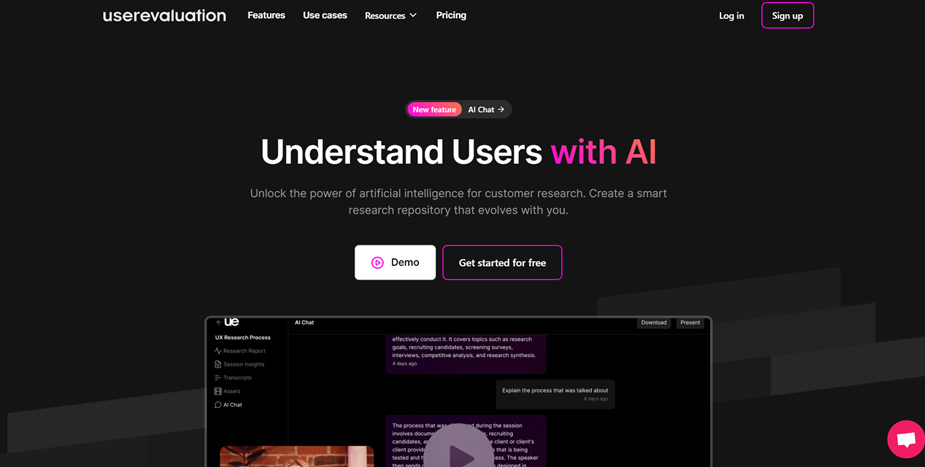 Overview
Whether you're focused on UI, UX Research, Design, or CX – User Evaluation's AI can answer all your questions. With this AI-powered tool, you can unlock the power of artificial intelligence for customer research and create a smart research repository that evolves with you. User Evaluation is a tool that simplifies the process of creating user surveys and collecting feedback. With a wide range of pre-built templates and customizable questionnaires, you can easily create surveys that fit your needs.
Highlights
AI insights feature provides you with key insights, pain points, delightful features, opportunity areas, and questions for the next session, all generated from your audio and video files. This allows you to quickly and easily understand what's working and what isn't in your customer conversations.
If you have any questions or want to dig deeper, you can chat with the AI assistant to uncover even more insights from your customer conversations. The AI will also help you generate new ideas based on the context of customer conversations.
The research report combines all of the insights from your customer conversations. This report includes generative data visualizations to help you visualize trends and understand your audio and video content on a deeper level. The report is also presentation ready, allowing you to easily share your findings with your team or clients.
Research repository allows you to keep all of your customer conversations in one place, making it easy to refer back to them in the future.
Advanced transcription service allows you to easily transcribe and analyze your audio and video content, helping you do more with less. You get an accurate transcript of all your sessions.
AI-generated presentations to highlight insights from your customer conversations.
Easily export your data as PDFs to share your findings with your team or clients. The PDF contains all the insights that you've marked to be included in the report.
User Evaluation integrates with the tools you already love, making it easy to use and analyze your audio and video content.
Pricing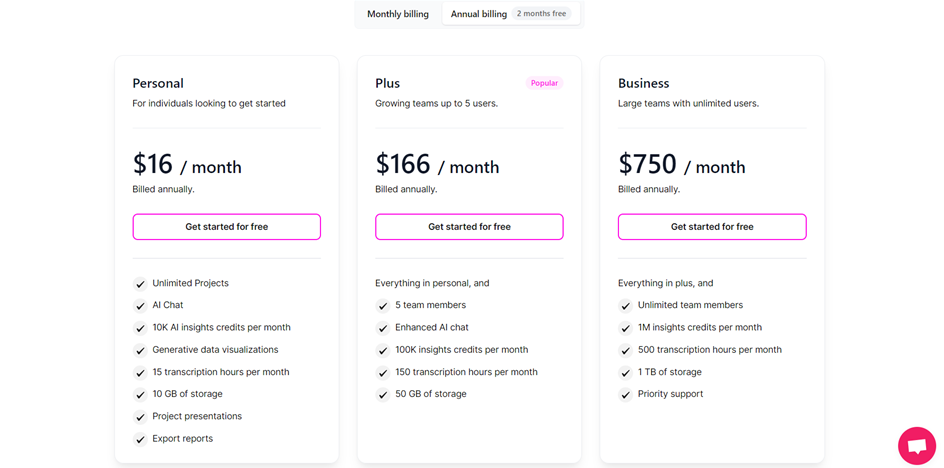 You can try most features of User Evaluation free of cost for a small project with 1-2 sessions
Personal Plan is $16 per month
Plus Plan is $166 per month for up to 5 users
Business Plan is $750 per month for unlimited users
Bottom line
This AI-powered platform will help you uncover insights from your data quickly, easily and accurately. With their AI insights, you can gain valuable knowledge of customer behavior and you will manage to optimize operations. This is a great tool for researchers who want a trusted companion in their data analysis.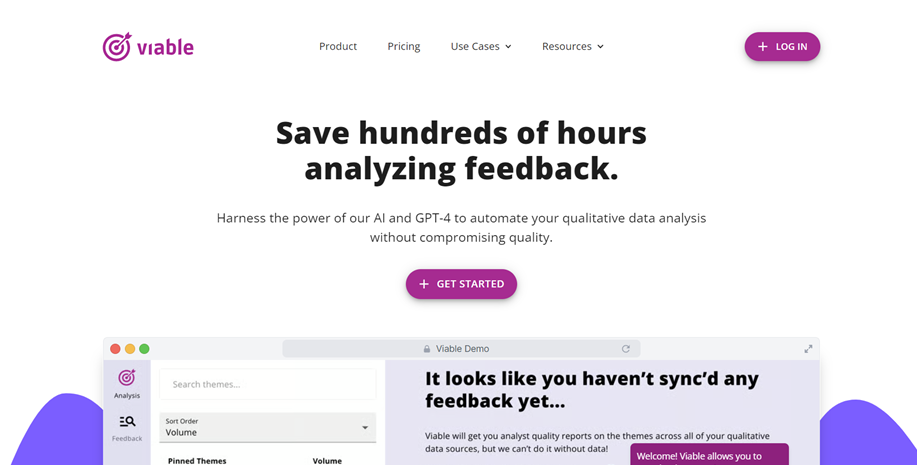 Overview
Analyzing qualitative data manually just isn't viable. This is where AskViable comes in handy. Save hundreds of hours analyzing feedback by harnessing the power of their AI and GPT-4 to automate your qualitative data analysis without compromising quality.
Highlights
Go beyond sentiment analysis with a weekly report of the most important Compliments, Complaints, Questions, and Requests sorted by volume and urgency. Each theme tracks changes over time and contains a summary, urgency score, product sub-themes, user profiles, and more.
You shouldn't be slowed down by SQL queries to get answers from your data; skip the pivot tables and make data-driven decisions faster. Just sync your data and let their AI take care of the hard part.
Use Viable to analyze sales call transcripts, customer support tickets, market research, employee surveys, and more. The platform includes unlimited seats and integrations at every tier, no matter the size of your company.
Each section of their report includes details on the people discussing that theme. The AI uses customer traits and metadata to run true analyses and make recommendations based on details like NPS scores, customer tiers, regions, and more.
Viable is SOC 2 Type 2 certified. They offer automated PII redaction and our white-glove service team responds rapidly to custom data management requests.
Pricing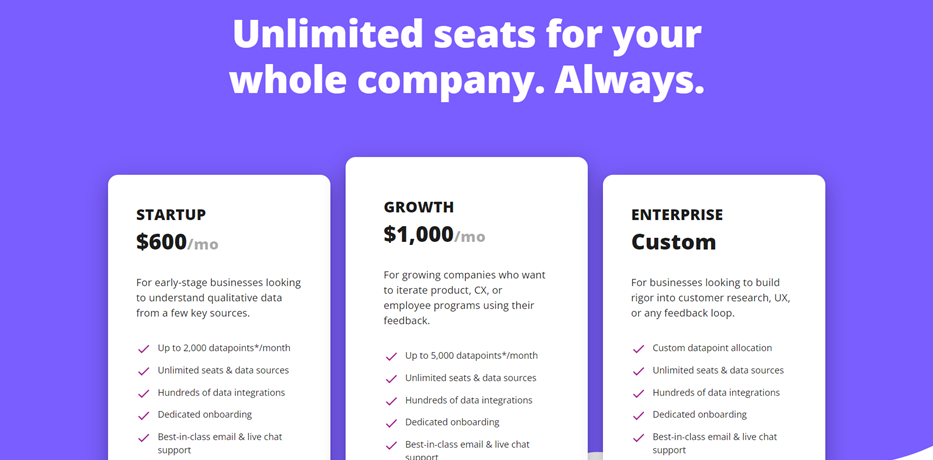 AskViable offers a free trial with limited features.
Paid plans start with Startup at $600 per month
Growth Plan is $1000 per month
Enterprise is custom-tailored to your organization's needs
Bottom line
Viable uses state-of-the-art AI models to go beyond simple summarization and generate true analysis that exemplifies creative, reliable, and deeply perceptive reasoning over multidimensional data. The true human analysis runs deep and is incredibly difficult for technology to replicate – which is why, until recently, no company has tried. Until Viable, who claim they are the closest thing.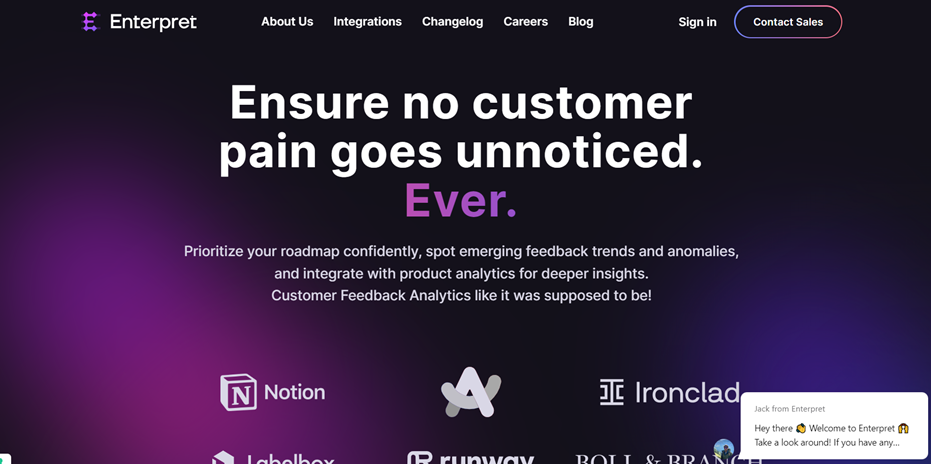 Overview
Enterpret enables companies and UX designers to analyze their customer feedback at scale. They are solving complex problems in NLP, ml-ops, analytics, and data visualization.
Highlights
Comprehensive Feedback Collection: Enterpret captures customer feedback from any source and language, including reviews, support tickets, forums, surveys, and ad-hoc files.
Adaptive Taxonomy: The tool provides a customized structure to unstructured feedback, adapting to changes in feedback over time, and requires no maintenance.
Advanced Analytics Suite: Query on taxonomy and user properties to find relevant feedback, visualize insights, share results with teammates, and automate work with reports.
Powerful Semantic Search: Like Google, Enterpret offers semantic search across all feedback, allowing users to search for what the user meant, not just how the user said it.
Enterprise-Grade Security: SOC-2 Type II certification, penetration tested, regular vulnerability scans, hosted behind a VPC, and data encryption at rest and transit.
Pricing
Not publically disclosed, but you can contact sales to get a quote.
Bottom line
Enterpret is an excellent tool for product teams looking to get a deep understanding of their customers' pain points and feedback. Enterpret is perfect for designers who want to improve their designs based on user insights and feedback.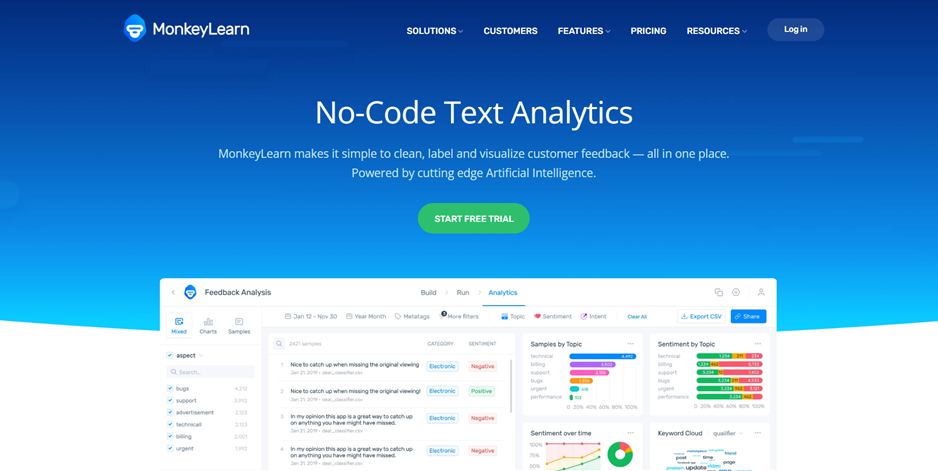 Overview
MonkeyLearn is a text analysis platform that uses machine learning to analyze text data and extract insights. The platform can be used for sentiment analysis, topic modeling, and more. MonkeyLearn makes it simple to clean, label and visualize customer feedback — all in one place, powered by cutting edge Artificial Intelligence.
Highlights
MonkeyLearn offers pre-built machine learning models that can be used immediately, without the need for coding or technical expertise.
The platform enables users to easily create custom visualizations and charts to help them better understand their data and gain insights quickly.
MonkeyLearn also provides a variety of business templates designed for different use cases, including NPS analysis, review analysis, and survey analysis.
Pricing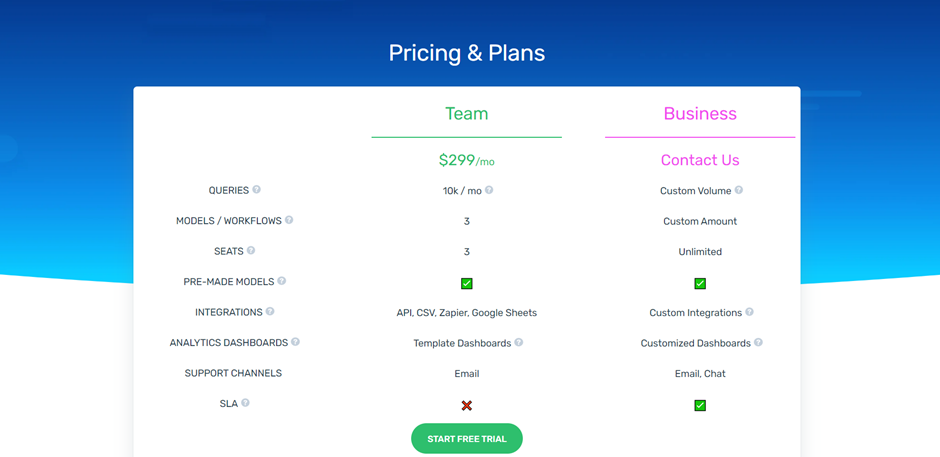 Team Plan is $299 per month for up to 3 seats
Business Plan is custom-tailored
Bottom line
MonkeyLearn is an all-in-one text analysis and data visualization tool that allows users to gain insights quickly and easily with pre-built and custom machine learning models and business templates.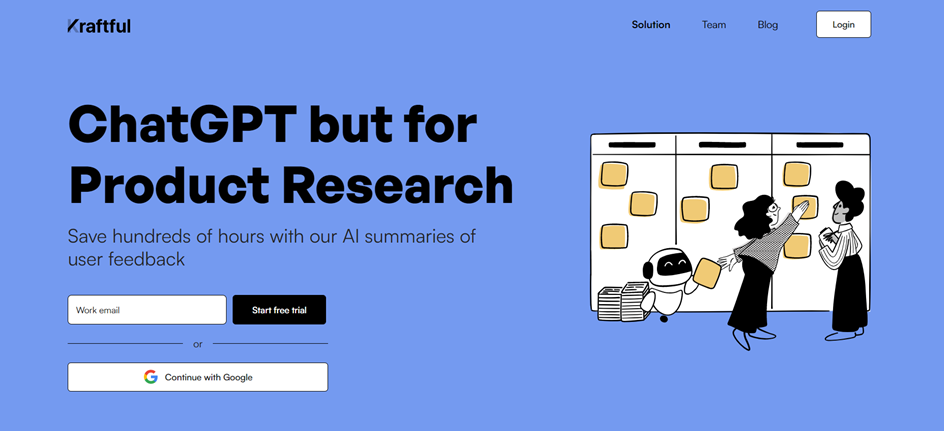 Overview
Kraftful gives you deep AI analysis of user feedback to learn what your users need and how to make your product delightful. It's basically ChatGPT but for product research that will save you hundreds of hours with our AI summaries of user feedback.
Highlights
Feedback analysis: Save hundreds of hours analyzing feedback with our GPT-3 powered solution to uncover user needs.
User sentiment: Track how users perceive your product to measure the real impact of your iterations over time.
Competitive analysis: Learn about user needs from your competitors' users to stay one step ahead of the industry.
Pricing
Bottom line
Kraftful is ideal for designers who want to improve their designs based on user insights and feedback and would like to see the AI-powered tool work in the free trial, with no commitment.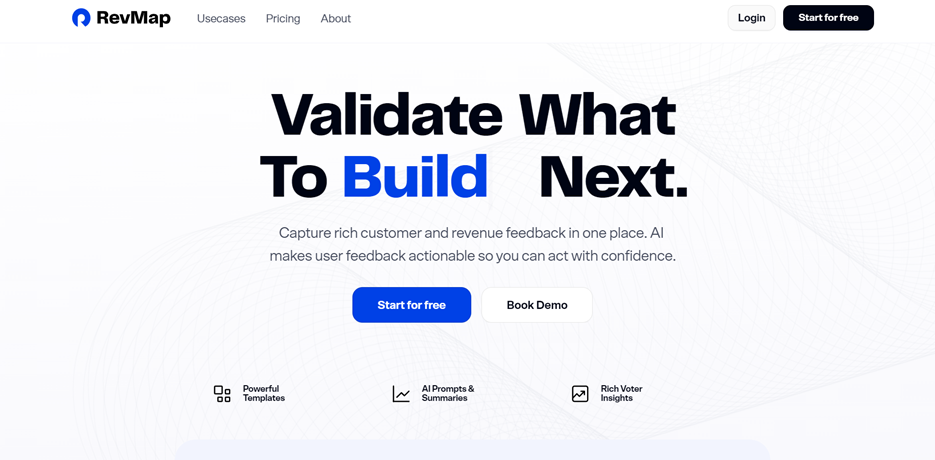 Overview
RevMap will help you capture rich customer and revenue feedback in one place. Their AI makes user feedback actionable so you can act with confidence.
Highlights
Capture rich customer and revenue feedback in one place with AI-powered actionable insights, empowering you to act confidently based on real data.
Set up boards to capture feedback easily with templates and minimal setup, allowing you to stay on top of user needs and empower customers.
Validate user excitement and sales opportunities by identifying feature gaps and what customers are willing to pay for, helping you close more revenue and unblock deals.
Prioritize, align, and decide faster with AI feedback summaries, team priorities captured in real-time with RevCheck, and integrations with your existing workflows to keep your teams efficient.
Pricing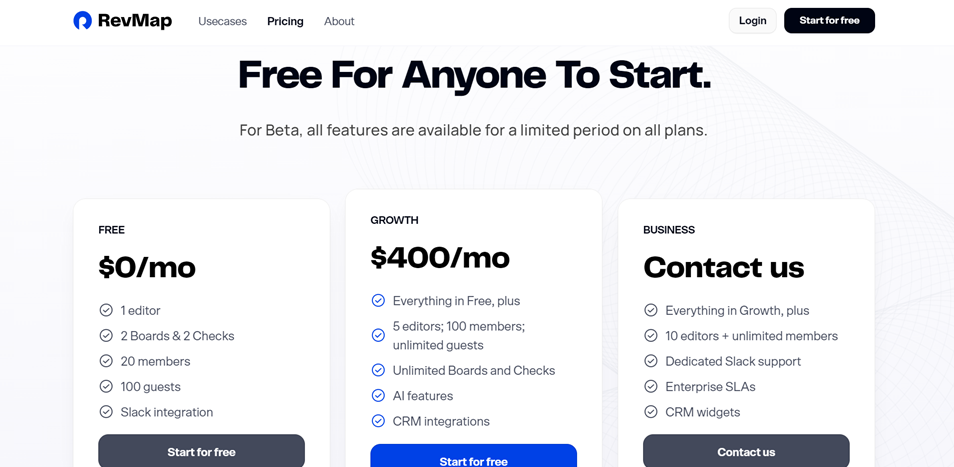 Free plan available for anyone to start with limited features
Growth plan starts at $400/month
Business plan is custom. Contact RevMap for pricing.
Bottom line
With RevMap, businesses can prioritize and act on customer feedback to make data-driven decisions and improve their products or services.
What are AI UX tools?
Artificial intelligence UX tools are different software that is designed to use artificial intelligence to assist UX designers in optimizing their processes and delivering better user experiences. AI UX tools usually have features that can help generate UX design suggestions, provide real-time feedback, and analyze user data and behavior. These artificial intelligence tools definitely can NOT replace human creativity and imagination. They should be seen and used to complement the work of designers, and make their design process more efficient and effective,
Can AI do UX design?
Not in the traditional way a UX designer would design, at least. AI tools are designed to assist UX designers in their UX design journey, not replace them. Some of them are prototyping tools. Some of the tools are also crafted to provide you with AI-powered design analytics, help you with usability testing and create a user-centric design.
What AI creates wireframes?
AI-powered platforms like Uizard and UseGalileo create wireframes using machine learning and image recognition technologies. They do this by analyzing the designer's rough sketch or description of a design and generating a wireframe that closely matches the intended design.
Will UI UX be replaced by AI?
No. UI UX will not be replaced by artificial intelligence tools. Right now, it is not possible for artificial intelligence technology to replicate or mimic human creativity and imagination of human designers, rest assured. UX design is such a human-centric process and requires a very human touch. The UX design will always require humans, so don't worry about AI taking over UX design jobs.
What is the future of UX and AI?
The future is promising. Artificial intelligence technology is continuously advancing, and we are expectant to see ever more powerful and efficient AI-powered tools for UX designers. The tools powered by artificial intelligence will assist designers like never before, but likely never replace them. The help designers get from using these UX AI tools will ultimately lead to more personalized and user-centric designs.
Final thoughts
The artificial intelligence UX tools listed above will significantly impact the design process, allowing designers to optimize their work and deliver better user experiences.
However, it's important to remember that these artificial intelligence tools are not a substitute for human designers, that AI UX design is only a tool and instead should serve as a complement and kind of assistant in the designing process.